How to wear a power suit: Power suits could easily be the best thing in your life. If you haven't discovered them yet then you seriously need to. A power suit is something that will help you build your confidence as well as making you look super good.
These suits have the ability to make anyone that wears them look like a boss. This is something you should most definitely master because you will never regret wearing a power suit in your life!
This trend is super easy to hop onto. Power suits have been in style since the 70s and might just stay around forever. The best part is that these suits can be worn in tons of different ways. You can wear oversized suits or fitted suits, printed or plain, bright or nude. Anything you like, you shall find it. So give this trend a try and we promise you will not regret it. This article includes 20 power suit outfits you can choose from!
Power Suit Styling Ideas
The main thing to remember about a power suit is that it is mostly a formal outfit. Yes, you can make it casual by either wearing just a blazer with shorts or jeans but if you wear a blazer with formal pants then it will count as a formal outfit. So what you will need to keep in mind is that such suits look best with heels, most of the time. Yes, you can wear cool sneakers because these days we have tons of options to choose from but remember, heels would always be the best option. Secondly, you need to choose carefully what you wear under your blazer because that is what will complete your outfit and decide its final look. If you choose a bralette it will look sexy but if you wear a shirt or tank top then it will be more office-appropriate. It is your choice, there are tons of choices for you. Wear whichever suit you like best!
DOS AND DONTS
• DO experiment with colors.
• DO wear something different.
• DO wear what you like.
• DONT listen to what people say about your clothes.
• DONT wash your suit in the machine, get it dry cleaned always.
• DONT think power suits are masculine.
↓ 20 – Polka Dot
This stunning polka dot power suit is a statement. The contrast of red with white blue is perfect. It looks so cool we can't take our eyes off it. It looks effortlessly chic and just as gorgeous. Pair a polka dot blazer with matching formal pants and to add a bit of a contrast try wearing a red-colored sweater with bell sleeves so when they peak through the blazer, it looks as if it's a part of the blazer. Match heels, the bag, and sunglasses to the color of the sweater, and you have yourself a stunning power suit outfit! Here are some more of our favorite Polka Dot Outfits.
↓ 19 – A Nude Power Suit
Nude colors are highly trending nowadays and can be found in almost all skin colors. Matching a power suit to your skin color would be the sexiest move ever. Nude colors just have this thing about them that is super hot! You can wear a nude power suit with matching heels or create a contrast between the heels and the bag because the rest of your suit is nude so you have room for contrast with these two things. Don't forget to wear some chunky necklaces!
↓ 18 – Striped Suits
Stripes are a very cool trend and everybody should own some striped clothing. This dark blue power suit with purple, white, and blue stripes is exquisite! This suit is dope and we recommend you buy it if you like stripes. You can wear a turtleneck underneath this suit if you like or even a cute bralette top. Try wearing heels if you can because heels really make power suits look the best. Don't forget your sunglasses and a cute shoulder bag. If you're into stripes, I highly recommend checking out these Striped Suits for Women.
↓ 17 – Black
A black power suit is not only sexy but also a power move! Only boss women can rock such outfits with confidence. Wear a black blazer with black formal pants and leave the front unbuttoned for an even sexier look. Choose some black stilettos or pointed pumps. If you tie your hair back in a bun it will give a boss lady vibe.
↓ 16 – Pastel Pink Suit
Pastel colors are fun and cute at the same time. A power suit is not just a formal outfit, you can wear one whenever you feel like it! So try this pastel pink suit for when you're feeling fancy. Wear a pastel suit with a cute t-shirt underneath and tuck it in. Pair it with sneakers for a fun and casual vibe. Don't forget a bold lip and some cute sunglasses! Here are some more awesome Outfits with Pale Pink Blazers.
↓ 15 – Celebrity Style
Hailey was seen wearing this gorgeous bright pink power suit. She decided to keep it simple and sexy and wore no visible shirt underneath. Her hair was also tied up in a pony and her makeup was quite minimal. Hailey also wore no heavy jewelry just her engagement ring and a few other rings. Making this suit look gorgeous, as we all know Hailey is the queen of outfits!
↓ 14 – How To Wear A Maroon Suit
Maroon is a pretty color and looks extremely elegant if you decide to wear it. This maroon suit is sexy and stunning both at the same time. The maroon blazer with matching maroon palazzo pants and a silk blouse looks great. Don't forget to wear matching maroon sunglasses and lipstick too! You can wear this look to a meeting or any formal event.
↓ 13 – Printed
This pastel blue suit with flowers printed on it is super cute! This outfit can be worn on a day out with friends or family, dinner, or any other event. This blue suit paired with the yellow top looks amazing. Wear tons of necklaces and rings to complete this look. Tying your hair up will give this outfit a more effortless look. Keep makeup minimal if you want or try something new and do blue eyeshadow!
↓ 12 – Purple
Purple is a stunning color to have in a suit. A purple blazer and matching pants could easily steal everyone's attention in a room! Try wearing a purple suit with some black heels. Let your hair down and try to wear a neep neck top underneath so it seems as if you're not wearing anything (which looks sexy) if the blazer has a deep neck.
↓ 11 – Velvet
Velvet looks super dope. If you've never worn a velvet suit then you are really missing out. It may be something you cant wear in warmer temperatures but in the wintertime, you can and it's totally worth the wait! Velvet suits are super fun and come in tons of colors. This yellow velvet suit looks amazing paired with a black blouse and matching black bag. Wear some big dangling earrings with this suit to complete the look!
↓ 10 – Blake Lively's Neon
Neon is another thing that is trending recently. Blake looks lovely in her neon suit. She styles it perfectly with a matching neon shirt underneath and glittery pumps! If you don't own at least one neon outfit, are you even a fashionista? Try wearing a neon power suit and life will never be the same for you! Accessorize your suit with a matching neon bag or sunglasses. You will look super cool don't worry!
↓ 9 – Emily Ratajkowski's
Emily wore this black suit with a white shirt underneath. Emily also wore these super cool double color shoes that matched her gold hoop earrings. They carried a black handbag too. Emily did not forget to forget her black shades! Which is something you should never forget either. Try this look for a perfect office outfit.
↓ 8 – Plus Size
This plaid suit is super cool. This cool suit can be worn with heels or sneakers because it is more on the casual side. This plaid suit will have everyone asking you where you got it from. Suits can be fun too if you want, they don't always have to be uncomfortable. This suit can be worn to a meeting, a garden party, or even a birthday dinner.
↓ 7 – Lime Yellow
Lime yellow is a pretty color for the summertime. A lime-yellow suit will be the perfect outfit for a brunch date, a day out with friends, or a day at the office. This suit can be worn with a white, yellow, beige, or even black shirt underneath it. Don't forget to accessorize it with some cute matching sunglasses and matching shoes. You can wear black booties with it and it will still look good!
↓ 6 – Bright Purple
Bright purple is one of the coolest colors today! This bright purple suit is super cool. It can be paired with a bright-colored undershirt or even a white one. A purple suit will get you all the attention in the room. Wear this suit to a party, themed birthday, or a meeting for a fun twist!
↓ 5 – Plaids
Plaid suits are super cool and stylish. Plaid may seem like a more male print to most but it's really not. It's unisex and people can wear whatever they like! This pastel blue plaid suit looks comfortable enough to be worn anywhere. Wear this suit with heels or sneakers if you like. It would look good with some cute jewelry.
↓ 4 – Yellow
Yellow is a pretty color and brightens up just about anything. Wear this suit if you're not feeling your best self and watch yourself feel better! This yellow suit would look marvelous paired with heels in a different color like red, purple, or pink. Mix and match and find what works for you best.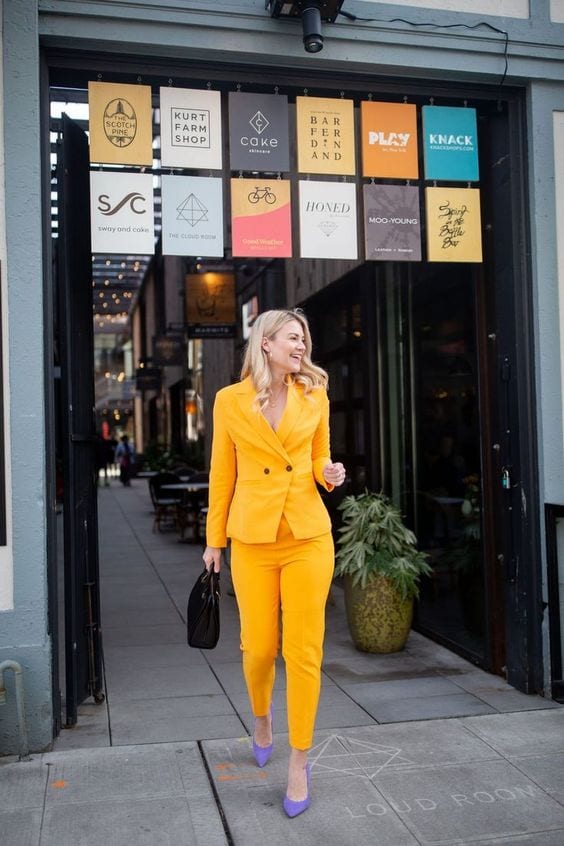 ↓ 3 – Pink
Bright pink is another color that seems to catch everyone's eye. Not everyone has the confidence to wear bright colors. If you like bright colors and are looking for something like this then do try this outfit. This suit can be paired with sneakers or heels whichever one you prefer. Don't forget your sunglasses and jewelry!
↓ 2 – Victoria Beckham's Look
Victoria looks stunning in this dark green suit. They always know how to style the best suits. Victoria can always be relied on to have the best outfits! This dark green suit is a style statement. Victoria wore this suit with a white oxford shirt. A golden necklace is what Victoria did not forget to wear! A clutch and some nice sunglasses will complete the look!
↓ 1 – Brown
A brown suit is a staple in everyone's wardrobe. If you don't own a brown suit what are you even doing? Pair a brown suit with a black shirt underneath. Wear it with either nude or black heels. Cute earrings would complete the look!
Frequently Asked Questions
Q. What is a power suit?
A. A power suit is something that helps people establish their authority in an environment. A female power suit simply means women's dressing that helps them establish their authority wherever they go. It is usually in the form of formal suits.
Q. How do you wear a power suit?
A. It's easy. You just need formal pants, you can choose whatever style you like. Whether it be flared, straight, slit, bell bottoms, or any other, they'll all work. Then you'll need a blazer to complete your outfit. You'll need to make sure that the blazer fits you right though. That's all you'll need to wear a power suit and yes, of course, some cool accessories to complete your look!
Q. What is the history of power suits?
A. Back in the 1920s, Coco Chanel introduced the first power suit. It was a jacket with a skirt and that was known as the first power suit. That is what began the whole story of a power suit and led to women wearing clothes that make them feel powerful. Never forget that your dressing plays a huge part in your personality, always wear what makes you feel best and most confident.
I am a women's holistic health coach and student that enjoys history, experimenting with makeup and skincare, playing sports, working out, and doing all things adventure-related.