Outfits with over-the-knee boots – In the summer, we typically wear sandals or sneakers, but later in the year, we have a variety of footwear options. One of them is over-the-knee boots.
Although designers, fashion models, and women all over the world may love thigh-high boots, they aren't exactly the most comfortable to wear. However, these boots protect you from the cold.
It can be as difficult to come up with thigh-high boot ensembles
How To Style Outfits With Over The Knee Boots?
While boot fashions come and go, there are purpose over-the-knee boots that stay a closet staple and you don't have to look much to find them. There is absolutely nothing an over-the-knee boot can't glam up and create a little more elegance.
Want to know how to style your over-the-knee boots this season in a variety of ways? These outfits will consistently impress.
Tips And Tricks on Styling Over the Knee Boots
Be mindful of the weather when you wear your thigh-high boots. They may be dressed up or down depending on the season, from warm to chilly.
You can pair your over-the-knee boots with a plaid skirt, skinny jeans, or tights; these boots will look good with any of these and many more options.
In my opinion, cardigans or jackets really level up your look, especially when you wear long boots with them.
Try on several accessories that match well with your boots and your outfit. You can go for some classy shades, bracelets, and necklaces to give you that model-like look.
Over the knee boots look good on any height, from tall to short ladies; it would help enhance your calves and your thighs and give you more of a leaner and alluring look.
20 – Brown Sweater Weather
When we are talking about fall or autumn, we can never miss out on the color brown. Brown is one of the most common and pretty-looking colors in such weather.
If you still haven't you really should try on something in the shade of brown. Just like these brown sweaters and boots! The striped brown and black sweater, along with simple high waist denim, matches amazingly with the brown thigh-high boots.
This whole look makes you look amazing, classy and nothing less than a fashionista who knows her colors.
The comfortableness and coziness of this fit are a plus point!
19 – Beige and Brown Fit
Another look of the fall is a contrast between the colors beige and brown. These two colors look pretty good together, and once you know how to pair them, right? You are good to go!
Pull on a beige turtle neck shirt with a pink undertone and a similar colored trenchcoat to protect you from the colder winds. You can always go for some skinny jeans and the highlight of the outfit, the brown heel boots!
This outfit has a nude shaded color palette which makes it a hundred times better to wear in autumn. Anyone and everyone can easily pull this off!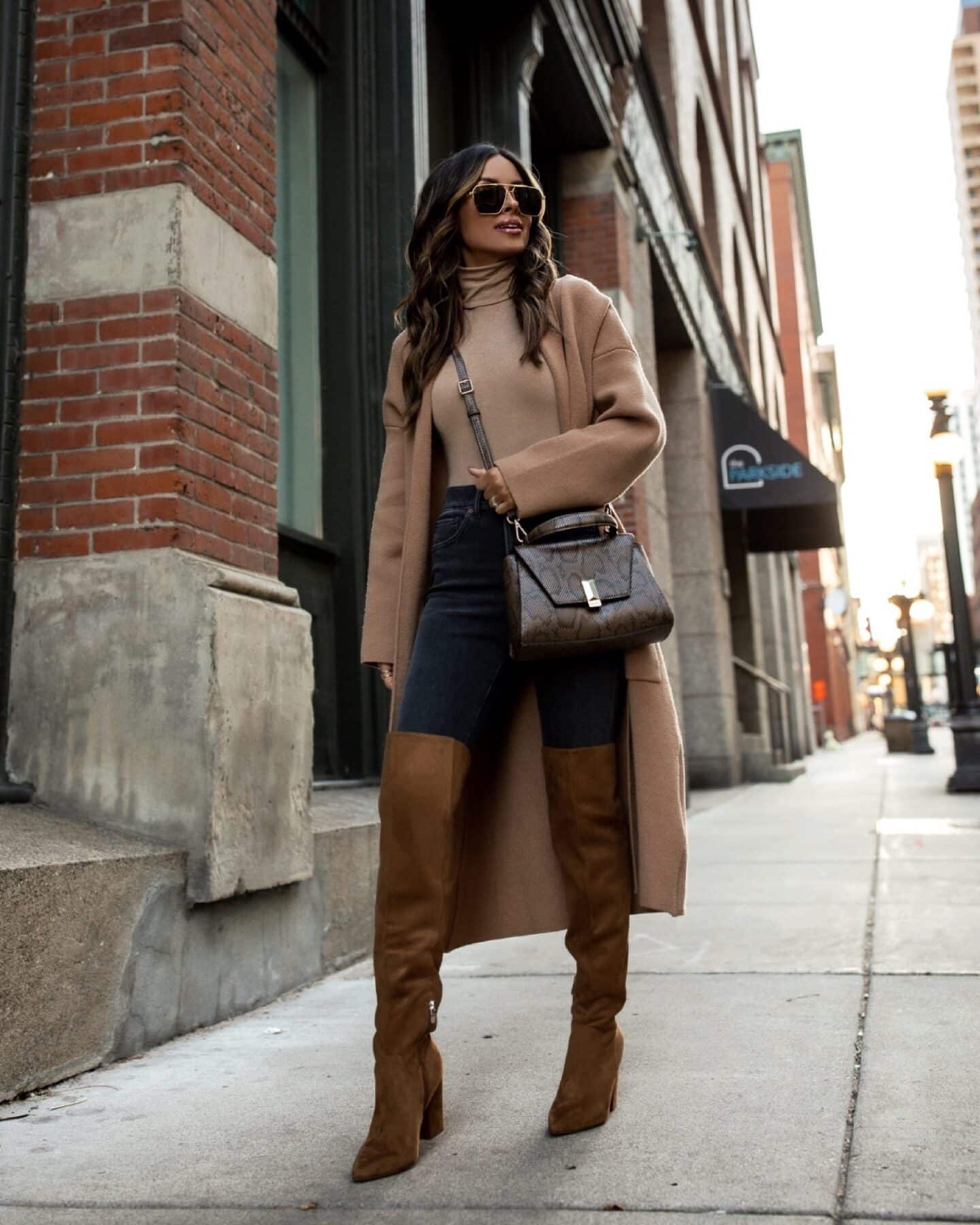 18 – Fall Outfits
A new addition to the list of fall outfits with over-the-knee boots is this one; with the contrast of white and brown, you sure will stand out in this fit!
The brown off-shoulder sweater paired with white pants helps bring out your skin color, along with the dry leaves of the fall season. The brown matching boots go along amazingly with the sweater and the white jeans as well.
To finish off this look, you can always carry around a matching brown shoulder bag, and you look nothing less than a diva with this outfit.
17 – How to Wear Over-the-Knee Boots to A Office Lunch?
Nuder tones are something essential to wear in fall, and if you have not yet worn such outfits, then you're missing out on a vital trendy style!
Mini skirts and thigh-length boots look perfect together as if they are made for each other! Try on a simple beige button-down shirt, a checkered matching coat, and a cute brown skirt! In the end, wear your matching brown boots, and voila! You look like a model!
You can wear this any day, from your professional attire to your casual ones; this would work so well in every situation!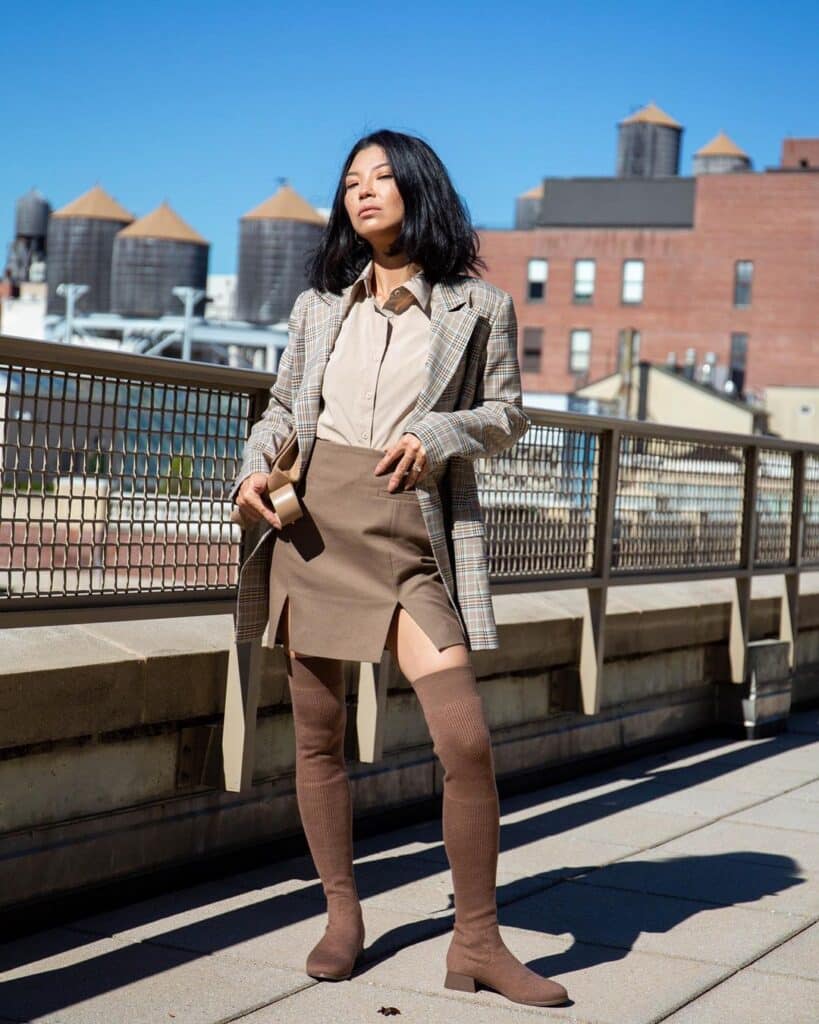 16 – Turtleneck Shirt With Jeans And Coat
These black over-the-knee boots work so well with a simple black mock neck shirt and blue jeans as bottom wear! And the cherry on top is the oversized beige sweater which contrasts with the whole fit.
With such a simple look, with every clothing item that you already have in your closet, you can turn into such a classy model-like look!
Wear a shocking pink shoulder purse as another contrasting color, make the colors pop, and feel good about it!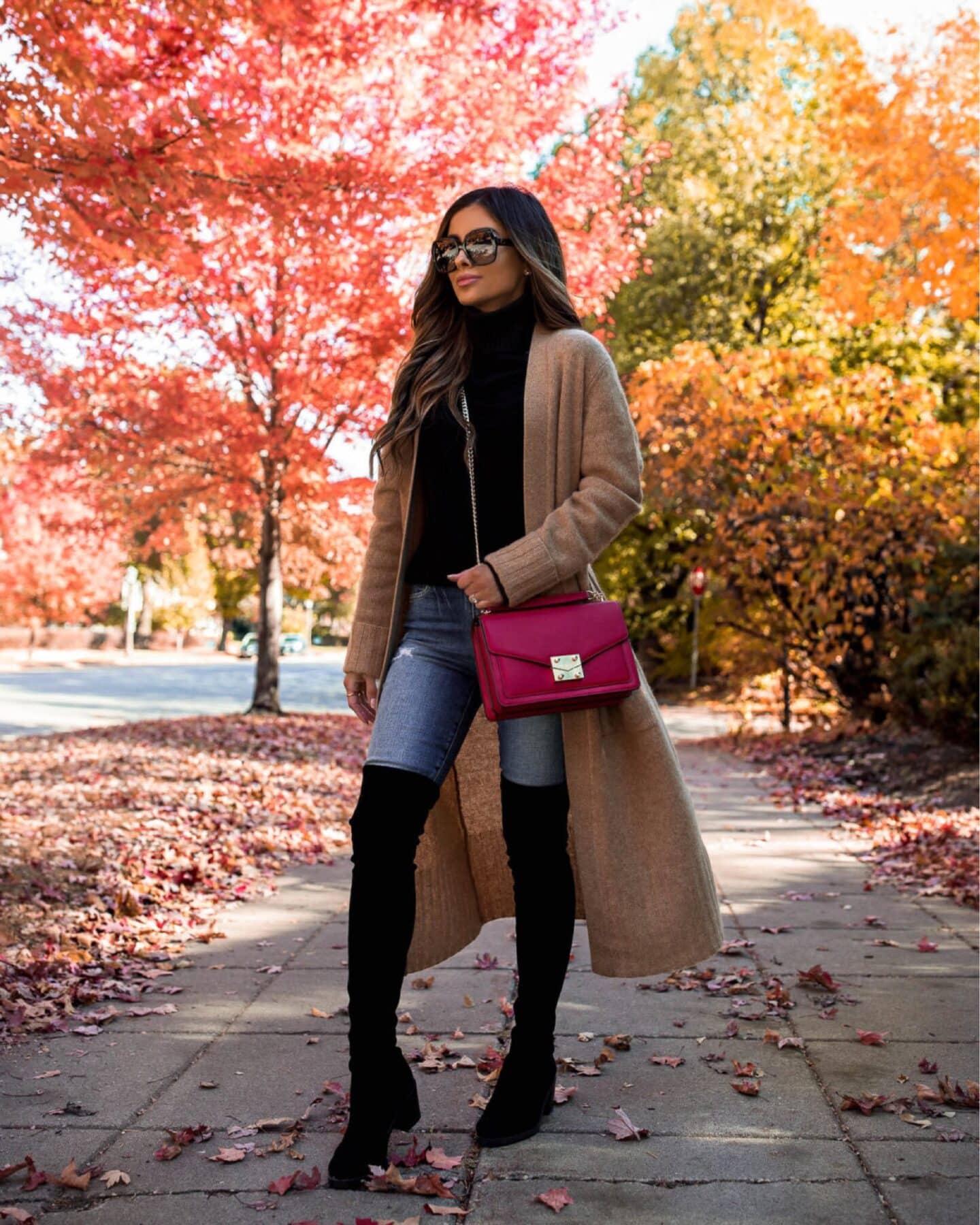 15 – Add Statement Belt to Your Green Wrap Sweater
14 – Brown With A Tint of Green
Are you tired of the usual brown or beige look for the autumn season and want to try on a different color now? Well, going green is always a safer and better option!
You can wear a green turtle neck midi dress similar to this picture and look striking when paired with the color brown. Like this brown oversized blazer and some cool as ever brown boots with high heels!
These two colors will make you stand out from everyone else, give you a comforting darker look, and help you feel wonderful while wearing this.
Complete this look with a brown LV bag and a hat to level up your whole fit.
13 – Simple And Casual Look
A day out with friends, and you do not want to go for something extra? Then you definitely should not! If you are looking for something on a much simpler and more comfortable side, you can always go for this look.
A simple black high-neck sweater paired with simple black over the knee boots. And the denim that is resting for so long in your closet, just put all of these on, and you are good to go!
No extra effort is needed for you to look super cute in such a simple and easy look! You can go for some accessories like rings or bracelets if you like to make your look fancier.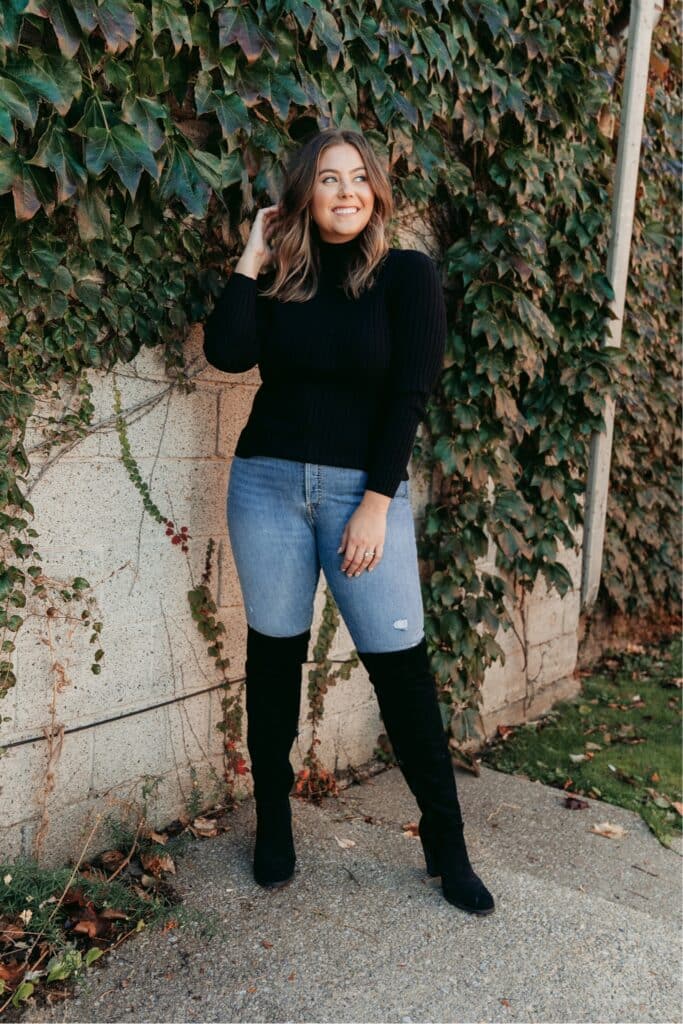 12 – Leather Skirt And Black Over The Knee Boots
Leather skirts are in fashion these days; you will see nearly everyone owning a paint of such skirts in their wardrobe.
Wearing an black fit always looks good, especially when you are wearing a leather skirt, along with some leather over-the-knee boots! The whole fit gives you a more alluring yet beautiful vibe!
If you have no, you should definitely try on something similar to this!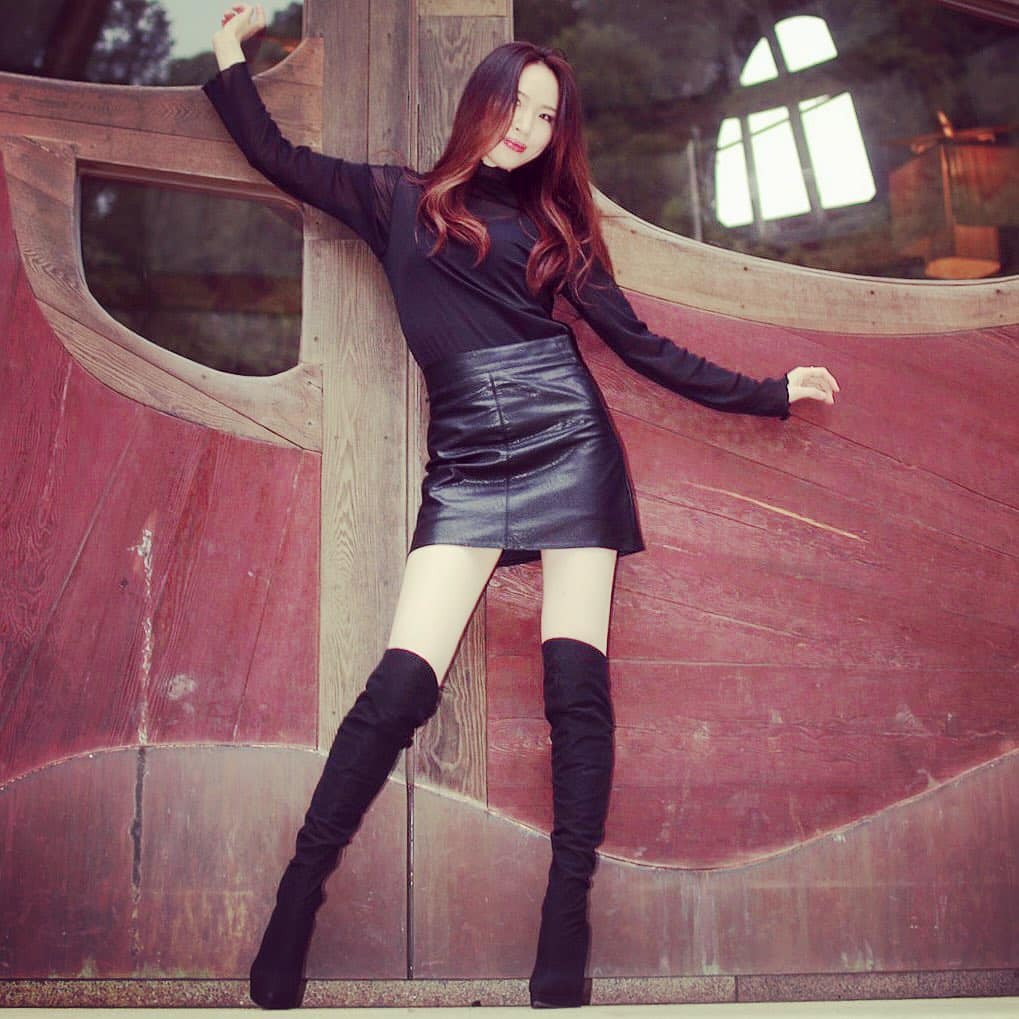 11 – Weekend Ready in Little Black Dress
Black is everyone's favorite color; it is the safest option you can go for when you are unsure what to wear. No matter if it is your day at work or a night out with your mates, black can work anywhere.
Especially when you wear a bodycon black midi dress paired with some black over-the-knee boots. There is a hundred percent guarantee that you will ace this look.
Try on a beige or cream-colored shoulder bag to complete your look if you want to go for minimal colors in your all-black fit.
10 – All Black With Denim
A denim overall is something that is very much in trend right now, and everyone is really in love with such boilersuits that are made up of denim. Especially black ones!
This is your perfect chance to try on something trendy; the jumpsuit and the boots go pretty well together. This whole outfit, head to toe, will make you look nothing less than a model.
The bold and dark colors will make you the star of the whole place with your mysterious look. Nobody will be able to look away from you.
Try adding in a neon green clutch to your look; this would be a cherry on top, quite literally!
9 – Black Leather Jacket With Black Boots
Another casual look of the day is this one with the addition of a leather jacket to fight off the colder season's winds.
When we think of black boots, we cannot miss out on black leather jackets. This combo helps you give off that dark, bossy aura that everyone would love to have!
Wear a simple black shirt underneath and some distressed jeans to keep it as simple as you can; the attention has to be on your jacket and your boots!
Wear a pair of sunglasses to enhance that bossy, dark look that you are opting for.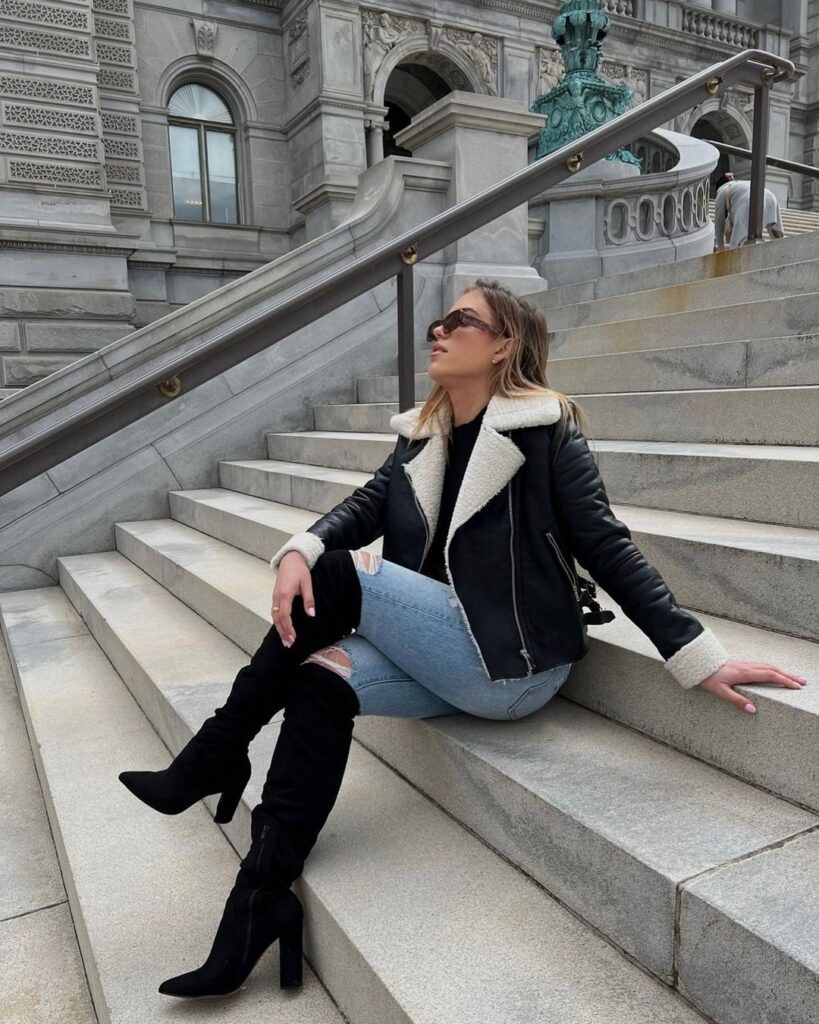 8 – Faux Leather Boots
If you are looking for some more options in the boot area, then you can always go for faux leather boots! They look so good with nearly every outfit that you wear.
Try wearing your favorite checkered blazer on a day out and taking pictures of yourself for your Instagram feed. Carry around a leather hang bag and some faux leather boots, of course!
You will look like the perfect fashion statement in this classy look, that's for sure!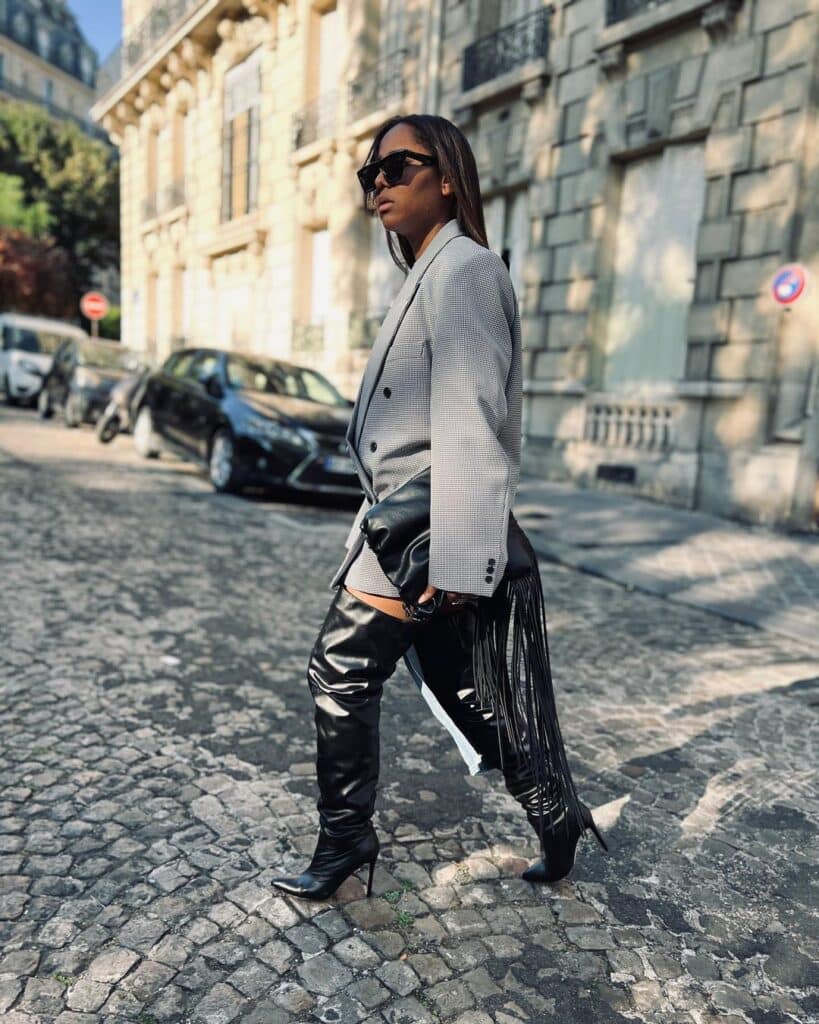 7 – Corsets Are Vital
Corsets have been around for a while, and ladies love them! This vintage style is back in fashion this year, so why not give it a try?
Try wearing a white strapless midi dress, to match the vibe of a night out with your friends. To glam it up, tie a brown corset around your waist and some black knee high boots.
Not only will it give you an enhanced bold look, but it will also make you look and feel a hundred times more alluring.
6 – All The Shades of White
When talking about some of the best outfits with over the knee boots, we have to talk about something white. Every season, every weather, and every situation calls for white. You really do not need to have any reason not to wear white.
You can always contrast white with grey and black and know that it will always look amazing on you. Just like this outfit. A simple white dress, along with a white sweater, would help make you stand out from everyone else.
Pair your whole outfit up with some grey boots; you won't see many people being able to pull off grey knee length boots, but wearing them with white would always work. In addition to this, carry around a black bag to level up your look!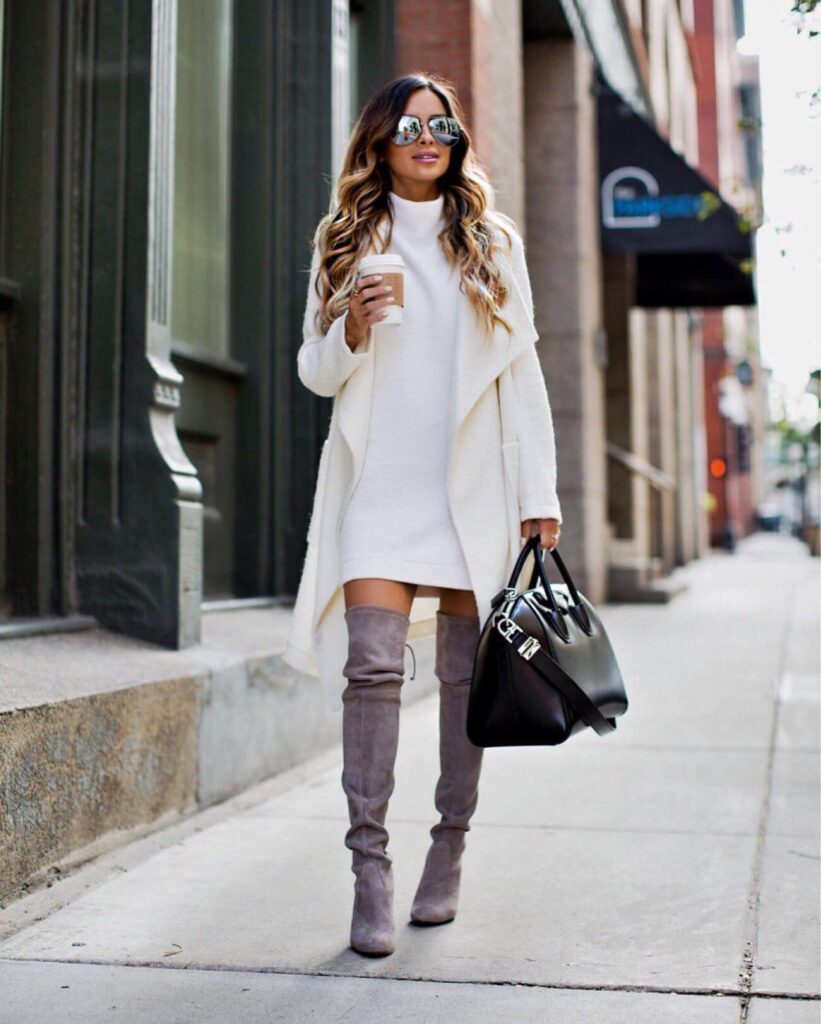 5 – How to Style White Over-The-Knee Boots?
Talking about some of the cute outfits with over-the-knee boots, there is a white fit as well. White boots are uncommon, yet they look cute, clean, and classy.
You can wear your favorite white tank top, those denim shorts that you love, and to top it all off, some super cute white boots that would make you look picture-perfect!
Try on some different accessories like small hair clips and necklaces to amp it all up a bit more.
4 – Blue and White Combo
If you want to try on denim jackets and are not sure how to pair your boots with them, then you are at the right place.
Try on a blue and white bodycon midi dress, pull over your denim jacket over your shoulders to give off a more stylish look, and try on your favorite black boots.
In order to level up your look, you can always wear minimalistic jewelry or accessories, like a wrist watch and you are good to go.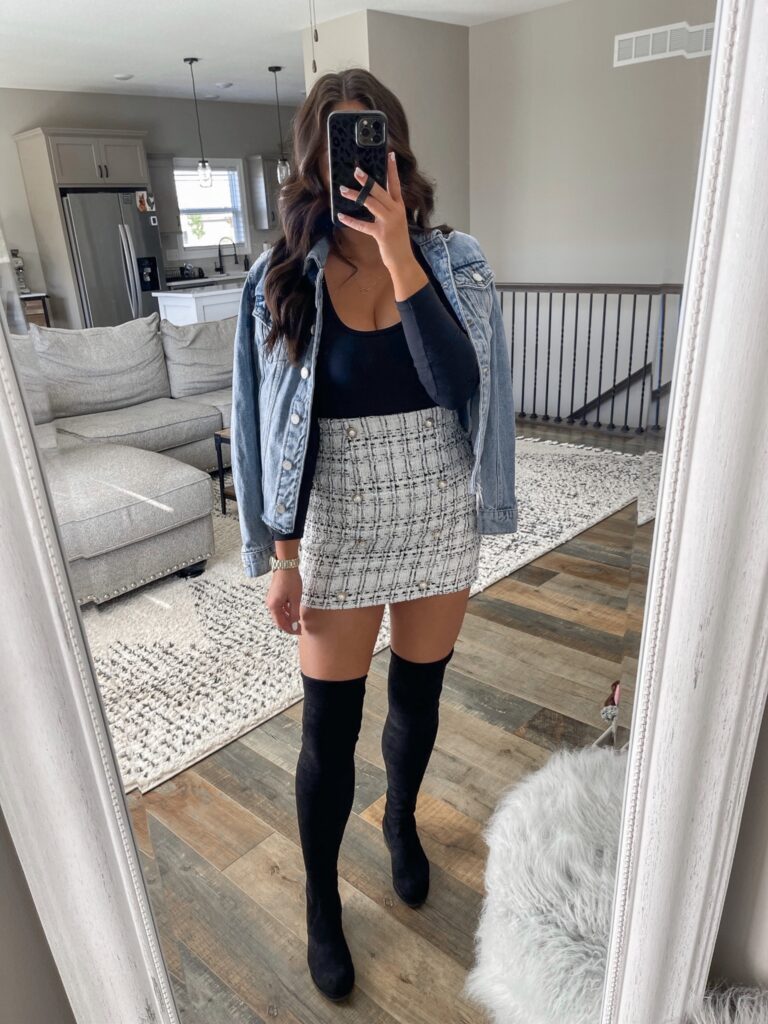 3 – Floral Dresses And Boots
If you are looking for something floral, this fit is perfect for you. Who would want to miss out on a cute floral midi dress for a day out with your friends or cute mini coffee date?
This whole fit would make you look cuter than ever, the flowers and the mix and match of the simple brown colors looking as great as ever!
To give your look more of a professional finish, you can carry around a brown handbag and pull off some super cute hoop earrings. And you are ready for the day!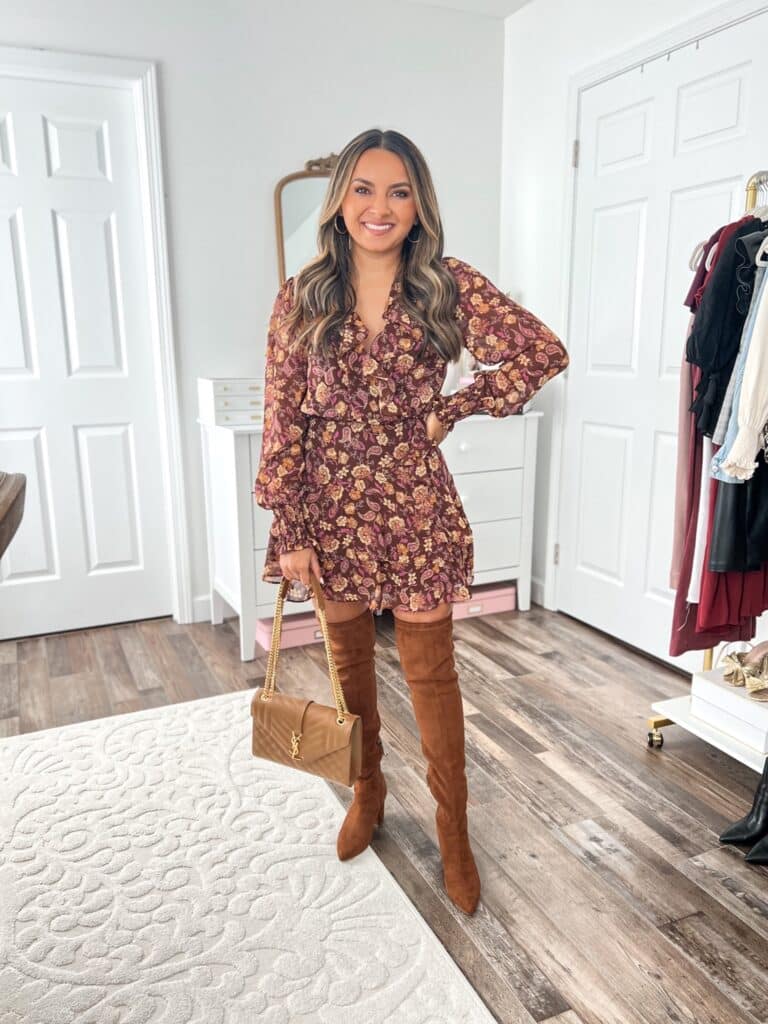 2 – Pair Your Sweater With Long Boots
A pink sweater is better than anything else if you want to go for something simple yet adorable. If you are looking for something pink, you can always go for a shade of pastel pink just for the fall season.
Contrast your pink sweater up with brown thigh-high boots and your everyday black leggings, and you are ready to look super cute!
You can always go for a matching purse and jewelry to level up your look with such super adorable accessories.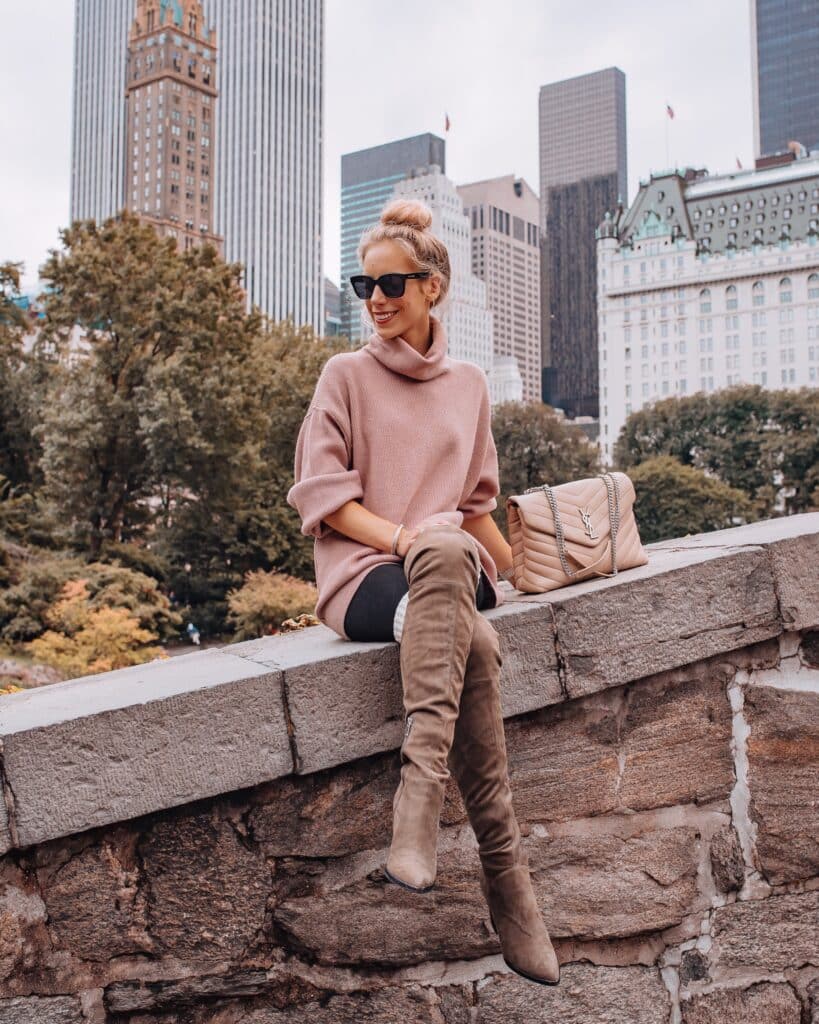 1 – The Cowgirl Look
Thigh-high boots not only work when you are trying to pose for a model-like picture, but they look amazing when you are on the field, trying to ride your favorite horse as well!
Leather thigh-high boots have been used by cowgirls for a while now, they help in keeping you safe from all that mud, and they also help make you look super fashionable!
Pair your white pants with a blouse and add boots over it. You're done.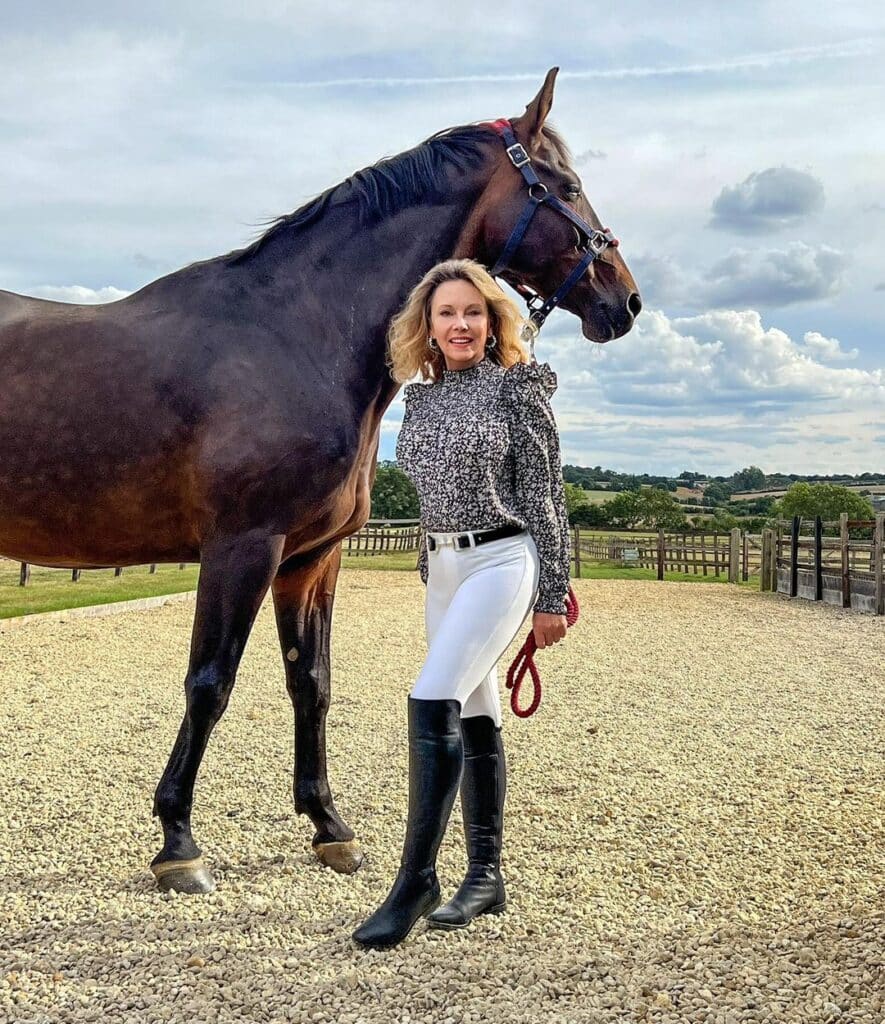 Frequently Asked Questions
Q. What do over the knee boots look good with?
Ans. Over-the-knee boots look good with a couple of things; if styled properly, these boots can glam up your look in anything you wear. You can wear a mini skirt or a short dress and thigh-length boots, and you'll look good, or you can wear skinny jeans or leggings and look good! The options are countless.
Q. Are thigh high boots out of style?
Ans. Thigh-high boots are still a thing and are really trendy as well. You will see several fashion runways where models will be seen wearing over-the-knee boots with their dresses or skirts.
Q. Do knee high boots suit everyone?
Ans. Knee-high or thigh-high boots are universally approved; they look good on everyone! You can choose a variety of fashionable outfits that goes well with your boots and your whole posture, fashion style, and preferences. There is no chance these boots would look bad on anyone!