Silk Nightgown Aesthetic – Nightgowns are very delicate pieces that can look very good within the comfortable environment of your own home, but they also can be so much more than lingerie to wear privately. The many different colors and styles of silk nightgowns that are now emerging are being worn by many celebrities outdoors and are becoming a staple piece to layer under many different add ons. Many new ideas for wraps are also emerging to wear along with the silk nightgowns all ranging from silk wraps to even denim jackets. Slowly but surely, silk is becoming a staple piece in every girl's closet.
Silk nightgowns look very good on their own, with only accessories to style up according to one's preferences. However, with the evolution of the fashion industry, many new styles paired with silk nightgowns are rising to fame and being worn by many influencers and celebrities. Found in various different colors patterns, cuts, and styles, silk nightgowns come with many different styles of lacing and bordering giving every piece its own unique look and personality. Whereas there are also silk nightgowns that thrive on the grace that comes from their simplicity: they just simply help accentuate the wearer's body and bring about a sophisticated look.
What To Wear With Silk Nightgowns
While many celebrities, more specifically the Kardashian clan, tend to opt for nightgowns without any added accessories or layering, if done right, layers can look stunning with a nightgown. Be it a leather or denim jacket on top, or a long sleeve mesh top underneath, the styling possibilities are truly endless. Accessories can also go a long way in really elevating your outfit. Simplistic and dainty jewelry can create a minimalistic look and chunky jewelry can elevate an otherwise simple nightgown. The same goes for shoes, the possibilities are endless. Heels can make it so much more formal whilst sneakers can add a fun casual look to the overall outfit. It all depends on preference, but one could tie almost anything with silk nightgowns to create a personalized aesthetic, and this is exactly why nightgowns are becoming increasingly popular especially amongst celebrities and influencers.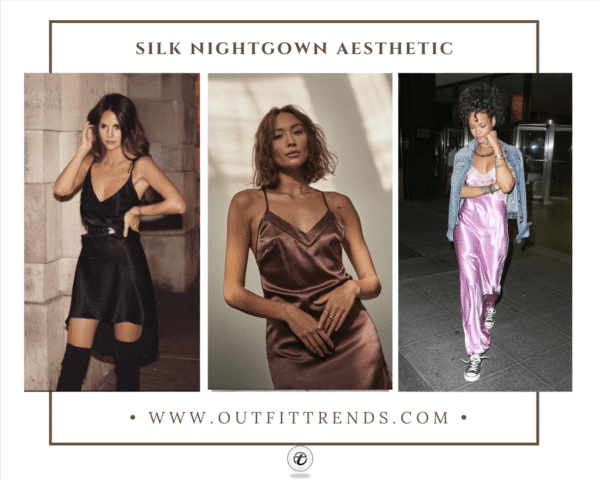 Do's and Don'ts For Silk Nightgown Aesthetic
Don't layer too much. Adding too many layers will distract the attention from the main statement of the outfit, which is the silk nightgown. Any layers that are to be added should accentuate and highlight the nightgown rather than drowning it out.
Do make sure to experiment with contrasting layers of clothing and different shades and tones of similar colors. While monochromatic outfits (for example a matching kimono to go with the nightgown) can look stunning, it will be so much more unique to try out new colors!
Don't wear nightgowns with too much lace. While lace can accentuate the silky material of nightgowns, it can also make it hard to layer items under or over the nightgown as lace tends to clash quite often with many different materials and textures.
Finally, DO make sure to be confident! Being made of rather flimsy material, people can tend to feel underconfident and self-conscious while they are in the nightgown. But confidence makes 90 percent of your outfit!
20 – Simple V Neck Nightgown With Wide Lace Border
This is a no-brainer look, having a beautiful pastel pink color with a red lace border. Despite being two different colors, the two elements of the gown seem to complement one another really well. This look thrives on its simplicity, with the minimalistic style and the thin spaghetti straps. This outfit can be further accentuated by layering chunky chain necklaces to add a golden touch.
19 – Teal Nightgown with Prominent Lace Detailing
This silk nightgown has a very detailed lace feature as a major part of its backside, to go along with the criss-cross satin straps. Since the lace is a major component of this nightgown, it is better to not style this with any additional layers as it will take away from the gorgeous lace detailing. As a matter of fact, this dress won't even require any layering due to its prominent and unique color.
18 – Rose Gold Nightgown With Matching Kimono/Wrap
If you don't know how to wear a night gown then try this this rose gold silk nightgown has a very graceful brown marble detailing that adds dimension to the outfit. This will look exceptionally nice paired with large designer jewelry and bronzey makeup to complement the brown accents in the nightgown.
17 – Pink Silk Nightgown Layered with Denim Jacket and Converse Sneakers
You know it is about to become a trend when the one and only Rihanna is seen donning the fashion piece in question. The pink nightgown has minimal lace detailing and the color is complemented well by the textured blue of the denim jacket she has draped over her shoulders. To tie the whole look together she chose canvas sneakers, more specifically the classic converse black high tops. Therefore, she effortlessly turns this into a modern everyday look that will suit everyone.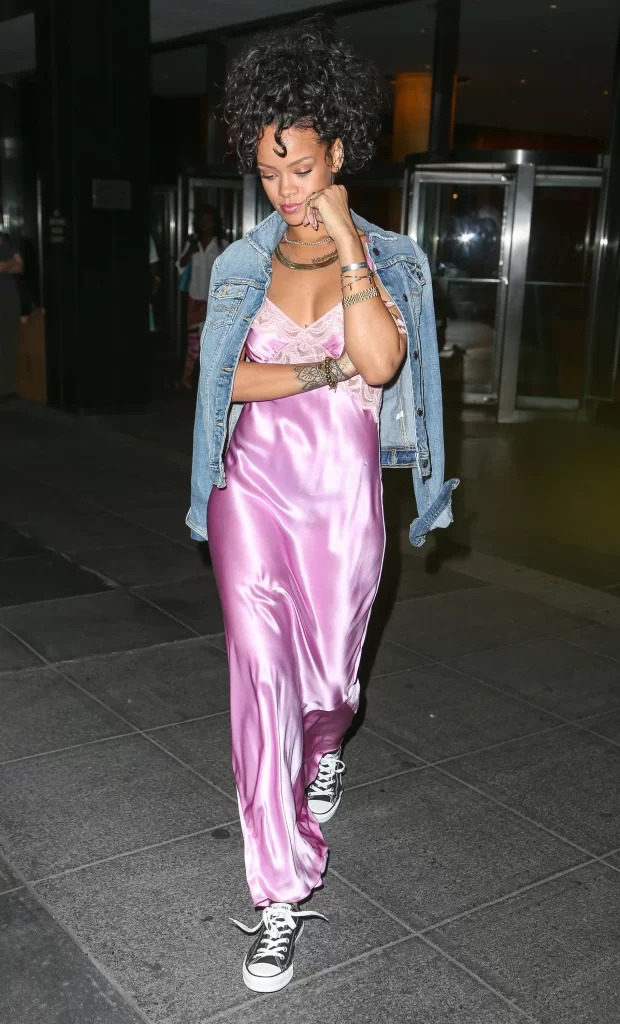 16 – Periwinkle Blue Cowl Neck Gown With Wide Lace Detailing
This specific light blue silk nightgown varies from usual nightgowns due to the cowl neckline which adds more grace to the outfit and brings an overall classy look, and also the length which is shorter than most nightgowns. The lace detail adds an additional texture to the outfit with adds more dimension. This gown paired with heels would look stunning.
15 – Dark Blue Nightgown With White Lace Borders
This is a simplistic midi silk nightgown that has a brilliantly flattering blue color and is detailed with stunning white lace at the neckline and the lower border. It has delicate thin straps and can work beautifully on its own, without any additional add ons! This is perfect to wear around the house, but can also work on other occasions due to its unique style and design.
14 – Classic Red Silk Nightgown With Black Lace
This is the classic version of silk nightgown is the one that tops all. The deep red will look perfect with dark red lipstick. The black lace elevates the outfit even more by adding another texturised element to the outfit. Pair this with a matching kimono and you have yourself a bright, sexy outfit.
13 – Black Lacey Nightgown with Leopard Print Wrap/Kimono
Our very favourite Kendall Jenner is also spotted donning this gorgeous black silk nightgown with minimalistic black lace detailing. She took a bold step by pairing it beautifully with a leopard print wrap which contrasts with the black simplistic nature of the nightgown, but the addition of another pattern into the overall outfit provides great dimension to the outfit. To top it all off, she wears minimalistic matching black heels. The wrap is also tied around the waist with its belt, which allows the waist to be cinched in, to give a flattering effect. Its so easy to pull off, you cannot go wrong with this!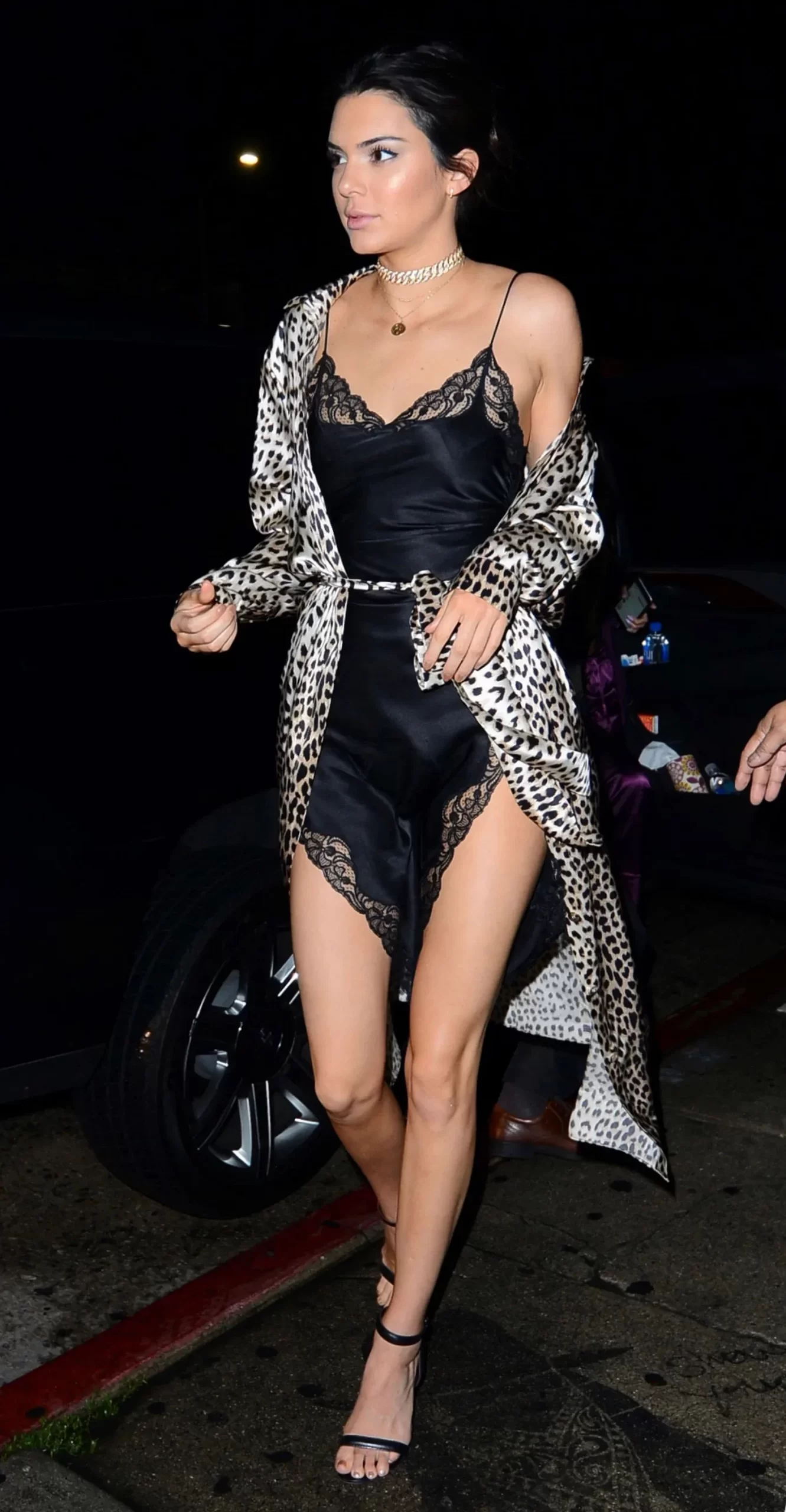 12 – Silver Silk Slit Nightgown With Black Lacing
This silk nightgown is another variation of the red nightgown with black lacing, however this ones gives a much sleeker look due to the unique color and style. It has a stunning slit in its hem which adds a unique touch to the outfit and it looks even better with the matcing kimono on top.
11 – Simple Plum Silk Nightgown With A Unique V Neckline
This silk nightgown is simple in theory, but the plum color along with the neckline adds dimension to the outfit giving it a rather sophisticated look. This can be styled further with jewelry and glowy makeup to further accentuate its beauty. This again is one of those nightgown looks that thrives on its simplicity: its the epitome of the phrase "less is more".
10 – Angelic White Nightgown With White Lace and Buttons Detailing
This nightgown is different from others as there is a lot of emphasis on the white lace detailing on the chest area. The white lace is ruffled upwards to create a flattering bridelike figure and creates a timeless neckline. This gown is seen more typically being worn by newly wed brides, however, it can also prove to be a stunning look to wear otherwise too! The gown also has some dainty buttons which add a cute little detail to make the overall nightgown more interesting.
9 – Plain Light Pink Gown
This nightgown is a relatively plain option, with a simple V neckline. Sometimes, less is more. Even a plain nightgown without the dramatic lace details and complex cuts can do the job as one has the option to elevate the look with acessories. This is a prime example of that.
8 – Black Silk Nightgown With Belt and Thigh High Boots
This is another interesting way to style a simple black silk nightgown. To cinch in the waist, add a chunky black leather belt and this will accentuate your curves and will look flattering on all body types. Also, black suede, thigh high boots can be added to this look to incorporate yet another texture to the outfit, adding dimension and making it a whole look, suitable to wear on a night out with your friends.
7 – Layer a Plum Silk Nightgown Over A Ribbed Printed Top and Pair with Black Boots
Get modern with this styling option. Take a simple plain, silk nightgown and layer a patterned ribbed top under it (of similar colors) to create a whimsical, modern, fresh, youthful look. This is perfect for artsy people and will look even better with chunky combat boots, however, this is a versatile look and would work with almost any other type of shoe!
6 – White Lace Silk Gown with Matching White Heels
This is another no brainer outfit, that can be pulled off by anyone! Pair your favourite silk nightgown with matching heels and you have yourself a very sophisticated and well put together outfit, with minimal effort! One of the biggest supermodels Hailey did it, so can you.
5 – Pink Nightgown Cinched At the Waist With Gold Belt
Jessica Wright was photographed wearing this stunning combination of rose gold and golden along with matching rose gold heels. This combination can never go wrong and it suits all shades of skin so it can be worn by perpetually anyone! Try it out today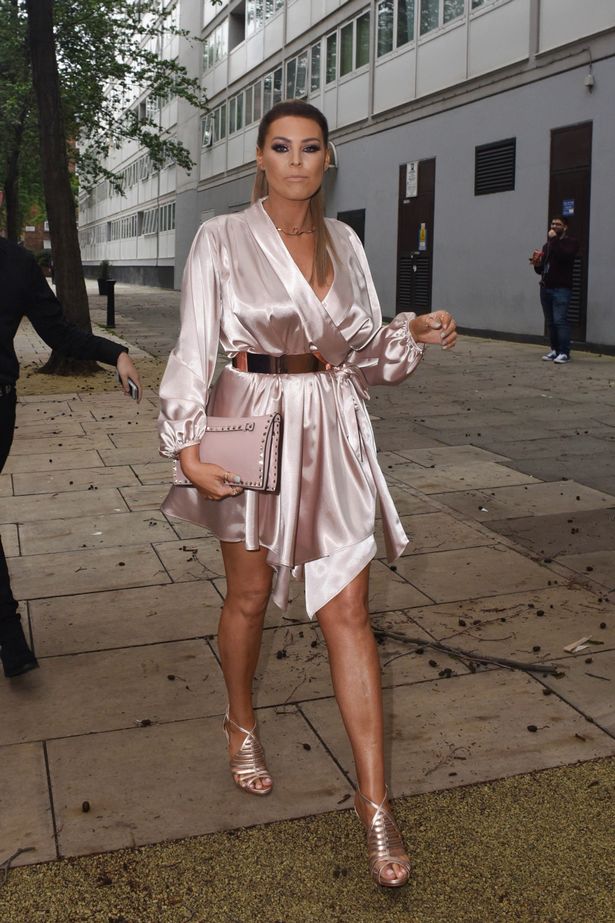 4 – Match a Silver Silk Nightgown With a Bespoke Silver Necklace
Do you have a big silver necklace or any other silver accesories that you can never find the perfect outfit to wear with? Well look no further, as here it is, Rosie Huntington giving us the perfect example. Sometimes big and chunky jewelry can be really hard to style with everyday outfits, so it is better to have something plain to wear them with. This is where silk nightgowns come in to make the perfect plain canvas to accentuate the jewelry!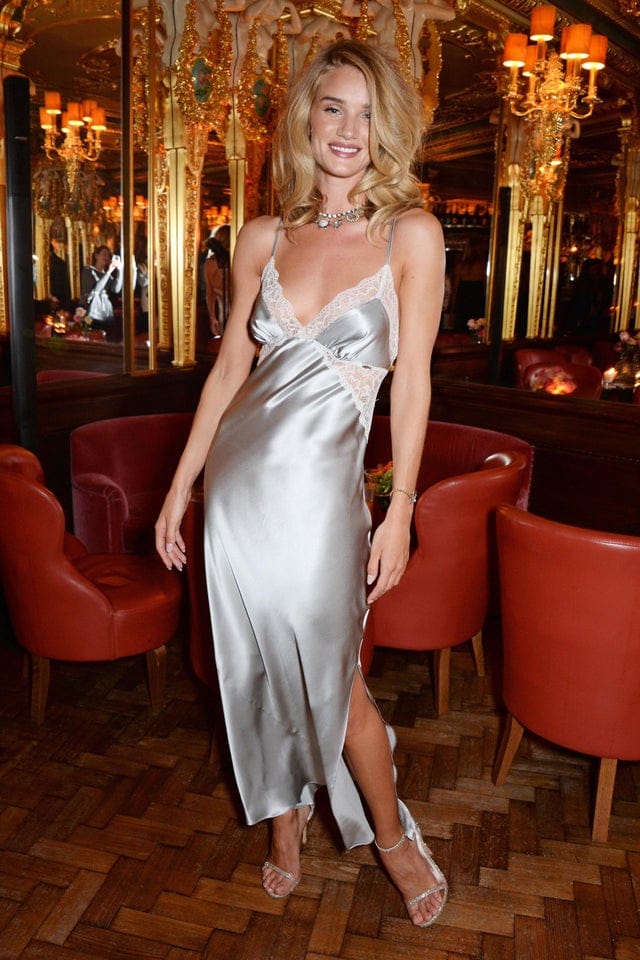 3 – Black Silk Nightgown With A Split Hem
The beauty of this nightgown lies in its simplicity. The unique cut of the gown is complemented by the lace detailing at the neckline and even more so by the split hem. The capped sleeves also add a unique touch to the overall outfit.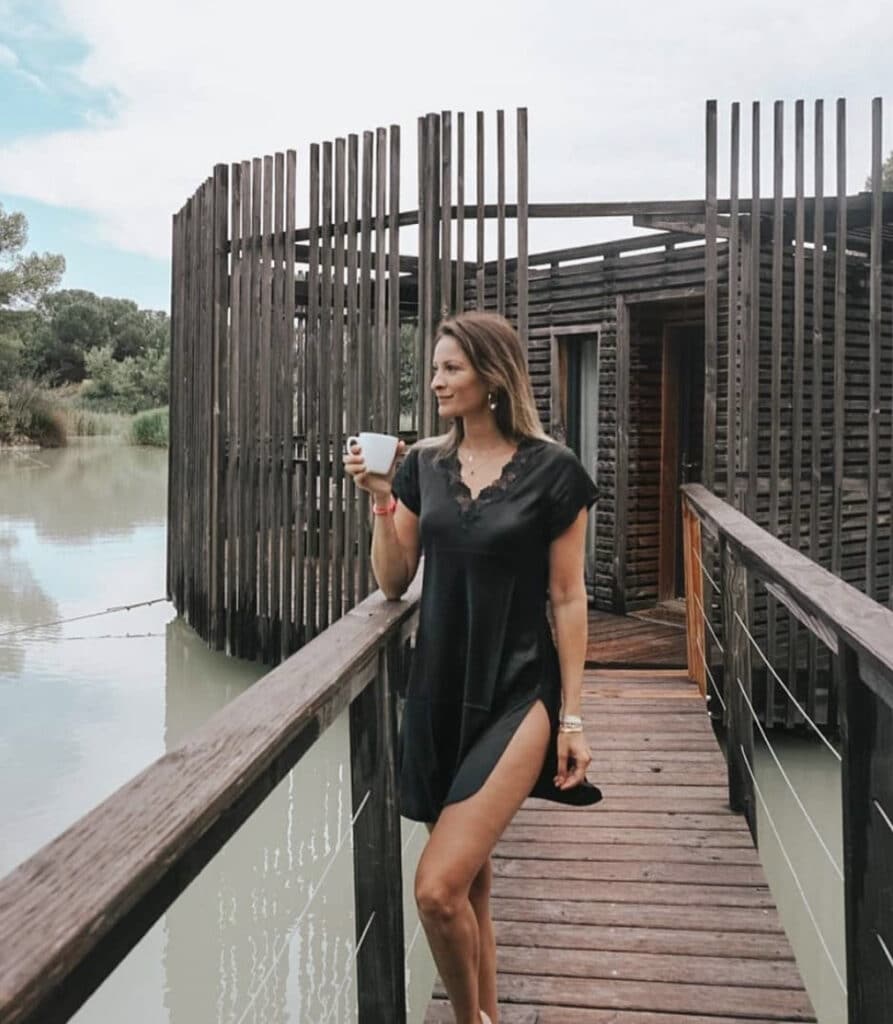 2 – Long Sleeved Silk Nightgown
Nude silk nightgowns can never go wrong, they always work with gold jewelry and accesories. However try changing the typical nightgown style by replacing it with full sleeves for a unique and sophisticated look.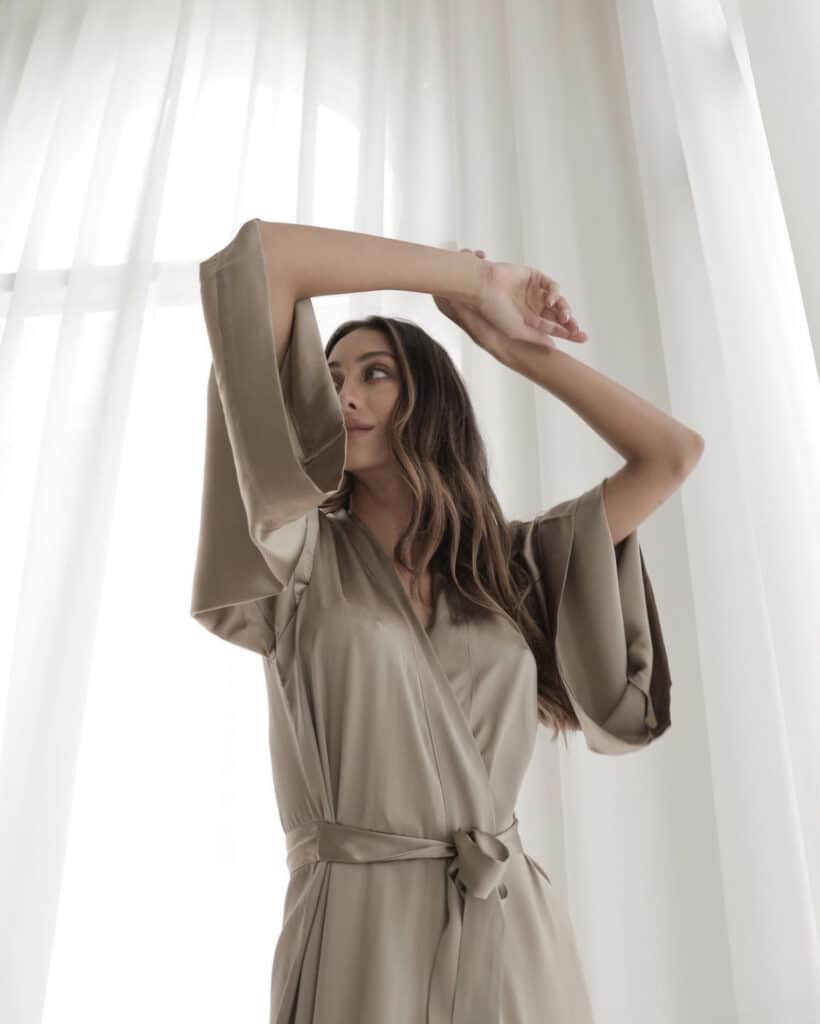 1 – Mix And Match With By Wearing a Contrasting Kimono Over a Silk Nightgown
This is another simple way to add dimension to your silk nightgown outfit, by adding another color for the wrap. Its so simple and so stylish.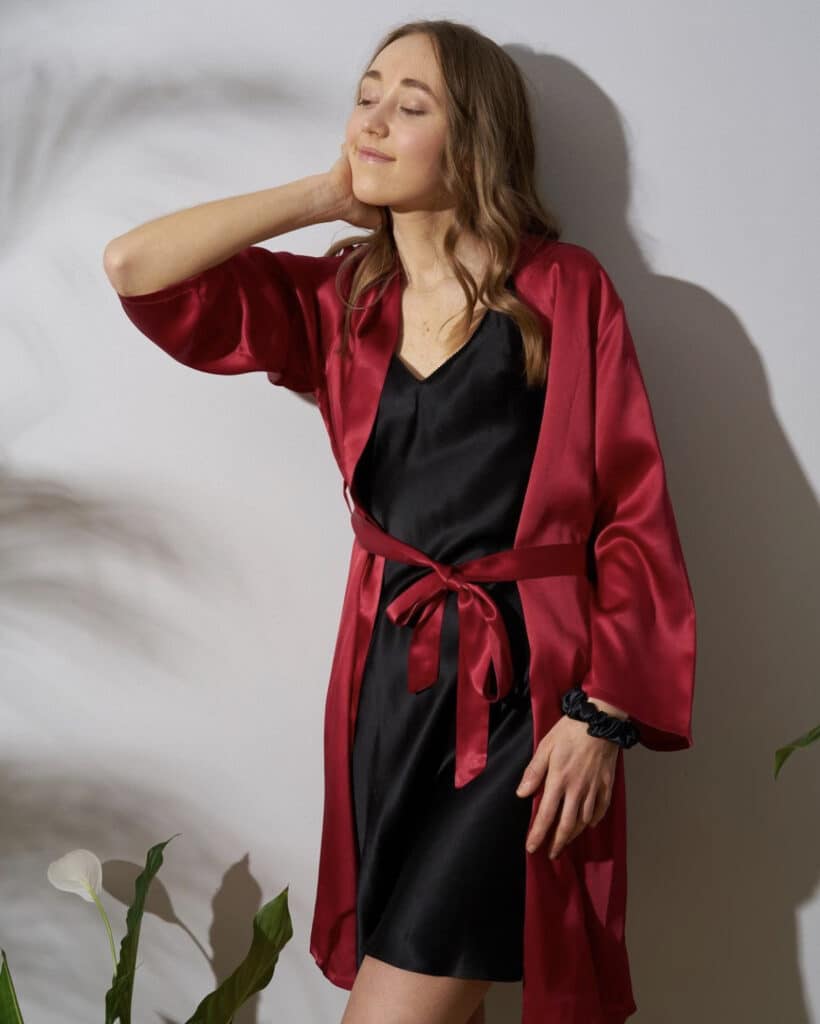 Frequently Asked Questions
Q. What accesories to wear with silk nightgowns?
A. Almost all types of accessories can work with silk nightgowns but the safest and easiest option would be to stick with simplistic and minimalistic jewelry such as delicate necklaces and dainty earrings. If you're a fan of chunky jewelry, opt for gold ones, but only when your silk nightgown is relatively plain.
Q. Is it necessary to wear a wrap with a silk nightgown?
A. No, it is not! It depends on preference, and what one is comfortable with, but do not be afraid to experiment with different wraps and kimonos as they can add so much dimension to the outfit with an otherwise relatively plain silk nightgown.
Q. Is it possible to style silk nightgowns with neon colors?
A. Silk nightgowns usually come in either dark colors or neutral nude tones. To style neon accessories or even layers of clothing with it might look out of place as the color tones will clash a lot, and draw attention away from the simplicity and grace of the silk nightgown itself.