Winter wedding outfits for brides –The spring and summer seasons are always the go-to choices for most brides, but those who choose winter for tying the knot enjoy their bridal fest a lot. From picturesque frosty backdrops to swanky winter accessories, every element fabricates an exotic winter wonderland for brides making their day enchanting memorabilia.
From sartorial velvet, silk, and heavily laced wedding gowns, plain slit gowns, to fairyland floral crowns, winter has all the myriad choices and options you are pretty obvious to try for an uber chic look on your big day.
Previously we covered winter wedding attires but it's time to share a plethora of options and outfit inspirations for a majestic wedding for brides, don't stop here. Continue reading our 26 best winter bridal outfits which are meant to trap the heart of our charismatic beauties' future spouses.
Think of our incredible pop star Miley Cyrus's wedding look for the snowy season. Why can't you if she can wear an off-shoulder ivory silk satin gown and be a bombshell in this chilly season?
How Should Brides Dress Up in Winter?
Though not every bride is up to balmy spring evenings for marriage. They rather prefer chilly and crisp breezes slithering around their wedding clad. Furthermore, no sweating or melting makeup are also some more perks of frosty weddings for brides. However, keeping oneself warm and cozy rather than freezing to death on the altar is more significant.
So, whether there is an indoor ceremony or outdoors, just follow the simple tips and tricks discussed below for an ultra-dreamy winter elopement experience without the cost of catching a cold.
Tips And Tricks for Bridal Outfits for Winter Season
Choose the fabric wisely. Some of the best fabrics for winter apparel for a bride are lace, silk, and brocade. These fabrics emanate a fragile and feminine look to the bride.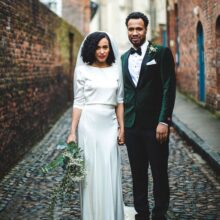 Footwear is another significant element for a bride getting married. Always go for closed-toe footwear for a frosty-season wedding. Pumps, ankle boots, and sock boots are preferred choices for a winter bride-to-be. They will keep you warm and in comfort when you are having a photoshoot with snowy backdrops.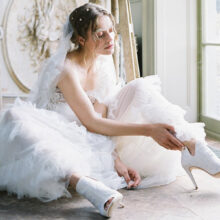 Layer yourself to stay warm in winter. For winter, brides donning accessories like cape shawls, fur stoles, and jackets are salient. This provides them with a comfort zone against the chilly season.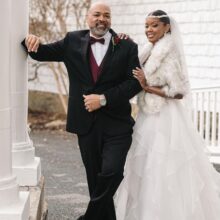 Fleece leggings or velvet leggings should be the first thing to keep in mind by winter brides as they will keep you warm. Leg attires help you strut the aisle with elegance.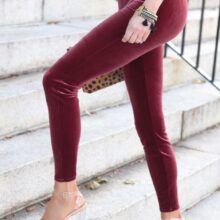 Some other accessories which are sure to keep our snow queens warm while they walk down the aisle are ear muffs, gloves, thick socks, etc. Open hair is preferred as they also keep you warm.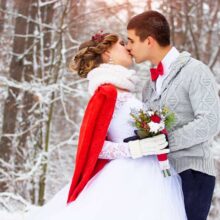 With these simple tricks at hand, now you are all set to browse through our top 26 wedding gown designs which are surely going to be the haute-couture of this winter season.
26 – December Bridal Dress Inspiration
Wedding dresses in white are forever traditional, but what if a touch of flamboyance is added to them? Just have a look at the outfit below. Nothing looks more alluring than a bride in this stylish sleeveless, knot-sleeved, tail wedding dress. An exotic winter backdrop and hair ornated with snowflakes are all needed to recreate this look.
So, ace this look and pose like her under the snow but don't forget to wear a fur stole or a jacket afterward when the photoshoot is over, okay?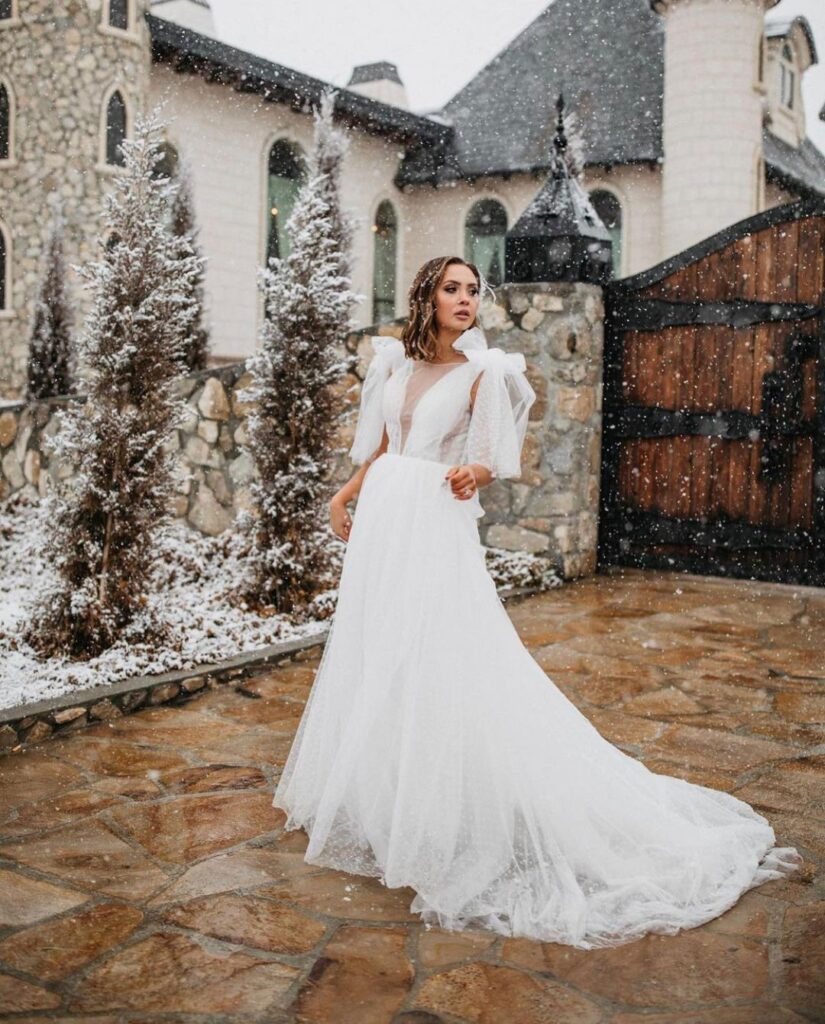 25 – High-Low Wedding Dress With Embellished Gloves
This high-low brocade wedding dress ensembled with an embellished gown is perfect and should be the go-to choice for every bride whose marriage is arranged at the upcoming end of winter. Not only will it but it will also give you the courage to flaunt your outfit on the altar.
Ace this look and dress your design likewise. Accessorize minimally with cinderella shoes. Some glittery, frozen make-up, and our snow queen is ready to be the queen of hearts at her wedding.
24 – The Perfect Dress for Winter Nuptials
Who says you can't dare wear a bold statement slit dress with balloon sleeves for your marriage ceremony? Well, the model below dares to so why can't you? Surely, the aisle will set on fire when you walk in this signature outfit to your groom.
So what are you waiting for? Just go for this look. Ensemble this bold dress with strappy sandal heels. Accessorize minimally with sparkly earrings.
Some nude make-up, a walk down the aisle and boom! The groom blacked out from your oomph-bearing look.
23 – Pink Mermaid Dress for Marriage
This pink mermaid dress with a butterfly-winged corset is undoubtedly the most stylish and charming dress one definitely has to try for her wedding. For looking as beautiful as her, step into her shoes.
Add an embellished belt to your mermaid dress. It will clinch to your waist, enhancing your body curves. A sleek hairdo and nude make-up are all you need with this embellished dress for your big day.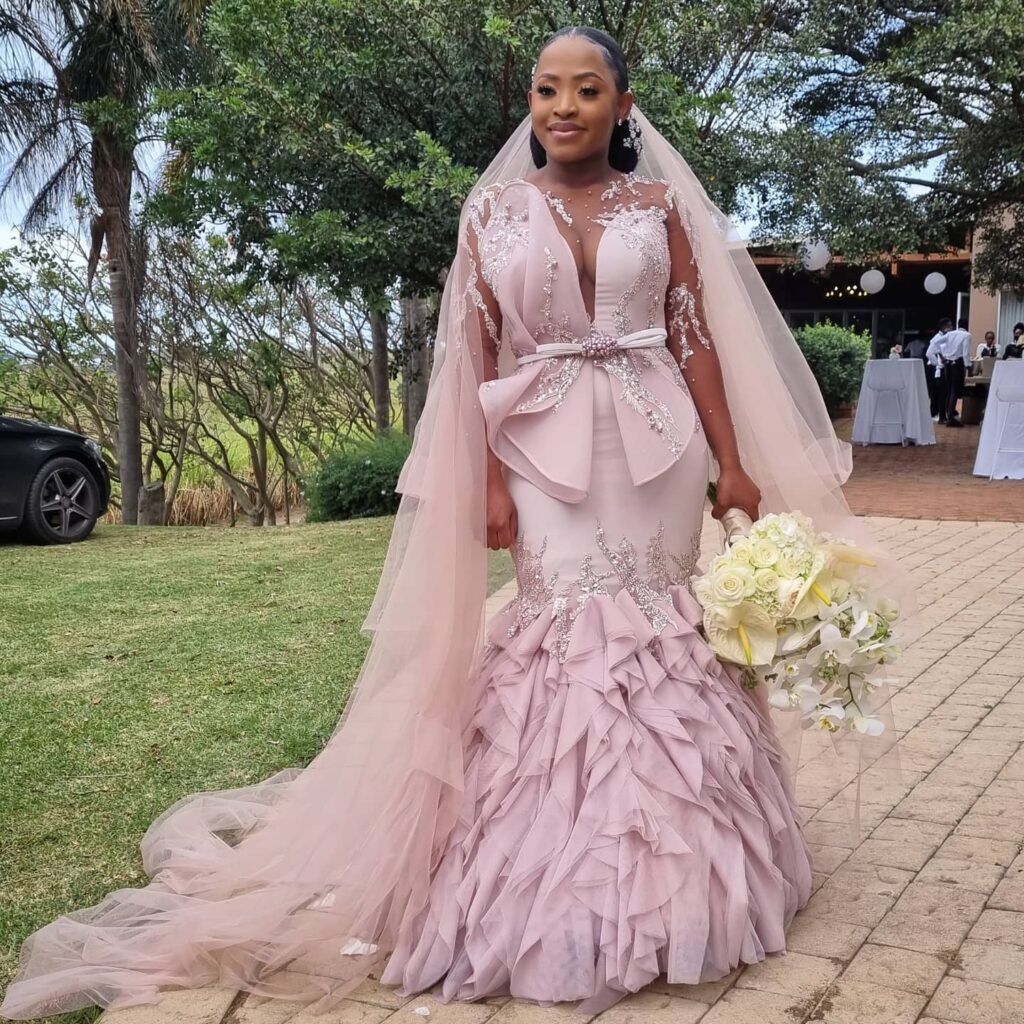 22 – Boho White Wedding Dress
For brides fretting over their wedding dress, the ethereal as well as glamorous, the one and only boho floral dress is here.
The fine floral detailing on the tail and the mermaid silhouette of the dress gives this dress ultimate wedding vibes.
For a more dreamy look, ensemble this outfit with sheer mesh mittens and elegant pumps. Some loose curls accompanying nude make-up and now our bride is strutting the aisle with her stunning boho looks.
21 – Sparkly Outfit for "I do"
This sparkly, sequined, no-fuss dress is perfect for those ladies who want to keep it simple but not too simple for their winter matrimony. The deep neckline and pointed shoulder sleeves are the best detailing one could ever ask for in such a dress.
Ace this look and put on this simple yet grandeur outfit. Accessorize minimally with drop earrings and boot heels. A high ponytail and smokey make-up will certainly rotate all heads to you.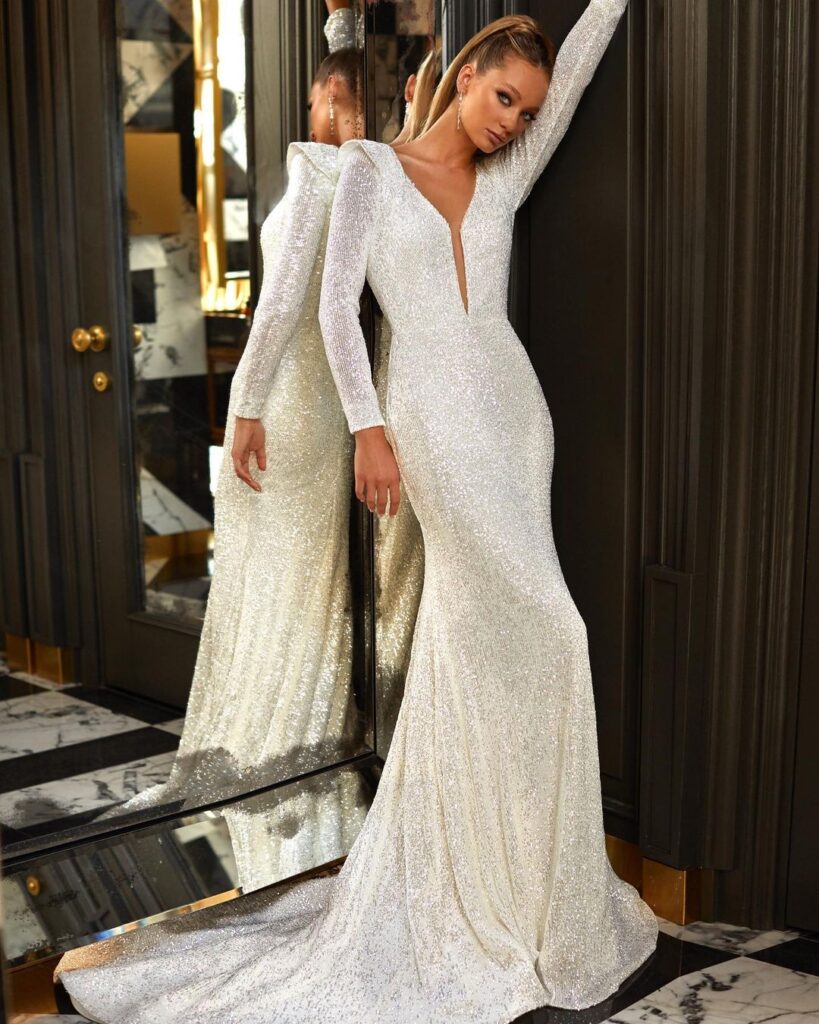 20 – Pearl Whiteout
This pearl wedding dress with a halter neck is perfect for our cute brides who are desperate to look young for their wedding.
All you need is this dress ensemble with a pair of satin pumps for a young look in this snowy season. A crown on the head, some matte make-up and a wide smile. Now, your mission of a youthful look at your wedding is complete.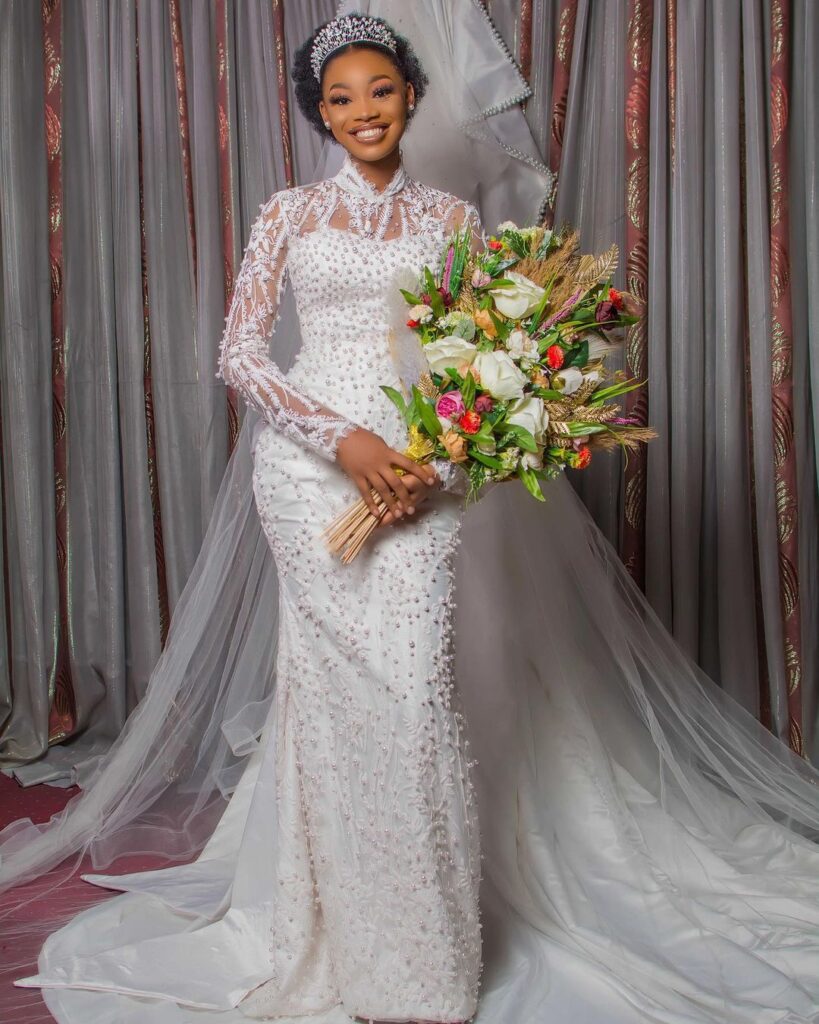 19 – Plain Big Day Outfit
Nothing looks more beautiful than a traditional A-line wedding gown ornated with an embellished belt. So, if you have an indoor wedding planned in December and want a charismatic look while giving others chills, then recreate this look.
Spice your outfit a little bit with a cozy fur stole. Now walk down the aisle in this charming plain white dress and steal your spouse's heart.
18 – Fairytale Wedding Dress
The pink color is nostalgic and romantic. And when it becomes your bridal dress hue and the dress is like the look below, then by god, you are the luckiest bride on planet earth.
I am so in love with this fairytale wedding dress. The embellished plunging long-length wedding gown is the epitome of blush and balmy frosty dress.
So, girls go on a romantic ride with this outfit. The floral head crown will give you the ultimate fairy vibes. Accessorize it minimally with earrings. Apply blush makeup with raspberry lips.
Now float through the aisle and cast the love spell on your groom with your enchanting look.
The lehenga is a traditional outfit in countries like Pakistan and India etc. Now that winter is around the corner and our brides need warmth with fashion. For that, velvet lehenga is at their service. They are luxurious as well as graceful.
So, tie the knot with this velvet lehenga outfit. A heavily embroidered blouse and minimalistic gold accessories are all needed to slay this look.
Go for it and be a head-turner at your wedding.
16 – What Should Hijabi Bride Wear to Winter Weddings?
Hijabs are an emblem of modesty and now their coupling with every other dress piece is becoming very popular. The dress below is inspired by Egyptian wedding gowns.
The coat sleeves and embroidered satin ballgown with silk hijab make it the warmest marriage outfit you could ever ask for in winter.
Accessorize it with nude make-up and ankle satin boots. Now, you're ready to slay.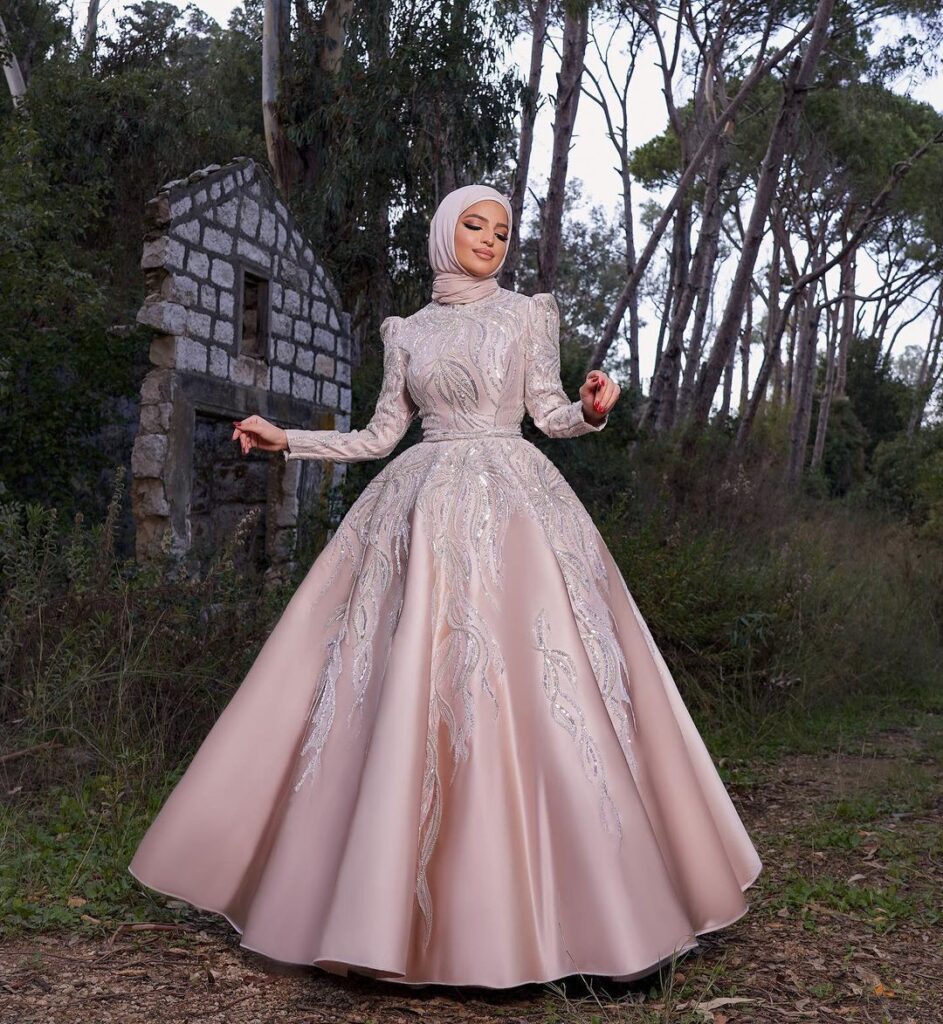 15 – Style It Like Priyanka Chopra
Who better than Miss World, Priyanka Chopra, to tell us how to style a wedding gown in winter? The fashion queen effortlessly depicts how you can rock the sheer, laced wedding gown with grace and honor.
Ace this look and style like her. Put on an eye-catchy veil. Further, add a pair of kitten heels to your outfit.
Now you are ready to be the next miss world at your wedding in this outfit.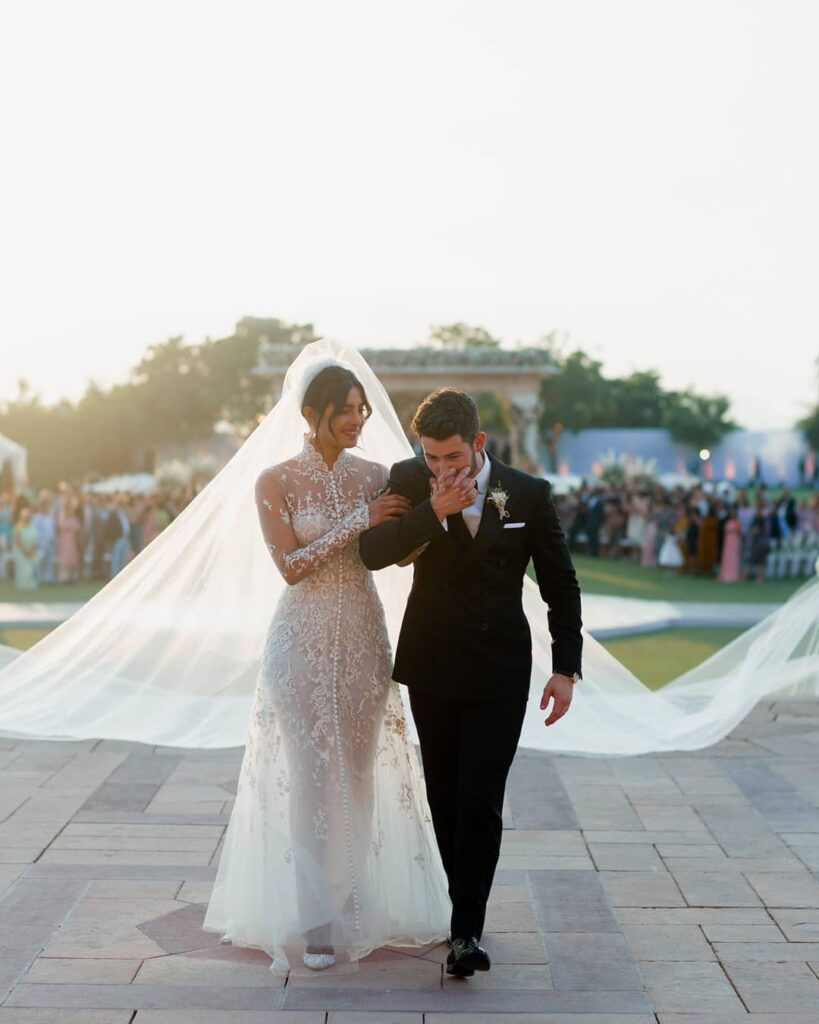 14 – Frosty Matrimony Outfit
Opting for a simple, casual but trendy bridal outfit? Look no further, as we have found the perfect panache outfit. The white monochrome will drape you in elegance. The puffed-sleeved, deep-necked silk mikado top will enhance your vivacious side, while the bottom frills will retain the dignity of the bride.
Ace this look and accessorize it minimally with a headband, satin ankle boots and a gusto smile.
All the spotlight on you girl, for looking so entrancing in this outfit.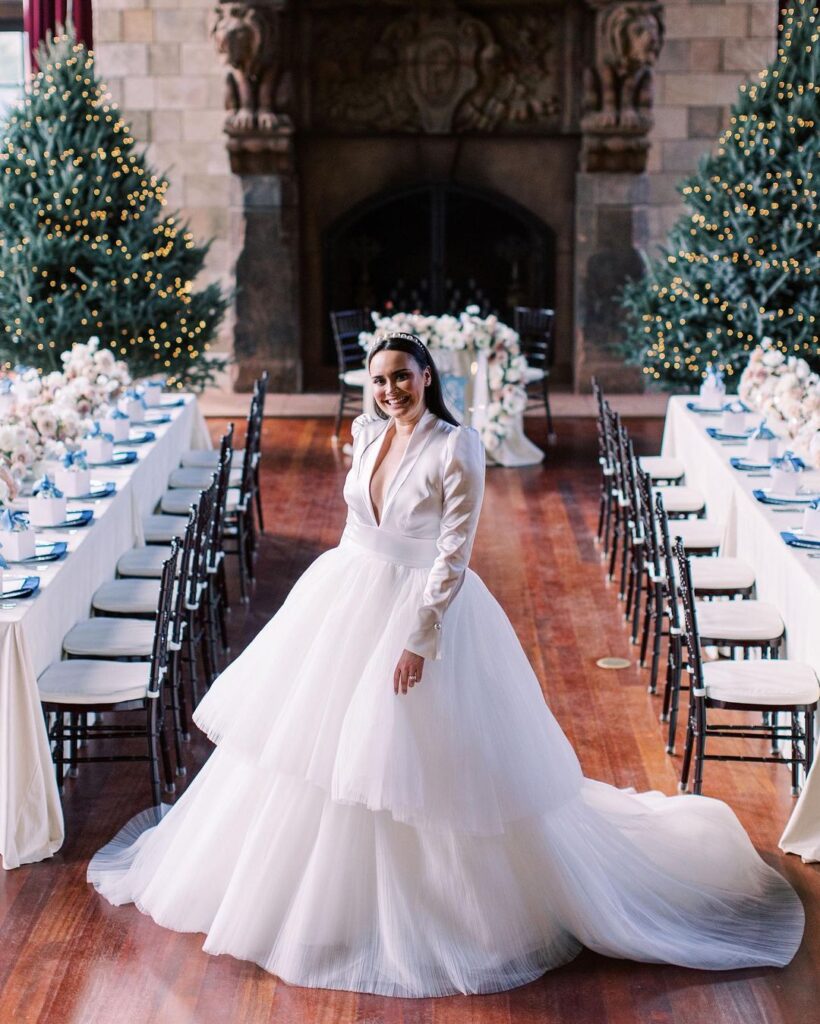 13 – Royal Guide To Wedding Attire in Winter
Who better than the stunning Meghan Markle to tell us how to style a plain off-shoulder wedding gown in winter? You can also slay the off-shoulder, bodycon silk outfit with prestige and class like her.
Put on an eye-catchy embroidered veil and add a pair of pointed ankle heels to your outfit.
Now walk down the aisle like the Queen of England, with audacity and grace.
Tulle is an all-season fabric and because of its breezy, flowy nature, it looks exotic as a wedding gown. For a tulle wedding gown inspiration, have a peek at the look below.
How the frilled detailing of the tulle dress impresses vintage-timeline upon this outfit.
Ace this look, and don or design a tulle wedding dress. Minimally accessories like a clutch or jewelry are enough to enhance this swanky outfit.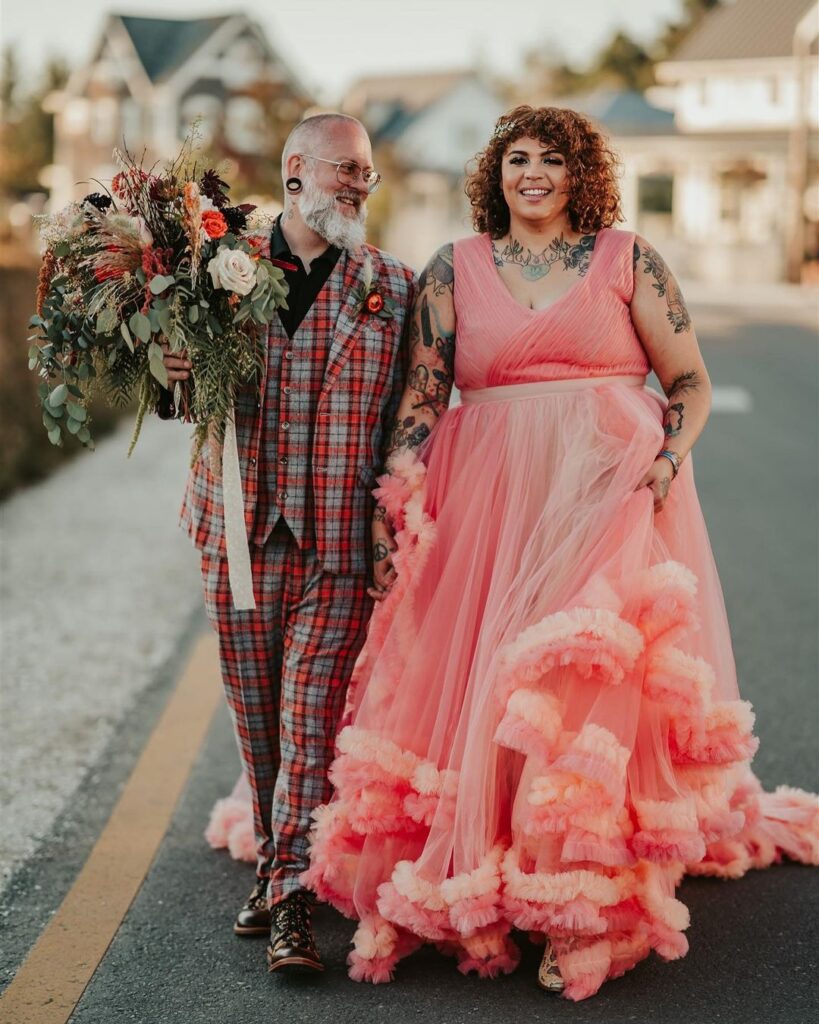 11 – Layer It With Fur Stole
Though many fabrics can make wedding gowns for snowy weddings. However, the silk mikado promises a certain pull and carriage that every winter bride needs.
This baby blue silk mikado gown below is such a statement dress. Everything is warm and perfect for a frost bride, from a refined off-shoulder neckline to a breezy ball gown.
So, frost brides, despite the cold, recreate this look. Keep your hair open and shoulder bare while the photo shoot. If you feel cold, pull over a nice and cozy fur stole to your arms.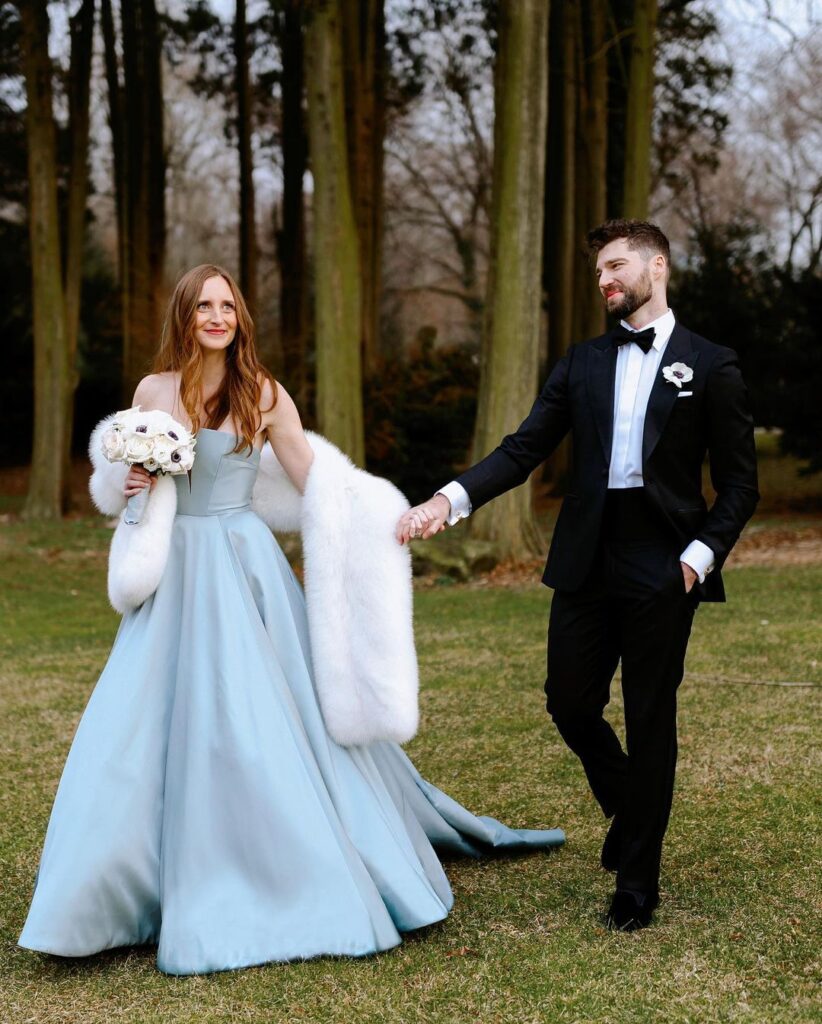 10 – Best Winter Elopement Dress
When it comes to elopement, no matter what the season, our brides demand sophistication and grandeur for their dresses. So, to fulfill this demand of our frost queens, we present a high luxe brocade nuptial outfit, sure to leave the crowd gaping at your outfit.
The deep A-line neck-detailing with an innocent baby bow, escalates this dress' grandeur a hundred folds.
Ace this look, girls put on your pumps under this outfit, add a cape and let the dress speak for itself with its dramatic details.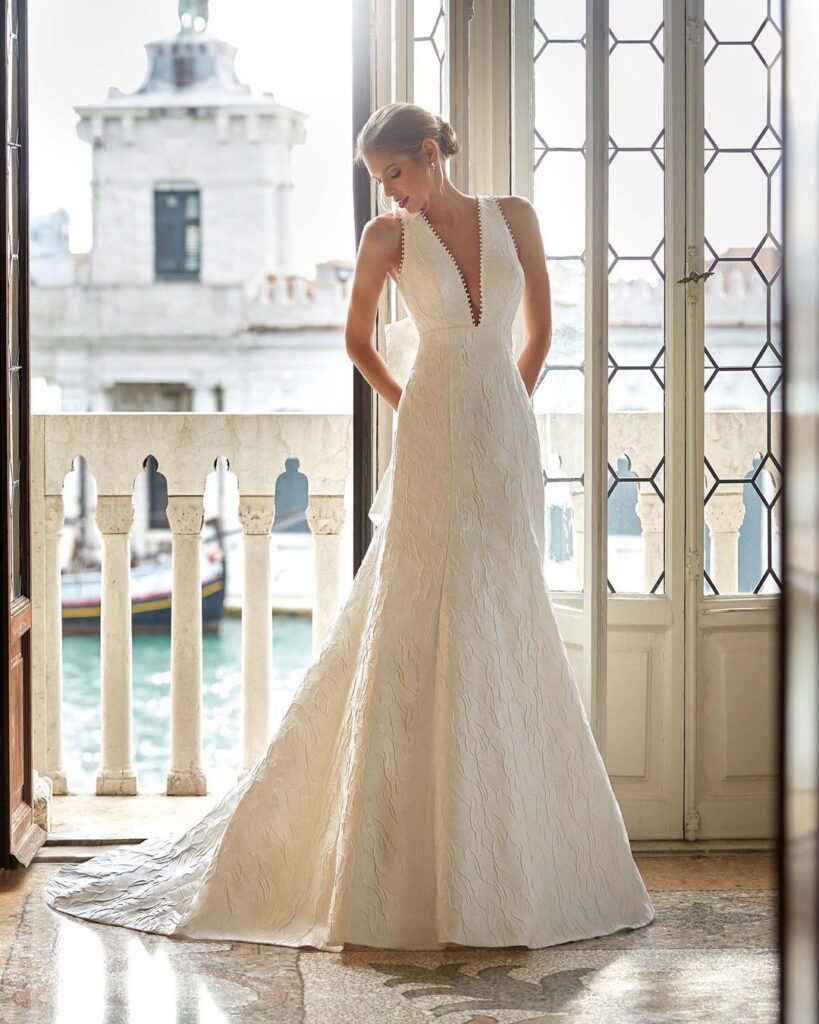 09 – A Pristine White Look
Wanting a pristine white look while standing beside your groom? No worries, as we have the perfect dress for you. The outfit below is an exotic laced wedding gown along with minute feather details at the shoulders that will certainly become the go-to inspiration for your wedding gown.
Minimally accessorize this dress with feather earrings and enhance your look more with a voluminous Italian bun.
With everything done you are all set to slay that couple photoshoot.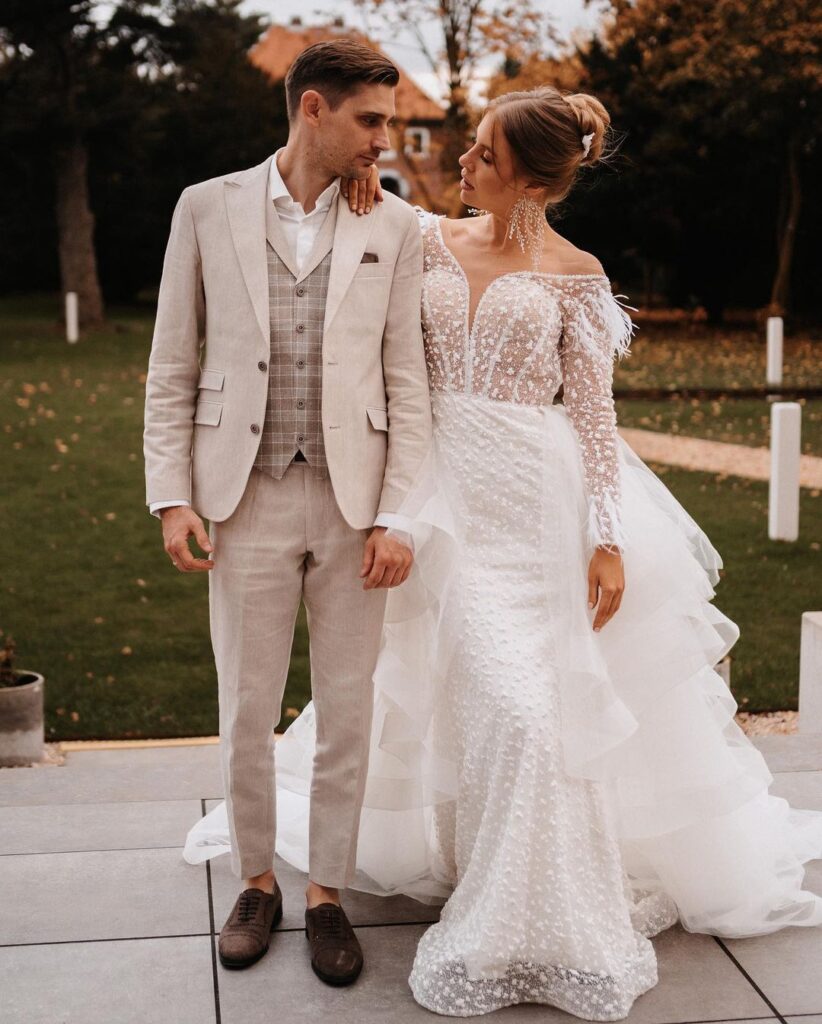 Yes, we've heard of jumpsuits with pocket but wedding gown with pockets? Well, that's new. It's not only new but very cozy new.
The outfit below promises the coziness a bride desires for her marriage. This is not only stylish but is also a brimming trend in the fashion industry. The short cape and gown pockets are new to the typical wedding gowns. This design is astonishing.
We recommend recreating this look with a sleek hair-do and surprising your bridesmaid with your new elegant and chic dress.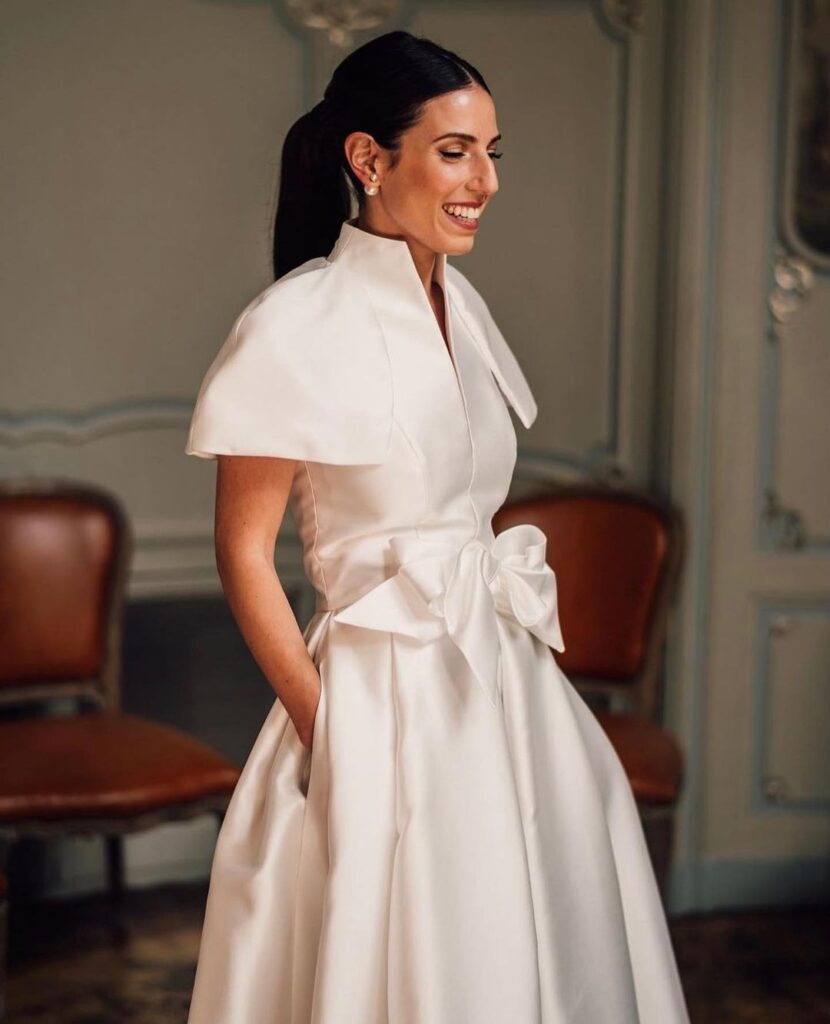 07 – A Snowscape Outfit
This is another matrimony outfit at the zenith of our fantastic winter wonderland. The model looks like a fairy in her embellished floral bodycon dress. Such an exotic dress, right? Truly mouth-watering. I adore the sheer balloon-sleeve cover. Wow. This dress is so unbelievable. And the Bradley Mischka bridal shoes! Amazing. If I were you, I would have created this look by now.
It needs nothing but minimal accessories like ear-hoops or fringe earrings. You may also add a fur stole if you want to, it will only make it more haute-couture than it already is.
06 – Elegant Winter Romance
This gown is perfect for those brides who don't appreciate a single fuss in their gait and style. The plain brocade gown, with a sheer veil, is alluring and flamboyant.
Go for this look girls. You don't have to do much. Just some earrings, open-hair, and platform heels and you are set to slay.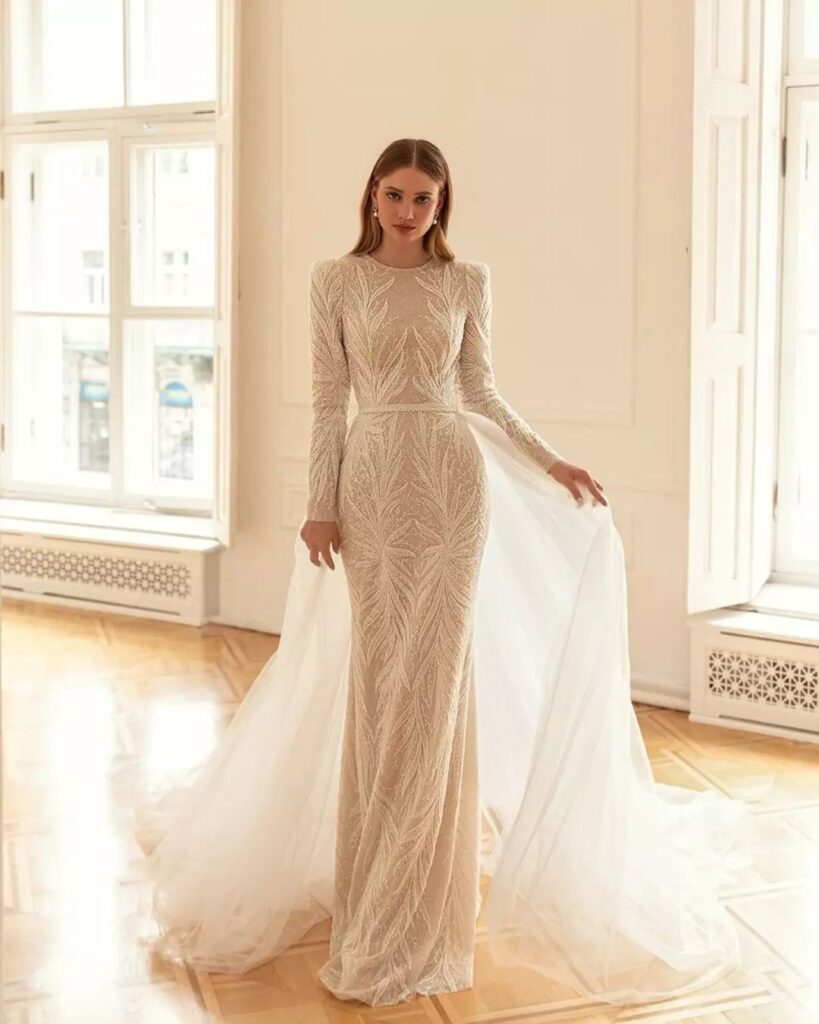 05 – Blush In Pink
This pink A-line wedding dress with flutter sleeves is perfect for women who are in gusto to walk to their love of life and say, "I do".
Ace this graceful look with a happy heart. Pull over this dress, and tie your hair in a nice bun. A pair of silver earrings and you are ready. Now say cheese.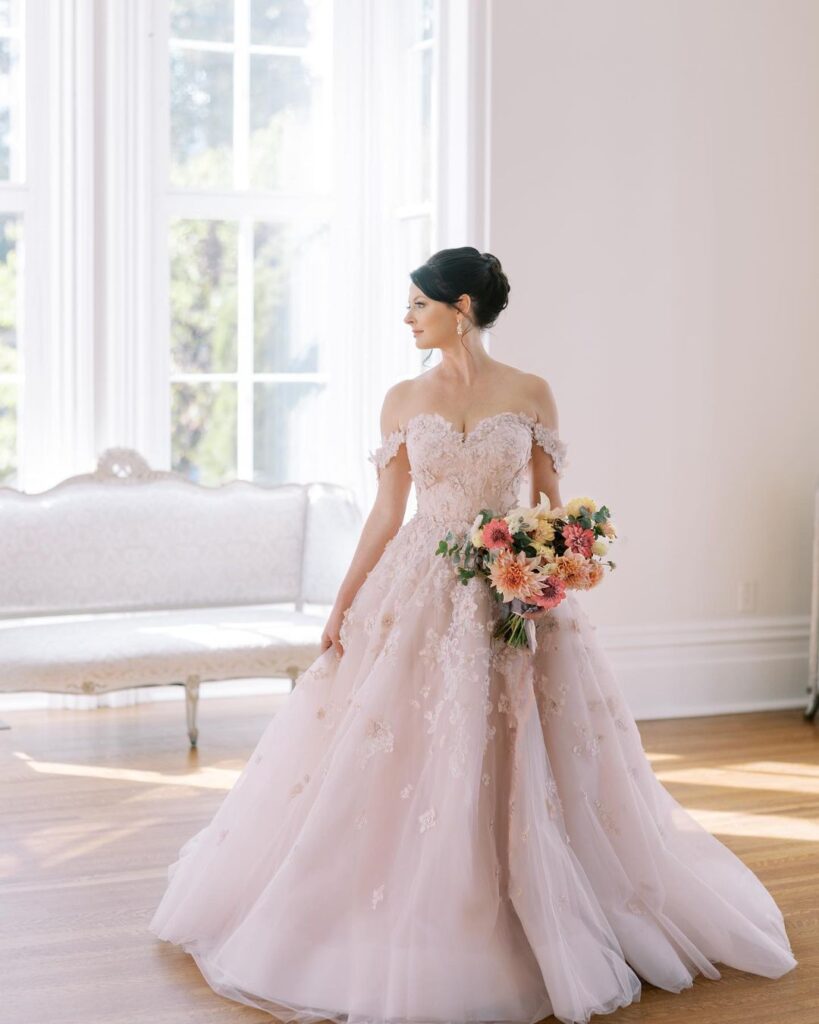 04 – Add Drama to Your Wedding Dress like Lily Collins
No one can give a winter wedding dress inspiration better than Lily Collins, who herself married under the snowflakes in an astoundingly exotic outfit
Draped in a laced gown with a detailed hooded floral veil, clung to her shoulders. She looked more like an aphrodite than a diva.
For an exceptional jaw-dropping outfit experience, follow Lily Collins. Buy yourself an enchanting laced wedding gown with a hooded floral cap and some pointed white satin ankle boots. Warm and panache. You look drop-dead gorgeous.
Ever thought of getting married covered in snow? She did, and look how adorable she looks. Nothing extravagant, just a tulle balloon-sleeved red dress with a wool shawl of the same color. How simple but how fascinating, right?
If you want to look like that or ever imagine having a wedding covered with snow, then follow her for styling tips.
With a red gown on, you need nothing but a shawl and pointed ankle boots for that adorable look.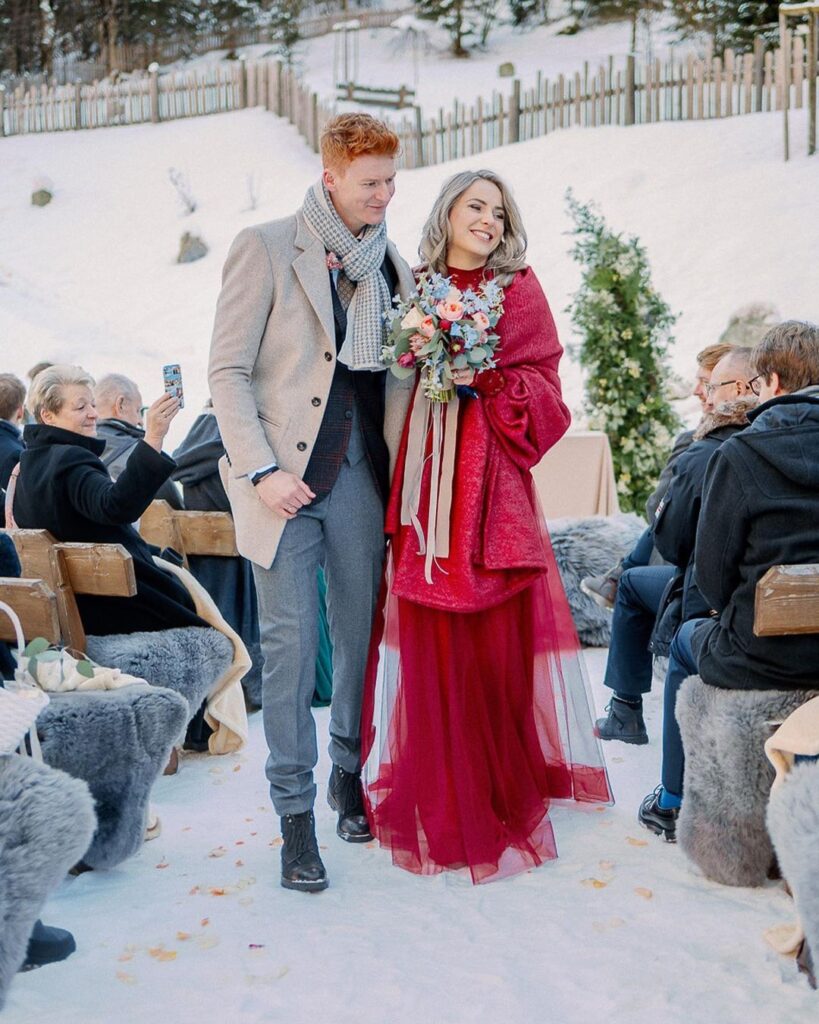 02 – Style It With A Slit
Do you dare to wear a bold statement slit dress for your wedding in winter? If so, then follow the model below. You surely intend to put the whole aisle on fire while flaunting this signature outfit.
Just go for this look. Ensemble this bold dress with strappy sandal heels. Accessorize minimally with sparkly earrings.
Some nude make-up, a walk down the aisle, and boom!
I think you should call the firefighters now.
01 – Paris Hilton Guide to A Wedding Dress
My favorite and the ever-young Paris Hilton is here to share some of her styling tips for a snowy bridal dress. According to her, wearing a full-sleeved ball gown-type laced dress is better. It is sure to keep you warm. The veil should be long with floral details.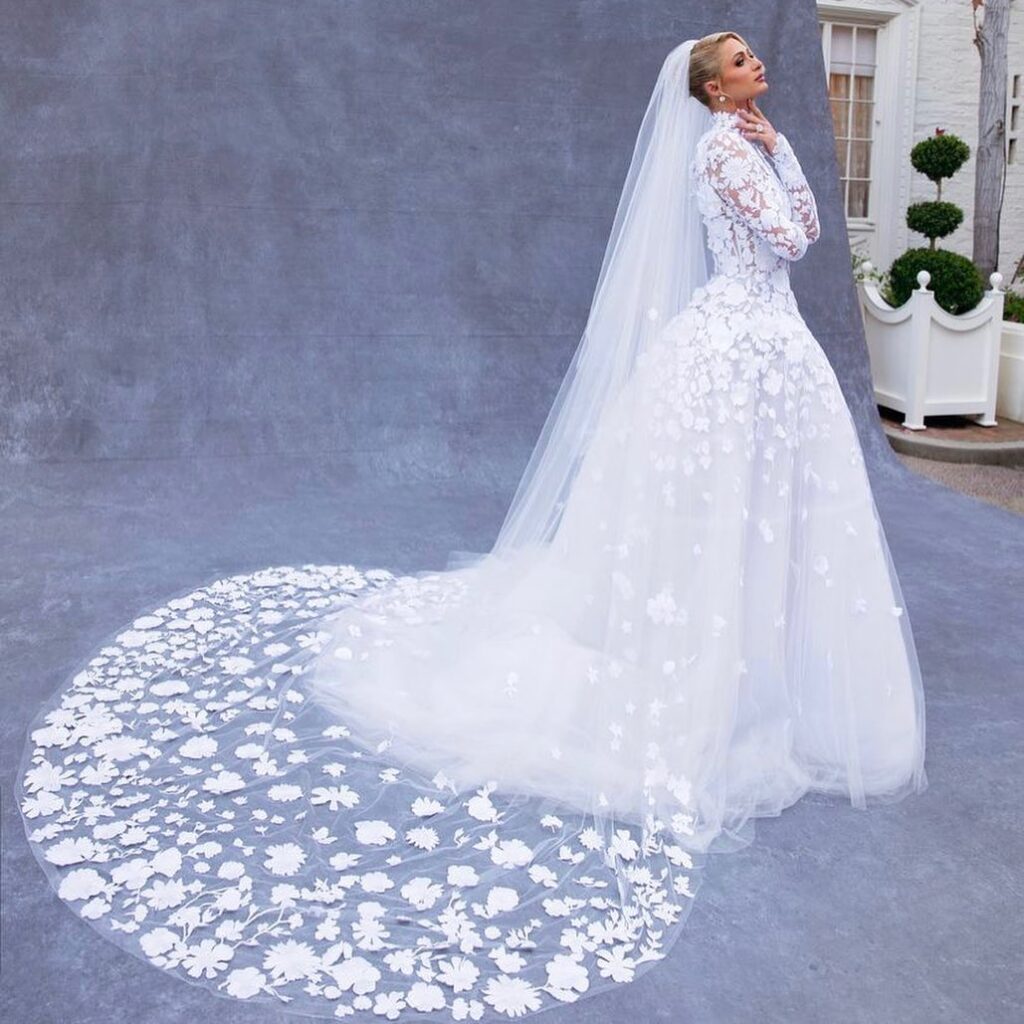 That's our curation for the best wedding dress inspirations for our frost brides. So, try them and look evergreen elegant, and classic.
Frequently Asked Questions
Q – What color do you wear to a winter wedding?
Ans – You can always wear warm palette colors for a weddings in winter, such as baby blue, pink or olive green etc. However, there is no limit to the color choice. If you love traditional white or exotic red, then go for it. Dark hues with floral patterns also look good for wedding ceremonies.
Q – Can I wear a floral dress to a winter wedding?
Ans – Of course, you can. Floral print dresses, especially in white, enhance your outfit as they don't make them look bland or dull. It is always best to accessorize floral prints minimally with pumps or statement earrings and let the floral gown do all the talking.