Vintage Bridal Outfit: Vintage bridal dress is a classic style that practically any bride may wear. Due to the expansive definition of 'vintage,' these exquisite gowns range in design from elegant gowns to long and sleek 90s, graceful old Hollywood lines, or traditional wedding gowns.
There are a plethora of vintage-inspired wedding gowns to pick from. Whatever your style, there is a vintage gown out there that will suit you. Beyond its outward appeal, a vintage wedding gown evokes feelings of romance and uniqueness. Antique lace materials, delicate needlework, and glistening pearls are a vintage-loving bride's dream come true! We've compiled a selection of our best antique wedding gowns from around the world. Please have a look at these stunning traditional wedding gowns and let us know which one you like.
How To Wear With A Vintage Bridal Dress
Choosing a vintage bridal dress is an obvious place to start for those interested in incorporating anything archival into their wedding day. Not only is a vintage gown a piece of fashion history, but it is also more elegantly designed than a machine-made gown. It is preserved from weathering the test of time when purchased from a reputable dealer or vendor. Strictly defining the style you're looking for will help you hunt for the ideal antique gown. Define the appearance you desire; compile inspiration to determine which decades inspire you.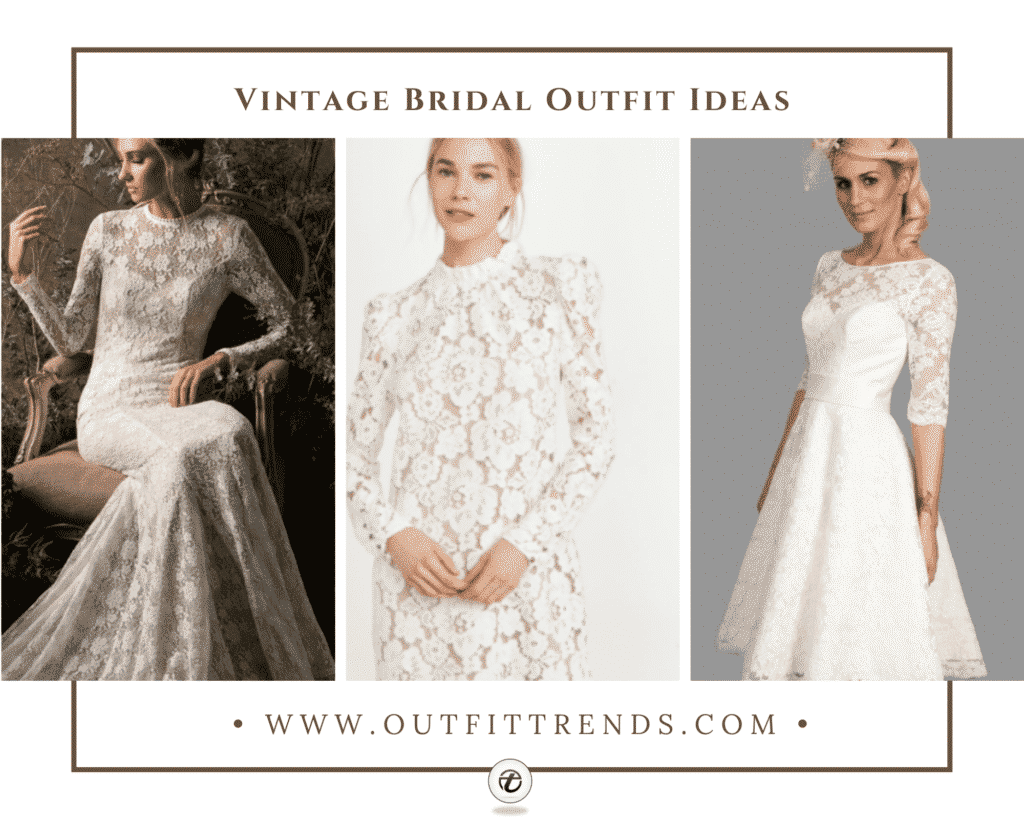 Tips On Styling A Vintage Dress
• If you're styling a bridal look, choose the gown first and then the accessories. This is especially true for vintage styles, which can vary considerably.
• If you want a very defined vintage look, you must concentrate on a single design era.
• Avoid mixing vintage eras. Retro 1950's hairstyles will look out of place with a long 1970's hippy dress.
• Whatever you choose, remember to keep your style in mind. Your wedding is not the time to select accessories with which you are not completely comfortable.
• If you're not looking for a specific vintage look, adding a touch of old-fashioned charm to your wedding day attire can help it stand out.
20. 1950's
When we think of the 1950s, we frequently recall the tea-length gowns that have come to symbolize the decade. However, when you consider the era's most recognizable brides – Jaqueline Bouvier, Grace Kelly, and Elizabeth Taylor – they all wore full-length gowns! On the other hand, if you're set on a white wedding in the 1950s style, opt for an evening gown, cocktail dress, or prom gown. By including other dress styles in your search, you significantly increase your chances of finding the style you're looking for! The Stunning Vintage Color Is A Real Eye-Catcher, this Stunning Timeless and Classic Dress in the Vintage Style of the 1950s is Incredibly Pretty, this Dress Will Capture Your Heart. Simultaneously, when you wear it, you will become the centre of attention.
You can find this tea-length short wedding dress here.
19. Accessories
The majority of bouquets from the 1950s and 1960s era were cascading bouquets with abundant green foliage. Each bouquet is unique, containing unique combinations of dried flowers. It features white, purple, and pink flowers and freeze-dried roses, and dried mixed flowers. The bouquet is equally at home as a bridal bouquet or as a home decoration. It will look lovely on a table or shelf and will infuse your home with a touch of country charm. Additionally, it would make an excellent gift for someone you care about. If displayed away from direct sunlight, the bouquet will last an extremely long time. It requires no additional treatment.
18. Retro Vintage
Lace wedding gowns exude vintage allure. With Juliet's popular 1920s fashion headdress, you get a modern feel. Additionally, by rolling up, create a retro-style hair comb. You are aware that you require both old and new items. With classic roses and peonies, you cannot go wrong. The cascading green plants contribute to the retro feel. With pearls and antique brooches, highlight fabric flower bouquets. These lovely net gowns keep vintage rouse wedding dresses from being excessively more expensive than standard gowns. You could go slightly more flawless with your makeup in this gown, as the style is quite conventional.
17. Hollywood Inspired
If this does not squeal Old Hollywood glitz, we are not sure what does! We adore the stunning open back, fluid fabric, and elegant fit of this gown. Accessorize with pearl drop earrings for an effortlessly polished look. We could spend the entire day looking at Bridal Dresses, and this collection contains some real beauties.
16. Best For Dancing
Whether you're looking for a dress that allows you to dance the night away or the most stunning gown you've seen this year, reception dresses should be an equal mix of comfort and beauty. Mini dresses are a flirtatious and fun way to dress down for a wedding reception. While they are shorter in length, they are not afraid to be glamorous. These gowns are ideal for spring and summer weddings when the weather is expected to be warmer.
15. Simple
The classic vintage gown is simply stunning due to its simplicity. The dress is unadorned, stark white color, and the fabric flows and drapes into a short train. The classic vintage wedding gown's key features include a simple neckline, a limited design, and a modest fit. It lacks interesting waistlines, ruffled collars, and sleeves and incorporates no tulle or other interesting materials into the dress structure. For 1950s weddings, the traditional white wedding gown was most popular. The dress is lovely and practical for any woman seeking to assert her elegance without feeling as though her dress is a microphone.
14. Lace
This layered lace wedding gown with plunging V-neckline by Essense of Australia is oh-so-dreamy. A high neckline with an organic-lace finish complements this bodice's plunging V-neckline perfectly. Layers of cotton-style and French lace combine to create a delicate, one-of-a-kind look that extends from the bodice to the skirt. Nothing screams "romance" more than a lace wedding gown. Lace is timeless, classic, and elegant, and it always looks beautiful, regardless of the occasion. That is why a lace wedding gown complements brides of any shape or size.
13. Victorian Inspired
Victorian wedding dresses are usually an hourglass shape with a tight waist. Although Victorian brides were wearing corsets for the most dramatic hourglass shape, brides today should not be concerned that they break a rib because of authenticity. Concentrate on finding a dress that will flatter your shape and make you feel comfortable. A high collar with a pure lace fit and sleeves marking a Victorian-inspired vintage wedding dress. The high neck stops with a ruffle matching the ruffles on your sleeves. Look for fitted lace sleeves instead of a loose bell shape for a modern flavor.
12. Vintage Bridal Jewelry
When choosing vintage wedding jewellery for her wedding day, the bride should be inspired by designs from vintage periods that best reflect her individual and unique style. Each period classically referenced in jewellery design – Victorian, Edwardian, Art Nouveau, and Art Deco – is an exceptionally beautiful design and artistic inspiration. Wedding jewellery from the Victorian era combines romance and subtle innocence. The floral motifs, loops of ivy leaves, and delicate curls embody the romance and sweet virtue of the era ruled by Queen Victoria. These hairpieces fit perfectly with crystal earrings.
11. Intricate Back
Buttons, beads, sequins, ribbon, and lace are all lovely embellishments for a wedding gown. Any of these components look very lovely when incorporated into an exquisite, complex gown's back. A detailed back instantly transforms any wedding gown into something charming and magnificent.
10. Gowns
This achingly gorgeous gown features a flowing a-line silhouette, pouffe sleeves inspired by the Regency era, and a tight waist. Hair should be styled with loose tendrils in the front, and makeup should be gentle and understated.
9. Vintage Spell Lace Gown
If Stevie Nicks is your style icon, this '70s-inspired wedding gown is a no-brainer. Keep your makeup basic and finish your outfit with a fresh or imitation floral crown. Lace sleeves create the most stunning, graceful, and slender silhouette possible. They're edgy, classic, and oh-so-chic. They're excellent for winter weddings, modest brides, or anyone looking for a light cover-up for their arms. The combination of thick, corded lace and high necklines is about as timeless as it gets.
8. Embroided
Embroidered wedding gowns combine the best of both worlds; exuberant embellishments infuse classic shapes with a contemporary flair for a perfect look for the modern bride. This incredibly beautiful off-shoulder gown is embroidered with gorgeous wildflowers and is ideal for a bright sunny day bridal shoot.
7. Indian
It is a 1960's Indian wedding gown or lehenga. Although it is not as extravagant as contemporary costumes, it is hand adorned with delicate gold braid work hand embroidered to form a chequered pattern on the skirt and dupatta. Gota Patti is used to filling the centre parts. This entire ensemble is handcrafted, and despite its age of nearly six decades, it is in fantastic shape.
6. Modern
Suppose you are a fashion-forward bride-to-be who adores a retro aesthetic. In that case, you are undoubtedly dreaming of a vintage-inspired wedding gown that embodies Old Hollywood beauty with a creative modern twist. This gorgeous body-con wedding gown features an open neckline and a low scoop back.
5. For Older Brides
These A-line wedding gowns are classic in design and timeless in style, making them ideal for any bride. They're simple, flirtatious, and adorable, the ideal marriage of high fashion and elegance. Choose a strapless corset gown to emphasize the waist, or add a modern touch with long sleeves and a high collar. With this gown, there are no rules; it's all about how you wear it!
4. For Plus Size
Your wedding gown, regardless of its size or shape, should make you feel beautiful and confident. Whisps of soft tulle and delicate flutter sleeves elevate this ballgown to a fairytale level of romance. Sweep hair into a loose updo and add a floral crown or tiara to complete the look.
3. Budget Friendly
Just because it's your special day doesn't mean you have to spend all of your money to look amazing. Why spend your entire paycheck on a dress you'll (probably) only wear once when getting ready for your big day is stressful enough? This airy reformation dress is begging to be worn to a casual garden wedding or beach nuptials. It's minimalist with a sense of romance. Wear yours with a pair of wedges that are suitable for sand or grass.
2. With Cap Sleeve
The combination of a body-slimming design and enormous bell sleeves lends this gown an unmistakably appealing and striking style. Yours can be dressed up or down with delicate personal jewellery and stylish sandals.
1 – Tea Length
Are you a fan of polka dots? If so, you'll adore this stunning long sleeve tea-length polka dot wedding gown. Even for brides over 50, she will not appear excessively youthful or done up. She is so adorable with her cheerful smile.
Frequently Asked Questions
Q. What are the best sites to buy vintage wedding dresses from?
Ans. With such a large selection of wedding gowns available, it may seem hard to pick one that completely reflects your style. Even if shopping vintage has never occurred to you as a busy bride, you actually cannot go wrong with a timeless, one-of-a-kind style that does not require you to stretch your budget too far. Additionally, you will never have to worry about other brides imitating your style. There are numerous websites such as Etsy, joyful isles, and decades that you may rely on.
Q. Are vintage dresses trending?
Ans. They have soared in popularity over the last year. All of our gowns are truly vintage, which means they are at least 25 years old.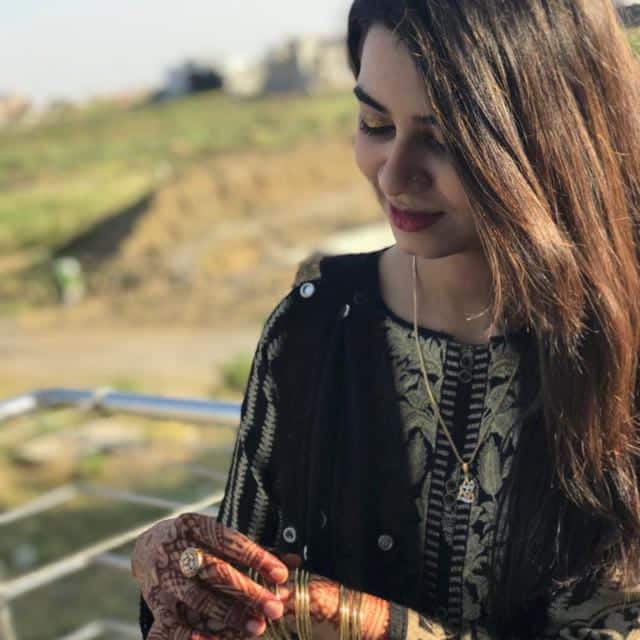 Born and raised in Pakistan, content writing was always on her bucket list. Hi, welcome to the bio of Sosan Touseef. I started my career three years ago. Love cooking spent most of the time with family but always-on the computer.