Which girl doesn't wish to have the prettiest bridal outfit ever? Once a girl gets engaged, the most significant task is to find the right bridal dress. Considering the recent trend of wearing designer dresses in Pakistan, almost every other girl wishes to wear a designer dress which is within their range.
Those who can't afford one, try their best to get an excellent replica. Moreover, in the last one year, we have seen some pretty royal weddings in Pakistan, which further add to the craze. So in this post, we will be discussing some of the latest Pakistani bridal dresses, and we will also be sharing the pictures of the most beautiful Pakistani bridal dresses and combinations that we came across. One of the best ways to stay updated with wedding outfit trends is to follow celebrities' wedding style as they always come up with the latest trends. So I will be sharing some of the recent celebrities' wedding pictures with their wedding dress details so you can get a complete idea about it.
What To Wear For Your Wedding?
Being a Pakistani bride is not easy at all. There is so much to worry about. But, outfit trends want you to not worry about your bridal outfits, at least. So, here we have a few great tips for you that will help you choose the perfect bridal outfit.
Understand your body shape and size before you choose any fabric, color, design, or style.
If you want to contour your body wear dark colors and avoid wearing flowy or heavily embroidered outfits.
Make sure your outfit is well fitted and tailored. You don't want to wear a loose or baggy outfit on your big day.
Opt for vibrant colors or yellow on your Mehendi day, red or bold colors on your Baraat day and pastel colors on your Walima day.
Keep your makeup and accessories light if your dress is heavy.
Have a look at these useful post along with this one to make a perfect wedding look.
Cute Hairstyles for Walima Function
Cute and Romantic Islamic Couple Wedding Dress Pictures (Ideas for your wedding photoshoot)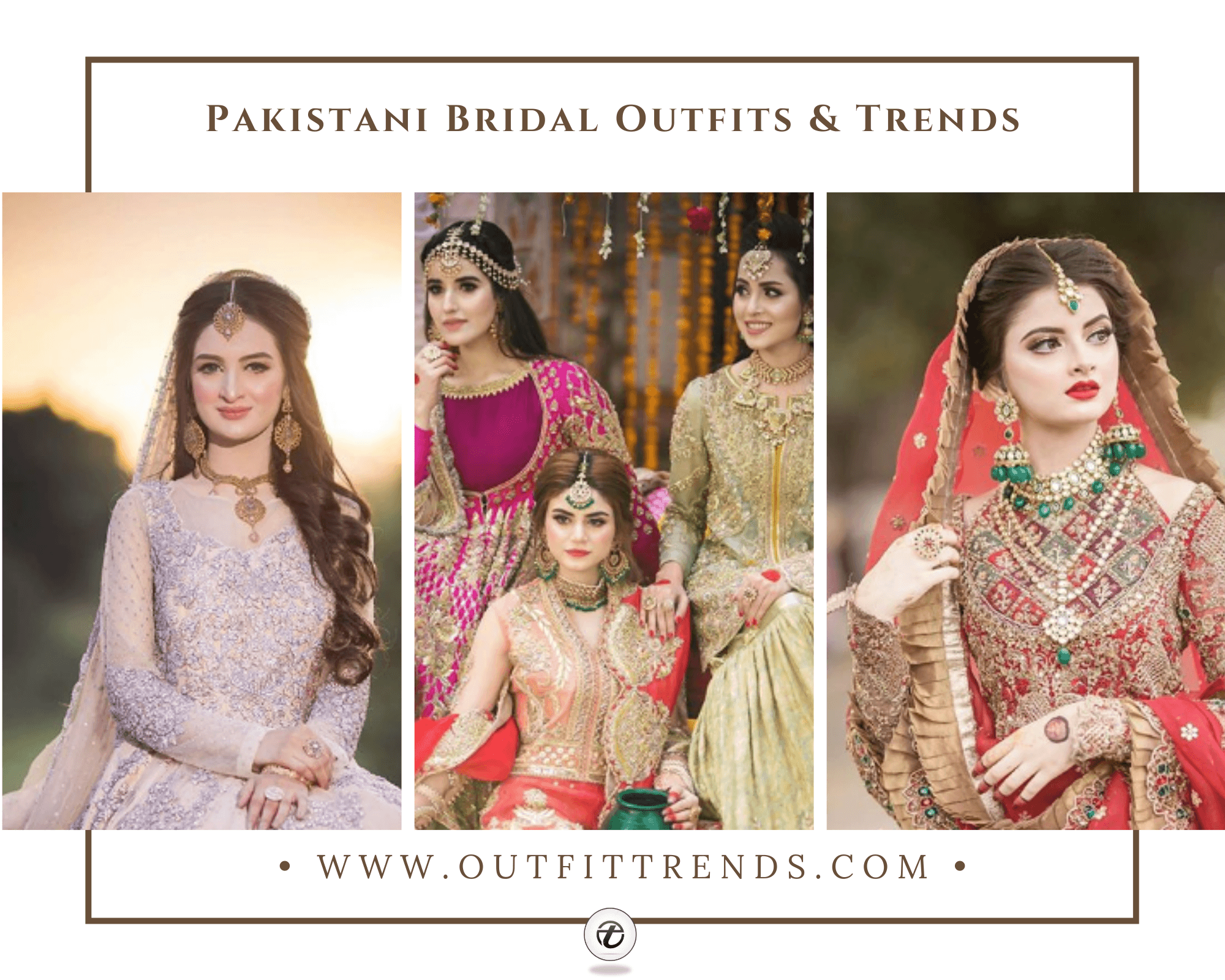 ↓ 20 – Iqra Aziz Wedding Series
The celebrity couple Iqra Aziz and Yasir Hussain recently got married in a star-studded event, and their simplicity has won everyone's hearts. They got married amidst a few of their friends and their homes. Even in this much simplicity, Iqra Aziz stunned everyone with her adorable bridal looks.
On her Mehendi day, she went for a yellow dress featuring a round neck, puffy sleeves, and silver embroidery by Faiza Saqlain. Do have a look at these Chic Mehndi Dresses For Pakistani Brides & Guests.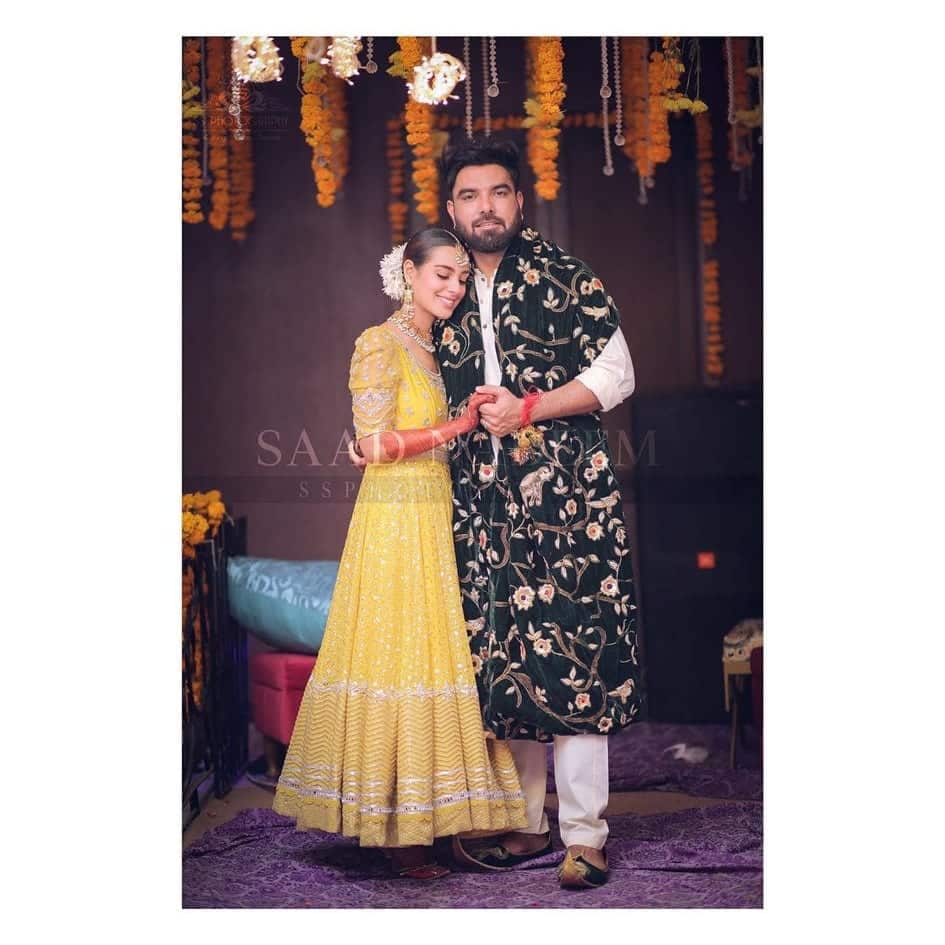 She again surprised everyone on her Baraat day when she made an entry in an all-red attire by Nomi Ansari. She went for a sleek hair bun and bold makeup. She looked more like a Bollywood diva.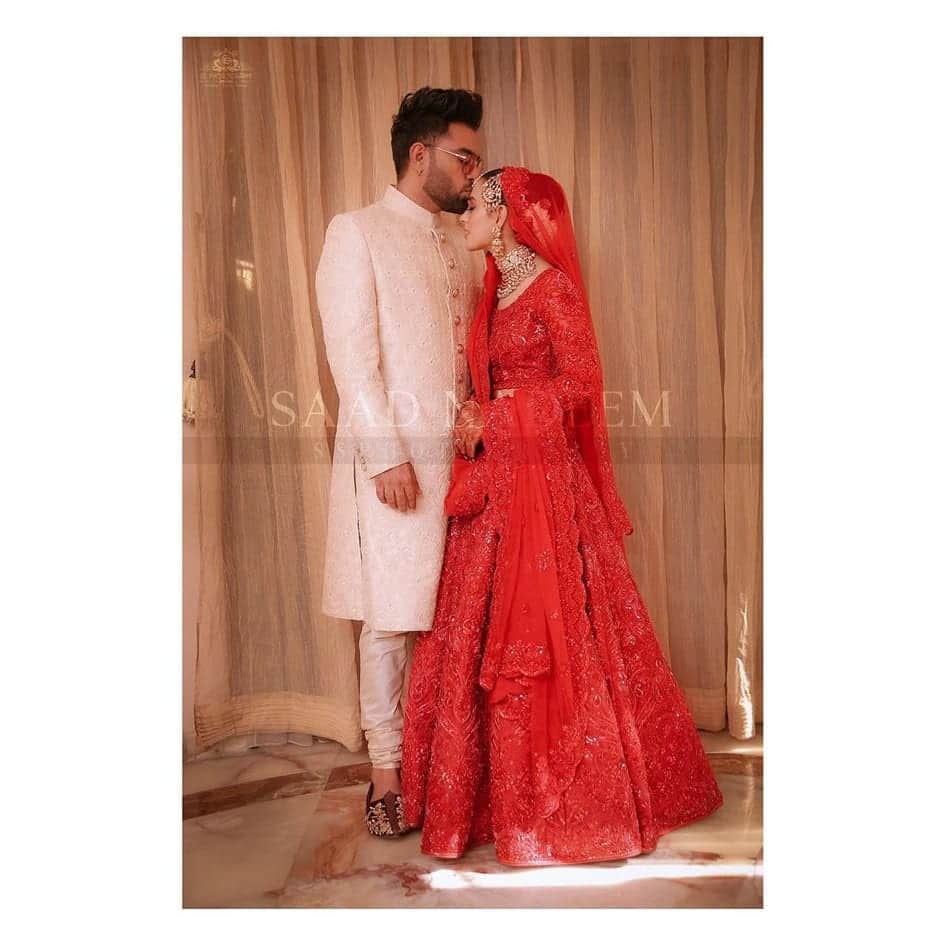 Iqra didn't miss a chance to make people droll over her wedding looks. She went for a golden and silver ensemble by Sadaf Fawad Bridals on her Walima and slew it. Her soft makeup and loose curls are just adorable.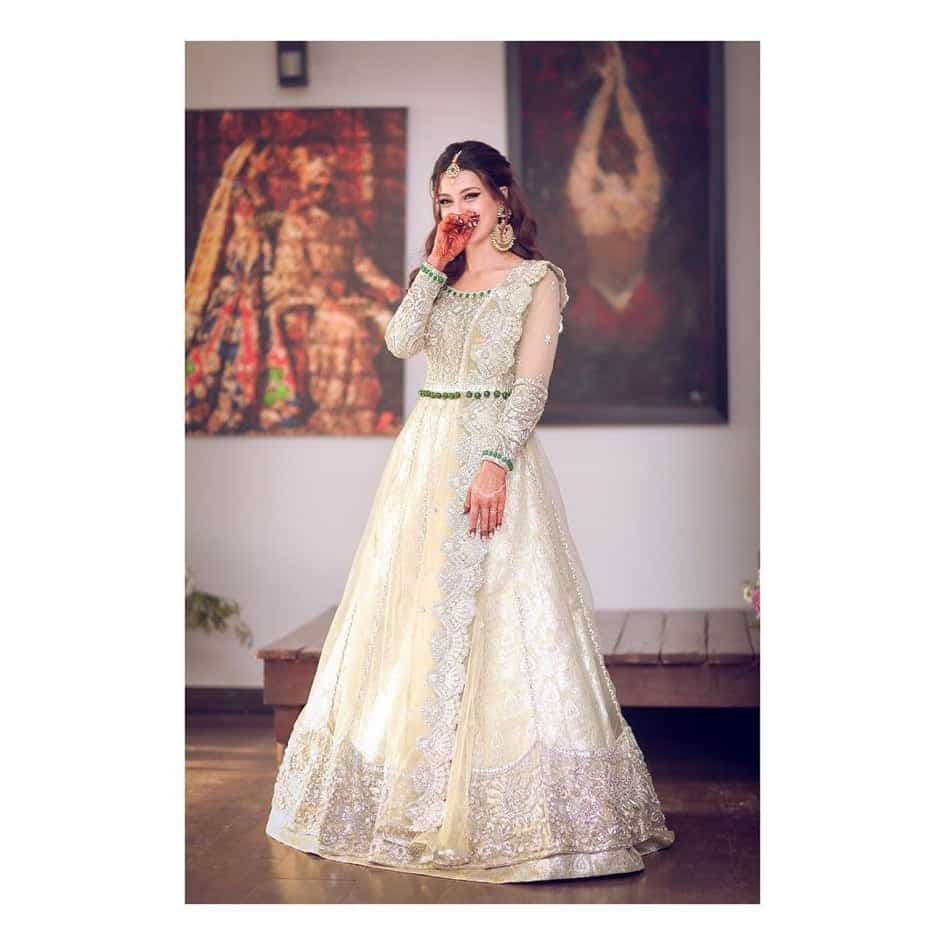 ↓ 19 – Aiman khan Bridal Outfit
Aiman khan; the queen of Pakistani media and the celebrity with the highest number of followers, got married to Lollywood's heartthrob celebrity Muneeb Butt. And she surely rocked all her looks equally.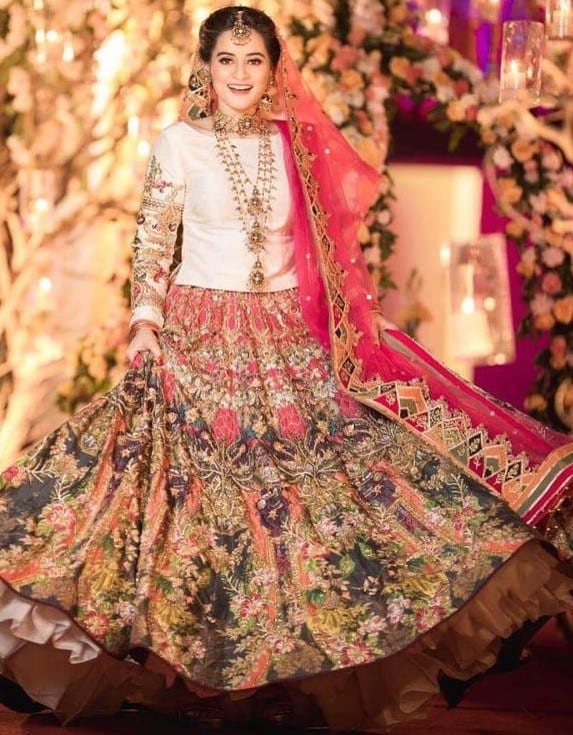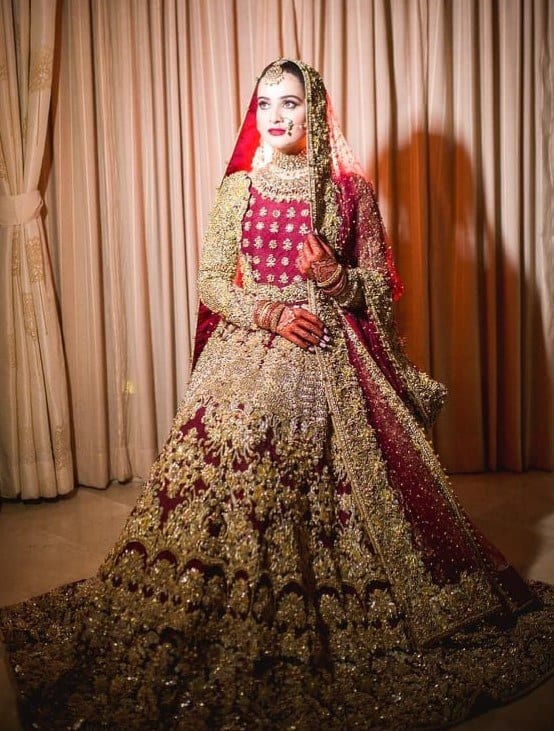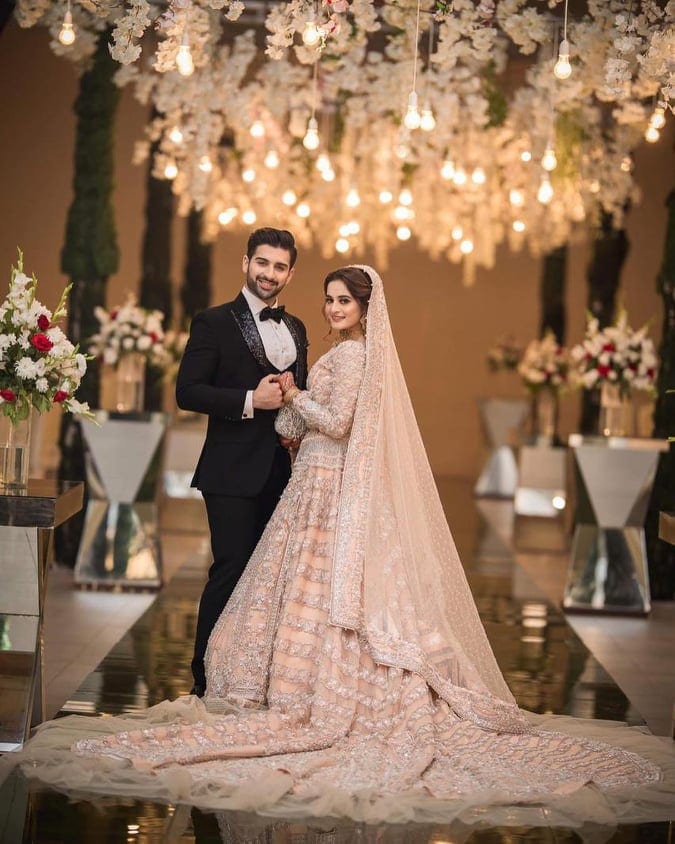 ↓ 18 – Waliya Najib's Bridal Outfit
Waliya Najib, Pakistani photographer, and a social media influencer, recently got married. And she went for a knee-length shirt with Sharara on her Nikkah day.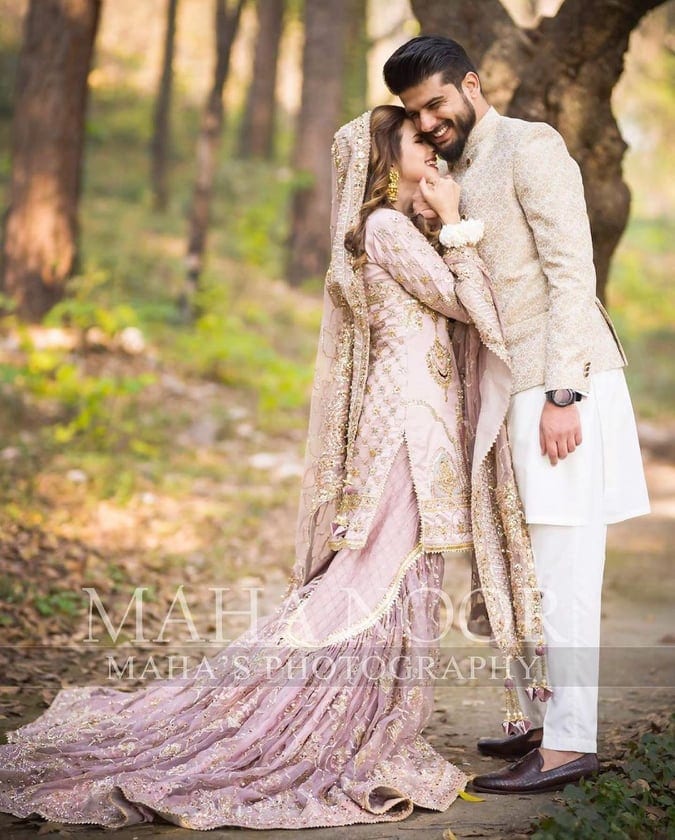 ↓ 17 – Yellow Outfits For Pakistani Brides
Yellow outfits are a must-have in any Pakistani girl's wedding lookbook and it truly deserves to be here as the yellow color looks great on our skin tones. For more celebrity style inspiration, head on over to our post on Urwa Hocane & Farhan's Wedding Pics| Nikah Walima Dholki Barat.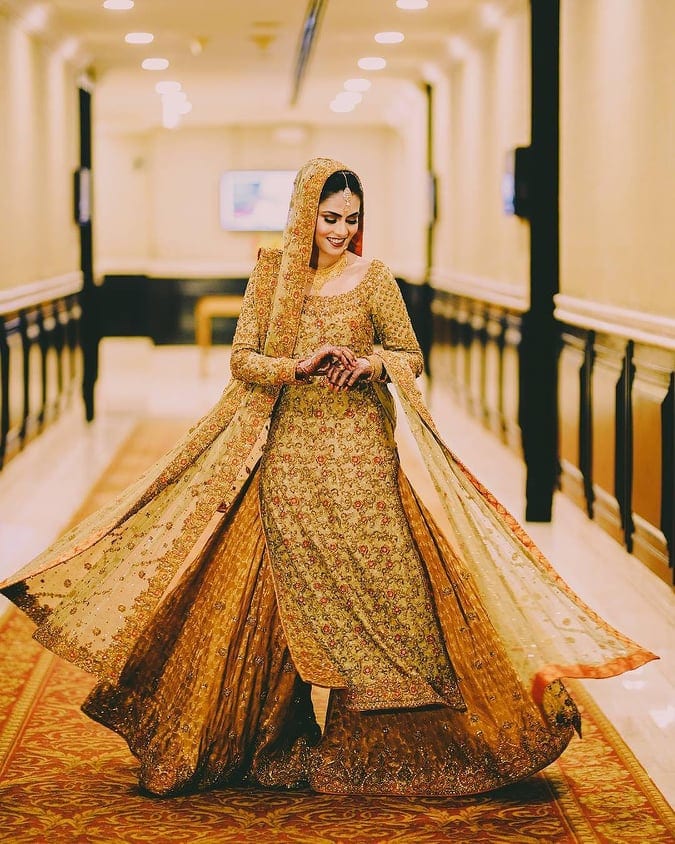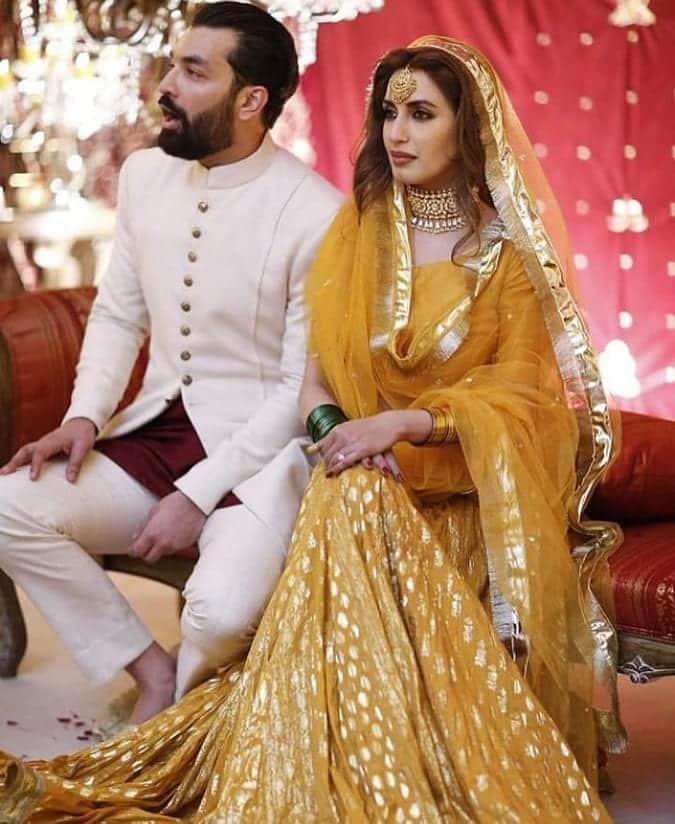 ↓ 16 – Ayeza Khan
Now let's discuss my personal favourite one, the wedding outfits of Ayeza Khan. Ayeza is a prominent television actress of Pakistan who got married to a fellow actor Danish Taimoor in August 2014. It is said that instead of going for designer dresses, this skilled girl designed all her outfits on her own.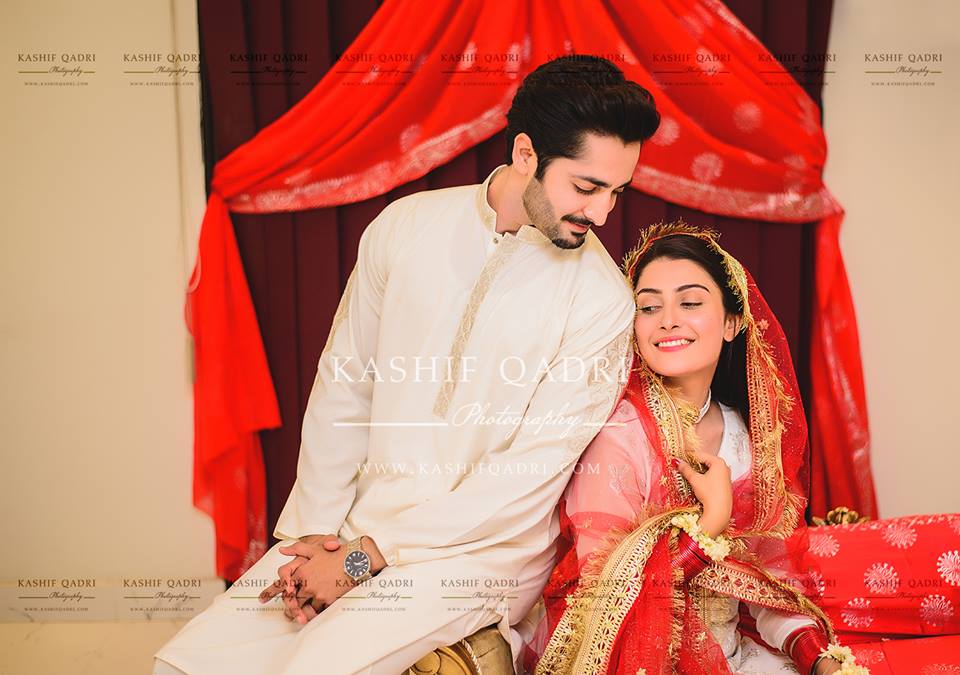 For the Nikah function, she chose a simple yet elegant look by wearing almost natural-looking makeup and a white dress. Her head was covered in a red net dupatta, which made her face visible, and the border of the dupatta was laced with Kiran, which is a traditional custom she brought back in fashion.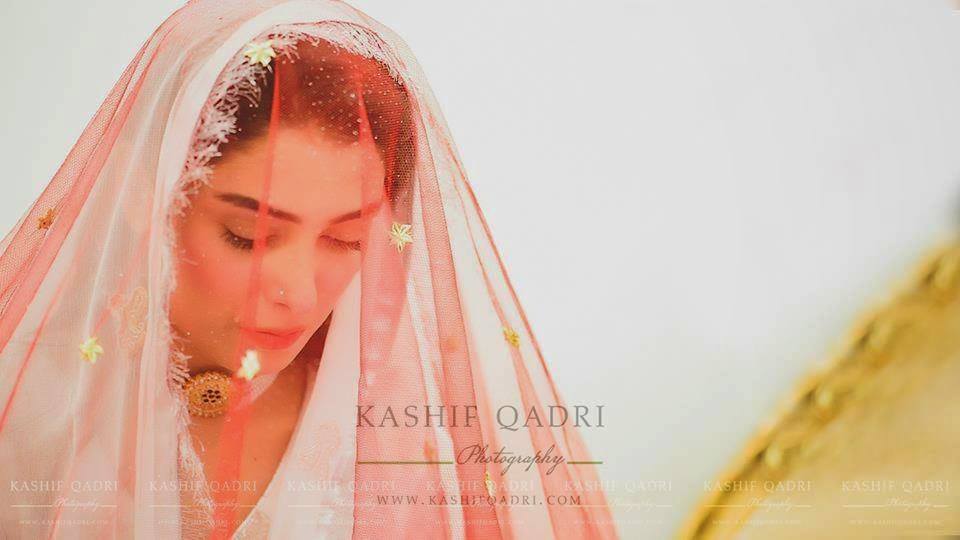 For the mehndi function, she went for a colorful and vibrant dress which she was able to carry pretty gracefully.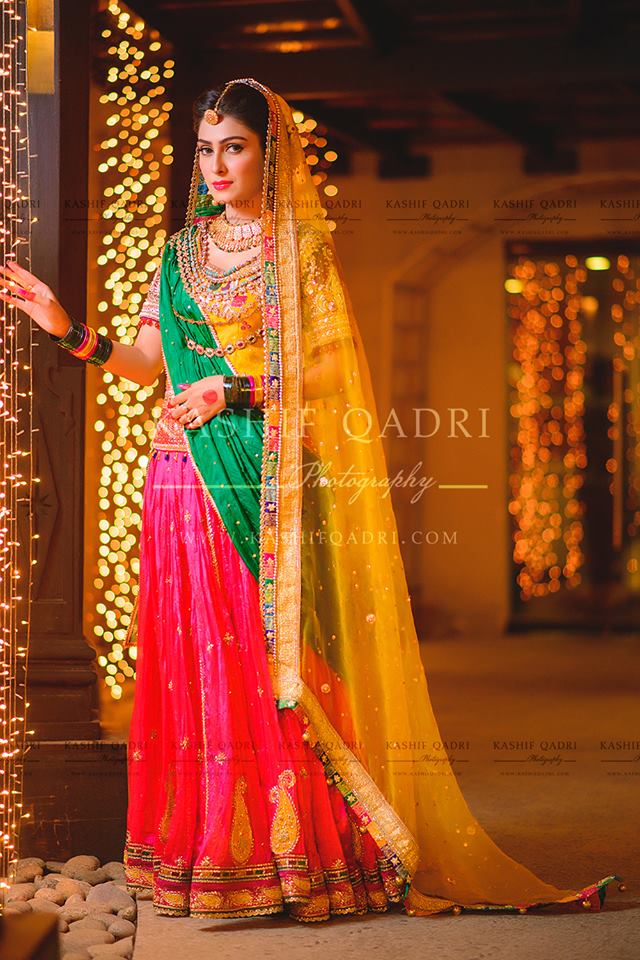 For Barat, she wore a traditional red dress, a lehenga with a long shirt. We also loved her jewelry and makeup as nothing seemed to be overdone, which often becomes the case in royal weddings.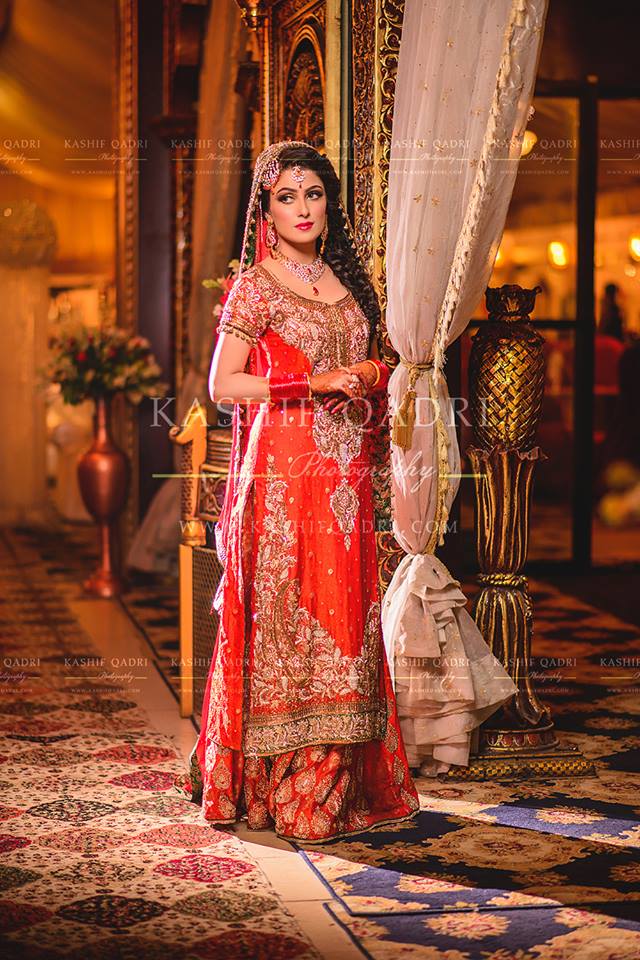 For Walima function, she wore an ivory and pink gown, which we think is a beautiful yet unique combination.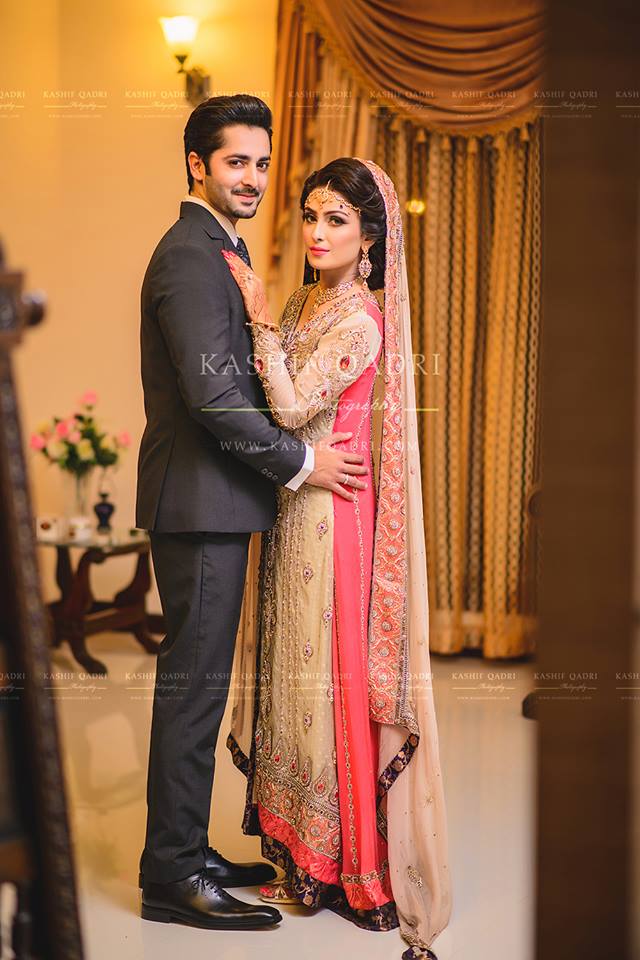 ↓ 15 – Sharmila Farooqi's Bridal Outfits
The next royal wedding, which again has the potential to give great ideas for wedding dresses, is the Pakistani politician Sharmila's wedding. Her wedding functions were almost two weeks long and all the dresses were designed by famous Pakistani designers.
We have chosen two of our favourite dresses from her wedding here. Firstly, the bold green mehndi dress, designed by Bunto Kazmi. Its what most people call an Anarkali style dress and suited the occasion pretty well.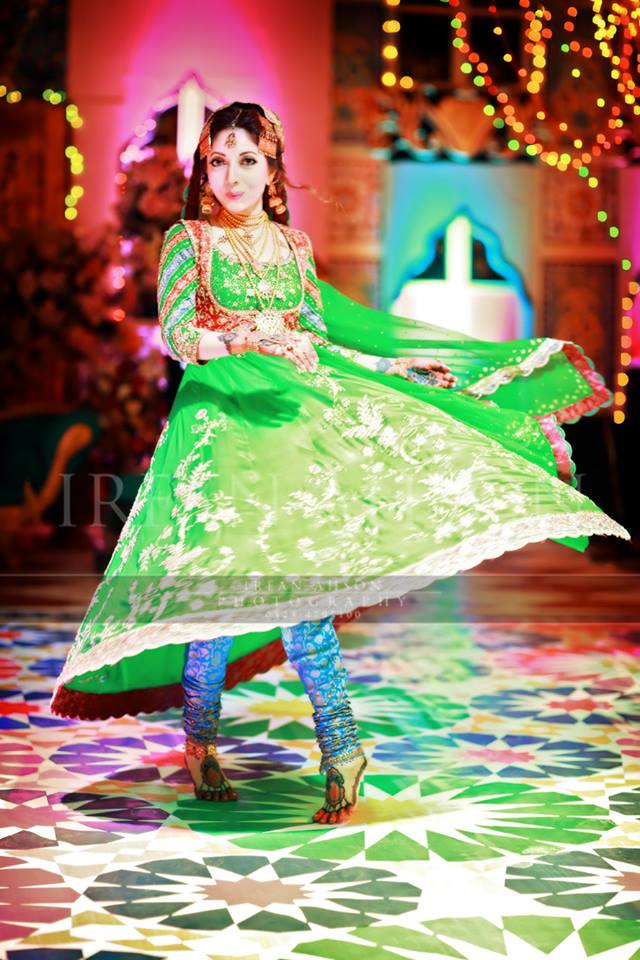 But the best one was her classic red bridal dress, again by designer Bunto Kazmi. The dress was a deep blood red colored lehenga with a tail and a shirt, which was knee length. This year seems to be a year of relatively shorter lengths for bridal shirts. The shirt filled with goldwork looks spectacular but what wins here is the gold eye makeup.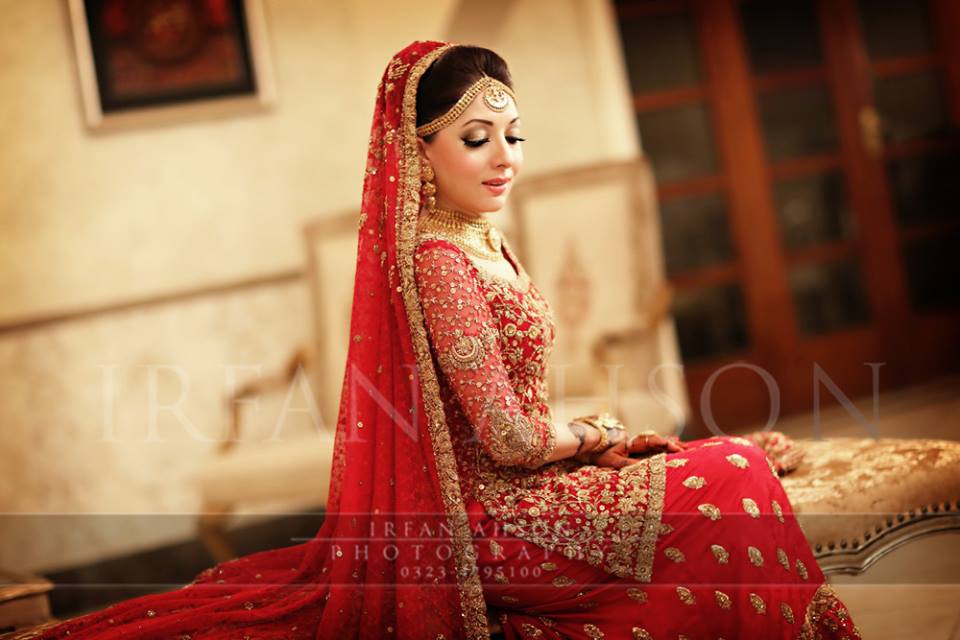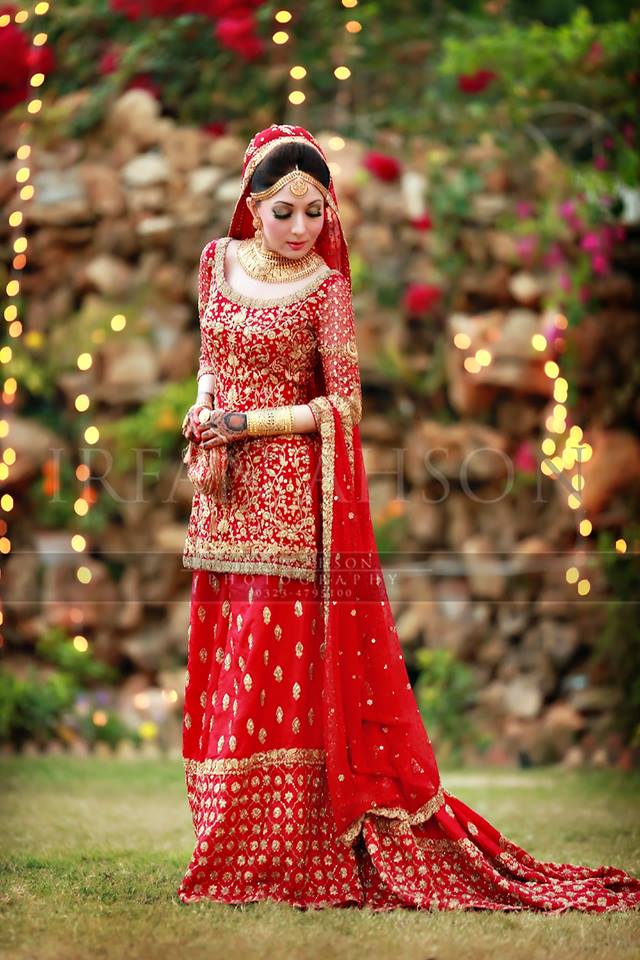 ↓ 14 – Malik Riaz's Granddaughter's Bridal Dress
And now the latest Disney wedding of the real estate tycoon Malik Riaz's granddaughter, whose wedding exit on a helicopter created quite the hype. This bride also went for a traditional look, though instead of wearing a completely red outfit, she chose to combine gold and red and was designed by Indian designer Manish Malhotra. You could also see shades of peach and green in the dress, and overall, it created a nice traditional and yet innovative look. Though we like the colour combinations, I felt that the dress and jewelry were overdone, as it makes it hard actually to figure out what she is wearing.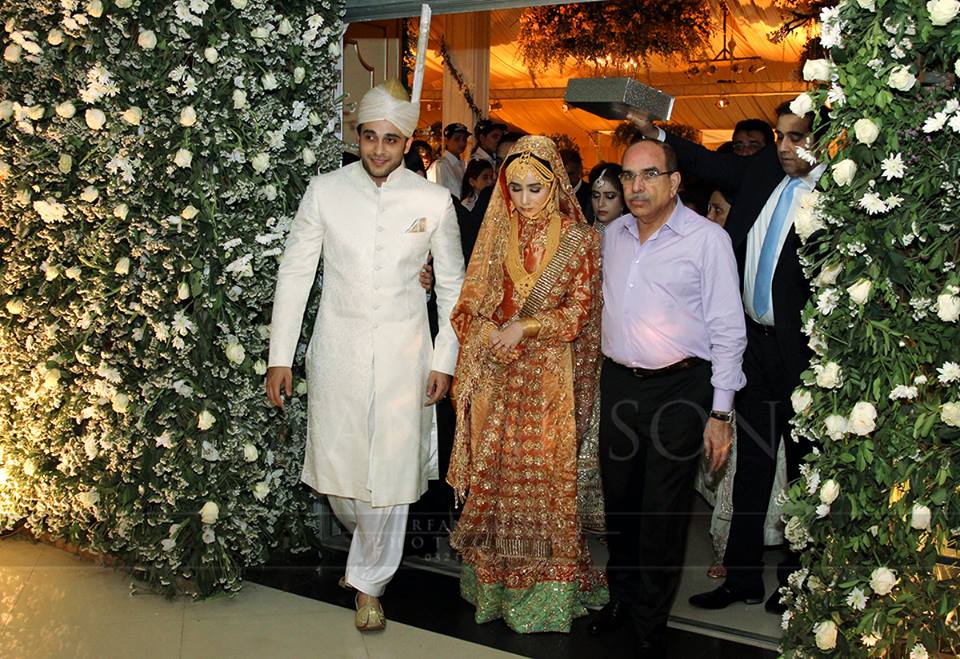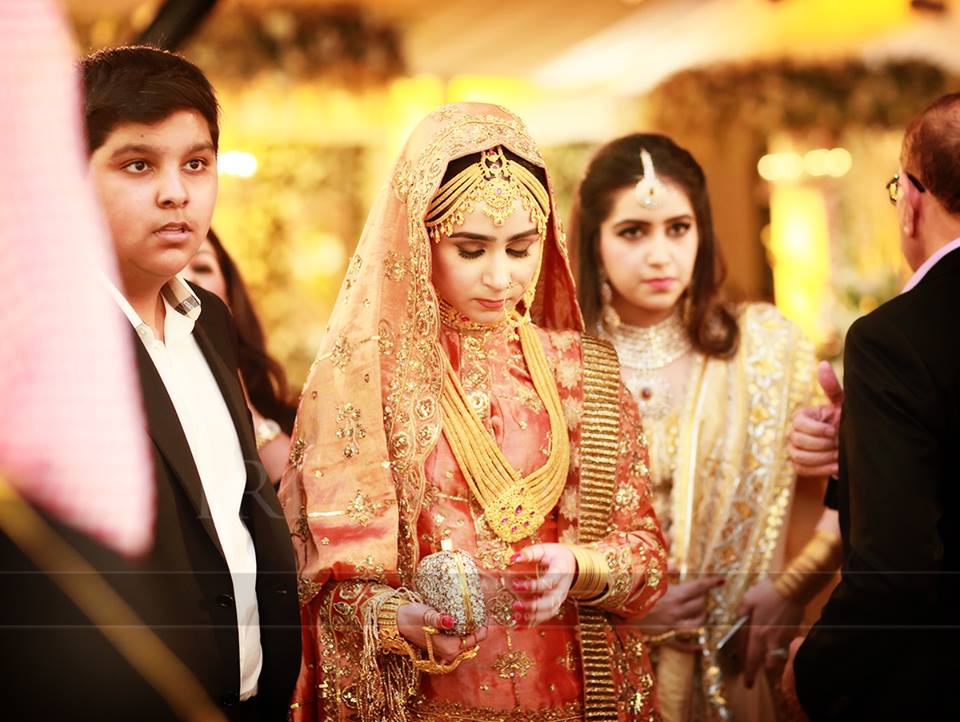 ↓ 13 – Orange Outfit For Dholki Bride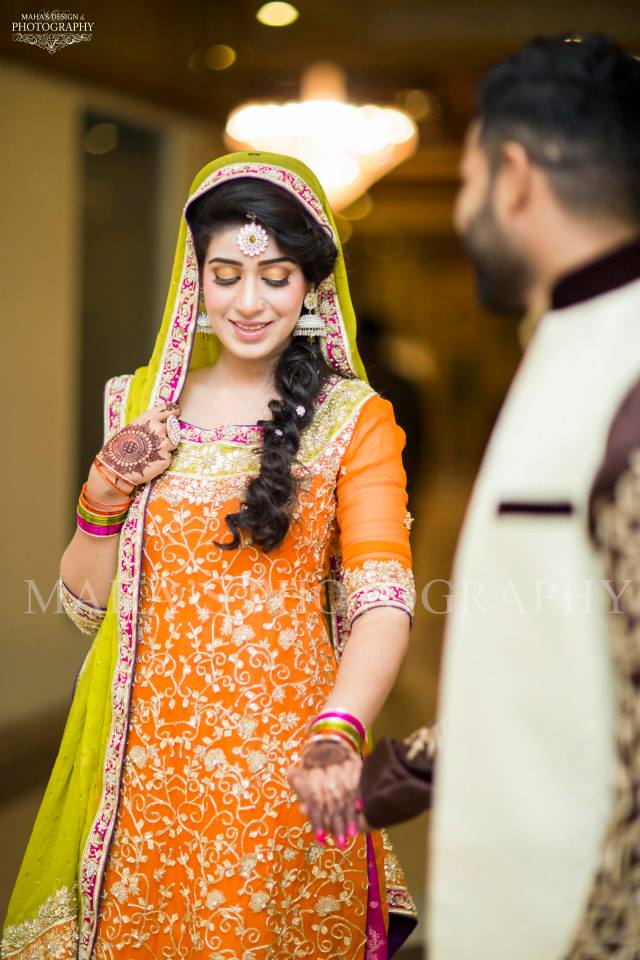 ↓ 12 – Floral Outfits
Been a tomboy all your life? Or have little to no knowledge about wedding outfits and all? Whatever the case is, floral outfits are there to help you out. Don't worry about the cutworks, fabric, embellishment and detailing and put on a floral embroidered outfit. It is better to choose a light base and dark embroidery. Match your dupatta with the dark shades in embroidery and accessorize with the help of maatha Patti and hoop earrings. you are all set to conquer the world and your man, of course.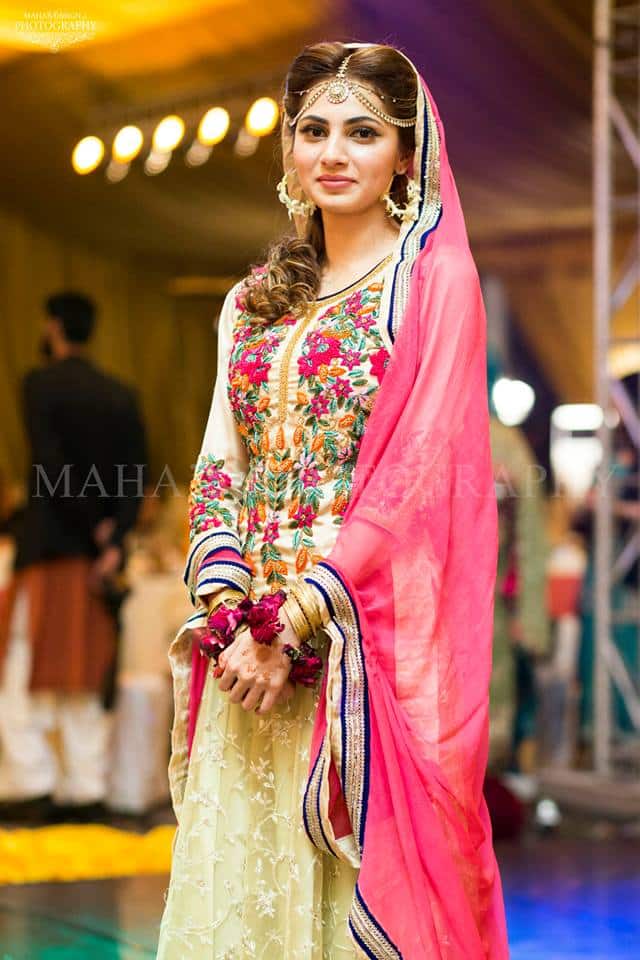 ↓ 11 – Lehanga Choli For Mehendi Events
You have all your dances prepared or planning to do a solo dance on your Mehendi night? Whatever it is, you need an outfit in which you can dance easily and, of course, twirl. Lehanga choli is the best option.
Wear a mid sleeves blouse with gotta work over it along with a lehenga having a gotta embroidered waist. Pair up this outfit with a net dupatta having silver borders. Go for minimal makeup to look decent, natural, and elegant. Accessorize with the help of floral jewelry and just hit the dance floor. Here are Hairstyles With Maang Tikka/Maatha Patti For This Wedding Season.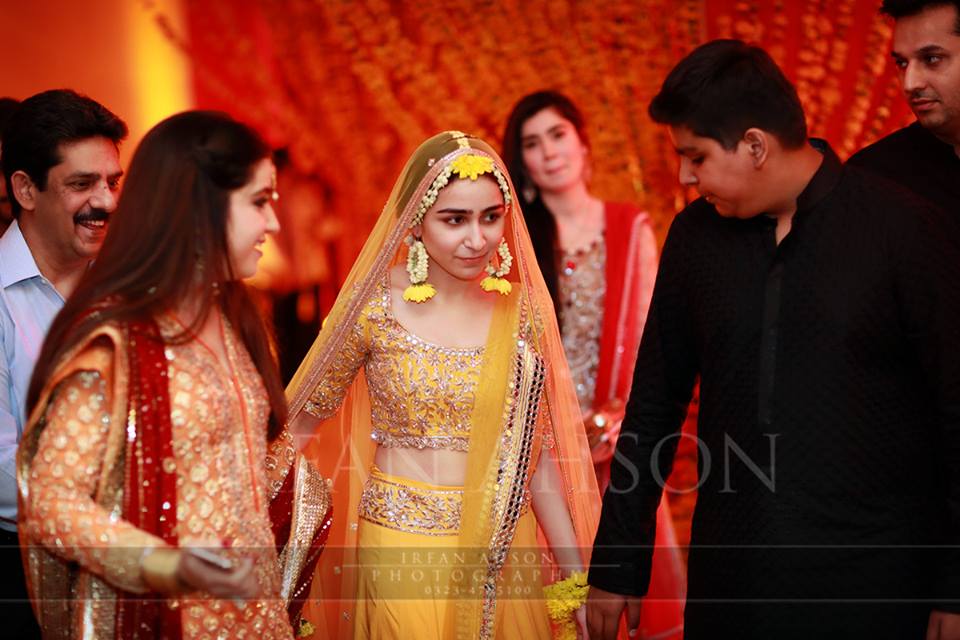 ↓ 10 – Flowy Outfits For Barat Day
Here is an outfit inspiration for girls who don't want to wear something too bold nor too dull on their big day. This white and the red-colored outfit is perfectly balanced, and you can wear it on your Baraat as well as Walima, whenever you want.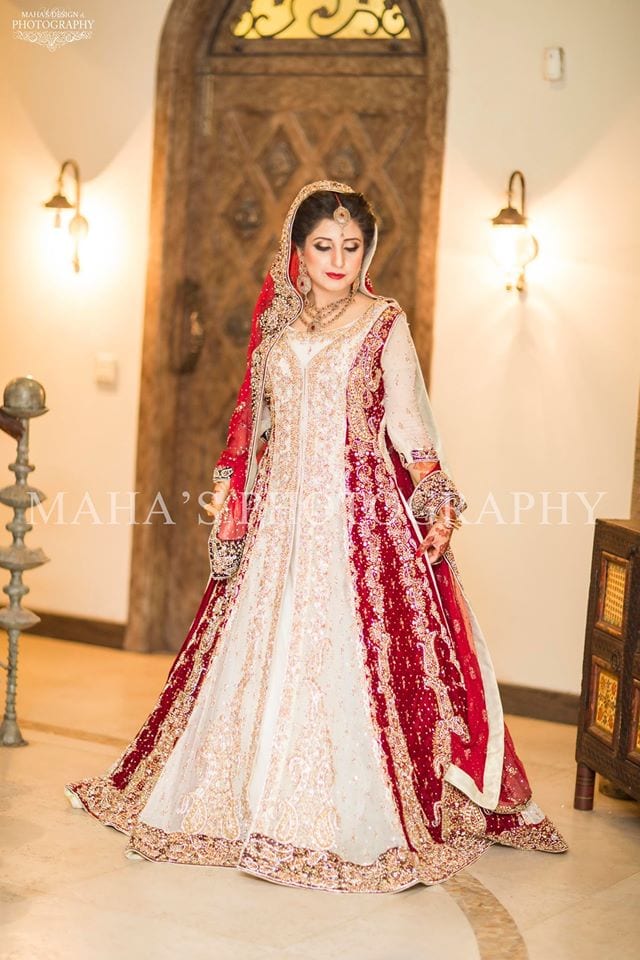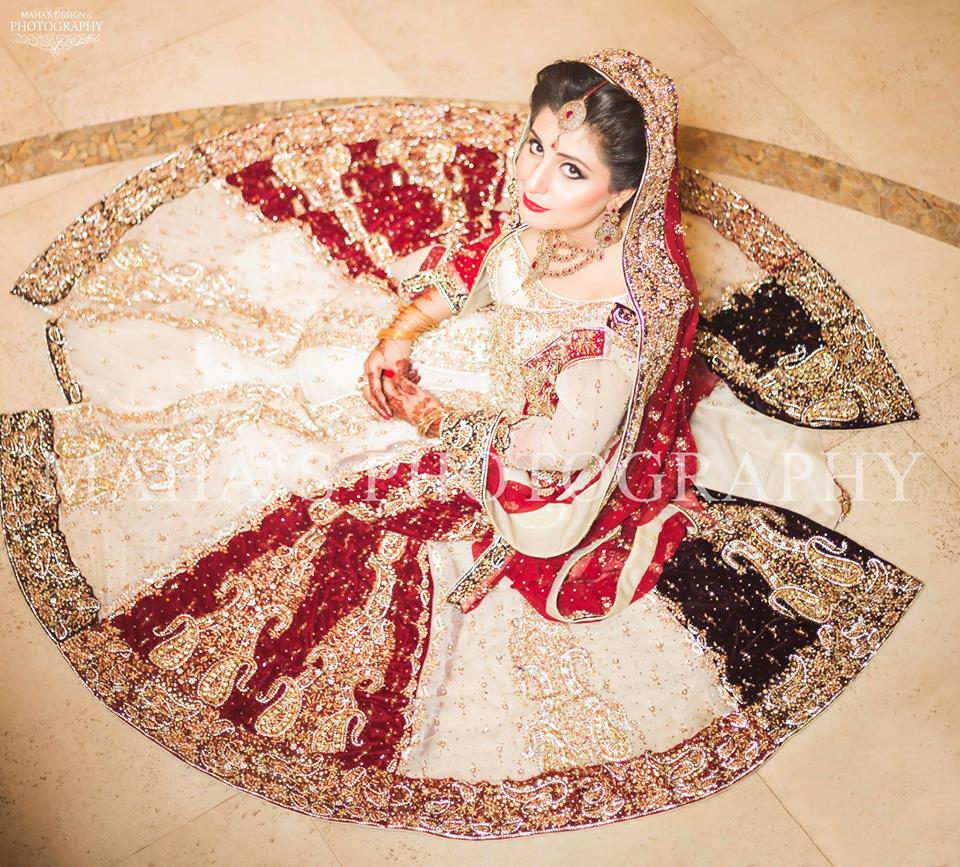 ↓ 9 – Vibrant Outfits For Mehendi Function
Let your outfit reflect your happiness. Mehendi night is all about fun, joy, excitement, and dances so be the happy bride in a happy and colorful dress. Wear an orange knee-length shirt with golden embroidery over it and par it up with a multi-colored lehenga. Put on a purple dupatta with this outfit to make it even more colorful.
Don't go for the typical jewelry and wear Pathani maatha Patti and floral bracelet. Keep your hair and makeup soft. Polish off your look with Kundan Khussa and a colorful clutch. Adding a cultural touch to your wedding look would surely make you a unique and memorable bride.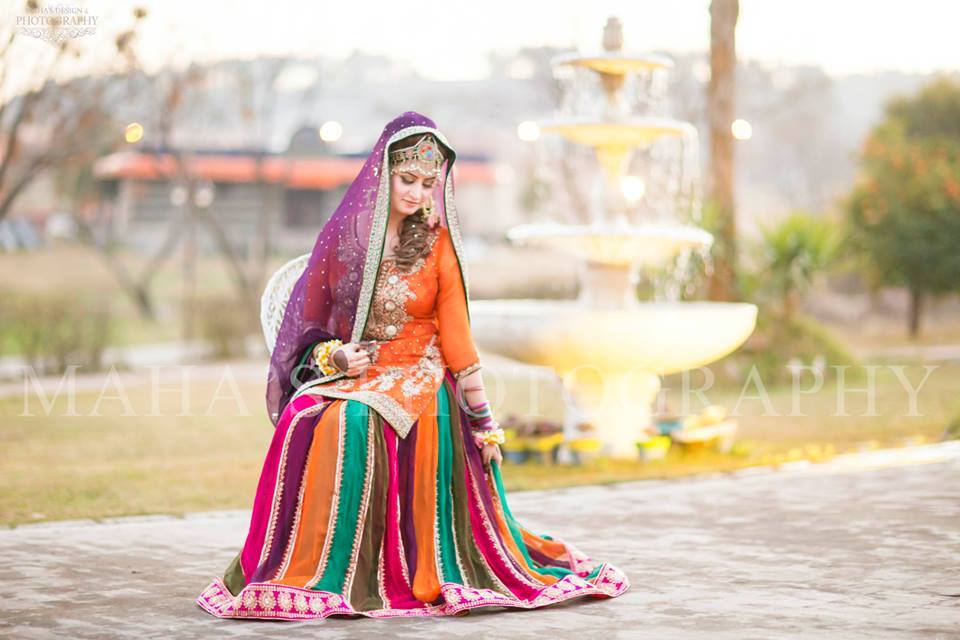 ↓ 8 – Soft Colors For Wedding Reception
Soft shades like light blue, pink, neutrals, and beige make an amazing Walima bride. On your reception day, wear a long maxi in soft shades, preferably with pearl embroidery all over it and a net or chiffon dupatta with it. Go for light makeup if you have a day time event, and dark makeup if it's a nighttime event. Wear your hair in an elegant hair updo. Finish off your look with diamond jewelry, and you are all set to turn heads on your big day. Here are the Latest Style Walima Bridal Dresses To Look Gorgeous.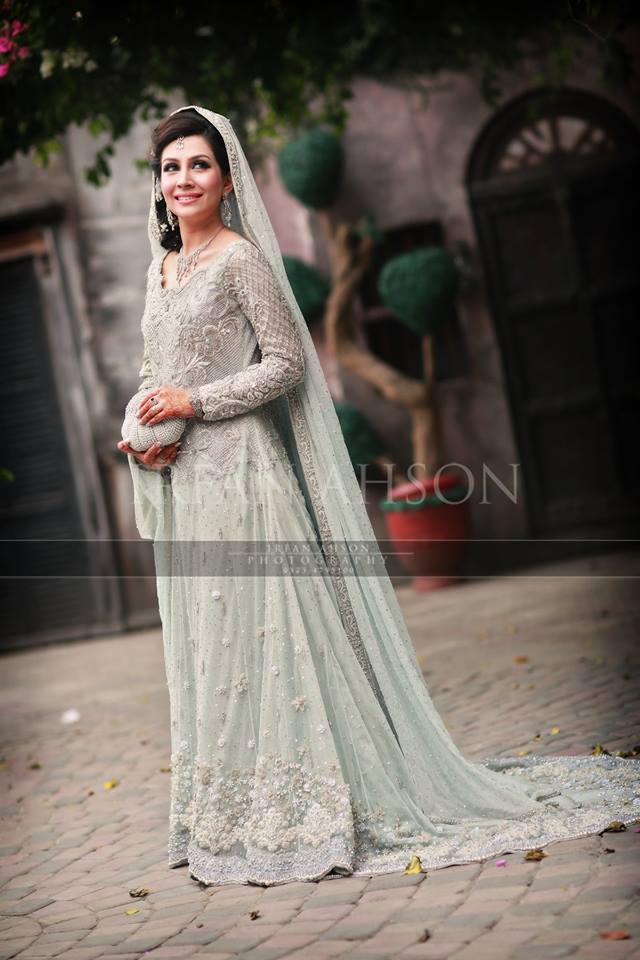 ↓ 7 – Yellow Outfit For Mehendi
Yellow is the most wanted and most worn color on Pakistani weddings. Brides usually go for yellow color on their Mayoon, dholki, and Mehendi events. If you are one of these brides, then have a look at this cute yellow outfit featuring pink neckline, full sleeves, and yellow embroidery. Pair this long shirt with either a yellow trouser, palazzo or gharara. A pink dupatta would look great on this outfit. Polish off your look by wearing your hair in a messy fishtail braid and soft makeup.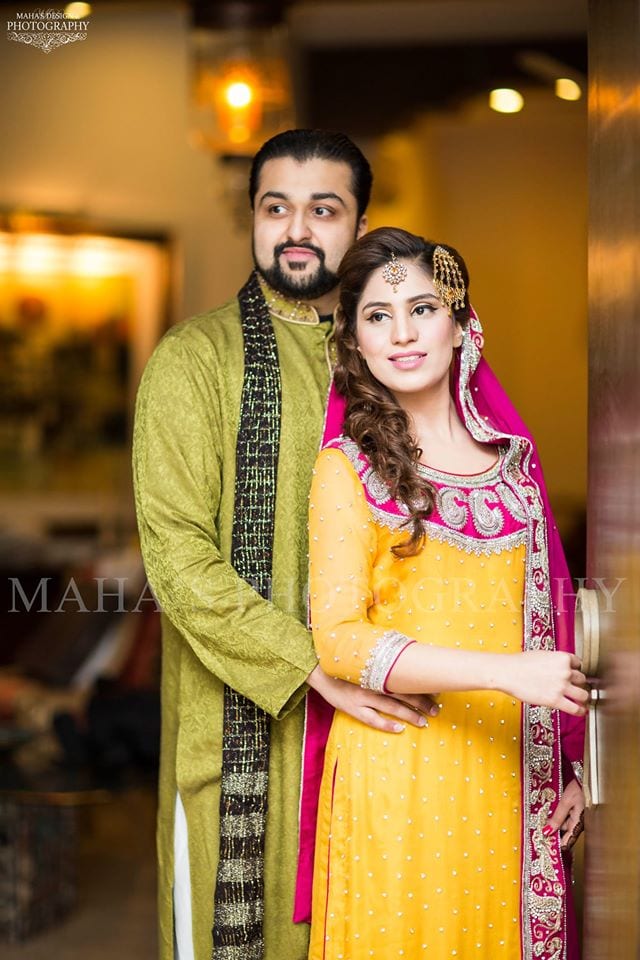 ↓ 6 – Red Frock Dress For Baraat
Girls love frocks, and very few of them would not want to wear it at their wedding. Girls, for your big day, wear a blood-red frock featuring golden embroidery all over. Pair it up with palazzo trouser and a heavy dupatta. You will surely make a gorgeous bride in this alluring ensemble.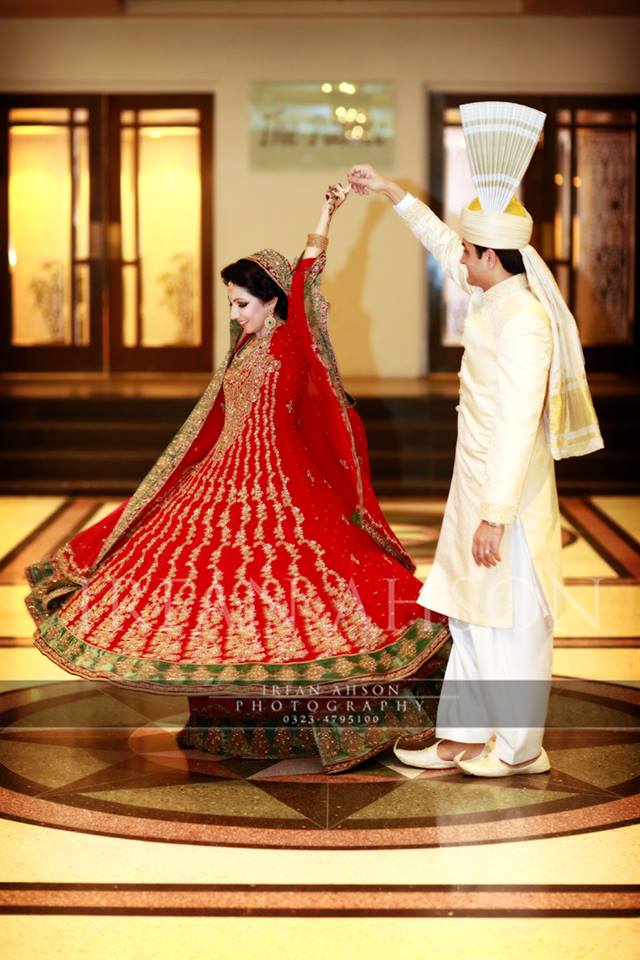 ↓ 5 – Blue Outfit For Your Wedding
Unlike any ordinary bride, try out something new and sensational. Go for a different color, such as royal blue. A heavily embellished blue chiffon dress with pearl sleeves would suit any Baraat bride. Go for a blue base, golden or silver embellishment, and red borders. Pair up your gear with golden heels, signature bridal makeup, and delicate jewelry.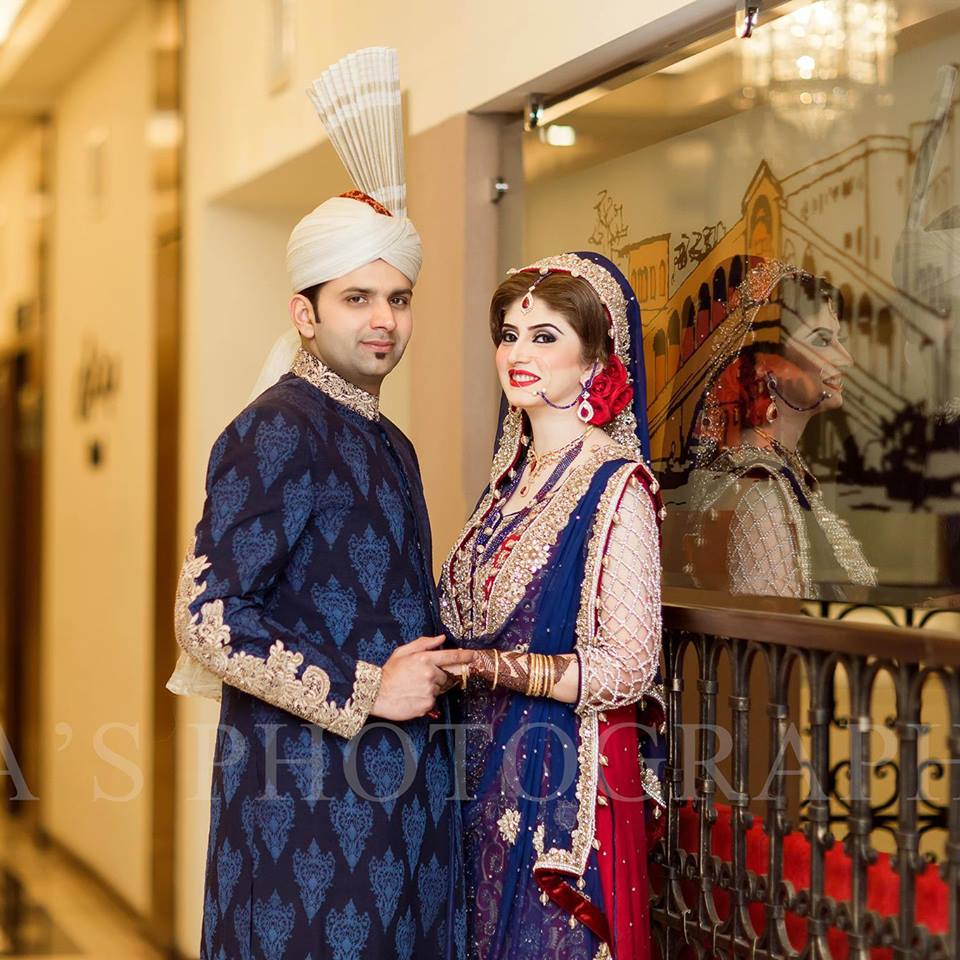 ↓ 4 – Heavily Embroidered Long Shirts With Palazo
In Pakistan, fashion trends change quickly. And it seems like long lost long shirts are making their way into fashion World once again. Brides should be happy about it as they can be worn with any kind of trousers and even give off a maxi like a vibe.
The best way to wear long shirts on your wedding is to go for heavily embroidered and embellished shirts, preferably in chiffon material, and pair them up with Banarsi palazzos. Finish your ensemble with dupatta having a heavy border and accessorize with traditional jewelry and signature makeup.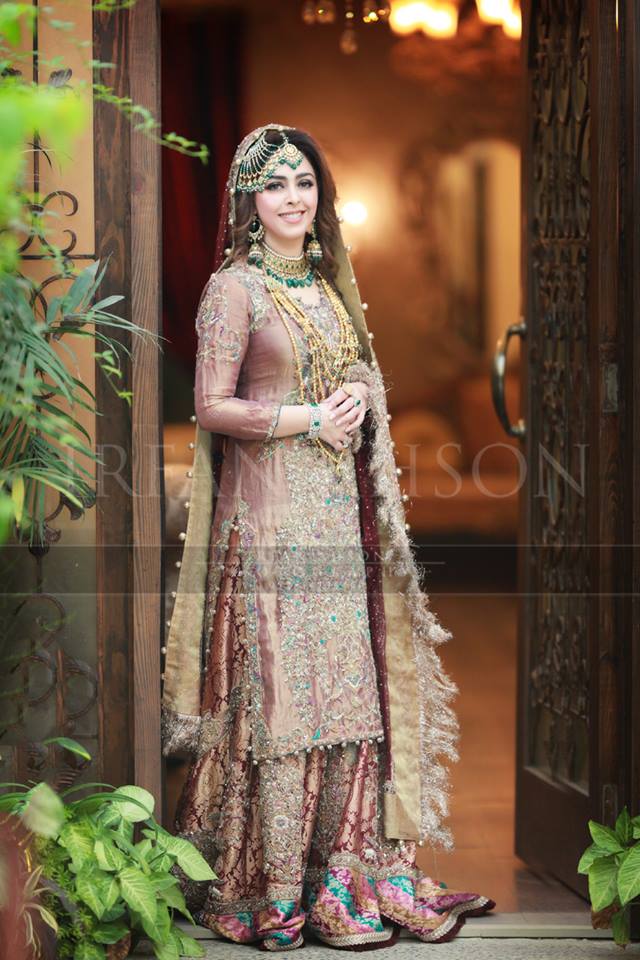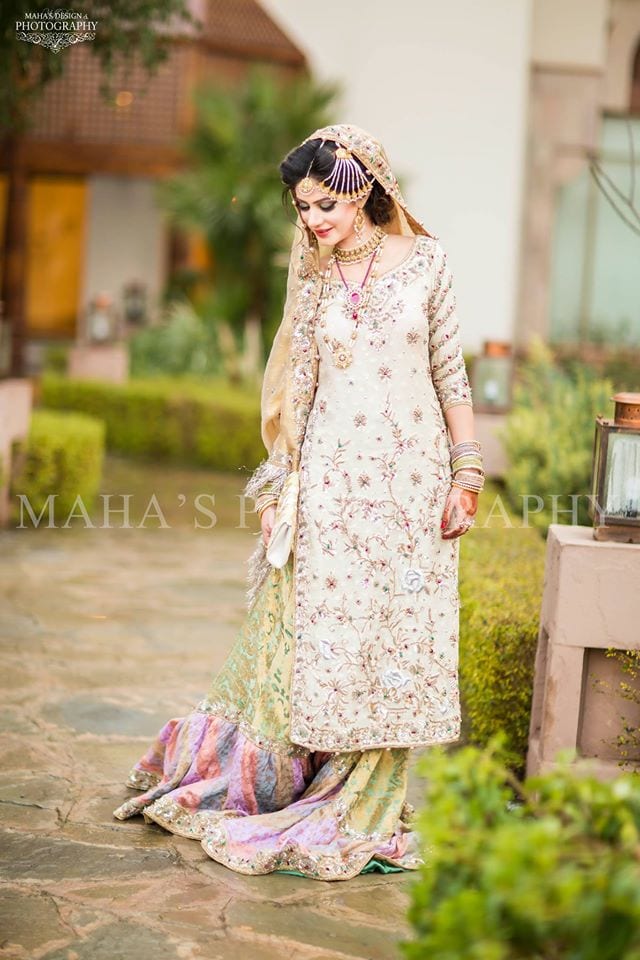 ↓ 3 – Nude Shades
In Pakistan, every wedding day has some special themes and colors. And it is happening for years. Vibrant colors are for Mehendi, red for Baraat, and pastel or nude shades are for Walima. So, if you are looking for a Walima look book, then look no further because here we have three different outfits for you in nude shades, which you can wear on your reception.
You can wear a long flowy outfit, long shirt with Palazo, or even a maxi and slay on your big day. As the outfit is pretty light, you can go for bold makeup and heavy accessories.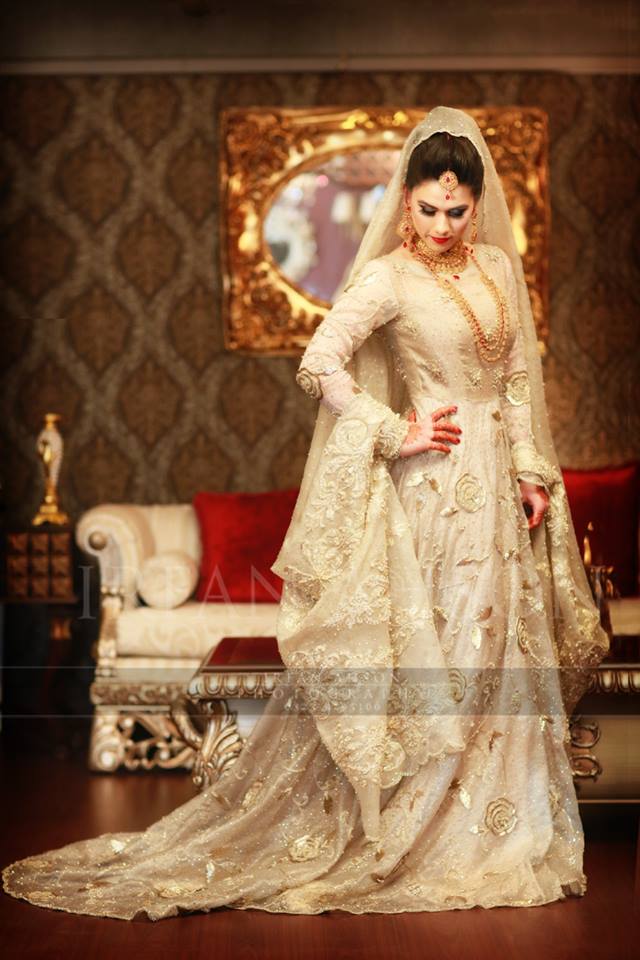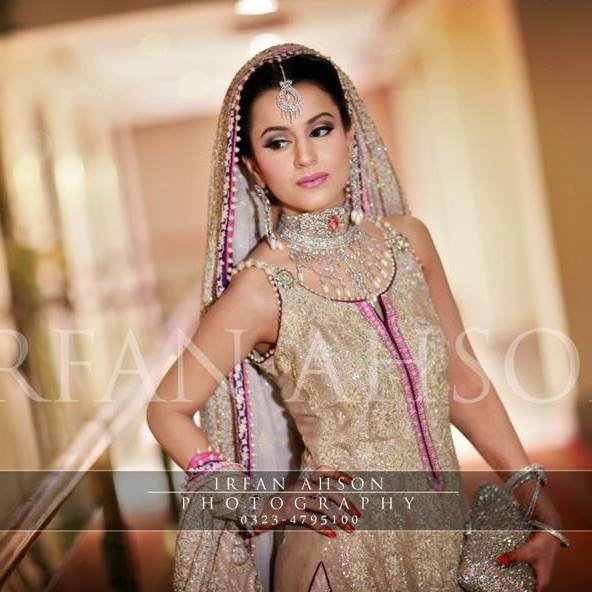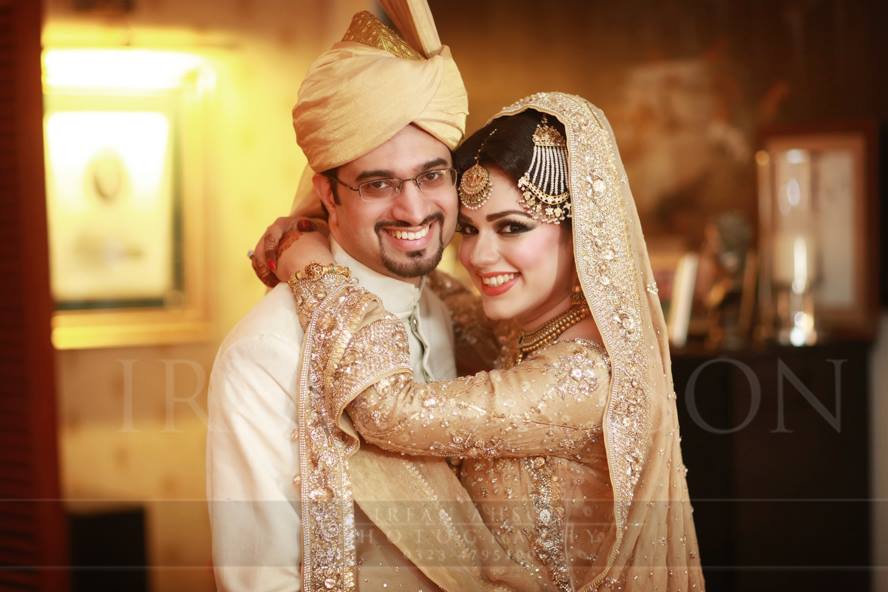 ↓ 2 – Red And Gold For Your Big Day
Red is the ultimate color for any bride. In Pakistan, there are very few brides who choose any other color. It seems like a tradition. Well, keeping up with the tradition seems like a responsibility. So, do it but with adding some twist to it.
Don't wear an entirely red outfit, but incorporate some colors in it. Golden blends well with red. Go for a red base and gold embroidery or embellishment and slay on your Baraat day. Pair up your outfit with some shimmery heels and a clutch and accessorize with the help of traditional jewelry.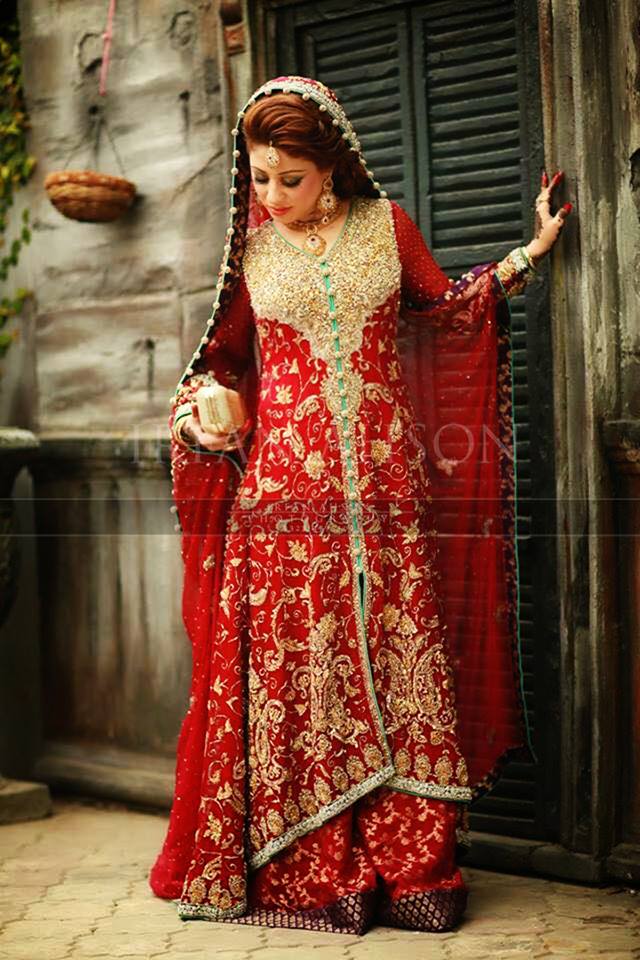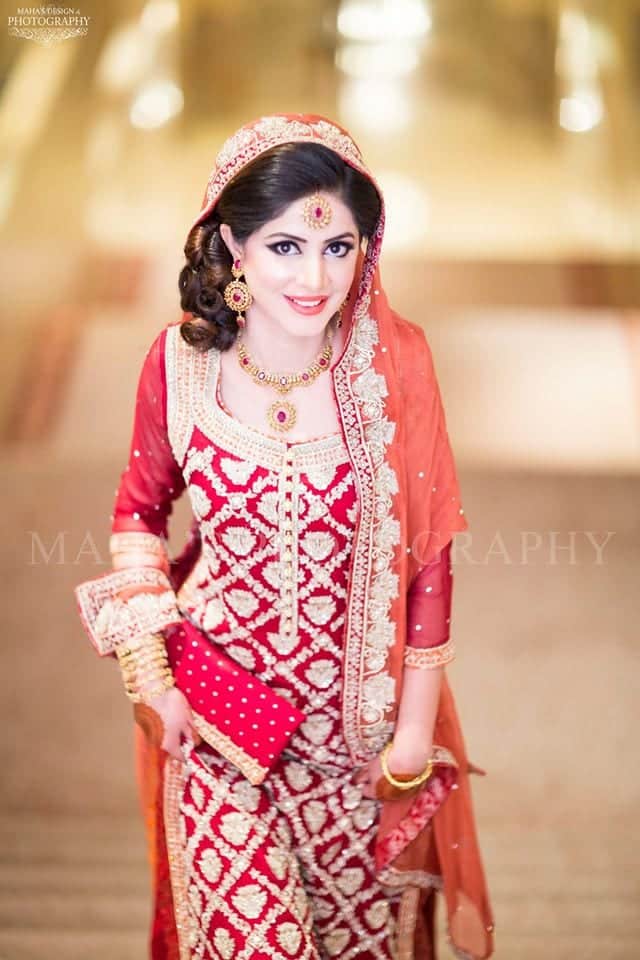 ↓ 1 – Green And Pink Outfit
Vibrant colors are the top priority of any bride on events like dholki or Mehendi. We hope you are no exception, and if that's the case, then this vibrant outfit is definitely for you.
Wear a green chiffon short shirt with gold embroidery over it and pair it up with a pink lehenga having golden borders. To add some more colors and vibrance to your outfit, opt for an orange dupatta with multi-colored borders. The dress itself is pretty heavy, so go easy on the makeup and add minimal accessories like a jhumar and necklace. Blow-dried hair with curled ends, is all that you need to brush off your look.