Kitenge Bridal Dresses Designs for Weddings- Being a huge continent, Africa has a large number of cultures and traditions. There is a vast variety of traditional wedding attires intermingled with each other in colors, styles, and designs. Kitenge, Ankara, and Chitenge are dresses and printing styles that belong to pure African culture
Kitenge originally means a kind of fabric that purely belonged to various parts of the continent of Africa. It was traditionally used by women for clothes designs or headscarves. These clothes had bright prints or patterns which used to traditional or religious conceptions. We've already discussed Modern Kitenge Dresses that are trending these days, so now we'll be focusing specifically on bridal looks.
How To Wear Kitenge Dress On Your Wedding
In the modern age, the Kitenge is being utilized and experimented in a variety of ways and the versatility that it projects is unbounded. Notably, the designers of bridal wear have intermixed the modern and traditional designs and patterns to bring out the uniqueness inherent in it. Various amazing bridal dresses designs carry a western look but keep the close relation to the old African culture. Kitenge is the topmost priority for the bridal wear designers because of versatility in colors, patterns, and designs. The bride who opts to wear Kitenge is the most vibrant and ravishing bride.
Here are a few tips and ideas for African brides opting for kitenge on their special day.
The things to remember while selecting the suitable Kitenge for your big day is to choose the dress which is not only comfortable and stylish but also carries a feminine look and is well fitted too.
Kitenge outfits are really captivating as compared to traditional western wedding gowns. Hence you don't need to worry about accessorizing it too much.
Wear a matching headpiece or necklace set with your dress, and stun on this day.
Wedding dresses look remarkable, especially if they have an A-line bottom part and a fitted or asymmetrical upper part.
Some other options are Flowy maxis, mermaid-style gowns, which have flare consistently towards the hemline.
You can either go with bridal wear that is entirely in kitenge print or one part of it.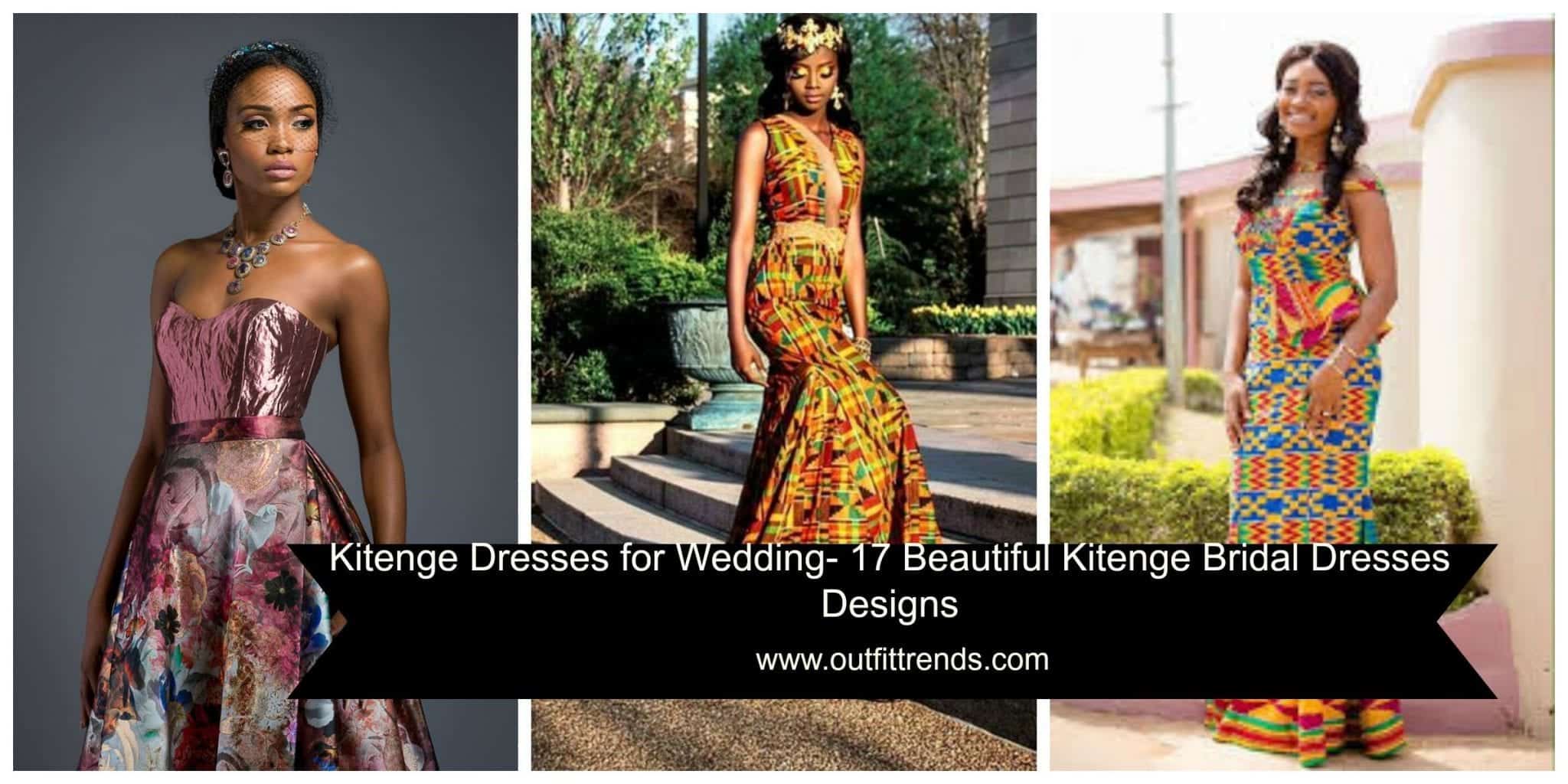 ↓ 30 – For Brides Who Want Subtle Look On Their Big Day
Many of the young girls these days are not used to wearing heavy dresses because they hardly get a chance to wear such outfits due to the busy lifestyle people have these days. But being a bride, you can't go for a plain gear as it's the most important day of your life and you will cherish these memories forever. Choose a wedding dress with a solid base and add some glitter to it. Long Flowy dresses will be the fittest choice for your wedding day.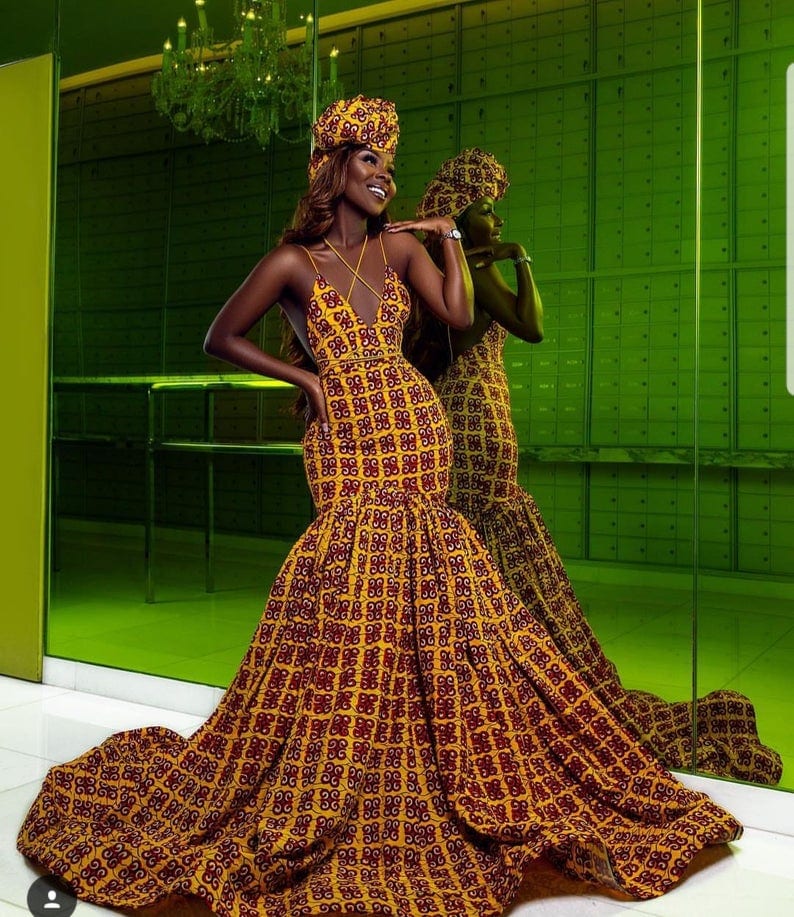 Buy a similar dress
African wedding dress, Ankara print prom dress, floor length African prom dress, African clothing for women, Ankara women clothing, dashiki dress USD 135.00

↓ 29 – Net Gowns With Embroidery
Be the African queen on your wedding. Wear a full-length net gown with kitenge embroidery on top. For a fancy finish, you can go with a tail net dress as well.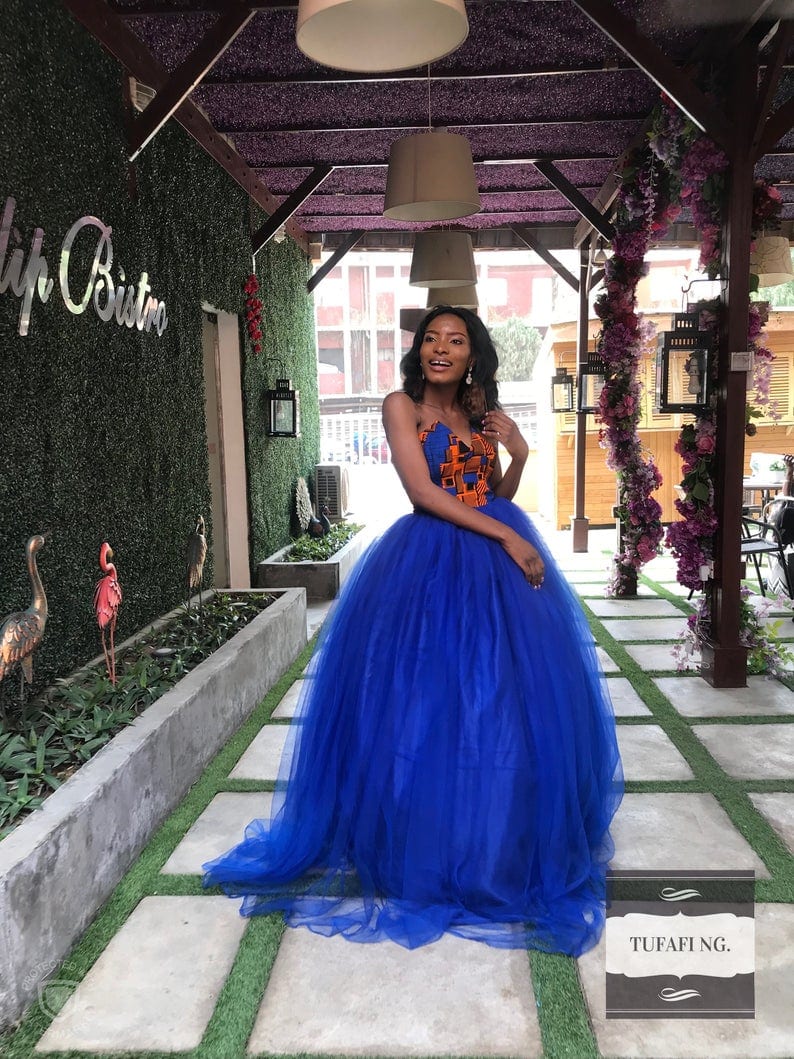 Shop this dress
African wedding, brides dress USD 180.00
↓ 28 – Lost In the African Woods Theme
On your big day wear a maxi dress or gown in white color like western brides. But you have an option to make your dress more colorful. Add a kitenge border to your maxi. Finish off your look with colorful ornaments, head wrap, and Stilettos.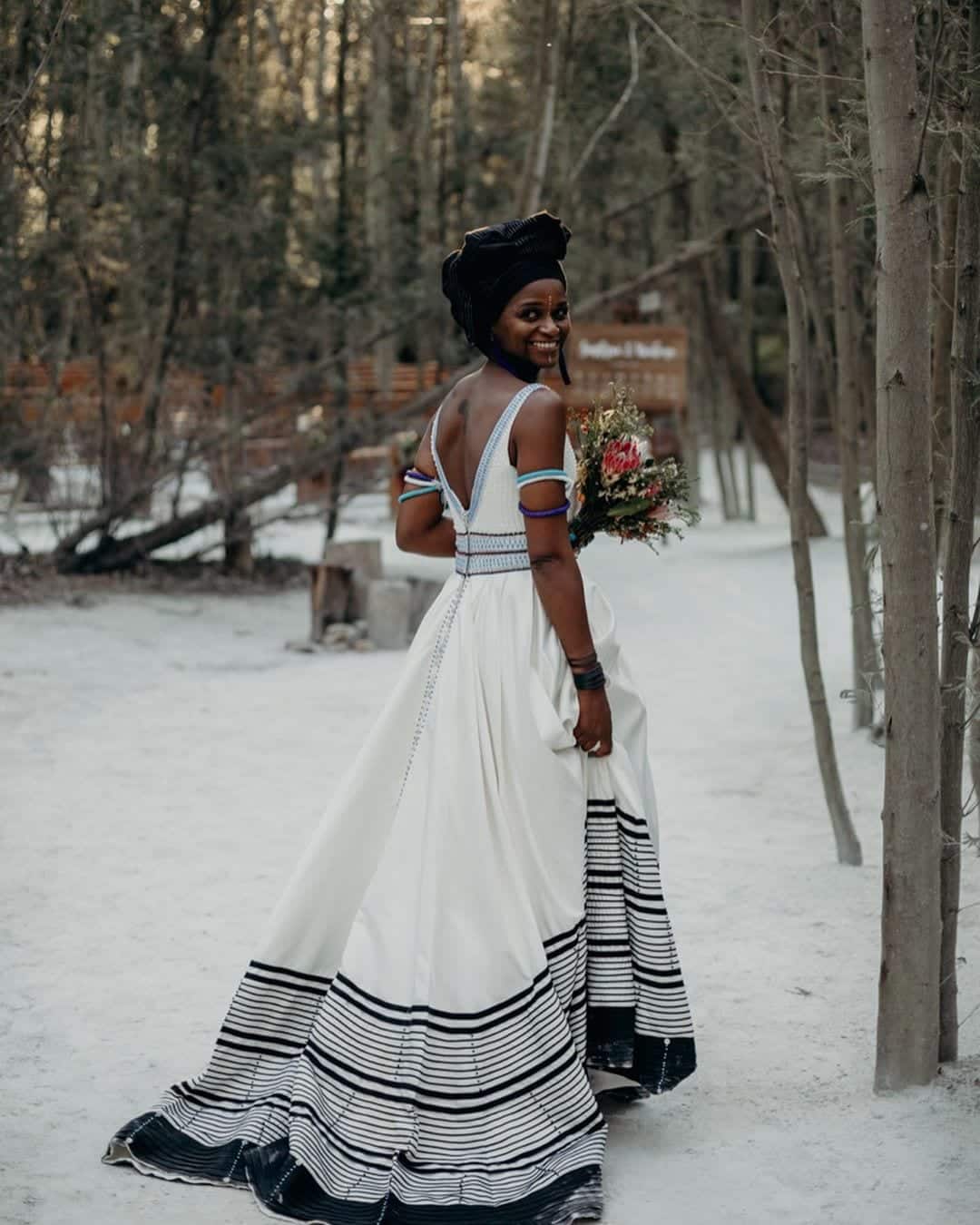 ↓ 27 – Shiny And Glamorous Wedding Attire
Go for bold African wedding attires. Slim fit gowns, mermaid gowns, and open slit gowns with embroidery and embellishments. They will help you shine on your dream wedding.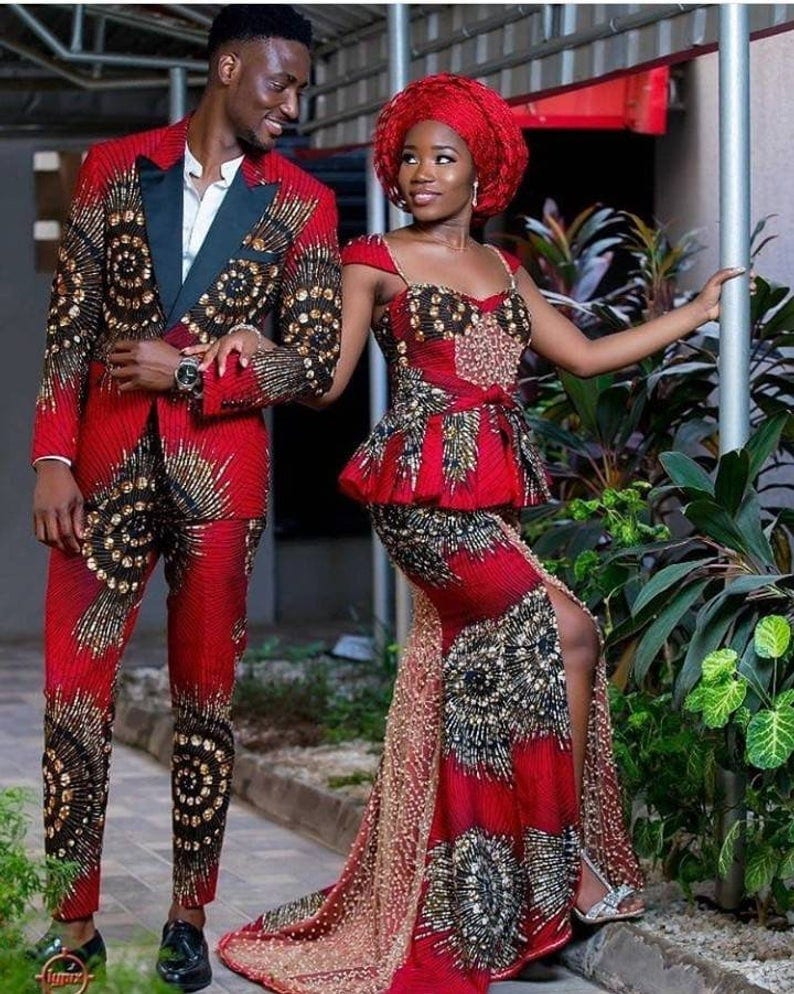 Buy a similar dress
African couple dashiki, African couple clothing, African couple wedding suit, African couple outfit, Nigerian couple dress, Ankara styles USD 160.00

↓ 26 – Colorful Kitenge Wedding Attire For Happy Brides
African culture is full of gorgeous colors. Looking lovely at the wedding is the dream of every girl. Isn't it so? Add a pop of colors to your apparel with the help of eccentric outfit like the one shown in the picture.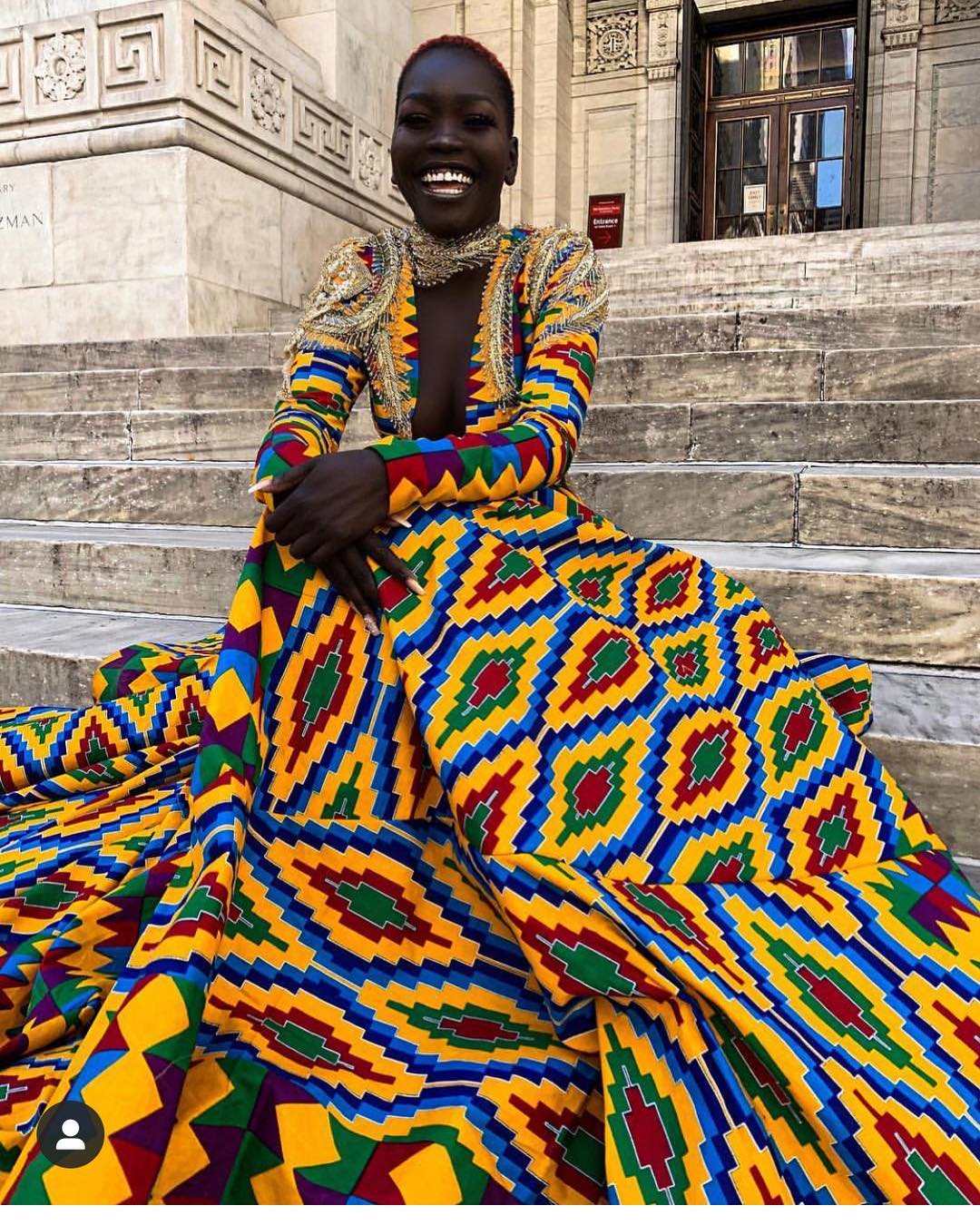 ↓ 25 – Goddess In Red Kitenge On Her Big Day
Goddess in red. Dress up in a hot red like a diva and wear bold accessories. Finish off the look with an astonishing hairdo and glamorous makeup.

Buy a similar dress
African dress for prom, African homecoming dress, African Ankara prom ball dress, African wedding clothing for women, Ankara clothing USD 135.00 USD 150.00+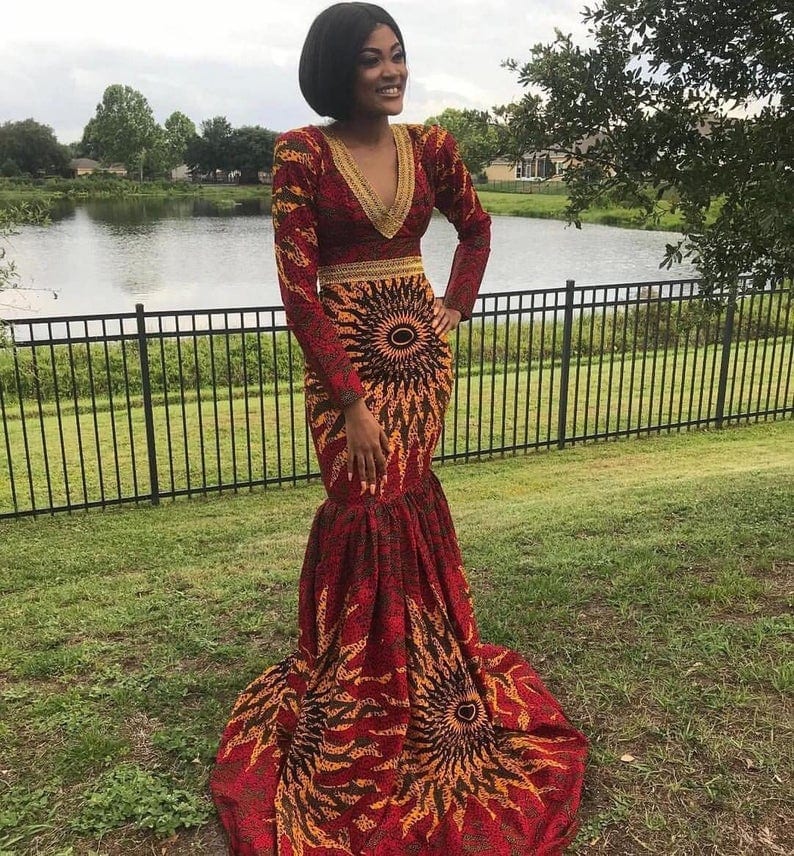 Buy a similar wedding outfit
African Print prom dress/ dashiki prom/Ankara maxi dress/Ankara wedding dress/African print wear USD 200.00
↓ 24 – Pop Of Colors
Bewilder people on your wedding day in a beautiful bold yellow, blue Ankara dress. Put on statement jewels and bold makeup.

↓ 23 – The Right Amount Of Fancy And Decent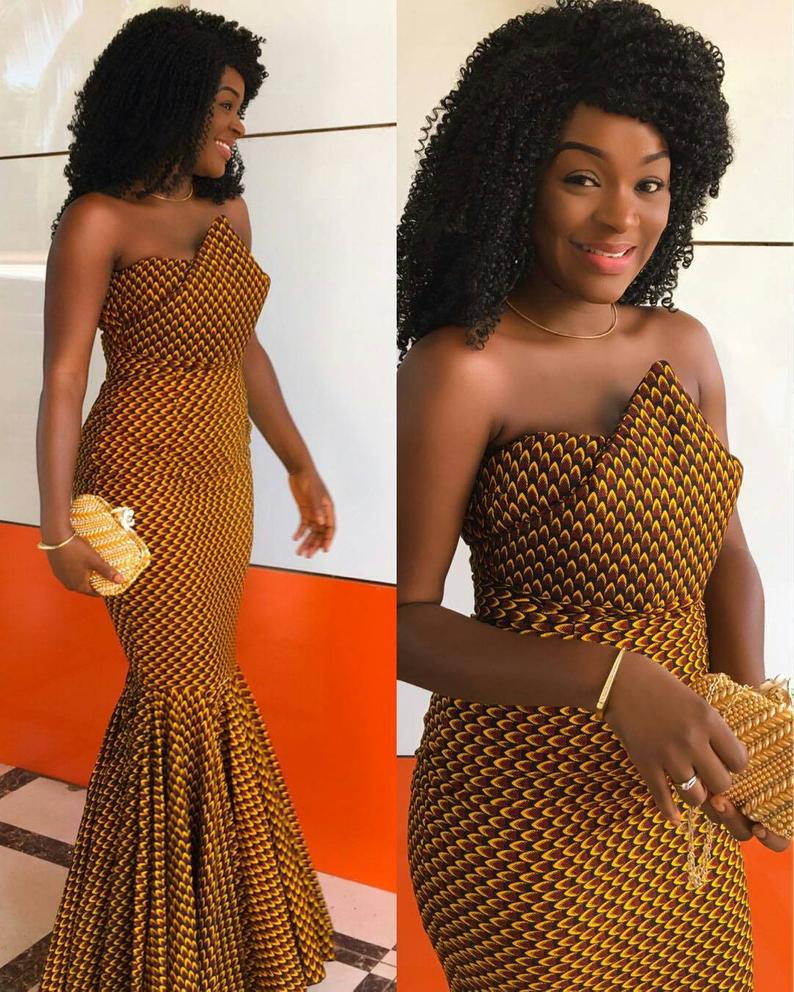 Buy a similar wedding gown
Efe African Mermaid dress // African dress / African wedding dress / African print / formal African dress

↓ 22 – Kitenge Bridal Dress With Plates
If you have planned to look highly fashionable and absolutely striking on your wedding, this flowing gown with plates and bright color is the best choice that you can have. It gives a lovely flowing appeal as well as a style that can never go wrong with!
RECOMMENDED: African Curvy Women-15 Fashionable African Plus Size Models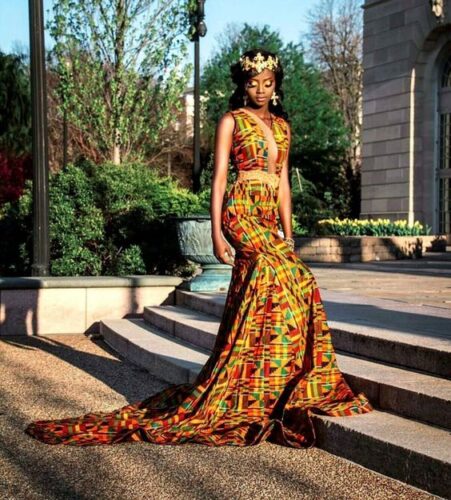 Shop this dress
Women's African Clothing/ African Gown/ Bridesmaids Gown/ Wedding Guest Gown/ Prom Gown/ Party Dress/ Ankara/ Dashiki/ Kente/ Kitenge USD 159.00
↓ 21 – Kitenge Fashionable Bridal Attire
The Aso Ebi Bella presents a style of wedding gown which is meant to make you stand out of the rest. The vibrant combination of colors and a style and design makes it a perfect combo of Kitenge and latest trendy Nigerian bridal dress style.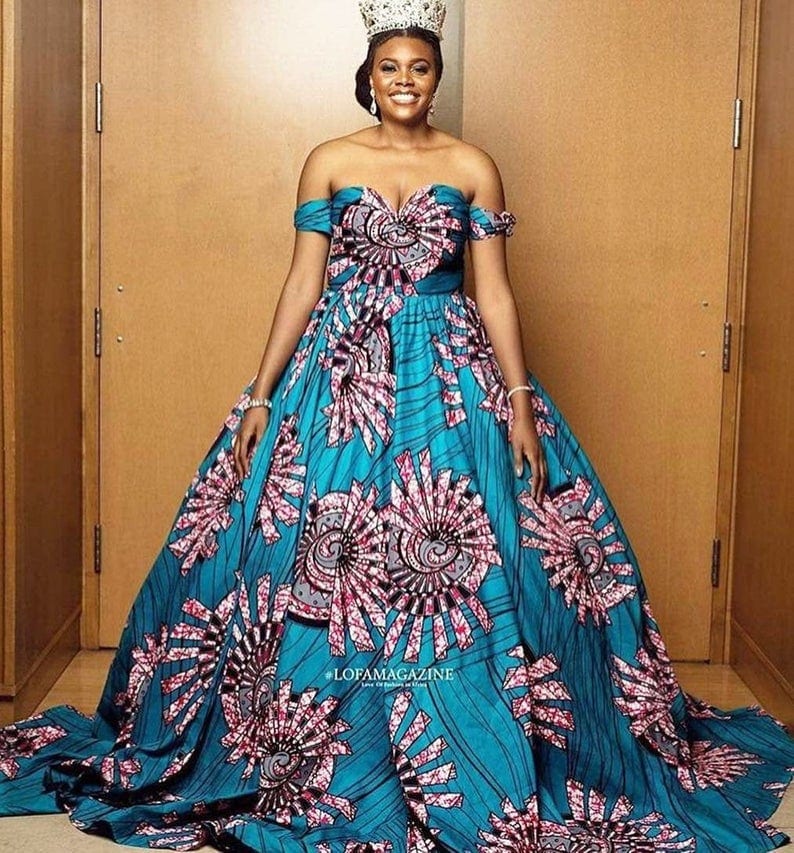 Buy this dress
African Ball Dress / African Wedding Dress / Traditional Women Clothing USD 161.00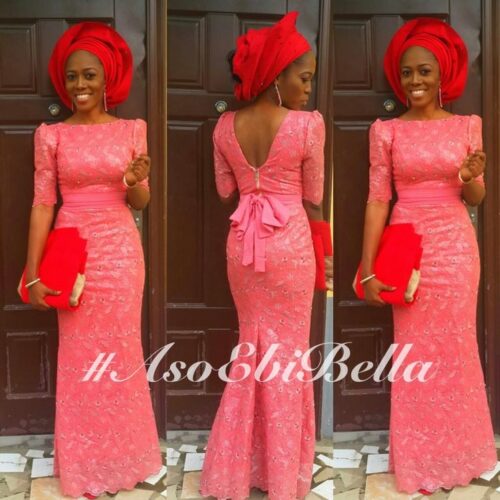 ↓ 20 – Kitenge Bride And Groom Dress Style
In order to make your big day a most memorable a couple can decide to wear similar color combination or pattern. It looks incredibly adorable and eye-catching too. The most ethnically inspired gown which is sleeveless and has a delicate kitenge trim.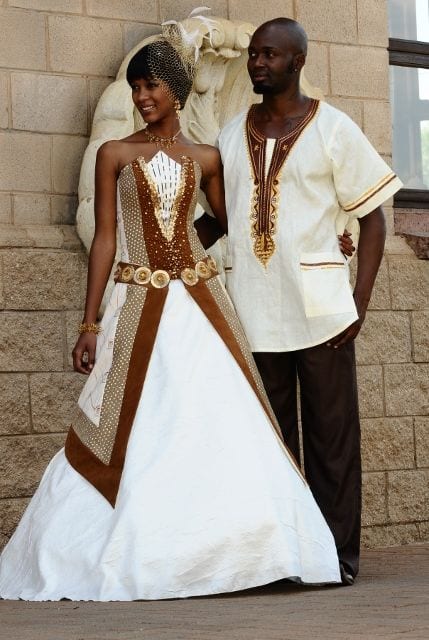 ↓ 19 – Kitenge Dress With Lace
Inspired by the western wedding gown styles, this Kitenge dress with lace is trending high nowadays. The front slit of the dress gives it subtle uniqueness along with an aura of simplicity and complete elegance. Do check out these Top 10 Bridal Makeup Ideas For Black Women for Stunning Look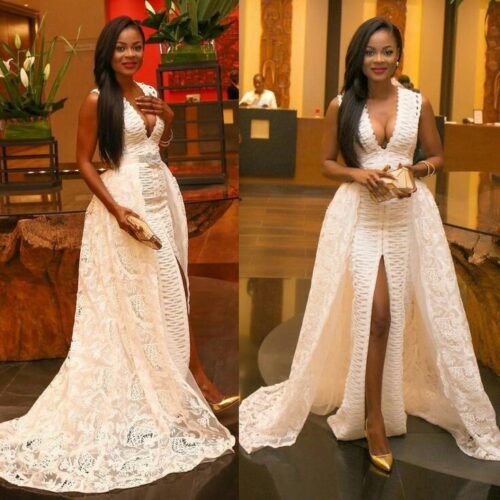 ↓ 18 – African Bride In Gorgeous Red Kitenge Outfit
African and Tanzanian Ankara gown is a latest and trendy variation of Western style with African traditional Kitenge style. The plain silky red skirt with rust and green bodice gives it jaw-dropping attention.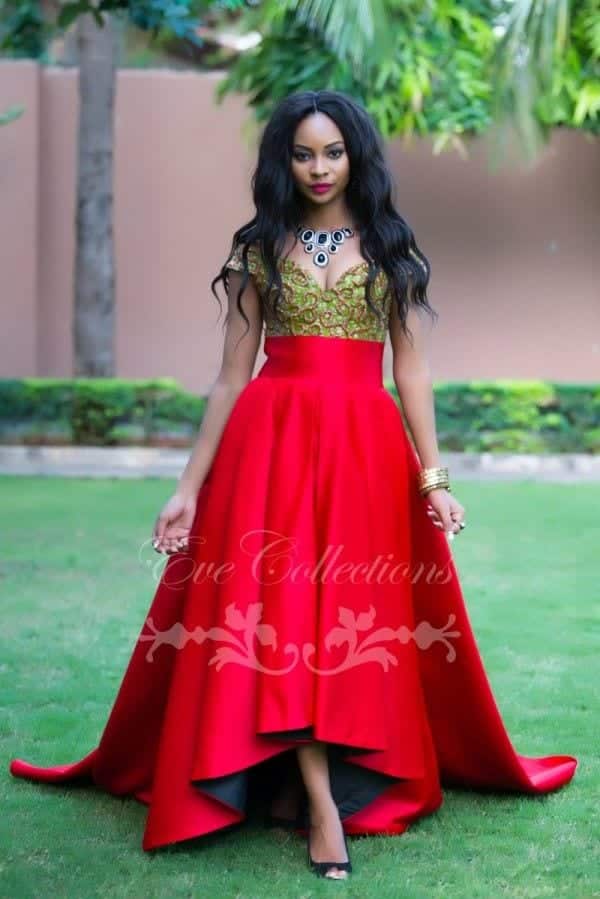 ↓ 17 – Kitenge Bridal Dress With  Net Top
The black net at the bodice looks incredible with the long maxi style of fresh colored Kitenge bridal outfit. It's both stylish and vibrant so it looks like perfect wedding attire. When you decide to wear long maxi or Ankara style of gear you must keep in view that your shoes should be high heels to get on with the required look and elongate the legs. It can look the best for the slightly plus-sized brides as its perfect fitted design gives you a sleek or slim look.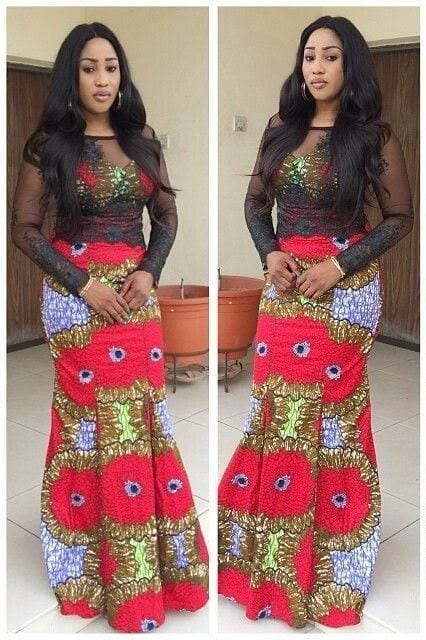 ↓ 16 – Flowing Mermaid Dress
Mermaid style has always been the most popular and ranked top in fashion catalog due to its elegance and delicacy. There are a lot many variations done by different designers, but the concept remains the same. Most popular Kitenge bridal outfit style for an African bride is beautifully flowing mermaid dress. It can be wished to be designed with sleeves or without sleeves, but the layers at the bottom give an ethereal feel.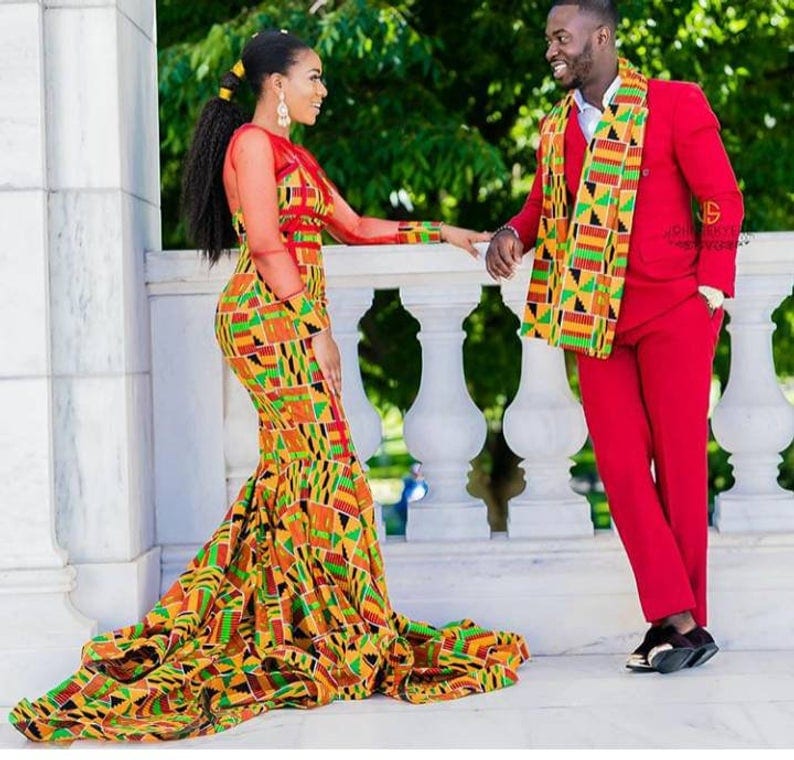 ↓ 15 – The Neck Strap Maxi in Gold
The blend of Eastern and African wedding attire gives out a perfect example in the form of this stunning wedding outfit. A rust or gold neck strap gown style with a vivid contrast color is more than just chic for the wedding day. If you desire to wear unique multicultural apparel with a strong sense of inspiration from the African tradition, this style is what you are actually looking for!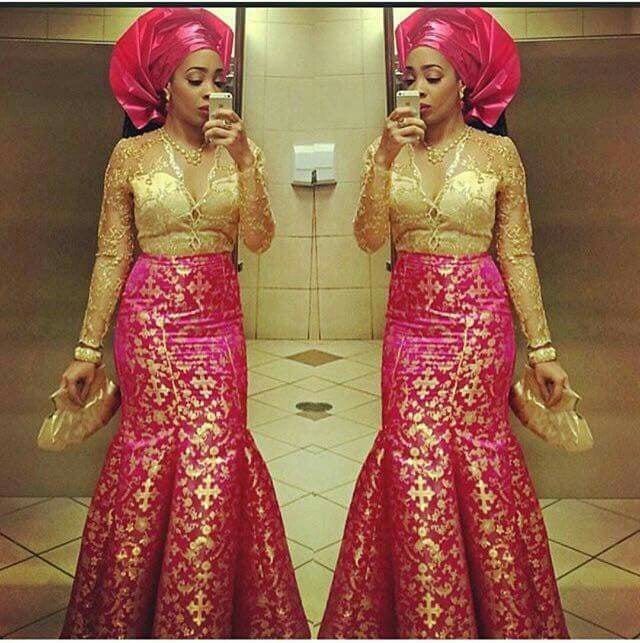 ↓ 14 – Hairstyle And Makeup To Go With Kitenge Dress
No bridal look is complete unless you get your hair and makeup done. Your entire wedding day look depends on your hairdo and makeup. Make sure it's the best one and compliments your dress.
Out favorite hairstyle that looks best with Kitenge outfits is the dreadlock hairstyle. You can also check out Top 20 Dreadlock Hairstyles Trends for Girls These Days.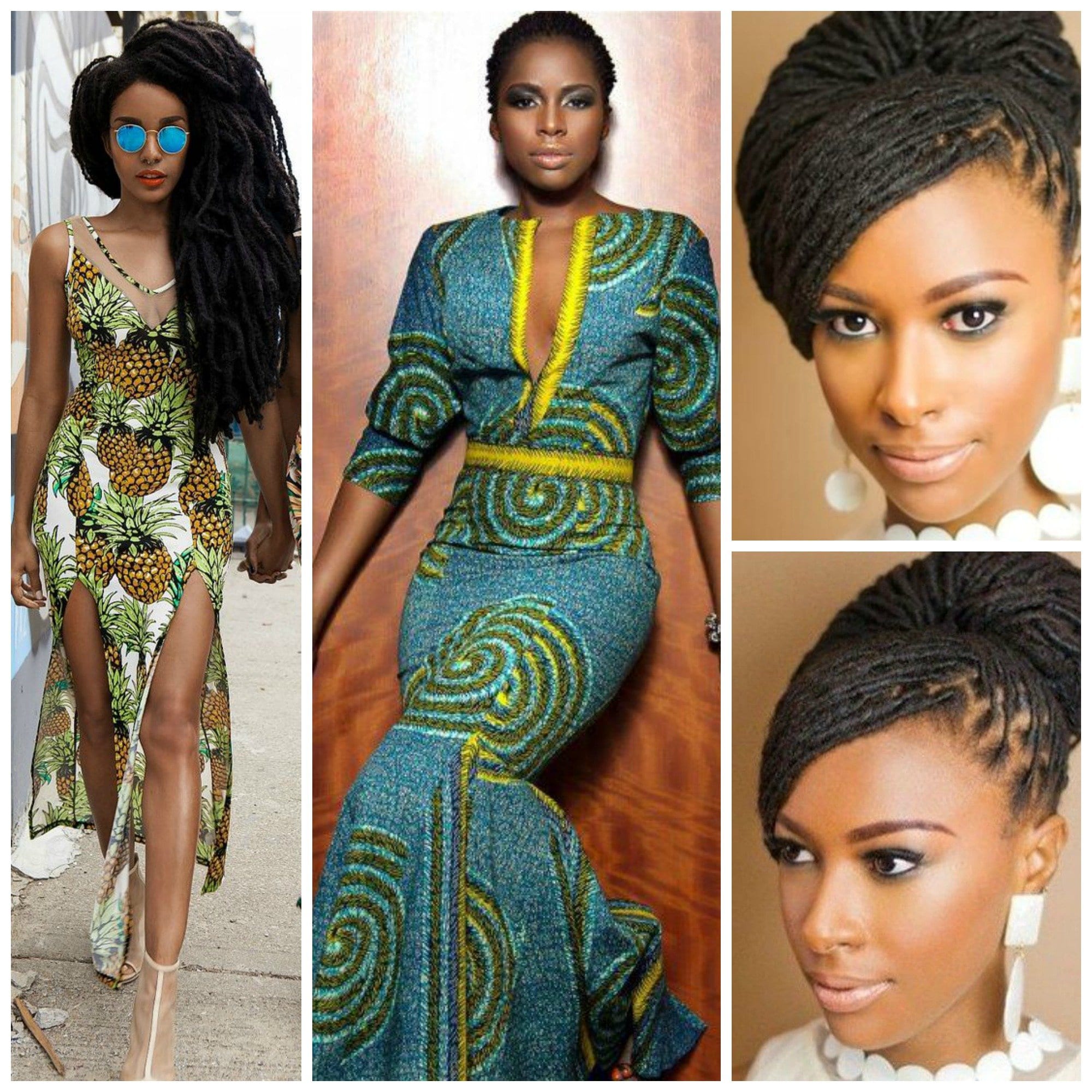 ↓ 13 – The Layered  Maxi Dress
The mermaid style is the ultimate love of African brides and printed plain fabric with lace on top looks impressive indeed. This is designer wear by Elisha Red Label and gives the most modern look to the bride because of its intense and detailed embroidery and delicate layers below.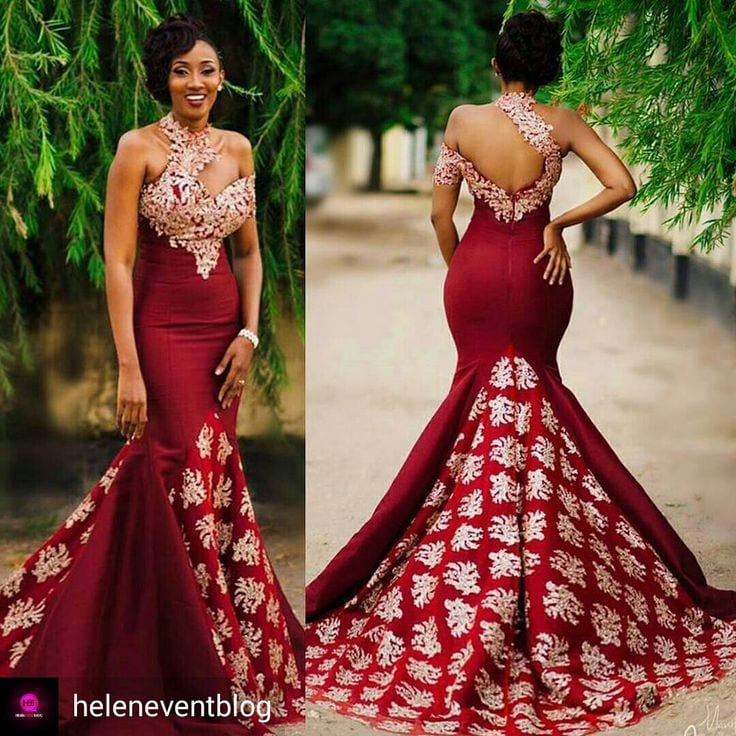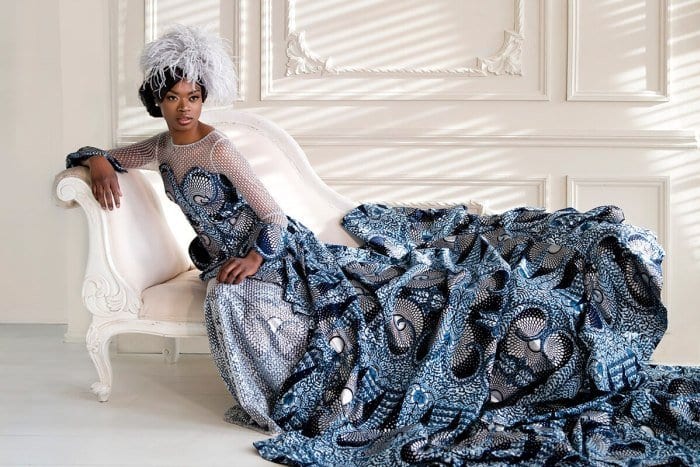 ↓ 12 – Floral Kitenge Bridal Gown for Plus Sized Girls
The plus-sized African brides don't need to be much nervous because this outfit will give a bright, dazzling, and slimmer look too on your big day. This outfit features a zipper from neckline to back which makes it best fitted and comfortable to wear also. Choose a fabulous lip color to go with your kitenge dress from these 20 Best Lipstick Shades for Girls with Dark Skin Tone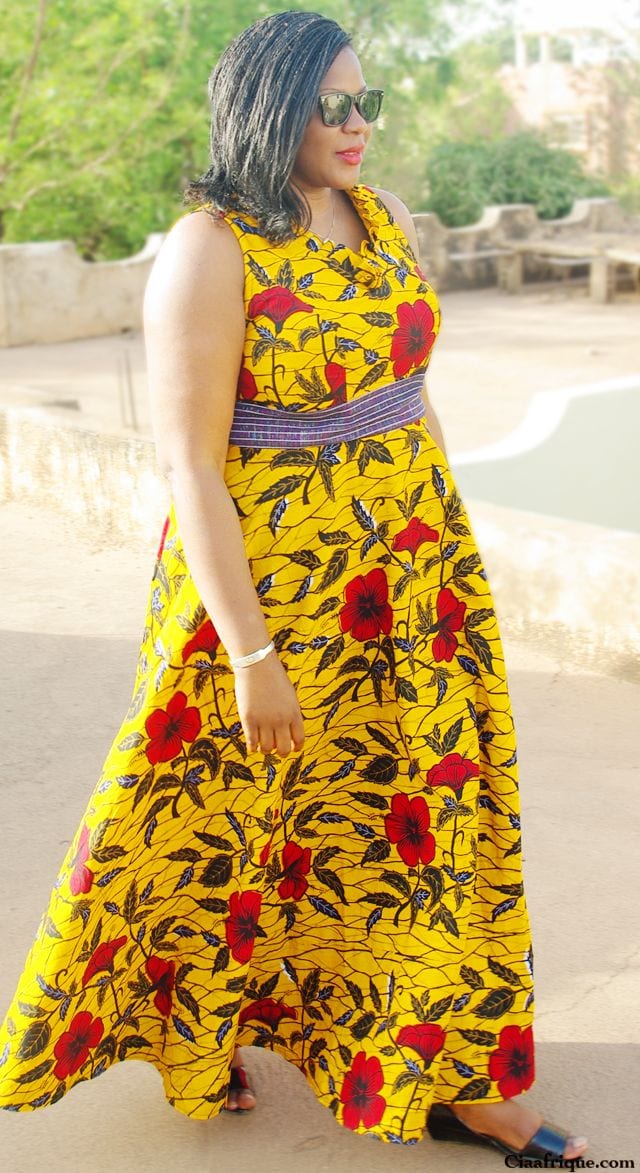 ↓ 11 – Traditional Kitenge Patterns In Latest Design
The regular Kitenge outfit can be modernized with an addition of various patterns and latest styles and cut. Yet another mermaid dress theme with a unique layer of fabric just below the waist!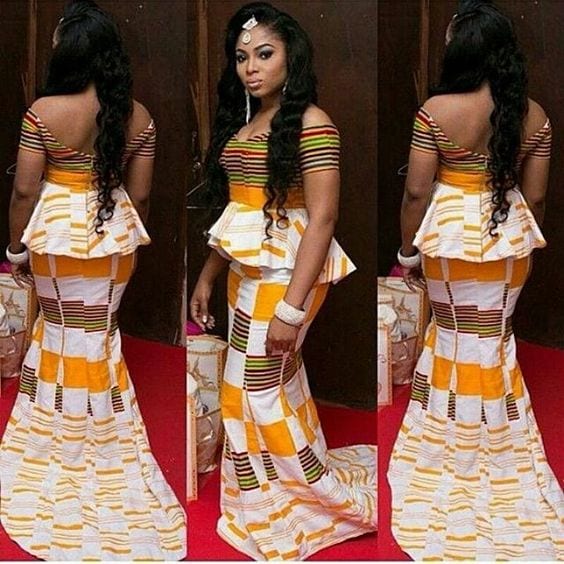 ↓ 10 – Summer Wedding Bells
With the passage of time, you may find a lot of amazing dresses which are the amalgamation of lavish African tribal designs. Although it may be hard to find old traditional bridal attire of Kitenge, the good news is that it has reached to the high street fashion trends which are fabulous in look and irresistible to opt for your big day!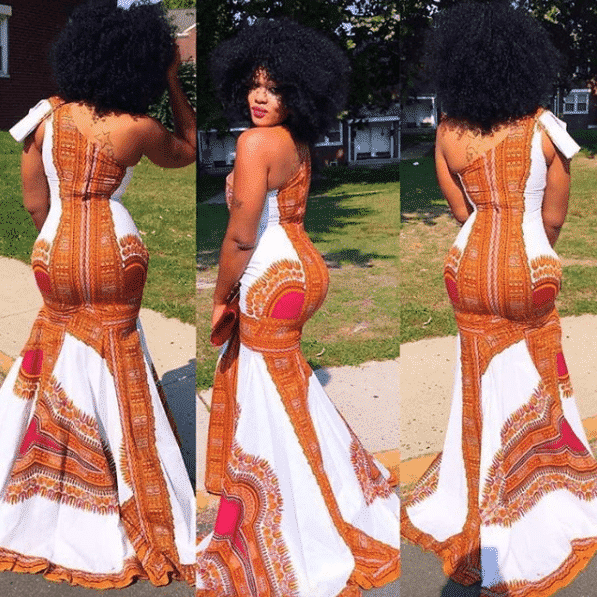 ↓ 9 – Ghanaian Traditional Bride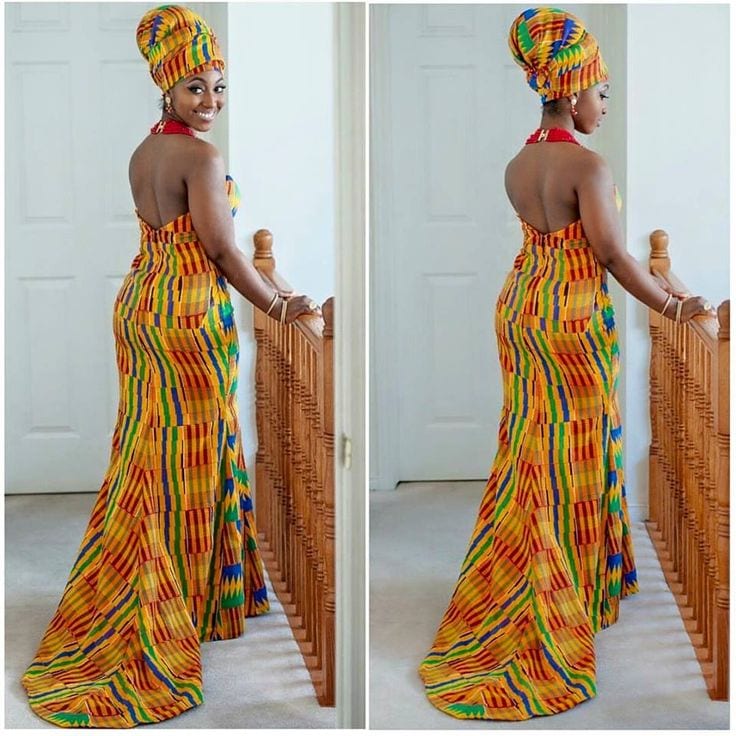 ↓ 8 – Ankara Skirt and Blouse Style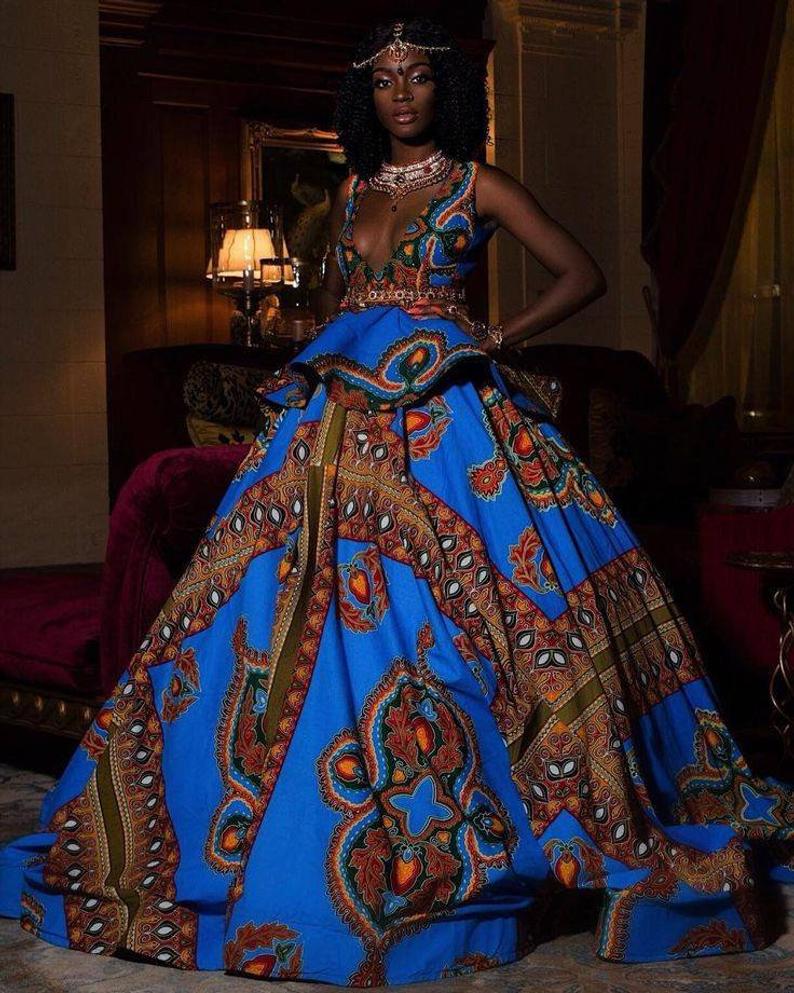 Buy this dress
African prom dress/African ball gown/African maxi dress/African Dansiki dress/African women dress/African wedding dress USD 255.00
↓ 7 – African Printed Flowing Mermaid Maxi
Represent African culture with these beautiful clothing,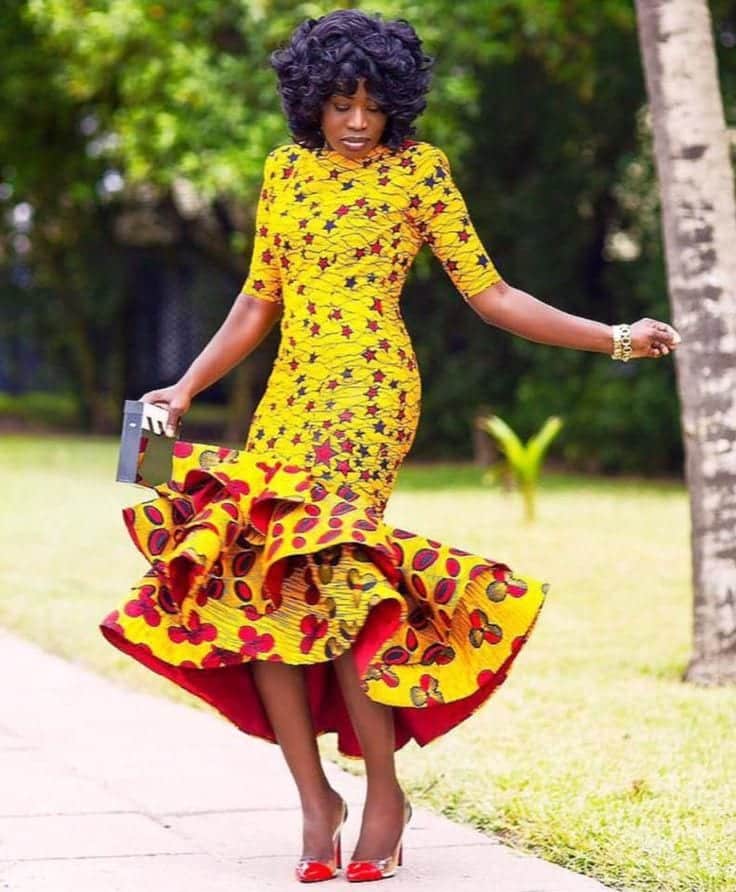 ↓ 6 – Bella Naija Wedding Style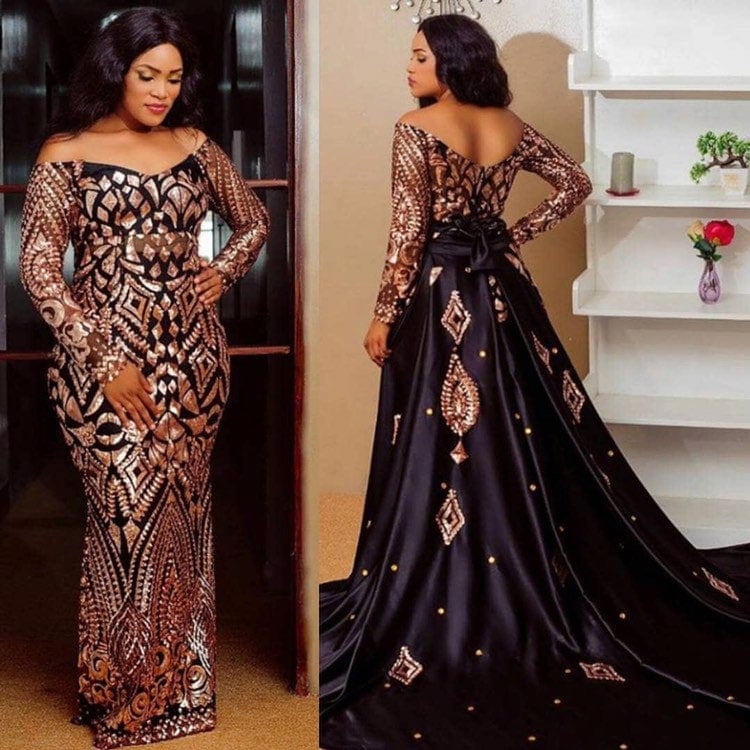 Buy a similar wedding dress
African prom dress /African fashion/African attire /African wedding dress /African formal event dress/African wear USD 471.03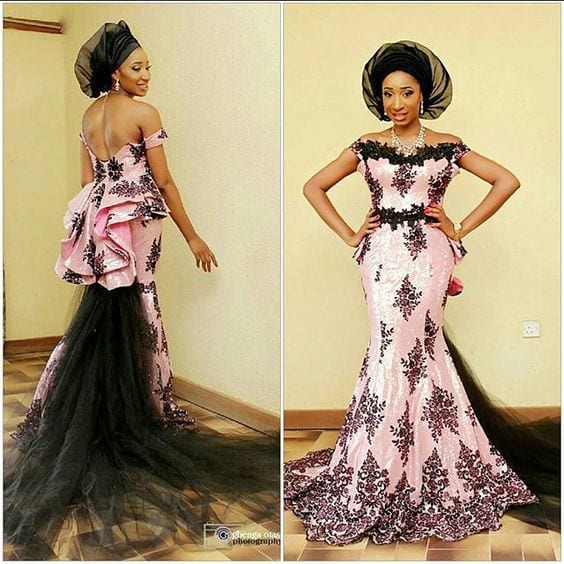 ↓ 5 – Kitenge Accessories For Brides
Brides can opt for kitenge accessories to go with their kitenge outfits, for instance, this Kitenge bag that matches the outfit:

Brides have perfect options as they can go with chunky accessories. We will recommend you to go with jewelry that is in bold colors or silver if your dress is heavy.

Buy similar jewelry
Quality Bridal Occasion Wedding Real Coral Work 3 piece Necklace, Earring and Bangle Set in Silver USD 171.11
You can even go with a delicate headpiece to complement your dress.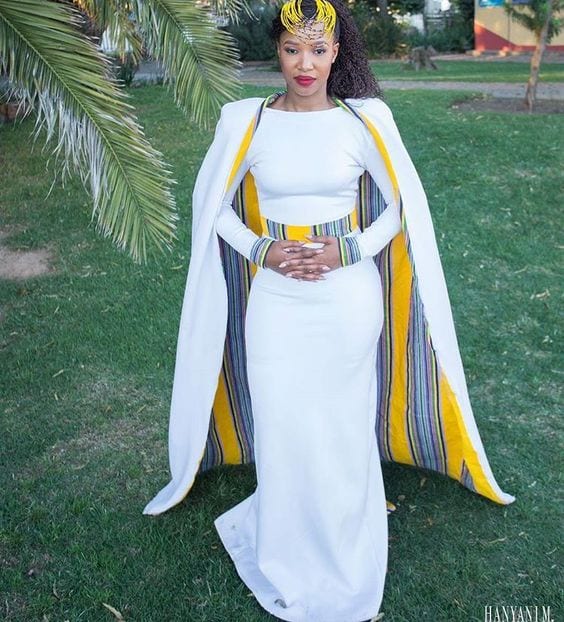 Ladies if your dress is a little dull then elevate your gown and bridal look with the help of vibrant kitenge jewelry.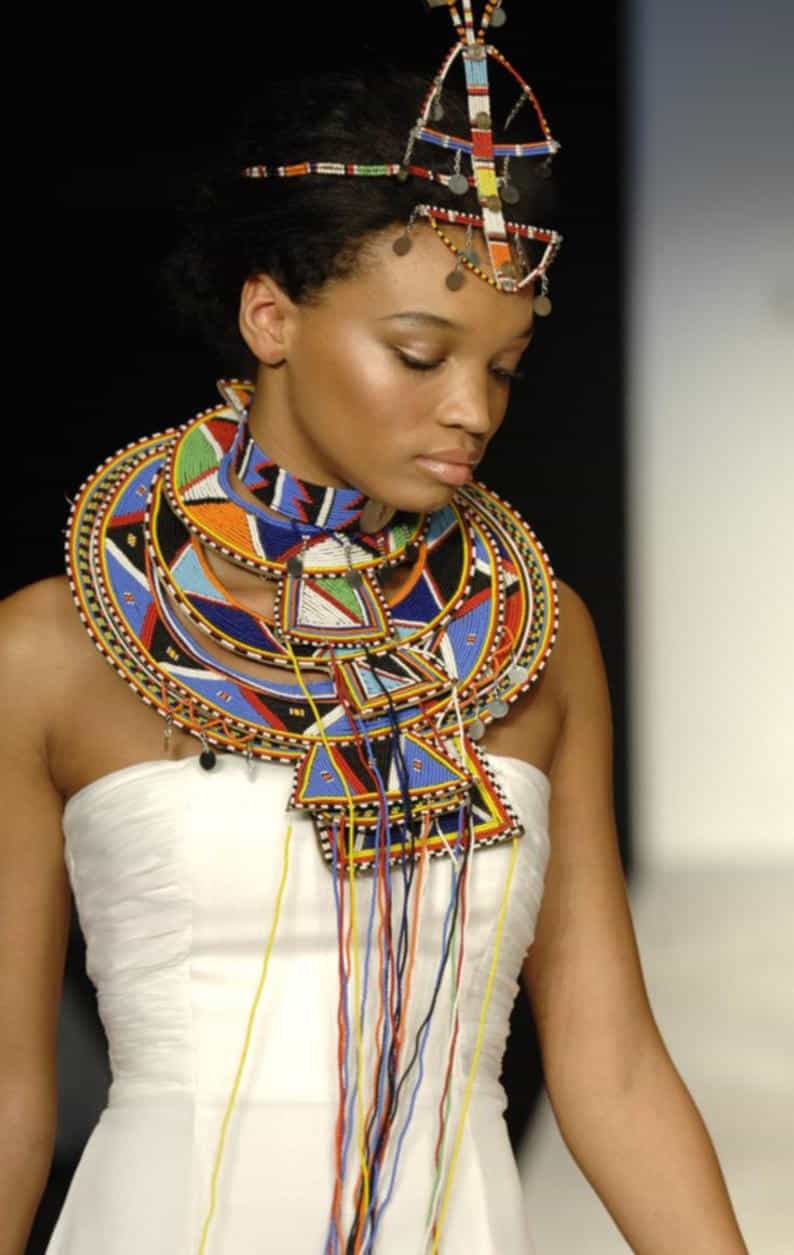 Buy similar items here
(29) Unique wedding jewelry from Africa, Wedding Jewelry set, Wedding gifts, How to dress during weddings. Bridesmaid wedding ideas USD 193.00
↓ 4 – Short Ankara Wedding Dresses
For something different on your wedding go for a short dress and be fashion inspiration for girls who are in the line of the next bride to be. You can wear this type of outfit on your wedding by adding embroidery and embellishments to it. It's a good selection if you are a wedding guest or even a bridesmaid.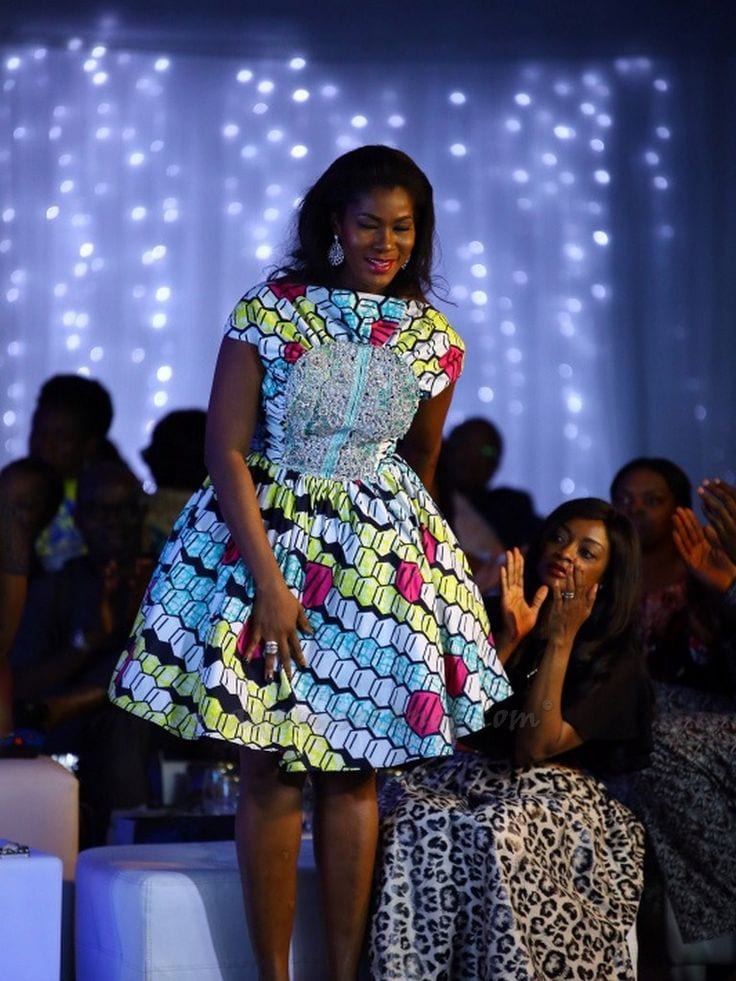 ↓ 3 – Wedding Dresses For Brides Maid
The most important people at any wedding of course after the bride and the groom are none other the brides' maid. If you are one of the bridesmaids, then you need to pick up a unique outfit for as self as many eyes will be on you. All bridesmaids can plan the same outfit as well; it's a better idea rather than wearing something different.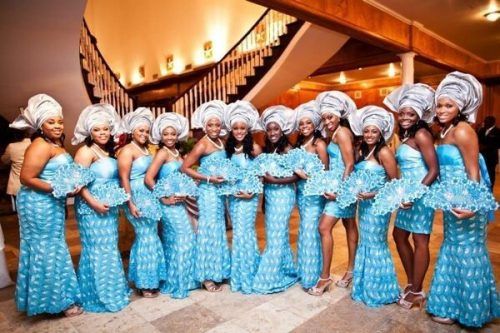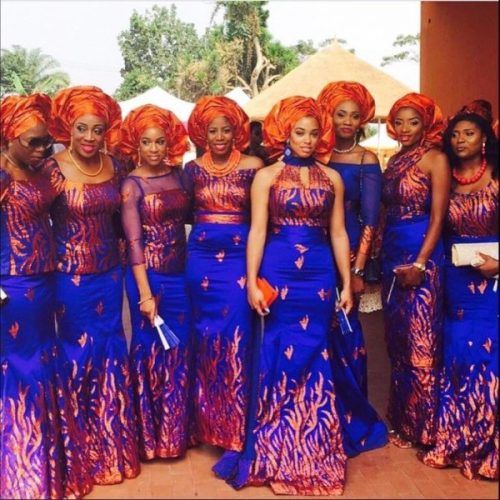 Via
↓ 2 – Wedding Dresses For Guests
Have you ever heard of a theme wedding? Or if your friend or someone you know, especially in Africa is planning one, then we assume it's going to be kitenge themed. The reason behind this theme is going to be no doubt to add colors and life to the wedding. For such marriages, you can try the outfit below. If it's not a theme wedding, you can still wear it and steal the show.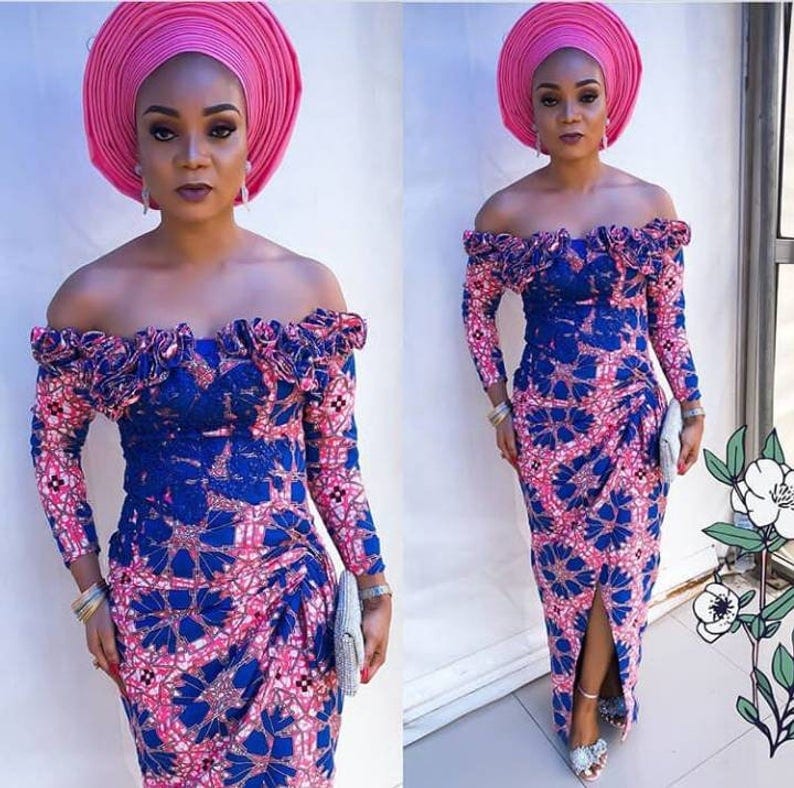 Buy a similar outfit
Exquisite and elegant Ankara Dress, African print dress, Wedding guest USD 129.99
↓ 1 – Clutches And Footwear
We haven't seen a bride till date who gets happy with just the right outfit. No bridal look is complete without perfect makeup, hairdo, accessories, and jewelry of course footwear. Choosing footwear with kitenge is a tough job, especially when it's for a wedding. We usually recommend people to go with neutral footwear with kitenge prints, but for brides, it's not a good option. Go with kitenge printed high heels and stiletto and dress up head to toe in kitenge Ankara on your big day. You can get matching clutches with your footwear as well.
These are our absolute favourite, handmade kitenge shoes, and clutch that are perfect for any bride.