Unique Wedding Dresses – Can you guess what's the one thing that grabs everyone's attention at a wedding? Let me give you a hint, it's something that everyone is excited to see, including the groom.
Whatever you guessed, it's the bridal outfit that grabs everyone's attention the moment she enters the room. And for all right reasons, they need to be stunning and unconventional.
Unique wedding dresses are important for any bride. Not because you wish to have everyone in awe. But, your bridal outfit will always remind you of your special day. It will cause all happy memories to come flooding back every time you see yourself in the dress of your dreams.
That's why choose a dress that makes you feel great every time you see it. A dress that makes you brim with confidence and enthusiasm.
Non-Traditional Bridal Dresses
I have talked enough about the importance of a bridal outfit. But, you shouldn't let that pressurize you. Understand that choosing a unique wedding dress is a hectic process. It requires your time, money, and consideration.
You need to start thinking about every tiny detail you want in your dress. From the fabric, style, and design to the kind of vibe you would want to feel in that dress. With a deep sigh, you would need to make sure everything you want.
But. hey! With the right guidance, your wedding dress selection can also be a fun process. That's why we are here to help with the dress of your dreams.
We have gathered a collection of unique bridal dresses to spark some ideas for your dress shopping. If you are currently on the lookout for your wedding dress, this is the perfect place to start your Pinterest board!
Before we dive deep into our latest installment of wedding dresses, we present you with tips.
Tips And Tricks for Wedding Dress Selection
Consider the time and location of your wedding before you begin your wedding dress search. Is it a summer wedding or a fall wedding? Is it indoor or outdoor? Answering these questions will help in having an appropriate outfit and make-up.
Create a mental picture of the look you wish to create. if you are not sure about what you want. Start doing some research. Go through Pinterest, bridal designers, fashion websites, or magazines. Bookmark every detail you like.
Begin your dress search three to six months prior to your wedding. it will give you time to ensure you have a unique wedding dress for your big day. Moreover, your gown might need some alteration. And you will have enough time if you start early.
Most importantly, choose a dress that fits well with your body shape, height, and color. Wearing a dress that suits you ultimately makes you comfortable and confident.
Once you are done with the dress, start buying jewelry that coordinates with your outfit.
Lastly, reach out to a bride consultant if you are unsure about your dress. They will bring great ideas and help you look your best self.
Unique White Dresses for Brides
We'll start our list with some bridal outfits in white color that stand out because of their unique details.
28 – Non-Traditional Wedding Dress for Mature Brides
Many older brides wear traditional or vintage wedding gowns because they believe they can carry them well. Although they look great, you don't have to abide by this rule.
You can wear dresses with sequin, lace, or statement structure. It might be hard to picture yourself in fancy gowns, that's why we used a picture of a mature bride slaying the boho bridal look.
An easy way to look dolled up is to opt for a lace gown. Create a classic flower crown hairstyle and subtle make-up to look fabulous on your big day.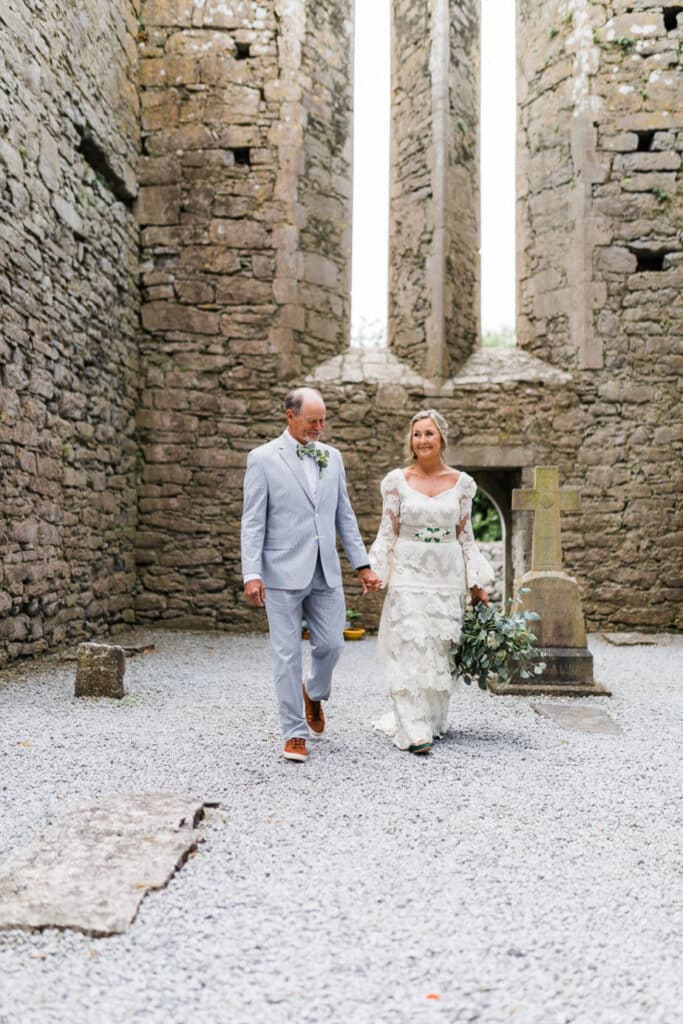 27 – Add Drama to Your Strapless Dress With A Bridal Cape
Make a striking appearance with a strapless wedding dress. Off-shoulder dresses are a timeless choice for weddings. They look feminine and help you flaunt your sculpted shoulders. You get to look elegant in a fuss-free manner because of the stunning sweetheart neckline.
What makes this wedding dress unique is the bridal cape. It adds drama to a strapless dress. So, if you are a bride who wishes to feel like a princess on your big day, this is the look you should recreate.
If you need help with styling strapless dresses along with helpful tips, I highly recommend you read this post.
26 – A Unique Wedding Dress With Halter Neck And Balloon Sleeves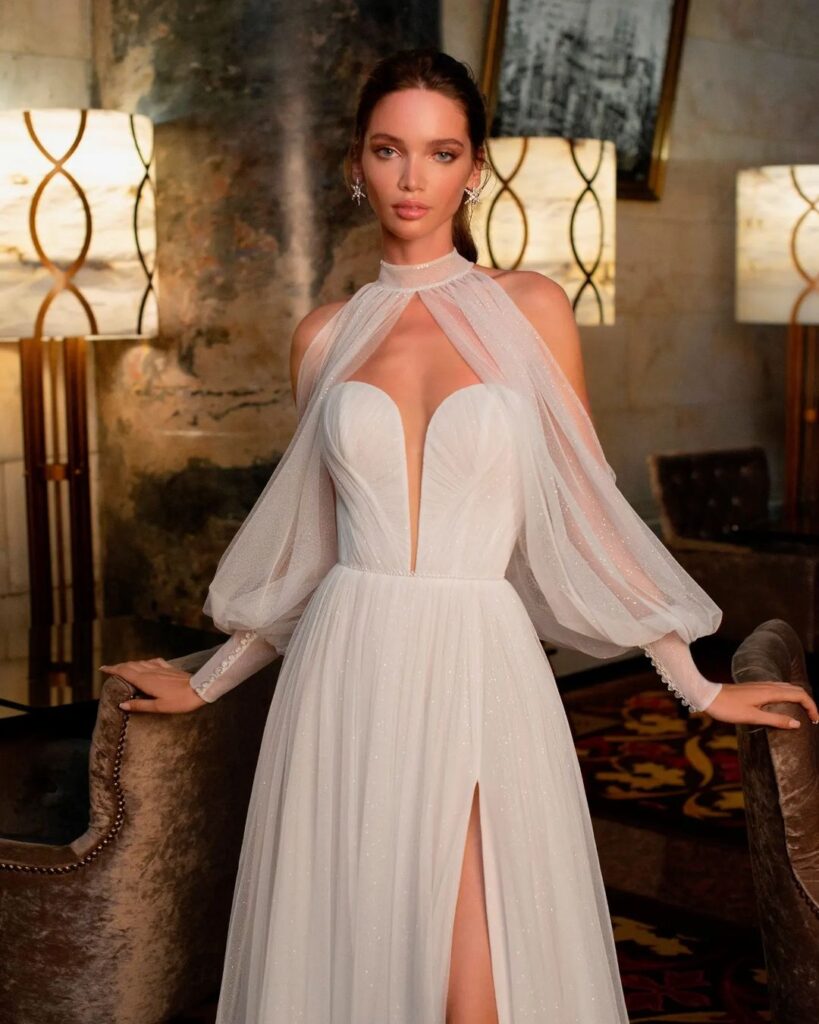 25 – Ditch The Traditional Gowns And Try A White Pant Suit
Bridal wear has had the long-standing reputation of wearing gowns and floor-length dresses. However, things are changing for good. Bridal wear now includes quirky and unconventional styles that we love. Here is a bridal pantsuit by designer Rime Arodaky for the new-age bride.
Like any other outfit, your wedding dress should also express your personality. So, if you think you nail a bridal pantsuit look on your special day. GO FOR IT!
We always suggest choosing a dress that's authentic to your unique style. Whether it's a gown or a pantsuit, you should be happy about your bridal wear at the end of the day.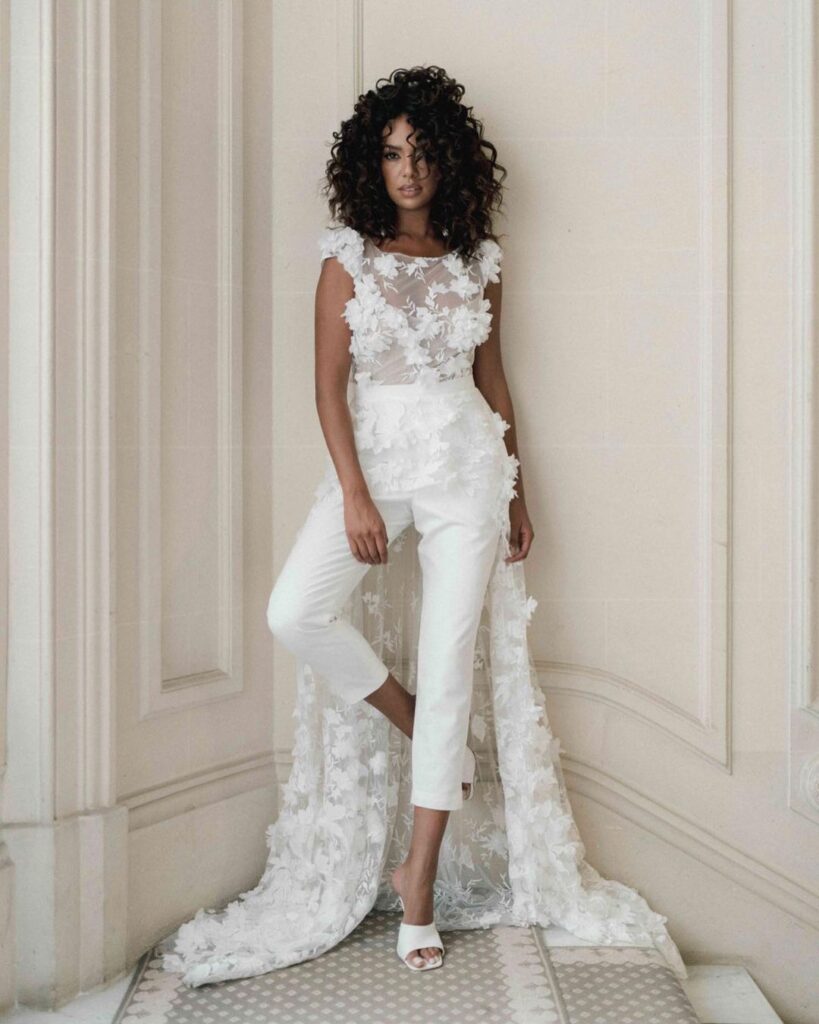 24 – 3D Floral Lace Gown
Concentrated with floral applique and the iconic plunging neckline, this 3D floral lace piece is a show-stopper. This body-hugging dress with lovely cap sleeves and a godet in the skirt looks breathtaking. It's perfect for brides looking for a feminine and statement design.
This lovely floral lace gown is from a luxurious international bridal brand called Made with Love by Carla Jenkins.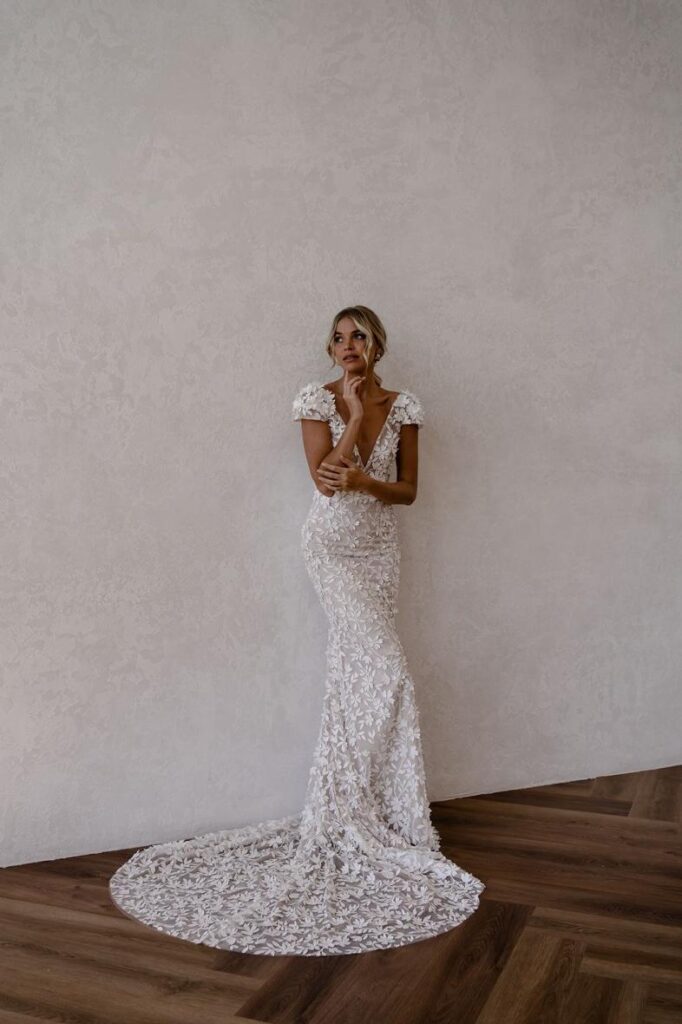 23 – Wear Ombre Tone Gown to Steal The Show
White is traditional bridal wear color in many countries around the globe. While we respect the traditions, there is nothing wrong in playing with little colors. Therefore, an ombre tone gown is the best option if you want a blend of traditional and modern.
This signature Needle & Thread London bridal gown is inspired by Victorian Floral lace with soft ivory thread and tinted pink highlights. The flattering silhouette is decorated with sequin flowers and beads for a shimmer and dramatic touch.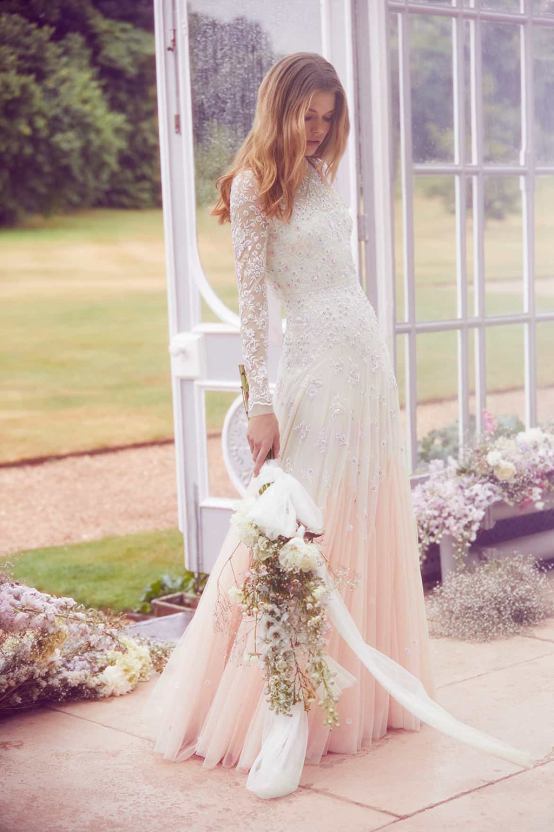 22 – Unique Wedding Dresses in Silk
A vintage silk wedding dress with butterfly sleeves by Laberasilk. If silk is something you enjoy wearing then you must check out these Silk Nightgowns that will definitely by useful in the coming days.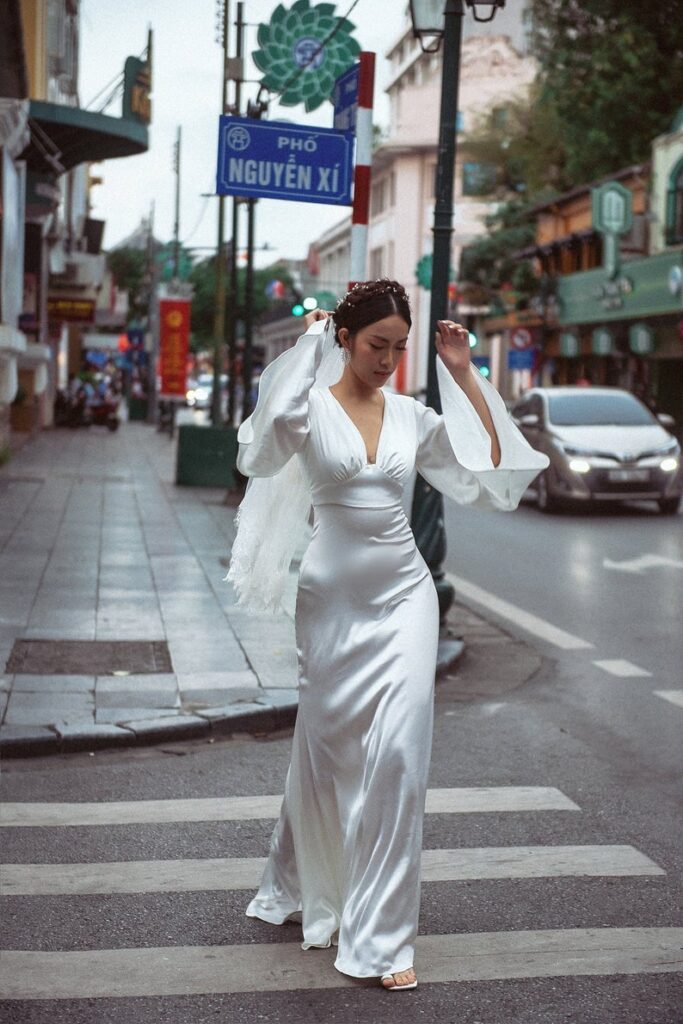 21 – Short Wedding Dresses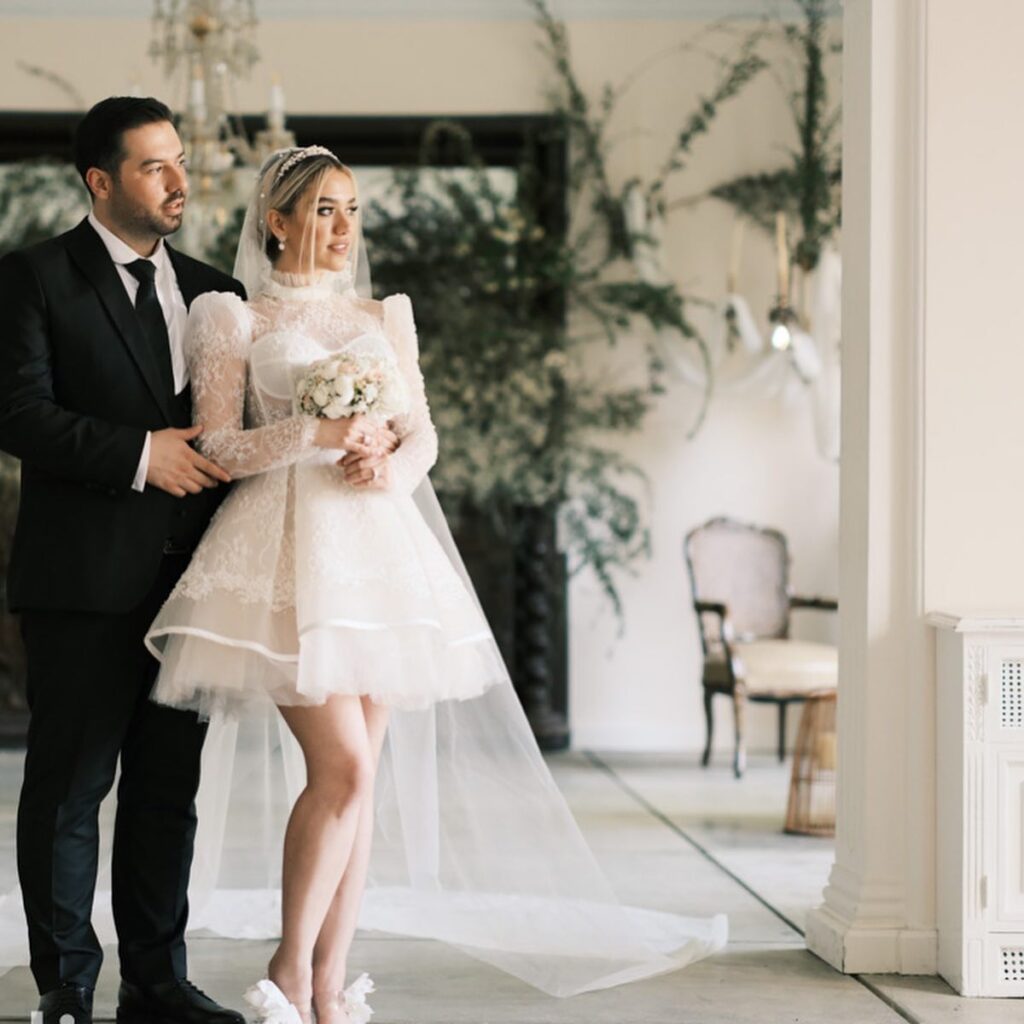 20 – White Wedding Gowns for Curvy Women
Inspired by French regency designs, this BHLDN's Marina gown is the perfect balance between nostalgia and modernity.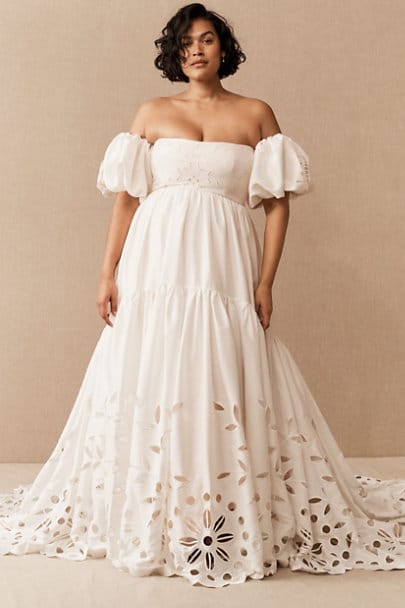 via
19 – Unique Bohemian Bridal Gown Romantique Bohemian
Among all the different styles of gowns out there, bohemian is an amazing option for every new age bride. The boho style is warm, romantic, and artistic. Just like this gown below.
Opt for boho make-up to enhance your bridal look. Here are 21 bridal boho make-up looks that we love.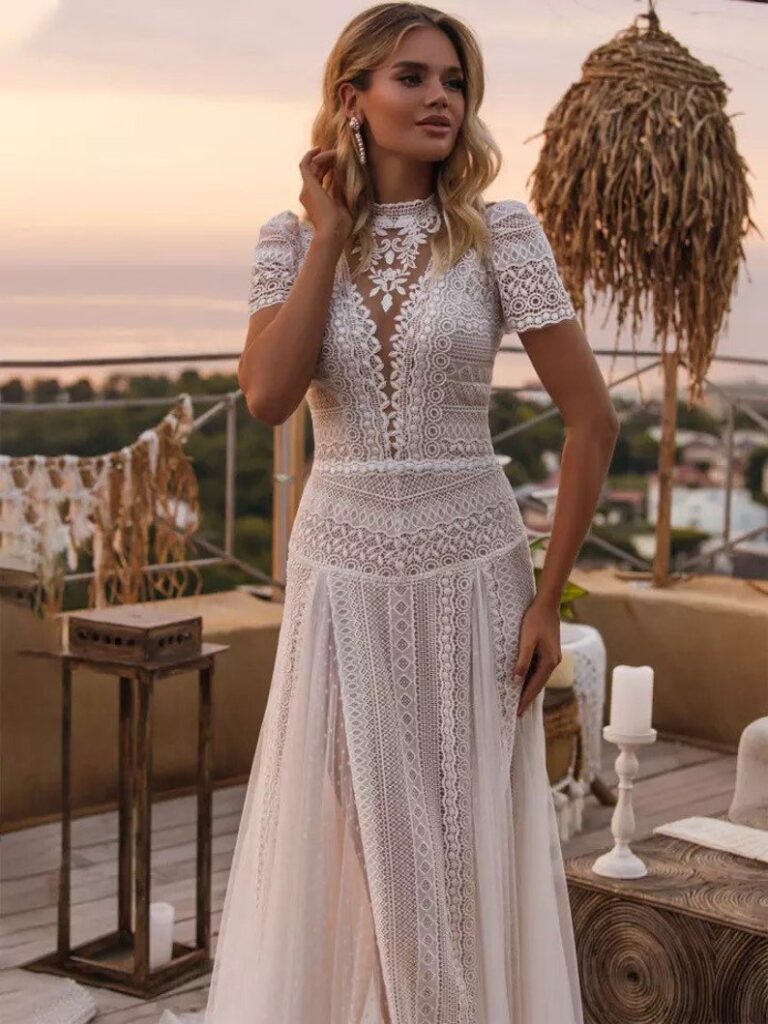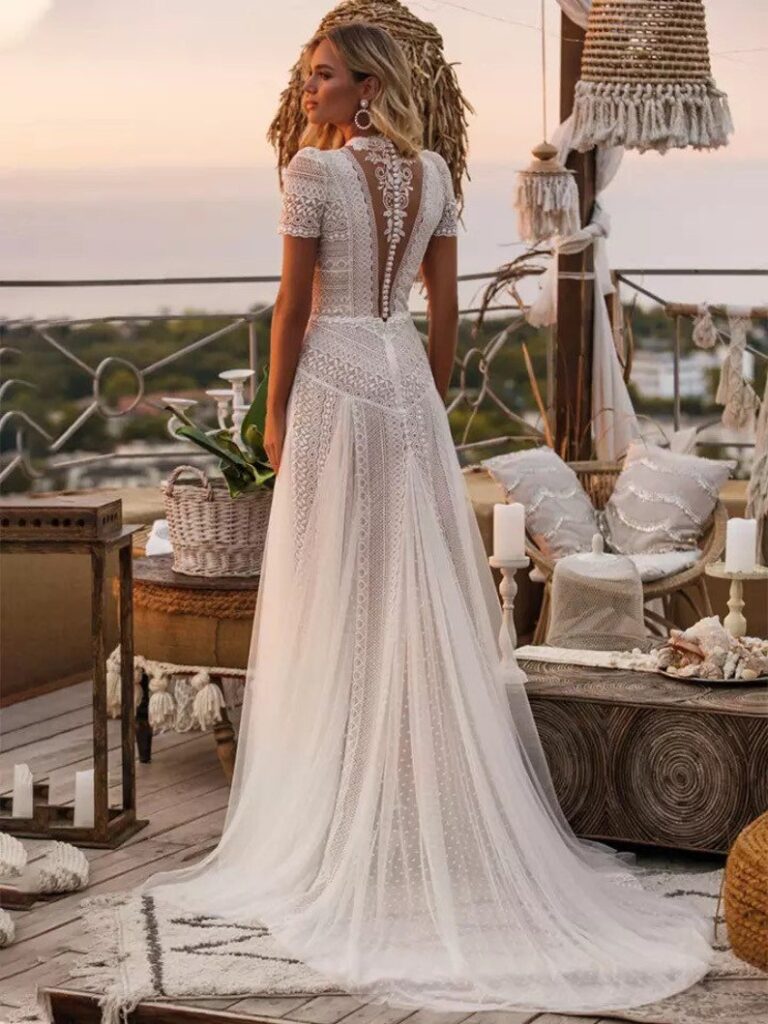 18 – Glamorous Beaded Bridal Jumpsuit from Naeem Khan
Forget wedding gowns; how about a bridal jumpsuit? Perfect for brides who want an effortless outfit with a modern touch.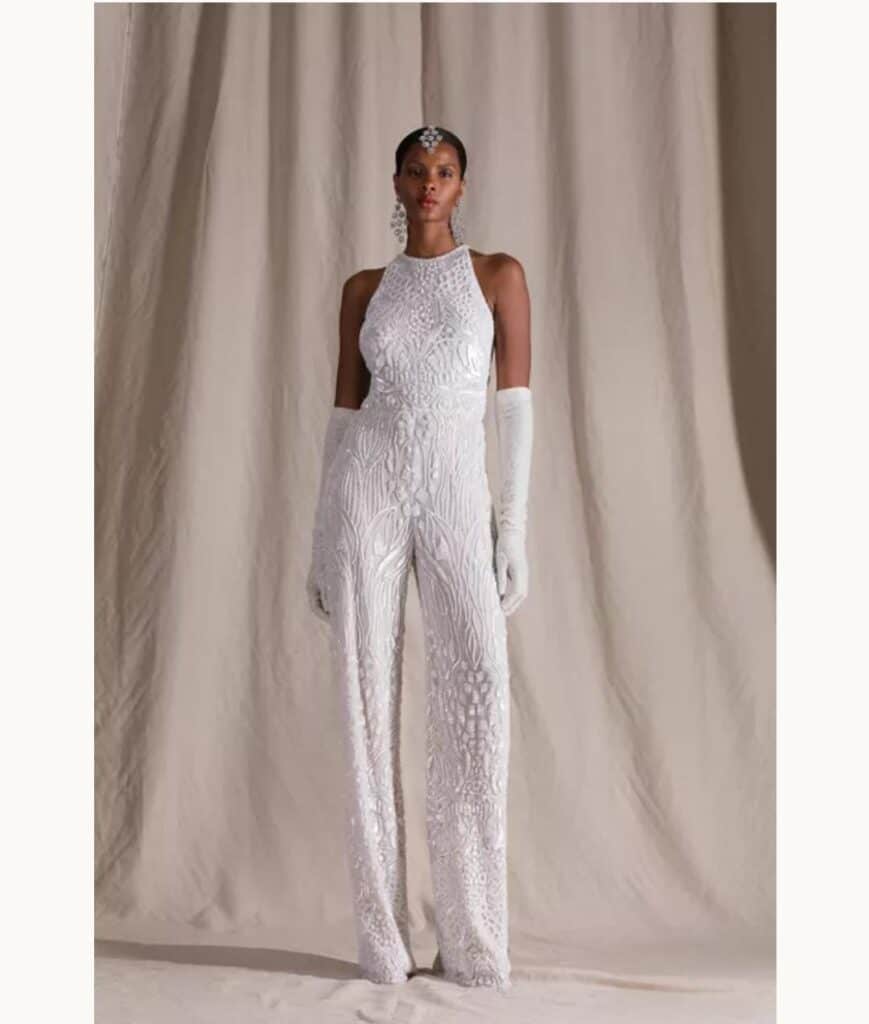 17 – What Are The Best Wedding Dresses for Short Brides?
Consider buying a mermaid or trumpet fit for your wedding dress. An elongated waistline of a mermaid dress will make you look taller, and the flare will balance your frame. If you want to make your leg look longer, you can opt for a waistline higher than your natural waist.
Not just short brides, this timeless style is guaranteed to compliment brides of any body type. Mermaid style looks angelic on chubby brides. The floral embellishment with a stunning sweetheart plunging bodice and the mermaid skirt gives you a gorgeous finish.
If you looking for elegant details and traditional yet modern European designs, you can't go wrong in an Enzoani garment.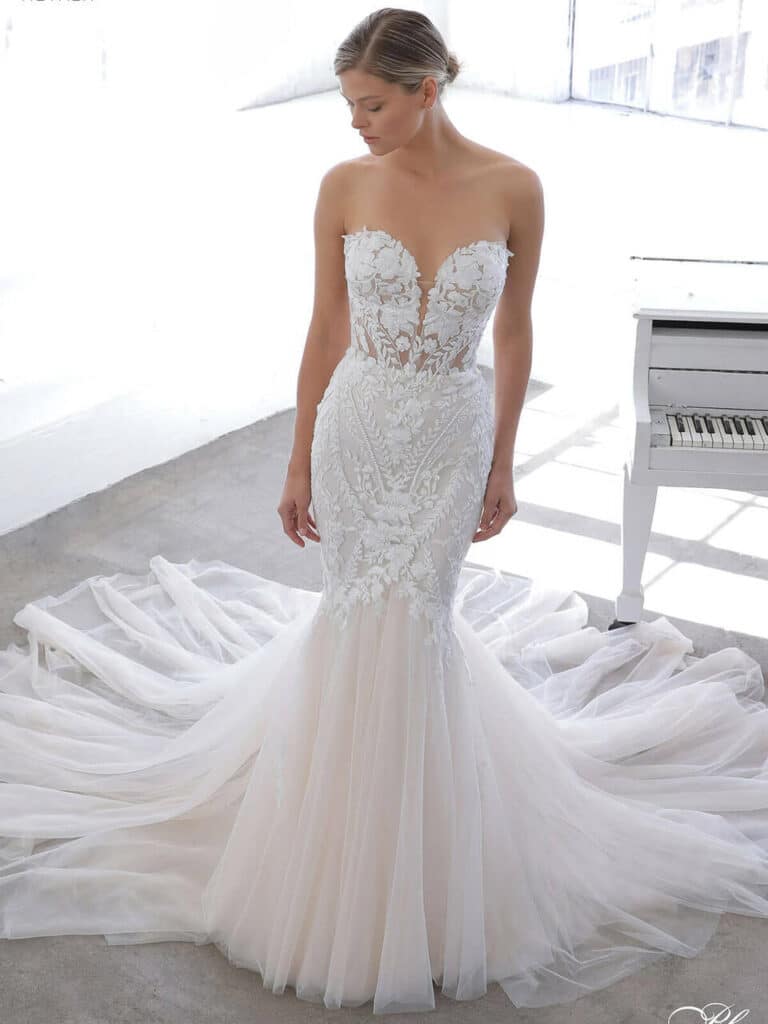 16 – Unique Trumpet Wedding Gown
Consider a trumpet wedding dress if a mermaid gown feels a little extra for you. Trumpet gowns have a sleek shape that is fitted through your bust, torso, and hips out flares out to make a bell shape.
You might have seen many trumpet gowns, but this silhouette makes a profound statement. With the subtle embroidery detailing on the corset and printed fabric, this piece is sure to set your apart from other trumpet loving brides.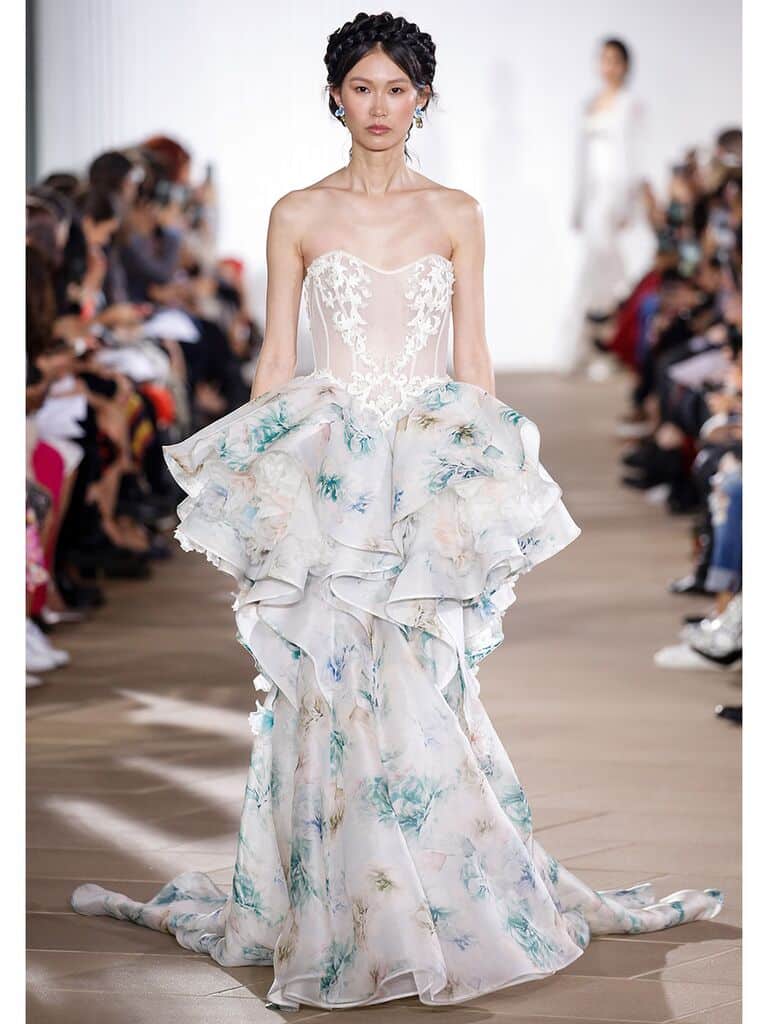 15 – A Floral Veil Over A Plain Dress
Reem Acra's bridal collection is a dream. Here is a unique plain bridal wear with a dramatic floral veil from her latest bridal wear collection.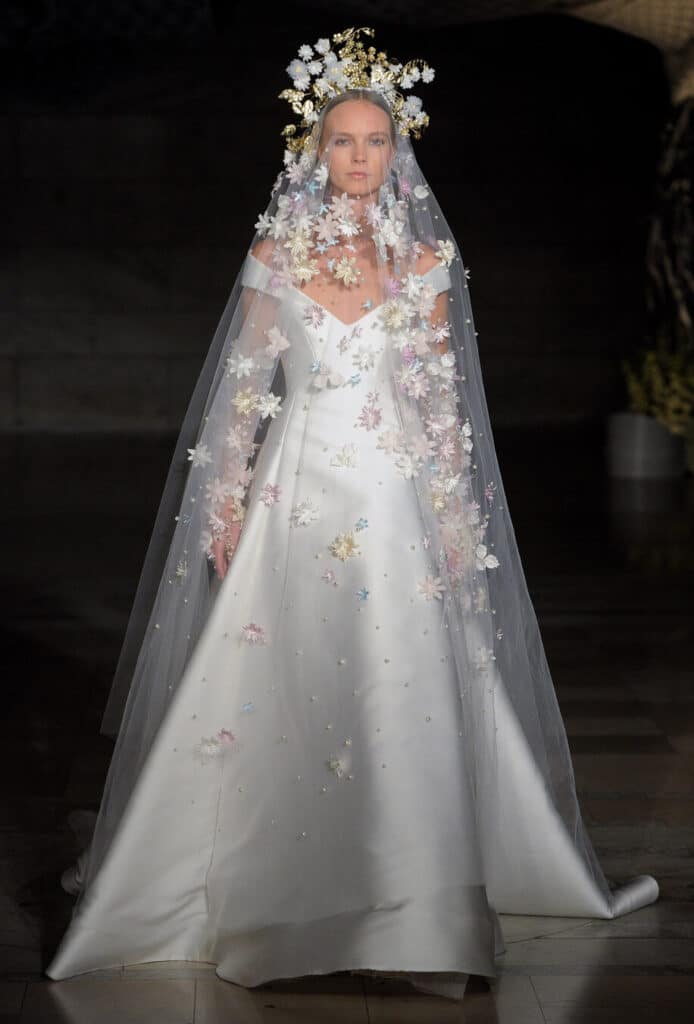 14 – A Statement Piece of Brides by Nona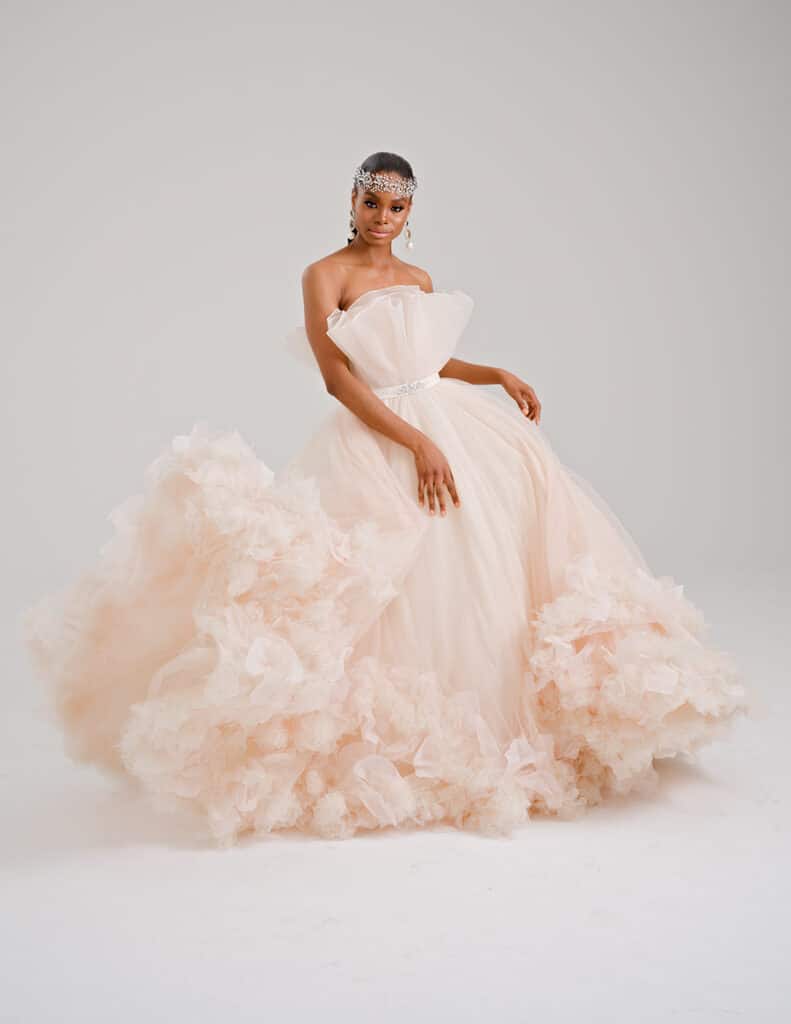 via
Unique Bridal Dresses That Are Not White
Now that we've seen a collection of white or white-ish dresses, let's move on to some unique outfits in other colors.
13 – For Playful Brides Who Want Colorful Wedding Gowns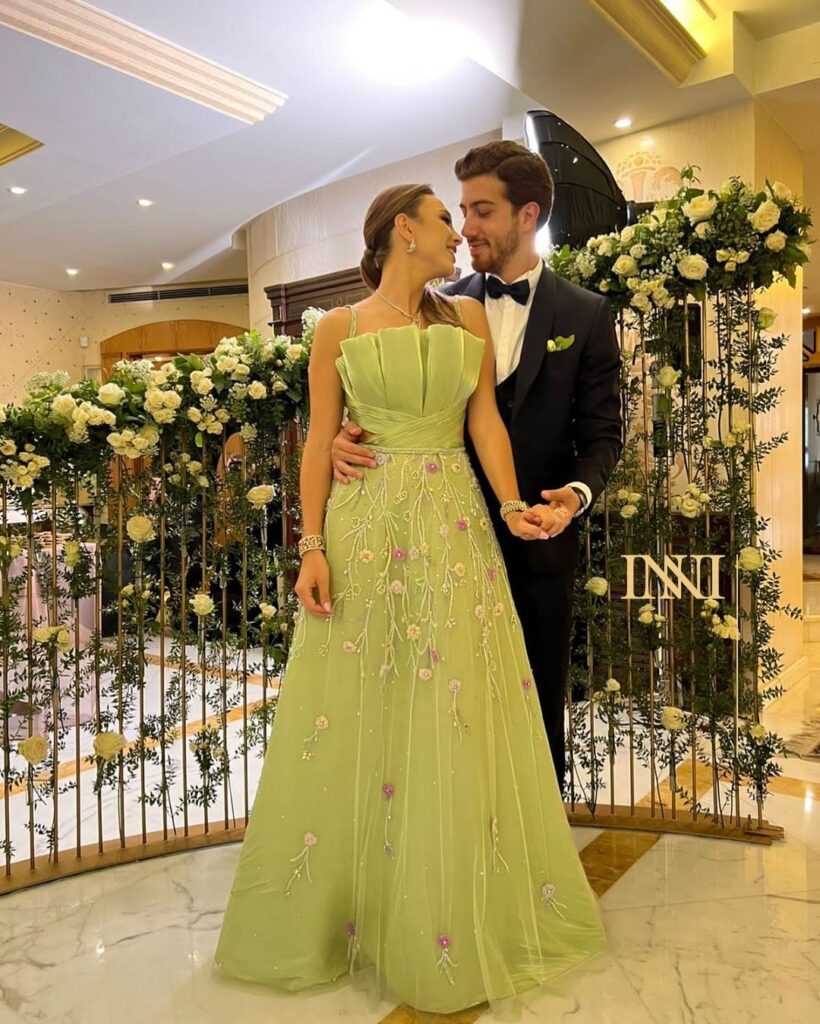 12 – Best Wedding Dress for Modern Chinese Brides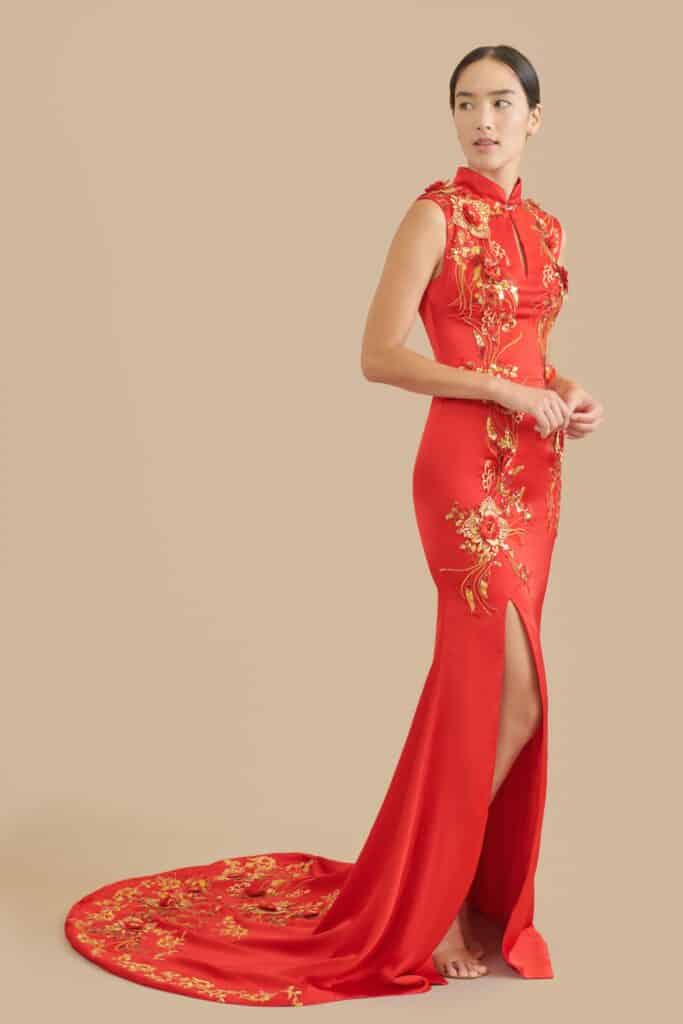 11 – Traditional Spanish Wedding Gown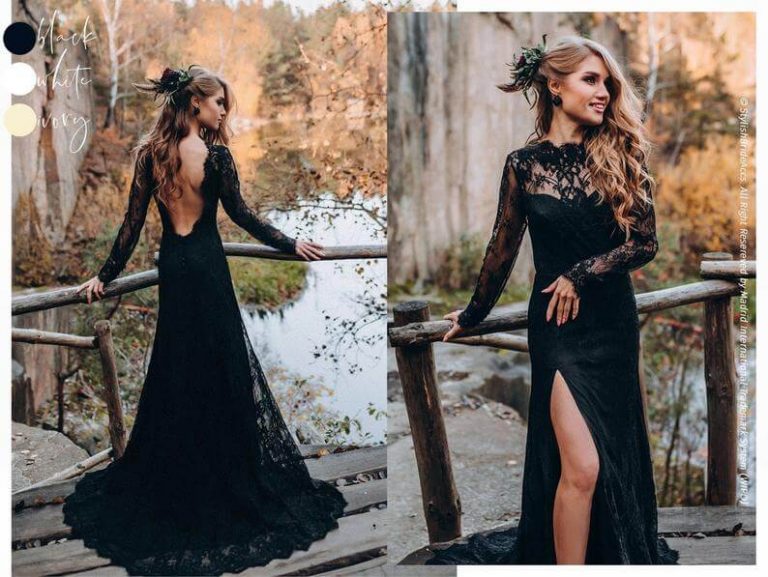 10 – White Bridal Wear for Ethnic Brides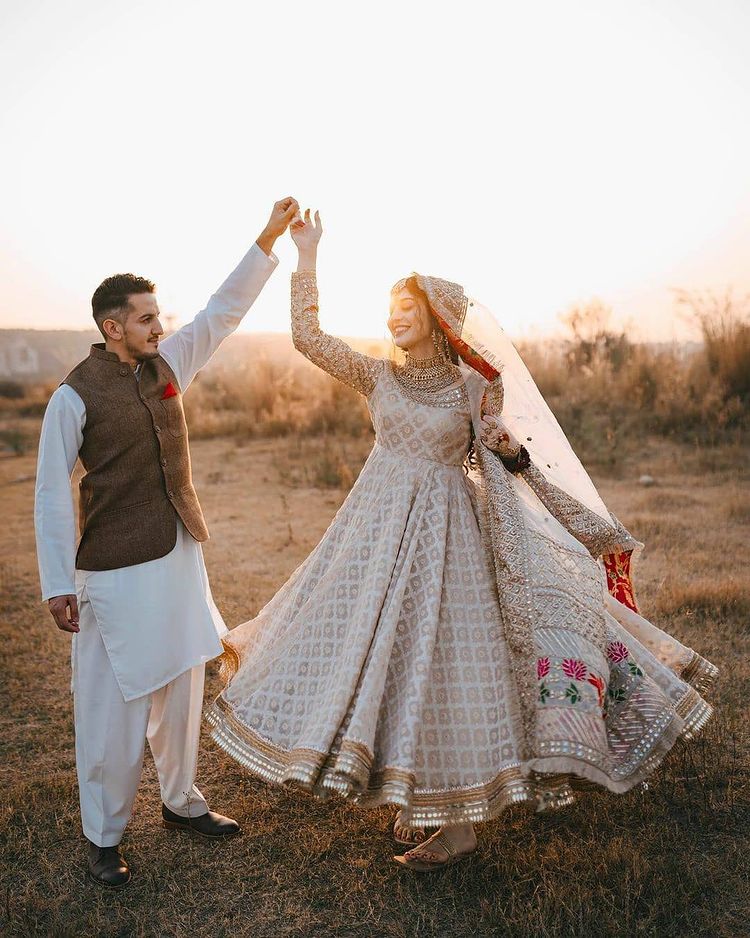 9 – Best South Indian Wedding Dress
South Indian bridal sarees are gorgeous! Their bridal sarees include vibrant colors that anyone would love. And here's a bridal look that we found absolutely unique – a purple saree.
Brides have experimented with many colors, including white, black, red, green, golden, and ivory. But here's a dreamy bridal saree in purple.
It's an elegant look you need to don if you are looking to have everyone in awe.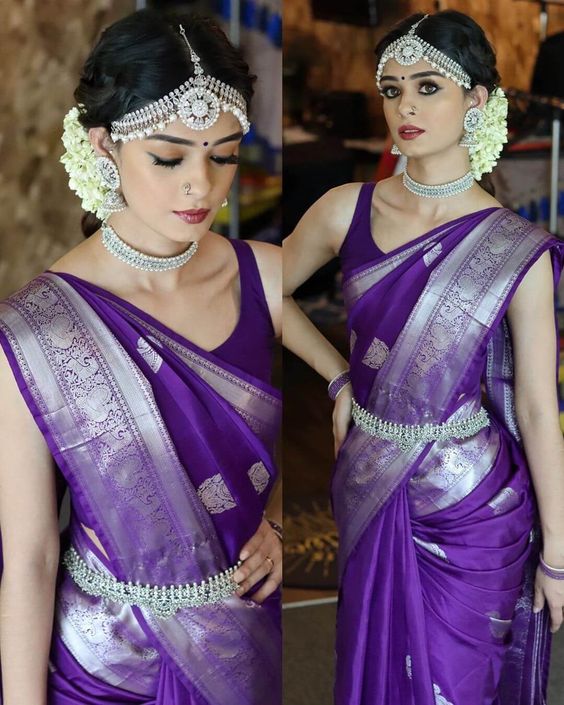 8 – Bridal Lehenga With Mirror Work
Mirror work lehengas have made a strong comeback. They are a popular choice among Indian brides these days. Many celebrities and fashion influencers stole the show with a mirror work lehenga.
Within the mirror work category, you can have various options such as traditional Gujarati or Rajasthani mirror work. However, if you want something modern and chic, more options exist now than ever. Popular designers have beautiful collections of mirror work dresses and lehengas.
Here we have a gorgeous mirror work lehenga in orange by the amazing Indian designer Abhinav Mishra. His bridal wear is a piece of art that celebrates rich Indian craft and designs for the woman of today. If you are an Indian bride looking for a statement mirror work in unconventional colors, you need to check out his collections.
7 – Ditch The Lehengas, How About Blouse Over Sharara?
Sikh-Punjabi brides steal the spot with their unique outfits, jewelry, and hairstyle. They prefer wearing pastel and light shades due to the daytime wedding in Gurudwara.
Recently, many Punjabi brides wore uniquely designed sharara and looked ravishing. Here is a beautiful Punjabi bride slaying the sharara at her wedding.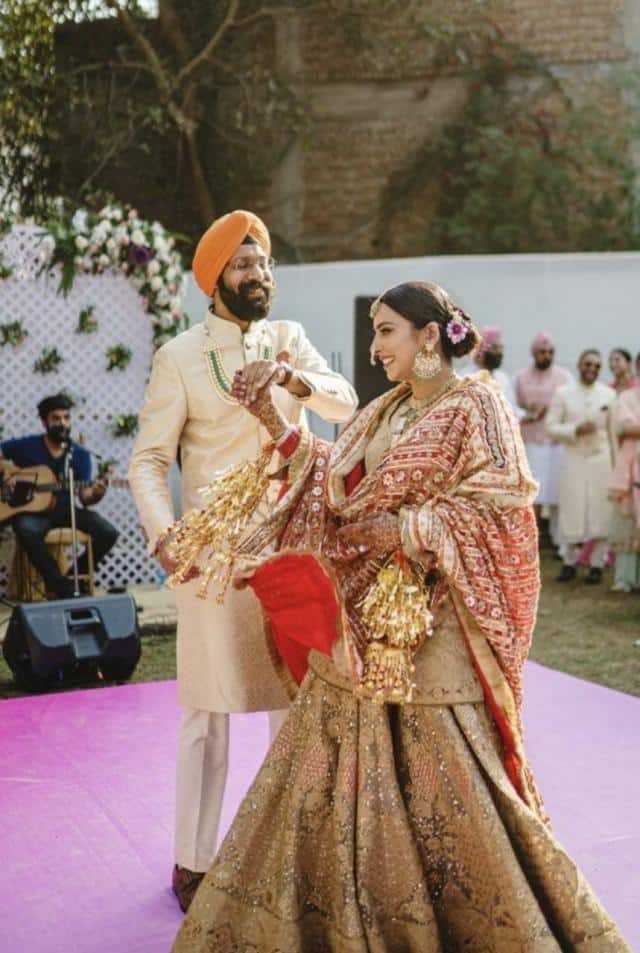 6 – A Sabyasachi Lehenga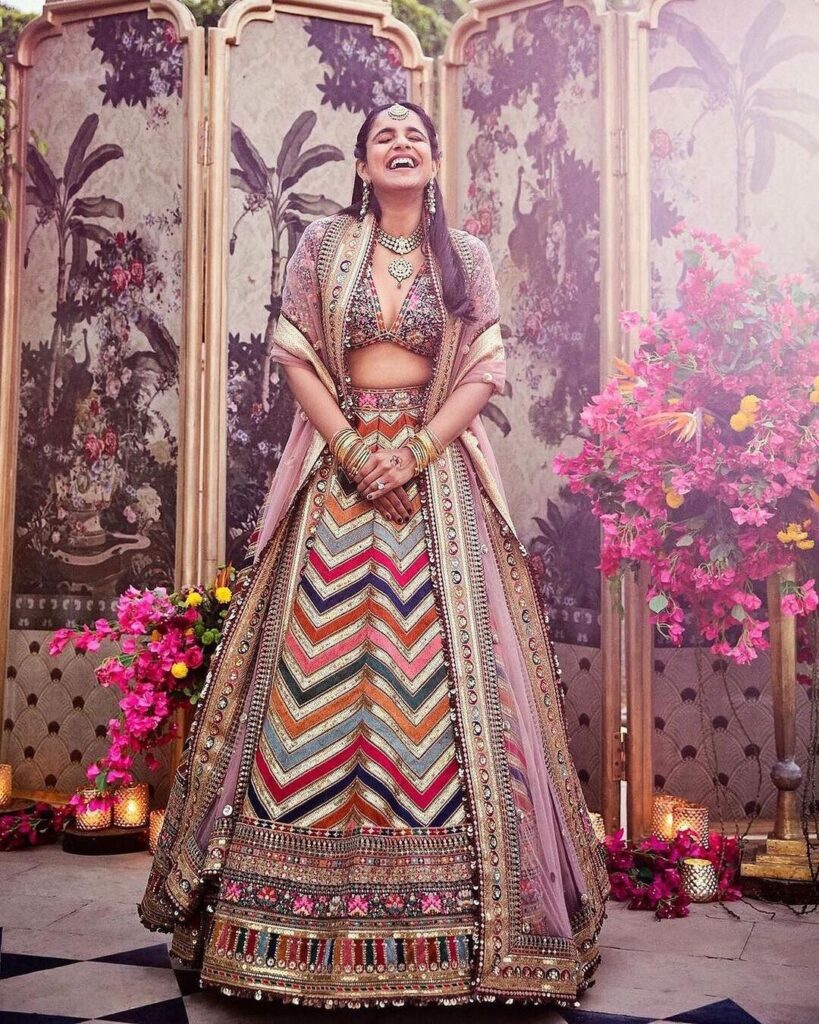 via
5 – Pretty Pink Manish Malhotra Lehenga With Bandhani Duppata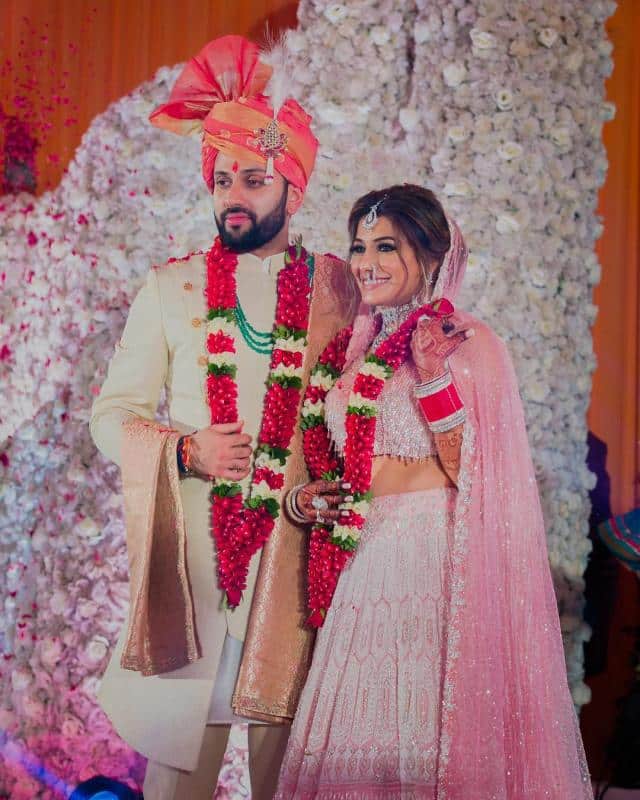 4 – Pakistani Bride Who Donned A Black Lehenga
A full black suit is conventionally associated with death and mourning in Pakistan. This is why it is considered taboo to wear black at weddings. However, the modern fashion trend is challenging this outlook.
The stunning Zara Noor Abbas wore a black lehenga at her reception. While she received backlash for her bridal wear choice, she looked nothing less than gorgeous.
So if you love black, this is a bridal look to inspire you. I would also recommend that you check out these Honeymoon Outfits as it's always good to plan ahead.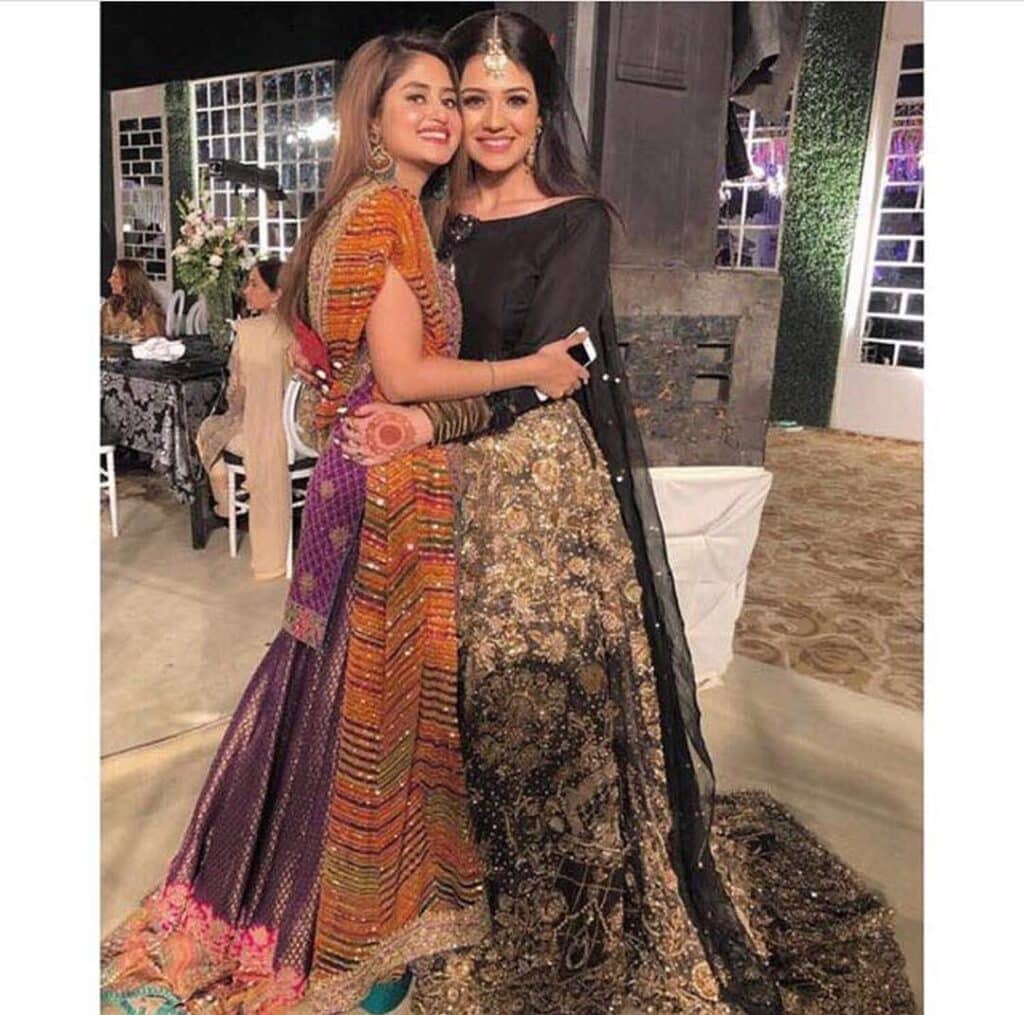 3 – Stand Out With A Bridal Pant Suit
South Asian brides always wear a traditional lehenga or saree. But this bride took a bold move and wore a bridal pantsuit.
Although there are plenty of bridal pantsuits out there, this one has an ethnic twist. We love the pairing of a pantsuit with a dupatta and ethnic jewelry. And how can we not talk about the lovely juttis? They look lovely with the pantsuit.
Moreover, the soft make-up and powder blue color look gorgeous. This whole look is a breath of fresh air! We definitely hope to see more South Asian brides experimenting with their bridal wear.
Here are some more Boss Girl Outfits that you can take inspiration from.
2 – Orange Saree With A Floral Veil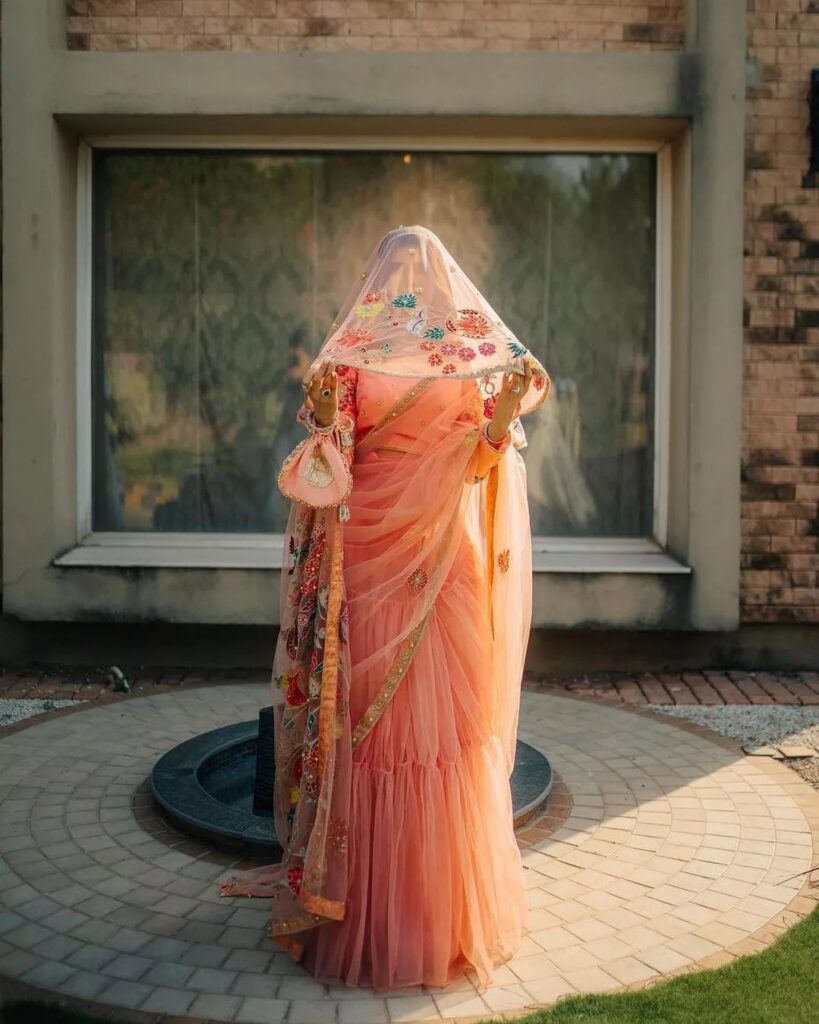 1 – An Indian Bridal Look That Took The Internet By Storm
The popular star Nayanthara and filmmaker Vignesh Shivan tied the knot recently. Their wedding was nothing less than a fairytale. The lovebirds opted for an intimate wedding ceremony but the Nayanthara's look became the internet's favorite bridal look in no time.
The star wore a lovely all-red saree from JADE by Monica and Karishma and layered with the statement jewelry from Goenka India. Nayanthara's bridal look is timeless, trendy, and an inspiration for brides to be.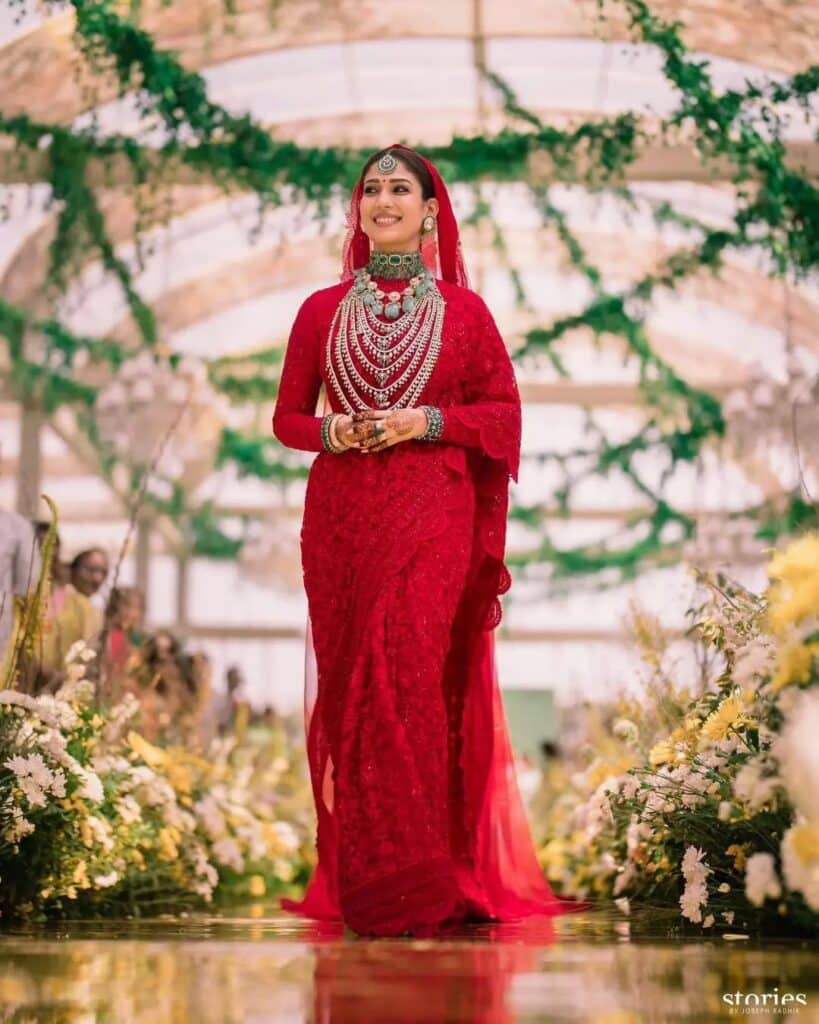 Frequently Asked Questions
Q. How do I choose the best jewelry for my wedding dress?
Ans. You should buy jewelry that goes well with your dress. That's why always purchase your jewelry after your dress selection. Consider buying simple jewelry if your bridal outfit is heavily embellished. But your jewelry should take the limelight if you have a simple wedding dress. Further, try your jewelry with your dress before your wedding to get an idea of how it looks.
Q. Can I have undergarments sewn into my dress?
Ans. You can have your undergarments sewed into your wedding dress if you want to feel more secure. Undergarments sewed in are very useful when your bridal wear is strapless; it will free you from the hassle of pulling it up throughout your wedding function.