Best Boss Girl Outfits. Whether you are climbing the corporate ladder, building your own business, or wanting to feel more put-together as you work from home, today's post will teach you all about the ways you can dress like a "boss girl."
A boss girl is any woman who is looking to grow herself, make changes, and create a lasting impact. Whether that is at the workplace or at home, with family or with her career goals, a boss girl or lady shows up and shows out. One way she can do this is by upping her personal style and developing a more polished, professional appearance, so that not only will others take her more seriously… but she can take herself more seriously.
After all, it was Coco Chanel who said, "Dress shabbily and they remember the dress. Dress impeccably and they remember the woman."If you are ready to take your professional appearance to the next level, check out our tips on dressing like a boss girl as well as some outfit inspiration we curated for you so that you can get new ideas, learn new tricks, and hopefully, get well on your way to achieving your own boss girl goals. Let's get started!
How to Dress Like a Boss Girl?
When it comes to dressing like a boss girl, here are some tips you can keep in mind to really step up your style.
Invest in a great blazer. Most of our tips can be incorporated on a budget, but this is one of those items that you might want to consider putting some of that hard-earned cash into. A well-cut, well-fitting blazer is an absolute must when you are building a professional wardrobe. Try various brands and shop around until you find your perfect fit. Here are some black blazer outfits that you can take inspiration from.
Have a signature piece. This isn't an absolute must, especially if you are new to the working world as a driven leader or an entrepreneur, but it is a concept you may want to consider. A signature piece becomes the thing you are associated with. It could be red lipstick, killer high heels, a pair of high-waisted slacks, or a gorgeous scarf. It's a great opportunity to make a mark and leave an impression.
Develop a signature style. This tip piggybacks off the previous one and is for those gals who are ready to take it a step further. A signature style is an opportunity to develop your image as a professional… whether that means colored eyeglasses and a flowery headband or a tailored pantsuit. Here is where you can let your personality shine through, even as you cultivate a look tailored to you and your field. Think of it like building your own personal brand of style.
Pay attention to personal grooming. It doesn't matter if you own a business selling flowers or making papier-mache or if you head a massive corporation. A sloppy appearance can't help but detract from your overall look, and it can prove a distraction in your bid to appear confident and professional. Lint-roll your coat and suits, keep your nails clean and even-looking, and style your hair, even if it is a ponytail. Don't wear wrinkled or stained clothing.
Keep essentials on hand. Essentials are those building blocks of a great wardrobe that you can utilize time and time again, especially if you invest in quality. A few essentials could be a white button-down long sleeve top, slacks or trousers, nude heels, black pumps, and a tailored pantsuit. You can mix and match these items, particularly if you have them in neutral colors or a solid such as navy, and add other pieces to create timeless, classic looks over and over again.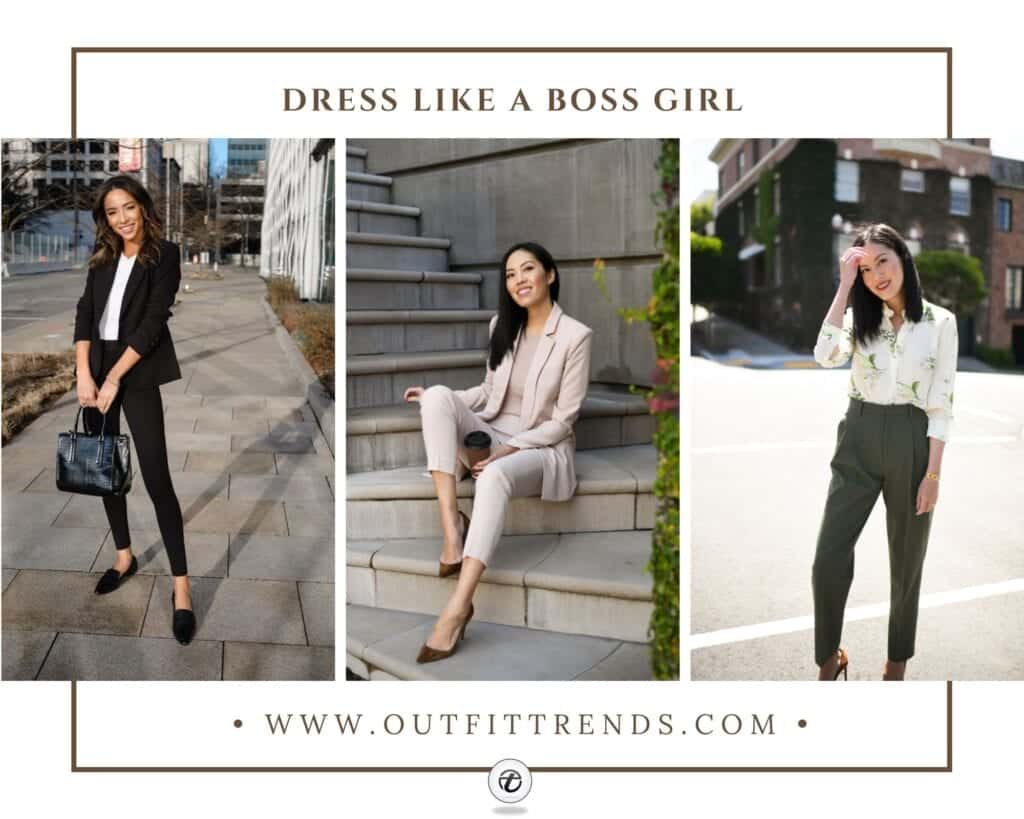 Dressing like a boss girl doesn't necessarily mean dressing in ways that are showy, loud, or conspicuous. Dressing like a boss girl has to do with confidence. A confident woman is on a mission and her style, rather than being a hindrance, supports that. Here are 10 practical ways you can dress like a boss girl starting today.
10. Wear Statement Earrings with a Cheetah Print Skirt
Right out the gate, here is a killer look, perfect for the gal who is out to make a statement. When picking out a cheetah-print skirt, opt for a slightly smaller print in a muted tone to keep the look more understated. Wear it with a black turtleneck and pumps and have fun with an oversized pair of statement earrings. Here are some more of my favorite cheetah print outfits that you can take inspiration from.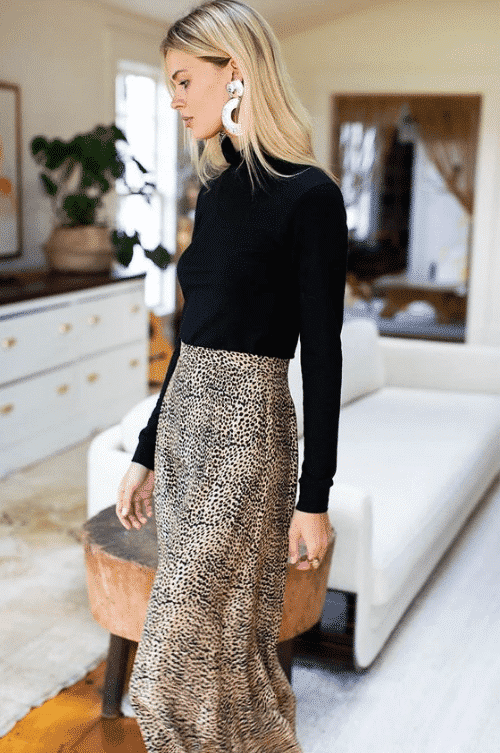 9. Tuck a White, V Neck Blouse into a Skirt
This sharp look is commanding, stylish, and ultra-classy. Just as a boss girl should be! Note the details with this outfit, like the oversized, wing-shaped sunglasses, the gold-buckle belt, the wide clutch, and pointed-toe pumps. So chic! Check out more ways on styling white shirts for a fresh look.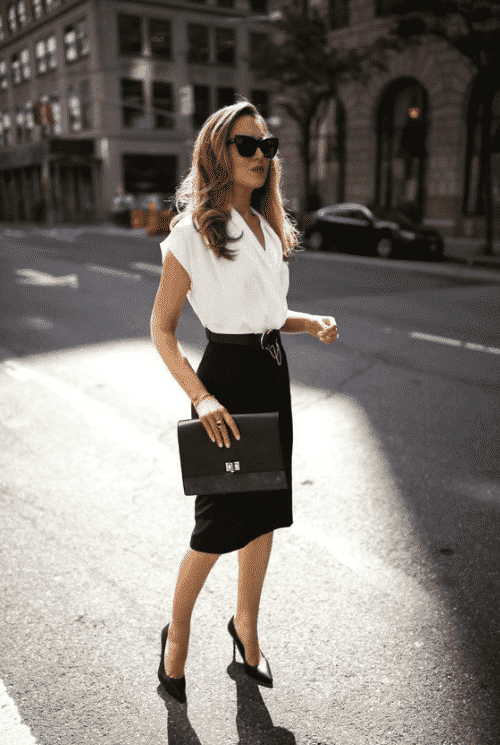 8. Try Wearing a White Blazer
A white blazer is a not-so-common choice, which makes this outfit just a tad more special. We love how it offsets the black slim-fit pants and deep, dark green top. Bronzey-gold heels, tortoise-shell sunglasses, and a dark shade of lipstick tie the look together.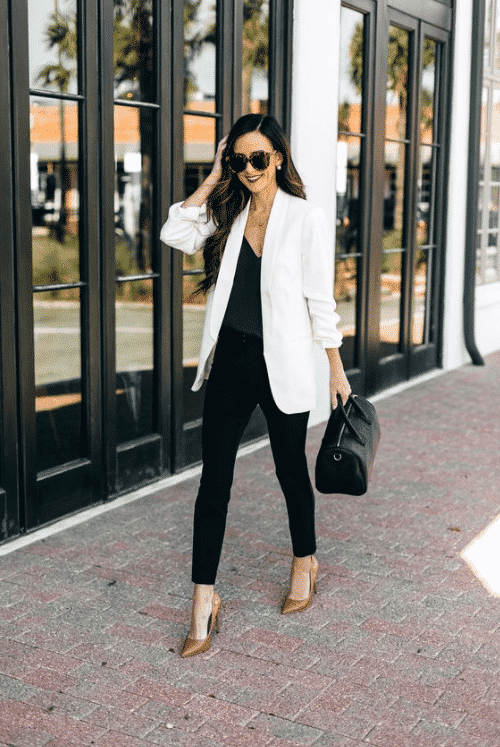 7. Add a Lightweight Coat
A coat is commanding, no matter the season. So whether it's still in the early, chilly days of spring or just on the cusp of fall, adding a light coat to your workwear ensemble (instead of, say, a blazer or jacket) is a great way to elevate your whole look.
We especially love this particular selection of warm, earthy colors. You can replicate it by pairing a long-sleeved knit top with some navy blue trousers. You can also accessorize with a men's fedora! It's a unique and unexpected accessory, sure to make an impact. Finish off the ensemble with some blush-hued pumps.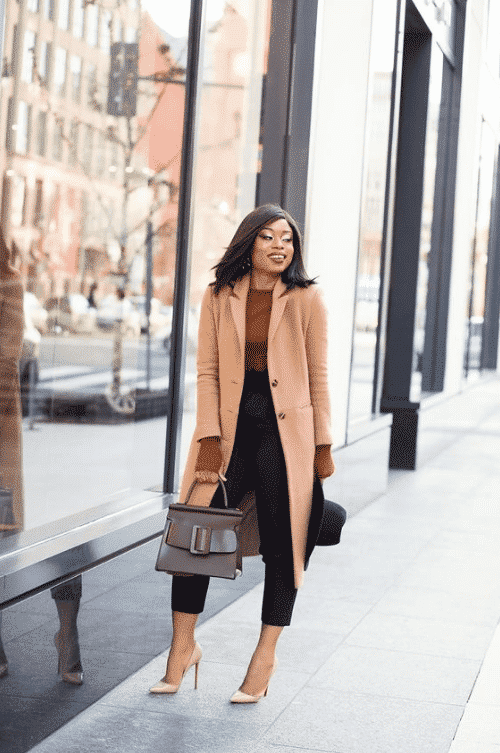 6. Try Blush Hued Suits
Austin Kleon once said to "dress for the job you want, not the job you have." And we would have to agree! Stand out from the crowd in this beautiful blush-hued suit, perfect for breaking up the monotony of your darker suits… and commanding attention wherever you go.
Notice this blogger went for a natural makeup look (try and stay away from "loud" or distracting makeup looks) and a sleek hairdo. You can go easy on accessories with this look as well: less is more! Add some suede pumps in a contrasting color and you have yourself a beautiful ensemble that says, "Hey, I'm here and I mean business."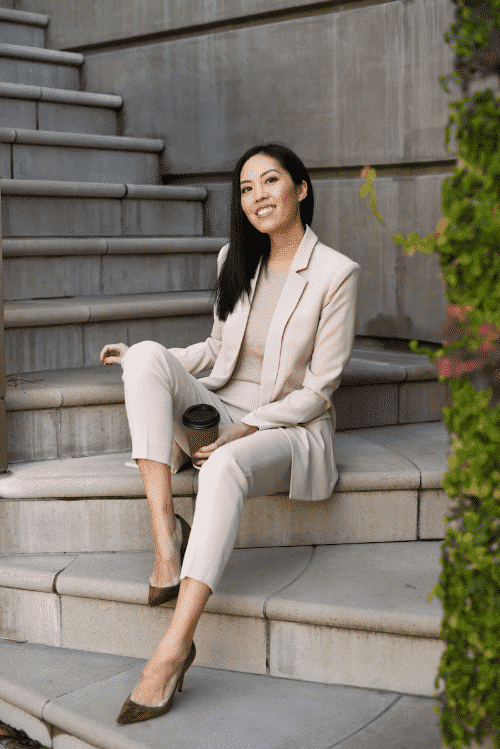 5. Style White Tops with Nude Heels
Another fantastic way to dress like a boss girl is to wear a white blouse with a pencil skirt and nude heels. Little extra touches like a pearl bead necklace and matching earrings tie this ensemble together in such a stunning way. With this beautiful outfit, you can carry a neutral-colored purse, from black to cream to pale pink.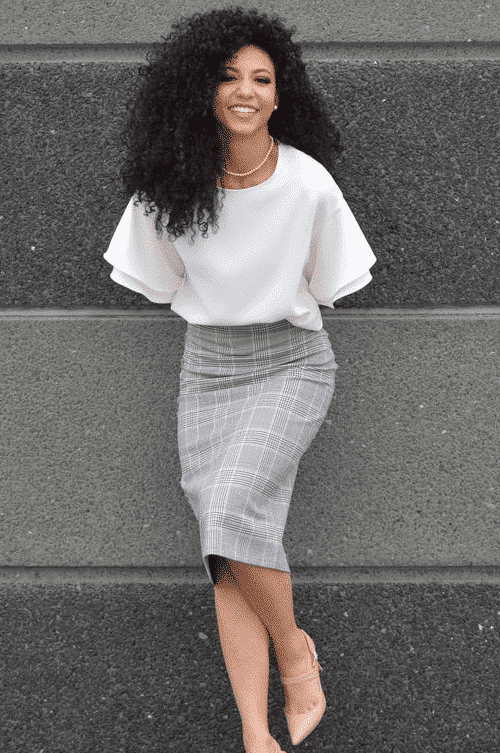 4. Pair a Floral Print Shirt with Straight Leg Trousers
Straight-leg trousers are definitely one of those essential items that every stylish, working woman should eventually own. Fit is super important, so if you can afford it, you might consider getting yours tailored.
We love this light, spring-fresh look that gives you a break from the darker, more traditional work color options without sacrificing an inch of professionalism. A fun way to bring color into your attire is by swapping out the navy or black trousers for an olive green color.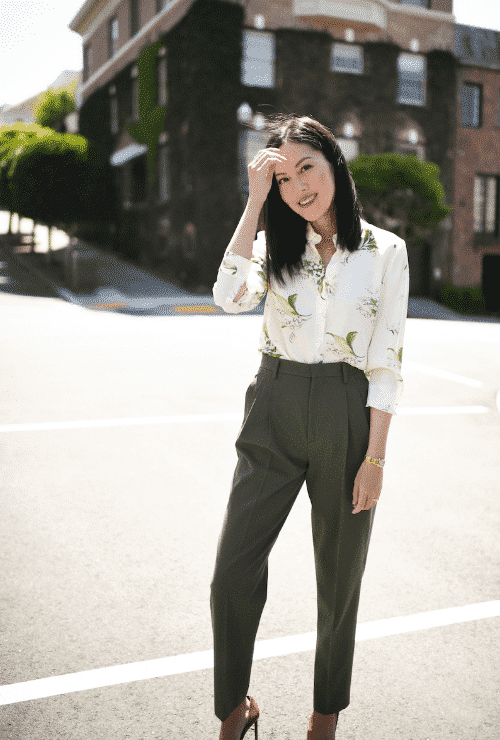 3. Add a Blazer with Denim
In order to wear denim in the workplace, you have to dress it up a little to keep the look professional. For that reason, try pairing your jeans with a blazer. A couple of things to note about these jeans: they are a jet-black wash, no rips, they have some stretch (so they won't be digging into your waist while you're sitting at your desk), and a chic three-button detail.
To finish the look off, add some suede pumps and a camp shirt. Note also this really elegant selection of neutral colors.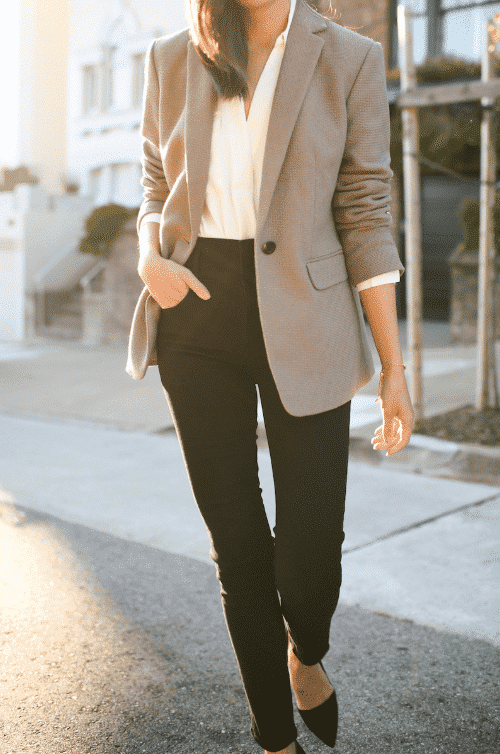 2. What Shoes to Wear When Working From Home?
Whether you are a stay-at-home mom, an entrepreneur building a business, or a gal working from home, taking your work seriously is a must. And one way to do that is by dressing the part. After all, looking put together and stylish is a simple but very effective way of keeping yourself in the right headspace for working.
We love this outfit which isn't as rigid as a pantsuit or other typical workwear yet it still checks all the right boxes. Putting shoes on is another way to help yourself stay in the game mentally. And for that, loafers or slip-on shoes are ideal. Here are some more work-from-home outfits for you.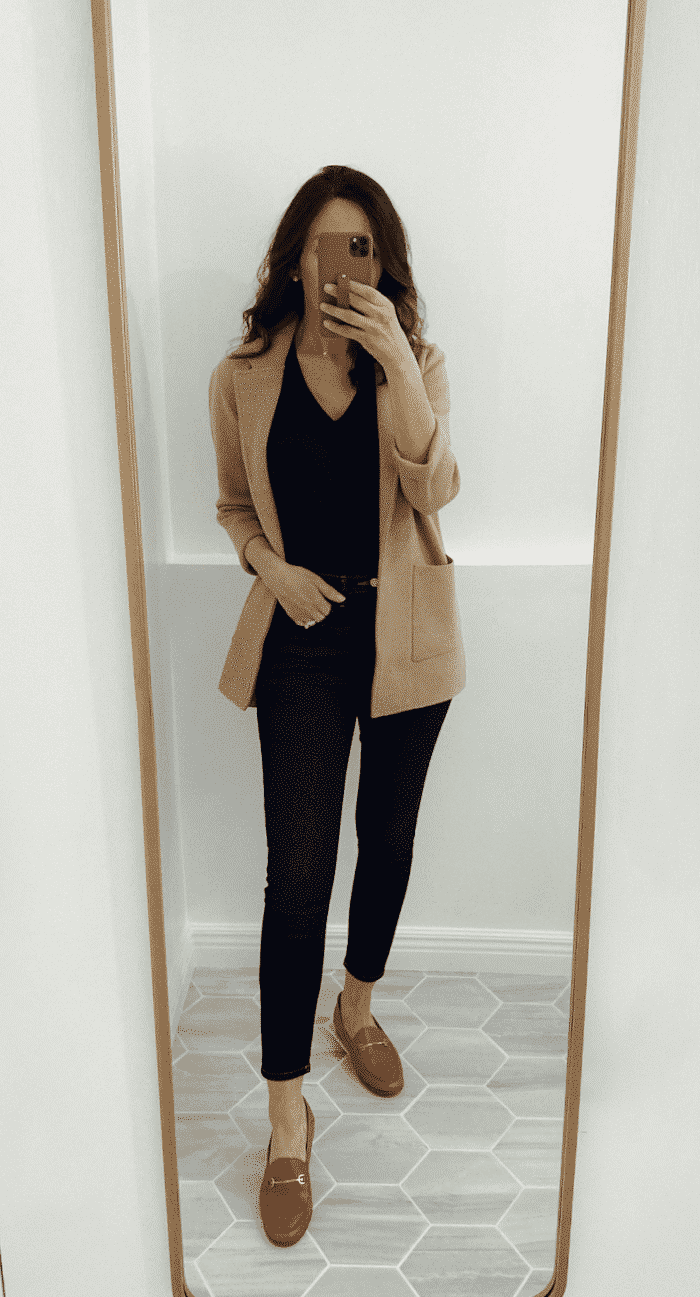 1. Black & White Outfit
A timeless classic is, of course, a semi-monochromatic outfit of black and white. When it boils down to it, this ensemble is really the look to end all looks. Note that these are all essential pieces that you can mix and match with other items in your wardrobe. However, sometimes, if you just pair up the essentials, you will get a practical and chic outfit that you can feel truly stylish and put together in.
With this simple but stunning look, you can keep your accessories to a minimum. Or you can add a signature piece, like tying a scarf to your purses' handles. We also love this dress shoe alternative to typical heels, which is so great for days when you are on your feet a lot! Style your outfits with leggings, check out more ways on how to wear black leggings.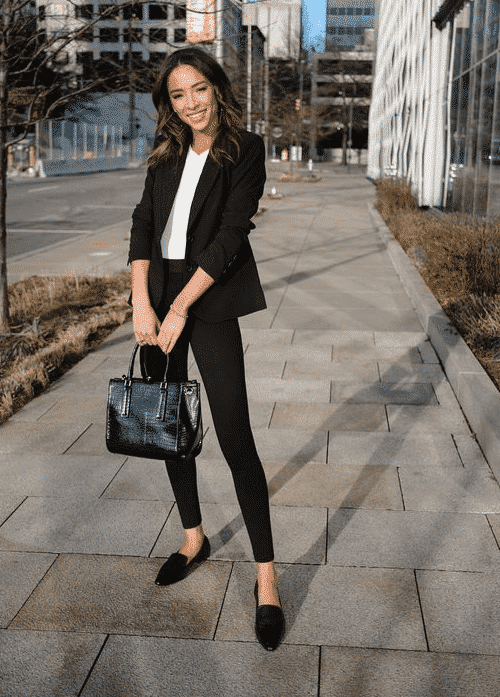 Frequently Asked Questions
Before wrapping things up, let's go over a couple of frequently asked questions about dressing like a boss lady.
Q. How do you dress like a boss lady on a budget?
A. I love this question! For many of us, dropping a couple of thousand on a whole new wardrobe just isn't an option. (Not that it can't be someday!) So how do you do it? How do you dress impeccably and stylishly without emptying your bank account?
While this question really deserves its own post, here are a few things to keep in mind:

Focus on quality over quantity.
Try building a capsule wardrobe.
Make a monthly shopping budget and stick to it.
Avoid sales as women often get trapped into buying things they don't need.
Focus on accessorizing.
Q. How can a woman look sharp?
A. If you want to look sharp, commanding, and in control, there are a few tweaks you can start doing today that will help you achieve that. Your aim should be clean lines!
Wear collared shirts or neutral-colored turtlenecks.

If wearing a skirt, stick to pencil skirts.

Pay attention to the fit of your clothing. Stay away from excess materials.

Wear pointed-toe heels.

Try wearing your hair in a sleek knot, French twist, or another hairdo that doesn't leave your hair loose or messy.

Keep groomed brows. (Stray hairs will detract from a polished appearance.)

Highlight your cheekbones. You can contour or add some bronzer and blush to draw the eye to your cheekbones and jaw.

Stick to dark, solid colors. Think navy, black, or gray. Or neutrals.
And that's all for today! We hope this post gave you some ideas on ways you can dress like a boss girl to not only achieve your style goals but all your goals, whatever they may be.