Cheetah Print Outfit Ideas – Have you been confused lately as to what the best cheetah print outfits are? Do you think they are something you won't be able to pull off? Are you worried you won't wear it right? Don't worry we've got you covered. Animal prints have been around for a long time but cheetah print is one of those animal prints that are lifelong. Everybody owns at least one item of clothing in cheetah print, if you don't then you definitely need to get your hands on some. Cheetah print can be worn all around the year in different ways.
How to Wear Cheetah Print Dresses?
There are tons of different ways to wear animal prints. In the wintertime, you can wear faux fur jackets with cheetah print or you can wear fur coats and denim jackets. In the summertime, there's even more variety such as corset tops, crop tops, maxi dresses, silk dresses, and whatnot. You just have to know what works for you and buy it. Cheetah print is very easy to style. You can add it to your outfit in the subtlest way possible such as a cheetah print handbag or a scrunchie. This article will provide you with the 12 best cheetah print outfits that are easy to put together and you can wear wherever you want.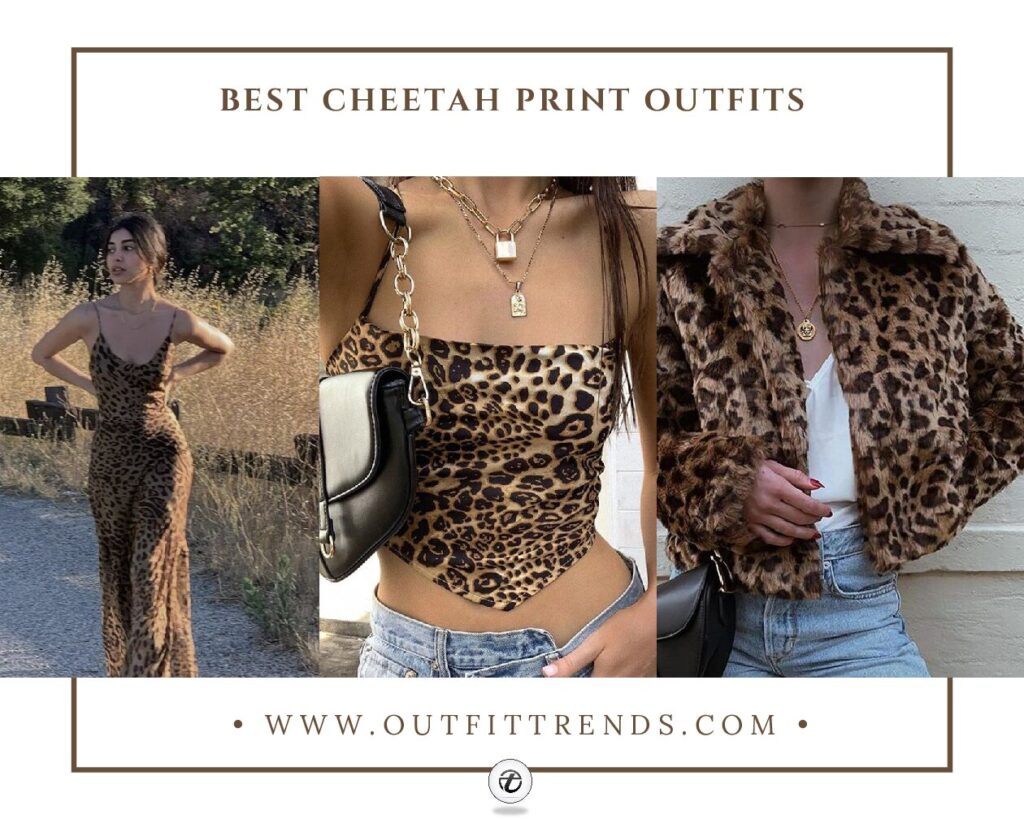 The Best Accessories to Style Cheetah Print Attire With
Here are a few must have accessory items for you to have!
1 – Necklaces and Rings
Jewelry is very important when understanding how to style an outfit. Jewelry can make or break an outfit. Sometimes an outfit seems very bland but if you add some necklaces and rings they can totally change the entire look of the outfit. Always make sure you know whether you like gold or silver don't be confused about it. Spend some time and find what you like, then stick to those few pieces of jewelry.
2 – Bandanas
Bandanas are very trendy and cool. They are an easy way to keep your hair out of your face. Everyone should have a few bandanas because you never know when you might need one. Having a bad hair day? Wear a bandana. Hair is greasy? Wear a bandana. A cheetah print bandana can also be incorporated into an outfit to make it even cooler. Also, have a look at 16 Ways to Wear Bandanas for Women & Best Bandana Hairstyles.
3 – Sunglasses
Who doesn't own a pair of sunnies? Everybody knows the importance of a solid pair of sunglasses. If you don't own a pair then you should definitely invest because it will be worth it. Sunglasses make you look cooler, bolder, and trendier instantly!
4 – Waist chains
Waist chains are something not a lot of people like but I'm here to tell you that if you are confident enough to wear one, then you should definitely buy it. Waist chains are one of the coolest accessories ever! They look so stunning with crop tops or anything that's above your waist. A waist chain is something you will never regret buying.
Dos and Don'ts
DO be bold with this trend
DO try different outfits that you like
DO believe you can rock whatever you put on
DONT be scared to wear something out of the box
DONT listen to what people say about your outfits
DONT wear something you are not comfortable in
Here is a list of the 12 best cheetah printed dresses for you to wear
↓ 12 – How to Get Madison Beers Cheetah Print look?
Madison Beer knows how to rock an outfit. This girl never goes wrong with an outfit. They are seen wearing a cheetah print bodysuit here along with blue distressed denim shorts. Then paired the shorts with a black belt and wore thigh-high black boots to complete the look. Madison's makeup and jewelry are minimal. They are also seen carrying a small gucci handbag which is super duper cute! This look is a big yes from our side.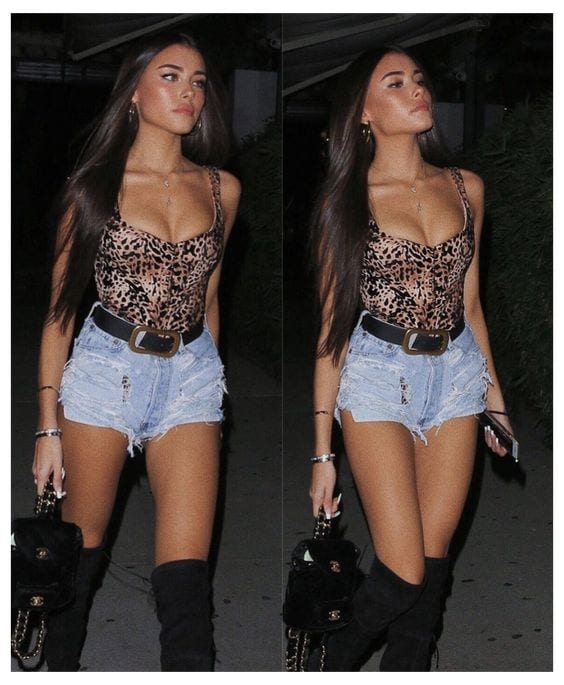 ↓ 11 – Cheetah Print Dress for Plus Size Women
This cheetah print dress is stunning. It's the perfect dress for plus-size women. This cross-body dress with a deep neckline is super sexy and perfect for a date night. You can even wear this to an engagement dinner or birthday. The thigh-high boots in camel color and the maroon bag are the perfect contrast to this dress. The golden earrings and necklace make a statement. This outfit is one for the best of days.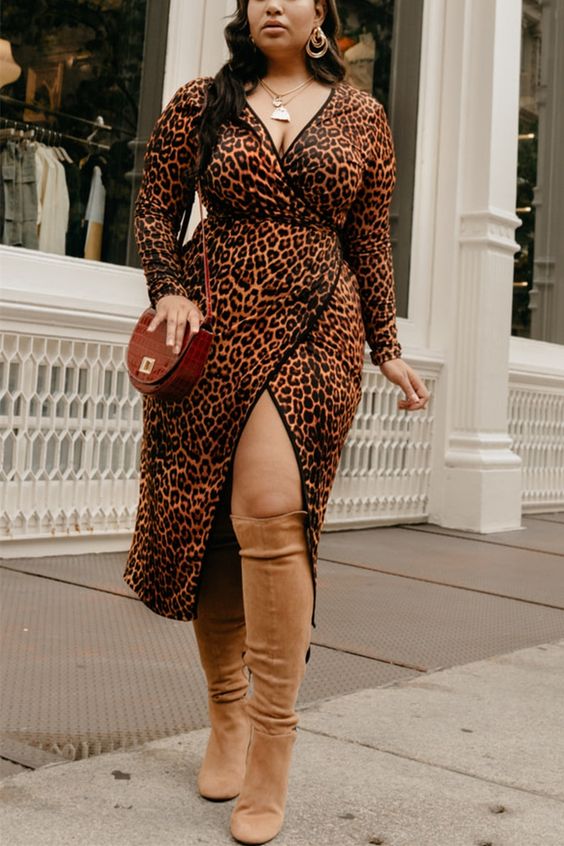 ↓ 10 – When to Wear a Cheetah Print Dress with Turtleneck?
If you don't like showing much skin then this is an easy wear to wear a dress without showing much skin. Wear a black turtle neck or any black full sleeves shirt under this dress to make it look good and still feel comfortable. Big chunky boots are in fashion these days so pair them up with this outfit. A black bag with a chain would add to the outfits glamour.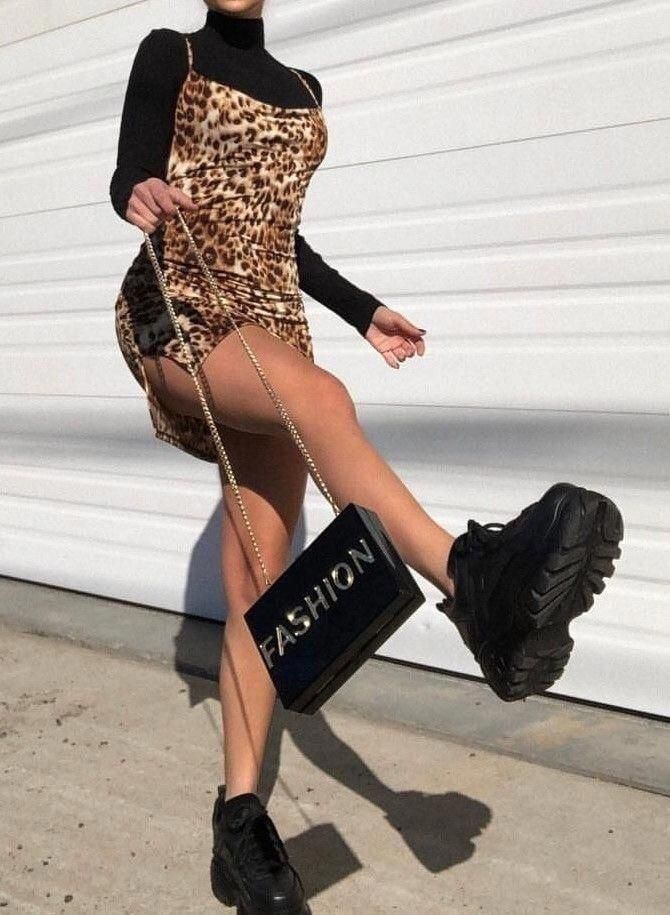 ↓ 9 – Cheetah Print Silted Skirt With Nude Sweater
This outfit is for my girls that don't get to experience summer for long. This slitted cheetah print skirt is super sexy and an essential in your closet. It can look good even with a crop top but the nude sweater will keep you warm and cozy plus it's a nice twist to an outfit like this. You can rock a cheetah print outfit without freezing in the cold too you know? This outfit will keep you warm and looking cool. Don't forget to wear your favorite pair of sunglasses to complete the look!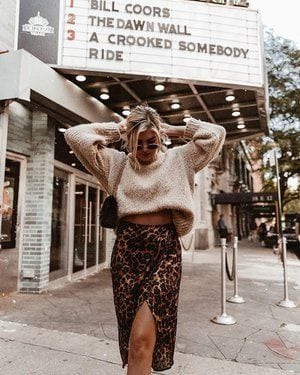 ↓ 8 – How to Wear a leopard Print Top?
Cheetah print is known to be one of the sexiest prints ever. This top is super classy and hot. The puffy sleeves and deep neck make it extremely sultry. However, that does not mean this top cannot be worn casually. It can be worn with jeans, shorts or even a matching skirt. That would make a very cute outfit. Make the outfit even better by wearing some jewelry with it.. Try wearing this outfit for a day out with friends or a birthday and watch yourself get all the attention in the room.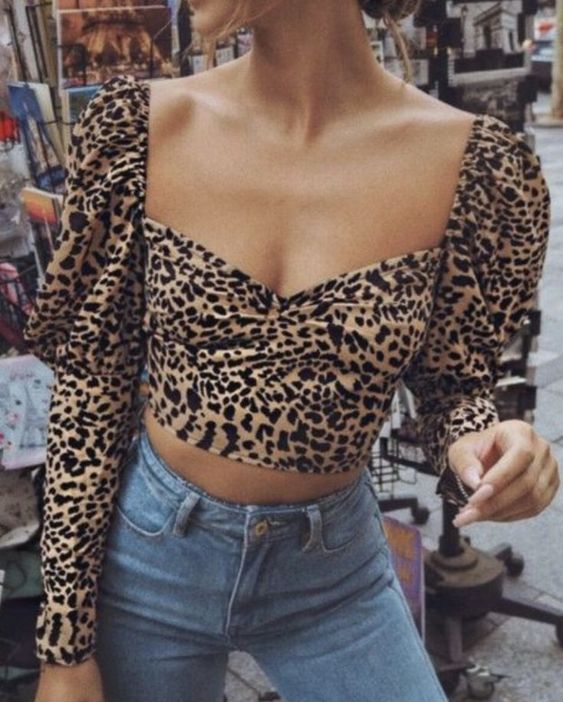 ↓ 7 – Cheetah Print Jumpsuit
This jumpsuit is BOLD! It is super sexy with an off-shoulder look. This jumpsuit can be paired with heels, sandals, or even sneakers if you want to stay comfortable. The golden triangle earrings and bangles really make a statement. The black bag is the real star because it's something we've never seen before. It is so cool and will make everybody ask you where you got it from. This look is more for older working women because it is more formal so if you don't know what to wear to a dinner with your colleagues or a promotion party then this is your sign to grab this jumpsuit!
↓ 6 – How to Wear Cheetah Print Corset Tops
Corset tops are very pretty and trending these days too. They show your shoulders and your neck which will immediately draw attention towards you. Corset tops are worn best with jeans but you can also try wearing them with shorts or skirts. This cheetah print corset top will have you turning heads. The golden lockets look extremely delicate but they complete the look because without them it wouldn't be the same. The black handbag looks super duper cool! Also, have a look at Corset Belt Outfits-35 Ideas On How To Wear A Corset Belt.
↓ 5 – Leopard Print Dress for Summers
This dress is one for the summertime. It is extremely elegant and flowy. It can be worn to a brunch, lunch, or even a day at the beach. It looks very comfortable and it must be. If you don't want to put much effort into your outfit but still want to wear a good-looking cheetah print outfit then I believe this is the one for you. The outfit in the picture is super simple but you can switch it up by either wearing chains or a bandana which would look super good. You can even wear a denim jacket and pair it with black boots. That would make the perfect outfit.
↓ 4 – The Cheetah Print Workout Fit
Did you know you could look cool even when working out? Me neither, but this cheetah print workout set is here to remind us that we can look good while working out too. The cheetah print leggings and sports bra top look extremely well paired together and would go with any color of shoes. Even if you don't work out you can wear this outfit to run errands or just be comfortable at home. These leggings can be paired with different tops and the same goes for the top. It is trendy and a cool way to wear cheetah print.
via
↓ 3 – Cheetah Print Denim Jacket for Casual Use
A denim jacket is a staple in one's closet. Everybody owns a blue or a black denim jacket but not everybody owns a cheetah print denim jacket. That is the reason why you need to buy this jacket. Not many people own this item and when you style it properly everybody will love what you're wearing. In the picture, they are seen wearing it with a white t-shirt and blue denim jeans but you can pair it up with something even better such as black jeans and a black t-shirt or even a crop top under this jacket. Whatever you wear make sure it's plain because otherwise, the jacket will not look as good.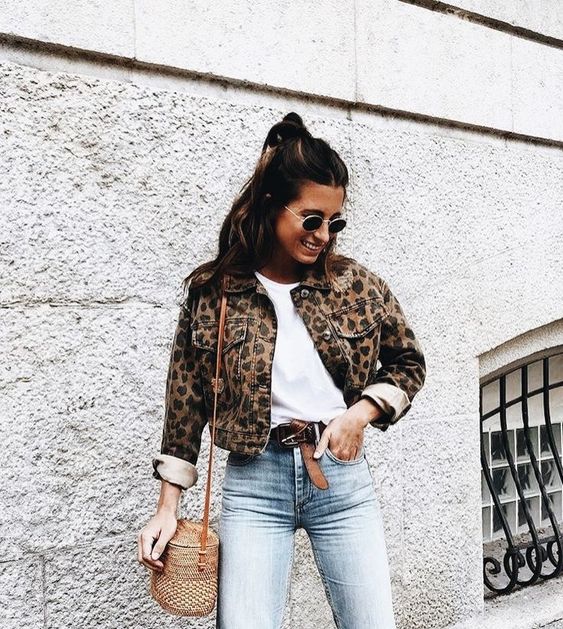 ↓ 2 – How to Wear a Cheetah Print Faux Fur Jacket?
Faux fur jackets are perfect for the wintertime. If you live in a colder region then this one is for you. This is a stylish way to wear cheetah print without getting cold. This fur jacket can be paired with anything underneath as long as it is of a basic color such as black or white. In the picture, they are seen wearing a faux fur cheetah print jacket with a white shirt and light blue jeans. The golden necklace looks very pretty and so does the handbag. Mini handbags are in style again and you should definitely carry one with this outfit. Also, have a look at Perfect Winter Outfit with Faux Fur Jacket – Community Blogger.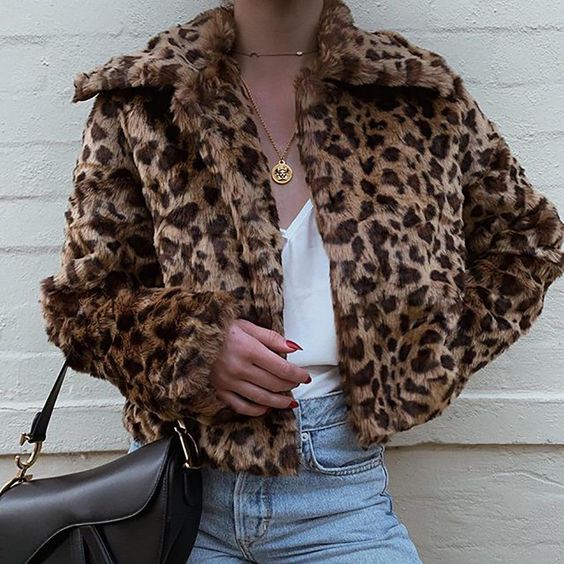 ↓ 1 – Maxi Dress Outfit for Parties
This outfit is very simple yet stunning. This maxi dress can be worn on multiple occasions such as a birthday party, day out with friends and family, or even on vacation. This dress is very majestic and would look gorgeous when worn with confidence. In the picture, they are not wearing any jewelry but if paired with golden jewelry then it would look even classier. Their hair is in the middle part and the makeup is minimal, this is a very pretty look that you should definitely try for yourself.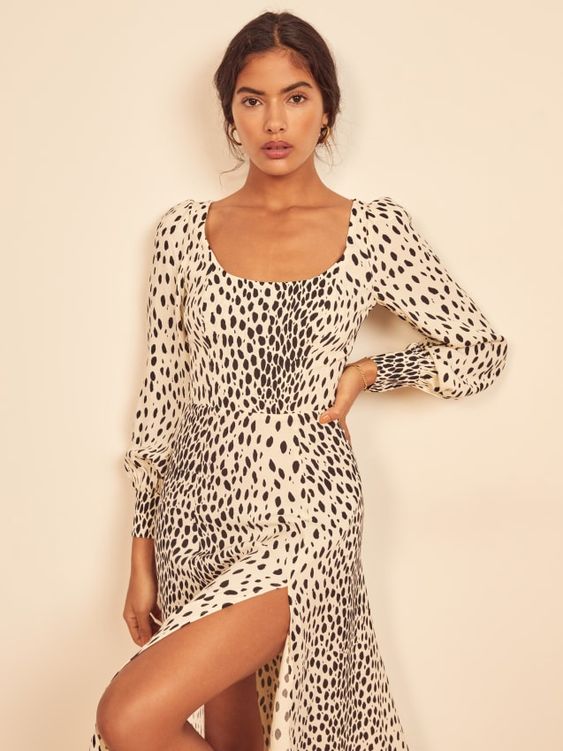 Frequently Asked Questions
Q.

What goes with cheetah print shoes?
A. Honestly, you have to be very careful when styling something like printed shoes. You have to make sure that what you wear isn't printed. If it is printed then it should only be cheetah print because otherwise, it won't look good. You need to stick to the basics if you are wearing bold shoes. The basics would be plain and in colors such as black, white, or brown. These are the colors that look best with cheetah print and that is why they would look best paired with cheetah print shoes. Just make sure you are comfortable in the shoes and your outfit and remember, if you like it, then go for it. Don't sit around waiting for other people to give their opinions.
Q.

What colors go with cheetah print shoes?
A. There are a number of colors that go with cheetah print shoes. You can wear white, black, brown, nude, and even red. I actually think you can wear any color with cheetah print shoes but the colors mentioned above will look nicer because they are the colors that are actually in cheetah print itself. It will be the perfect match and your outfit will look great. You can wear anything as long as you like it and you are comfortable in it.
Q.

Can you wear cheetah print in the summer?
A. Yes of course, cheetah print can be worn in the summer as well as in the wintertime. There are outfits in the article above for both seasons. Cheetah print can be worn in the summertime and it is easier to do so because there are more outfits for the summer. It can be worn in dresses, tops, jeans, t-shirts, and skirts. I'm sure there's much I'm missing but yes, there are too many ways that you can wear cheetah print in the summertime. The key to looking good in anything is confidence. You could wear the best of outfits and biggest of brands but if you don't wear them with confidence then it will defeat the purpose.