Winter Outfits With Faux Fur Jacket – Choosing an outfit for cold weather might be challenging. Most of us want to look stylish but stay warm at the same time. It's difficult to achieve that while it's cold outside.
So, the best option is to add jackets and coats to your outfits. Faux fur jackets are also one of the cool jacket options. They will make some stylish winter outfits and keep you warm in the cold weather. Outfit trends bring you this collection of perfect winter outfits. Scroll down, and choose your favorite one.
How To Style Fur Jackets?
There are a lot of different ways of styling fur jackets. It depends on what event and outfit you are going with; then, you can style it accordingly. Long fur coats are preferable for formal looks as they appear more dressy, while cropped and normal fur jackets can be worn casually. Skinny jeans, a fur jacket, leather boots, and a beanie cap form a perfect winter outfit for cold days. Moreover, you can also wear it over your fancy dresses. The key is to perfectly match the clothes and colors with each other to achieve your desired look.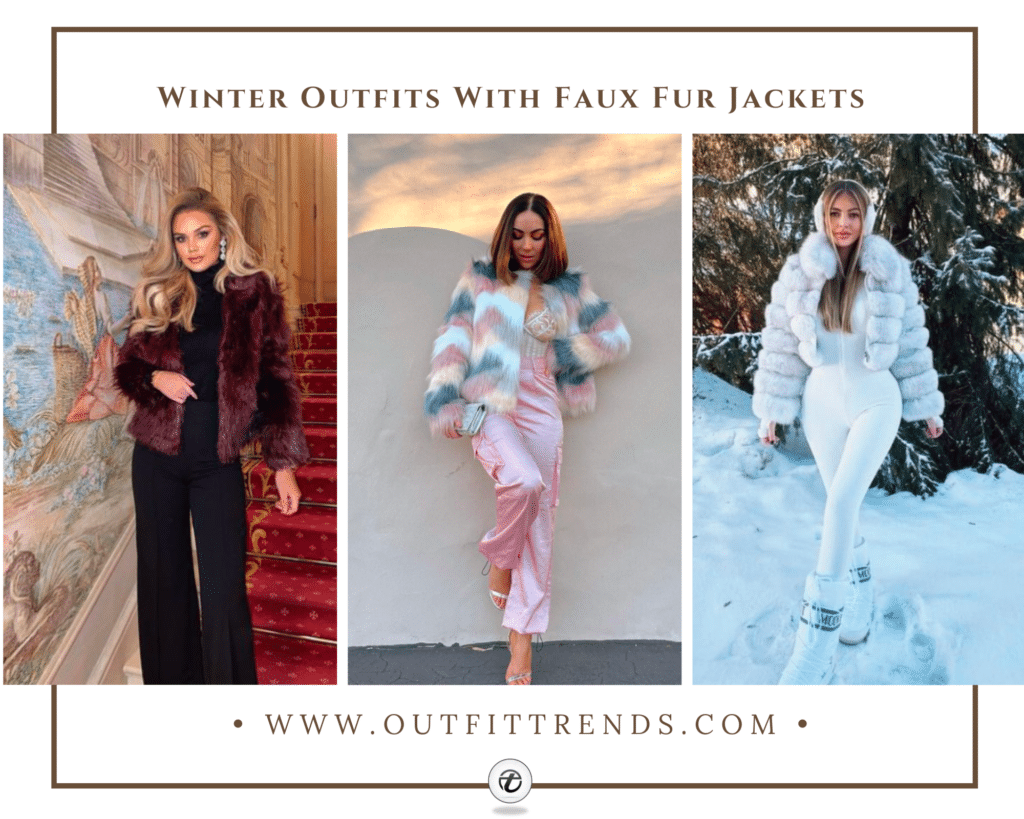 Styling Tips
A black fur jacket or coat looks good and can be paired with almost every outfit.
Keep your fur coats safe when you are not wearing them to keep them as clean as possible.
You can also try out fur jackets in different prints.
5 – A Casual Look
For a casual look, you can wear a long dress with slits on the sides. This dress looks really cozy and since it's long, you can also wear a shirt and thick leggings under it, and the best thing about this dress is that it's really comfy. To make it look more interesting, you can wear a lace crop top over it. And it makes the whole outfit look more put together.
Before going outside, you have to choose the right shoes for walking in the snow. So, you can go with black leather boots to keep you warm and comfy at the same time. Even if it's winter, you can't forget about the accessories. I think gold jewelry is always a good idea as it goes with almost every outfit. You can add a minimal necklace and earrings to complete your entire look.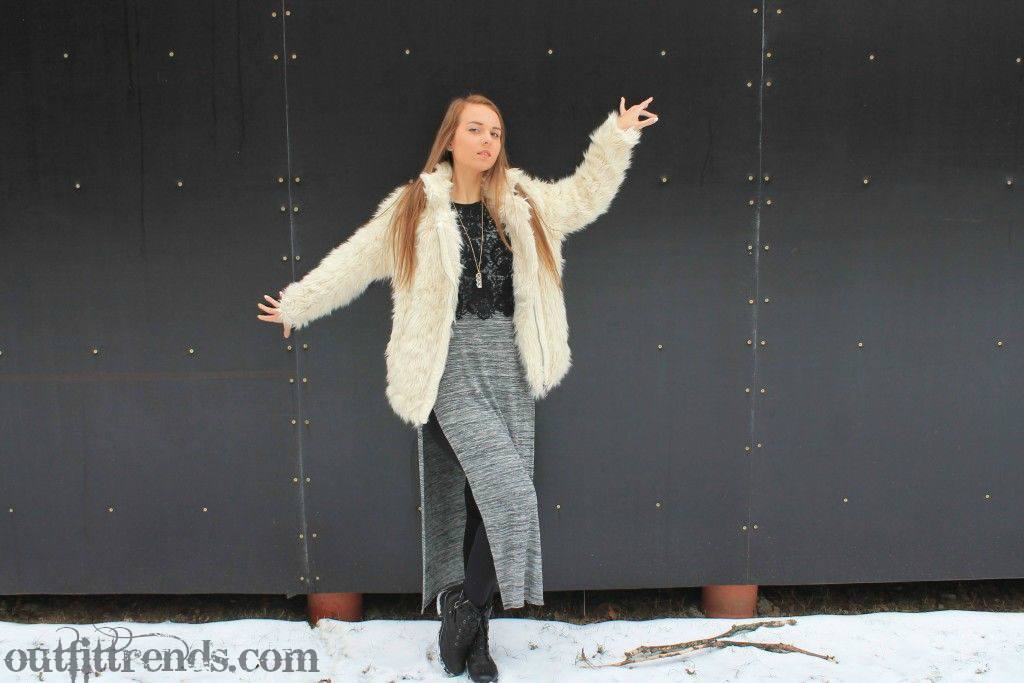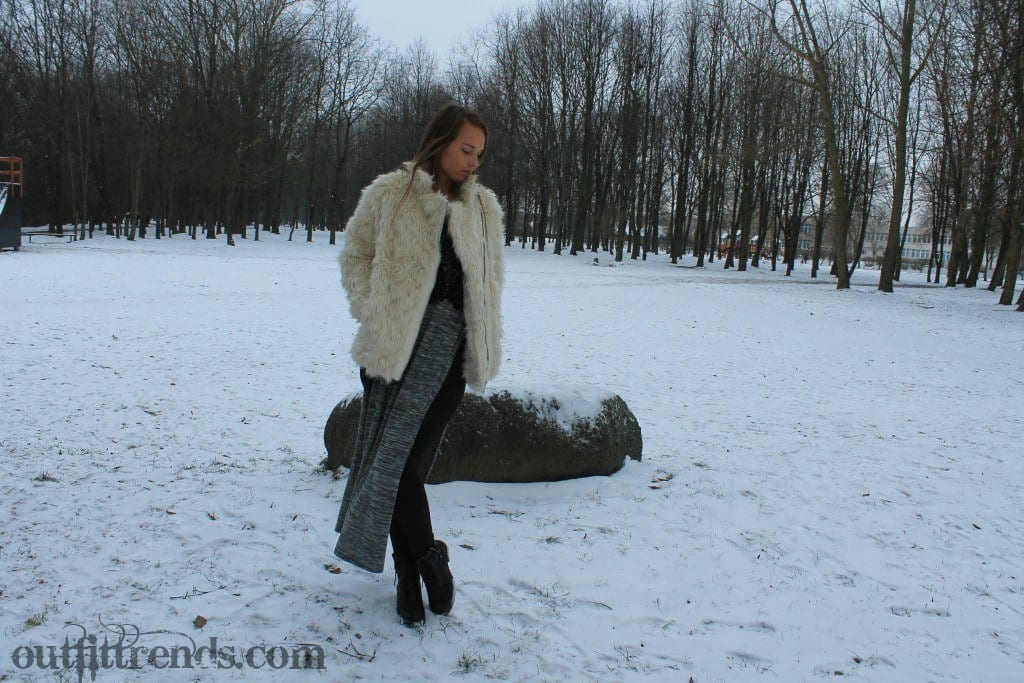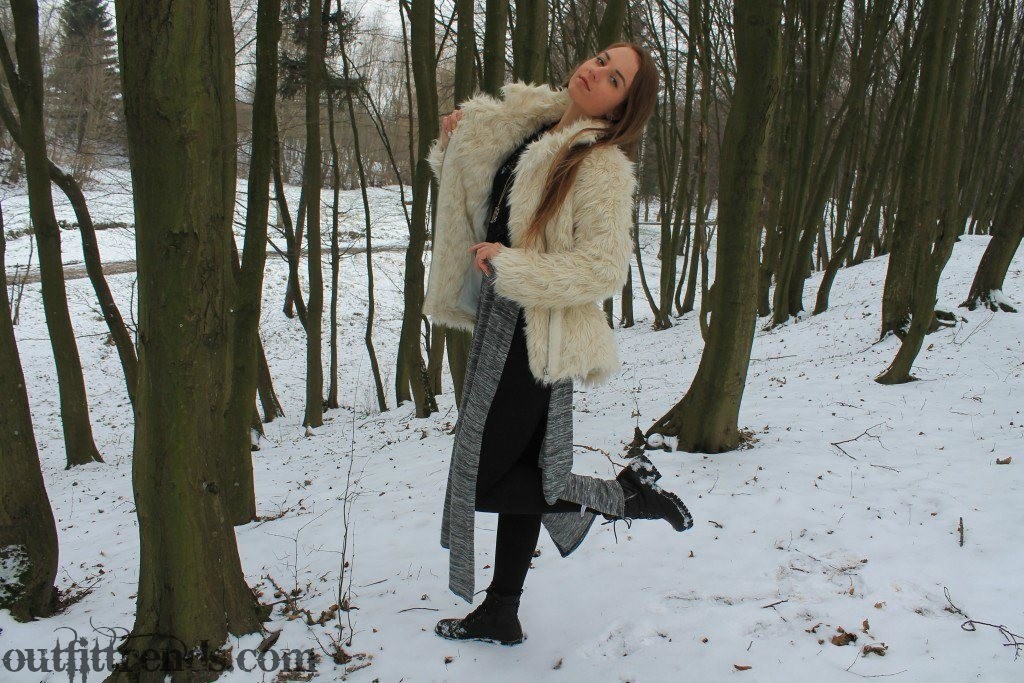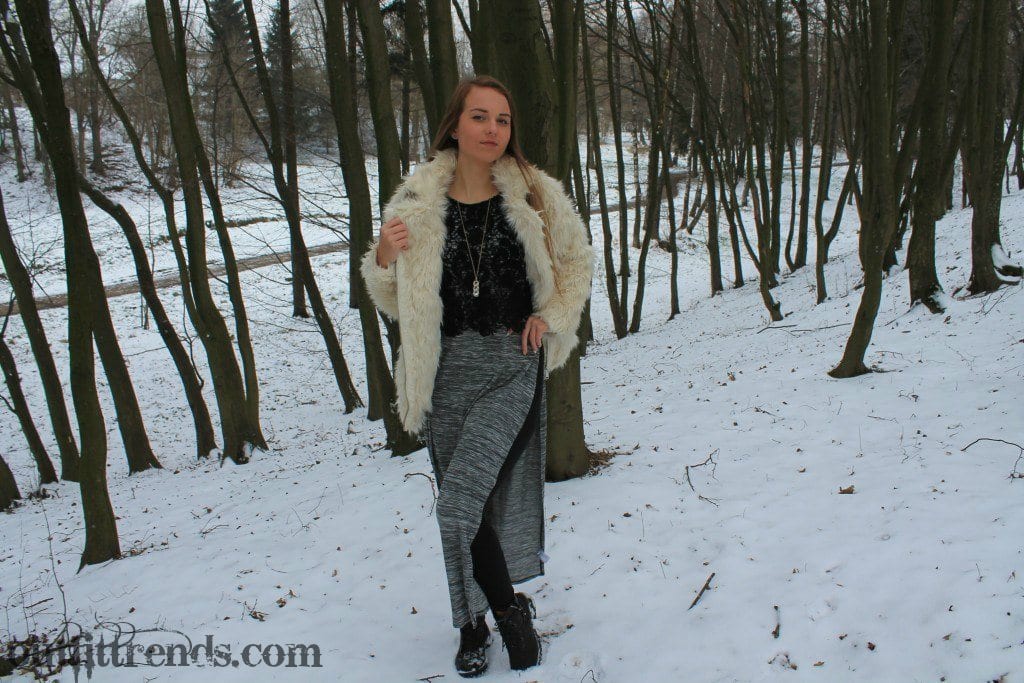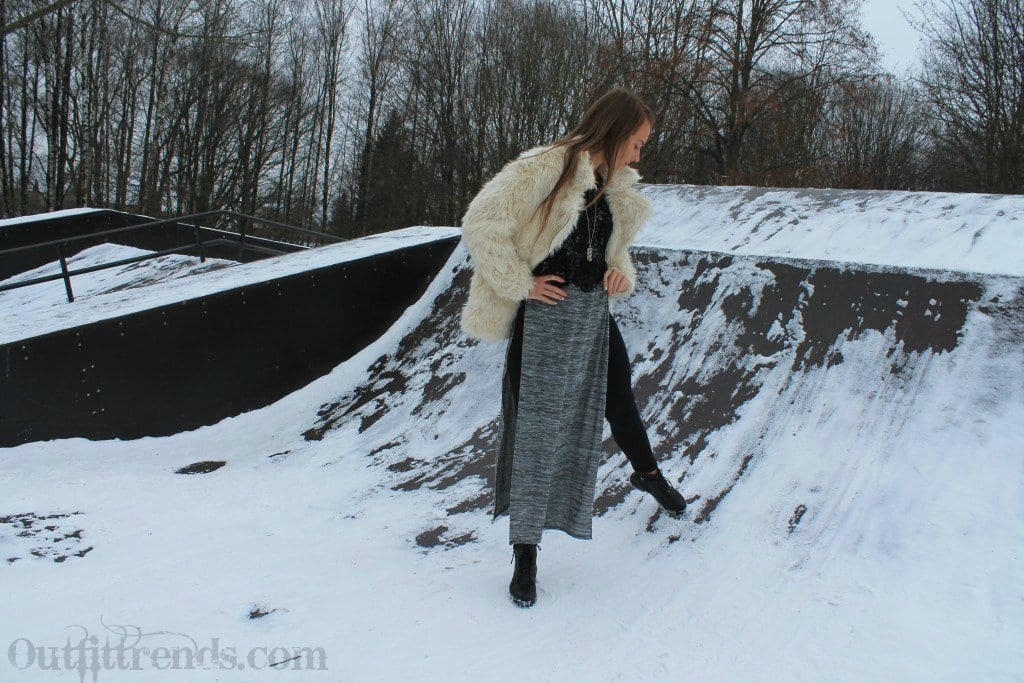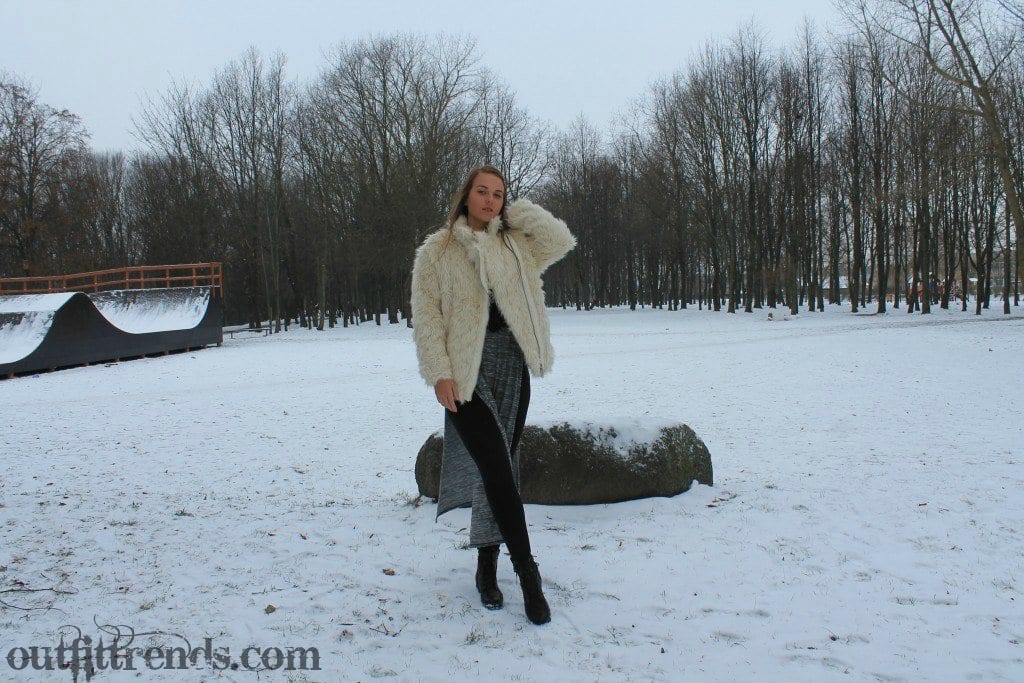 Women's Jacket Lapel Fleece Fuzzy Faux $28.99
Women's Sasha slip on chelsea boot $49.99
4 – Fur Jacket For A Formal Look
If you have no idea about what to wear with a fur jacket and if you are thinking that it would be difficult to style a fur jacket for a formal look, then we are here to guide you. Actually, it is not at all difficult to style them. For a formal event like dinner parties or meetings, you can choose a straight pencil, bodycon or any other kind of dress that you would want to wear. Pair it up with statement jewelry and fancy heels.
Don't forget the glam makeup and a cute clutch with it. Slight beachy waves in your hair would also look super stylish. And here comes the fun part, the fur jacket. If you are wearing a little dress, then you can go with long fur coats, and similarly, if you are going with long dresses, you can wear cropped jackets. It is not a fixed rule, so you can pair things as you choose. Apart from keeping you warm, the fur jacket will give you a chic look.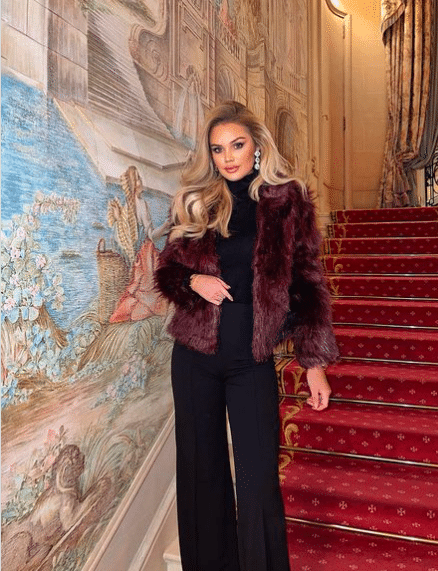 Faux Fur Coat Vintage Parka Shaggy Jacket Cardigan $32.98
3 – Black Jacket With Black Leather Boots
Classic black color is almost everyone's favorite. If you are a black lover and this look captured your attention at first glance, then you should definitely try this outfit once. Black leather pants can be paired with a black fur jacket and boots for this look. A black handbag and glasses can be added as accessories. This can be a perfect holiday look as well.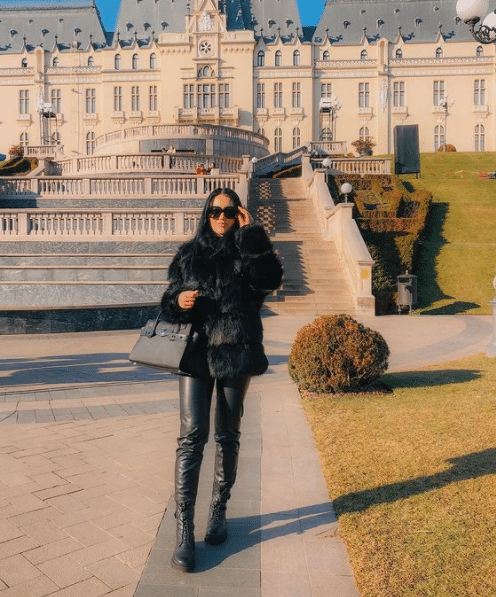 Women's Open Front Faux Fur Coat $32.98
Women's High Waisted Stretch Faux Leather Pants $28.99
2 – With Satin Pants And A Lace Top
This jacket looks like cotton candy, and this whole outfit is super girly and adorable. It is a semi-formal look worn on date nights and brunches. You can achieve this look with minimal effort. Just pair a simple lace top with satin pants and a cute multi-colored fur jacket, and that's it; you are done with the look. Studs or hoops and a clutch can be added as an accessory. Apart from that you can also wear stilleto heels with it. You can keep your hair straight and simple with this look.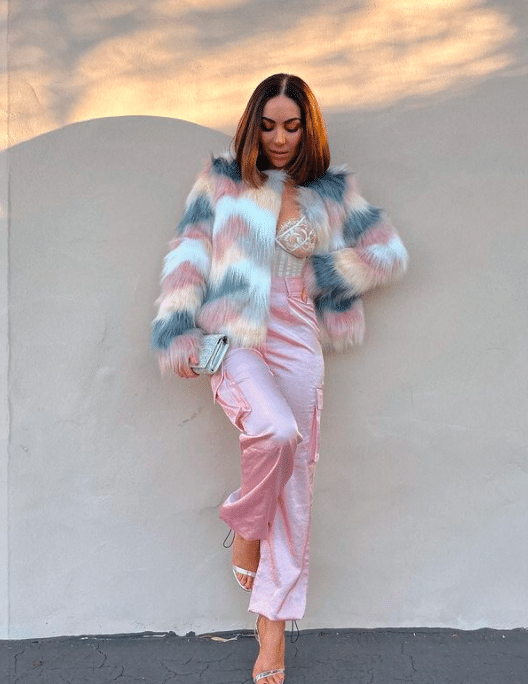 Warm Faux Fur Jacket For Women $53.99
Women's Satin Pants Dress Casual $19.99
1 – All White piece with A Matching Jacket
We also have an outfit for those days when you just want to play in the snow and keep it casual and comfy. A completely white look on a gloomy day is not a bad idea. Also, if you own a white fur jacket and don't know when to wear it, here is an idea. Grab a cropped fur jacket and pair it with a white one-piece and warm boots. So, now you know what outfit to wear when the temperature goes down.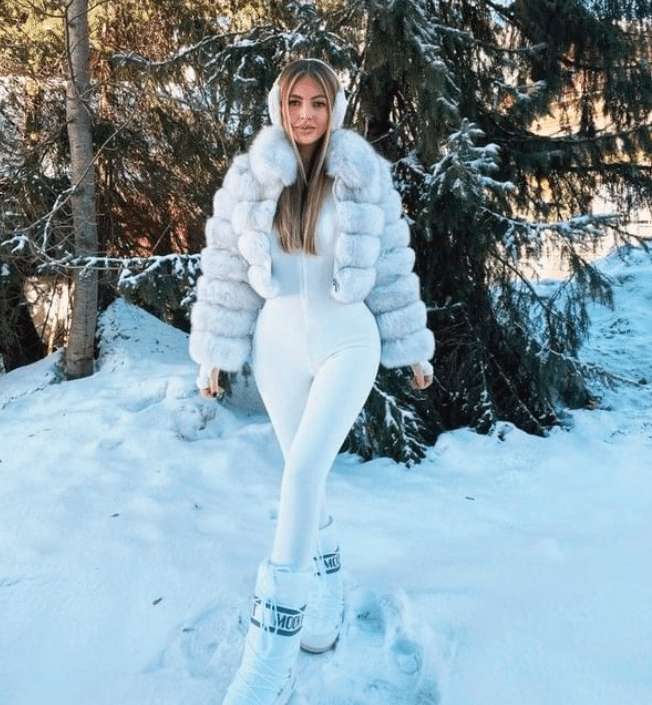 Women's Lapel Fleece Shearling Jacket Cropped $34.99
Super High Waisted Stretchy Skinny Jeans for Women $39.99
Frequently Asked Questions
Q. Are faux fur jackets warm?
Ans. Faux fur jackets are the best choice for freezing cold weather. They are warm, comfortable, stylish, and chic at the same time. So instead of layering too many things, you can add only one thing to your wardrobe: a faux fur jacket.
Q. What do you wear with a faux fur jacket?
Ans. You can wear anything with fur jackets and coats. They can be layered with any outfit, like normal jackets, although you might look a little dressy. You can wear it with pants and tops for a casual look, and similarly, for a formal look, you can wear it over your fancy dresses for dinners and parties.
Q. How do you style a cropped faux fur jacket?
Ans. Cropped fur jackets look really cool and it's also super effortless to style them. The easiest way to style them is to wear them with high-waisted skinny pants and tops and boots. This outfit is really warm and comfortable for snowy days. You can also go with high-waisted short skirts with leggings and a cute faux fur jacket.