Angrakha dress designs – Angrakha is one evergreen ethnic outfit that complements your look on every occasion.
This particular dress originates in Rajasthan where the locals specially designed angrakha dresses for both men and women to tackle the intense heat and harsh weather conditions. Thus, this dress is an absolutely appropriate choice for summer as it keeps you comfy and sweat-free.
When the summers are at the peak, and you want to go for an easy breezy summer outfit, get yourself an angrakha, and thank us later! This dress is unique in the case as it is easy to carry. You just need to keep in mind some tricks and tips for pulling it off eloquently and voila, you are ready to hit the streets!
We will share some amazing Angrakha dress styling tips for your upcoming festive and casual occasions. Get ready to be the center of attention with this effortless piece!
How to Wear Angrakhas?
An Angrakha is so versatile and dynamic in nature that you can style it in any weather. You can style it on any occasion, whether a formal one or an informal one. It's like a comfortable and stylish dress that brings the desi chic in you.
While having all the yummy feasts and dancing your heart out at gatherings, this dress would keep you comfortable. And we all love comfort food and comfort dresses. Because we know fashion is all about finding comfort and joy in your outfit and flaunting it like a queen.
Tips And Tricks on Wearing An Angrakha Style Dress
Here are some of the tips and tricks to style an Angrakha Dress Design like a pro:
One thing we like the most about an Angrakha Style dress is its very dynamic silhouette and its asymmetrical cuts make it easy for everyone to pull it off effortlessly. The only thing you need to keep in mind is the correct measurements of your body which can be easily acquired by consulting a nearby tailor.
You can grab any trousers or dupatta from your wardrobe and match them with your angrakha dress. Trust me. This simple hack will give a new look to your dress.
Though an angrakha dress is mostly worn in summer, keeping in mind that it is versatile in nature, your winter styling needs to be slightly different.
You can choose the colors of your outfit based on your skin undertones.
Neutral colors in angrakha like cream, beige, mustard, and green complement the warm undertones. For cool undertones, you can go with blue, purple, camel, brown, or any other rich shade.
Be Confident while wearing any dress; your confidence makes you unique and stylish. Confidence is primary, and styling is secondary.
20 – Styling a Chikankari Angrakha
Chikankari dresses are getting popular in the South Asian region due to their breezy fabric and pretty designs. We love how it suits everybody's type; hence, everyone can slay in it like a Diva.
Let's start with the outfit recommendations for informal occasions, like a friend's reunion party or lunch at someone's home. For this occasion, wearing a Chikankari Angrakha is the best option, especially if you don't want to go over the top. The outfit is perfect for you to keep it simple yet stylish.
Further, you can pair this Angrakha with minimal jewelry pieces, such as a silver bracelet or cute and funky earrings.
Here are some more Modern Chikankari Kurti Designs & Styling Tips.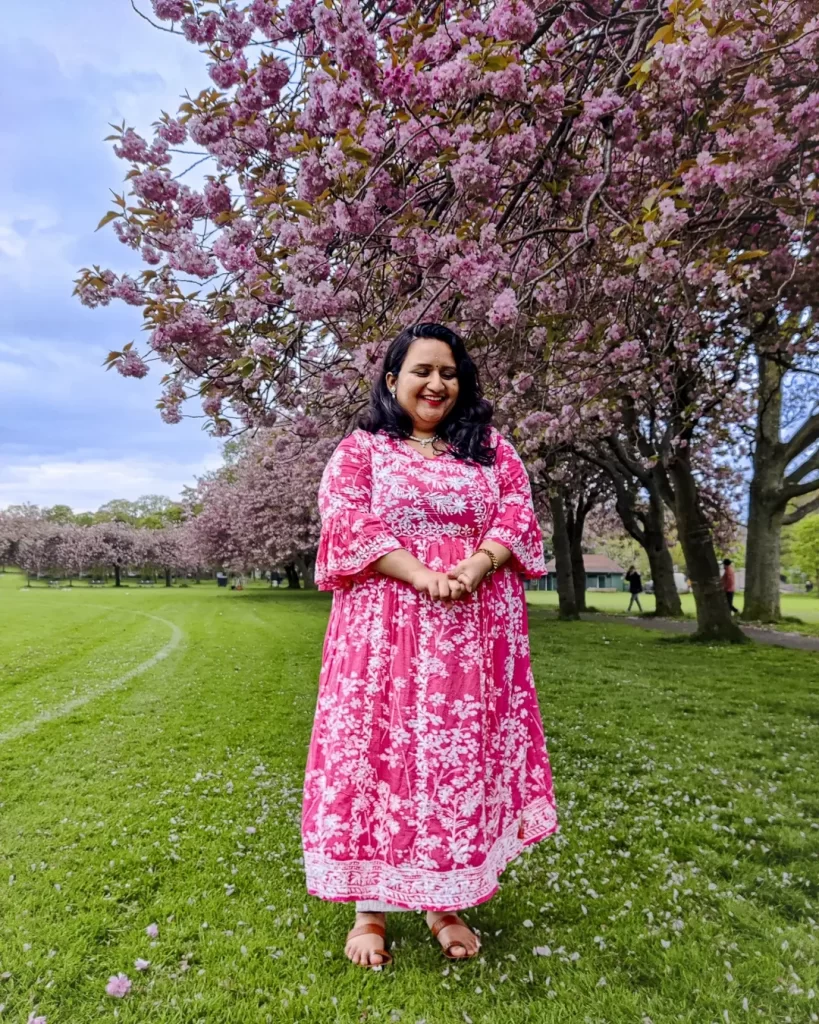 19 – Go for a Co-ord Angrakha Set This Season
Plain and Basic outfits are in trend these days. They make you look sophisticated and are easy to style. So, if you are not an embroidery lover and want to stay minimal on your gatherings, go for a basic angrakha dress like this. Complete the outfit with gorgeous earrings and pumps.
We love this gorgeous basic purple angrakha, and we are sure you will rock in it.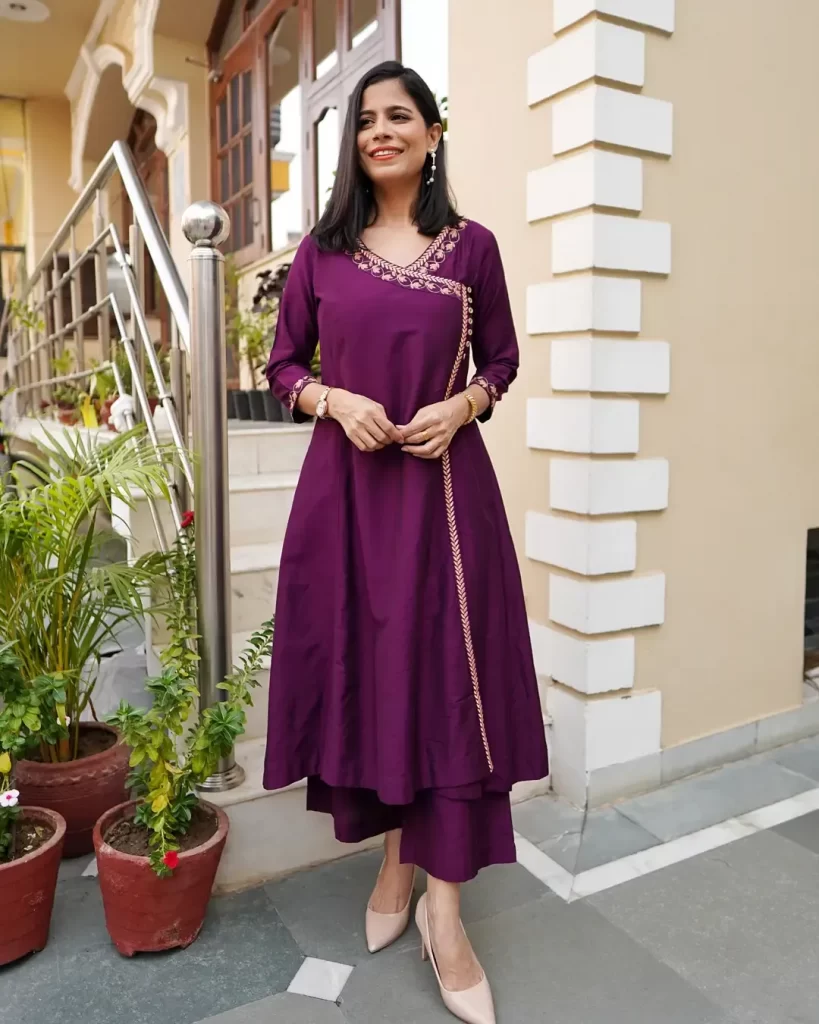 18 – Printed Angrakha Kurti With White Trousers
Summers are still not over and for a season like this, printed and floral Angrakhas can account for your everyday outfits. This is a great ensemble for you if you don't like to get sweaty and uncomfortable.
For events like brunch or Birthdays, floral cotton made Angrakha with a round neck and white trousers will make you look regal and stylish.
We are mesmerized by this beautiful white floral Angrakha style frock with simple white pants. What a beauty! Isn't It? Plus the kolha puri chappals are going so well with the whole look.
17 – Pair it With Jeans
Among young girls, Angrakha style tops and shirts are wardrobe staples since they are easy to carry.
They are breezy and perfect for casual get together and college days. It is mostly styled with jeans, making it a perfect choice for a casual outfit.
So what are you waiting for? Call your friends, plan a gathering and slay with your angrakha tops and jeans.
You can also take cues from these tips on Different Ways To Wear Kurtis With Jeans.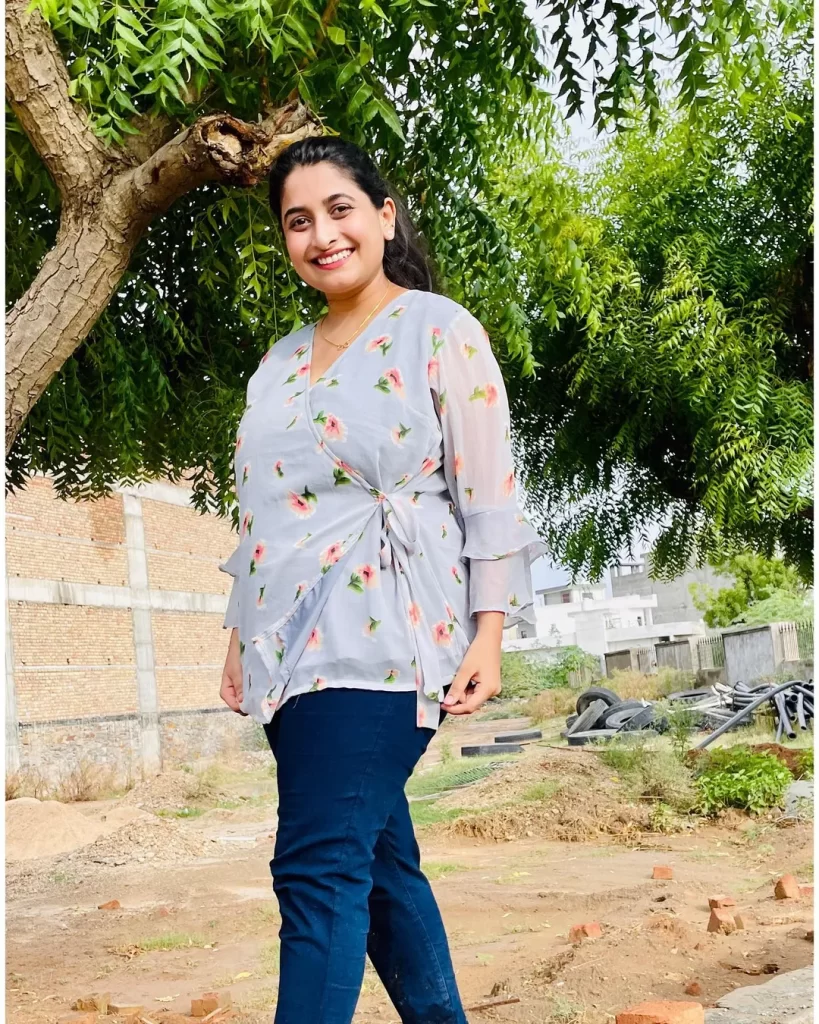 16 – With Tulip Pants
A fusion is always a better Idea! We are drooling over this pretty printed short angrakha with tulip pants. This is definitely a perfect outfit for your everyday outings and meetups.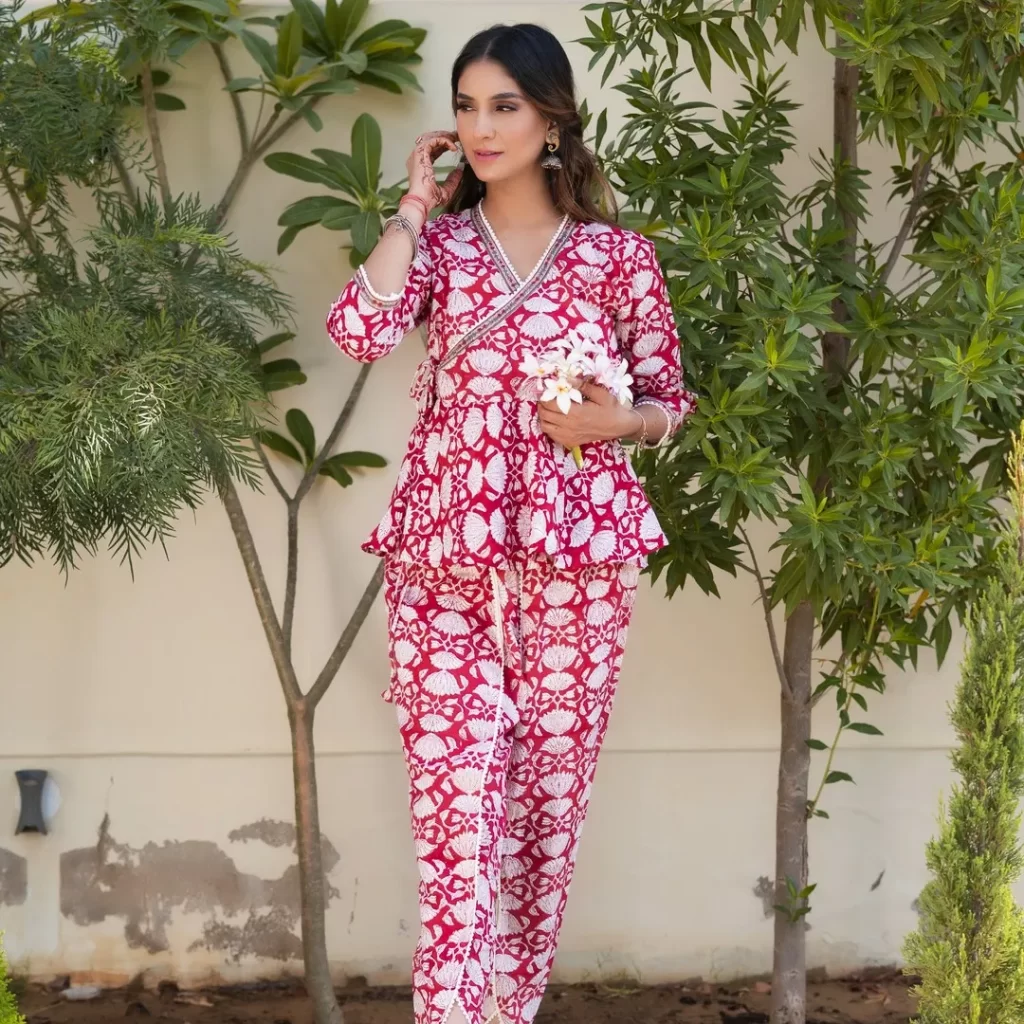 15 – With a Sharara
We want you to ditch the traditional pajamas with angrakha and style your dress with a sharara.
This look will make you taller and more elegant. Plus Shararas are so versatile, you can pair them up with any ethnic wear and they will complement your look. Truly, a win-win situation.
14 – Bohemian Style
We are in awe after witnessing this beautiful bohemian style short angrakha with a long skirt.
A simple yet amazing look! Plus, the statement earrings and nose rings are going so well with the aura of the outfit. If you are looking to try wear something different, you definitely need to try this out!
13 – Bring out The Desi Chic in You With A Cropped Angrakha And Dhoti
To channel your inner desi soul, go for cropped Angrakha with dhoti pants. This look is festive as well as truly amazing.
We are drooling over this pretty green cropped Angrakha with dhoti pants! How can we not talk about the gorgeous kalamkari print? It serves as the cherry on top. Grab this outfit and wear it with your favorite heels.
Accessorize your outfit and you are ready to rock the party!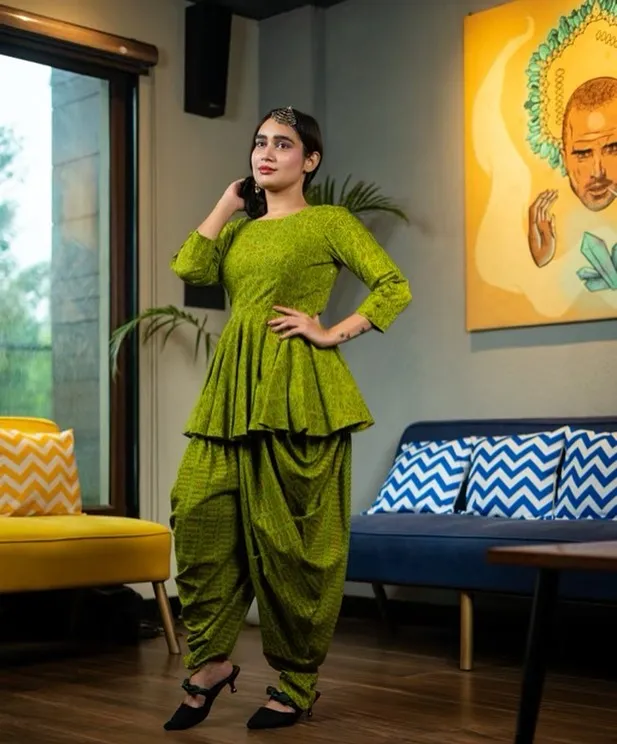 12 – Pair A White Angrakha Style Frock With Red Dupatta
White is the color that symbolizes peace and serenity. When it comes to an outfit, white instantly gives you a decent and eloquent look. So, we are always up for a white Angrakha paired with a beautifully printed Dupatta.
It's a subtle and low-key outfit of the day for your next Brunch or Dinner party!
11 – Red Angrakhas for the Festive Season
Be the center of attention with a red angrakha dress. It's perfect for festivals where you want to enjoy yourself to the fullest.
This style of angrakha is beautiful and easy to carry. Moreover, it needs a little styling. All you have to do is to pair oxidized silver jewelry, and you are ready to dazzle!
Complete the look with a beautiful pair of juttis.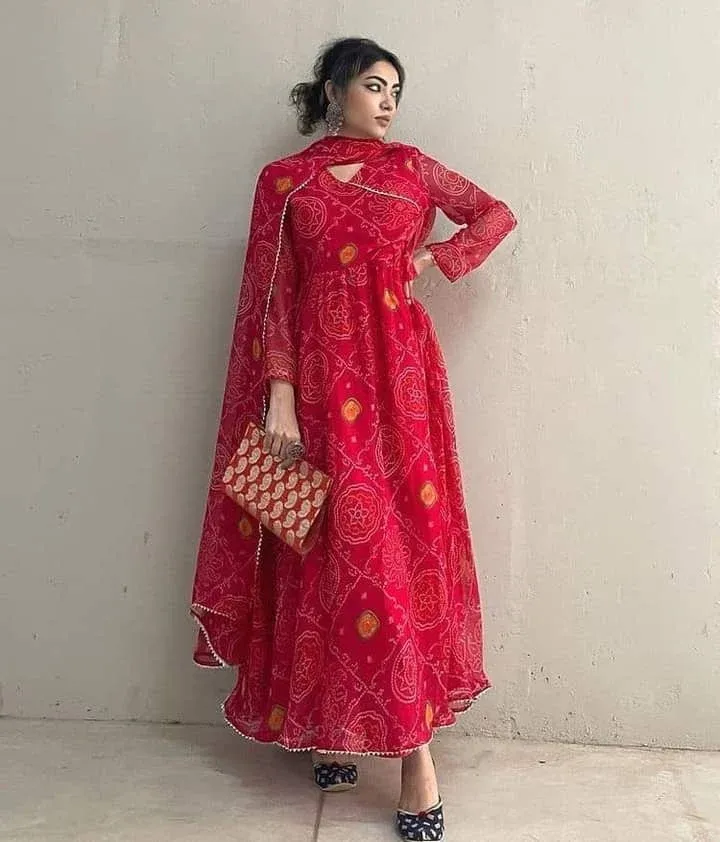 10 – How to Wear Angrakha to Office?
Choosing an outfit for your workplace can be tricky because you must look presentable and formal. But who said ethnic outfits couldn't be office wear? We are here to bust this myth and want you to go for a long Angrakha in neutral tones like beige or light green.
You can either pair it up with a formal weather-friendly blazer or take a decent scarf around your neck. Add a pair of comfortable sandals, and your office outfit is complete.
9 – The Timeless Long Dress Supremacy
We love how inclusive long angrakha dresses are when it comes to fashion. You can style them as per the occasion. For instance, you have to style a simple long Angrakha with jeans when going for a casual dinner and you can wear the same dress with a heavy dupatta and your favorite jewelry for an engagement ceremony.
Undoubtedlyy, angrakha style dresses are versatile pieces of clothing. Have a look at this pretty navy blue long Angrakha dress with some gold piping and the oh-so flawless hand-block print.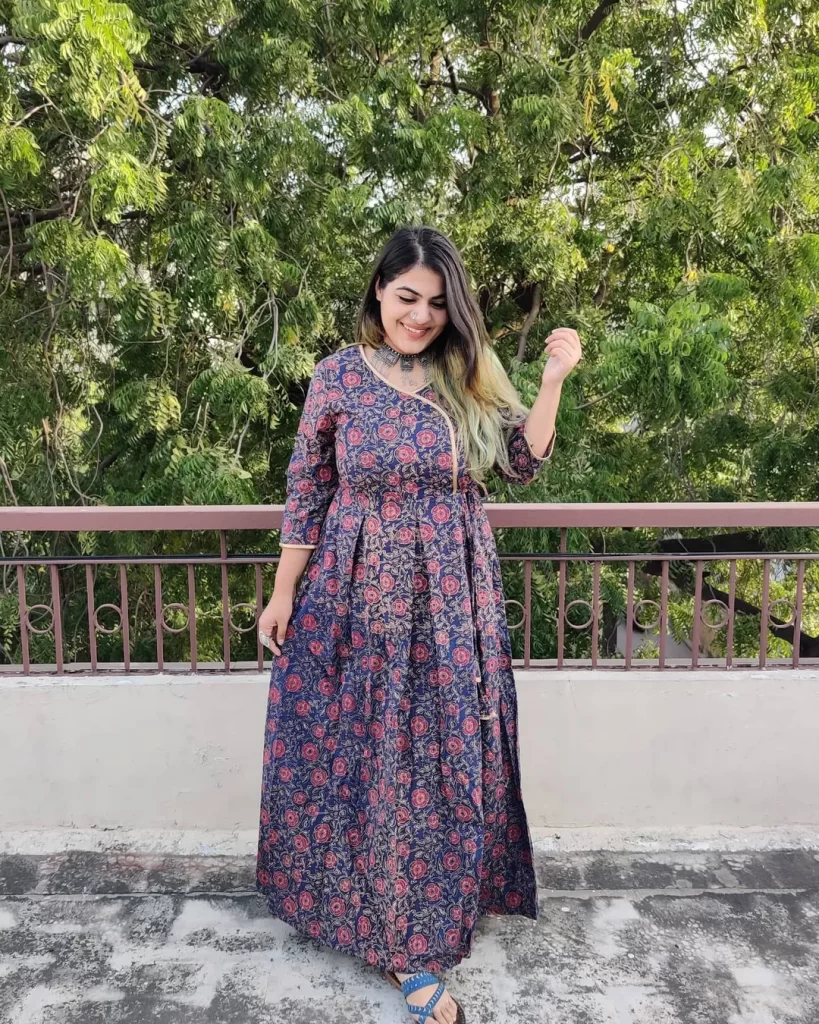 8 – Slay With A Net Angrakha
For the wedding season, our first recommendation for you is this beautiful net Angrakha with a heavy dupatta.
The gorgeous cream color dress can be worn at weddings as well at parties or at sangeet. The details are stunning and the fit is amazing. A gorgeous choice for all the gorgeous ladies out there!
Looking for more outfits as a Indian wedding guest? Check out this post on What to Wear to an Indian Summer Wedding – 20 Guest Outfits
7 – Steal The Show With Zari Work
We love this beautiful midnight blue Angrakha embellished with gold zari work. The cut dana and sequin work further enhance the outfit.
An absolute stellar choice for a night wedding function or a dholki night!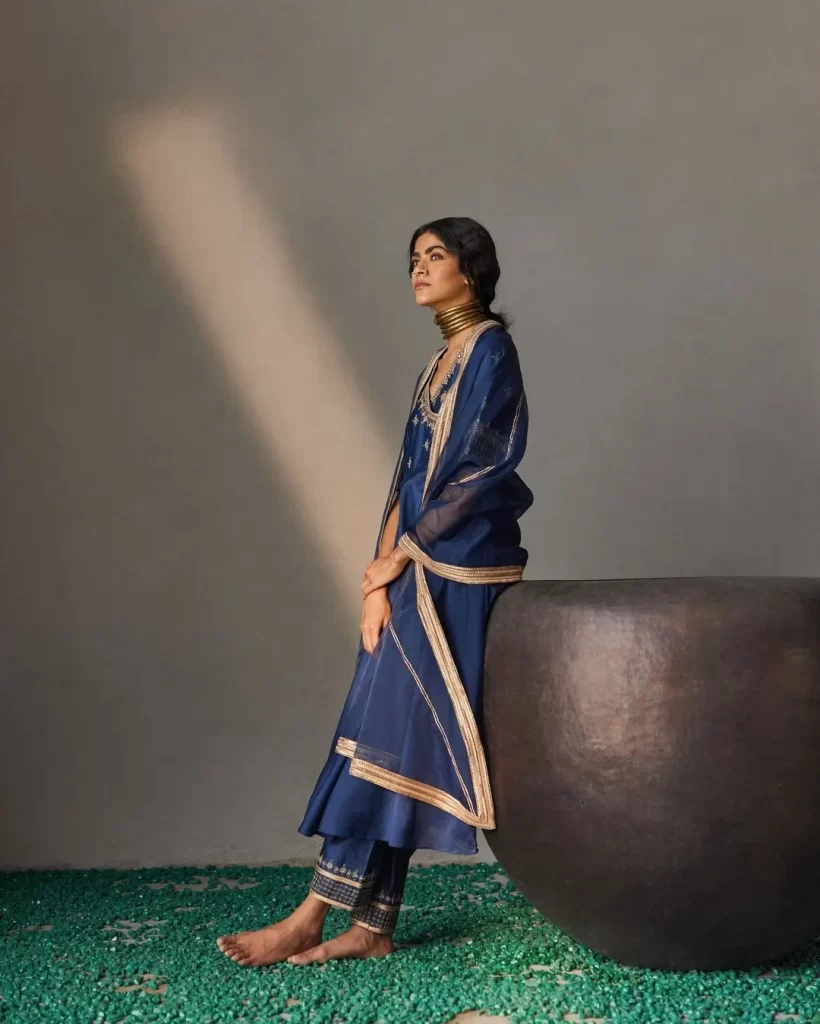 6 – A Pastel Affair
Pastel colors look refreshing and cool, whether it's a formal occasion or an informal occasion.
For weddings and festive seasons like Diwali and Raksha Bandhan, a pastel angrakha will give you a divine look. You can opt for a silk or organza pastel Angrakhga dress embellished with some mirror work if getting ready for a festive occasion.
For routine hangouts, a plain cotton or muslin cloth Angrakha would do a nice job.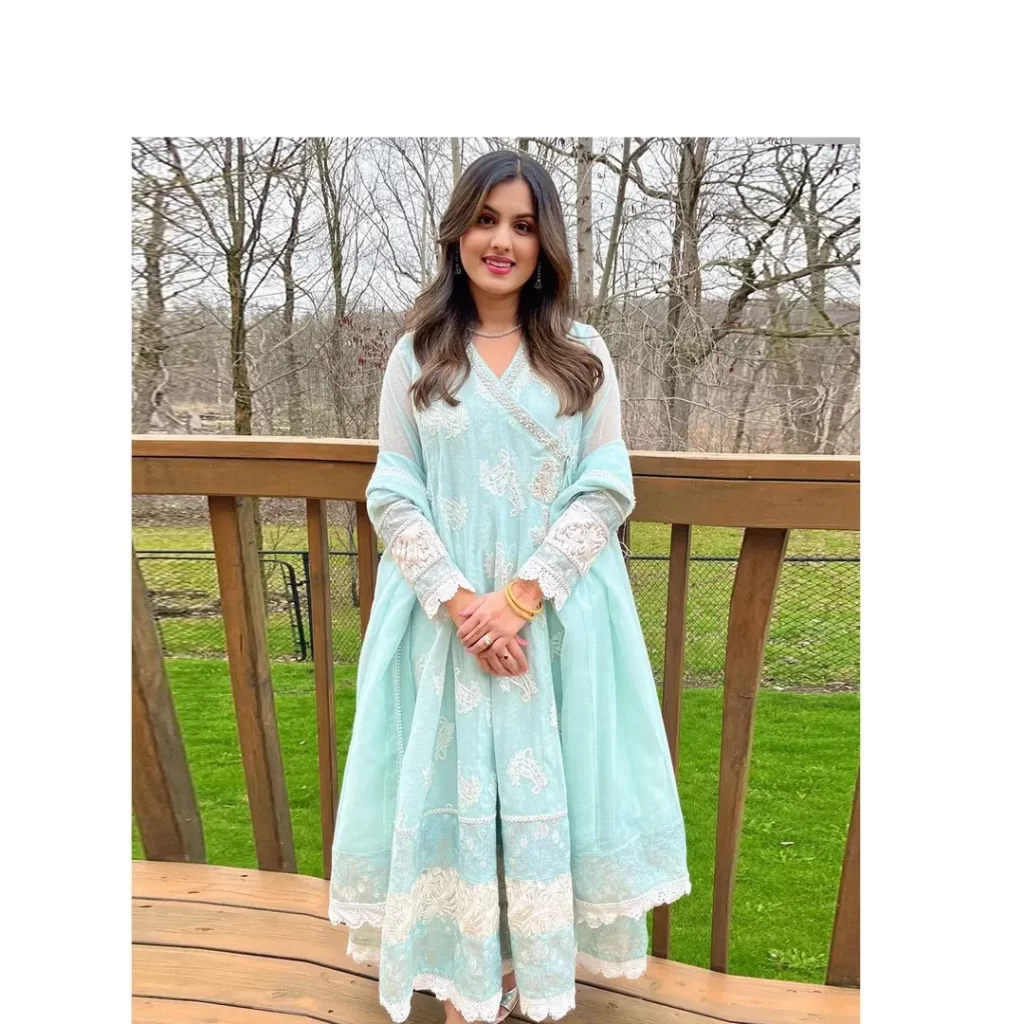 5 – Rock Gotta Work Angrakha
Keeping up with the wedding ensembles, one of our absolute favorite choices is a printed Angragha dress in long frock style with minimal gota work on borders and decent work on the neck.
This look is easy to carry, plus you will get to look trendy with this cut. Short people would love this outfit as it will make them look taller and the star of the show!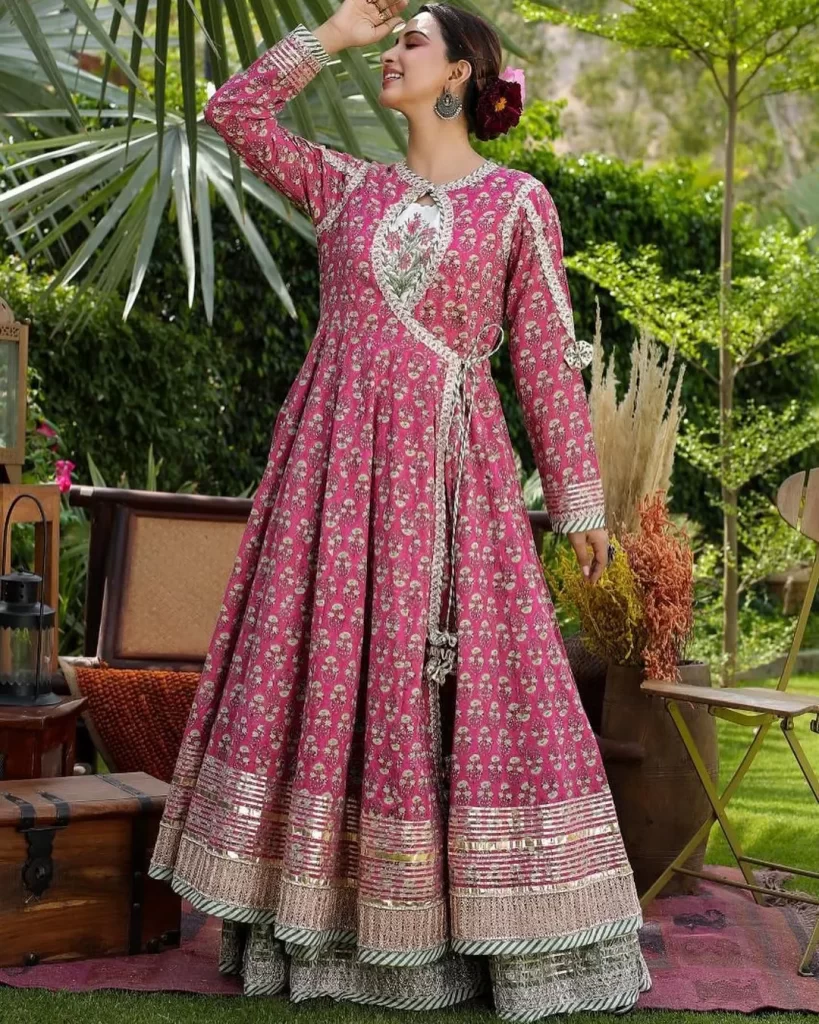 4 – An Embroidered Black Angrakha Can Never Go Wrong
Black is your hero and savior whether it's a wedding or any casual gathering. Black Angrakha having a nice embroidery will be a perfect fit. This look is perfect for a day wedding considering the hot weather. Silver Jhumkis complement the black color, so we are rooting for some silver jhumkis with this dress.
3 – Add A Angrakha Shrug Over A Casual Outfit
Coming towards fall styling, an angrakha-style shrug is the best option when you want to stay cozy and maintain your fashion game.
You can opt for contrasting long shrugs with your Angrakhas and a small muffler around your neck if it's the fall season. If the weather is moderate, go for a fusion look with a short shrug like this.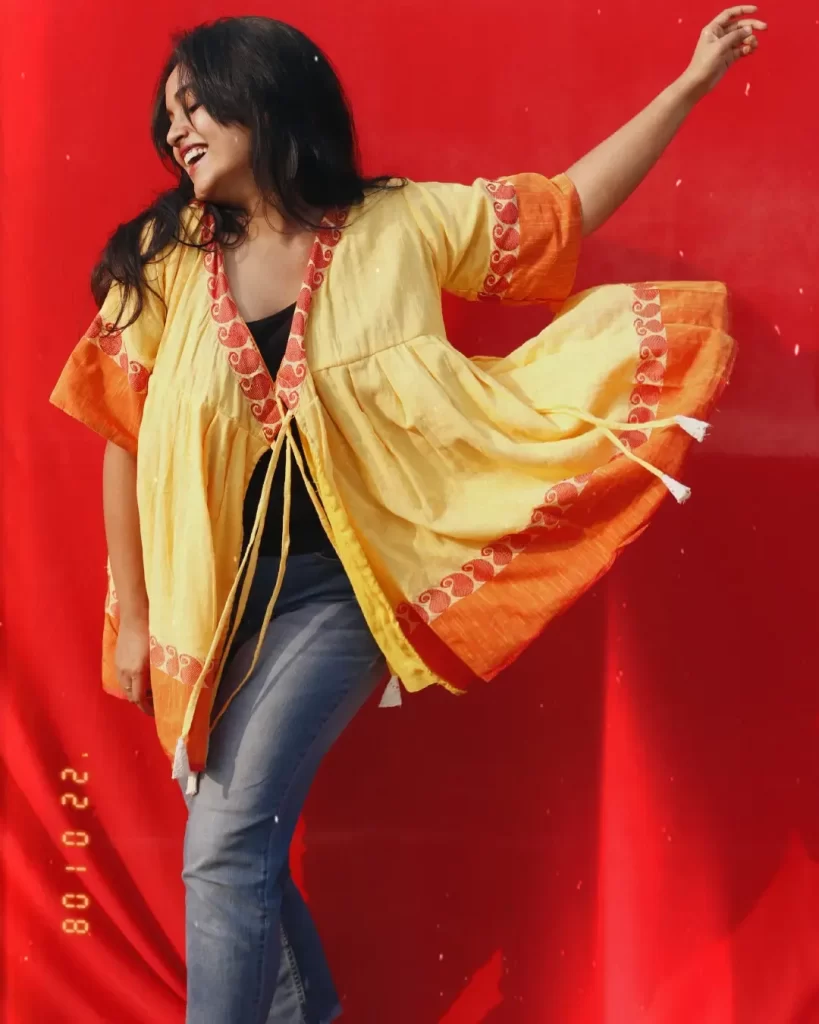 2 – Style The Evergreen White Angrakha Kurta With Denim
For winter, denim is a must have in your wardrobe. Styling denim jackets with your ethnic fits are the coolest trend, and we are sure you would love this pairing of Angrakha with a denim Jacket.
1 – Go for A Breezy Geoergette Angrakha
Last but not the least, an embroidered georgette Angrakha is a wardrobe staple.
Georgette fabric is both summer and winter friendly. Hence, you should keep it in your cupboards. It is sustainable as it works in all seasons. Look at this breathtaking white georgette Angrakha complementing the pretty background. Seems like a dream!
Styling this Dress with a white pearl necklace and khussas would serve as icing on the cake!
Frequently Asked Questions
Q. Can we wear a printed trouser with a printed Angrakha?
Yes, a print-on-print would look great. Many designers have been launching a print-on-print angrakha collection and people love it.
Q. Does angrakha complement all body types?
Angrakhas are very diverse and inclusive as it suits every body type. You just need to know your correct measurements and wear them with confidence.
Q. What should be the ideal length of an angrakha?
This is purely your own choice. Regarding fashion and styling, there are no hard and fast rules, and you can go for a long or a short angrakha as per your liking. Short angrakha dresses are preferred for casual events. Whereas people love long angrakhas for weddings or the festive season.