How to Wear Bell Sleeve Dress: Bell sleeves are a trendy, fashion-forward choice for the experienced fashionista, but for a lot of us, they can be mystifying. Can you wear them without looking like a hippie? Can you wear them to look like a hippie? Are they strictly bohemian? What if you are petite and worry the extra fabric will overwhelm you? If you have ever asked yourself these questions, this post is for you!
Bell sleeves can be worn in a variety of ways. Here are the most trendy, stylish, and chic looks that are sure to prove to you once and for all that bell sleeves are one of the most versatile and easily styled looks ever! Yes, even for my petite fashion-conscious gals!
Yes, the bell-sleeved dresses and flared pants are a hot trend this season and you should invest in a few quality pieces if you are a little fashion-forward. It is not easy to pair flared sleeves with your everyday wardrobe or sometimes it is not pleasing to the eye if you wear it in the wrong manner, as people are always interested in how fashionistas are styling themselves with new trends. That is why we have collected a few ideas of outfits with bell sleeves which we hope you will find interesting and will follow. You can choose from cropped tops to patterned dresses to shift dresses to pants or even more. Go through this article and you will be amazed at how easy this trend is to follow.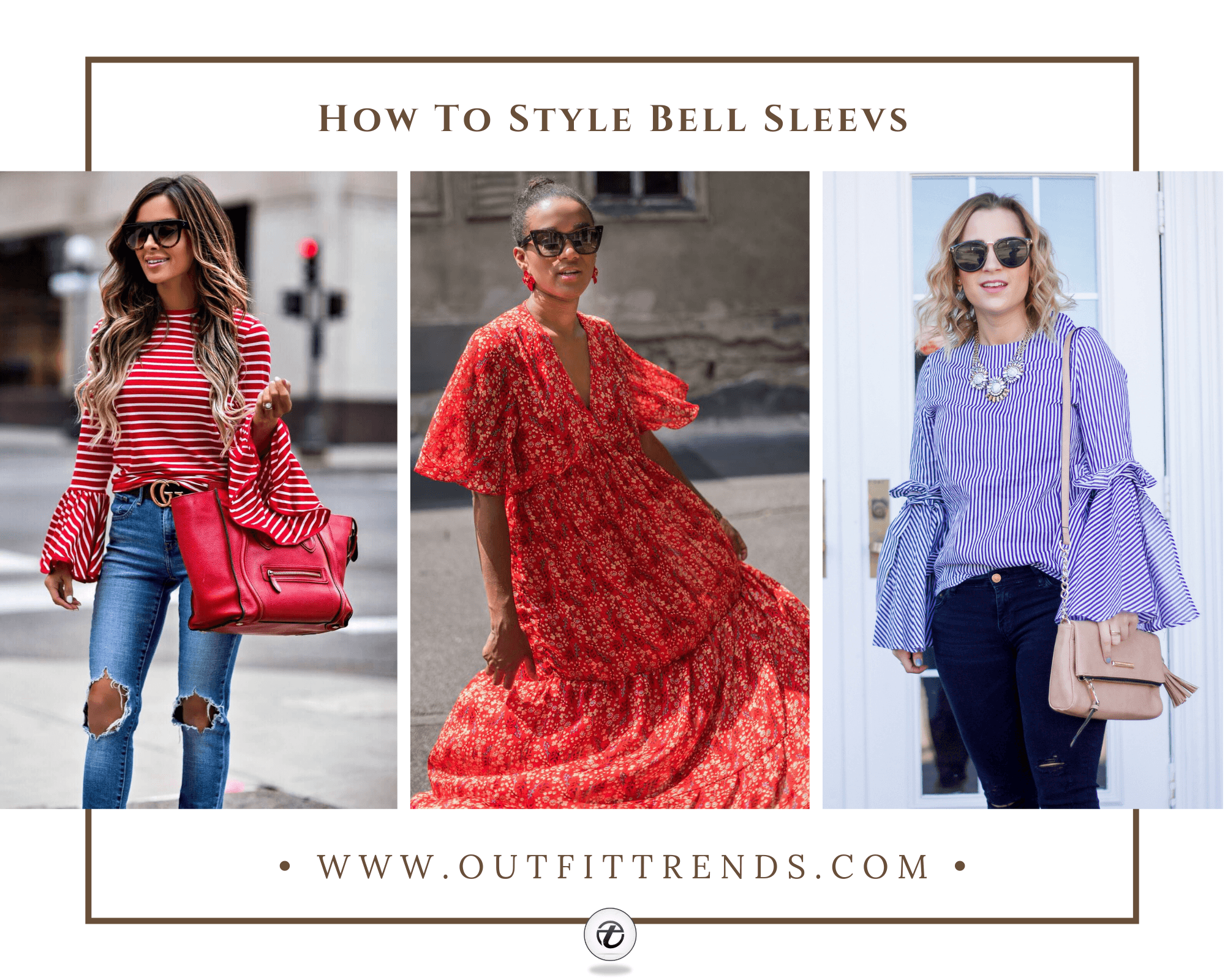 ↓ 56. T-Shirt Dress
Hipster dressing is now very common and people tend to follow their own sense os style. This embroidered t-shirt dress is very classy paired with over the knee boots. Here are some more ideas on Unique Ways to Wear a Shirt Dress.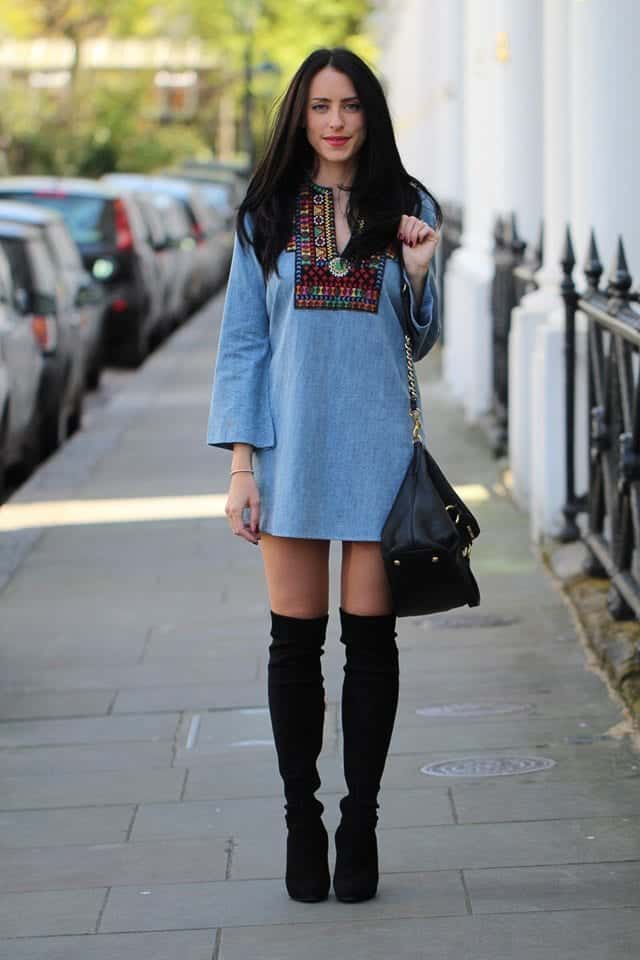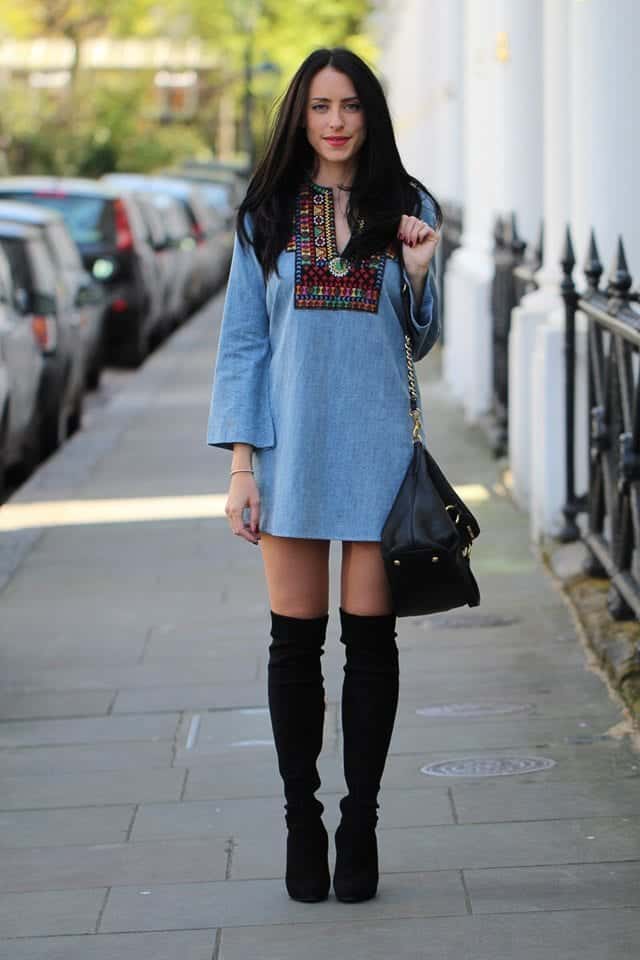 ↓ 55. Summer's Perfection
Shorts are every girl's fashion statement in summers. This baby pink short is looking gorgeous when worn with cut off shoulders bell sleeved top.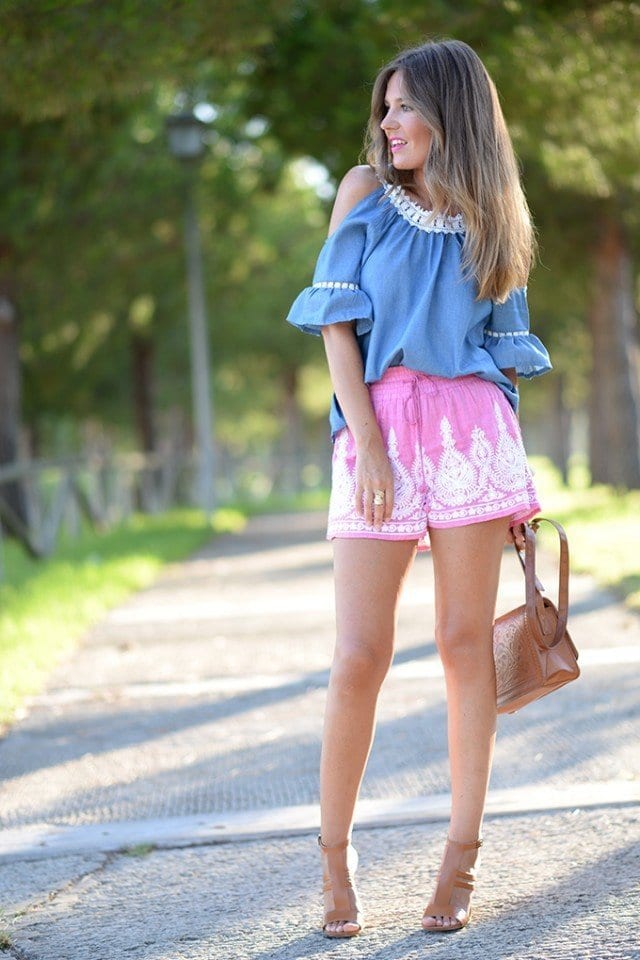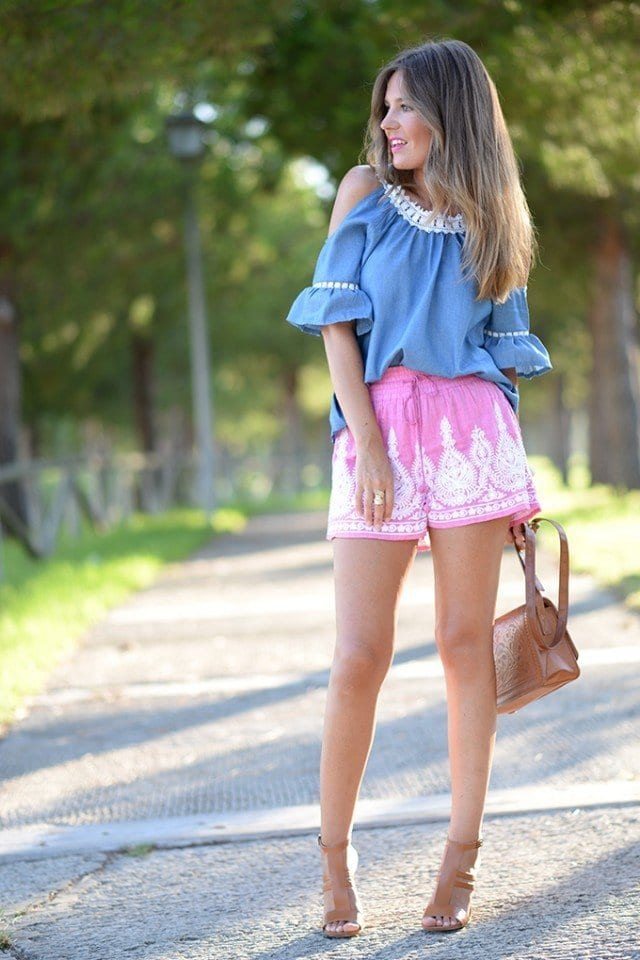 ↓ 54. Jeans with a Little Flare
A little flare should be adopted by each one of you as it gives an opportunity to dress riskily. Try pairing flared sleeves with skinny pants with heels and a statement fringed bag.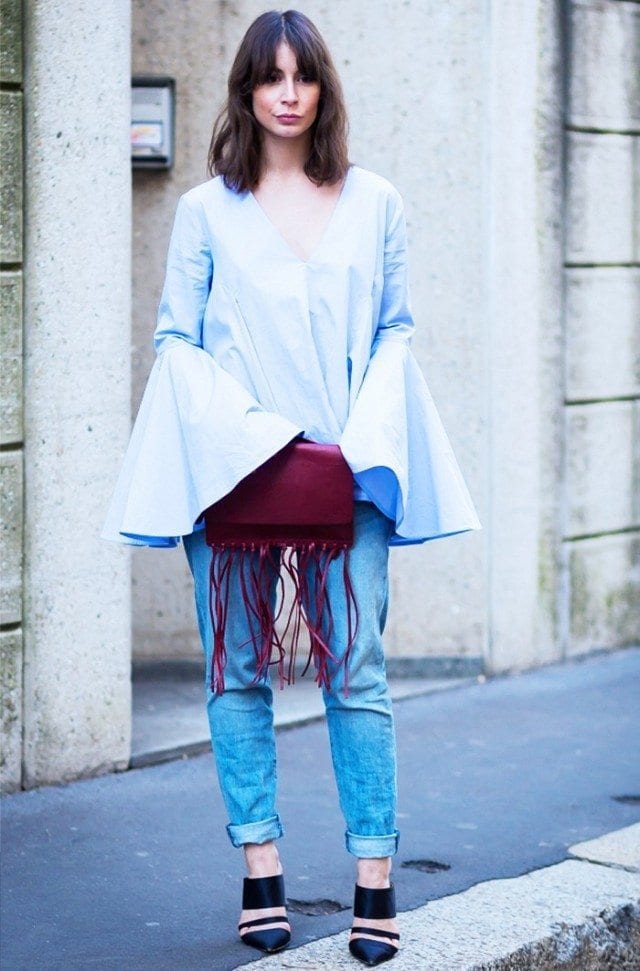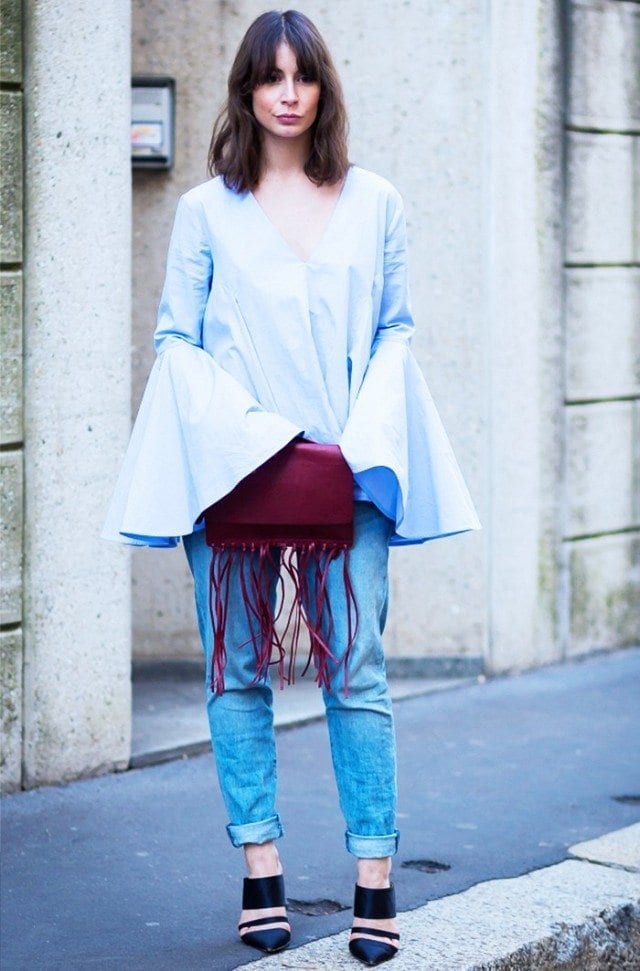 ↓ 53. Off Shoulder, Bell Sleeved Top for Holidays
Going to the beach or on a vacation? Off-shoulder tops are a must-have.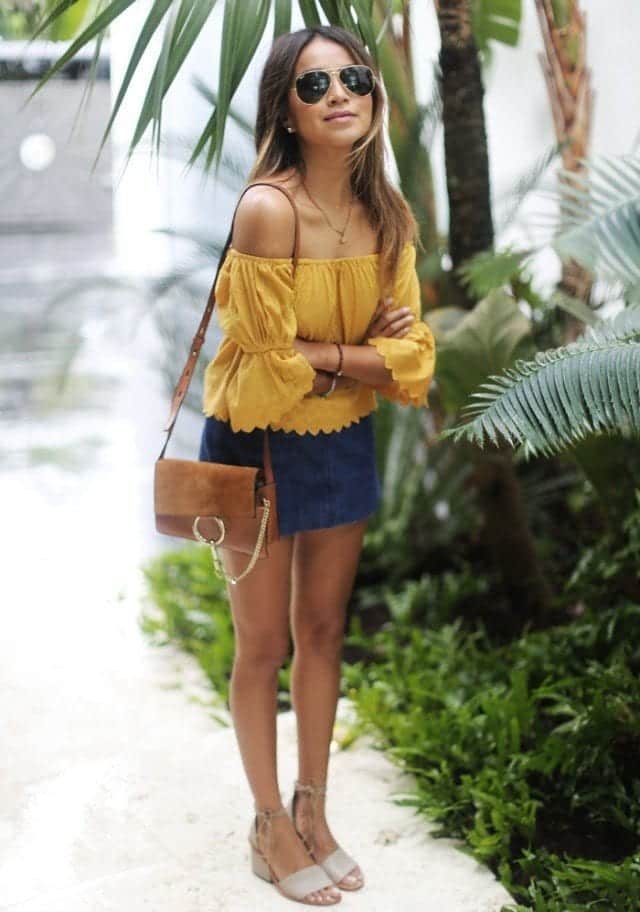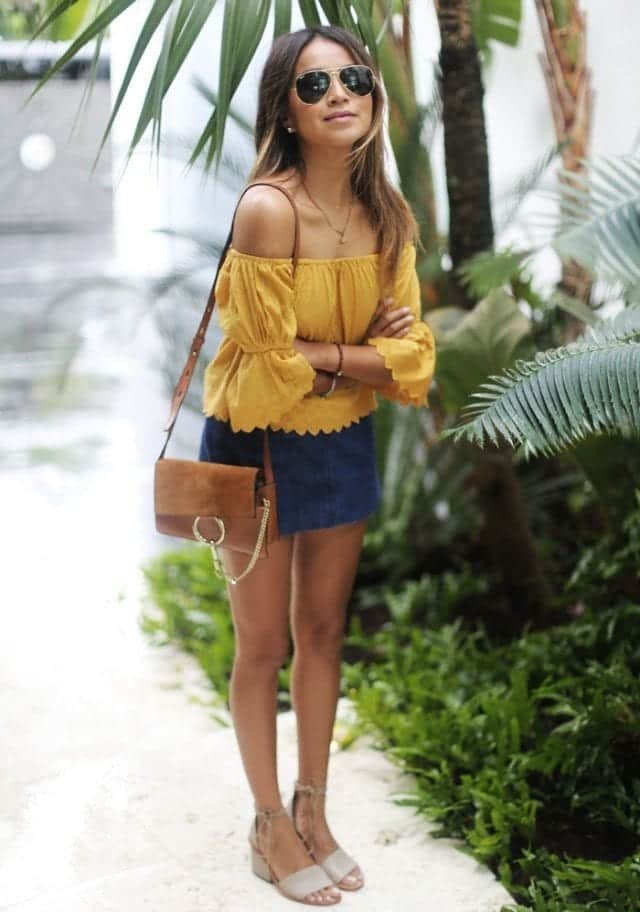 ↓ 52. Dressing up Boldly and Extravagantly
Put on your printed flared pants with plain top and bell sleeves.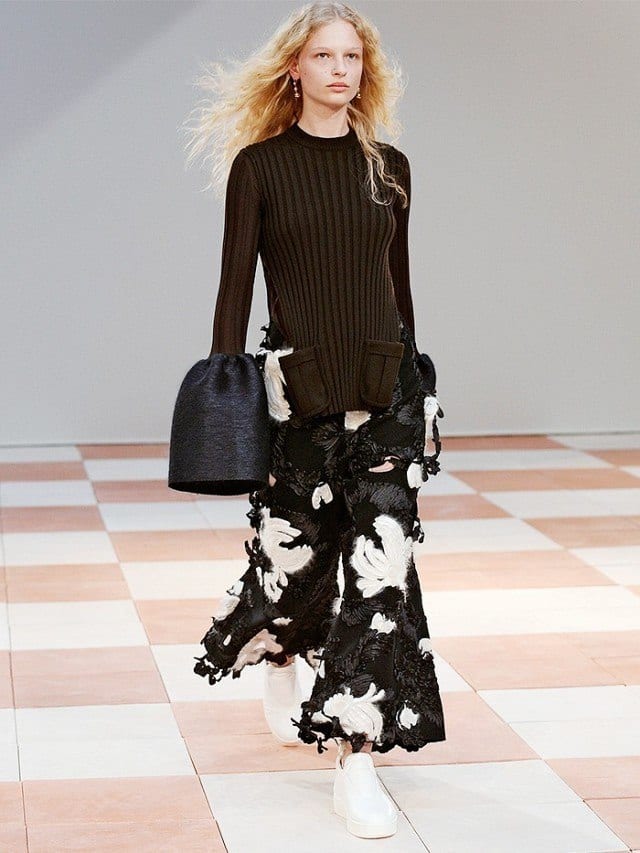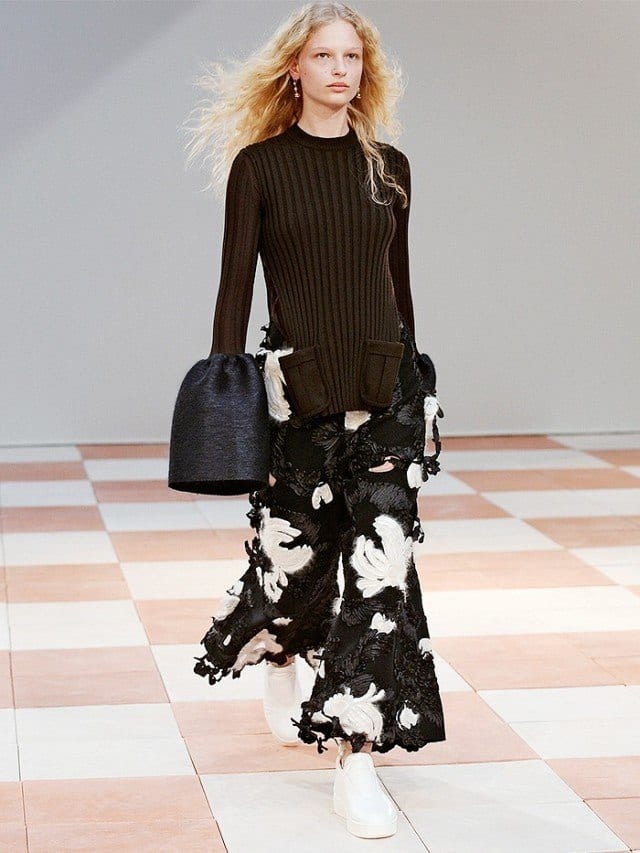 ↓ 51. Going for a Lunch Outfit
Going to a semi-formal lunch date? Wear your blazer with matching shorts and a plain white top. Heels are a must-have for any formal event.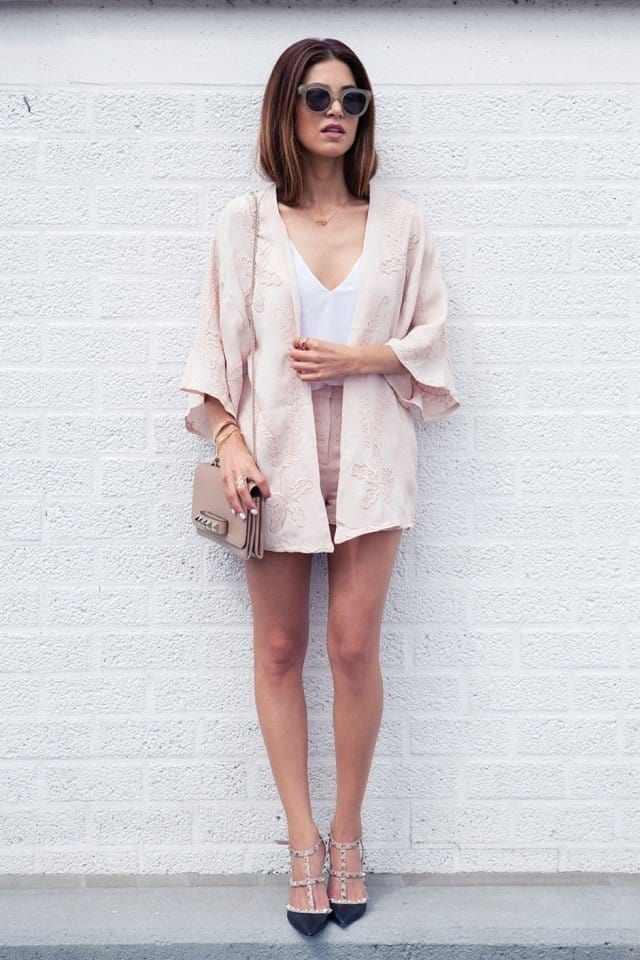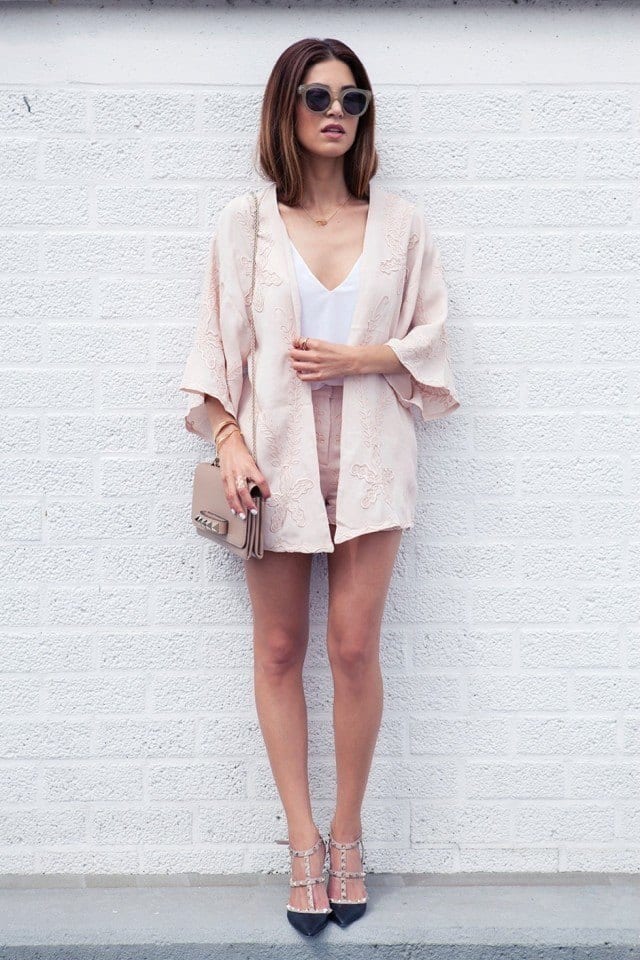 ↓ 50. Can You Wear Bell Sleeves To Work?
You can wear your regular white collared flared sleeves shirt to the office by pairing them with any simply trousers like cigarette pants.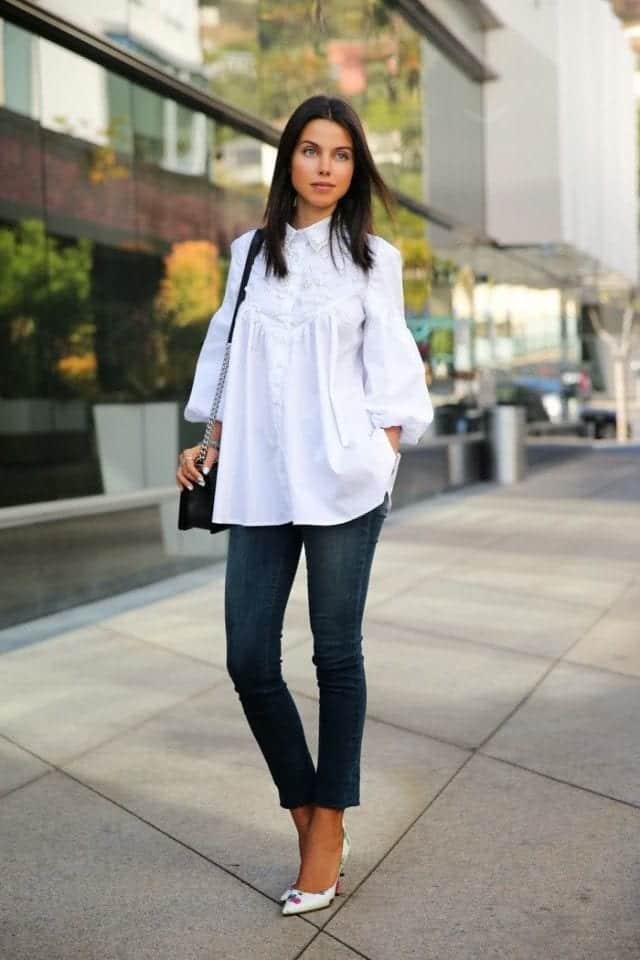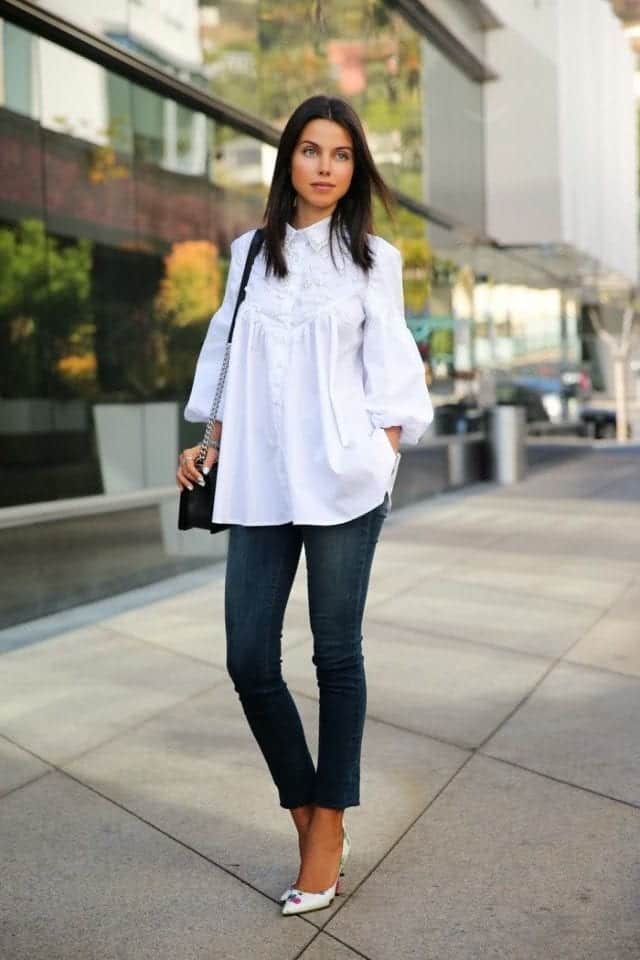 ↓ 49. Styling Red Bell Sleeves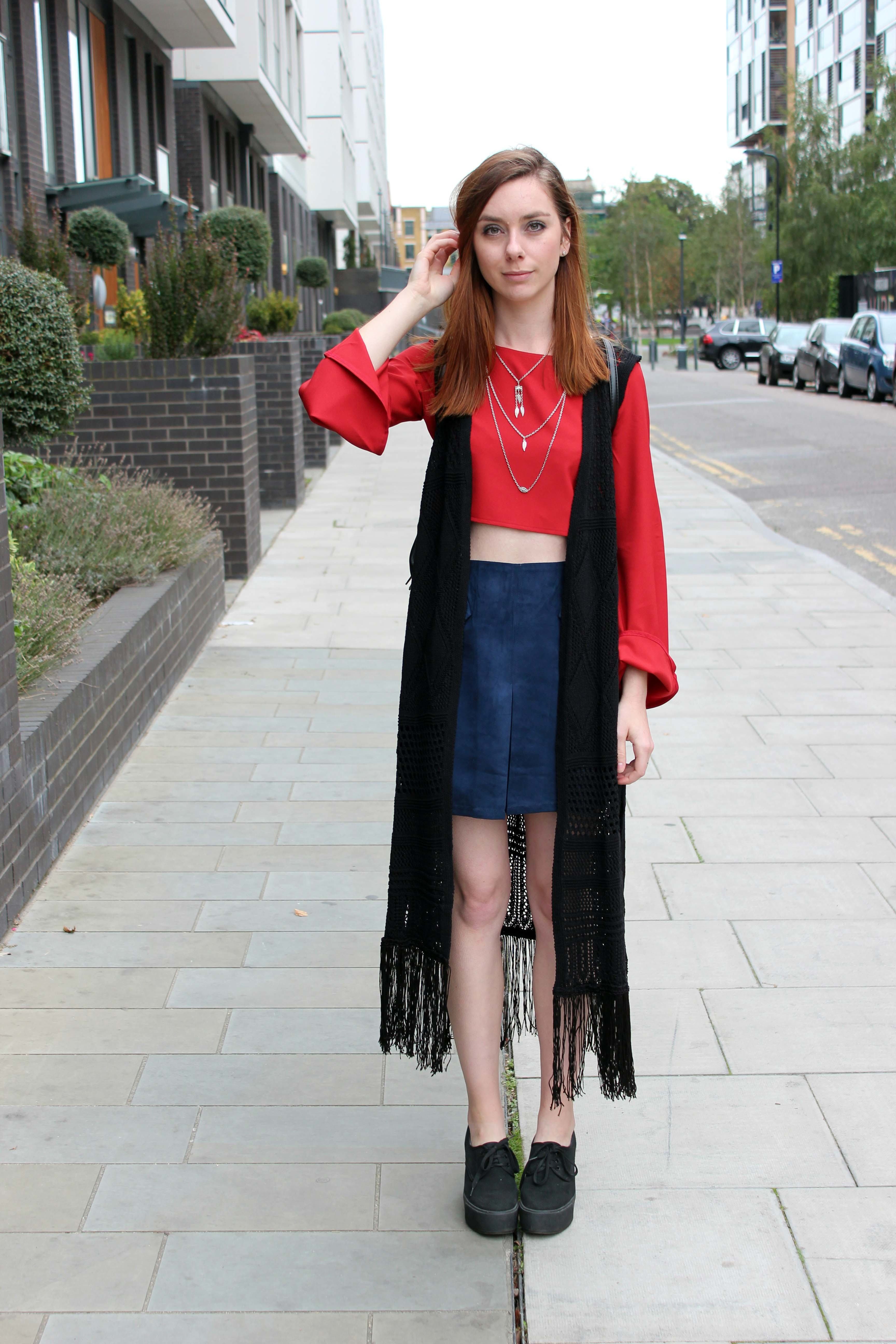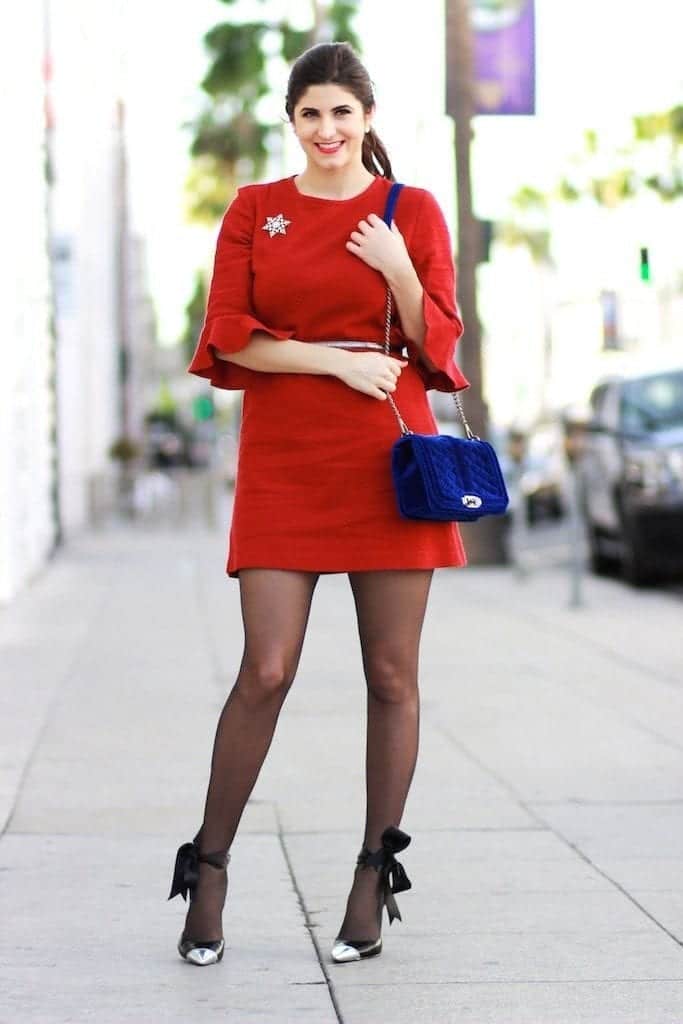 ↓ 48. Bohemian Fashion
Going to a picnic in the summers? Wear this flowy piece and rock your world.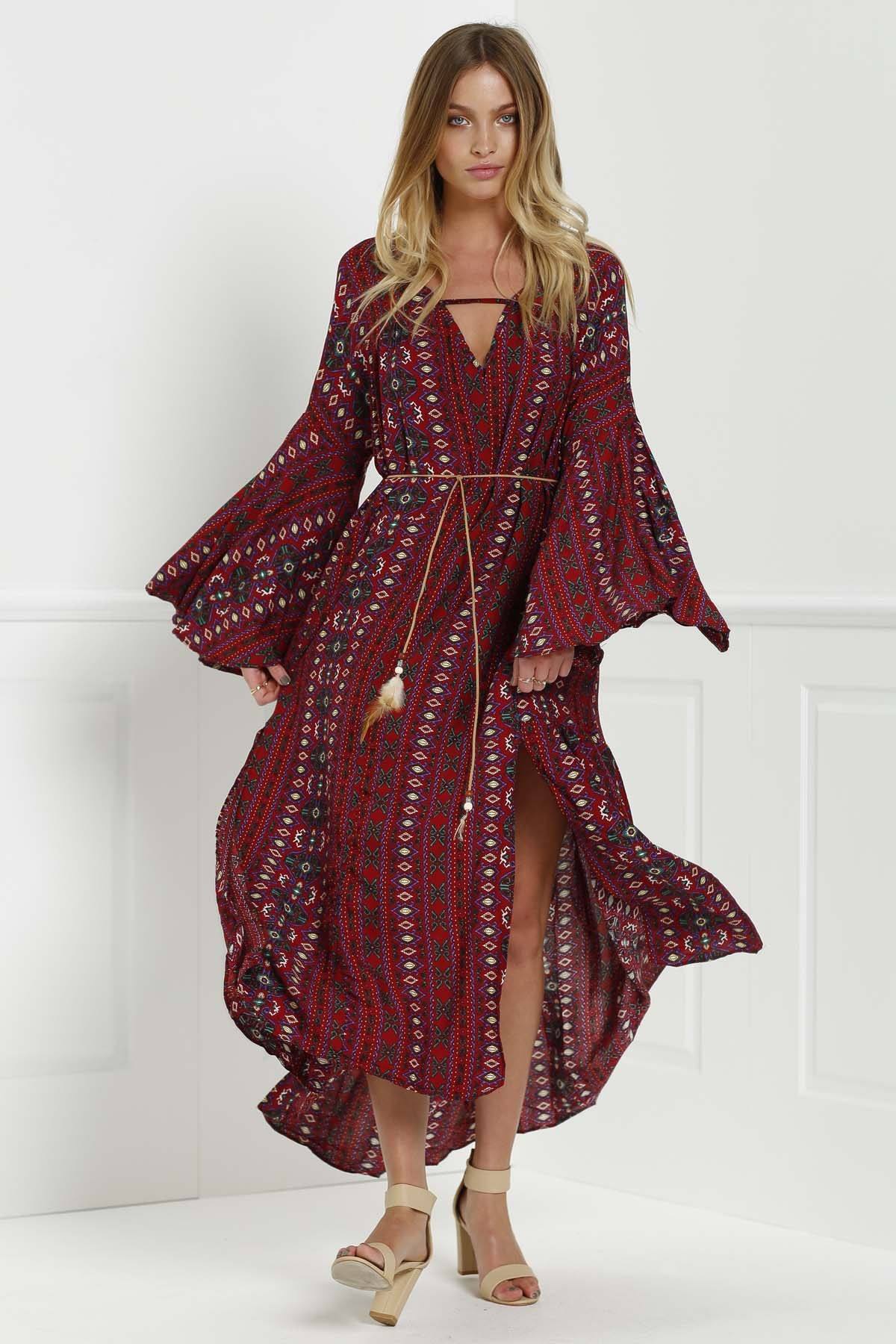 ↓ 47. Shopping During Summers Outfit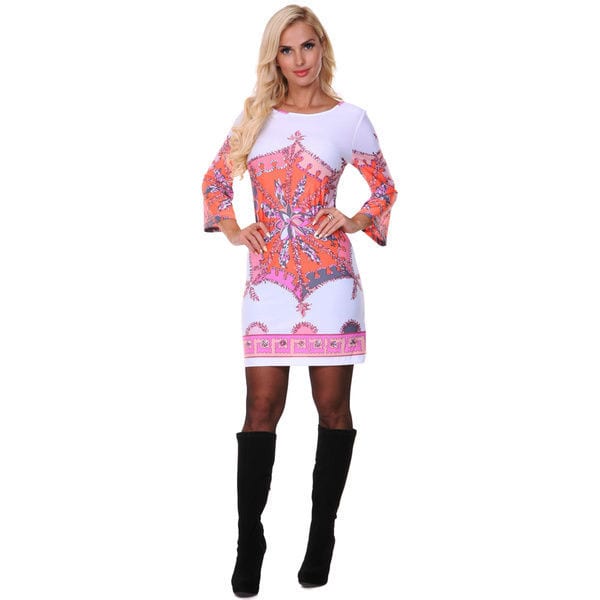 ↓ 46. Cocktail Party Dress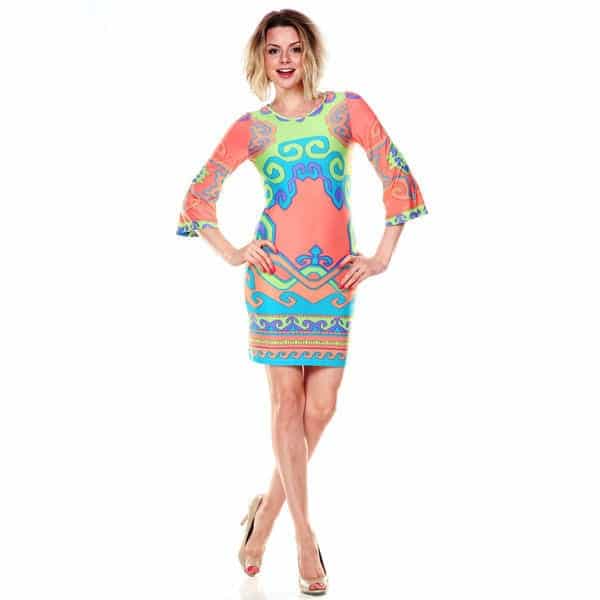 ↓ 45. Over the Knee Boots Fashion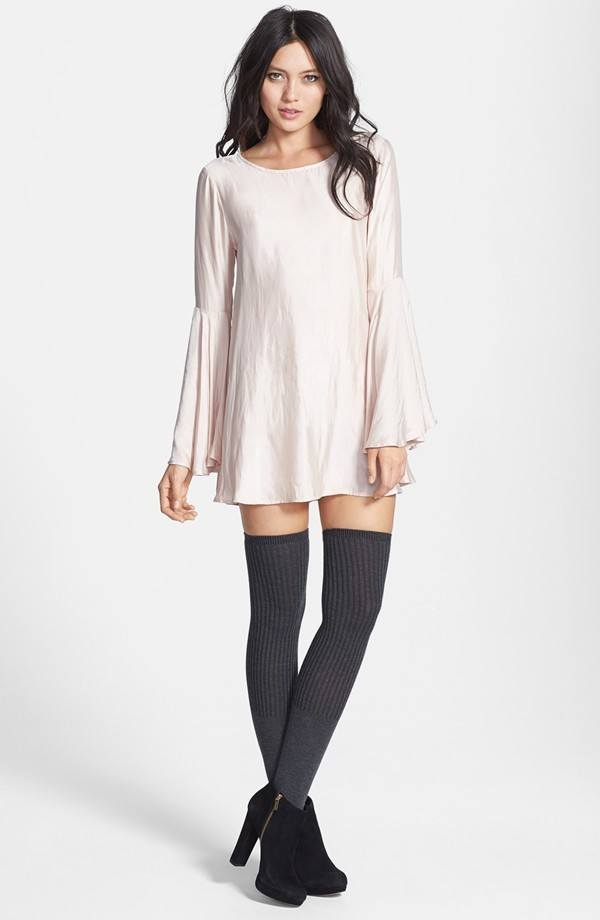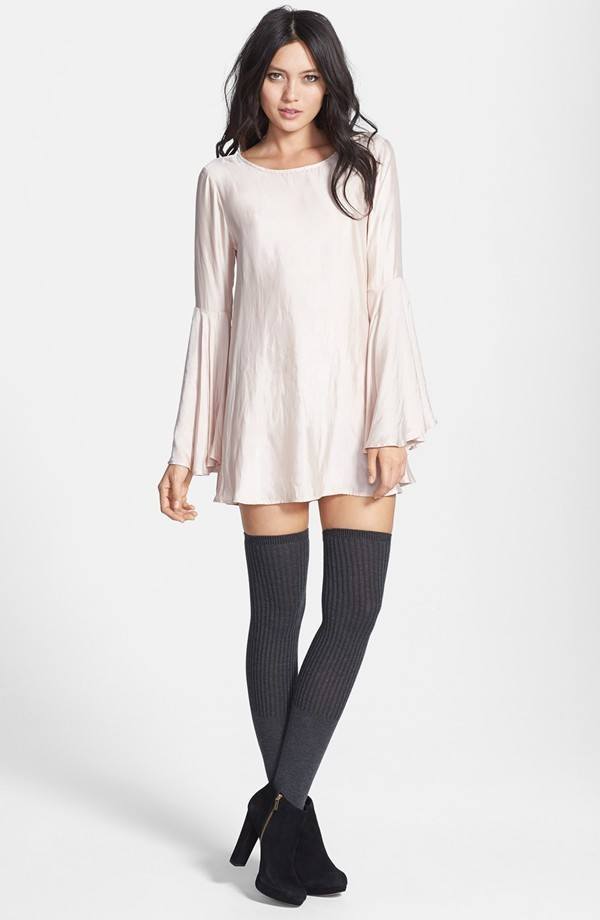 ↓ 44. Bell Sleeved Maxis

↓ 43. Gray Mini Skirt with Classic White Top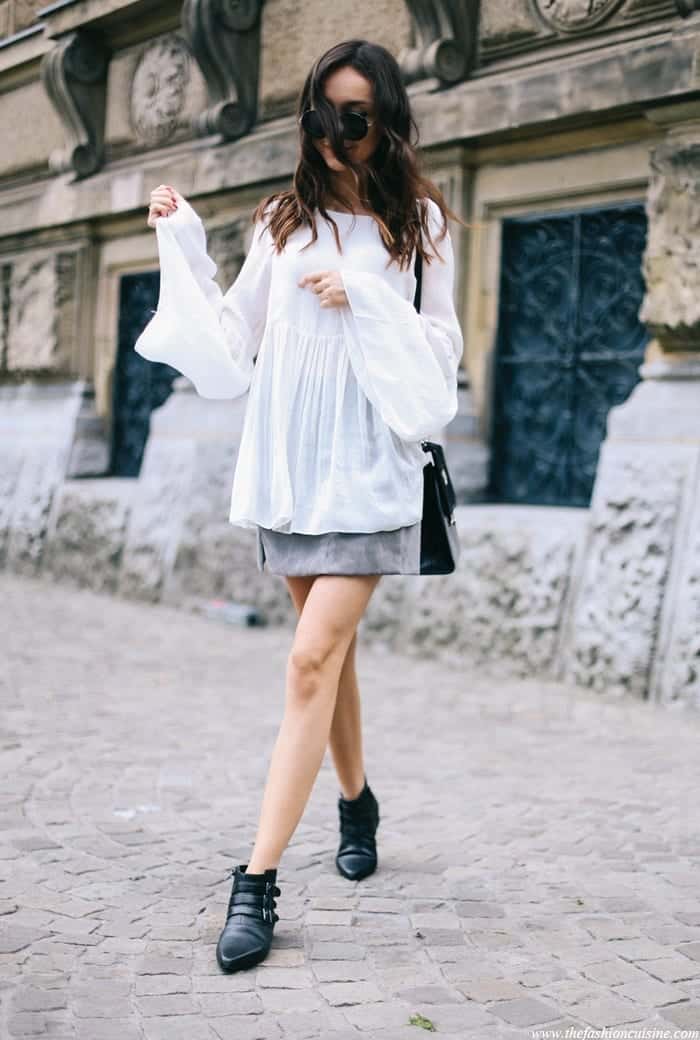 ↓ 43. Romper for a Fun Day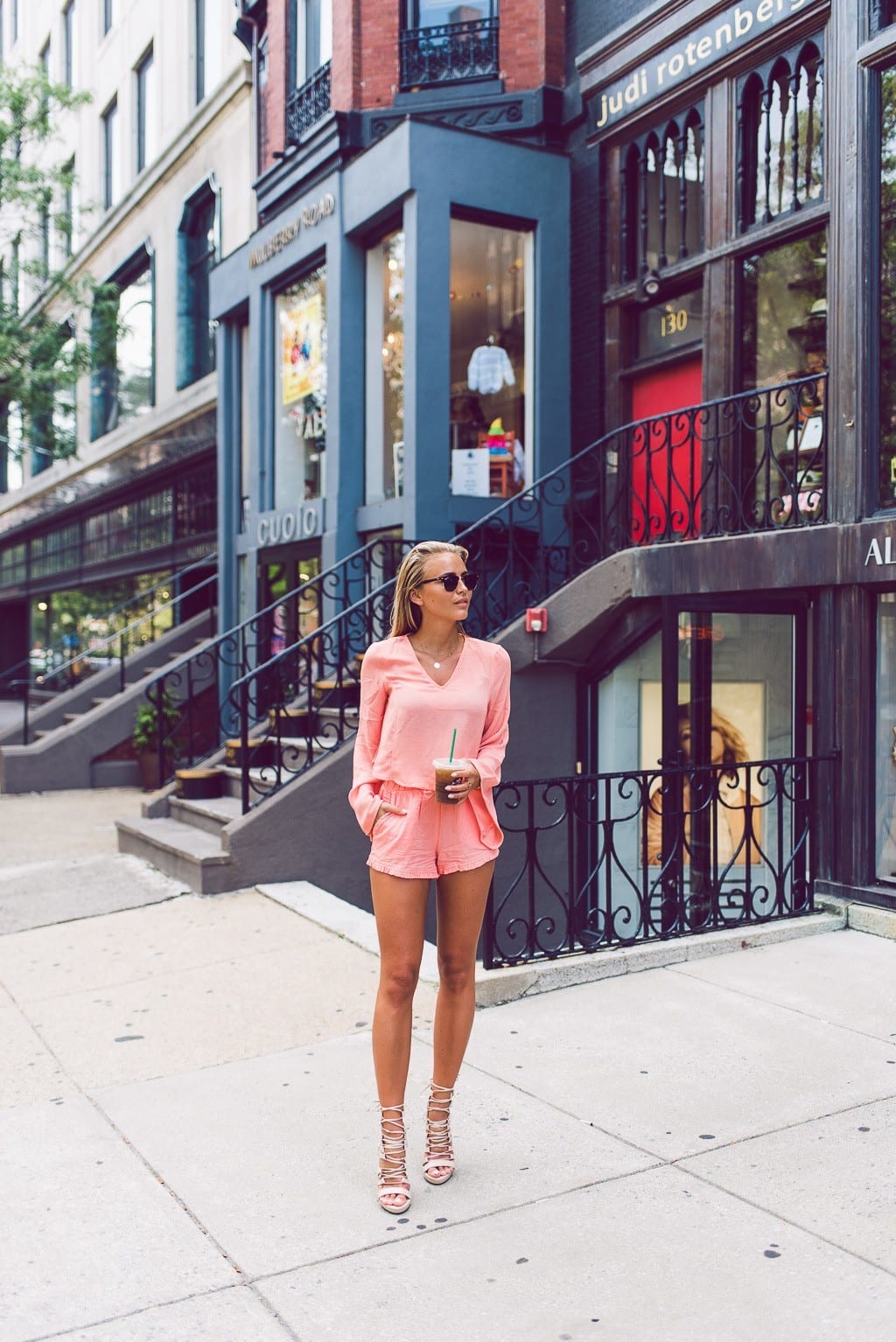 ↓ 42 – Vintage Fashion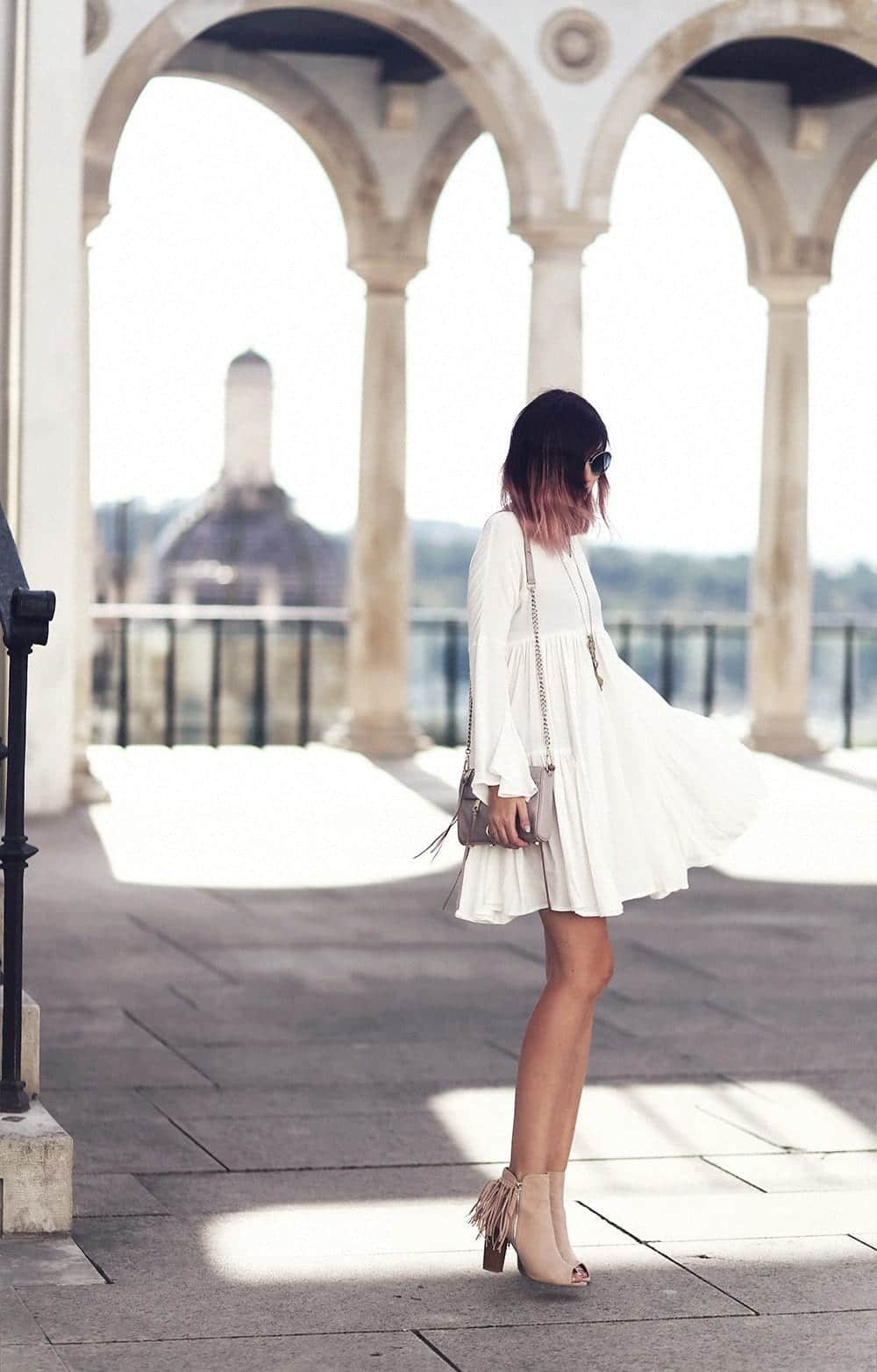 ↓ 41 – Bell Sleeved Playsuits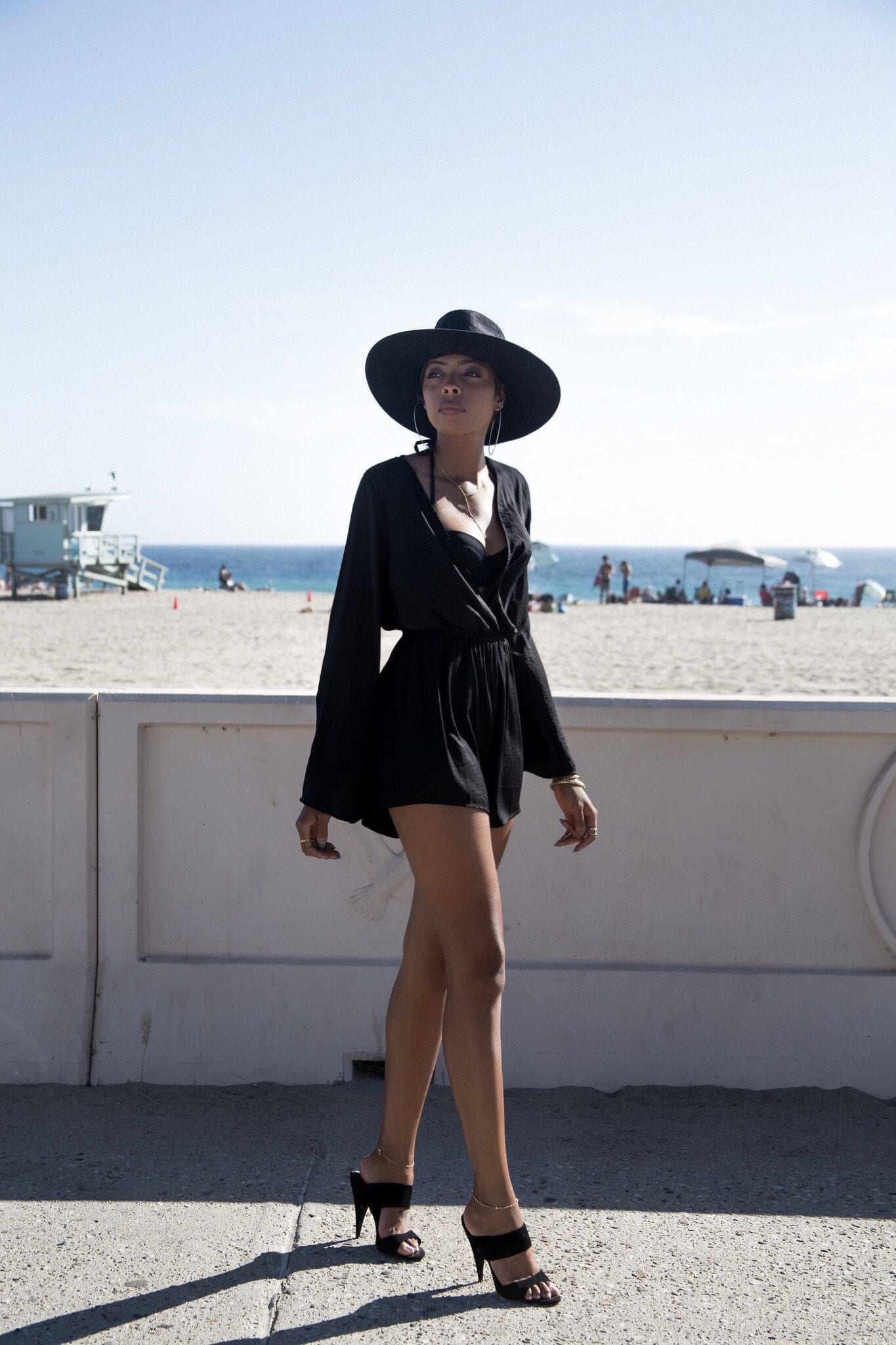 ↓ 40 – With Leather Pants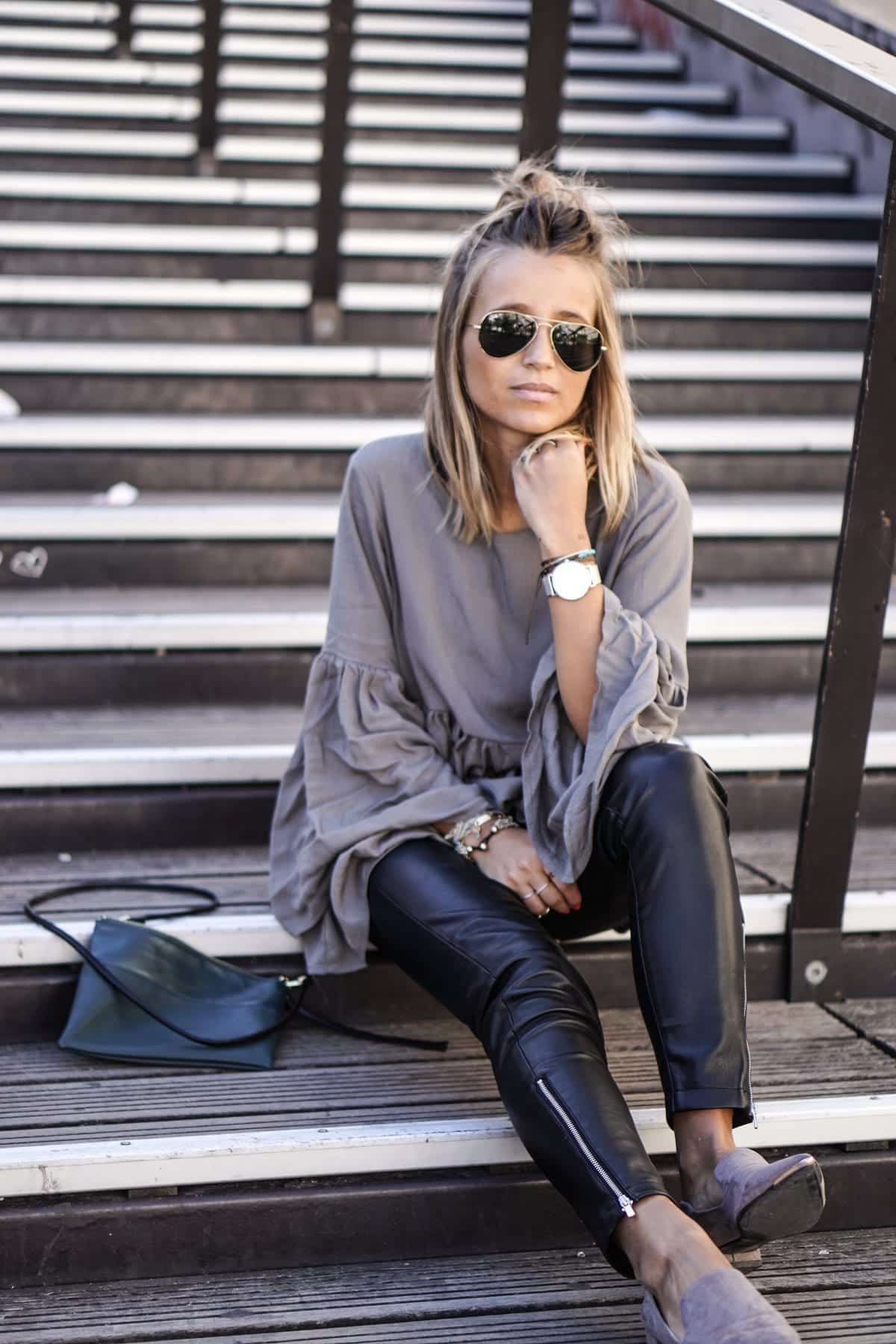 ↓ 39. Autumn Look with Boots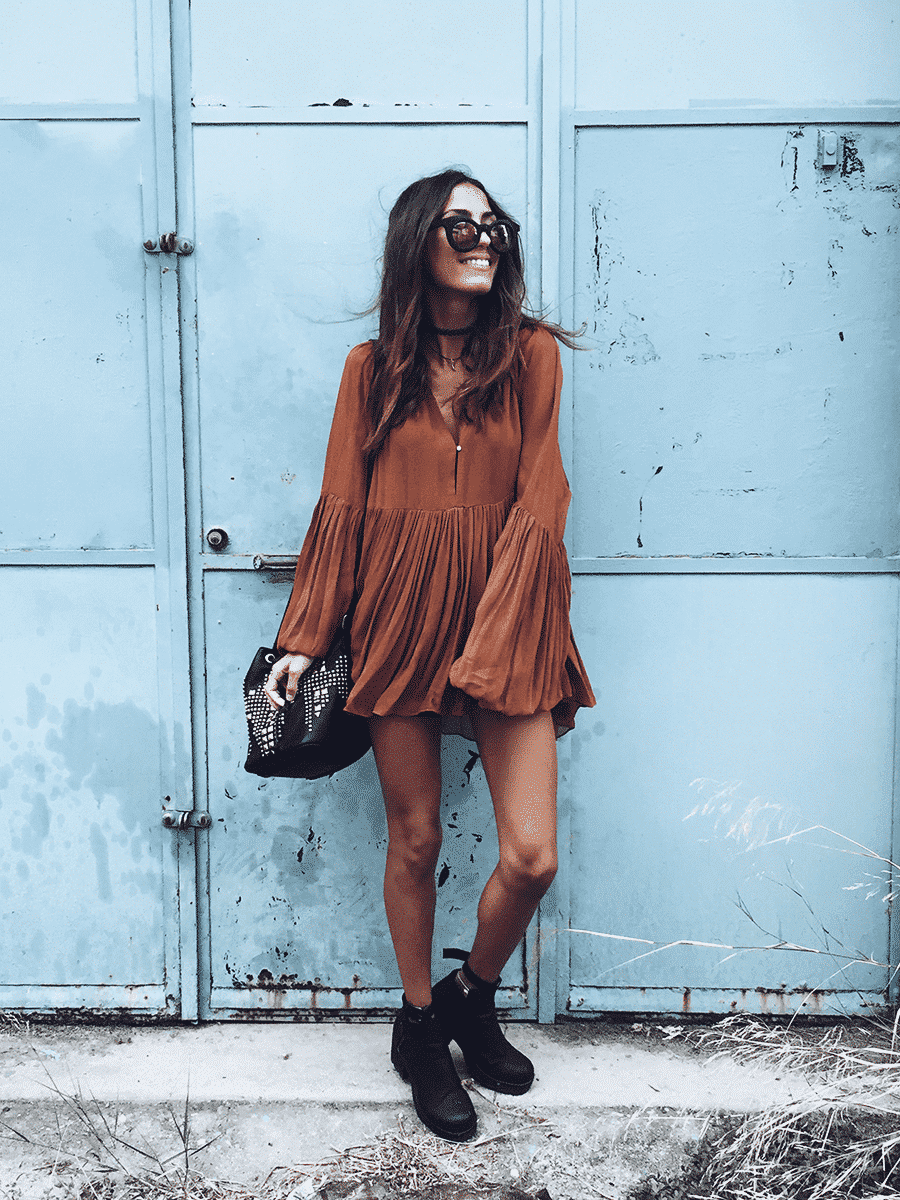 ↓ 38 – With Shorts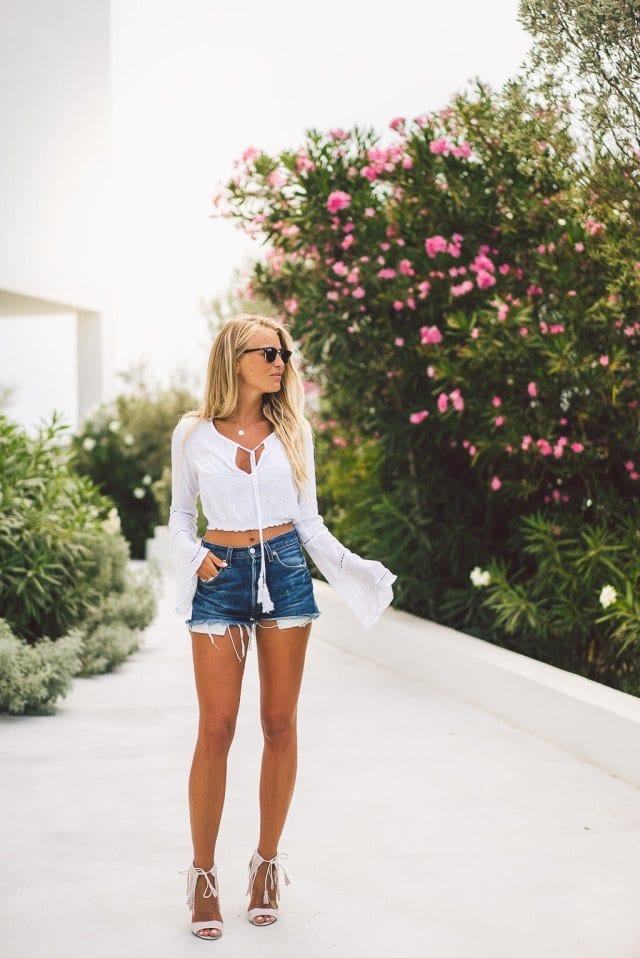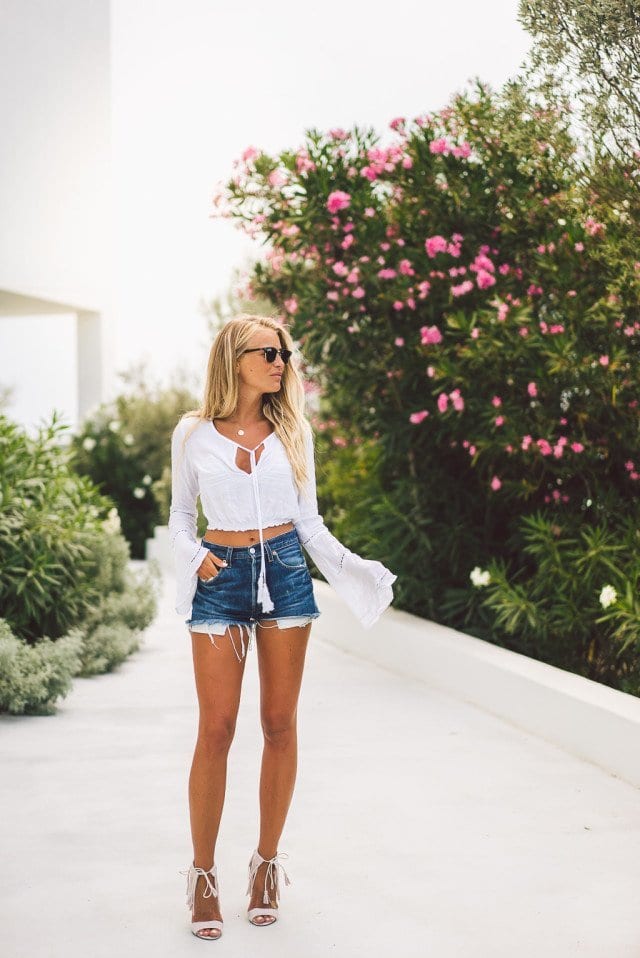 ↓ 37. Dressing up Bell Sleeves with Jeans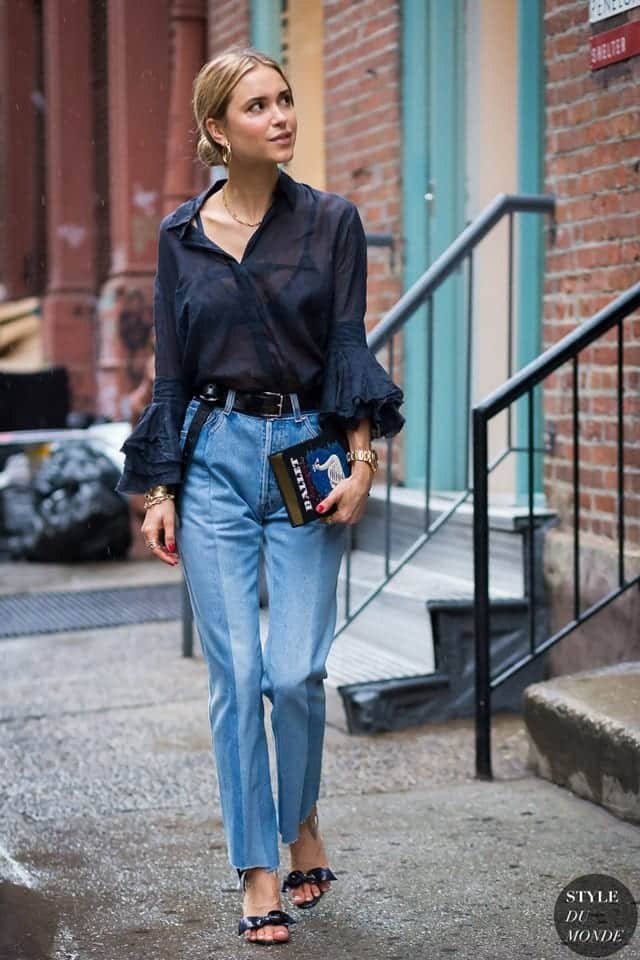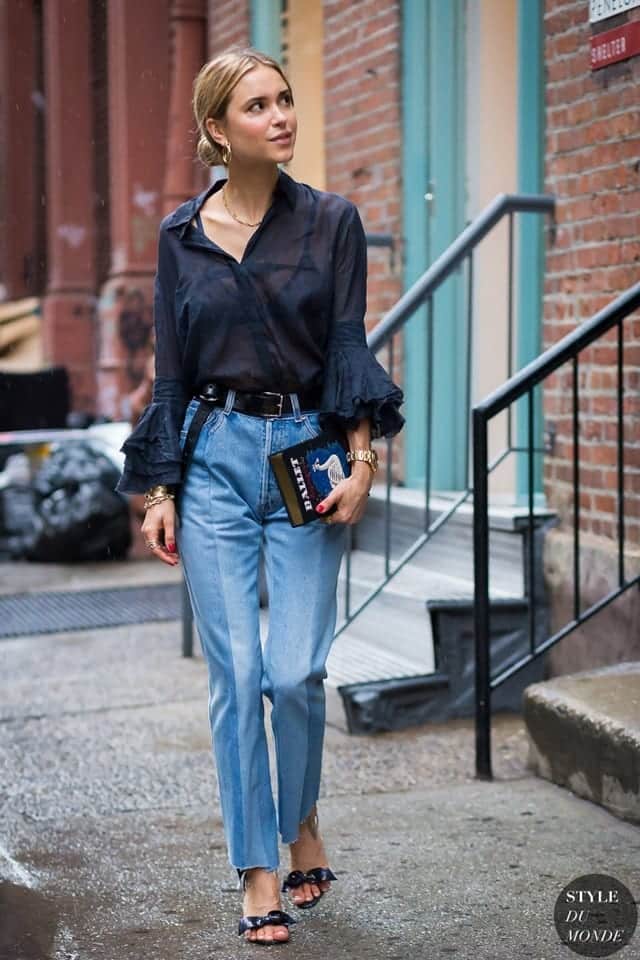 ↓ 36. All-White Party Wear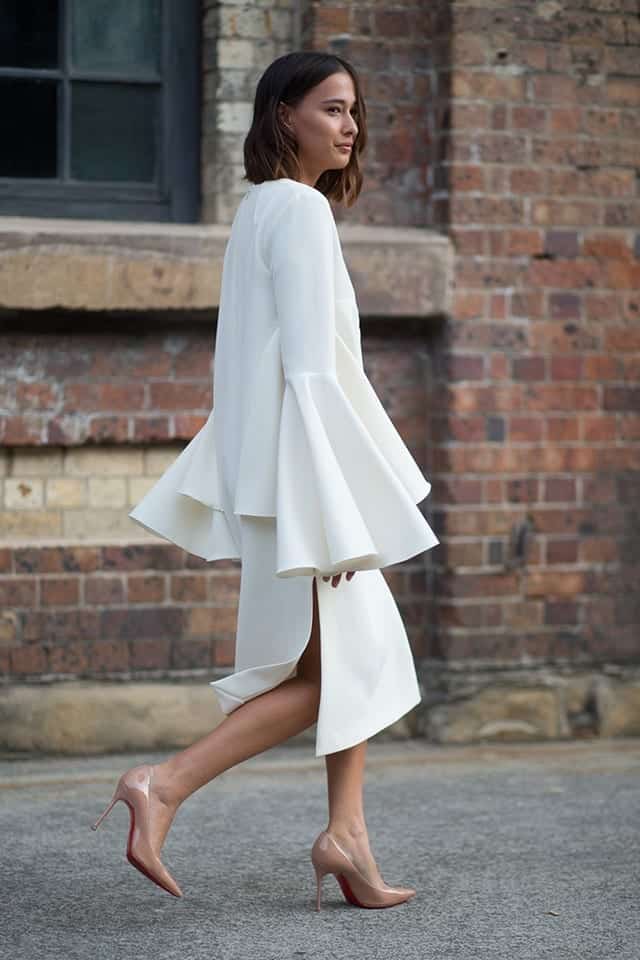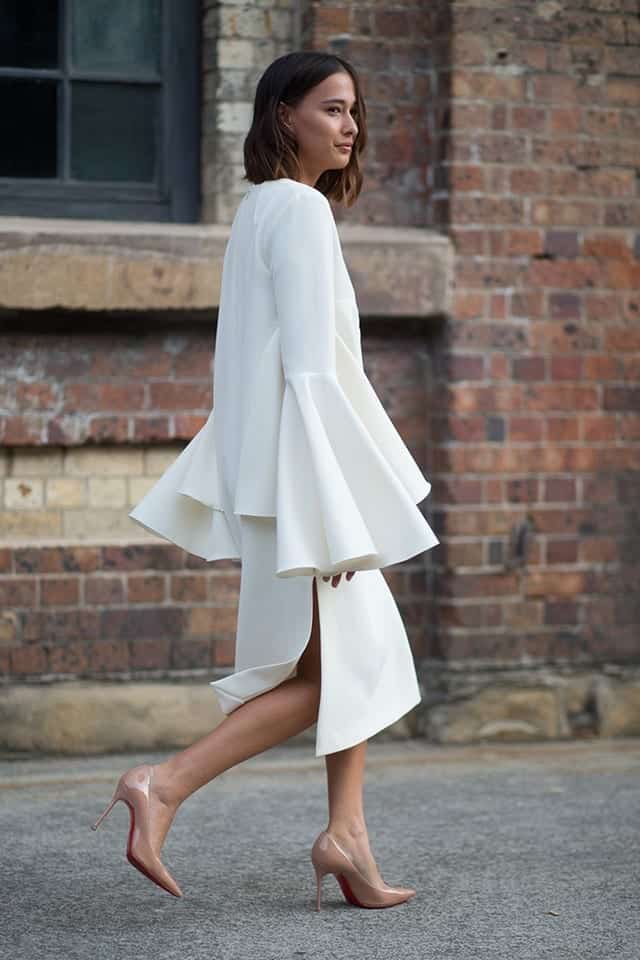 ↓ 35. Seventies Inspired Jeans
For a modern take on a classic look, let this soft ribbed bell sleeve top do the talking. Denim jeans with a slight flare evoke the '70s look for the girl who loves a little bit of a retro style. Let your hair down and pop in some cute stud earrings. This is a throwback look you will love trying!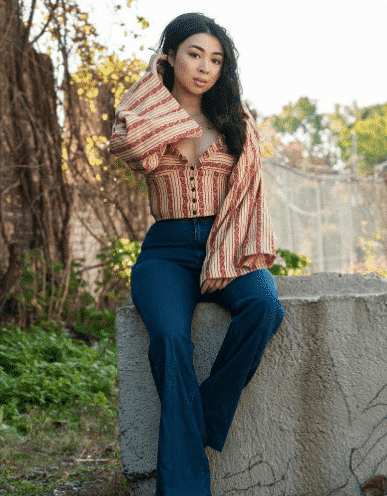 ↓ 34. Sweet & Simple for the Petite Girl
If you are petite and worry that bell sleeves might overwhelm you, the trick is to either go small with the sleeves and/or streamline your legs for a longer, more elongated look that balances the extra fabric up top. With this look, this sweet blue dress with a ribbed bodice and sleeve is paired with a nude sandal heel that makes the legs appear longer.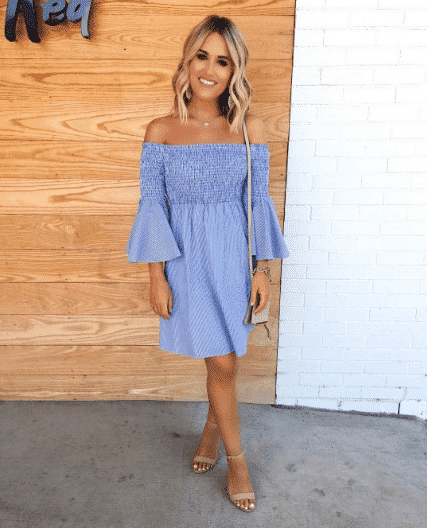 ↓ 33. Beach Inspired Summer Dress
For a look that is as gorgeous as it is summery, choose an off-the-shoulder, floor-length dress with an abstract print. This yellow and green color combo is tropical but understated. A nude heel and large, silver hoop earrings give a chic finish to this bell-sleeved dress while pulling your hair back in a sleek ponytail will add a sophisticated twist.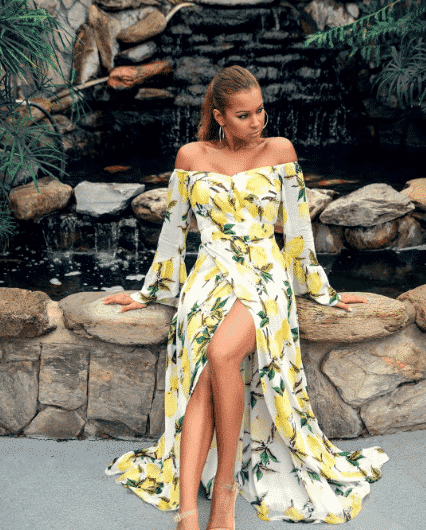 ↓ 32. Coral Sweater and Poncho
This cowl-necked, bell-sleeved sweater paired with a stylish, understated poncho will keep you warm all winter. The bell sleeves are subtle enough to wear under the poncho, which supplies extra fabric (and warmth) and yet one complements the other. Jeans and ankle boots complete the ensemble.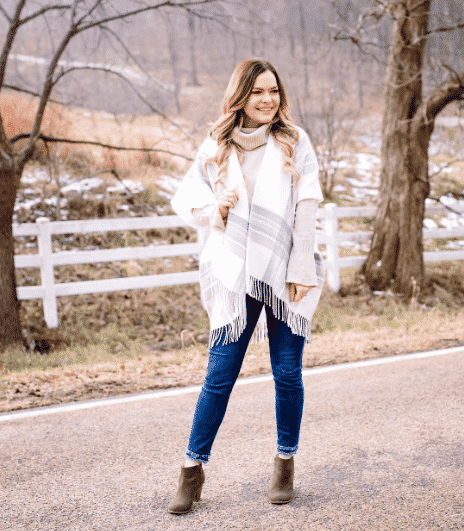 ↓ 31. Little Black Dress and Lacy Sleeves
For a completely unique and gorgeous twist on the classic little black dress, why not take a spin with these tiered lacy bell sleeves? Strappy heels instantly make this look the perfect date night outfit. To complete the look, check out these ideas on What Shoes To Wear With A Black Dress?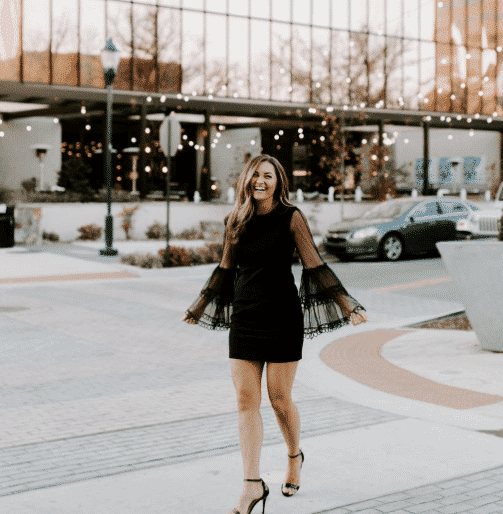 ↓ 30. Creamy Dress and Tiered Sleeves
If you wanted another petite-gal look, we've got you covered. This cream-colored dress features tiered bell sleeves and the hemline falls just above the knee. Keep the rest of your outfit streamlined and sleek to elongate your legs by pairing opaque tights with black pumps. A long pendant necklace will visually lengthen your body and serve as the perfect accessory.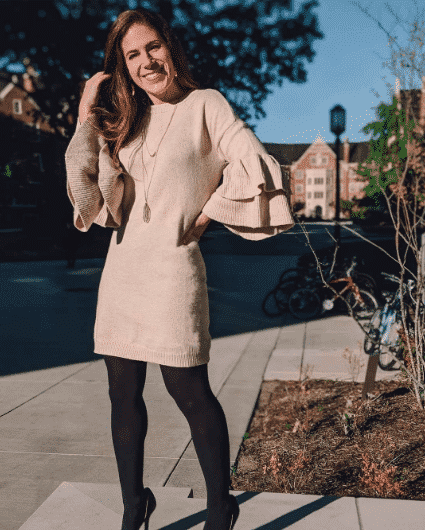 ↓ 29. Trendy and Stylish
This look which features a cute hat and flat-heeled ankle boots will forever be in style. This gray plaid dress has a faintly flapper-style silhouette with an understated bell sleeve. Pair with a handbag and over-sized sunglasses.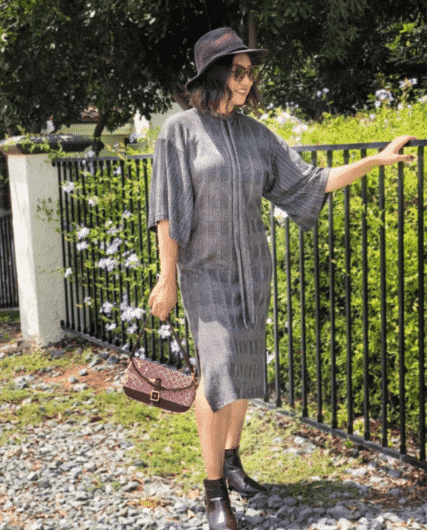 ↓ 28. Lace and Sheer Skirt
This ensemble is perfect if you want a whimsical look for a wedding or perhaps a church service. A long white skirt is worn with a lacy blouse featuring a scalloped hem on the sleeves. Nude or pale pink pumps match the top nicely and bring the look together.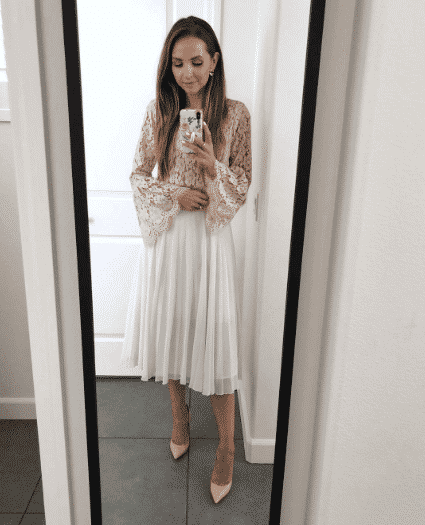 ↓ 27. Berry Red Bell Sleeves
Western girl meets chic in this fun little look that features a gorgeous berry red top tucked into mid-rise jeans and knee-high boots. Long loose curls and minimal accessories allow these adorable bell sleeves to do all the talking.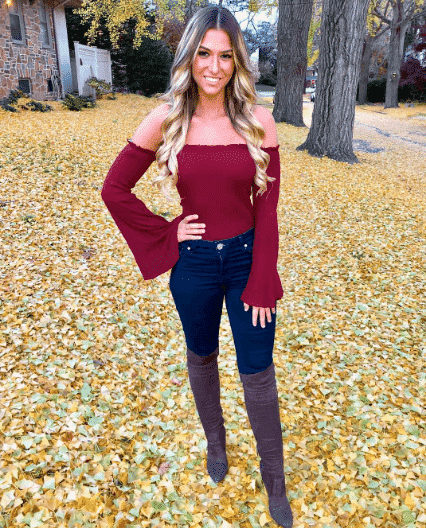 ↓ 26. Deep Purple Skirt and Flowery Top
A cute and funky look including knee-high boots, a beige fisherman hat, a deep purple satin skirt, and the real showpiece: a flowery blouse with long bell sleeves. Tuck your top into your high-waist skirt for a look that's as cute as it is fashionable.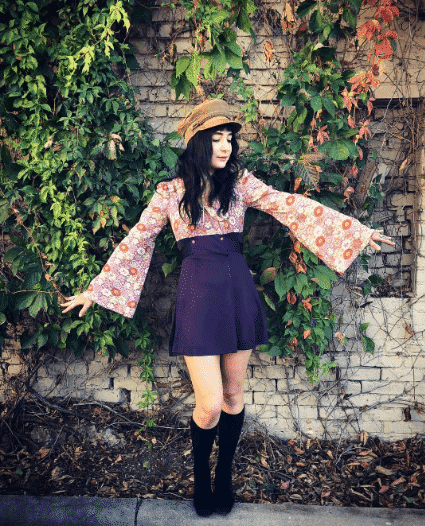 ↓ 25. Corduroy Skirt and Hat
Tuck a white, bell-sleeved top into a corduroy pocketed skirt for a look that is instantly stylish. A statement handbag and white hat (something between a fedora and floppy hat) complete the look, along with an over-sized pair of glitzy earrings. Ankle boots or closed-toe heels would pair well with this outfit.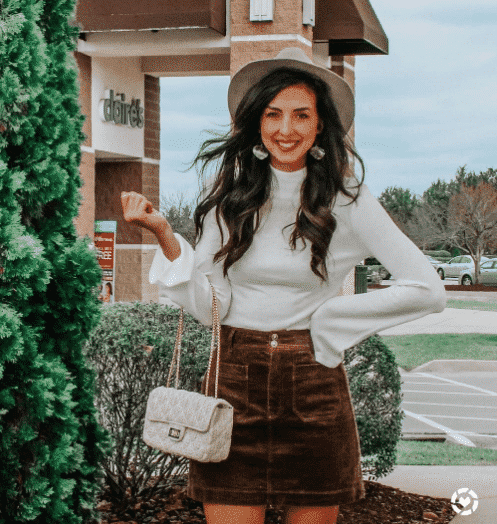 ↓ 24. Flouncy, Ruffled Bell Sleeves
With this look, it's all about the ruffles, the flounces, and those sleeves. Hemmed in white, this deep navy blue top is the star of the show. Pair with navy blue skinny jeans and baby blue ankle boots. Tie up that hair in a teased out pony and you've got a fun and girlish look for the books.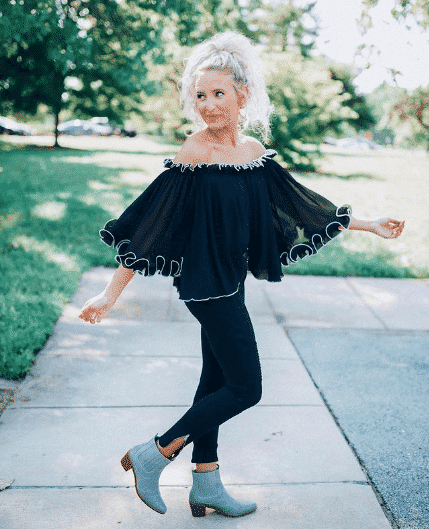 ↓ 23. Trend-Setting Jacket with Brass Buttons
Here's a twist on the bell sleeves we've seen so far! This standout blue jacket features prominent sleeves that can't help but steal the show. Worn over a shin-length knit dress, this is an eye-catching ensemble for the fashion-forward lady. Medium-sized hoop earrings, a hairband, and over-sized sunglasses complete the look.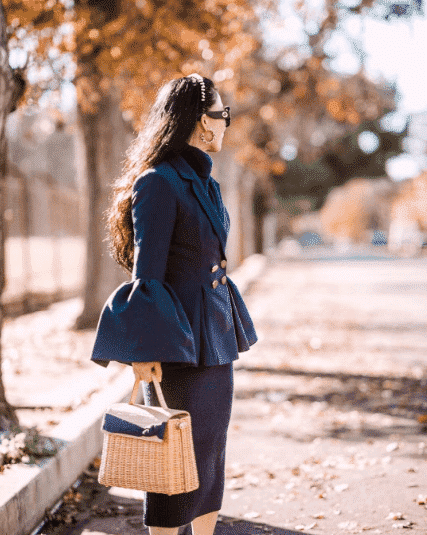 ↓ 22. Flowery Crop Top and Statement Wedges
Now, this is how you do bell sleeves in summer. This yellow, flowered crop top has tiered sleeves and is paired with some high-waist black shorts and wedges. Throw on some hoop earrings and let your hair down. This look is great for a beach party or a day out on the town.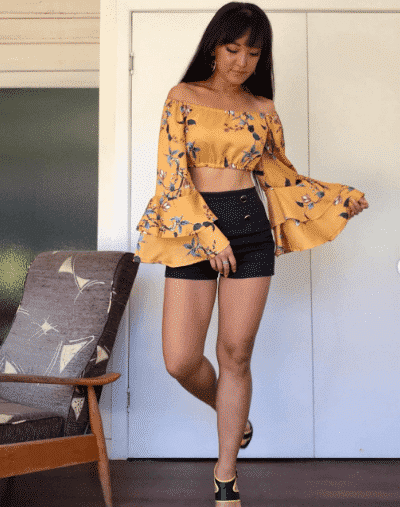 ↓ 21. Jeans, Sleeves, Heels
For a day where you're running around doing errands or simply heading out for lunch with the girls, this bell-sleeved look is cute and super easy to replicate. Faded, ripped jeans keep the look casual while this white, bell-sleeved top and cheetah-printed heels dress it up a bit. Add a long necklace to visually elongate your body. Let your hair down and voila.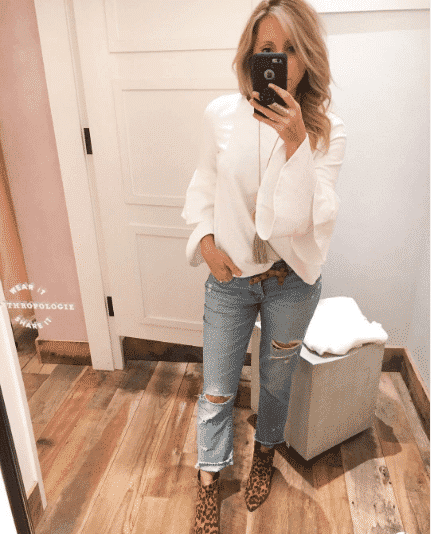 ↓ 20. Bright and Beautiful
This is for all the tall and curvy girls that love a flowing dress! Throw on a pair of cherry red heels and matching lipstick and let your skirt and sleeves do all the talking. Perfect for a garden party or a vacation outfit, this heart-stopping look deserves all the heart eyes.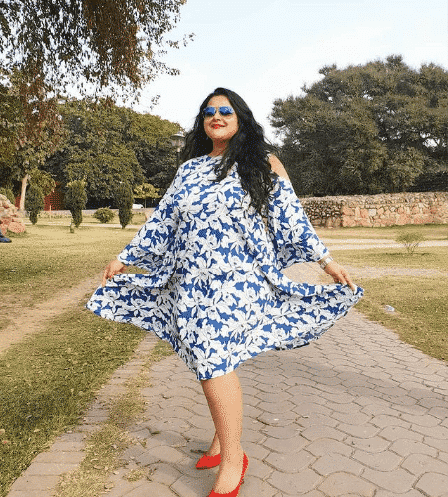 ↓ 19. Party Ready Like Selena Gomez
These gorgeous sleeves are the only accessory you'll need for this outfit. A simple handbag and flats or sandals will make this the perfect outfit for a hot summer day.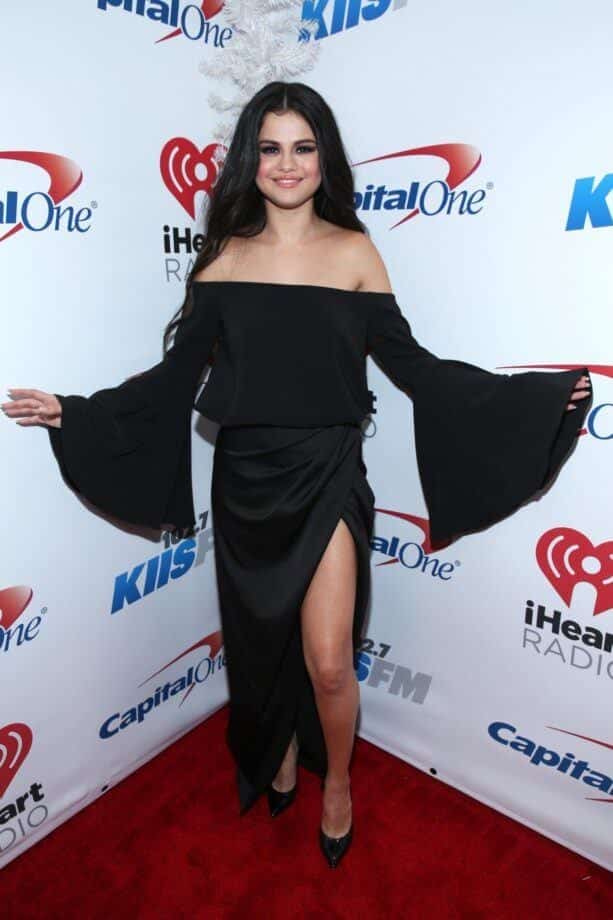 ↓ 18. Cream-Colored Bell Sleeves
For this fashionable ensemble, pair a cream-colored bell-sleeved top with a long necklace. Tuck in to skinny jeans and match your belt and sandals for a stylish outfit, perfect for a lunch out.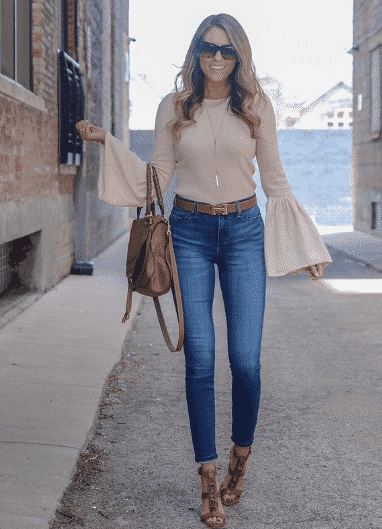 ↓ 17. Crocheted, Bohemian Dress
A stunning example of the versatility of bell sleeves: this creamy white crocheted dress is the ultimate boho look. (A wedding dress option, perhaps?!) Pair with soft brown boots and designer rings.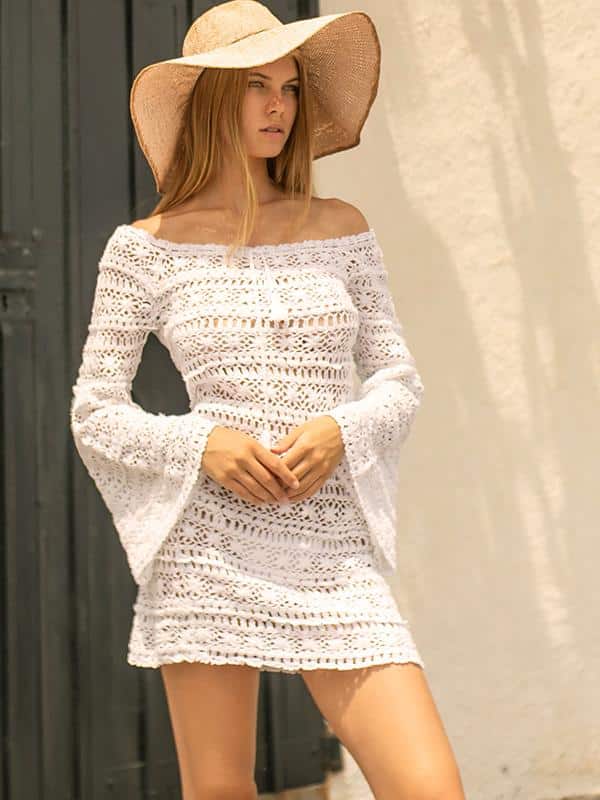 ↓ 16. Cute, Summer Look
This dress is sweet and flirty! Tiered bell sleeves and a tiered skirt make this flowery little number the perfect choice for a warm spring day or a summer evening. Throw on some thigh-high boots and a little purse and you will want to be wearing this cute ensemble all summer long!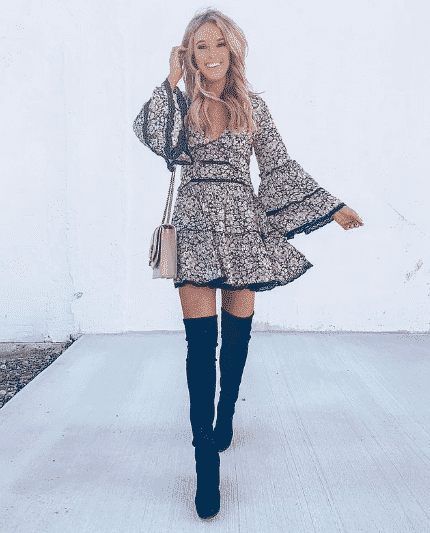 ↓ 15. Off-the-Shoulder White Dress
As all fashionistas can attest, bell sleeves are the perfect match for an off-the-shoulder dress. Play up this simple look with some over-sized sunglasses and a fun handbag. Perfect for a beach party or a day at the mall with the girls.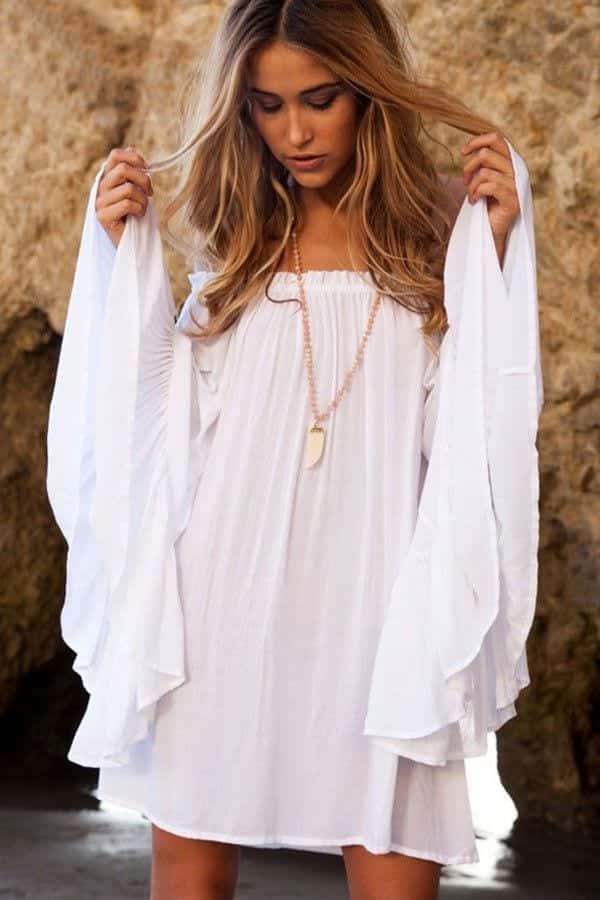 ↓ 14. Gray Bell-Sleeved Top
With this top, it's all about the sleeves. Trimmed in white and paired with dark jeans, you don't even have to add accessories. This is a statement look that deserves all the attention.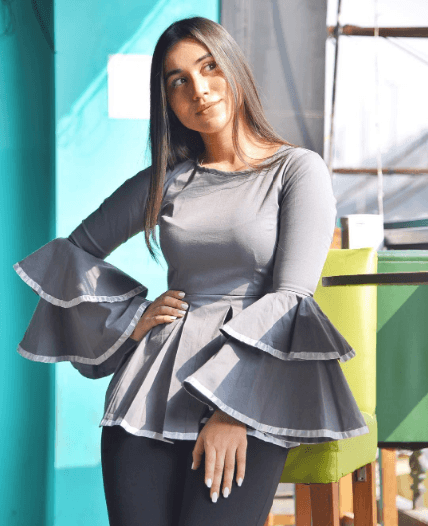 ↓ 13. Cute and Flirty Top and Shorts
Throw this outfit on for a day out at the beach. This flowery top is loose and goes well with cut-off denim shorts and a straw hat. Throw on some flip-flops and some big statement earrings and bam! You are ready to rock the beach.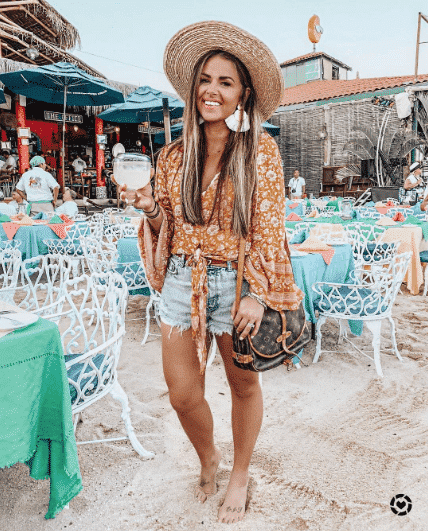 ↓ 12. Button-Down Dress with Bell Sleeves
This look is perfect for a night at the theatre or even a concert. This long button-down dress is simple, but the three-quarter length bell sleeves add a stylish flair. A thin clavicle necklace would make the perfect accessory for this look.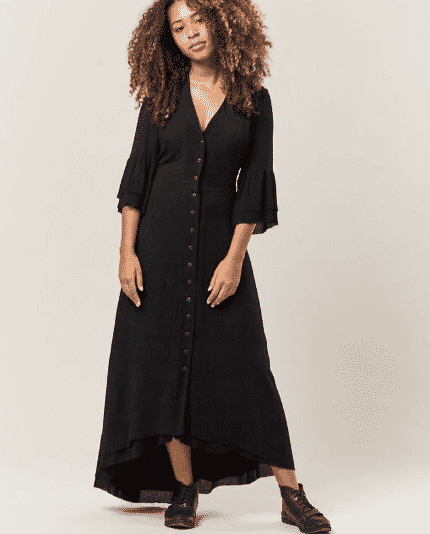 ↓ 11. Tiered Bell Sleeved Dress
You can never have enough bell-sleeved dresses! This is another one where the sleeves are the real showcase. Well, the sleeves and this great print. Pair with some strapped sandals and drop earrings and be prepared to be the envy of all your fashion-conscious friends.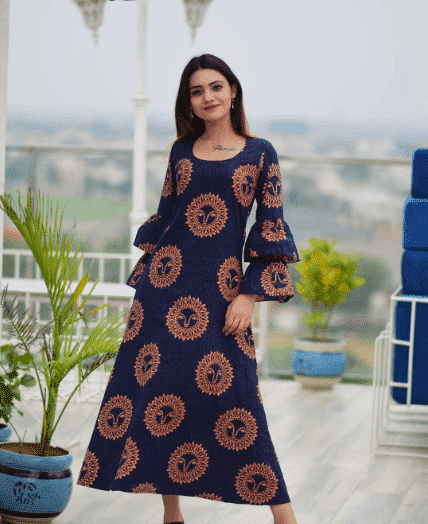 ↓ 10. White Jeans and Soft Leather Boots
You can't go wrong with this simple and solid look. Throw on a black, bell-sleeved top and tie the hem right at your midriff. White jeans and some soft brown boots complete the look. Super easy and super fashionable.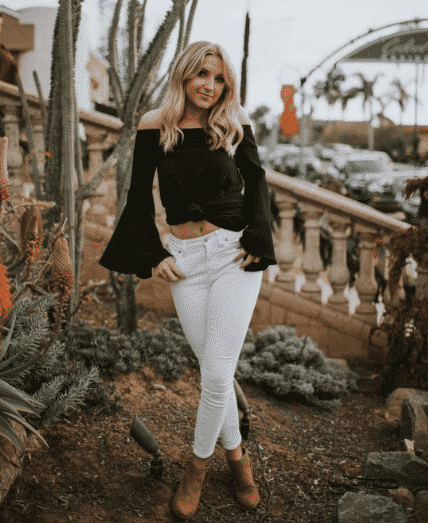 ↓ 9. What To Wear With A Bell-Sleeved Cardigan?
This look shouldn't take you more than a few minutes to pull together. A simple gray cotton dress is worn under a lightly patterned cardigan and paired with some simple flats. Add a purse and throw on some sunglasses. Perfect for a lazy beach day.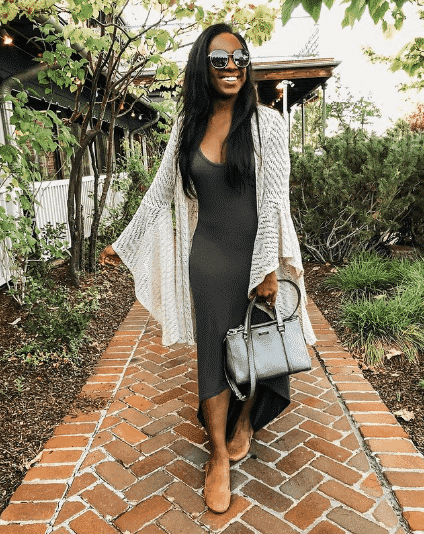 ↓ 8. Black Sweater Dress
This look is perfect for an autumn day. This sweater dress has some fashion-forward bell sleeves that look ridiculously cute paired with these peep-toe boots.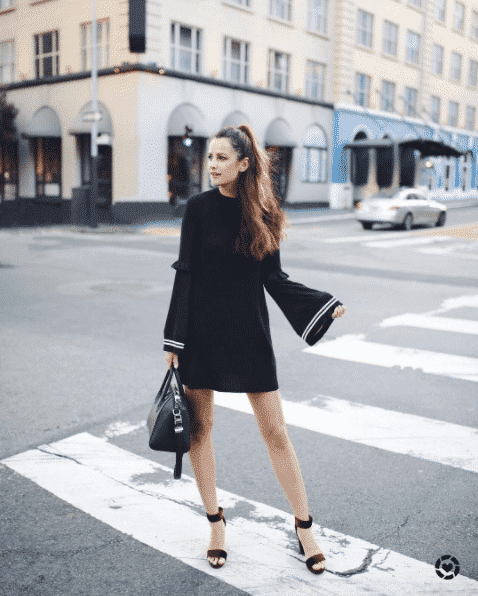 ↓ 7. Off-the-Shoulder Velvet Body Suit
This velvety black bodysuit is perfect under this floral skirt when paired with knee-high boots. A long pendant finishes off this fashionable look and draws the eye downward, visually lengthening your body and letting you enjoy your rocking bell sleeves. Here are some more ideas on styling Cold Shoulder Tops.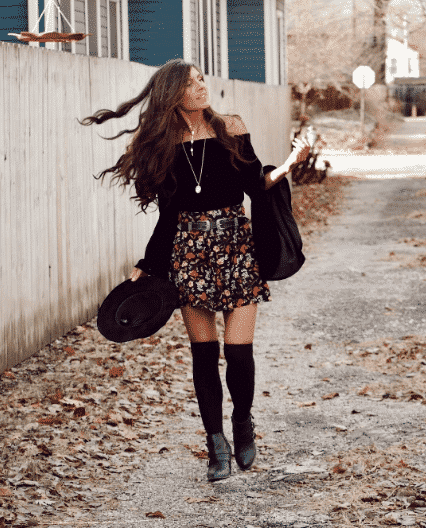 ↓ 6. How To Wear Bell Sleeved Sweater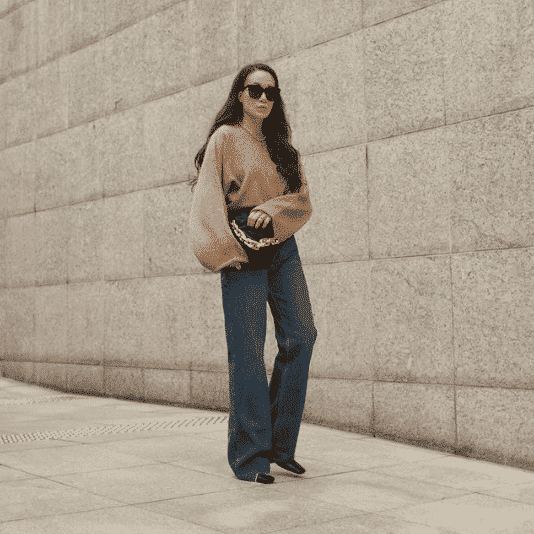 ↓ 5. How To Wear Bell Sleeves Casually?
This is the perfect look for a day where you want to look casual but still put together. Tuck an off-white, bell-sleeved top into a pair of jeans rolled at the hems. Pair with a clunky pair of beige sandals and finish by tying your hair up in a high ponytail. Chic, easy, and comfy? Check them all because this look has you covered.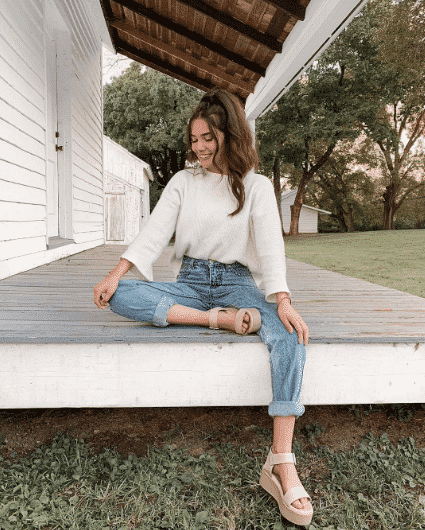 ↓ 4. Panama Hat and Matching Outfit
Matching outfits can be hit or miss, but we're pretty sure this is a hit! All you need are some sandals and a chic purse and you'll be all set. The looser fit of the shorts mimic the loose flare of these sleeves but the fitted crop top keeps the look balanced. A panama style hat makes the perfect accessory. If you're a fan of hats, you'll love our previous post on Cute Hats for Girls To Wear In Summer/Spring Season.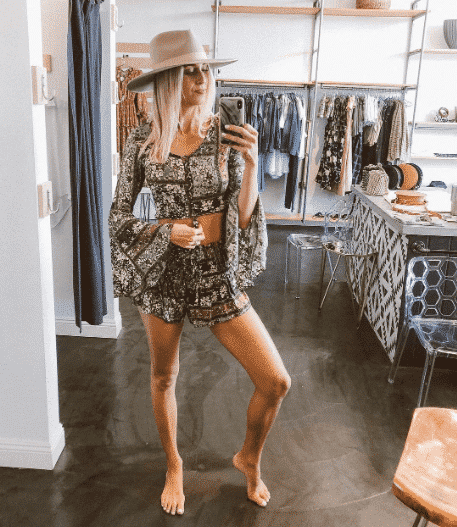 ↓3. Leopard Pumps and Black Bell Sleeves
For a sweet summer look, try a bell-sleeved dress with animal print pumps and white jeans. It's darling, it's simple, it's classic. You'll love it so much you'll want to wear it all summer.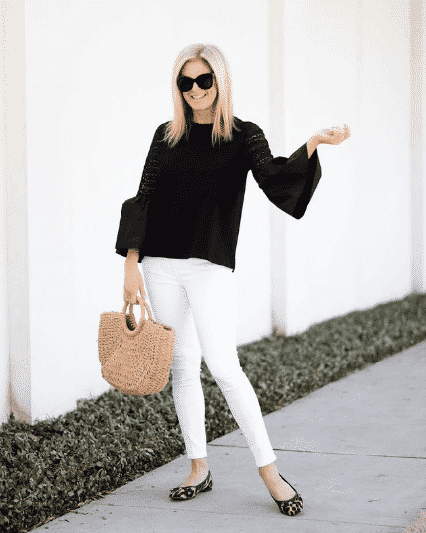 ↓ 2. Black Jeans and Yellow Lace Top
A midriff-baring look features a dark brown bandeau under a yellow, bell-sleeved top. Wear with black skinny jeans and a cute pair of heeled sandals. You'll feel fresh, fun, and fabulous in this ensemble.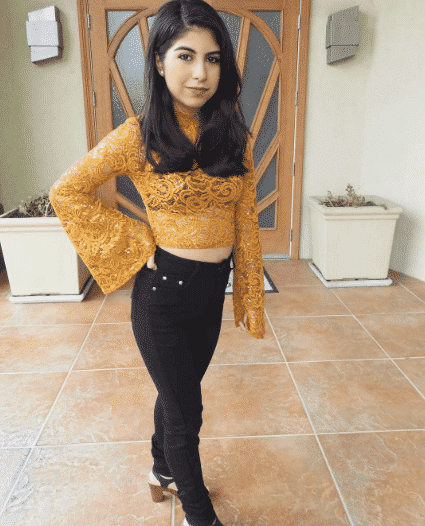 ↓ 1. Leather Black Pants and White Bell-Sleeved Top
The last one is for the fashionistas! These sleek leather pants are the perfect complement for this white top that features an array of stylish detail: a row of little black buttons down the front, a knotted tie over the stomach, and black lace ties in the sleeves. A pair of black heels complete the look and give this outfit a chic finish.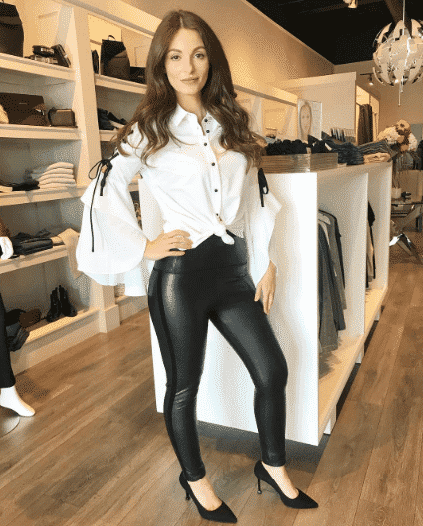 With these looks, you are well on your way to becoming a veritable expert on all the many ways bell sleeves can be worn. Paired with the right pieces and accessories, they are endlessly versatile and decidedly stylish. Remember that you can still wear bell sleeves no matter if you are small and petite: keeping the rest of your outfit sleek and fitted will offset the excess fabric; you can also visually elongate your body with accessories like long necklaces and stockings that match your shoes. Bell sleeves are for everyone!