Black Light Party Outfits: A black-light party is a party where everyone is supposed to wear bright neon colors that reflect brightly under ultraviolet lighting. In simpler terms, it is a neon, glow-in-the-dark party. Since it takes place at night or in a relatively dark location, this party is perfect for wearing all types of neon dresses and clothes that may be considered "too much" on any other occasion.
Black light parties are becoming an increasingly popular and fun event that people look forward to, especially to show off their cool clothing options. People have created the most creative things to wear to a neon-themed party without using childish props like glowsticks.
Even if it is not the most classy or sophisticated outfit, it could be fun styling usual everyday clothes that are neon. Because, after all, everything can work for a black light party!
How to Style Clothes for A Black Light Party
Although there is no specific dress code for black light parties, there is a general expectation for everyone to wear neon or bright colors that can reflect and glow in the UV light of the party. This can include anything: ribbed t-shirts, mini dresses, and even cool and funky tops of all styles.
Don't own any neon tops? Instead, opt for some neon pants or leggings! There are a million different alternatives, and you can opt for any cool clothing option (to keep your signature style intact); all it needs to be is neon!
Styling Tips for Neon Outfits
Do not feel pressured to do a head-to-toe neon look. It can be unrealistic for some people to develop so many neon elements for a fully neon, bright outfit. So it is completely fine for just one element to be neon!
Besides your main piece of clothing, try to add another neon element as an accessory! It can be in shoes or even a neon handbag, but it will add that extra dimension to your look.
Find alternatives to jeans! You can either find neon bottoms but more commonly found are skirts, which are available in a wide range of neon colors.
Mix and match with different colors in the same outfit. Yes, neon colors are loud and can clash, but tying two or three together in an outfit can work wonderfully for a black light party!
20 – Green Neon Simple Top With Straight Black Jeans With Matching Neon Purse
This outfit is very simple yet effective for a black light party. If you do not want to go all-out neon for a black light party, this outfit is for you. This outfit has only two neon elements: the main t-shirt and the green neon purse. It is styled with other trendy pieces like straight-leg black jeans and Nike sneakers, which tie the whole look together to create a subtle neon look that will be perfect for such a party.
19 – Green Neon Backless Ribbed Top With Baggy Denim Jeans
Want to keep it super low-key for a black light party? Not to worry! Pair any neon top with classic denim baggy jeans, and you have a very simple yet trendy outfit that is also on brand with a black light party. The top itself is ribbed and backless with a very fun cut, which makes the outfit much more interesting and gives it a slightly classier look than a simple top.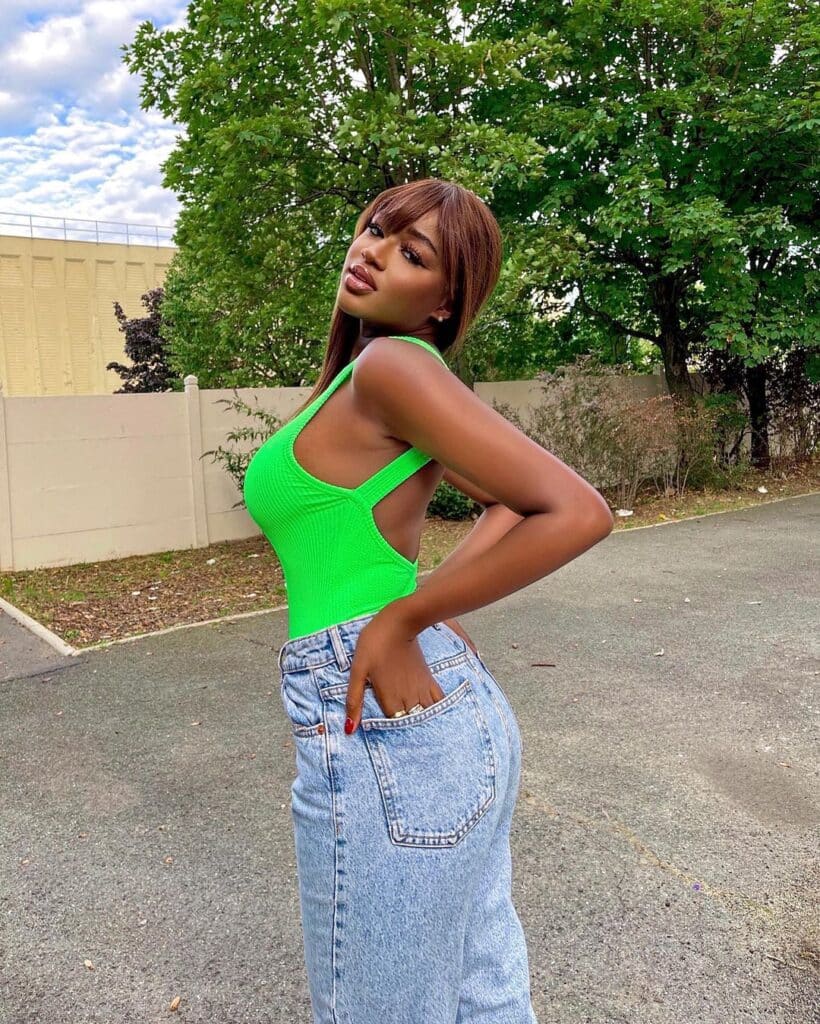 18 – Printed Bright Yellow Graphic Halter Top With Bright Green Printed Pants
For a black light party, opting for completely neon colors is unnecessary. Sometimes they may not be the most accessible pieces, so you can opt for a similar bright or vibrant color instead. Here is an example. While these colors are not quintessentially neon, they are a close second and further enhanced by the cool graphic print. This will work as well at a black light party under the UV light!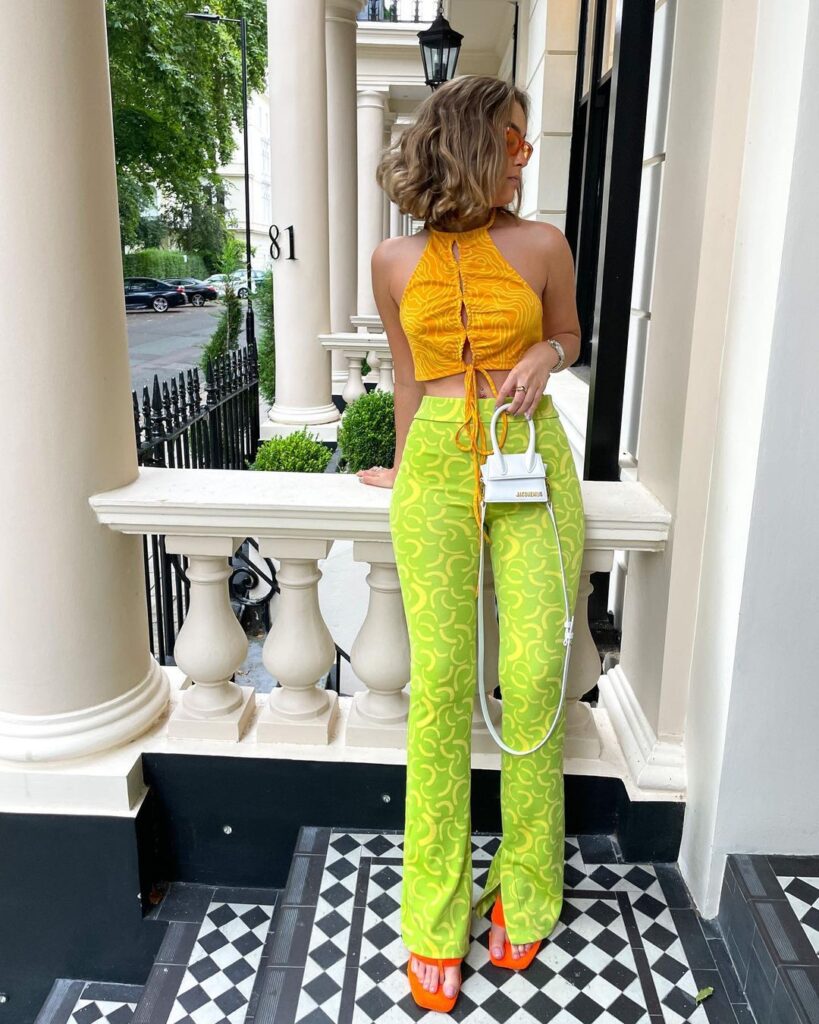 17 – Neon Pink Pants and Neon Orange Slide Shoes Tied With a Cropped Colorful Sweater
This outfit is another example of making your bottoms neon instead of your top. This outfit has many neon elements,; other elements are still bright and vibrant, which makes this outfit perfect to wear to a black light party. The shoes add another pop of color, which can never be bad for a black light party. To add another matching element, a pink neon purse is also added. 
16 – Bright Green Neon Tube Top With Snakeskin Pants and A Bright Pink Purse
This outfit greatly focuses on the beautiful contrast between bright colors and patterns. The only neon element in this outfit is the tube top, which will reflect very brightly under the UV light of a black light party, so it fits the brief. The snakeskin pants add not only another pop of color but another pattern and texture to the outfit, which adds dimension to the outfit. The pink shoulder bag adds another bright element, and a really fun and creative outfit is formed together!
15 – Neon Yellow Cropped Top With Neon Orange Pants and Hot Pink Oversized Blazer
This outfit screams neon, with all three elements in different shades. The oversized blazer can be an optional choice and can be removed before a black light party but will also work regardless to create a sophisticated overall look. The neon top and pants work wonderfully together in colors and will look great under UV lighting!
14 – Bright Orange Jumpsuit
There is nothing to say except this is one of the easiest outfits you can put together for a black light party. It is simply a no-brainer; this outfit only has one piece of clothing, so you do not have to worry about matching or finding what works best with it. If you are like me and super laziest when dressing up, this one is for you! The cut of the jumpsuit flatters any body type, and the color is perfect for a black light party.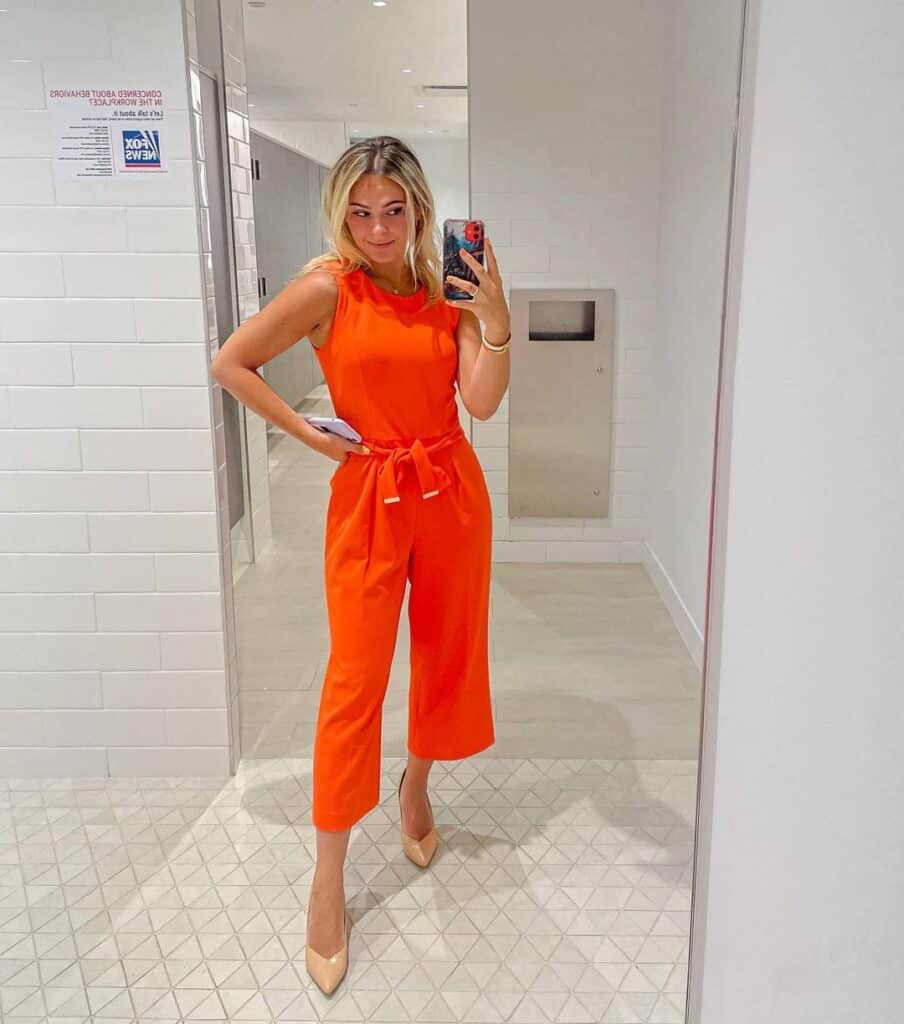 13 – Neon Green Skirt Under a White Top With Matching Neon Green Heels
This white top is offset beautifully by the neon green mini skirt,, which is silky and flowy. The material adds grace to the overall outfit and works even better when matched with neon green heels. This outfit is an easy and accessible one to try out for your next black light party.
12 – Neon Green Fishnet Top Over a White Tube Top
This neon fishnet top is edgy and cool and will bring a cool effect under UV lighting at a black light party. Not only does this look amazing on any skin tone, but it also looks great over a white base such as this white tube top.
11 – Neon green Cropped Ribbed Top With Shorts and Matching Sneakers
This one is for the athletic girls who want to stay comfortable at a black light party and look stylish. This ribbed cropped top gives off an athletic look and hence brings a certain youthfulness to the overall outfit, and the matching sneakers further compliment that look.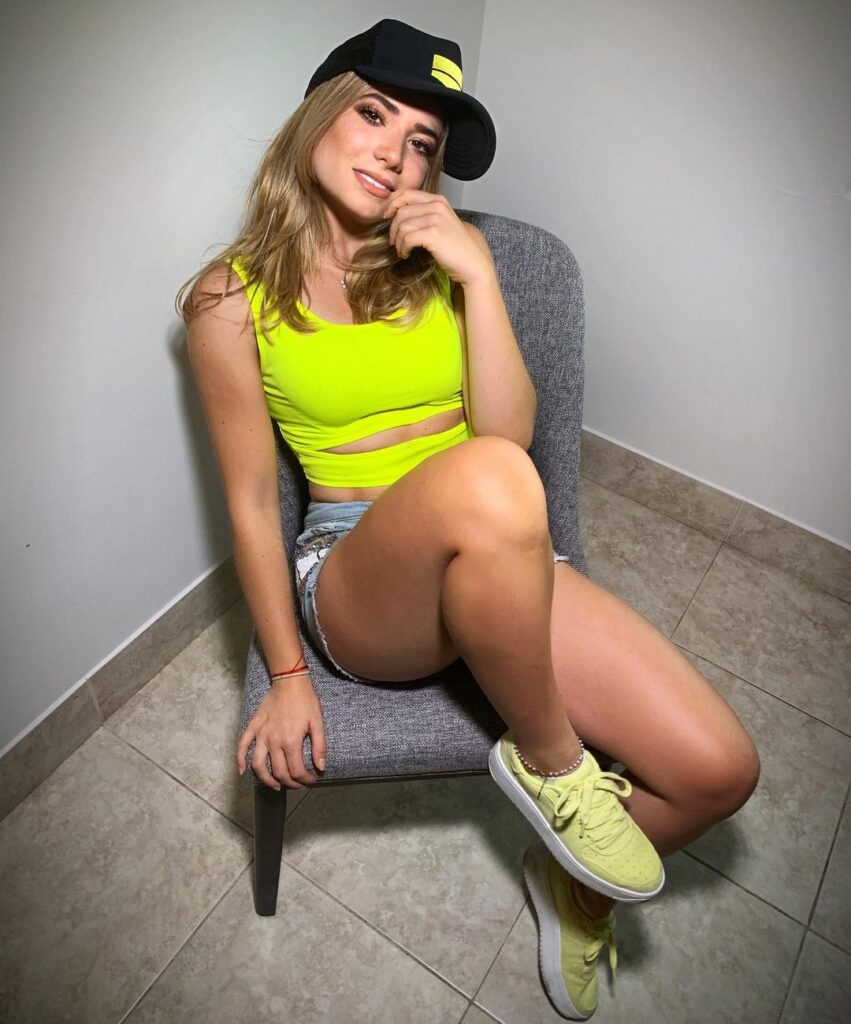 10 – Bright Orange Ribbed Cropped Tank Top With Black Denim Skirt
This outfit is very fun and unique. The main star of the show in this outfit has to be the ribbed, cropped orange tank top, which is bright enough to look great under the UV lighting of a black light party. This is further tied with a black denim skirt and combat boot,s which complete the whole look.
9 – Bright Green Top With White Skirt and Matching Bright Shoes
This bright green top will be perfect for a black light party. An overall sophisticated and graceful look is created by pairing the unique top with a white mini skirt, adding so much to the outfit and making the fluorescent color stand out even more.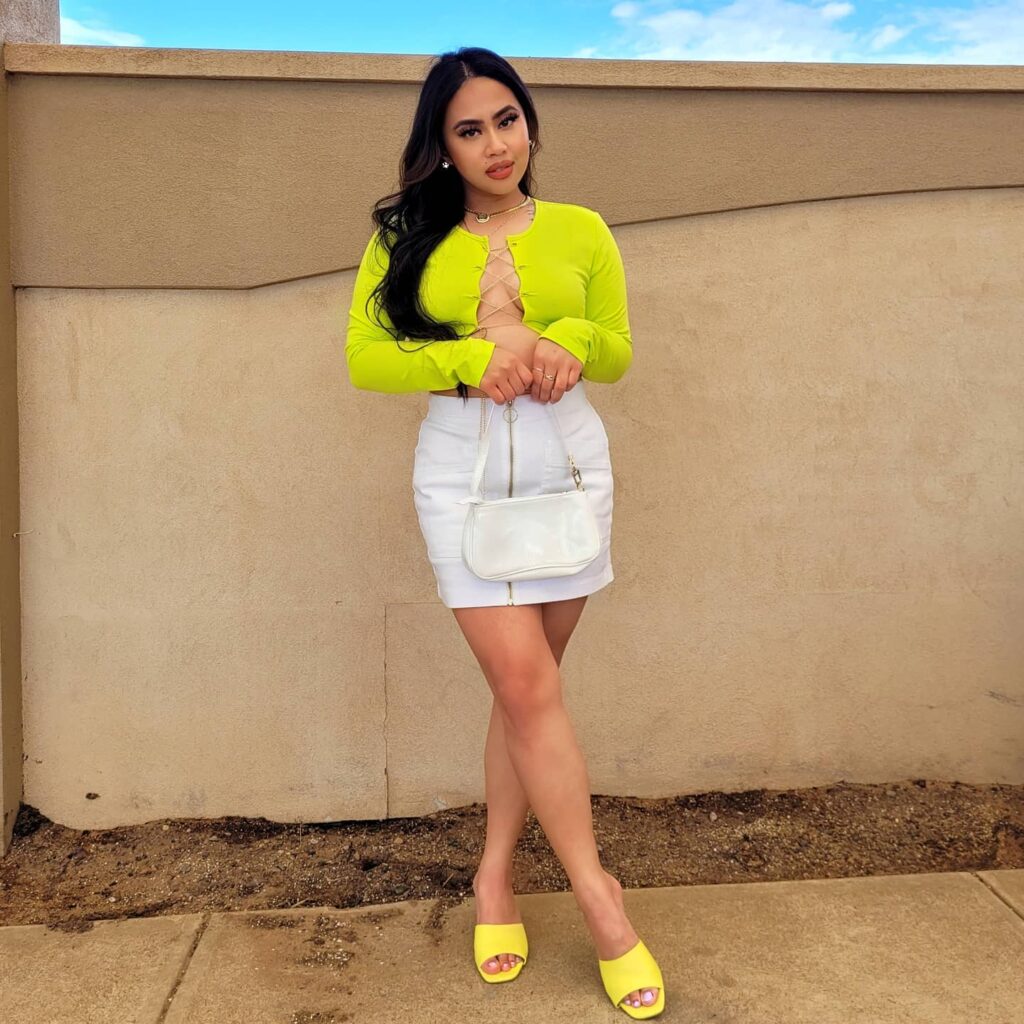 8 – Bright Orange Matching Set With Matching Bright Orange Shoes
This outfit is a great example of a fun, bright outfit without it being neon. This halter top and skirt combination is perfect to wear to a light black party as it is youthful and graphic with cute designs printed on it. This is great to pair with matching neon orange sandals and a neon purse, giving this overall outfit a very y2k look.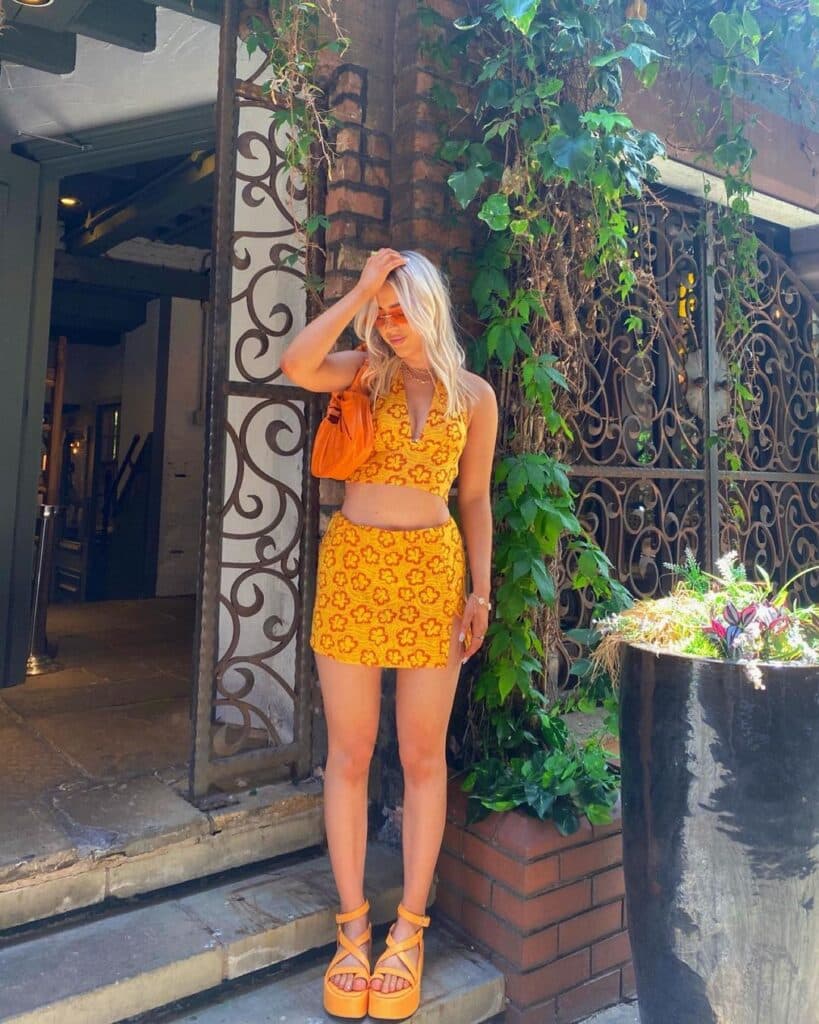 7 – Green Matching Set With Neon Green Sandals
This is another variation of the matching set outfit mentioned previously. This time the color that is the outfit's main focus is neon green. The top and skirt go together well,, and the sandals add a nice touch that completes the whole look.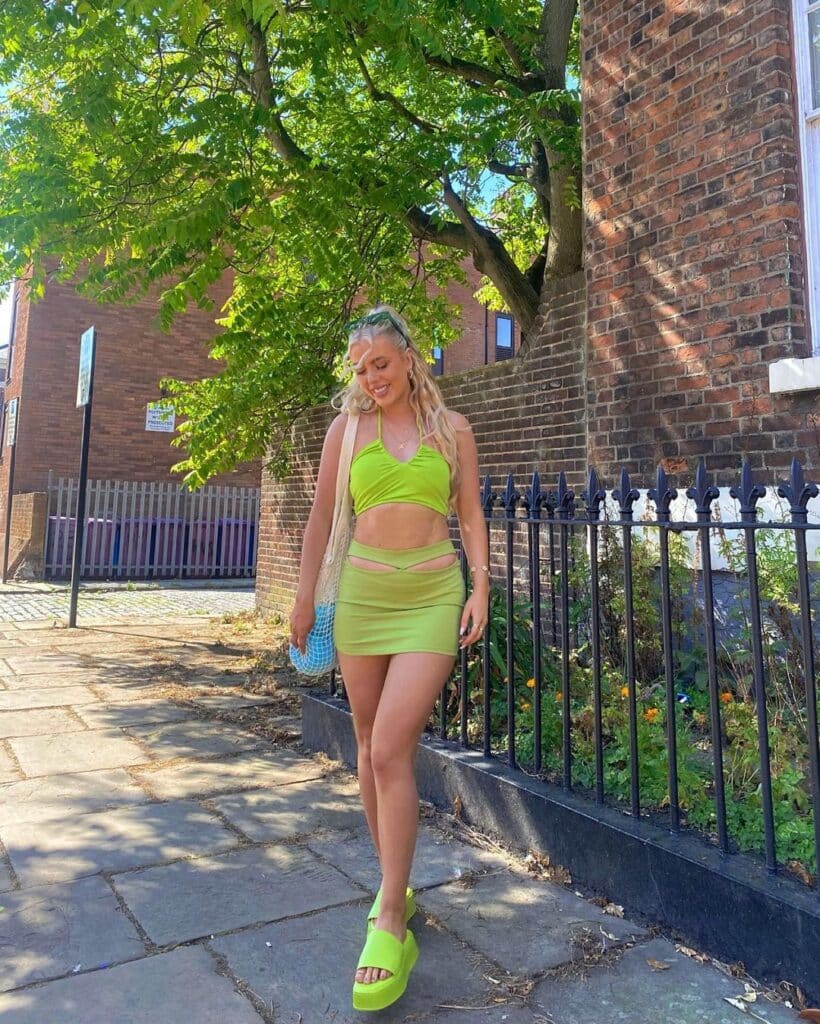 6 – White Silky Top With Bright Orange Silky Long Skirt
This outfit is a great one to wear to a light black party as it includes a material that people do not usually opt for silk. The flowy material will look great under the UV lighting at a black light party, especially due to the fluorescent color that makes it stand out. The overall outfit is very sophisticated and can be taken in any direction: casual, with sneakers, or even fancy with heels.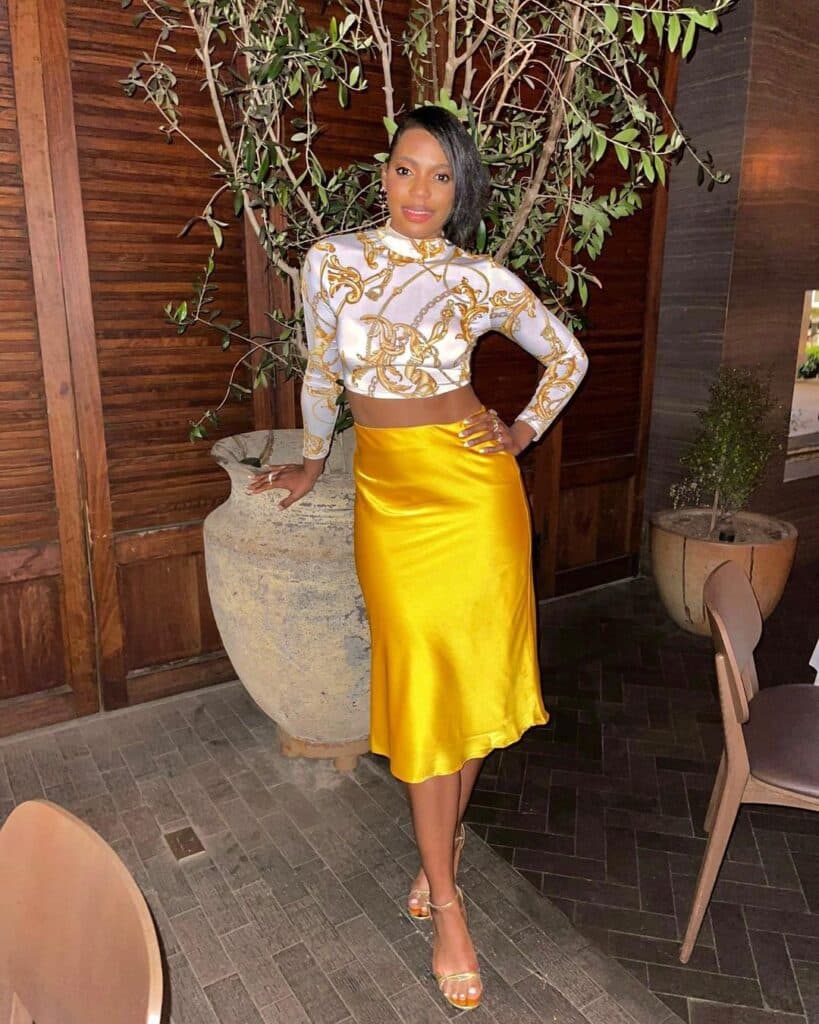 5 – Electric Blue Cropped Top With Neon Green Skirt and Matching Green Slides
This outfit gives intense mermaid vibes with its beautiful colors and style. The Electric blue works beautifully with the bright neon green of the skirt, and the two colors tie together to create a great effect. The neon green slides are stunning and give a y2k effect which completes and complements the overall look.
4 – Neon Turquoise Crochet Cropped Top And Skirt Set
This is a great outfit to wear to a light black party. Not only does it fit the theme of being perfect with its neon colors, but it also adds so much depth to the outfit with the trendy crochet style, which will grab everyone's attention. This outfit will look best paired with white sneakers that offset the blue and make it look much more prominent.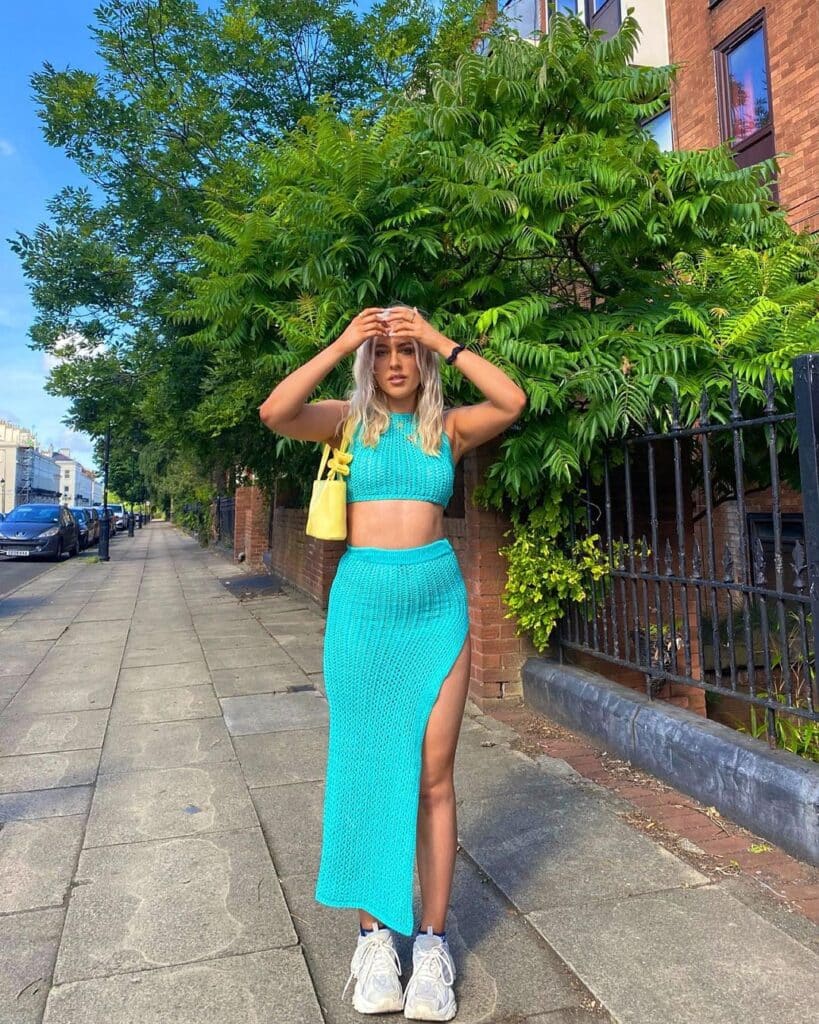 3 – Neon Green Matching Set With Neon Yellow Bag
This outfit is the epitome of a black light party outfit. Head to toe, this outfit is smothered in neon, the main star of the show is neon green, a showstopping color in the ruched cropped top and the matching mini skirt set. This outfit is paired with matching sunglasses,, adding another layer of creativity and fun to the overall look. The outfit includes a neon yellow purse which provides a beautiful contrast to the otherwise green look.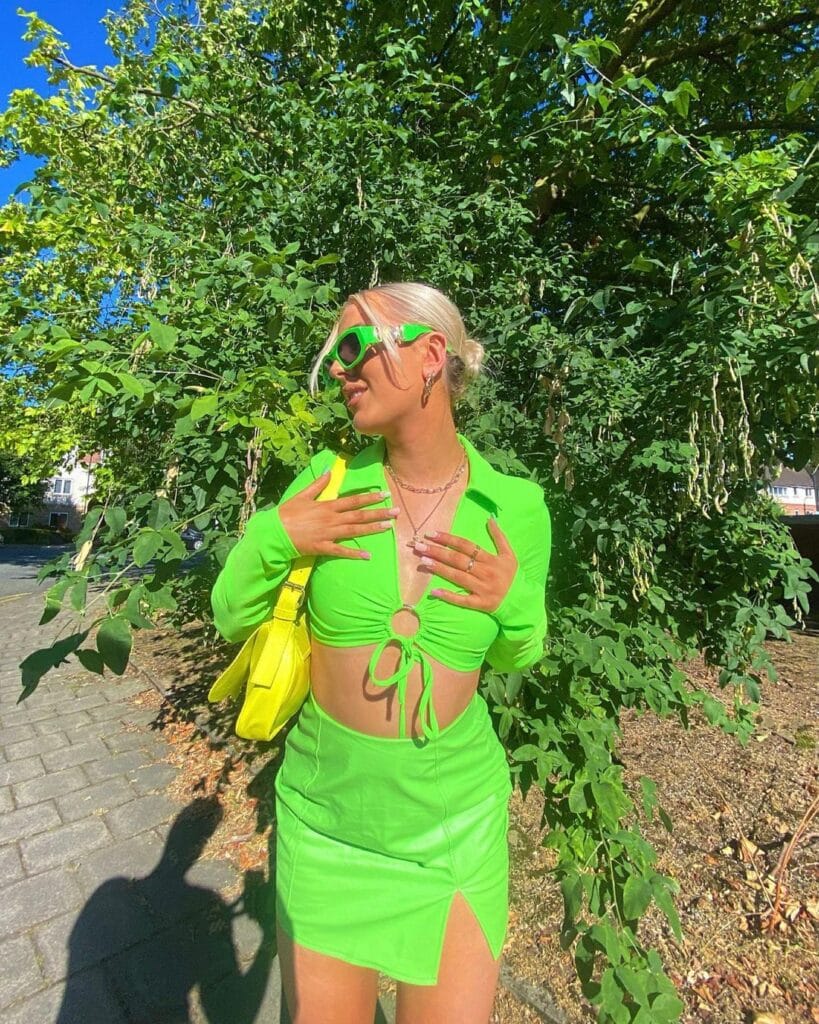 2 – Pink and Orange Minimal Tube Top With Bright Orange Silk Skirt and Matching Pink Bag
This outfit is stunning to wear to a light black party. The top is a minimalistic tube top with a bright orange and hot pink print. The orange is matched with a silky orange skirt and matching orange sandals, and the pink is matched with a hot pink shoulder bag. This outfit is well thought out and has very feminine colors that will look amazing under UV lights at a black light party.
1 – Floral Tube Top With Magenta Asymmetrical Skirt and Matching Shoes
This outfit is feminine and unique and a great option for a light black party. The colors are vibrant and perfect, and the overall style of the outfit can not go wrong. The floral top has many feminine colors that match the beautiful ruched magenta skirt and the matching shoes. The bright orange bag also complements the outfit wonderfully.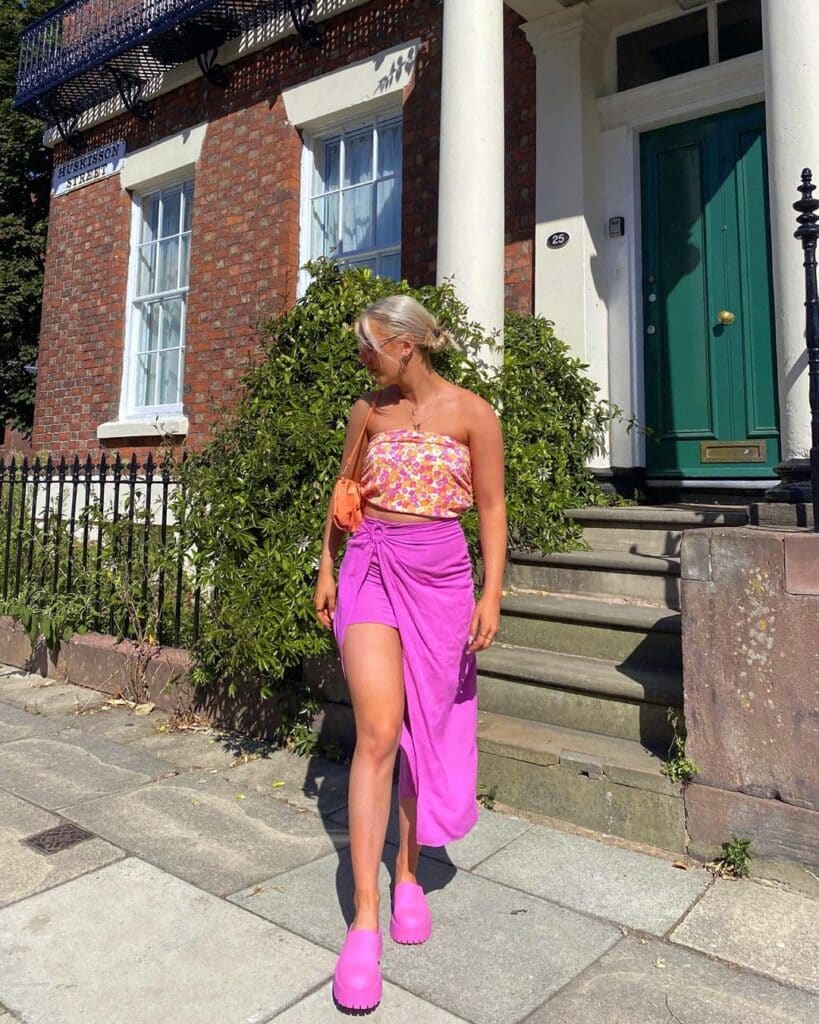 Frequently Asked Questions
Q. Is neon still trendy?
Ans. You do not have to worry about neon going out of style! While it may not be the easiest and most versatile color family to work with, it can be used in many fun and creative ways and will never get boring!
Q. Can neon accessories also work at a black light party?
Ans. The answer is yes! Neon anything will look vibrant and fluorescent under the UV lighting at a black light party. The addition of neon accessories to your outfit will make it that much more creative and fun and will definitely grab everyone's attention!
I'm Sarah, and currently doing my A Levels. Writing is one of my passions and keeping up with the latest, and ever-changing fashion trends is one of my favorite pastimes. My two hobbies combine here at OutfitTrends to create fun and creative articles which hopefully will help anyone seeking any outfit inspiration.