How to wear trapeze dresses – The trapeze dress is a magnificent one-piece fabric with a large, angular underside and a tiny upper half. The cloth from which they are made looks to be sturdy and hefty, giving the garment a certain firmness.
Some fashion shapes never go out of style. This dress style continues to captivate us despite the fact that it has been more than 60 years since Yves Saint Laurent originally opted to include it in women's clothing.
What to Wear With Trapeze Dresses?
When sheaths and shifts are enough, focus on the silhouette of the trapeze. Trapezoid-shaped clothing has a cut that is small through the neckline, armholes, and bodice before widening into a tent-like form.
The flowy trapeze is both architectural and airy at once and is widely regarded as a forgiving dress style for how it sits on the body.
Let's look at some of the ways you can style this dress so that it looks flawless, fashionable, and attractive.
Tips and Tricks on Styling A Trapeze Dress
The trapeze dress is virtually shapeless from the breast down, in contrast to a form-fitting dress. Make sure the hem hits above your knee and is fitted to fit your top half to retain the look playful and prevent coming off as stodgy.
In warm weather, finish off your look with pumps or strappy sandals. In the winter, use tights and heeled booties for a toasty and leg-lengthening look.
Due to the dramatic statement-making nature of the billowing shape, accessorizing this dress style may be as simple as teaming it with a pair of hoop earrings, your go-to athletic shoes, and one of the season's must-have rustic string bags.
In my opinion, a small lady may risk getting swallowed up if the silhouette isn't suited to her size. Whereas. tall ladies may easily pull off the style.
A trapeze design is particularly flattering to a pear-shaped body since it highlights a lean upper body and skims across larger hips.
20 – Long Maxi Dresses With Pockets
Longer dresses look just amazing. You can pull them off anywhere and everywhere. You will need little to no effort to add in something in order for you to look good.
Just like this long blue trapeze dress, with pockets as a cherry on top!
The soft fabric will let you stay comfortable and breezy, the color giving a cooling effect itself.
If you want to wear longer dresses but step back because of the hotter weather, then you can go for this one, with its color, fabric and design all perfect for a hot summer day. Check out more outfit ideas for summer lunch.
19 – How to Style A Denim Trapeze?
We all are aware of how denim is always in style. You can wear anything made out of denim, and it would look good, from skirts to shirts to dresses!
This denim dress is simple, unlike the other fancy denim dresses that you often see, but the trapeze style makes it elegant.
The simplicity and the minimalism of this blue dress make it a hundred times classier than any other dress that you plan on wearing.
From midi dresses or longer maxis, denim would always work!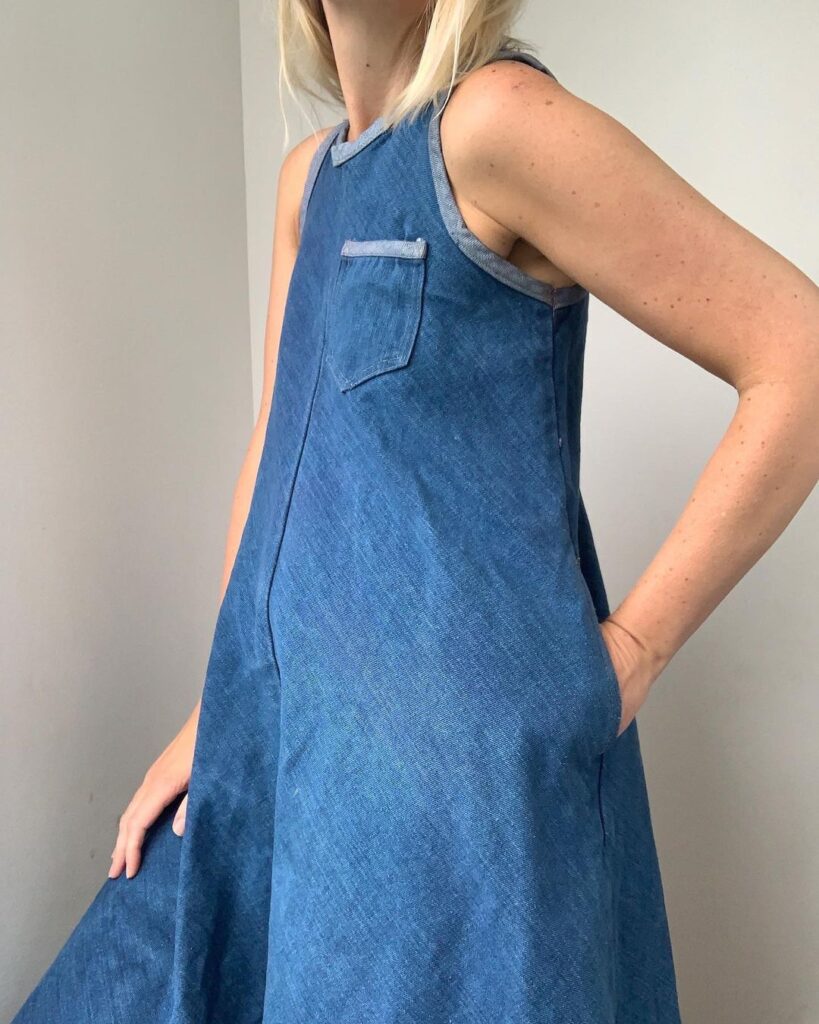 18 – Floral Mini Dresses in Vibrant Color
We can never miss out on something printed when we are talking about dresses! floral patterns can never go wrong, especially if the colors are as bright as these.
This turtle-neck dress looks bright and cute. The bright blue and green colors go very well with each other, giving off a very natural and classy look.
No other jewelry or belts are needed for this look to get any better; the natural simplicity of this dress makes it iconic on its own.
If you would like, you can wear some rings, or accessories for your own satisfaction.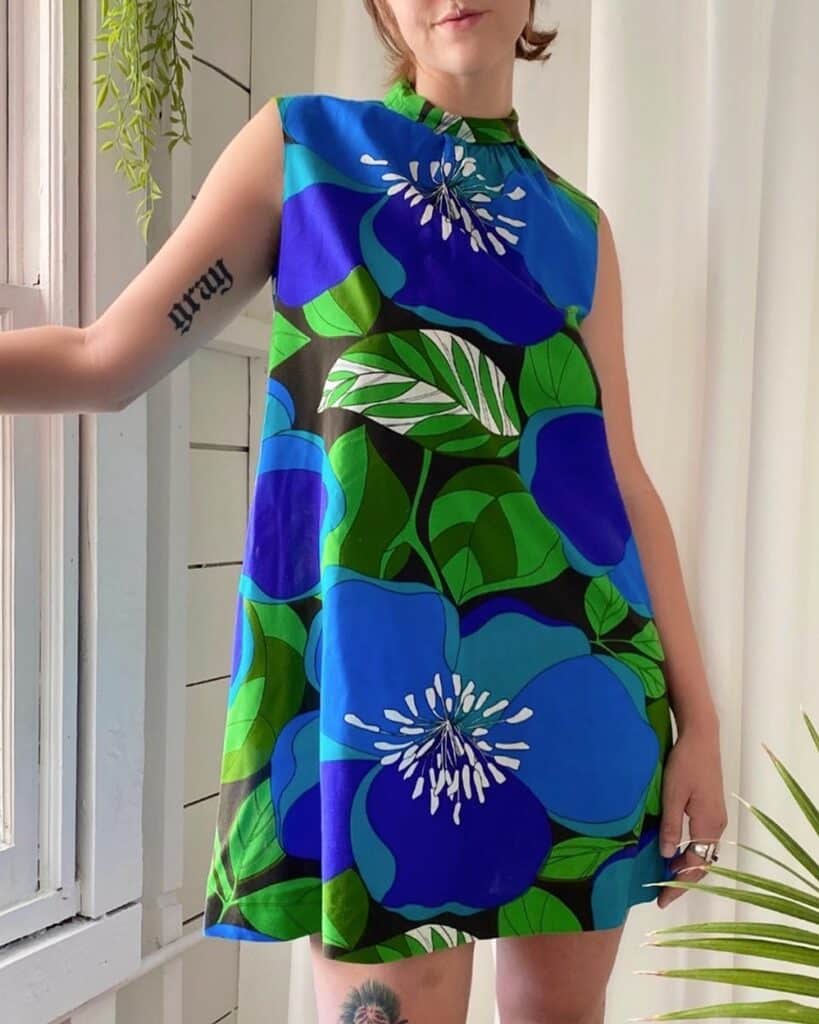 17 – Hooded Trapezoid Dress in Black
Another different yet stylish dress design! Adding a hoodie to your dress automatically makes it look a hundred times better.
You can wear such a stylish yet classy dress anywhere on cold days.
The dark blue or navy blue shade of the dress gives it a much bolder and darker look that will make you look bolder and more confident in it.
Try on some matching navy blue earrings along with a dark blue clutch or handbag, and your whole look is complete.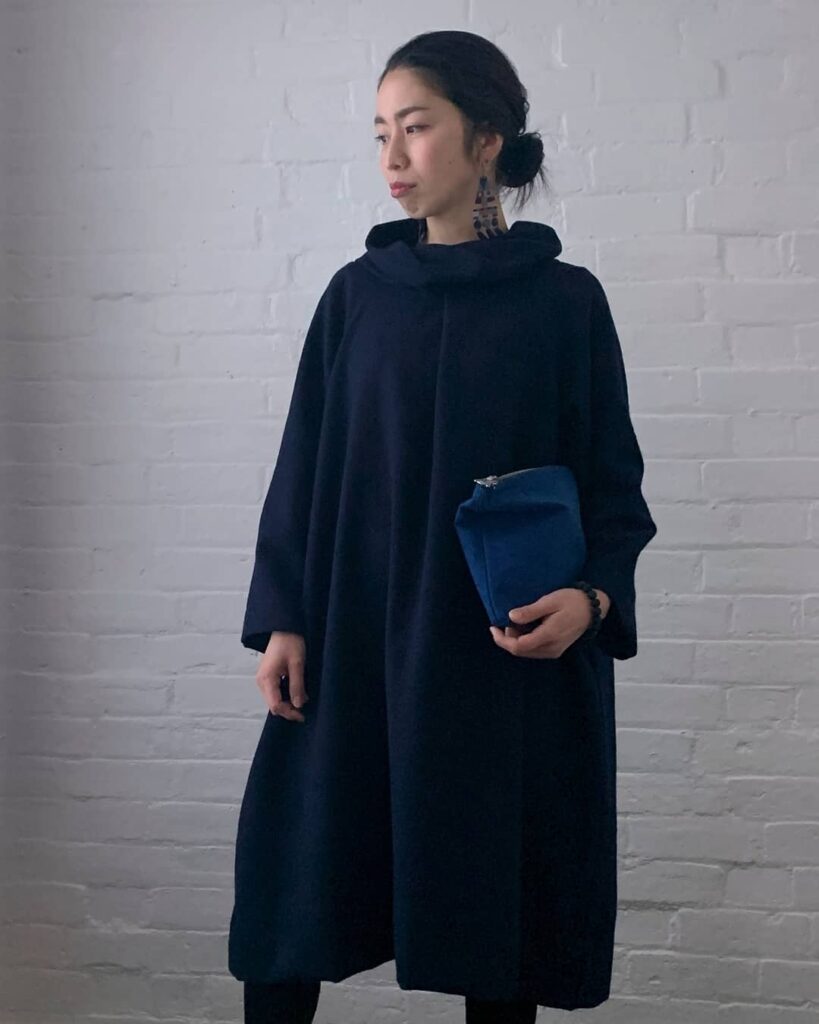 16 – Add A Jacket Over Your Dress
Feeling gothic and want to try a full black look with your favorite mini trapeze dress? Well, that is very much possible, and you will look amazing in it as well.
An all-black look is the safest option for everyone; you can pull on a black leather jacket on top of your midi dress, with your hair untied, and your gothic look is ready!
Wear some black graphic-designed ankle-length boots, and you are good to go! Your all-black gothic outfit will make you bolder in no time!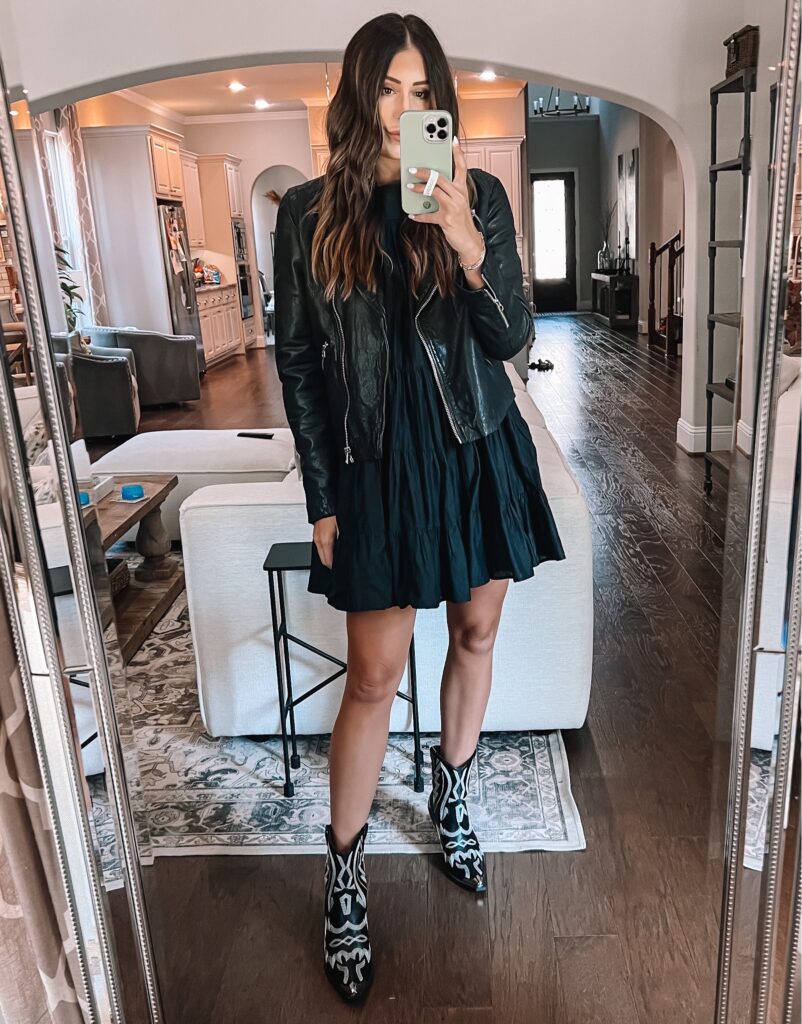 15 – Patterned Dress for The Summer Snack
Are you looking for ways to level up your fashion style while wearing a simple patterned trapeze dress? Then look no further!
You can always try to go for patterns like this one! The brown and white checks on the trapeze dress fit perfectly with the length. You will look amazing with this simple yet classy look.
Finish off your whole outfit with some white lace-up sandals; the two-toned brown and white look can never go wrong.
14 – Tiered Trapeze Dress for A Casual Outing
Another black trapeze-tiered dress that is effortless to style. Black always looks good, especially when you contrast it with some other color like brown or beige.
You can always put on some black shades to match your dress, wear some contrasting brown sandals and carry around a tote bag, and your whole look is complete in no time!
This outfit requires little effort yet looks stylish and cute. What else would you need?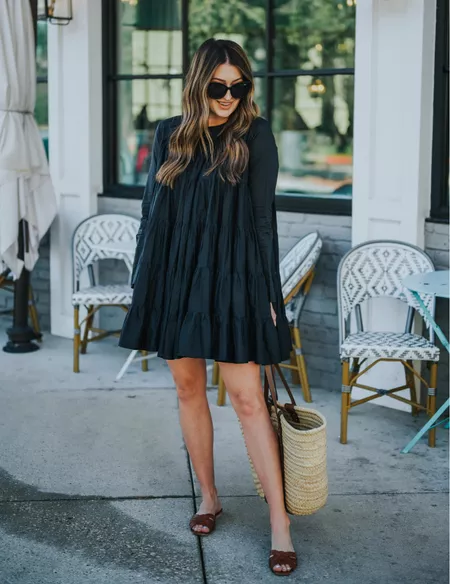 13 – Black And Off-White Contrast for Mature Women
Want to style yourself up on a funkier, cooler side? You can always find various designs that look stunning, just like this.
The combination of black and off-white gives off a much cooler look. Wearing such a dress will make you look more pretty, cute, and stylish.
Wear some funky jewelry, and you can even go for something extra, like trying on different nose accessories to give yourself a confidence boost by looking good in it!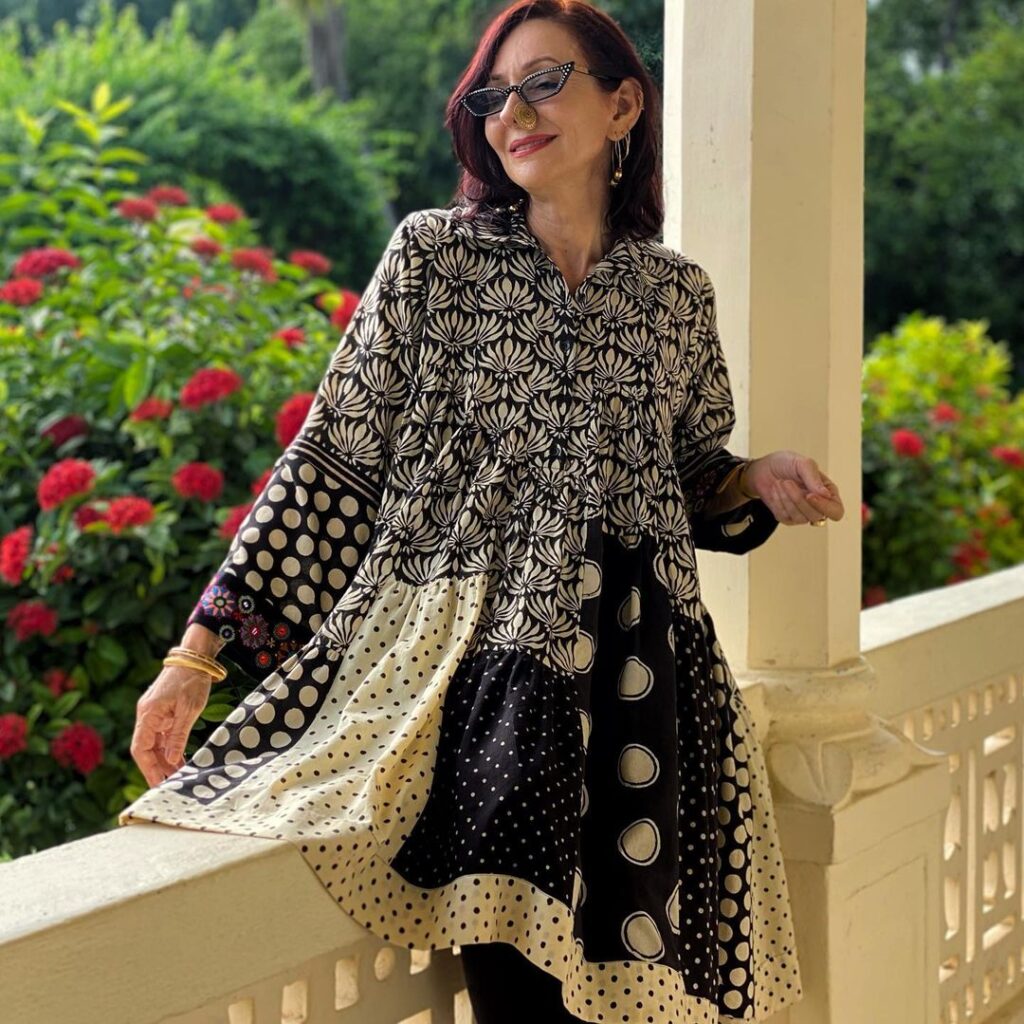 12 – Basic Beige Dress
Looking for a simpler look while still finding ways to look stylish in a trapeze dress? Worry not, because even a basic beige dress will look good once you style it right!
Trapeze dresses look cute; you do not have to put in extra effort to make them look stylish. Like this beige dress. It is simple, yet it looks eye-catching. The design makes it look pretty yet comfortable
Just put on some zebra patterned sandals and matching accessories like bracelets, and you are good to go.
11 – Yellow Never Looked So Good
On a bright sunny day, yellow should always be your first option. This yellow dress looks super cute!
If you are on a day out and want to look simple yet stylish, you can pull this look off effortlessly.
Just finish this look off with some contrasting sandals and, of course, sunglasses to protect yourself from the bright sun, and you are ready for the day!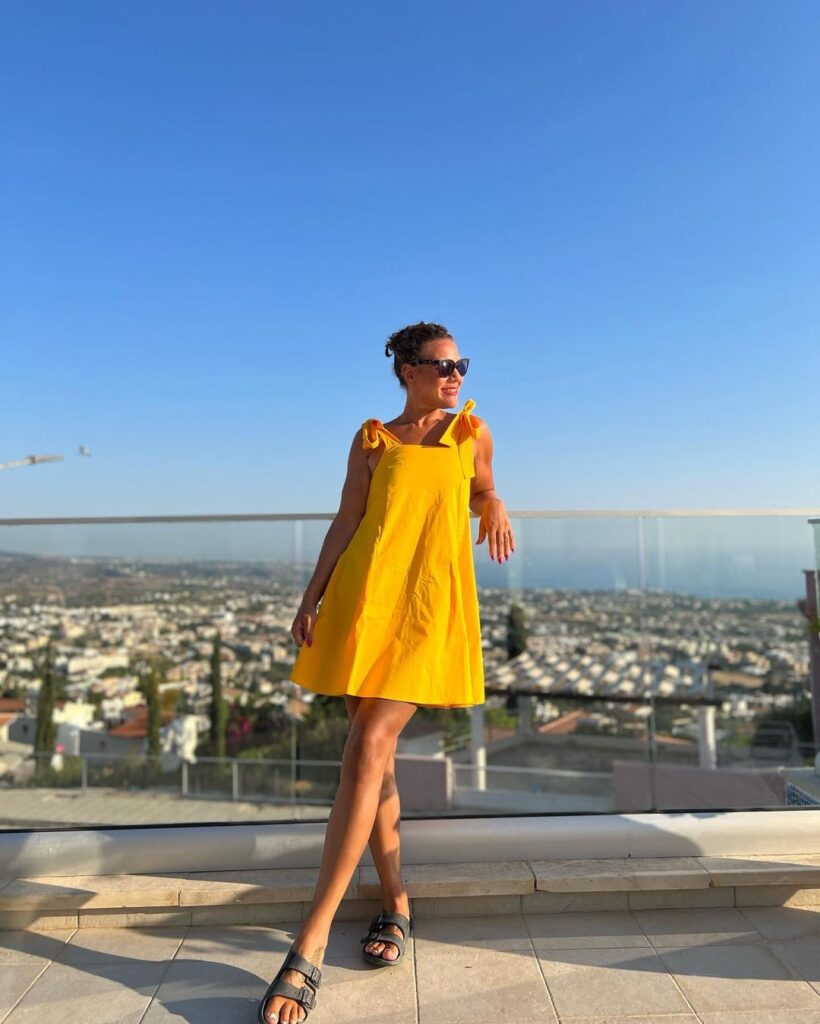 10 – Tie Dye Dress for The Win
Tie Dye is trendy these days; you will see everyone having at least one such article of clothing in their wardrobe. So you should join in this trend before it goes out of style!
You can find a lot of tie-dye trapeze dresses in the clothing market because of the high demand for tie-dye clothes. There is a reason they are getting so famous; they look super amazing when you wear them!
The burst of different contrasting colors is something different, catchy, and fashionable.
To level up your whole look, you can always wear matching necklaces or bracelets as accessories!
9 – Lined Dress for The Summer Picnic
Looking for a much more fitted and stylish trapeze dress? Then you can always go for something similar to this.
The white and baby pink lines mix and match so well with each other; it gives you a cute girly look that brings out the feminine side of you. The frills at the hem of the dress are a cherry on top of this whole dress!
To enhance more of your feminine look, you can wear longer earrings, carry around a handbag and pull off some pencil heels that would match perfectly with the dress.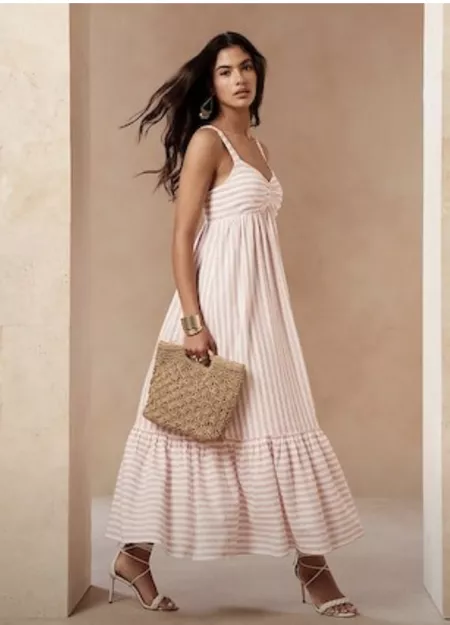 8 – Simple Pink Look for Mature Women
Not in the mood to dress up but want to look presentable and cute? The answer to your concerns is this super simple and cute pink trapeze dress.
The pink color makes everything look adorable; we all know this. In addition to that, longer trapeze dresses also look pretty and cute! You can expect yourself to stay comfortable and cute in a single fit!
Just wear some accessories and a white pair of white sneakers, and your whole look is done in no time!
7 – Bright Pink On A Day Out
Are you in love with the color pink and want to wear something vibrant, comfortable, yet stylish? Then this dress is for you.
You can always wear a bright pink maxi dress to look super cute. This dress will help give you comfort and style because of its tiered style.
Wear white or metallic shoes that would give you more ease in walking in them. You will not only be comfortable in this fit, but you will look breathtakingly beautiful!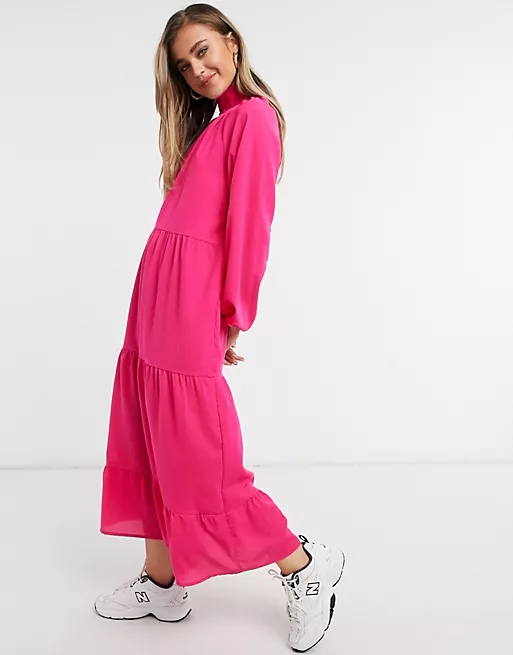 6 – Tiered Dresses for Curvy Women
There are a lot of tiered trapeze dresses in this list because they are considered flattering universally. But this time, try a tiered dress in hot pink color.
This pink-colored tiered trapezoid dress looks adorable. Add a beige-colored clutch and sandals.
This whole fit will boost your confidence and make you look a hundred times prettier.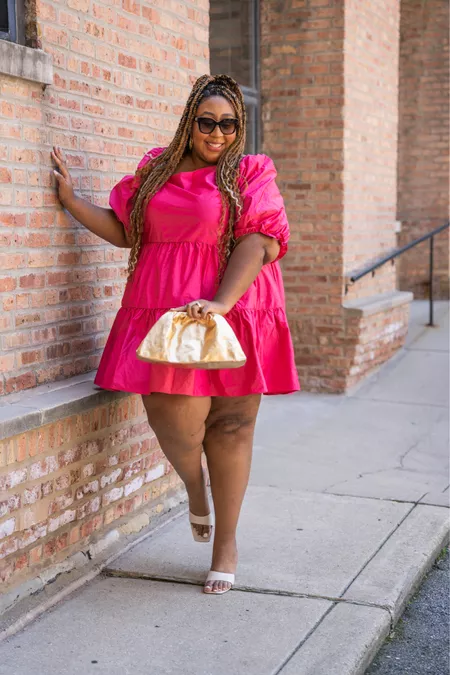 5 – Checkered Trapeze Dress
Another casual dress, another addition to our list, Although there is a pattern to it, you can wear this longer trapeze dress anywhere with no worry of looking extra dressed up.
From your office meetings to your study sessions, such a dress will fit anywhere and make you look beautiful! You are sure to love it because of its style and comfort.
To finish this look, you can wear some accessories, headbands, wrist watch, and sandals.
4 – How to Wear Trapeze Maxi in Red Color?
Trapeze dresses come in all colors, shapes, designs, and lengths. If you are looking for a longer trapeze maxi, then you should definitely pull off something similar to this.
Maxi dresses make you look like a princess, especially dresses that give you the perfect flair you need to rock your summer day. This red maxi will make you stand out due to its eye-pleasing color.
You can always go for some biege-colored accessories and shoes to balance the look.
3 – Short Tiered Midi Dress With Sneakers
Tiered dresses are casual yet look beautiful. No extra efforts are needed for you to pull them off!
This midi trapeze dress is something that can you wear anything, from your night out to your day at college. It will make you look super cute!
You will look classy, simple, and stylish in this fit.
Complete your look with minimal jewelry and white shoes. White goes very well with red! Rest assured, you will look amazing in this whole fit!
2 – Trapeze Dresses Can Be A Perfect Loungewear
The style of this dress is comfortable and cozy. Hence, you can wear them as your loungewear and look great.
To give off that classy yet cozy look, you can try on such red trapeze midi dress.
Pair it up with white shoes when going out and you are good to go!
1 – Maroon Smocked Trapeze Dress for Pregnant Women
Trapeze dresses make you look good no matter what, like this smocked maxi dress in maroon color!
The flairs and the perfect design give you a comfortable yet fashionable look and make you feel a hundred times better about your whole fit with the perfect sewing style.
It's the perfect maternity outfit because of its style and design. Besides, The maroon color goes well with any lighter shade, like these off-white or beige-colored braided sandals.
To amp up your style, you can pull off some matching necklaces and feel and look like a diva!
Frequently Asked Questions
Q. What is a trapeze dress style?
Ans. A trapeze dress is a style of dress that is very broad at the hem and very narrow at the shoulders. It's similar to an A-line dress. However, trapeze dresses frequently terminate below the knee and have a broader hem than A-line dresses.
Q. What is a trapeze neckline?
Ans. A garment known as a trapeze has a fitted chest that gradually widens into an A-line shape as it approaches the hem. The fabric waves produced by the gradual flare resemble unstructured pleats and can continue to flare or change to be fitted with a band at the hem.
Q. What type of dresses are trending now?
Ans. Mid-length dresses, trapeze dresses, trendy athleisure, hot off-the-shoulder dresses, lovely statement sleeves, cool stripes, and embroidered patches are among the 2022 fashion trends. Dresses can be worn anywhere and at any time. They are stylish, comfortable, and simple to wear.