Loungewear Outfits: Even if I have thousands of clothes, there are a few clothing articles that I seem to wear every time I am at home. For me, these clothes are cozy loungewear; I would wear them over and over again because comfort means loungewear outfits.
Yeah, I am a true homebody! But, hey it's not just me. Millions of people will want to put on comfy loungewear and survive this winter.
The cozy-chic trend has taken over the world. Everyone approves of the trend,, including celebrities stepping out in cozy outfits. One thing that we are sure of is, this trend isn't going anywhere any time soon.
So, why not consider upgrading your wardrobe and adding such cool clothing? Loungewear can include anything – from matching sets to mismatched tops and pajamas – you are good to go if you have found something that matches your comfort and style expectations.
How to Style Loungewear?
First, there is nothing wrong with wearing your loungewear out – be it for a grocery run, a Sunday brunch, or a cold winter dinner party! All you need to do is to make it look presentable for going out.
You can do it by pairing your sweatshirt with jeans, or adding ankle boots and a baguette bag for a get-together with friends. For days when you have to quickly run some errands, all you need to do is throw on your coolest pair of shades and hit the road!
Hence, you know loungewear is not just comfortable but also practical. It's an investment that your wardrobe will thank you for! So, if you are on the lookout for some trendy, stylish, and cozy activewear outfits ideas then keep reading to find some amazing activewear for you.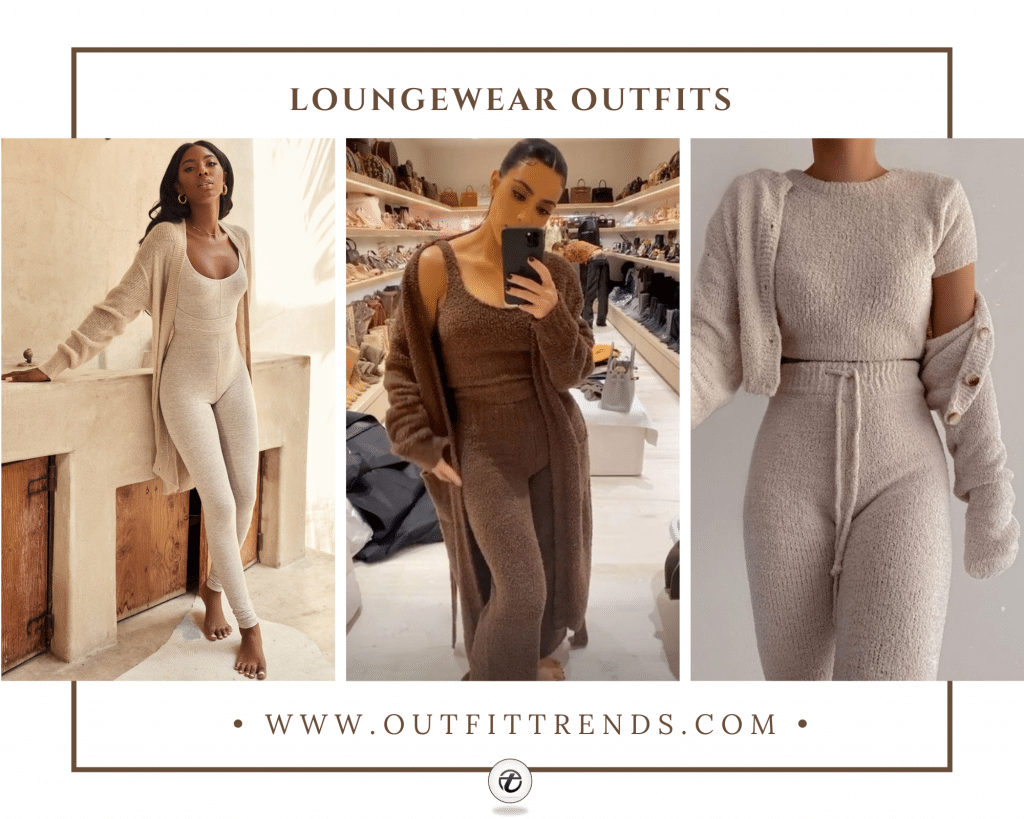 Without any further ado, let's get started with some fashion dos and don'ts for activewear outfits.
Dos And Don'ts Of Wearing Loungewear Outfits
Follow the cozy-chic trend in its true form and make your loungewear monochrome. Buy a two-piece or three-piece set, and scroll down for many such set ideas.
When wearing loungewear, consider tucking in your top into your bottoms. This will make your outfit look put together.
If you're pairing your sweatshirt with the same color bottoms to create loungewear set then make proportions even to avoid making the outfit, look ill-fitted. For instance, pair an oversized sweatshirt with fitted buttons or add a fitted top with loose bottoms.
Pair the cozy outfit with fuzzy slippers and roam around your house comfortably.
If you are wearing your outfit outside, make it presentable. For example, add some the coolest pair of shades or accessorize minimally.
Pair your joggers with them or you can even incorporate black doc martens.
When stepping out, add a blazer over your loungewear.
Opt for a knitted matching set to look cozy-chic.
20 – Loungewear Sets
Let's start the list with my absolute favorites – loungewear sets. Imagine being in this knitted set, having coffee while binge-watching Netflix. For such cozy days, you need loungewear sets to pamper yourself. If you are considering buying such sets, I will recommend choosing colors such as off-white, light pink since these colors are having a groundbreaking comeback.
But, these sets come in a variety of colors so make sure you buy them in colors that look good on you. Also, buy a nice fluffy slipper to finish off the look in style. Other than that, this set is not limited to your house. They are an ideal choice for a winter brunch!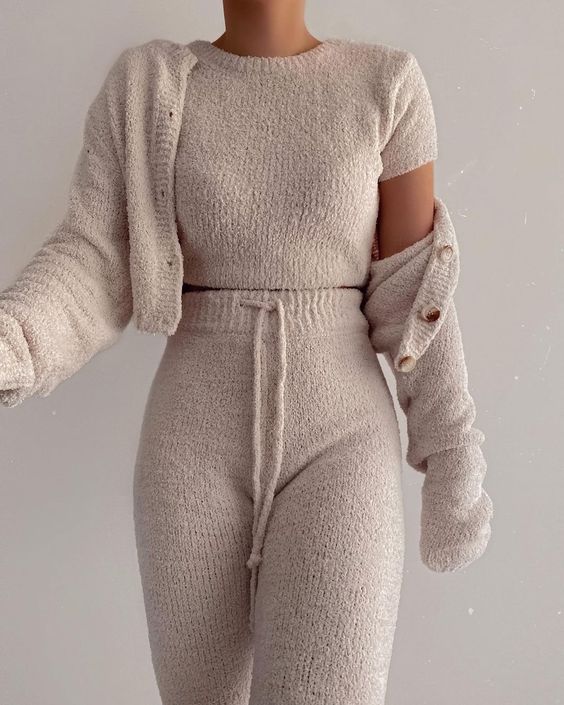 19 – How To Wear Loungewear Outside?
Here we bring you a comfy but nice-looking outfit. Pair your oversized sweatshirt with a flowy pair of silk pants and a heel. High-waisted Silk Pants look gorgeous and an oversized sweatshirt gives you comfort instantly. Moreover, heels can elevate any look and make it a charming look for a casual shopping day! Put your hair in a low ponytail or create a messy bun, leaving some of your front hair loose to achieve an effortless look. Finish off the look with a black bag, you are sorted.
18 – Turtleneck Set
17 – Jessica Simpson In Leopard Print Loungewear
Jessica Simpson stuns in a leopard print loungewear set. Take inspiration from the look and style it in a similar way next time you have some outing plans. It's a perfect outfit for sudden outdoor plans with your family, and friends, or when you need some me-time.
With such a cool set at hand, all you need to do is to make your hair and wear a nice-looking pair of shoes. For this look, style your hair and get some loose curls. Wear your block heels or ankle boots and throw on your favorite shades to complete the look with style. That's all you have to do, and you are sorted for a winter brunch or an evening beach party!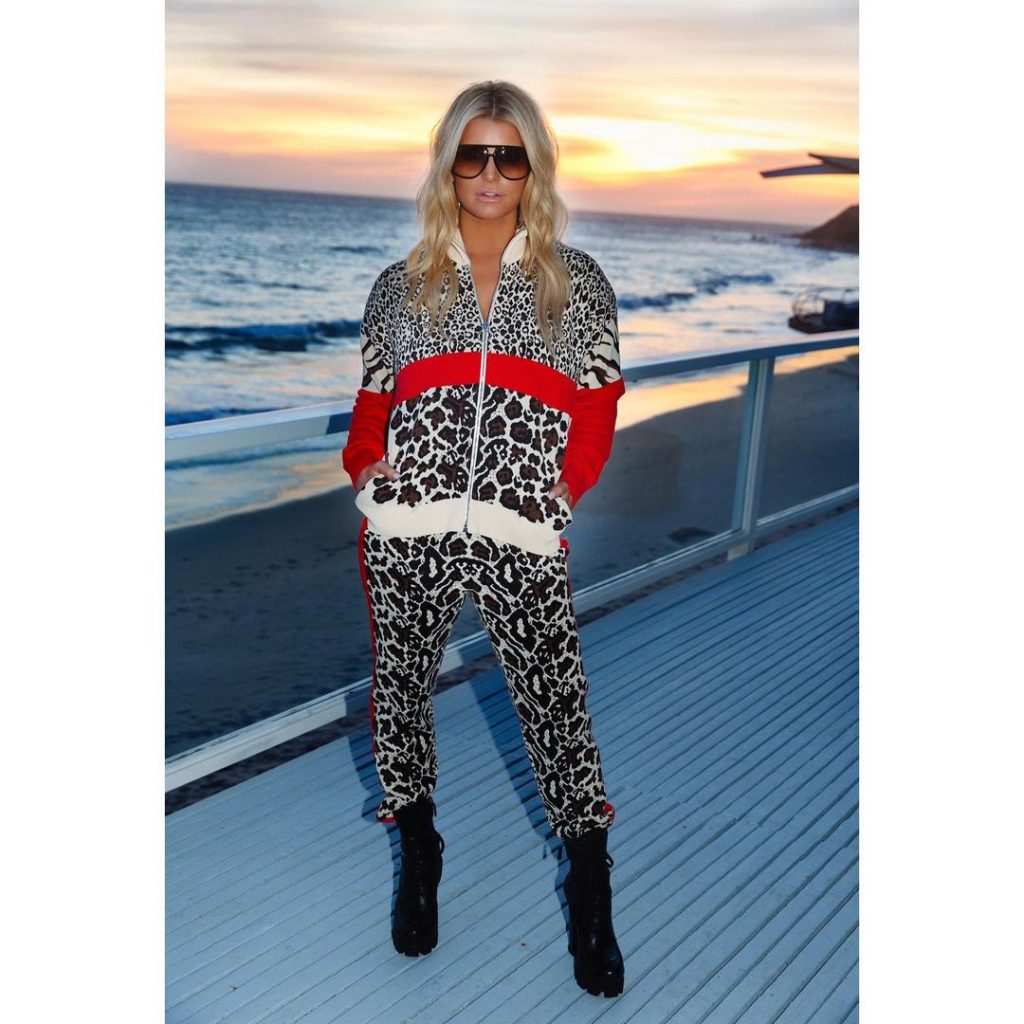 16 – All Black Always Wins The Game
One style that is rocking and will always be rocking is black on black. This is another effortless look on our list – that is not just great for roaming around your house, but it looks equally charming when worn outside the house.
This outfit is ideal for shopping with your besties, attending a class at your college, or even meeting your friends! A true power set, right? For this look, you can buy a two-piece set or pair your black sweatshirt with matching jogger pants. Add your matching Chloe boots and a pair of shades. Carry your essentials in a bag and lastly, put on your favorite shade of lipstick and leave your hair open.
15 – Rock It With Some Cute Prints
Here is another cute outfit to make you comfortable instantly. A star print loungewear set that is both playful and trendy. This is one good outfit you can wear to coffee dates with friends or to amusement parks with family. In fact, you can buy these sets in different sizes and throw a star theme pajama party for your friends and family.
The star print sweatshirt and pajama are breezy and fun. Moreover, add a pair of sneakers, get some loose curls, and wear a cute necklace. That's it, and you have a look now that will allow you to enjoy your day fully without making you exhausted.
14 – Pink Knitted Set
Monochrome sets have made a comeback, and we love it. This is another super cute outfit for a night stay with your girls or a romantic night with your beau. The whole look is a sophisticated sight to behold. For this outfit, wear classy shorts and a deep-neck top.
Put your hair in a messy bun and keep your make-up really light. Add a simple pendant and small hoop earrings to the look. Now, put on the third layer of the set – your cardigan and you are ready to dazzle all night. You have a look that brings elegance so effortlessly.
13 – Loungewear Outfits For Mature Women
Who said activewear is just for young women? Old women can enjoy the comfort and coziness of loungewear outfits too. For winters, spend your days in such outfits that allow you to move freely. Choose beige or neutral colors this season.
Add some pearl earrings and style your hair properly. Finish the look by adding cute slippers. But, if you are going out in the set, wear sneakers and carry a stylish designer bag. Also, take inspiration from our lists and styling tips and add loungewear to your work outfits.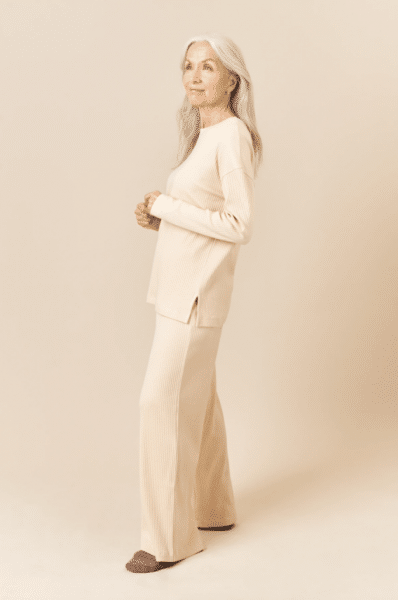 12 – Make It Chill But Also Modest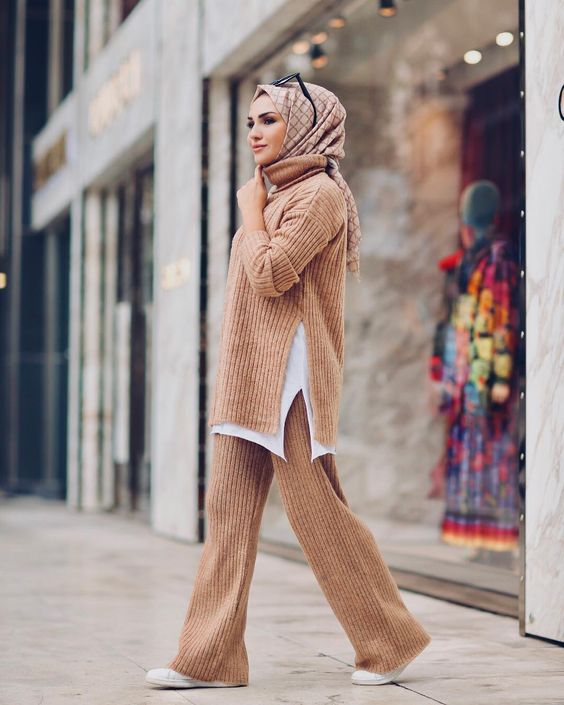 11 – Onepiece
Who would have thought that a one-piece could look this good? Since our Pj's have turned in our daytime outfits, why not add some sassy one-pieces into our wardrobe? Get yourself one, accessorize minimally, and put on a cute cardigan over it.
With such a stylish outfit, you will surely be the town's talk! This outfit will look gorgeous in light tones and is perfect for a tea party at home or a night out with your friends. Brighten your days with appealing hues and bag all compliments with a unique look.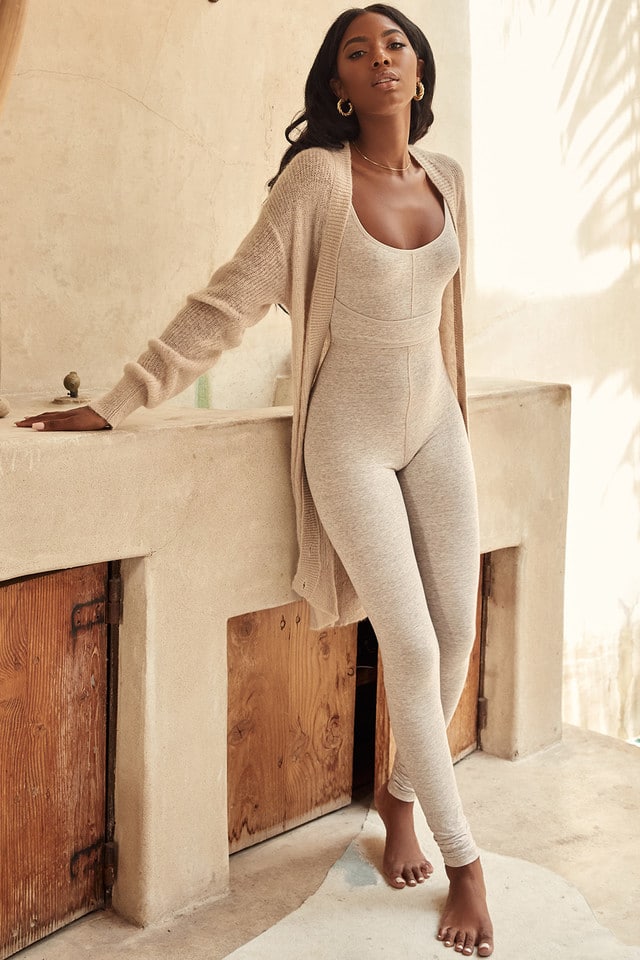 10 – Cheetah Print Joggers With Mid-Rise Fits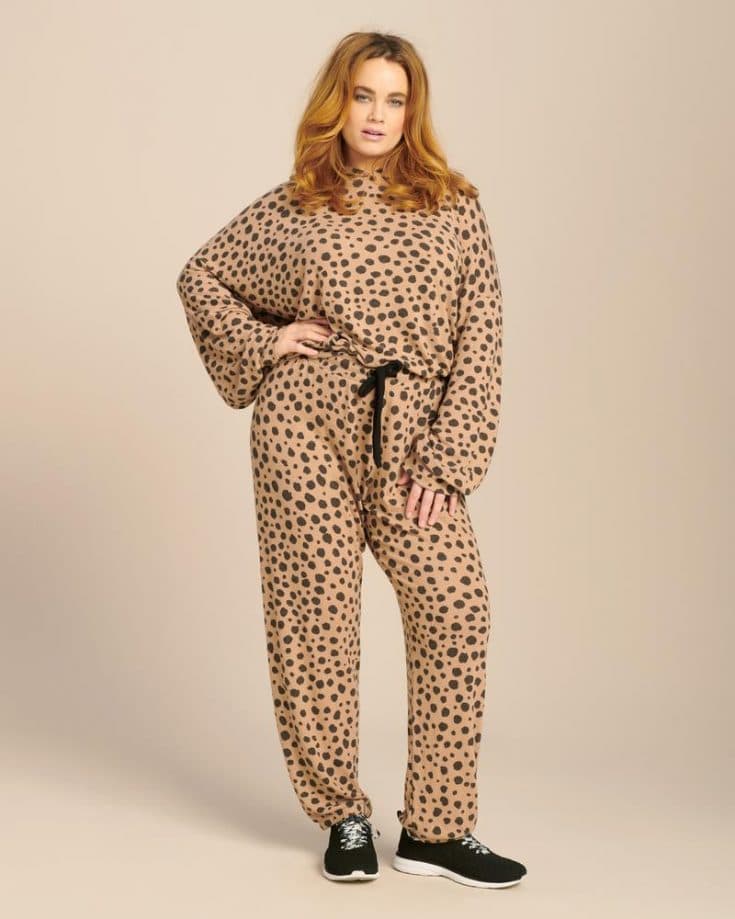 9 – Kourtney Kardashian's Style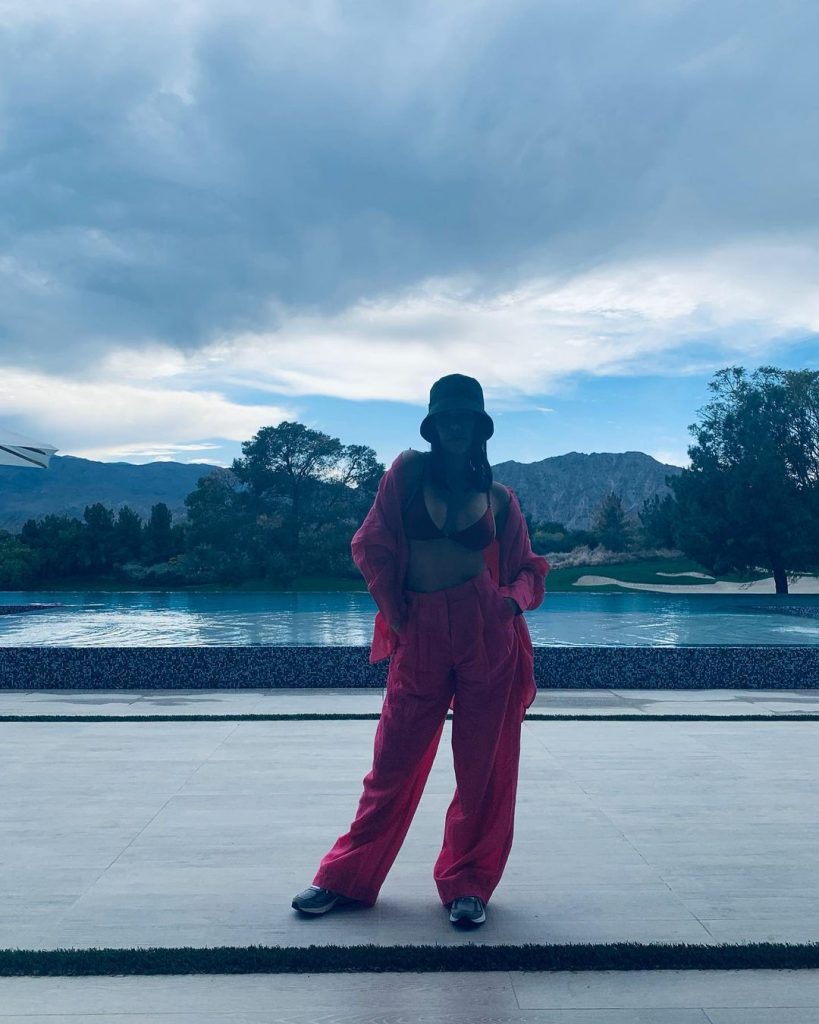 8 – Stylish Loungewear For Curvy Women
Here comes loungewear for the charming curvey women! A matching set that looks truly beautiful. A full sleeves one-sided off-shoulder top is both flattering and fresh. The flared bottoms are not just super comfortable but also look stunning with the knotted design. Show off some of your curves and be well-versed in the art of dressing at home. Add some hoops earrings and fluffy slippers to complete the look with style. Overall, a great look to try this winter.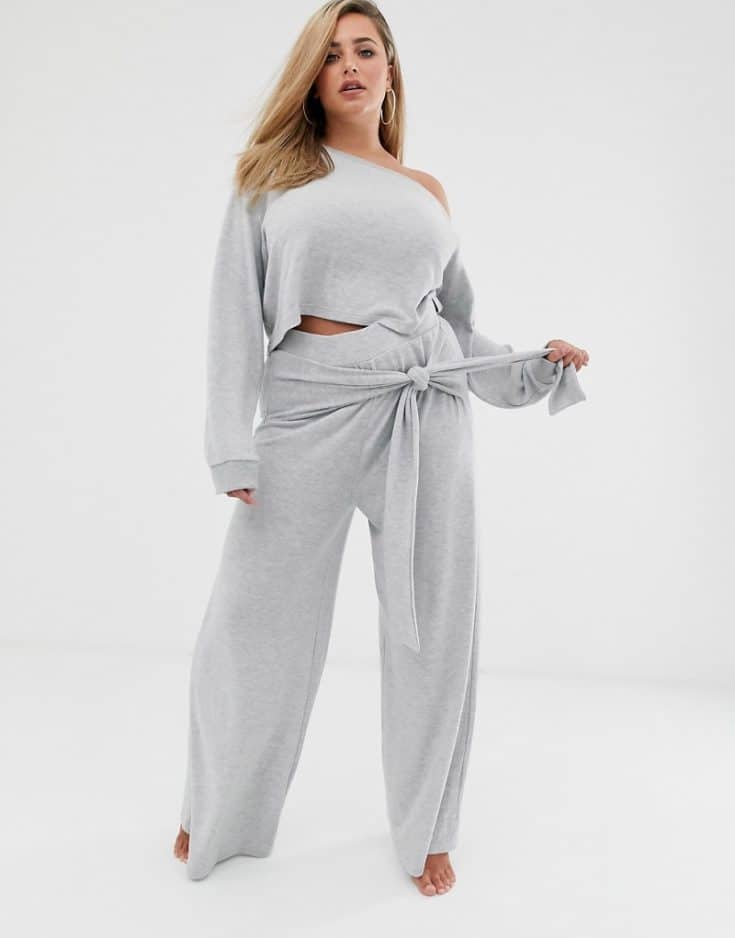 7 – With Shorts
You can easily pair this outfit with fleece-lined stockings and a fuzzy sweater or sweatshirt.
6 – When To Wear A Matching Tracksuit?
Grab this neutral tone set with cool shades of blue. Get such two-piece sets for the ultimate luxurious comfort. You can wear these sets on any day you want. Cool matching sets are my go-to outfits for a cozy yet chic look.
But, this look is amazing when you have people coming over since it's breezy enough to allow you to work and enjoy at the same time. Other than that, they are also suitable to wear outside the home like for a quick grocery run.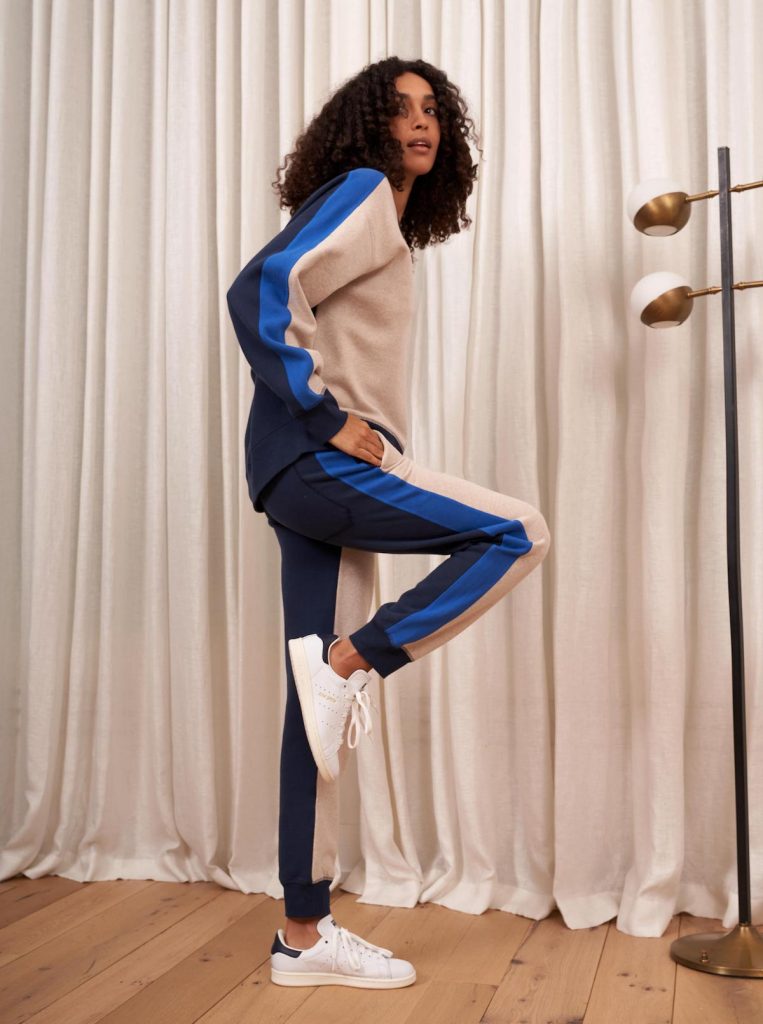 5 – Take Cues From Kim Kardashian
Kim Kardashian has everyone in awe of her amazing fashion sense. But, I love how she blends both style and comfort in the same look. Here is one of her looks in a loungewear set and I love it. In times when light tones are trending, Kim made a statement by wearing a darker shade. I have to say she is completely rocking it! A perfect outfit for much-needed me-time. Wear this set, put your hair into a bun, and grab your coffe. Put on your facemask and start pampering yourself!
4 – Silk Pajama Set
Enough of the t-shirts now! Let's move on to some button-down shirts and pajamas. Grab your silk set and enjoy your day to the fullest. They are effortless, comfy, and breezy! There is something so good about a cozy look to wear all day long. The outfit is not great for your house but stylish enough for your zoom meetings.
3 – Wrap Suit For Plus Size Women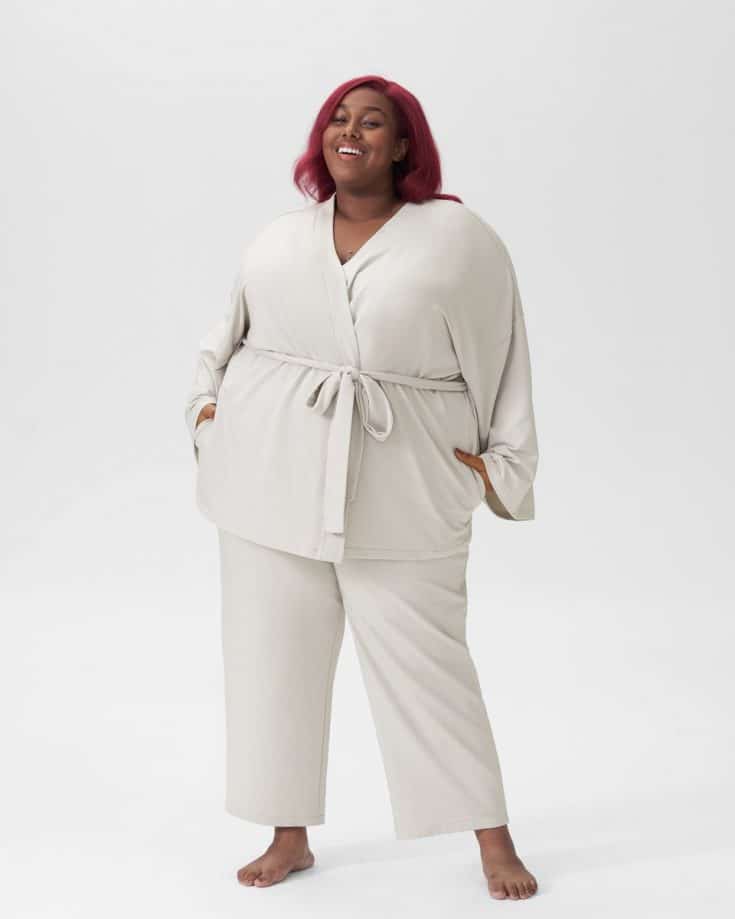 2 – Nude Jumpsuit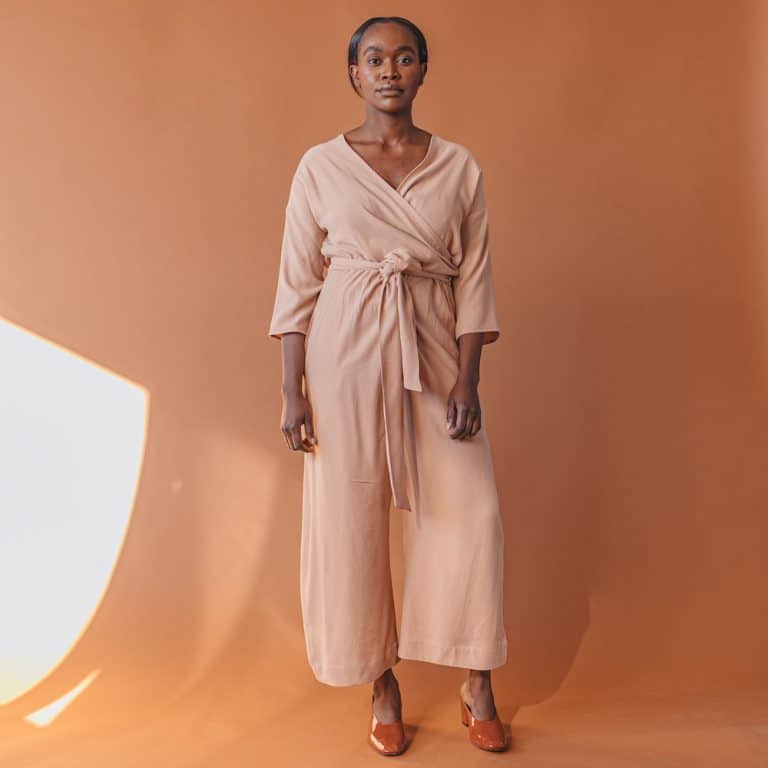 1 – Slay in Skirts
Leave your pajamas and grab a ribbed skirt and top to add some charm to your wardrobe. The outfit is simple, feminine, and flattering enough to steal the show. Sure, the baggy bottoms and tops are a cool and easy option. But, try an outfit like this once in a while to refresh your mood. Create a fun hairstyle, add cute pearl or hoop earrings, throw in your favorite pair of boots, a trench coat and be the talk of the town!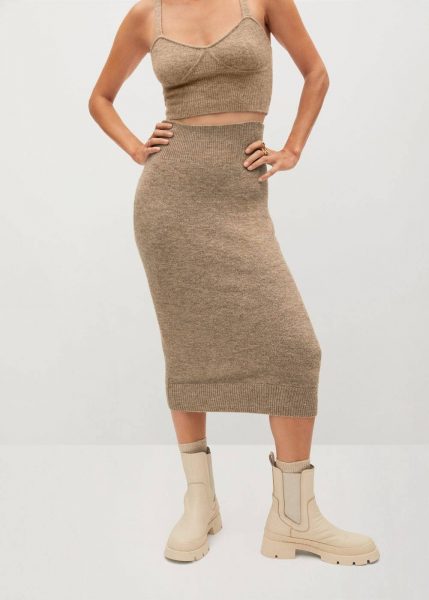 Frequently Asked Questions
Q: What is the difference between loungewear and sleepwear?
Ans: Loungewear is just casual clothing that is both cozy and presentable. Whereas sleepwear is particularly for bedtime. Your loungewear outfits are comfortable and casual but aren't for your eight hours of sleep. Although many people argue loungewear and sleepwear are similar, loungewear is more appropriate for daytime and when styled properly, you can wear them outside.
Q: What is Arthflow? Is that the new loungewear trend?
Ans: Arthflow is "when athleisure meets elegance." Oversized outfits flared or flowy trousers and casual jumpsuits have replaced old-school clothing articles. Oversized outfits are suitable for all occasions – parties, gym, casual, or office wear. Moreover, people now wish to have both style and comfort in the same look which is why comfortable loungewear is now appropriate for all kinds of occasions.
Q: Who has the best loungewear?
Ans: These are some of the best brands to buy loungewear sets from:
Lett
Eberjey
Adidas
Zara
Nike
La Ligne
ASOS
Skims
And, that was it. I hope the styling tips helped you and you found the best loungewear outfit for you. Do tell us which is your favorite outfit from the list and how do you style your loungewear?