Mint Skirt Outfits. Ever wanted to wear some unique color? Try a mint colored outfit. Skirts are in vogue all around the year. A mint colored one is sure to win a round of applause because of how refreshing and stylish the color is. Mint colored skirts can boost the overall look of your outfit.  Paired with the right color they look ultra-modern and snazzy.
There are several types of skirts and all of them, when worn in a minty shade, are bound to captivate attention. Here are ways you can don a mint colored skirt with full style.
What to Wear with a Mint Colored Skirt
Here are somethings that you should know about mint colored skirts prior to wearing an outfit that has one.
A mint colored skirt shouldn't be paired with another bright and funky color. For instance, a bright red or orange will not look eye-catchy rather it would look funny. RECOMMENDED: Mini skirts Outfits -15 Cute Ways to Wear Mini-skirts
The easiest way to pull off a mint colored skirt is by pairing it with either a black or a white top.
You can wear, heels, boots or whichever footwear suits your attire provided the color of it fits.
To look stylish, try to keep the look minimalistic. Remember, less is more and simple is stylish.
↓ 25 – Mint Colored Skirt Outfit
A mint colored skirt can be worn in a classy way with a mint colored crop top of the same shade. It also looks very fashionable with a striped black and white top. A lace white top is also a winner. Similarly, a mint colored skirt paired with a black high-neck shirt also looks modish.
You can throw on a denim jacket or a black or tan leather one. Suede jackets would also look excellent. Put on a pair of high heels or boots and you are all ready to rock!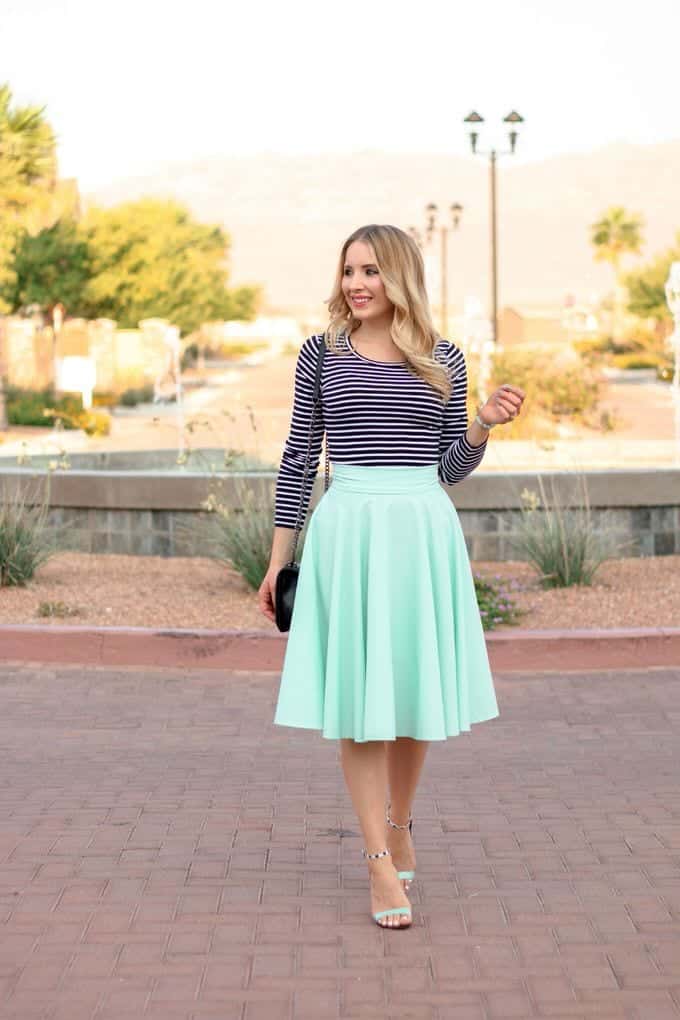 Via
↓ 24 – Mint Green Pencil Skirt
Pencil skirts look sophisticated. A mint colored one outclasses all others. This skirt can be a sheer pencil skin or one that is of another material. Either way, a mint green pencil skirt with a high collared shirt is bound to capture hearts.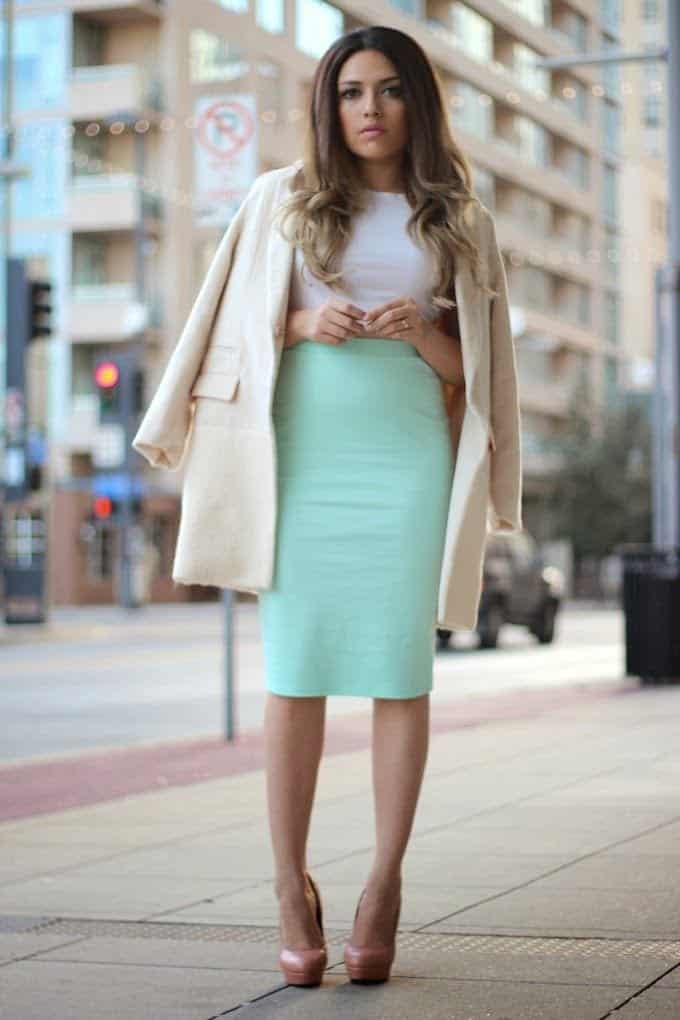 Via
↓ 23 – Mint Green Lace Skirt
Lace looks best in light colors. Mint color is a fresh one and looks ideal in lace. A lace mint skirt can be worn with a white crop top for a touch of elegance. You can also switch the dress pair and wear mint colored linen skirt with a white lace top. That would also make for a graceful look.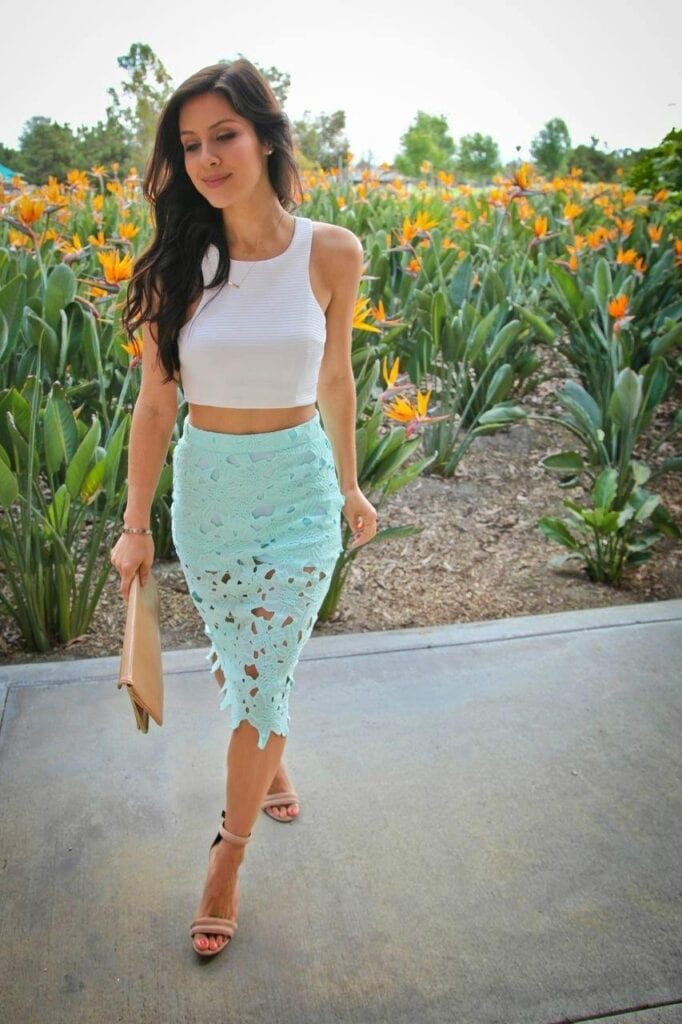 ↓ 22 – Mint Green Skater Skirt
Skater skirts give a cool and adorable look. A mint colored one would look very cute with a half-sleeved white button-down shirt. Or you can wear a white, noodle strapped shirt with a blue denim jacket on and boots or sneakers for a total skater girl look. If you're into skirts then here are some really cool Asymmetrical Skirt Outfits.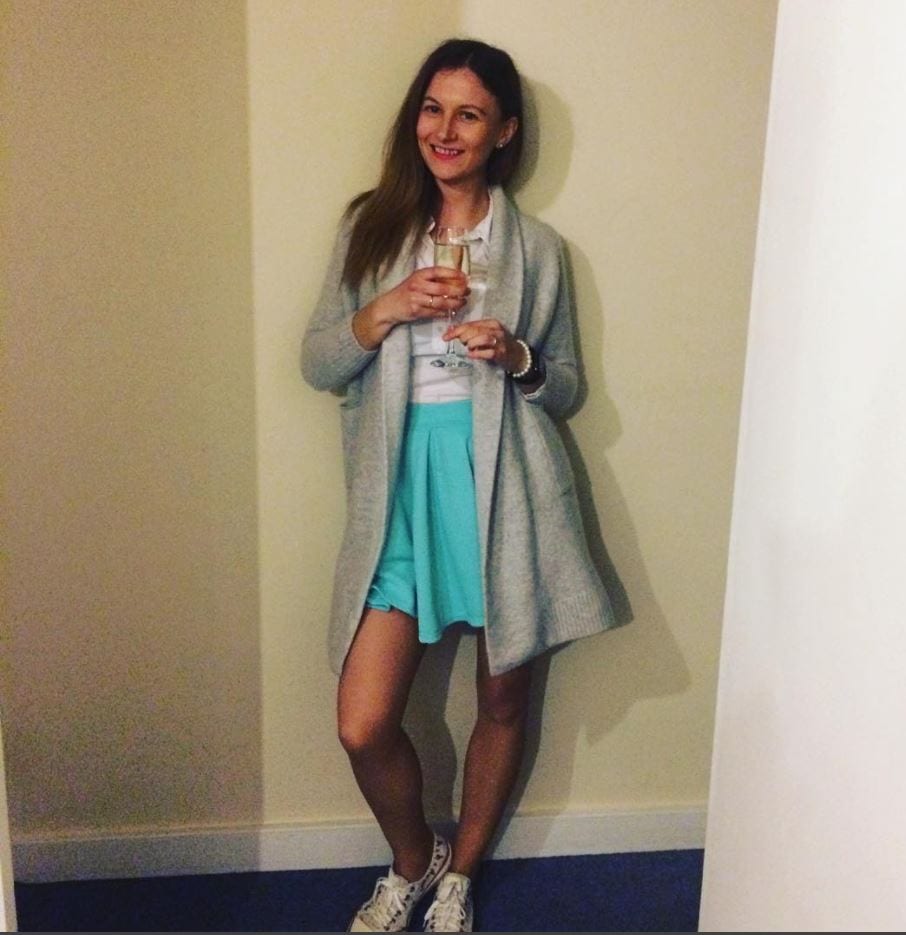 Via
↓ 21 – Mint Green Denim Skirt
Since mint is such a pretty shade it is bound to come in denim as well. A mint colored denim skirt would look fabulous with a mint colored shirt and a light blue denim jacket.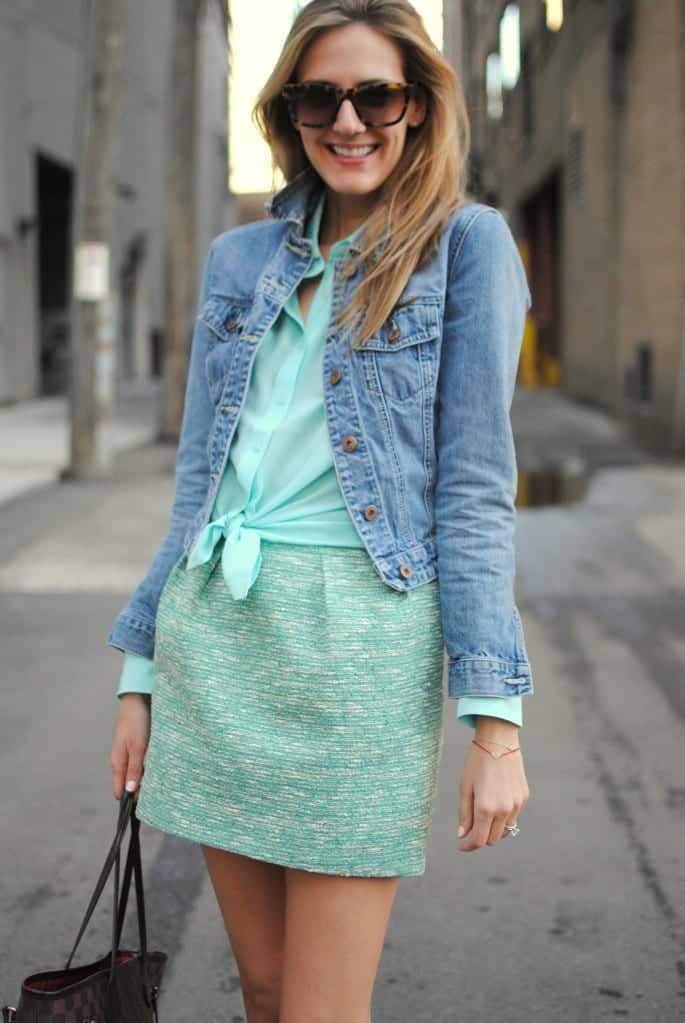 ↓ 20 – Mint Green Pleated Skirt with Lace Top for Prom
A pleated skirt looks very chic. Wear a mint colored one for the ultimate trendy look. You should also have a look at these Pleated Skirt Outfits for ideas on how to wear them the right way.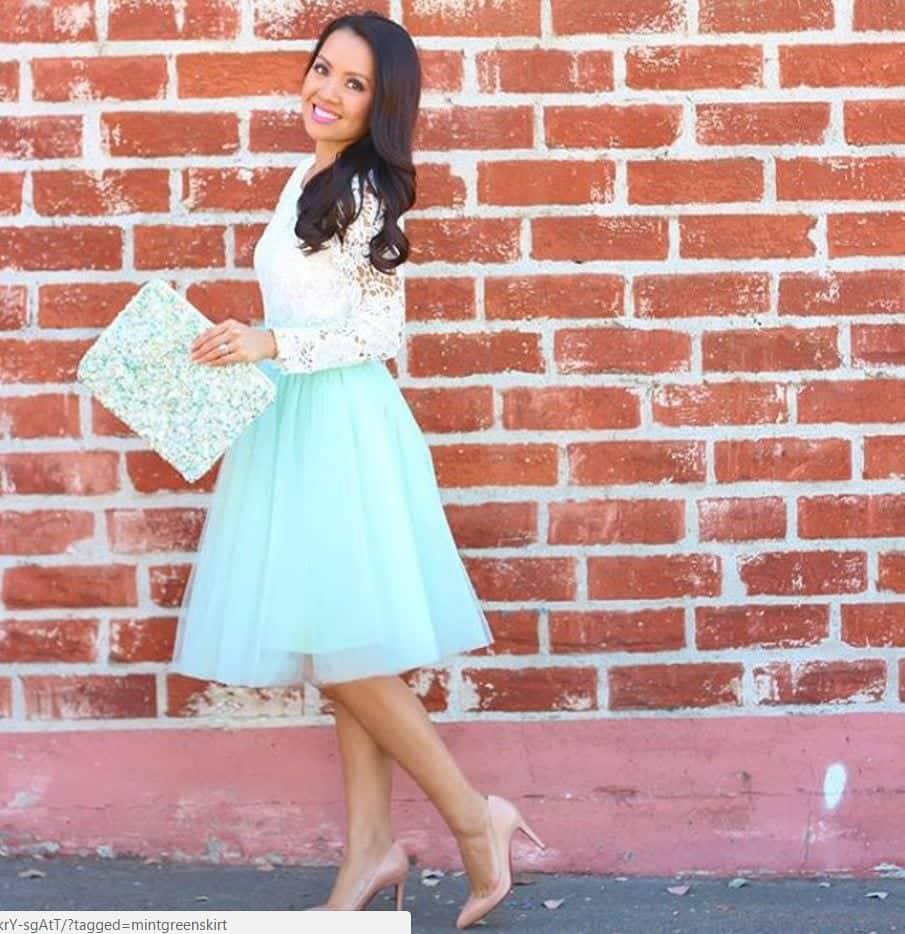 ↓ 19 – Mint Green Long Skirt for Casual Wear
Long skirts make for a fancy look. Pair your mint colored long skirt with a dark blue shirt for a strikingly beautiful look. If the top is sleeveless, add accessories for more style.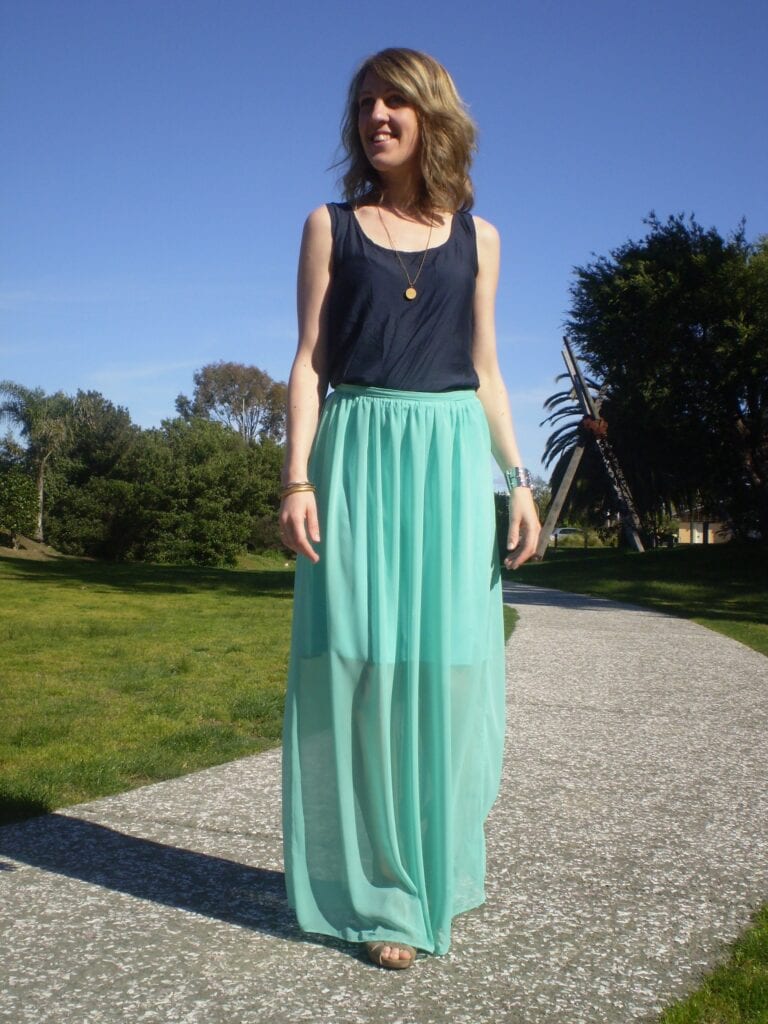 ↓ 18 – Celebrity Style Mint Green Mini Skirt
Short skirts are a staple of every girls' wardrobe; in the closet for the days they feel confident. Pair your mint green mini skirt with a matching top for a neat look and breeze through the day. Look at how stylishly Rihanna is rocking this look! Do have a look at these Outfits with Tennis Skirt.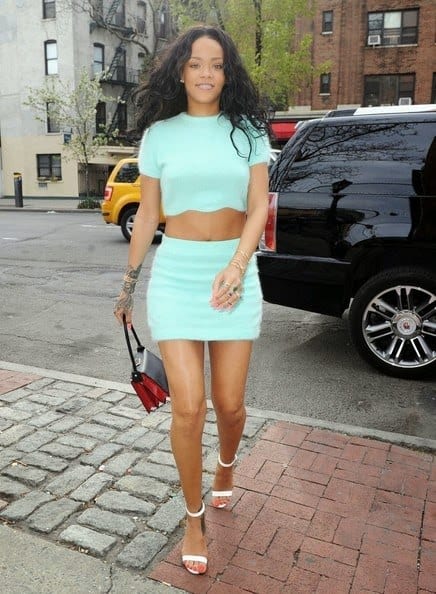 ↓ 17 – Mint Green Wrap Skirt with Crop Top
Don a mint green wrap skirt with a white top and look like a classy diva!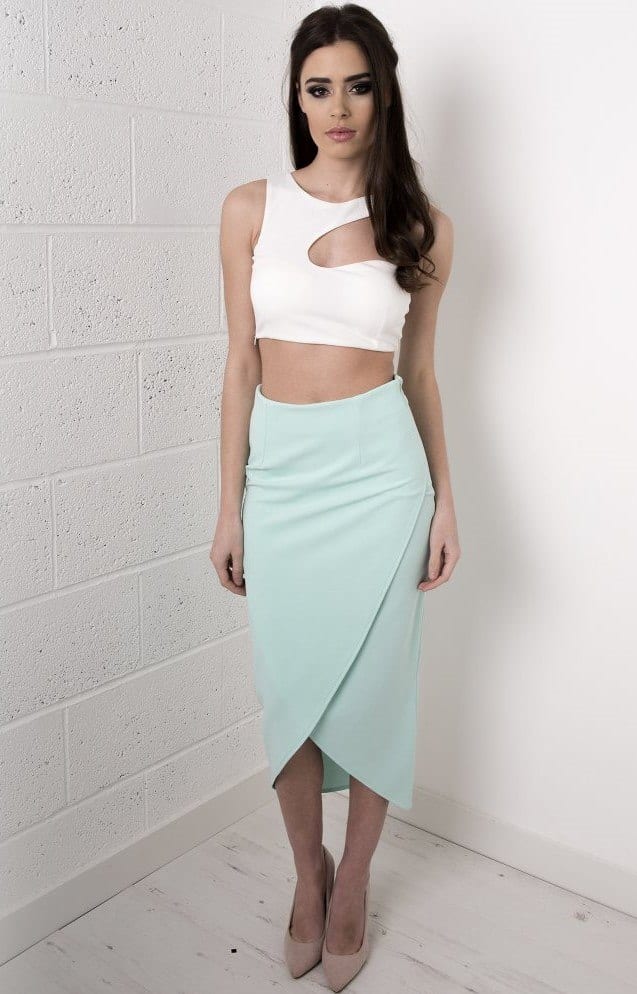 Via
↓ 16 – Mint Green Skirt for Curvy Girls
Mint green skirt with white polka dots is bound to look amazing. Not only is the look trendy but it is also a total head-turner.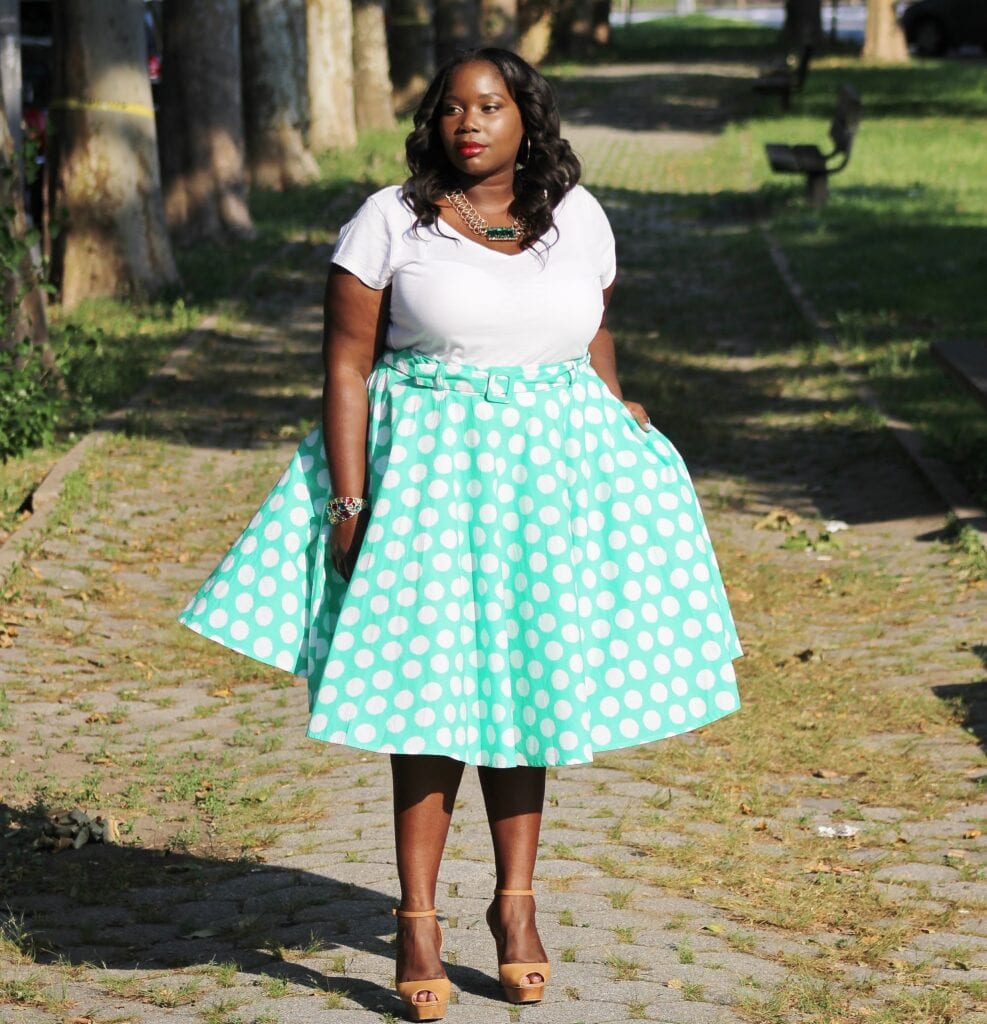 ↓ 15 – Mint Green Skirt and Top
When both the top and skirt are mint green, the look is clean and fab.
↓ 14 – Mint Green Striped Skirt for School
White and mint green striped skirts also look very mesmerizing! For more chic and stylish school outfits, check out these Cute Spring Outfits for School Girls for the best combinations.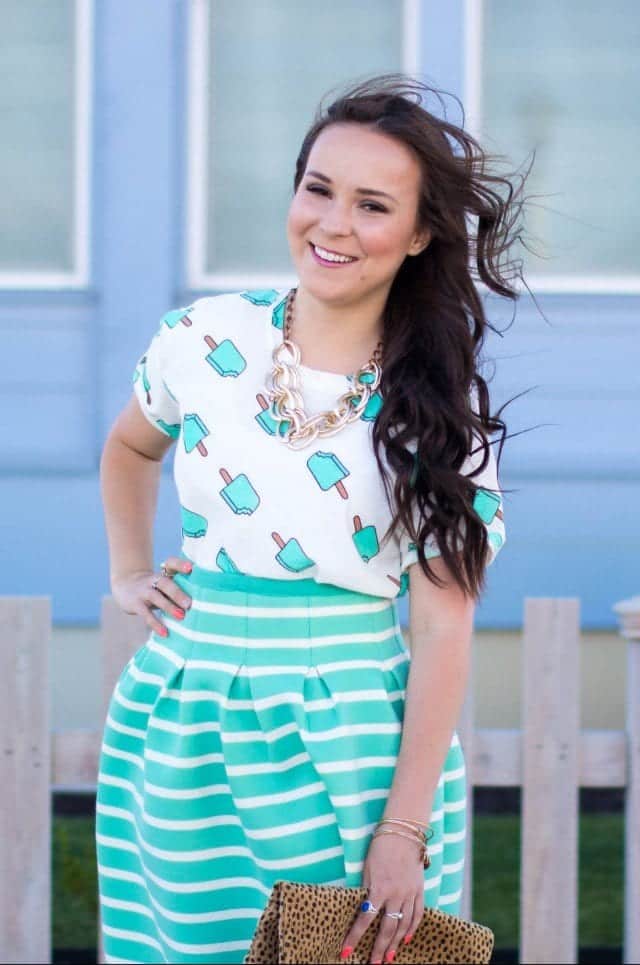 ↓ 13 – Mint Green Maxi Skirt
Mint green maxi skirts look best at formal events or parties where you are bound to wear something arresting. The maxi skirt can be worn with a white shirt for a subtle yet bright look. For more maxi skirt outfit ideas, check out these 12 Ways to Wear Maxi Skirt.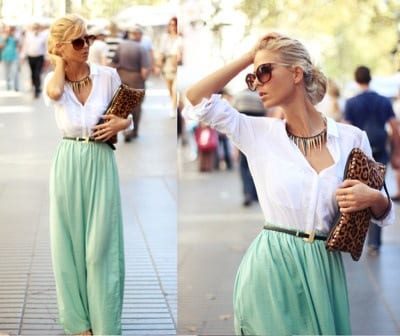 ↓ 12 – Mint Colored Skirt for Wedding Bridesmaid
Colors like mint, look very classy on brides and bridesmaids. A mint green skirt outfit would look gorgeous in a day time wedding.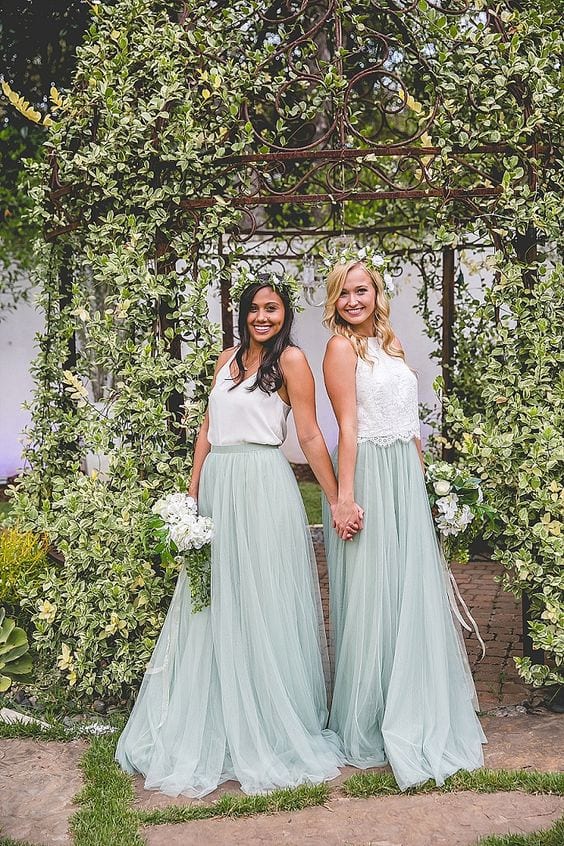 ↓ 11 – Mint Colored Skirt Suit for Work Interview
A mint colored skirt suit with a white dress shirt would make for a different and voguish look.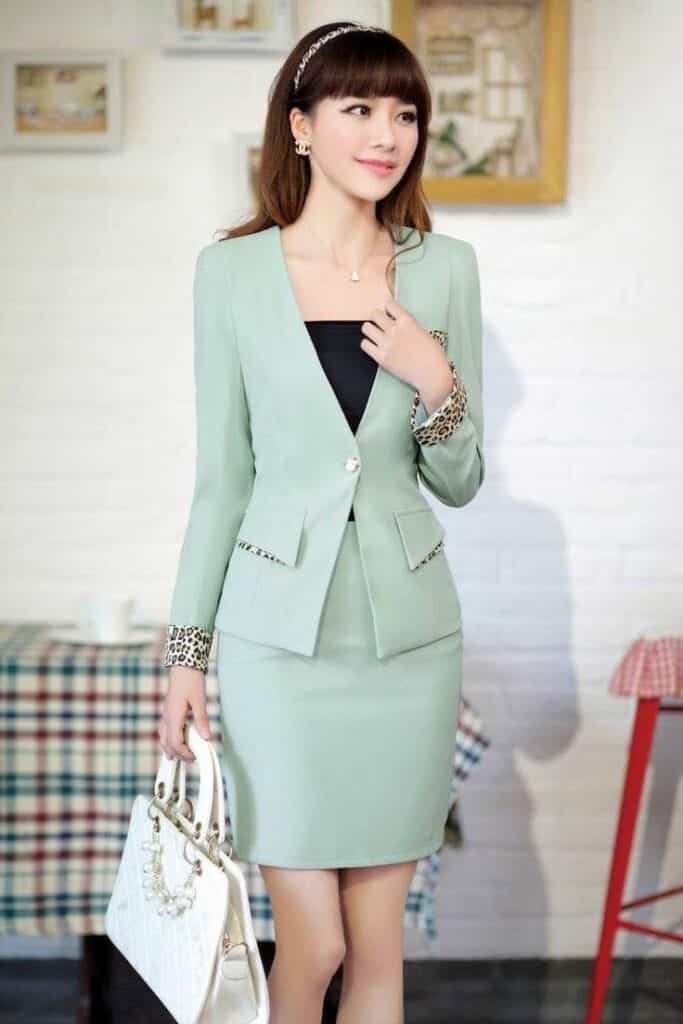 ↓ 10 – Colors to Wear with Mint Colored Skirt
White and black look best with mint. However, blue and tea pink also make for stunning combinations. Here are 12 Cute Polyvore Outfits with Pencil Skirts for Teenagers.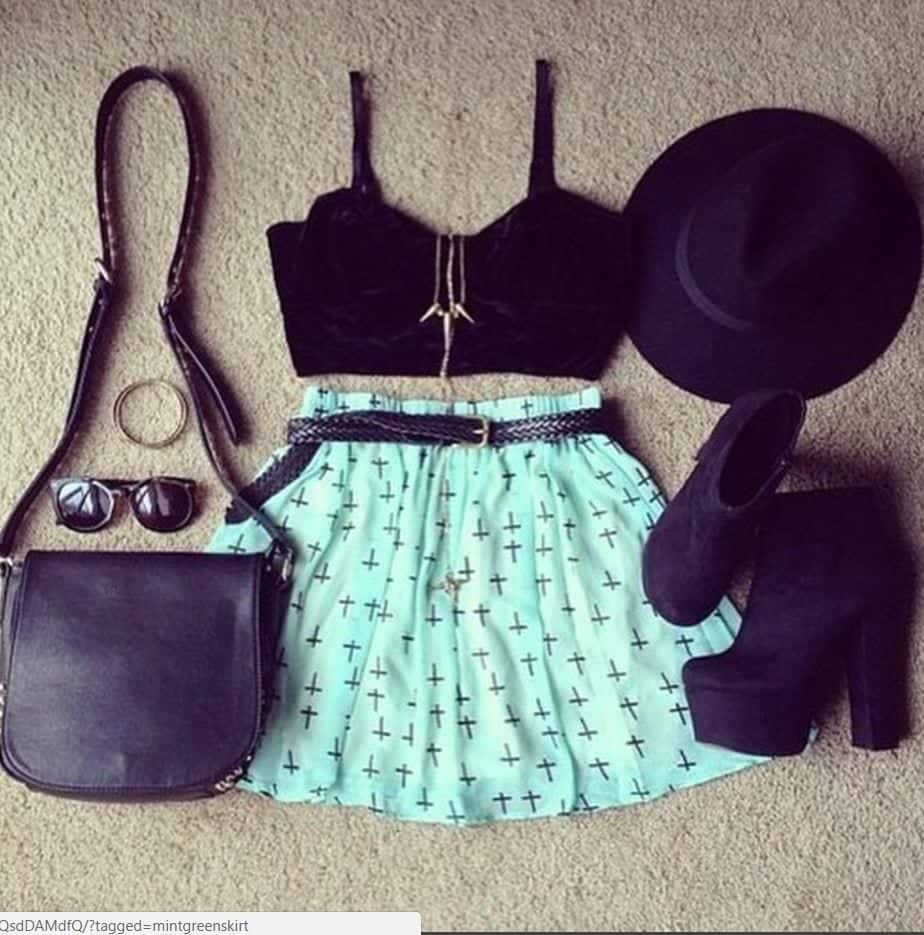 ↓ 9 – Mint Skirt With White Top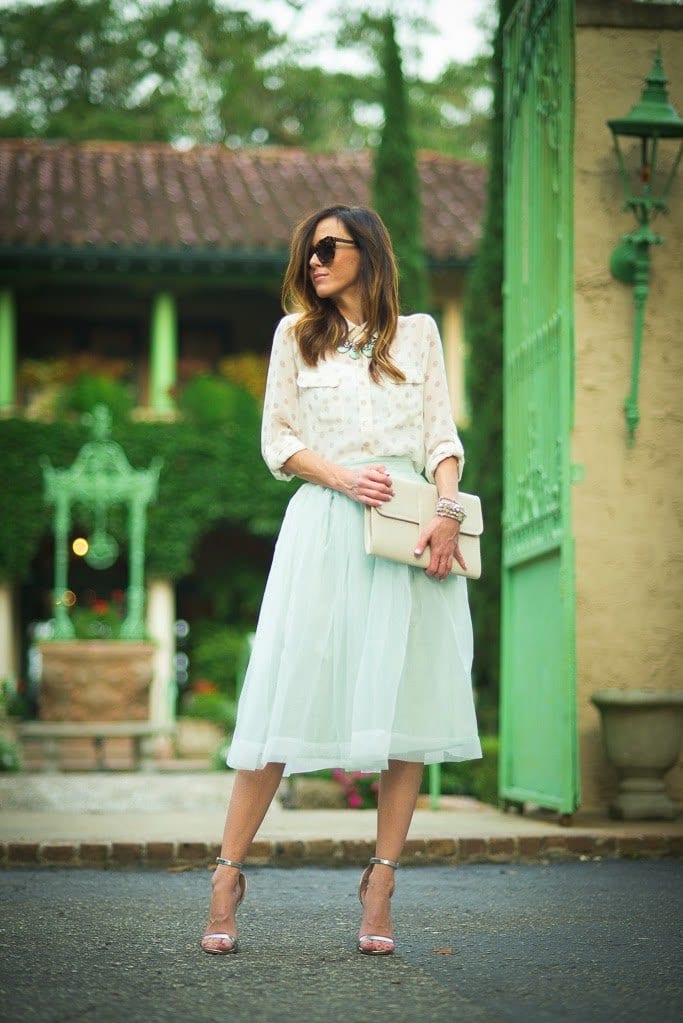 ↓ 8 – Mint Skirt With Black Top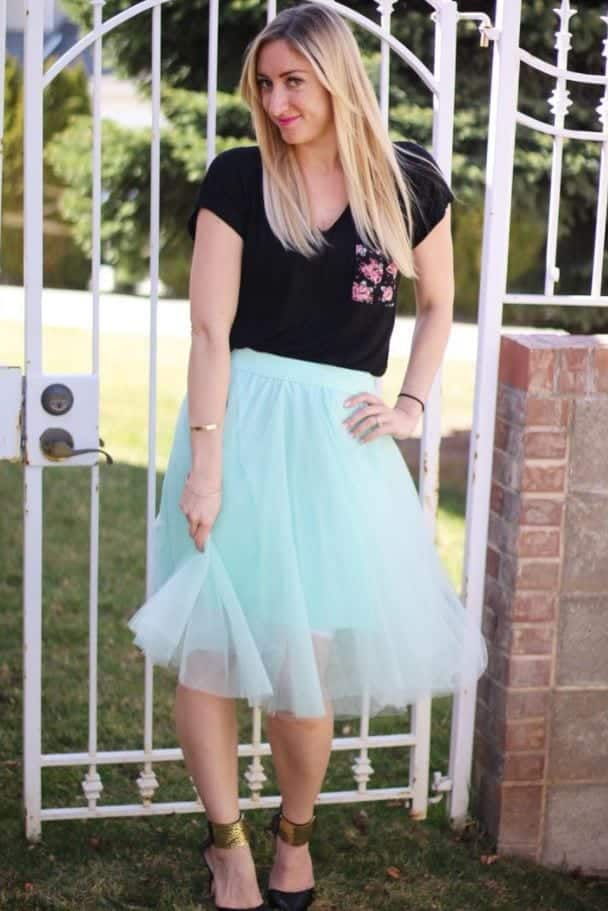 ↓ 7 – With Printed Top for Spring Parties
A cheetah print or zebra print top would look very mesmerizing with a mint colored skirt. Other prints that are sober but not funky would also look dashing. Such as this floral print mint green one! You could also do the opposite and wear a floral skirt with solid colored top, here are 20 Ideas How to Style Floral Skirts This Spring/Summer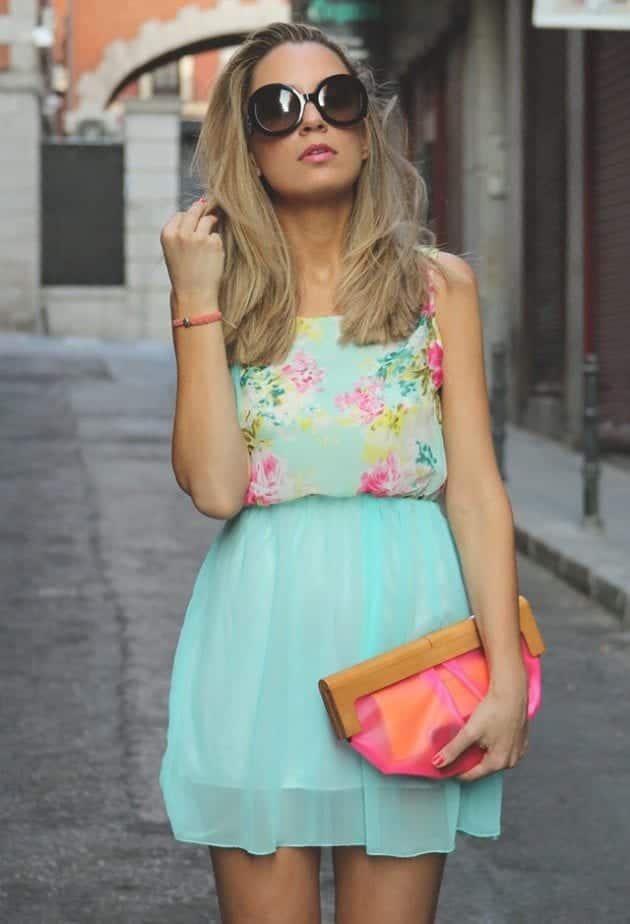 ↓ 6 – With Jacket in Fall
Throw on a blazer or a jacket, for some added versatility.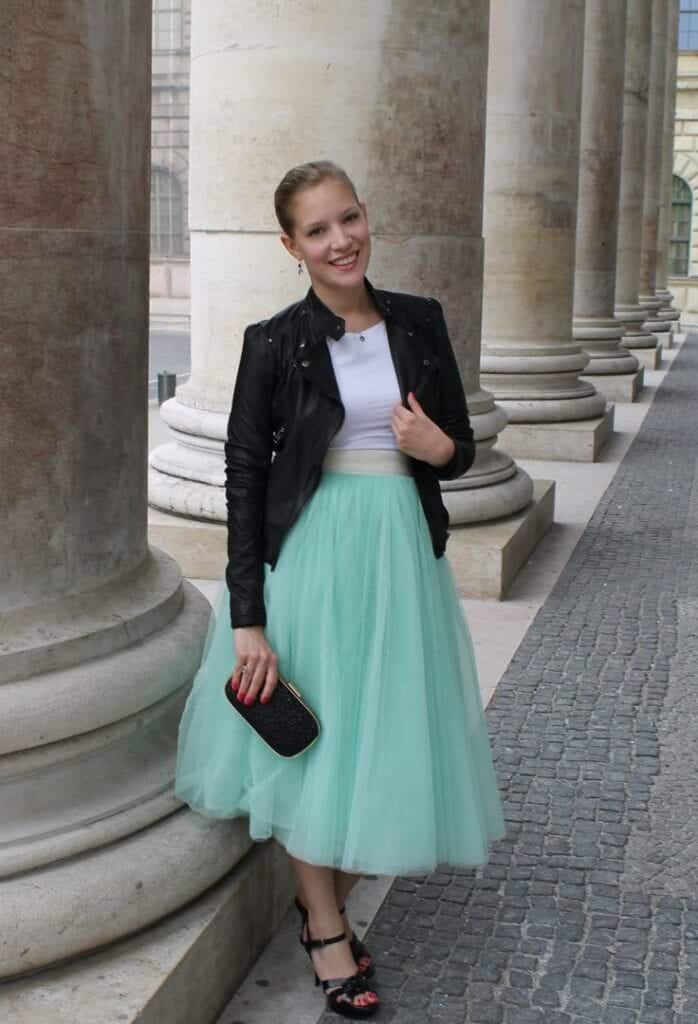 ↓ 5 – With Crop Top In Summer
A mint colored skirt would look very refreshing in the summers. Try the look.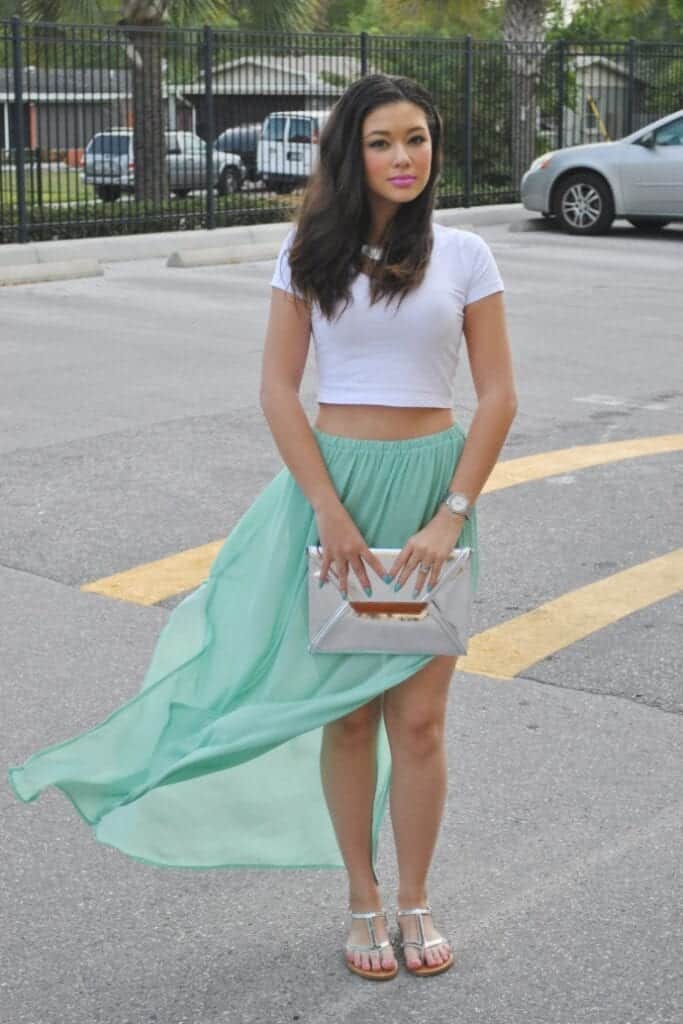 ↓ 4 – What to Wear with Mint Skirt In Winter
Winters are for dark but dull colors. But these days mint color is also incorporated in winter outfits. Pair the mint colored skirt with a black or navy top for a modern look. RECOMMENDED: Outfits with Pencil Skirts-25 Ways to Wear Pencil Skirts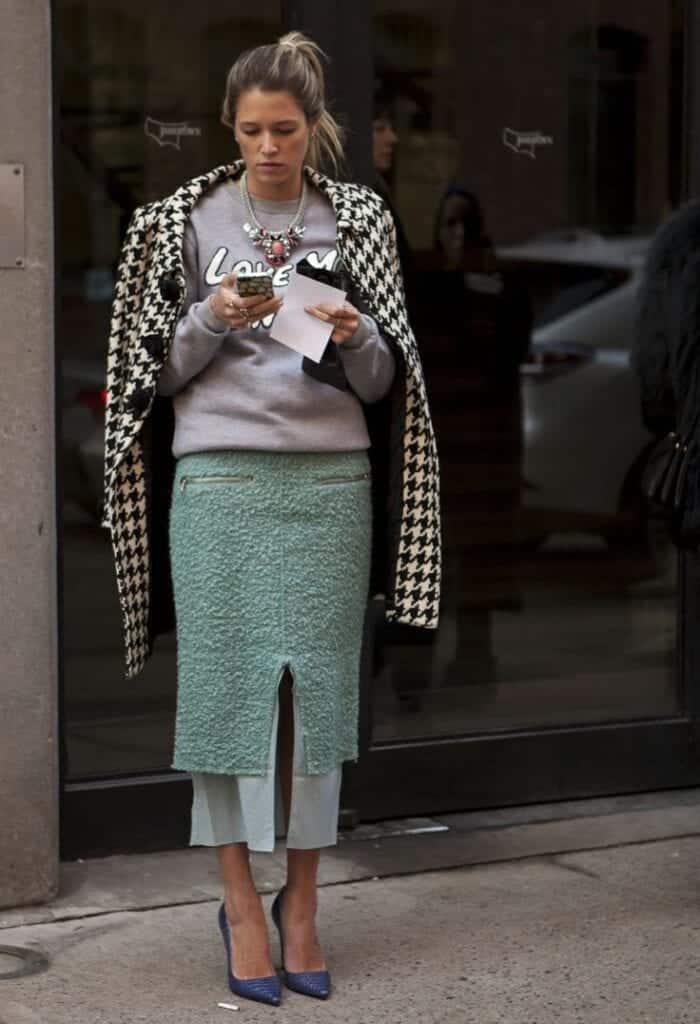 ↓ 3 – Mint Colored Skirt Casual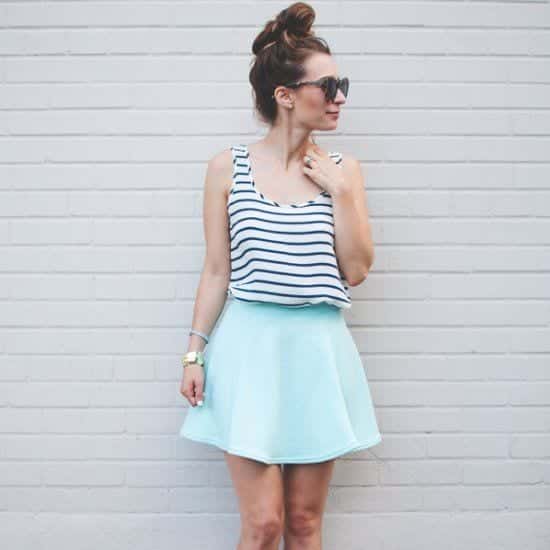 ↓ 2 – Mint Colored Skirt with Peplum Top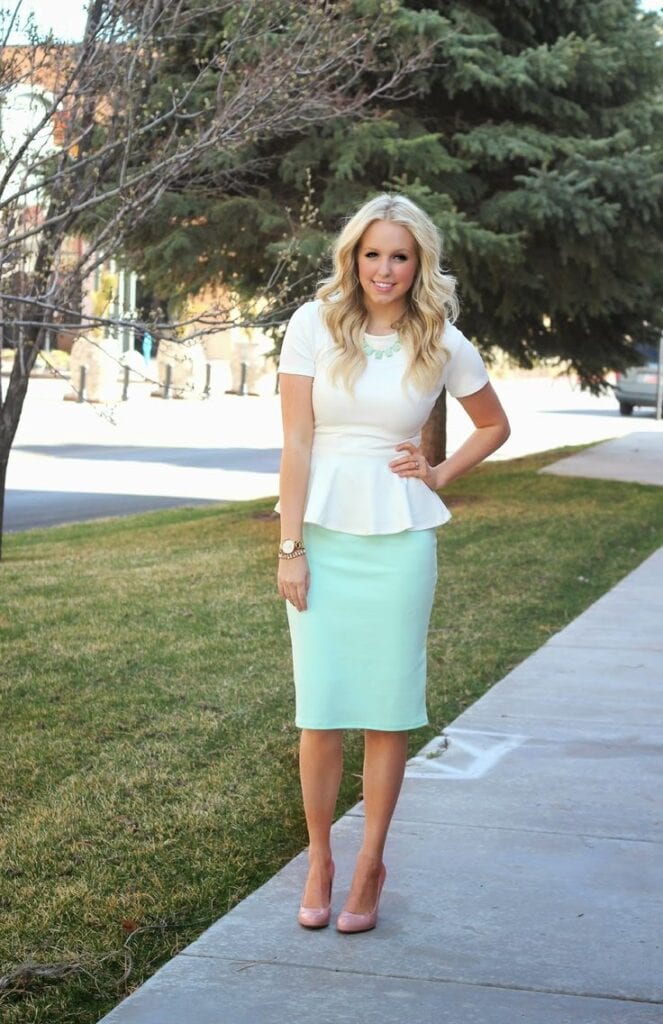 ↓ 1 – Street Style Mint Skirt with Scarf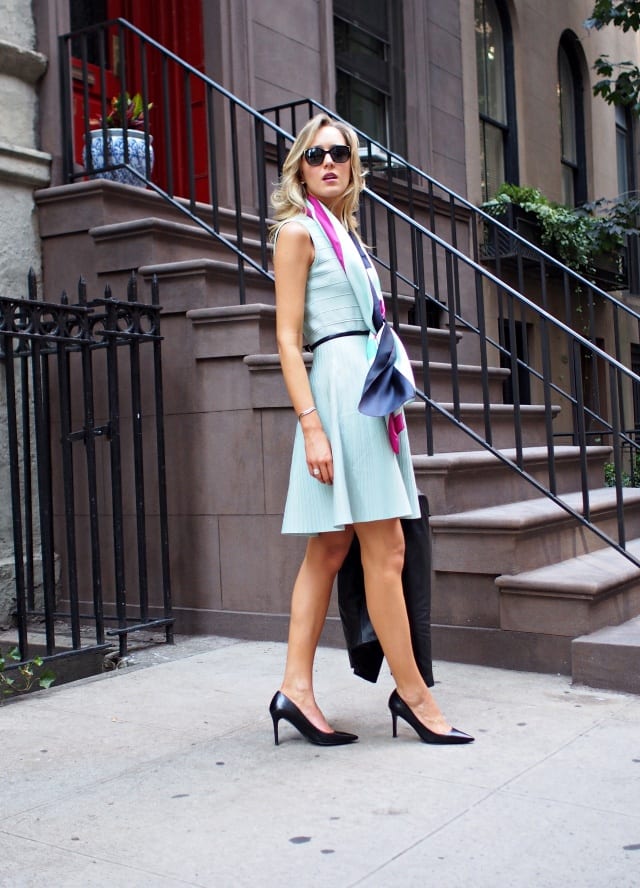 Via