Lake Day Outfit Ideas – Last year taught us one thing very clearly: spend as much time as possible with your loved ones because you don't know what will happen tomorrow.
It brought us close to our friends & family, and taught us that nothing is more important than to have pleasant memories with those who matter the most. However, if you haven't got a chance to spend some quality time with your parents, family, friends, siblings, children, or partners, then do not wait any further.

For this purpose, treat yourself to a trip; that's the best way to spend vacations. A trip to a lake sounds fun. Isn't it? Anything close to nature brings out the truth in yourself.
Moreover, it offers you peace, a calm atmosphere & fresh air—a perfect way to have a memorable time. However, this article has got you covered if you've questions like what to wear, what to pack, or how to plan everything.

What to Wear To A Day At The Lake ?
The first thing we will discuss is the 20 best lake vacations outfits. A trip is something you would want to remember forever. That's why you try your best to make it the best time of your life. For this purpose, I have listed down the best lake outfits 2021 options for you to focus only on the enjoyment.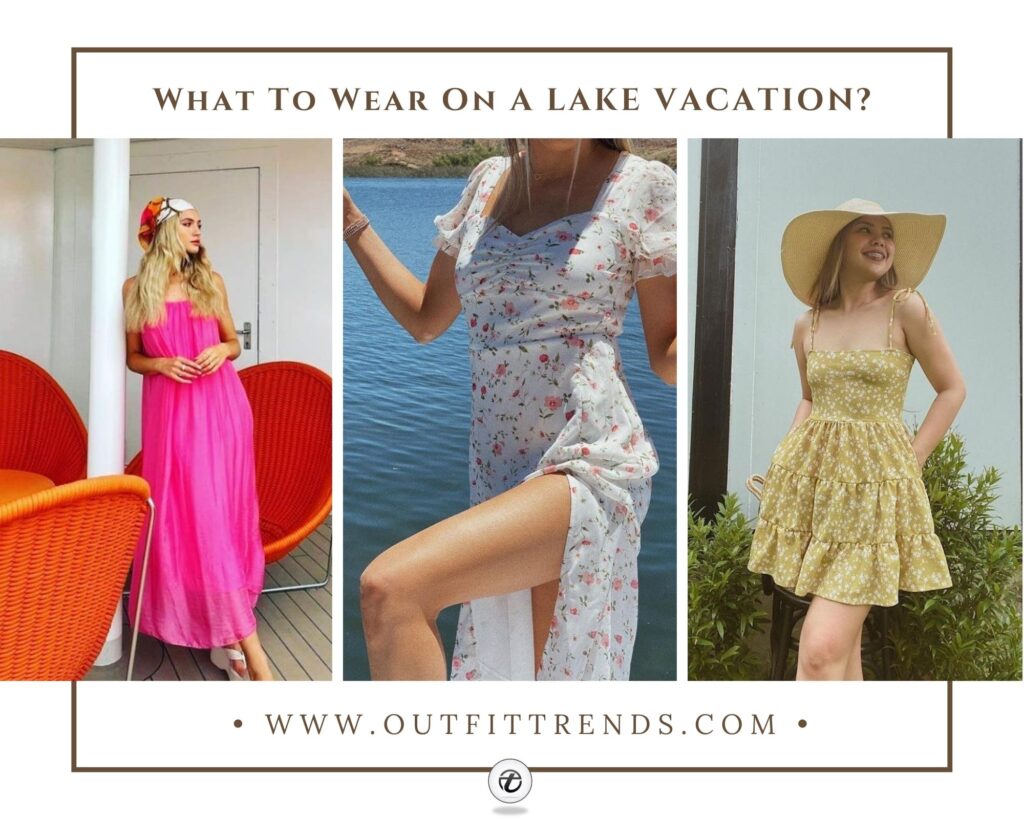 Tips On how To Pack For A Lake Day
Your packing entirely depends on how many days you are planning to spend on vacation. Don't overpack. It's because the more stuff you will carry, the more confused you'll be with your choices.
Always pack the outfits you are comfortable wearing. You are going on a trip to spend some time. So, do not worry about looking like a diva.
In addition, wearing comfortable clothes doesn't mean you can't make a stylish lookbook. Proper styling can do magic. You just need to use your wardrobe smartly.
For lake vacation, don't forget to pack the best lingerie, preferably in dark colors. It's because it would be difficult for you to clean anything in a light color as it gets dirty quickly.
As it gets cold at night near lake areas, pack some hoodies and sweaters for yourself.
Moreover, accessorize your outfits in a minimalistic way but elegantly. Bandanas, glasses, and hats are must-haves.
↓ 20 – Summer Lake Outfit
Let's start with this basic look. No doubt, comfy outfits are every girl's prime priority. So, if you want to wear something cosy, this outfit should be your first choice. In fact, a plain black spaghetti strap tank top is a master of every casual look. You can pair it with almost anything.
For a lake vacation, nothing is perfect than a tank top and shorts. Style it with a pink cardigan. And, in the name of accessories, carry sunglasses only. In addition to all of your preparation, wear any black flats from your wardrobe.


↓ 19 – Skirt Cover-up Lake Outfit
Cover-ups are of many types and styles. However, skirt cover-ups are the iconic trend of every time. A two-piece royal blue and cheetah print combination is all you need to look sassy on your vacation. Add more style to your look by wearing a white see-through cover-up. In fact, you can find it easily in online stores.

↓ 18 – Side Cut Lake Vacation Outfit
Sidecut outfits look exquisite no matter which event you decide to put them on. This long white dress with a flower print is perfect for your lake lookbook. Plus, we all agree that white and pink always go well with each other, Isn't it? Wearing something on your neck would be an excellent option. In fact, go for something flowery shape that would look more decent.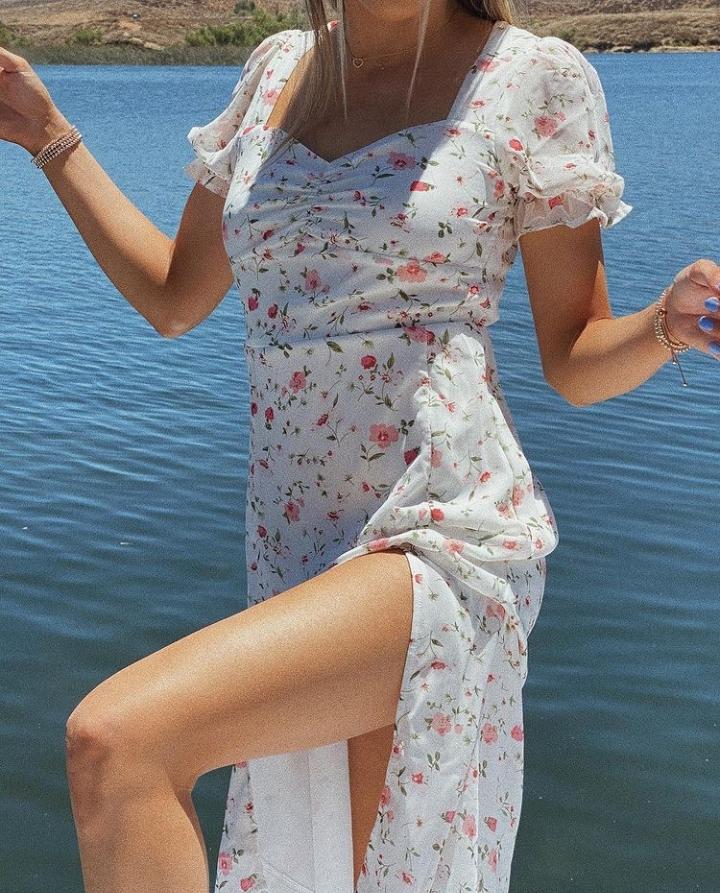 ↓ 17 – Lake Casual Attire
A casual weekend getaway with friends on the lake demands something cosy. No extra accessories or overdone makeup. Just you being you is the motto. For this purpose, go with your favourite sweatshirt from your wardrobe with your most comfortable pair of shorts and that's it.
You can always go with a colour theme. However, what about a pretty shade of pink?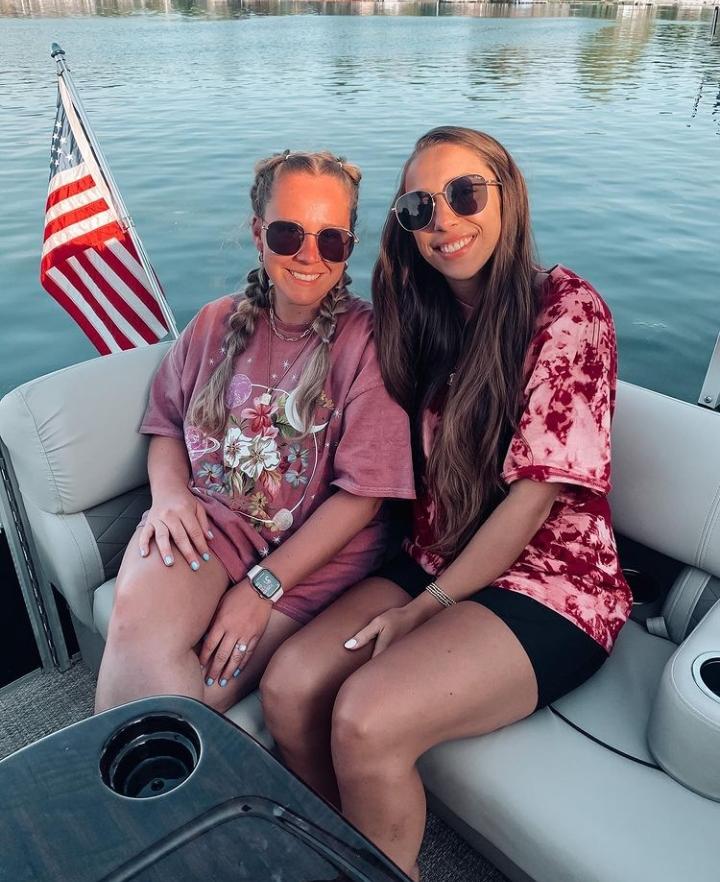 ↓ 16 – Yellow Lake Dress
Next on the list comes the perfect yellow sundress. The dotted print looks eye-catching at very first sight. Moreover, if you are not comfortable in spaghetti strap outfits, you can always go with thick straps. Furthermore, the yellow colour goes well with the aesthetics as well.
In short, this look is the complete package for a vacation.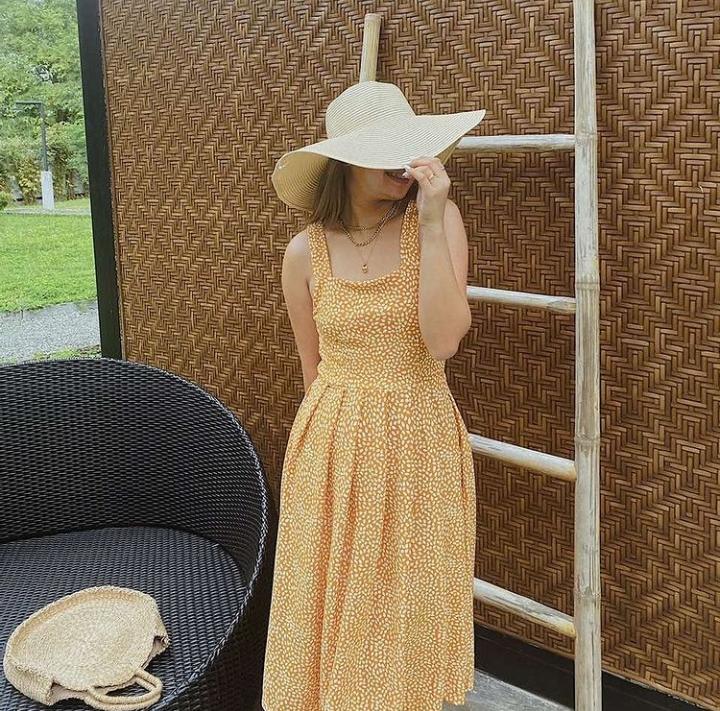 ↓ 15 – Denim Shorts For Lake Day Outfit
We all can agree that denim will be never go out of fashion. It is one iconic masterpiece that will serve decade after decade. So, wearing denim will never disappoint you no matter where you wear it. For a lake vacation, the perfect way to style denim is by shorts.
Moreover, you can choose any brassiere from your closet, and it can go exceptionally well with the whole look. That is the effect denim has on your outfit selection. Consequently, you don't need much work for this look; it is simple yet elegant.
↓ 14 – What To Wear On A Lake Day
With friends, every vacation is best. Isn't it? However, the best way to dress for a lake vacation with friends is to choose the same aesthetics. It looks suitable for pictures as well. Moreover, I prefer this image because it gives you two tips, which will be pretty beneficial for packing.
First, you can style the same shorts in more than one way. Second, colour coordination is the key if you want to capture perfect pictures. Look how white is common in all three outfits.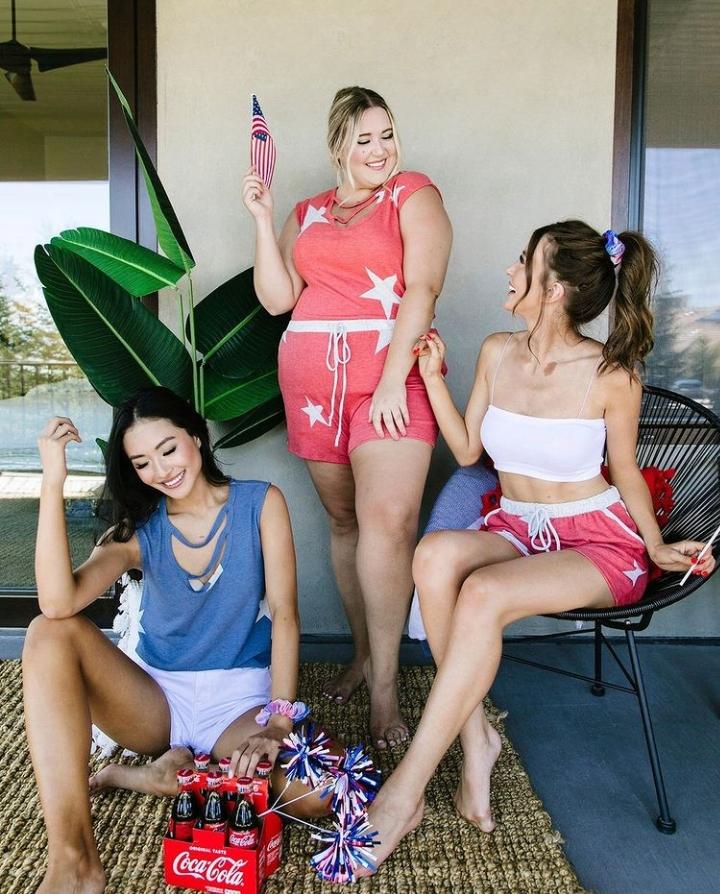 ↓ 13 – Cute Lake Outfit Idea
Another favourite look of mine on a lake vacation is a cover-up that looks like a mini dress. The detailing at the hem and the end of the sleeves makes this look cuter. Moreover, this see-through cover-up is the best to pair with your favourite bikini.
You can choose any bikini, but dark colours are preferable. In addition, to make the overall look cuter, paint your nails white. It will complete the overall vibe.
Via
↓ 12 – Floral Print Dress
Floral prints can never betray you no matter what season it is, no? This sleeveless dress with an open front is perfect for an evening event on your lake vacation. Moreover, the belt makes it more comfortable for you to stay glam all night.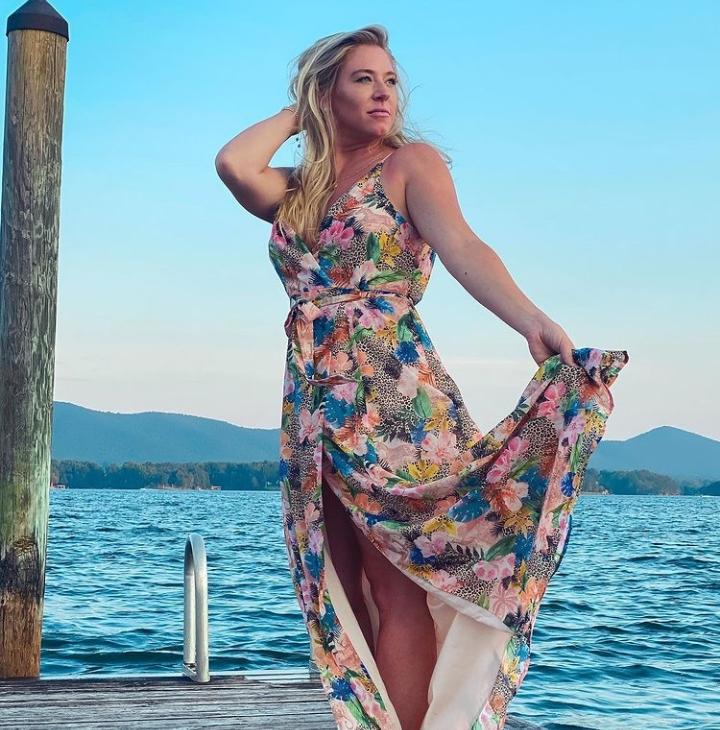 ↓ 11 – Lake Day Sweatshirt Look
Are you looking for a more comfortable look? You can always go for a "Lake Weekend" sweatshirt. Pair it with a nice pair of shorts, flats, and cool shades. In fact, it is a perfect go-to outfit for all the mothers out there who need to take care of their little ones on vacation.
Via
↓ 09 – Cheetah Print Cover-up Lake Look
Next comes this black bodysuit lake look which is again worth mentioning. Remember I said earlier that styling is everything? This look is the perfect example of my statement. Furthermore, cheetah print always compliments the black colour, and there is no lie in it. Accessorize with golden jewellery and add a belt and voila, a perfect look for a perfect day!
Via
↓ 08 – White Sleeveless Frock
If your aesthetic is dark academia, then this is the perfect option for you. An effortless but elegant dress will charm everyone around you. Imagine watching a sunset at a lake in this white sleeveless dress. No doubt, it sounds like heaven to me, though.

Via
↓ 07 – Family Lake Outfit Idea
As a kid, I always wanted my family to wear matching outfits. Or at least something similar so we look like a family. And I think it's a sure way to show your affection towards them. So, if you are going on a Lake vacation, I suggest you pack one outfit this way.

Via
↓ 06 – Black Bodysuit With Hot Pink Cover-up
Another way to look gorgeous in your bodysuit is to go with a perfect contrast of colours. Hot pink is such an eye-catching colour that it can make you the centre of attention at the party. However, you can use your button shirt or a scarf to make it look like a cover-up to tie around your waist.
Via
↓ 05 – Pink Long Dress With Bandana
There's no need to mention how much bandanas are in fashion because you already know it. The long sleeveless dress with white shoes is an ideal way to style a bandana. Plus, the blonde hair and orange shade in the bandana complement the whole look.
↓ 04 – Sophisticated Short Lake Dress
A lovely evening dress is number four on my list. Spaghetti strap outfits make your shoulders look more expansive and are always perfect for accessorizing necklaces around your neck. In fact, the favourite thing about this dress is its side pockets. So, you don't need to carry a bag.
Via
↓ 03 – Style A Wool Sweater
No doubt, you can style wool sweaters with shorts as well as jeans. However, to style them with a mini skirt might sound interesting to you. That's the thing about fashion. You can always come up with a new way of styling.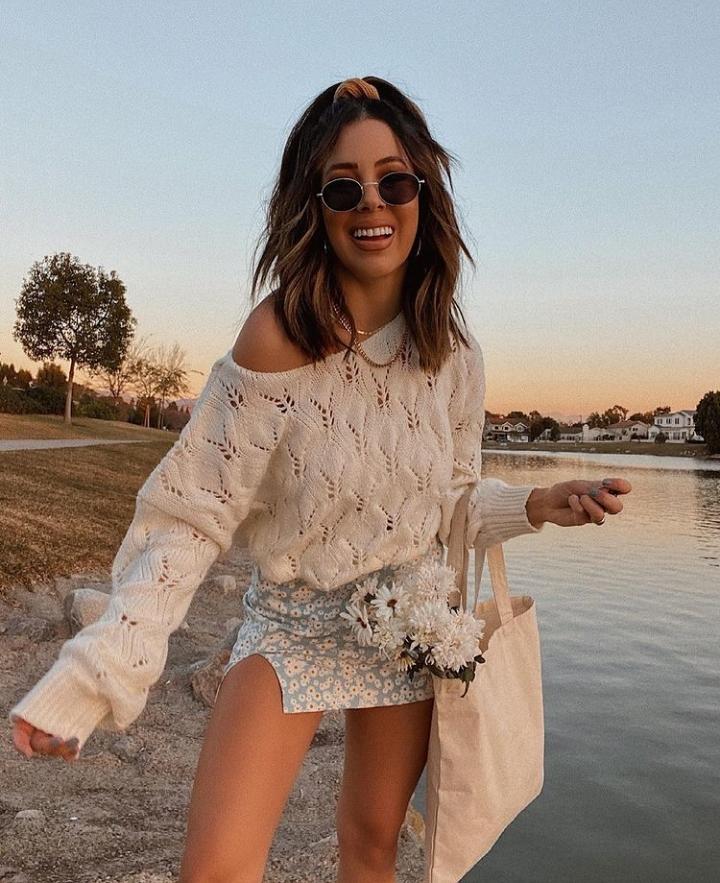 1
. Wool Knit Sweater $36.99
↓ 02 – How To Style A Button-up Shirt
You can style a button-up shirt in a thousand ways. For instance, tie it around your waist, keep the buttons closed, make it off-shoulder, keep all the buttons open, tie a belt, and the list keeps goes on. In short, to style a shirt for your lake weekend is a budget-friendly yet classy idea.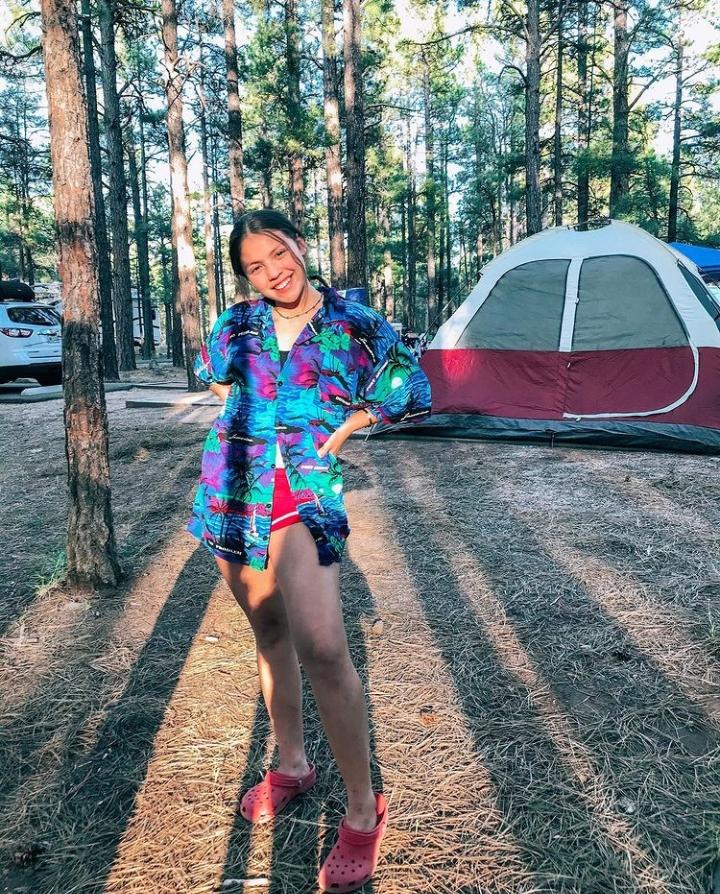 ↓ 01 – When To Style A Jacket
Is it even a vacation if you haven't styled your favourite denim jacket? No, for me, at least. A white top with skinny black jeans is the most basic look you can carry. However, keep a denim jacket on your shoulder and go with brown boots to add charm. Moreover, a cowboy hat will complete the whole look. So far, this is my most favourite look.
Via
Frequently Asked Questions
Q: What do you wear to a lake house?
Ans: You can wear tops & shorts, short dresses, skirts, long dresses, bikinis, hoodies, or in short anything but your prom dresses. In addition, cover-ups will remain the ultimate fashion throughout 2021. You can easily style cover-ups with a minimalistic as well as a fancy look. Other than that, the colours you choose for a lake vacation are significant. Go for the colour according to the events you have planned. For dresses, go with light summer colours to match the serene aesthetics of the surroundings. 
Q: How do you pack for a weekend at the lake?
Ans: By now, you get the idea for your outfits. However, in packing for a vacation, there are many other things you should consider. You don't need much makeup for this vacation. It is because all your outfits require minimum makeup. In addition to makeup, do not forget to keep your skincare bag. Your face needs proper care and moisture after a day out in the sun. For shoes, keep slippers, flats, and sneakers as per your convenience. Carry shoulder bags or crossbody bags; they will go excellent with your outfits.
Q: What is there to do on a lake vacation?
Ans: There are two ways to spend a vacation. Either you can relax if you have had a hectic past week, or you can make it unforgettable with fun activities. However, there is a mid-way as well; keep the balance between the first two options. To make your vacation memorable, you can plan several things to do. In the day you can do boating, fishing, & water sports. For night you can arrange a bonfire or a karaoke party sounds a fun option too. Take a lot of pictures, or maybe you can vlog a little to save all your memories. Lastly, the purpose of the vacation is always to give you some rest from your daily routine. Don't stress yourself too much, and have fun!