White Eyelet Dresses: If you are searching for the perfect versatile wardrobe item that styles gorgeously for every occasion, white dresses are the answer you are looking for! They are easy to style and appear seamless on wearing.
Moreover, they add a spark of elegance and class to ooze your overall look, which is just what we need!
White dresses appear in all sorts of fabrics, silhouettes, and lengths. In this article, we are going to talk about everything eyelet dresses! Adding intricate details and patterns is the perfect way to elevate a plain white dress and leave you looking like a dream.
Therefore, grab your white eyelet dress and get ready to style. And if you do not have one, there is no better time to order one than now!
FUN FACT: Eyelet fabric is pretty much the same as what Asians call the chickenkari. Both fabrics feature embroidered holes and are widely used in making dresses.
How to Style a White Eyelet Dress?
The best part about a white eyelet dress is that you can style it up or down according to the occasion you are dressing for or your mood for the day! In fact, you can even wear them to weddings as a guest (as long as you have cleared it with the bride first!)
Keep scrolling to discover all the best ways to style and accessorize a white eyelet dress. I assure you that you will stumble upon a look that defines you and your style in this article.
Tips on Styling a White Eyelet Dress:
If the cutwork on the dress is dramatic and apparent, you can wear a slip for coverage! Ideally, a beige slip closer to your original skin color will work best, but a white one would suffice too.
Similarly, match your undergarments to the color of your skin to disguise and put forth a seamless look.
Accessories are a must when it comes to styling a look. When you are in doubt, gold or similar jewelry items are a staple and foolproof method for a fantastic look.
This might sound a little weird, but getting the shade of white right to compliment your skin tone is a necessity!
You might benefit from loose silhouettes and breathable fabrics during the hot and humid seasons. You will not only look fashionable but be at ease too.
And finally, to compliment and complete your look, light, and natural makeup is the ultimate way to go!
So keep scrolling to find all the wonderful options waiting in store for you!
36 – Go for a Statement Purse & Dainty Bracelets
This dress is a gorgeous piece in the white eyelet dresses family. The knotted detail on the sleeves gives this dress a very romantic and playful touch which is perfect for a date with your friends or significant other. Opt for a statement purse and add details to your look by layering dainty bracelets!
35 – Style your Eyelet Top as a Dress
If your eyelet top is long enough to get you away with styling it as a dress, do it! On the contrary, you can style your mini eyelet dress as a top and pair it with a cool pair of jeans or stockings. After all, it all comes down to your preference and how you put your unique spin on your clothes!
Here's a complete guide on how to Wear a Shirt Dress.
34 – White Eyelet Dresses for Little Girls During Summer
These young girls look adorable in little eyelet dresses! In fact, you can put together a sweet and endearing look by matching your outfit with your little ones when dressing up for a family picnic or get-together!
Rest assured, you and your daughters will be exuding significant mommy-daughter goals!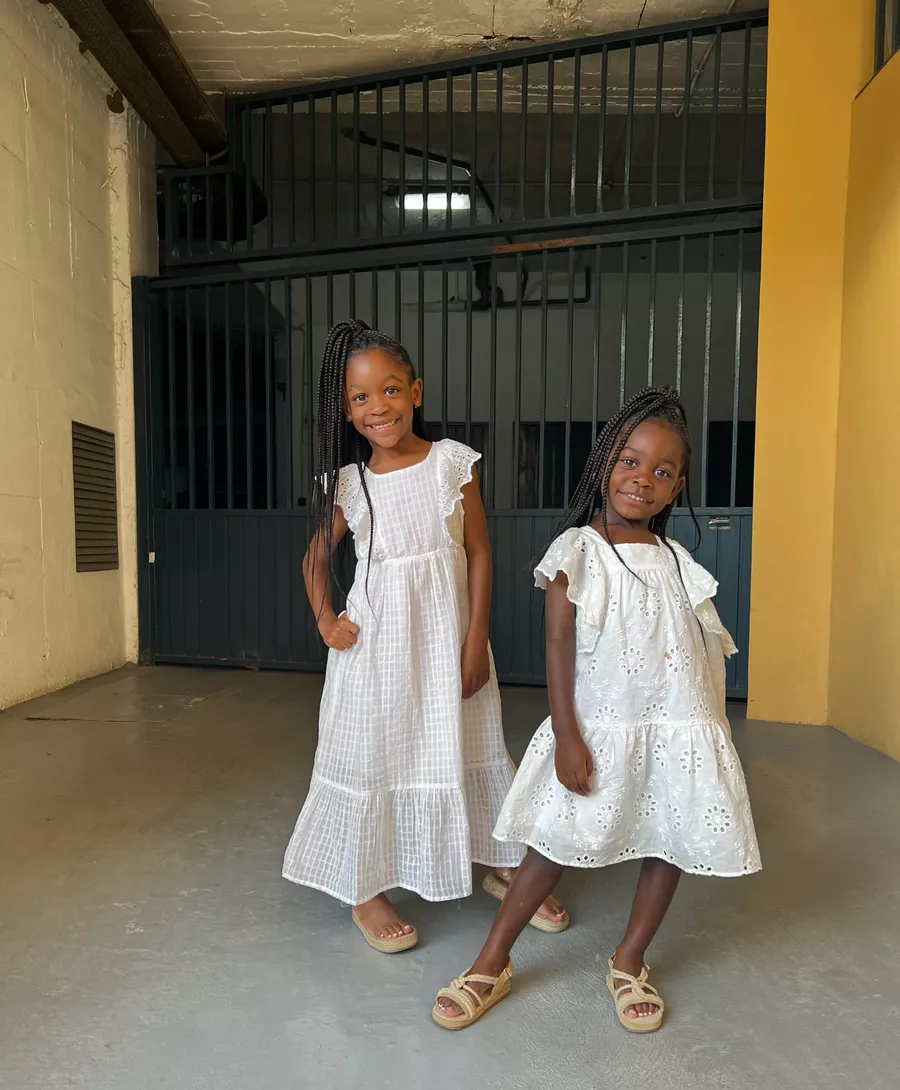 33 – Wicker Weave Handbag is a Fantastic Addition to White Eyelet Dress
If you are doubtful and are drawing up to a blank when thinking of styling a white midi dress, straw woven jewelry and accessories are the way to go. They always look phenomenal and pair effortlessly with a white midi dress.
You can spice things up by adding a hair scarf to your hair (or bag) for a personalized touch.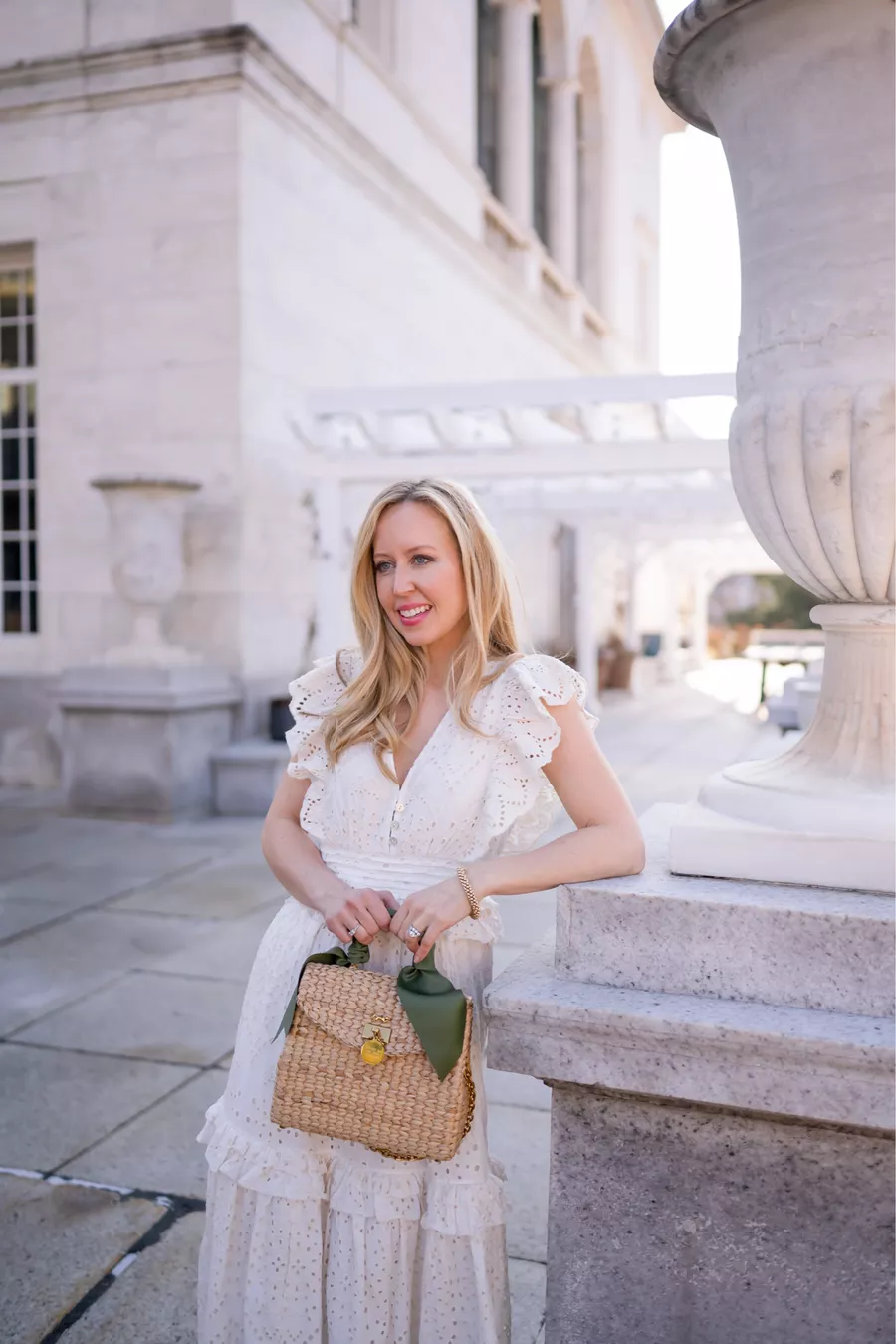 32 – Add a Denim Jacket & Ankle Boots
It is time to make things interesting and create a unique look by adding a denim jacket with a white eyelet dress. Not only is it a fashion statement, but it is the perfect item to keep you warm on a chilly winter day. Moreover, a pair of white ankle boots are the ideal pair for your outfit and completes the look.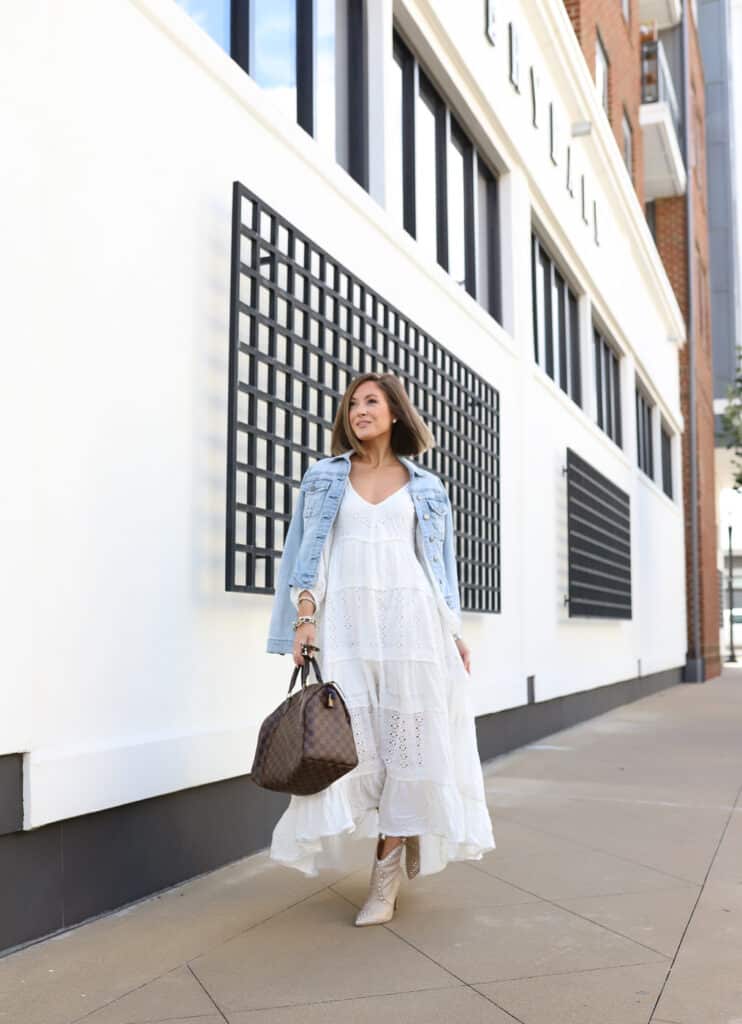 31 – Opt for Classy Black Shoes & Accessories Just Like Rihanna
You can follow right in Rihanna's footsteps and create a bold and daring look by pairing your white dress with black accessories. The pairing of black and white will never fail you. Thus you can get creative and think of unique ways to introduce black to your outfit!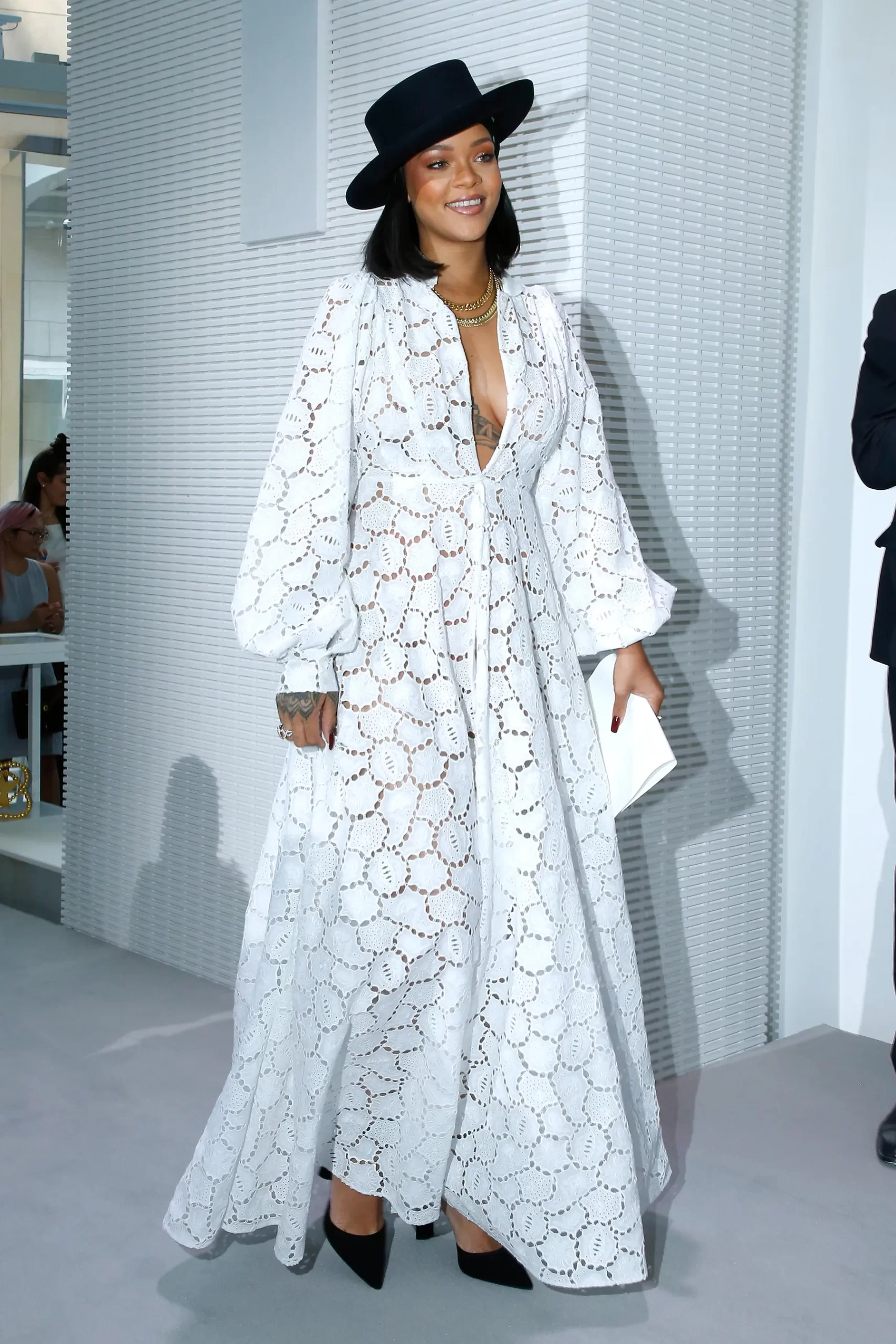 30 – Opt for a Bright Pink Lip for Summery Look
While you can do various things with accessories to compliment your look, you need to focus a little bit on make-up too! It is one of the easiest ways to spice things up and make your white eyelet dress stand out. A bold and dramatic eyeliner, a bright and popping lip color, or both will compliment your outfit like no other accessory can!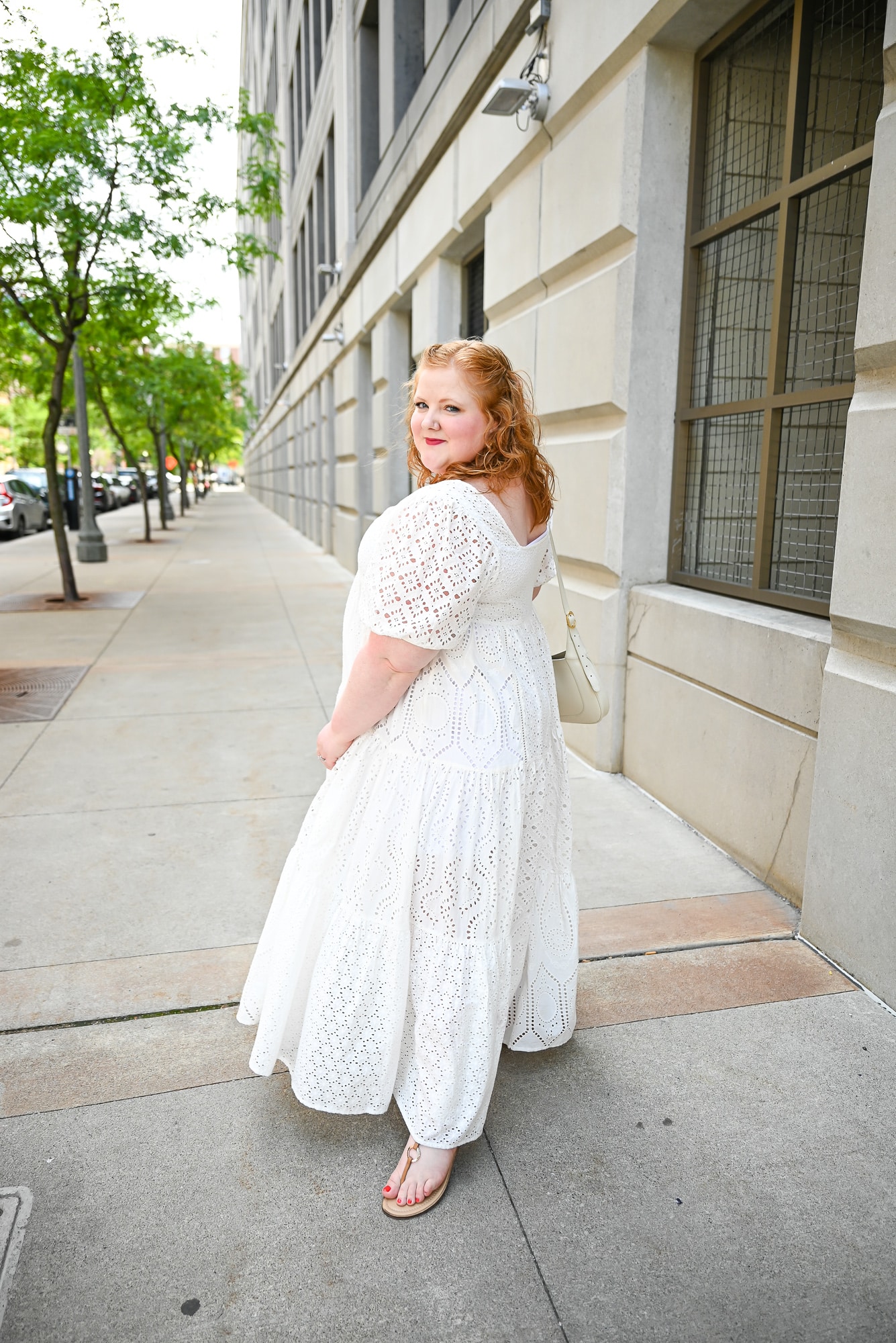 29 – Nail the Bridal Look in a Romantic White Eyelet Lace Dress
You can even choose a gorgeous white eyelet dress for one of the most important days of your life. If you want something elegant, minimal, and detailed enough but not too over-the-top, a white eyelet maxi dress is the perfect pick for the minimalist bride living inside you.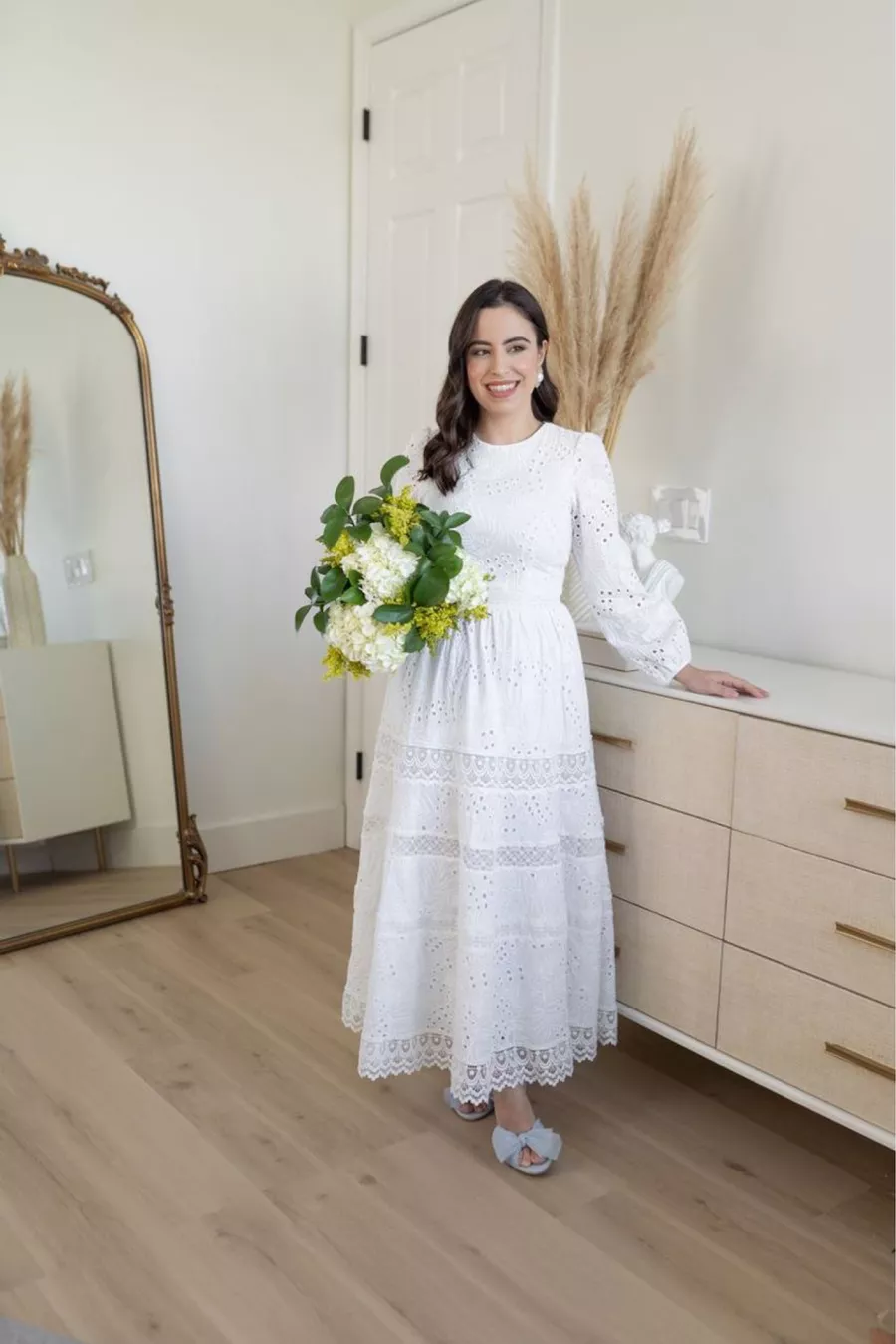 28 – Match your Shoes to the Color of your Hijab!
This styling option is super cute and trendy if you are a hijabi bride! Pair matching shoes to the color of your hijab and opt for nude accessories for a seamless look.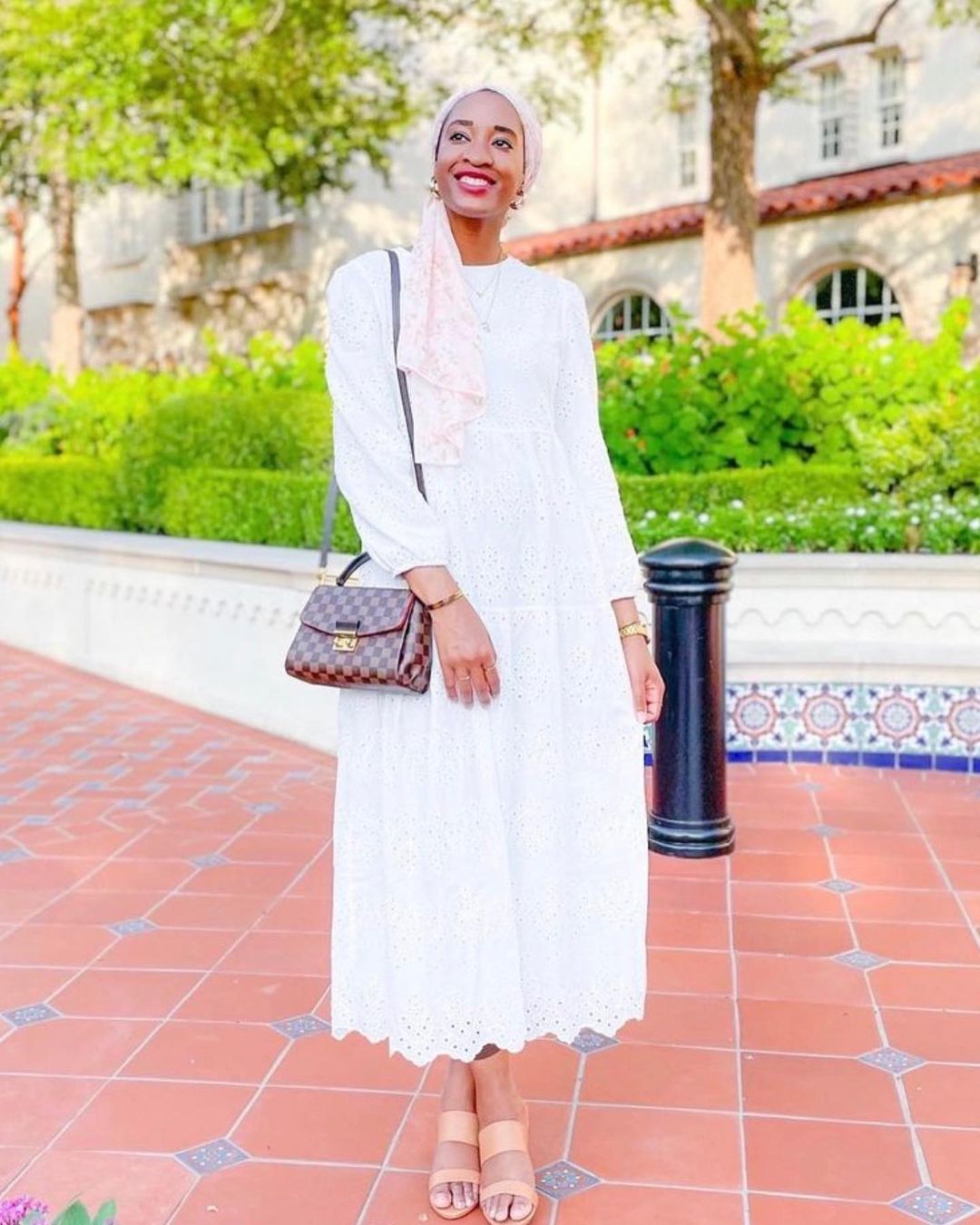 27 – Add a Leather Jacket to Add a Touch of Fall to your Look
Yes, you guessed it right! We are styling leather jackets with white midi dresses to create the perfect fall look because of how effortless and chic it looks! Swapping that bag for a crossbody bag in black and black pumps is the way to go.
You can switch the black in this look for any other warm fall color, and you will be perfectly dressed in a white dress for autumn.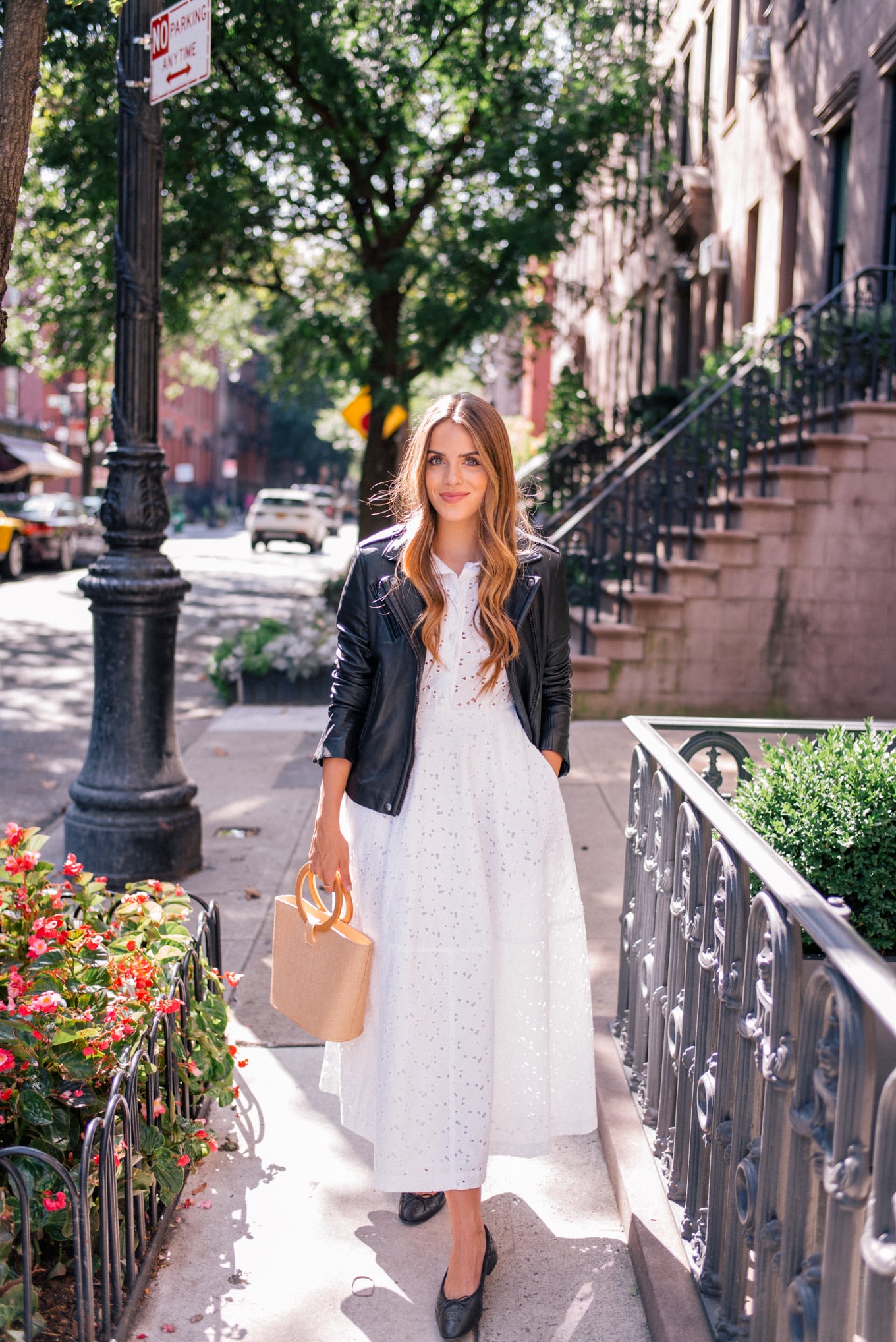 26 – Nude Stilleto Heels are the Perfect Pick to Make your Look Formal
This entire look is a favorite, and I adore how effortlessly this lady has styled her white eyelet dress. Moreover, it is perfect for a semi-formal occasion. The heels and purse compliment one another phenomenally, and the color choice is spot on too.
Additionally, the perfect hair, make-up, and bright smile add just what was missing and put forth a fantastic look with no flaws!
If you love wearing white, you have to check out these White Midi Dress Outfits.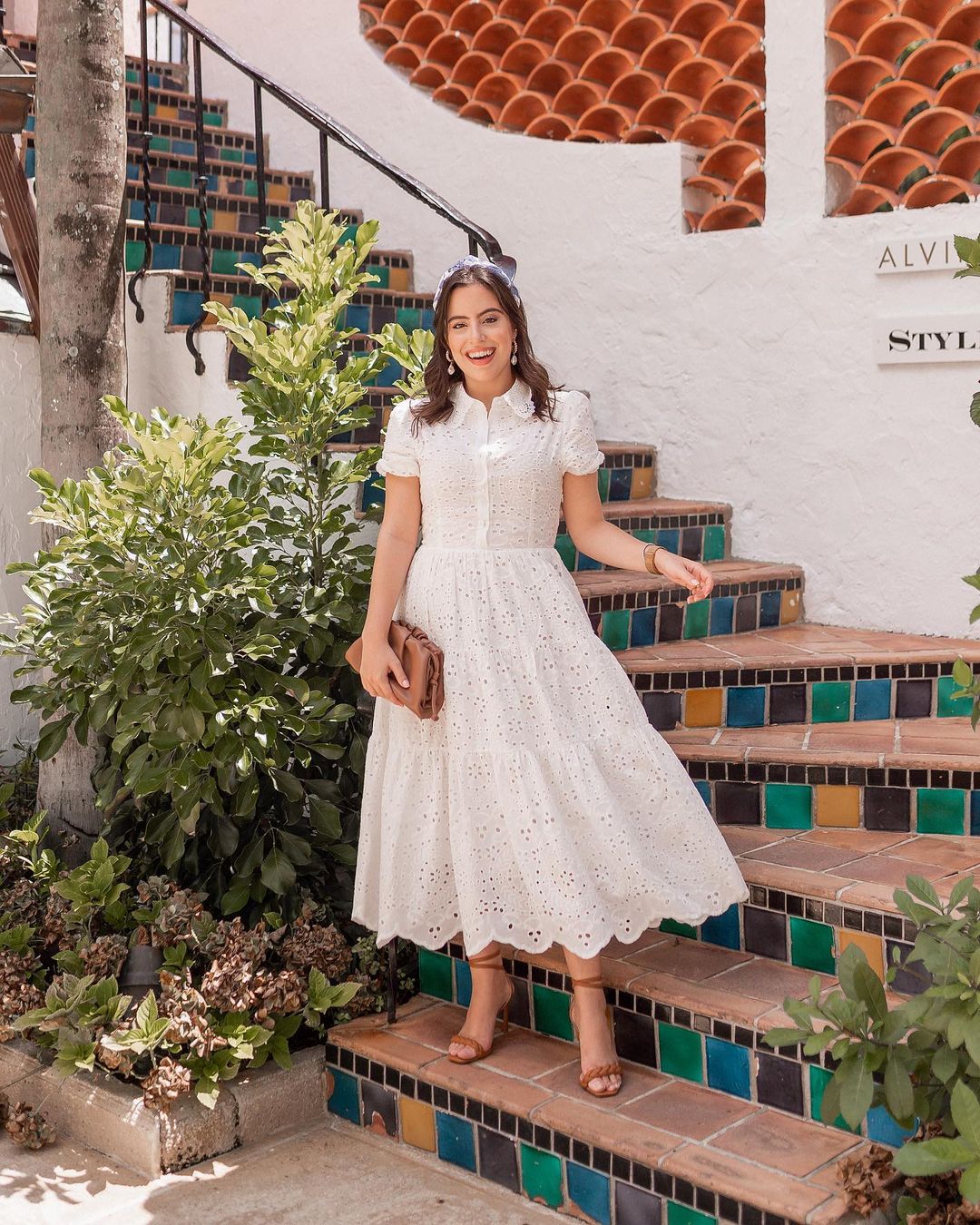 25 – Go All Out with Wicker Weaved Accessories
This dress is a stunning piece with intricate cutwork and details. Moreover, the silhouette and design of this dress are top-notch!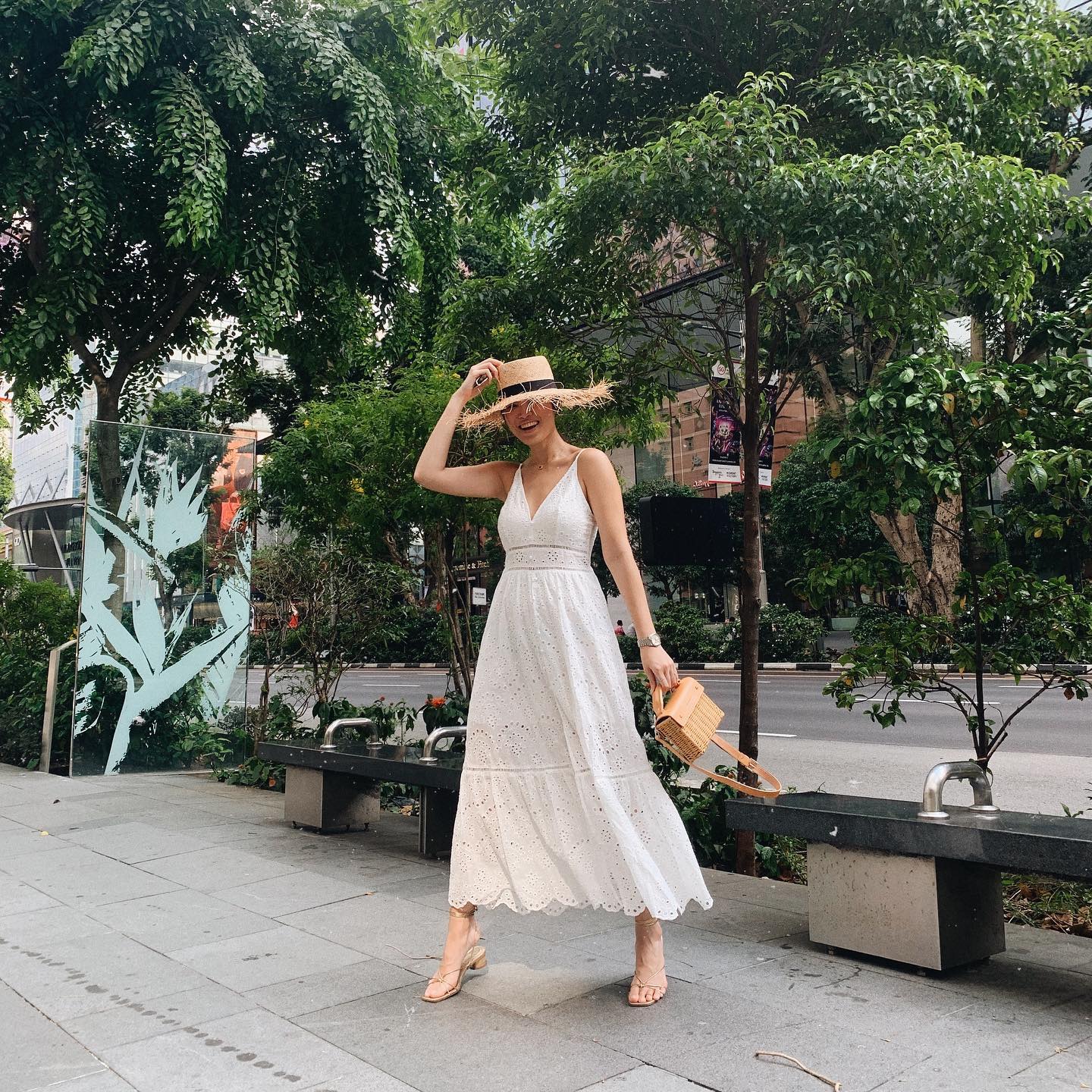 24 – Opt for a White Eyelet Dress in ZigZag Pattern for a Picnic Look
Here are some more of my favorite Picnic Outfit Ideas.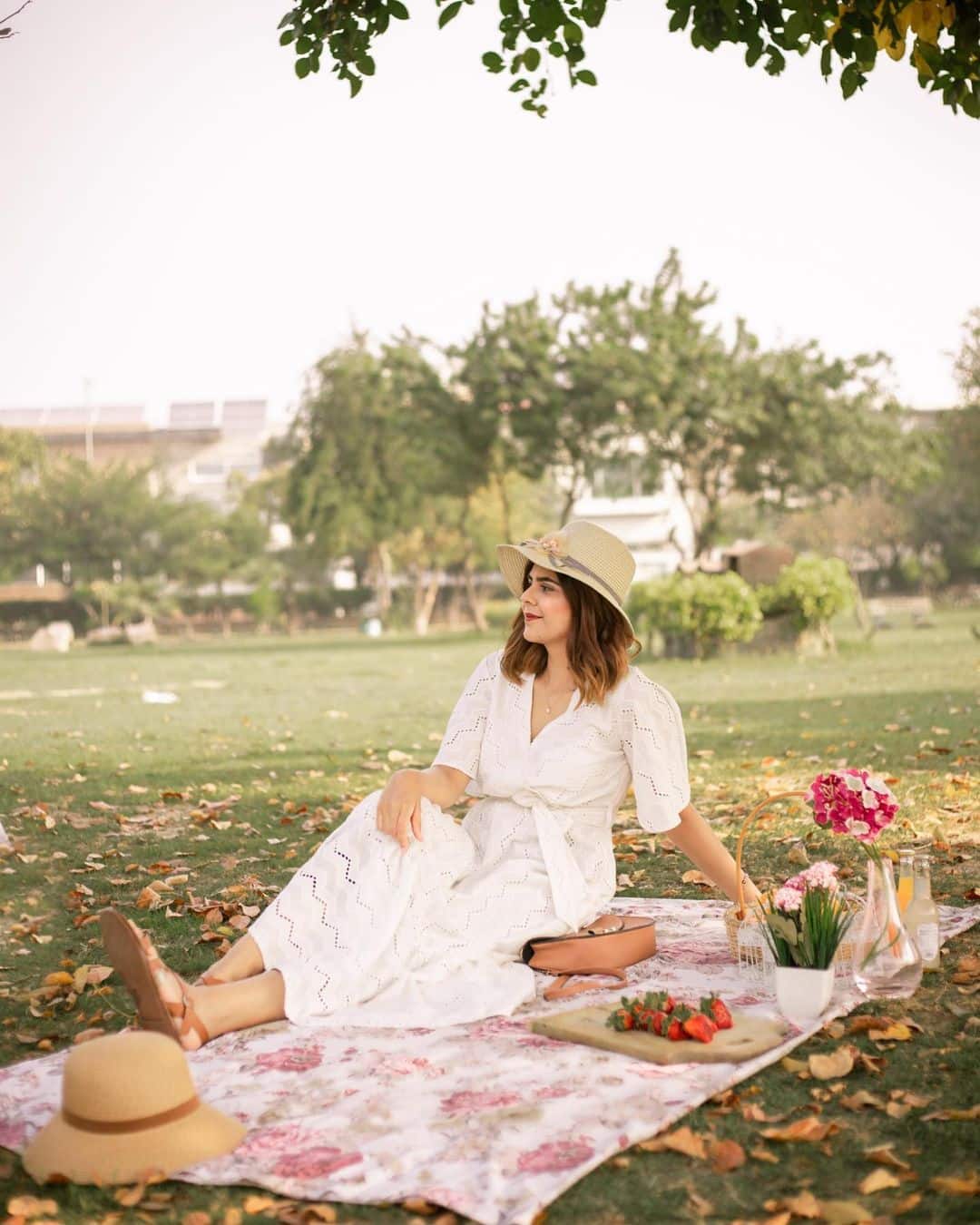 23 – Make your Outfit Bright with your Smile and a Colorful Bag!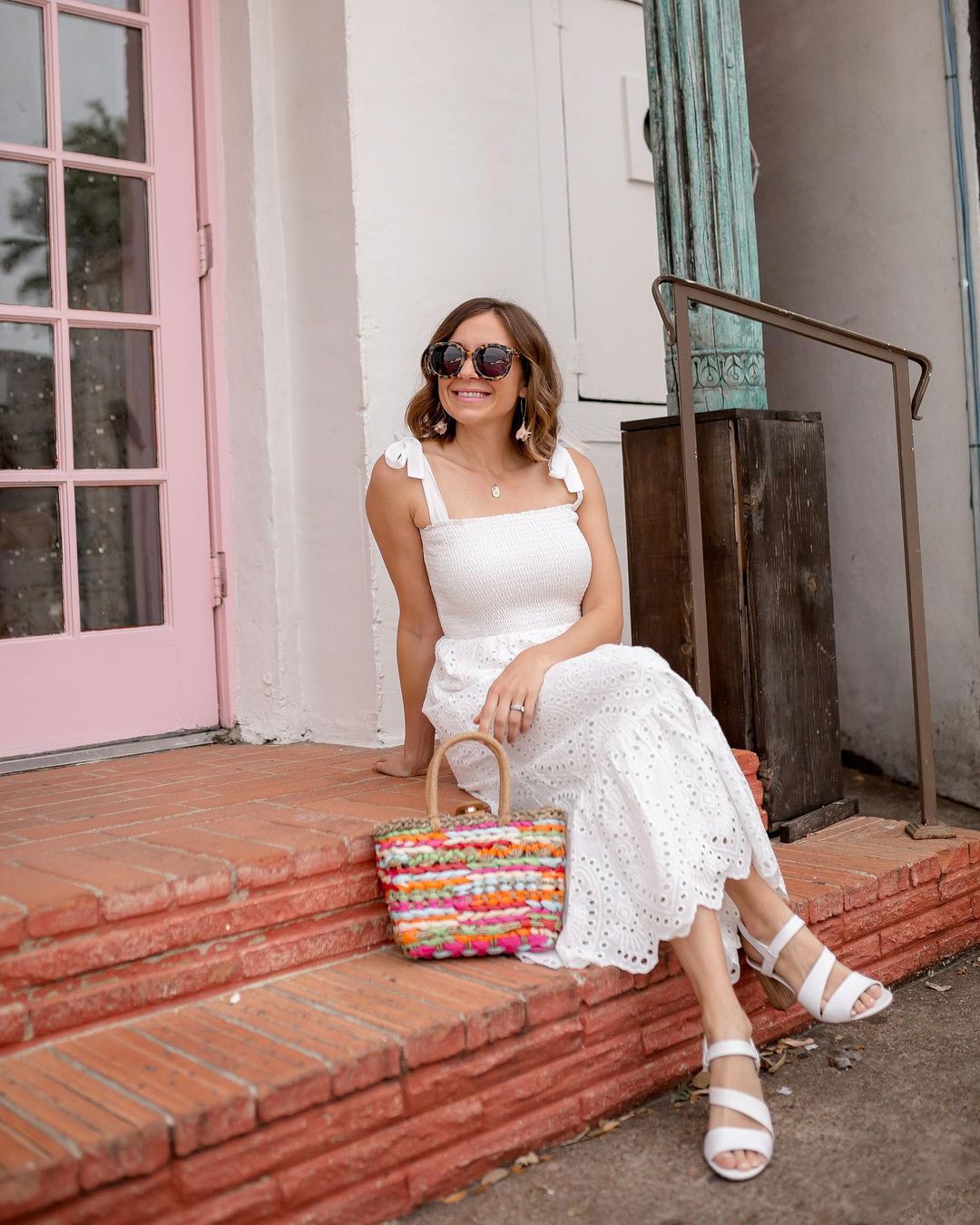 22 – Incorporate the Mauve Shade of your Scarf into your Make-Up for a Game-Changing Look
Lately, puff-sleeved eyelet dresses are gaining popularity and increase in demand. And it is very likely due to the extra oomph puff and balloon sleeves added to your top and dresses. Therefore, consider investing in a dress with similar details for a trendy and chic look.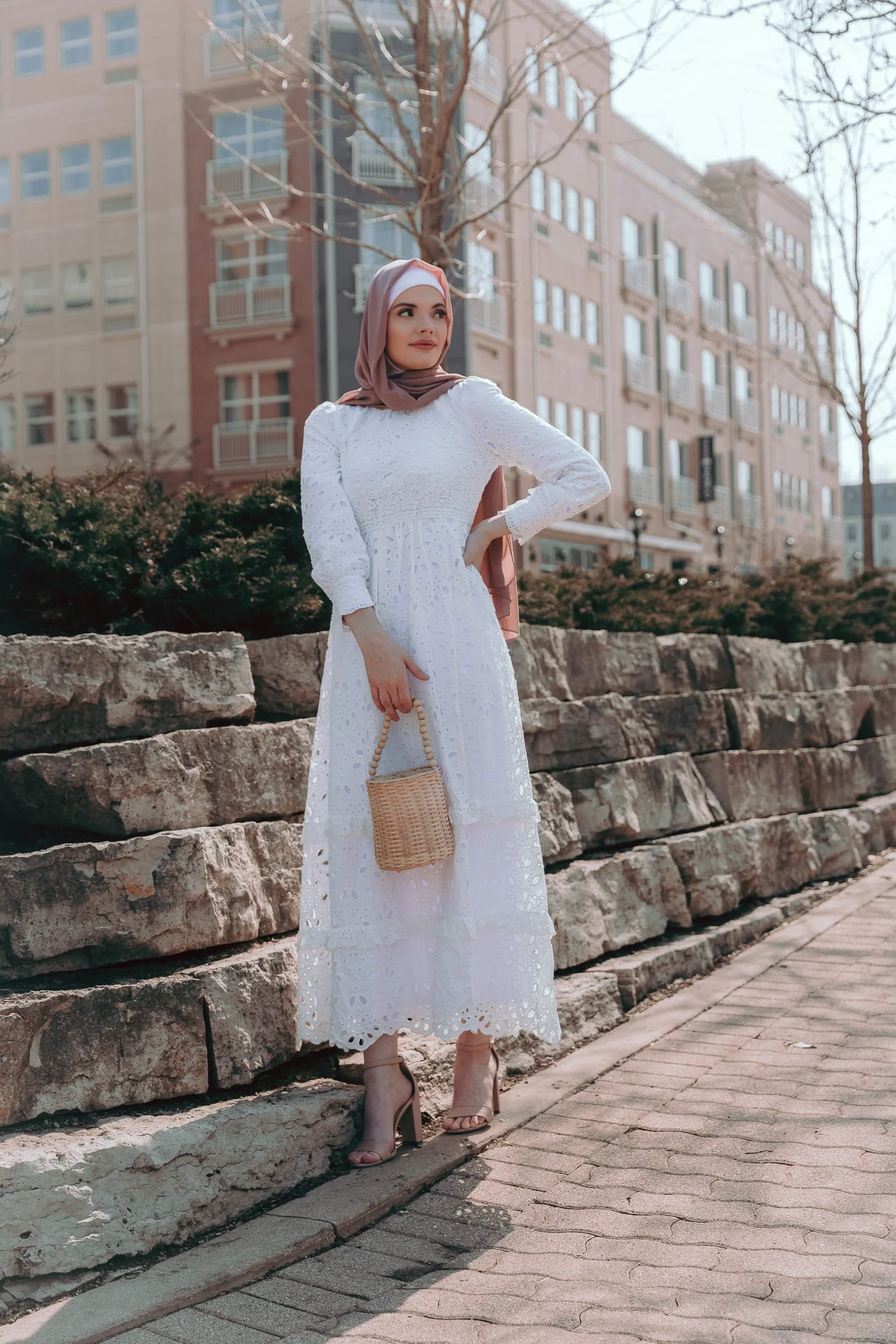 Shop the dress below:
21 – Go for a Classic White Midi Dress with a Slit
A white eyelet midi dress with a slit is what your wardrobe needs this summer! It is perfect for beachwear and pool parties!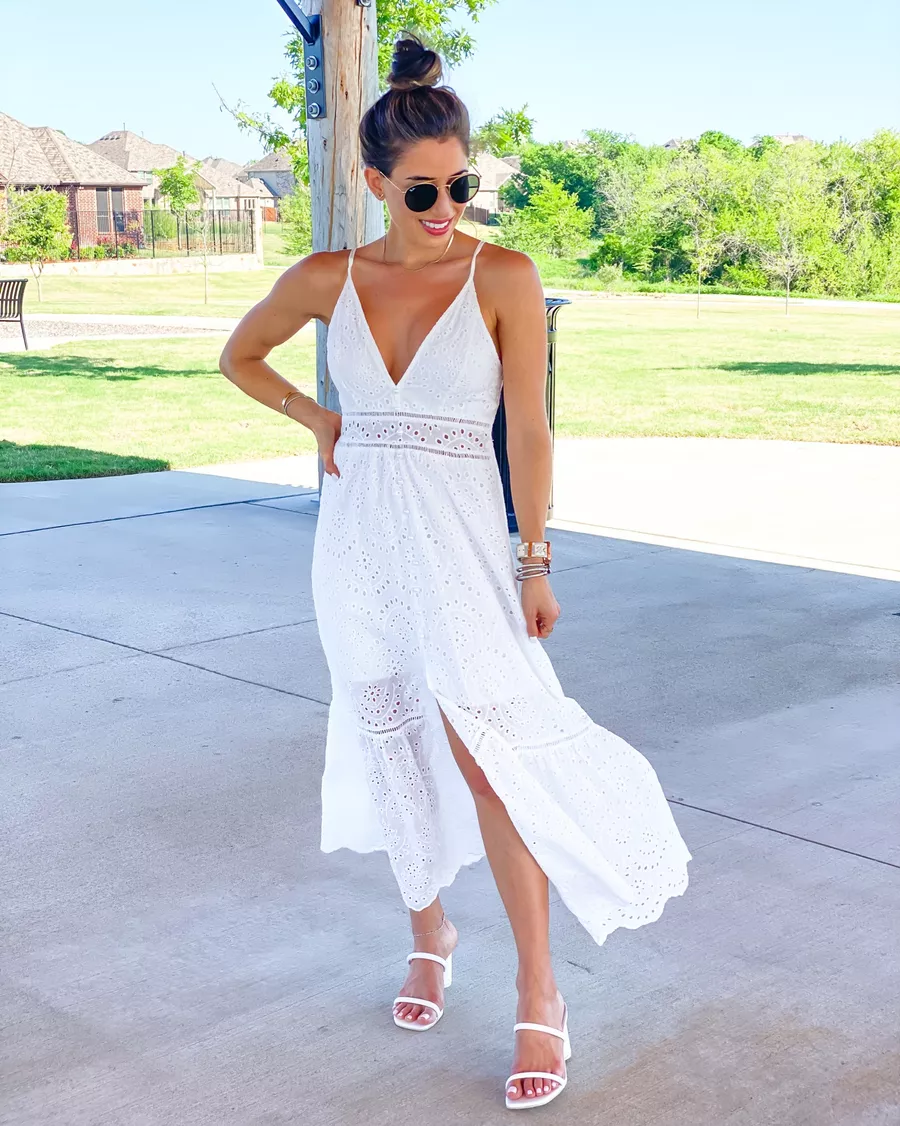 20 – Tie your Hair in a Messy Look and Add a Hairscarf for a Soft Feminine Look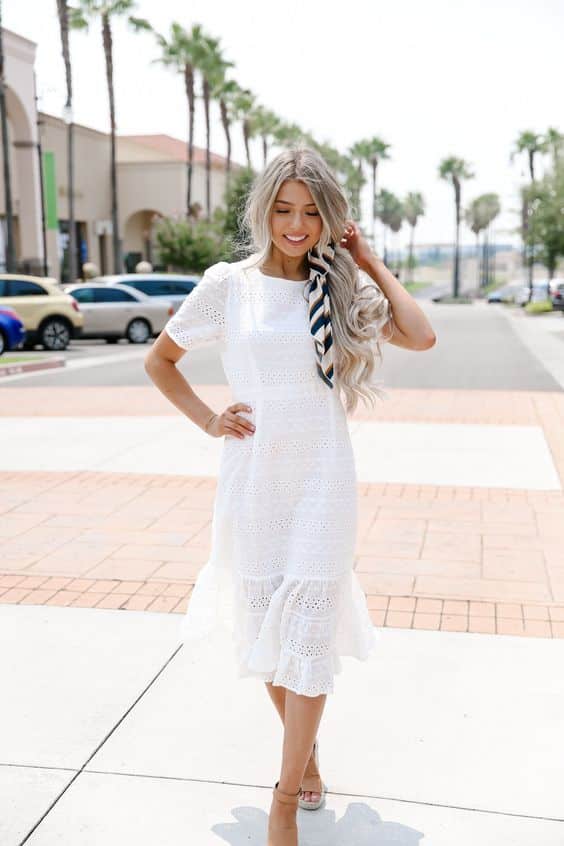 19 – Drape a Cardigan Over your Shoulders to Show Off your Dress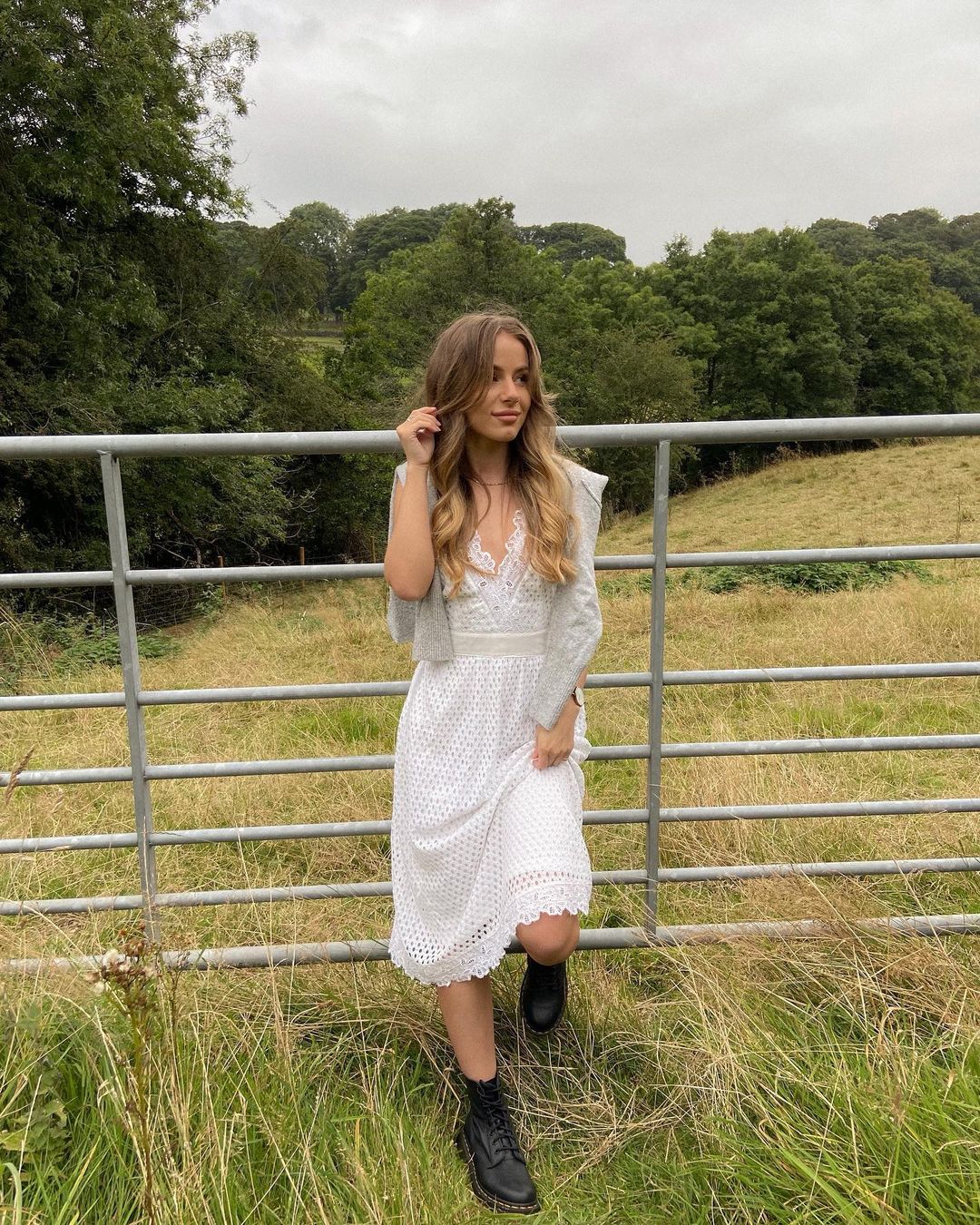 18 – Add a Cozy Chunky Cardigan to Go with this Travel Outfit
17 – Add a Detailed Belt to the Waist to Bring Out your Figure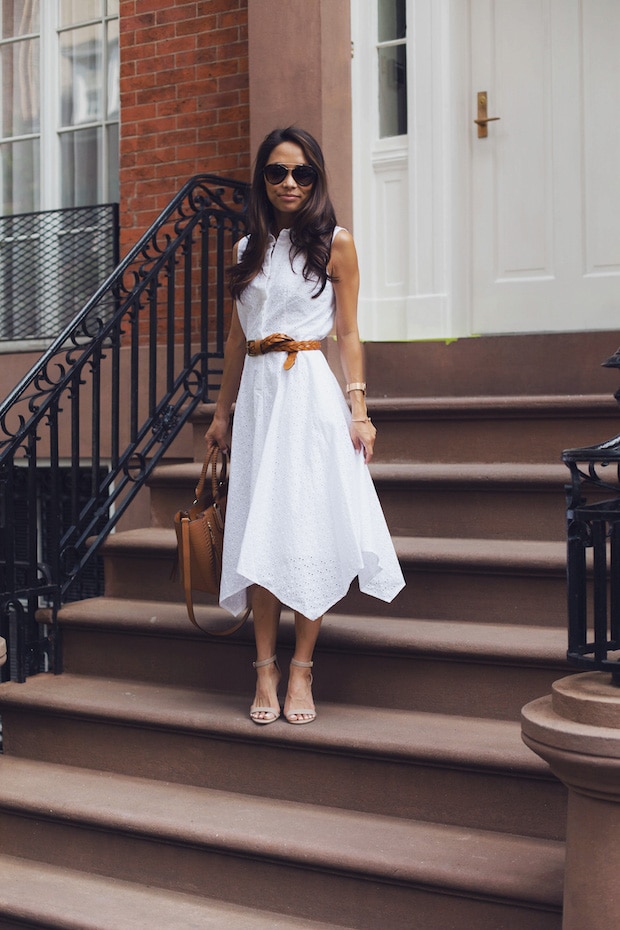 16 – Play Around in Different Shades of Pink to Compliment your White Dress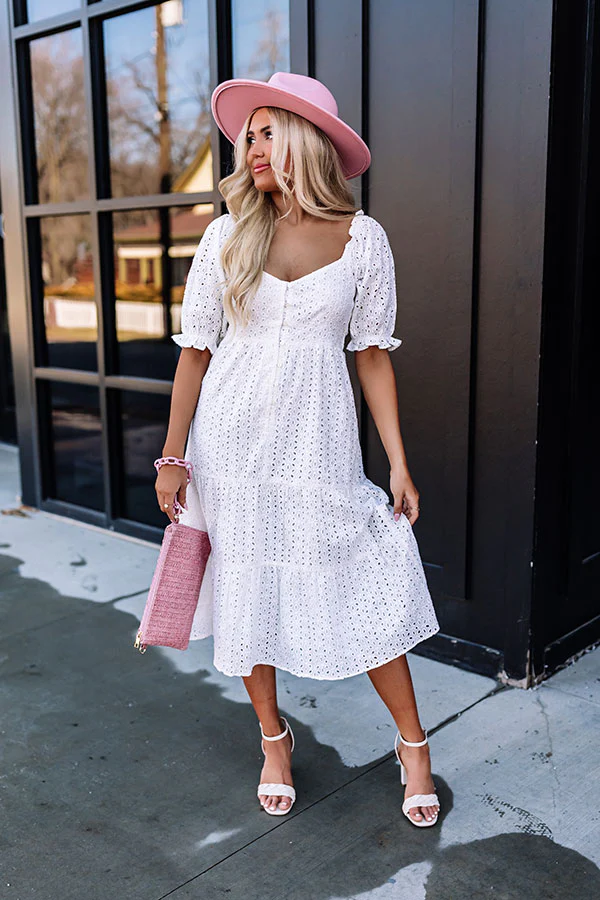 Grab the dress:
Hearts In Love Eyelet Midi $64.00
15 – Get the Farmer's Market Look Down in a White Midi Dress with Hot Pink Lip & Accessories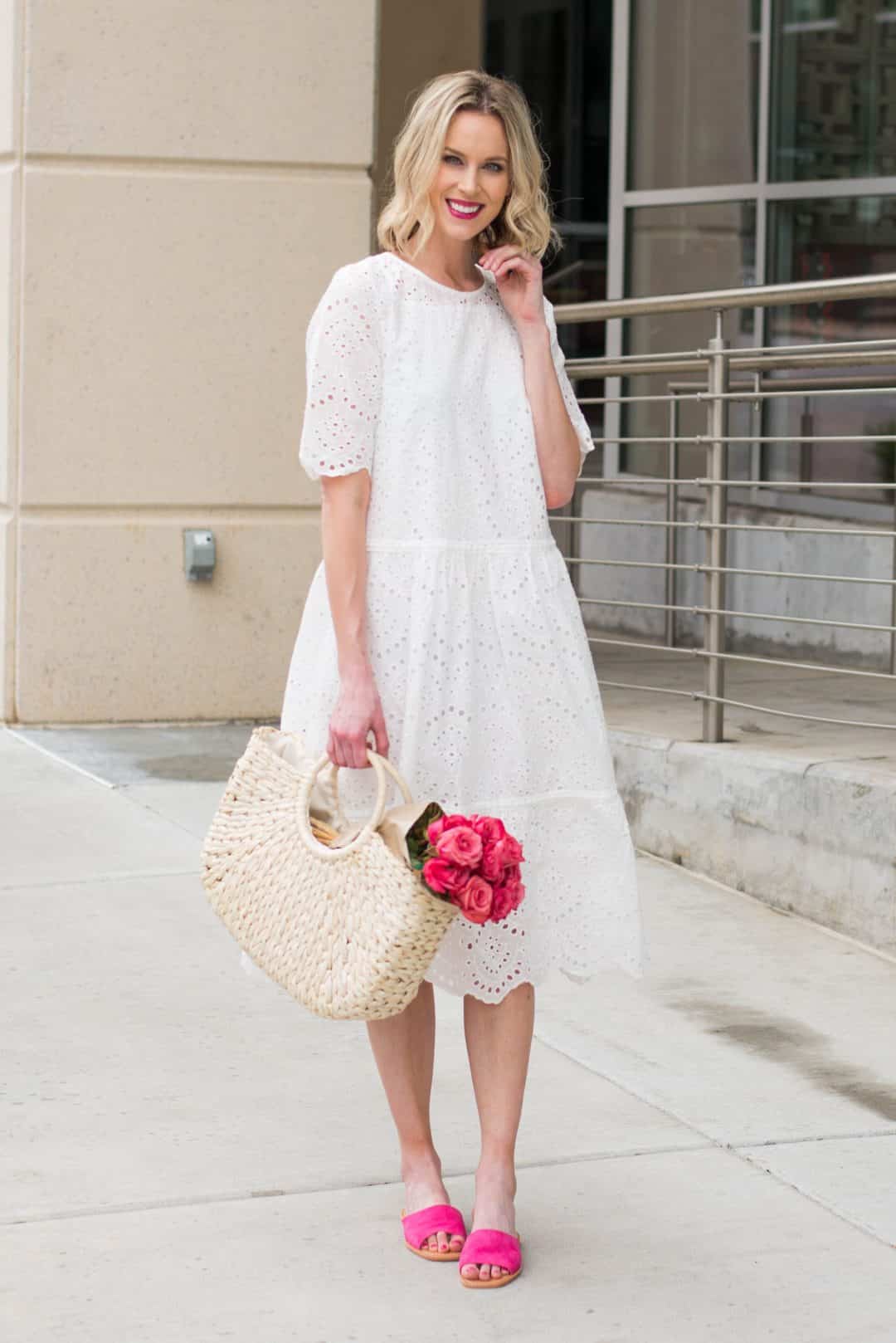 14 – Add a Hint of Color to your Outfit with a Fun Pair of Shoes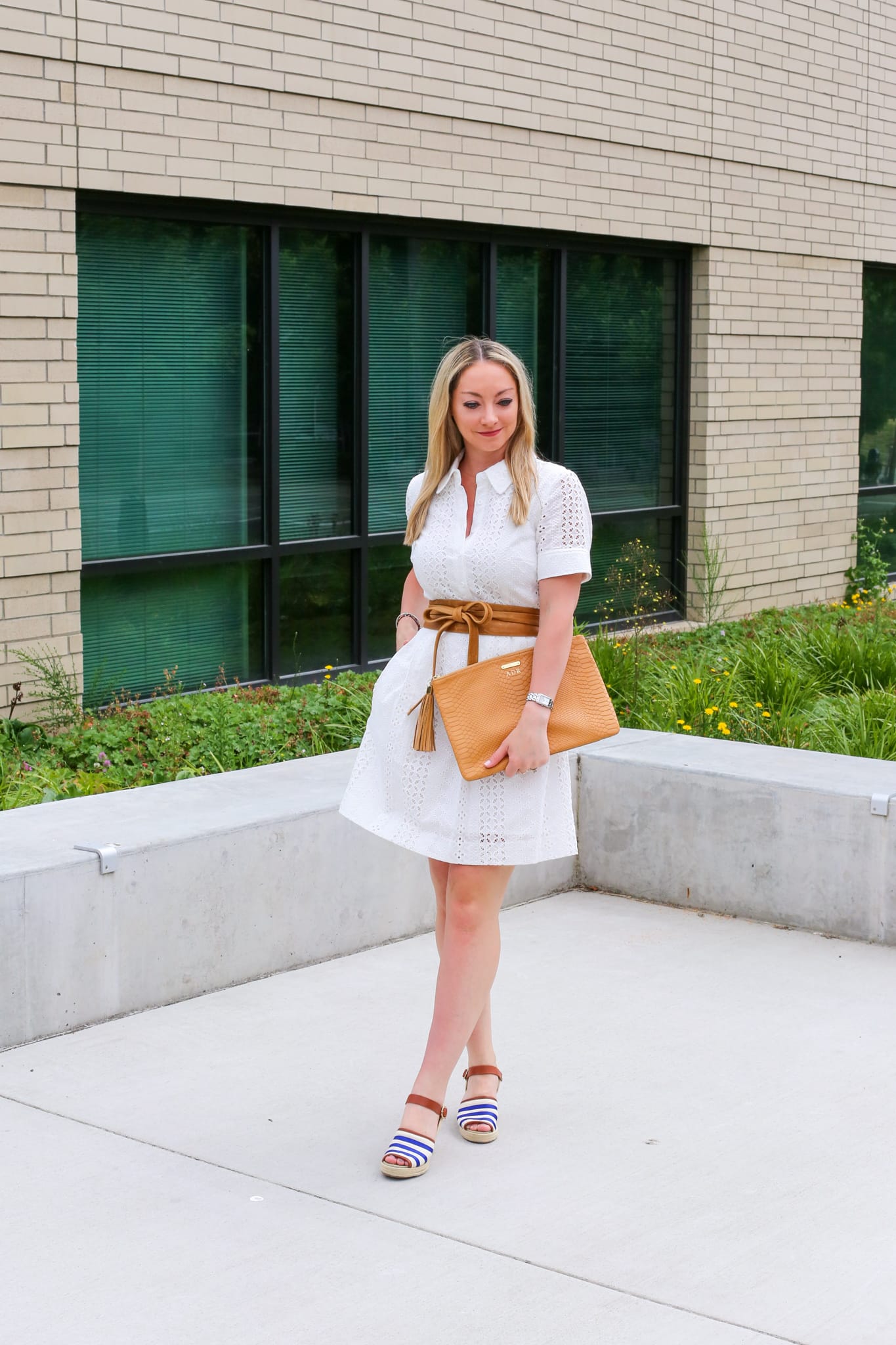 13 – Intricate Details on the Dress are what Truly Make it Unique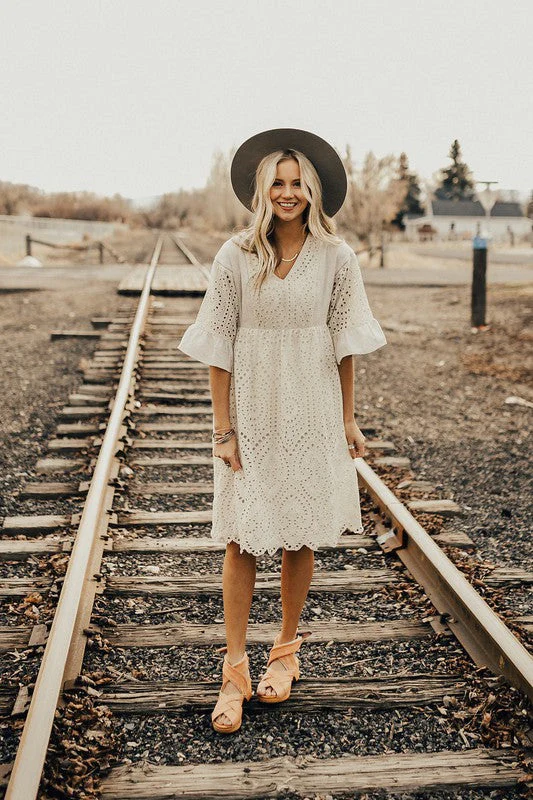 Get the eyelet dress right here:
12 – Add Chunky Gold Jewelry to Knock this Look Out of the Park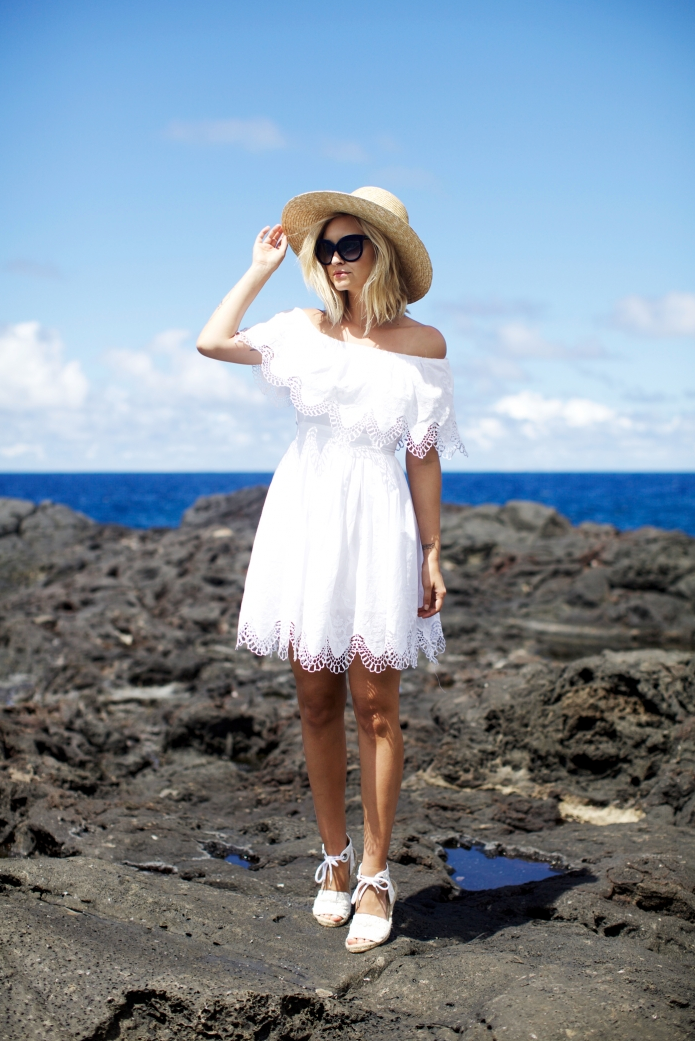 11 – Style your Dress with a Long Cardigan & Platform Shoes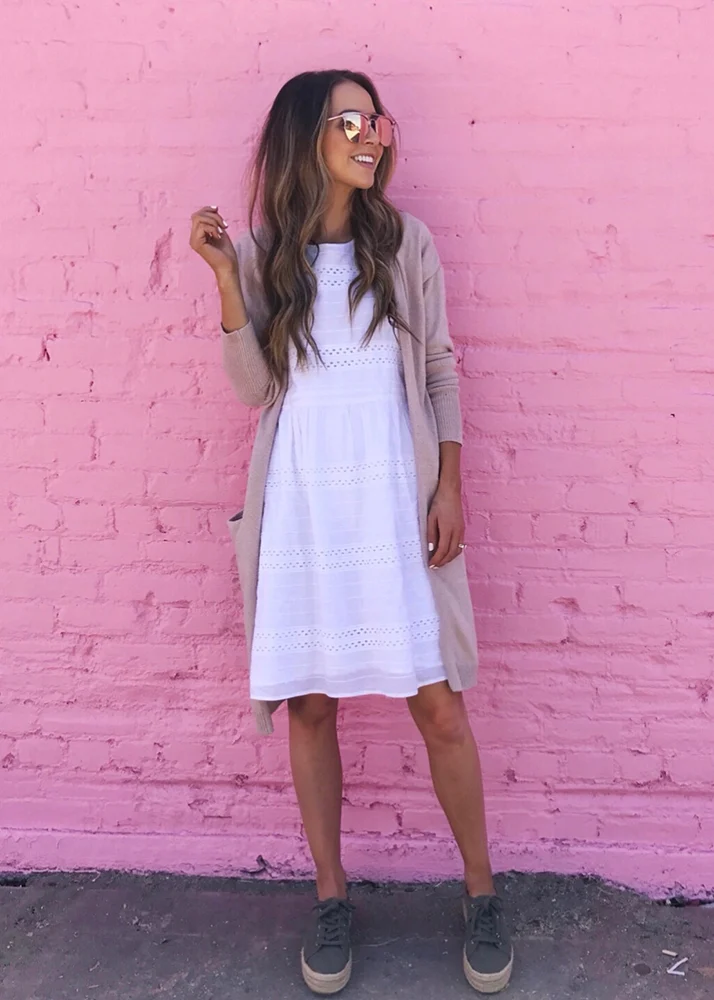 10 – Strappy Sandals & Jean Jacket are the Perfect Picks for a Walk
09 – Make your Look Shine Bright with Colorful Pastel Accessories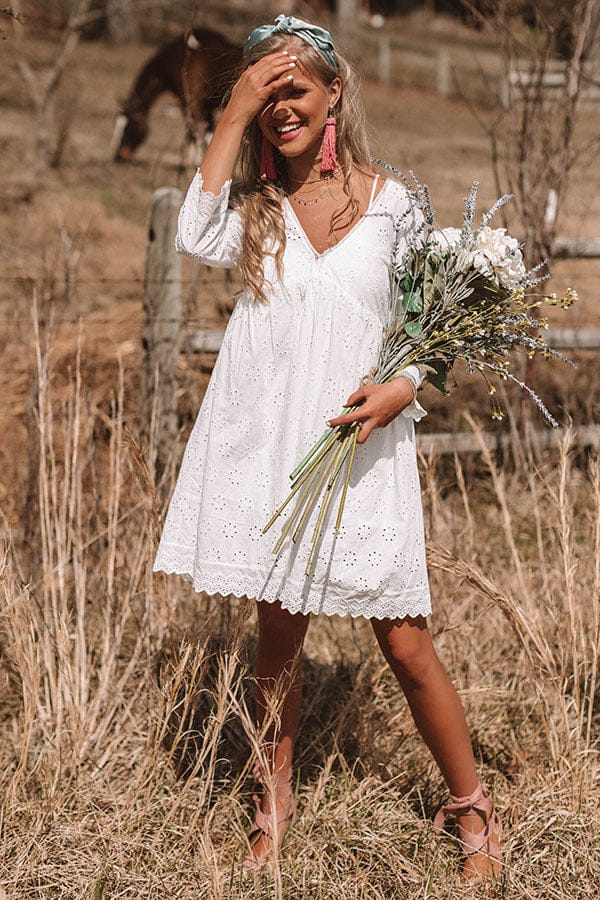 08 – Opt for a Plain White Dress with Eyelet Details on the Sleeve to Exude Class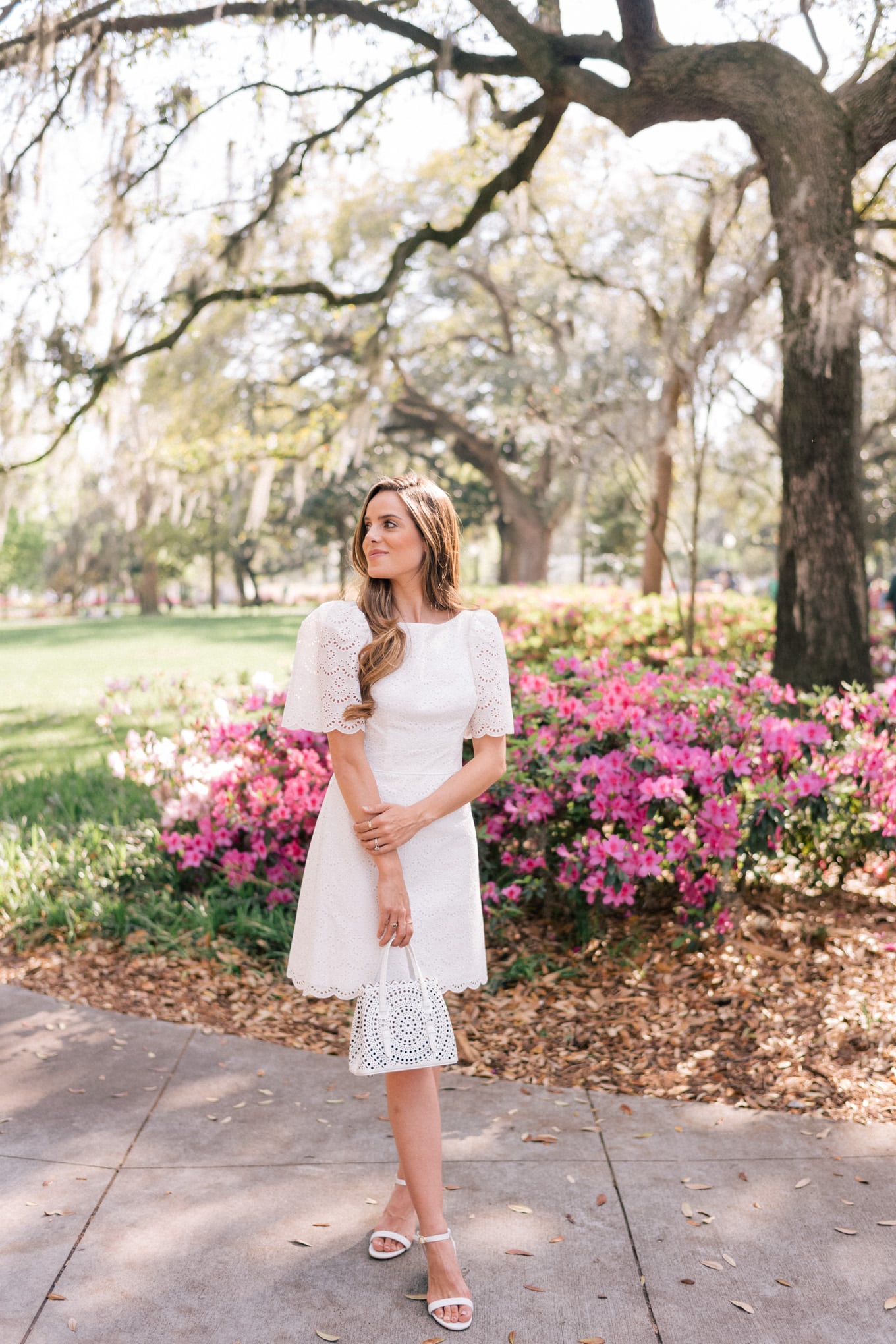 07 – How to Style a White Eyelet Dress for Fall?
Since your dress is white, you need to add items to your look that are right on brand with the fall season in regards to color and wearability. Therefore, a similar chunky knit cardigan or a leather jacket paired with similar-colored boots is what you are looking for.
Otherwise, you can turn to accessories to make your outfit fall-appropriate. I suggest adding a belt to the waist in a brown/ rust color and contemporary wooden jewelry that compliments not only your look but the season you are dressing for too!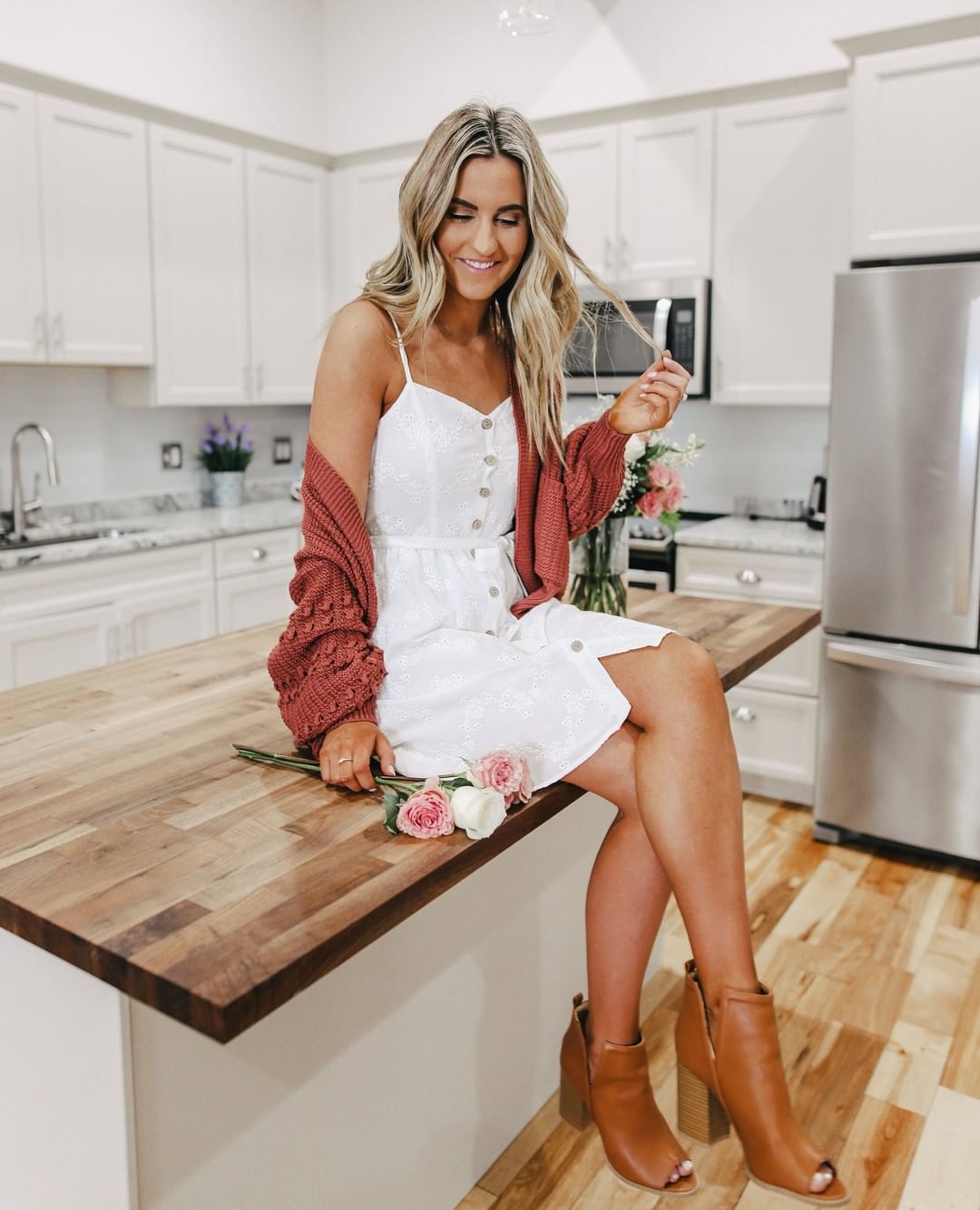 06 – Get the Cowboy Vibe Down with a Mini Dress & Cowboy Boots & Hat!
Talk about a super cute cowgirl look! This mini white eyelet dress is stunning and works perfectly to nail the country vibe. Throw on a hat and cowboy boots and you are all set!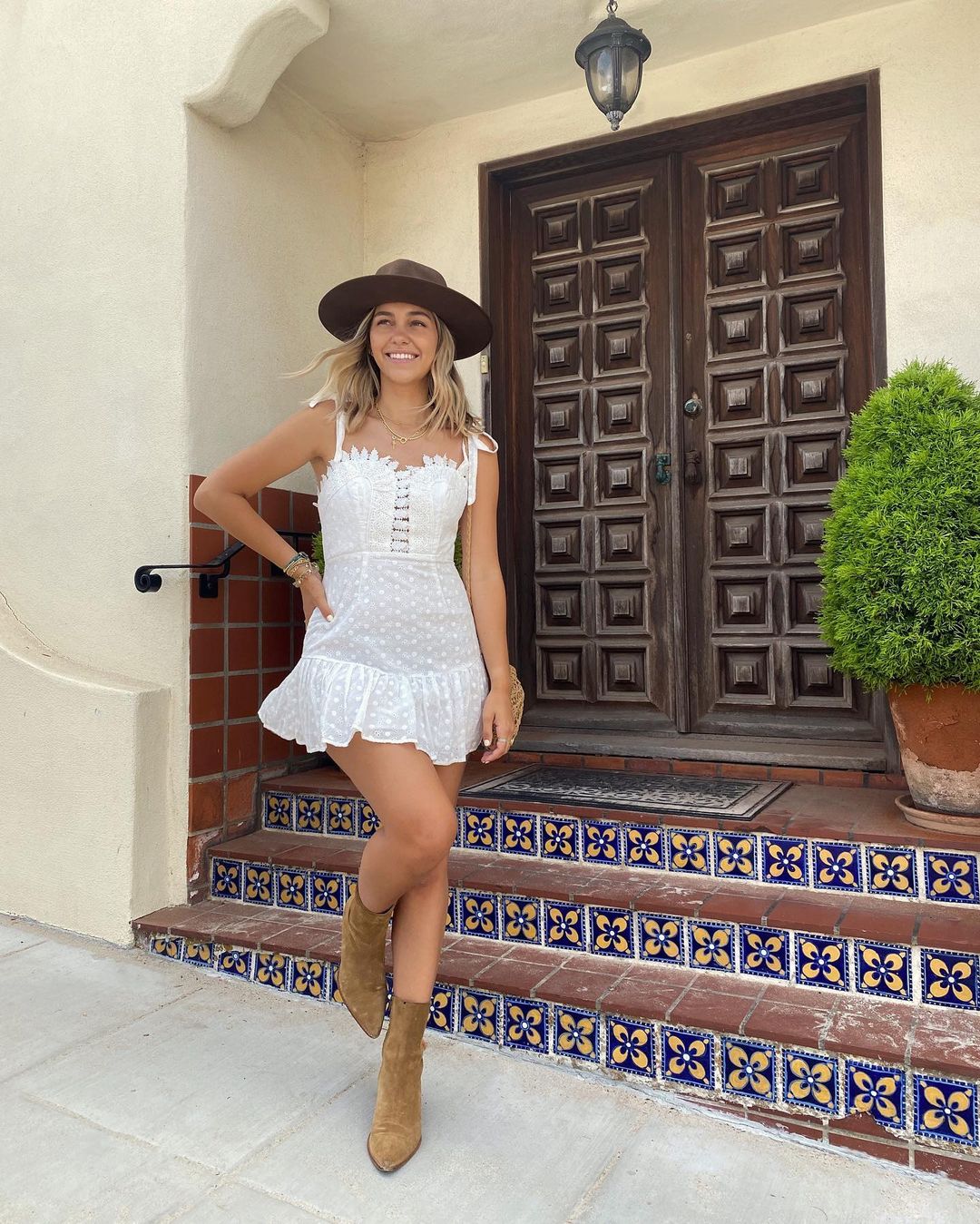 05 – Style Your White Eyelet Mini Dress with Flower Earrings & Dainty Jewelry
Long sleeve eyelet dresses are the perfect pick this season for an effortlessly chic look. This dress does justice to the sleeves, neckline, and gorgeous details on it. Style your look with similar earrings, and if you can't find an identical pair, dainty gold jewelry will work perfectly too.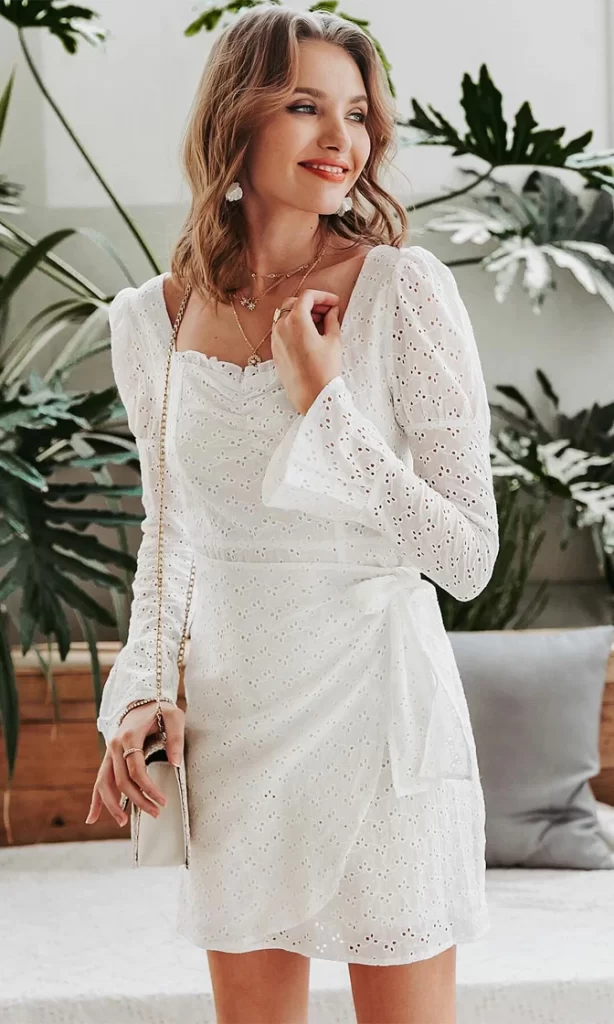 04 – Add a Statement Necklace to your Monochrome Look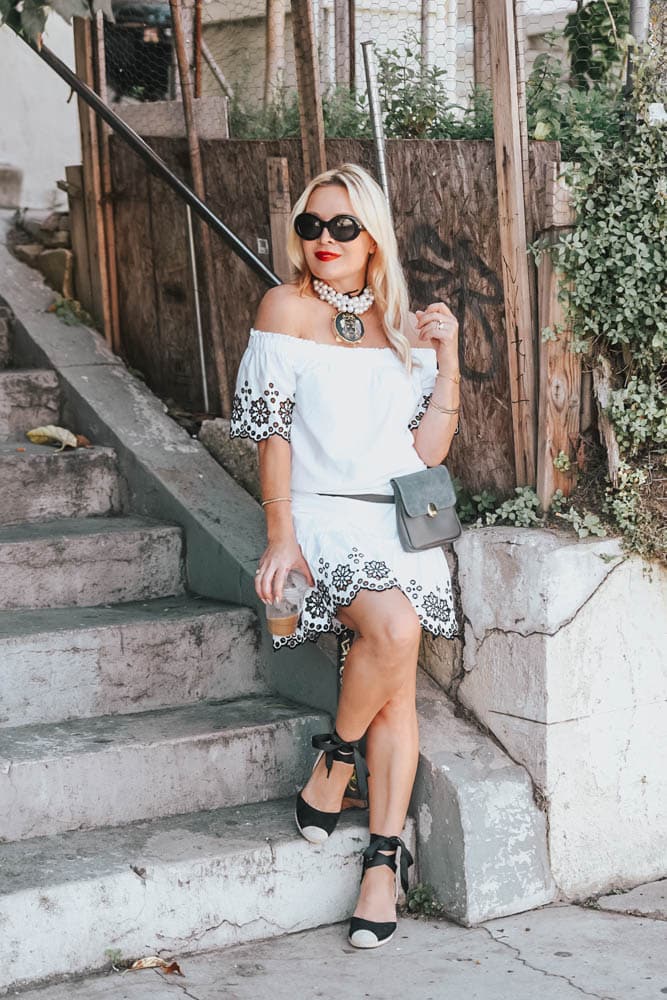 03 – Go for Pretty Pink Shoes & Accessories for a Trendy Look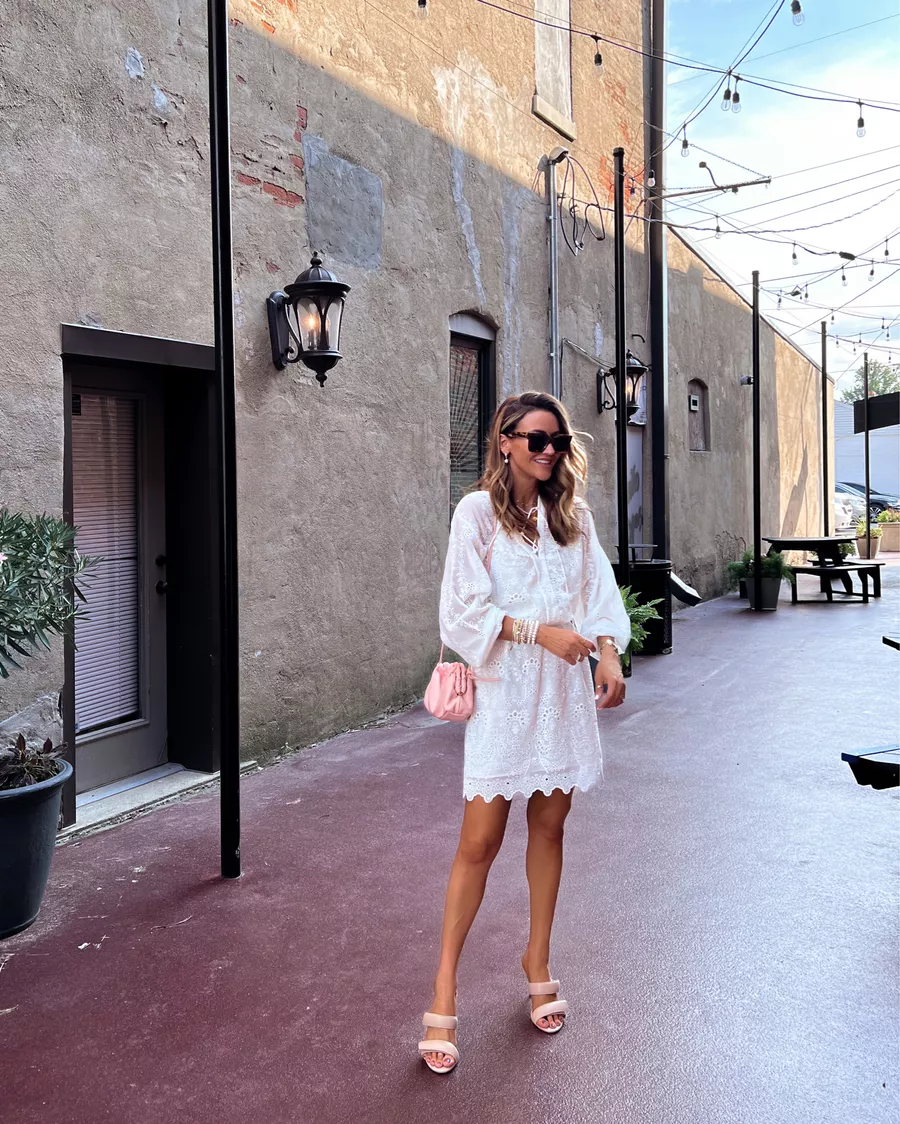 02 – A Tote Handbag is a Girl's Best Friend
01 – Turn Your Eyelet Dress into a Cover-Up for a Unique Look
If you have a wrap dress or beach cover-up with eyelet details lying somewhere in your closet, it is time to dig it out and get ready to style it! Pair a cute cami top with statement pants and throw on your dress to substitute as a kimono.
Furthermore, add complimenting accessories and the perfect pair of heels, and you are ready to head out!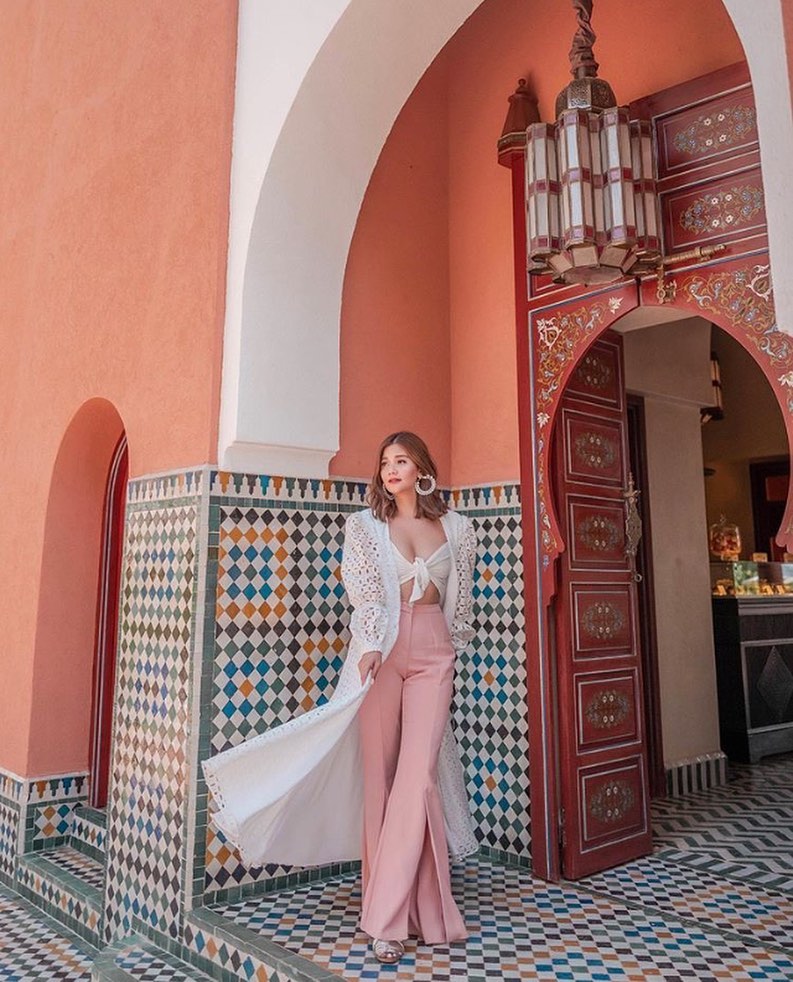 Frequently Asked Questions
Q. What shoes to wear with white eyelet dress?
The shoes to opt for depends upon the occasion you are dressing for. For an everyday affair where you will be running errands all day long, sneakers or a comfy pair of sandals are the way to go.
However, for a formal look, there is no better option than court stiletto pumps. Similarly, a cute pair of wedges or fancy sandals are perfect for meeting up with friends or a cute date idea.
Q. Where to buy a white eyelet dress?
You can find excellent options in affordable as well as high-end brands. I advise checking out Nordstrom, Macy's, Bloomingdales, and Target for some fabulous options! And to find all the branded dresses in one place, browse through ShopBop, and Saks Fifth Avenue.
Q. Can I wear a white eyelet dress in fall?
You absolutely can! And not just fall, you wear it all year round whenever you feel like it. For the fall season, add a cute chunky knit cardigan in terracotta color to exude fall vibes and pair it with similar boots. Check out looks 7, 11, and 27 to get a better idea for styling a white eyelet dress for fall!
Q. What do I wear under my white eyelet dress?
If you wish to make your dress a statement in itself, you can add a slip or undergarments similar to your skin color for a seamless blend. A white slip would work too, however, contrast against you, especially if you are dark-skinned.
Contrarily, you can opt for a detailed mesh stop if the cutwork on your dress is large enough. Moreover, a cute cami top or bralette in a darker color would sit wonderfully against a white eyelet dress.