Winter Hiking Outfits. Winter should not stop you from giving up on your body goals and become a couch potato. Get your sports gear on and hit the track because eating your life is easy, but working on your health is worth all the effort and sweat. You do not have to go to the gym and make it boring when you can hike through the beautiful landscapes with your friends and have a productive and fun bonding time.
You will experience the beauty of nature with your loved ones and make great memories. Plus some great pictures for the 'Gram (though that is not as important). If you can manage to, try a snow hike, and you can make snowmen, and beautify the earth by making snow angels and have snow fights. Here is a collection of outfits for your inspiration, that are appropriate for hiking and looking cool at the same time. Because looking good (for yourself, by the way) is important whether you are going to a party or sweating on the hiking trail. What matters most though is that you are comfortable in what you are wearing. Wearing a high maintenance outfit to a hike will only slow you down so choose clothes that are sports friendly so you can focus on the task rather than having to fix your outfit again and again.
What to Wear to a Winter Hiking Expedition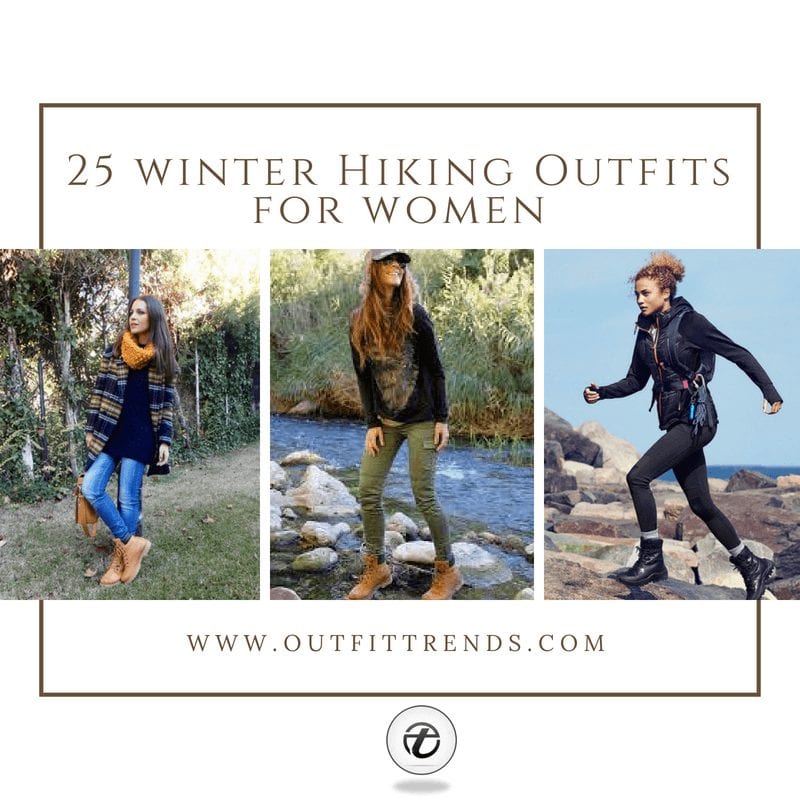 Here are a few things to keep in mind to dress for success (in hiking, of course):
The right shoe is the first thing you need to worry about when planning your hiking outfit.
Open shoes are not even on the table, means you can rule out sandals, pumps or slippers.
Invest in good running shoes or hiking boots if you like expeditions a lot.
Do not carry a lot of things in your hand; you need your hands to climb the tricky parts.
A backpack with the essentials is important, but make sure not to make it too heavy that it slows you down.
Pack water, medicine, basic safety commodities, sunscreen, your phone, and a portable charger, and something sweet to eat.
When choosing what to wear to a hike, what's more, important than how it looks is whether it is comfortable. You do not want to wear something that might hinder your movement and make it difficult for you to focus on the walk.
Choose stretchy clothes or else be prepared to deal with torn ones.
Heels do not work on hikes unless you either want to end with sore feet or worse slip and fall in a ditch.
Keep a warm layer on you, especially if you are hiking towards elevation. It gets colder as you go up, especially in winters.
Swapping cotton with synthetics is a better idea as cotton gets soggy and damp and it starts chafing.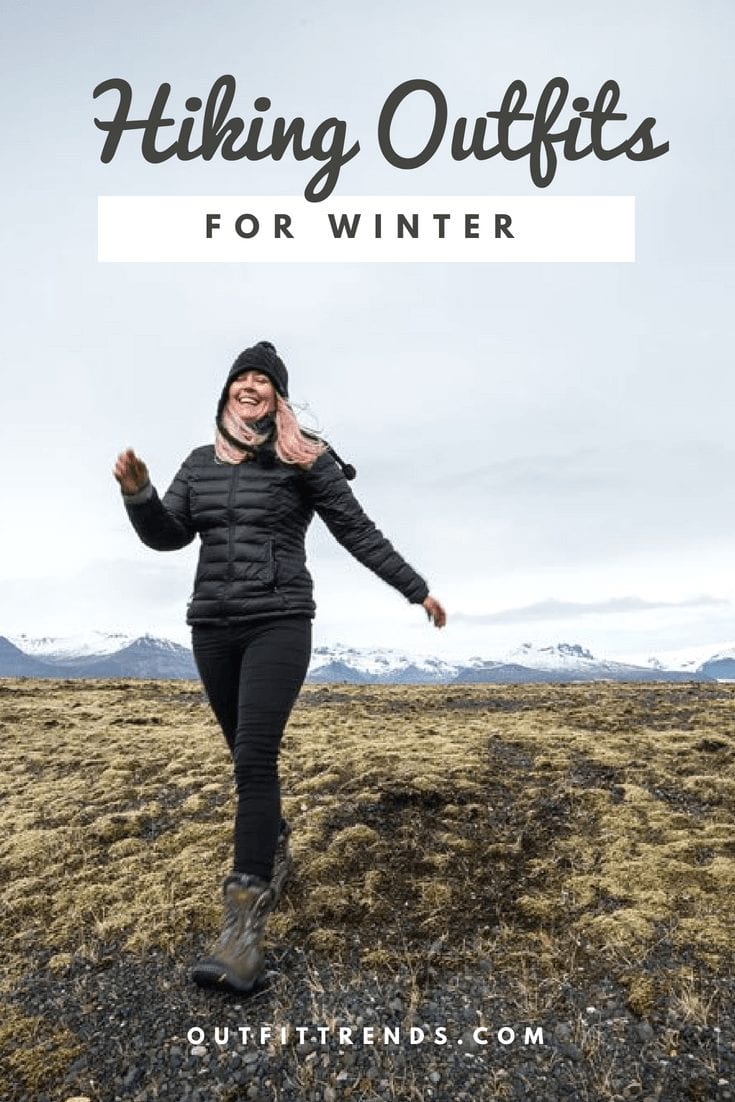 ↓ 25 – Comfort First
No matter what the occasion is, wear what you are comfortable in. Especially during hikes,  you want to avoid clothes that make it hard to move freely. So, a loose sweatshirt, with a pair of plain tights is the perfect combination.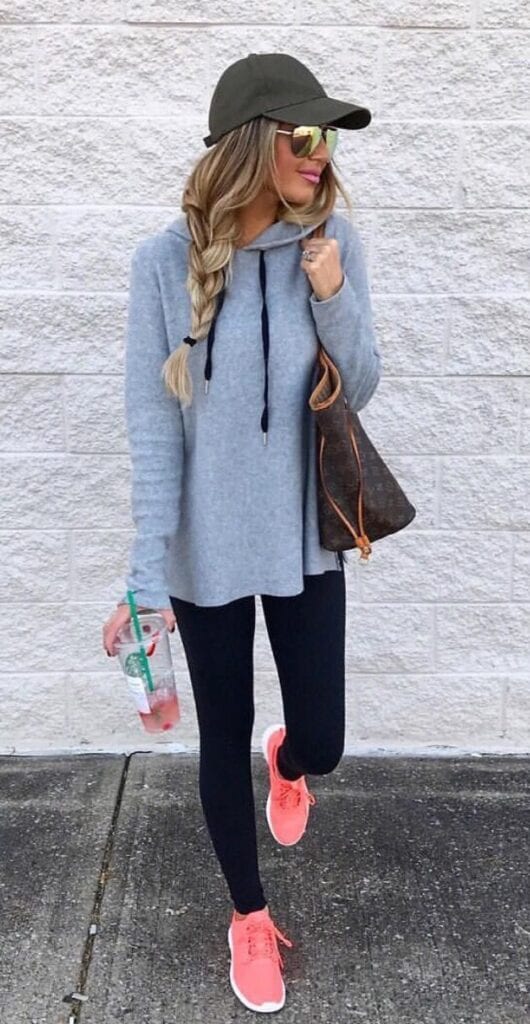 ↓ 24 – Stretchy Tights
Stretchy tights are the ultimate clothing when going for a hike. Because of their stretchy qualities, it makes it easier to take big steps. You need something that won't become a hurdle in your activity, which is why these tights would be your best partner in hiking. The chances of wear and tear are also less because of flexibility, so you do not need to worry about inner thigh chaffing either. Here are 20 Ways to Wear Black Tights.
↓ 23 – Hairstyles to Try
Yes, most girls like to leave their hair untied and open letting them fly in the wind and have a Beyonce moment all the time, including me, but we can't always have that.  Especially when we have hiked for miles and have been sweating like a pig. This is why your hair needs to be tied and tightly put up. But, that does not mean you have to look boring. There are many hairstyles that are chic and stylish while serving the purpose of staying out of your face or sticking to your sweaty neck. You can put your hair in a sleek and high ponytail. Ponytails also enhance your facial bones and make it appear sharp without having to contour. You can also try dutch braids that are the most popular hairstyle on Instagram and Tumblr. Dutch braids look super cute and chic, keeping your hair tightly back. You can even put your hair up in a "messy" bun (yes, the one that takes longer to make than a "non-messy' one).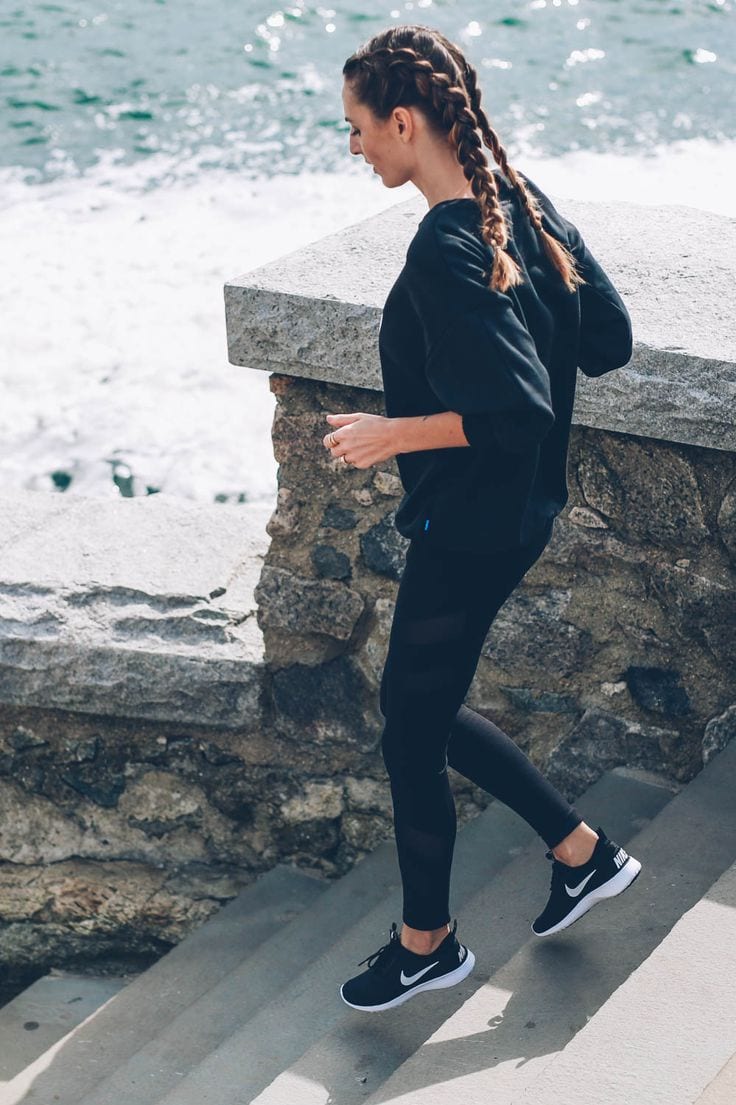 ↓ 22 – Sleeveless Puffer Jackets
Puffer jackets are the cutest outfit you can wear for a hike while keeping you warm. The sleeveless part makes it easy for movement, and you will not feel restricted by your clothes. They look good both with the zipper up and down. A simple t-shirt underneath would go along with jeans or any other comfortable tights.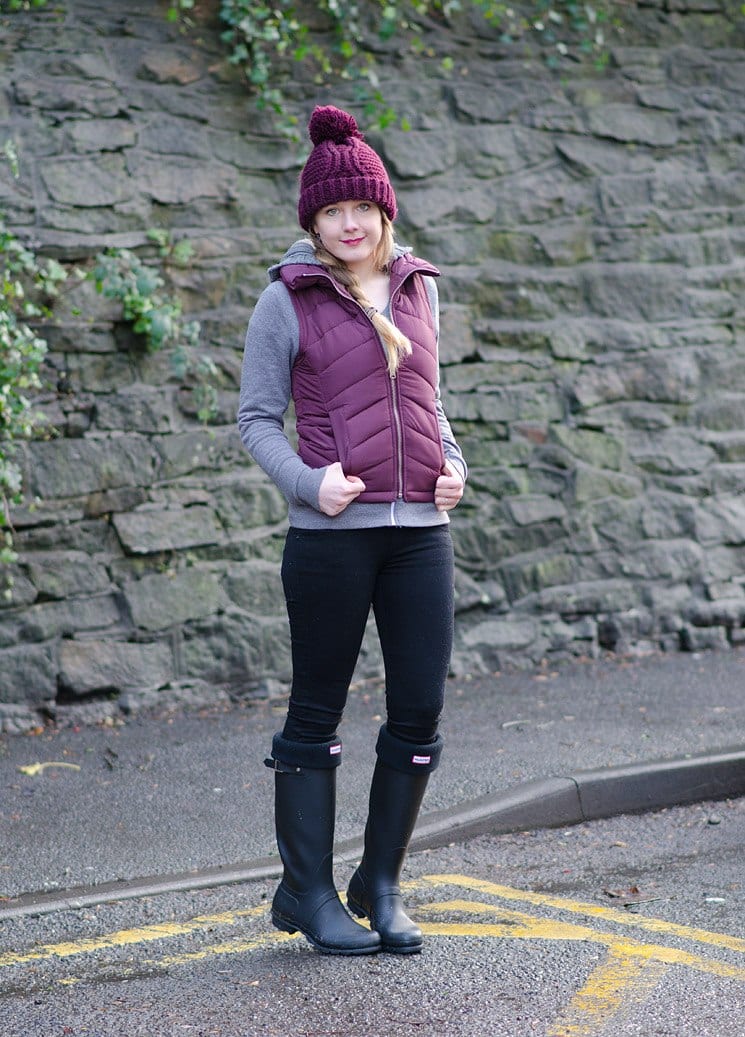 ↓ 21 – Sweatpants
The thing with sweatpants is that it screams 'comfort.' And if you go on a hike in clothes that hinder your movement, then chances are you would never go again. You can wear them with any t-shirt or a sweatshirt, and they will not look bad. So get the most comfortable one from your closet and there it is your easy non-troublesome hiking outfit. Here's a list of 20 Shoes That Women Can Wear With Sweatpant.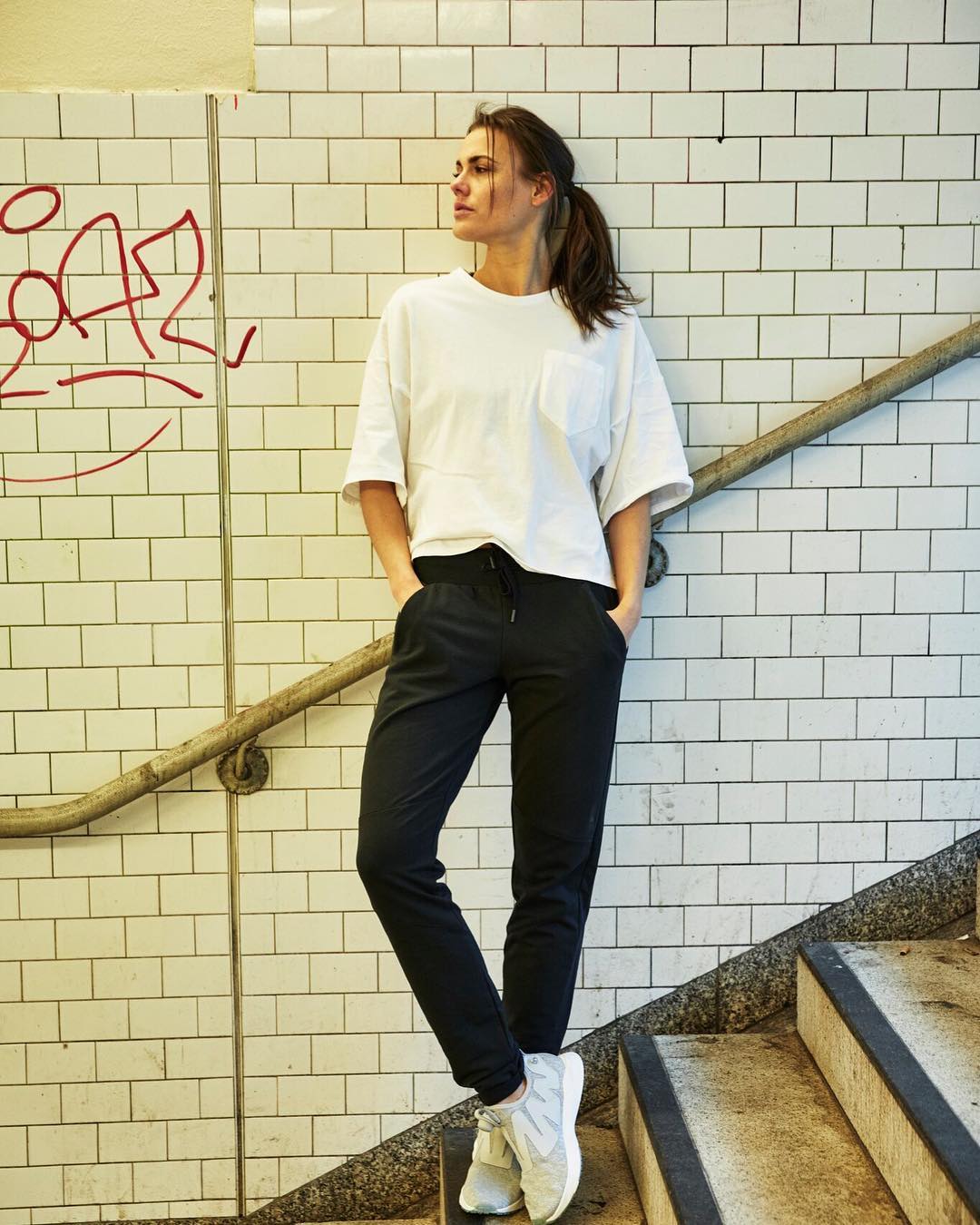 ↓ 20 -Single Tone
Stick to one color to stand out from the rest of the people, especially if the color pops (like yellow or neon pink).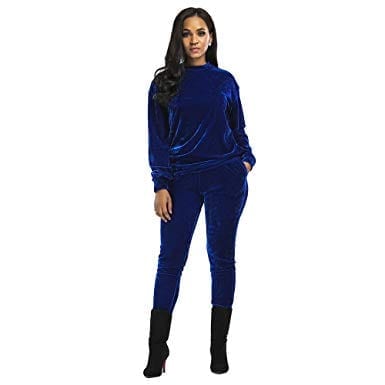 ↓ 19 – Backpacks 
You need to carry a backpack to hike to hold essential things like a water bottle, mini safety kit, sunscreen, etc. A shoulder bag is your best option so that your hands remain free. Taking a purse would make it hard because they keep sliding off your shoulders. You can use a crossbody bag if it's spacious enough to carry everything. For that basic Instagram girl, get a Kanken bag so that your pictures look great from behind.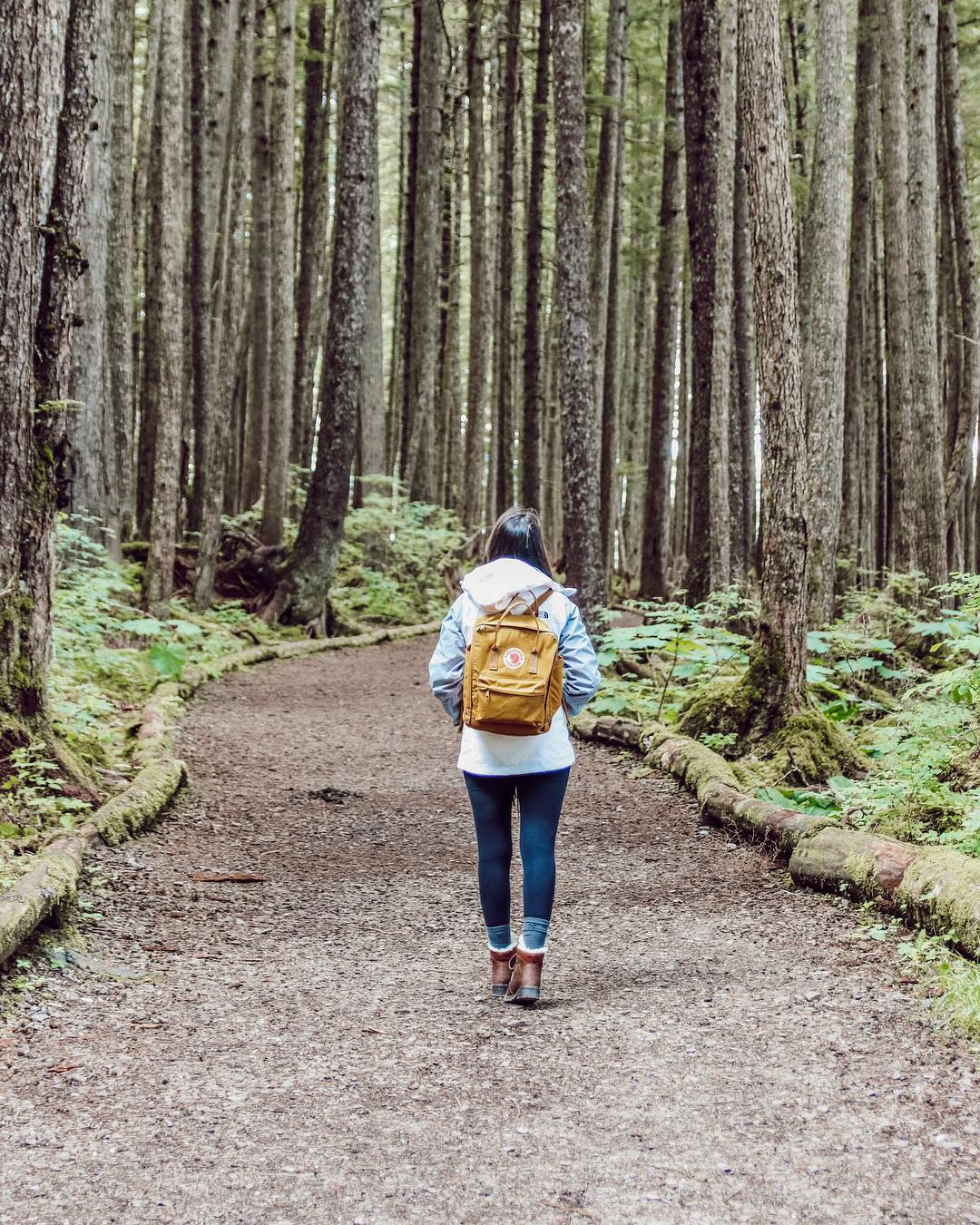 ↓ 18 – Overalls
Jumpsuits are quite collected, and you do not need to worry about your pants dropping or shirt rising too high when you perform stunts on the rocky mountains. Most jumpsuits look great with a plain white tee underneath, matching a pair of crisp white sneakers.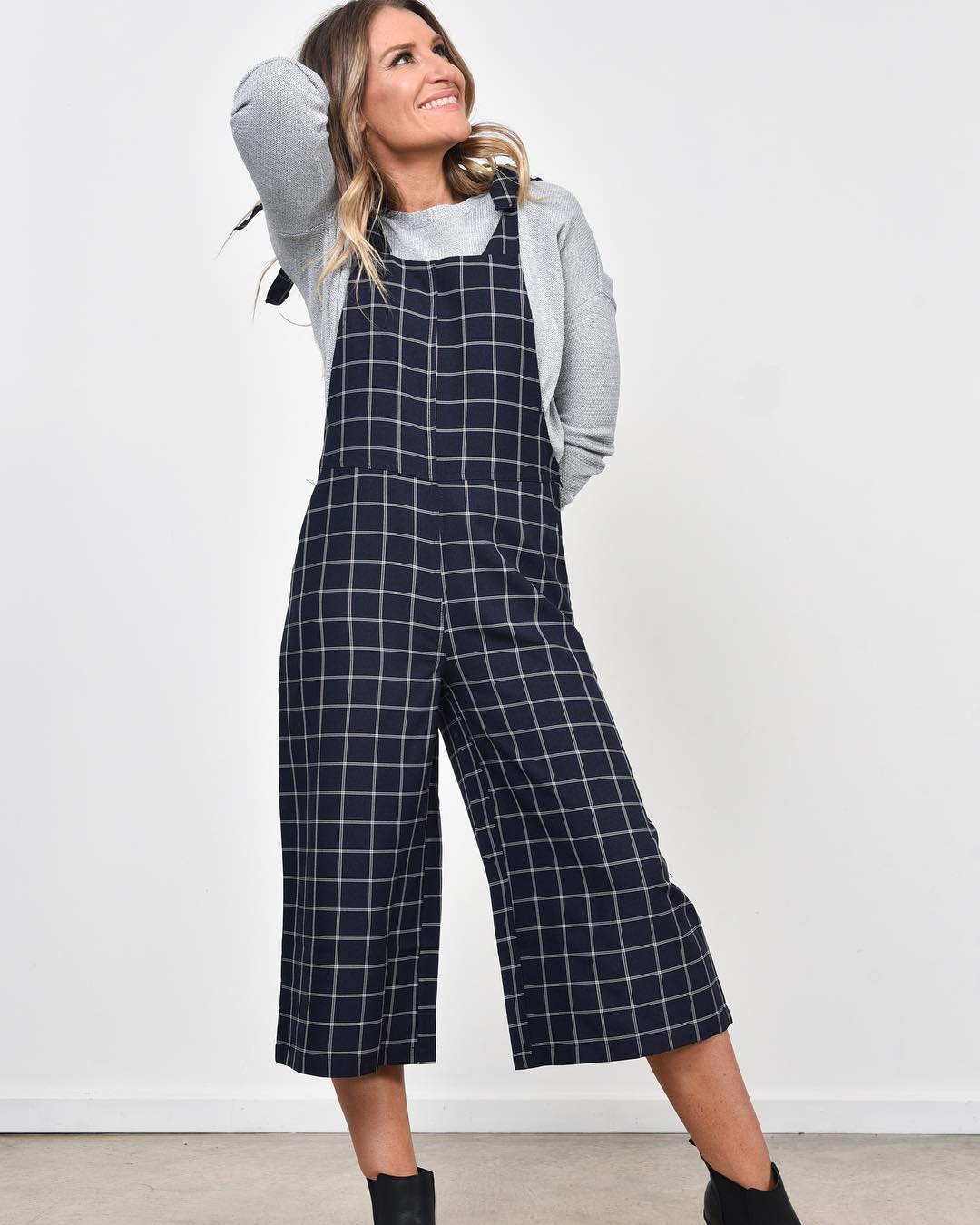 ↓ 17 – Matching Outfits with the Family
The whole squad can go with neutral tones and matching beanies to stand out from the rest of the hikers. This would give the impression of a sweet happy family and of course, #goals.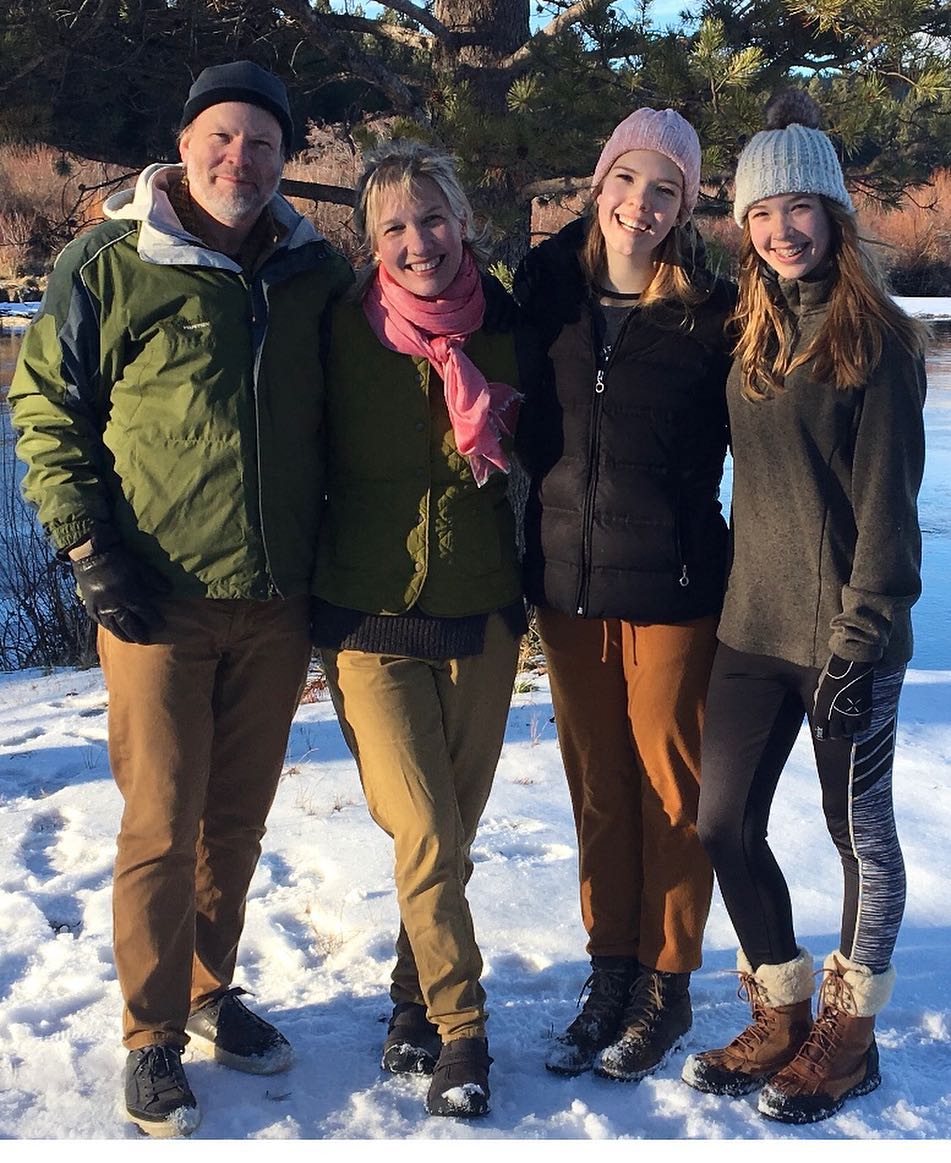 ↓ 16 – Gloves 
Gloves will protect you from scratching your hands because of the rough rocks. They are also the best protection for frozen fingers in the biting cold. You can go for plain black gloves that work with everything. Or you can have the cool printed ones that match with other accessories or your clothes.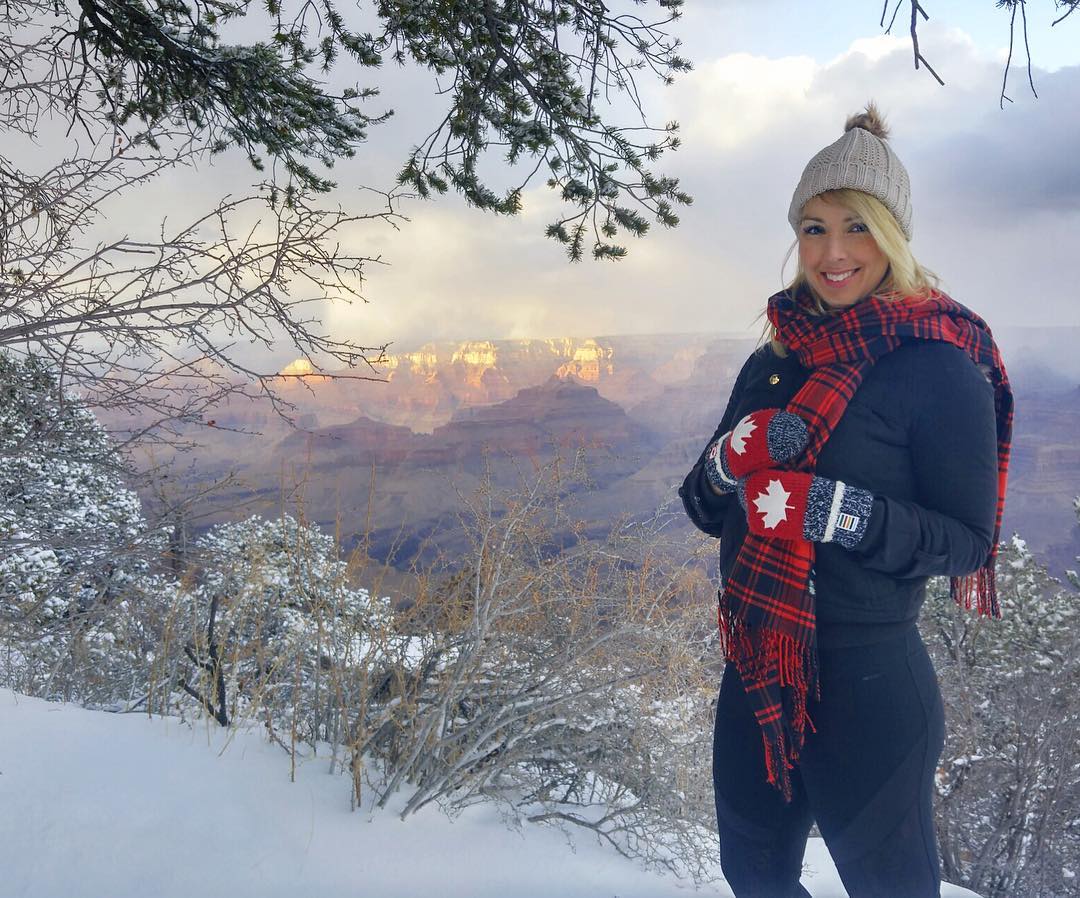 ↓ 15 – Simple Blue Jeans
Just like at any other event, blue jeans are a perfect fit for hiking. If you have a favorite pair that fits like it was made for you, then you will be super comfortable and grateful that you chose to wear them. Try not to wear the ones that are too tight, though. You can keep the look simple with a plain warm jacket and a sweatshirt underneath. Here are 25 Chic Ideas on How to wear Mom Jeans.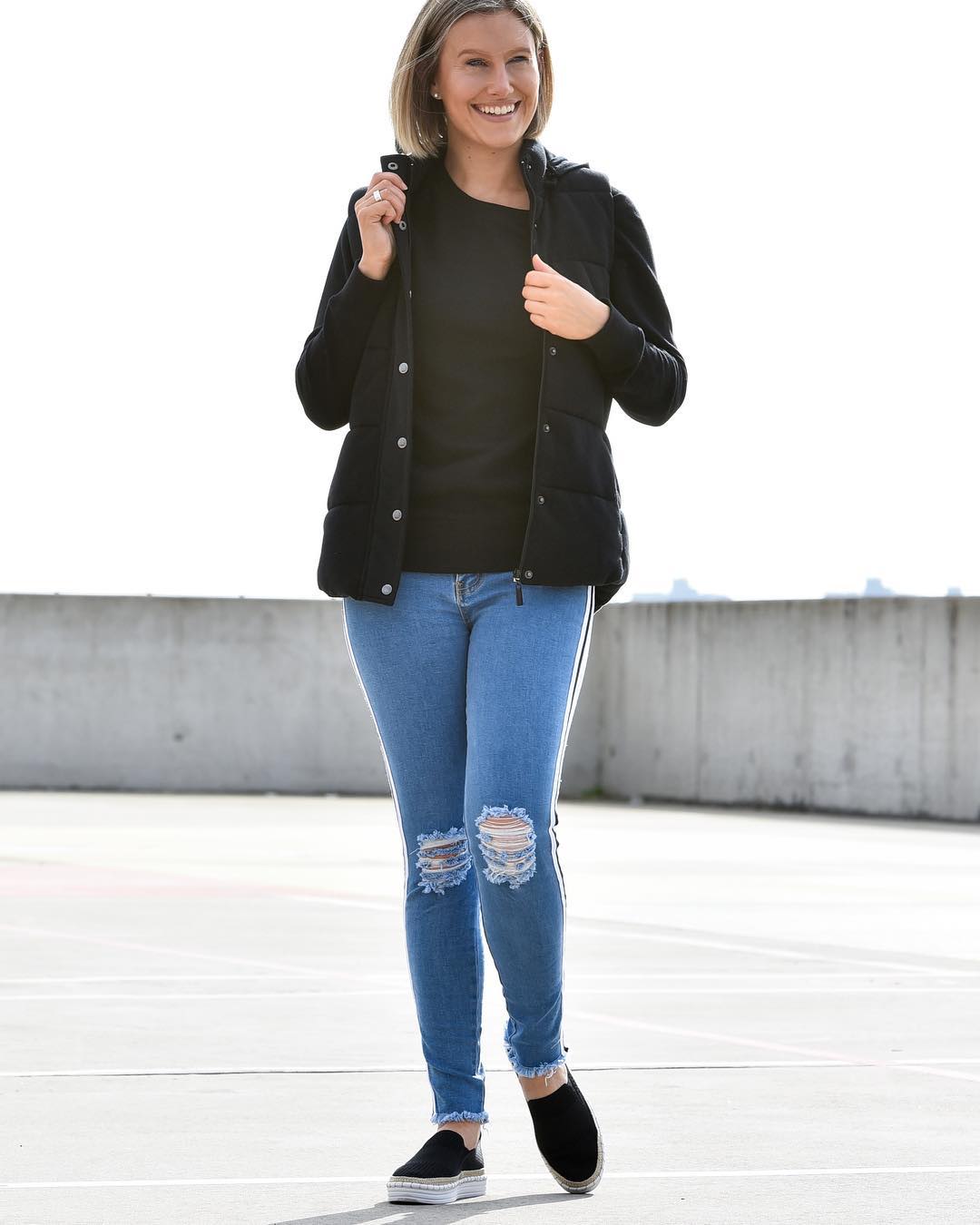 ↓ 14 – Oversized Denim Jacket
Oversized denim jackets give off a chic and boho vibe, which is perfect for when you want to channel your inner '90s gal. Go with a plain or simple t-shirt underneath, nothing too fancy or over the top because that will take the spotlight off your jacket. Add a pair of big shoes to finish this look.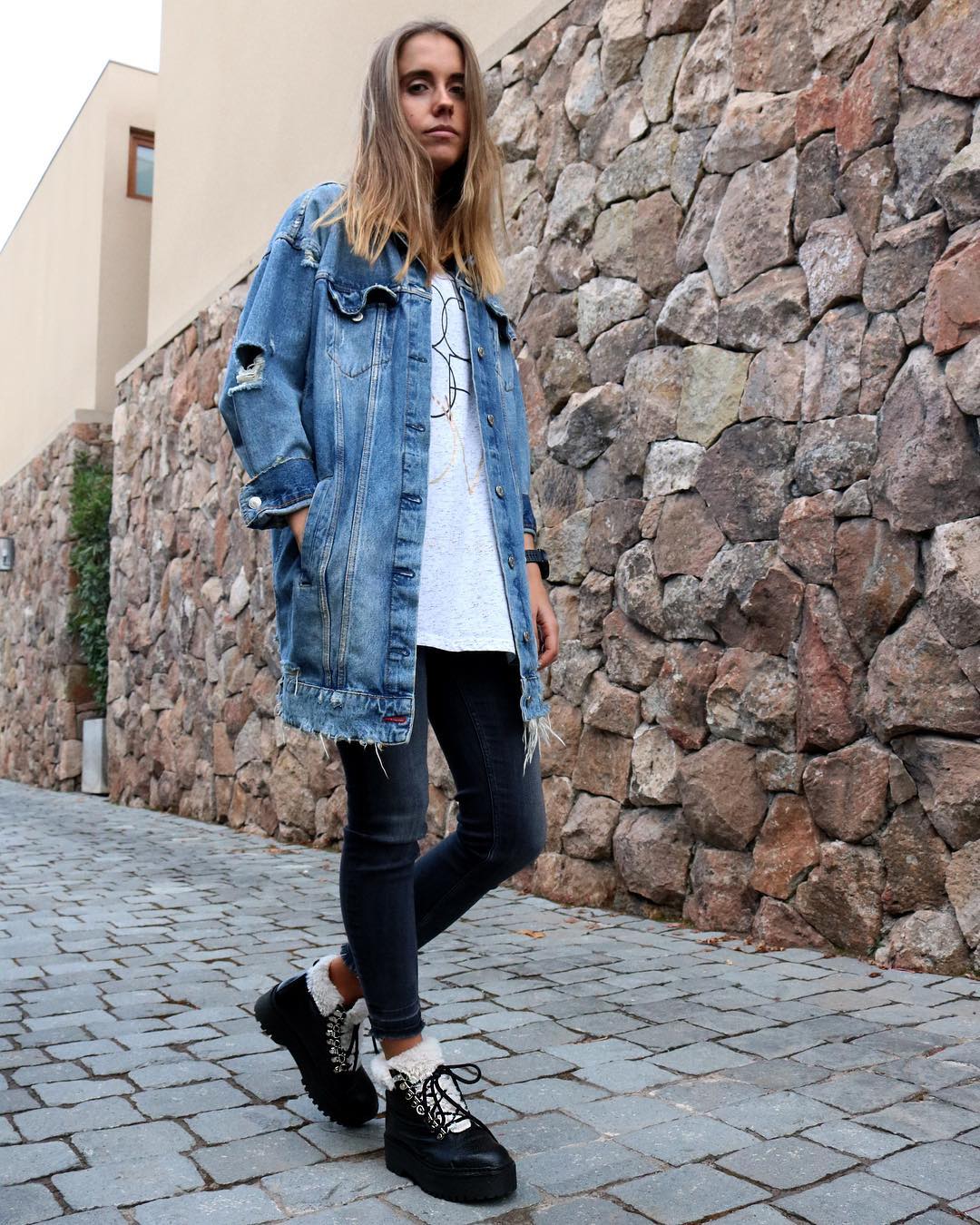 ↓ 13 – Neon Tracksuit
Be the center of the attention with a bold neon-colored tracksuit. It will attract eyes while you feel like you're walking on a runway rather than a hiking trail. Some days we just want to be that way.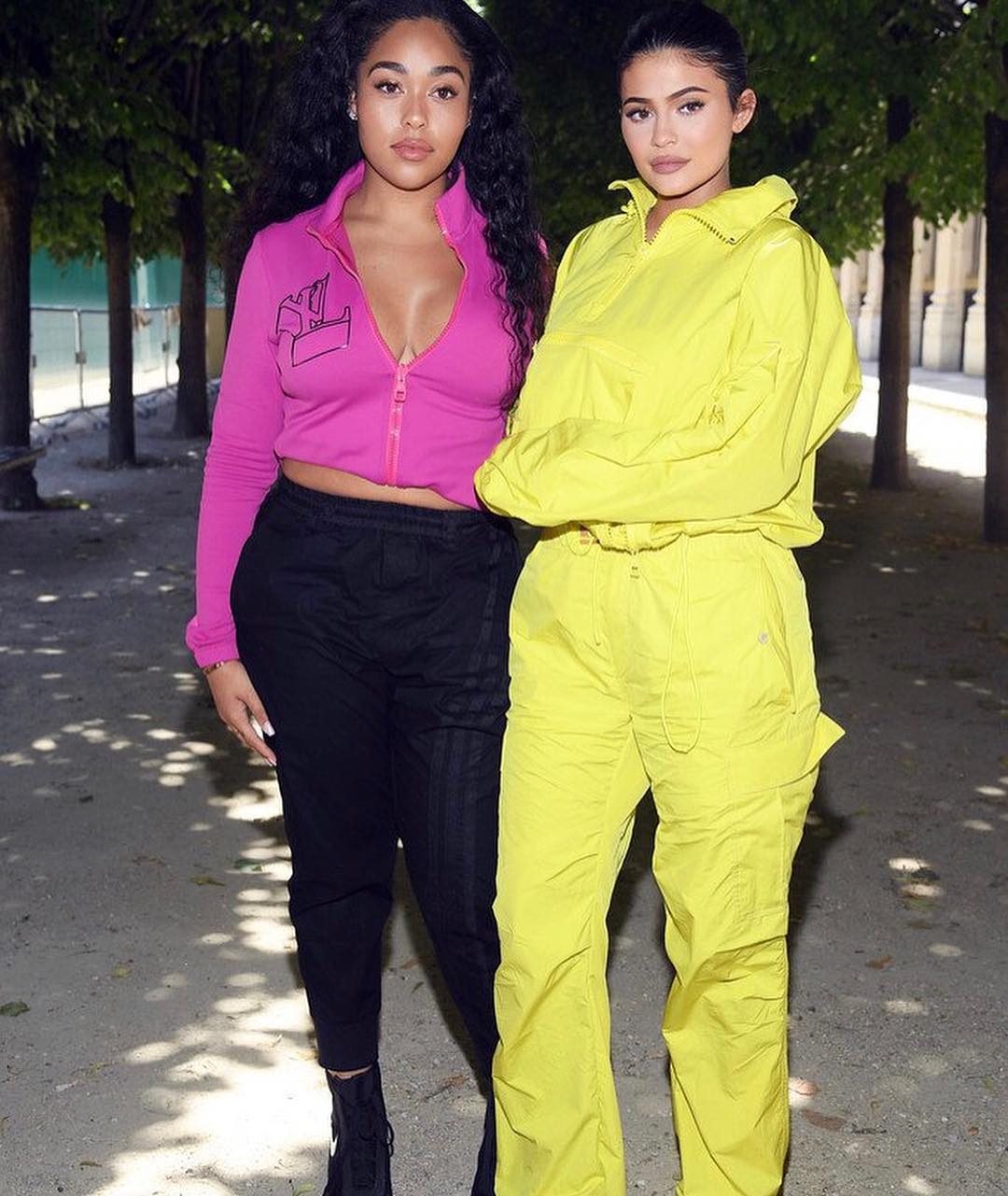 ↓ 12 – Running Shoes
You do not need to match your joggers with your outfit unless you are Khloe Kardashian and have a whole shoe walk-in closet.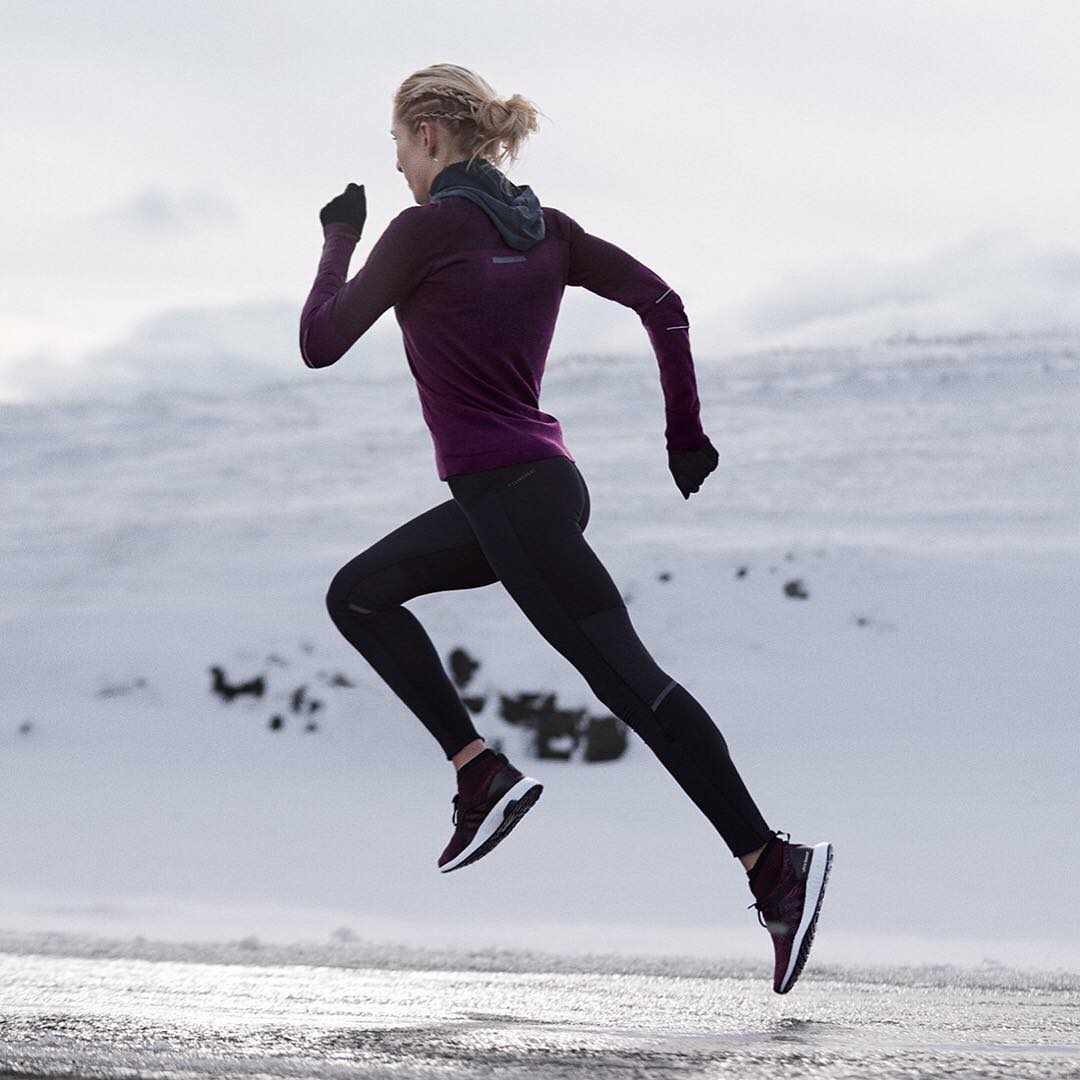 ↓ 11 – Hiking Boots
Hiking boots make it easier to walk and stops stones or pebbles to enter the shoes. Plus, they look super cool with any outfit.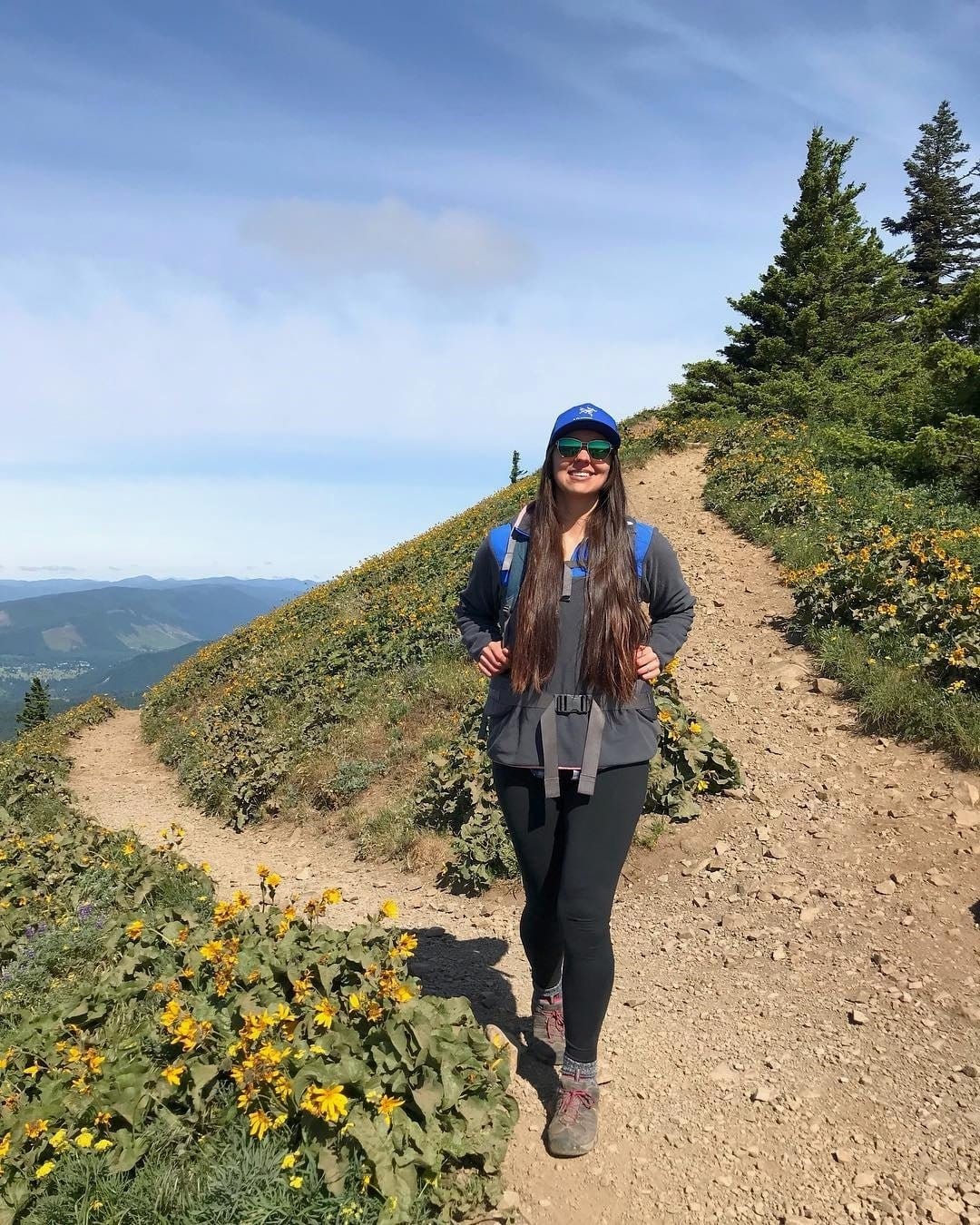 ↓ 10 – All Black Outfit
Sometimes we are too moody to wear any color. That is when we revert to the black to match our soul. An all black clothes can be worn with one colored accessory that will pop making your outfit look different and better. For example, you can wear an ink blue nail polish or a hot pink belt or a yellow dandelion bandana or a pair of green shoes. The options are literally limitless. Love wearing black? Then you wouldn't want to miss out these 25 Celebrities All Black outfits Styles for Fall to Copy.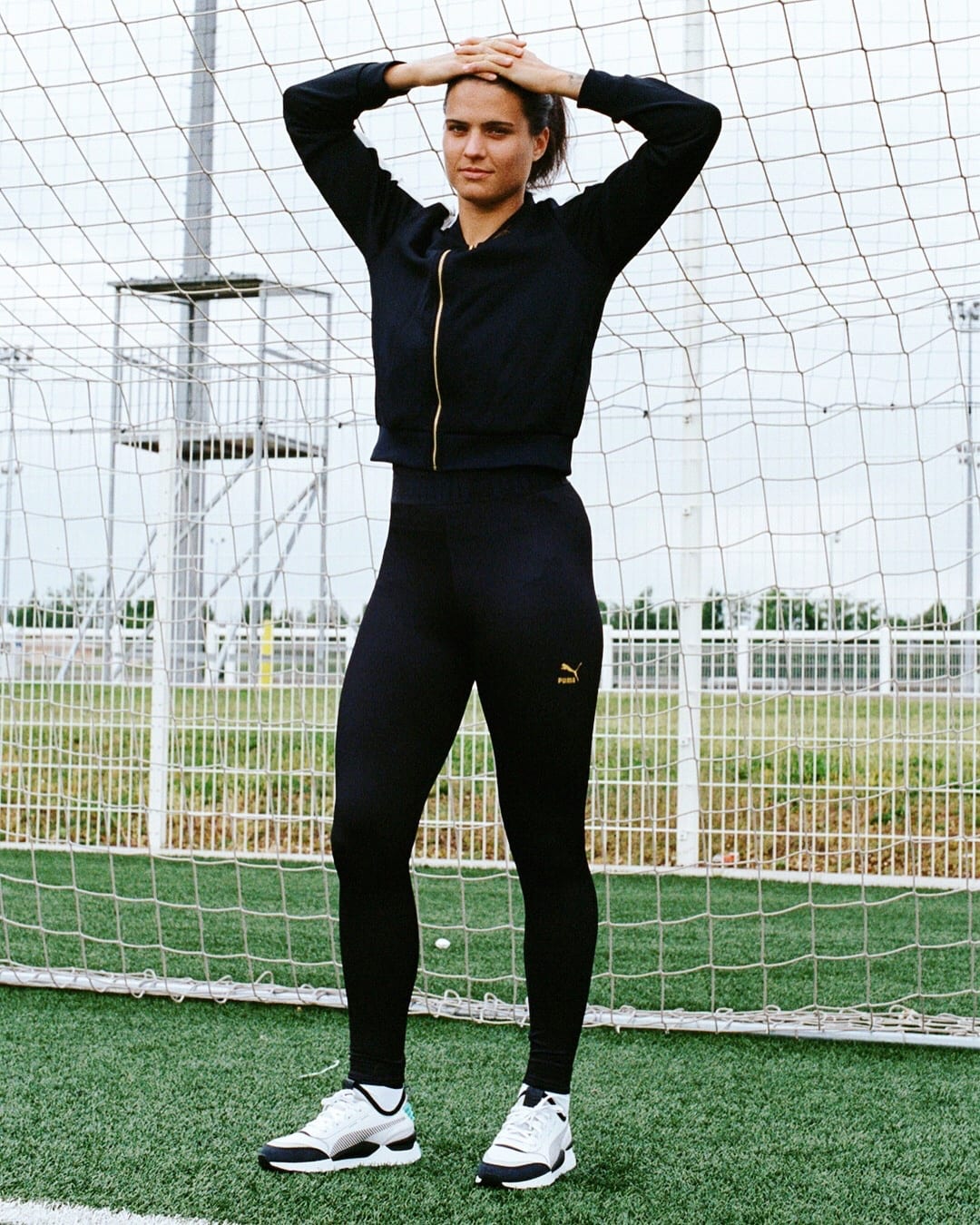 ↓ 9 – Camouflage Hiking Outfit 
To feel the wilderness in its true spirit, you should try dressing up in camouflage print. The printed jacket looks super dope on anyone. The best part is it goes with any color. Matching the moss green with red for a buzzing look. Match it with a neutral black or white for a minimal look. My personal favorite is pink, bright pinks with foliage green and tan is a sight to see.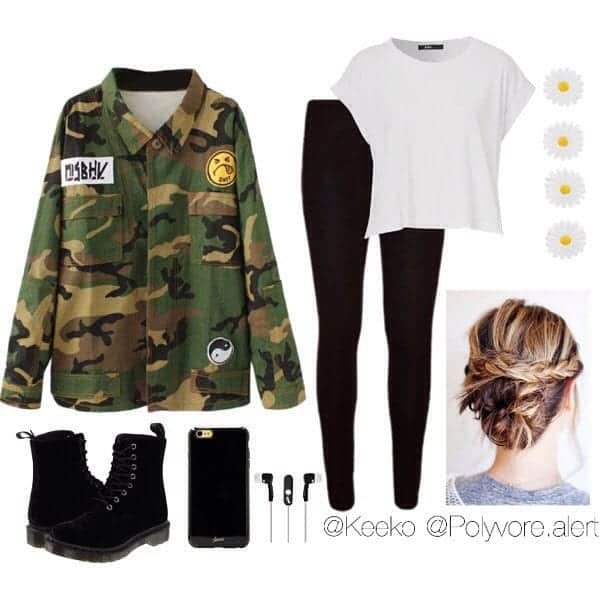 ↓ 8 – Fur Collar
Jackets with fur collar are the best because you do not have to worry about mufflers, plus they feel really soft against the neck.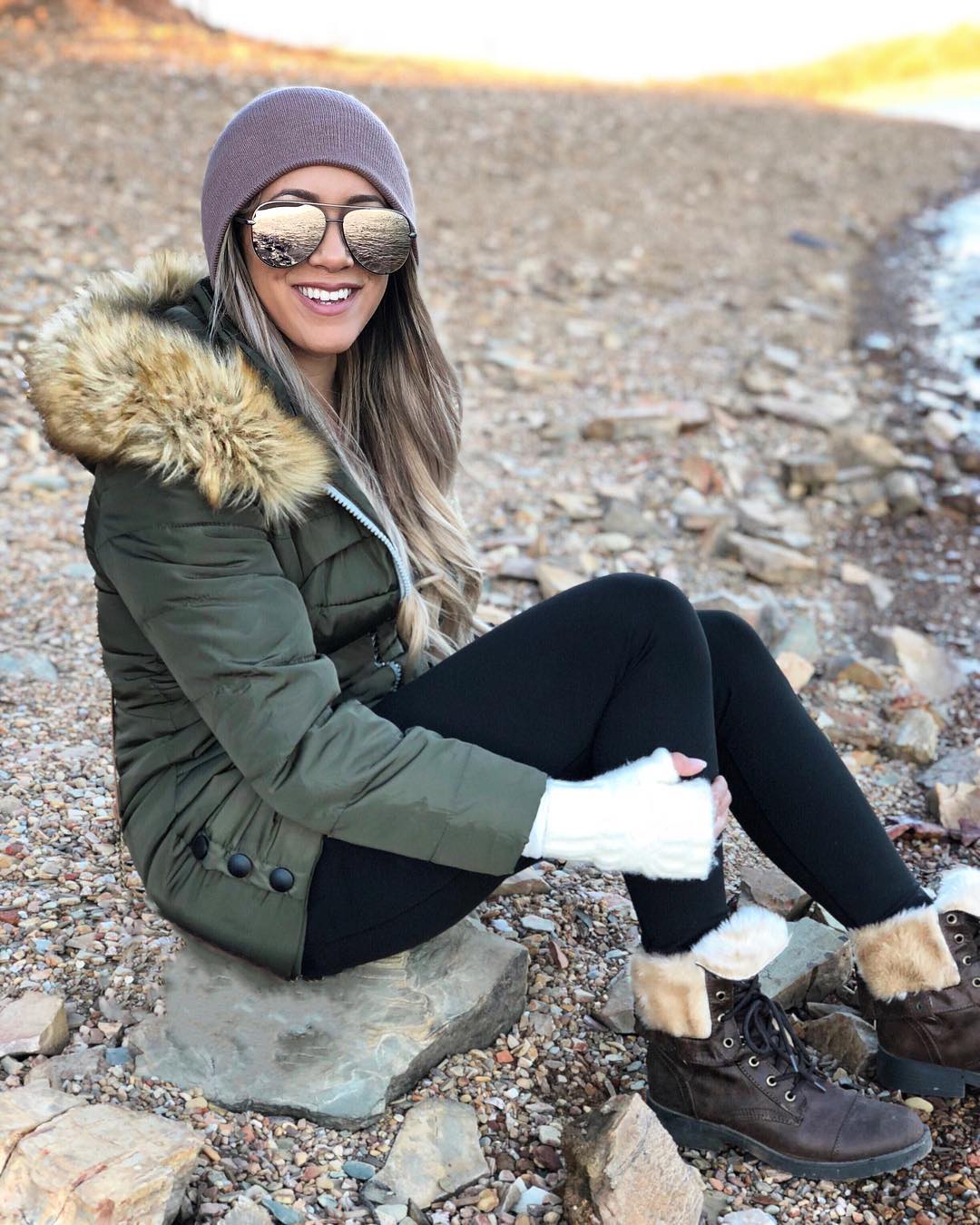 ↓ 7 – Beanie with a Fluffy Pom-Pom
Why get a  plain one when you can have something that matches your personality? Beanie with a fluffy pom-pom looks just as cute as it sounds. If I could, I would spend all my money on these. Beanies look good with everything in winters. Let your hair out for a better look.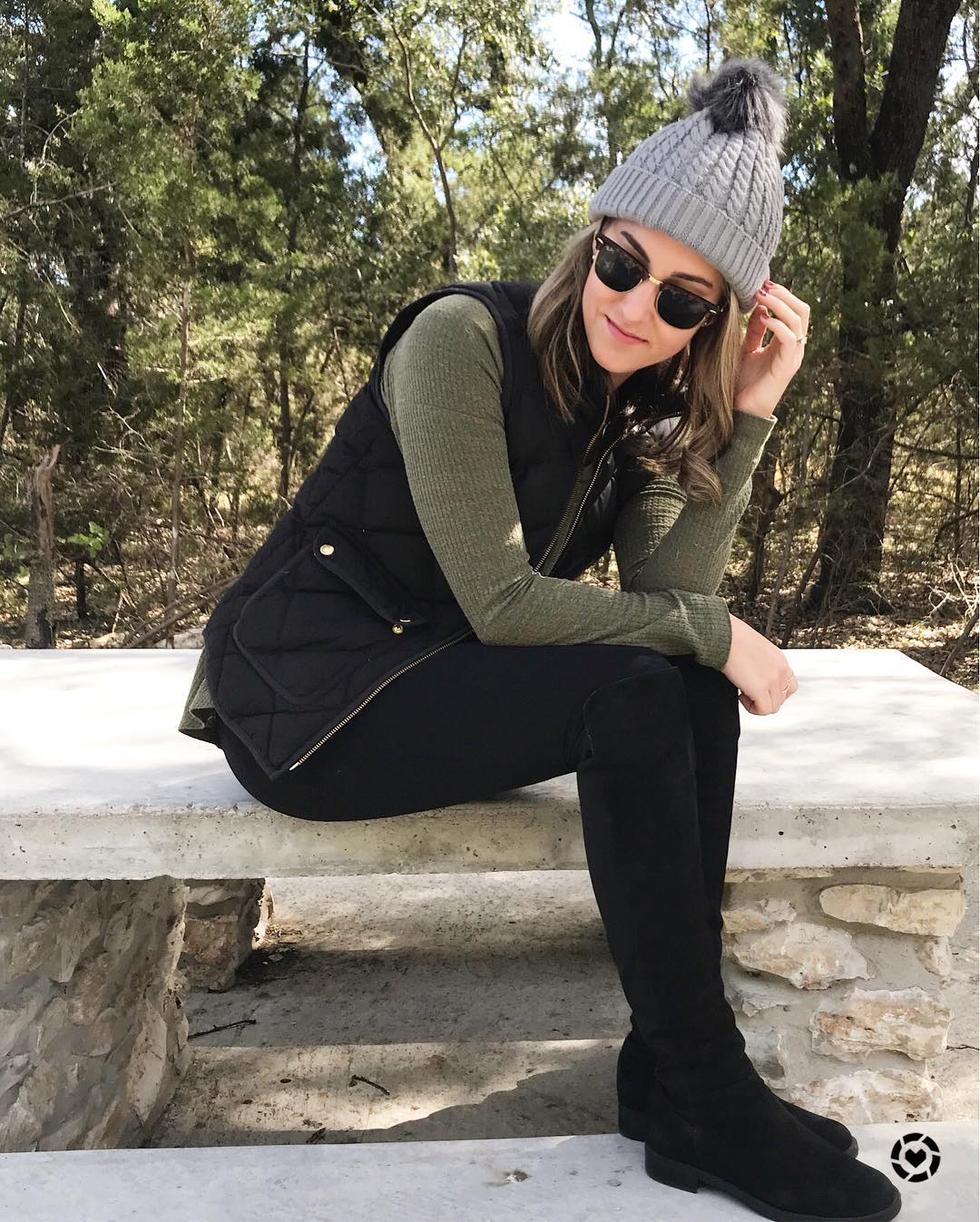 ↓ 6 – Long Boots
Long boots are perfect for hiking (if they are not heeled, of course). Thigh high boots keep your legs covered. An extra layer in winters is never a bad idea. the best thing is that with boots that go that high, you won't have any stones stuck in your shoes. That is the blessing since every time you go hiking on a rocky trail wearing your regular shoes there has to be that one pointy pebble that finds its way into your shoes making sure to ruin your hike.
Long boots look good with jeans and a normal shirt. Add a plain V-neck sweater to complete the outfit. Because your boots are already a little extra, you do not need to add anything that is too over the top (like jackets or puffy vests, etc.) unless you want to look like how you did when your mom dressed you up in elementary school.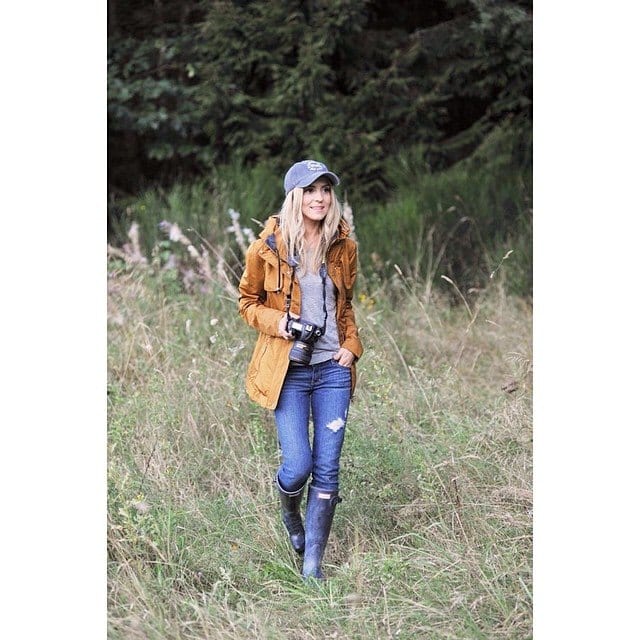 ↓ 5 – Puffer Jacket
With a good puffy jacket, you will not need to worry about the icy breezes that are looking to hit you on the chest and give you cramps for the next three days. Most of them are waterproof, so even if it rains, you won't be soaking wet. Cropped puffy jackets are trending, and they go really well with high waisted pants to give you a sharp figure. When you go jacket shopping the next time get one in a neutral or basic shade to match with most of your closet. It will definitely become your favorite winter clothes in no time I assure you. Black, white, pastel pink or something along those lines is the best choices for a puffy vest. Here's the best collection of Girls Outfits with Hiking Boots.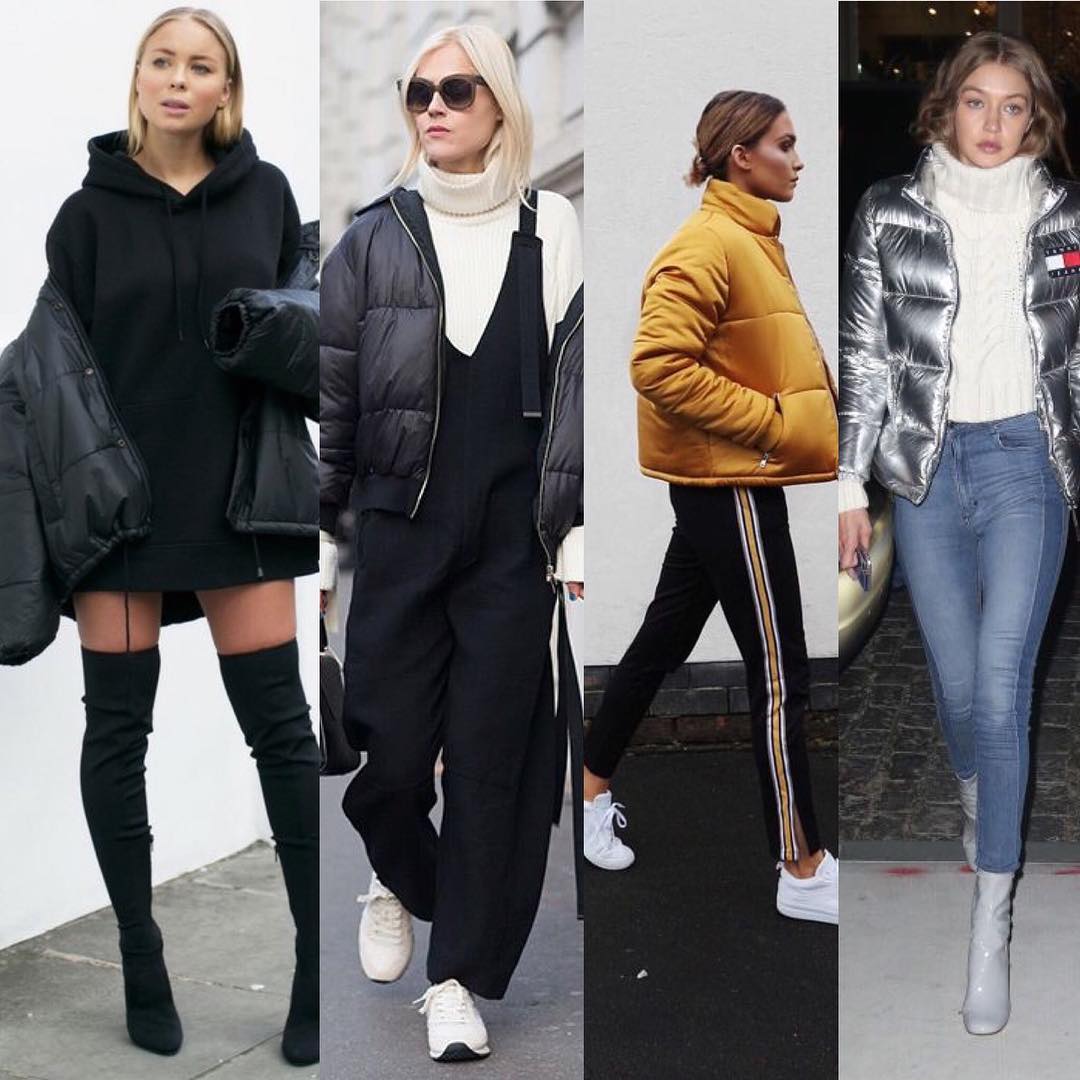 ↓ 4 – Warm Mufflers 
Mufflers are essential for winters. Knitted mufflers are really cute and keep you warm on chilly winter days.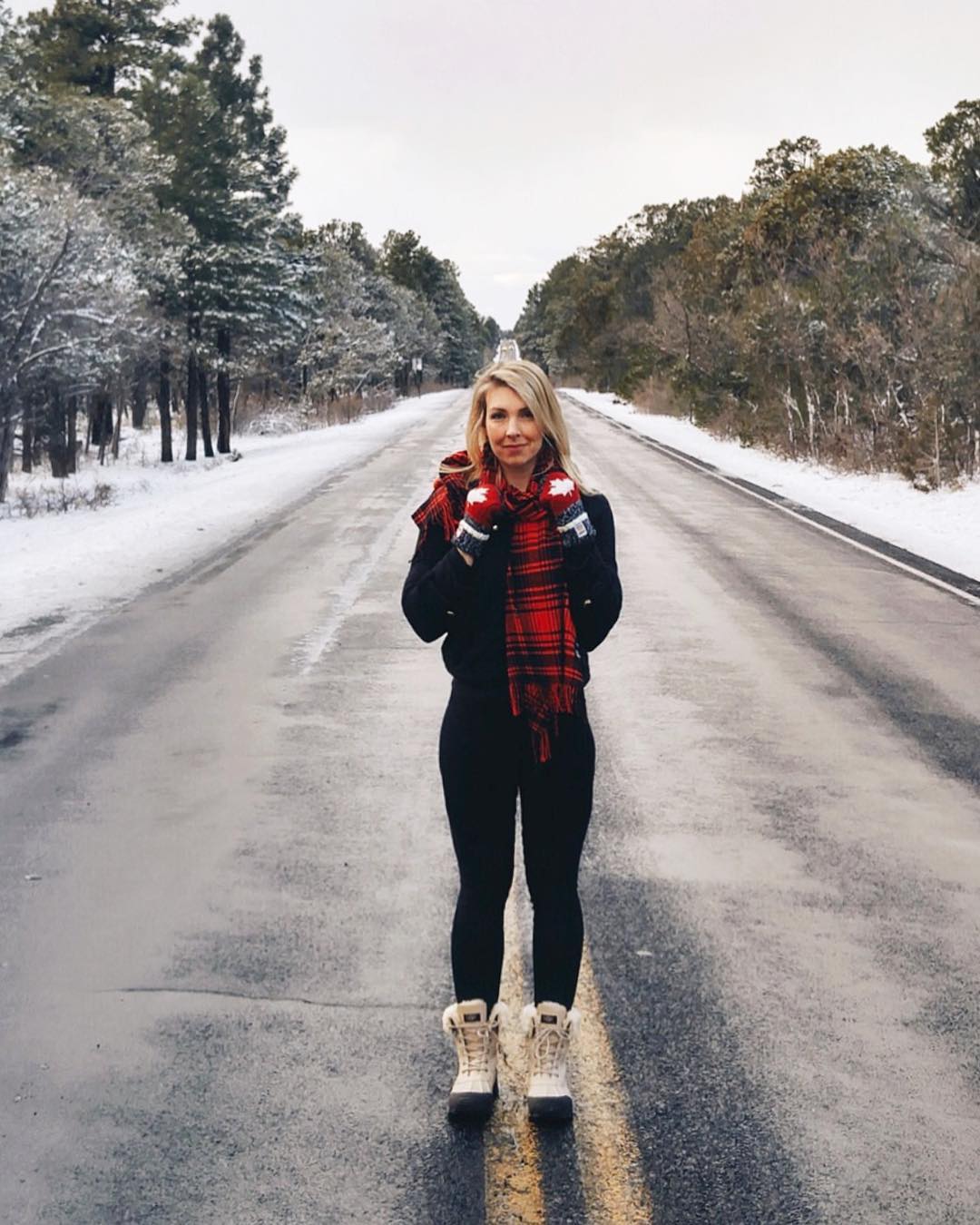 ↓ 3 – Long Sweater
A simple knee-length cardigan looks elegant and chunky. It can be worn with high waisted pants and a shirt that's tucked in. Add a thin leather belt around the waist to add more style. Long leather boots look good with this outfit and if you are feeling extra cold then don't be shy to put on a beanie, too.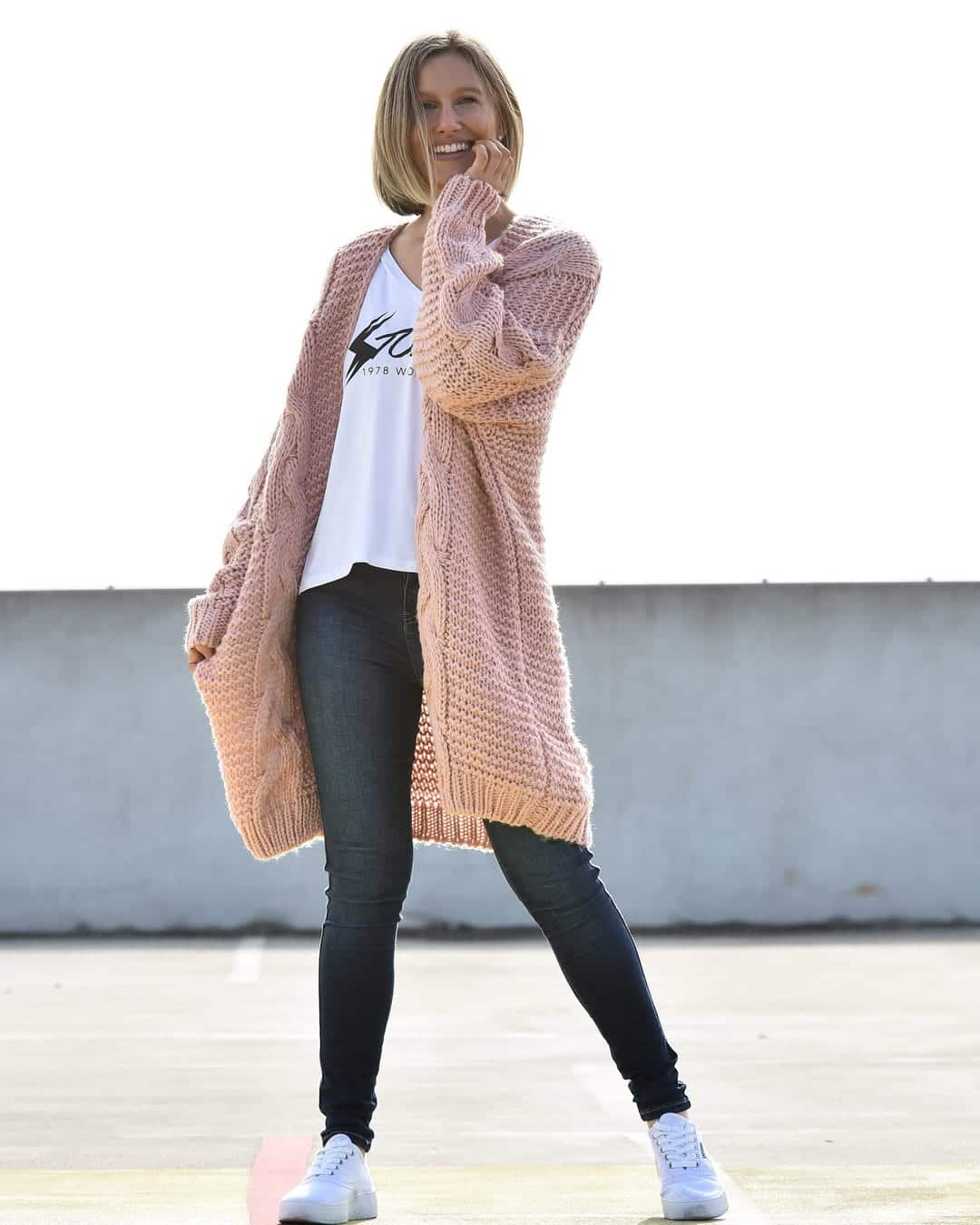 ↓ 2 – Stripes
Striped shirts are simple, yet a fashionable choice to wear. They look pleasing to the eye with their uniformity. These are perfect for any casual look, to be honest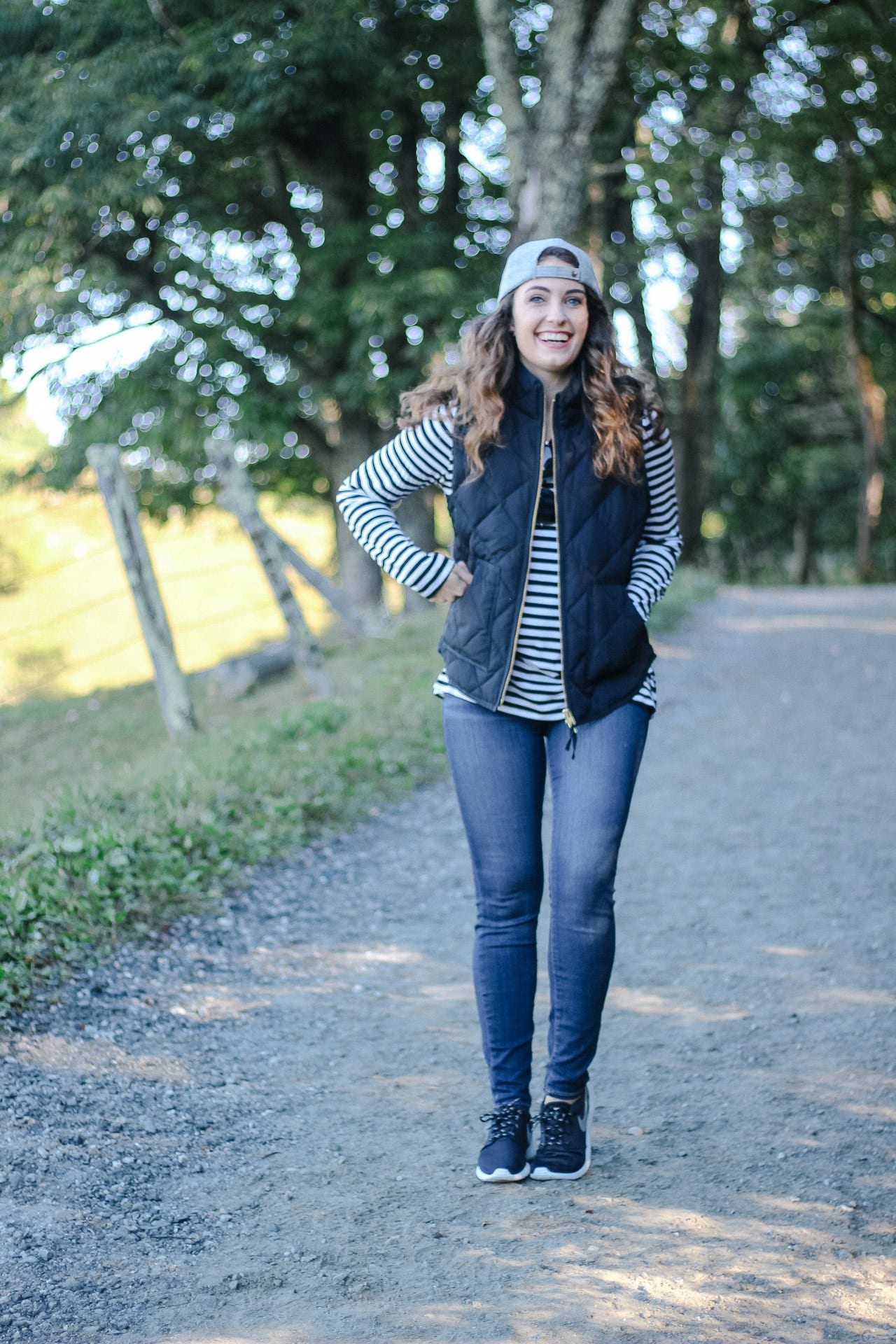 ↓ 1 – Sweatshirts
A warm, soft sweatshirt can be hiking friendly and perfect for covering great distances. They are comfortable to wear and look chic at the same time. So, get your best sweatshirt that has the picture of cats or your favorite team's logo or your favorite shady quote, and throw it on with some tights or jeans. You can easily add accessories to this outfit like a cute shoulder bag, beanies or cap, jacket, etc.