Outfits with Mom Jeans- Beside the name mom jeans don't have much to do with moms. They are basically extremely comfortable and high waisted pants that have excess space in the zipper area.
Sounds pretty cool right? YEP, they're great for all ages, sizes, types of women. So if you're not sure about how to style these pair of bad boys, then read on. Originally the mom jeans were kinda unflattering but the fashion brands have brought them back in the current trend with different variations.
How to Wear Mom Jeans Fashionably?
Let's start with some simple questions that people often have in mind regarding mom jeans:
What exactly are mom jeans?
If you have a look at someone's 90s wardrobe, you're surely going to find a pair of 'mom jeans'. These are basically jeans which in the earlier time were considered unflattering and boring but today they are one of the trendiest types of jeans that you can own. They are mostly high waisted with long back pockets (great for carrying your plus size phones) and come in a very relaxed fit around the waist, that makes them a great option for everyday wear.
What are some tips for buying ?
Always tuck in the shirt you're wearing, unless it's a crop top or you'll drown your figure.
Cuff, hem or stack your mom jeans according to the overall outfit.
Accessorize with a belt to clinch your waist further.
Wear only the ones that one hundred perfect fit your waist otherwise it'll be tricky to carry an oversized pair of jeans.
Go for minimal accessories so you don't over-do your look.
Where can I get nice mom jeans?
They are available at a number of brands these days, here are five of our top choices:
↓ Levi Donna Martin Mom Jeans – Price: $98.00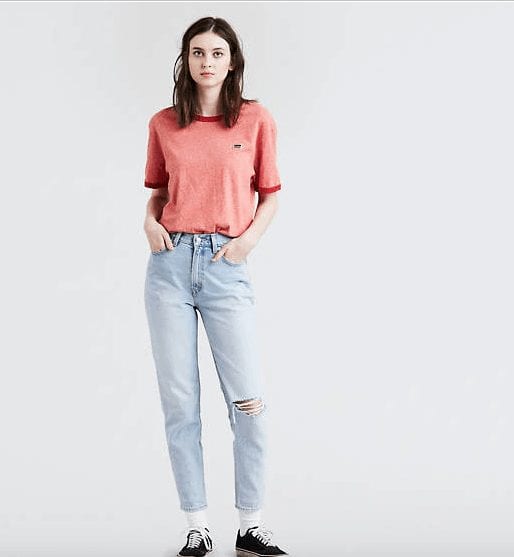 ↓ Topshop MOTO Blue Grey Mom Jeans- Price: $70.00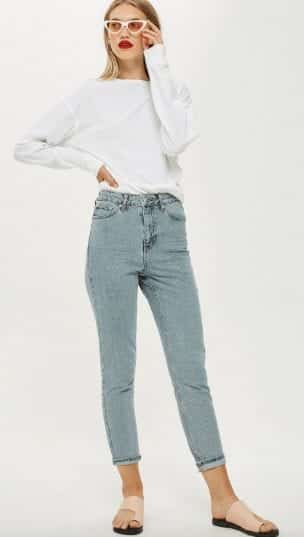 ↓ Urban Outfitters BDG Mom Jeans Black – Price: $59.00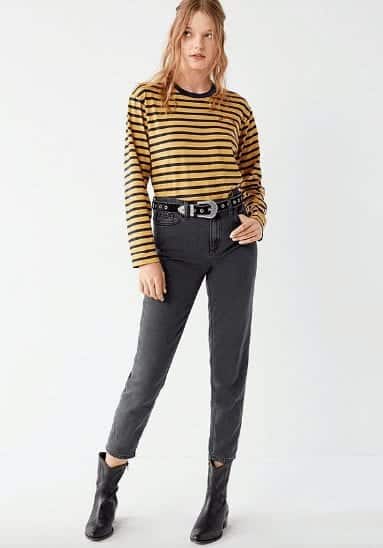 ↓ ASOS Bershka mom jeans – Price: $32.00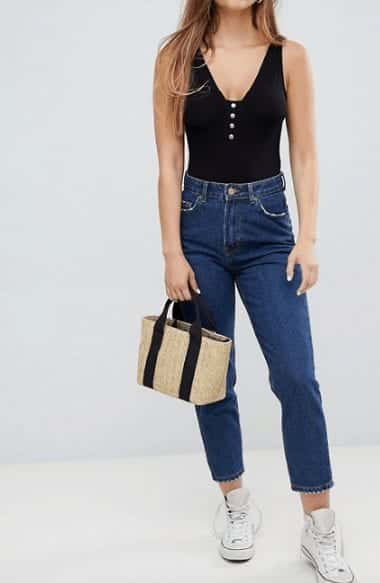 ↓ Boohoo High Waist Light Wash Distress Mom Jeans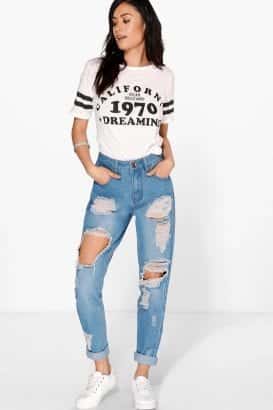 ↓25 – What Should I Wear WithMom Jeans
Most often women pair blue mom jeans with white. It's classic, it's genuine, its the ultimate look. These jeans come with a white-wash denim look, and yes it's trending right now. Style it with a crop top or a plain silk shirt, it's up to you. Let me tell you ladies one more thing, they don't just 'look' comfortable (wink, wink!). Here are 25 Cute Ways to Wear Crop Tops This Season.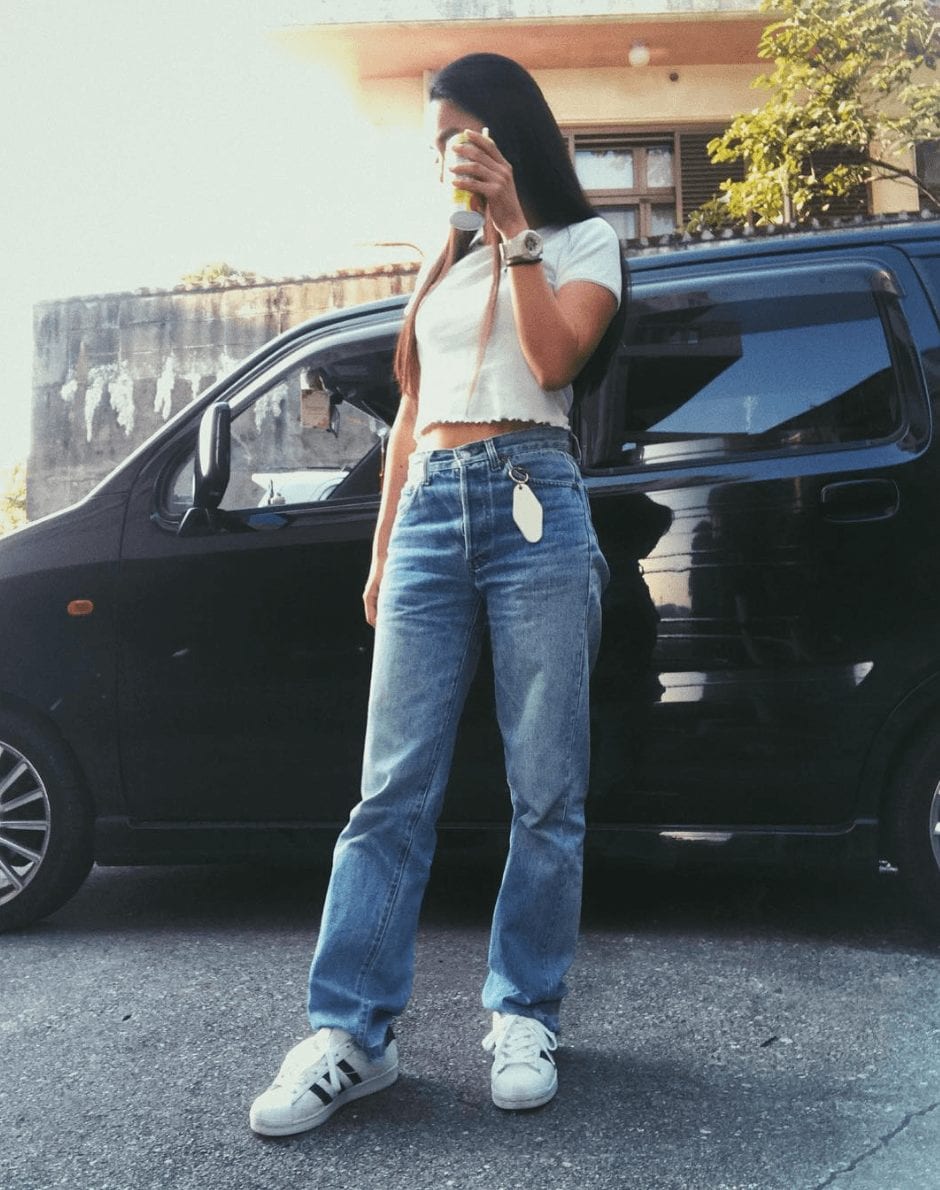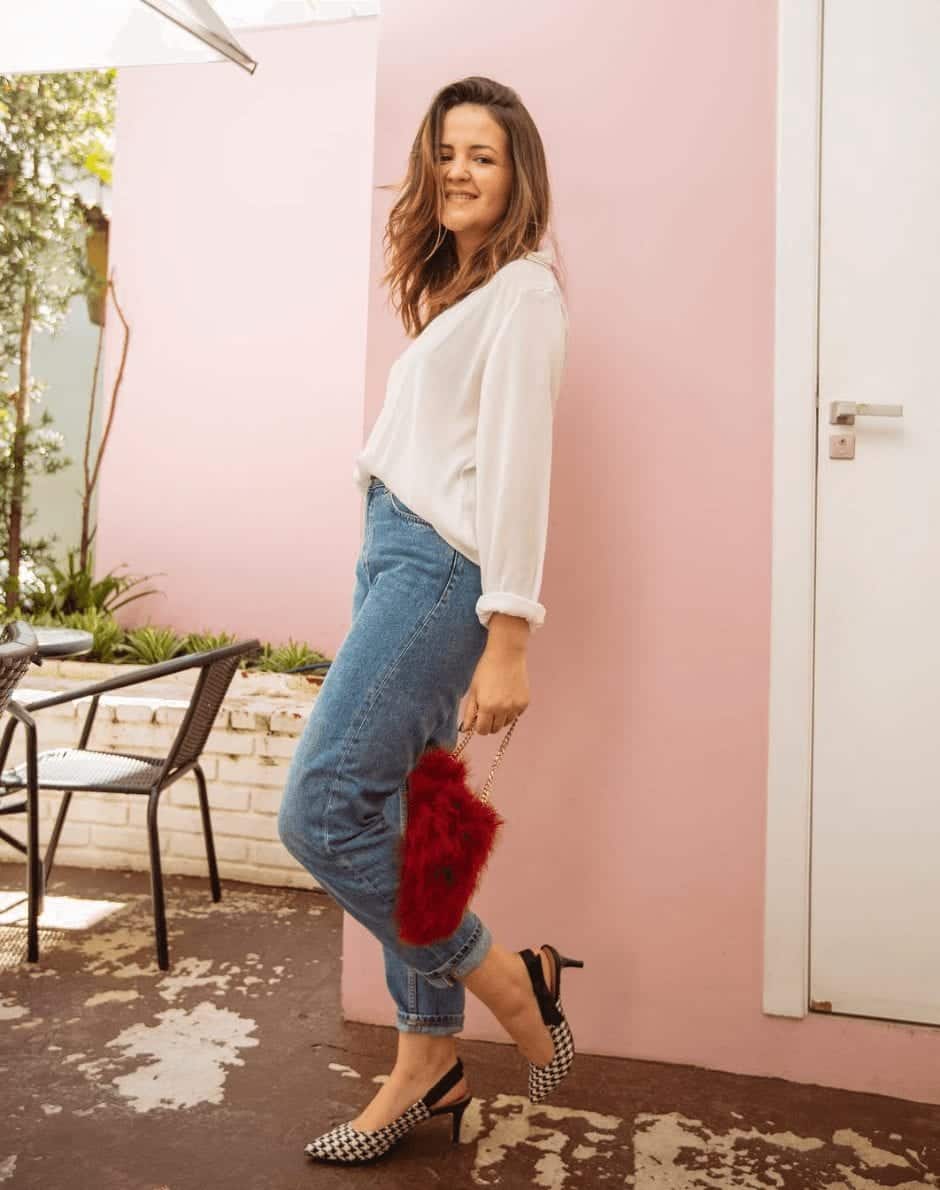 ↓ 24 – Summer Style
We know how difficult jeans can get in summers, especially with skinny jeans, but not anymore. Mom jeans give you a lot of breathing space especially due to the extra fabric around the zipper area. Oh and if you get a stretchable one, even better! Pair them with a sleeveless shirt and don't forget to tuck it in so you don't look a size bigger than you are. Plus, black will always make you look aesthetic!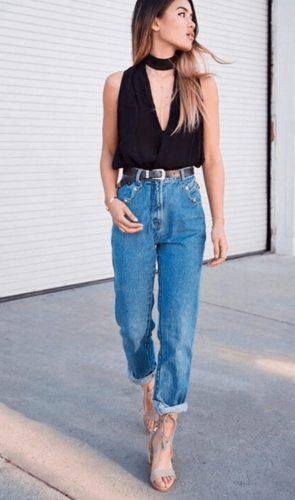 ↓ 23 – Formall Outfit
Mom jeans and formal? Yes! The era has long gone when mom jeans were for easy-going moms only, they're a fashion statement now! A simple yet bold in color silk shirt (Mustard is my all-time favorite) and a matching pair of pumps is all you need to look great! It's better if you go with minimal accessories, choose a pair of elegant earrings for a more elaborate look though.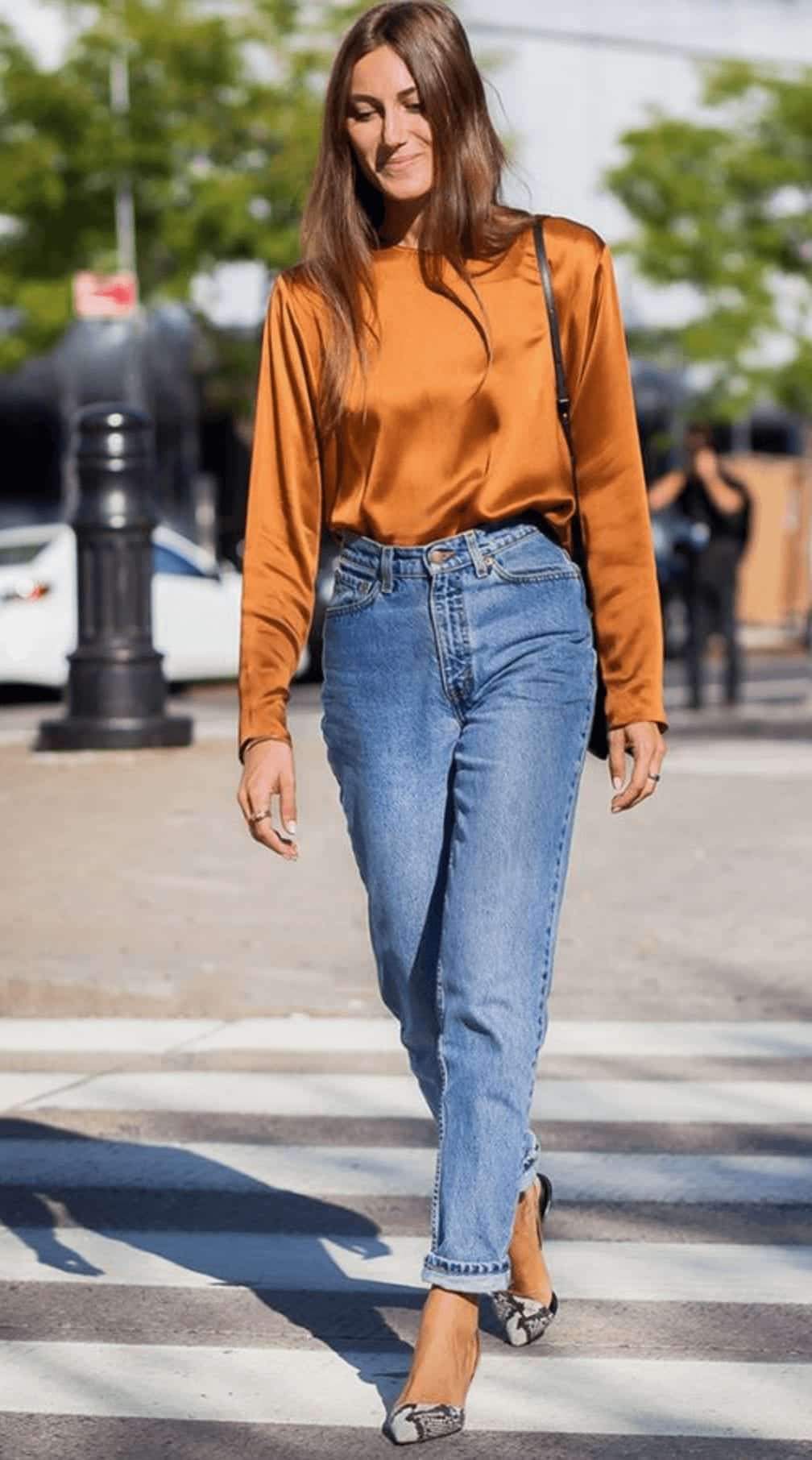 ↓ 22 – For School
Mom jeans will work with almost every outfit in your wardrobe, so to the mom's who have to go pick up their child from school (or if you teach), these jeans have got you covered. You just need to give out a subtle but totally vogue vibe. So wear a jacket with mom jeans and let your hair flow. Good luck in inspiring all the fellow mommy's out there!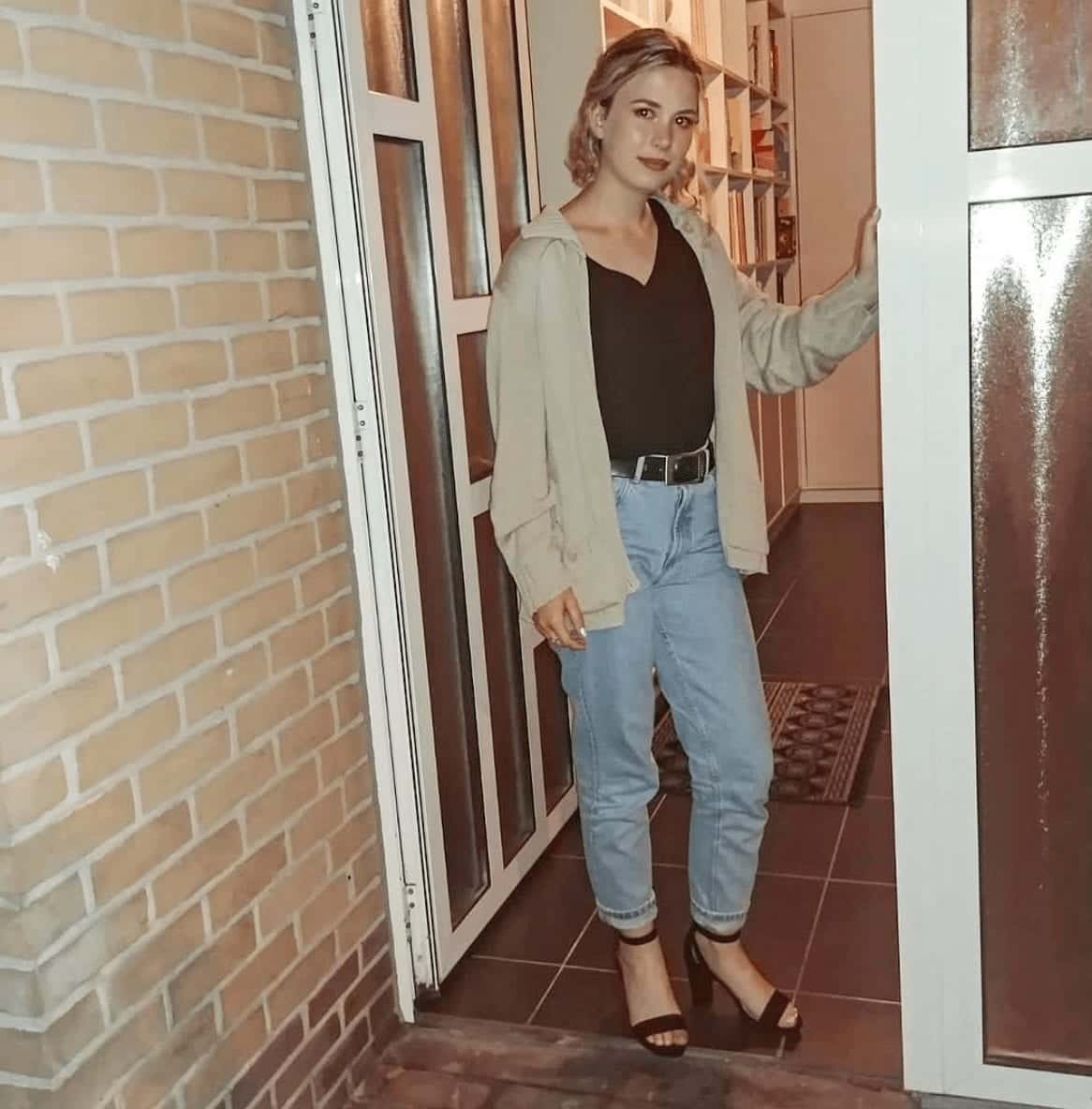 ↓  21 – In Winters
Mom jeans are ideal for winters when you're already feeling lazy and don't feel like dressing up at all. So now you won't have to make an extra effort to look exceptional! Throw on a over-sized sweater and grab a cup of coffee. But if you've time on your hands go ahead for a pretty hair-do. Plus don't forget to accessorize! Add a winter scarf/shawl if the weather is extra chilly.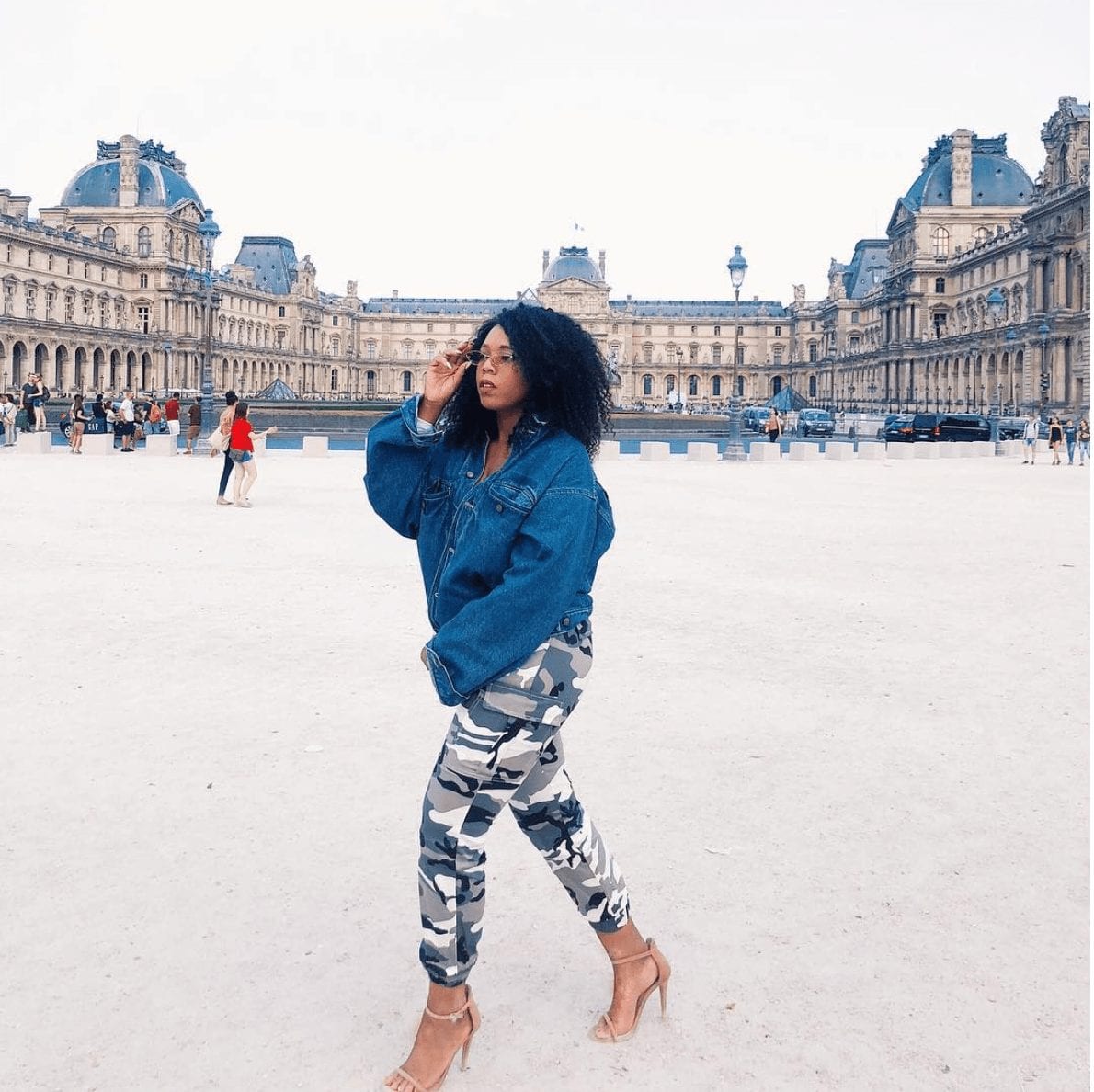 ↓ 20 – Floral
Look fierce in florals and add a touch of romance to your new season wardrobe with this perfect pair of mom style jeans. I am distressed, so over time I will become more ripped and worn, but that's cool because that's the look we're going for. (Yes, mom jeans will never get old.) Wear them folded at cuffs to keep them looking cool. Although if you don't want a floral shirt as-well, you can always match with any other tuck in shirt. Pointer: Enhance the look with the bag shown in the picture below! Here are 27 Ways to Wear Embroidered Jeans to Work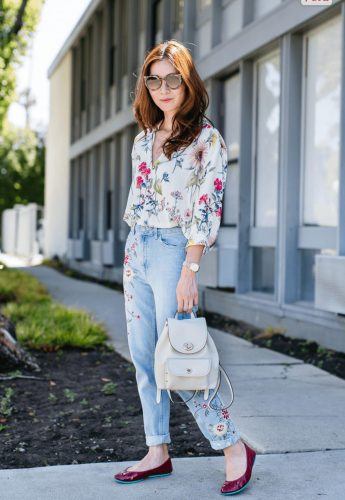 ↓ 19 – Off Shoulder
Want to look absolutely on fleek? Pair mom jeans with a trendy off-the-shoulder neckline. Not only does it totally show off your bare shoulders, it comes with the trendy boho vibe as well. You can effortlessly pull off everyday street style with this outfit. Just add some accessories to glam up the look. No harm in wearing something around your neck or a pair of prominent earrings.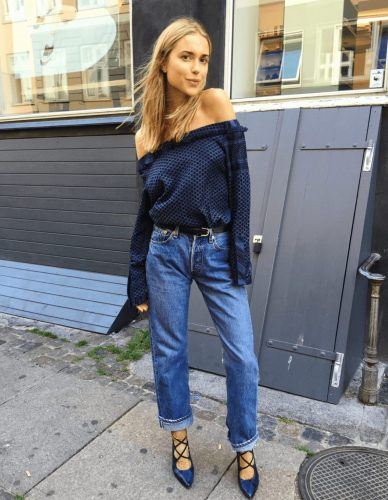 ↓ 18 – The Vintage 90s Look
Do these jeans scream retro or what? This goes without saying that mom jeans are actually from the late 80's so I'll always have a soft spot for them. Middle-aged women went absolutely crazy for these in those times, and now they're back with a bang! Pick a shirt that also looks like the current trends and pair it with mom jeans. Go for a Vintage look tonight because why not?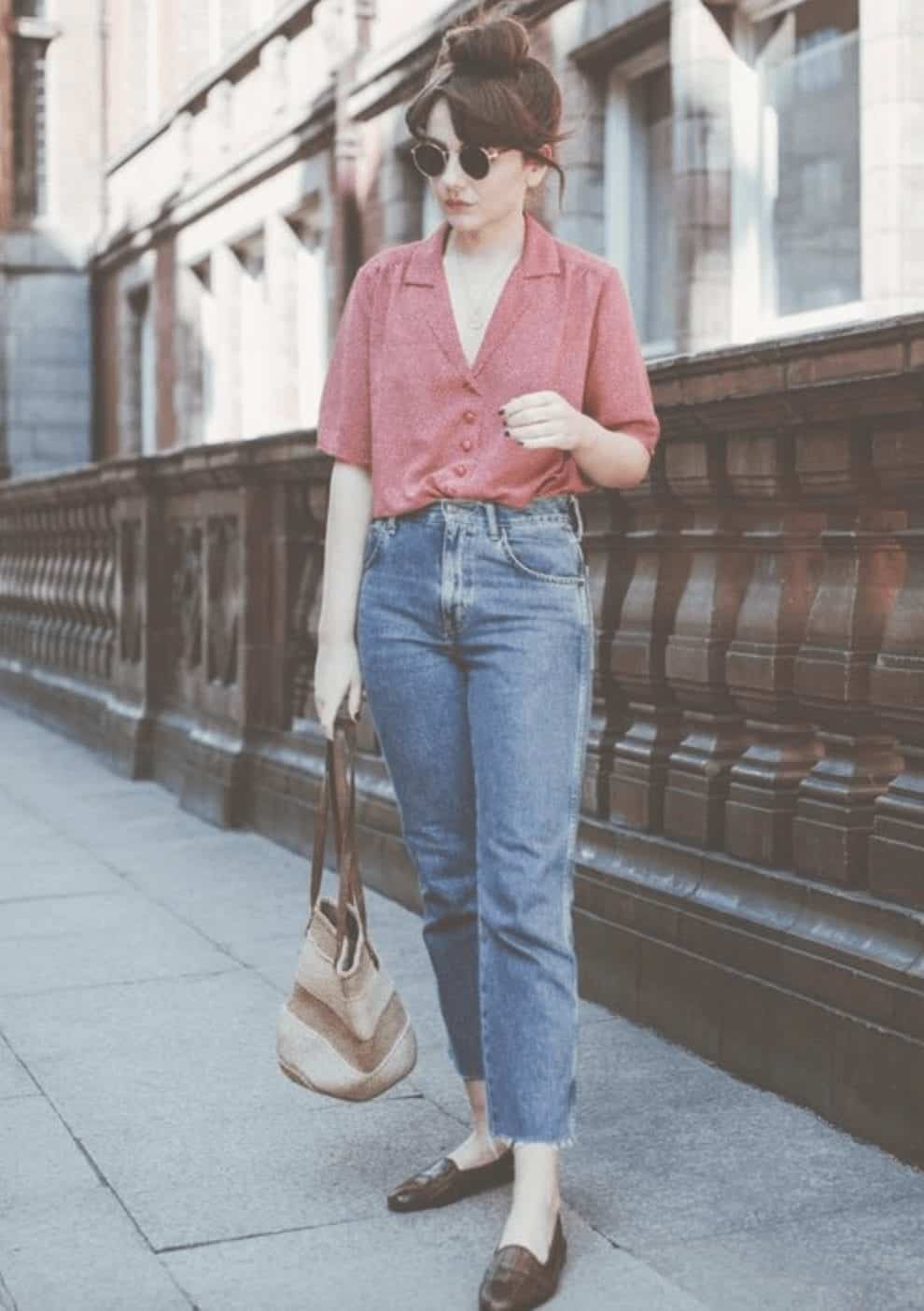 ↓ 17 – For the Plus Size
I hear women of every size vocalize their decade-long efforts to find "the perfect pair of jeans". Mom jeans are an answer to all your problems as they tend to be loose in some places, and fitted at others just how we like them! So slip an ultra-fine shirt in these jeans and rock the look! Pointer: Notice the earrings in the image below? Get these hoops as soon as possible!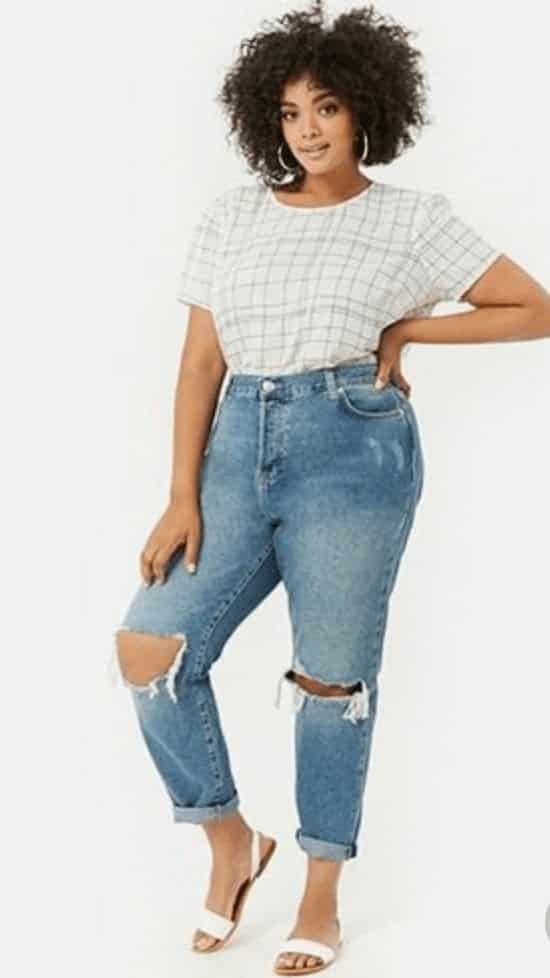 ↓ 16 – Mom Jeans for The Win
To me, mom jeans are the best thing that's happening right now in women's apparel. Thigh-slimming and tummy-taming, what more would you want, right? Here's a warm nude tone to flatter everyone! Oh and at times a pony tail hair-do is all you need for the perfect evening. Just smile and wave!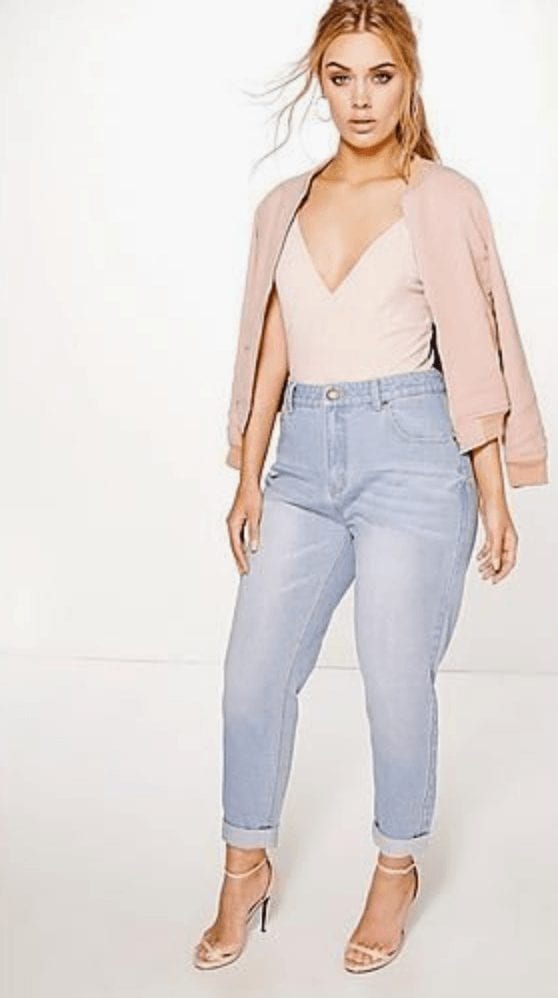 ↓ 15 – Baggy Look
The beauty about Mom jeans is that it's for all body shapes and sizes so wear these baggy mom jeans for a more laid back look. Team them up with bra tops in summer! Mom jeans are high waisted enough to cover most of our belly, we don't want to be too covered up during summer so bra top or a crop top will be a good choice! Plus it's always a nice touch to add that extra pop of color into your outfit. You should definitely try out this look as well. Do check out these 16 Ideal Shoes to Wear with Baggy Jeans.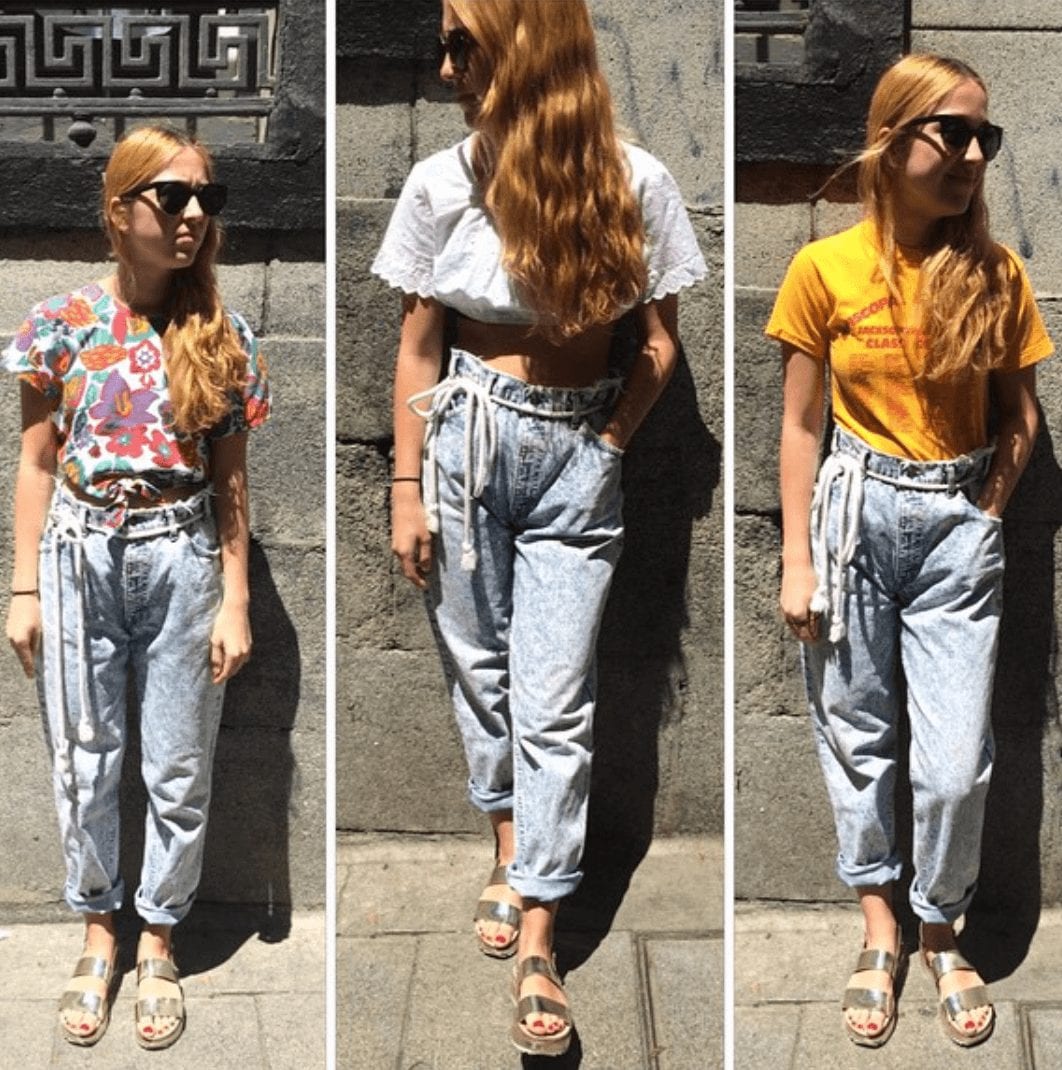 ↓ 14 – Ripped
Ripped jeans can add a hint of modern day grunge to your outfit although, you can add heels and they can feel surprisingly sophisticated. But I'll just say, please don't get those ripped-from-everywhere jeans. Just make this style work by adding a cute handbag and classy shades!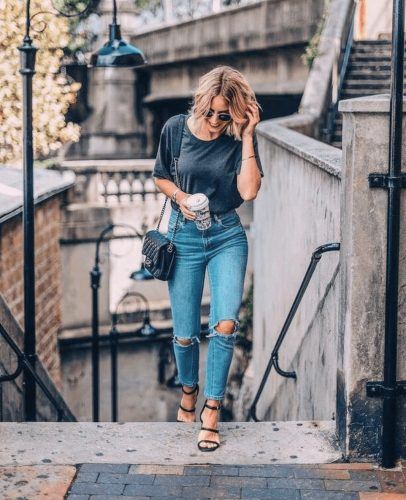 ↓ 13 – Celebrity Style
Giga Hadid spotted in Mom jeans! This is now a celebrity-approved way to style in jeans, refresh the staple! I absolutely adore how at times celebrities choose to dress extremely basic, accessorized with just a set of earrings. Pointer: I love her white boots, who'd have thought to pair them with mom jeans?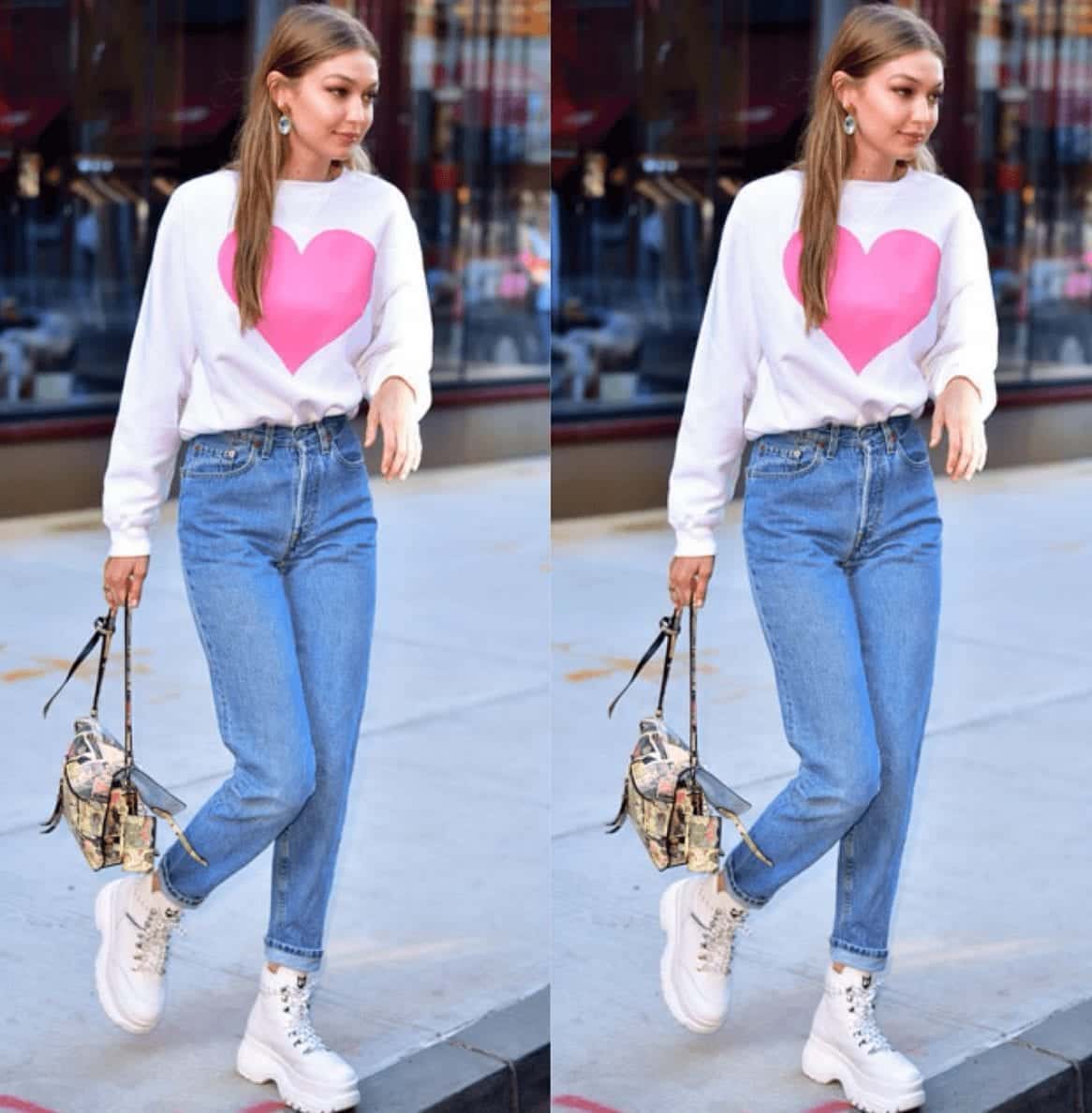 ↓ 12 – Senior Women Rocking the Mom Jeans Outfit
I'm here to tell you the that even if you're 90+ years old, you can rock a pair of mom jeans. It's one of those pieces you should always have in your closet regardless of your age.The thing is looking cool doesn't need to come at the cost of comfort, and mom jeans are the optimum of comfort. So chill!
Pointer: I love how graceful you can look with a basic touch of denim! (Refer to the image below)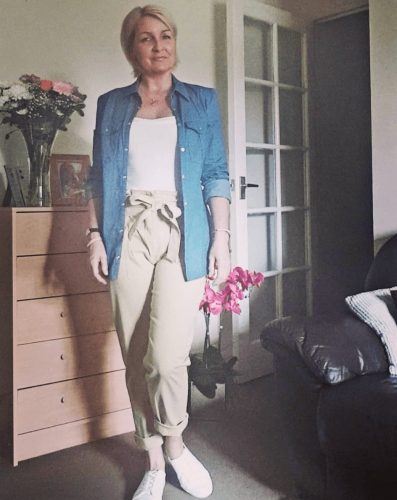 via
↓ 11 – Always Classy in White
When in doubt wear white! Totally chic and easy to pull off. Pair white-coloured wedgie mom style jeans with a darker shade shirt to break things up, it'll make the world of a difference. We recommend you add some accessories! Oh and a great hat can never go out of style. Power to the women of the world! Here are 23 Chic Ways to Style White Jeans.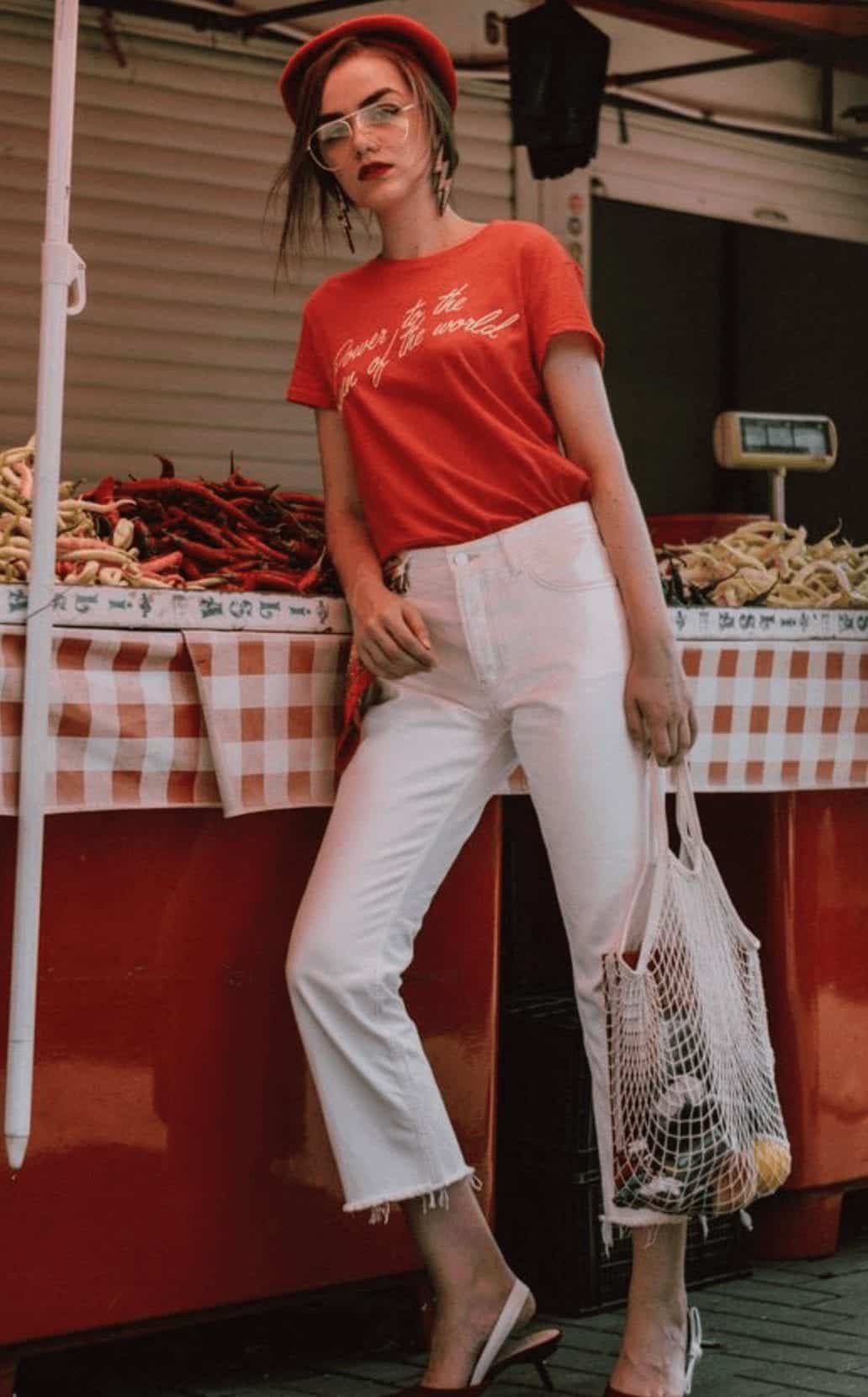 ↓ 10 – Casual Wear
 Pull on a loose but stylish shirt, and you'll feel confident in the knowledge that I will be comfortable all day. Play it casual yet sleek. How to kill it in further? By wearing mom jeans with fresh white sneaks. Ta-Da!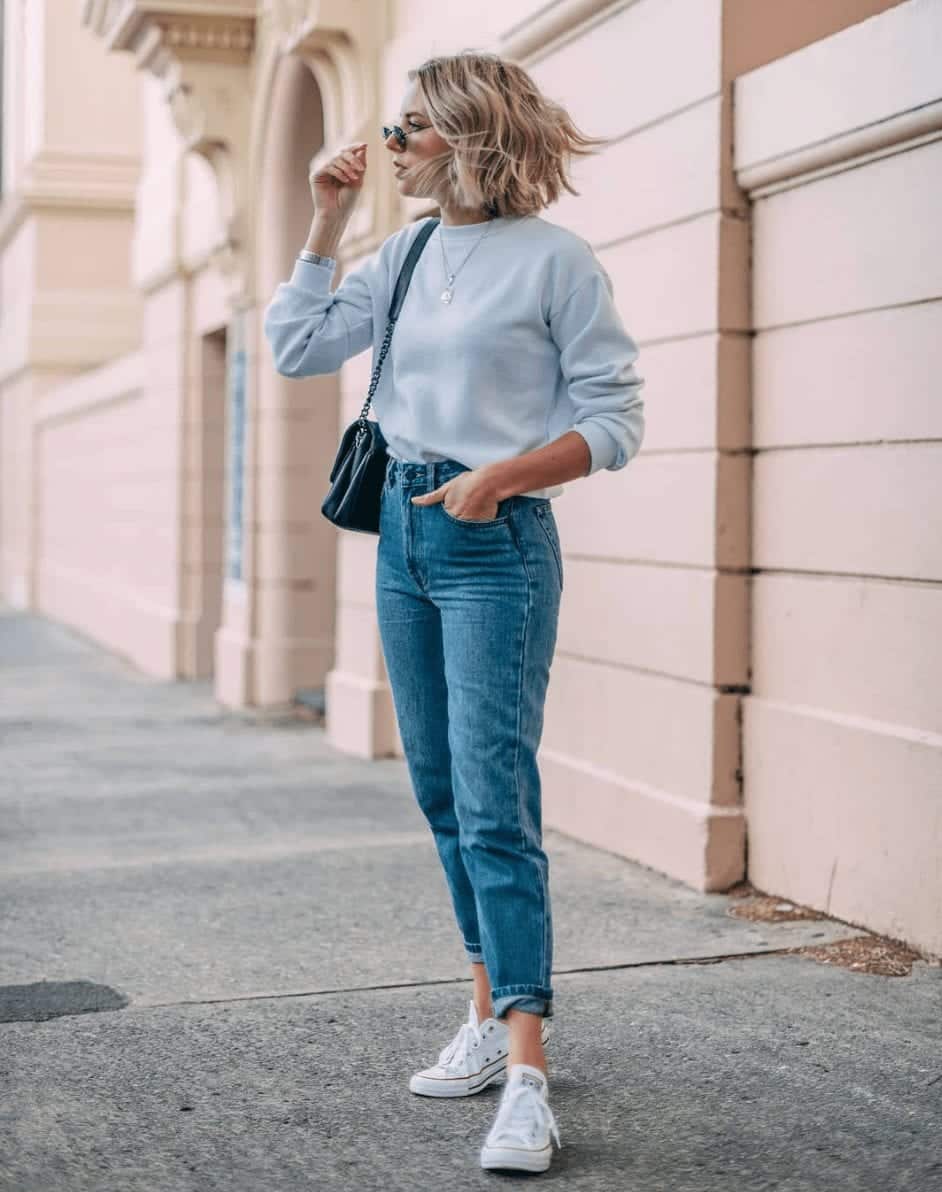 ↓ 9 – Printed Jeans
A unique print goes a long way. A quieter, darker print will always look exceptional! Although it's always better with a smaller patterns for these mom-style jeans. If you pair your floral jeans with a plain dress shirt and heels then we prefer you go easy on the accessories! Also, notice the cut on her cuffs, absolutely spot on! We're all swooning over these gorgeous mom jeans, aren't we?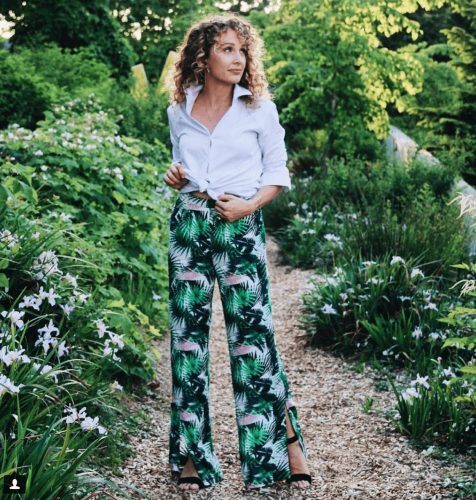 ↓ 8 – Get the Sleek Look
Trendy straight-leg mom jeans are made to hug your hips and then fall straight to the hems, you'll be surprised at how beautifully these mom jeans will flatter your hourglass figure. You want to show off your waist, right? Just tuck the shirt in, even better with a belt! Always wear jeans that fit your waist perfectly. Go for a sophisticated, elegant look! Pointer: Nude heels are a must have!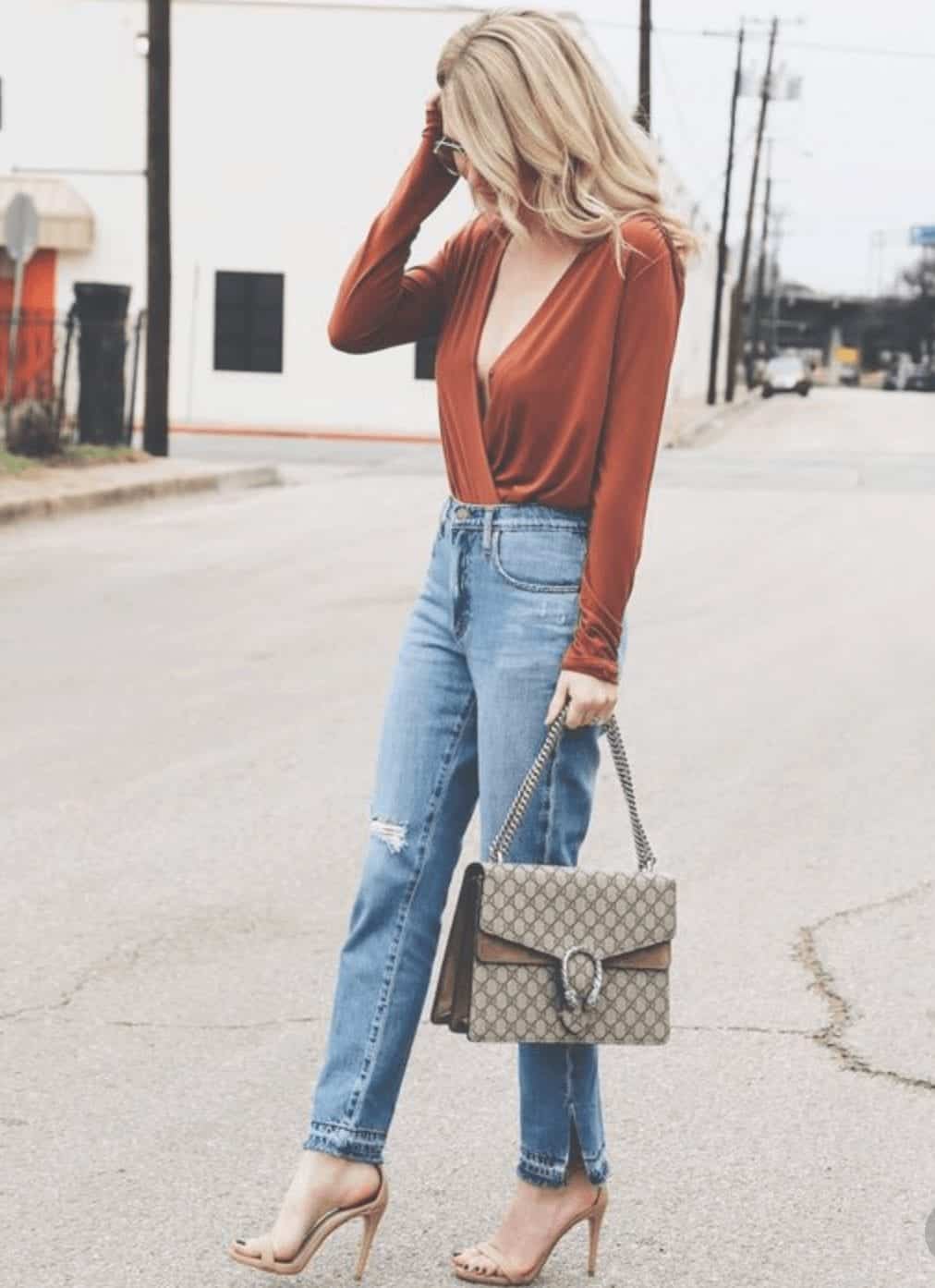 ↓ 7 – To Work
Regardless of your role, there isn't a more powerful feeling than when your outfit truly expresses who you are. When it represents everything you want to say without you needing to say it. What better outfit to wear at work? Mom jeans should be your absolute go-to. Find the right balance for comfort and style. I'd rather you don't wear heels to work though! On a side note, these blazers will always up your game.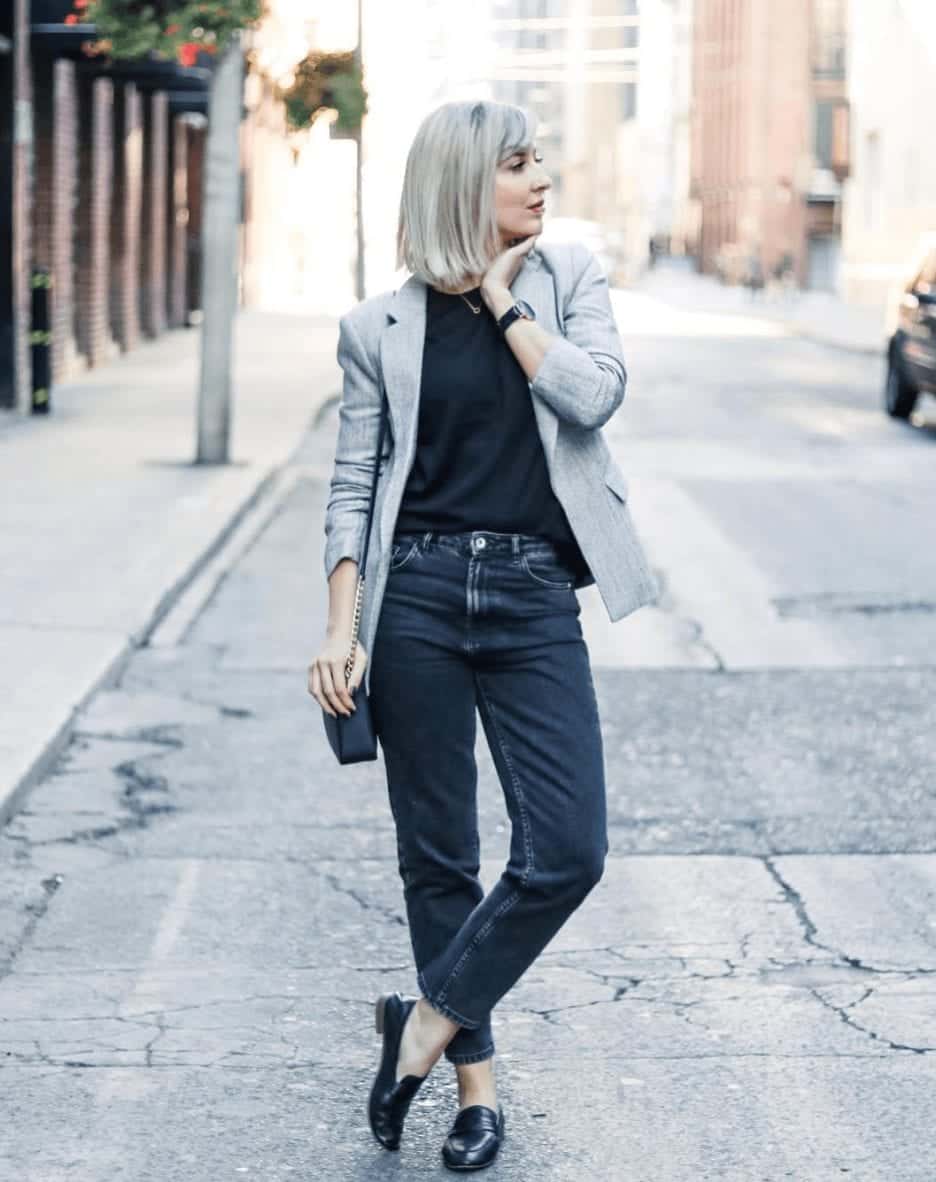 ↓ 6 – Take it Up a Notch
Can you ever go wrong with a classic pair of mom jeans? We don't think so! This simple yet ravishing outfit would be perfect for a night out. Notice the flare on her sleeves, so pretty! Also, let's take some time to appreciate the wash of the mom jeans in the image below.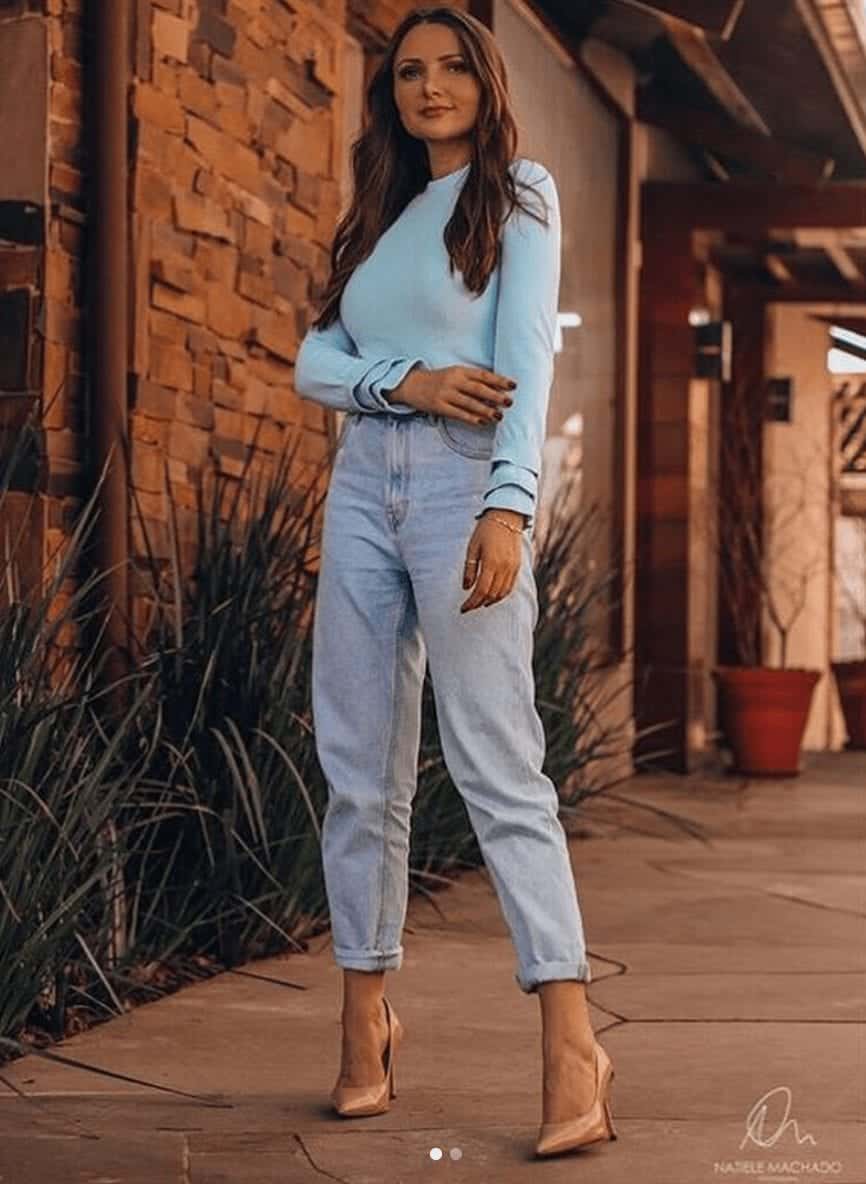 ↓ 5 – Rolled up
Minus the trainers, instead wear heels with rolled up mom jeans. Rolling it up is the easiest way to show off your sexy strappy high heels.  I'm in awe of her style. (Refer to the image below) She's totally owning these mom jeans! So for looking and feeling like a boss, you need to wear this outfit. The cross body bag is a major plus with the overall look. Check out these 20 Best Pinroll Jeans Outfits for Women.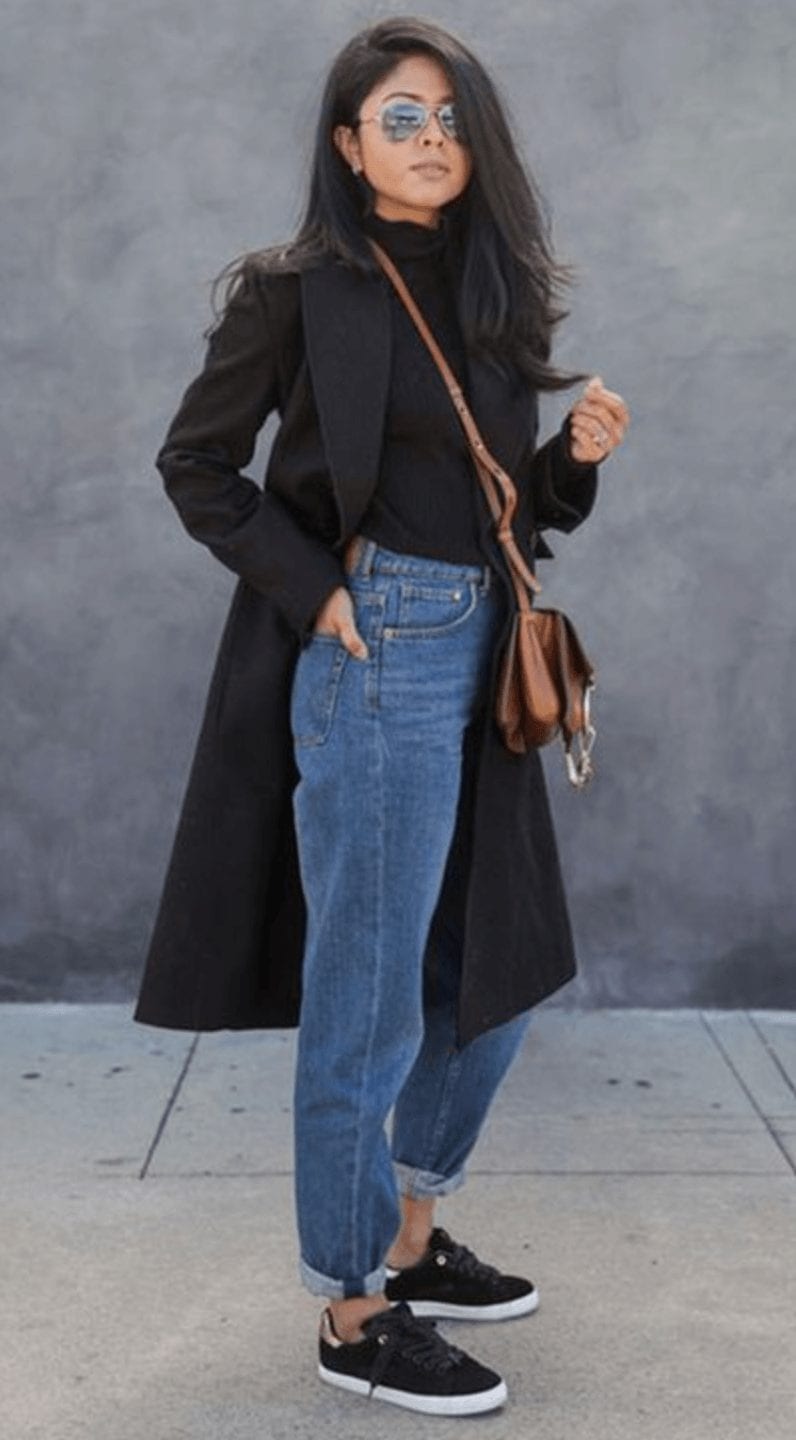 ↓ 4 – Pair it with a Leather Jacket
Don't we all have a thing for leather jackets? but without the mom jeans, the jacket and black heels could look a bit stiff. Pair these jeans with a classic turtle neck, and that's exactly how you wear mom jeans fashionably. Also, the beige colored belt gives this outfit the perfect everyday look!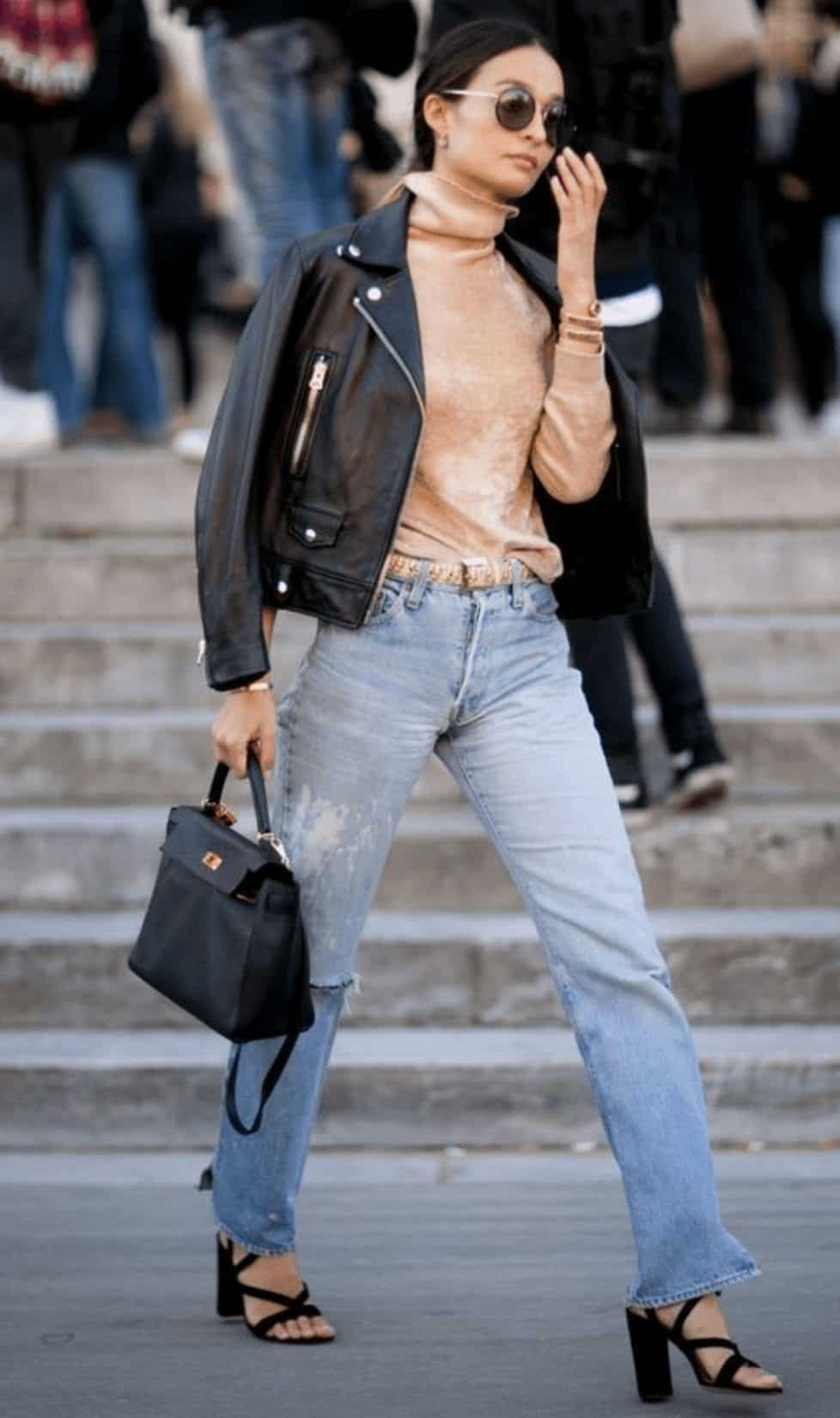 ↓ 3 – Buttondown Shirt
Can't emphasize enough on the versatility of a button down! It works for casual outfits and can look professional in an instant. Wear it with a pair of blue mom jeans and black sandals for the best combo! Also, accessorize with a watch, it'll instantly jazz up any casual outfit. If you want everyone around you to be distracted by you and admire your appearance, then go for a dark wash mom style jeans.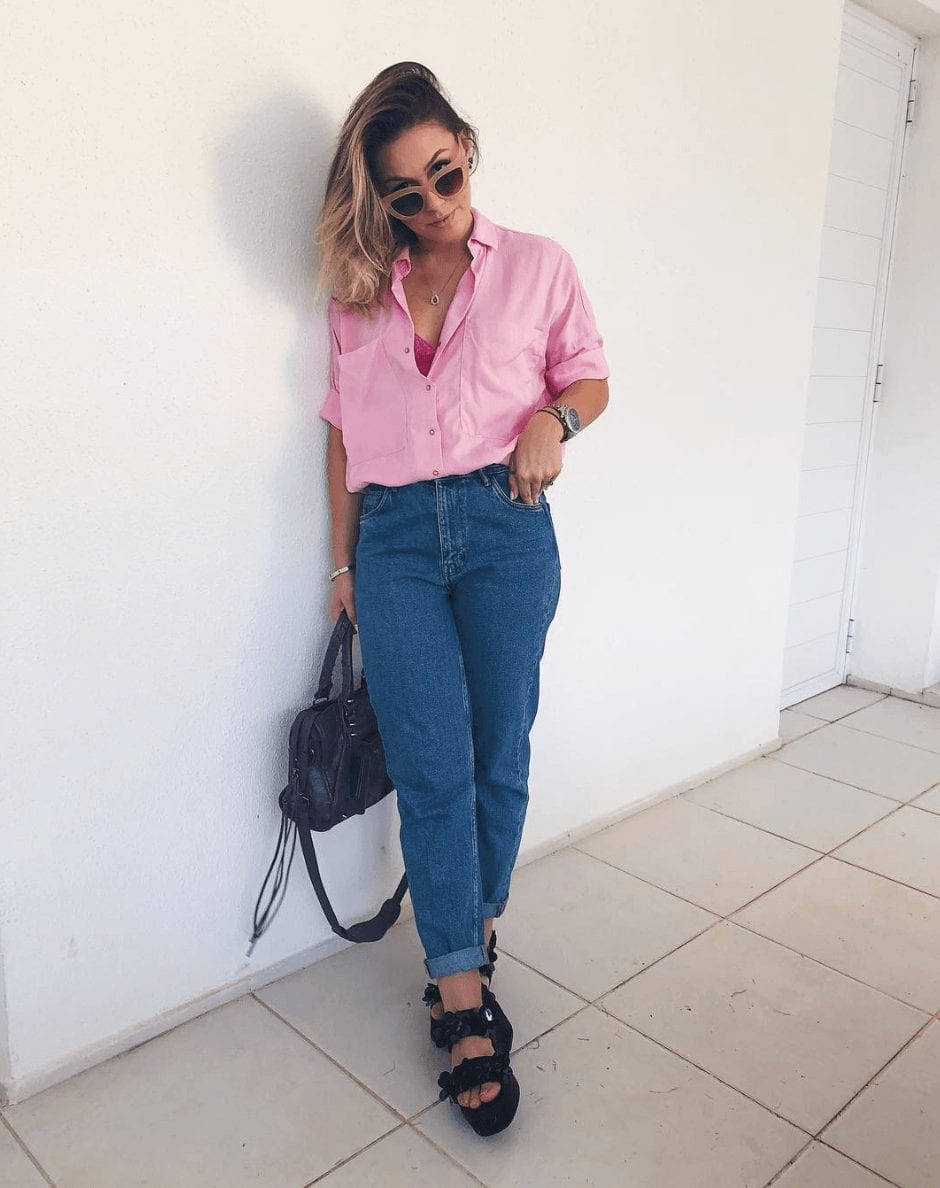 ↓ 2 –  Set the Trend
Simplicity is always relevant. Period.  Mom jeans will help you flaunt your best features, so much so you'll soon be wondering how you ever lived without them. Never underestimate a pair of mom style jeans. Wear a red lip color for a more attractive look!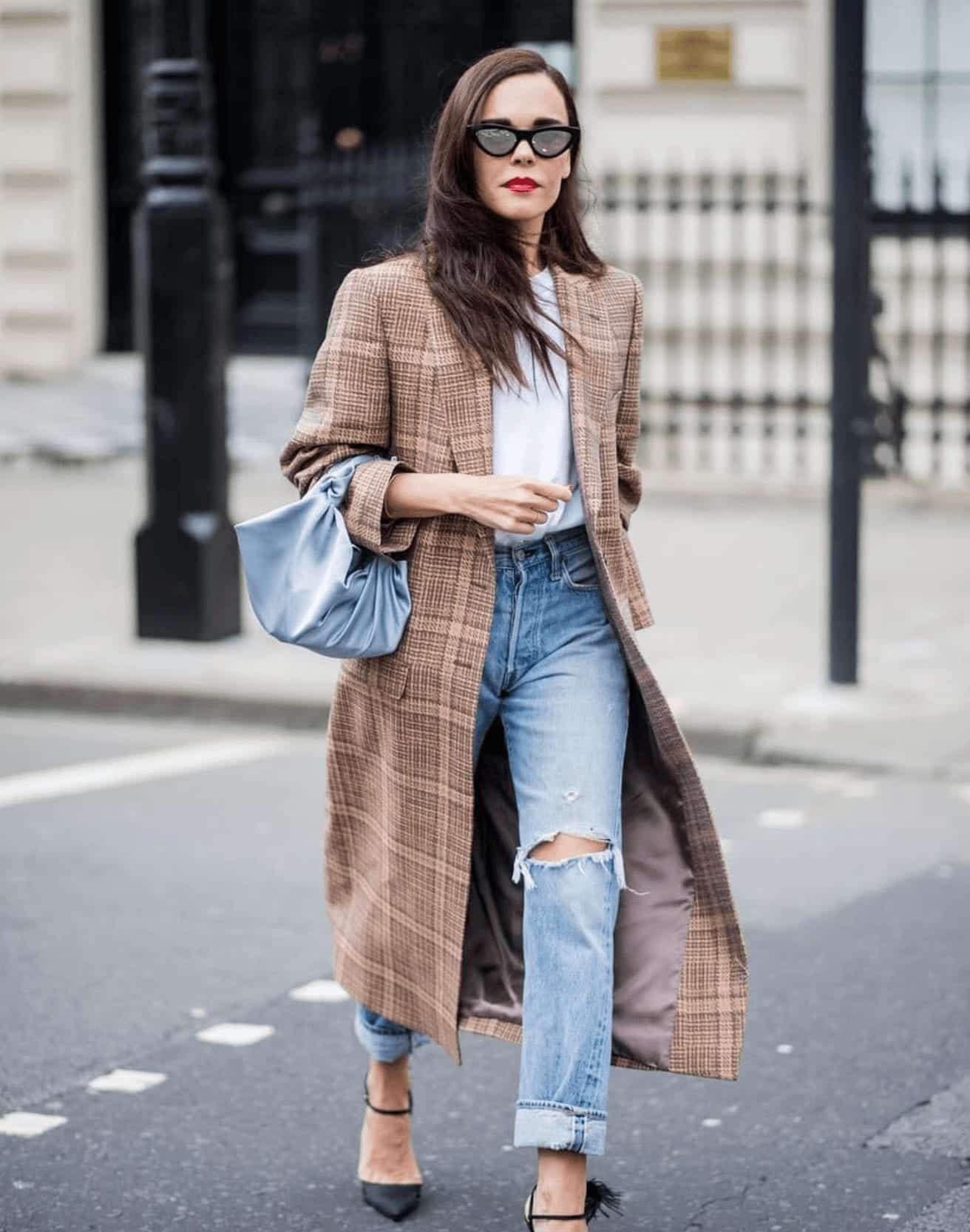 ↓ 1 – Forever in Fashion
This may transport you back to the 1980's, but that's the fun aspect of style. I'm about to rush off to get myself another pair of mom jeans and I guess you'd want to too. You know you can't resist them. Rather by a pair and get obsessed! Go fly, live your dreams. Love to all x