Embroidered Jeans Outfits for work- How can one not love a pair of embroidered denim pants? Embroidery is something which can totally enhance your style statement more than any other embellishment. Giving a little color to your jeans through embroidery adds more style and charm to your apparel.
It all began with Gucci's embroidered denim collection which included both jackets and jeans. The collection took over the fashion world and was followed by various summer and fall collections by Tommy Hilfiger, Alexander McQueen, Zara, Dolce and Gabbana, Versace, and many others. Various models and celebrities were seen trying out this marvelous style in their own ways.
How to Wear Embroidered Jeans for Work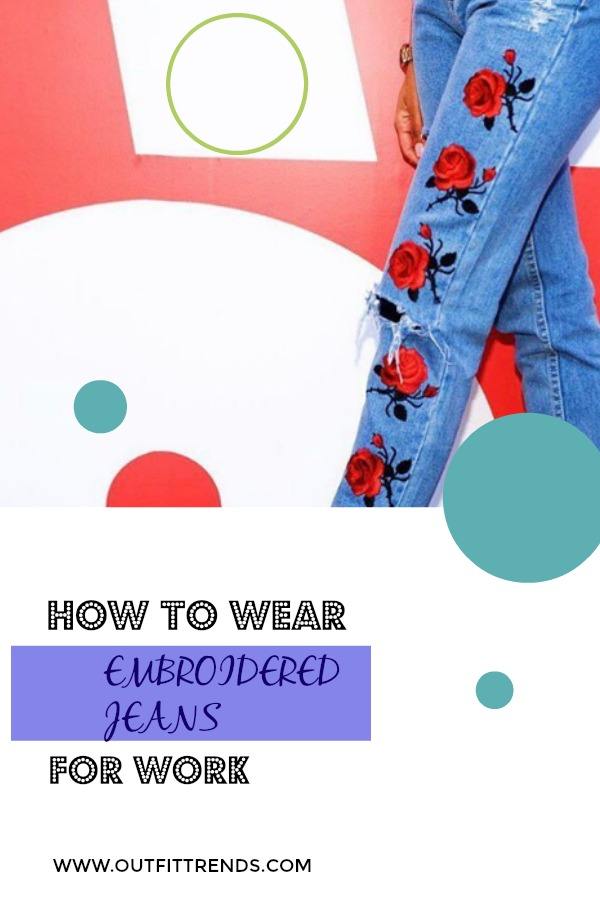 There are many ways you can wear a pair of embroidered denim jeans; it can even look fantastic with a simple tee but the article will cover a wide range of emerging fashion ideas and duos which are going to make it easy for you to pick up a pair of jeans appropriate for your figure and simply mix and match to get the desired outcome. Now you don't have to waste your time in trying out various jeans styles and other stuff.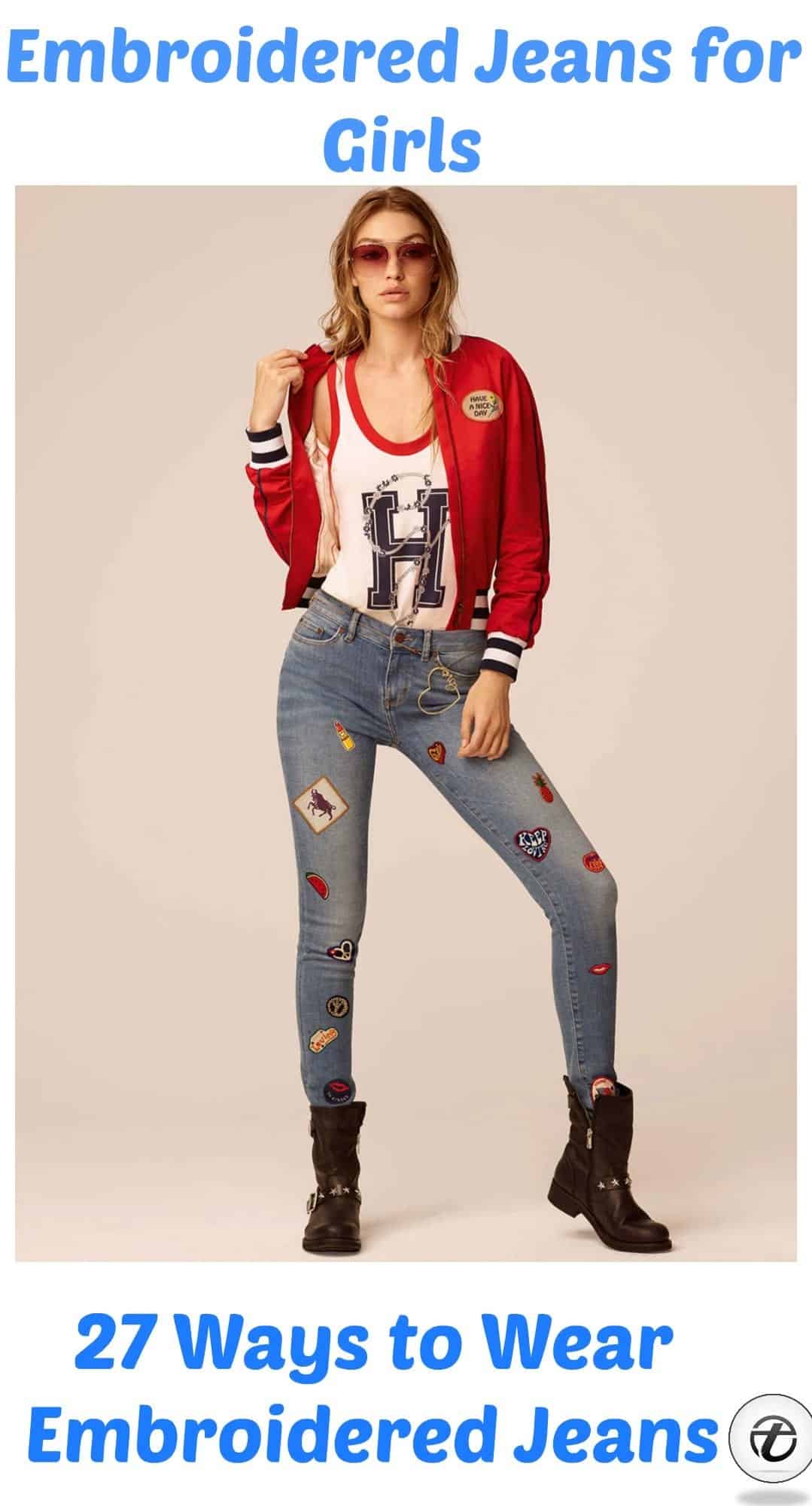 ↓27- Lace Embroidered Jeans
Lace is becoming women's favorite style day by day and it can be added to denim as well to get exquisite results. A lacey jeans in black color can be worn with a red, black, or white tee or a turtleneck sweater. You can add stiletto pumps for a glamorous look. RECOMMENDED: 20 Best Pinroll Jeans Outfits for Women– How to Pin Roll Jeans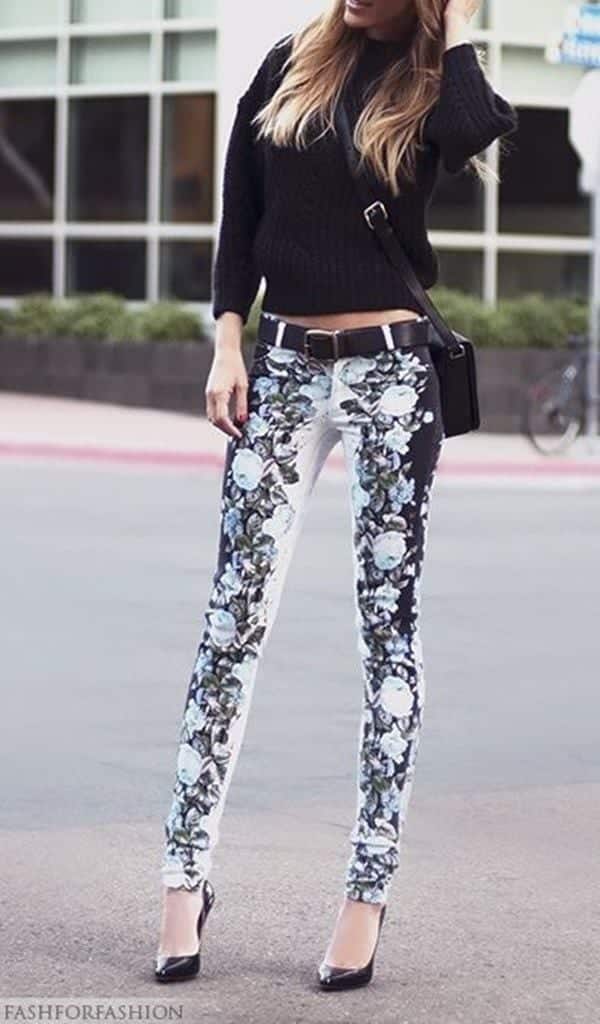 ↓26- Formal Look with a Little Embroidery
You can definitely achieve a formal look by wearing an embroidered denim with a formal top in neutral color. It could be a peplum top or an off-shoulder top in chiffon or other luxurious material which gives it a catchy flare and makes it look a bit more formal. Also, some sexy gladiator heels would also work with such a style. It can be a perfect look for the office or casual party as well.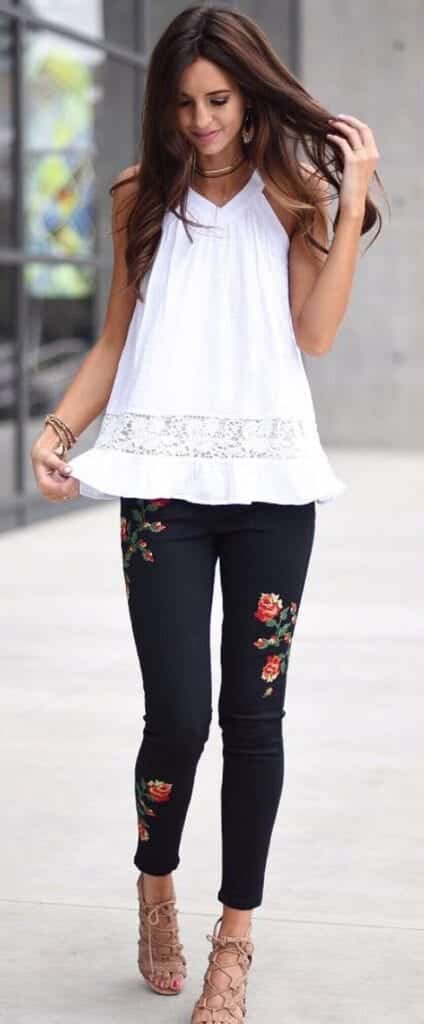 ↓25- Fall Look with Embroidered Denim
Fall is the perfect season to flaunt denim in different ways. You can add scarves, turtleneck sweaters, and even fur coats along with boats which can also be embroidered if the jeans are not heavily embroidered. Always go for simple bags as in neutral shades and leather bags when wearing embroidered jeans.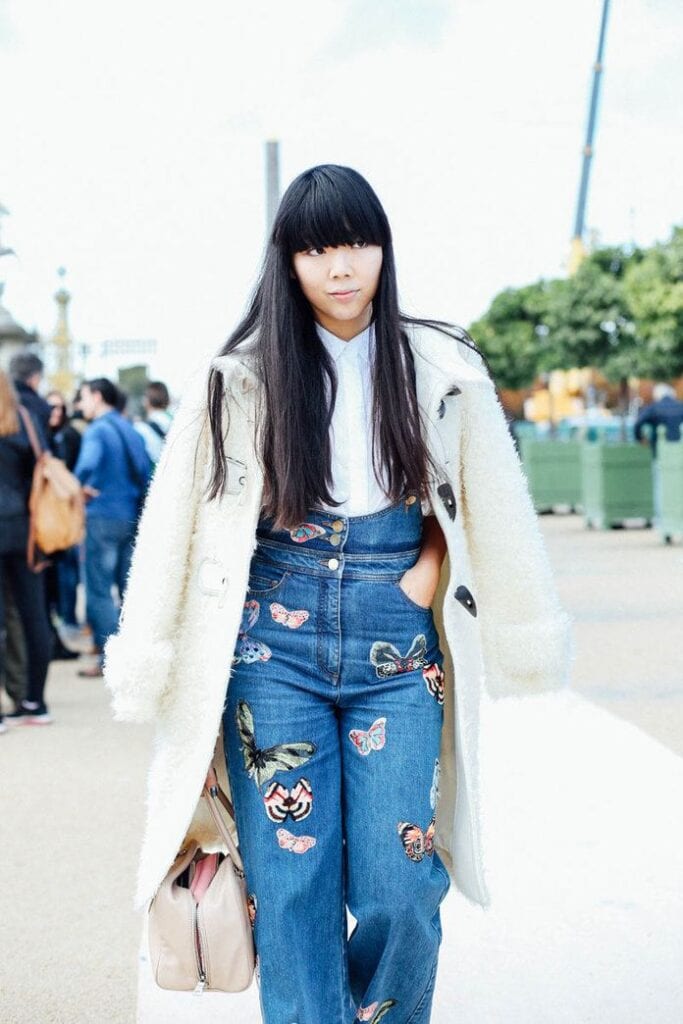 ↓24- Embroidered Denim Style Festival Attire
Festivals are the best events to try out unique embroidered clothes such as multi-color embroidered denim with ripped or sheer crop tops and some funky slingback bags. Don't miss on cropped jeans if you are a skinny, tall girl as it gives you a more classy look. Here are 23 Ways to Style Black Denim Pants.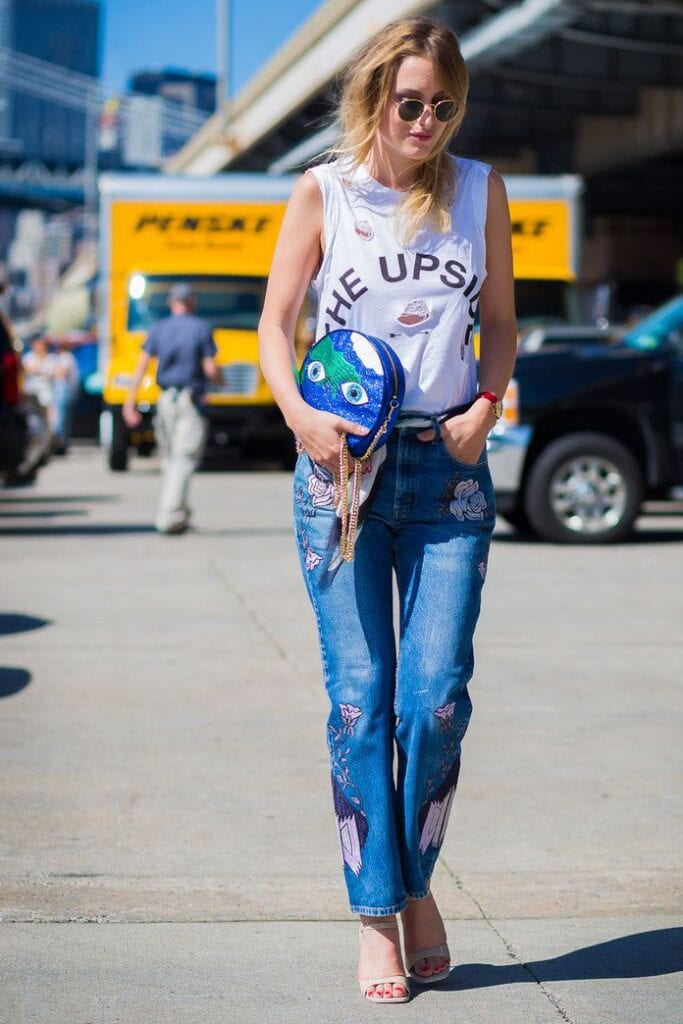 ↓23- Fashionable Street Style
Cropped boot cut jeans with a little floral embroidered are the ultimate option if you're looking for a classy street style. What can be better than an exquisite floral button down collar top which will enhance the entire look even more? You can wear these with flat sandals or flip flops as well.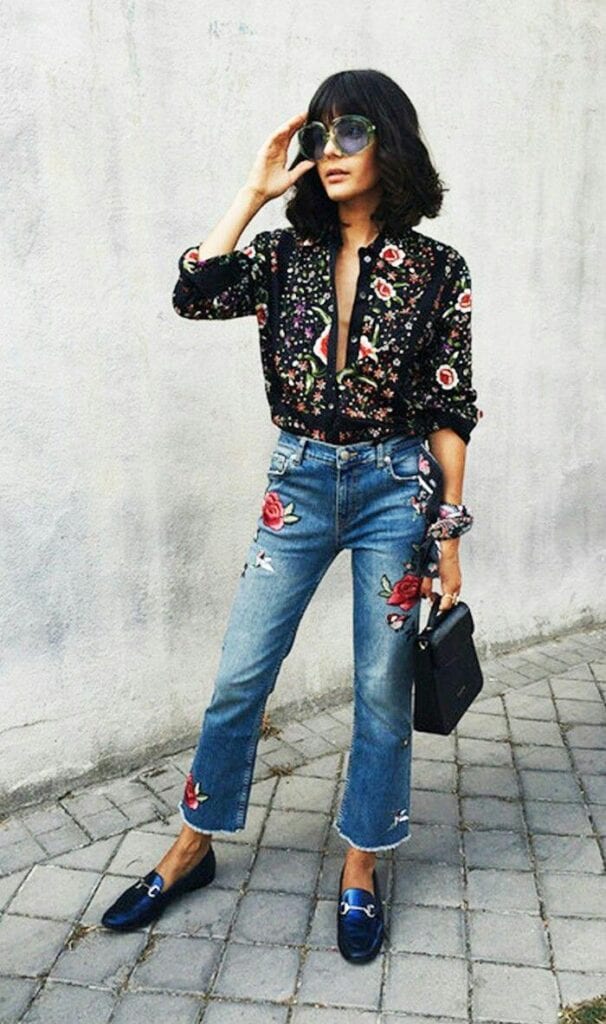 ↓22- Summer/Spring Attire with Embroidered Jeans
Summer and spring always ask for vibrant colors and light fabric. Boot-cut ripped jeans with embroidery in multi-color and crop tops makes a perfect look for summers. This can be a casual look for office or concerts as well. Do check out these Outfits with Boot Cut Jeans.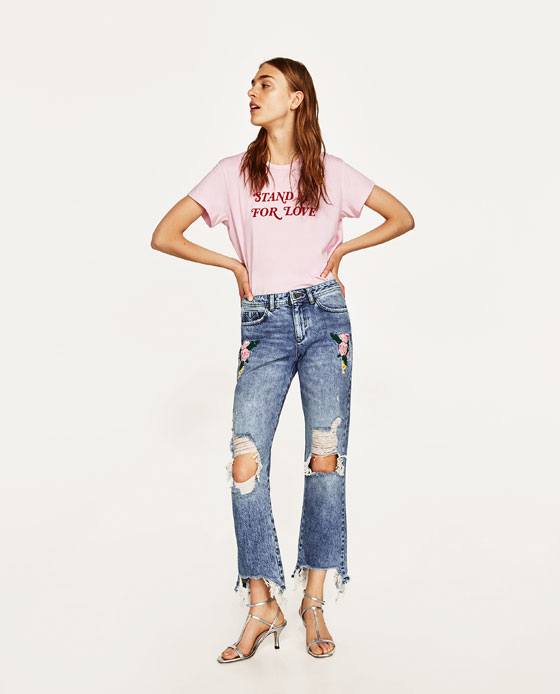 Via
↓21- Embroidered Jeans Styles for Skinny Women
Skinny women should always go for straight cut jeans and fairy pleated tops. A leather or bomber jacket on top will look just ravishing and they can also go for embroidery on the sides of the jeans as it gives their legs a more proper shape.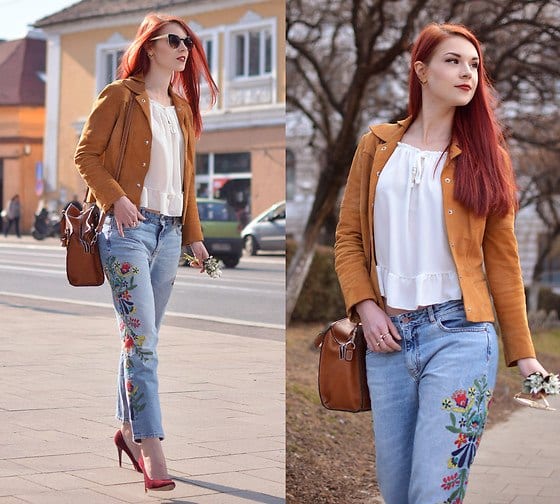 Via
↓20- Embroidered Denim Apparel for Plus Size Women
Plus-size women can go for slim style embroidered jeans with preferably concise embroidery i.e. just a few motifs across the pockets or ends. The shirts should be more like peplum or boho style which compliments their curves well. Here are How to Wear Embroidered Jeans?16 Embroidered Jeans Outfits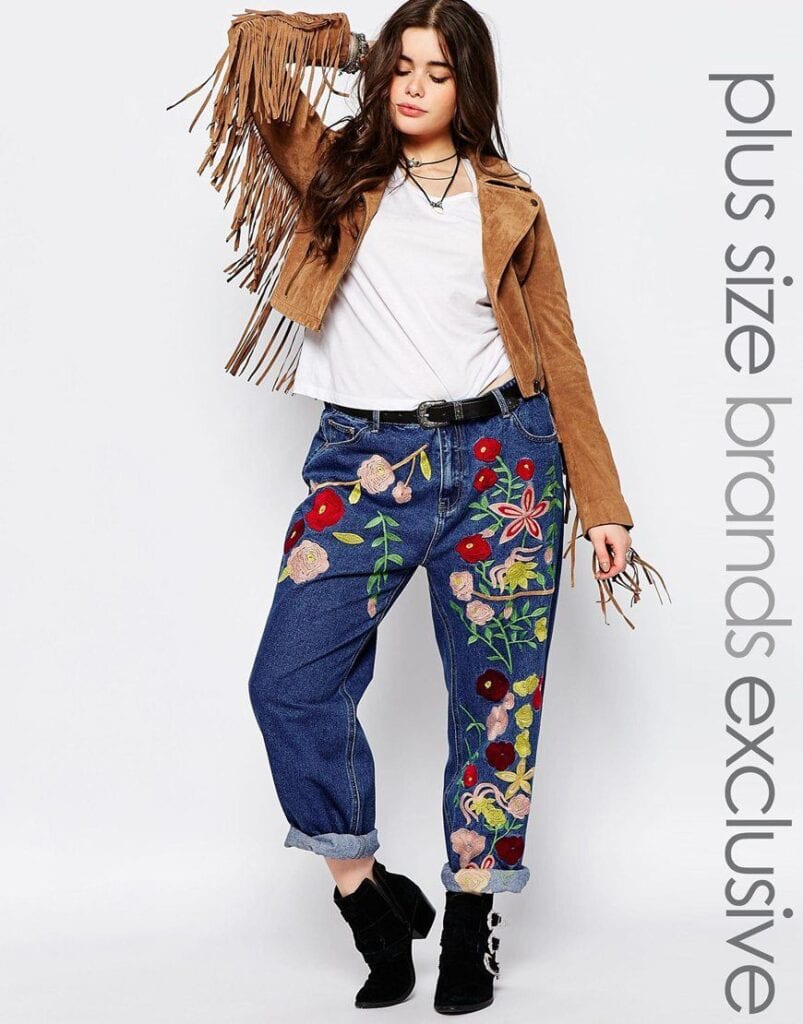 Via
↓19- Retro Look with Embroidered Jeans
Bell-bottom denim pants with minimal embroidery along the pockets and bottoms are the perfect option along with pleated tops with lace or without lace which gives you a cool retro look.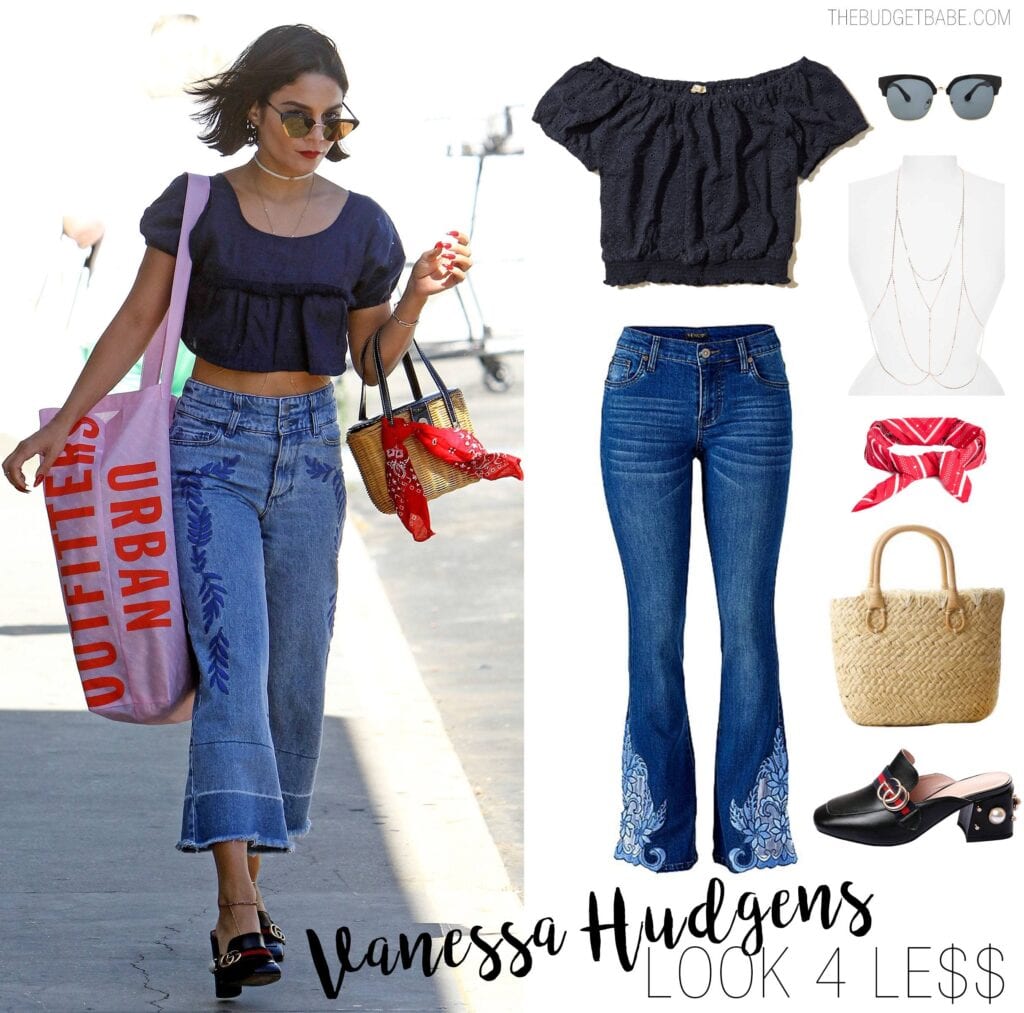 ↓18- Gigi Hadid's Embroidered Denim Style
Gigi Hadid has been seen promoting embroidered jeans for her collaboration with Tommy Hilfiger. Her embroidered jeans are comprised of sticker type embroidery and sexy bomber jackets. Here are some great Girls Casual Club Attire.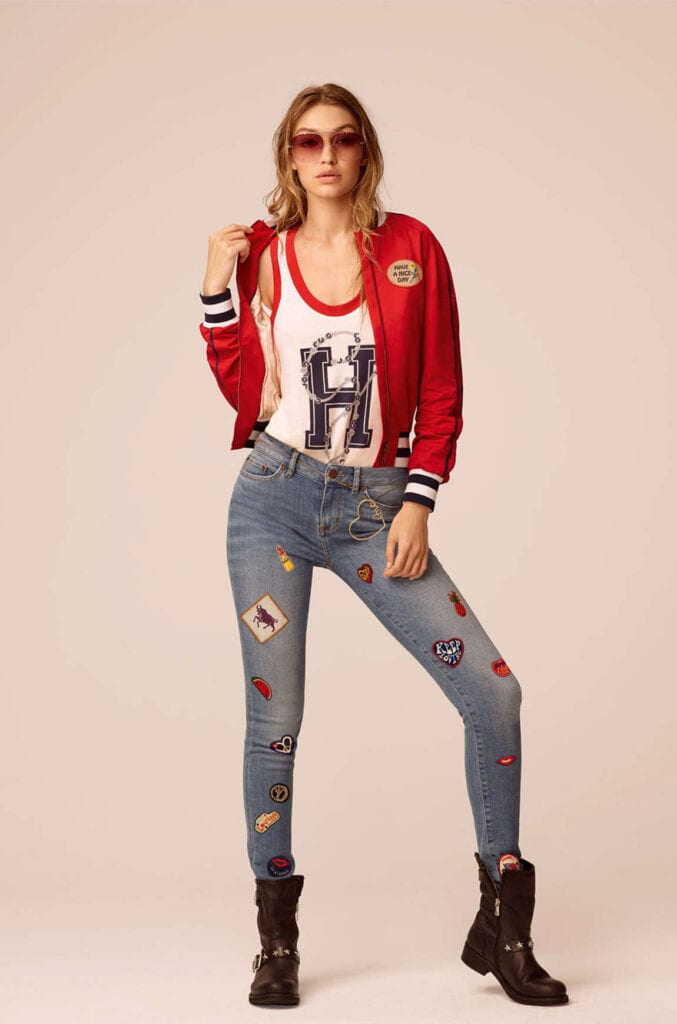 ↓17- Embroidered Distressed Jeans Attire for Travelling
Distressed jeans with a little bit of floral embroidery are all you need for traveling for work, to the seashore and historical places. Simple tees in the neutral shades and a hat would go perfectly with such cropped jeans.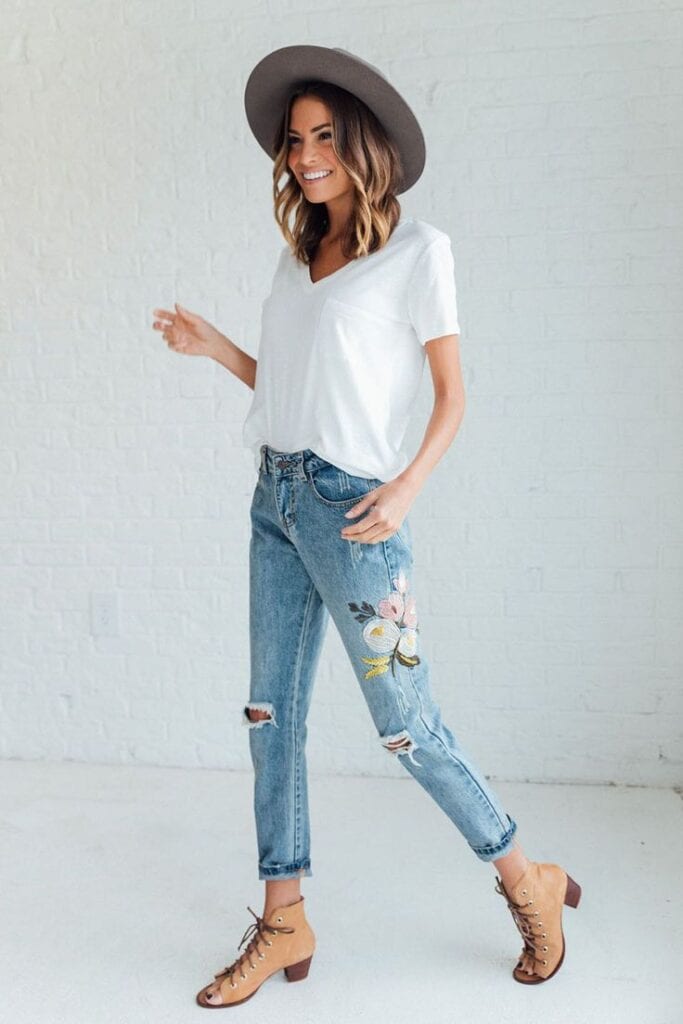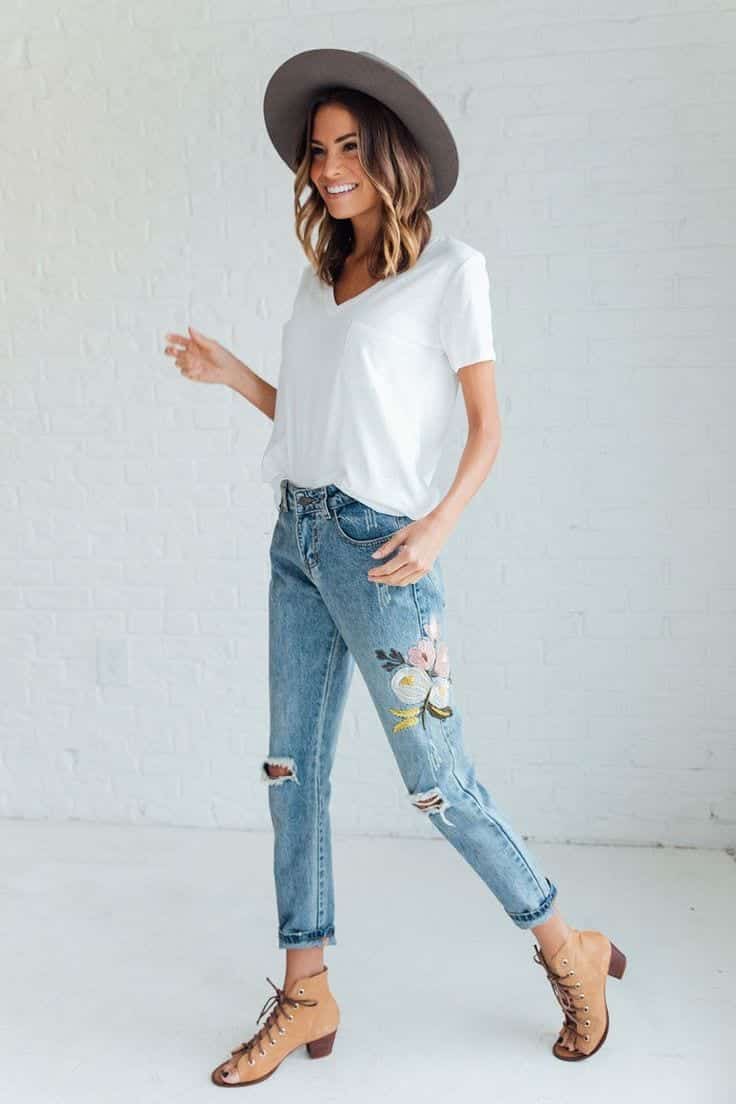 Via
↓16- Embroidered Boho Denim Style
A ripped embroidered jeans with a boho top and oversized bomber jacket is all you need to slay a bohemian look. Do have a look at these Jeans Outfits in Heels.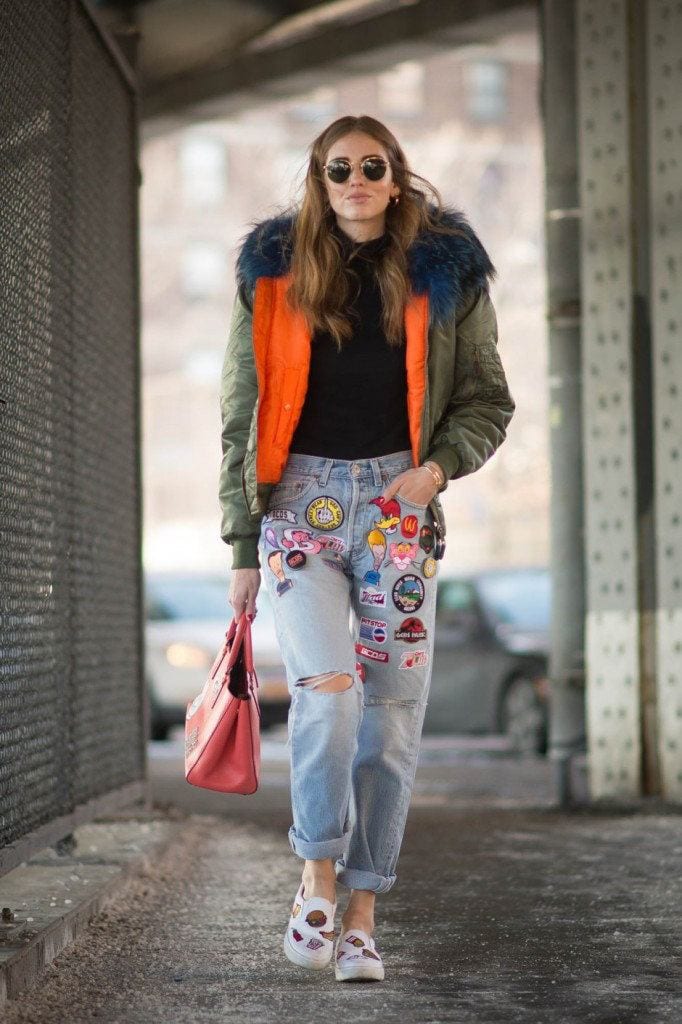 ↓15- Oversized Clothing Style
Oversized clothes are just rocking nowadays, an oversized sweater and denim pants with folded ends look just exquisite with sneakers with a little color or pattern.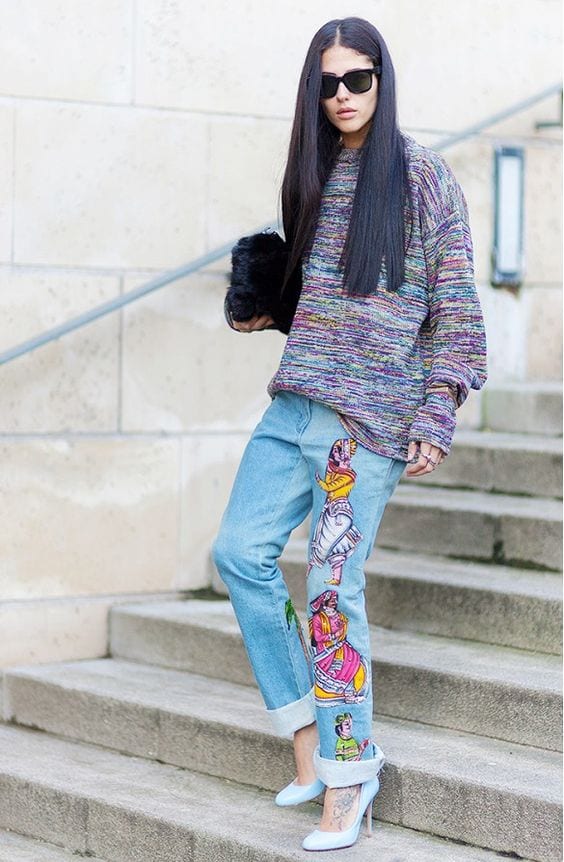 Via
↓14- How to Wear Embroidered Jeans with Jackets?
Cropped embroidered jeans look ravishing or you can also fold the ends to give a chicer overall look and boots just rock with jackets. The jackets have to be in neutral shades and no embellishment. Here are some of the best Spring Outfits With Floral Jackets.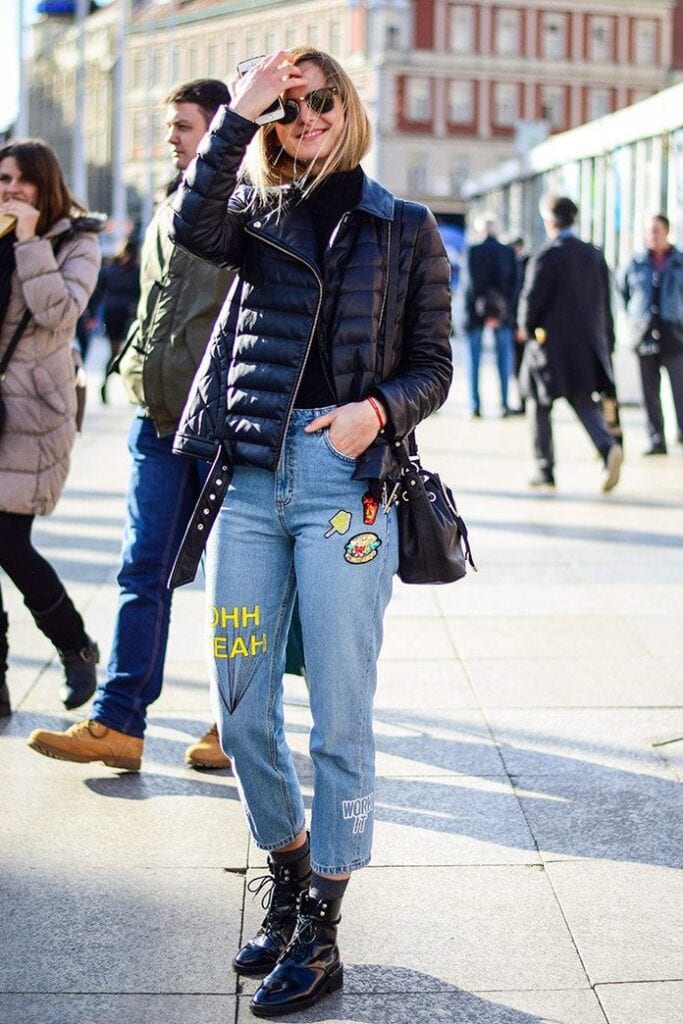 ↓13- Simplest Look using Embroidered Jeans
Embroidered jeans usually do not require much of accessories and fancy bags. You can slay an embroidered jeans with a plain white tee and snickers as well. It would be perfect look teens.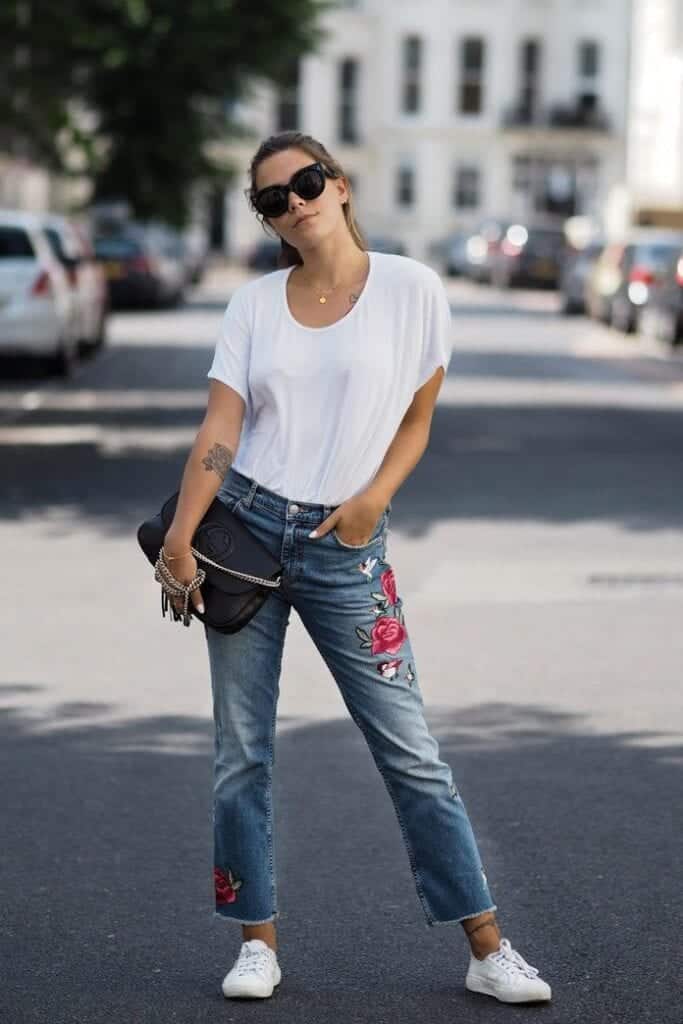 ↓12- Sheer Tops with Embroidered Jeans
Sheer tops look amazing with embroidered denim pants as they're extremely chic and perfect for formal dinners as well. These tops are usually worn with stiletto or peep toe heels. Do check out these Cute Tops to Wear with Jeans.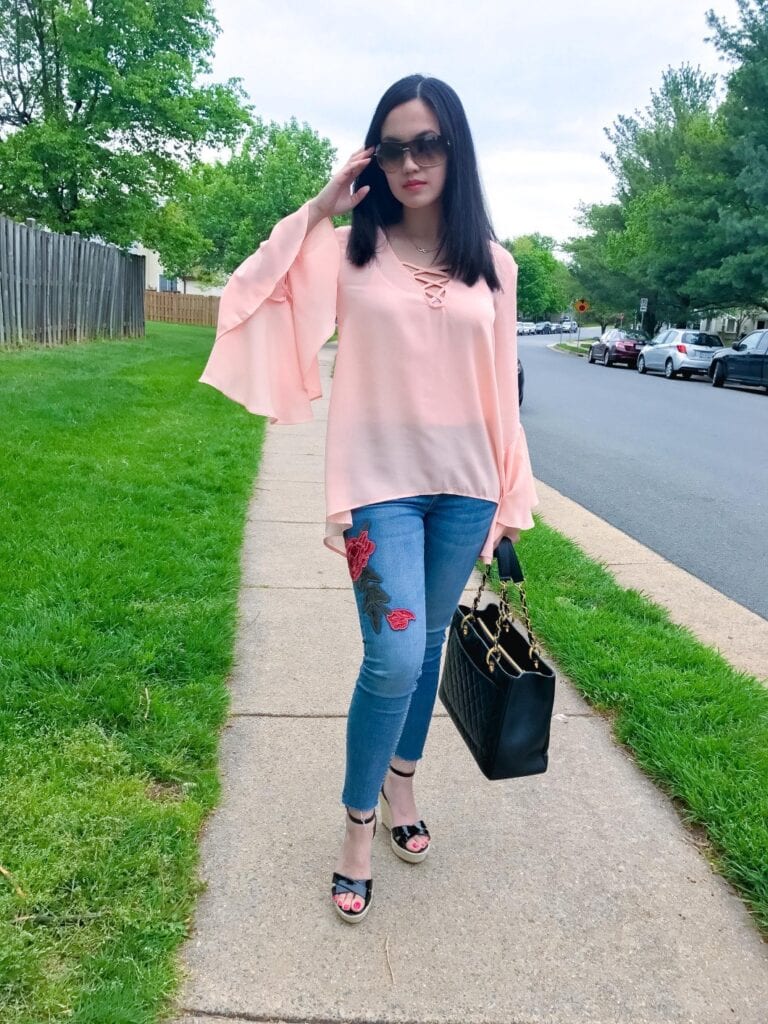 Via
↓11- Bella Hadid Embroidered Jeans Style
Bella Hadid has been seen slaying Sandro Beden embroidered faded jeans with a Hardware Ldn Onyx Fur Coat and Sol Sana Winona block heel boots. The entire look is an example of a perfect street style.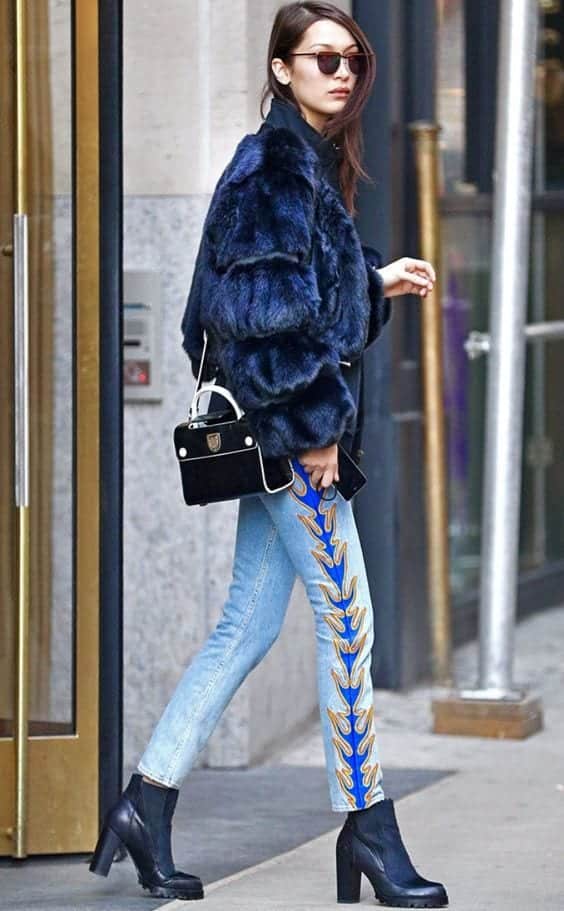 Via
↓10- Party Style Embroidered Jeans
Embroidered jeans can be worn to parties with formal blouses with pearl or lace embellishment and matching heels. Here are 21 Popular Boyfriend Jeans Outfits Trends for This Season.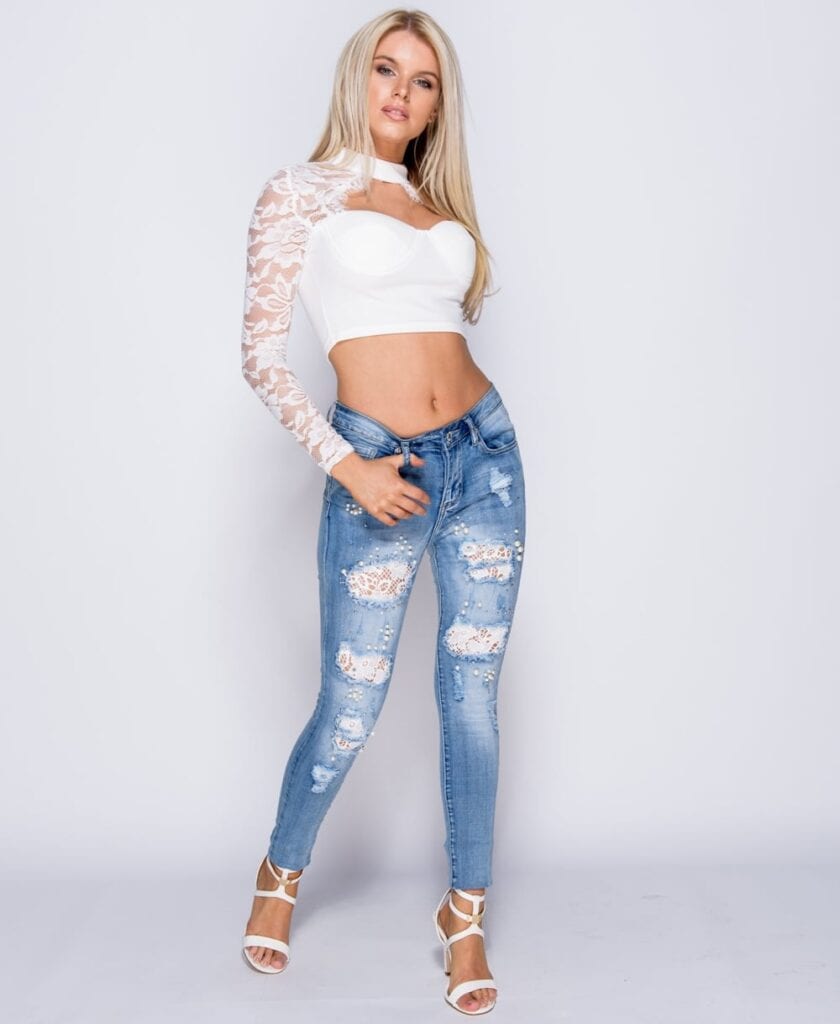 Via
↓9- Ripped Embroidered Jeans
Ripped embroidered jeans with off-shoulder or cold shoulder tees look exquisite and funky as well. Young girls can totally slay ripped faded jeans with a cropped cut.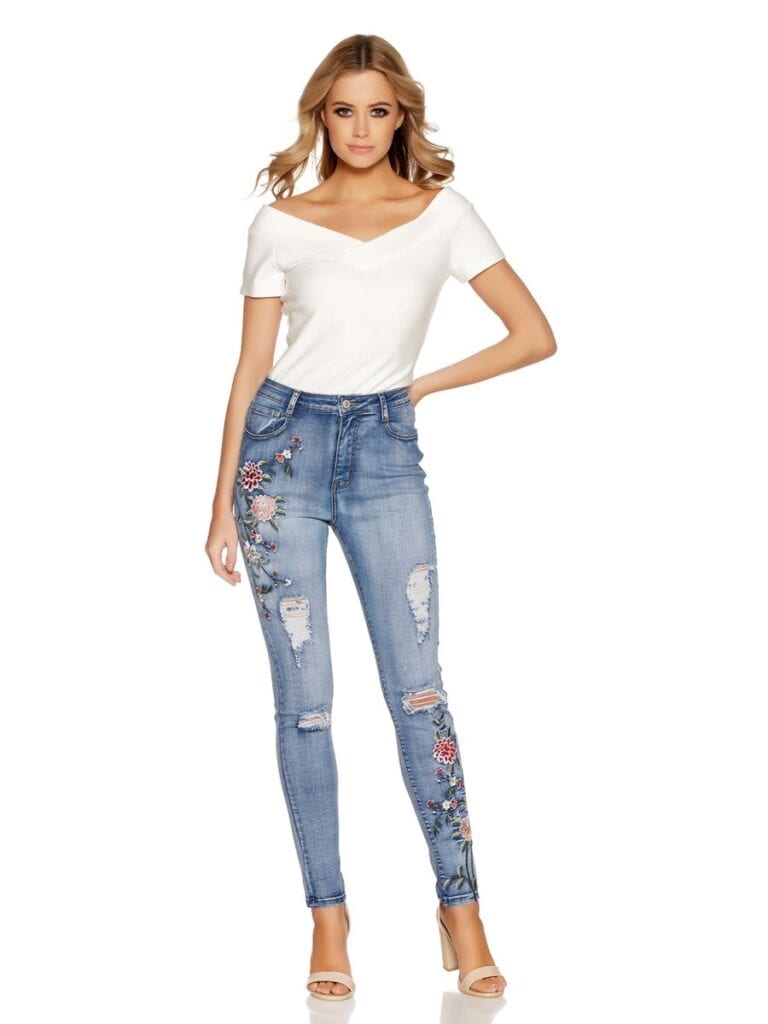 Via
↓8- White Embroidered Skinny Jeans
Jeans in white color with a little embroidery and embellishments like pearls or crystals are classic for a day out with friends or a picnic. A pastel color top and hat would go perfectly with white skinny jeans. Also check out 23 Chic Ways to Style White Jeans.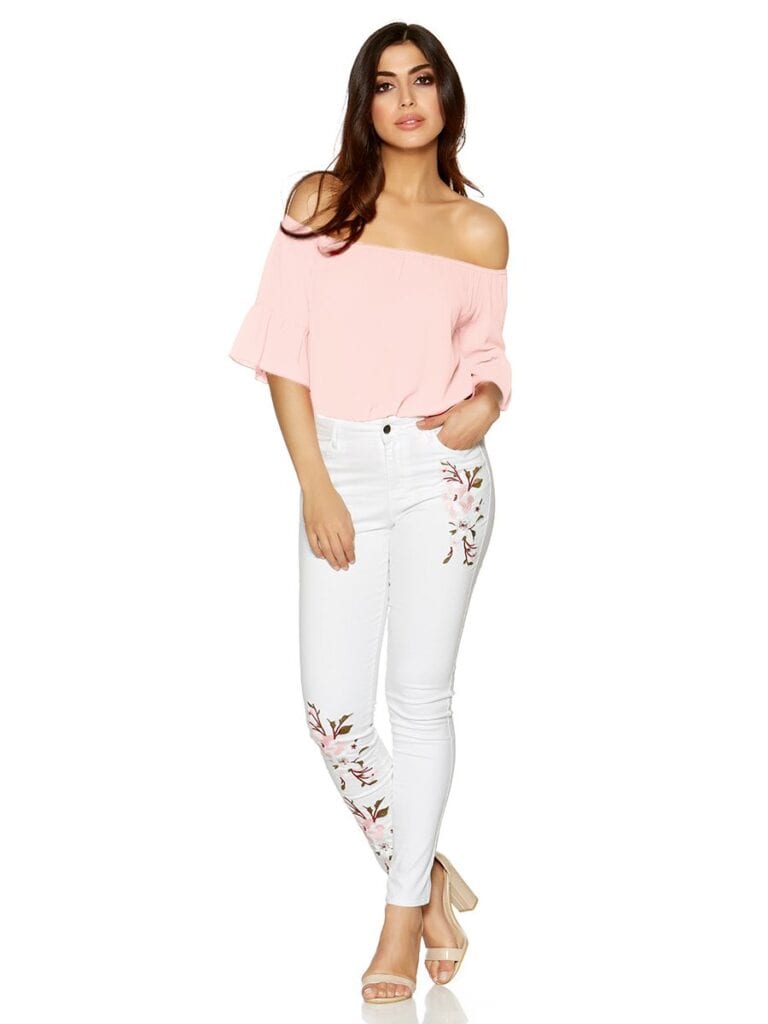 Via
↓7- Embroidered Denim Style for Office Party
Girls can go for a black or white skinny jeans with minimal embroidery in 2 to 3 shades and a lace or sheer crop top or a glittery baggy top when dressing up for an office party. Heels matching with the tops would go quite well with such an attire.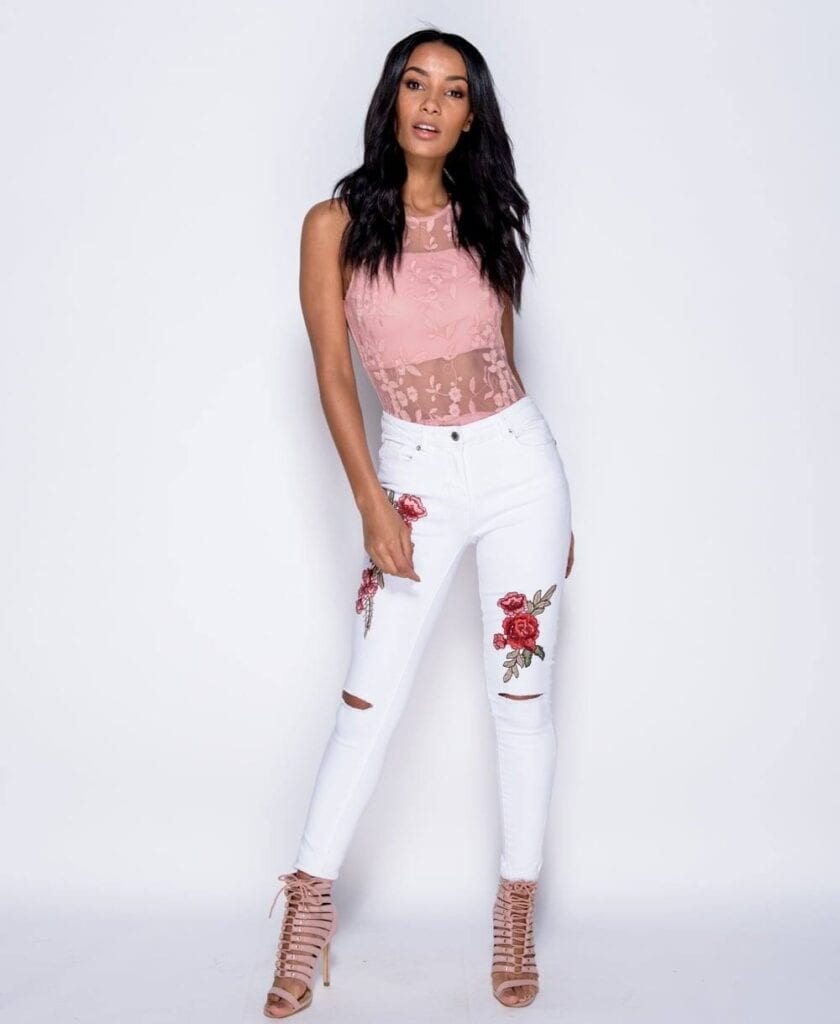 Via
↓6- Embroidered Jeans for Teens
Young girls can wear simple T-shirts or sweatshirts with embroidered jeans but the embroidery should be simple and catchy. They can wear them with sneakers or loafers with a little natural makeup. Here are 17 Cute Outfits to Wear with Loafers for Women This Season.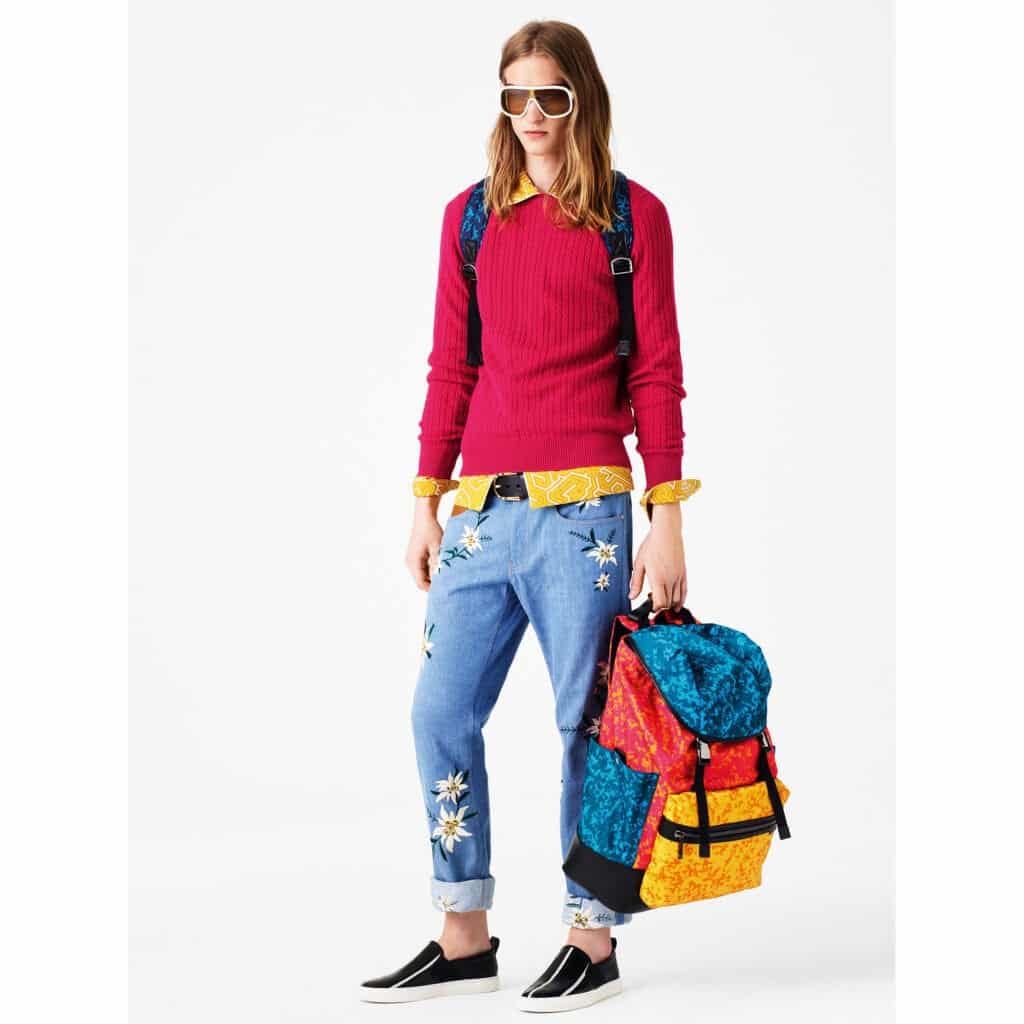 Via
↓5- Glamourous Embroidered Denim Dress-up
For a glamorous look, you can go for pearls embellished jeans along with embroidered motifs in neutral shades. A metallic lip color would add to the beauty of the outfit.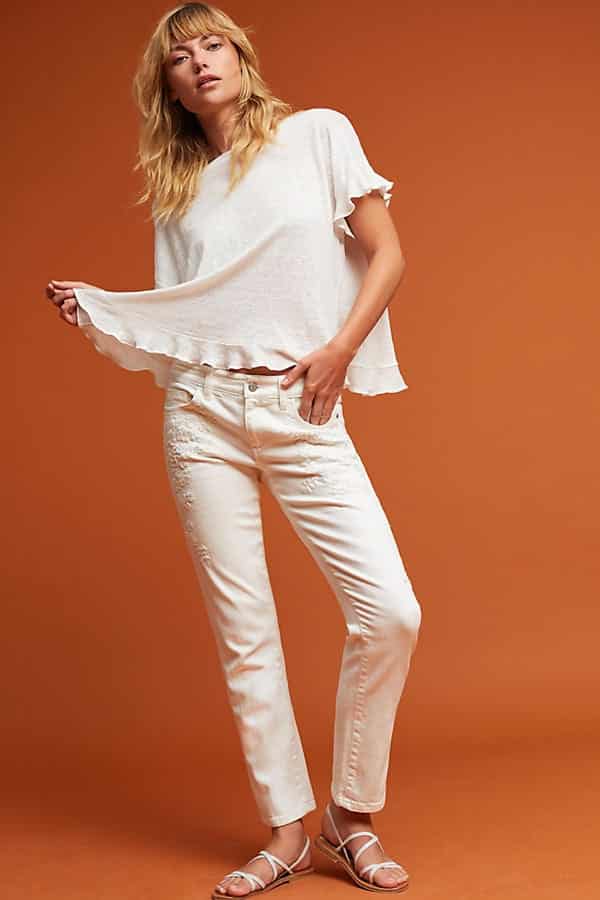 Via
↓4- Double Denim Style
Embroidered denim pants can be worn with denim jackets with a simple look and a little fade. This style would be perfect for skinny girls. They can look chicer in a denim button down shirt or jacket. Here are the best Shoes With Skinny Jeans for Women.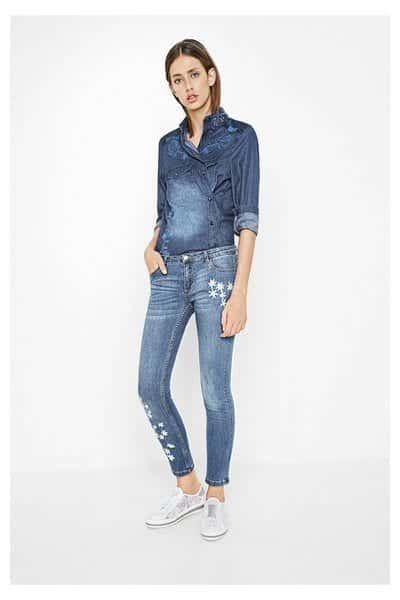 Via
↓3- Printed Tops Style
The printed or patterned tops can be worn with jeans with embroidered stars or little flowers or stickers on it. These look perfect on young girls and also for grown-ups in summers.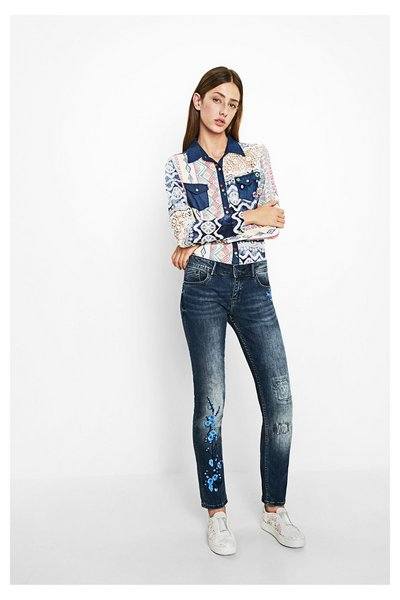 Via
↓2- Disney Style Embroidered Denim Pants
A Mickey and Minnie embroidered jeans can be worn by teenagers to theme parties and casual lunch as well.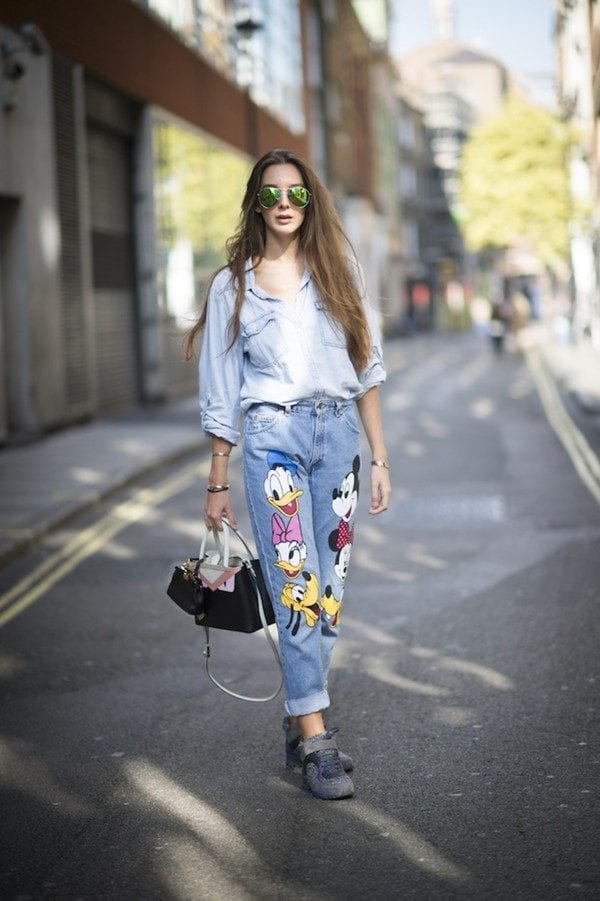 ↓1- Dark Colored Embroidered Denim Pants
Pants in darker shades of maroon, purple and green with a little black or white embroidery look exquisite during fall or rainy weather with a leather jacket and a white button down shirt. Girls can always go for darker shades of lipsticks with such an attire.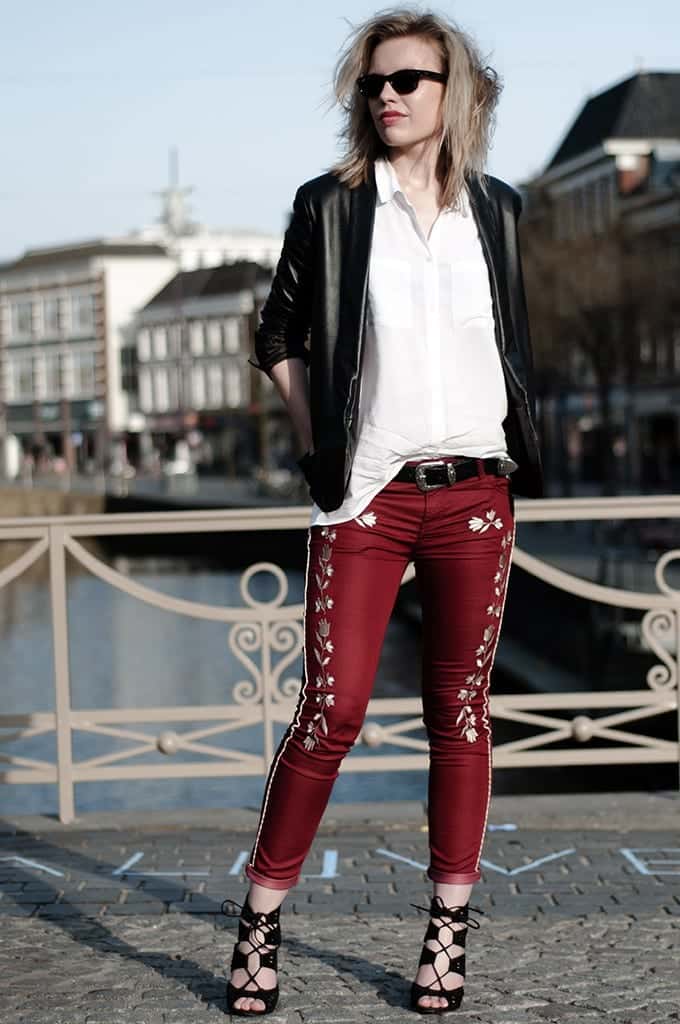 Tell us about your favorite style among these in the comments section.