What to wear to Henley Regatta. The Henley Royal Regatta is one of the world's most awaited sports events, which has been taking place all the way since 1839. This amazing British occasion is without a doubt the most well-known regatta in the world and a highlight of both the summer social season and athletic calendar, attracting many people from all over the world to participate or spectate in this event. 
Over the course of the week, the event draws thousands of people from all over the world who are enthralled by this long-awaited and spectacular event that features Olympic rowers as well as crews competing for the first time.
Although there is no formally set attire for Henley Regatta, many choose to preserve the tradition of the occasion by wearing summer dresses and sophisticated casual attire. Navy, blue, and white are popular colors that people attending the Regatta are often seen wearing: this is to honor the nautical themes of this world-renowned event by donning the main representative colors.
This event is well known for the great outfits that are worn by participants and spectators alike, and this article will have all the tips and tricks you need to dress for the occasion!
How to Dress for The Henley Regatta?
Since it takes place in the summer, it is important to keep outfits cool and breathable so that they can be thoroughly enjoyed and not discomfort the wearer. The main colors usually seen worn at the event are blue, white, cream, and other muted pastel shades of colors.
These not only complement the momentous occasion of the event but also are fresh and suitable colors to wear in the summer. These colors compliment many skin tones and that is why are so popularly worn.
The variety of clothing options worn at the Regatta include dresses, jumpsuits, and even outfits with trousers. While the competitors have to wear a specific type of clothing common to them all, the spectators never fail to impress with their new styles of dresses and their unique style of fashion.
Do's and Donts for Clothing at the Henley Regatta:
Try not to opt for flashy or neon colors. While they may look good on other summery occasions, they are not well suited to complement the overall theme and environment of the Henley Regatta and may make you look out of place. Also, it may be more difficult to mix and match other pieces of clothing with it.
Try to opt for neutrals, such as white, cream, or beige. These are colors that you can never go wrong with especially because of their versatility, allowing you more scope for creativity. They suit all skin tones and are just the colors that you can never go wrong with!
Try not to wear informal pieces of clothing such as denim. While denim can also work to create spectacular outfits, for this event, denim may not be the right choice as it will give an informal look that will not correlate with the themes of this formal event. While wearing blue to honor the theme is appreciated, denim is not the fabric option for that, as it will bring a very informal effect.
Try not to go for loud prints and patterns. Many people like the leopard print or the tiger print to be incorporated into their outfits, however, it will be off theme for this event and may make you stand out (and not in a good way!).
15 – Blue and White Striped Jumpsuit With Matching White Accessories
This outfit is as simple as it gets, with only one piece of clothing, but it will look so well thought out, that it will not go unnoticed. The blue and white jumpsuit has colors that will complement the theme of the Henley Regatta.
If you can't decide on your shoes, check out this guide on Shoes To Wear With Jumpsuits.
14 – Blue and White Long Dress With Marble Pattern
This outfit brings a very feminine touch due to the design and style of the dress. The colors, again, complement the colors of the event and make it the perfect piece to wear at the Henley Regatta. It is sleeveless and loose-fitted, which will make the cotton dress feel pretty breathable and comfortable in the summer weather.
The white of the belt really stands out against the bold pattern of the dress and accentuates the figure by cinching in the waist. Nude heels are perfect to wear with this.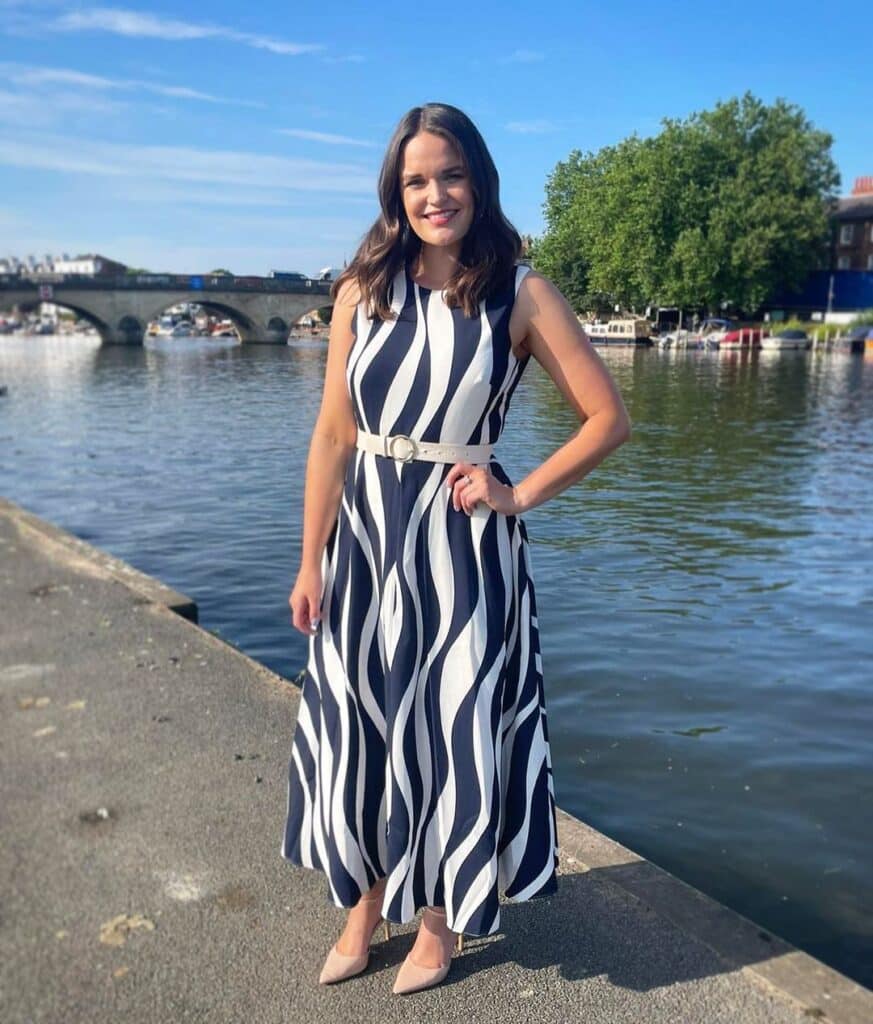 13 – Strapless Cream Dress With Green Floral Prints
This outfit again is very simple and easy to put together. With a printed dress, you can match accessories and add ons of the same color to create a coherent color palette. In this case, the color chosen is beige, which is again, a beautiful neutral to wear at the Henley Regatta.
This will work wonderfully with the dress to compliment it and really bring out the green color from the print in the dress. This outfit is a must-try for your next Henley Regatta!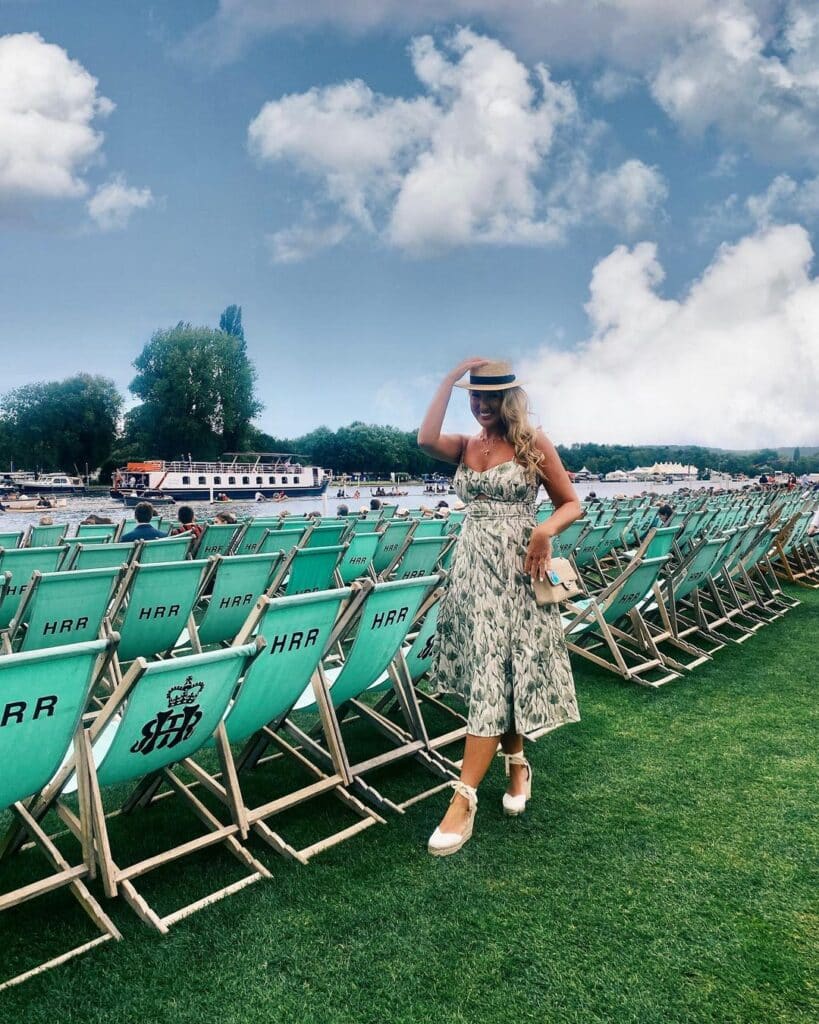 12 – Duo Chromed Black and White Polka Dotted Dress
This outfit is perfect because of its simplicity. The colors of this outfit are nice and neutral which is perfect to wear at the Henley Regatta. The dress has puffed capped sleeves and a round neckline which is perfect to wear in the summertime.
Furthermore, this dress can be further accessorized by the addition of silver accessories, such as diamond earrings, a silver necklace, and even a silver watch.
The belt on the dress cinches and flatters the waist to make the silhouette of the wearer even more attractive, hence making this the perfect outfit to wear at the Regatta. Here are some more polka dot outfits that you can take inspo from.
11 – Blue Flowy Dress WIth Ruffled Neckline and White Belt
This dress is very dimensional not only because of the deep, flattering navy color and minimalistic white detailing but because of the ruffled neckline and button-down details. This dress is perfect to wear to the Henley Regatta because while it has many elements to truly bring it to life, it is also very plain and simplistic at the same time.
For this dress, the less is more rule really applies and truly flatters and suits whoever is wearing it!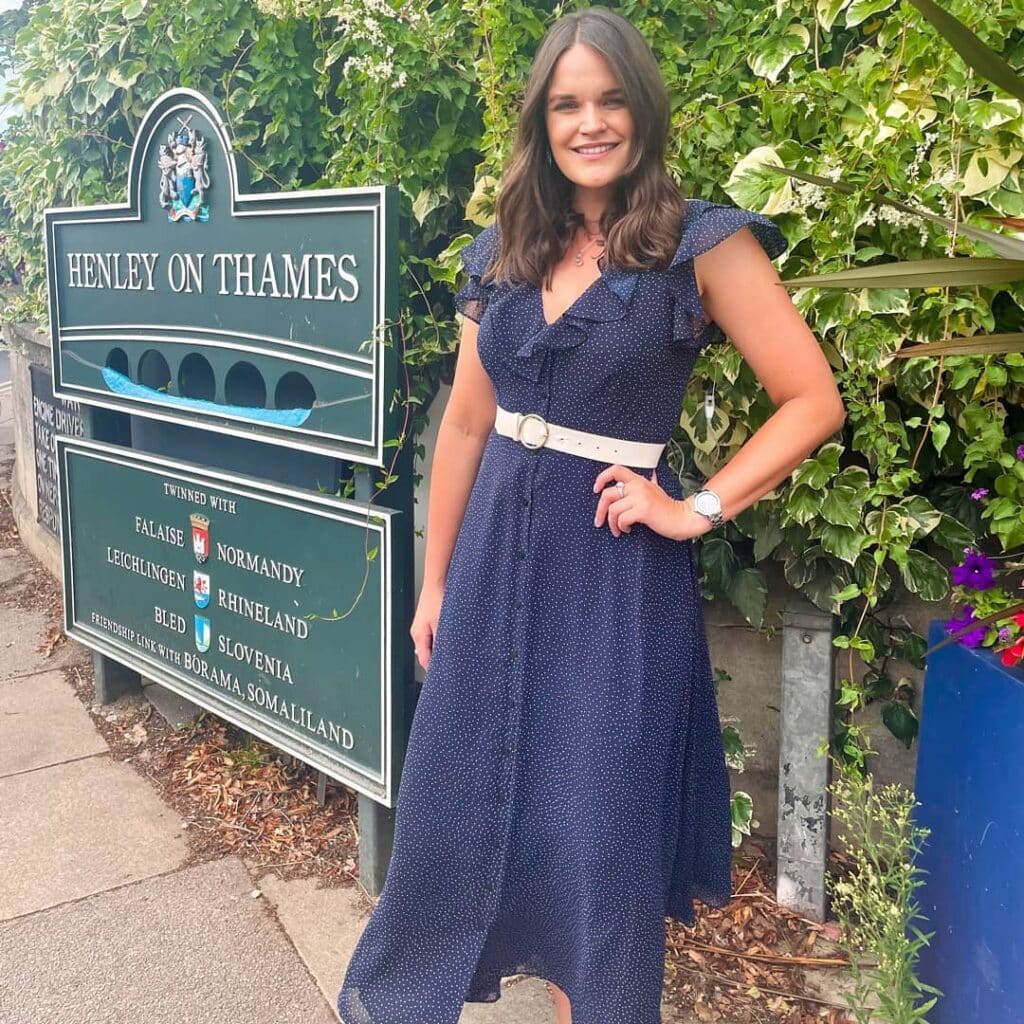 10 – White Tiered Dress with Light Blue Floral Print and Blue Belt
This blue floral print makes this dress so effortlessly easy to wear because the colors and the print truly match the vibes of the summer. not only that, but the colors are great for the Henley Regatta as they complement the nautical themes of the event and look stunningly beautiful when worn outdoors.
This outfit can either be matched with light blue-colored accessories or it can be worn with silver or white jewelry for a more elegant look.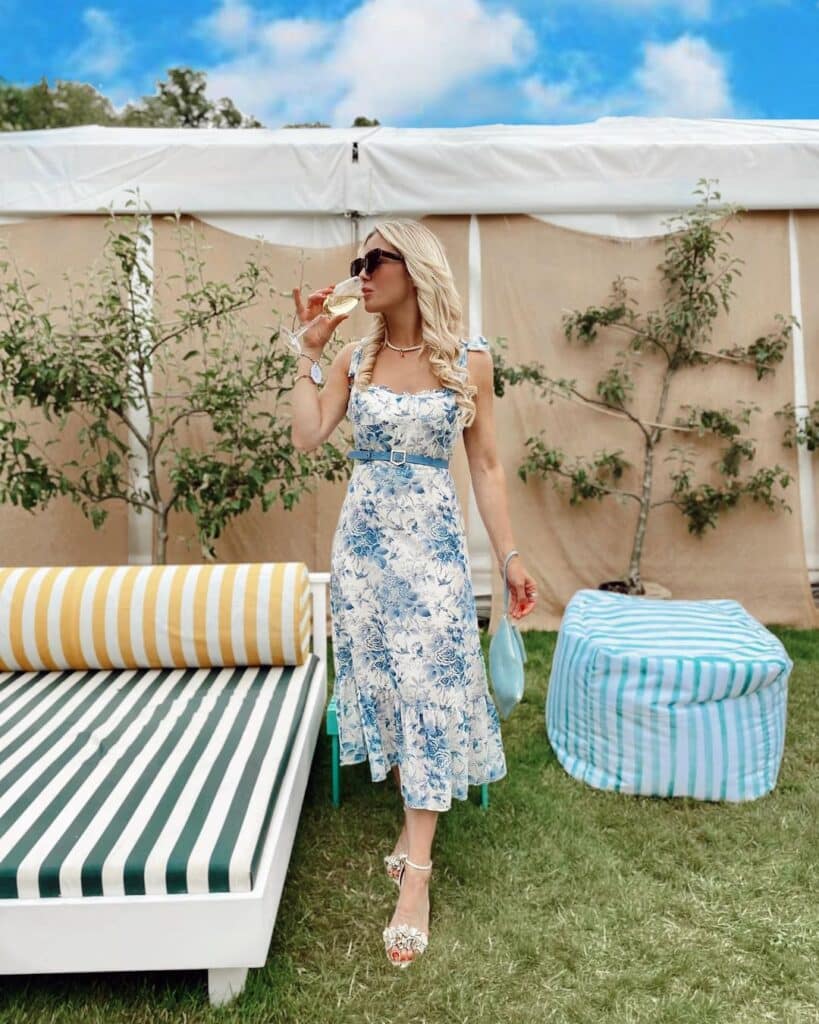 9 – White Dress With A V Neckline Printed with Cute Fruit Print And Matched With White Accessories
This outfit is so cute and brings such an air of youthfulness to whoever wears it. Not only that, this outfit is perfect to wear to the Henley Regatta, as it consists of a neutral white color and is not too flashy of a print.
This is so easy to style and match with accessories such as white slides or simple sandals. A small white bag would look so elegant and graceful with this too. A hat would just complete the look, and the beige one pictured below works wonderfully.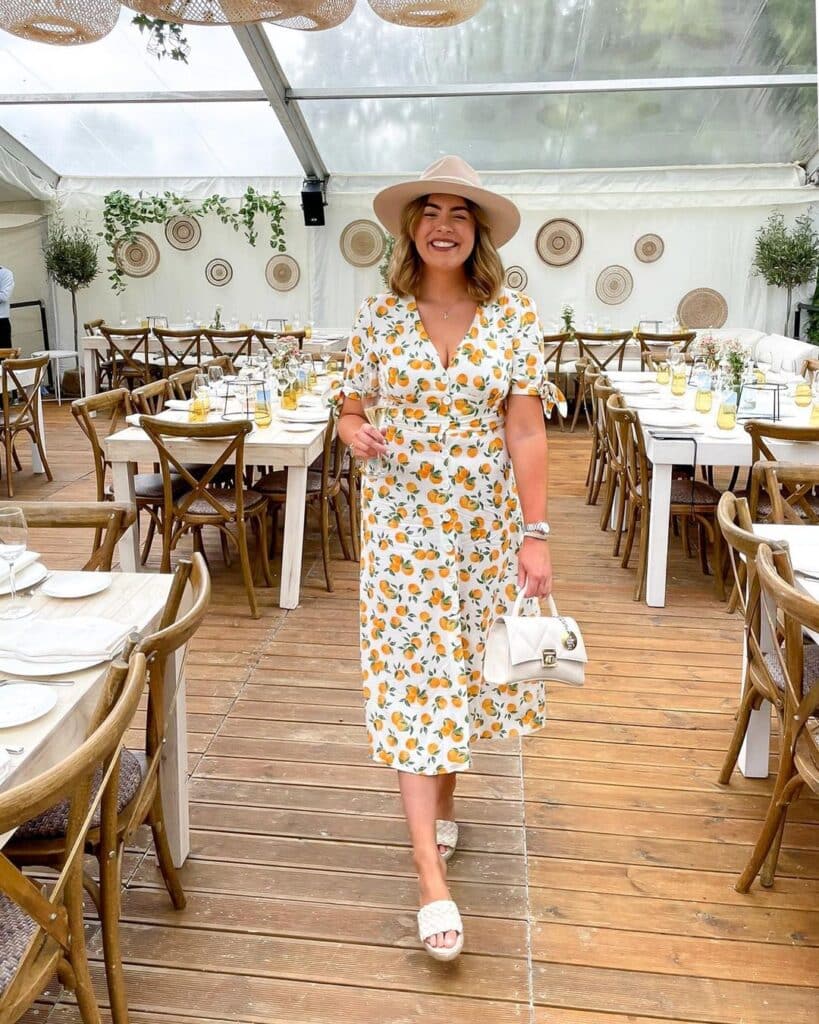 8 – Baby Blue Button-Down Top With Ruffles
this outfit is more of a unique take on a Henley Regatta outfit. While it includes more color and textures, it is still kept on the neutral side by the muted pastels of this outfit which do not clash with one another or make it an eyesore to look at.
The colors complement each other and the main piece, which is the top, is also one of the theme's colors. Thus, this outfit is a must-try for the Henley Regatta and will be perfect to wear. You must try this as it is so unique, youthful, and fun to wear, especially with the coherence of the colors and textures.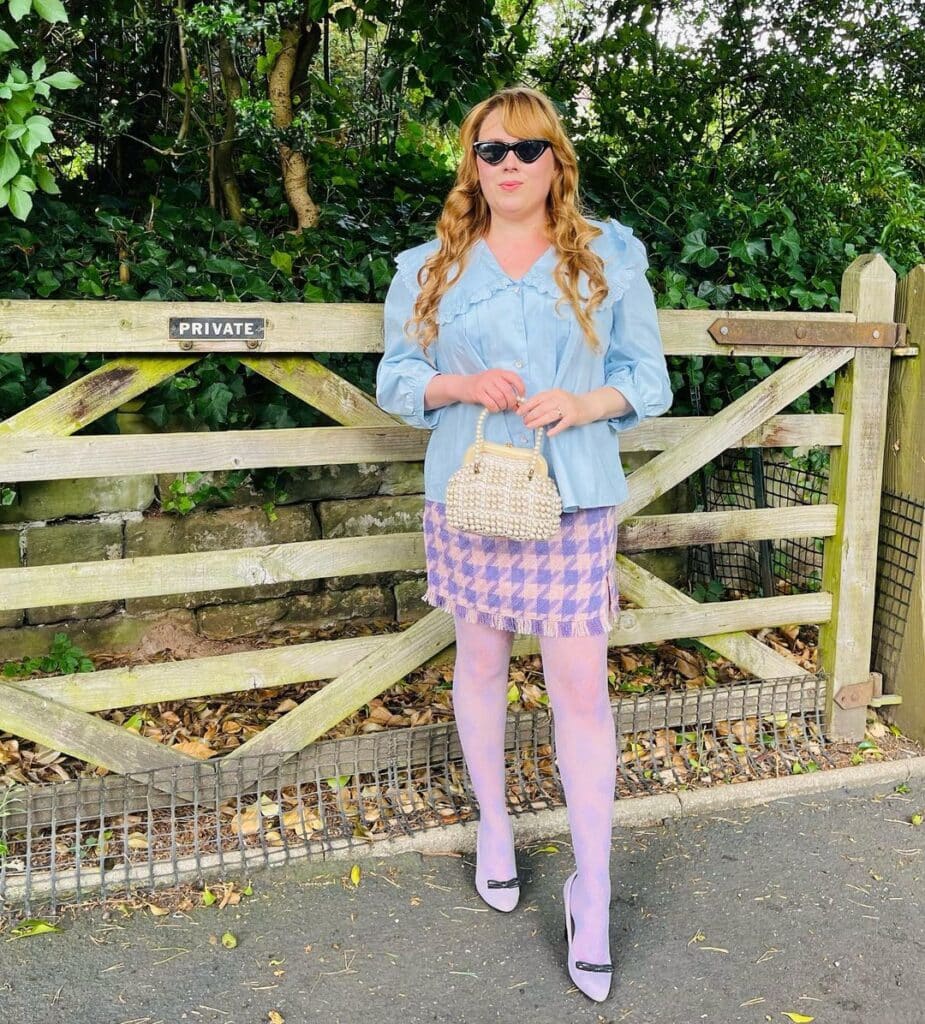 7 – Simple Navy Blue Long Dress Scrunched at the Waist
This dress is beautiful in its simplicity, the grace that the wearer has while wearing this is unmatched. The neckline is bedazzled with pearls and jewels which makes it so beautiful to look at and there is a twisted and scrunched detailing which adds so much more to the outfit as it perfectly cinches the waist to create a flattering silhouette for the wearer.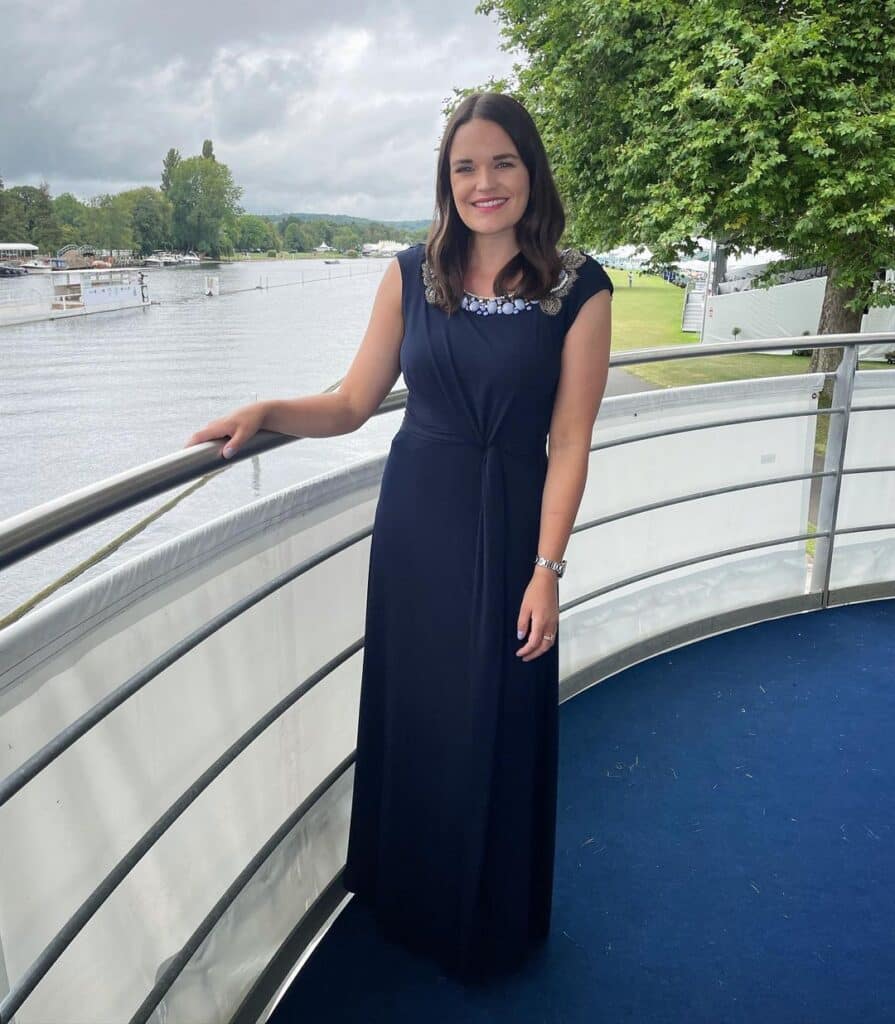 6 – Cream/Beige Zip-Up Collared Shirt With Matching Straight Leg Pants
This outfit is a bit less on the feminine side, but it is still very nice to wear to the Henley Regatta. The beige color is perfectly neutral for the event and gives a lot of scope for creativity when it comes to accessorizing this outfit.
In this case, beige sandals are worn with the outfit and they are strappy, which adds a dimensional element to the overall look and makes it such an interesting outfit despite it being monochromatic.
Beige hoops can also be worn, and for a timelessly classic look, add some white gloves to really make the whole look come together in a vintage way.
5 – Striped And Collared Button-Down Dress With Slit
This is a wonderful outfit to wear to the Henley Regatta. It has everything you need for a good summer outfit for the occasion, from the neutral colors to the accented belt which adds so much dimension and flatters the body. This outfit is a must-try!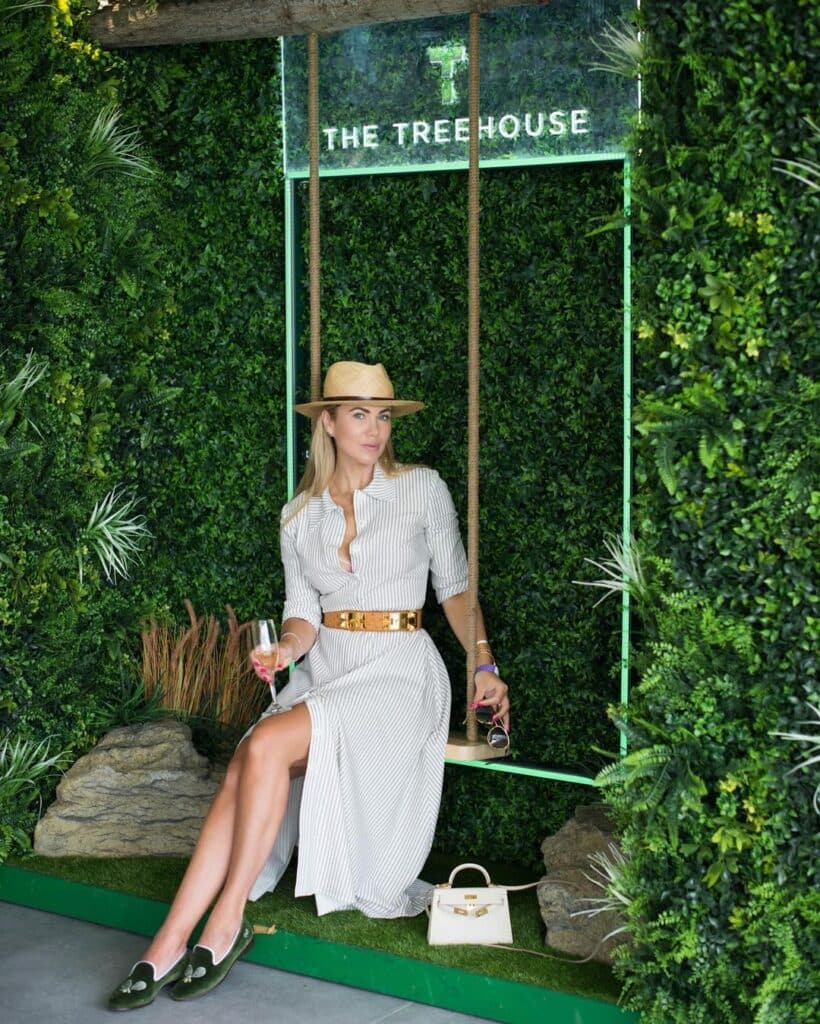 4 – All White Outfit: Tube Top With Matching White Straight-Leg Trousers
This light and neutral outfit are perfect to wear at the Henley Regatta. It is such an easy outfit to put together as it consists of easily available items in almost every girl's closet. This outfit shows us that you can make a great outfit from the easy summer staples you already have!
The tube top tucked into the white pants elongates the body to create a flattering effect. This outfit can be paired with golden jewelry like layered necklaces and even a nice beige hat to protect you from the sun when you are outdoors but also make you look effortlessly chic.
3 – White Cami and Shorts Combo With Blue Floral Print
The Henley Regatta's signature blue and white colors, following the event's nautical themes, are beautifully reflected in this outfit. Because of this, this is a perfect fit for the event, with its subtle but intricate designs!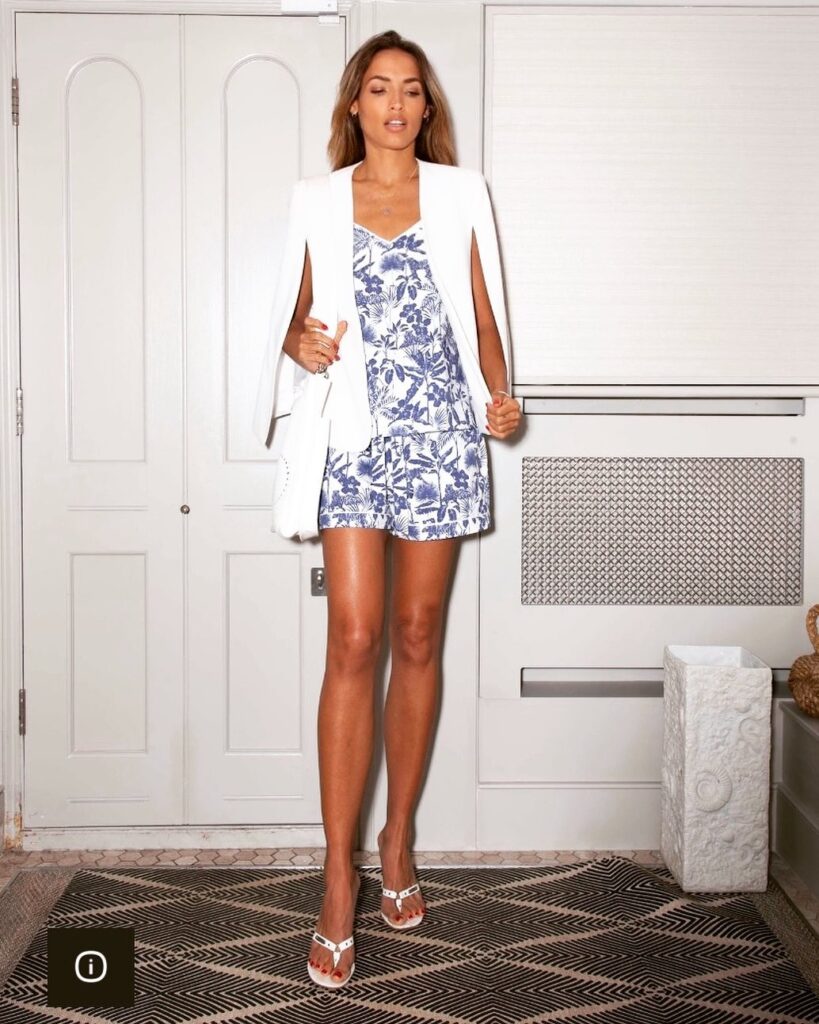 2 – White Polka Dot Dress With Cream Blazer
This V neckline dress is a beautiful off-white color and topped with a cream blazer, looks absolutely stunning to wear at the Henley Regatta. The polka dots add some depth to the overall outfit and it makes it very good summer wear. Accessorized with gold jewelry, this outfit is easy and stylish!
1 – White Dress With Slit and Tie-Up Straps
Simple yet stylish, this dress does it all. Accentuating all your curves and cinching the waist, this one is a no-brainer for the Henley Regatta!
Frequently Asked Questions
Q. Can hats be worn to the Henley Regatta?
Yes of course. Hats can complement outfits very well, especially if it is a beige straw hat with a neutral outfit. It can really elevate a look, by adding dimension through the incorporation of another texture in the outfit. Just keep in mind to make sure they are not baseball caps or too brightly colored, as they might clash with the rest of your outfit and be too distracting.
Q. Can blazers be worn to the Henley Regatta?
Yes, in fact, blazers can help make any outfit look so much more sophisticated and formal! It can pull together an outfit beautifully, especially if you are careful about the matching or contrasting of the colors.
For the Henley Regatta, you may also want to try blue and white striped blazers as they are so on the theme and will make you look like one of the best dressed at the event!
Q. Can sparkly dresses be worn?
In theory, yes. However, there are several reasons why you should not opt for that, the first and most obvious one being the neutral nautical-themed colors of the Henley Regatta event.
Sparkly dresses, unless they are muted shimmery or very neutral, will definitely stand out and make you feel like an outsider amongst the crowd. While bright colors may be pulled off by some, this is a bigger risk. Secondly, it may prove to be very uncomfortable to wear in the summer sun!