Summer Airport Outfits – Summers are for unwinding and relaxing. Everyone looks forward to tanning in the bright summer sun and taking Instagram-worthy pictures in stunning outfits that are planned weeks in advance, down to every intricate detail, including all the accessories and add-ons.
People travel all over the world in summer, from exotic islands and remote mountainous areas with camping grounds. And beautiful outfits are planned for every occasion, ranging from all different types of styles, because when else do we get to dress up?
However, is any thought ever given to airport outfits? Everyone makes the most effort planning their vacation outfits down to every last meticulous detail, but no one ever really plans what they will wear while traveling.
The vacation mindset should start the minute you leave your house, not when you reach the destination: every moment should be enjoyed. Look no further, because the styling options for traveling are truly endless. Planning outfits even for the airport can make your vacation all the more fun, and you are about to get some inspiration for them!
What to Wear on Flights in Summers?
We've already talked in detail previously about Celeb-Inspired Travel Outfits for Airport but we felt like summer airport outfits deserve a post of their own. From vibrant and colorful outfits to monochromatic sets, you don't have to compromise on style while prioritizing comfort!
Crop tops and tank tops can be paired beautifully with a wide range of options to make simple, cute, and easy-to-wear outfits.
The options include leggings, flared pants, and even jeans, but you can definitely take it up a notch with full-body jumpsuits and even bodycon dresses. It takes a little bit of courage, but with the right pairing, the outfit can provide you the comfort and style!
Do's And Don'ts of Airport Outfits
DON'T add more than two layers. While layers look good on a day-to-day basis, they will probably be an uncomfortable option for the airport, especially during traveling. 
DO opt for monochromatic outfits. While they might seem boring, it's the easiest type of outfit to put together and will make you look effortlessly composed. 
DON'T clash too many vibrant colors. Try to go for accenting a color, as it will give off a more sophisticated and put-together look. 
DO keep a cover-up like a jacket or a shawl in coordination with your outfit, as it gets chilly at the airport sometimes! And we must not forget comfort while planning an outfit.
17 – Comfort Comes First
16 – All Black Athletic Outfit with Neon Pink Shirt To Add a Pop Of Color
Similar to the previous outfit, this outfit is also made of the ever-comfortable athletic crop top and biker shorts for the most easy-to-wear outfit. This time, a neon button-down shirt is worn with an open front as an add-on layer.
This provides a beautiful accent to the outfit and paired with the long sock and white sneaker detail creates an amazing airport outfit.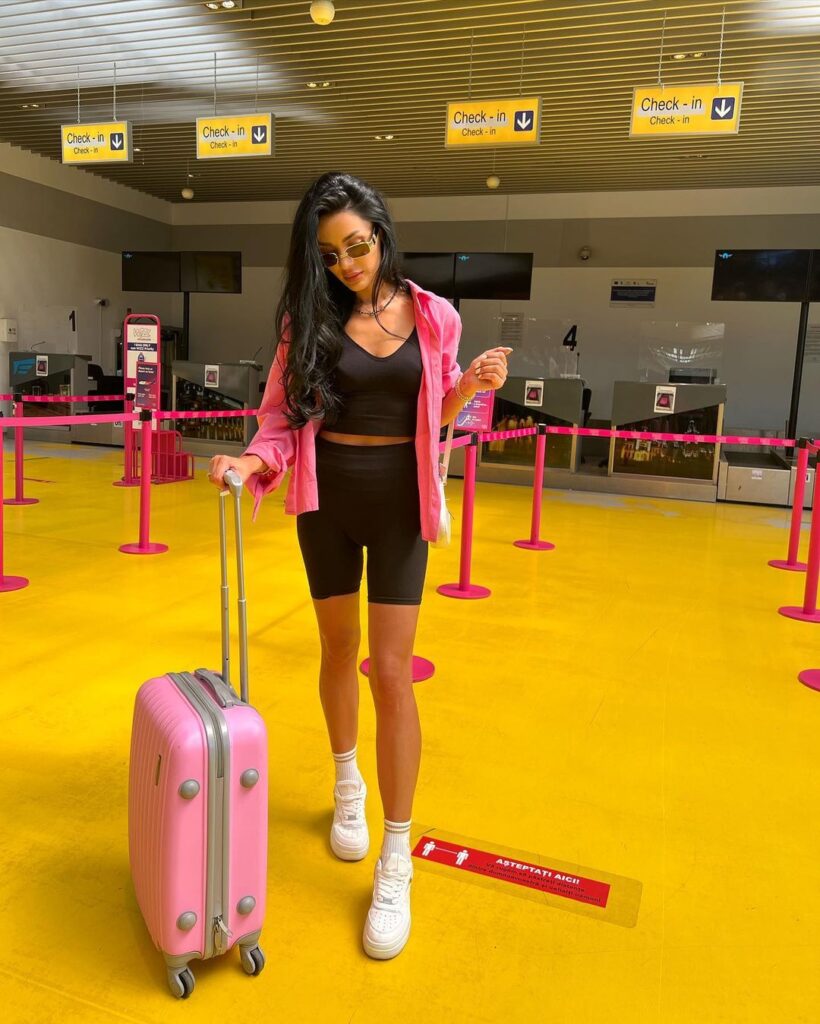 15 – Simple Gray Bodycon Midi Cotton Dress with a Black Jacket and White Sneakers
This outfit is the epitome of comfort. The dress is made of materials that will hug your body and keep you comfortable and can be easily worn with a jacket or blazer when it gets chilly.
The dress is a unique option that must be tried as it's flattering on all body types and will make you look and feel confident while traveling. It's the perfect traveling option. 
14 – Light Neutral Combination With White Crop Top and Beige Sweatpants
White crop tops go with almost everything and are a staple piece in every girl's closet. To add a comfy element, pair it with beige sweatpants and you can create a light neutral aesthetic combination with two of the simplest pieces of clothing that are surely available in every girl's closet!
This one is a no-brainer and can be achieved by everyone. The best part is, that this color combination suits all skin tones, so it will be flattering every time!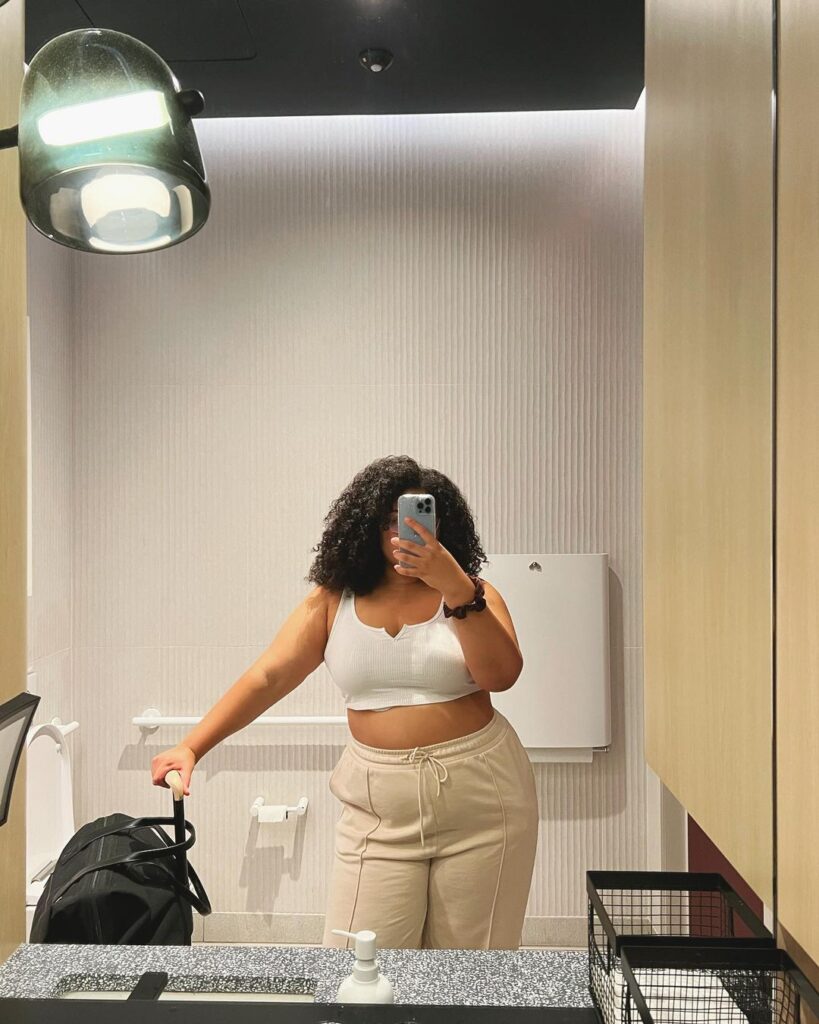 13 – All Black Monochromatic Outfit: Black Tube Top with Straight-Leg Pants and Matching Blazer
This is yet another no-brainer monochromatic outfit that can be pulled off with easily accessible pieces of clothing. Wear a tube top with high-waisted straight-leg black pants for a flattering silhouette and use a blazer as a cover-up if it gets chilly.
This is the perfect combination of clothes to make you look sophisticated and it is also super comfy! Pair it with white boots or even white sneakers and you have yourself a great outfit. 
12 – All White Outfit: White Wide Leg Trousers with Chiffon Crop Top with Bell Sleeves
This is another rendition of a monochromatic outfit, but this time with white. Wide-leg white pants or trousers are always flattering, especially when they are high-waisted.
To complement the trousers, wear them with a chiffon white cropped top, with wide bell sleeves, and tie the whole look together with the addition of white platformed slides.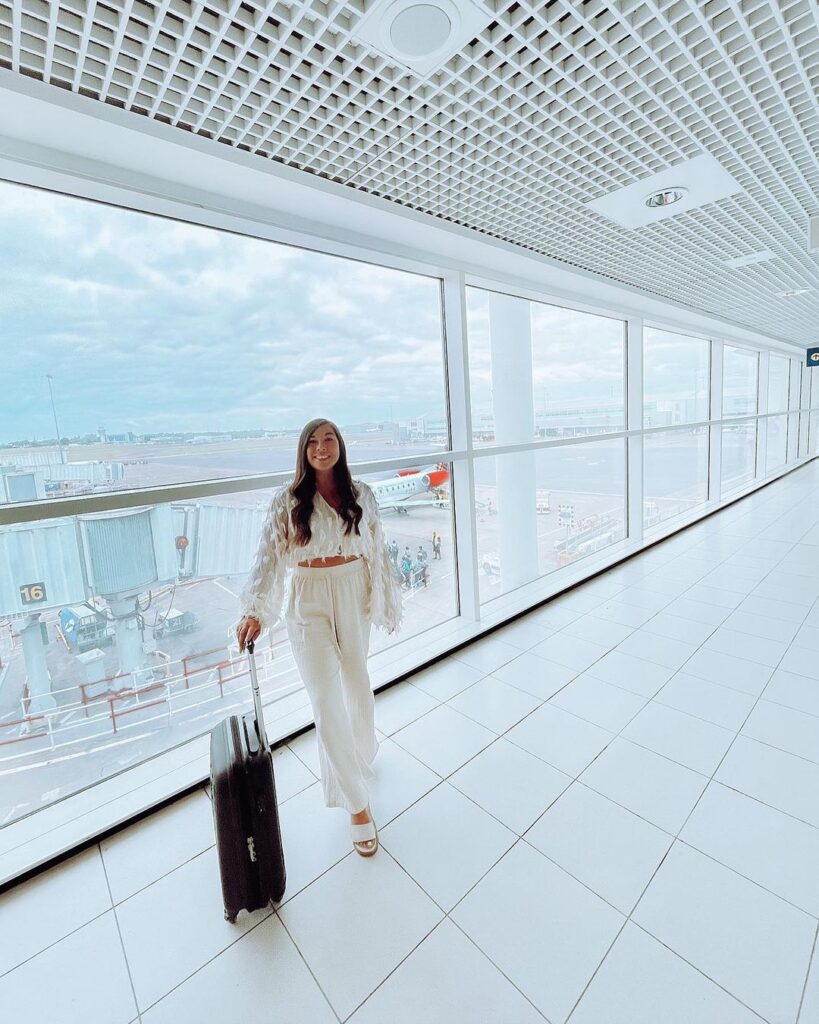 11 – Black Cropped Top With Cropped Black Shirt and Matching Biker Shorts
This outfit is the definition of "less is more". The button detail in the cropped button-down, open-front shirt makes the shirt more prominent and gives a flattering effect when tied with the curve-hugging biker shorts.
This outfit is so simple to execute, with everyday clothing, and the comfort is perfect for the airport and traveling! This can be paired with white shoes like Nike Air Forces or any other simple white sneakers.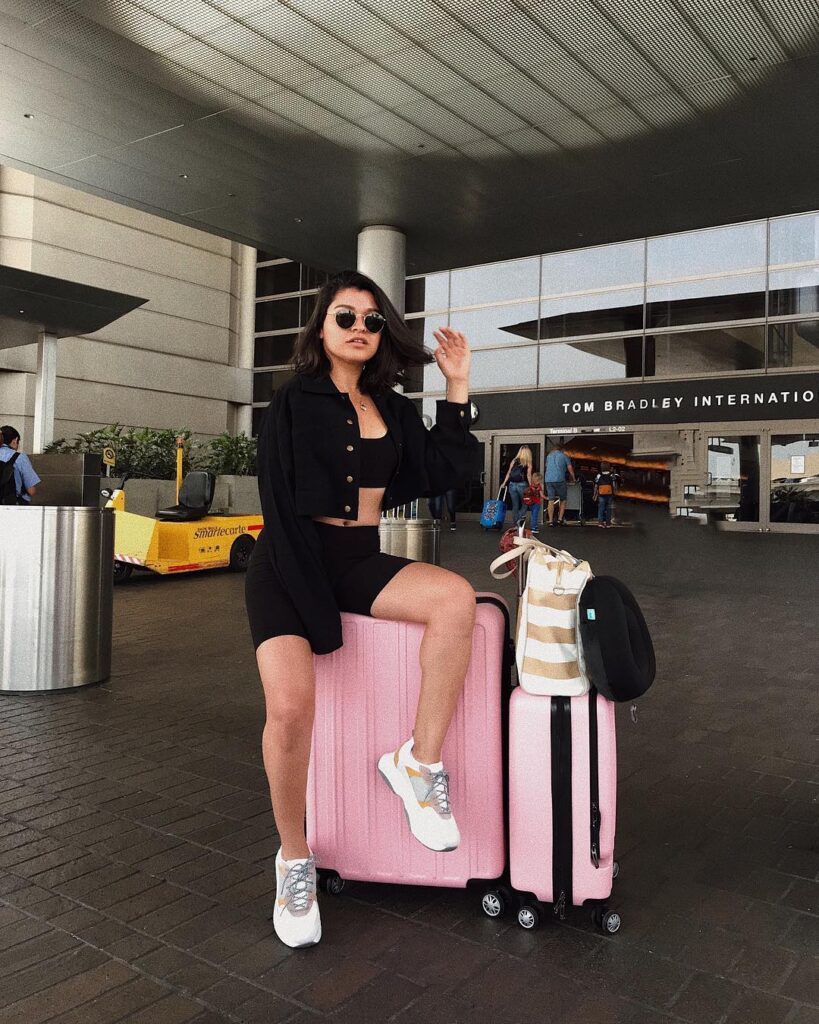 10 – All Blue Outfit: Blue Short Sleeved Crewneck with Matching Sweatshorts
This is yet another simple but effective outfit for the airport. This short-sleeved blue crewneck along with their matching blue sweatshorts are the perfect set to wear while traveling. Not only do the two pieces complement each other to create a flattering effect, but it is also the most comfortable you could get for a long flight.
The crewneck material will also keep you warm when it gets chilly. This outfit gives you effortless style and comfort!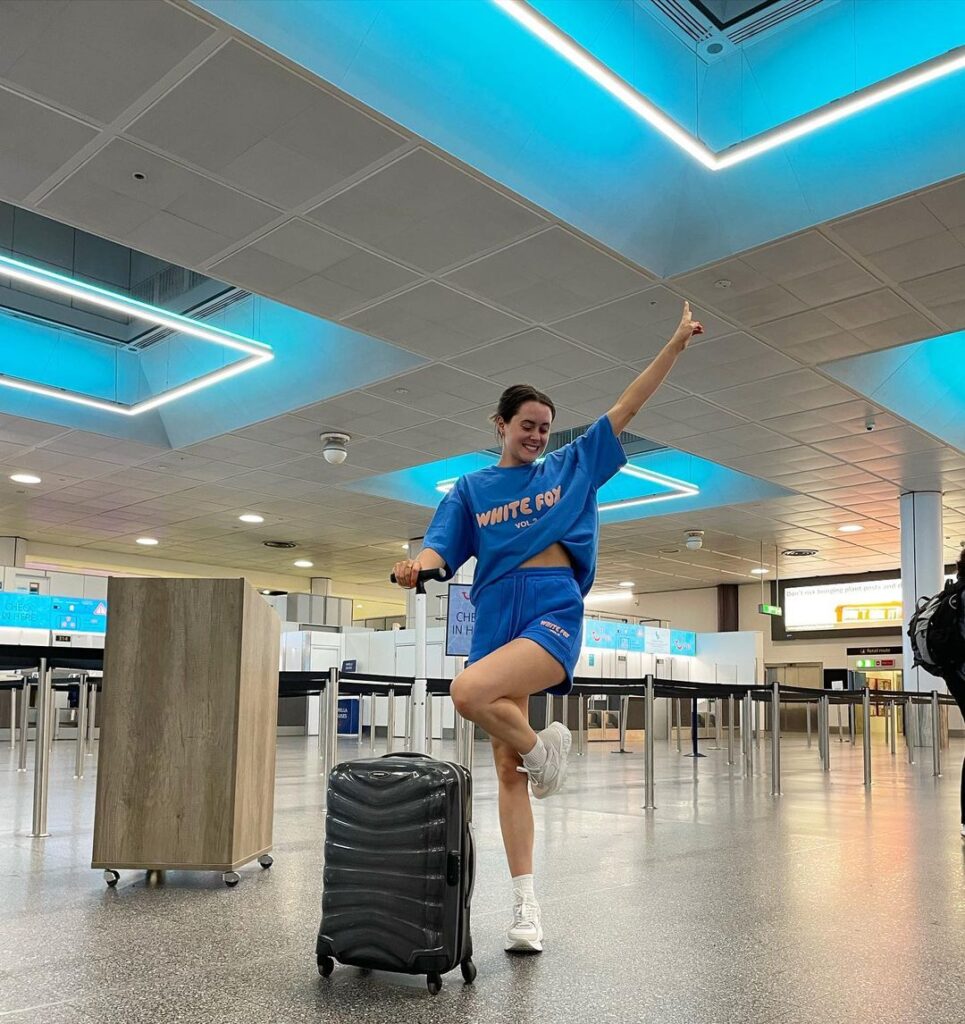 9 – Lilac Oversized Button Down Shirt with Matching Wide Leg Trousers, Accented With a Yellow Tank Top
This outfit is everything, with its comfortable loose fit and summery colors, and is perfect to wear at the airport. The light color is refreshing to wear, especially in the summers, and the pop of yellow adds vibrancy to break the monotony of the overall outfit.
This is such a simple outfit with even simpler layering which is not only flattering but also very comfortable to travel in. 
8 – Oversized T-Shirt Paired With Sweatshorts and Matching White Slippers
This outfit gives very clean and summer vibes with its all-white pieces. The oversized shirt and the sweatshorts are the two most comfortable pieces to wear at an airport, especially during the hot summer. With an addition of a crochet bag, you will have a picture-perfect outfit, and you will look like you're ready to give in to your vacation headfirst!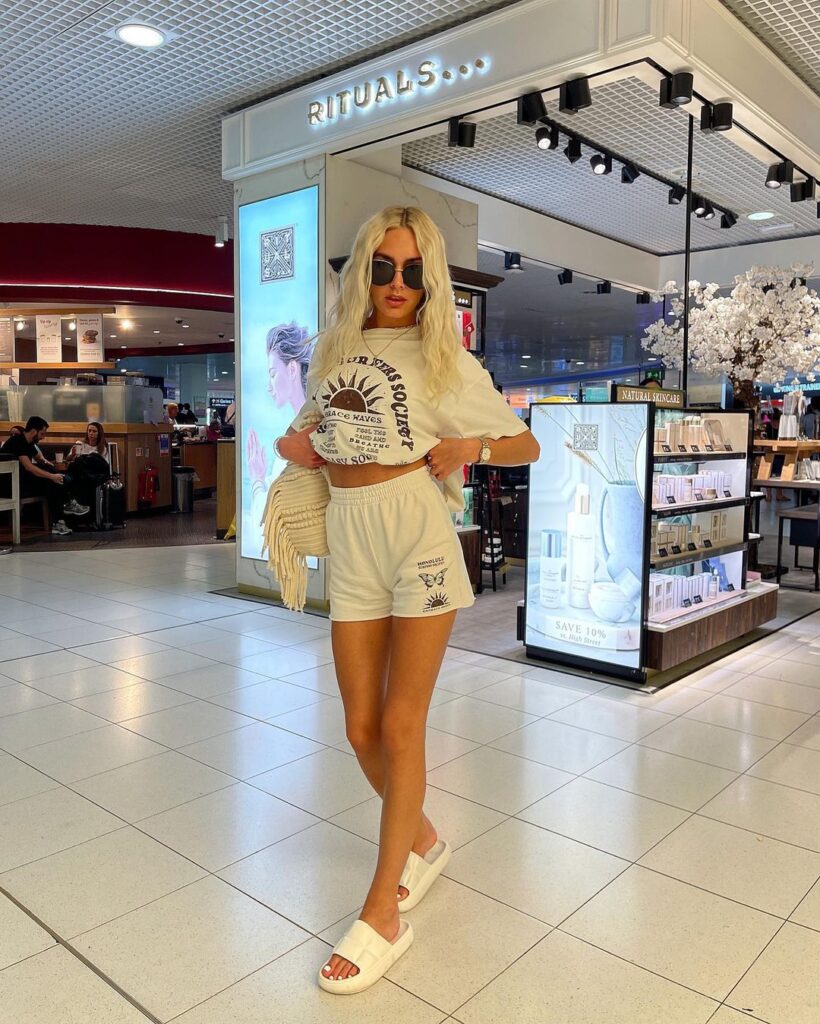 7 – Asymmetrical White Top with Ripped Straight Leg Jeans and Beige Accessories
This is an immaculate summer airport outfit option to wear. Tie this asymmetrical white top with loose-fit straight-leg ripped jeans. Accessorize on top with some beige or brown accessories to enhance the look even more. This could be beige slides or a beige hat.
Finally, add a white button-down shirt just over the shoulders and you have the perfect summer airport outfit. 
6 – Colorblock With an Orange Crop Top and Black Velvet Flared Pants
These are two very comfortable pieces that can work together due to the beauty and simplicity of the contrasting colors. They can work together without clashing and that is what makes this outfit so stylish and clever.
This can be worn with sneakers to increase the level of comfort essential for traveling, and a plain white button-down shirt can be worn over it to add another element. In this case, the white shirt is printed with some intricate orange detailing with also contributes to the style of the outfit.
5 – Pink Pants with a White T-Shirt
This is again similar to the color blocking concept. A plain white t-shirt can be tucked into simple baby pink colored pants to create a cute airport outfit. The shoes can be paired according to preference but you can never go wrong with a pair of converse or plain white sneakers!
This is the perfect example to depict that you can take some of the most ordinary pieces in your closet and style them perfectly to wear before your vacation begins.
4 – Black and White Outfit – Simple Top With Flared Black Pants
For this airport outfit, any white top will do. Take the comfiest one in your closet and pair it with black flared pants. Top it all off with white sneakers to complete a perfect black and white look. Simple, but so stylish! This is an outfit that you can never go wrong with!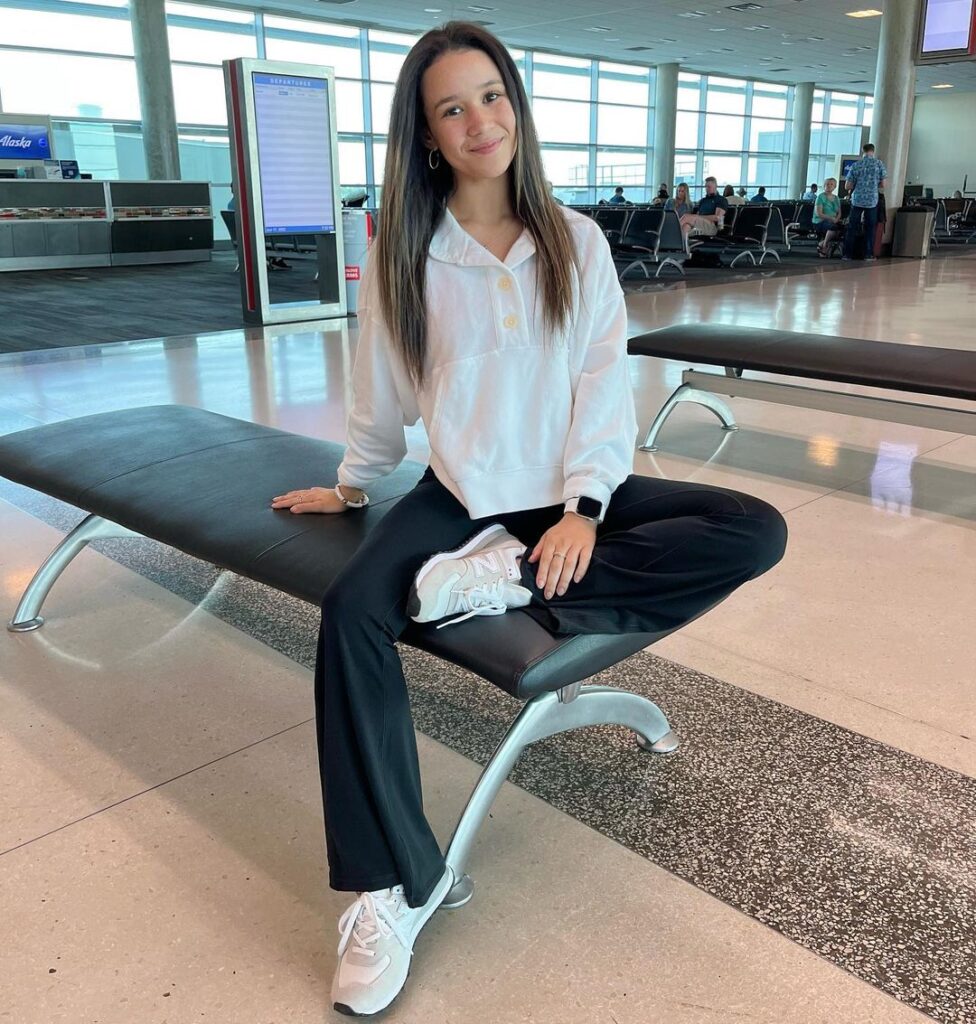 3 – Add a Pop Of Color With Bright Yellow Sweatshorts Paired with Plain White Sleeveless Top
This outfit is a no-brainer. Based on the color block concept, you can pair almost any bright color with white and it will look good. In this outfit specifically, the bright color chosen is yellow, which is the perfect color to represent the summer vibes, and will definitely put you in the summer vacation mood. The white sleeveless top is super comfy to wear, so overall, you have a great outfit to travel comfortably in.
2 – Colorblock with Sage Green Cargo Pants and A Black Cropped Top
In this outfit, the sage green cargo pants will add a lot of dimension to contrast and enhance the simplicity of the simple black cropped top.
The cropped top's tight fit is also opposed by the loose comfortable fit of the cargo pants and it marries the two beautifully to create a visually appealing and interesting outfit to wear at the airport.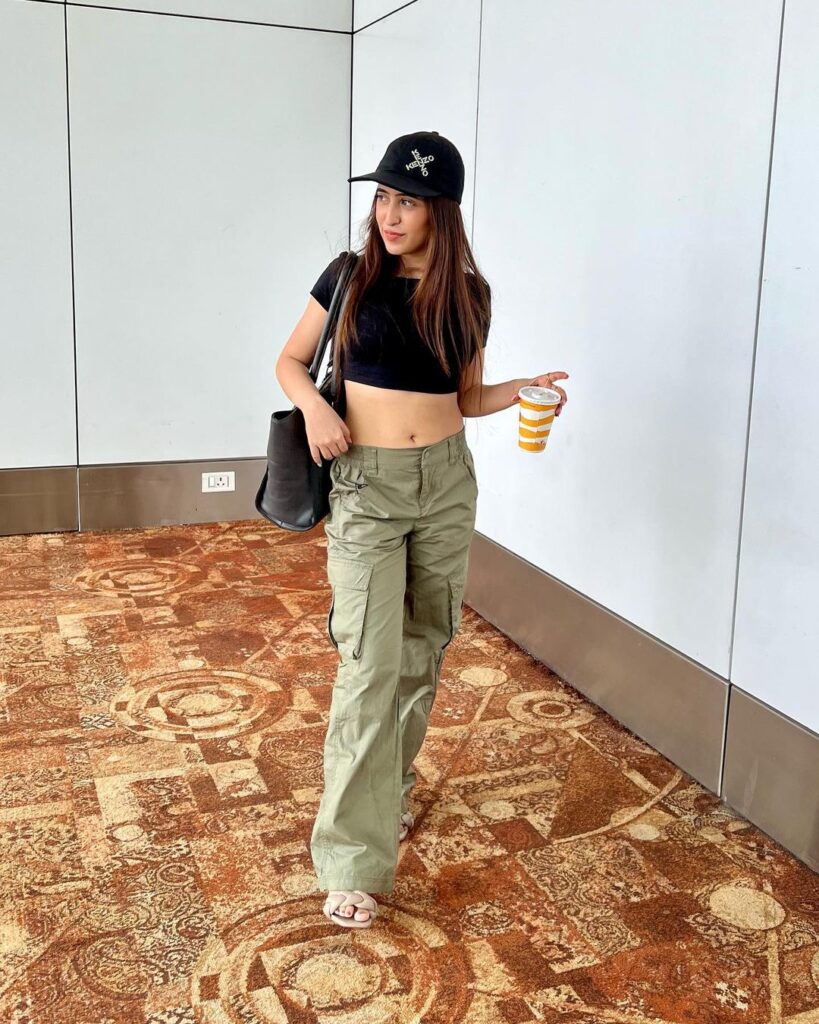 1 – Wear Brown Shorts with Twisted White Top and Drape a Cream Sweatshirt On The Shoulders
This outfit is perfect to wear at the airport. The color palette of the overall outfit is neutral and aesthetically pleasing to look at, with the twisted white top adding dimension to the otherwise plain textured materials of the shorts and draped sweatshirt on the shoulders. It is comfy and cute!
Frequently Asked Questions
Q. What should not be worn at the airport?
Anything with chains or any sort of metallic bedazzling should be avoided as not only is it very uncomfortable due to the sheer weight of them, but it may also be a hassle to go through security with them on your outfit. Also, high heels should be avoided as they are highly uncomfortable!
Q. Are crop tops appropriate for the airport?
Yes! Crop tops are also very easy to wear and will be very comfortable on a long flight. It's also perfect for the hot weather in the summers.
Q. Can yoga pants be worn at the airport?
Absolutely! Yoga pants are as comfortable as all other athletic wear, and can definitely come in handy while making outfits with other pieces!