Outfits With High Waisted Shorts. Out of all the old trends coming back in fashion, high-waisted shorts are probably the best! Not only shorts, even high waisted pants are back in style. From designers to celebrities, everyone is rocking the look. So what are you waiting for?
Hop on to this trend because it is not going away any time soon. High-waisted shorts look cute, chic, and are this season's must-have. Not only that, but they are also extremely unique because you have so many options to choose from. From denim to prints, they look great in every style. If you are unsure how to wear these shorts and pair them correctly, read on because we have gathered all the tips you need to pull off this amazing style. Take a look at our collection of the cutest outfits to wear with high-waisted shorts for a chic look.
How to Wear High Waisted Shorts?
Here are our top tips for wearing high-waisted shorts.
First, determine if you are a fan of super high-waisted shorts or midrise shorts. Midrise shorts will usually hit you just around your belly button. High-waisted shorts can often reach the smallest part of your waist which is usually above your belly button. Some girls prefer their shorts to almost reach their ribcage; some like theirs to hit a little lower. Try both and see which style you prefer.
Most high-waisted shorts look best when styled with a tucked-in shirt or crop top. (But if you love a baggy tee, that can be a cute look, too!) High-waisted shorts are great for creating a streamlined silhouette so tucking your top in will help add to that.
Try a variety of styles to get the best fit. Some prefer a "mom" short style and others like their shorts super short with rips. Ultimately, the style you choose will depend on the look you are going for. But it is good to know in advance which style suits you best and which one does your figure the most justice.
If you're plus size or have thick thighs, head on over to our earlier post on Different Ways To Style High Waisted Shorts For Plus Size Women.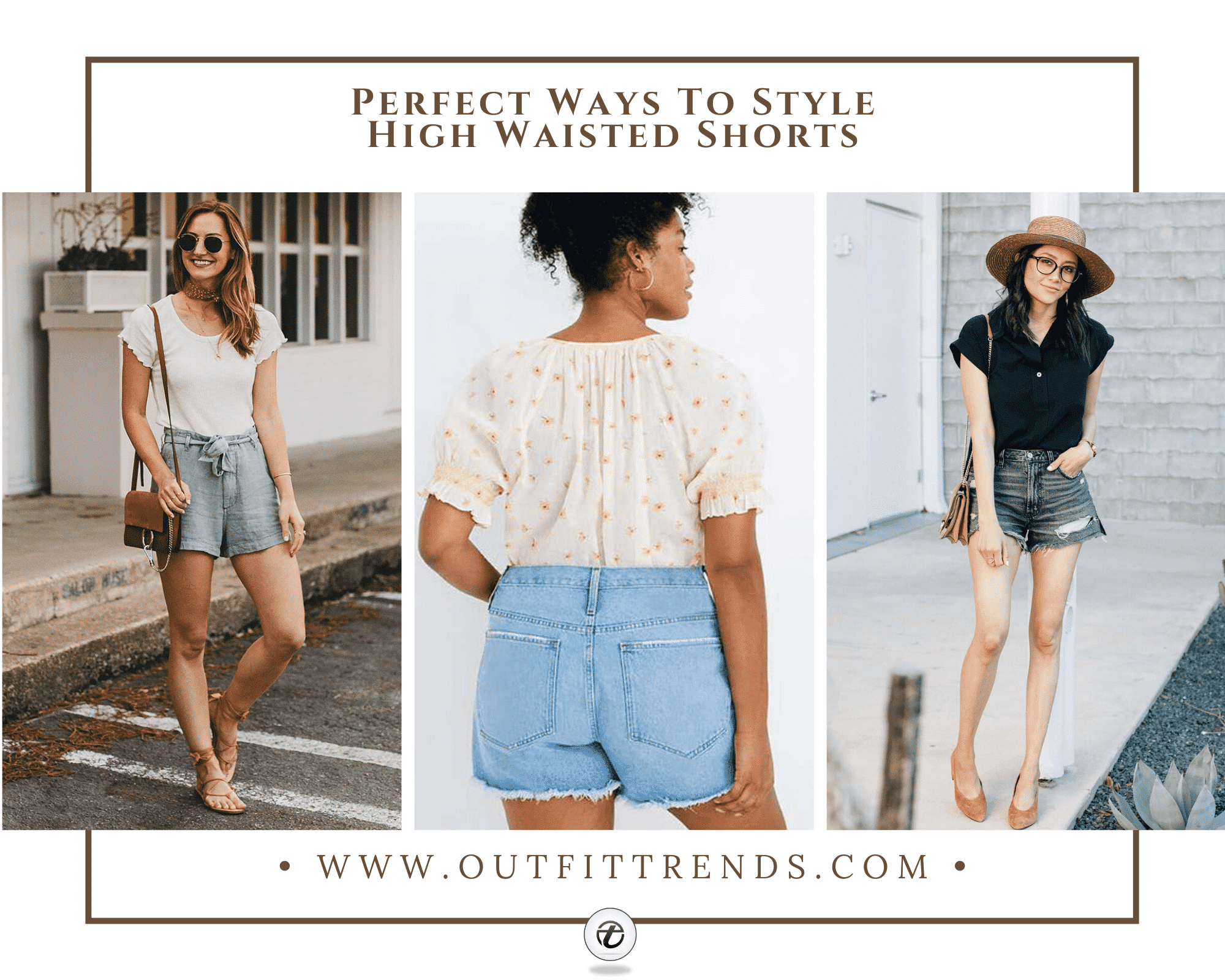 Everybody is rocking this trend as it looks pretty amazing and it has been huge from the past summer. The high-waisted trend is bound to stay for a long period of time, so you better learn how to pair and wear with high-waisted shorts.
They are one of the chicest types of shorts and are a blessing for girls who want to appear taller, so let us show you how to rock them.
High shorts are totally versatile, and there are several ways to wear them. Tucking a top in is a cute way to carry these shorts but is definitely not the only way to wear them. Invest your money in this useful and versatile item and learn different ways to wear high-waisted shorts.
We have compiled some gorgeous outfits to inspire the heck out of you. Check them out.
50 – With a Lace Tank Top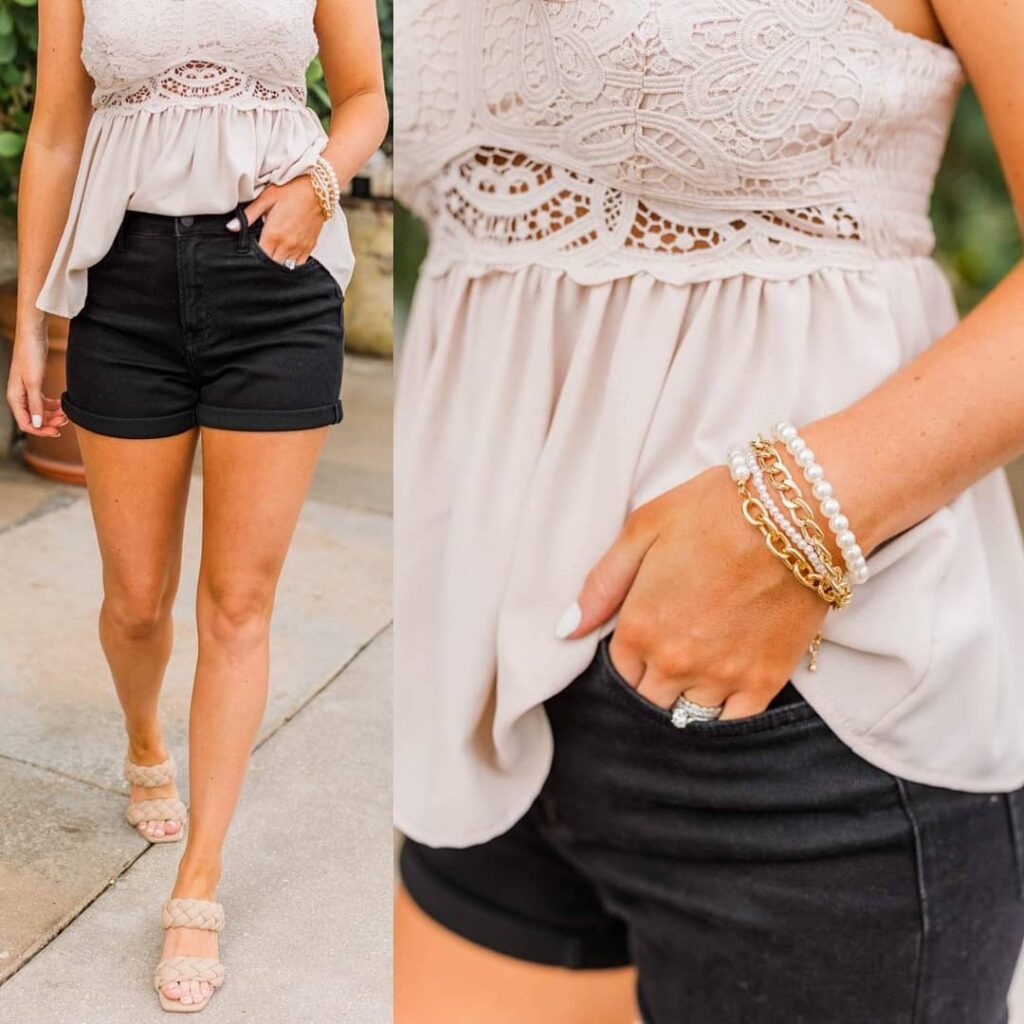 49 – With Boyfriend Shirts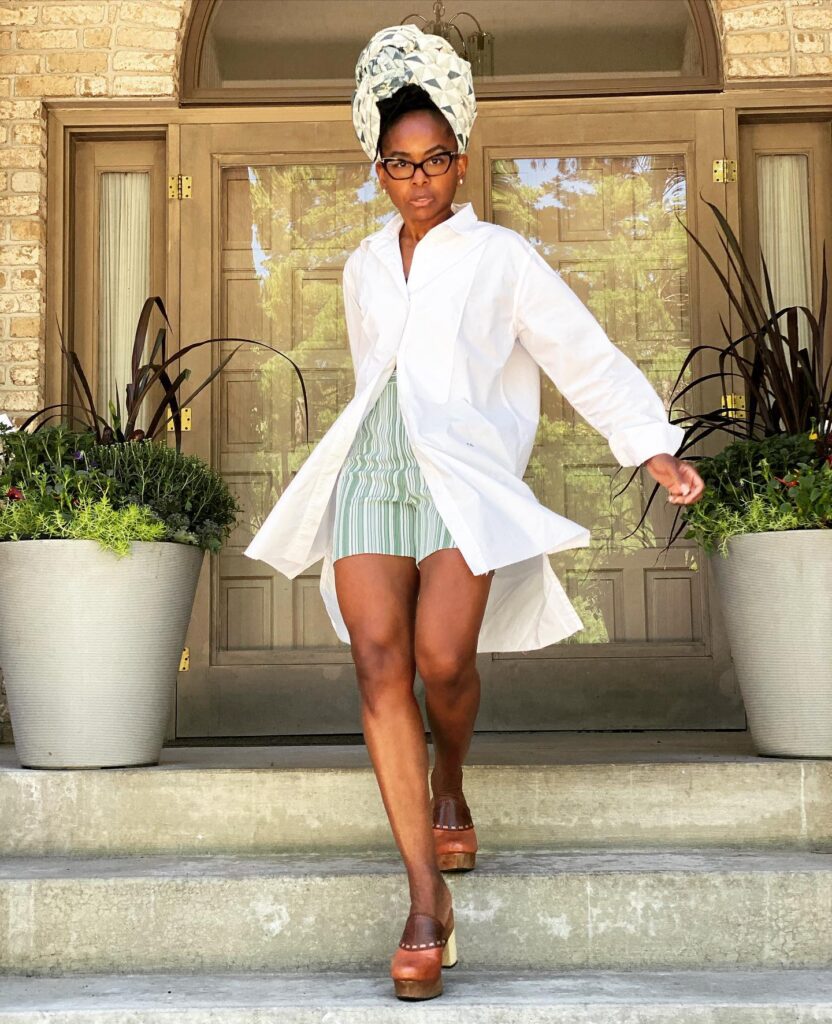 48 – With a Graphic Tee & Blazer for Sunday Brunch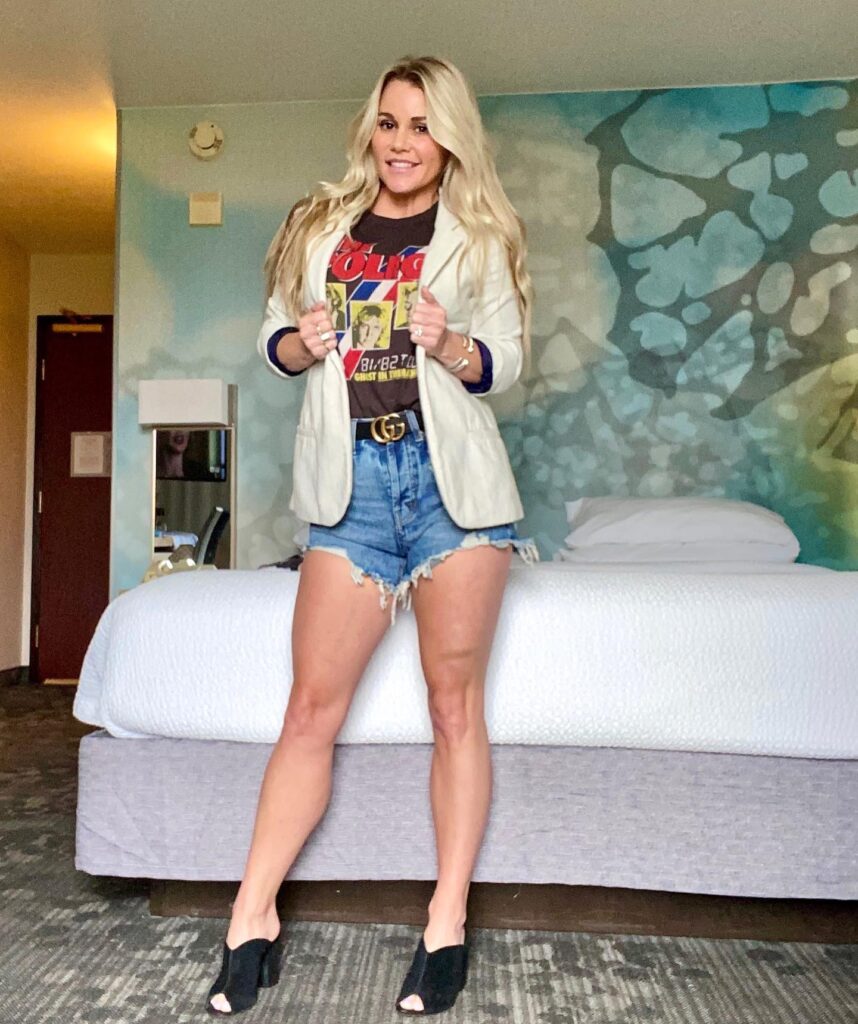 47 – Puff Sleeve Top & Raw Hem Shorts
If you love mixing casual pieces with something a little more dressy, try pairing a puff sleeve top with some white high-waisted shorts. The raw cut hem will dress the look down but you can keep it chic and feminine by accessorizing with a cute headband, beaded earrings, and a gold necklace. This is a beautiful look for parties or semi-formal affairs.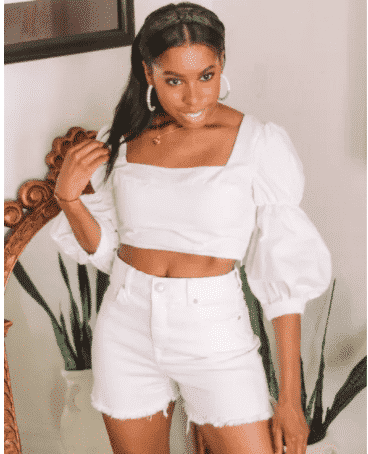 46 – Cardigan & Bodysuit
Bodysuits are a fantastic option to pair with high-waisted shorts as they will stay tucked in all day long without any adjustments or fidgeting necessary. We love this square neck bodysuit paired with denim shorts and a long open-style duster cardigan. Rhinestone sandals tie the look together, making this a great weekend look or casual party outfit.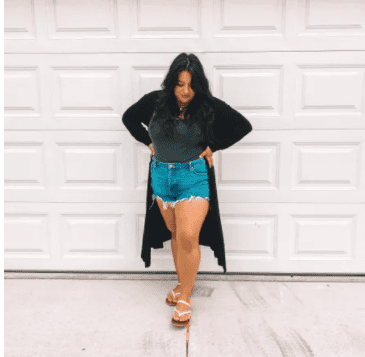 45 – Cute and Casual Style
So, picture this. You are in a crazy rush. Dinner needs to be cooked, your hair is frizzing out in the summer heat. And you need to make a quick Target run. So you throw on a white tee and a pair of striped elastic band high-rise shorts and slip on your favorite white sandals. And boom, you are out the door in five minutes and you look and feel super cute, despite all the stress of your day. Now, how is that for style? Give this look a whirl if you are frequently in need of five-minute outfits that make you feel somewhat put-together and stylish.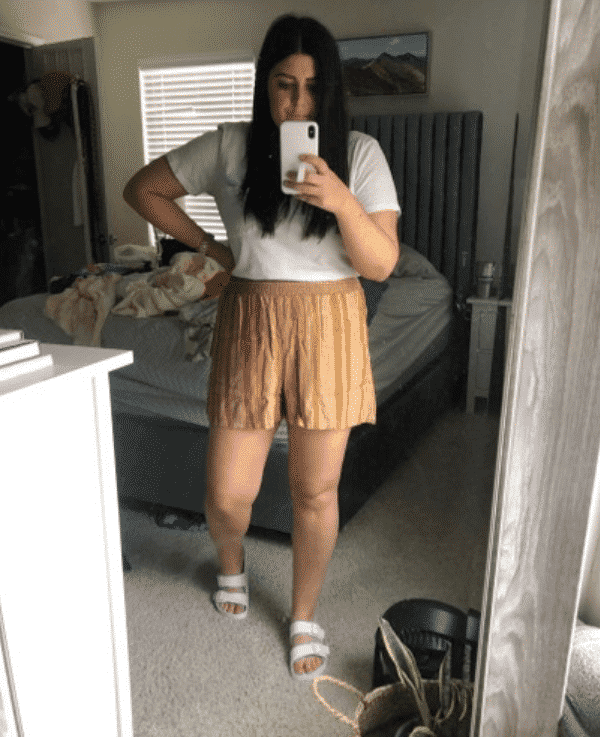 44 – Satin Shirt and Mom Shorts
With a look like this, we promise you will be smiling as big as this lovely lady here! Start with a satin button-down shirt. This quality top will have you feeling chic and well-put-together… as luxury fabrics tend to do! Tuck your top into a pair of high-waisted mom shorts and belt them at the waist with a brown leather belt. Last but not least, top off the look with a cute hat and your choice of footwear! Sneakers, Converse, sandals, or mules are all options you can consider.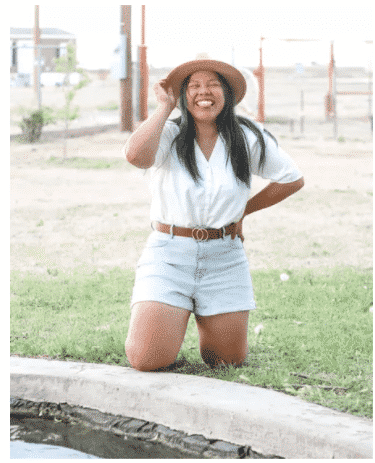 43 – Classic Denim Shorts
Some of the most popular and trendy styles of high-waisted shorts are, quite obviously, denim shorts. They are cool, classic, and never go out of style. From crop tops to formal shirts, you can pair them with absolutely any kind of top and never have to worry about going wrong with it.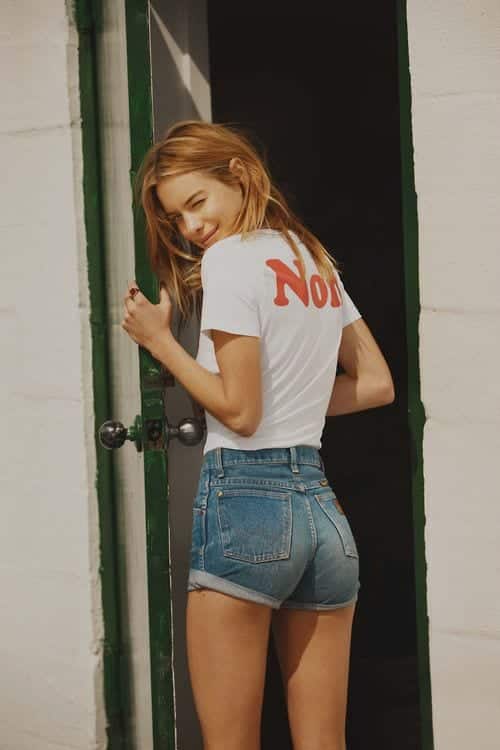 Also see: How to Wear Denim Studded Shorts
42 – Checkered Street Style
How awesome does Taylor Swift look in these stylish checkered shorts? You definitely need one of these in your wardrobe. Pair it with a plain top to balance the look.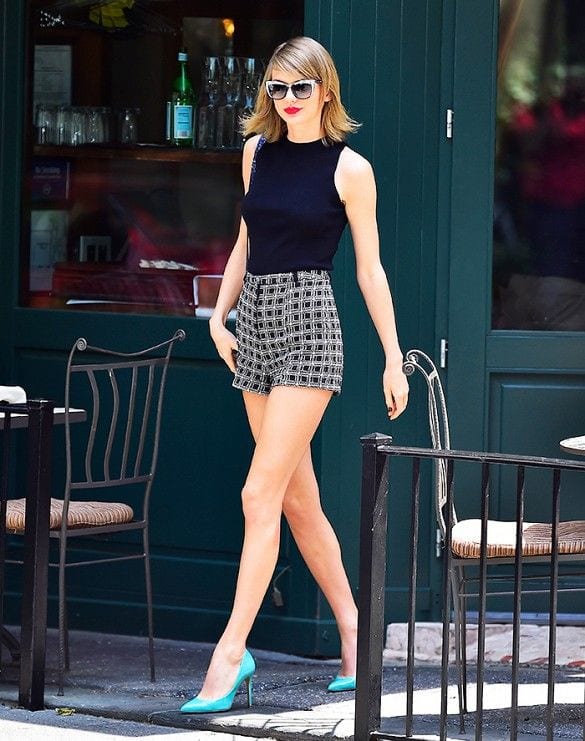 41 – For A Semi Formal Look
When going to any semi-formal gathering, you can try this combination of high waisted silk shorts and a formal shirt. It is guaranteed to give you a modern and sophisticated look.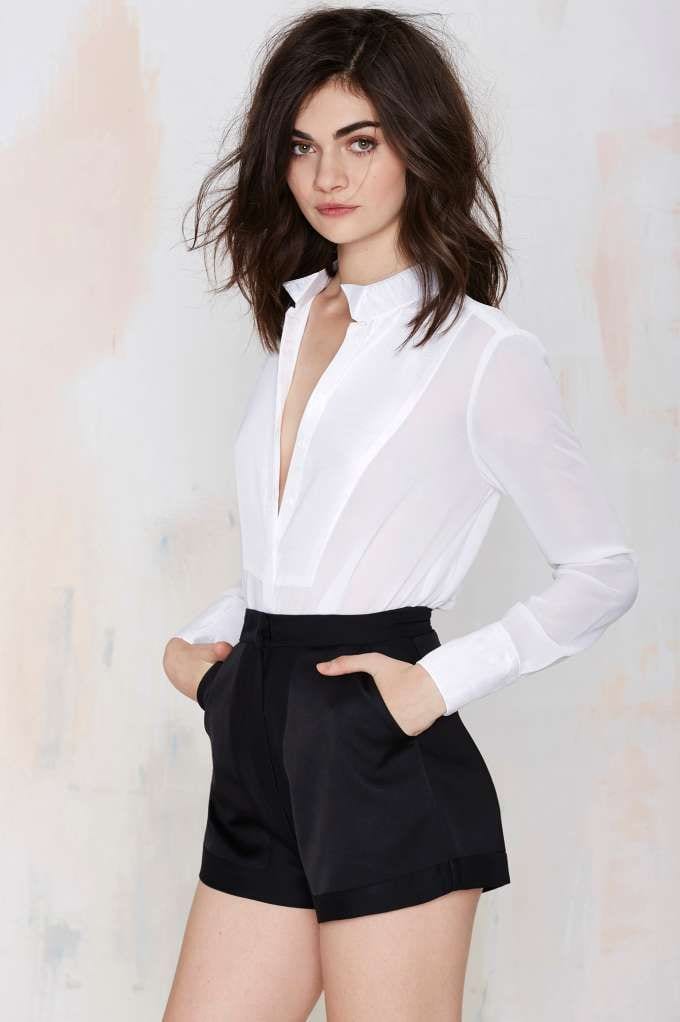 40 – Patterned Shorts For Cute Look
If you need to try a different look, go for different patterned and printed high shorts. To further style your look, you can wear a collared shirt and sweater over it.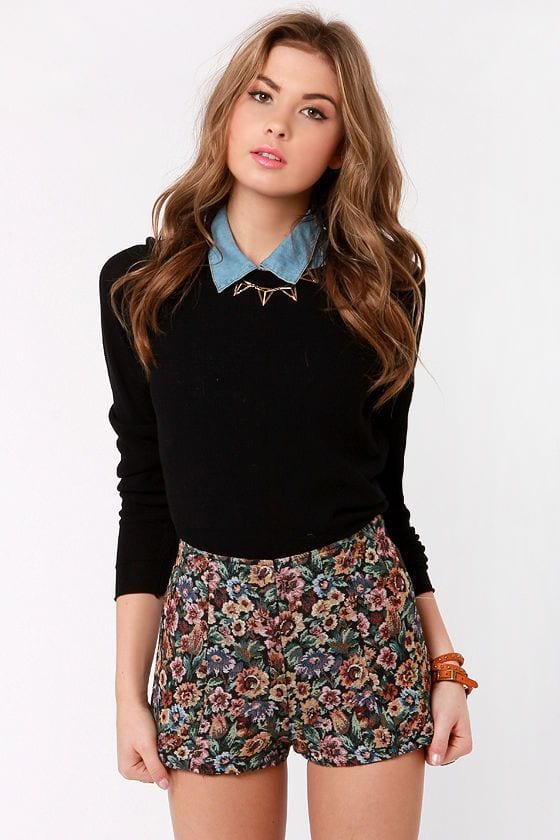 39 – Beach Style
Here is another glamorous look of Taylor Swift wearing these in trend shorts with a tucked-in button-down shirt. It is not only stylish but also perfect for every occasion and easy to pull off!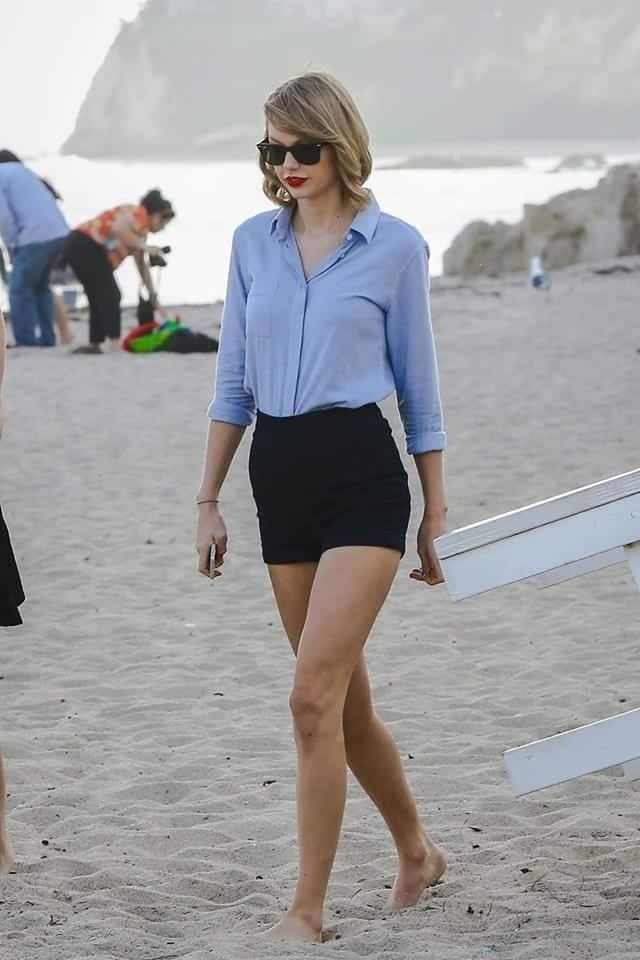 38 – Vintage And Retro Style
Let's go old school! Go all vintage with these cute polka dots and shorts for a classic retro look. It can work as a casual as well as a formal outfit, and even better if you are going to a vintage themed party. Here are some more ideas on Wearing Polka Dots Shirts.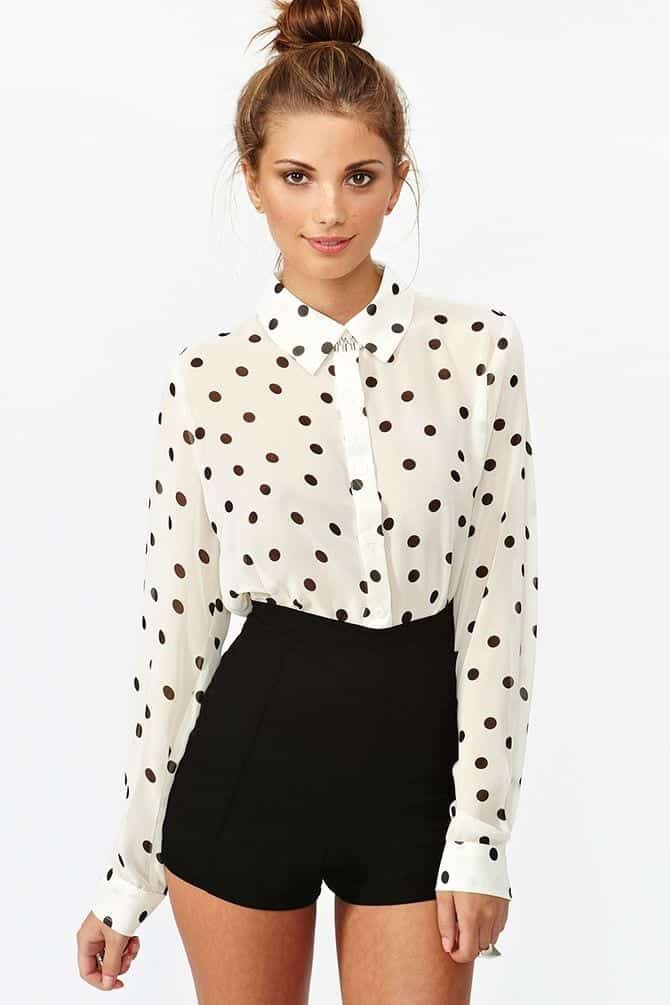 37 – Button Up Shorts
These buttoned-up top waisted shorts are the new in-thing. Wear them with a tucked-in top to make your shorts look more prominent and stand out.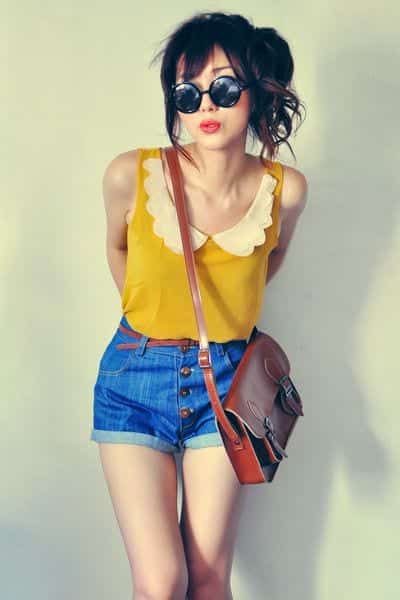 36 – Floral Prints For Spring
Summer and spring are all about floral and colorful prints. Incorporate this style in your wardrobe and rock some funky-looking shorts. Wear them with a simple top to look cute and pretty.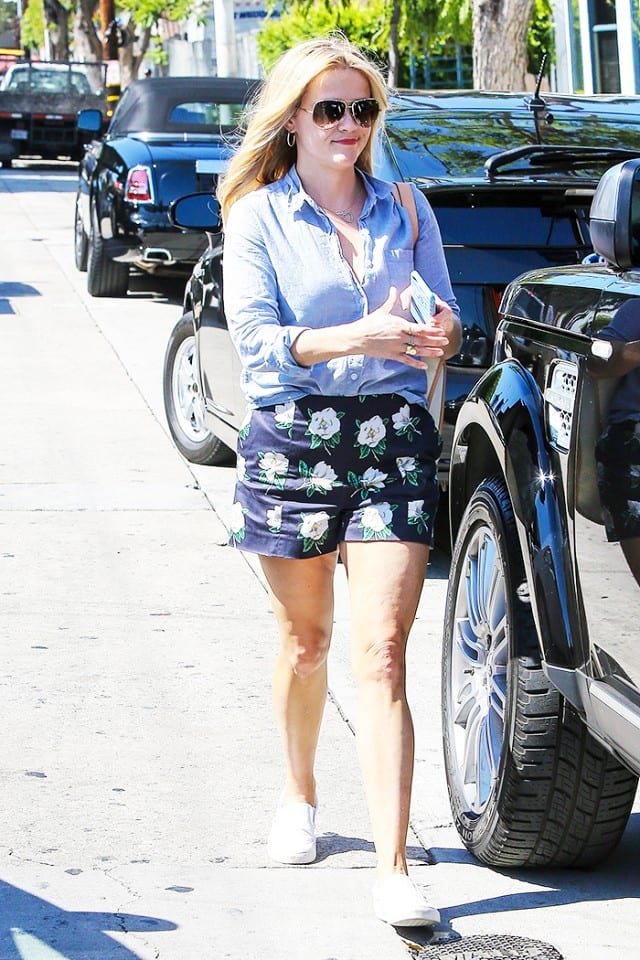 35 – Shorts with Sneakers
Another look to try is paperbag shorts with a navy blue chambray top. We love this baggier style which is effortlessly chic. Pair with some silver sneaks.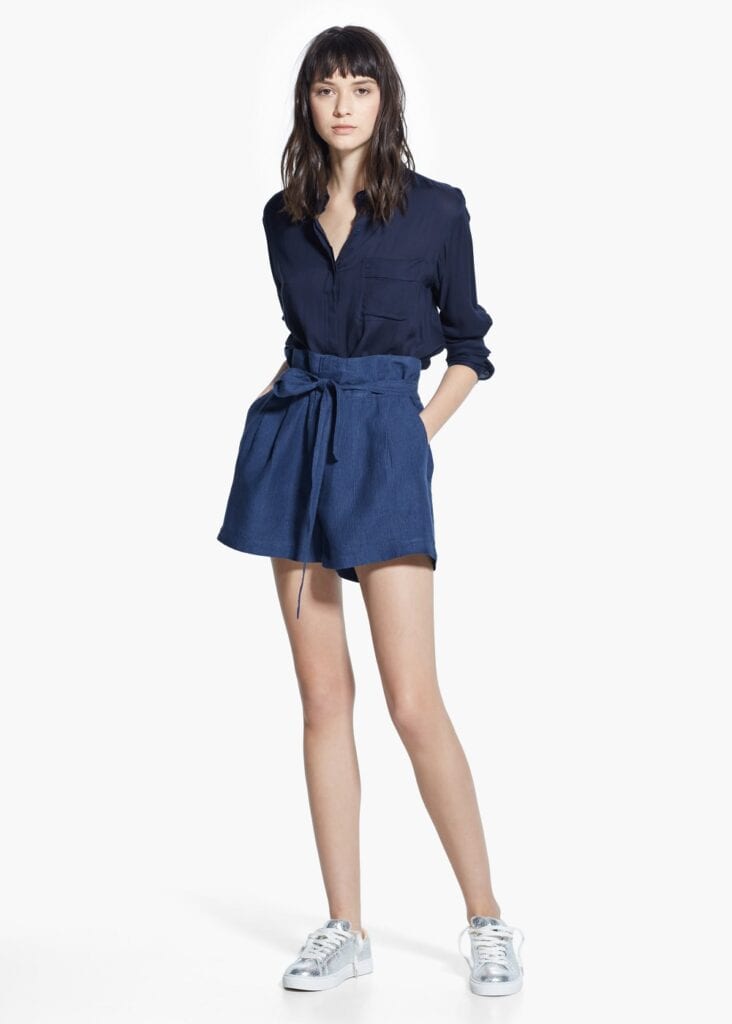 34 – Leather High Waisted Shorts
This look of the famous fashion diva Beyonce is just perfect! This peach top with leather fuchsia shorts is an ultimate example of how you can pull off different fabrics and colors with style for a modern and trendy look.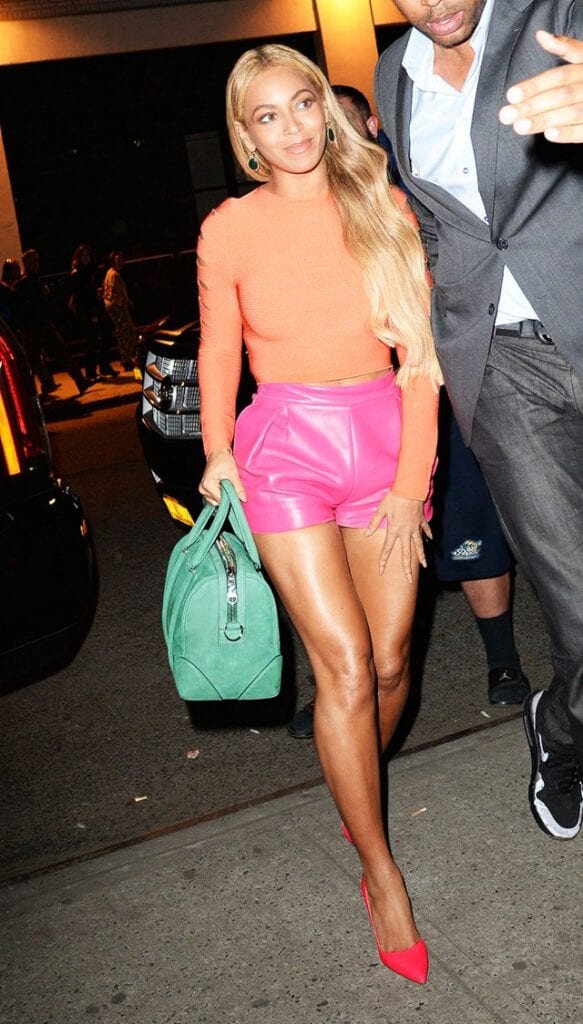 33 – Collared Top and Strappy Heels
Want to look like a high-flying supermodel? Try pairing some black mid-risers with a sheer collared top and strappy heels.
32 – Denim On Denim Look
This look of denim high waist shorts with a denim shirt is the talk of this season. It is ultra-chic and ideal if you are running errands or just casually chilling with your friends.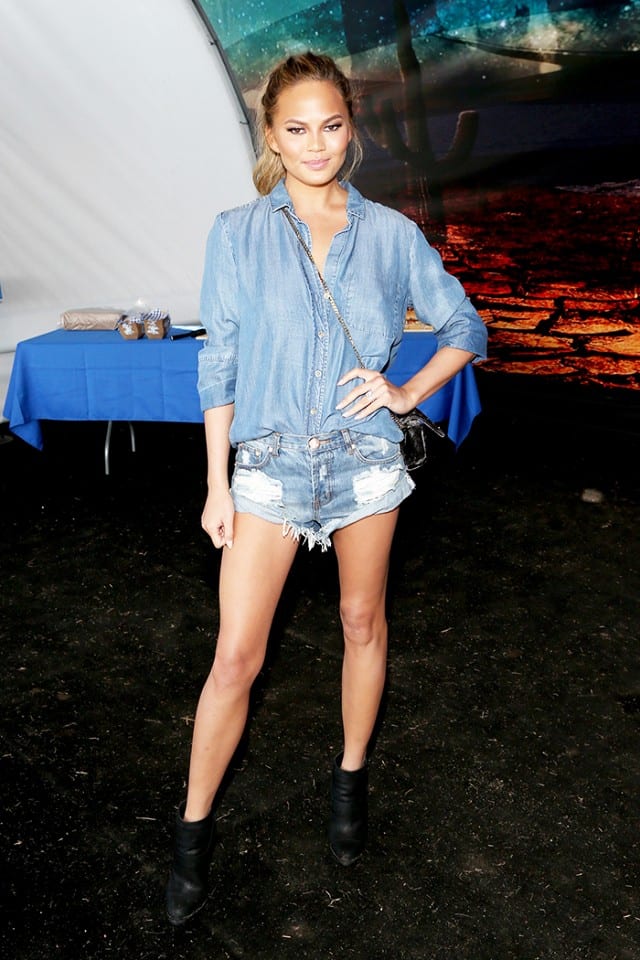 31 – Blazer For Work Events
When going to work events, casual meetings, or other semi-formal events, pair your shorts with any top and a blazer for a hot and sophisticated look. Here are some Chic Ways To Wear Blazers In Summer.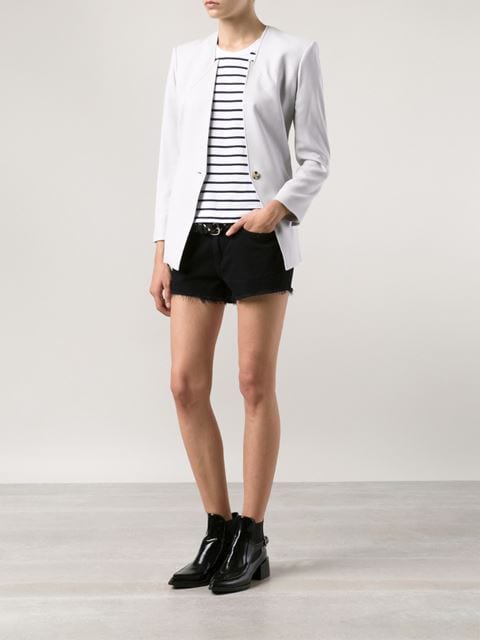 30 – Beach Party Look
What's better than wearing your favorite pair of shorts and just relaxing at the beach? Grab one of these the next time you go to a beach party and pair them with a crop top or any other top of your choice for a cute beachy look.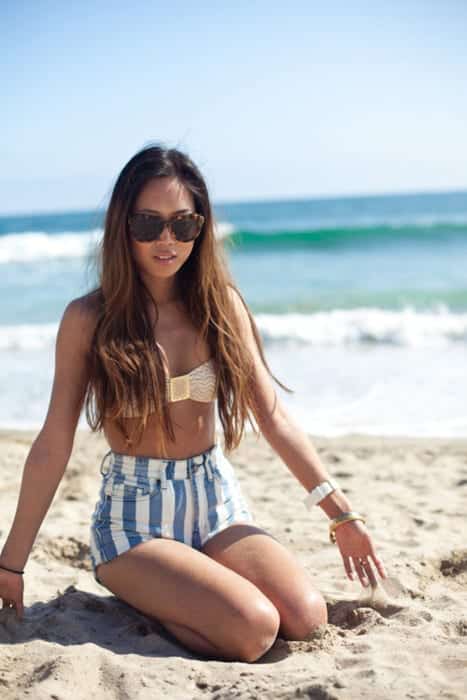 29 – Good Old Stripes
If there is one style that never goes out of fashion, it is stripes! Pair your striped tee with distressed shorts and converse shoes for a casual look. Oh, and don't forget some cute sunglasses!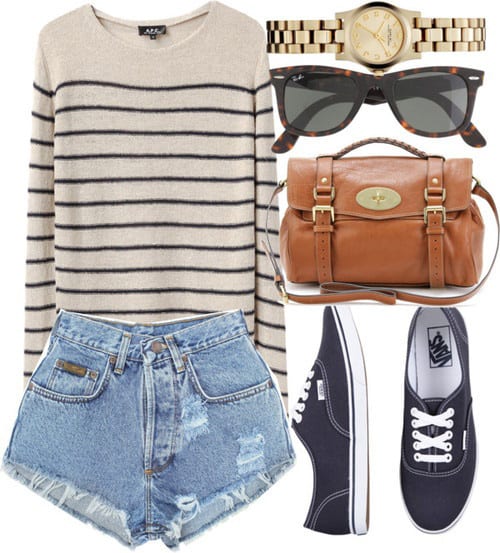 28 – Leather Jacket and Funky Shorts
Who says you can't pair jackets with shorts? They look absolutely fantastic when paired with this funky pair. You can wear it for parties or even for a date!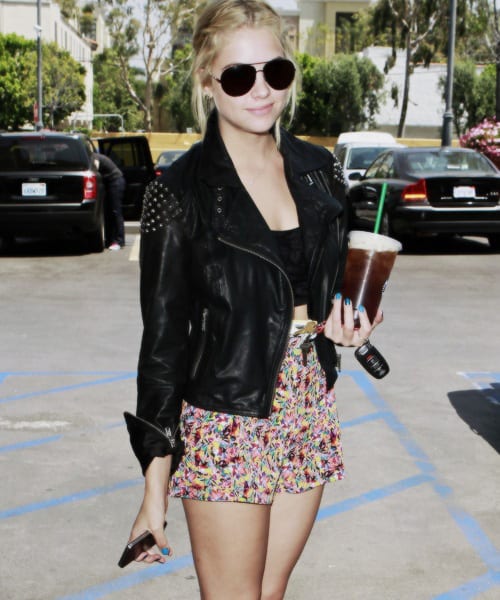 27 – Grunge Street Style
To stand out from others and look different, you can wear stockings with some high-waisted short shorts. Pair it with a casual shirt and shoes and get ready to be the center of attention!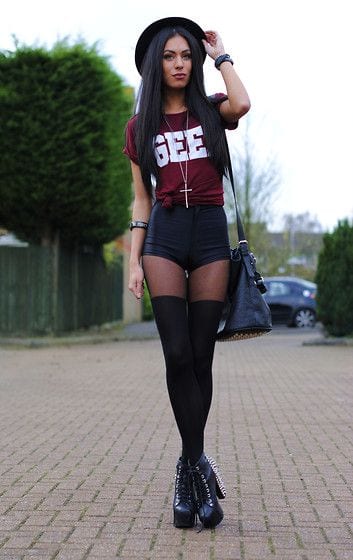 26 – Crop Top With High Waisted Shorts For Parties
Sparkly and shiny dresses are perfect for night parties and clubs, but what's even better are these glittery shorts that are in trend this season! Pair them with a black crop top, heels, and gold accessories to look chic and fashionable.
25 – Elegant Monochrome
Go all monochrome with the classic black and white combination and make all heads turn your way. It can be simple or patterned, whichever you like.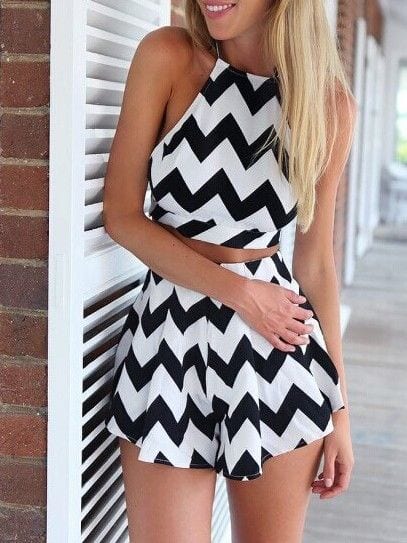 24 – Trendy Kimono Look
You can make your appearance look interesting simply by adding a kimono to your outfit with high-waisted shorts. It looks trendy, glamorous, and is super comfortable to wear. Also, see these Kimono Outfit Ideas for inspiration and ideas.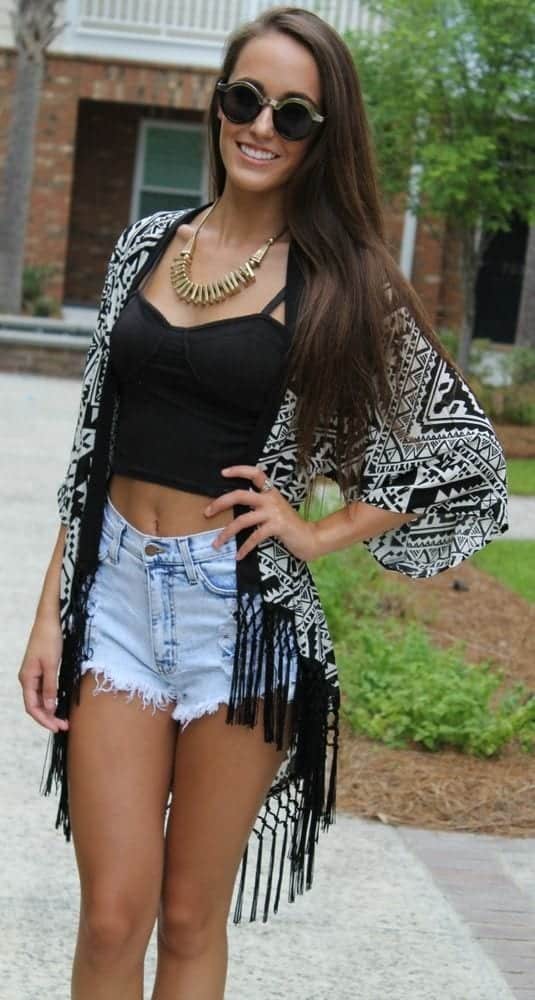 23 – Fashion Blogger Style
Don't just stick to black and neutrals. Play with different and unique colors and use your own imagination to create cute outfits like this one with orange shorts paired with peach tucked-in button-down shirt for formal and office wear.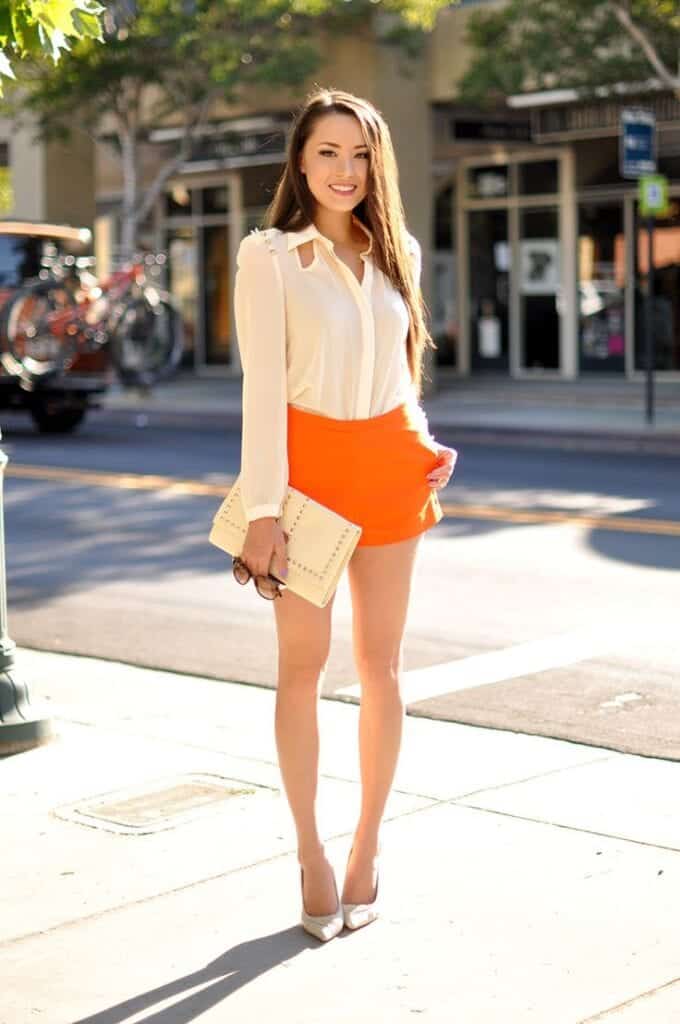 22 – Simple and Chic Tanktop Look
Taylor Swift is obviously the queen of high-waisted shorts and for good reason, too! Look at this beauty. We love how she paired a simple white tank with some black jean shorts and a hat for a basic but chic look.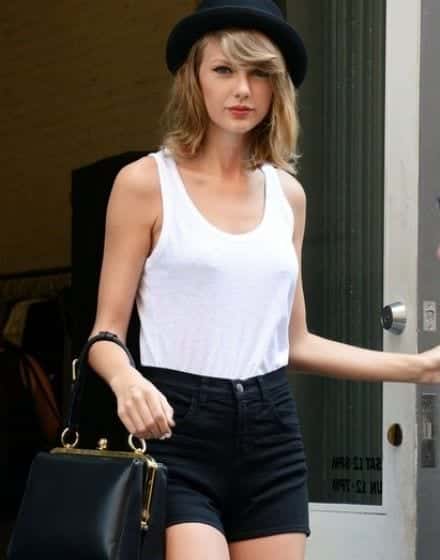 21 – Outfit For After School
For teenagers, high-waisted shorts are a popular choice. While most won't be able to rock their favorite pair to school (after all, dress codes are a thing) you can most certainly pop on a pair for after-school activities. Whether you are hitting up the library or hanging out with friends at your favorite cafe, this look is simple but stylish and super trendy.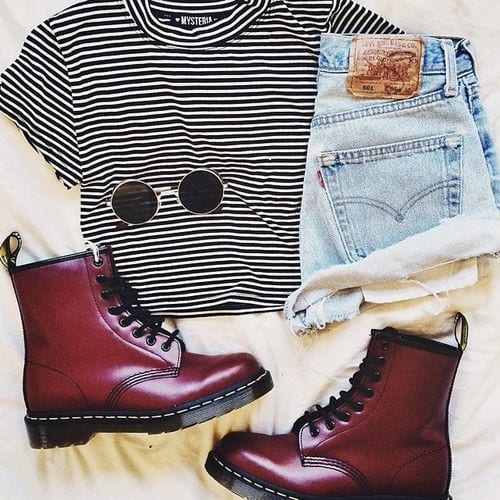 20 – For Everyday Look
Every gal needs a go-to everyday look. We think this one fits the bill. For the girl who loves casual-grunge styles, try pairing a sleeveless crop top with denim high-waisted shorts, a black-and-white flannel, and red Converse. You can accessorize with a choker necklace or stud earrings or keep it plain with a simple up-do hairstyle.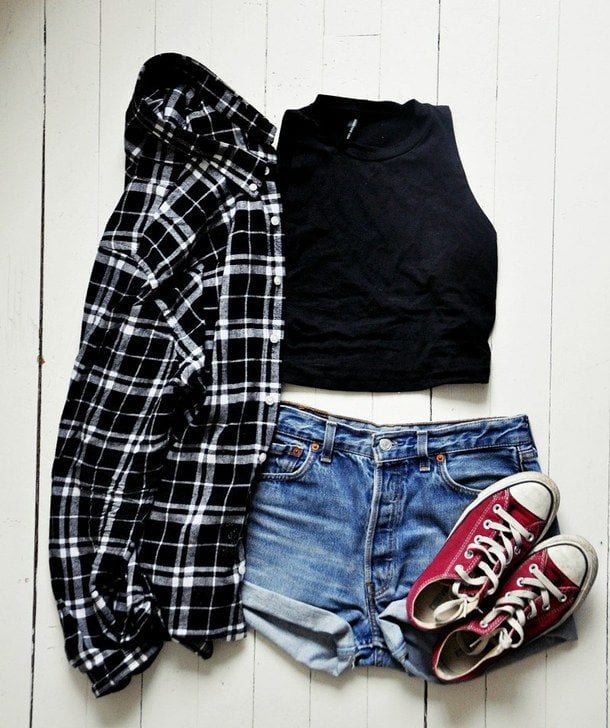 19 – Adorable Outfit for Outdoor Events
For those warm autumn days when you've got an outdoor event or even a picnic to go to: check out this look. Pair a simple sweater with some black high-waisters, cowboy style shoes, and a wide-brimmed hat. Pop on a pair of sunglasses and voila! You are ready to take on the day.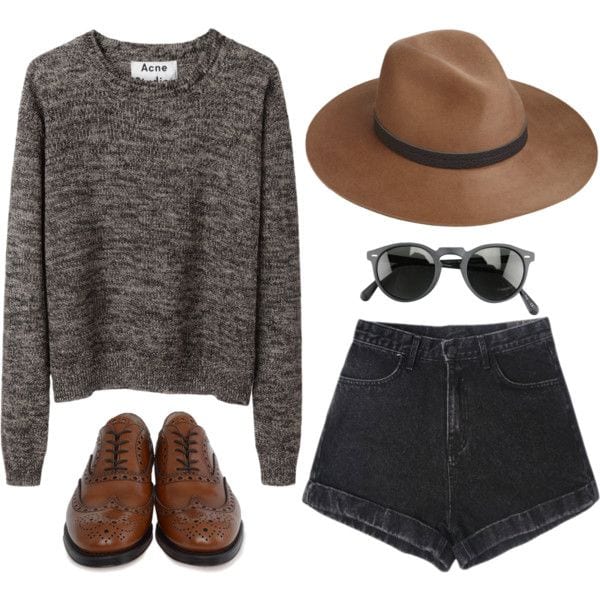 18 – A Perfect look For Summers
Summers are all about colors, vibrant and bright. You can pair up your high-waisted shorts with a plain tank top and colorful accessories for a funky look.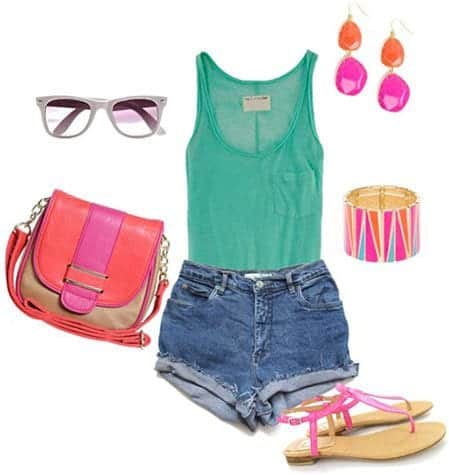 For more summer outfit ideas, check out these Summer peplum outfits.
17 – Boho Look In High-Waisted Shorts
You can either pair these shorts with a separate top for a boho look or also go for a matching pair of shorts and top as in the picture.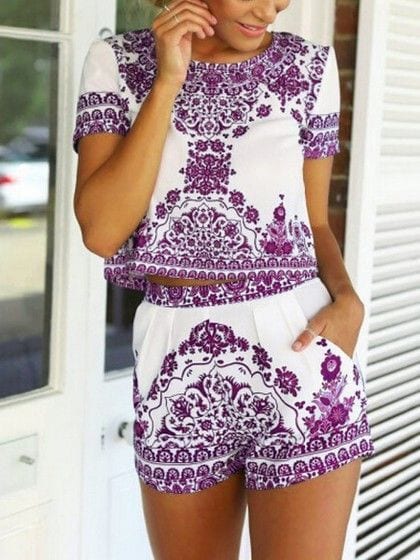 16 – As Beach-Cover-ups
You can go for a high-waisted swimsuit for a day at the beach.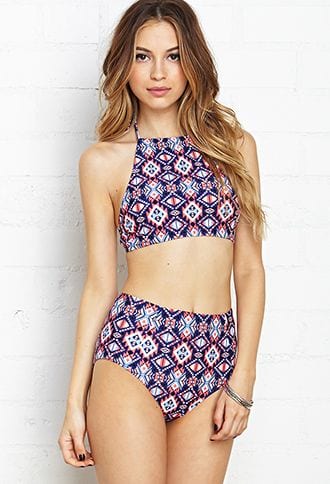 Heading out to the beach? Have a look at these beach party outfits.
15 – Velvet Shorts For Winters
For winters, you can wear velvet shorts with long socks and a beanie or hat to avoid the cold and also stay in fashion.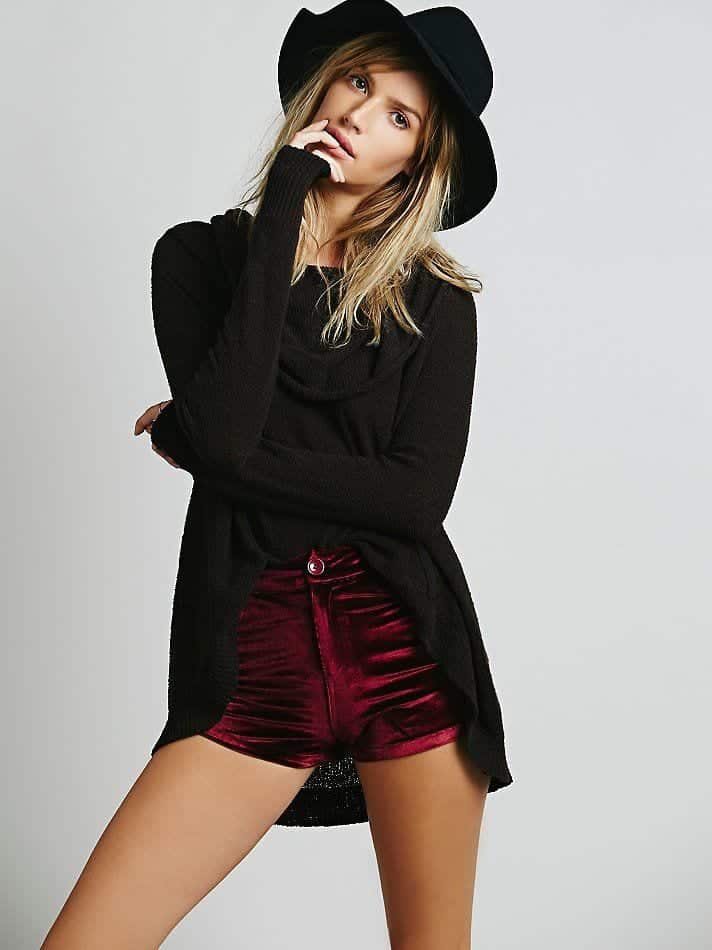 14 – Cute Bow Shaped High-waisted Shorts
You can wear cute bow-shaped shorts for a girly night out with your friends and pair them with a plain shirt and some chic jewelry.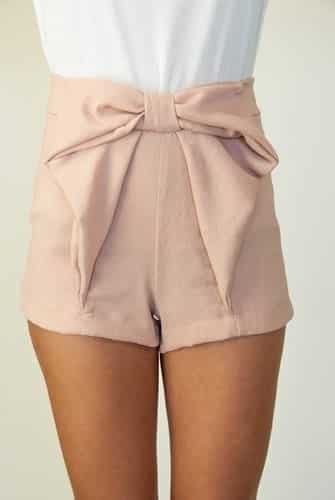 13 – Cardigans Definitely Go With High-waisted Shorts
You can wear a simple crop top with your shorts and put on a cardigan to give a classy yet simple look.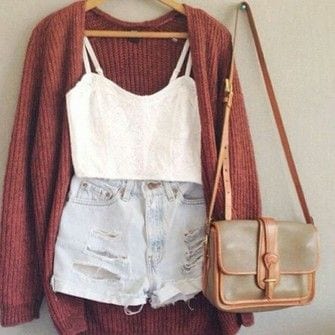 12 – Printed Shorts With Button Down Shirts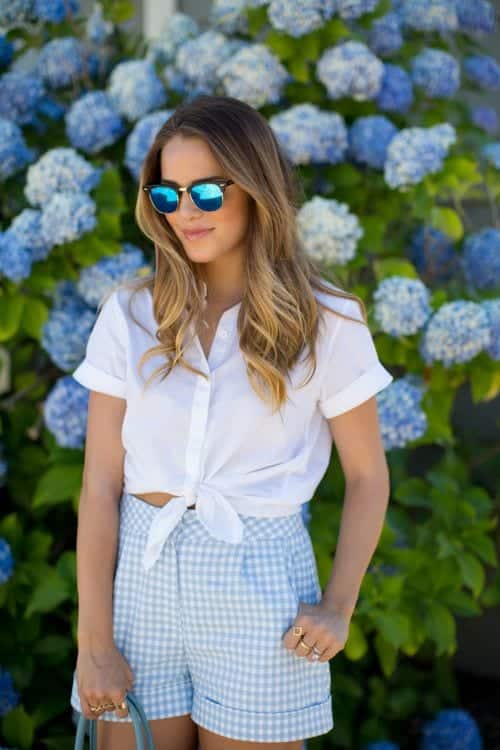 11 – As a Work Wear
You can choose a plain leather high-waisted short for work. Tuck your blouse in and pull over a fitted blazer for a professional look.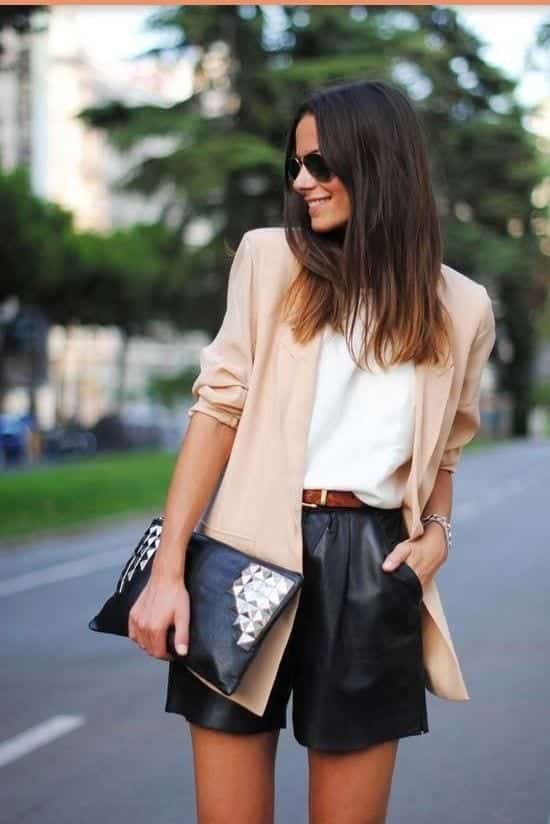 10 – Lace Shorts: A Feminine And Classy Touch
You can wear them with silk blouses, and they are a perfect addition to your summer wardrobe.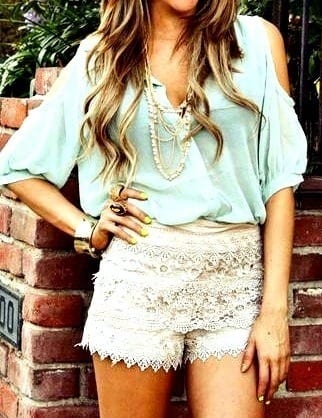 9 – A Divine Combination of Abstract And Boxy Crop Top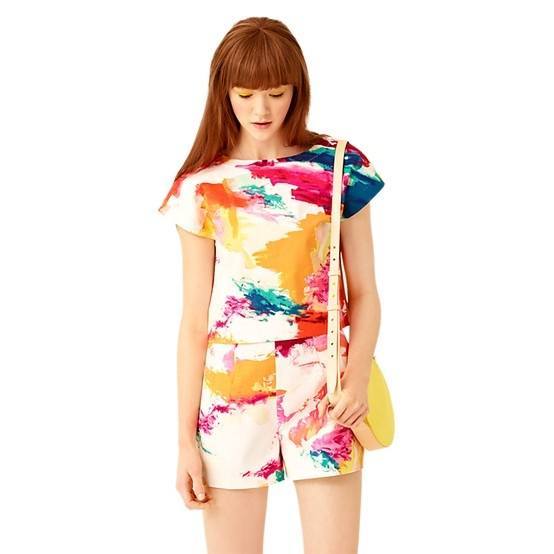 8 – Look Rocker-Chic With High-waisted Shorts, Flannel Shirts, and Boots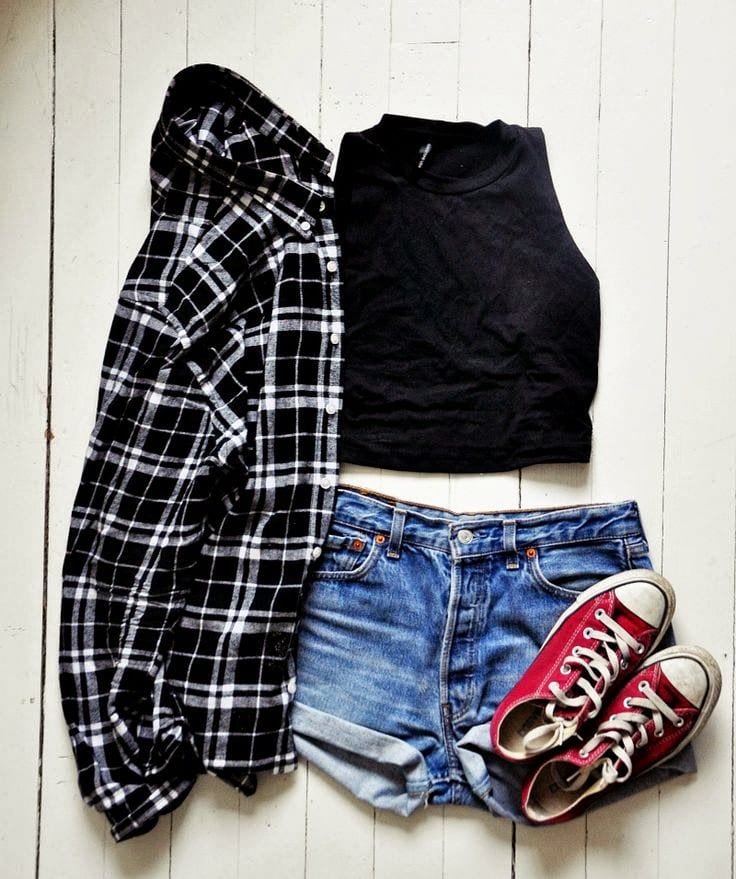 7 – Ripped Style
For a casual day or a walk around the city, you can pair denim high-waisted shorts with a bustier lace top and gladiators.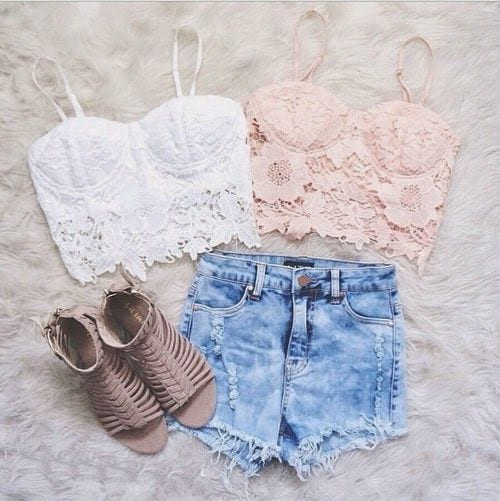 6 – Not In The Mood To Show Off Too Much Skin? This Look Is For You
If you want to stay out of the show-off game for a day, then wear leggings with your shorts, and you can pair this up with a crop top that has a boat neck. For winter you can add up a long sweater and long boots too.
5 – Buttoned High-waisted Shorts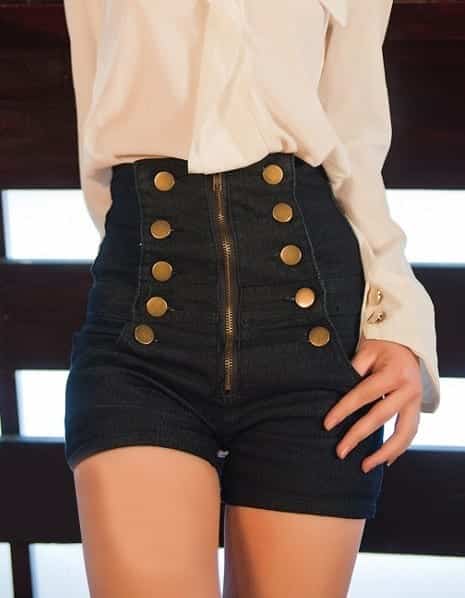 4 – Floral Kimonos And Light Colored Shorts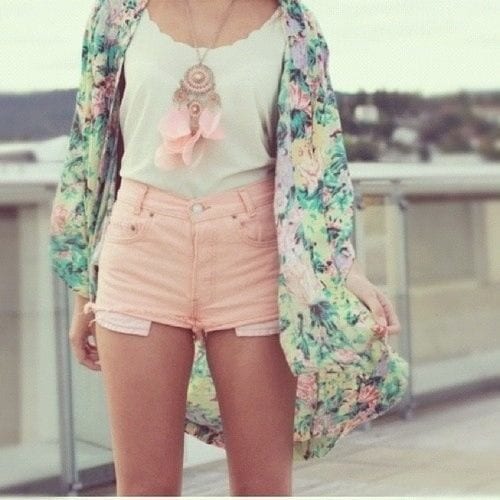 Love Kimonos? Then you must have a look at these stylish ways to dress up in kimonos.
3 – Floral Shorts With Leather Coats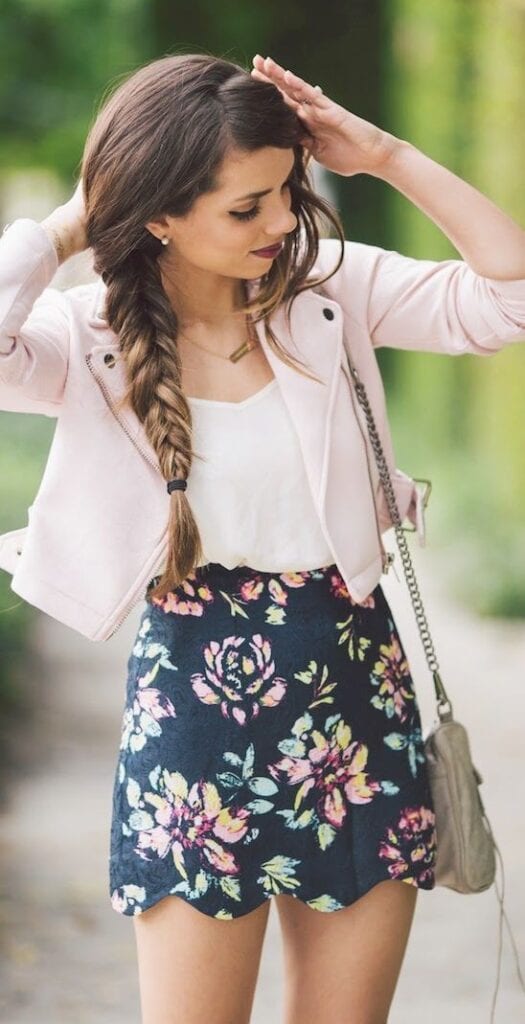 Source
2 – The All American Look With A Chambray Top
1 – Pair Them With Polka Dots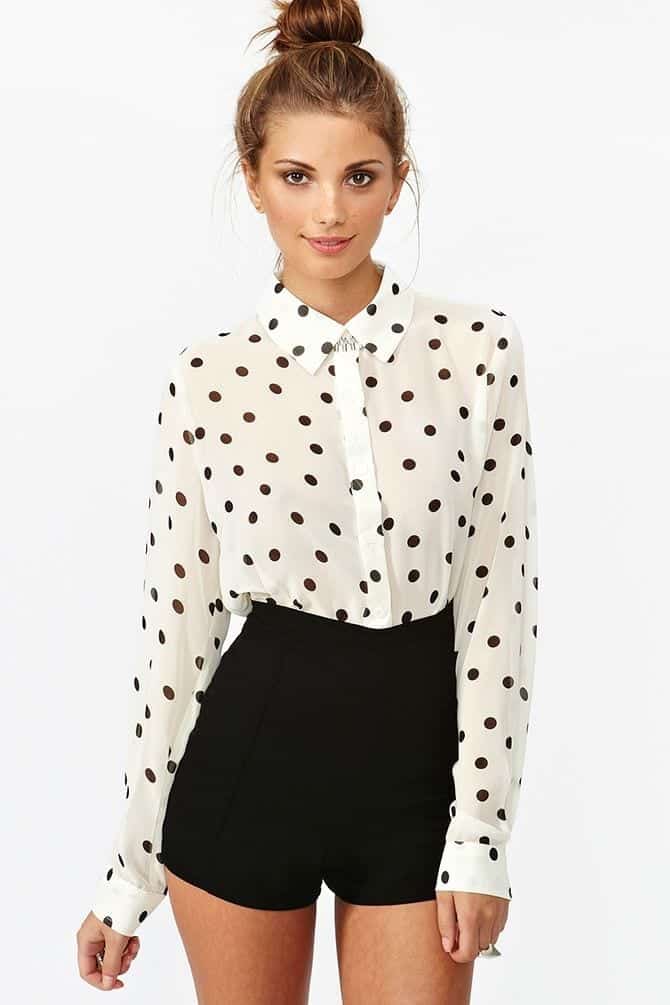 Frequently Asked Questions
Here are some frequently asked questions about wearing and styling high-waisted shorts. Check them out:
Q. Do you tuck shirts into high waisted shorts?
A. This is definitely a popular way to style high-waisted shorts and with good reason too. To show off a high waist, tucking your top in will do the job nicely. Other options are bodysuits and crop tops. However, if you are not a fan of a tucked-in look, hate bodysuits, and cringe at crop tops, a cute baggy tee is another way you can style them. You can even knot your tee at the waist to show off them shorts!
Q. Do high waisted shorts make you look slimmer?
A. It depends. High-waisted shorts, especially when worn with crop tops, can visually shorten the waist, which doesn't lend well to an elongated figure. However, they can help visually lengthen the leg… so they are worth a shot for appearing slimmer. They are great for pulling in your tummy and defining your waist as well which can help you appear at least more proportionate.
Q. How do you style high waisted mom shorts?
A. There are a variety of ways (and we hope this article has given you some ideas!) but a fail-safe one is a tucked-in tee and some kind of cute shoe or sandal. You can also pair them with a bralette and a jacket or a crop top and a flannel (or vice versa). Adding a belt is a great way to define your waist and visually draw your figure in.
Q. How do you wear high waisted shorts plus size?
A. Just like you would any type of short. Find the size and the fit that is most flattering on your body and experiment with different lengths and cuts until you find the one that best suits you. Adding a belt is always a fail-safe for helping to create an hourglass figure and tucking in your top or opting for a loose crop top will help you feel confident and fabulous.