How To Style Fishnet Leggings: A fishnet's diamond-shaped pattern makes it different from other stockings and socks and make it an excellent trap for long legs. Fishnet comes in various shapes, sizes, colors, patterns, and weaving. There are numerous styling options for these patterned stockings and socks, which can complement the personality you want to portray.
The dramatic addition of fishnet stockings to your casual clothing is impressive. A fishnet outfit demands a lot of finesse and creativity from the wearer. Fishnets with larger patterns tend to be rougher and more casual, while those with smaller designs tend to be more elegant.
What to wear with Fishnet Leggings?
Fishnet tights, traditionally associated with cabaret dancers, are once again trendy. Fashion experts link fishnet tights to the current streetwear trend, which is quite popular.
You can wear fishnets nearly anywhere if you know to style them properly. Undoubtedly, they appear a little bold than other types of socks, but they can also be stylish and elegant. Outfits with black tights can be shorts, miniskirts, beautiful florals, and luxurious furs for a subtle look. To instantly lend an air of elegance, you can see them poking out from under flowy dresses or through worn-out jeans.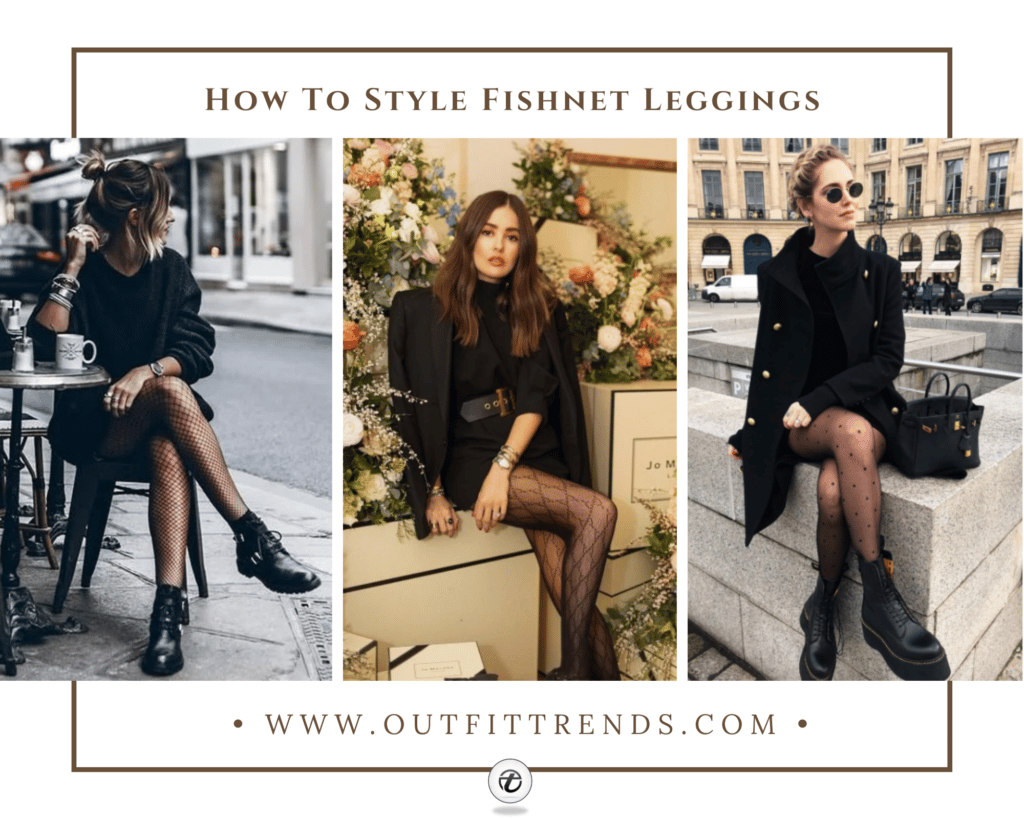 Tips to style fishnet leggings
Contrary to popular belief, fishnets aren't very controversial. Yes, wearing them might make you look bold, but you can also look chic and adorable. The rest of your outfit's styling will determine everything.
Before we discuss how to style fishnets, let's talk about a few tips you should keep in mind when picking the appropriate fishnet stockings outfit for you:
For a sophisticated appearance, opt for a small diamond design. Choose bold shapes like diamonds, circles, or ovals for an edgier look.
Wear them with boots rather than heels for your comfort. During winter, a cozy sweater, a leather skirt, a pair of boots, and fishnet tights would make a chic look.
Fishnet tights paired with ripped jeans are the newest fashion trend. Ripped jeans and fishnet stockings offer a perfect street-style look.
You may still use fishnet tights if you don't wear socks, as long as you pull them up over the ankles of your jeans. It complements your attire and is elegant.
Mix the textures by wearing chunky woolen knits, bright fur jackets, and lacy fishnets.
20 – Wear Corset Top With Button-Down Shirt And Leather Shorts
Everybody loves to look artsy and creative with their outfit, and this white dress shirt with leather shorts and fancy stockings is a beautiful illustration of that. Make an extra effort by wearing a corset over your dress shirt and adding a pair of black leather lace-up flat boots to the look.
19 – Bishop Sleeves Top With Side Cut Skirt For An Aesthetic Look
You can portray your ability to put together an attire by wearing different pieces from your closet. Try a fancy top with a basic skirt and tie a belt for a sleek look. Add black leather lace-up boots with fishnet tights and socks.
You can also add a bandana around your neck instead of chains as a neck accessory.
18 – Wear Fishnet Tights On Top Of Your Ripped Jeans and A Tank Top
Finding fresh ways to wear your favorite jeans might be challenging because they are a basic need in any girl's wardrobe. This outfit combines ripped mom jeans and a cropped tank top with fishnet tights for a fashionable and practical impression.
You can add hoops earrings and wear your hair down for a casual look.
17 – Midi Dress With High Heel Ankle Boots
Our casual wardrobes would undoubtedly be empty without trendy staples like a knit oversized midi sweater and fishnet stockings. Are you looking for a classy piece as your footwear? Add a pair of black ankle boots with heels. Also, add minimal jewelry and a primary wristwatch.
16 – Oversized Knitted Shirt And A Flat Cap With Long Boots
Fishnet tights and an oversized shirt have become wardrobe essentials. Add a pair of black over-the-knee boots to your outfit if you want to raise the bar on your fashion sense rapidly. Wear a flat cap and a cross-body bag as extra perks. Fleece lined leggings are another way to stay warm during winter but also look fashionable at the same time!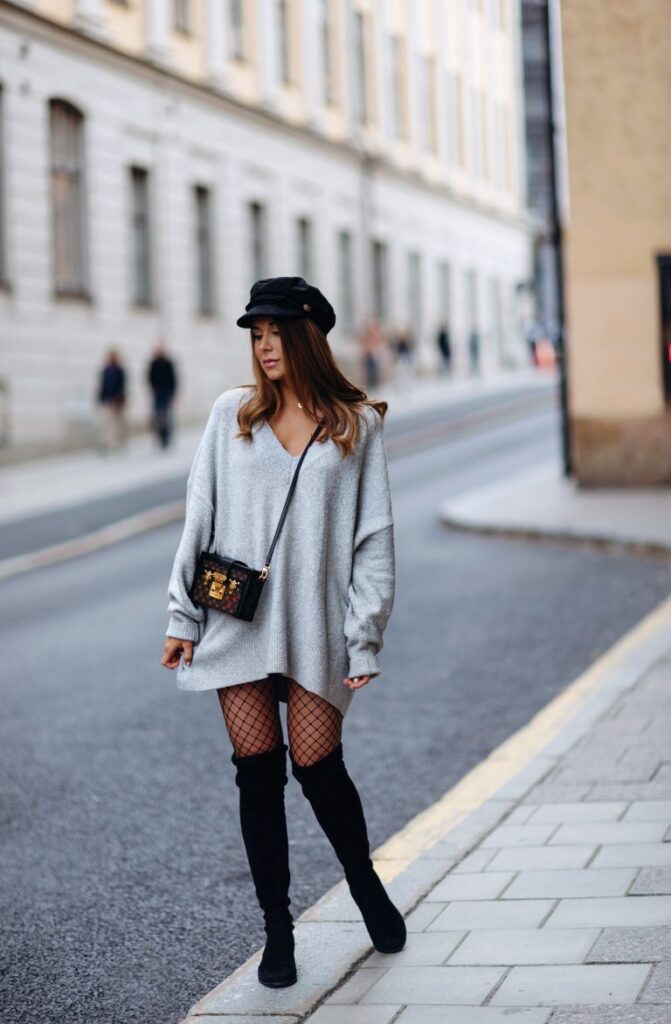 15 – Choose A Trendy Style Of Stockings And Pair It With A Black Dress
An excellent idea for an edgy and formal combination is to pair a black outfit with the signature style of fishnet tights. Add a black coat and leather chunky boots to this outfit to round it off more elegantly. Sunglasses and a stylish handbag will improve your formal appearance.
14 – Black Buckle Dress With A Black Blazer For A Formal Look
Why not try fishnet stockings and a black blazer for a traditional look? These items are both incredibly cozy and look fantastic when worn together. When you need to look fabulous but don't have much time, a black midi dress and a black blazer with fishnet stockings are a great choice. Add a belt and some jewelry as accessories.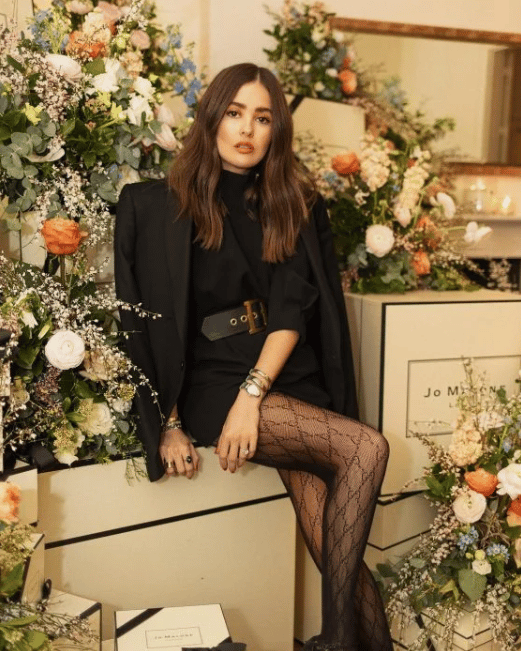 13 – Oversized Sweater Dress With Knee-Length Boots
An excellent outfit combination in your wardrobe is an oversized black sweater and fishnet stockings. Introduce a pair of black over-the-knee boots to the equation if you want to freshen up this look with footwear quickly. Add a cross-body bag to your attire to complete the look.
I would suggest going with patterned fishnets instead of basic ones. It will be an excellent addition to your overall black outfit.
12 – Try Pairing Sneakers With Fishnet Stockings and A Gray Coat
You can look extremely trendy and prepared for anything without spending a lot of time searching through your wardrobe with this easy-to-put-together combination of a gray midi dress and fishnet stockings.
Even your coziest outfit will look stylish when worn with your stylish sneakers and a long, gray coat with checkered trim.
11 – Striped Button-Down Shirt With A Flat Cap And Trendy Boots
If you're trying to put together a casual wardrobe that adheres to the highest standards of taste, a black and white striped shirt, a front zip skirt, and fishnet stockings are essential must-haves. Finish off your look with a flat hat and a pair of fashionable black boots to show off your impeccable styling.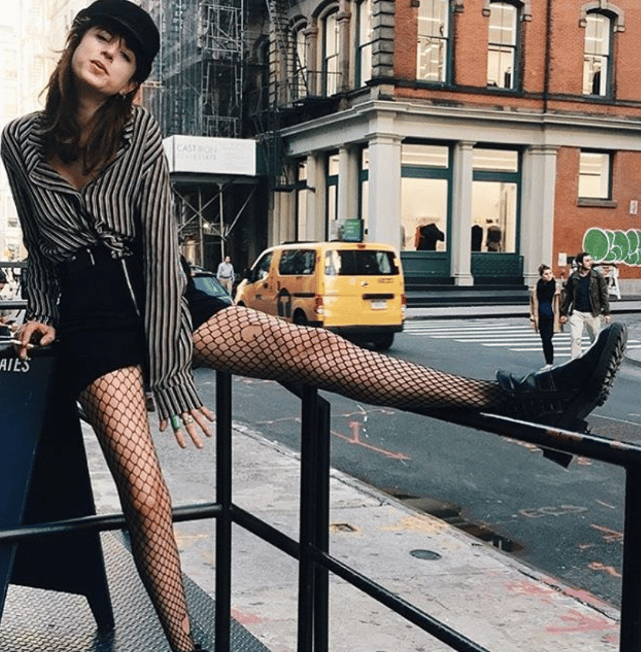 10 – Fishnet Leggings With A Chunky Knit and Checkered Coat
This casual outfit of a baggy sweater, gray mini skirt, and fishnet stockings strikes the perfect balance between sophisticated style and comfort. You can pair closed-toe shoes with socks as footwear.
Add a long checkered coat to your attire if you want to instantly freshen up your look with just one piece. Put on a round beret and carry a stylish handbag to complete your outfit.
09 – Try Lace Up Jeans With A Biker Jacket and Fishnet Underneath
Wear fishnet leggings with lace-up jeans and a black turtleneck for a stylish look. In my opinion, this outfit is fantastic for the winter. Add your favorite sneakers and a black jacket to complete the look.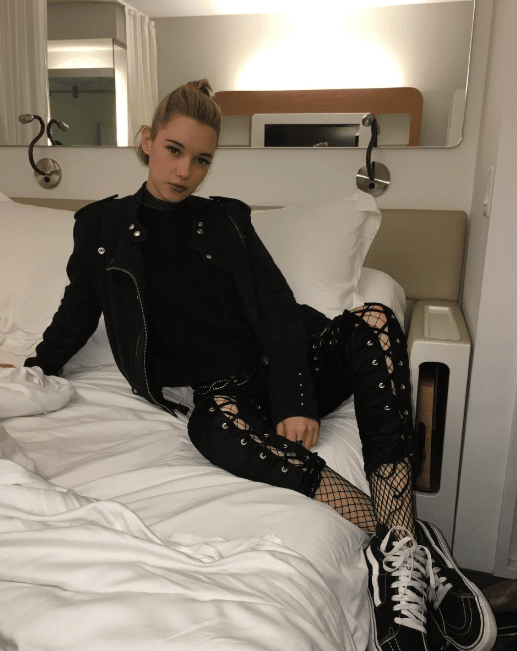 08 – Chunky Black Knit with Fishnet Stockings and Boots
This combination of an oversized black sweater and fishnet stockings proves that a safe, everyday look need not be dull. Why not add a pair of black leather ankle boots to the mixture to give the entire outfit a classy vibe? You can also accessorize your look by wearing a simple watch.
07 – Wear Fishnets With A Black Denim Skirt And Pair With A Dark Gray Coat
This appearance is ideal for a night out or the office but not a perfect option for everyday or casual settings. It's pretty attractive, classy, and elegant, in my opinion. Just wear fishnet tights with a ruffle sweater and studded mini skirt.
You can choose whether to wear a maxi coat or not. Add a cross-body bag as an accessory to your outfit.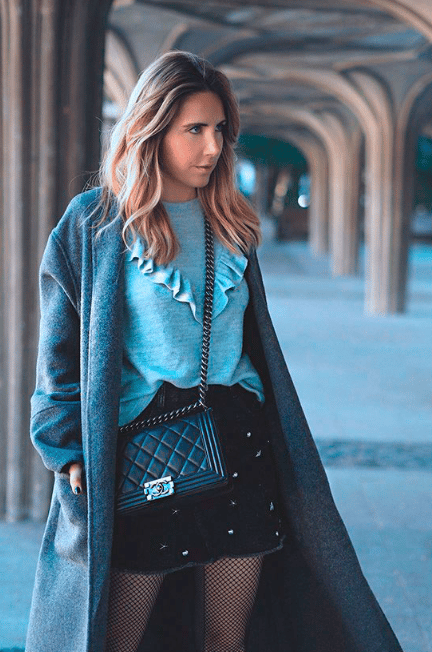 via
06 – Trendy Leather Mini Skirt And A Turtleneck Top
This look is rugged and stylish, perfect for model-off-duty vibes. Wear fishnet tights with a trendy leather mini skirt and a turtleneck top. Although it is cozy and simple to put on, it has a professional appearance. You can complete your classy look by adding black chic sunglasses.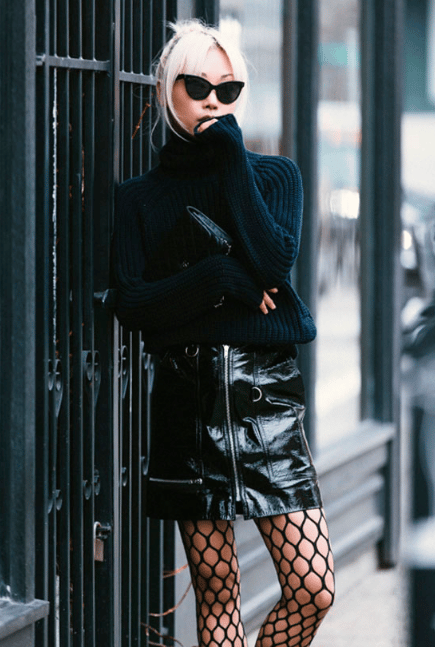 via
05 – Camel Coat and Beige Pants With Tights Underneath
For chilly weather, I think this dress is stylish and cozy. You can wear fishnets under trousers and pair them with a turtleneck sweater and a long coat. Add a handbag and your favorite pair of sneakers to accessories your outfit.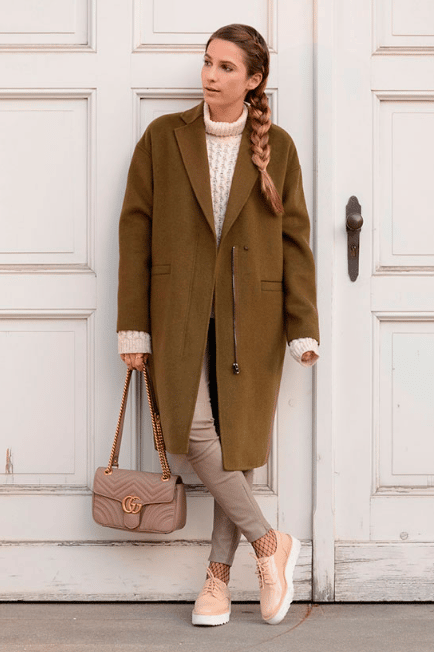 via
04 – Pair Fishnets With A Knitted Top And Slacks
Another laid-back and simple-to-style look with an edge is this one. Wear a pair of slacks and fishnet tights with an oversized knitted top. A stiletto pump, shoulder bag, and chic sunglasses complete your look. Add a fur coat if cold outside, and you're good to go. The easiest way you can style your fishnets in Pakistan!
via
03 – Floral Midi Dress With Fishnet Tights For Summers
Are you wondering how can you style fishnet leggings casually? I have a perfect inspiration for you. A midi dress is one of the ten essentials you must have in your wardrobe. You can wear fishnet stockings, a floral midi dress, and black heeled boots. Nothing less, nothing more!
Accessorize your outfit with a simple watch. This spring outfit is effortless and perfect for everyday wear.
via
02 – Fur Jacket And Leather Pants With Closed Toe Heels
It is undoubtedly one of my favorite outfits! Combining fishnet tights with jeans, a fur jacket, and closed-toe heels look fantastic. Additionally, a graphic t-shirt and crackled peg trousers complete the look. This look is perfect for a bright appearance in the winter.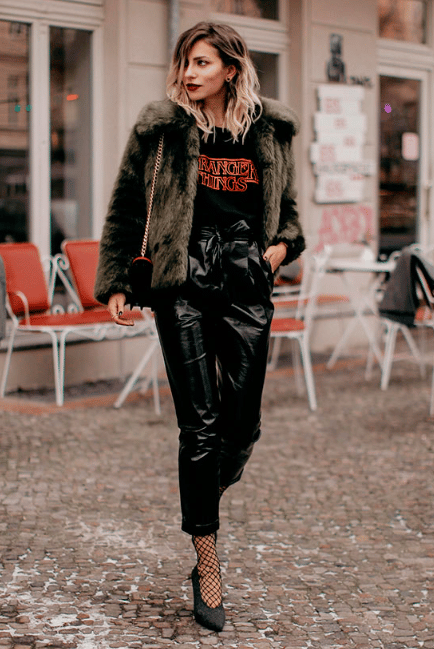 via
01 – Level Up Your Evening Glam With Fishnet Leggings And A Side-Slit Dress
Can you wear fishnet stockings at a formal party? Yes – if you pair these tights with a flowing side-slit dress and fancy-heeled boots, adhere to a single color range and limit the additional edgy items you wear. This outfit can help you raise your evening glam game.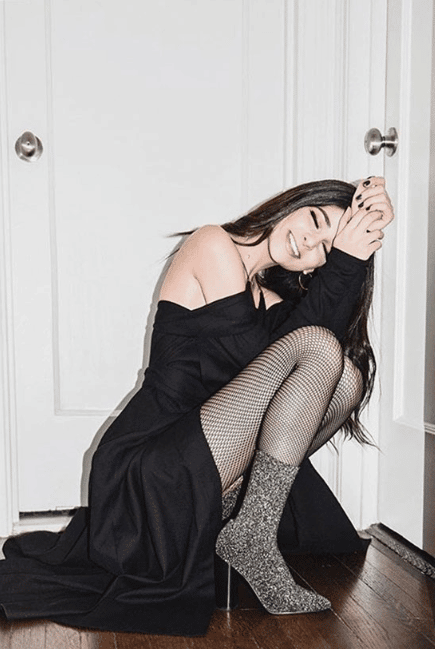 via
Frequently Asked Questions
Q: Are you supposed to wear socks under fishnets?
Ans: The right time to wear socks with fishnets depends on the situation. Most of the time, if I wear fishnet tights casually around the home, to the mall, or out to dinner, I don't wear any socks with them. However, I prefer to wear socks with them for a formal event.
Q: Do fishnets keep you warm?
Ans: Fishnets keep you cool throughout the summer as well as warm and cozy during the winter. Despite its vast void spaces, fishnet fabric can trap insulating air, keeping you warm in cool weather and allowing moisture to move quickly from the skin's surface to outer layers by reducing conductive heat loss.
Even though it is excellent gear for outdoor enthusiasts, very few individuals wear it.
Q: How do you wear fishnets in a classy way?
Ans: The best way to look classy in fishnets is to style them with a little black dress or with a black slit dress and pair it with heels to seal the look. This is an outfit you can wear on a night out or on a meeting, regardless. This outfit will never fail you!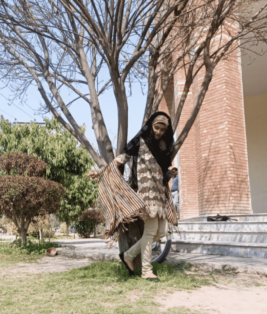 Javeria is a student and a content writer. She is good at public speaking, leadership, and management. She is passionate about writing, reading & music. She is an ambivert and is always up for a new friendship adventure. As an English literature student, she thinks fiction is more fun to read than nonfiction.