Beach Cover Up Ideas. The summer season is in full swing. So, beach chillouts are everyone's favorite leisure activity, and who does not want to look sexy at their beach parties? So, whether you are up for a beach holiday trip or just want to look trendy at a pool party in your backyard, beach cover-ups will always be your wardrobe staple, helping you stand out in your circle.
Beach coverups are a wise investment for someone fond of catching some tan sitting beside the beach. A swimsuit coverup is the most prominent element in your beachwear look, as it is always worn over your bikini or swimsuit and puts everything in the backdrop. So, it is crucial to choose the right pattern color and design to fit your style and needs.
What To Wear As A Beach Cover-up?
While planning your day out at a beach, beachwear is among the essential things. As most of your time would be spent in water sports, a bathing suit or swimsuit is necessary. In addition, your skin tends to soften and become more sensitive when it comes in contact with water for several hours. Therefore, a swimsuit must be the most comfortable and skin-friendly piece of clothing to keep you running through your beach party all day long.
The second must-have in your beachwear list is a beach coverup. These wrap clothes can be your snug alternative for a towel to soak the extra moisture off. Moreover, it provides you with more body coverage for women who do not want to be seen in their bikinis.
Lastly, you can glam up your beach look with some funky flip-flops, stylish sunglasses, and some light water-resistant jewelry pieces.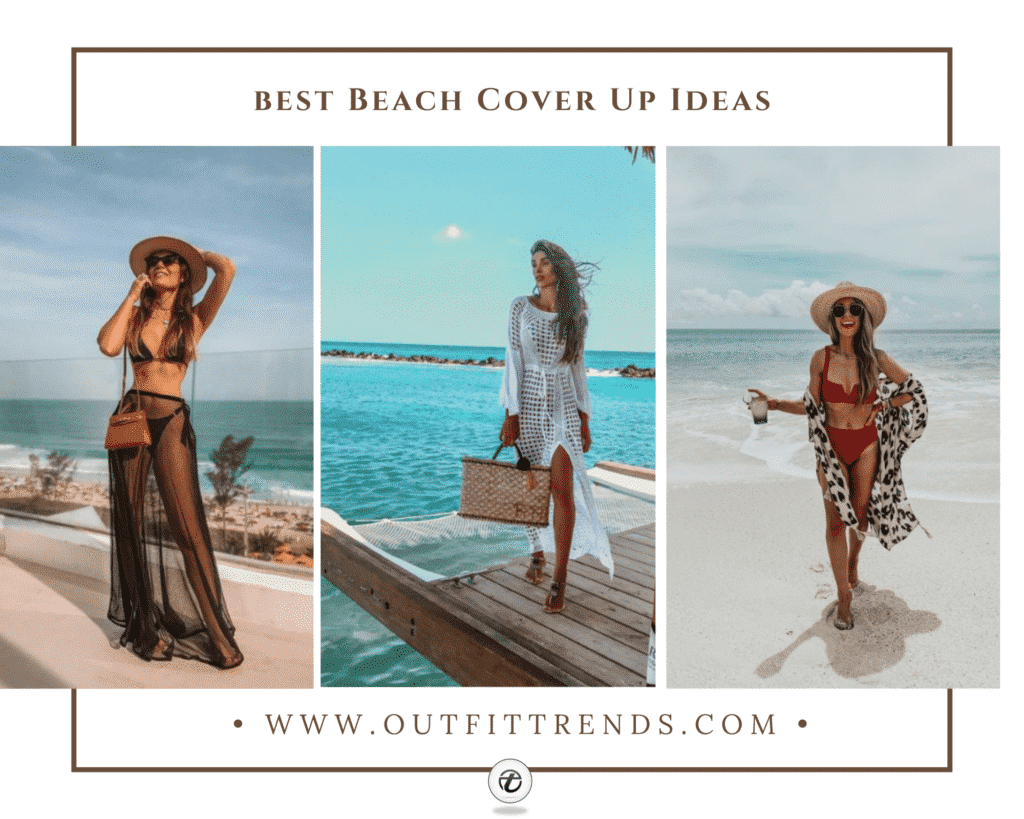 Tips For How To Wear Cover Ups For Your Beach Party
• Choosing the best cover-ups for your beach day-out comfort is the key.
• The fabric of your coverup wrap should be lightweight and breathable.
• When choosing the color and design of your beach cover up try to contrast it with your swimsuit to look more stylish.
• Try to choose a fabric with good moisture absorbing ability, It will help you soak up the excess moisture from your body.
• The length and width of beach cover-ups are very crucial. Prefer to buy a beach cover-up with maximum dimensions to provide you with the desired body coverage.
20 – Yellow Cardigan Dress
Yellow is the new black when it comes to beach outfits. This yellow beach cover-up look is a perfect look for you if you are not so comfortable moving around your beach party in your swimsuit. A nice straw bag and classic pair of beach flip flops can enhance your look even more. Moreover, you can wear light accessories to glam this lookup.
19 – White Lace Beach Cover-up Look
If all white is your favorite summer look then this white beach look is probably the best for you. In this all-white look, a beautiful white lace coverup is worn over a white bikini. In addition, a nice white hat and sunglasses will also help you play around with this look. To add a little pop of color, wear brown beach slippers and carry a nice brown straw beach bag. This look can definitely make you stand out of the crowd this summer season.
18 – Blue Kaftan
Summers is all about beauty and nature. So, who would not want to add that beauty to their beach look? Thus, if you are also a fan of cool prints and nature, this is the right beach look for you. Kaftan is the snuggest beach coverup you can wear any day to your beach hangouts, you can uplift this beach look by wearing a cool pair of sunglasses and a nice elegant bracelet. Have a look at some more of our kaftan outfits.
17 – Blue Pom Pom
This pom pom beach cover-up is all about adding fun elements to your beach look. Wearing a pom pom cover-up dress to your beach party will reflect your particular sense of style, needed to get noticed in the eyes of that special someone. You can wear a pair of stylish beach flip-flops and sunglasses to make this look more fun and also carry a nice beach bag as a cherry on top.
16 – Printed
Beach looks are all about experimenting with colors, prints, and styles. This look is a mix and match between contrasting colors and prints. The leopard print cover-up is complimenting the red bikini worn under it. Moreover, You can spice up this look even more by wearing your favorite pair of glasses and beach hat. This is a little experimental beach look, not many can wear it comfortably, but if you do, be ready to turn every head at your pool party.
15 – Printed Sarong Bikni
If you ever feel uncertain about what to wear to your beach party, a sarong cover-up is a classic look you can carry every time and slay the day. This printed sarong bikini beach cover-up look is the sexiest look ever among all the options. You can choose from the variety of colors and patterns available in the market to suit your personal style. you can add that glam by wearing a delicate anklet and a matching headscarf.
14 – Beach Skirt Swimsuit
Skirts are a sensation when it comes to beachwear. This white skirt beach cover-up look is the minimalist option and is yet able to pull off an elegant style. You can style this white slit open skirt with an all-black swimsuit. Moreover, wear black beach slippers and black sunglasses to popo out the beach cover-up skirt even more
13 – Beach Crochet
Beach cover-up pants are the basic look you can carry anytime to your beach day out. If you don't want to expose your lower body much, this is the right look for you. the crochet cover-up pants are the best beach look, as they provide you with the perfect amount of coverage, not too much and not too less. You can pair it up with a neutral-colored tube top and a straw hat. This simple beach is gonna be your ultimate favorite this summer season.
12 – Crochet Maxi
Maxis is everyone's favorite attire to wear to any party so why not wear it to your beach party? A crochet maxi overall look is one of the most glam looks you can carry to a beach. You can carry an elegant beach tote bag for all your little things and off course to add spice to your beach attire. Also, try to wear little fancy beach sandals to complement your crochet maxi beach cover-up and a few delicate jewelry pieces.
11 – Button Down Shirt
Not up for any beach cover-up looks? This is the right look for you, just carry your favorite button shirt button-down shirt to your beach day out and use it as a beach cover-up. Not only it will look cool but also saves you a few bucks from spending on some fancy beach cover-up. For a beach look, a nice white button-down shirt or any contrasting color with your bikini will play the part. Make sure to style this look up with a nice beach hat and cool pair of glasses.
10 – What To Wear With A Mini Crochet Dress
This look is featuring a mini crochet beach cover-up dress. this look will surely be a head-turner for you, as this crochet dress gives you the liberty to move around freely with that unique sense of style. Style it, the way you want. Wear a beach hat and sunglasses or just play it simple with no accessories. So, what are you waiting for? give your wardrobe a treat by adding this mini beach cover-up dress to your collection.
9 – Long Beach robe tunic Cover up Look
Robe tunics are great for a beach cover-up look. this look is a classic combination of black and white. A black and white stripes tunic is worn over a black bikini to compliment it. Brown slippers can add that hint of color to this look. Try experimenting by adding some good black accessories to this look.
8 – Butterfly Beach Wrap
Cover-up wraps are the new thing in beach fashion. These trendy beach wraps can step up your fashion game in no time for any beach event. You can either usually carry this look to a beach day out or make it more interesting by wearing a few accessories and a nice pair of glasses.
7 – With Tube Top Look
This beach look is the simplest to carry. A nice white beach cover wide-leg pants paired with a white tube top can take you a long way, more than you could imagine.
6 – Polka Dot Slit Dress
This is the ultimate diva look you can pull off to your fancy beach party. This look has a white puffed sleeves tunic with red dots to compliment the white color and an open slit in the front. Accessorize it with a pair of glasses and a beach hat and you are ready to catch everyone's attention at the party. If you've never worn polka dots before then you might need to check out how to wear polka dots.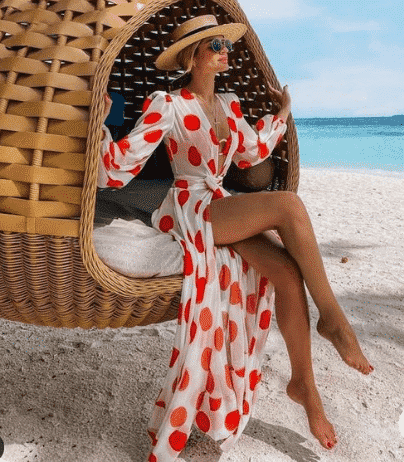 5 – Pink Printed Sarong
A pink beach wrap cloth worn in an elegant way and paired with a black classic tube top will give you a gorgeous look. This is one of the effortless and stylish looks to carry to your beach out.
4 – Mesh Skirt
The black net bikini cover-up look is a kind of special look for black lovers. Wear a black mesh skirt over your bikini set and add a pair of sunglasses and a beach hat and you are ready to slay the day.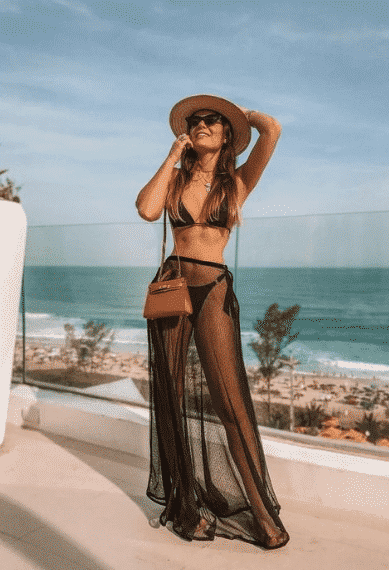 3 – Striped Slit Pants
This black and white stripe wide-leg palazzo pant with slits is one piece of clothing you'll never regret buying.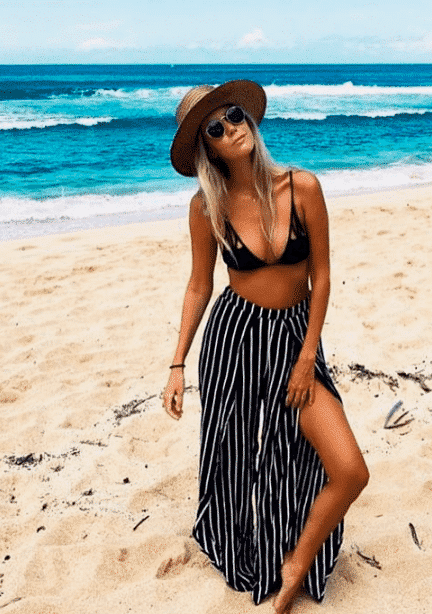 2 – Grey Lace Net Tunic Shirt
The net tunic beach cover-up shirt is a sensation. Wear it with your favorite accessories and you are good to go.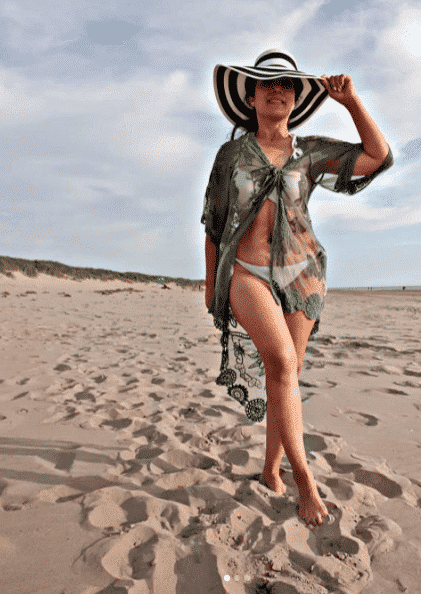 1 – Blue Pleated Cardigan
This is a piece of clothing, everyone desires. The sky blue pleated tunic styled with a contrasting pattern bikini and nice accessories surely is a look to die for!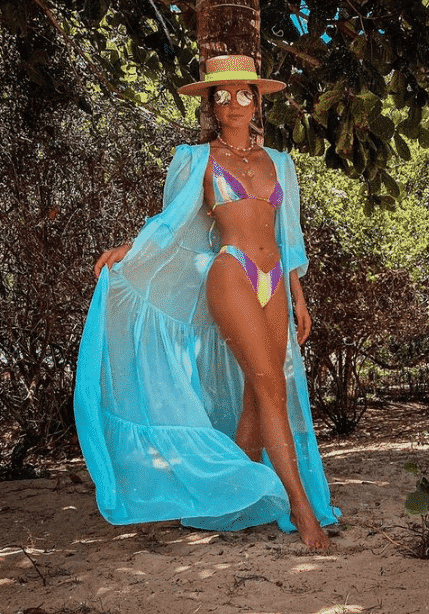 Frequently Asked Questions
Q: Can you go in the pool with a swimsuit coverup?
A: Yes you can wear a swimsuit coverup in or out of your pool with full liberty. Wearing a coverup in the water might make you feel more safe and covered but there are a few downsides to it also. The chlorine and other chemicals in the pool may damage the color and quality of your fabric and also if you are not a pro swimmer it may cause you trouble swimming through the water, restricting your body from full-range movement.
Q: What are the best beach coverups for your body?
A: There is a wide range of swimsuit coverups available on the market. It all depends on your personal preferences and body type. For example, If you have a chiseled body figure, a shorter coverup will do good for you, but it will not suit a woman with curves or a bulky figure. So you need to consider every little detail while choosing the best beach coverups for your body.
Q: How to DIY a beach coverup?
A: You can easily make a DIY beach coverup at home. For a DIY coverup, you just need a shorted width, long length cloth and wrap your back with it, from under your arms. To make it stay on your body wrap both the edges of clothes around your neck and your work is done. now you are all set to rock the beach party with your DIY beach cover-up.