Kaftan Outfits: Have you ever wondered why Kaftan Outfits give such a royal and elegant look? The answer lies in the fact that they originate from royal descent. Originated in Ancient Mesopotamia the Kaftan Style outfits were quick to become popular in the ottoman empire where The Sultans of the Ottoman Empire wore Kaftans and it eventually became a symbol of power when the Moroccan judges started wearing them.
Over the year's kaftans have become a part of various cultures each with different styles, uses as well as names. In the 21st century kaftans are predominantly worn by women, styled in intricate ways each different from the other be it pattern, design or the overall outlook of the ensemble. Kaftans are taking over the fashion world and giving all other outfits a run for their money because of how versatile they are.
How to Wear a Kaftan
Kaftans usually give a very elegant and royal look, but it all depends on how you carry the look or how you plan to accessorize it. Whether you talk about runways, formal events, or even beach attire, kaftans are an all-rounder which means that they can be styled in various ways depending on the occasion.
Kaftan outfits are not just easy to style rather they're super comfortable too and once you get the hang of it I'm pretty sure your wardrobe with end up being all kaftans. The unique designs, cuts, prints, and fabrics make the kaftans so versatile that no matter what the occasion you can count on them to do the job.
Tips to style Kaftan outfits
Opt for a natural fabric e.g. organic cotton if you plan on wearing a kaftan to the beach or poolside so that the breathable fabric with help your body remain cool.
If you want to show off your body in a kaftan, we have just the tip for you, all you need is a wide leather belt to cinch your kaftan in.
Dressing for the occasion means that the length of the kaftan matters. A medium-length kaftan is best for a casual outing and long-length kaftans (floor length) are considered rather formal.
The fabric is an important part of styling your kaftan outfits. So ladies keep in mind silk, satin or georgette is for formal occasions or parties and natural fabrics like cotton are perfect to wear to the beach or to be used as loungewear, etc.
Accessories are the only way to complete your kaftan ensemble. Jewelry can bring out the overall elegance of your kaftan and add to that sophisticated look but it's important to keep in mind the style of the kaftan before adding jewelry. If your kaftan is plain then blingy earrings or long neckpieces should be your go-to but if your kaftan has embellishments or is already fancy then you wouldn't want to overdo it with heavy jewelry.
↓ 25 – Striped Kaftans
Striped kaftans are perfect for vacations – you can lounge around in them or use them as a swimsuit coverup. You can also always add dramatic jewelry to wear them on special occasions.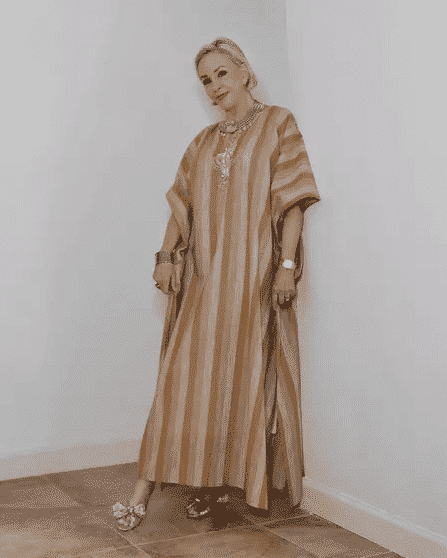 ↓ 24 – Solid Colored Kaftans
Solid colored kaftans are a breath of fresh air in every season and the best part is that you can easily glam them up by using statement jewelry pieces.
↓ 23 – Cool & Comfy Kaftan for Summers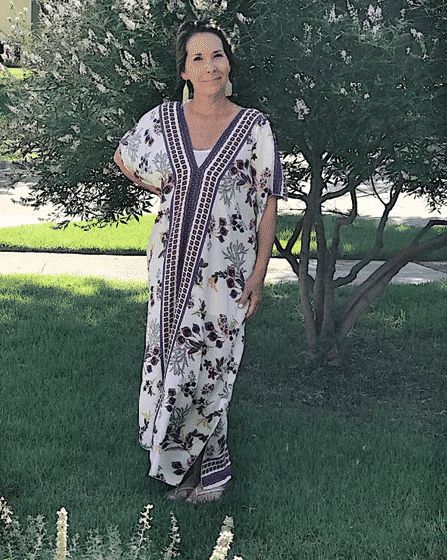 Tunic Kaftan Dress $24.75 (Available in multiple colors)
↓ 22 – Animal prints all the way
With animal prints making a great comeback in 2021 a chic animal print kaftan is the way to go ladies. We love how the neckpiece complements the deep v neck style of this particular kaftan and the way it's accessorized with a matching neon bag and super stylish sunglasses just brings the look together. Here are some of our all-time favorite Animal Print Outfits.
↓ 21 – Is that a Greek goddess?
The ethnic embroidery on this cut-out shoulder kaftan makes it seem like nothing less than what a Greek goddess would wear for sure.
↓ 20- Kaftan with belt
If you're going for a slightly casual look then this outfit has got to be your inspiration. You can put the belt tip we mentioned into action with this look all while looking chic as ever. The low bun and simple shoes and bag bring out the effortless yet chic aspect of this outfit.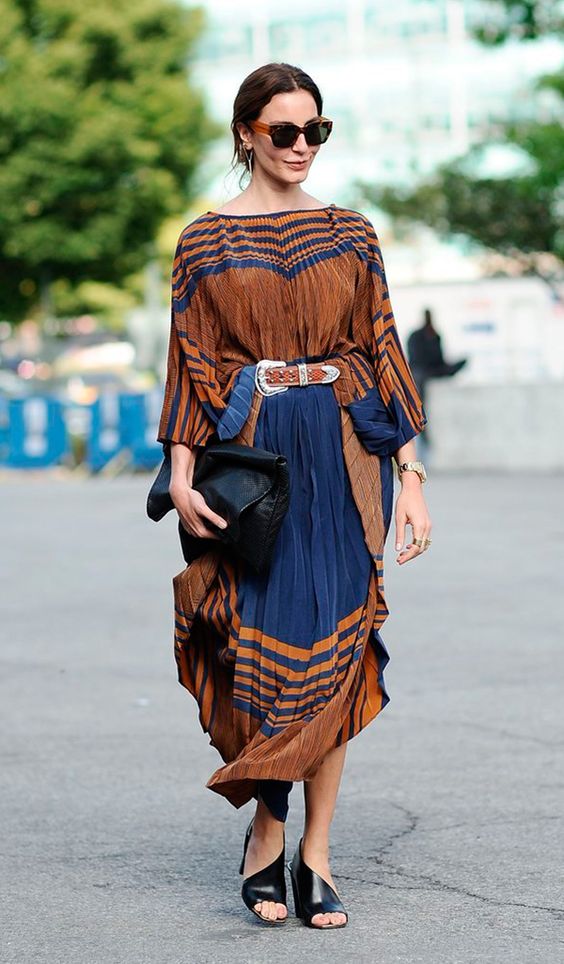 ↓ 19 – Purple means double the trouble
When we were talking about the versatility of kaftan outfits this is exactly what we meant. If you're planning to go to a formal lunch let a flowy stylish satin or silk kaftan do the job for you. You can style it any way you want according to the occasion be it with hats, hair accessories, belts, stylish bags, or shoes. We love the monotone element of this look and how simple yet elegant the overall outfit is.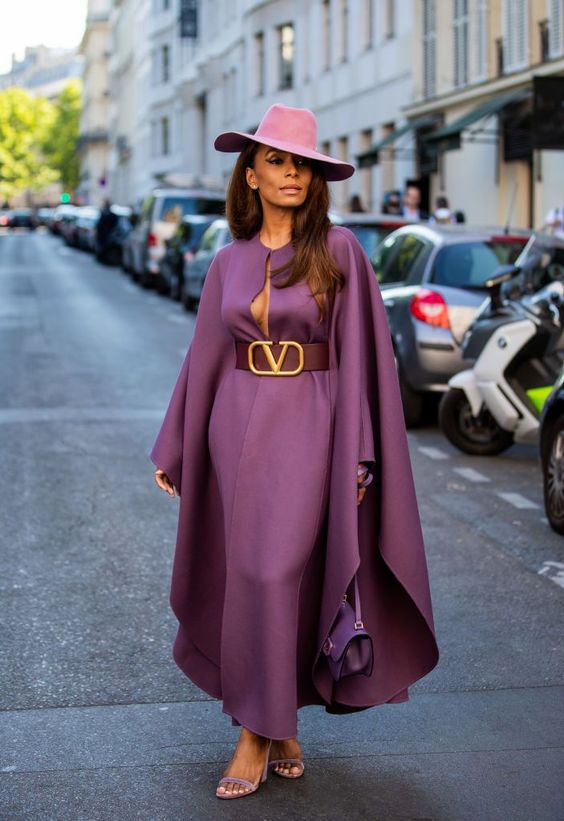 ↓ 18 – Kaftan with beret and boots
All we can think about while looking at this outfit is that you're going to be taking over Paris in this one. Yes, we're talking about taking over the capital of fashion because just look at how gorgeous this entire look is. The beret matching boots and short dress paired with an exquisitely printed kaftan. The colors and prints of this kaftan stand out over the all-black outfit and the way the bag matches the kaftan is to die for! Paris will definitely have your attention when you walk the streets in this ensemble. Here are some Pro Tips for a Perfect Beret Hat Outfit.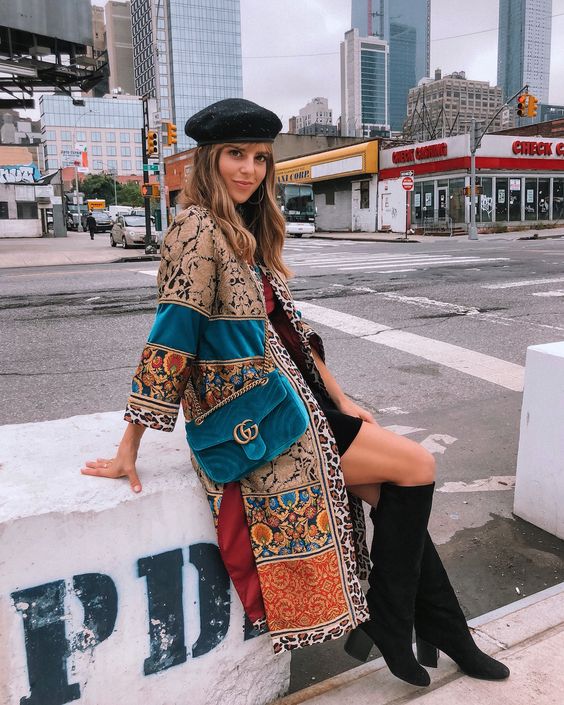 ↓ 17 – Beach day essentials
If you've planned a beach day we suggest you take a kaftan with you and you won't regret it. Keep in mind that it should be breathable material cotton or chiffon to beat the heat at the beach. Not only will the kaftan keep your skin protected from the harmful UV rays but you'll be looking extremely stylish at the beach too. Just throw over a kaftan on your bikini or swimwear and you'll be getting compliments left, right, and center. Don't forget to take pictures for your Instagram feed to make sure your followers aren't missing out on this look either.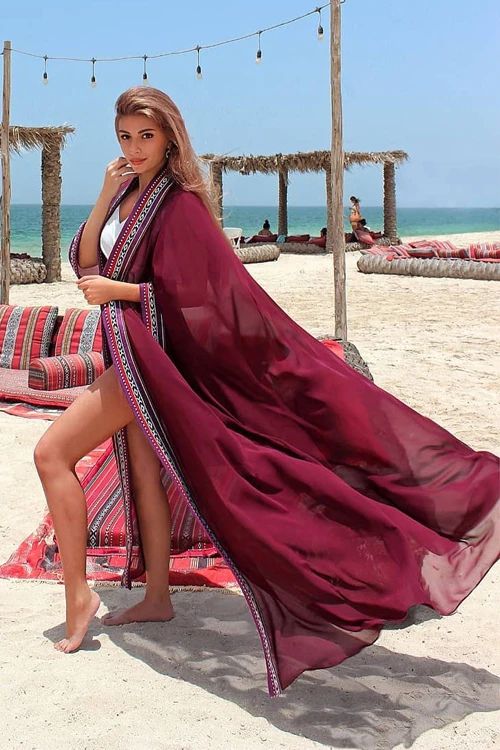 ↓ 16 – Tie and Dye Kaftan
Tie and dye incorporated into a kaftan is really the best of both worlds. We particularly love how this model has styled her outfit with a wide belt. The flowy arms and the overall fall of this outfit truly make it look magical.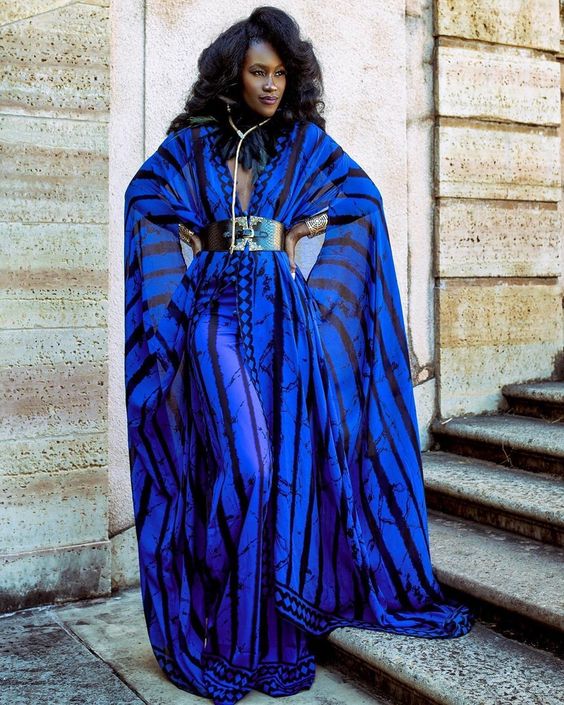 ↓ 15 – Leather all the way
It's time to make a statement ladies. Go for an all-leather look with a kaftan outfit. Yes, you heard us right, leather pants paired with a leather kaftan will surely make heads turn. But a bit of girl-to-girl advice, winters are the best time for this kind of a statement to keep you warm, cozy, and comfortable all while leaving the crowd stunned.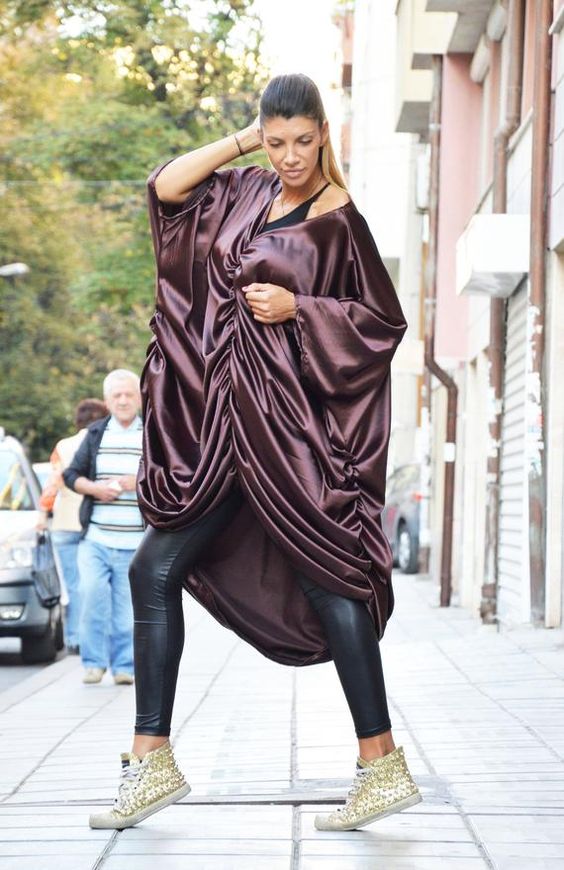 ↓ 14 – Kaftan with a short skirt
We've heard about kaftans over shorts or with jeans then why not a skirt? This combo sure is a little risky to play with but don't shy away girls and explore all your options because confidence is all you need to make any outfit look chic. This look also has a denim on denim element in it but what we particularly admire is the hairstyle which goes so well with this ensemble.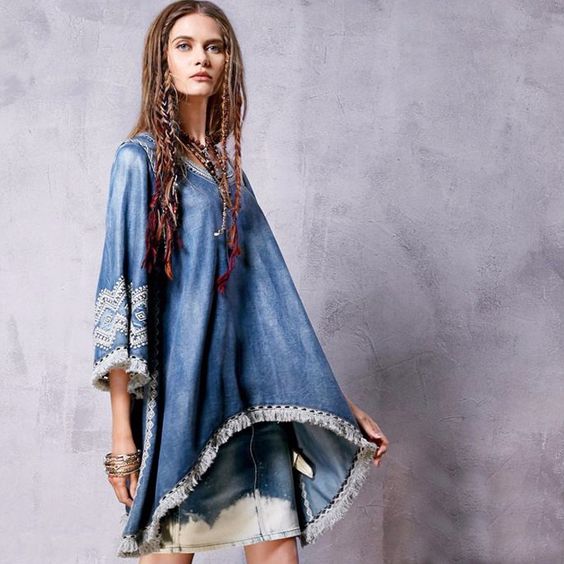 ↓ 13 – Farasha Style Formal Kaftan
The style of this kaftan is rather eastern with the Indian or Pakistani style embroidery embellishments along the neckline. The fact that the rest of the kaftan is plain with just a golden lace running along the sides brings out the intricacy of the work along the necklines and makes the embellishments stand out more. Since there is heavy work around the neckline it's not suggested to add a neckpiece or necklace which is why we love how the model chose to go for heavy earrings, a bracelet, and rings to complete her look.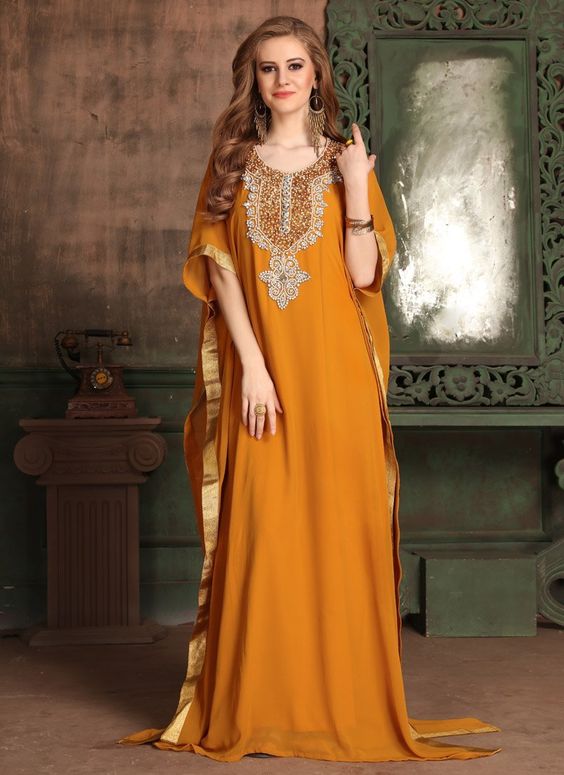 ↓ 12 – Minidress style Kaftan
Tassels are a game-changer no matter what the outfit may be. As rare and unique as short kaftans are what we particularly love about this specific one is the gold race running through the sleeves and the ends which just adds a little bling and fanciness to the otherwise simple ensemble. Brownie points for the side-parted low ponytail, minimalistic earrings, nude makeup, and nude heels which add to the look!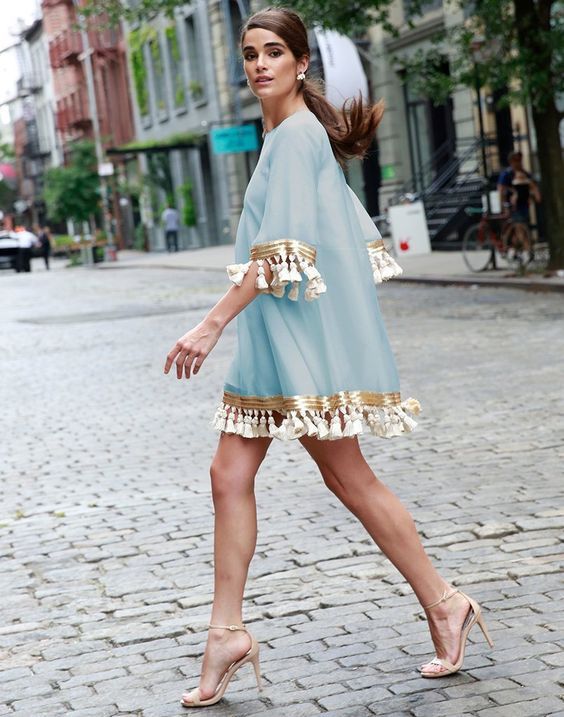 ↓ 11 – Celebrity Kaftan Outfits
When we were talking about kaftans being elegant and royal outfits this is exactly the look we had in mind. A 21st-century embodiment of the kaftans of the ottoman emperors and we can't think of anyone who could've carried this look better than the pop queen and fashion icon Rhianna herself. Everything about this look is to die for. Rhianna and slaying it and we're here for every moment of it. We love to see a queen take over the fashion world with her kaftan outfit.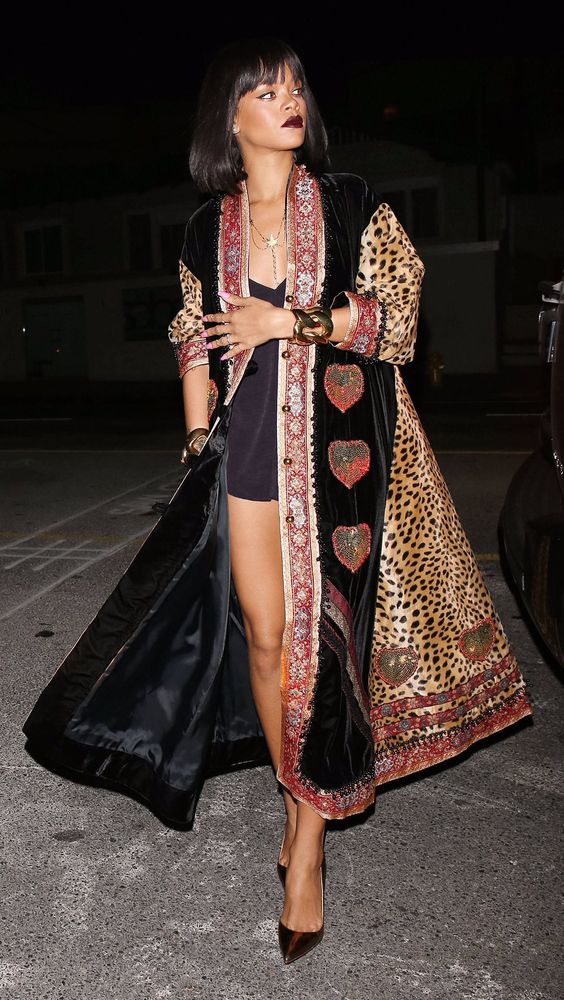 Recently, we also saw the gorgeous Hilary Clinton wearing a beautiful blue Kaftan: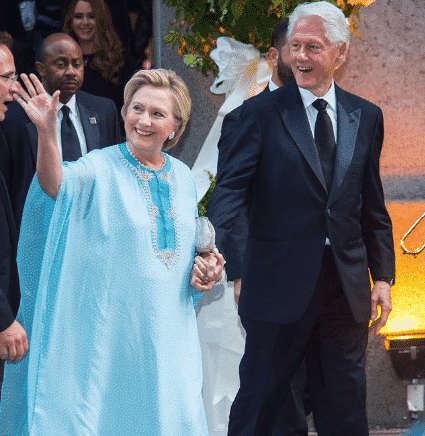 And finally, we have the gorgeous Indian actress Neha Dhupia wearing a kaftan as a maternity outfit. All these celebrity styles definitely prove that Kaftans are a hot favorite trend across the globe right now.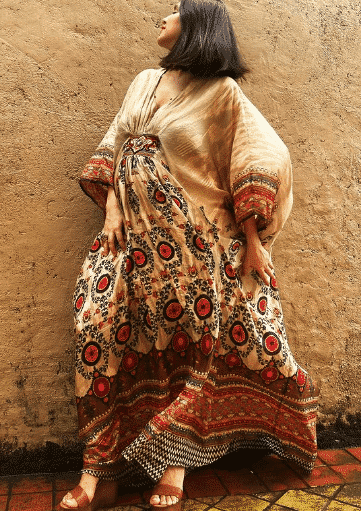 ↓ 10 – Speaking of flamboyant
A colorful printed kaftan is a wardrobe must-have. A flowy long kaftan allows all the colors to stand out and poses as a canvas to display all the intricate and exquisite prints.
↓ 09 – Turtleneck Kaftan
Take street style to the next level with a turtleneck kaftan styled with a beanie, shades, skinny jeans, and of course sneakers to complete the look. A unique look for sure!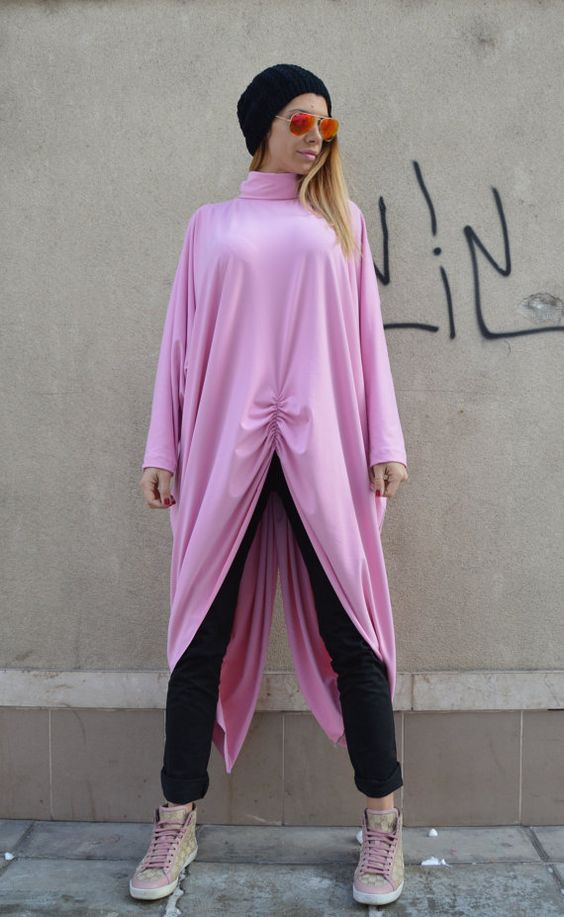 ↓ 08 – Kaftan with neckpiece
The best way to add to a plain silk or satin kaftan is to resort to a heavy neckpiece. The pleats along the sleeves of this kaftan make it look flowier and we particularly love how the bag and the neckpiece complement each other. Since it's a plain kaftan, playing with colors in the form is accessories is always a plus point.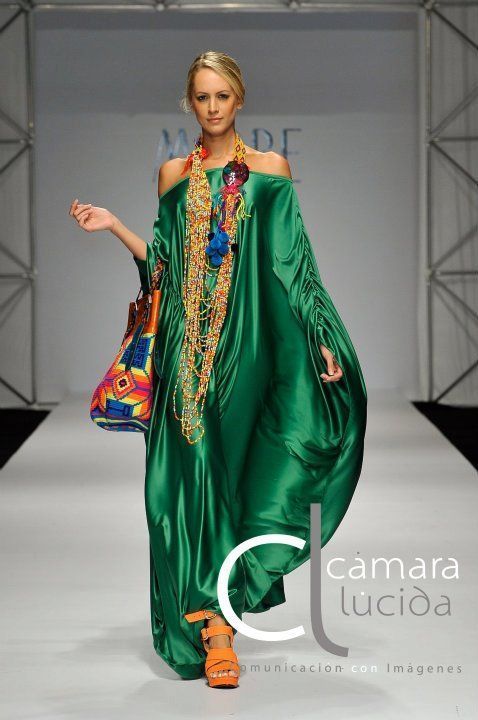 ↓ 07 – Bandanas comin' through
Bandanas are currently the hottest trend in the fashion world and matching them with your kaftan outfit will most definitely make you look trendy and chic as hell. You can even try out different bandana hairstyles and play around with your look a little, something different than your regular look. If you feel like bandanas are outdated, you need to check out these chic Ways to Wear Bandanas for Women & Best Bandana Hairstyles.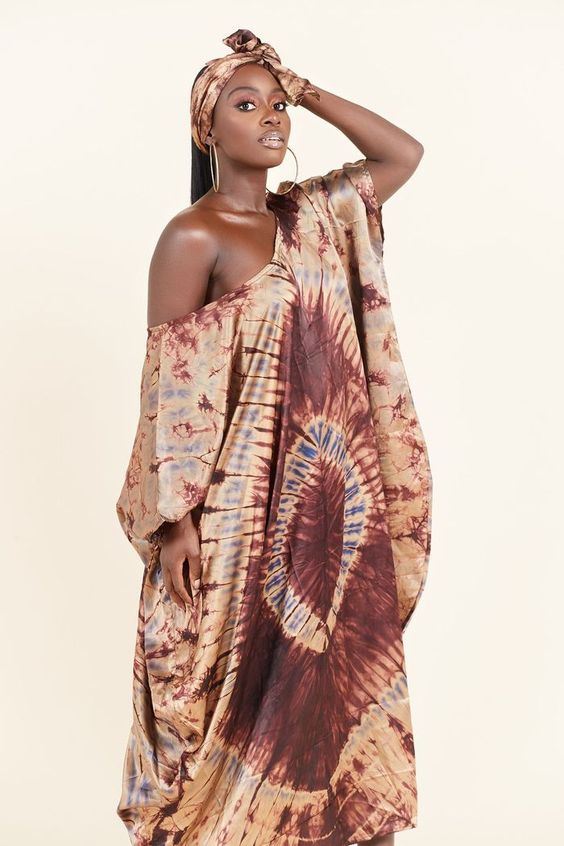 ↓ 06 – Blue and Yellow
An all-blue kaftan outfit with yellow accessories has to be the contrast ensemble that gets everyone's attention. The feather fan accessory is our favorite part of this look, and we love to see women spicing up their looks with something a little different than the usual trends.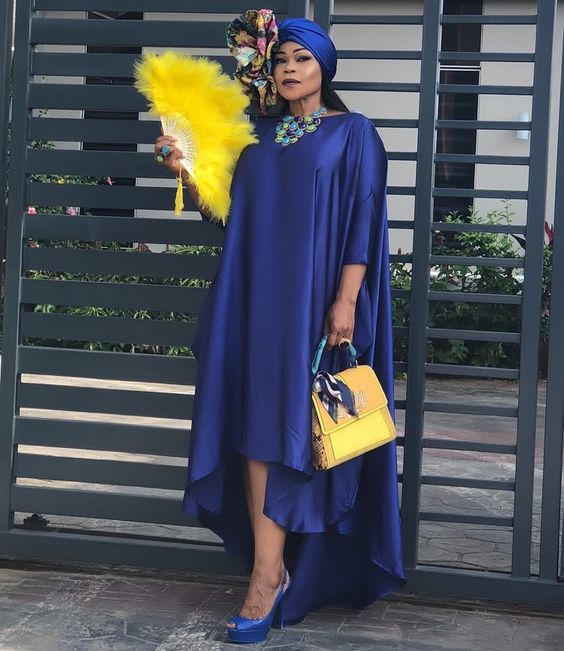 ↓ 05 – Elizabeth Taylor Style
Elizabeth Taylor has truly done justice to kaftan outfits on many occasions and has blessed us with all the different styles they can be worn in. Every look is a statement of its own and an inspiration for women to step out of their comfort zones and give this piece a try regardless of their ages.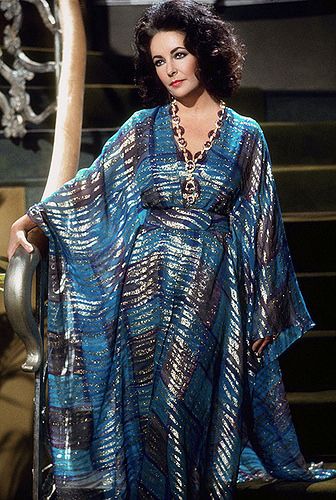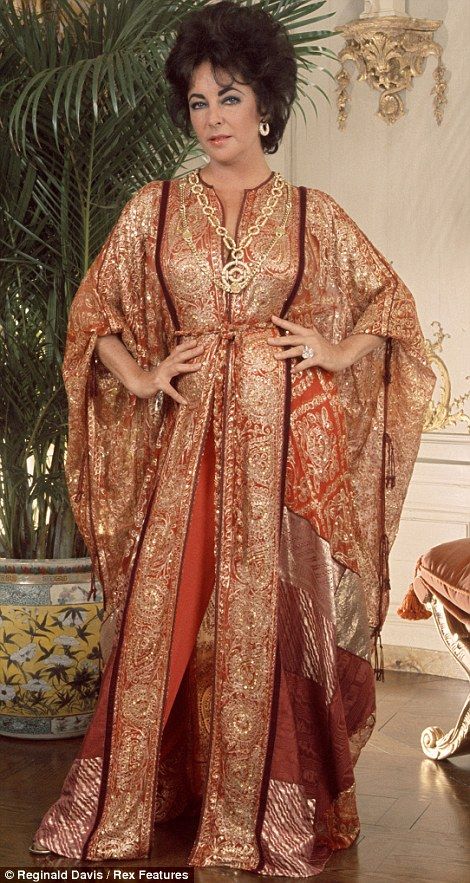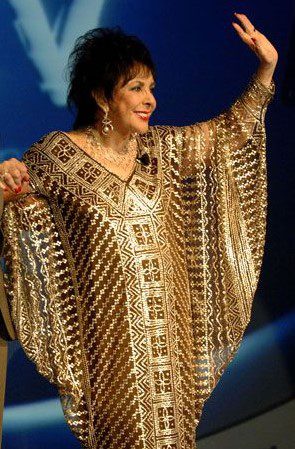 ↓ 04 – All white Kaftan
This white kaftan outfit gives us the major mother of the bride vibes and we're here for it. The elegance and grace of this ensemble are unbelievable. The simplistic work on the neckline and sleeves complements the fall of the dress resulting in an overall royal outlook and like we said perfect for the mother of the bride. An updo with this outfit is the key to achieving the final look!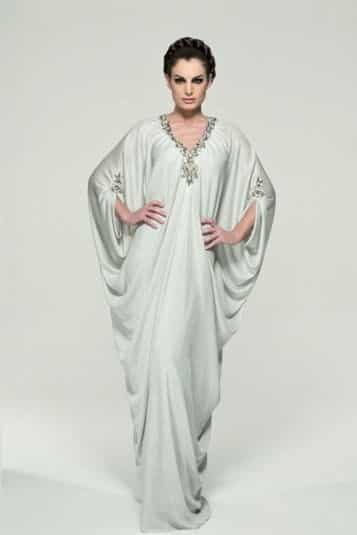 ↓ 03 – Velvet Kaftan
A formal event coming up in winter? The velvet and kaftan combo will surely bag you the lady of the evening title with all the compliments coming your way. Another plus point about a velvet kaftan outfit is that it will keep you cozy and comfortable throughout the occasion so make sure to give it a try when winters approach!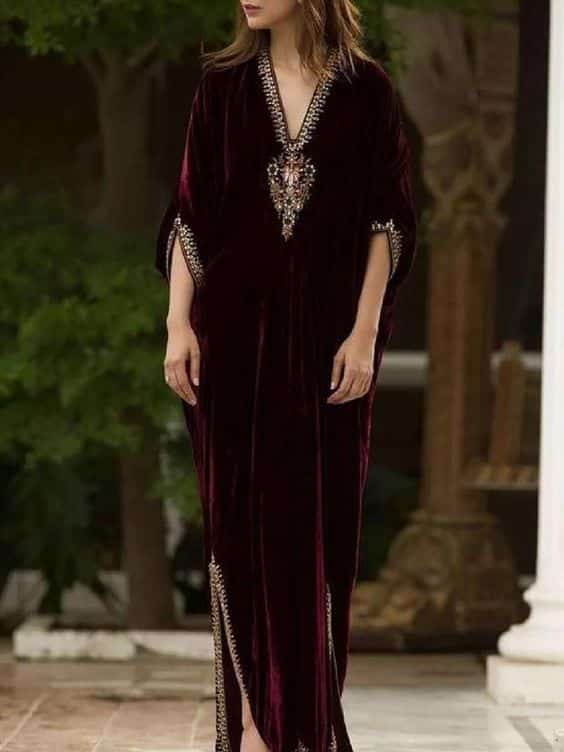 ↓ 02 – Hissin' all the way…
If the ever so regal snake prints are not incorporated into the royal kaftan outfits then something is definitely being done wrong. The neutral element of this look is the key to making heads turn in awe!
↓ 01 – Lace it up!
If you feel like your casual shorts and shirt outfit is missing a little something to give that edgy look then throw over a lace kaftan and thank us later!
Frequently Asked Questions
Q. Are Kaftans in style?
Kaftans have an amazing history. From being a luxurious garment worn by the Sultans of the Ottoman Empire in the 14th and 15th century to becoming a garment just worn by the underprivileged in the 19th century they have somehow found not only found their way back into fashion rather they've become increasingly popular due to their versatility.
Q. Can you wear a kaftan to work?
Kaftans come in various styles and designs so as long as you're wearing a formal kaftan that's suitable for a work environment then you're good to go and slay at your 9-5.
Q. Are kaftans supposed to be ankle length?
Traditional kaftans are ankle length garments, but we've seen them evolve in the contemporary world, so even a knee length loosely fitted garment often with flowy sleeves is considered a kaftan too.
I'm an Islamabad based writer with a profound interest in fashion. I hope you have a good time reading through the articles I write for you.