How to dress like Hermione Granger? The blissful thing about childhood and early teenagehood is the passion we have. How quickly and strongly we develop an interest in a book or a movie, and how strongly we associate with the characters.
As children, we glamourize characters because we respect their traits, and envision ourselves growing up and being just like them.
Fashion is an outlet that allows for this youthful passion and fantasies to come through. If you have ever fantasized about living in the Harry Potter world. Or more so envisioned yourself to be the perfect funny, witty, and endlessly inquisitive Hermione Granger, you're in luck.
Because this article is dedicated to transforming yourself into Hermione Granger. We have investigated her style, and reformed it to be modern and fashionable. So if you are wondering how Hermione Granger would dress in the present, or want to adopt her style for yourself. Keep on reading.
What to Buy to Dress Like Hermoine Granger?
There are several factors that are important to consider when adopting Hermione's style. These are elements that define it, the so-called fashion codes. Overall, her style categorizes well with two current fashion trends. Firstly the dark academia, as well as vintage style.
Thus her style is not only easy to recreate it is also highly in trend at the moment.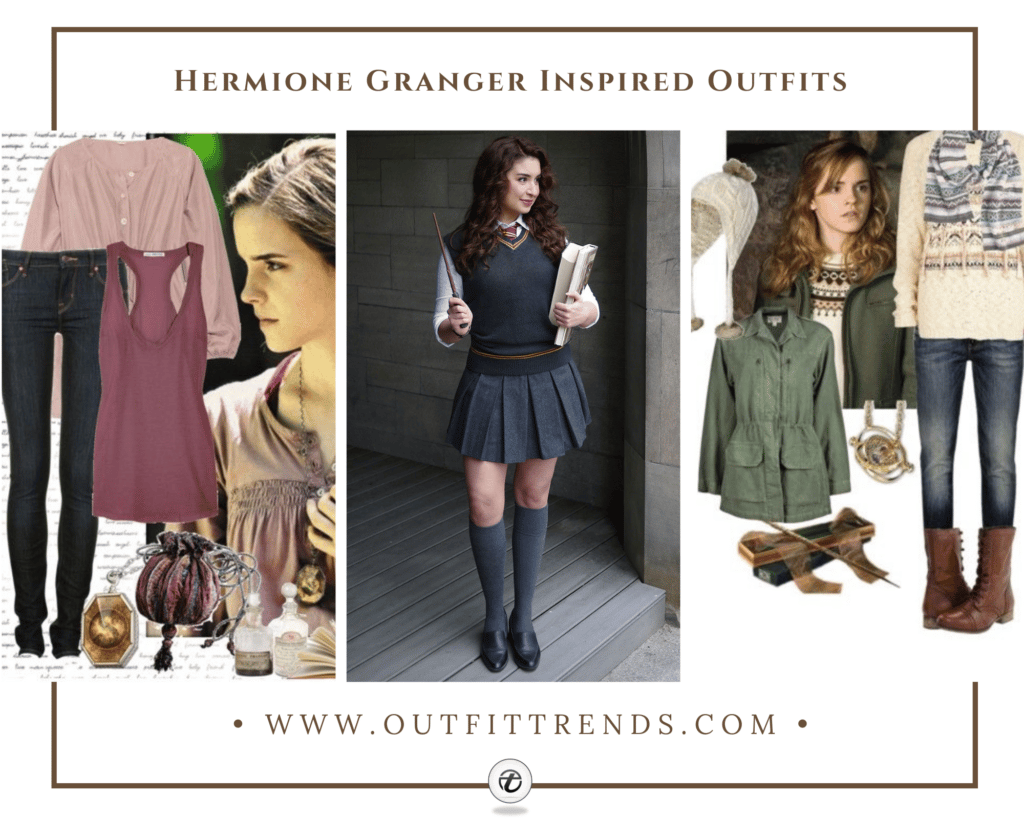 Color Palette: The color palette is fashion code number one to determine any type of style. Hermione's color palette in particular is quite special. It has a mix of browns and beiges, all very warm and whole. Although, it is important to remember some singular colors that are special in the palette. These include mustard yellow, powder pink, and purple.
Patterns and Textures: The second defining element of her style are the various patterns that she mixes together. These include various plaid variations, such as Tartan, Madras, and Tattersall. You can learn more on this from our post on How to Wear Plaid Pants.
Collars: No Hermione Granger outfit is complete without a collared shirt. However, in the modern variation, this does not have to be just blouses. These can be short sleeve t-shirts, cropped tops, etc. Therefore this style has the ability to be personalized.
Sweaters: Nearly in every scene, she is seen wearing a notorious large knit sweater. Especially sweaters that have Christmas-like, graphic patterns, and are dimmed grey or brown.
Humor: Although this is not a clothing item or a style – there is a lot of importance dedicated to the character's personality in her clothes. Reflect her quirkiness, though brave and humorous stylistic choices. This can reflect through your integration of reds, oranges, and greens. Or through vigorous patterns.
20 – Create a Casual Look by Mixing a Beige Blouse and Jeans
Starting off the list with several outfits involving just the classic collared blouse or top. This first look is very casual and easy to recreate. However, it is not basic and still adheres to the rules of Hermione's style.
The special element here is the unusual color of the shirt. It is not a simple white, instead, it is a light coffee color. Therefore is very much in theme with her color palette.
19 – Go For a Fall Colored Sweater, with Minimal Graphics
Yet another top that will scream Harry Potter aesthetic is this one. Fall colored minimal graphic print – in this case, simple lines. And a cozy textile and lose fit. Pair with jeans for a super casual look. Or pair with office pants, both options work.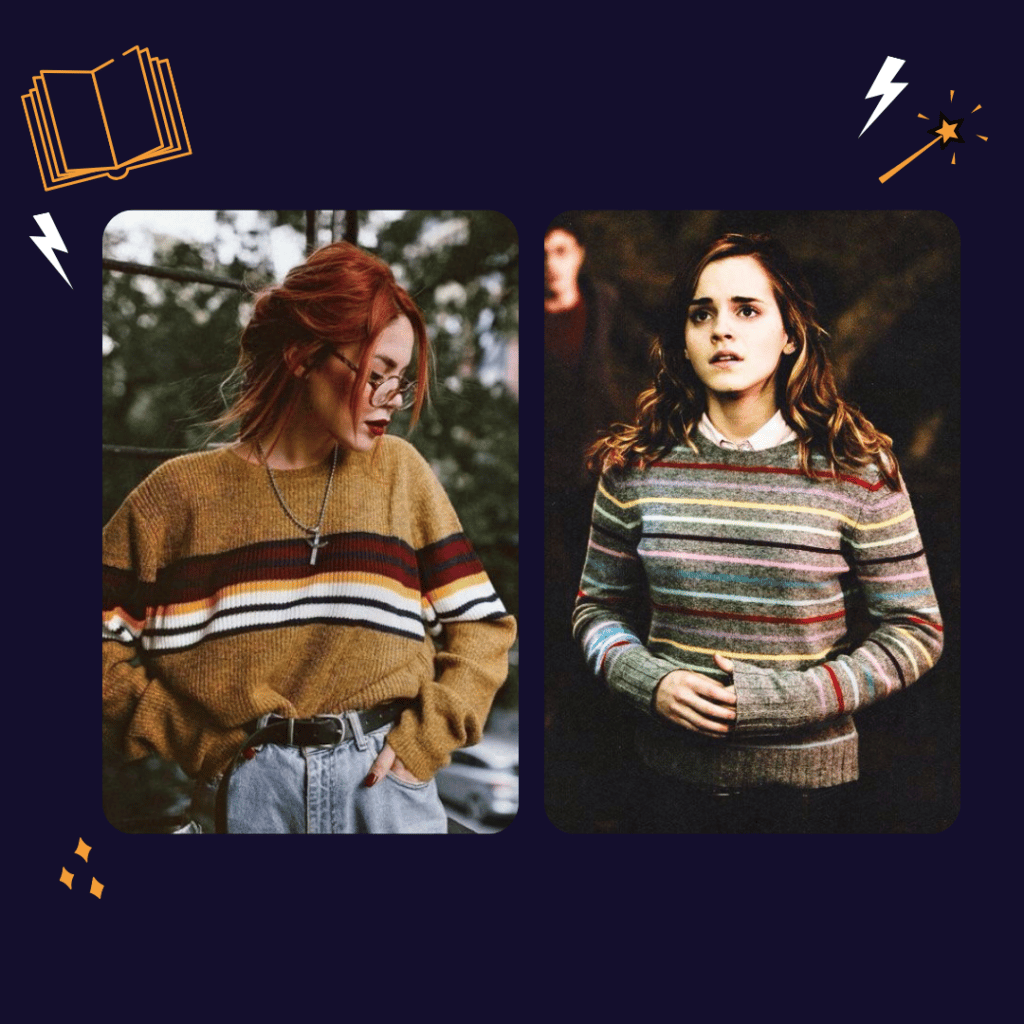 18 – Find a Unique Collared Shirt Option
As we already mentioned the collared shirt is a staple for this character. Therefore it is in your best interest to find one for yourself. Although we recommend finding one that is unique to you, therefore we didn't include a simple white collared blouse.
Inversely, we want to show you that shirts with a unique color and cut will work for Hermione, but also reveal your personal style and aesthetic. You can always add in the Gryffindor tie for some extra points *wink wink*.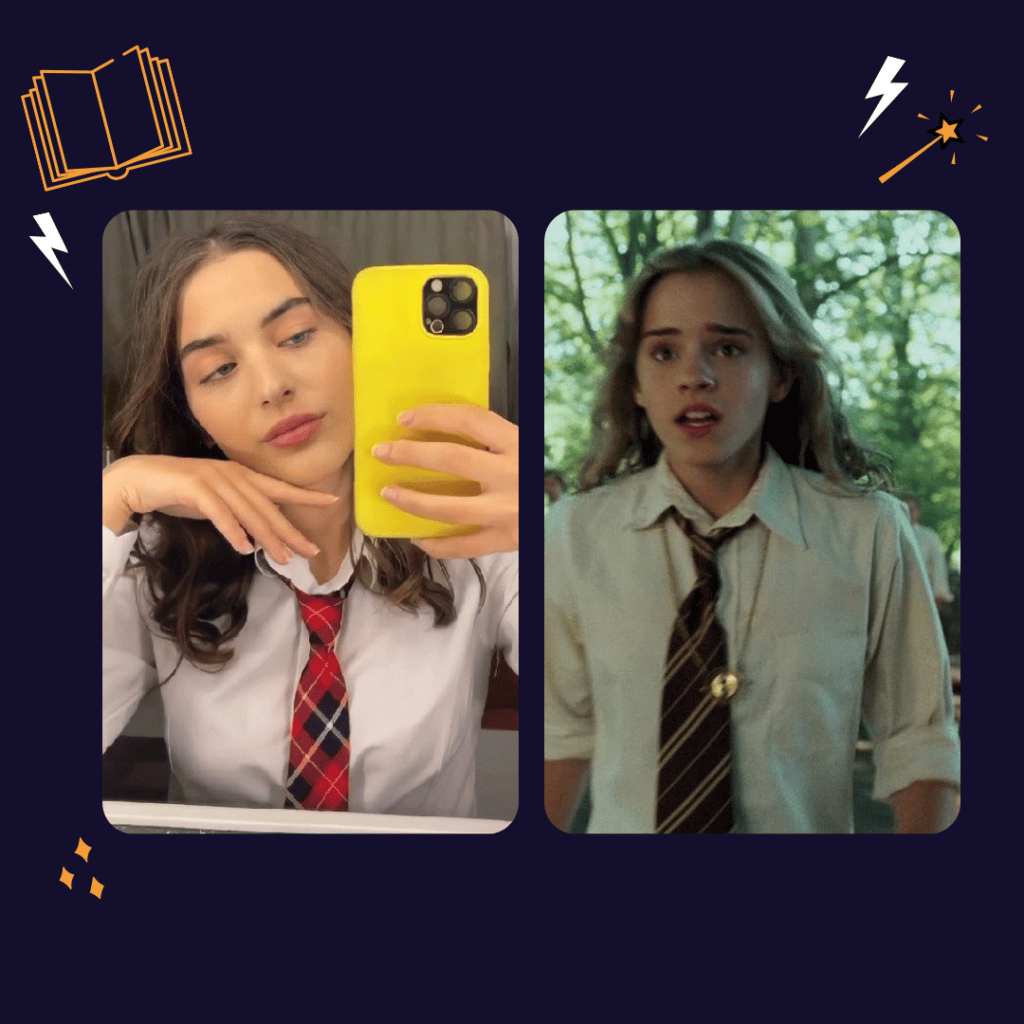 17 – Pair Brown Pants and a Voluminous Bone Top
As we are slowly moving into more complex, less casual outfits – we have gathered several outfits with simple tops but office pants. Firstly, note the fit of this top. It is classy and preppy, largely due to the voluminous fit, both at the chest and sleeves. You can also get similar ideas from our post on How to Dress like a Preppy Girl.
Via
16 – Layer a Collared Blouse with a Sweater
This character loved to wear both collared shirts and sweaters. Therefore we suggest you combine both to create your take on her style. However, remember to stay within this character's color palette. Try going for the addition of light brown. Or better yet a checkered brown pattern.
15 – Layer a Blouse and Sweater, Paired with a Mini Skirt
Another option of styling a layered collared shirt and sweater is with a skirt. Although this character's style is more preppy – a mini skirt is a great option. As long as it is in a neutral, cozy color – like a warm brown.
14 – Pair a Shirt and Oversized Long Shorts
Inversely to the previous outfit, the aesthetic of oversized tomboy outfits does fit this character well. Therefore, if it also compares with your style, try this out. Try finding a pair of loose, large long shorts. Bonus points if the shorts are in a checkered brown print.
Via
13 – Go For a Large Cozy Cardigan, and Pair with Casual Clothes
Hermione's clothes are easy to incorporate into outfits that would normally be lazy and casual. For instance, if you are pairing black pants, and a black shirt but you want to spice up the look -simply add a long brown cardigan.
Although the character prefers sweaters more, she has made several appearances in cardigans.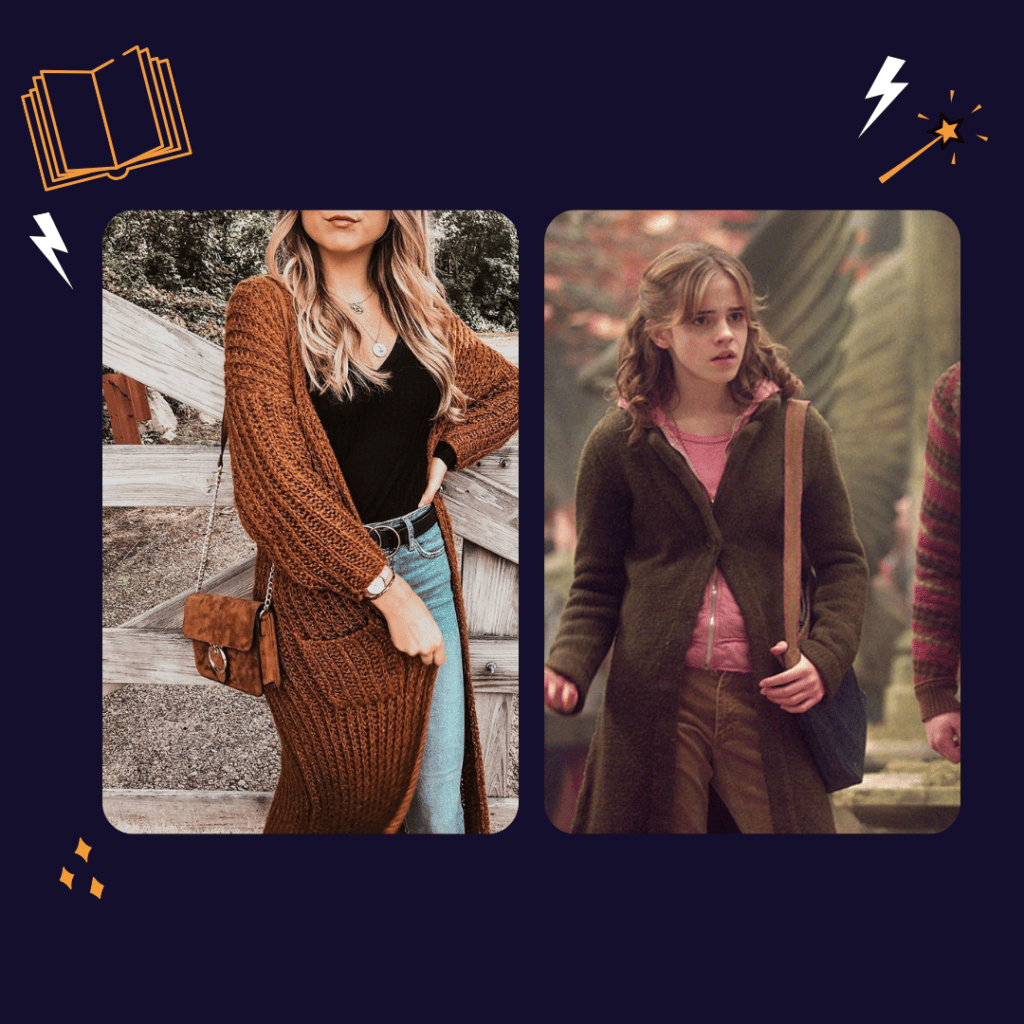 12 – Go For an Unusual Moss Green Top
Magic and spells simply call for a mossy green, so why not incorporate it into a Harry Potter-inspired outfit? Especially when it plays right into the "Dark Academia" style of this character. Don't worry to much about how to pair it, simply try blending it into a black and white outfit.
11 – Match Your Patterns to Solid Colors
Kill two birds with one stone by choosing a pair of brown plaid shorts. This way you will be rocking some shorts that are not only in the notorious vintage print but also fit the brown cozy color palette perfectly. The last way to finish this amazing look is by pairing the shorts with a color you can find within the print, on the top.
10 – Match White Details, Like the Prints, Socks, and Tops Together
Similar to the outfit above, try matching your top to the prints on your shorts or skirt, but don't stop there. Also, match it to the color of your socks. Have them stand out. For example – find a skirt with little additions of white, and carry that accent color onto your sweater. As well as your socks.
9 – Choose Burnt Orange as Your Accent Color
It is easy to end up with a dull outfit when you're working within a vintage color palette. However, do not worry – there are always colors that are both bright and blend well. For example a burnt orange. It is a descendant of a brown, therefore will fit the outfit. Yet will also remain in theme.
8 – Avoid Bright Reds, Go for a Cozy Alternative
Similar to the previous outfit, try to remain in the color theme even with a red color. The trick is to avoid openly bright hues. As a result, you can create an outfit easily but that one hundred percent will represent the aesthetic of this character. Also, always remember to neutralize, with a white or beige.
Via
7 – Choose a Pleated Skirt as it Pairs with Everything Hermoine Wear
Although you probably won't see Hermione Granger strutting around Hogwarts in a denim skirt, we did promise you a modern twist. A denim skirt is a great option because both the denim material and the neutral deep blue color fit into the theme of this character.
Simply add on to it. For example with a white top and burnt brown jacket. But if you want to stay true to the Hermoine spirit then go for a pleated skirt and pair it with any of the looks of Hermoine that you like.
6 – Have a White Base, to Pair with a Bold Coat
Similar to the previous option, this involves the proper inclusion of a bright stand-out coat. In this case, denim is not necessary, instead – creates an even base layer through one unanimous color. For example, pair a white skirt, predominantly white top, and white shoes and bag.
This way you create a canvas to place the bright coat on top of.
5 – Suit Up to Create a Vintage Appeal
For the following outfits, we searched for looks that are less casual. Starting this portion of the list off with a classic suit moment. To keep the suit in the style of the character, choose deep chocolate – this will really give off the necessary vintage academic look.
To maintain femininity, keep the blouse underneath slightly unbuttoned. It adds playfulness. Here are some Vintage Outfit Ideas for your inspiration.
4 – Try Pairing Suspenders to Your Blouse and Pants Look
Another exciting option to hatch the vintage academic look is suspenders. These will reflect the nerdy characteristics of the character perfectly. Although, to avoid looking too stuck up, especially due to the dim brown color palette.
Add a pop of color. Preferably a light blue, or powder pink. Both are common choices for the character.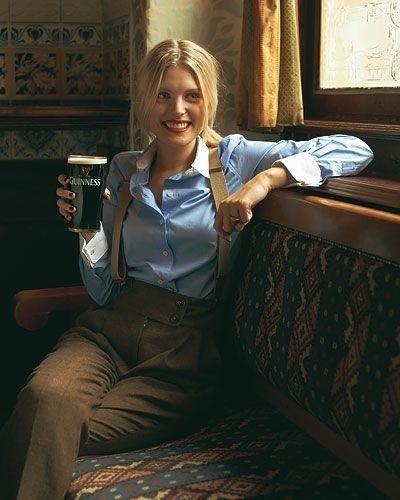 3 – Spice Up Basic Black Plaid Pants with a Rich Berry Purple Top
As we mentioned earlier, some of the stand-out colors for this character include deep berry purple. Take advantage of this color, when dealing with casual clothes you want to spice up. For instance, pair with black pants, for an instant reference to this character.
2 – Layer Lots of Pink Together, Achieve Both Cozy and Preppy
Layer together a pink collared top, a short sleeve v-neck vest, and any pants or jeans of your choice. For the spring and summer, this look can be made less stuffy by switching out the blouse for a simple t-shirt. Simply make sure that the t-shirt sleeves are on the longer side.
This will guarantee it will pair well with the vest.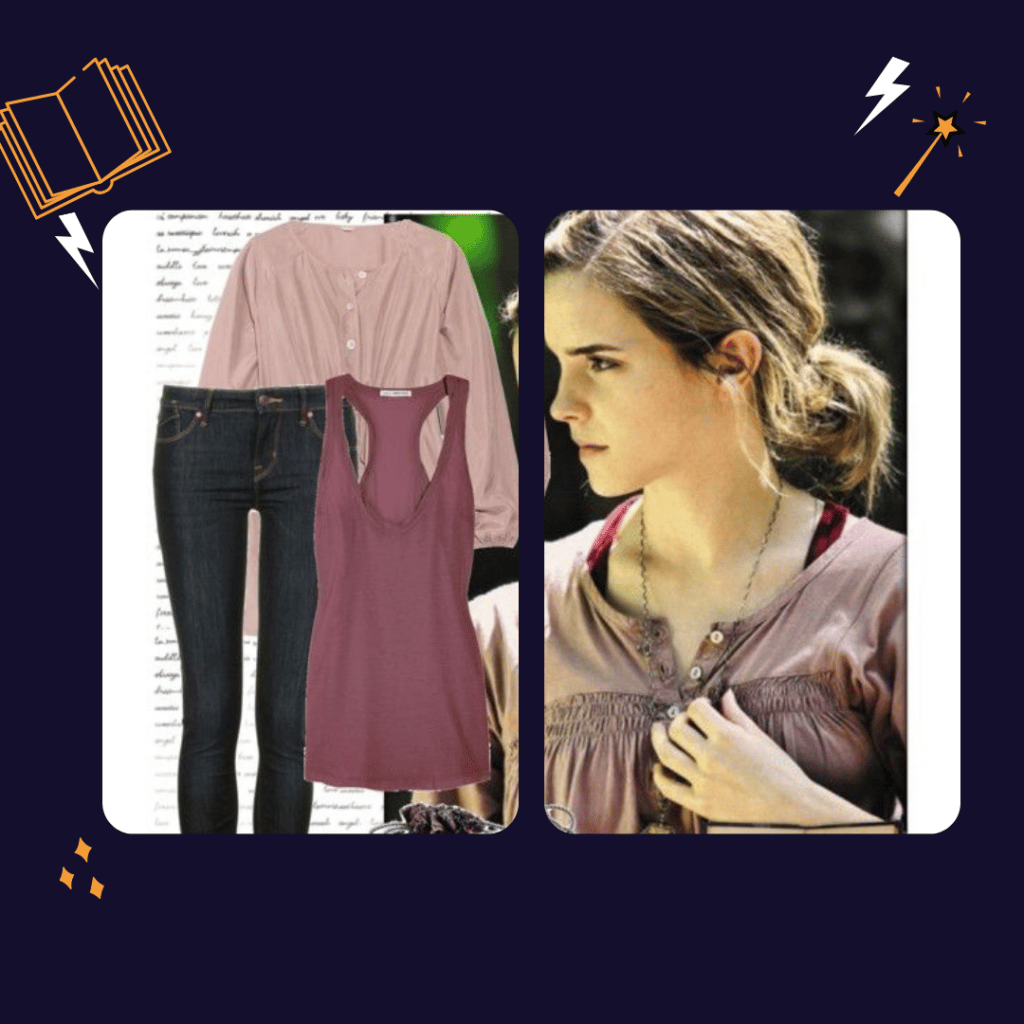 1 – Create a Totally Quirky Look with Red
Last but certainly not least, red color adheres very closely to the quirky personality of the infamous character. She is no stranger to funny situations and at times her clothes, especially the highly patterned ones reflect that characteristic.
It is imperative that you try this outfit out, it is going to not only reflect the character's style but will also certainly uplift your mood.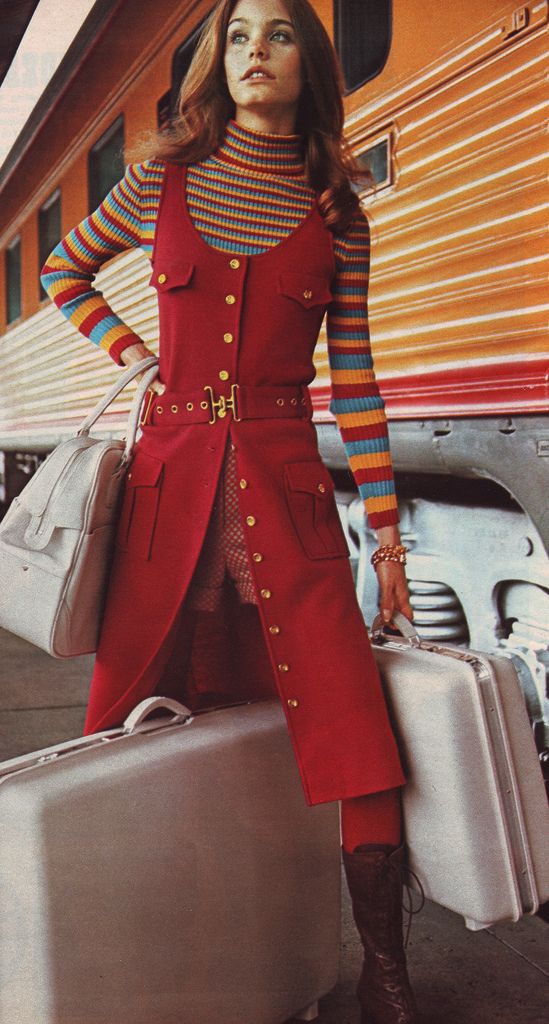 Or if you're looking for something more formal then I am a huge fan of her red dress from Harry Potter and the Deathly Hallows. Pair it with red shoes and beachy waves for the perfect Hermoine Granger inspired look. Here are some Red Dress Makeup Ideas & Hairstyling Tips.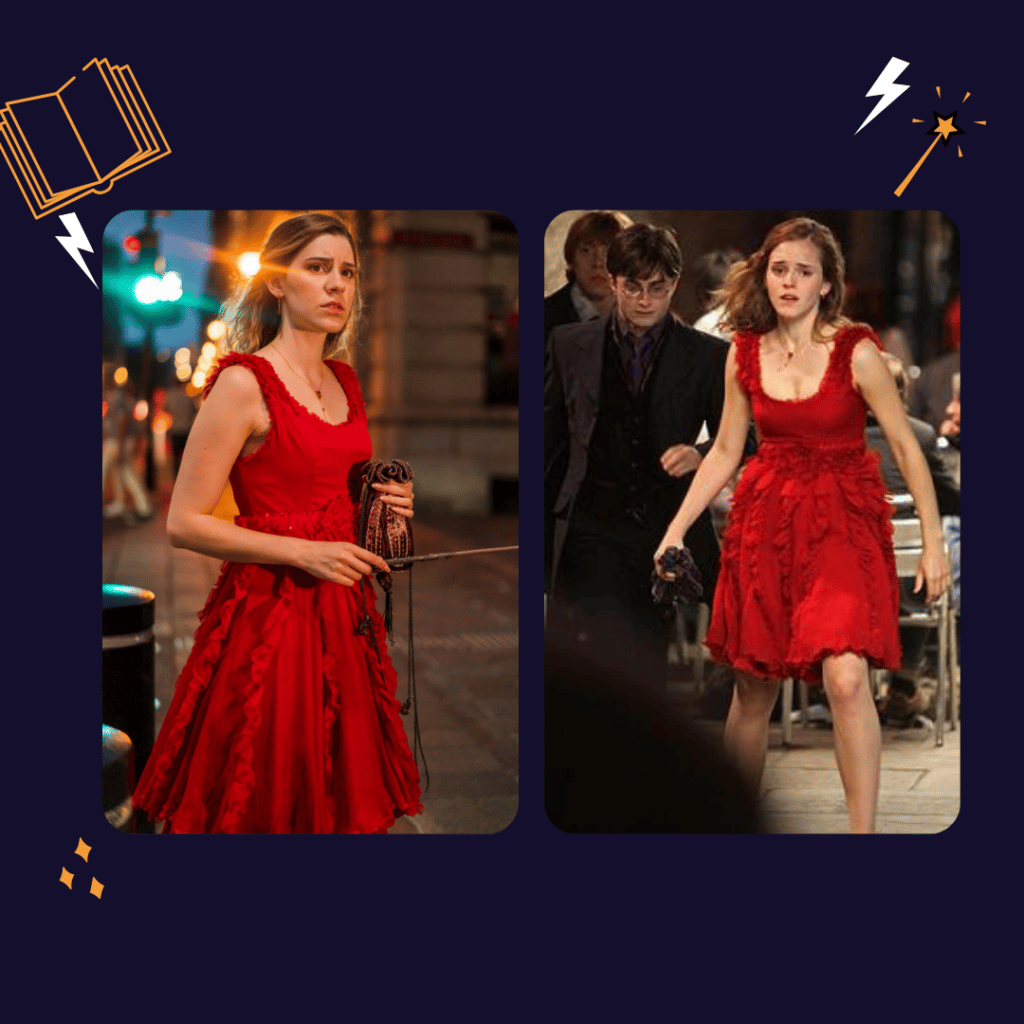 Frequently Asked Questions
Q. What is Hermione Granger's style?
Her style can be characterized as a mix of preppy, dark academia, and vintage. Amazingly this mix of aesthetics leads to a very wearable, appropriate, and comfortable clothing selection. Furthermore, dark academia and vintage style are strong fashion trends. Especially from the sustainability pull, which guides consumers to re-purchase and re-sell clothing, evermore enhancing acceptance for Vintage style.