Lime green outfit ideas – We are well aware that due to the bold and bright appearance of lime green, many ladies shy away to style it. They are afraid it might look tacky or over the top. But hold on, we have got all the secrets of styling a lime green outfit and we are here to spill the beans.
This fresh and zesty color is gaining massive popularity among women all over the world. From runways to street style, the color is having a moment.
What makes this color so different is it instantly uplifts your outfits. It makes you stand out among all around you due to its vibrant and eye-catching hue. Ellizabeth II used to wear this color to stand out and it always worked.
If you want to be the center of attention in the gathering and want to look fresh at the same time, this color is for you. So brace yourself for all the tips and tricks on how to rock a lime green outfit.
What Are The Best Lime Green Outfits?
We Believe dressing up is a therapy and that too a free one. For days when you don't feel like getting ready, go for a vibrant and fresh color like lime green. This will instantly change your mood and the bright hues will release all the happy hormones.
Tips And Tricks on Wearing Lime Green Dress
The very first thing that you need to keep in mind is that avoid saturation of one color. If you are going for an all-lime green outfit, change the color of your heels and bags. Break the monotone with some other color for a more toned-up look. Similarly, if you are wearing a mini skirt in lime, try any other contrasting colors for the top or blouse.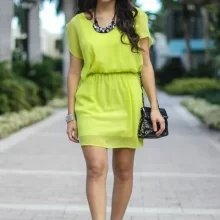 For work, it might get a little overwhelming if not styled properly. You can pair up your lime green blazer with pleated high-waisted white pants and a white top. The blazer will spice up your plain all-white suit. Wear a refreshing light pink lipstick and you are all set.
Playing with texture makes a huge difference in your outfit. Don't go for a plain cotton top with pants. Wearing a chunky and textured sweater with jeans is a better option than wearing a plain sweatshirt with jeans.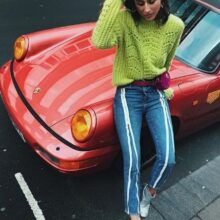 If you have a commitment at brunch, go for a knee-length or full-length lime green dress, as they are comfortable and you will remain sweat free when the weather is hot. Plus, they go with all kinds of footwear.
Orange, beige, white, pink, and black are some of the top colors to pair with lime green but you can also go with lighter hues like blue, yellow, and lighter shades of green.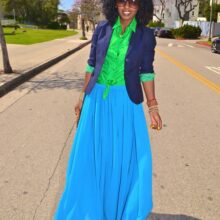 Avoid mixing casual fabrics with formal or luxurious fabrics. For example, you should not pair a lime green satin buttoned-down shirt with a linen fabric. Linens are casual fabrics and work best with cotton knits and casual heavy fabrics. You can check the image below, how the fabric is pretty much the same in different colors and gives us a neat and pulled-together look.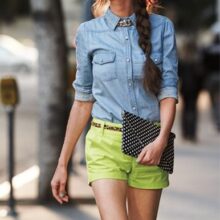 Your night parties and gatherings are definitely incomplete without sequins and chunky jewelry. But make sure when you are wearing a sequined outfit, go less with the accessories. Especially in the case of lime green, silver, and diamond jewelry will work well.
When baffled about what to combine with a lime green t-shirt, you can always go for pieces of denim.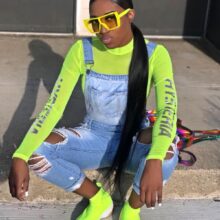 21 – Orange And Lime Green Outfit
For a bright sunny day, go all bright with this zesty orange strapless top and green baggy pants. Though orange is a slightly dark color it still teams up well with lime-colored pants making the hues even more prominent.
Summer is sliding into colder days and the weather is going to be chilly. Before the summer bids farewell, rock this slip dress in lime green on a beach day out.
For a pulled-together look, match your footwear with the top and add your favorite shade of sunglasses.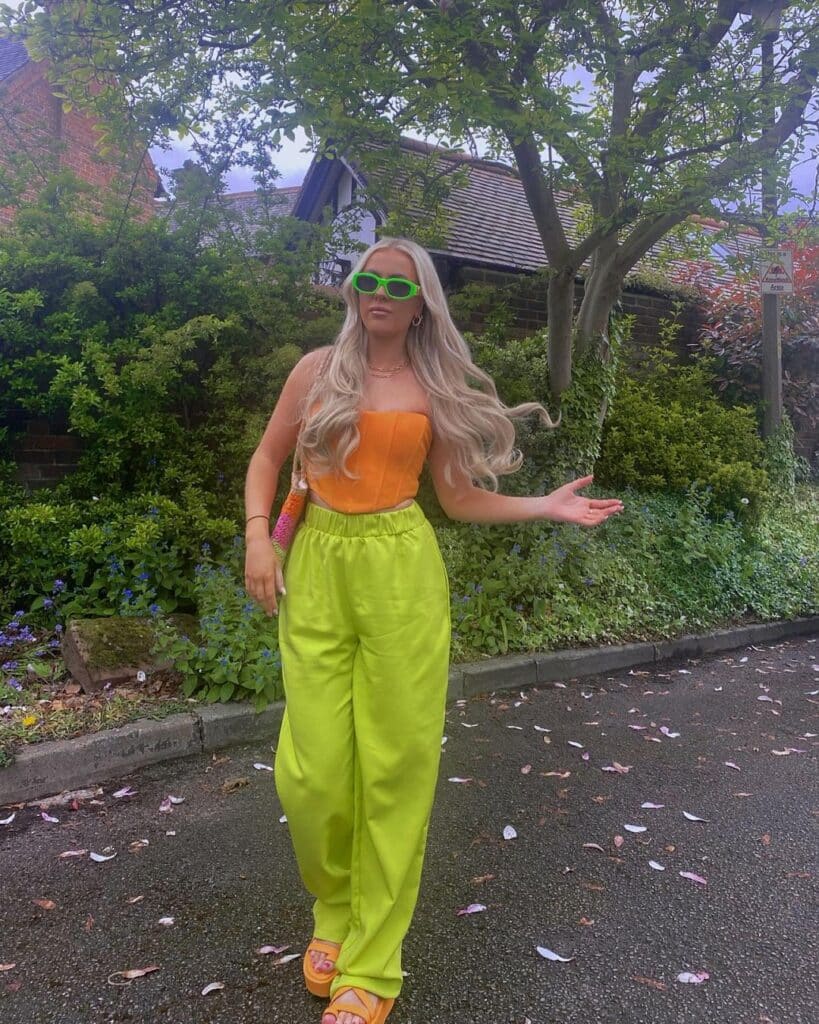 20 – Steal The Limelight With This Satin Dress
Parties are fun as long as you are dressed pretty. A glammed-up attire doubles the fun at a party. So why not go for this shiny halter neck satin dress which is both stylish and modish?
Add a classy pair of lace-up heels and earrings. You are ready to slay!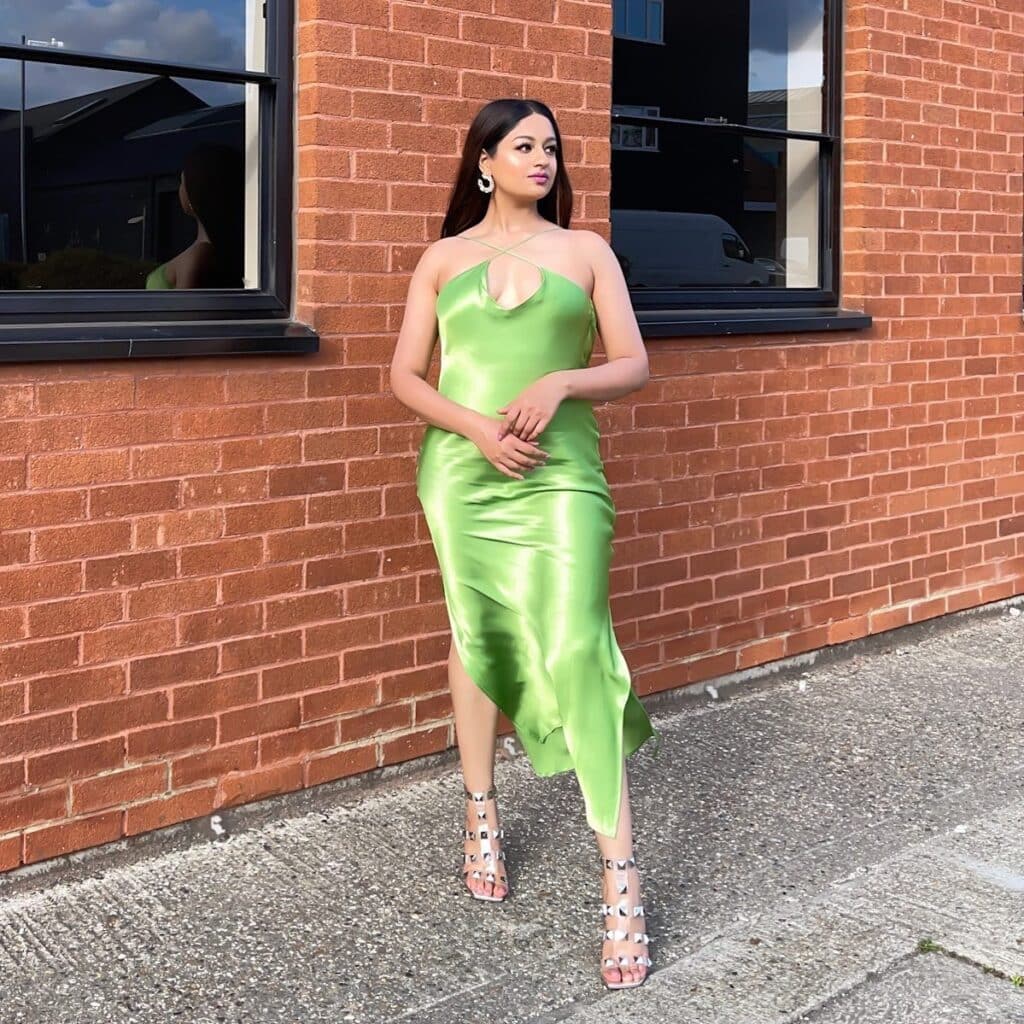 19 – Try This Fun Color Blocking
This lime green top and bubble pink pants are giving us super modern and chic vibes. A very colorful and refreshing outfit inspo for your next lunch date with your friends.
Carry a mini pink bag with you. Make a side parting in your hair and throw them open.
Tie a silver belt around your waist. Match your heels with the belt and you are all set to spread colorful and happy vibes with your outfit.
18 – Beige Pants with Lime Green Cropped Top
We are totally loving how this stunner has paired up her beige pants with a crop top. She is rocking that heavy choker set and the indo western attire looks subtle yet refreshing. Plus, it's a great outfit for someone who shy away from experimenting with vibrant colors.
This can be a perfect outfit for a lunch at your college or dinner at some one's home. Keep the makeup minimal with this fit but do focus on contouring and highlighting the cheeks.
We suggest going with the same hairstyle and footwear as shown in the picture.
17 – Checkered Dress with Sneakers
This dress is a good option for ladies who are up for some street-style outfits featuring greens.
Just wear any of your white t shirt and put on this checked dress. Throw on your favorite pair of shades and wear your sneakers. And you are ready to run your errands in style.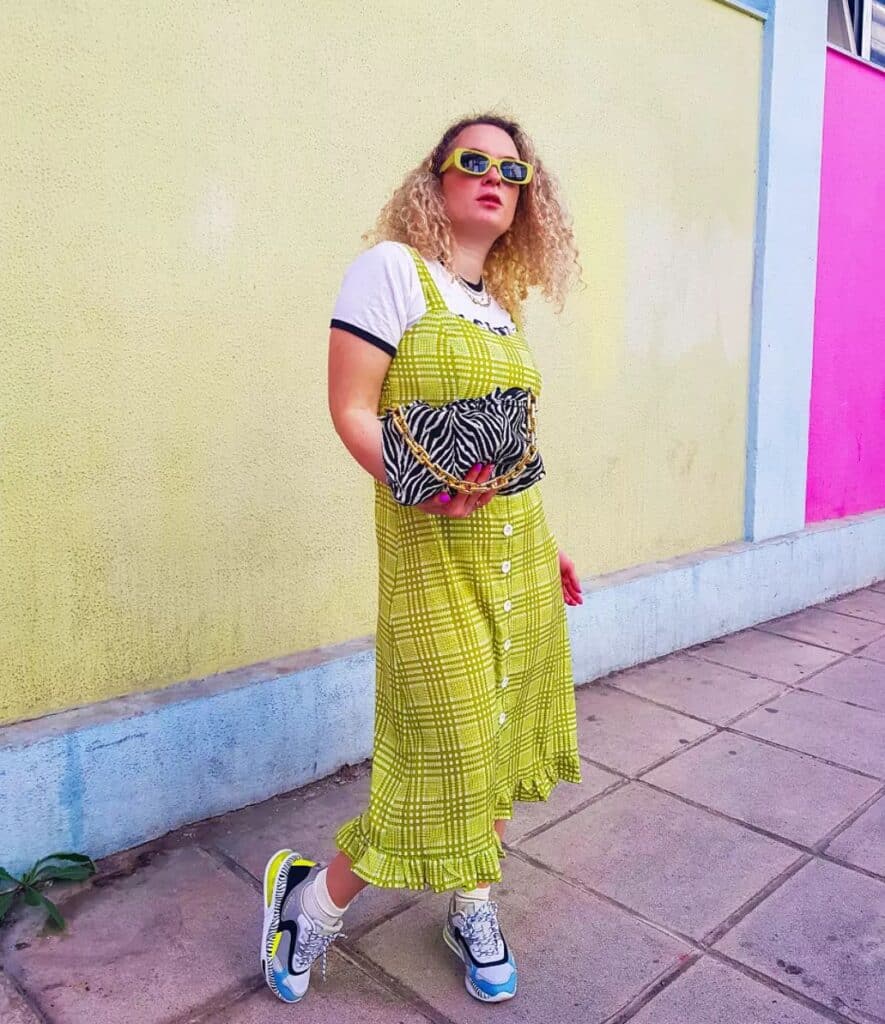 16 – Monochromatic Outfit for Office
It's a fun day at work and the boss has requested everyone to come in your favorite color. If you want to stand out among all, go for this monochromatic suit.
For shoes, you can go for the same color heels but we suggest swapping the greens with white or silver. Breaking a monochromatic outfit with a contrasting pair of heels leaves a good impression and the colors of the outfit pops out.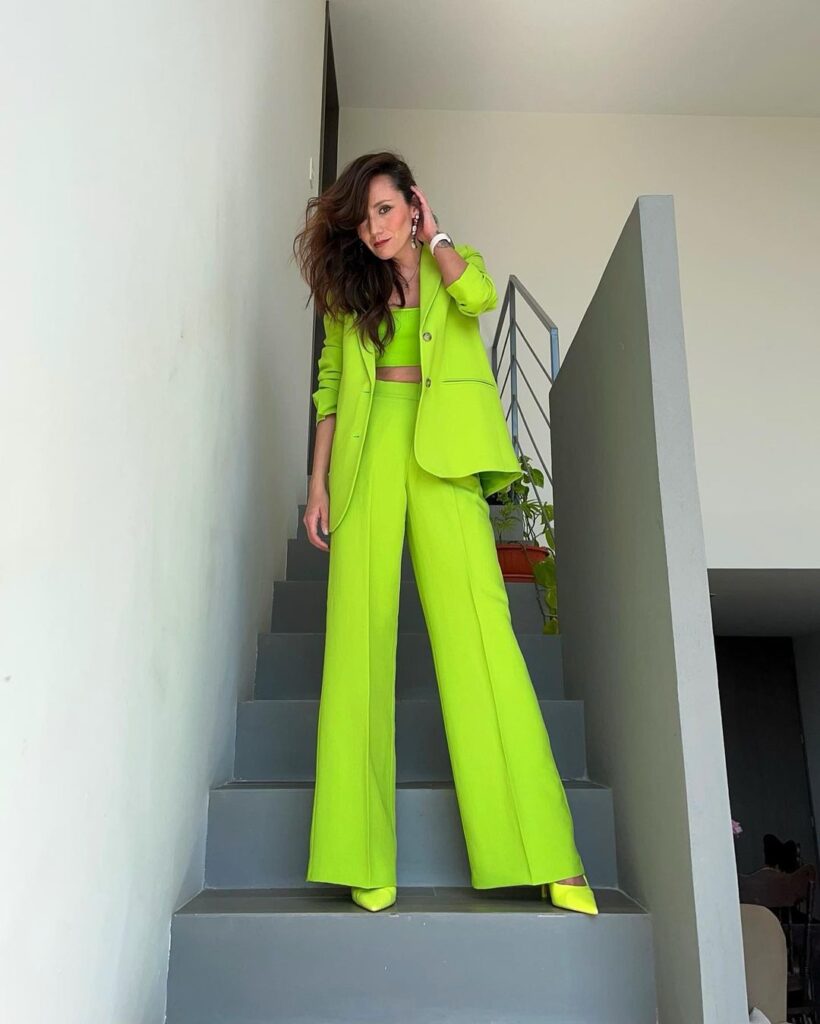 15 – Pair Your Lime Green Two Piece Set with White Tube Top
Loungewear has been trending this year for all the right reasons. They are casual and comfortable but still stylish. For a day at beach when you just want to stay cozy, go for this fresh lime colored relaxed wide-leg pants and an oversized upper with a white tube top.
Beaches and heels usually don't go well together and hence we suggest adding a pair of sandals or flip-flop.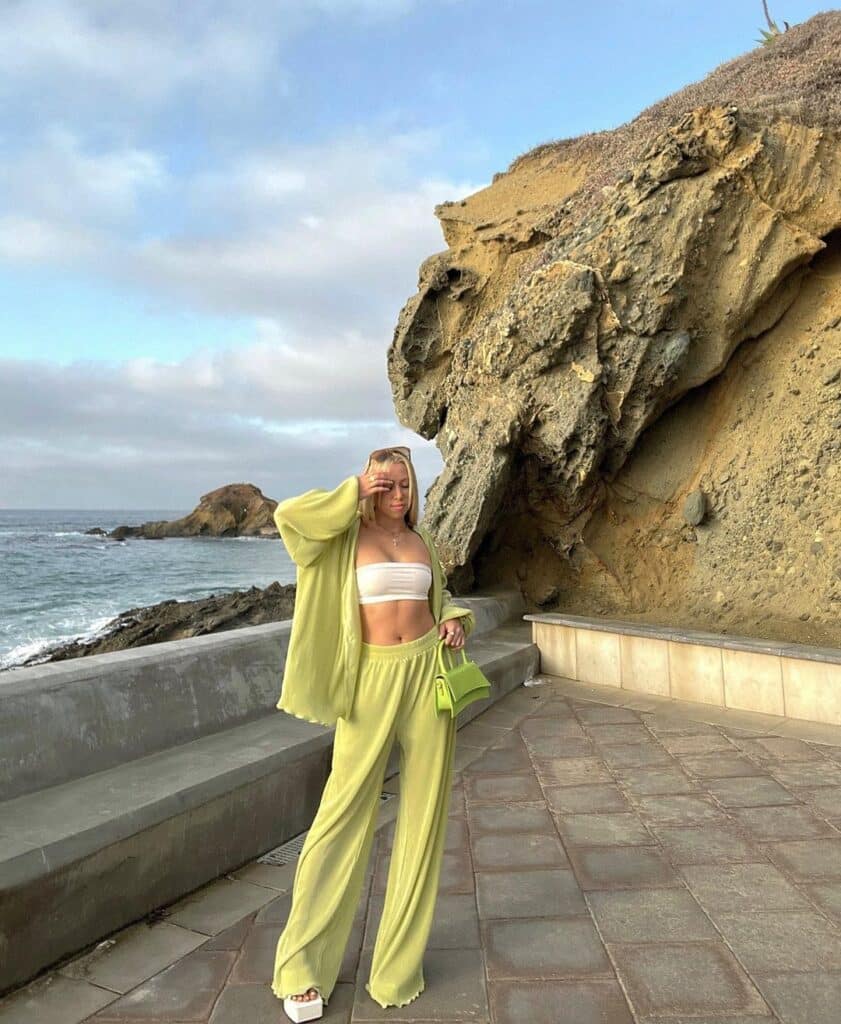 14 – Add Black Crop Top with Chino Shorts
13 – Don A Co-ord Satin Ruffled Blouse with Satin Pants
We can never get enough of satins, be it a skirt or a top or pants. One can never stop drooling over satins. They are shiny, and comfortable, and give you a voguish look without any extra effort.
Get a similar co-ord set and wear it to your next get-together with friends. We suggest wearing hot pink heels and a bag with this outfit for a chic look.
12 – Go Basic with Button-Down and Denims Shorts
One of the most hassle-free outfits is here to save your day. When not in the mood to put in extra effort, create a quick outfit with denim shorts.
just grab mini denim shorts and a lime green button-down shirt. Wear it, put on your favorite nude sandals and you are good to go.
11 – Add Shirt Over Your Bodycon Dress
Have you ever tried combining a bodycon dress with a button-down? Trust us, this is an amazing combination.
For days when you can wear a bodycon dress but still want to keep it low-key, give this outfit a try and you will be happy with the classy outcome.
10 – Lime Green Outfit Ideas for Mature Women
If we would ever inquire about our comfort dress, our answer would be, a plain tiered dress. A no-fuss attire that gives a you an elevated and fashionable look.
Make sure the dress is well-fitted from the upper body as long dresses lose their charm when they are way too loose or baggy.
The square neck allows you to go for chunky jewelry including pendants, necklace and earrings.
9 – The Sequined Bodycon Dress for A Halloween Party
Are you looking for stunning Halloween party outfits? We have got you covered. Opt for this long bodycon dress which is blingy enough for a party. We are loving this refreshing color done by this beautiful lady.
Add a matching fur coat to stay warm. Go for platform heels with this outfit and you will have a beautiful look.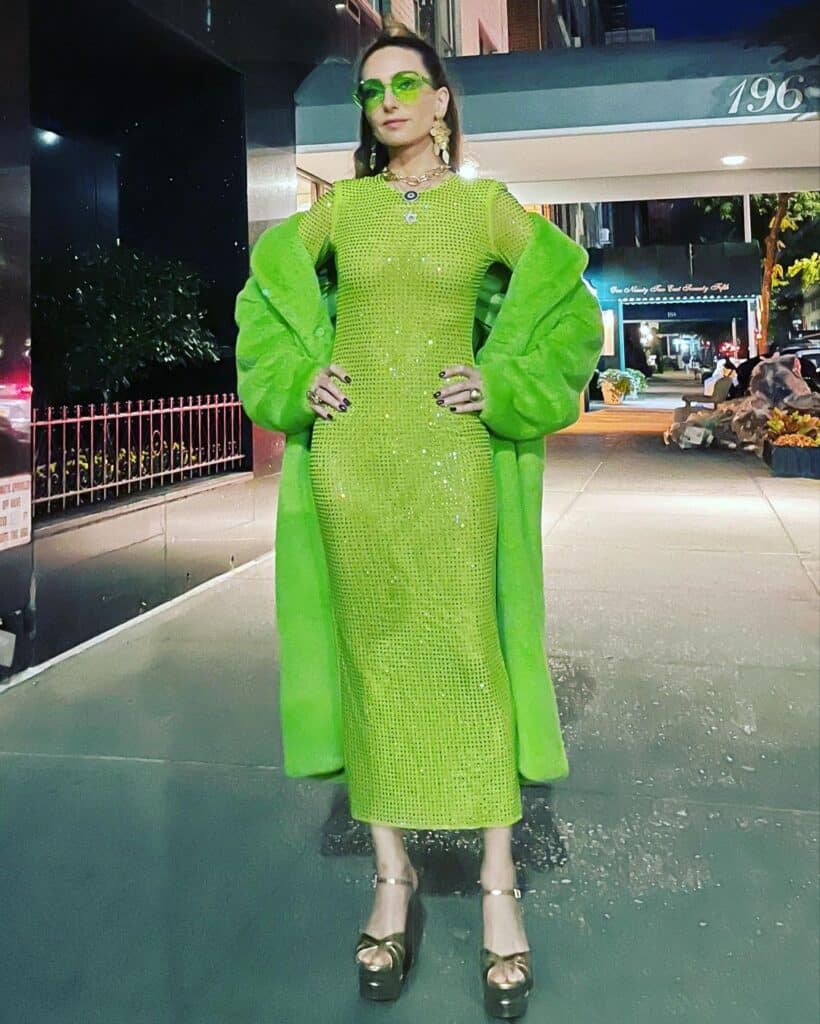 8 – Polka Dot Dress with Silver Laced Up Heels
We never thought of polka dot would look so refreshing and breathtaking in a lime green color. Earlier we usually had it in blacks and whites but now we have a new version of polkas that is not restricted to black and white.
This year ditch all the old-school designs and go for this vibrant lime green polka dot dress. Pair it up with silver laced-up heels to add the right amount of bling to the fit.
If you are going to a party, go for soft makeup with special attention to the eyes. You can go for nudes or for a funkier look, go for green eyeshades. Trust us a lime green color looks good in all forms.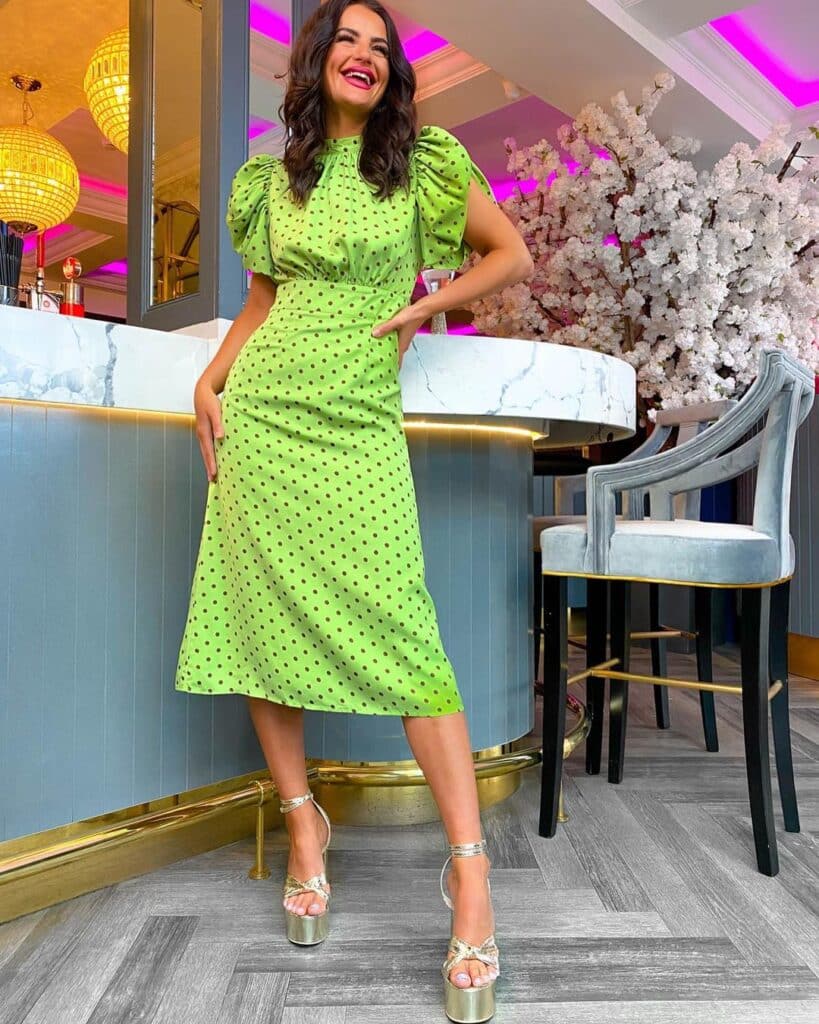 7 – How to Wear White And Lime Green?
You must have a white-laced top in your closet. It's a statement piece that goes well with every outfit, be it a casual day or a formal event.
Pair it up with a satin skirt and your pulled-together outfit of the day is ready. This is a subtle option for birthday parties, baby showers, and bachelorette parties.
Opt for high stilettos with this outfit and throw your hair open. Make sure your makeup should not over the top as white complements light and soft makeup.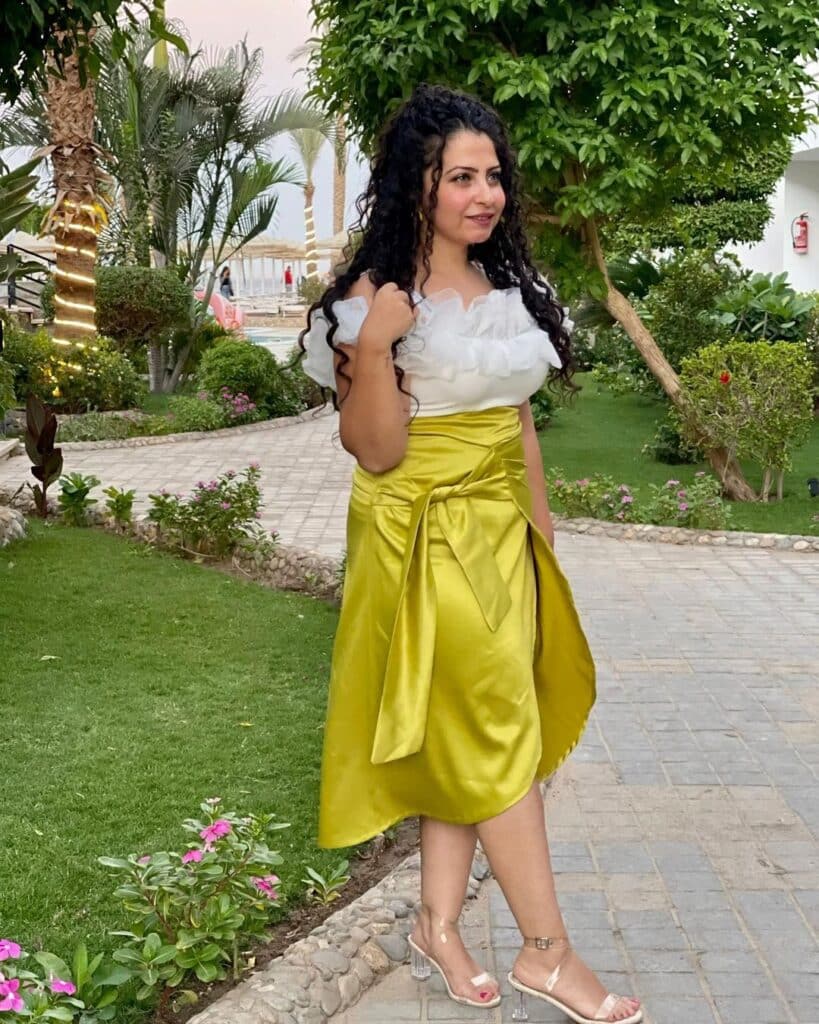 6 – Rock A Black Pencil Skirt with Georgette Blouse
This gorgeous black skirt styled with a lime blouse is just the right amount of style you need for your work dinners or family get together.
Moreover, those curvy ladies who are a little conscious about their stomachs can go for this blouse. The longbow collar that will fall on your bust will take away all the attention from your bust.
5 – Turn Heads in Pleated A-Line Skirt
Pleated skirts with mid calf length have been in trend lately. One thing we like the most about these skirts is that they help you de-emphasize your tummy fat. If you are someone who is conscious about their stomach and want to go for something comforting, pleated skirts should be your choice.
Pleated skirts work well with a floral blouse. If going to a gathering with friends, you can choose a casual blouse with floral prints.
You can reuse the same pleated skirt with a white button-down shirt for a day at work. But make sure, you tie your hair in a neat bun and the make-up is minimal.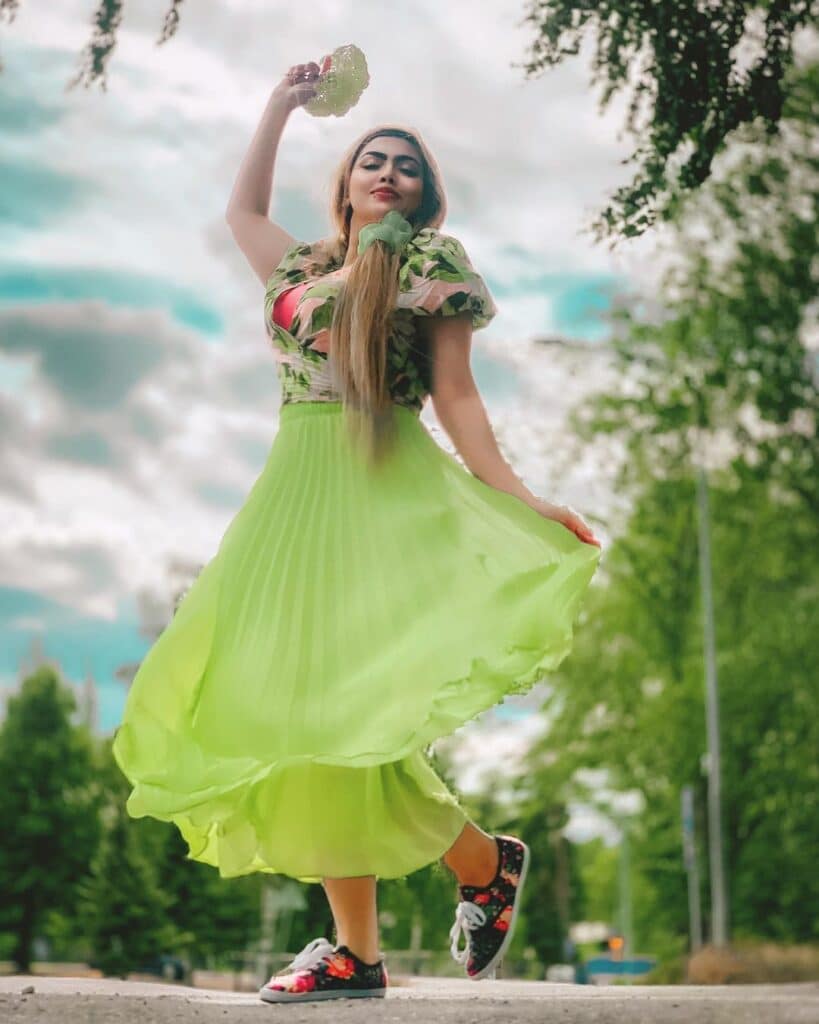 4 – White Fur Jacket to the Rescue
Nothing can beat the class of fur Jackets. On chilly nights, when you are invited to a party, opt for this fur jacket to stay stylish as well as warm
The weather should not stop you from having fun. So wear this slip dress, add light jewelry and complete the look by putting on this white fur jacket for all the warmth and comfort.
Carry a mini bag and lastly the lime green stilettos to steal all the limelights.
3 – Style Your Lime Green Sweater With White Skirt
2 – Cropped Blazer And High Waisted Leather Pants
We have this beautiful turtle neck sweater with a brown blazer and black leather pants. Pair this outfit with sneakers in white and carry a contrasting brown or burnt orange bag.
Wide-leg leather pants work great for those girls who have rectangular or triangular bodies as the cuts give your legs and thighs a toned look.
If you are not a fan of blazers, just keep the look easy with a full lime-colored turtle neck and pants. Tie your hair in a nice bun and rock some hoop earrings.
1 – The Ever Green Zebra Pants with White Crop Top
You can never go wrong with zebra pants. Pair your wide-leg zebra pants with a white top and a lime green cardigan. Put a blue beret on your head and you are ready with an edgy and snazzy look.
Match your accessories with the hues in your outfit and go for a flushed but soft makeup look.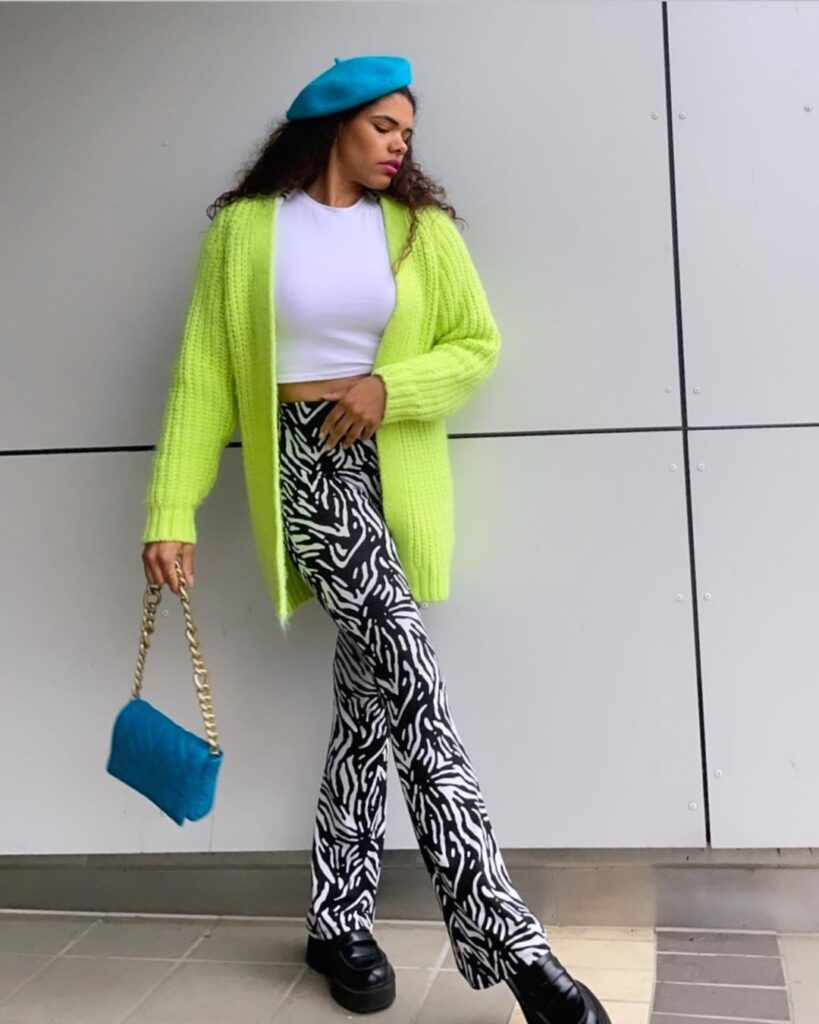 Frequently Asked Questions
Q. What to wear with a lime green jacket?
Ans. If you are going to a formal brunch, you can wear it with high-waisted pants and a plain white top. This can also be paired with mini and midi skirts along with a crop top or a cami top. If you are a resident of an area where winters are extreme, pair up your jacket with a turtle neck sweater in a contrasting color like black or yellow. For parties, it will look good on minimal bodycon dresses but not on sequined and embellished gowns. Fancy dresses go well with long coats and blazers.
Q. Are neon green and lime green the same?
Ans. No, they are similar but not the same. Neon is much brighter than a light green color and has a touch of blue pigment. Whereas lime green took its name from the citrus fruit lime and the color is the same as the lime fruit. It has a calming effect, unlike neon which has a sparkling effect. These two have only one thing in common both can catch your attention in seconds.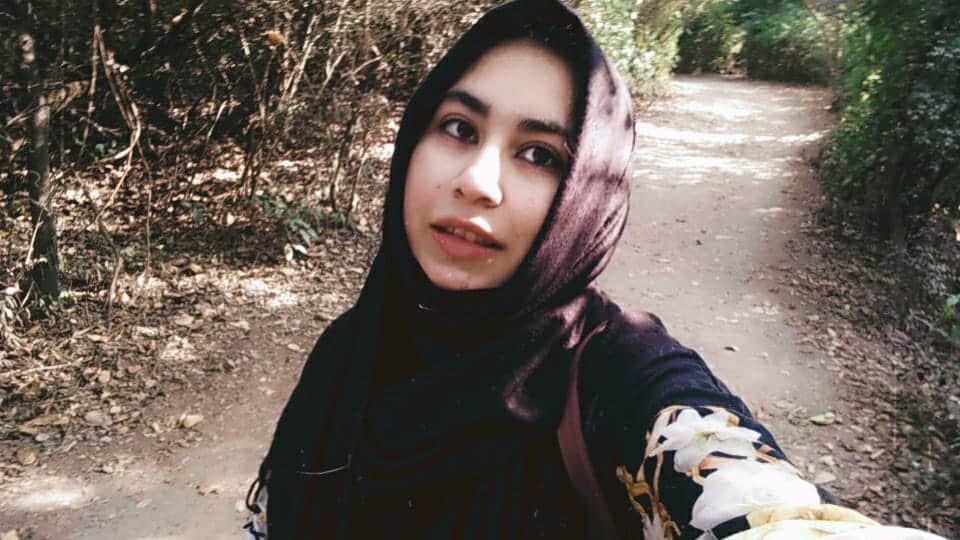 Hassana is a freelance writer who loves to read and write. A foodie by heart, she loves to cook and when she is not writing, she is in the kitchen. Mental health, fashion, and skincare are her favorite genres to write on. Apart from that, she is always ready to learn and explore all new things in life.