Lace Pants Outfits: No doubt lace pants are at the top of the list among the most controversial outfit trends. But it is true that with time fashion evolves. We see many new trends every year. Some become the most iconic, or some become the most controversial. Either way, people love to experiment with their looks, and for those who do, lace pants are easily the best thing to try now.   

In different periods, you can see the evolution of different types of pants. Today, we have a vast range of pants. Such as straight, skinny, boot-cut, flare, wide-leg, pegged, stirrup, bush pants, cargo pants, sailor pants, palazzo, cuffed, cropped, capri pants, 5-pocket pants, and many more.

However, it wasn't long ago when lace pants fashion was introduced into society and became an unbeatable trend. You can see many of your favourite fashion models wearing lace pants and acing the look. If you are looking for ideas for lace pants for yourself, here are the top outfits for inspiration.  
What To Wear With Lace Pants?
The combination of lace and pants become controversial at first. However, later on, it got enormous success. In different periods, you can see the evolution of different types of pants. Today, we have a vast range of pants such as straight, skinny, boot-cut, flare, wide-leg, pegged, stirrup, bush pants, cargo pants, sailor pants, palazzo pants, cuffed, cropped, capri pants, 5-pocket pants, and many more.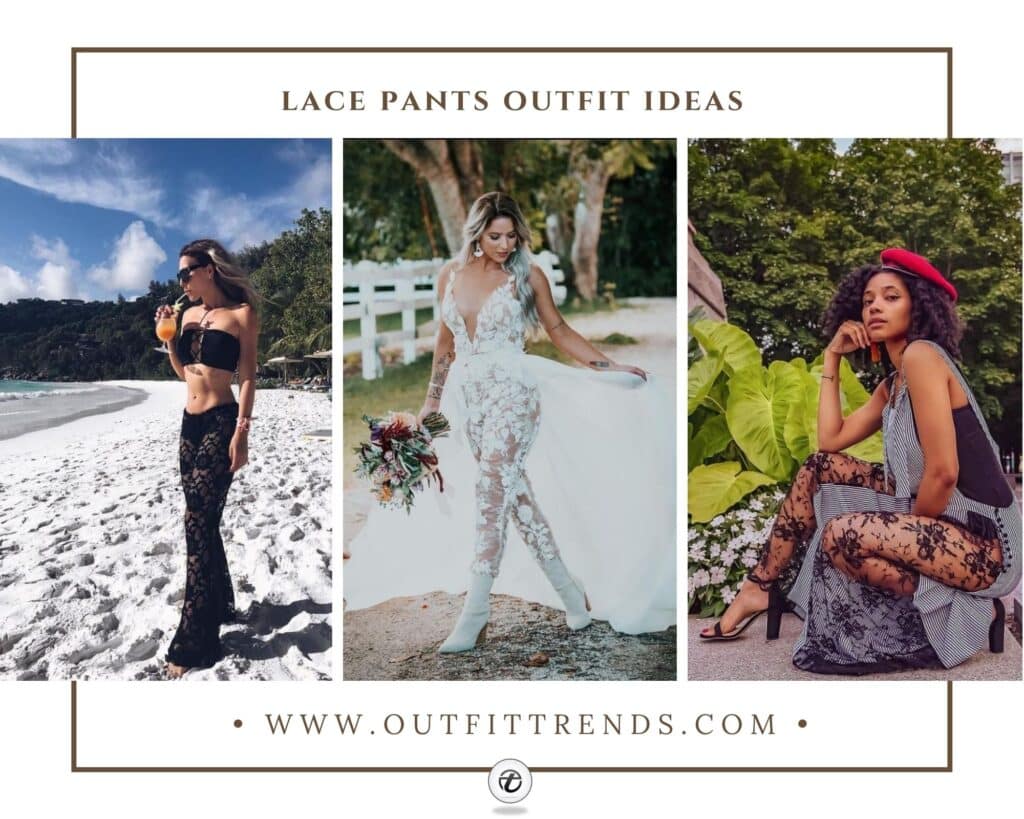 Tips On How To Style Lace Pants
Many people still hesitate to wear lace pants, and the reason is that they seem pretty provocative. If you have the same reason, try to wear black lace pants with black leggings. It will still look stylish yet modest.
The lace pants come in different styles, like double lace pants and see-through lace pants. However, if you aren't comfortable with see-through pants, you can always manage them with suitable undergarments. For that, you have options such as thongs, boy shorts, skin colored undies, and white lace panties.
Lace is a very neatly made material and needs extra care while washing. Try not to mix it up with other clothes. Wash them separately and carefully. Always buy from branded stores so you can avoid the ripping-off issue. It is better to spend money once rather than spending again and again on the same thing.
18 – Beige Lace Pants Outfit
Beige colour is everyone's favourite when it comes to classy outfits. It looks decent and gives off fresh vibes. Therefore, you see that even if we combine it with lace pants, it does not look like a scandalous outfit. Without any doubt, it's the colour that balances the complete look. Moreover, you can pair it with different shades of brown to create a contrast. Indeed, a perfect fit for the younger as well as the older generations.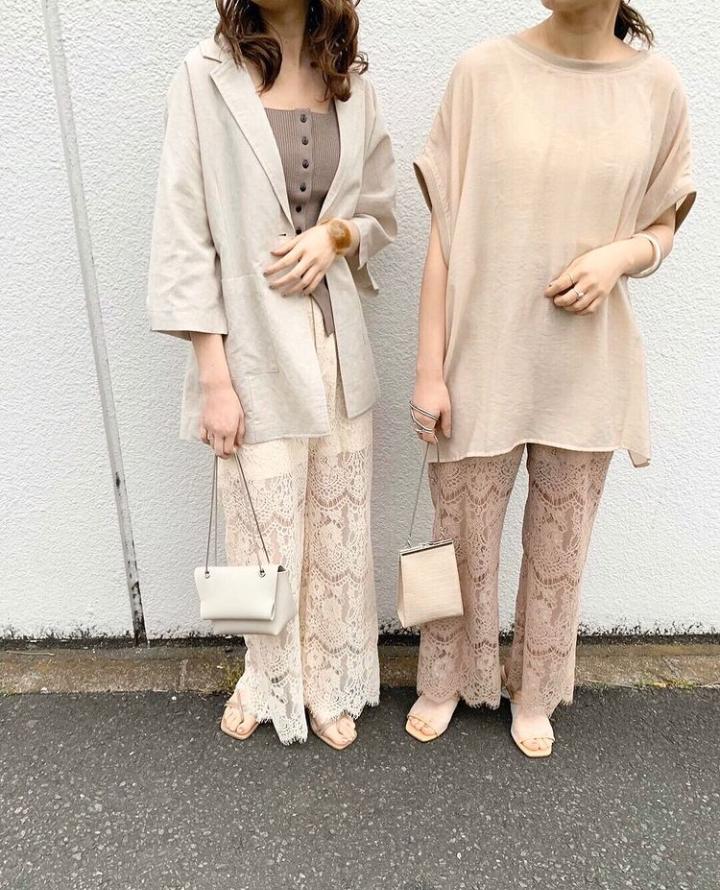 17 – White Blazer
Blazers look appropriate if you are going to a formal gathering. It adds the CEO vibes to your look. Another thing about styling blazers is that you can wear any basic tank top underneath. However, there are two ways to carry that as well. Either you can wear a matching top underneath or you can wear a contrasting colour to compliment your blazer. Lastly, finish your look with nude coloured heels.
16 – You Can't Say No To A Black Outfit
If you want to dazzle your audience with one single look, then this outfit is perfect. All you need to do is to wear lace trousers with a lace spaghetti strap top. Moreover, wear black heels to complete your black theme. To add extra colours, always compliment your black outfit with white accessories. For example, a white crossbody bag will work, or you can even carry a white coat in the fall season.
15 – How to Wear All-White Lace
It is a fact that an all-white outfit is something that everyone can carry but people usually avoid wearing white. However, the way this lace palazzo makes the outfit stand out will make you try it at least once. Moreover, accessorize yourself with a white chain bag and white heels. Lastly, for the cover-up, you can use a white coat if it's winter or a white button-down shirt in case of summer.
14 – How To Style Black & White Together?
This colour combination can work in both ways. Either you can wear a white outfit and pair a black jacket, or you can go with a black outfit and wear a white blazer on top. Undoubtedly, both ways look classy but with their pros and cons. Therefore, choosing the right one solely depends on you. If you are not wearing anything fancy, then make sure to complete it with appropriate jewellery.
13 – Office Outfit
Another all-white outfit, but make it an office look. Usually, lace pants are considered a controversial outfit for the office. However, this look proves that there are q thousand different ways in which you can style your lace pants with your official/formal attire. Therefore, wear your white lace pants with a tank top and carry a jacket or coat on top of it. Moreover, to add colours go with red heels.
12 – Plus Size Outfit Idea
The ancient discrimination about which type of dress you should wear according to your body type is useless. Now, the size, shape, and colour don't matter. Women these days are confident enough to shine in every outfit they choose to wear. Here's the inspiration for all the plus-size queens out there to wear a black lace outfit with black boots. Moreover, you can accessorize by wearing a tussle hat.
11 – Mint Green
Mint green is such a fresh colour that anything you wear in this colour will look ten times better. The suit pants are the perfect outfit for any evening or formal gathering. With this lace outfit, you don't have to wear many accessories. However, subtle makeup with dark lips would add some sizzle to the whole look.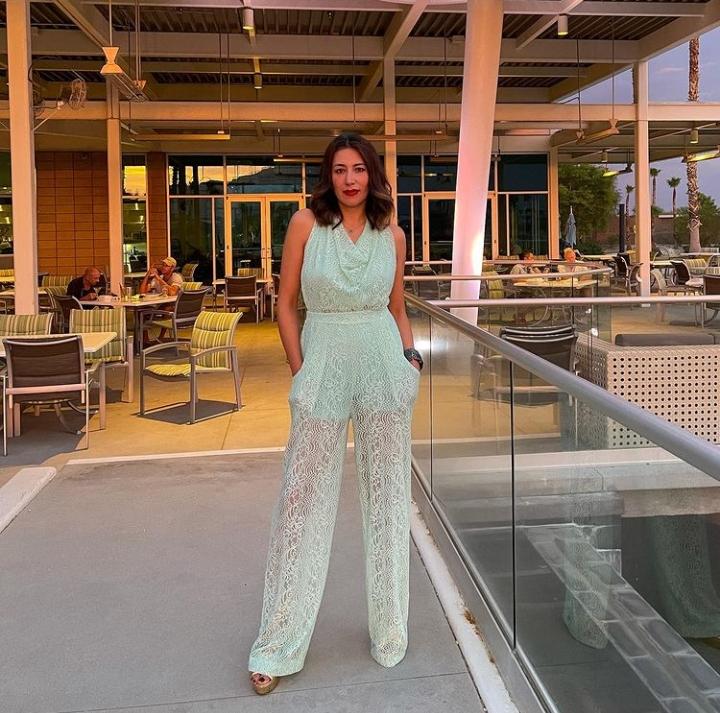 10 – Casual Outfit For A Lake Vacation
Next comes this casual lace beachwear. The best way to spend your vacation on a beach is to dress up in the most comfortable outfit. Therefore, go with lace trousers with a plain bikini bra top and flip flops. Pull your hair back in a pony, and don't forget to wear your sunglasses. Lastly, carry a shoulder bag to complete your look and Voila! You are all set to enjoy.
09 – Slay In Black Lace Pants
An all-black look is something everyone prefers. That's why this outfit is the perfect inspiration for all black lovers. A lace wide leg high waist trouser with the off-shoulder top looking exquisite together. Moreover, you can carry a black clutch and, of course, for the theme, wear black shoes; platform heels will look best, though.
08 – How To Pair A Denim Jacket With Lace Pants?
Indeed, you all have at least one jacket in your wardrobe. Now is the time to take it out and pair it with your lace pants. How? Take any basic tank top and pair it with your high waist lace trouser. Moreover, neon yellow heels will cast a spell on your outfit. Lastly, carry a crossbody bag if you must.
07 – Monochrome Outfit Idea
Monochromes outfits are the iconic trend of 2021. However, you can see this fashion in history as well. So you can say it's the revival of an old trend. But, whatever it is, it is not going anywhere soon. So, you need to buy at least one outfit of this kind. Go with lace pants with a darker shade coat. You can always wear beige heels to neutralize the whole look.
06 – With Striped Outfit
If you want to step up your lace pants game, then try this look. It's a perfect model wear fit. Not too challenging to put together either. All you need to do is to take a basic tank top and wear it with lace pants. Wear a long black and white lining cover-up with black block heels. Lastly, finish your look with a red beret. If you have natural curls, then all is good.
05 – Button-Up Shirt With Lace Pants
It is a fact that you can pair a button-up shirt with almost everything. The only thing which matter is that how you style it. Check out this basic button-up shirt with lace pants. The black and white theme looks exceptionally well together. Another thing worth mentioning is that if you want to add a touch of messy, then roll up your sleeves. It is the best technique and so far has worked with every outfit. Moreover, boots or heels both will work. So go with the one in which you are comfortable. However, if I were to choose then I'd go for heels.
04 – When To Wear Lace Pants?
If you are on vacation and staying at a luxury resort then this is what you should wear. The lace trouser works as a cover-up with a bikini, and don't go with a basic bra. Wear a tube top, and to make it look extra cool, choose the tube top with a criss-cross strap.
03 – Perfect Way To Explore Paris
A city like Paris demands to be explored therefore, go with a see-through shirt with lace pants. If you want to take things up a notch, you can wear a bright coloured bra inside. However, if you're going to keep it subtle, go with the same colour or a nude coloured bra. Add a chain necklace around your neck, and that's it.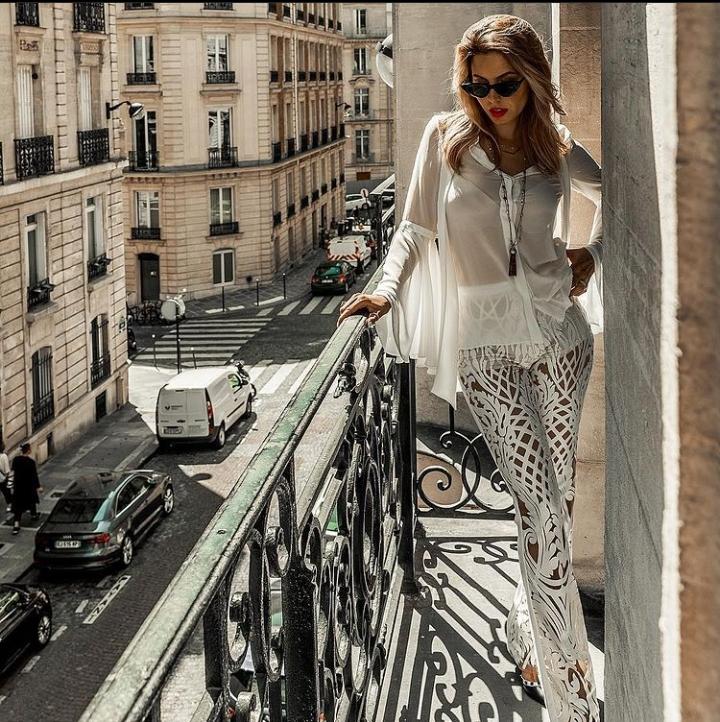 02 – Fashion Week Outfit
This outfit is perfect if you ever get a chance to visit fashion week. Without any doubt, fashion weeks are high end. Everyone looks exceptionally well and classy that to be a part of that gathering feels like a dream. So, don't waste your chances to shine if you ever get the chance to be a part of fashion week. Wear a nude lace outfit and carry a nude shoulder bag. Lastly, wear a platform heel instead of a pencil heel. It will add extra inches to your height in case you are not so tall.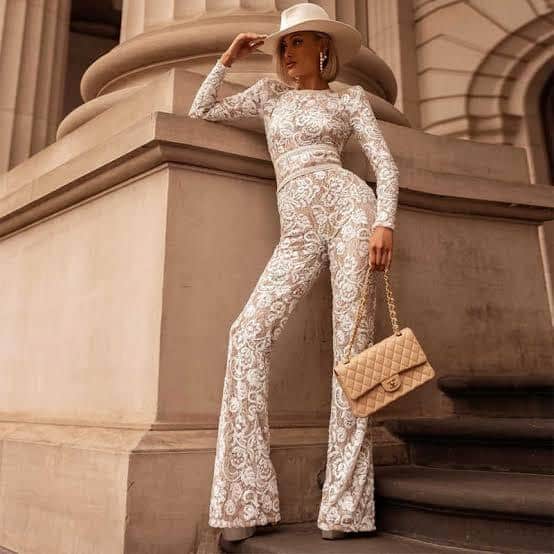 01 – Lace Outfit Inspirition For Brides
Lastly, this lace bridal outfit is something different. We all know that white bridal outfits are usually in net, silk or stuff like that. But a see-through lace outfit with pants instead of a dress is the end of all other bridal outfits I've ever seen. Wear it with white boots and keep your makeup subtle. You are already the star of the evening.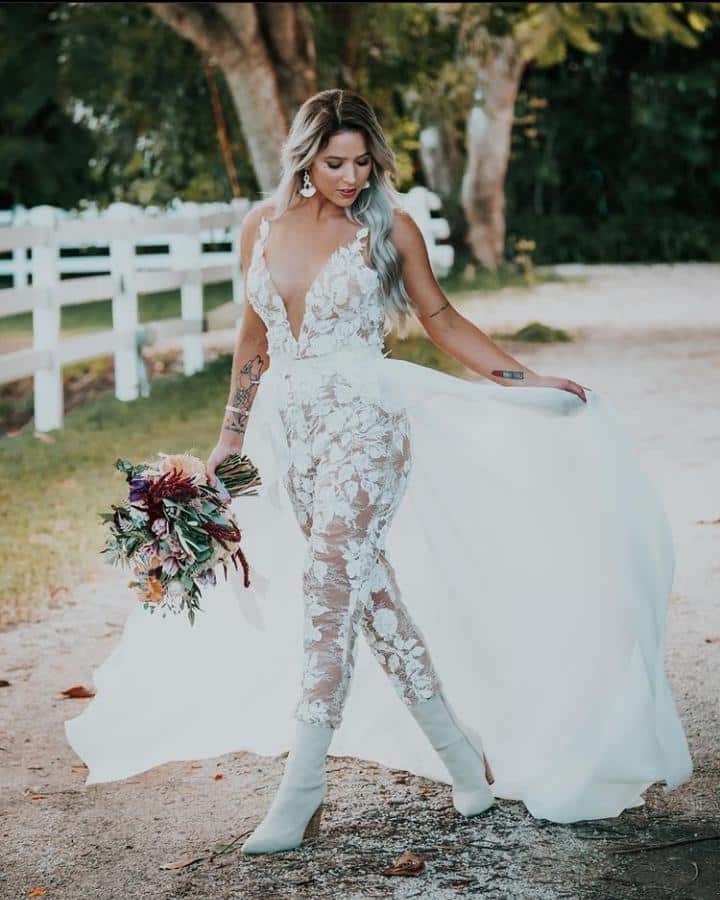 Frequently Asked Questions
Q: What to wear with white lace pants?
Ans: White lace pants look extraordinarily exquisite, and you can do many OOTD's with them. Pair bright colour tops to vibe with the white bottom. You can style tank tops, off-shoulder tops, boat neck tops, and many more. However, to make the outfit bolder, try it with a tube top. Again, it depends on your comfort level.

Another way to style white lace pants is to create an all-white look. Pair your white long button-up shirt with white lace pants and wear neon colour heels. Give your hair perfect curls and finish off the look with cool shades. You will look like a diva for sure.
Q: What to wear under lace pants?
Ans: It is a crucial question and, so far, the most asked question as well. The choice of your undergarment depends a lot on what you want to express through your style. If you're going to show your bold side, you can wear dark coloured undergarments.

However, if you are thinking of going casual, wear something related to your skin or the colour of your lace pants. It will give you a subtle look. Don't wear anything with prints like floral print or butterfly print.
Q: What to wear with lace palazzo pants?
Ans: Palazzo pants are everyone's favourite, whether it is in lace material or not. The perfect way to style your lace palazzo pants is to wear them with a lace crop top. If you have both in black colour, then it's a cherry on top. Create an all-black look.

Make your look extra spicy with flawless makeup. You can go two ways. The first is to create smokey eyes with nude lips. Pin your hair back in a messy bun. Second, go with natural glam but with red lips. Both ways, you are going to shine, my girl!