Best red heels. Don't feel like putting a lot of effort in dressing up tonight? Well, the only things that have got you covered are your red heels and your red lipstick. And while finding a good red lipstick is not that hard, finding comfortable and good-fitting red heels is actually pretty hard.
Which of course is where we come in. We've rounded up the 10 best red heels that are worth investing. If you're a fan of red heels, you might even end up buying all of them because they are all pretty different from each other in terms of style and color and then again, you can never have enough red heels, can you?
What Red Heels Should You Buy?
We've already covered Women's Outfits with Red Shoes but we've been getting a lot of questions about what are the best red heels to buy? Or what are the most comfortable red heels? For women who like making bold choices, red heels are always must-haves. And its obviously not a new trend, red heels have been around since centuries and historically they have always been associated with royalty and aristocracy.
Whether you prefer high heels or small ones, eye-catching heels or minimalist ones, in this collection, we have something for everyone! We've also tried our best to include the maximum number of shoes that will give you comfort and style without breaking your bank; which is why you'll find that most of these budget-friendly red heels are priced under $150. Another great thing, you'll be able to shop online for most of these red heels!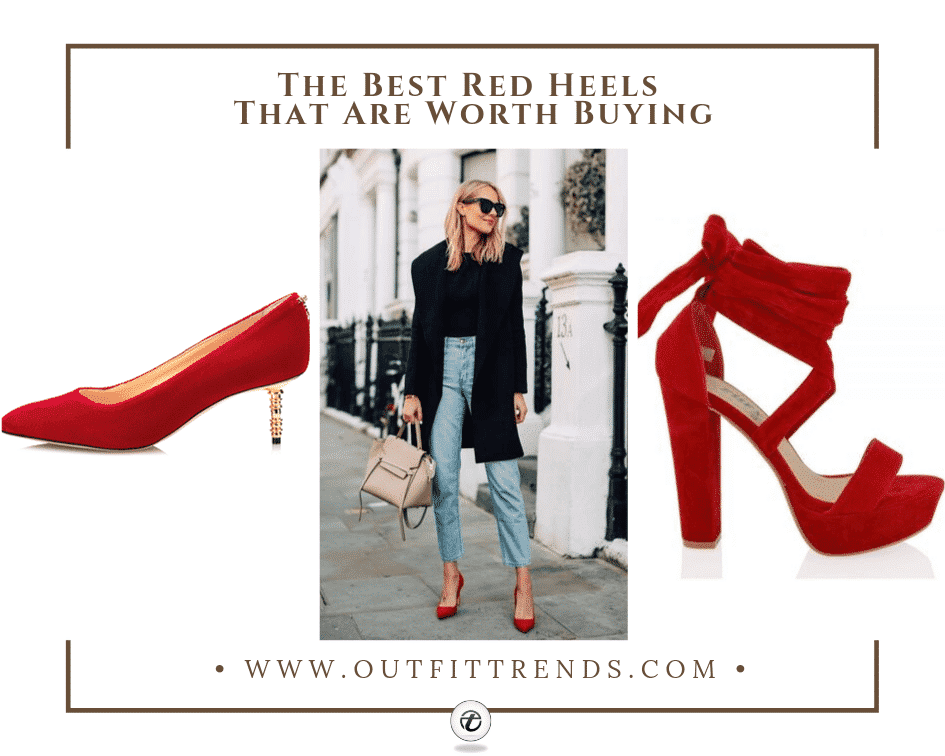 Here's a list of all the shoes we've rounded up, but do read on as we won't just be sharing their reviews and links from where you can buy them, but you'll also get lots of styling and outfit ideas on what to wear with red heels.
Comfity Heeled Tassel Sandals for Women $41 – $55
Sam Edelman Women's Dorinda Pump $78 – $130
Lexie Platform Sandal By Micheal Kors $150
BCB Generation TAMERRA Women Pointed Toe Suede Heels $29.97
Sam Edelman Women's Tabby 2 Pump $45.00 – $125.65
Raye Myra Heel Crimson block heels $75 – $110
Naturalizer Women's Cinda Wedge Sandal $36 – $89
M&S COLLECTION Kitten Heel Pointed Court Shoes £19.50
Kurt Geiger London Women's Britton $97.99 – $175.00
Christian Louboutin Red – Douce Du Desert $895 (We've also shared some dupes of this shoe that are under $170)
↓ 10. Red High Heels With Tassels
Tassel heels in red colors are the only shoes you would ever want to wear with your LBD. Period! The Comfity Tassel Heels are cute enough to make a statement but also not too over the top so even if you're a minimalist fashion lover, you wouldn't mind owning these sassy heels at all, especially considering the great price that they come at. For casual daywear, you can easily wear these heels with cropped jeans and we feel they look best with black and nude-colored outfits. And do check out our popular post on Outfits with Ankle Strap Heels.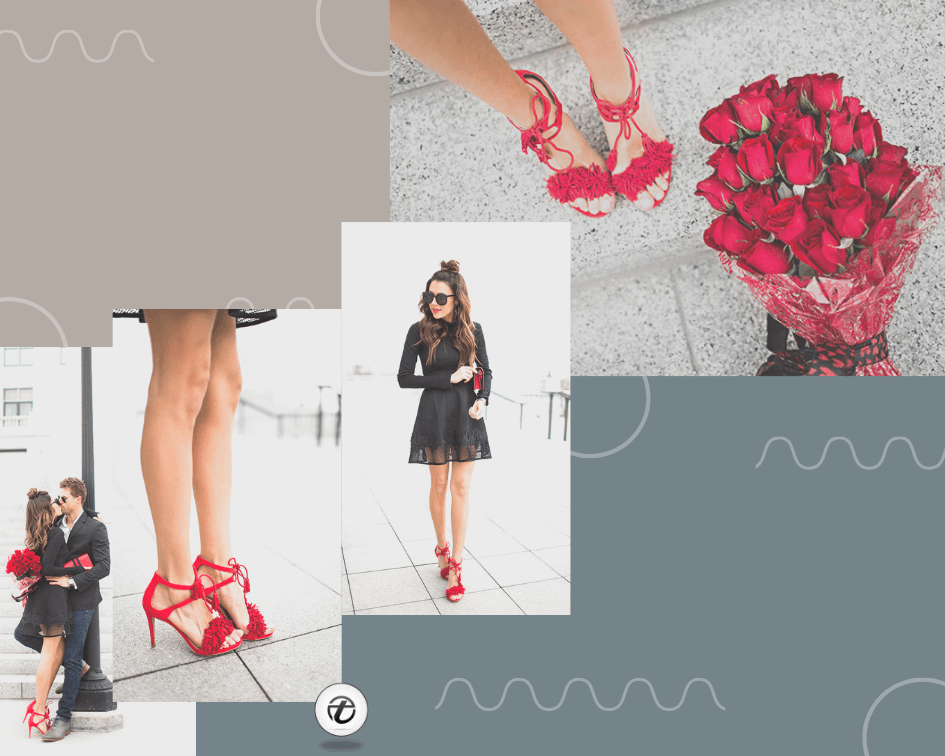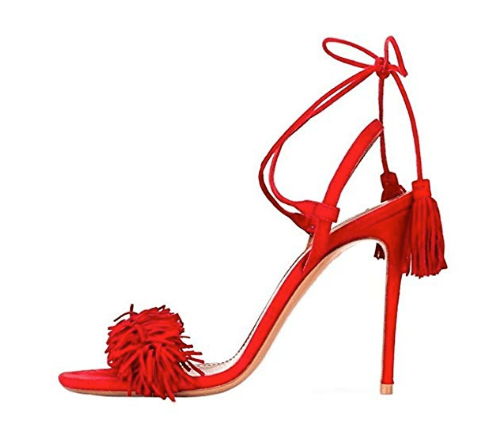 Here's another gorgeous date night look that you can take inspiration for. We love the idea of wearing tassel heels to complement the shoes.
↓ 9. Red Strappy Heels
Sam Edelman Women's Dorinda T-strap heels are perhaps the flirtiest red heels that you can get your hands on. The brand is known for providing comfortable and durable shoes at a pretty good price point. These ones come in a bold red color with orangish undertones but the T-strap might be a little difficult to adjust if you have narrow or petite feet.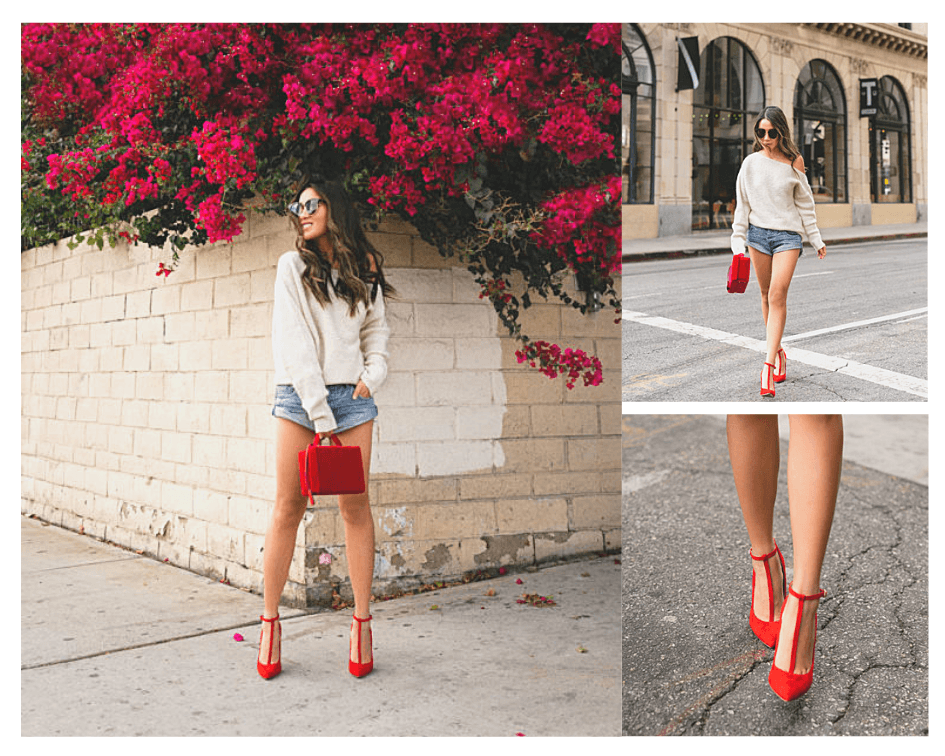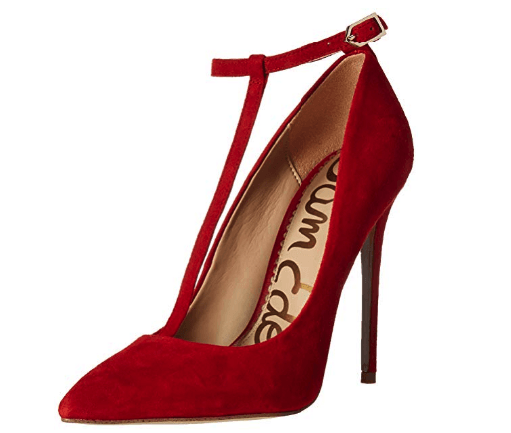 BUY HERE FOR $ 130. ALSO AVAILABLE HERE IN LIMITED SIZES FOR $ 78
↓ 8. Deep Red Platform Heels
Lexie Platform Sandal by Micheal Kors comes with a gorgeous golden detailing that borders the red-colored shoes that would add sophistication to any outfit. With its 5 inch heel, this is one of the highest heels of today's collection. The open toe style means that you get to show off your pedicured nails. Being a platform heel, the shoe ensures even distribution of your weight so you can comfortably wear the shoes all day long while the ankle strap with buckle provides extra support. Its sensual silhouette will make your legs look longer as well as slender.
↓ 7. Cheapest Red Heels On A Budget
For our budget-friendly shoe, we have a dupe of the famous Toerless Muse buckled leather point-toe heels by Christian Louboutin that are worth more than $800. Let's first have a look at how the American businesswoman Olivia Palermo and fashion blogger Christine Andrew have worn these shoes on different occasions:
You can see how well these shoes work with dresses, jeans as well as pants. Now the dupes that we found for these heels are the BCB Generation TAMERRA Women Pointed Toe Suede Heels and they look EXACTLY the same but at such a lower price point that it will blow your mind! These four-inch high strappy heels might seem too long to some but because of the straps and buckles, they are really supportive and easy to wear. The shoes are made in a very lush looking suede material and they come with a caged vamp and buckled strap detail which makes sure that your foot remains secure as you walk.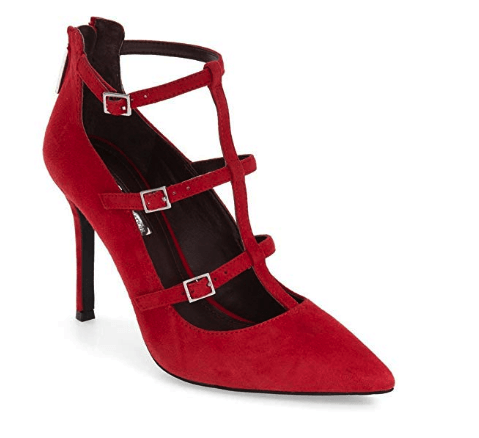 ↓ 6. Printed Red Ankle Strap Heels
If you like shoes with details then these Sam Edelman Women's Tabby 2 Pumps will surely be your favorite. They're also budget-friendly and they'll elevate any outfit you wear, no matter how simple it is.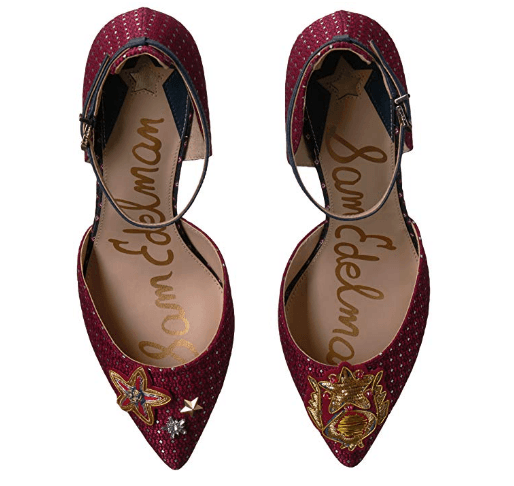 With the asymmetrical and mismatched embellishments, they look just as good as any high-end designer shoe. Moreover, printed shoes always look better in pictures than solid colored ones, don't you agree?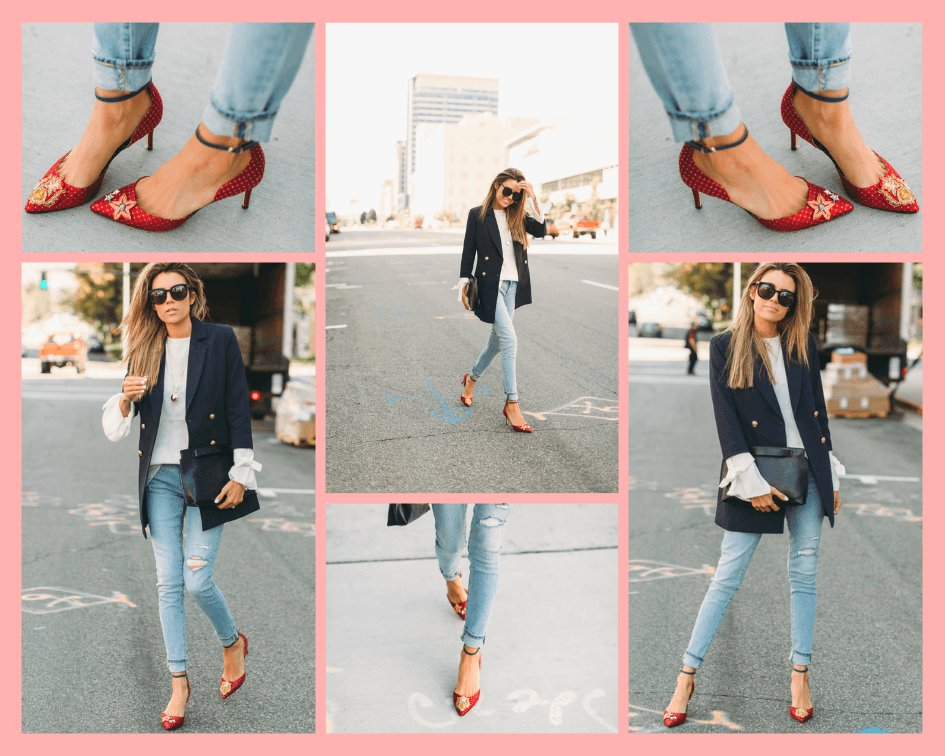 ↓ 5. Red Block Heels
Do you know what every blogger's favorite shoe has been lately? You guessed right, the block heels! Block heels look best when worn with cropped bottoms and power suits, making them your ideal work companion. These are also one of those rare heels that feel as awesome as they look. Red outfits are of course the best thing to wear with your red heels so here are some chic Outfits To Wear With Red Pants.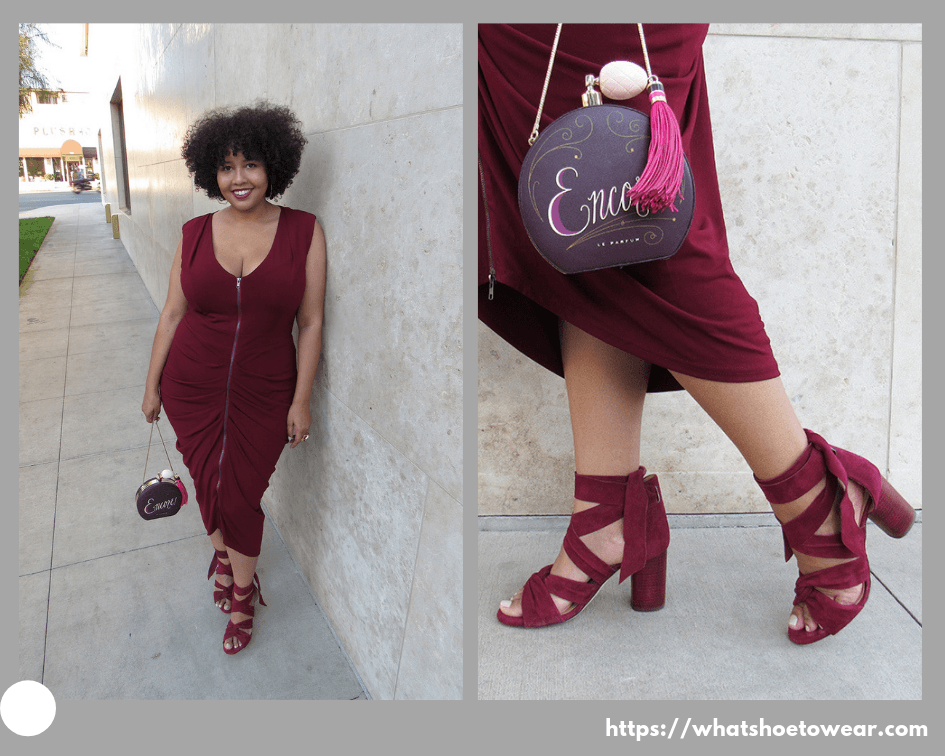 The Raye Myra Heel Crimson block heels that we've chosen are more on the maroonish-red side which makes them pretty different from your average red heels. Other plus points include the twisted detailing and wrap-around style. The heel is around 9cm long and the shoes are made from suede fabric.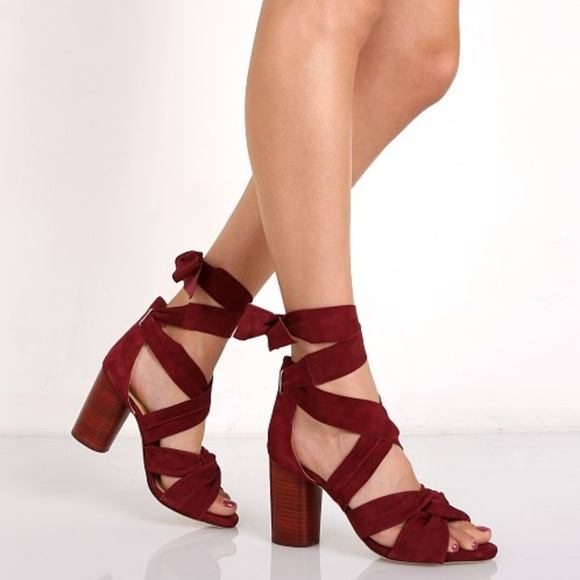 BUY HERE FOR $110. HERE FOR $113. HERE & HERE FOR $ 75
↓ 4. Comfortable Red Wedge Heels
The brand name Naturalizer is automatically associated with comfort but this doesn't mean that you need to compromise on the style. The Naturalizer Women's Cinda Wedge Sandal effortlessly combines class, elegance and comfort and it comes in an eye-catching papaya red color with the heel in a wooden texture. On first glance, it looks like a cross between a mule and a wedge and it definitely gives you the comfort of both styles.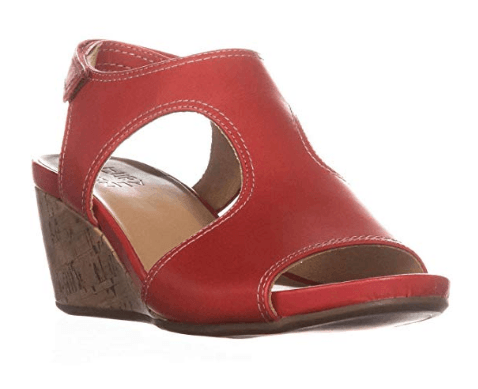 ↓ 3. Comfortable Red Kitten Heel
If you're looking for low heels that you can easily wear all day long or even walk for miles while wearing them, go for the M&S COLLECTION Kitten Heel Pointed Court Shoes. These shoes are also a good choice for tall women who're not really looking to add a lot of height. It is a pretty much classic design and it is also very durable and will definitely last you many years. The fitting is neither too tight nor too loose so these are the perfect shoes to jump into when you're in a hurry.
If you're someone who prefers vegan fashion then these are the shoes for you because absolutely no animal fibers have been used in their manufacturing. And lastly, these are perhaps the most practical shoes on this list that you can just jump into any time of the day you want – whether you're going shopping, to work or hanging out with friends, you can't go wrong with these heels. Do check out these different Ways To Wear Jeans With Heels.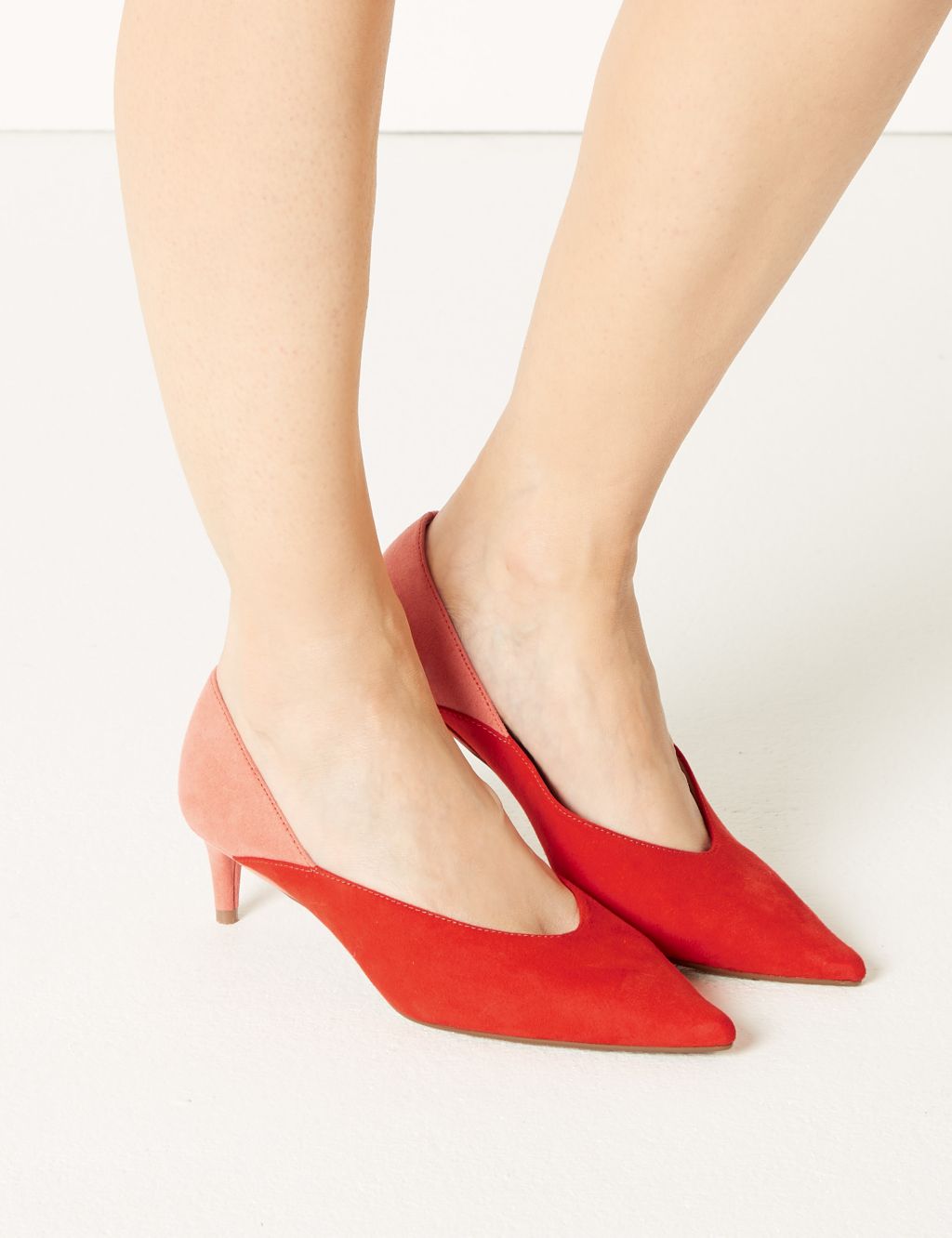 ↓ 2. Glossy Red Pump Heels
Recognize these heels? Well, you might have seen "Kurt Geiger London Women's Britton 90″ before as they've lately been trending amongst bloggers and celebrities and it seems like they just can't have enough of them. Some of the celebrities who rocked these shoes include Hailee Steinfeld, Nicole Scherzinger, Beyonce, and Leighton Meester. Whether you're wearing your LBD or boyfriend jeans, these shoes will never disappoint because of their classy design.
Since its a pretty simple shoe, with no embellishments, glitter or strap details, you can easily wear it with any casual outfit. And if you want to wear it for a formal occasion, the hot red color with a glossy finish is enough to make it look like a special shoe that's fit for your formal wear.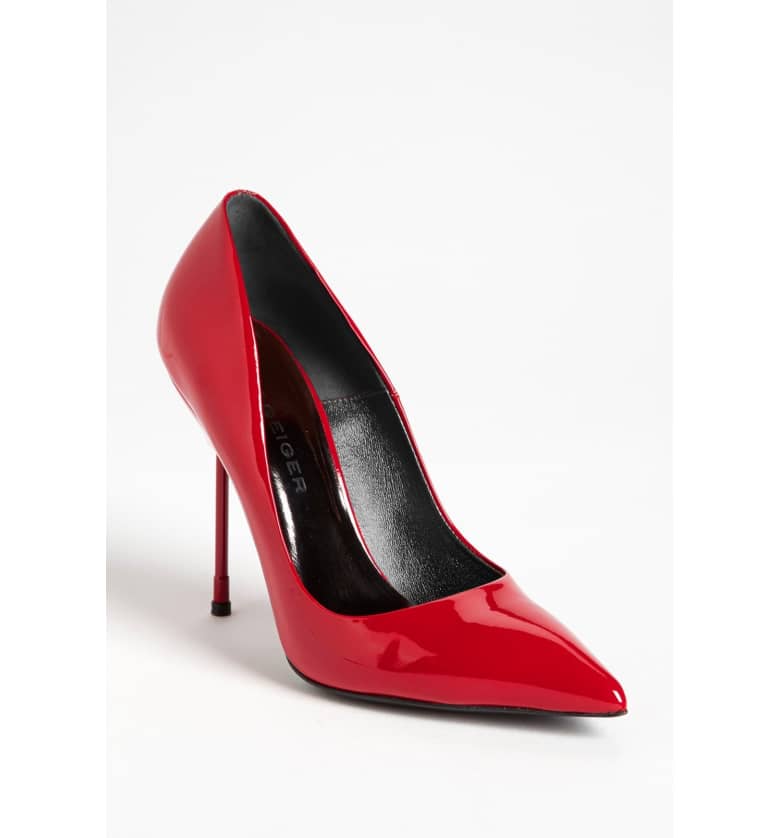 BUY HERE FOR $175.00 – $195.00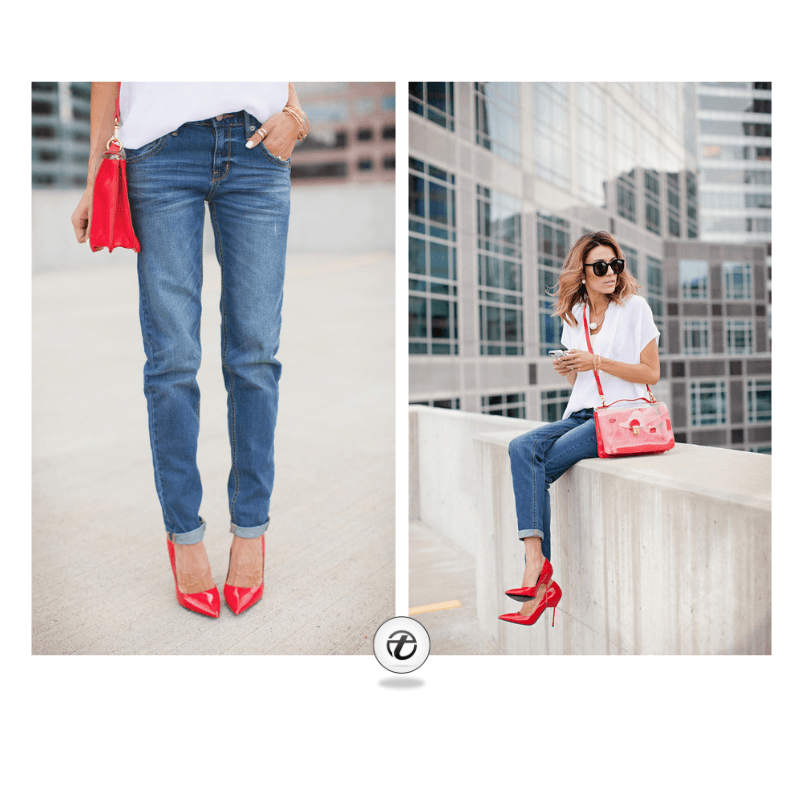 ↓ 1. Red Designer Heels
When it comes to designer heels, Christian Louboutin's heels are matchless and of course, timelessly classic. Even if you can only afford a single pair of designer shoes, we say it should be the Christian Louboutins because of how statement-making and luxurious they look. In the past, we've shared a lot of looks with the famous 'So Kate' shoes but today we'll be focusing on the equally sensuous 'Douce Du Desert'. They come in a scarlet red color, flamenco crepe satin material with broad wrap-around ankle ties. The insole is also lightly padded so you can easily walk in these shoes without killing your feet.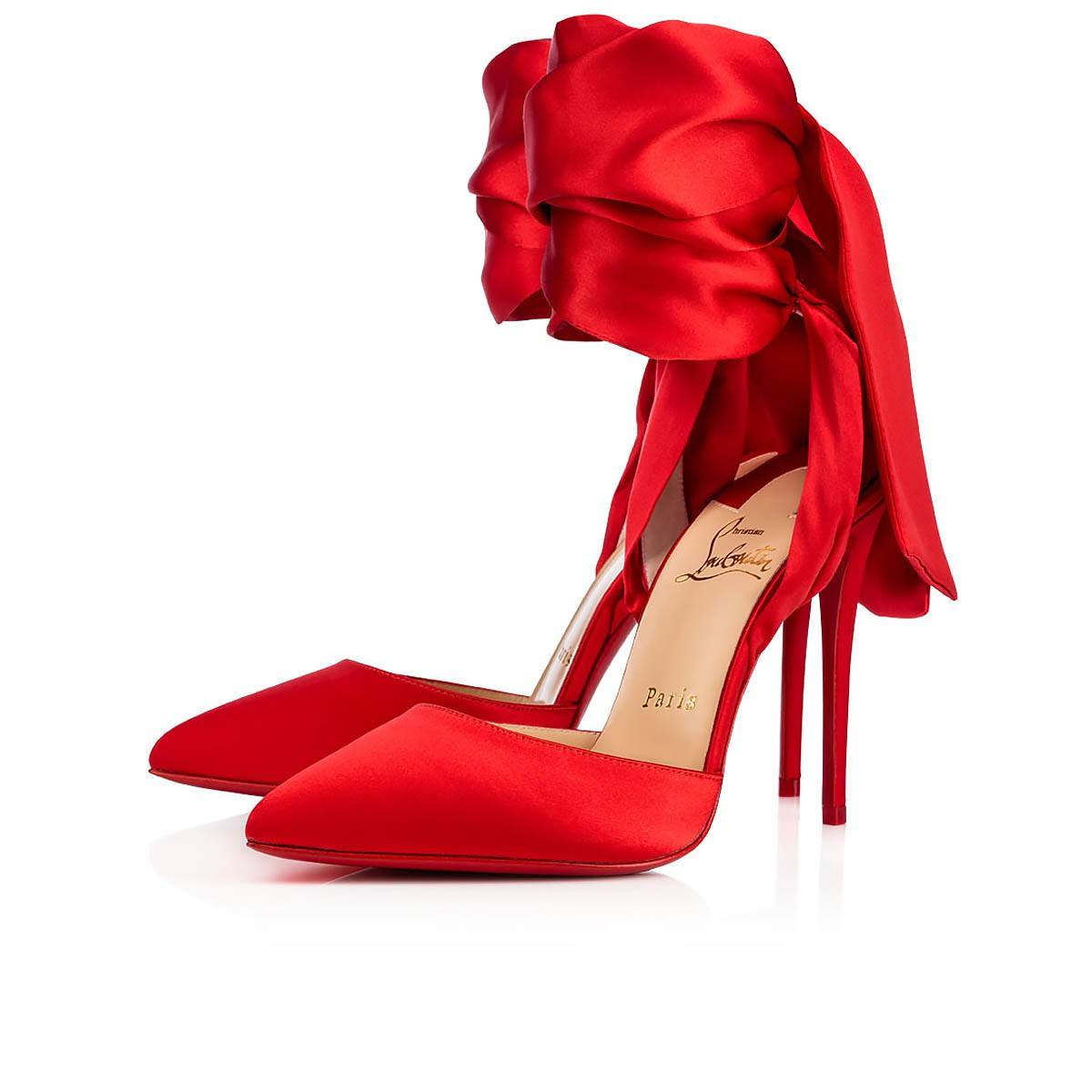 BUY HERE FOR $895 Also Available Here & Here
These shoes are not something that you would wear casually of course but they'll be a showstopper at any formal event including wedding parties. We find they look best when worn with gowns that come with slits so you can properly show off your sexy legs and shoes in all their glory. Our point was recently proven by the gorgeous model Rosie Huntington-Whiteley who wore these shoes with red lipstick and a blue gown for an event in New York.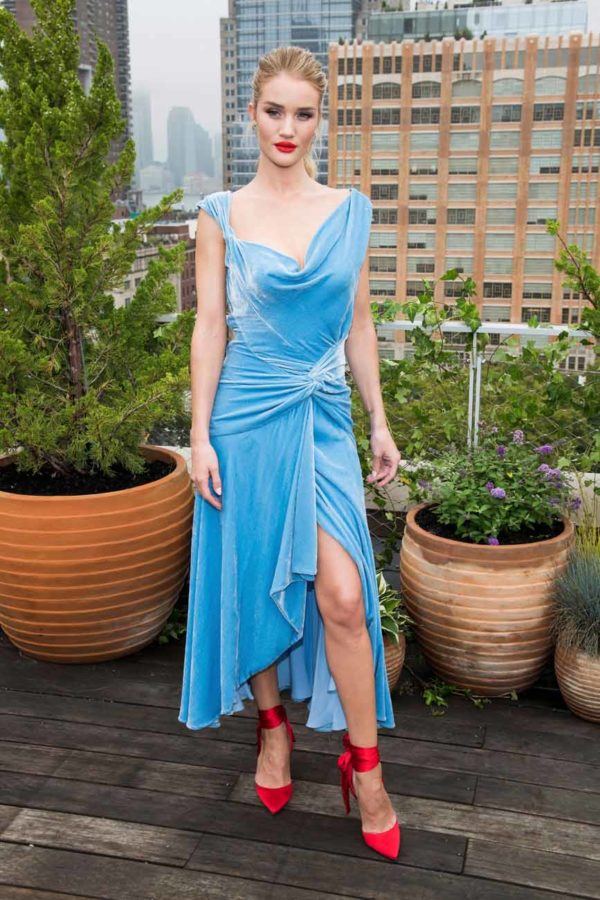 If you find these shoes to be out of your range, don't worry as there exist a number of similar shoes that might not be as comfortable but they're as classy as the original ones. First off, there are the Gianvito Rossi Pumps that are originally almost the same price as the Christian Louboutins but if you aren't too late, you can buy them here at an amazing sale price of just $163.48! Yes, they're at 80% off right now and even if they've run out of red color by now, we highly recommend that you buy these shoes in any of the available colors if you can find your size. Other than that, you can also try these similar shoes "Amy Q Sexy Women's Satin Wrapped High Heeled Sandals" for $59.99 and the TailingJia Pointed Toe Red Satin Heels for $ 53.99.