Beautiful Neck Designs For Suits: The best thing about sub-continent fashion is that you can go totally overboard, and be extra AF and yet still look gorgeous. Asian women spend most of their time shopping for cloth, looking for tailors, finding the matching lace, lining, thread, embroidery and all that their effort is totally under appreciated.
From the neckline to the back of the shirt to the daaman, everything is decided and explained to the tailor. Even if the outfit is just for casual home wear. Every desi woman has a natural talent for fashion designing, I guess. Every little detail matters and makes a perfect outfit. This article focuses on the neckline designs of shalwar kameez and eastern wear.
What Are The Latest Neck Designs For Kameez
Necklines matter a lot. They can make or break your outfit. You have to be very careful about what kind of neck design do you have to make with what sort of shalwar kameez design. An angrakha frock, for example, has a cross neck with a body. It will not look nice to make the neckline collared, or turtle neck of course. Similarly, if you have a really heavy embroidery on the front then it's better to keep the neck a little simple.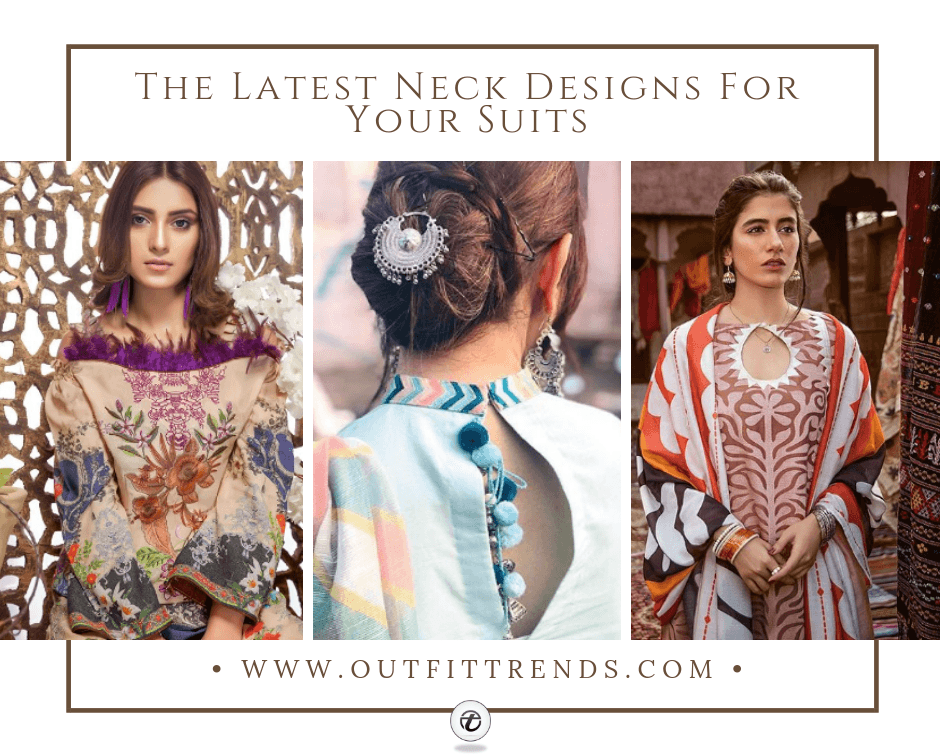 Or if you are opting for a fancy backless shirt, with laces and tassels at the back, then a simple round neck shirt will work out just fine. If you are confused about all these fashion rules, you don't need to worry this article has got you covered. Take inspiration from our top picks of latest neck designs that you can easily style. These designs are not only for day to day wear but also for the most special events of your year.
↓ 27 – Cutest Back Neck Design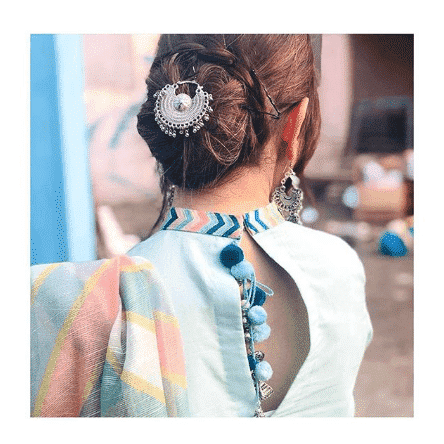 ↓ 26 – Neck Design For Lawn Suits
With Summers almost here, the lawn craze is already gaining momentum so here are some of our favorite neck designs for your new lawn suits. We also recommend that you check out these Dupatta Reuse Ideas & 20+ DIY Ways To Upcycle Your Old Dupattas.
Pearl detailing: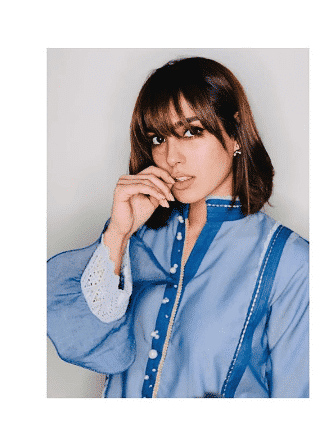 Simple cut-work: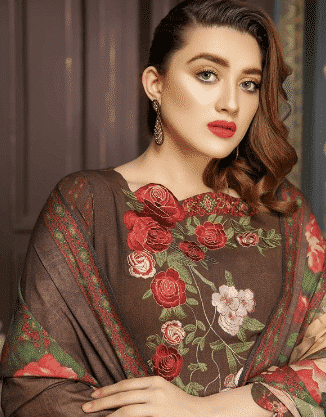 Furry details: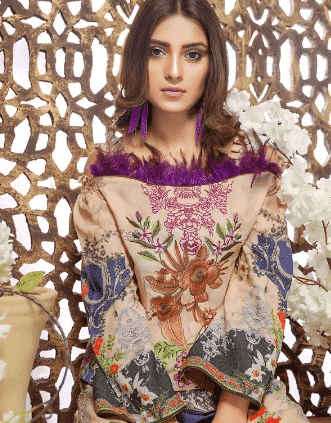 ↓ 25 – Angrakha Style Neck
Starting with a traditional look, this neck design dates back to when Mughals ruled over the Subcontinent. Exotic lifestyles and luxurious clothes were a part of their culture. Today, even centuries later the Mughal lifestyle is known for their extravagance and appreciated for their sense of style. Angrakha gives us similar Anarkali vibes. You can choose to pair your shirt with a churidaar pajama or give it a more modern twist by wearing jeans under it, either is just fine and totally a fashion yes in 2019. If you want to stay in the middle, then a shalwar is your best option. Add a pair of jhumkay and khussay as well. And if you wanna go extra, do not forget the rose in your hair, because after all, we have that exotic thing inside of us and we live for that extravaganza.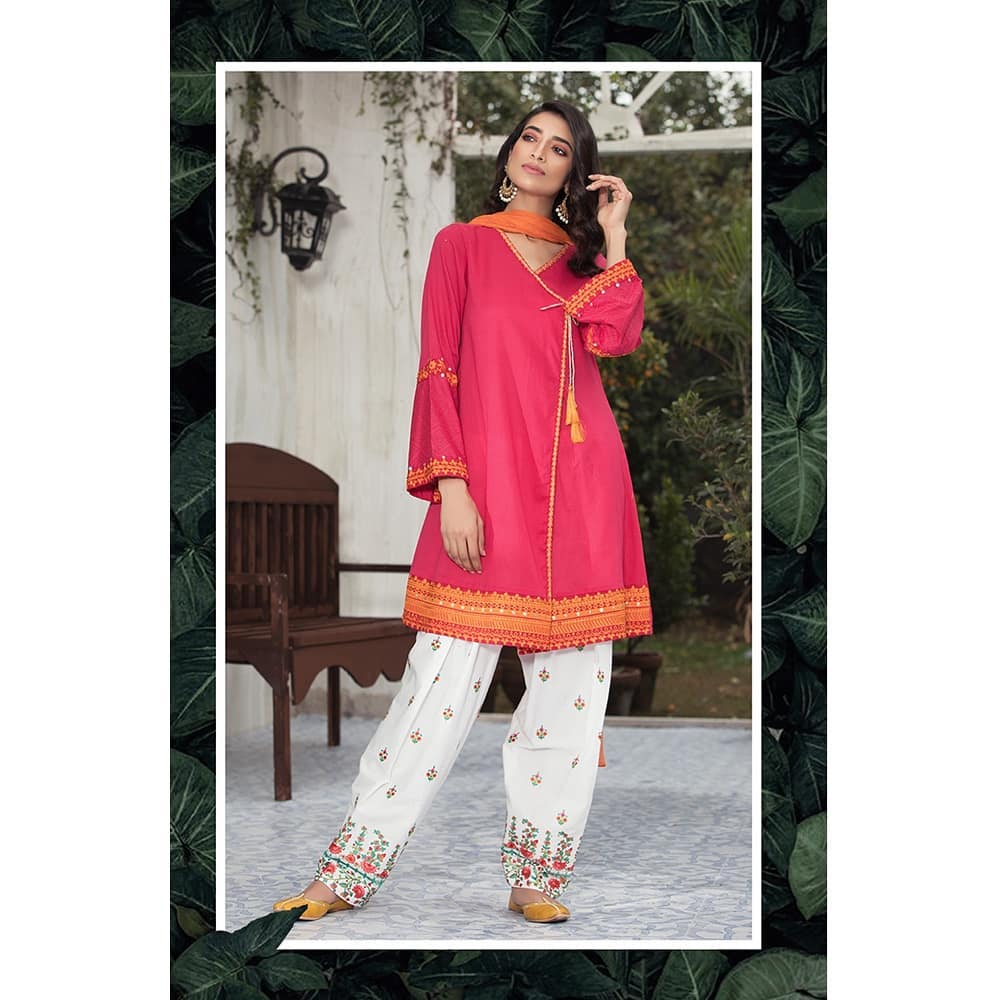 ↓ 24 – Conventional Collar
Collars on kurtas and kameez are like East meet West. Mostly women's shalwar kameez do not have collars, but hey, that was like way back in the 20th century. Today, you can mix any designs and call it fashion. You just need to be confident and brave enough to pull it off. Do not ever let anyone tell you that what you are wearing is against the rules of fashion because fashion does not have any rules. Designers today put together different ideas from different eras, fashions, and cultures to put them together to give us that top-selling hot new trend. Collars on Kurtas is one of them. Most Pakistani fashion brands such as Nishat Linen, Khaadi, Limelight etc. have used this trend in their collections a lot.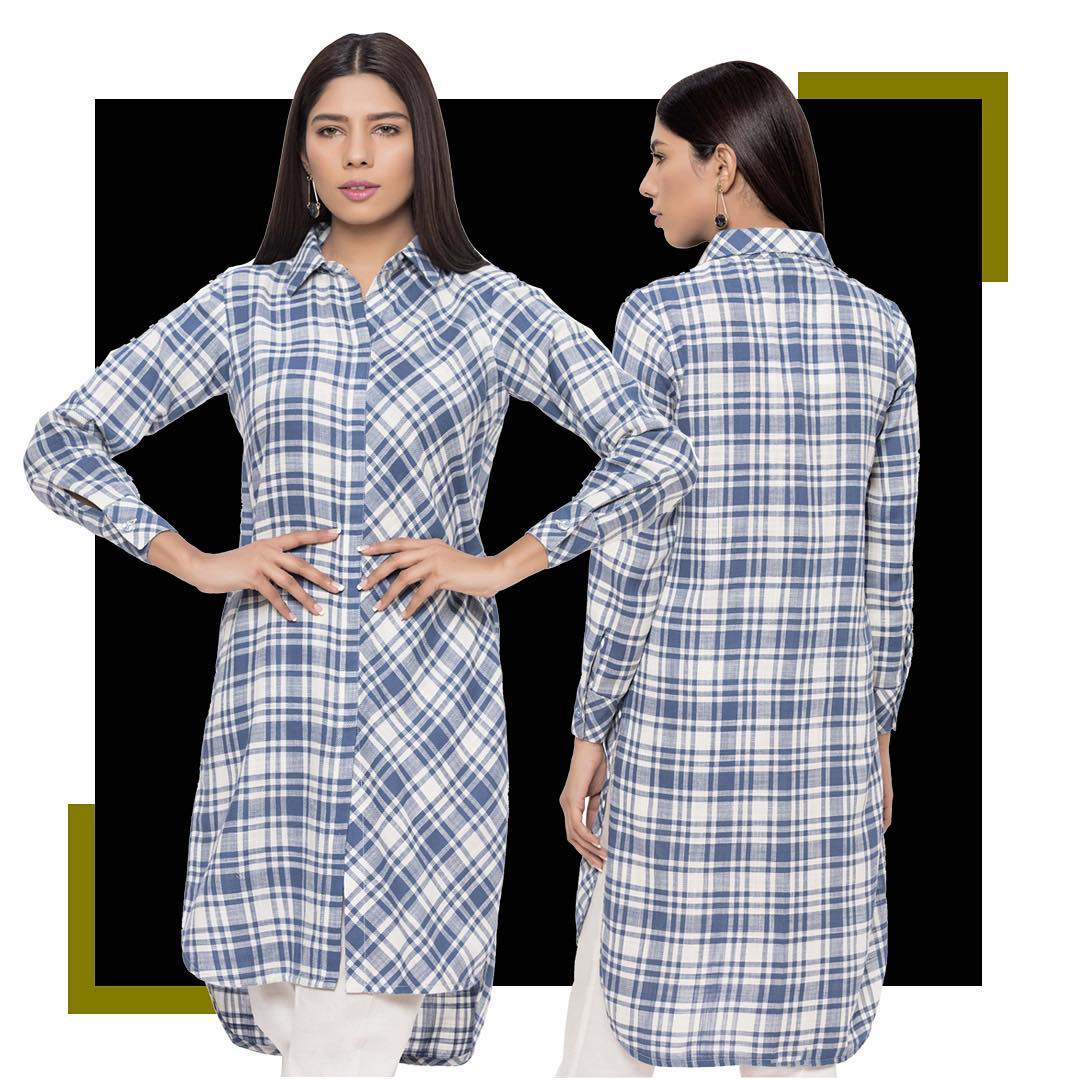 ↓ 23 – Y Neck
Why stop at the top when you can extend your neck design all the way to the end of the shirt. A Y neck design is typical on plain or printed lawn shirts that you can wear with jeans, shalwars, tulip pants, tights or whatever you like. Y neck can make any simple shirt stylish and sassy. Piping or some lace goes all the way down in the middle of your shirt. Or you can even go for a title Y on one side rather than making it symmetrical.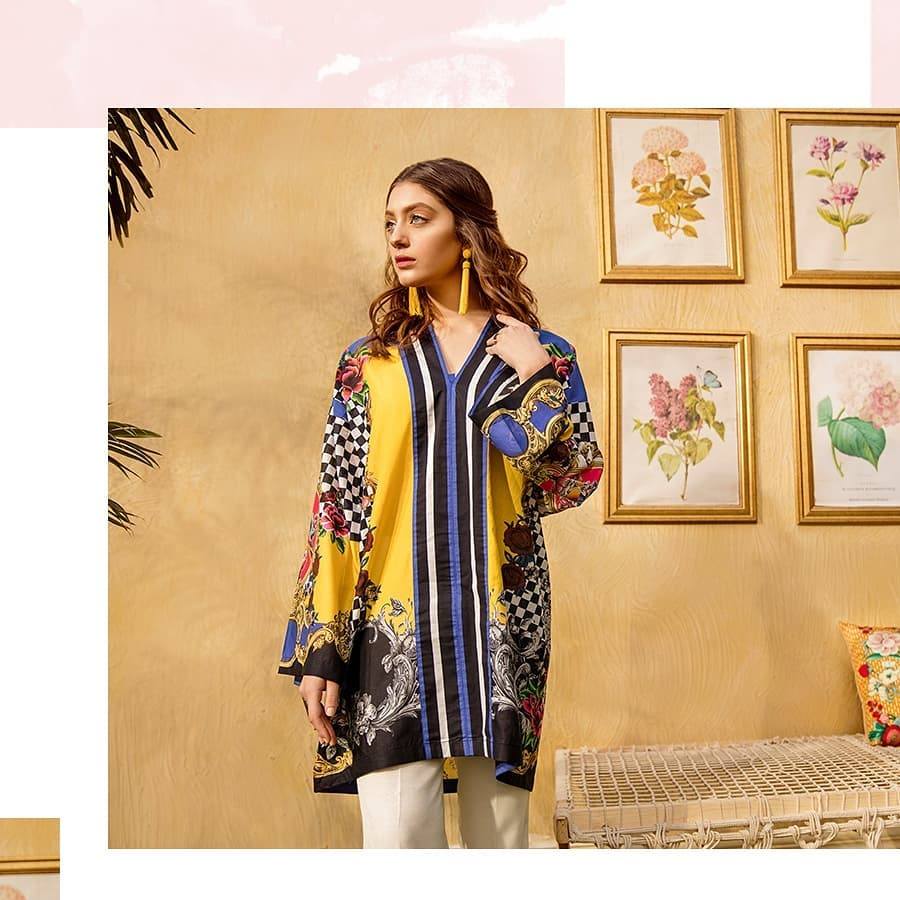 ↓ 22 – Tassel Neck Designs
Tassels are the next big thing. We see them everywhere. Stitched to the borders of our dupattas, hanging down ears of celebrities on the red carpet, dangling down everything in Couture fashion shows, even on bags and accessories. So why not put them on the neck of your shirts as well? Replace that typical button with a fancier tassel train.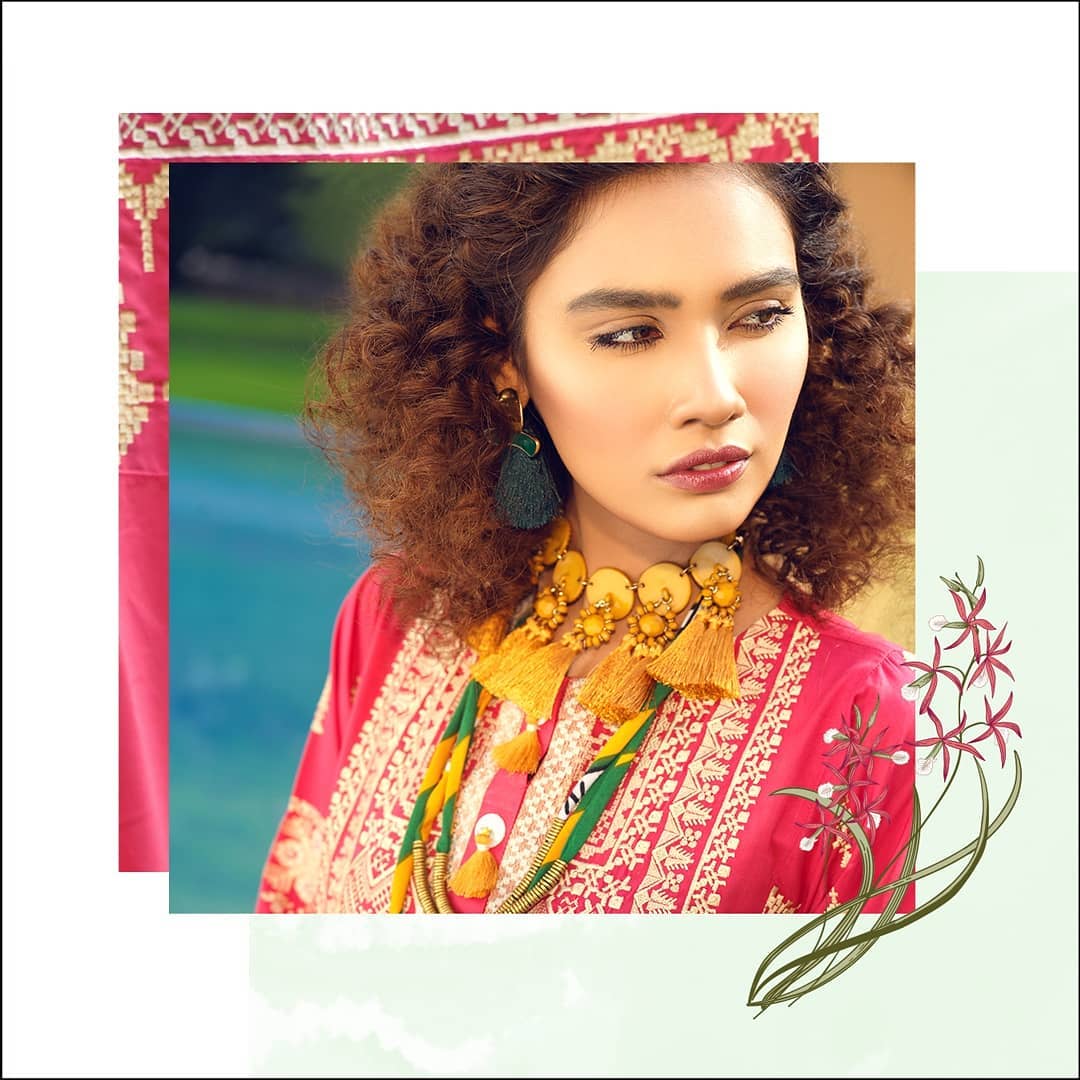 ↓ 21 – Russian Floral Embroidery
Russian embroidery is our designers' favorite type of embroidery. It is not too over the top, and it can make any simple shirt formal. Just a little bit of floral designs around the neck can give a new and different look to your kameez. You can match the colors or get a great combination according to your likings.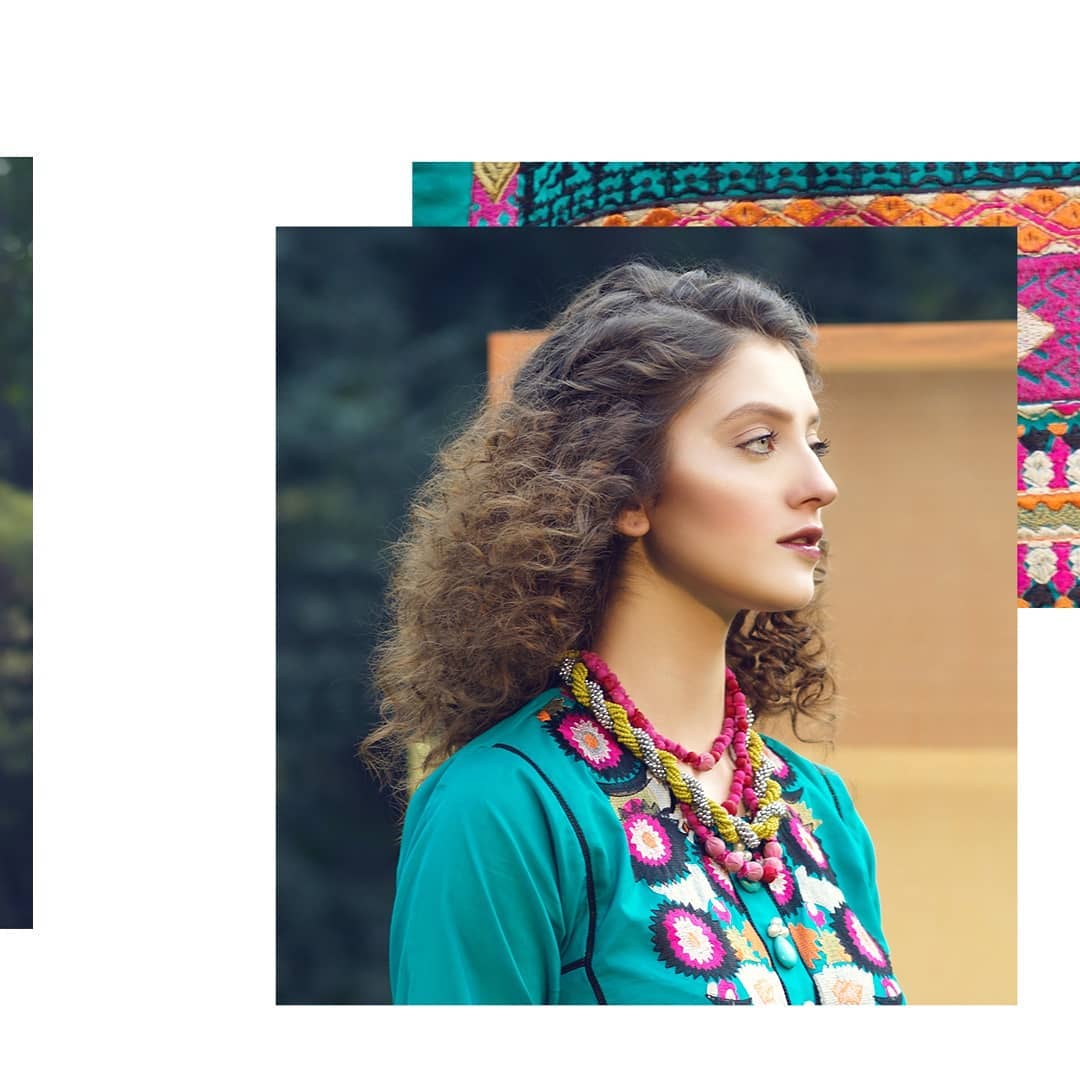 ↓ 20 – Neck Design For Punjabi Suit
A round cut has been a staple when it comes to shalwar kameez. Take it up one notch by making it bigger and deeper. This would give you more space for a statement necklace. Choker necklaces are the best type to go with a deep neck. Or you can focus on any other part of your outfit to make up for the simple neckline, for example, the dupatta. A heavily embroidered or printed dupatta can be used and for the perfect traditional/Punjabi look, wear this shirt with a Patiala shalwar. Here are 18 Best Ways to Wear Patiala Shalwar.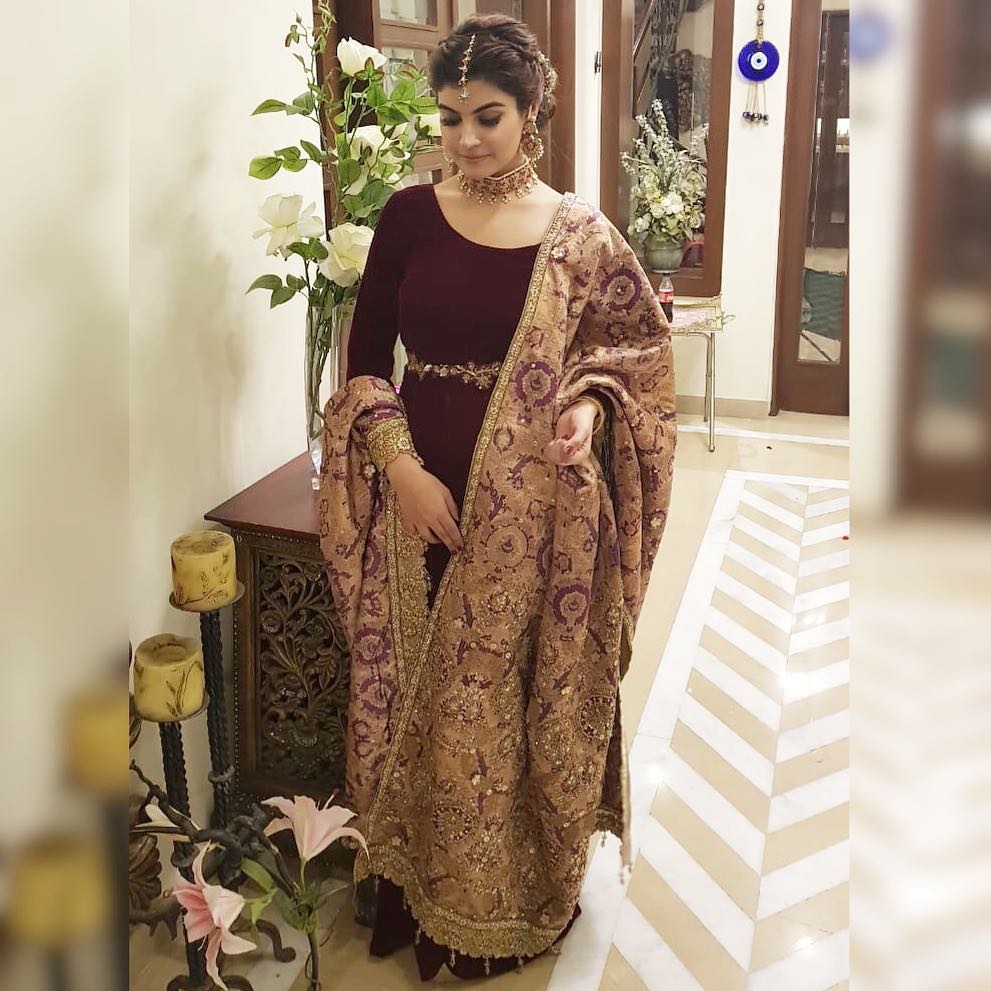 ↓ 19 – Ban Collar Neck Design Kurta
Ban collars are a formal look and are mostly used on kurtas. If you have a meeting, presentation, or any other formal event to attend go for a ban collar rather than something fancy for a more collected and classy look.
Via
↓ 18 – Lace Neck
Net and lace has the power to elevate your outfit's look with zero effort. Black lace with self-print is the best type as all the details are seen clearly. Your neck and sleeves would look amazing in this design.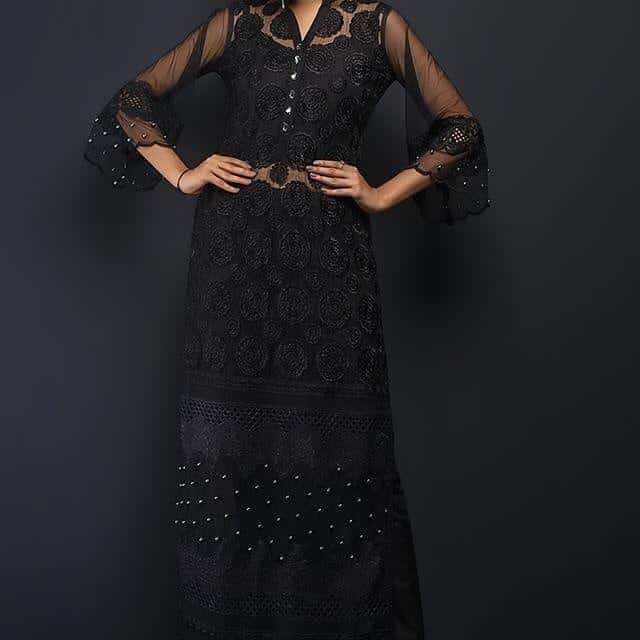 ↓ 17 – Chiffon Bridal Embroidery
The thing with embroidery is that it highlights our culture and good handwork can make any outfit simply great. These shirts do really well on events like weddings of not-so-close relatives, on formal dinners, get-togethers etc. Avoid wearing any necklaces, especially heavy ones because you do not want to look like you are wearing everything you could find. Embroidery alone can take care of making your look fancier.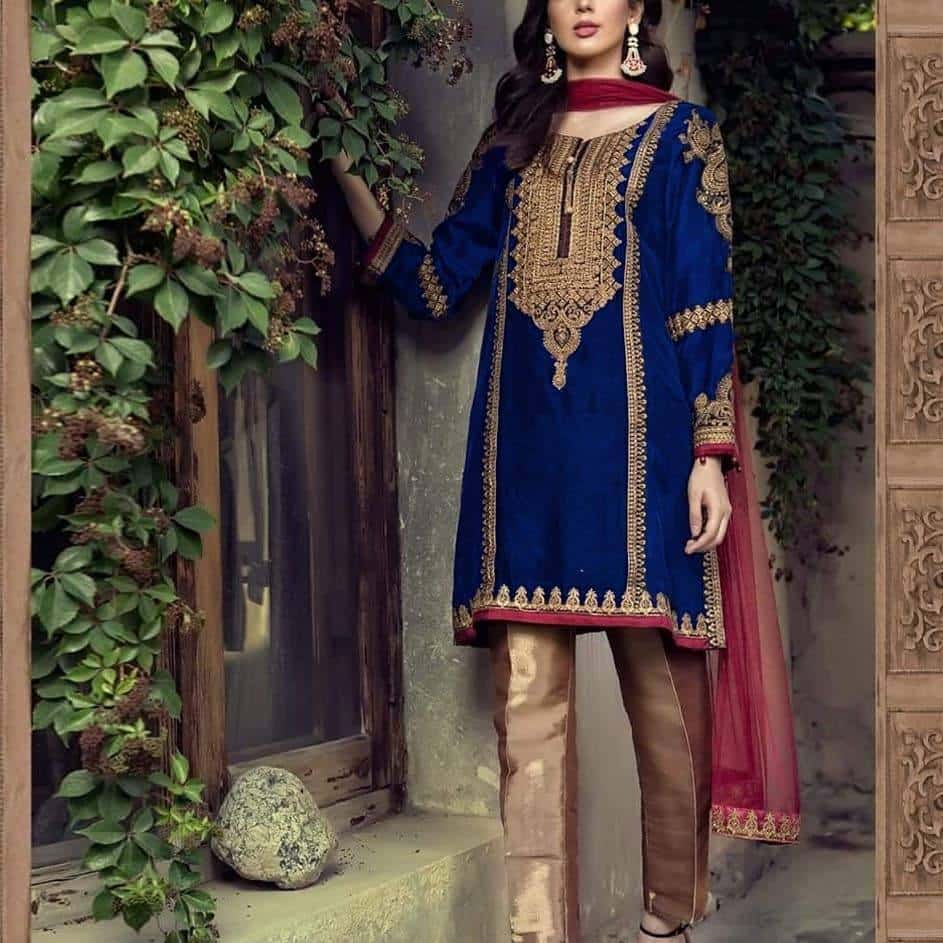 ↓ 16 – Neck Design For Shalwar Kameez With Buttons
Add a few buttons up front even if they have no other function. It will make your plain front look a little full. So, look through the boxes and see if you can find some cool matching buttons.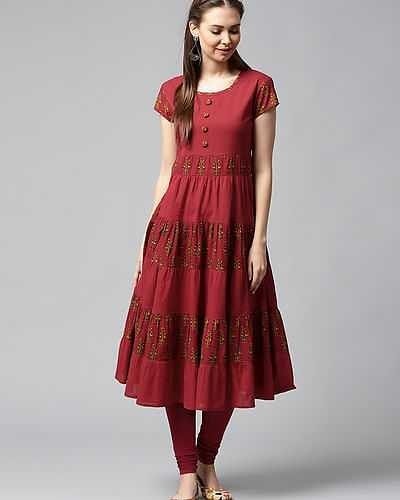 ↓ 15 – Ruffle Neck Design For Cotton Suits
Ruffles are a western look incorporated in our shirts, too now. Why go with boring and plain old V necks when you can add ruffles and totally get a different, better look. But, make sure your tailor understands perfectly how you want it so that it isn't a complete disaster. Use this picture as a guide for him or you can look up more on the internet which are more to your liking.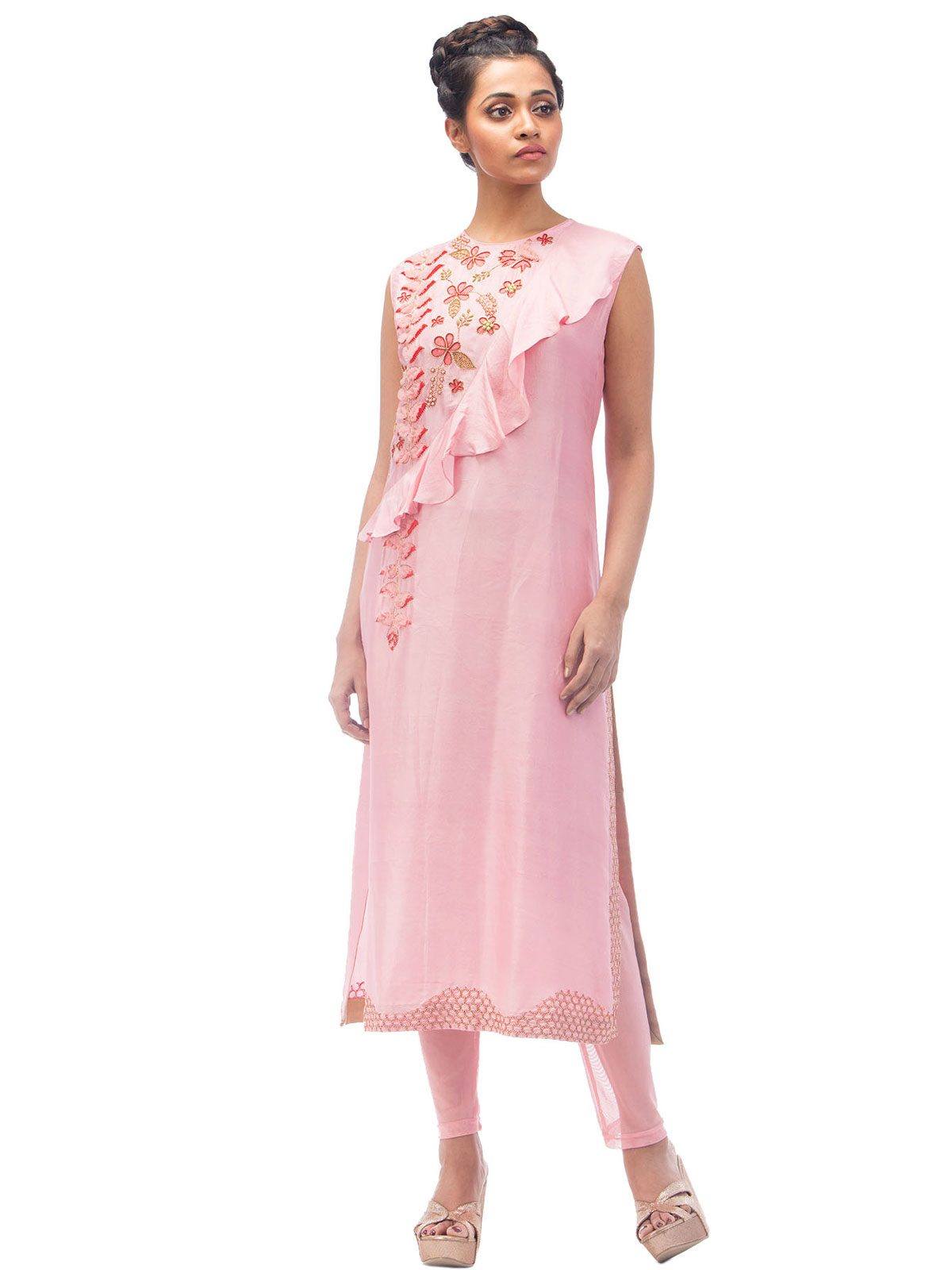 ↓ 14 – Side Lace Patch
Why go symmetrical when you can have more fun bending the lace a little? It is different and hence cooler. Not your typical lace down the center look that you see on every shirt in every store.
↓ 13 – Unique & Different Neck Design
Incorporate this Western look in your traditional Eastern clothes for a cultural collab. Cross neckline gives a fancy, sophisticated look so save it for parties or any other occasion where you want to dress up. You can keep the rest of your clothes simple, as the neck design should be in the spotlight. If you go for a plain shalwar kameez then you can add a printed dupatta or shawl in contrast. This neckline works best with your hair tied up or pushed back. Or else it feels like there is a lot happening in the area, giving a mess, uncoordinated look rather than a sophisticated one.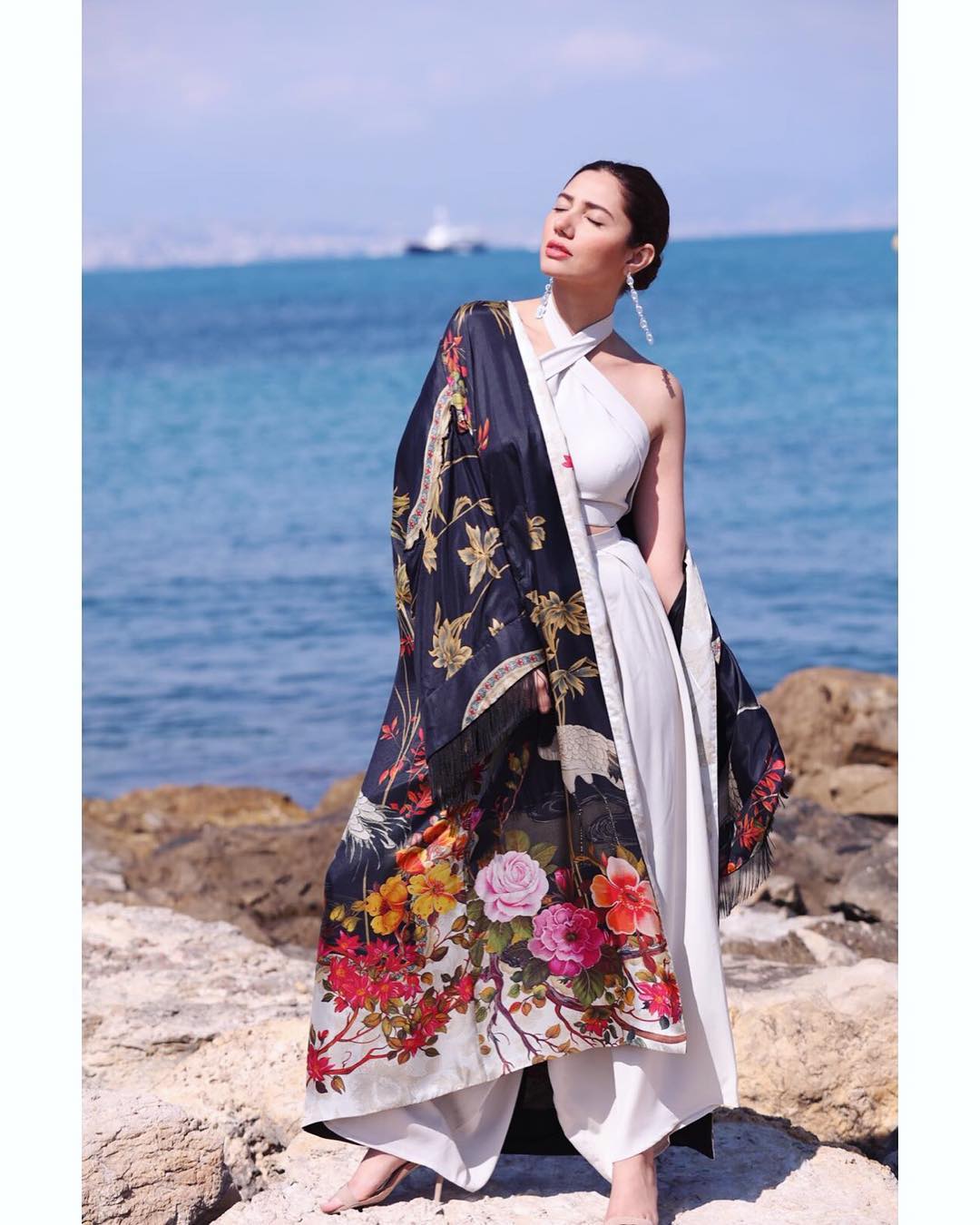 ↓ 12 – Irregular
Why follow a standard typical neckline when you can stand out in something different and new? Go for a design in line with the embroidery on the front of your shirt rather than the conventional old square, round or boat necks. You can add a fancy dupatta to complete the look. This neck design would look better on longer shirts with trousers under rather than short Patiala shalwar kameez type. You can make the neck design symmetrical or non-symmetrical depending on your design, mood or choice.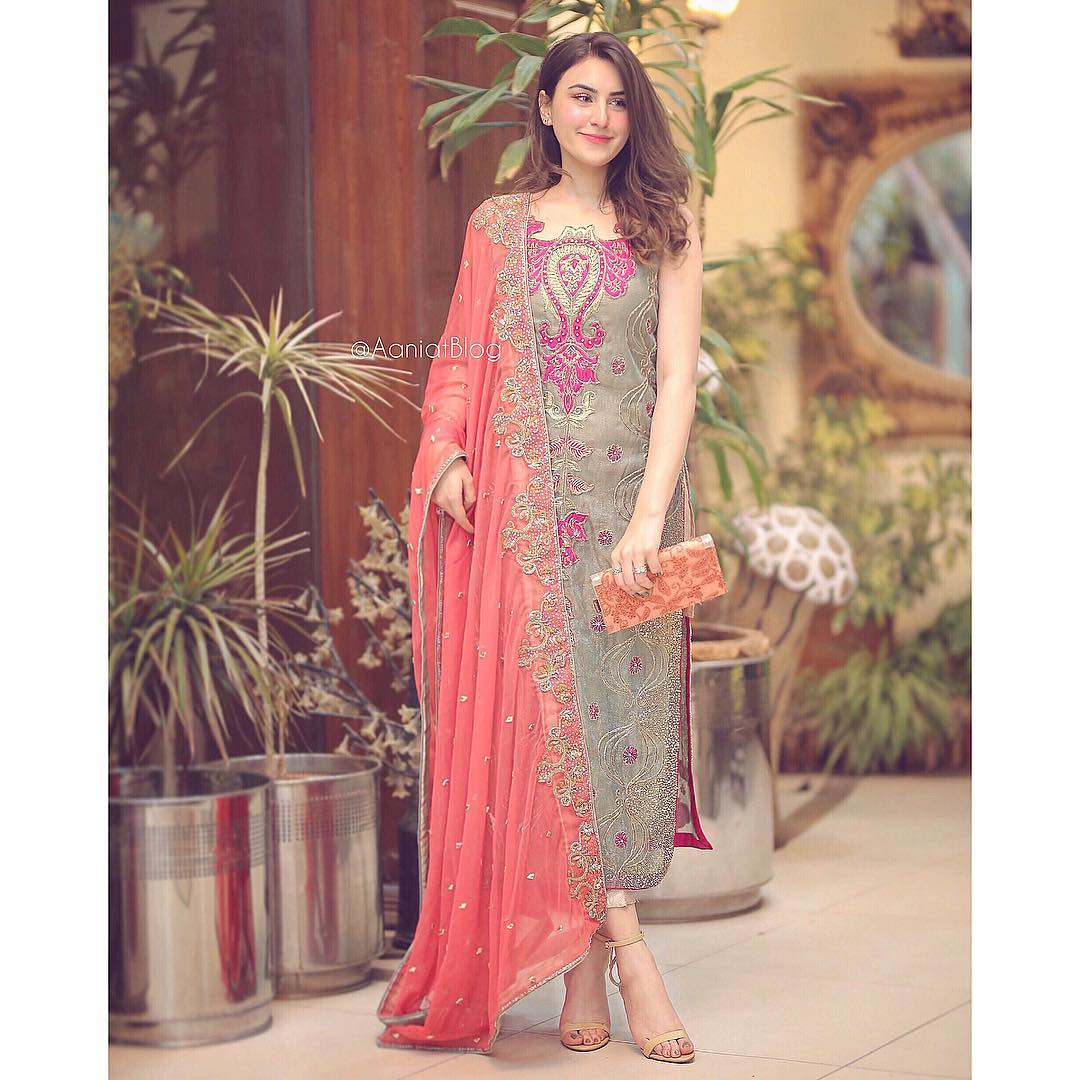 ↓ 11 – Neck Design For Gown
When you are adding a gown on your shirt then the neckline of the kameez you are wearing under should be simple. Firstly, because you can hardly see it so why bother.  Secondly, even if you can see it it will just take the spotlight away from the gown which should be your star clothing item for this suit. So go for the round neck or a V neck in this design. The gown's neckline can be played with though. There are plenty of options you can try. An open round one, like in the picture below is one idea. Other than that you can button it up or even add dori (fancy thread) to tie it. You can also make it a V-neck coming down like a Y shape. Or you can make it non-symmetrical, by tying it on one of the side (right or left) like an angarkha.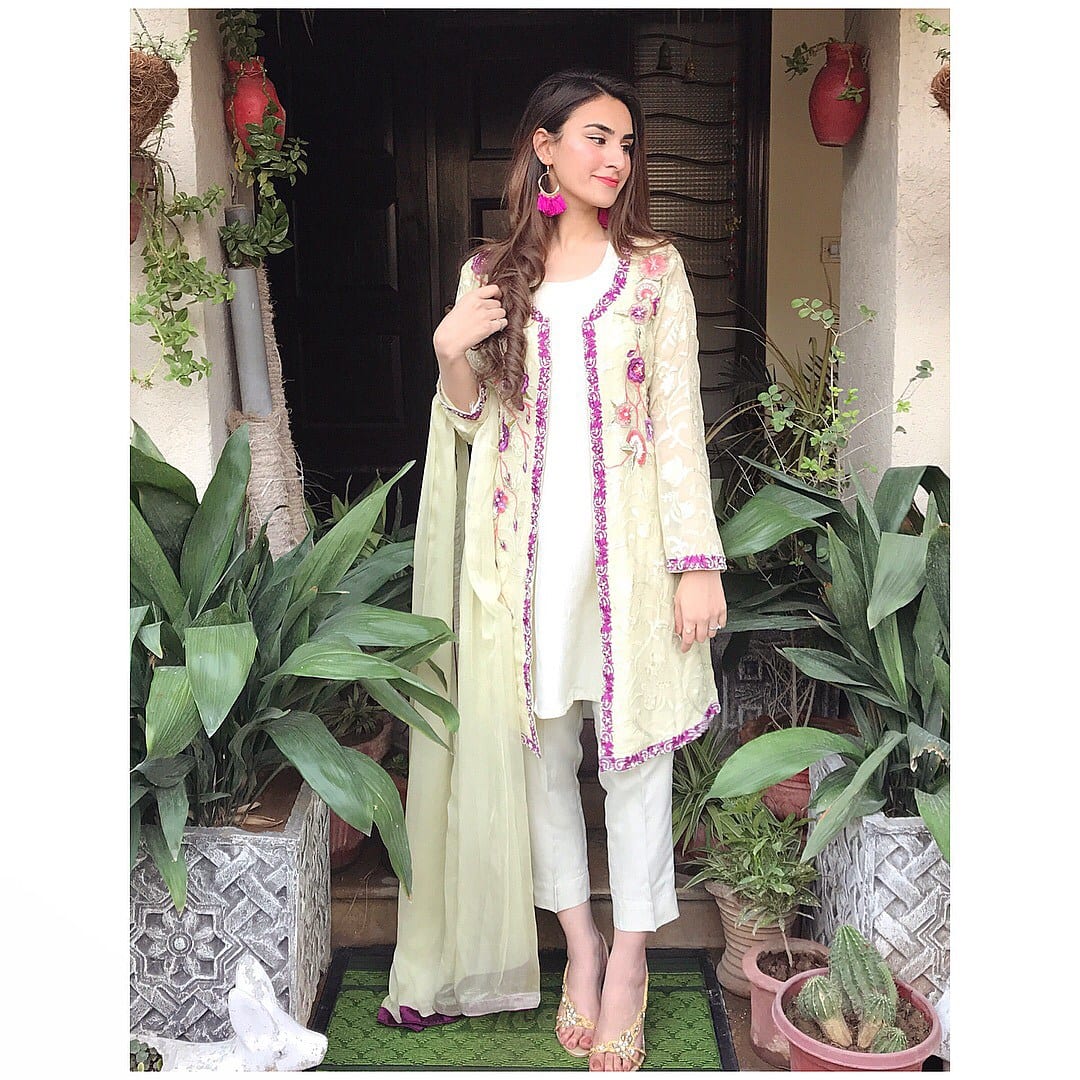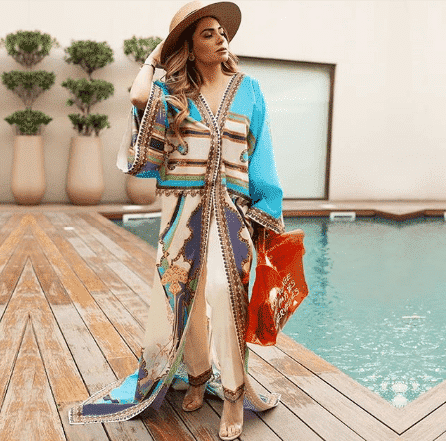 ↓ 10 – Anchor Embroidery 
Anchor embroidery, more commonly known as hand embroidery on the front of the shirt is pretty decent looking. Your shirt would stand out with the right design and embroidery work. If you choose the embroidery to be the same color as your shirt it gives a rather decent and sophisticated look to the eye. A white on white is an example. See the angel inspired outfit in the picture below. Embroidery is a typical traditional design, and there are days when the inner desi designer wants that. Pair it with some earrings and bangles to fulfill your desi desires. Don't miss out these 18 Chic Pakistani Street Style Fashion Ideas to Follow.
↓ 9 – Tiny Boat Neck
Boat necks are making a comeback this season. Yes, they can be annoying and suffocating at times, but nothing compares to the decency boat necks give. Khaadi, Nishat Linen, Sana Safinaz etc all use boat necks as their staple neck design for their kurtas. Add a small chain with a tiny pendant that carelessly lies around your neck to compliment this design. You can add earings according to your likings.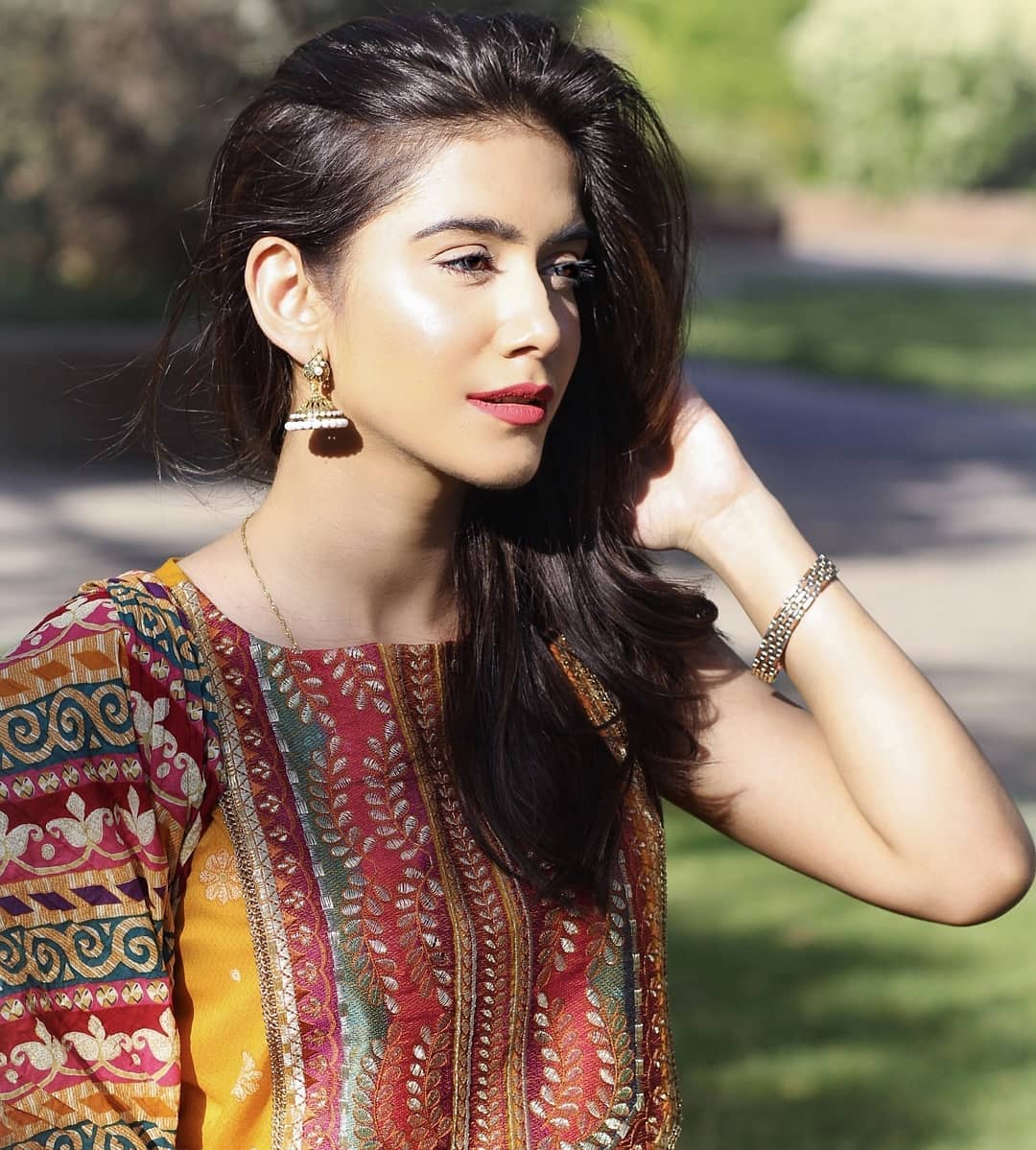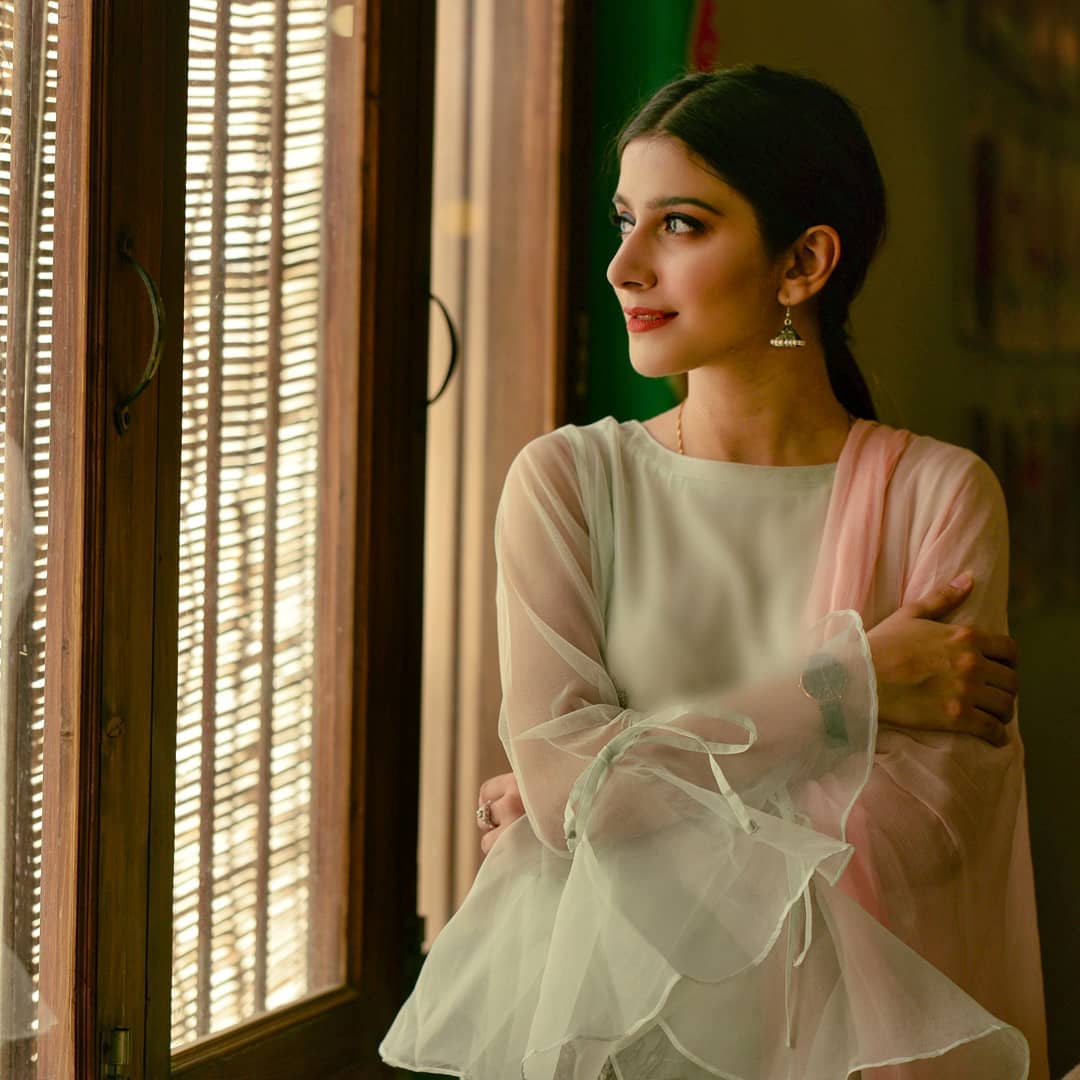 ↓ 8 – Rounded V Neck
Ditch the simple, straight V neck and add some little curves in, after all, curves are the new sexy. If you are tired of the same old boring neck designs, try this one as it is not worn out by everyone and is comparatively prettier to look at. Add a small chain around your neck to complete the look.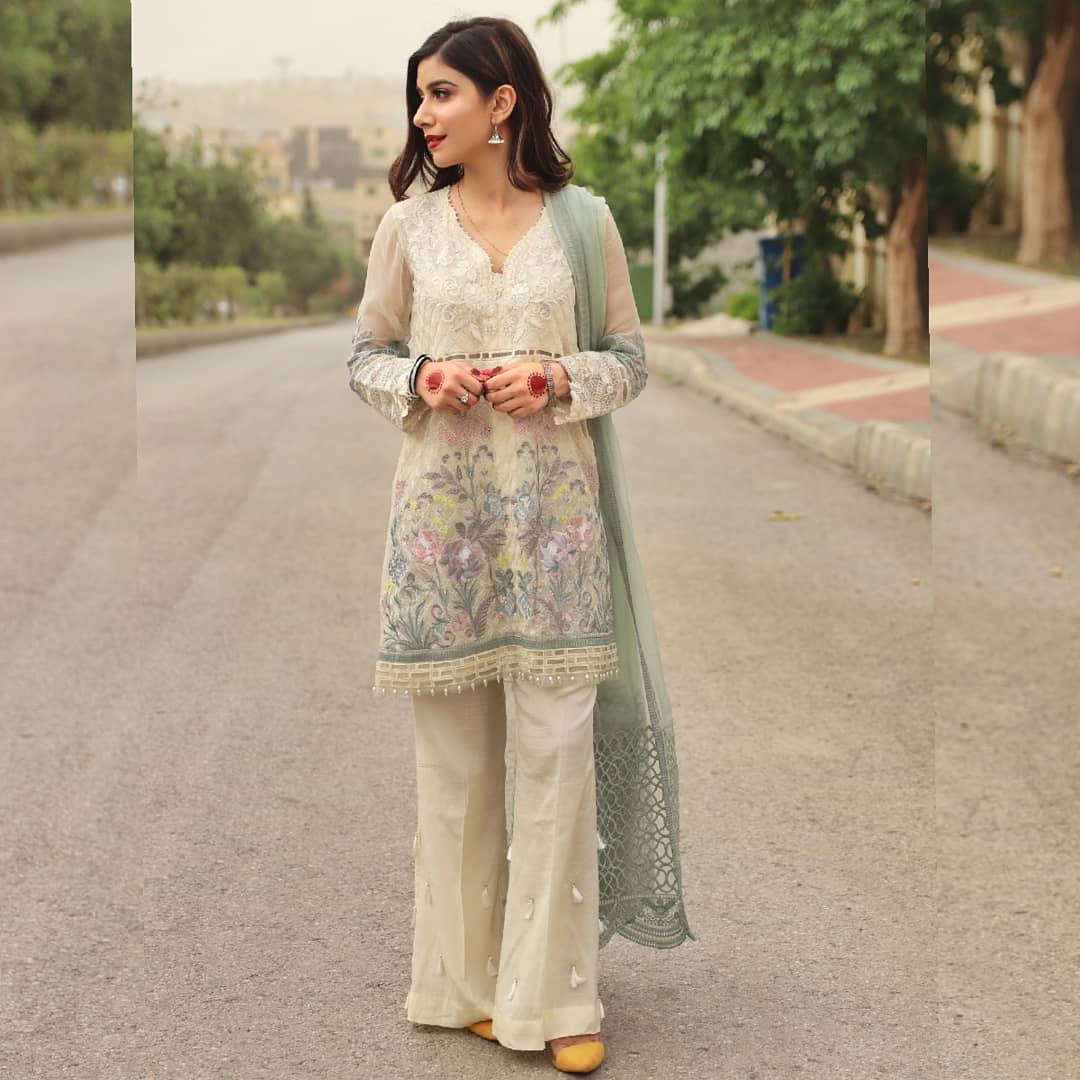 ↓ 7 – High Neck
A high neck is perfect for formal events and parties. It automatically brings grace to your shirt and hence you. Slay like a woman of poise in a high necked kurta. This is a neck design not often found in Eastern clothes, or shalwar kameez so why not bend the rules a little and play around with mix and match? This will look better with either full sleeves or sleeveless, nothing in between.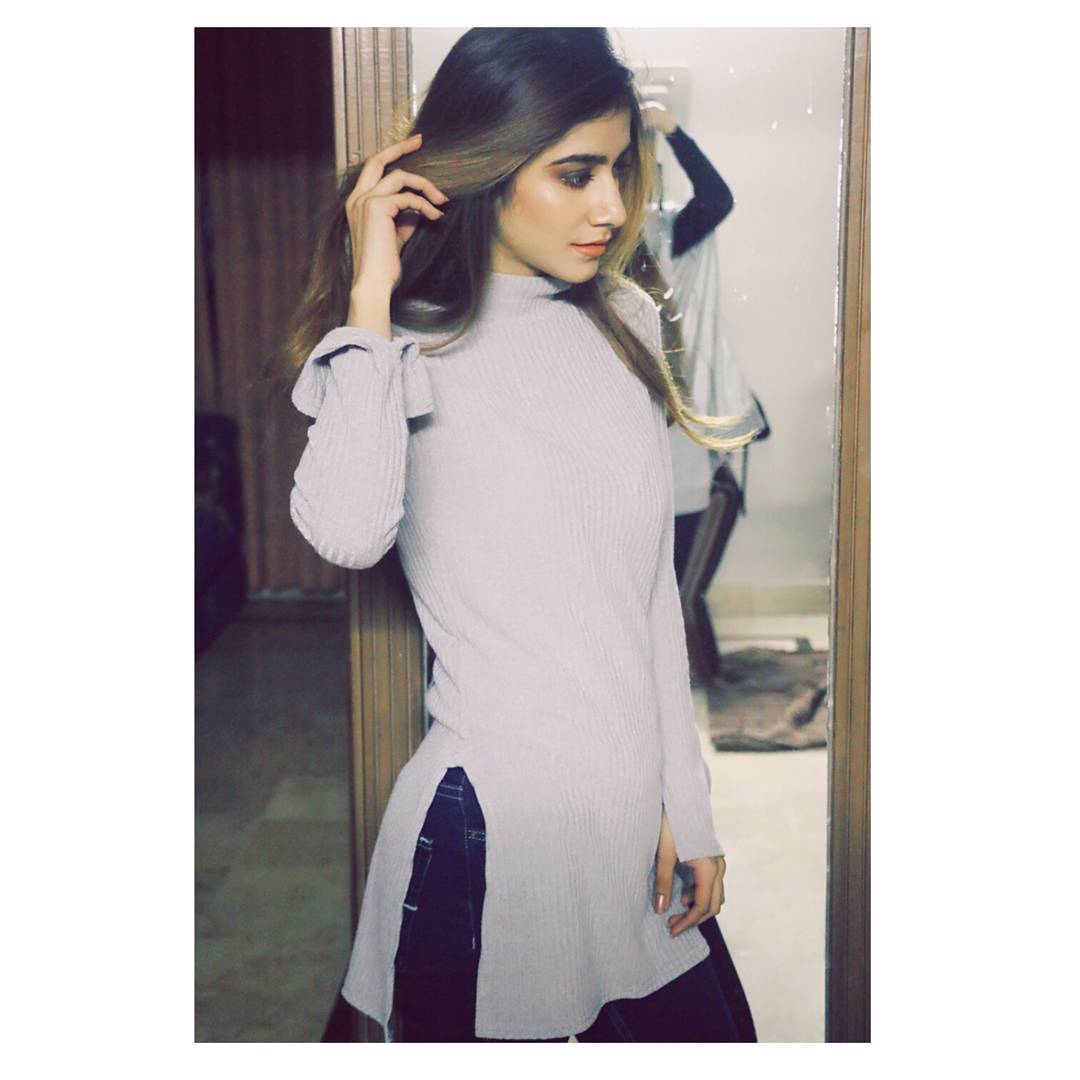 ↓ 6 – V Neck
V neck has been in the game for as long as we can remember and for good reasons. It looks pretty as well as cute (depending on how deep the neck goes). A dupatta around the neck with a V neck design elevates the look of your shalwar kameez.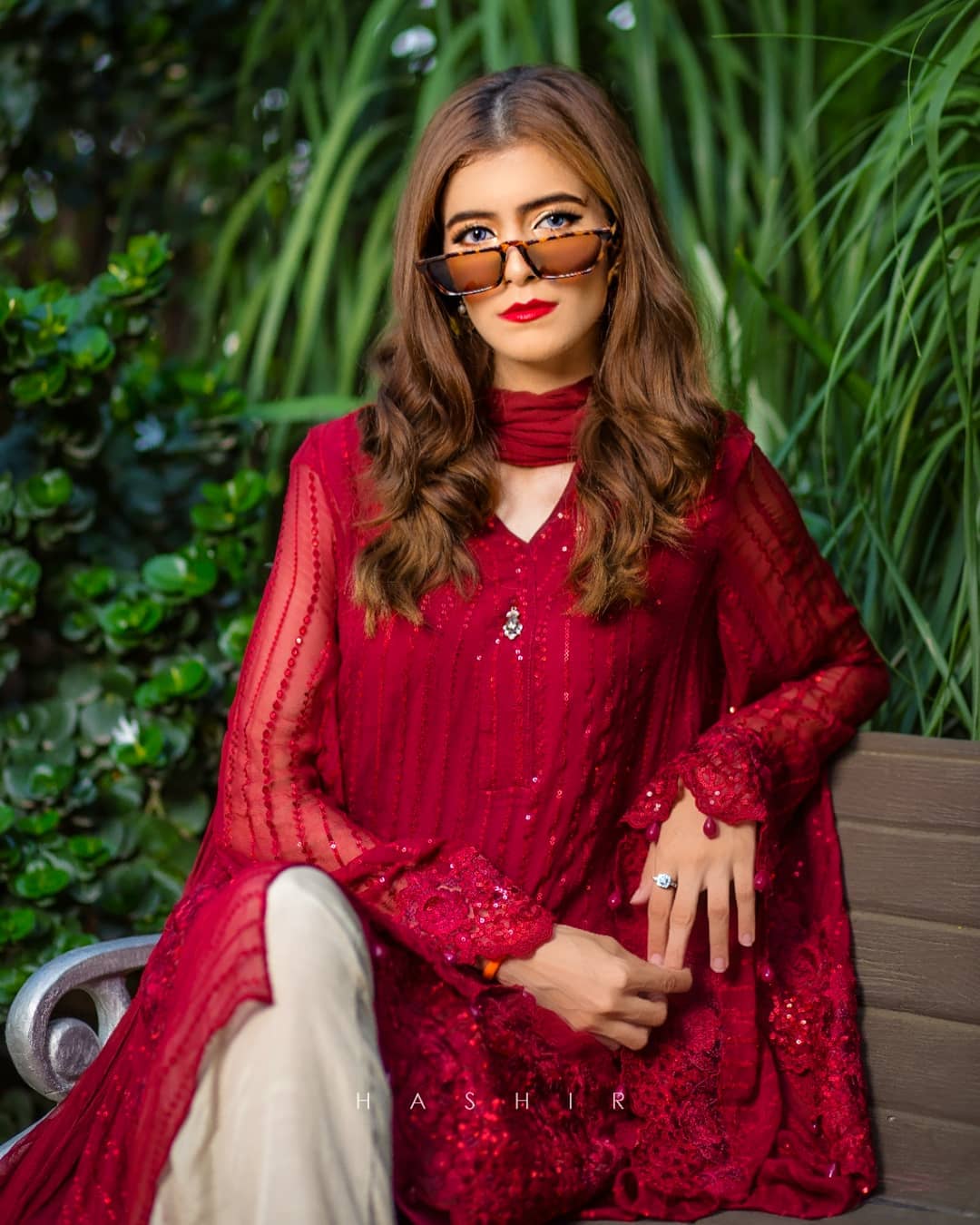 ↓ 5 – Keyhole
A different design is the keyhole design that might or might not be already present in your closet on one of the shirts. A small round hole is cut in front of the shirt, around the neck. You can add embroidery around it for a fancy look or leave it plain for an everyday look depending on how you want it. It would be better if you ditch the necklace for this design and just wear any other sort of jewellery like earrings, bracelets or anklets etc. We're sure that you'll also love these Indian Ethnic Wear Sarees In Modern Day fashion.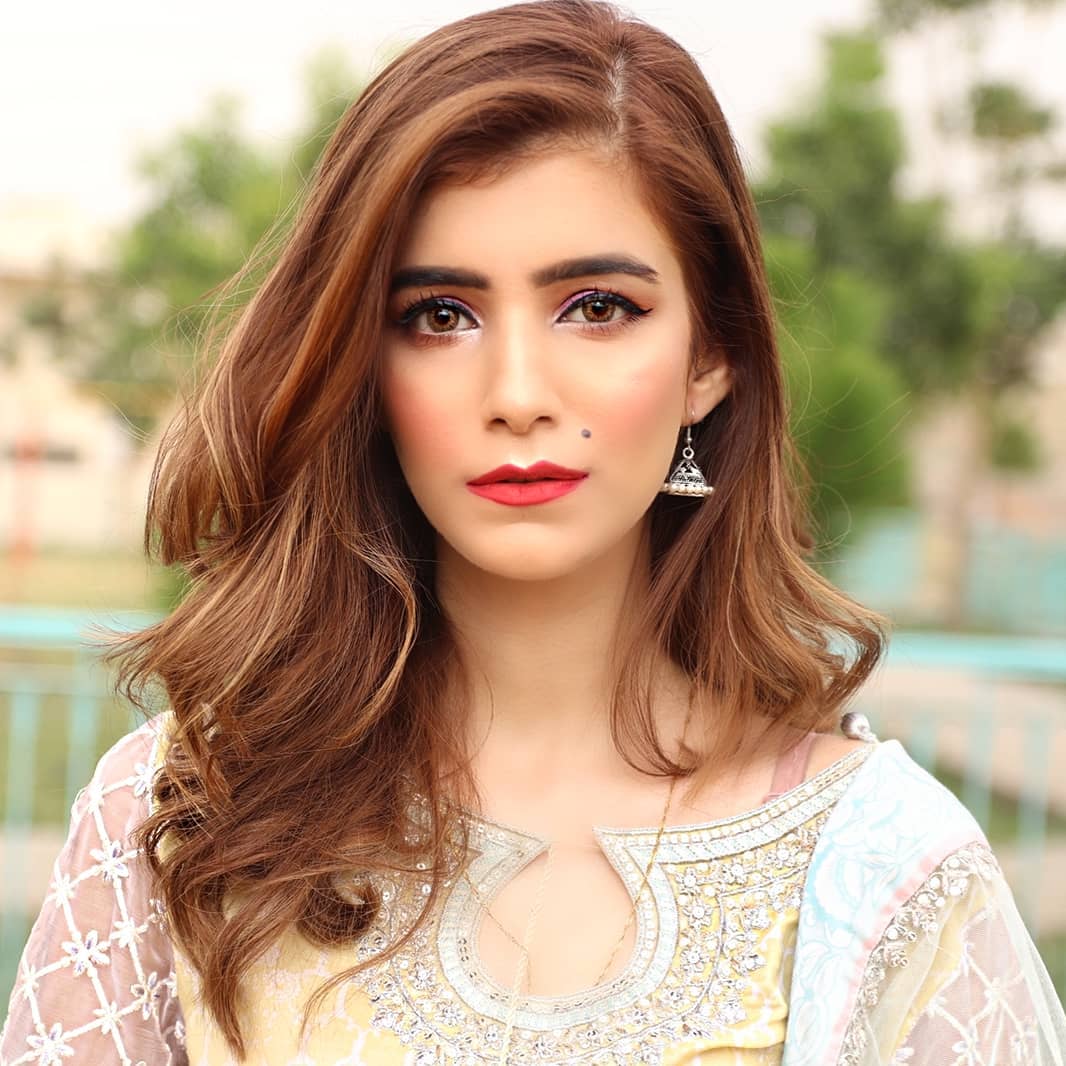 ↓ 4 – Heavy Front
Make your shirt stand out with amazing, detailed embroidery or pattern in the front of the shirt. It should be in contrast with the shirt. Also, make sure it is visible so opt for bright colors for the front and dull ones for the background.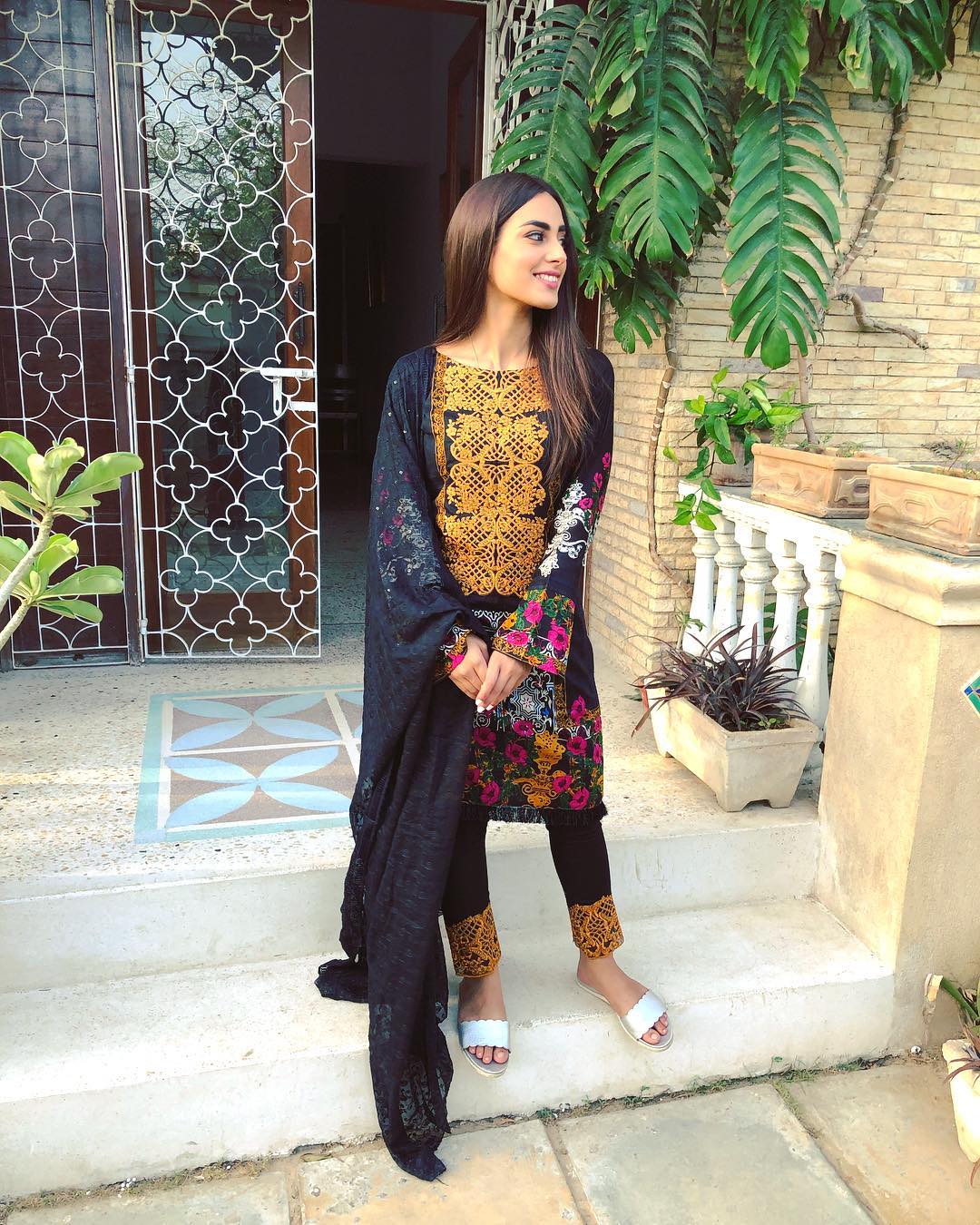 ↓ 3 – Modern Angrakha Style
Mix anarkali's fashion with 21st century's trends to give you inspiration for your next clothes designing.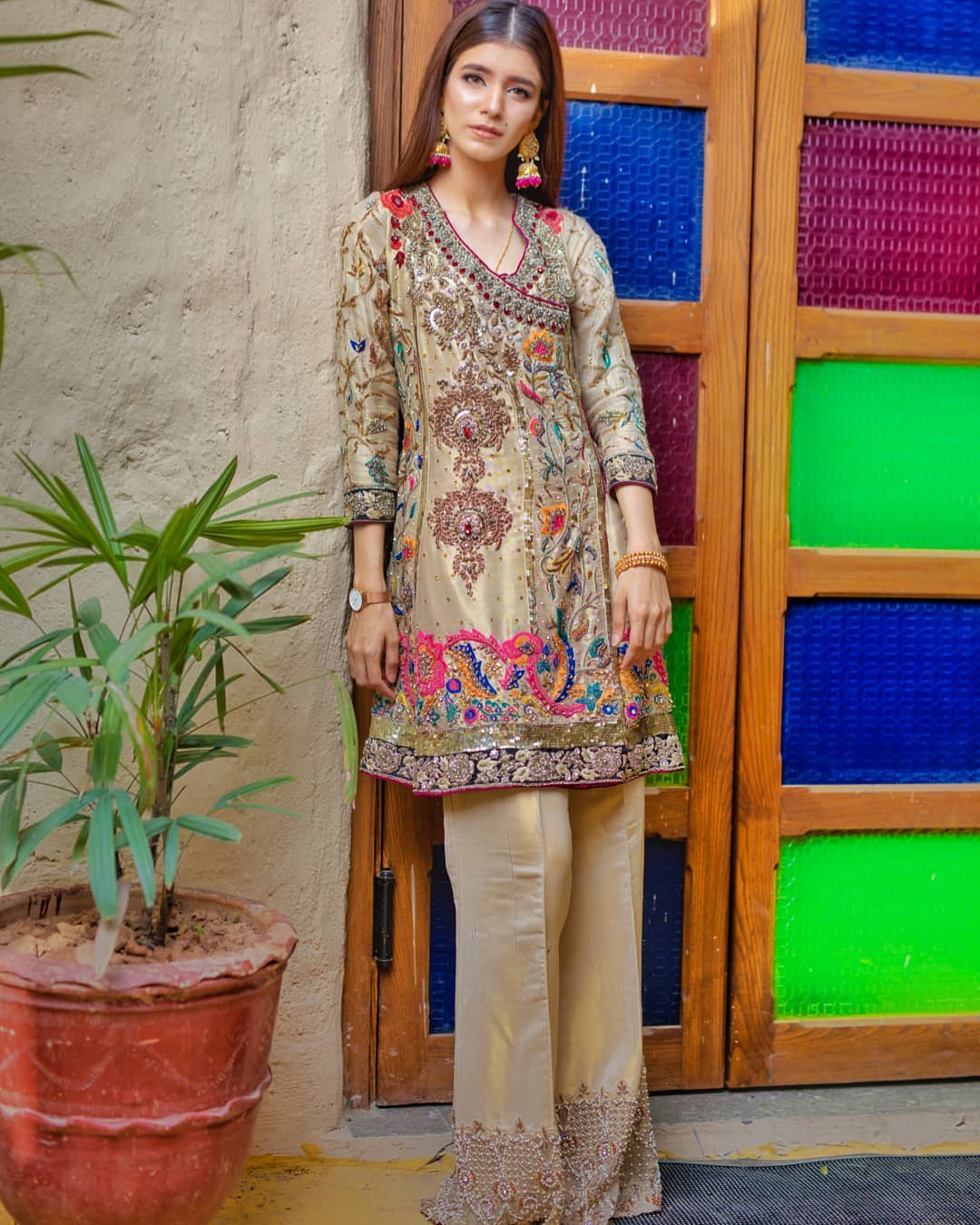 ↓ 2 – Keeping it Simple
Time for the simple round neck, V neck, square neck or boat neck. Simple always looks amazing no matter what and is easy to make. Just make sure that your tailor does a neat job to make it look good.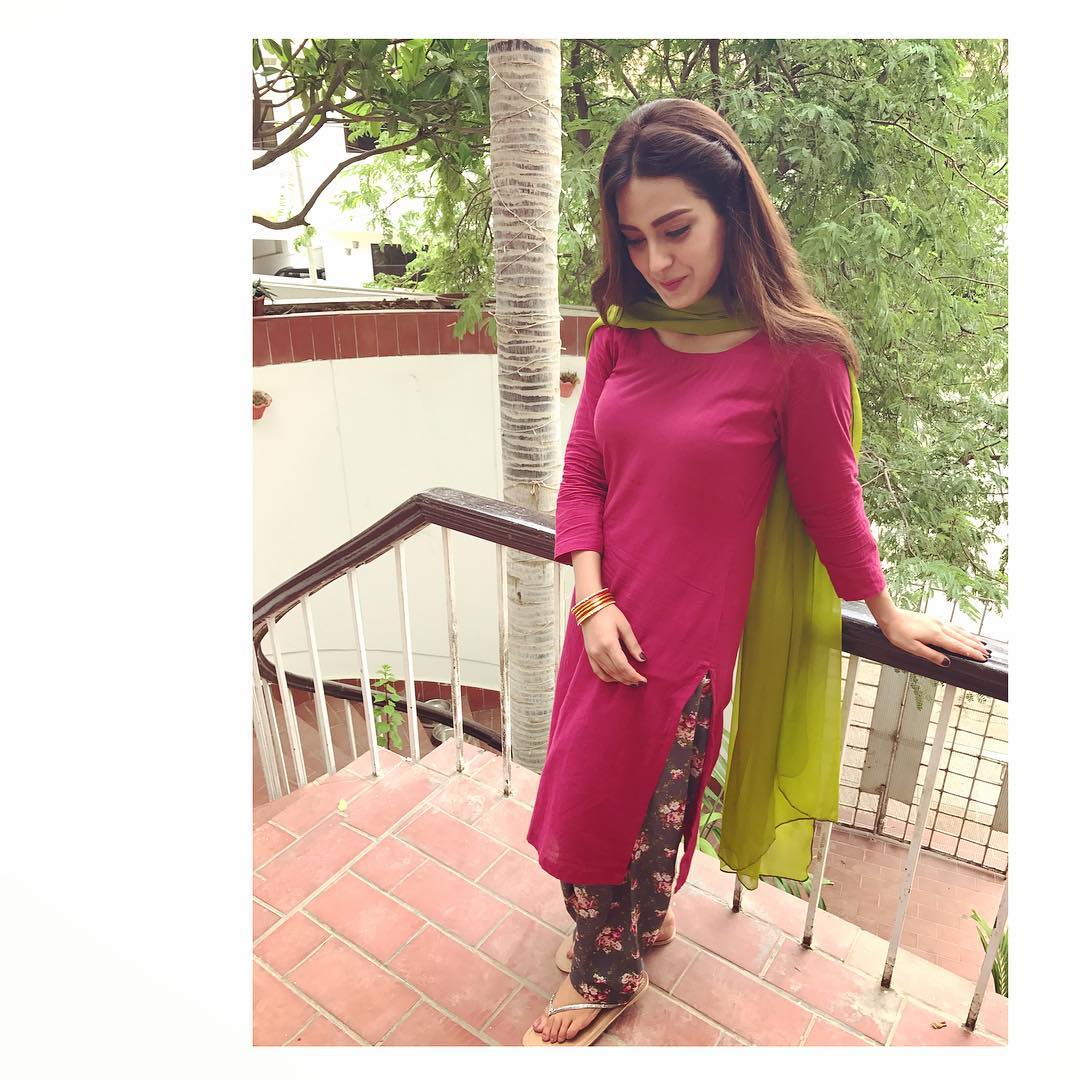 ↓ 1 – Off Shoulder Front Neck Design For Suit
Off-shoulder shirts can be paired with small, statement necklaces for a mesmerizing and unique look that will make everyone's head turn.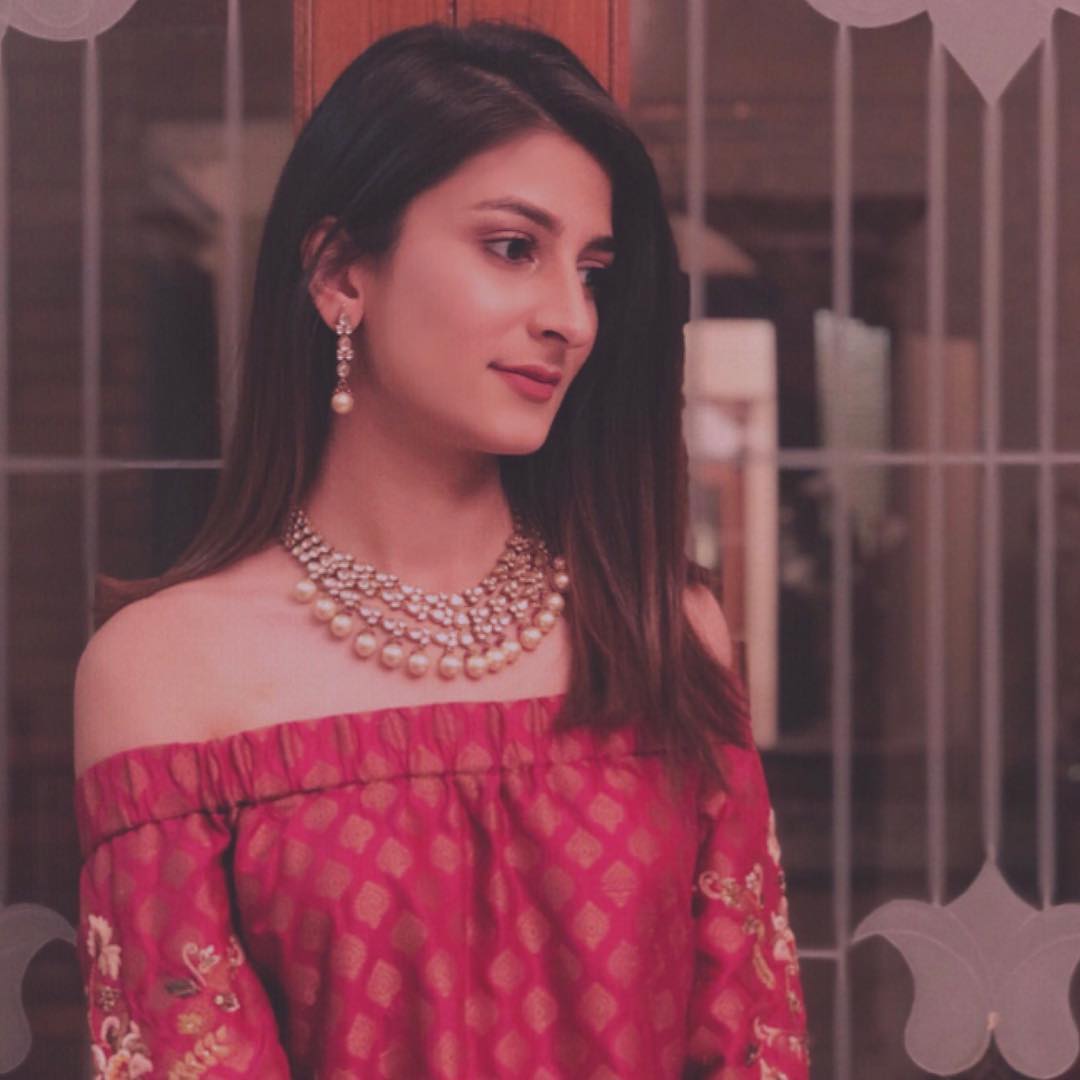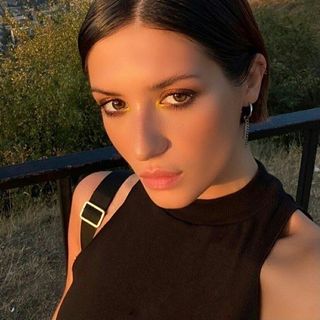 Avid reader and Fashionista. London Based freelance lifestyle editor