Celebrity Saree Styles: Here at Outfit Trends, we are suckers for gorgeous sarees especially when we see some of our favorite celebrities in them. The way they carry themselves when such grace and elegance is truly unmatched, and the most we can do is try gathering all the inspiration from them and creating looks with our own personal touch.
While most of our favorites choose to keep their looks classic, some turn it up a notch with their unconventional choices, which are surrounded by a lot of buzz but ultimately leave their mark in the fashion industry. From the likes of Deepika Padukone, Kareena Kapoor Khan, Alia Bhatt, and more, we have gotten a wide range of outfits they have donned over the years. So today we are counting down some of our favorite celebrity saree styles that we are absolutely crushing over this year.
Read on for outfit inspiration, how to style the looks, and links to some pocket-friendly options that will have you looking just as glamourous as your favorite stars!
Latest Pics of Celebrities in Sarees
Sarees really are a thing of beauty. With their elegance and versatility, they make for such perfect keepsakes that can be worn to absolutely any function or event and moreover, can be passed down to your future children and grandchildren too. They hold so much sentimental value that parting ways with them is tough. Furthermore, seeing our favorite stars in them is sheer happiness as they embrace their roots in such a gorgeous way.
Our favorites and their god-sent stylists really do have an eye for gorgeous sarees that we normally wouldn't even lay an eye on. That's their power, isn't it? They can so easily influence our taste in clothing be it western or ethnic, and we would strive to find ways to match their looks, their vibes, and everything else.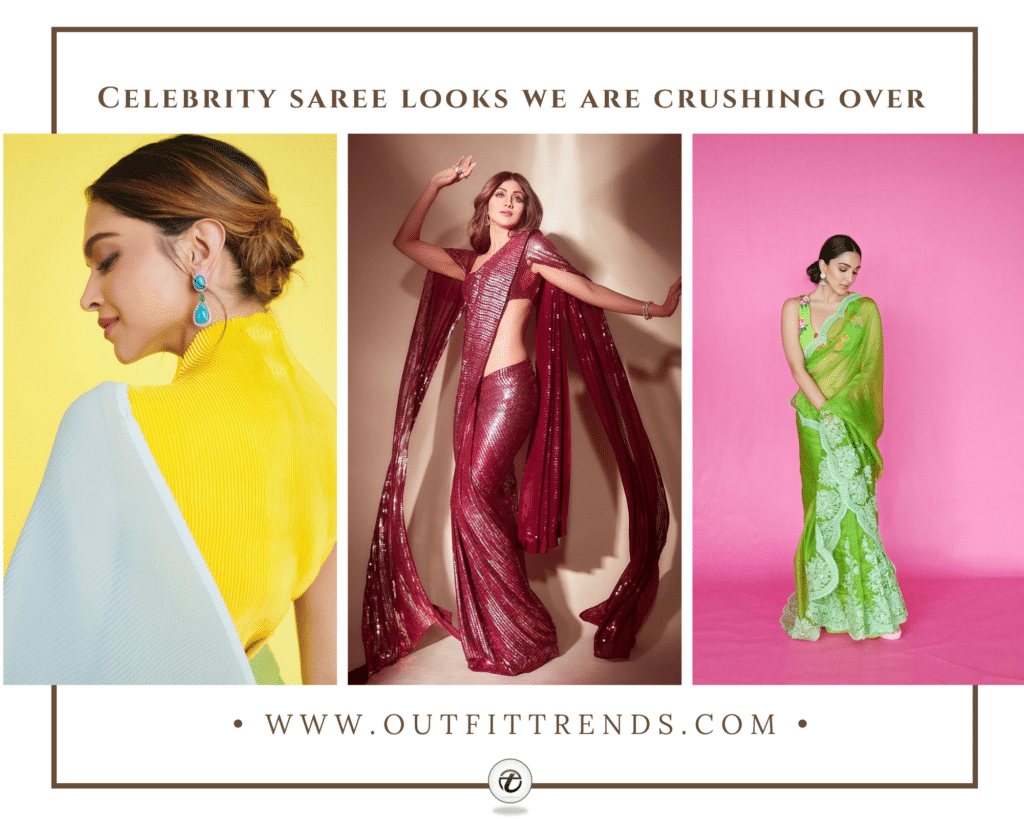 They pick elegance in the form of silk, organza, linen, and they are to die for. We cannot help but get our hands on similar finds now, can we? Their innate ability to wear such beautiful sarees in such classic and sophisticated ways is what gets us picturing ourselves doing the same. If silk is your choice of material then do check out these Blouse Designs For Silk Sarees.
So to help you create a more vivid imagination, we have pulled together some of our favorite saree looks on our favorite celebrities that have absolutely won over our hearts- as they should!
12 – Keerthy Suresh In An Emarald Green Gold Threadwork Striped Saree
The gorgeous actress, Keerthy Suresh is seen styled in a beautiful Kshitij Jalori look, in a beautiful emerald green striped saree. The look holds such elegance along with being a rich and vibrant piece, making it a color that can easily be worn at events held in the evening.
She carries herself beautifully with a low-cut v-neck blouse along with a statement choker necklace that perfectly compliments the vibe of the saree. While she has opted for an arm-length sleeve style, you can add your own spin to the outfit by changing up the blouse design. You can opt for a simple boat neck pattern for a flowy elegant look or even a sleeveless collared-neck style.
The look can easily be paired with simplistic emerald green statement pieces like earrings or you can choose to add a choker style neckpiece to complete the look.
11 – Priyanka Chopra In A Sheer Pastel Chiffon Saree
One of the most famous Hollywood beauties, Priyanka Chopra sure does love her sarees. This look, that she wore back in 2019, is still a fresh look due to its beautiful pastel hue and the gorgeous work on this Sabyasachi piece. Wearing this chiffon saree, she fondly remembers how her mother, back in the day wore chiffon sarees to work daily.
she chose to pay homage to her ethnic roots in this gorgeous blush pink Sabyasachi ensemble that she wore to the Joe Jonas-Sophie Turner wedding. The gorgeous pastel hues of the elegant bead-work chiffon saree made for an apt choice for the day's wedding festivities. She styled the saree with blush pink roses tied in with her hair-do, very simple earrings, a rose gold watch and rose gold glares.
You can alternatively style a bead-work chiffon saree with a simple pearl necklace or even just pearl earrings. A classic 60s gelled curled hair look to one side will add a beautiful vintage flair to the look.
10 – Karishma Tanna In A Floral Print Saree
Nothing is more effortless on a summer day than a simple and chic printed floral saree. And this spring/summer, they are all the rage! Floral printed sarees have such airy flowy vibes to them making them an apt choice for an outfit style change for a sunny brunch outing to a cute cafe with friends. It is one of those pieces that are perfect when worn as traditional attire or even as casual wear instead of your regular outfits like jeans and tees.
Here we have the ever so gorgeous and newly-wed Karishma Tanna who looks absolutely stunning in this gorgeous saree style. She has kept it clean and simple with minimal styling. She has paired the beautiful saree with a spaghetti strap baby blue blouse to compliment the colors of the saree and wore little to no accessories.
This gorgeous saree that we are absolutely in love with can also be paired with lovely statement silver oxidized silver jewelry like big jhumkas, some silver bangles, and a ring, with really heavy kohled eyes, to add a boho feel to the look.
9 – Kareena Kapoor Khan In A Hand-Painted Orgnaza Saree
Organza sarees have won our hearts this year. They make for such gorgeous staple pieces in your closet that it makes us want to go all out and shop all the best organza sarees that exist out there. They are effortless, they are chic, they are perfect for any event be it day or night, and the best part- they are even better when they are hand-painted!
There is no denying that when the Bollywood princess herself, our very own Kareena Kapoor Khan stunned the internet with her look in a hand-painted organza saree that had a custom 'Bebo' hand-painted on it, we were all left speechless. The queen looked nothing short of stunning the gorgeous piece that was specially made for her.
While organza is already a beautiful saree fabric, you choose a hand-painted one for a more personalized touch to the saree. You can pair very elegant and simplistic jewelry with this saree, like pearls for a sophisticated look that works well for day-to-night events. To help you out further, here are some of the Best Organza Saree Designs.
8 – Jhanvi Kapoor In A Sunny Yellow Saree
The one thing about summers that gets us excited is seeing our favorite fashionista celebs change their wardrobe's color spectrum. We have seen these gorgeous stars in their absolute best western fits, but when it comes to sarees, they take it to a whole new level. With Summers nearing, we see a spurt in celebrities choosing gorgeous bright colors like blues and yellows and some opting for really pretty pastels. One of them is the ever-so-gorgeous star-kid Jhanvi Kapoor.
She is seen here in an extremely simply sunny yellow number by the renowned Manish Malhotra with a beautifully embroidered sleeveless blouse. Styled by Tanya Gharvi, it screams summer in all forms. Her look has been styled with sea-green jewelry like earrings and bangles to perfectly compliment the gorgeous yellow making the perfect pick for a day event.
Imagine this- you are to attend your best friend's wedding festivities and you need a simple yet chic ensemble for the Haldi function. What better than wearing a gorgeous yellow cotton or linen saree with dainty jewelry to keep your look effortless and comfortable throughout the day!
Here are some tips on How to Wear Sarees with Crop Tops This Year.
7 – Kriti Sanon In A Gorgeous Gold Sequin Embellished Saree
It is a well-known fact that Manish Malhotra is the king of all outfits that are glitzy and scream Bollywood glamour. He is known to have gorgeous embellished quin work sarees that are perfect for the grandeur of Bollywood celebrations. And he has achieved just that with this gorgeous look on Up and coming actress Kriti Sanon.
She was styled in an ivory gold sequin embellished saree what a beautiful halter neck style blouse for the Ganesh Chaturthi Celebrations at the Ambani's residence back in 2019. She accentuated the look with big pair of chandbali earrings and a few bangles for the festive occasion that perfectly complemented her look. She chose to keep it comfortable with the pallu casually draped over her shoulder and pretty jasmine flowers tied in with her hair.
You can very easily recreate this look with a simple embellished ivory tone saree and pair them with chanbalis or meenakari earrings that complement the shades of the saree and opt to keep the look in dual tones of ivory and gold by opting for a clutch in a dull gold shade. This makes for the perfect outfit for a Diwali party or for dinner gatherings or events.
6 – Kiara Advani In A Gorgeous Lime Green Linen Saree
Seeing these Bollywood beauties show off their taste in sarees is a beautiful thing- everyone holds pride in their unique sense of fashion, style, and uniqueness. We've seen some unique takes on saree fashion but we have the classics too. Celebrities choosing the most gorgeous summer colors have us screaming all hail to the sunshine!
Kiara Advani is one among the many celebrities who have hopped on the bandwagon to wear and showcase their taste in sarees and boy we are impressed! She wore a gorgeous lime green linen saree with a beautifully embroidered border and it is honestly such a perfect choice for spring and summer! The colour, the border work, the sleeveless floral deep neckline blouse are the perfect elements required to complete this gorgeous summery ensemble.
Linen sarees are perfect for when you experience humid or hot weather. So having one, is always a good idea! You can style any linen saree with oxidized silver jewelry and have your hair sleeked back in a low ponytail or a messy bun to keep the humidity frizz at bay!
5 – Shilpa Shetty Kundra In A Metallic Burgundy Saree
We saw a lot of shimmer, glitter, and metallics creating all the buzz last wedding season they are definitely worth the hype. They add such glamour to a regular plain saree which is all you need to ace party wear attire. As we read earlier on, Manish Malhotra is gifted in terms if creating Bollywood glamour and jazz in the form of outfits, and he has definitely hit the mark with this stunning look too!
Shilpa Shetty Kundra looked breathtakingly stunning in this beautiful Manish Malhotra metallic burgundy creation that she carries with such ease and grace. She has been styled beautifully with a cape sleeves style blouse which just adds to the glamour of the entire look. The hair and makeup are perfect and neutral to go with the ensemble so that the focus and attention remain on this gorgeous piece of work.
Metallic sarees are such an easy option to choose when looking for something that's easy but has that level of grandeur that's needed to make a statement. You can opt for this style for cocktail parties or sangeet functions, or even dinner parties to create a simple yet elevated look. A very simply styled hair look along with some gorgeous silver or diamond earrings will keep the ensemble looking classy and fresh.
4 – Madhuri Dixit In A Classic All Black Saree
Madhuri Dixit, one of Bollywood's renowned actresses has had a hold over people's hearts for years because of her timeless beauty, sheer elegance, and grace; and how can we forget- that gorgeous smile! At this point, it is safe to say, Manish Malhotra is a house favorite as we have yet another gorgeous creation on our gorgeous beauty.
Madhuri Dixit adorns this beautiful all-black beadwork saree with minimalistic feather detailing at the ends of the pallu which is such a stunning choice for a formal evening event.
If you own an all-black saree, you can style it with a shimmer black sleeveless blouse, a halter-neck blouse, or even a boat-neck blouse and let your hair down with the front pieces tucked behind your ears, and a bold red lip to add the cherry on top!
3 – Aditi Rao Hydari In An Olive Green Organza Saree
Organza is truly a summer/spring fabric and what better way to wear organza than a stunning organza saree? The gorgeous actress, Aditi Rao Hydari was styled beautifully in a Punit Balana olive green organza saree with subtle yet elegant gold beadwork at the borders.
The look is complemented with a beautiful Kundan necklace and a bunch of fresh flowers tied in the hairdo giving very summer, day-wedding vibes. The blouse has been styled in a sleeveless fashion but a halter-neck or even an off-shoulder blouse would look stunning.
You can pair the look with a Kundan choker necklace or Kundan earrings with your hair done up for a festive look.
2 – Alia Bhatt In An Elegant White Linen Saree
For her recent movie's promotions, Alia Bhatt has been coming in strong with her A-game with her all-white saree looks in tune with her latest lead protagonist role in Gangubai Kathiawadi. She chose to wear all-white looks with a hint of florals to keep the looks looking fresh and those that give out spring, sunshine vibes.
One such look was to be styled in an elegant white linen saree with floral borderwork that was gorgeously paired with a pink and red floral print blouse. Her look was made complete with a pair of simple, oxidized silver jhumkas and some roses in her semi-loose low ponytail.
She exuded sheer elegance and looked like a breath of fresh air on a warm sunny day. You can too achieve a similar look by pairing a simple old linen saree and having a floral blouse custom-made to complement the shade of the saree. You can choose dull gold or silver-tone jewelry to match your look and you are ready to go with a boho yet sophisticated look!
1 – Deepika Padukone In A Pleated Block Colour Print Saree
Deepika Padukone is known for her amazing fashion sense and even more so, for her gorgeous saree selection. She has donned a number of stunning looks in the past and has never failed to make a statement with every one of her looks. She carried sarees with such grace and looks just stunning in absolutely any kind of saree.
One of her very recent looks was this gorgeous block spring colors pleated saree which looked ethereal on her. Pleated sarees are all the rage this season miss fashionista never fails to bring us classic and chic looks that are trendy and a whole vibe.
Her look has been beautifully matched with a simple pair of turquoise blue teardrop shape earrings that go so well with the colors and the style of the saree. The gorgeous turtle-neck style blouse too is perfection.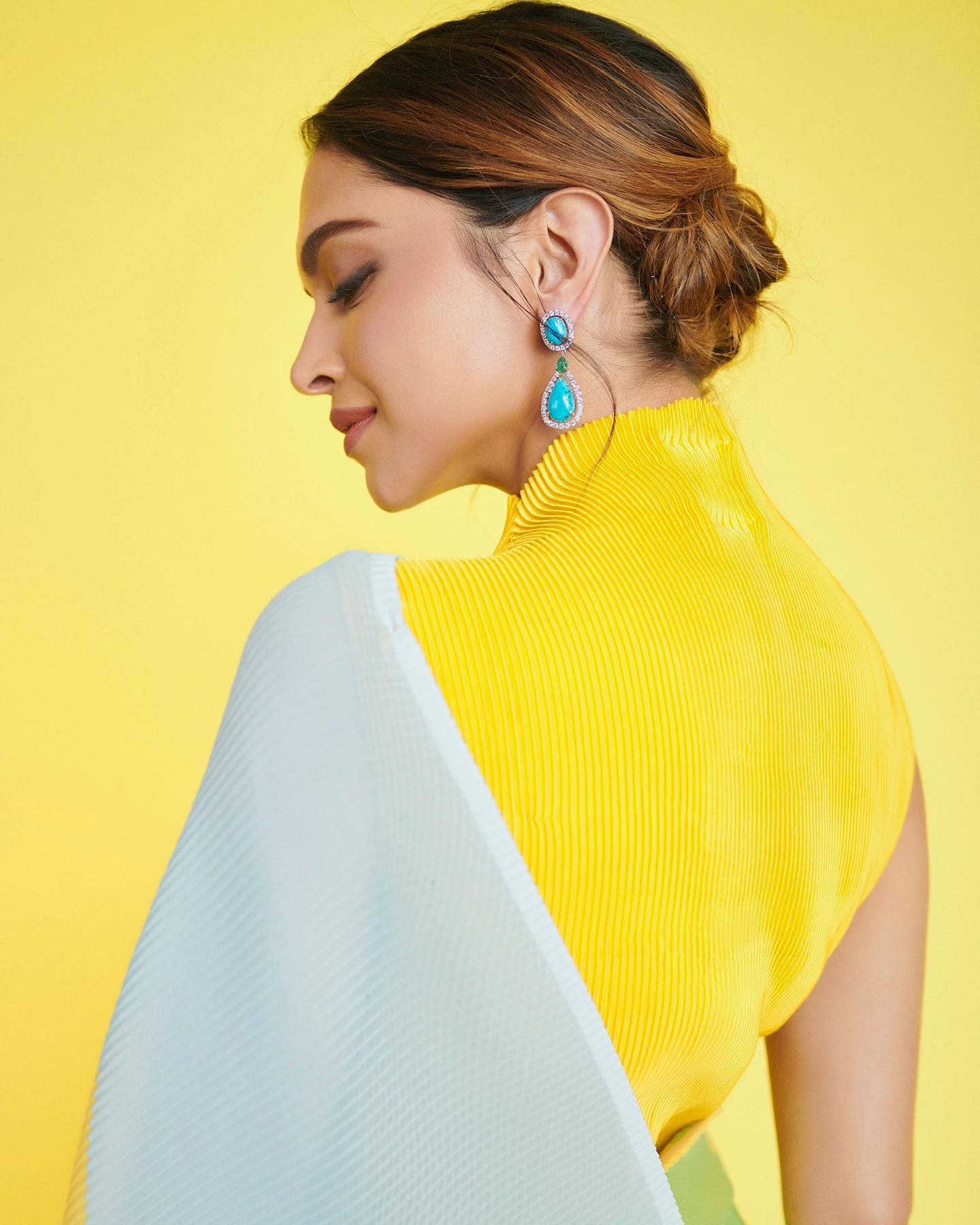 Frequently Asked Questions
Q. Where can I buy party wear sarees from?
Pernia's Pop Up Shop
Amazon Fashions
Myntra
Q. How can I recreate these celebrity looks?
The chances are few that you'd find the exact same styles and patterns in sarees as that of your favorite stars. So the trick is to find similar styles in the same color family and try to build an outfit with similar pieces and also add a personal touch to them! You can also upgrade your old saree with our Ideas on How to Reuse Old Sarees to Make New Outfits.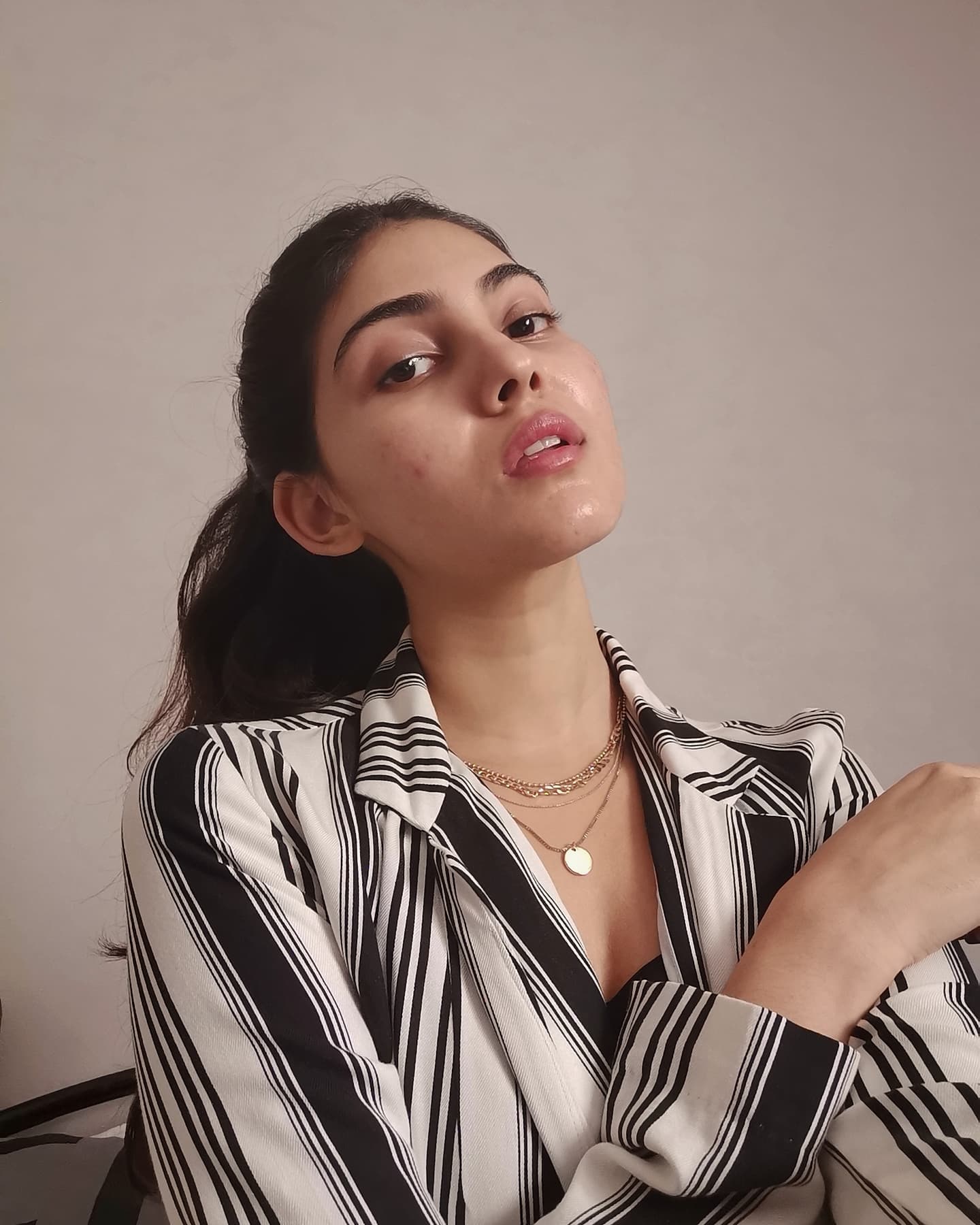 Hi! My name is Amrta. I am a 22 year old with a Bachelor's degree in Business Administration and a holder of a Post Graduate degree in Business Administration as well. I currently reside in Muscat, Oman. Though I have studied business at both the undergraduate and postgraduate level, I have had keen interest in fashion since a very young age. Along with that, my love for reading and writing, paved the way for me in terms of blog/content writing. I am here today, at Outfit Trends, to channel my passion for fashion and flare for writing and help build my skills as I go forward. As an amateur writer, I aim to use my time here to develop skills that can help me become better at what I love to do, while I also hone in on the skills I already possess and aim to create a fruitful experience here at Outfit Trends.