Plus size Funeral Outfits Ideas. Deciding what to wear in the funeral is a slightly difficult task because different cultures have different norms and values that you have to respect. For this sad and unfortunate event, you must take care of your dressing sense and should avoid bright colored dresses or something that is too over the top so as to respect the grief of decease's near and dear ones.
As we are going more into the 21st century, we are including diversity into our fashion looks, too. Body positivity and the availability of plus-size clothes is an example of how the world has progressed. There was a time when all television and fashion events showed was skinny women, who almost looked anorexic, and that was considered sexy.
Girls would starve themselves to look like those models. But today, thanks to the acceptance and inclusion of all body shapes, a lot of girls feel like they belong. Coming to the funerals, the ceremony of a funeral is executed differently in separate societies and cultures but the primary objective of a funeral to memorialize someone who has passed away.
Funerals take place before the burial of the dead body or its cremation. It is an occasion to remember the departed person's life and is closure for their family, loved ones, and those who knew him or her. Funerals are a public means of expressing our views and sentiments about the loss of someone cherished and loved.
Curvy Women's Guide On How to Dress Up For Funerals
Funerals are formal and events so it is necessary to dress right. Wearing the appropriate outfit to a funeral is especially imperative as you are required to bestow respect, not only to the person that has passed away but to his family and close ones as well. This is why plain black attire is worn in almost all cultures. White is also a very popular alternative. We have collected a few outfit ideas and tips so that your get-up does not give a wrong impression, rather it looks appropriate, subtle, and correct.
At a traditional funeral event, everybody may think only about wearing black mostly or something in darker shades. Our grief may be bigger than anything but we need to be able to present ourselves in a nice manner without looking messy. We will solve the dress confusion for all plus-size women who may feel uncertain as to what to wear to a funeral. You will get some decent and unique ideas for plus size ladies' outfits for both traditional and non-traditional funerals so that next time you are ready and have full knowledge of various outfit combinations you can try.
Here are a few tips to keep in mind :
Buy a modest black dress or suit for funerals.
Your first preference should be black, but if you cannot find a black outfit then go for any dark shaded clothes.
It's not written on stone, but it is still better to avoid wear printed clothes or graphic shirts.
Avoid bright colors like red, yellow, orange at all costs you are not there to put 'fun' in the word funeral.
A hat is a good choice, depending on the weather.
Heavy jewelry, statement pieces, flashy and bling accessories should be avoided.
Eastern cultures prefer white clothes instead of black, as it represents purity
Western cultures go with black, to represent death and mourning
Avoid keeping your legs bare when wearing dresses or skirts and instead go for dark-colored tights or leggings.
It is wise to keep your arms covered unless you are facing hot weather and it will be difficult to do so. You can take a shawl, scarf, blazer or kimono with you to cover your arms as a gesture of respect.
If you need to attend an outdoor funeral service, wear flats because heels will sink into grassy grounds or mud.
Choose dresses with a higher neckline and a lower hemline.
Don't ever go for bright and colorful dresses or overstated patterns.
Don't overdo the accessories or makeup and keep a few tissues with you.
↓ 37. Kimonos
Black is a traditional funeral appropriate color. You may want to keep your shoulders covered with a stylish kimono. Select any soft-colored kimono with a flowy fabric and big abstract print. Kimonos go well with almost all kind of dresses whether you opt for midi or maxi dresses and will be perfect for a fall funeral. Nude heels will go well with this outfit as it will give you the perfect elongated look and wear silver earrings to complete the look. Here are 20 Ways To Dress Up With Kimono Outfits.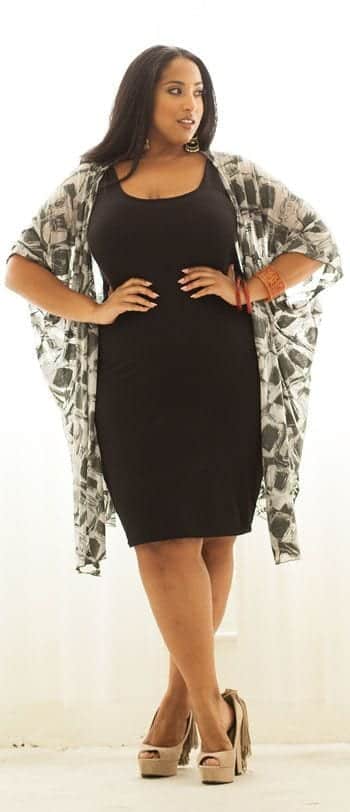 ↓ 36. Dress for Winter
Sticking to black is a wise idea for Funeral but you can also lean towards grey or navy shades. For a winter funeral, it is imperative that you should cover yourself properly so that you won't regret it later. Try on a warm and thick cable knit sweater in grey and wear a navy or black blazer over it. You can choose to wear black woolen or corduroy pants and grey or black boots so that you can be comfortable with an outside funeral service. Part your hair on the left side and let them loose or pin them in place.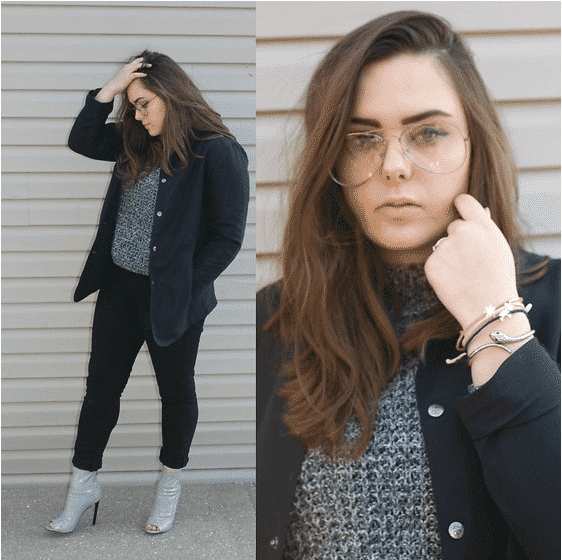 ↓ 35. Wearing Skirt
If you are wearing a plain black top, you can wear a skirt of appropriate length with it to the funeral. You can choose to wear a plain black skirt, or a black and white flared skirt with micro prints. Micro prints are not only slimming and smart but also the right choice for funerals as they are not an outrageous choice for this event. You can choose to wear either black flats or heels to go with the maxi skirt.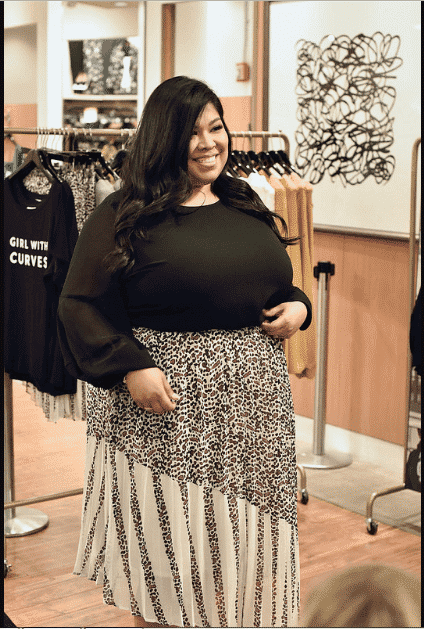 ↓ 34. Tulip Striped Skirt
There are a million different ways to wear black at a funeral without it appearing boring or too overwhelming. If you are attending a funeral in the spring season,  you can wear a white stripped tulip skirt. Wear a traditional loose-fitting black top since tulip skirts are usually form-fitted and tuck the outfit with a belt. The belt at the waist will give you a nice shape and the black wedges will be suitable to be worn with the skirt. You can choose to wear a simple silver chain or a subdued necklace to go with the dress.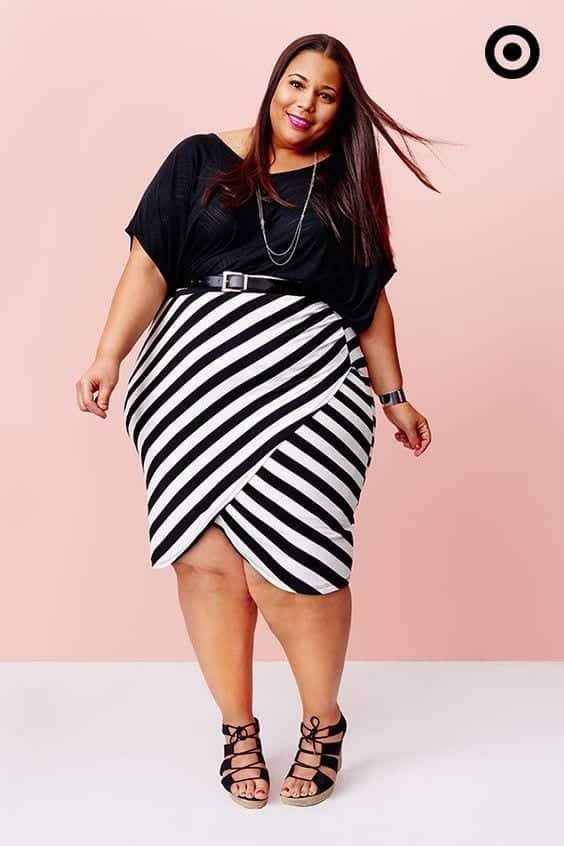 ↓ 33. Black Cape Dress
If you want to present yourself in the most elegant and chic style possible, wearing a cape dress is a magnificent choice. Attached cape with a dress is the best way to cover your shoulders and arms in case you are attending a conservative funeral service without fussing over it falling off. It gives you a smooth look at the back and might even hide any bumps you might want to keep under the wraps so that you appear extremely classy and polished. Nude heels with the dress will create the right impact without it getting too dark or boring. Here are 23 Ways to Style Plus Size Off-the-Shoulder Tops for Women.
↓ 32. Formal Attire
If you are attending a traditional funeral service immediately after a person's death, chances are that the event will be very emotional and sad. For such an occasion, it is important to not go overboard with your dressing choice. If you don't prefer wearing a skirt, the next best modest choice is to go with tailored black pantsuit with a crisp white shirt. This look is perfectly dignified and is best suited for all dress codes. Don't forget to keep your sunglasses with you! Wear a fancy shirt so you won't look like a lawyer in this dress.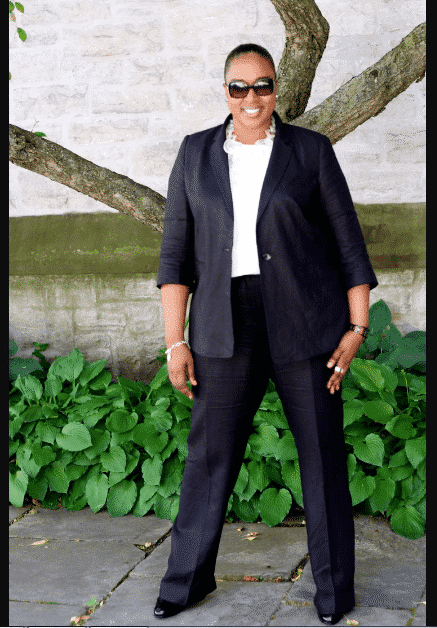 ↓ 31. Contrasting Shades
Color blocking or wearing contrasting shades can also be used whilst dressing up for a funeral service. Contrasting shades that are easy to pull off at a funeral are a combination of white with black, navy or grey. Wear light or pastel shades for areas that you want to show and dark colors for areas that you want to play down. Wear a white shirt at the top and black or navy high-waisted A-line midi skirt to hide the thicker side of your legs so that you appear leaner.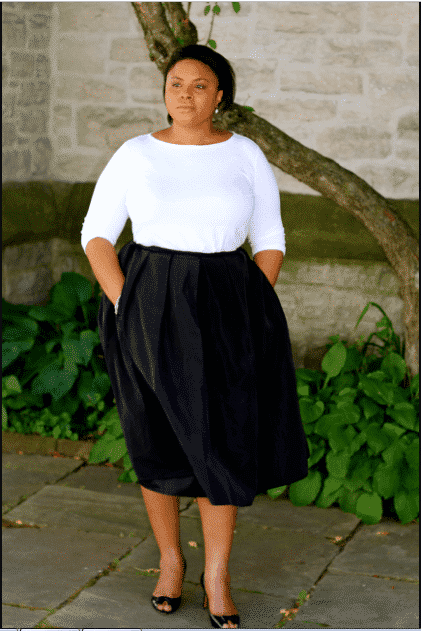 ↓ 30. How to Add Color
Not all of us are great fan of the color black, so we need to downplay it a little without being too brash for a funeral. Keeping in mind that you have to be respectful towards the loss of the friends and family of the deceased, you can add a little bit of color to your outfit with the choice of a shirt or blazer. Use only the conservative colour that won't stand out too much or make you appear odd like grey, navy, taupe, brown etc.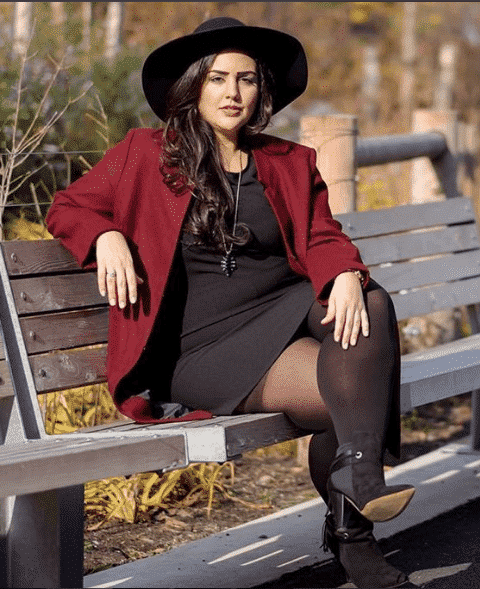 ↓ 29. Flared Pants
If the funeral service you have to attend offer you a certain flexibility, you can sport an animal print top and black flared pants without being too flashy or ostentatious.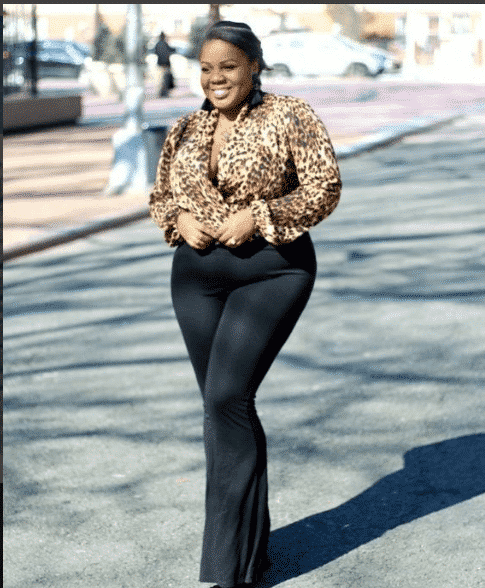 ↓ 28. Wearing Micro Prints
A micro polka dot print ruffled dress in black and white is trendy and appropriate attire for plus size women at a funeral. This option is very feminine and functional and can help you transition easily into something more glamorous for the day without much trouble. Wear sock booties and black hose with this dress for fall or chill temperatures and you are good to go! Have a look at these 18 Best Plus Size Celebrities Outfit Ideas from This Year.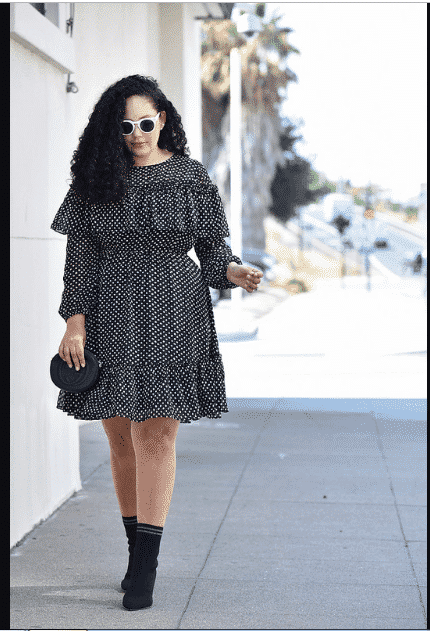 ↓ 27. Lace Dress
If you are to attend a huge scale formal funeral event, you have to not appear too simple or casual for it. In case you have to give a speech, wear something a bit dressier like a black lace dress. You can choose a lightweight lace dress for a summer or spring event and choose a thick lining dress for winter wear. Opt for a blazer or trenchcoat in black for cold temperature and outdoor funeral services in winter.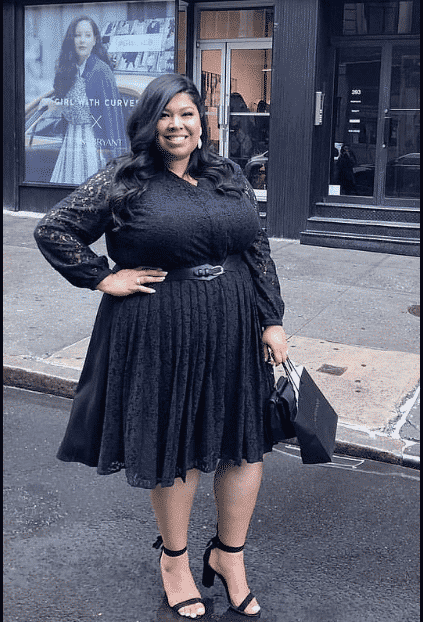 ↓ 26. Maxi
Jeans might be too casual for formal funeral attire but not with a smart maxi dress. A dress with a slit at the front or with a long slit might actually be an indecent choice for a funeral. If you want to stay comfortable in your denim, you can always wear a chic dress with a slit or any other chic detailing with them. This way you wouldn't be restricting your movement with a smart slit at the waist and no one will find this choice offensive for a funeral service.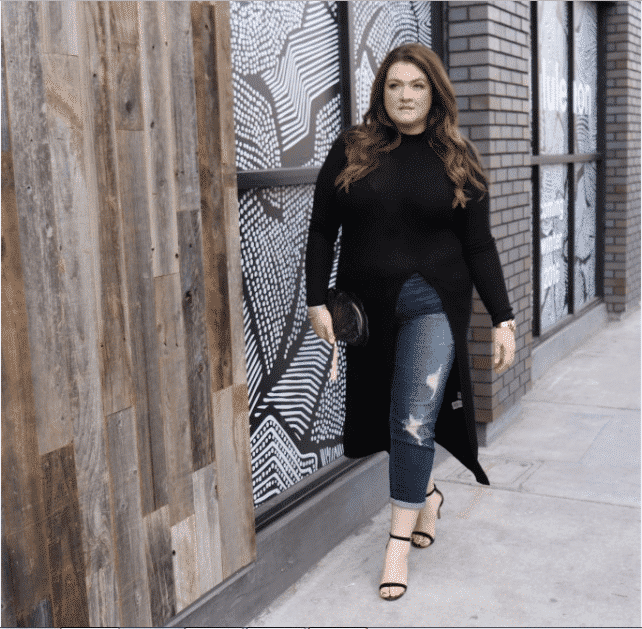 ↓ 25. Summer Wear
 Inner compression panels in plus size pants will help you in getting a smooth silhouette and will help you in taming the waist area. These high-waisted charcoal pants are a super comfortable piece for summer and wear a black cotton or soft linen shirt with a summer jacket or kimono to keep you airy and comfortable.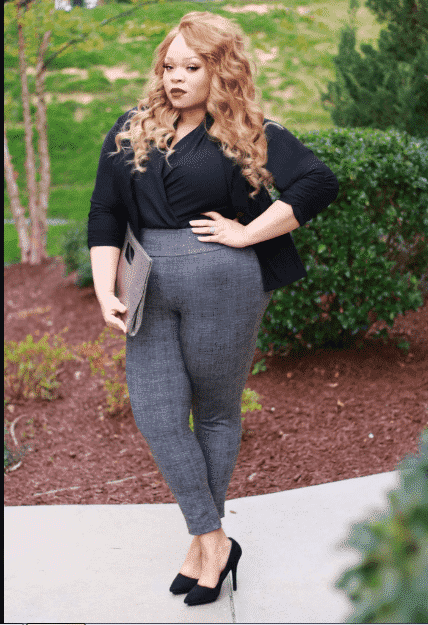 ↓ 24. Crop Top with Jogger Pants
Crop tops can be worn to funerals if styled properly. Don't wear a crop top in a manner that it will appear sexy or will overexpose your skin. Rather wearing a white crop top with black stripes on the sleeves is a great piece that you can mix with black jogger pants and heels for a wonderful and decent funeral attire for plus size women.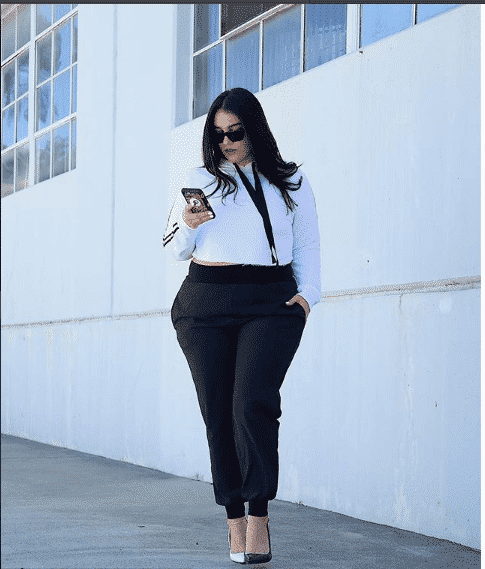 ↓ 23. Pairing Dark Shades
If you have ever felt confusion over wearing darker shades together, you can wear them now. You can wear a navy high neckline top with flare at the bottom with black tights or pants with black or navy flats.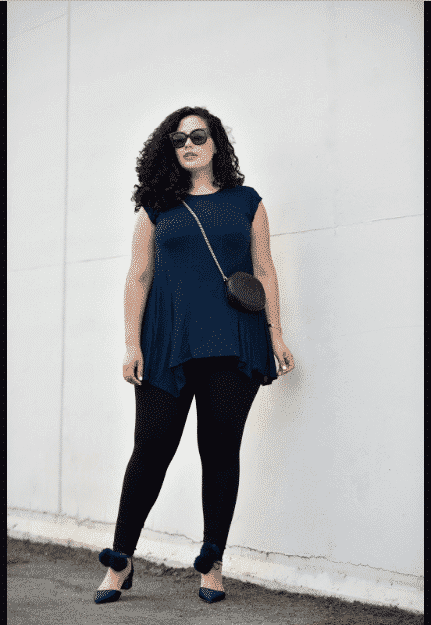 ↓ 22. Jumpsuits
Wearing a black one piece is a sound choice for a funeral. A plain and simple jumpsuit is a comfortable attire for a funeral and modest enough too. Don't feel overly conscious about your outer appearance in a jumpsuit because that would keep you tensed throughout the funeral service. Black heels will go perfectly well with a black jumpsuit. Have a look at these 21 Best Winter Jeans Outfits for Plus-Sized Women to Stay Warm and Chic.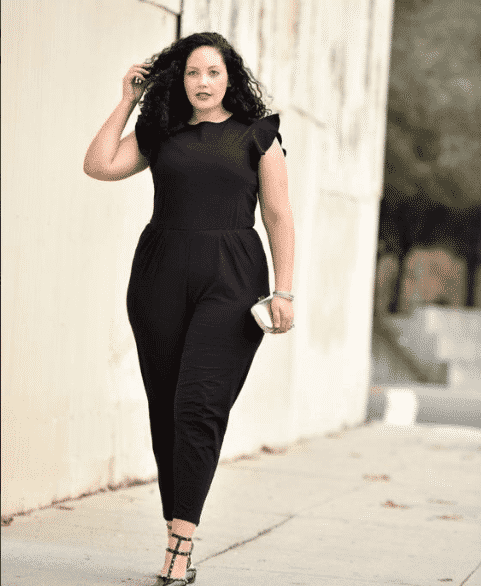 ↓ 21. Accessorizing the Best Way
Wear simple black hats that are not too fancy or floppy for a funeral service excluding any fedoras or over-the-top hats with bows or flowers. Keeping it simple is the key and avoid wearing hats so you won't obstruct other people's views.
Avoid wearing jewelry that is chunky or bright and colorful because that is disrespectful for a traditional funeral service. Mostly you will be wearing modest and high neckline dresses so any fancy necklaces are out of the question. Wear a simple chain or string of pearls to look refined and decent.
Carry a simple purse or clutch and don't use a huge bag that will be difficult to carry around. Keep only the basics in the purse and essentially you might need some tissues too.
Sunglasses are important but don't select a pair with too much glitz or drama instead go for a simple pair that will just do the job and not raise eyebrows.
Keep the makeup subtle and don't overdo it at this point because you are not getting any points for flaunting your makeup skills here. Be respectful towards the grief of other and select dull and nude shades of lipsticks for the funeral.
You can choose to let your hair in a sophisticated bun at the nape of your neck or do some side braids. Some people choose to keep their hair loose and that is fine too until its windy or you are having a bad hair day.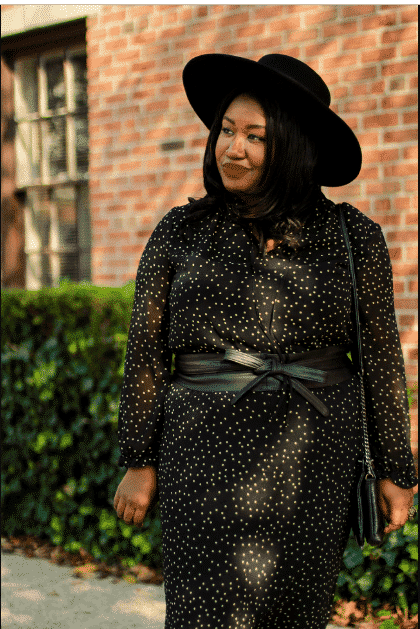 ↓ 20 – Simple Black Dress
A simple black dress should be your first option when decoding an outfit to wear to a funeral ceremony. It says, traditional, sophisticated, and formal. Black dresses are the prime outfit attire of women on a funeral. Though, make sure it does not have any funky, eye-catching details that would make it look like you are here at a party rather than a funeral.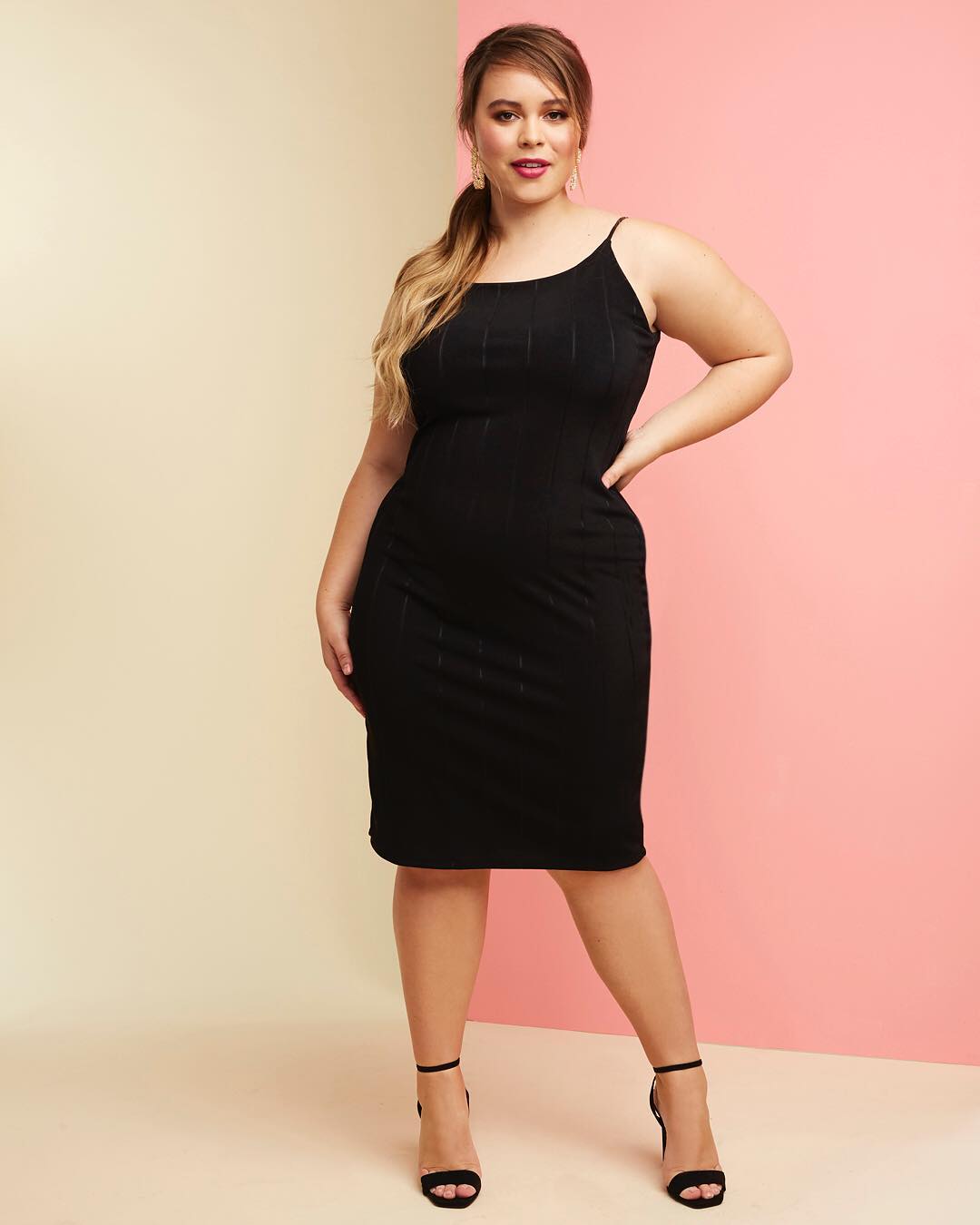 ↓ 19 – Black Pantsuit
Pantsuits, formal suits etc are worn to funerals. These can be your choice if you are not in a mood to wear dresses or you generally just prefer suits. Pantsuits give a neat, formal look which is exactly what  you need for this occassion. You can get one tailored to your exact measurements for a proper fitting because a suit without fitting looks sloppy and lousy.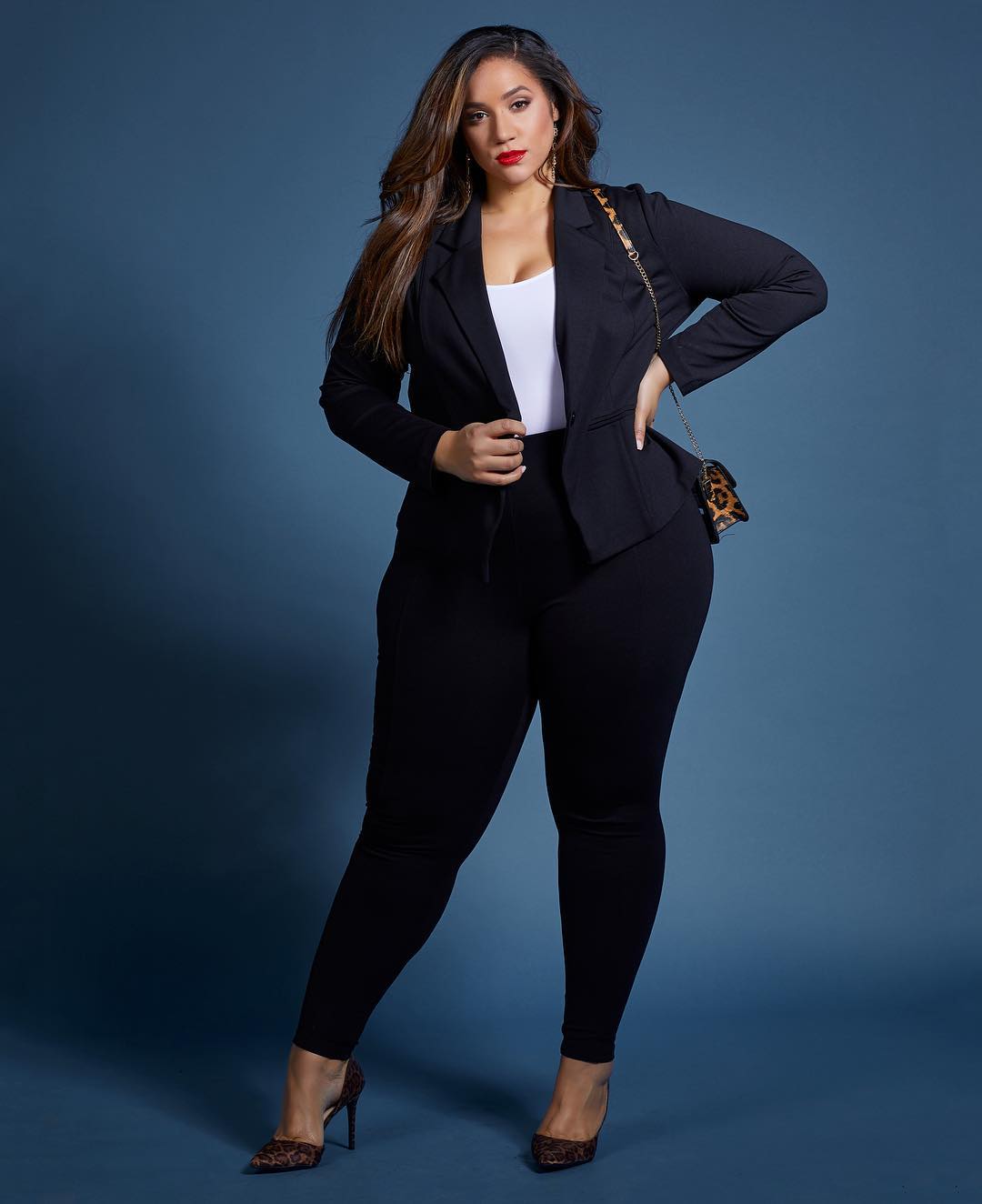 ↓ 18 – Leather Skirt
Leather skirts also lie in the formal category if worn right. A black skirt will make you look like a confident lady. Tuck in your blouse or top for the shape to show and not look mismatched.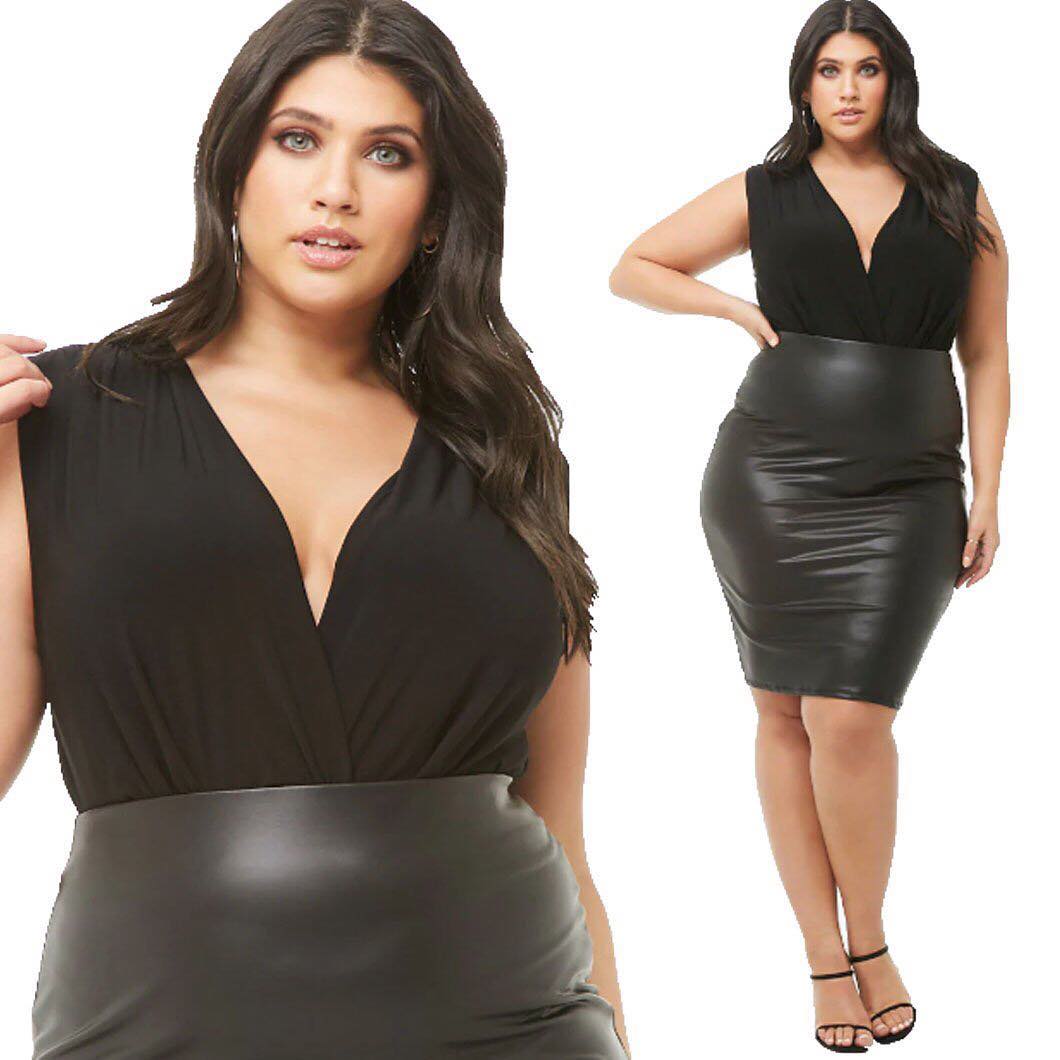 ↓ 17 – Fur Jacket
In winters, jackets need to be worn unless you want to die in cold. Especially, if the ceremony is taking place outdoors. Rather than opting for a conventional jacket, wear a more sophisticated one. Faux fur ill help you achieve that. It can be paired with almost anything, but in case of funeral ceremonies try to wear something black and decent.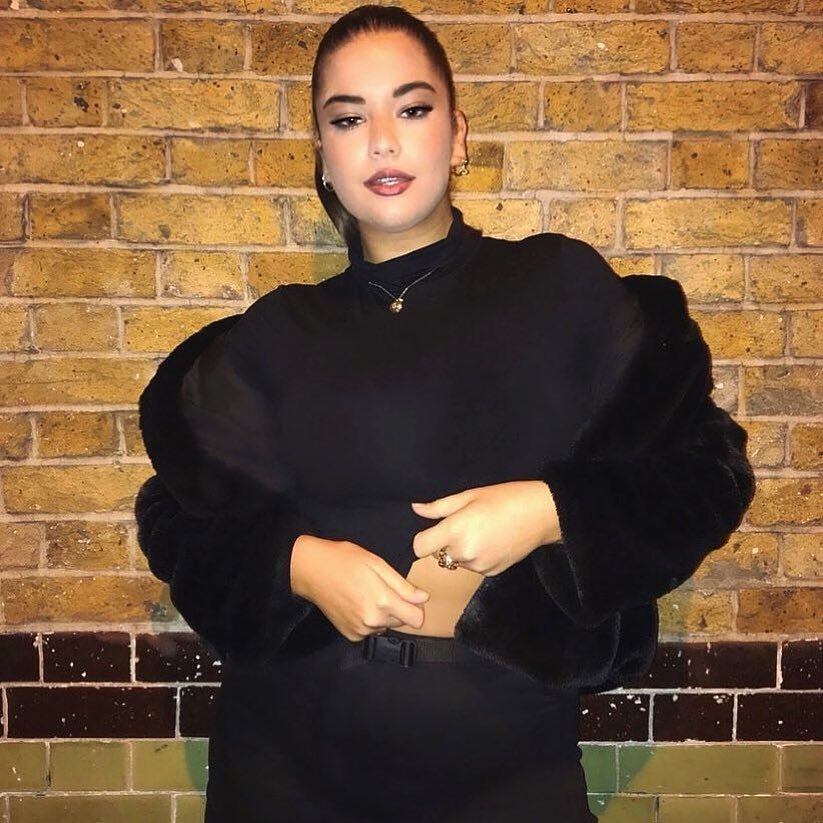 Faux fur jackets are ideal if you are to attend a funeral service that is anything but conventional. They are not only a great style statement but will also keep you warm and toasty for winter funeral service.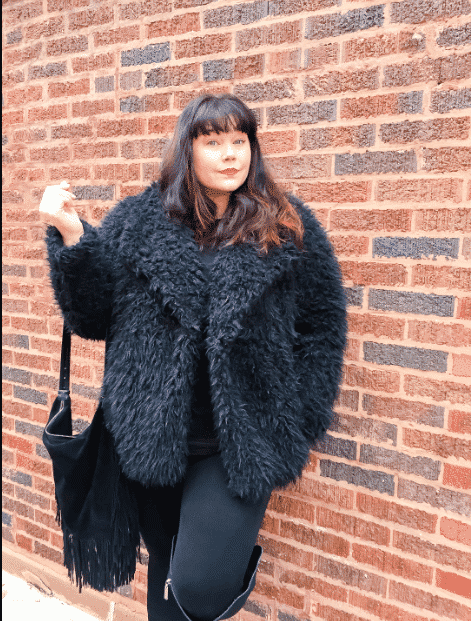 ↓ 16 – Culotte Jumpsuit
Jumpsuits have recently become one of the most fashionable and trendy outfits. Moreover, they make you look taller, slimmer, and leaner so why should they not be? A culotte jumpsuit has wide legs and it is preferred to be worn with high heels or stilettos. A plain black jumpsuit can be paired with a cape or a shawl for a better look. You can also wear it with an open gown that covers you from behind in case you are uncomfortable wearing a jumpsuit to a funeral.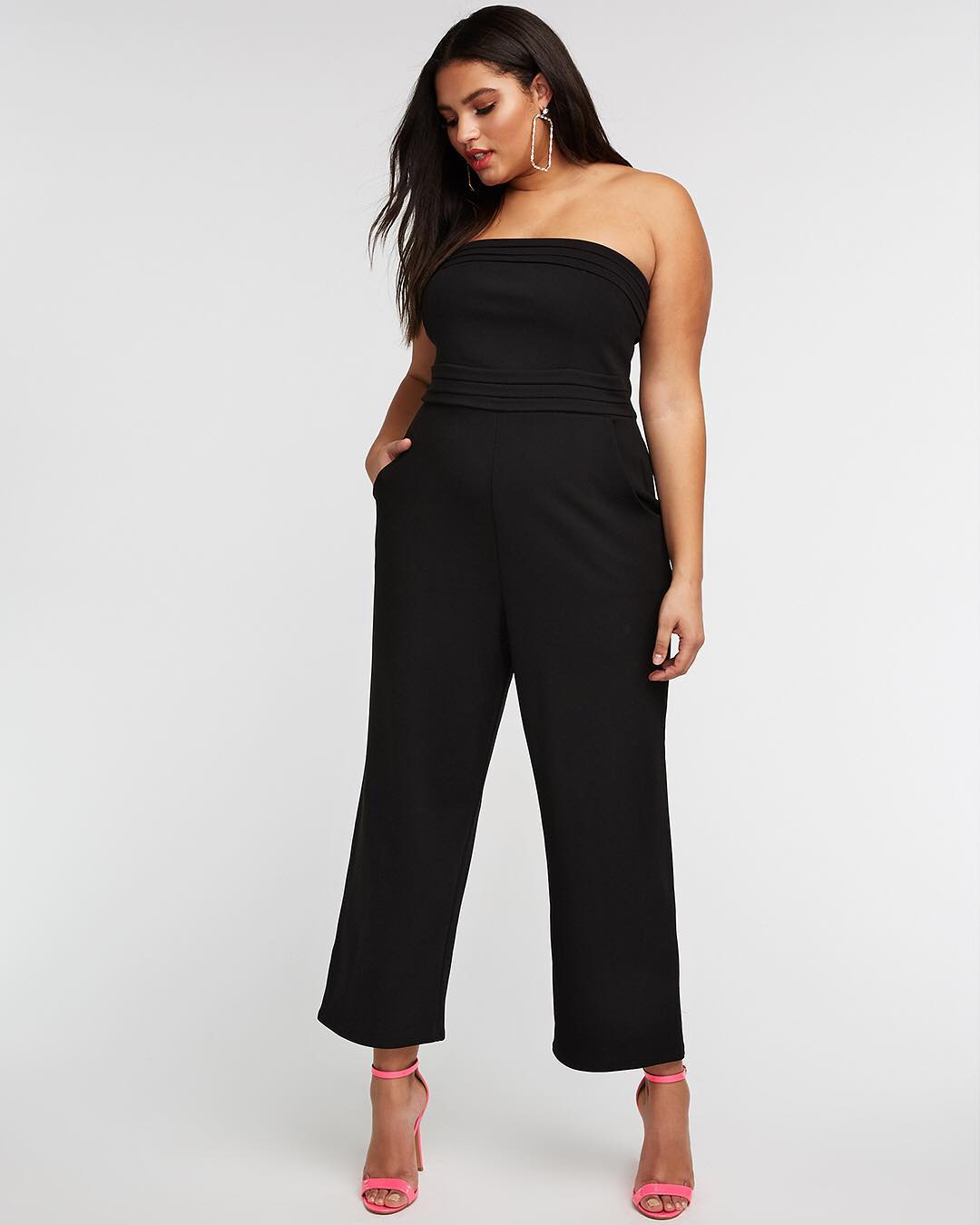 ↓ 15 – Full Sleeved Dress
Full sleeves are not only appropriate for funerals they also make outfits look smarter. A dress with full sleeves gives it a new shape and style. You can be covered, looking modest as well as suitably dressed for a funeral.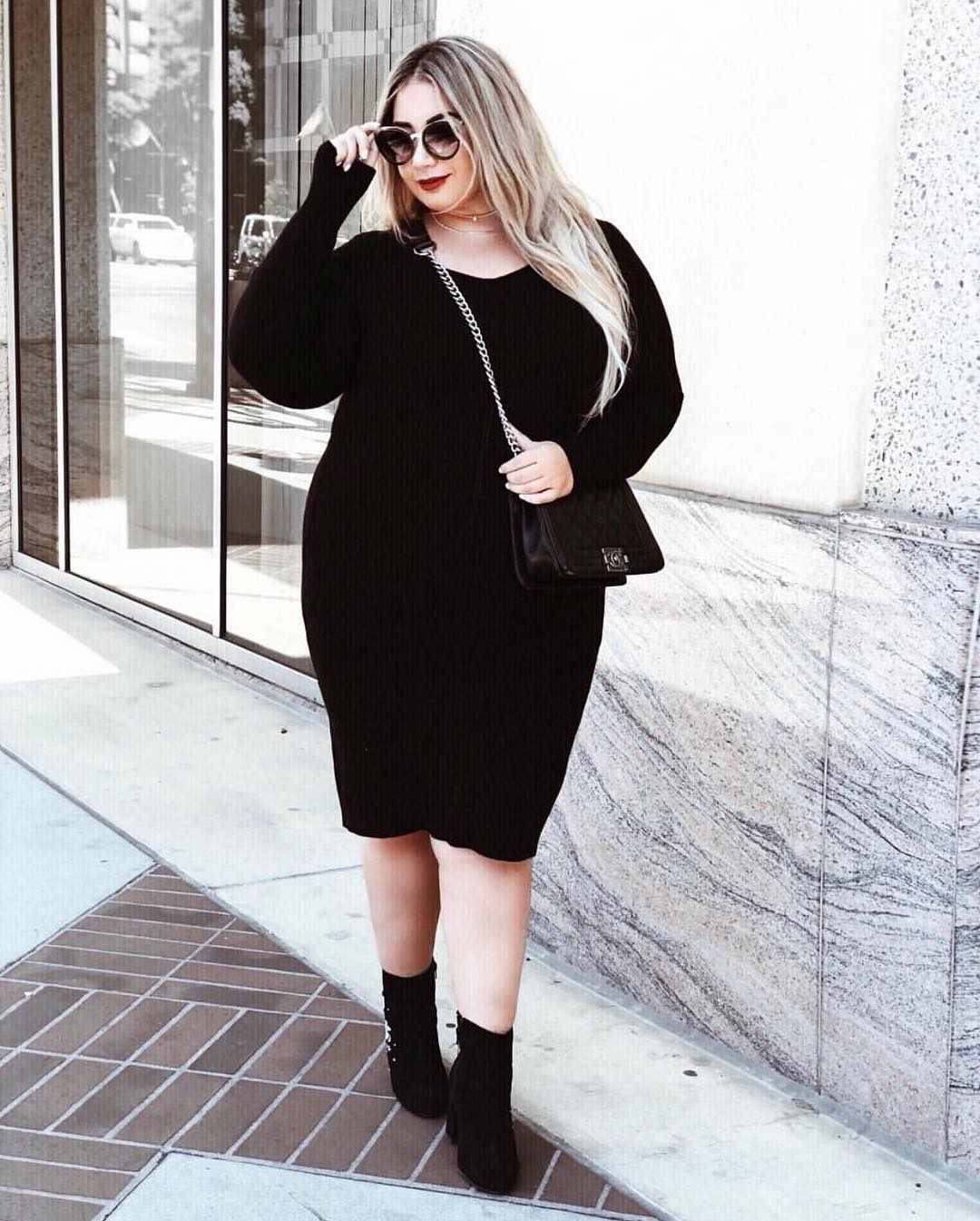 ↓ 14 – Velvet Dress
Velvet is a good choice for funeral clothes. For one, you will not have to wear jackets or any ugly layers on a velvet dress because velvet is already a thick cloth that shields you against the biting cold. Velvet does not only keep you warm it also looks sophisticated and decent.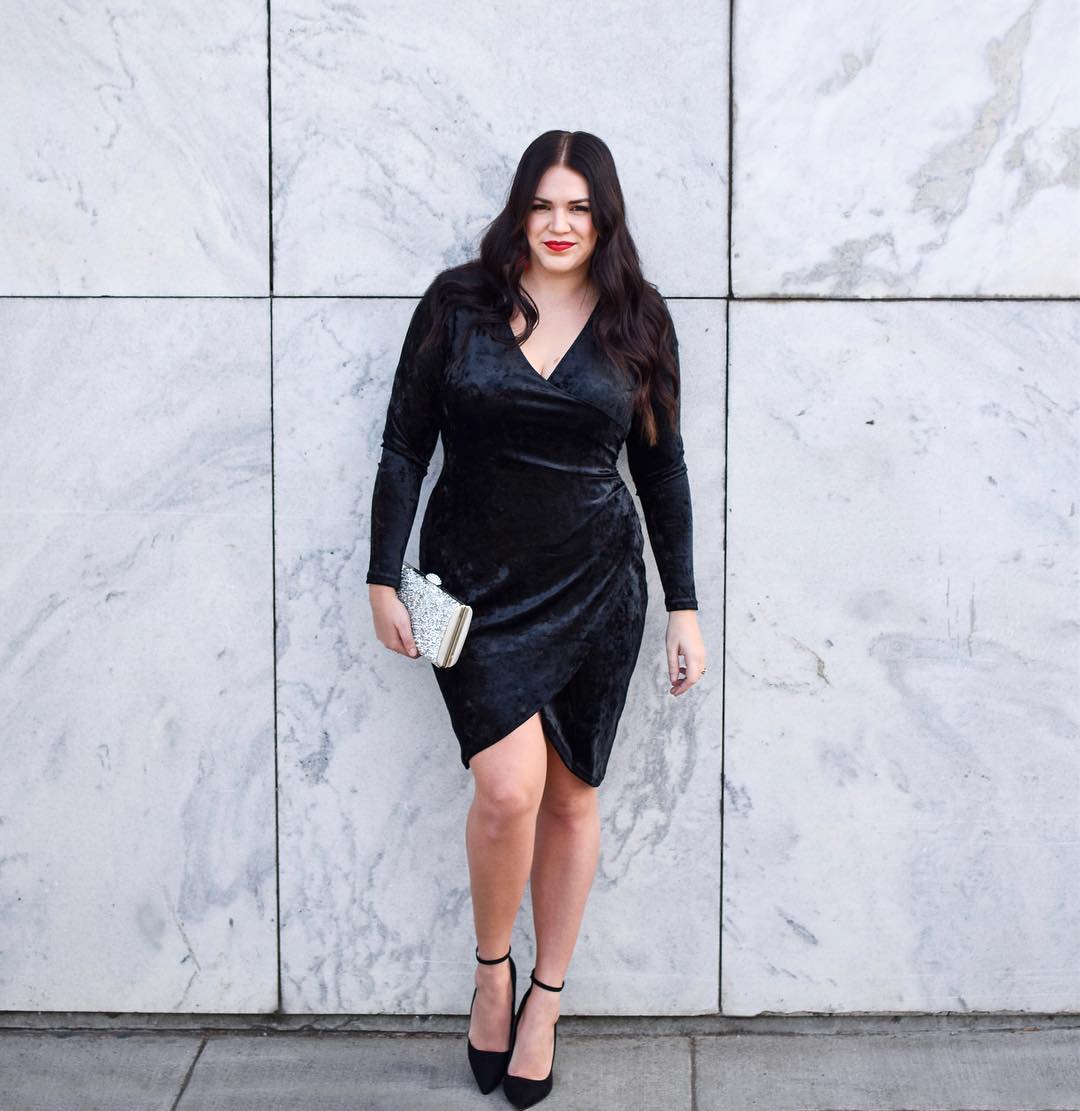 ↓ 13 – Maxi Dress
A maxi dress is a full-length dress going all the way to your ankles. Maxi dresses are a quite popular option to wear to funerals. They are long enough to make them look graceful and modest. Secondly, they fall into the category of formal clothes.
Plain black dresses are the perfect option for what to wear to a funeral. Moreover, a little A-line shape or pleats cover your covers which is perfect because you do not want to look sexy at a funeral, rather plain and simple would work. This is not the event to show off how sexy you are, we will leave that for an event where no one is mourning.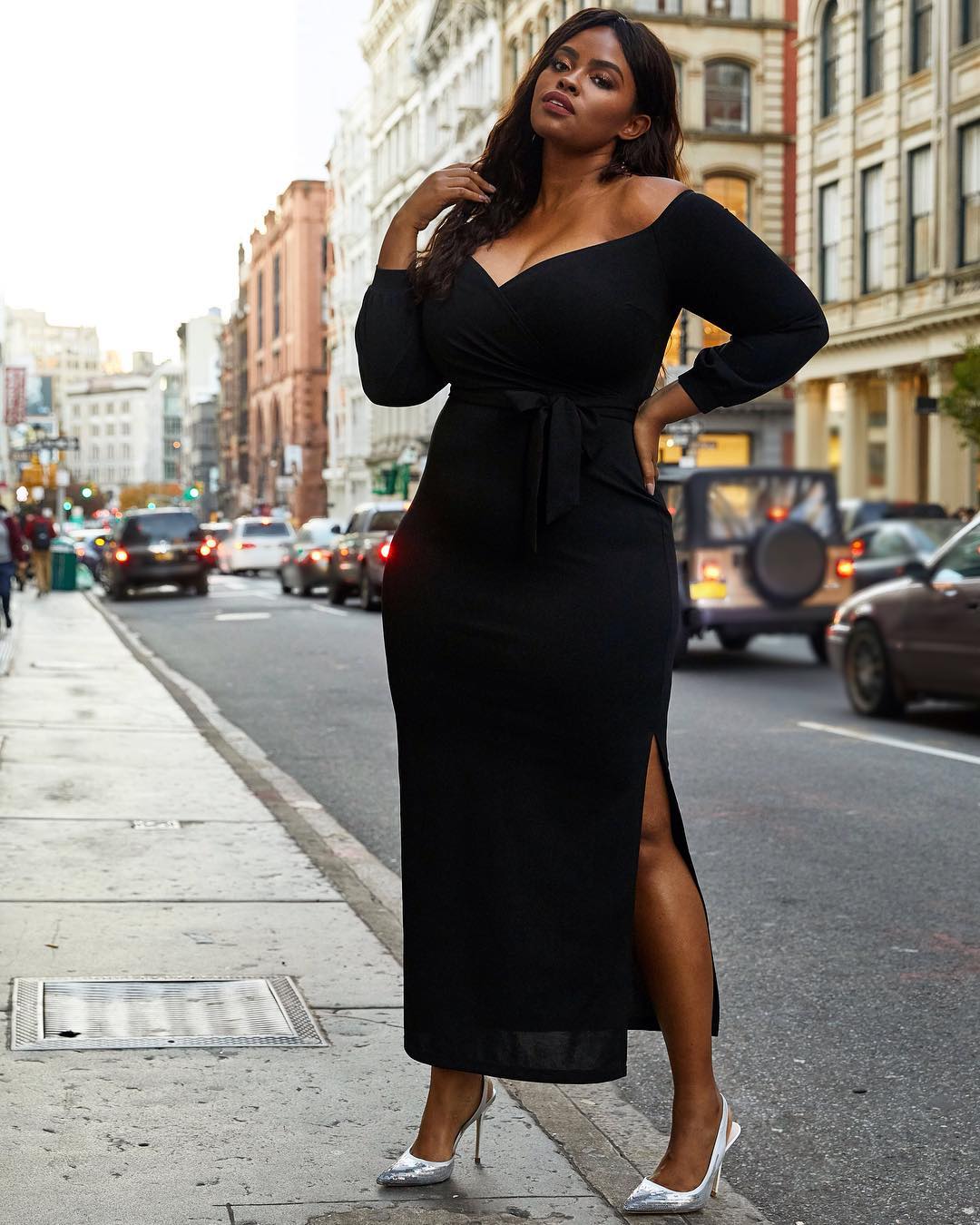 ↓ 12 – Printed Pants
In case you do not have plain black pants in your closet you can wear plain and simple prints on pants. Checks and stripes are a good option. Avoid anything bubbly or funky though.  Polka dots, texts, flowers are out of the window. You should also be careful about the colors you are wearing. Black, white, gray, dark blues are acceptable but flashy shades of Fuschia, or neon versions of yellow will not work. Match it with a simple, plain blouse or top.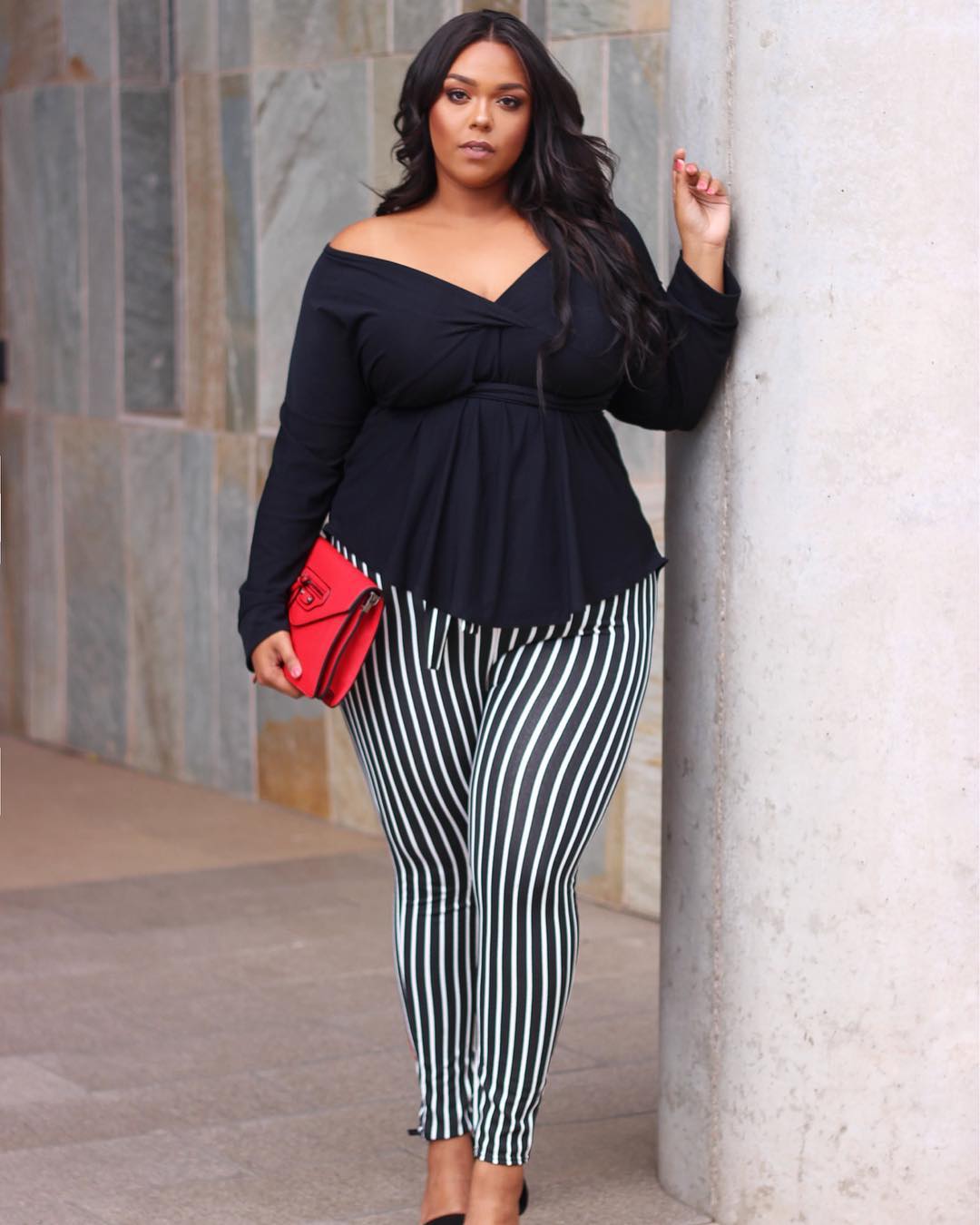 ↓ 11 – Funeral Headdress
Funeral headdresses, hats, and dramatic veils were all part of funeral attire for women for a long time. Though now, with modernity women usually are not seen with them on funerals. Funeral guests today are barely wearing these hats but that does not mean you can not. Make a fashion statement with elegant veils and hats to cover your head.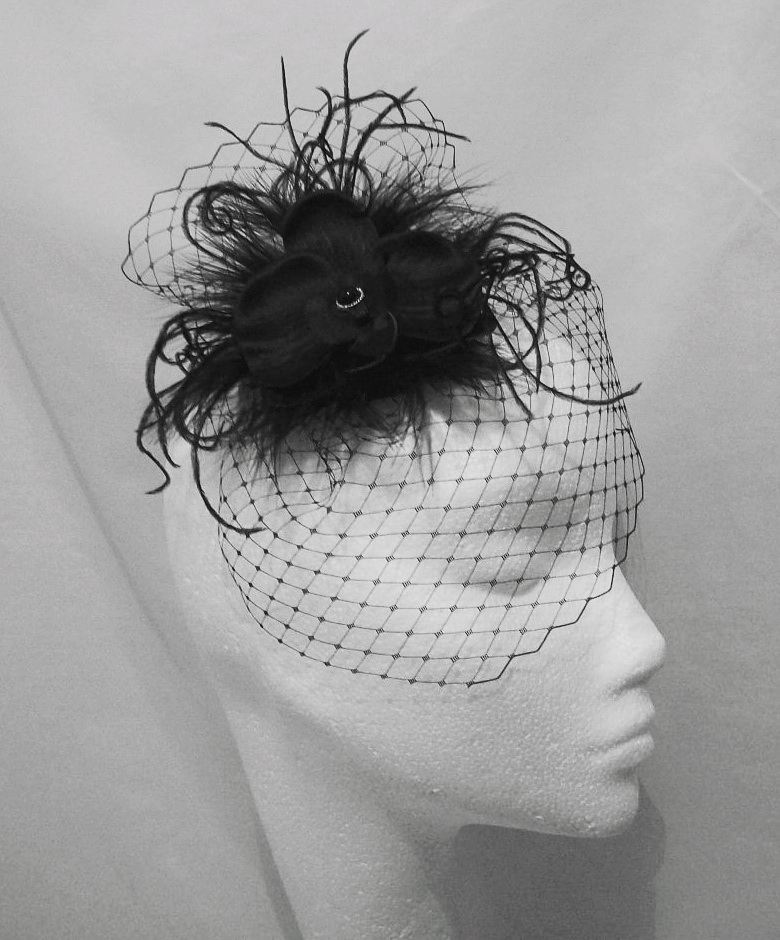 ↓ 10 – Gray
Gray is also a very popular shade when it comes to funerals. Ray pants or suits can be an alternative for the conventional black suit. Gray is not shiny or eye-catching which is why it makes the cut. Moreover, it looks really mature to wear shades of gray.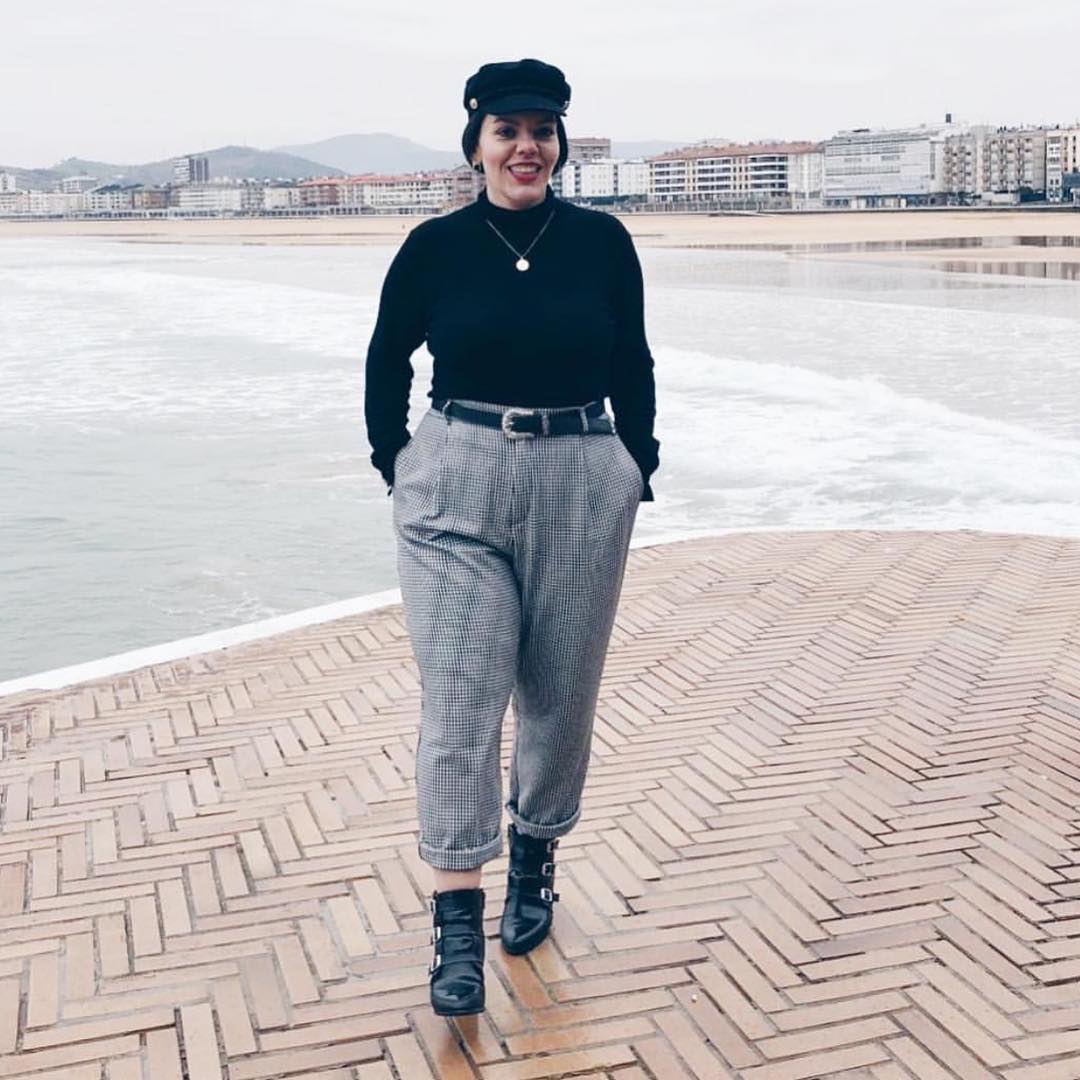 ↓ 9 – Dull Colors
If you do not have any formal outfits in black or gray then it would be a good idea to wear anything in subtle shades. Light colors and faded shades work best. Basically, you can wear anything that won't make people standing 2 miles away, point at you and say, "look at that neon advertisement, is she here to attend a funeral ceremony or local circus?"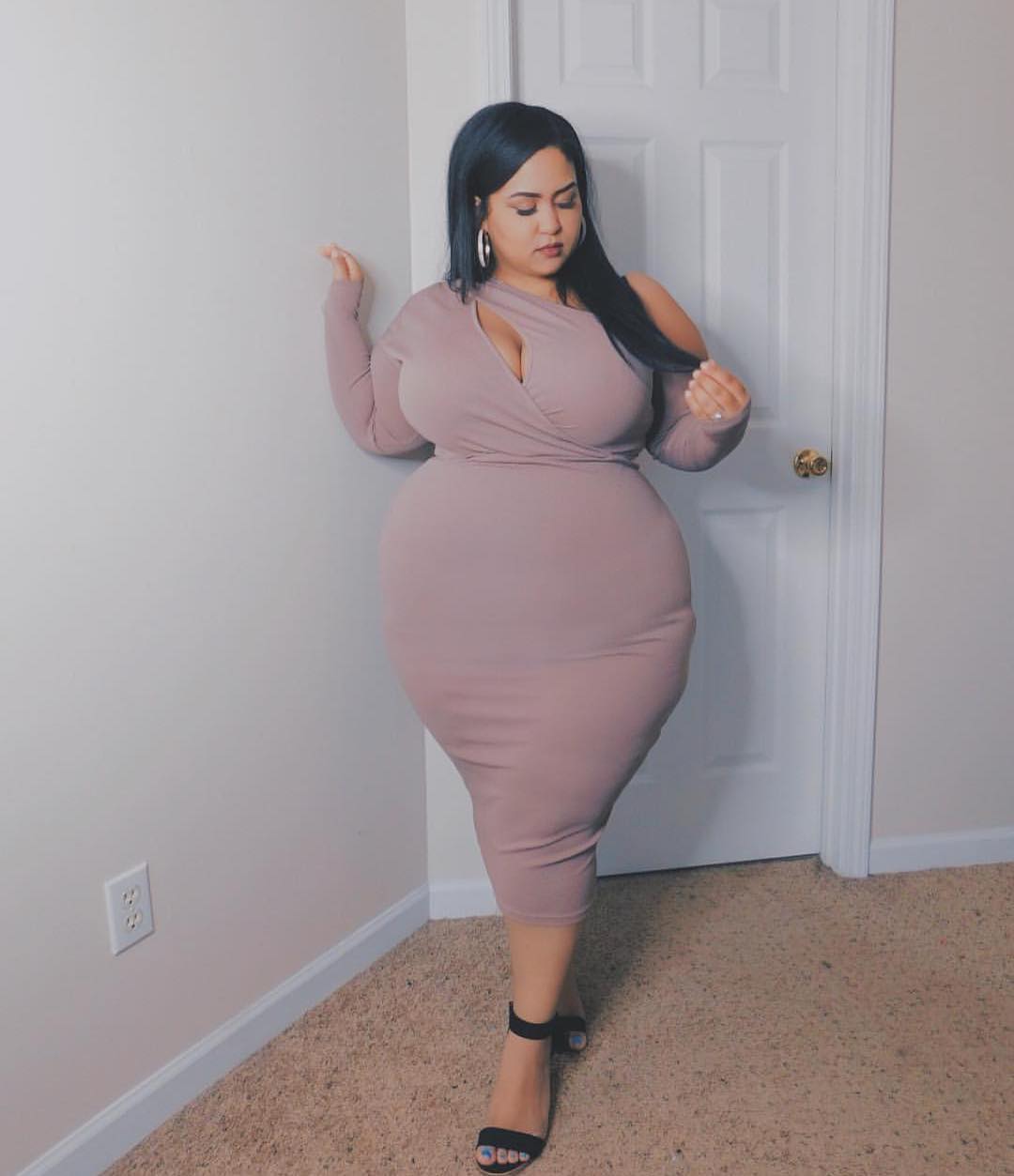 ↓ 8 – Long Skirts
I think it is quite understood that mini skirts are totally out of the question. Even if it is black. Because this is not the moment to capture your next Instagram post. But, you can wear long skirts. Preferably, flowy ones rather than pencil skirts. You can match your blazer to your skirt to complete the outfit.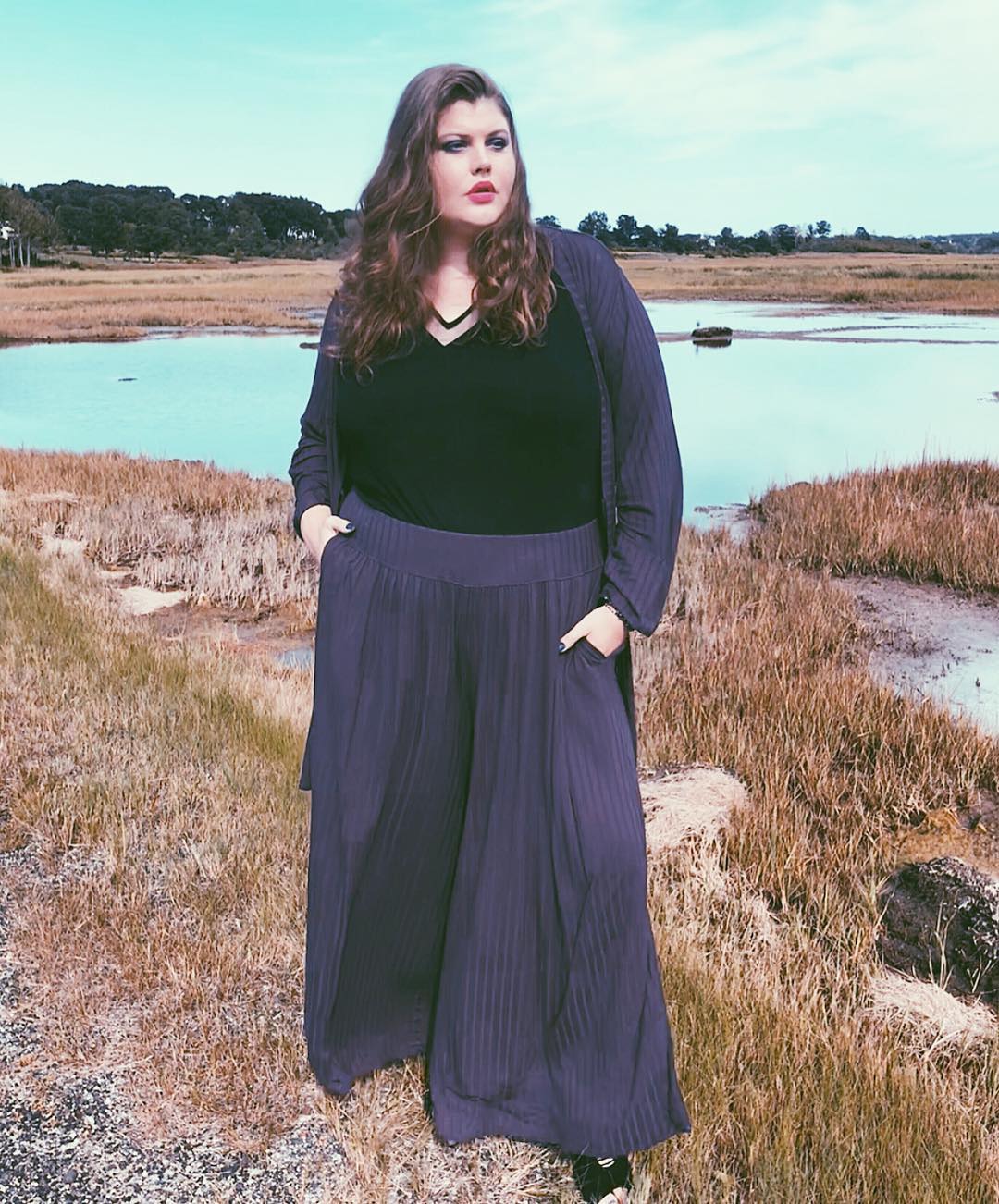 ↓ 7 – Checks
Jumpsuits are one of the versatile outfits that you can pull off at any event if you know how to wear it right. Checkered jumpsuits are a good outfit option to wear to a funeral ceremony. Just make sure of the colors. Add a matching jacket on top for a more formal look.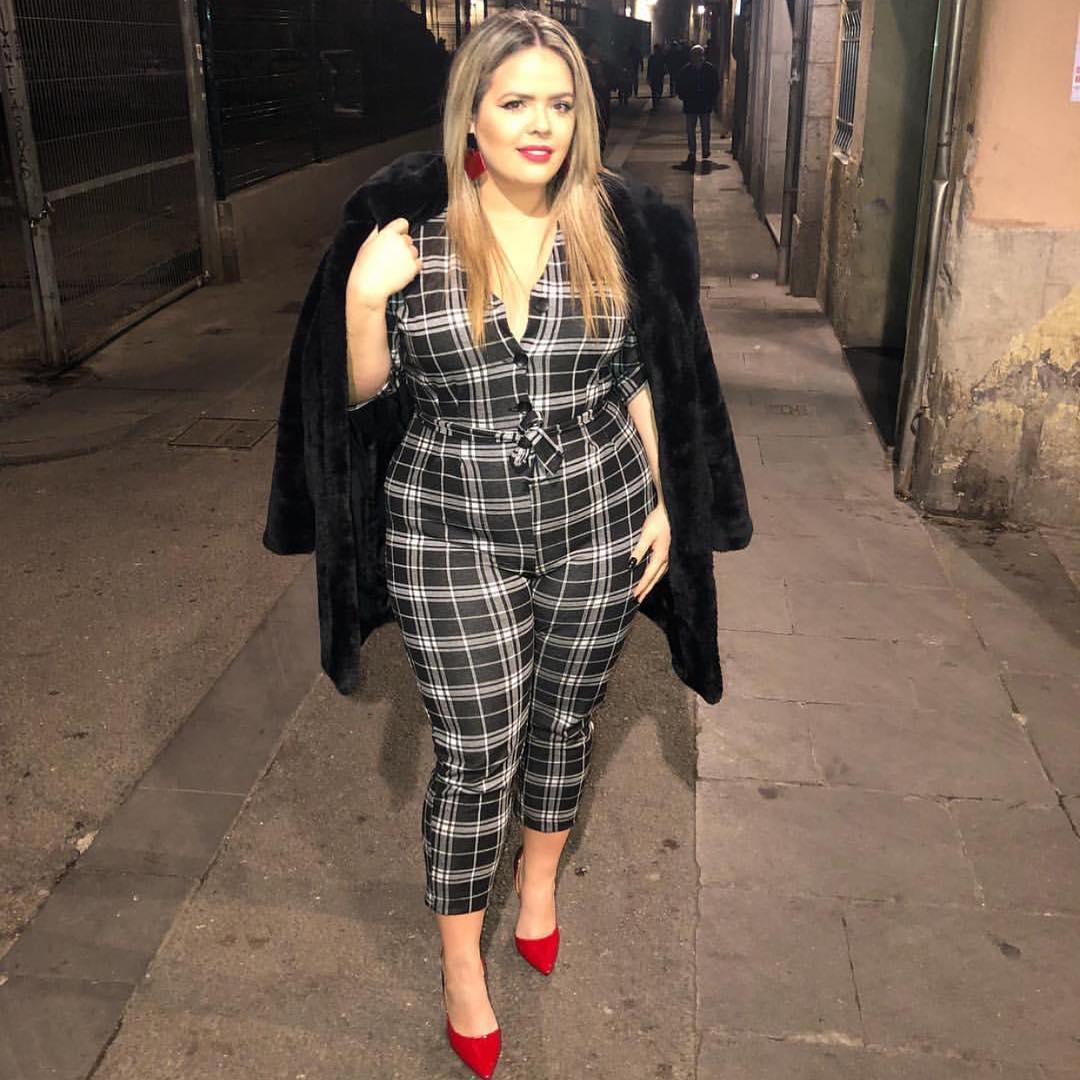 ↓ 6 – Catsuit 
Before you go like, 'whattt?' hear me out. When I say catsuit I do not mean a totally fitted, body-hugging suit that shows off every curve of your body. Try one like this with a cape skirt at the back to hide your thighs. Or add jackets, shawls or any other layers to cover yourself up. Catsuits are in this list because black ones look formal and fit.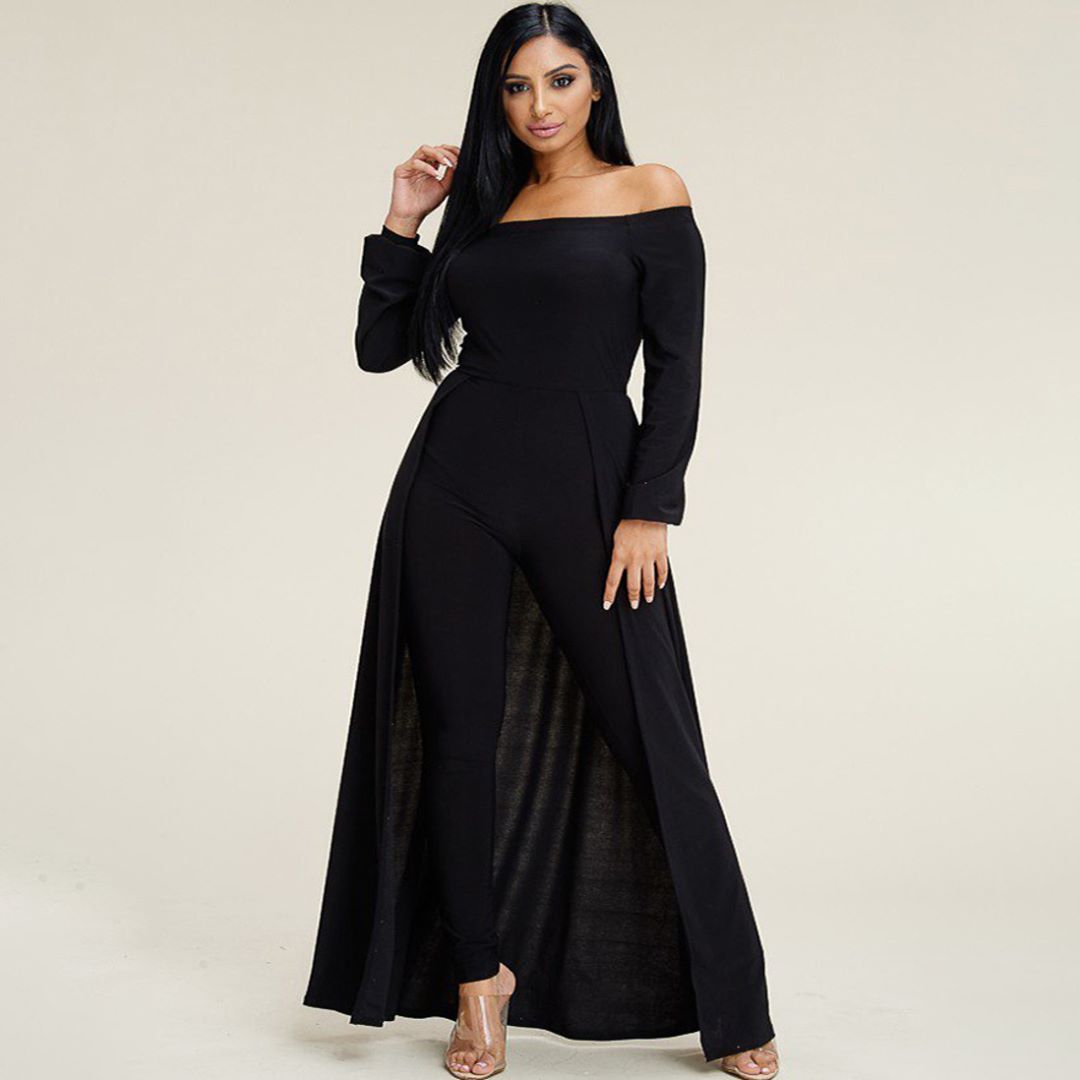 ↓ 5 – White Suits
The color white represents purity and simplicity. In most cultures, white outfits are preferred over black colored outfits on funeral ceremonies. White-coloured suits give an impression of sophistication and collected behaviour.
In Eastern cultures such as in Pakistan and India etc, plain and simple white shalwar kameez and saris are usually worn to funerals. Zero makeup is worn as you need to do everything to turn people's attention towards you. And the most important part is to make sure you wear a shawl or dupatta when you wear shalwar kameez. Pantsuits and Eastern wear are not appreciated as it is considered an outfit for wearing to events that are not traditional.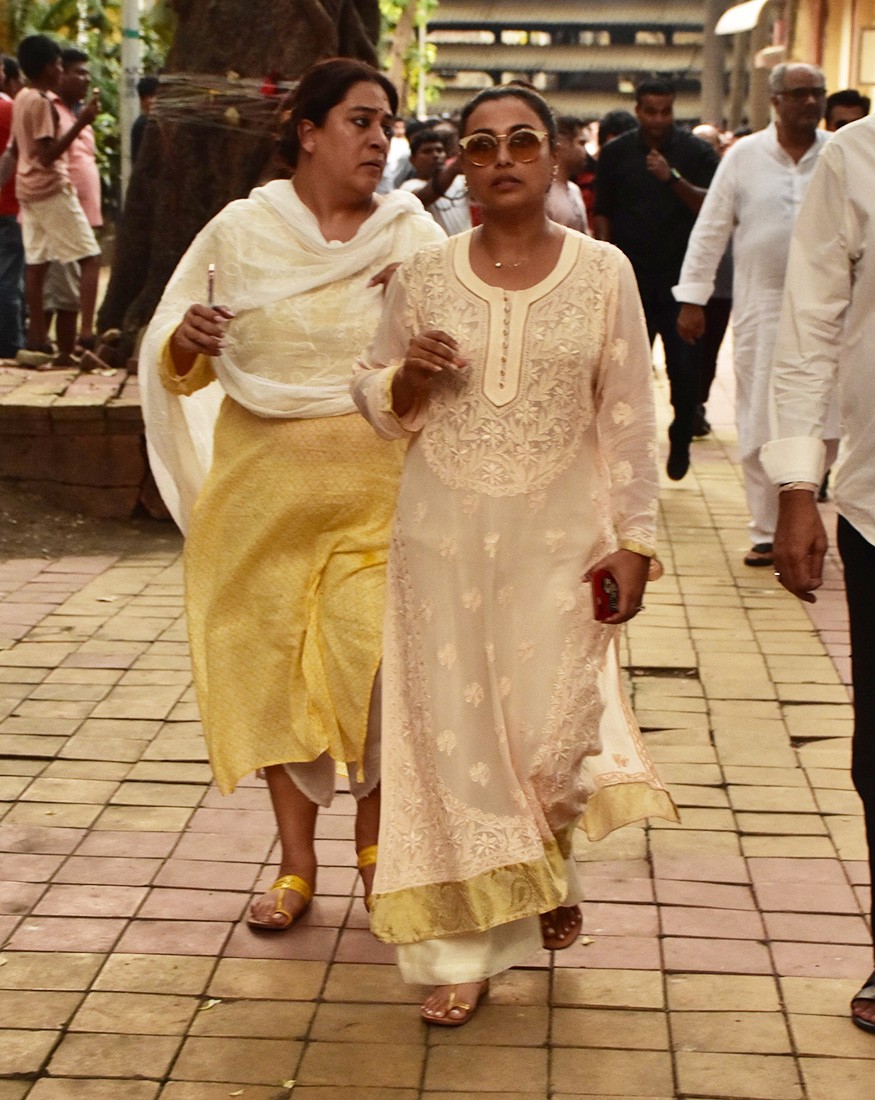 ↓ 4 – Black Pants
Black Pants are a must-have. Not just for funerals but at any other event you can wear black pants and look appropriate (except for a pool party). They are versatile and fall into any category, formal or informal. You should even buy some black jeans because they sometimes make the cut.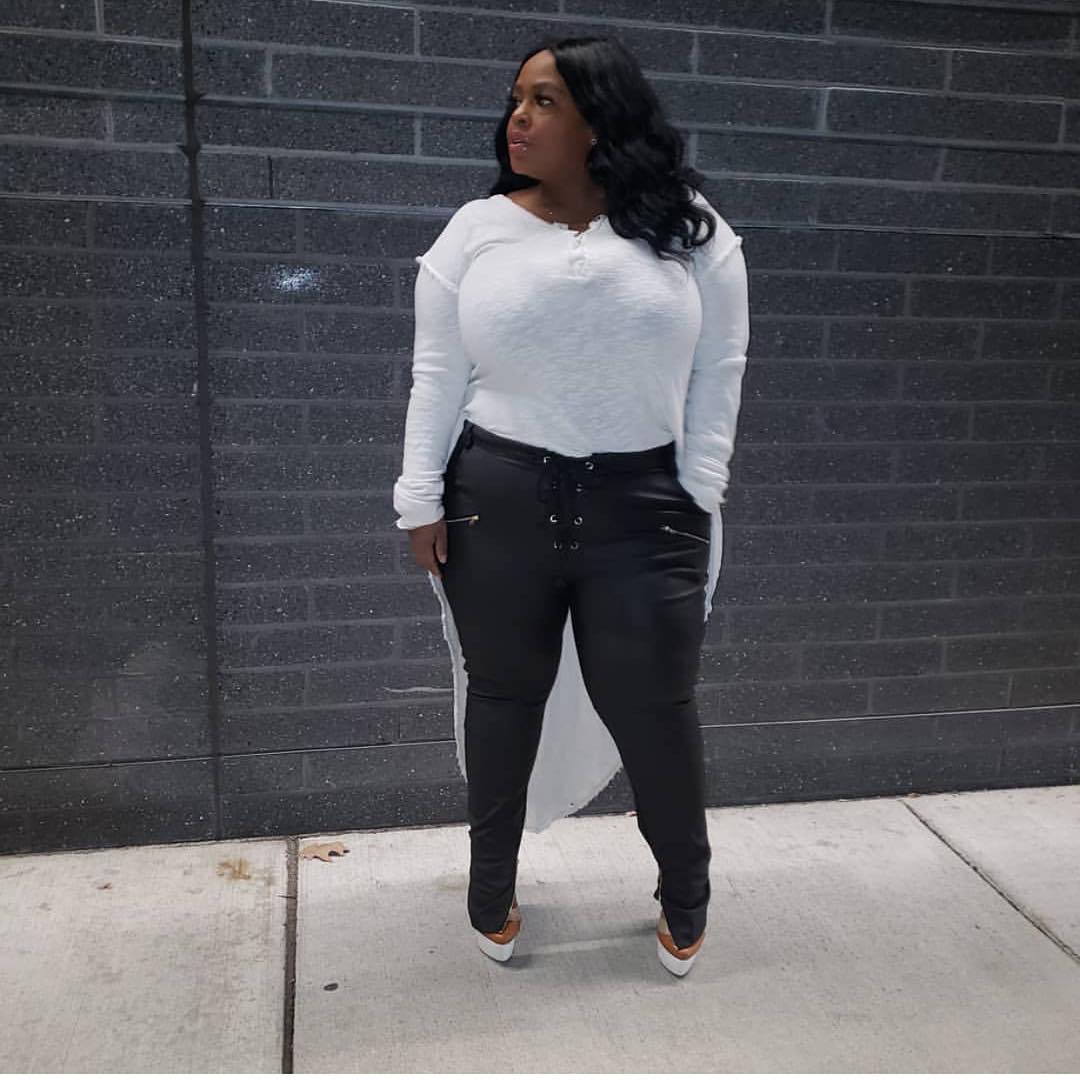 ↓ 3 – Midi Length Skirt
The knee-length pleated skirt makes you look smarter and give a formal look. Pair it with any plain or simple blouse form your closet. It would be better if you tuck your shirt in rather than letting it out as that would ruin the shape of the skirt.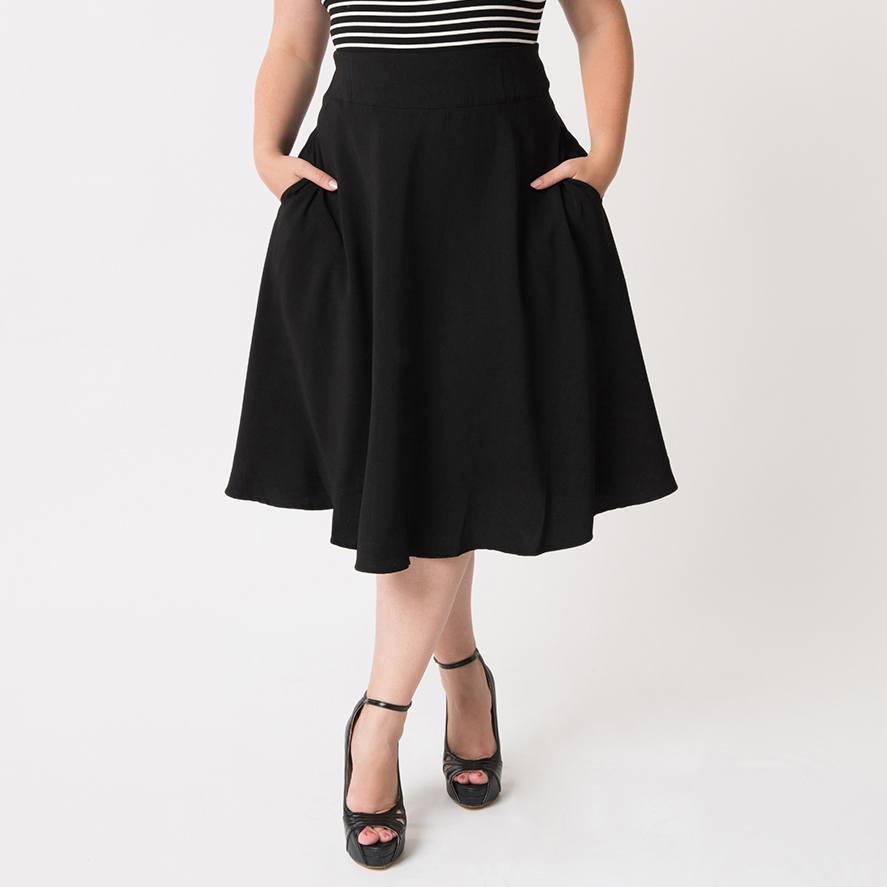 ↓ 2 – Footwear For Funerals
You should preferably wear high heels or something with a little height if you can. Avoid wearing sneakers or tennis shoes. And I do not think I need to mention this but also stay clear of flip flops. Funerals are a formal occasion where you dress appropriately, not in a casual manner having that 'I don't care' look. But, If high heels are a little extra for you, or if you're not used to it then you do not want to make fun of yourself by limping in front of everyone, or worse twisting your ankle. Choose a comfortable pair of flat pumps or sandals. Running shoes or flip-flops are definitely out of the question as they do not belong in the definition of formal.
Keep your footwear simple and without any touch of glimmer or fancy adornment that might catch the eye in the wrong way. It is better to wear flats or shoes with block heels so that you won't feel trapped in case you have to stand for long in the funeral service and can walk comfortably on any surface. Don't choose colorful footwear for funeral and instead try to opt for black or dark-colored shoes.
In case the funeral service is to be held completely indoors, you can choose to wear heels but then again be cautious to keep it elegant and conforming to the dress code of the funeral service. Whether you are going for a funeral service in summer or winter, always remember to choose footwear that adequately covers your feet.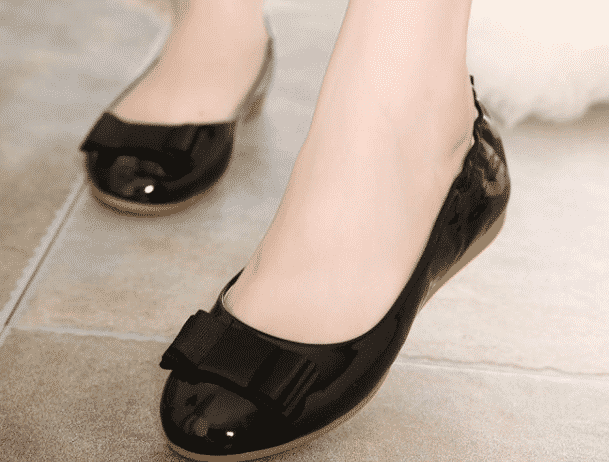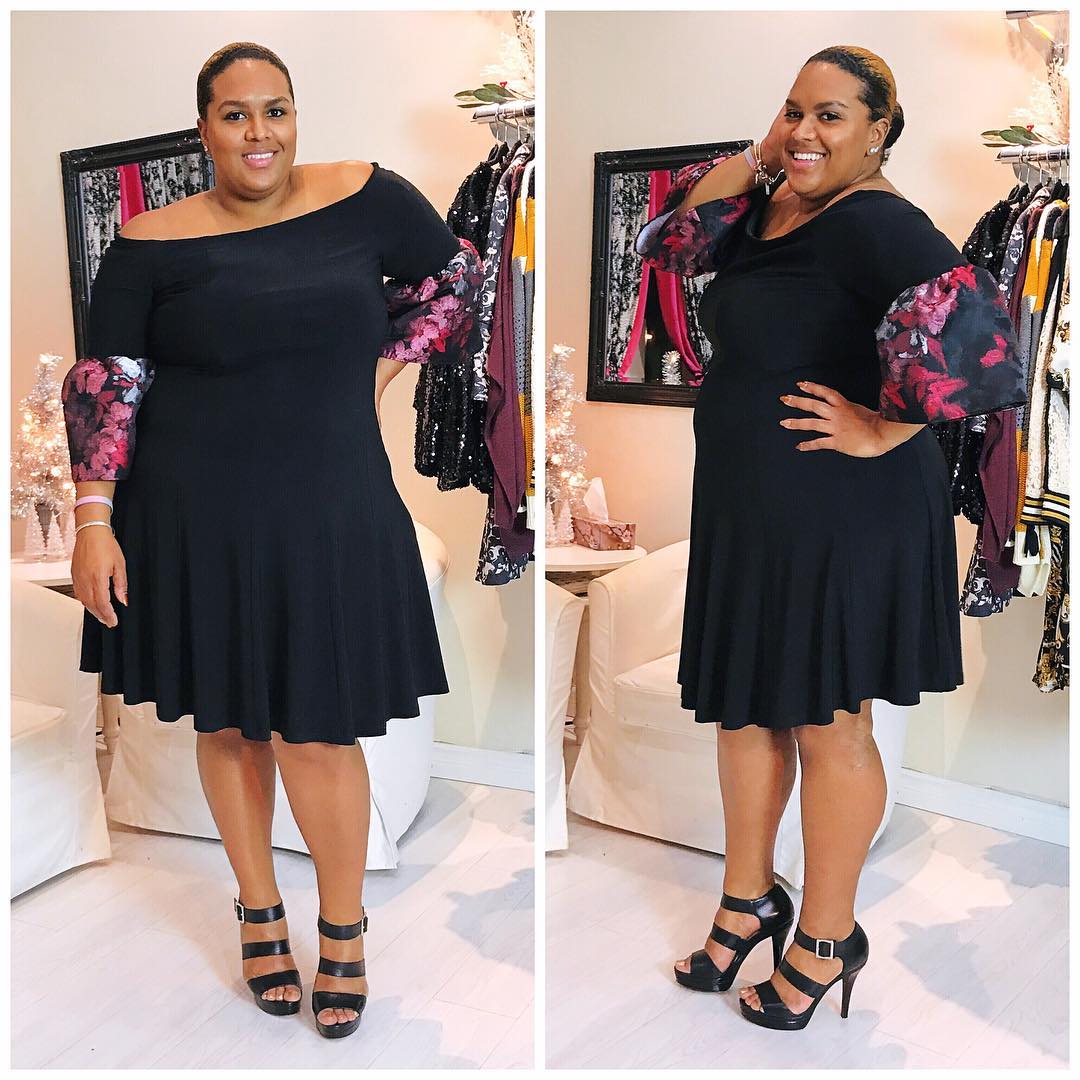 ↓ 1 – Kurta Or Shift Dress
Kurtas are shirts with slits on the side. They are loose and look good with pants. You can wear a kurta to a funeral with black pants. Ensure no embroidery is on your shirt because it is common in most kurtas. A Western alternative to kurta is the shift dress as it has a similar look and vibe.