Winter Jeans outfits for plus sized women. Jeans have been in fashion ever since they were discovered. Jeans are pants made from denim or dungaree cloth. They were invented by Jacob Davis and Levi Strauss in 1873. From comfort to style, denim gives it all. They are perfect for every season. You can wear ripped shorts in summer, or add a layer of denim jacket in the chilling cold weather. This article covers how my plus-sized women can rock jeans outfits this winter.
Let the jeans caress every curve as you rock the street, sis. Here are 21 outfit ideas on how to look chic in jeans. 2018, what a time to be alive. With the message of body positivity spreading all over the internet, women of all shapes and sizes can burst out of their bubble of insecurity and be confident enough to wear what they choose to rather than trying to starve themselves just to wear striped dresses, crop tops or bikinis. Women do not need to satisfy the society's expectations and perception of a 'perfect' body.
How to Wear Denim For Curvy Women
Tips for rocking jeans:
Fold your jeans when wearing flat shoes to give a taller look
Give colored denim a shot
Over-the-top jeans should never be combined with extra accessories. You don't want to look like you are wearing the entire store
Wear tight jeans with baggy shirts, and loose pants with fitted blouses
Always tuck your jeans inside thigh high boots, otherwise please don't step out in public
Dark colored jeans give a more slenderizing effect
Look for stretchy jeans when shopping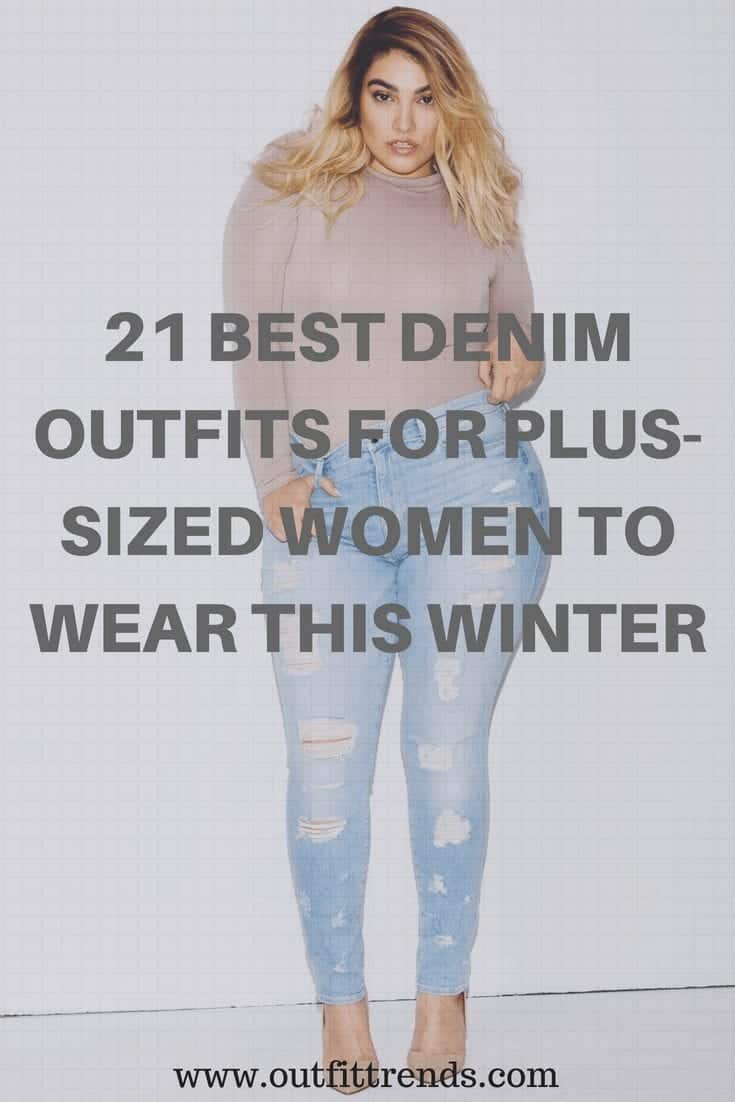 ↓ 21 – All Denim Outfit
Dressing from head to toe in denim to prove how versatile jeans are. Match your pair of jeans with an oversized denim jacket to give an all-denim look. Unbutton the jacket to give a more rebel look, or shut it all the way up to fight the weather. All denim outfit can be accessorized with a black leather shoulder bag or some light jewelry. Check out these 18 Best Plus Size Celebrities Outfit Ideas from This Year.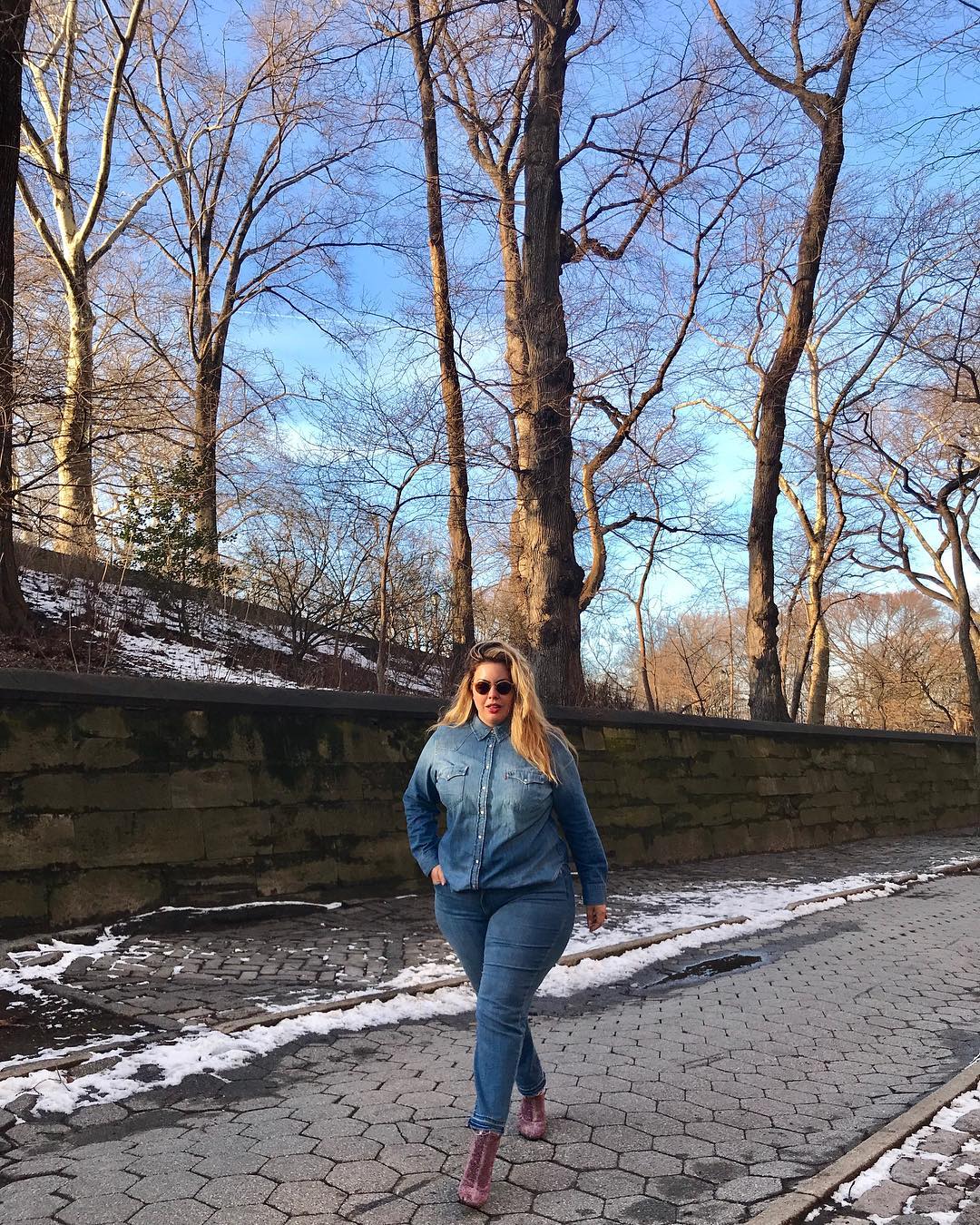 ↓ 20 – Classic Blue Jeans
The most basic, yet chic outfit. Blue jeans can go with almost every any top in your closet, which is why even if you keep changing your shirts, you can still trick people into believing that it's a brand new outfit. Everyone should own at least one pair of blue jeans, that fits perfectly. Forever21, FashionNova, H&M, and Torrid are a few of the brands that have a good collection of plus-sized jeans for you.
There are many different shapes and styles that jeans are made now. Such as bell bottoms, skinny jeans, boot cut, boyfriend pants, etc. I'm not weighing in on which one is the best because it is different for everyone. You need to find what type of jeans do you like the most.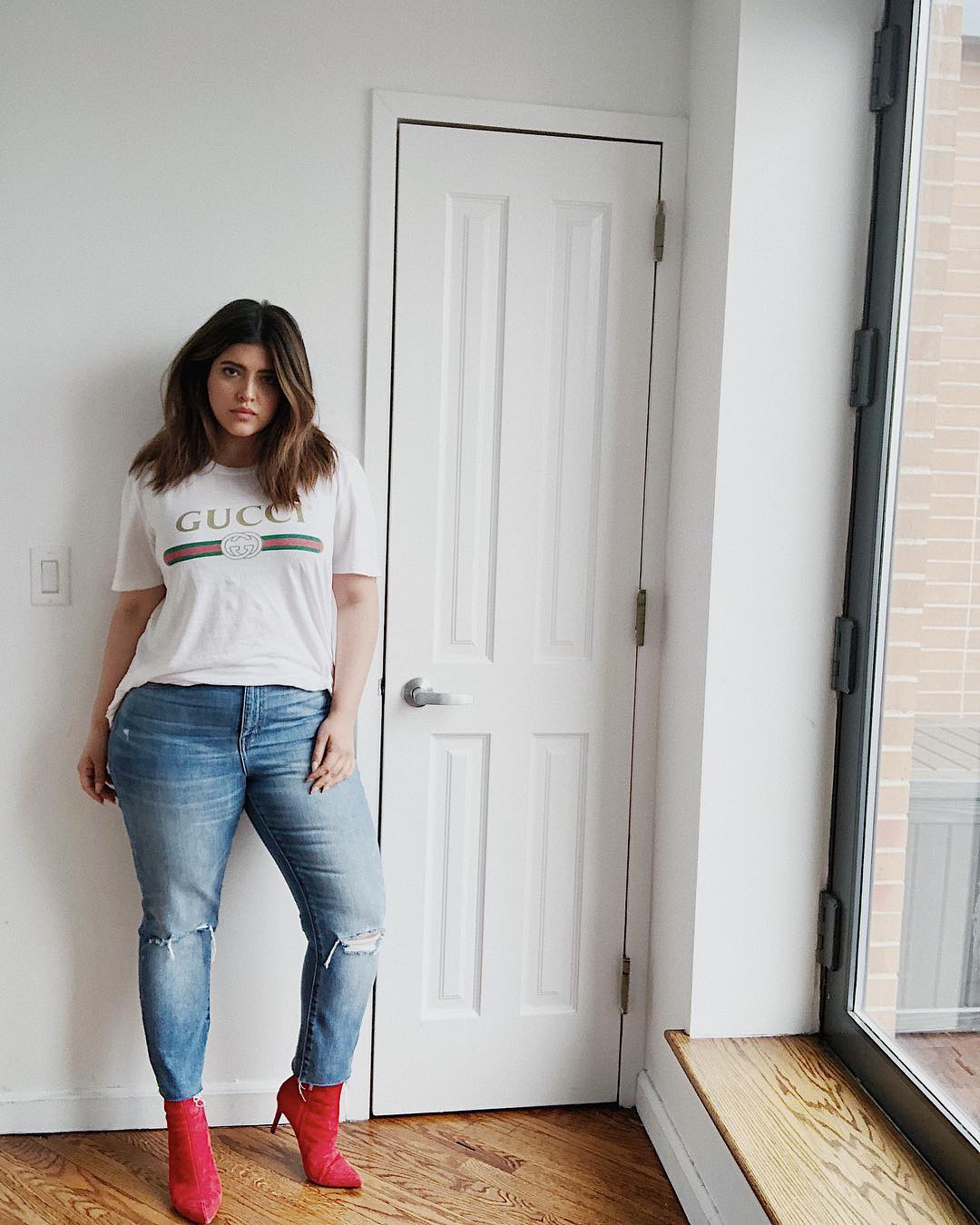 ↓ 19 – Black Jeans
Grinding from Monday to Friday, from that nine to five, you deserve to be comfortable. You can not wear jeans to your office unless they are black. Black jeans give a formal look. Just pair them with a smart button-up shirt, and there you are – a perfect office chic.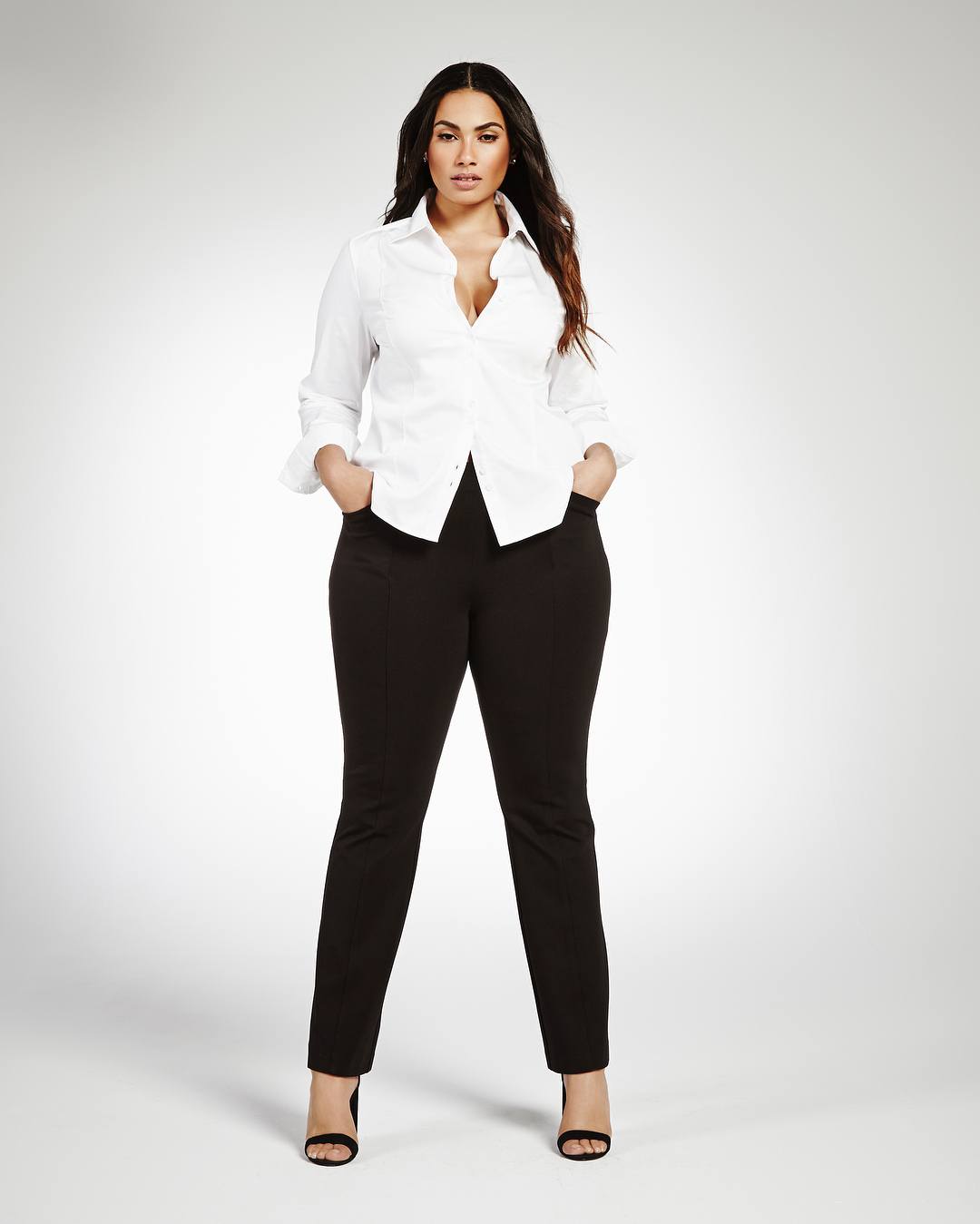 ↓ 18 – Denim Dress
You do not have to limit denim to your legs, only. Denim dresses are totally a thing and a chic one at that. Pair it with thigh-high boots to fight the chilly weather. Do not expect these dresses to be flowy like the chiffon ones though. Also, these are not a replacement for a silk dress at a formal event. They are super cool for sure.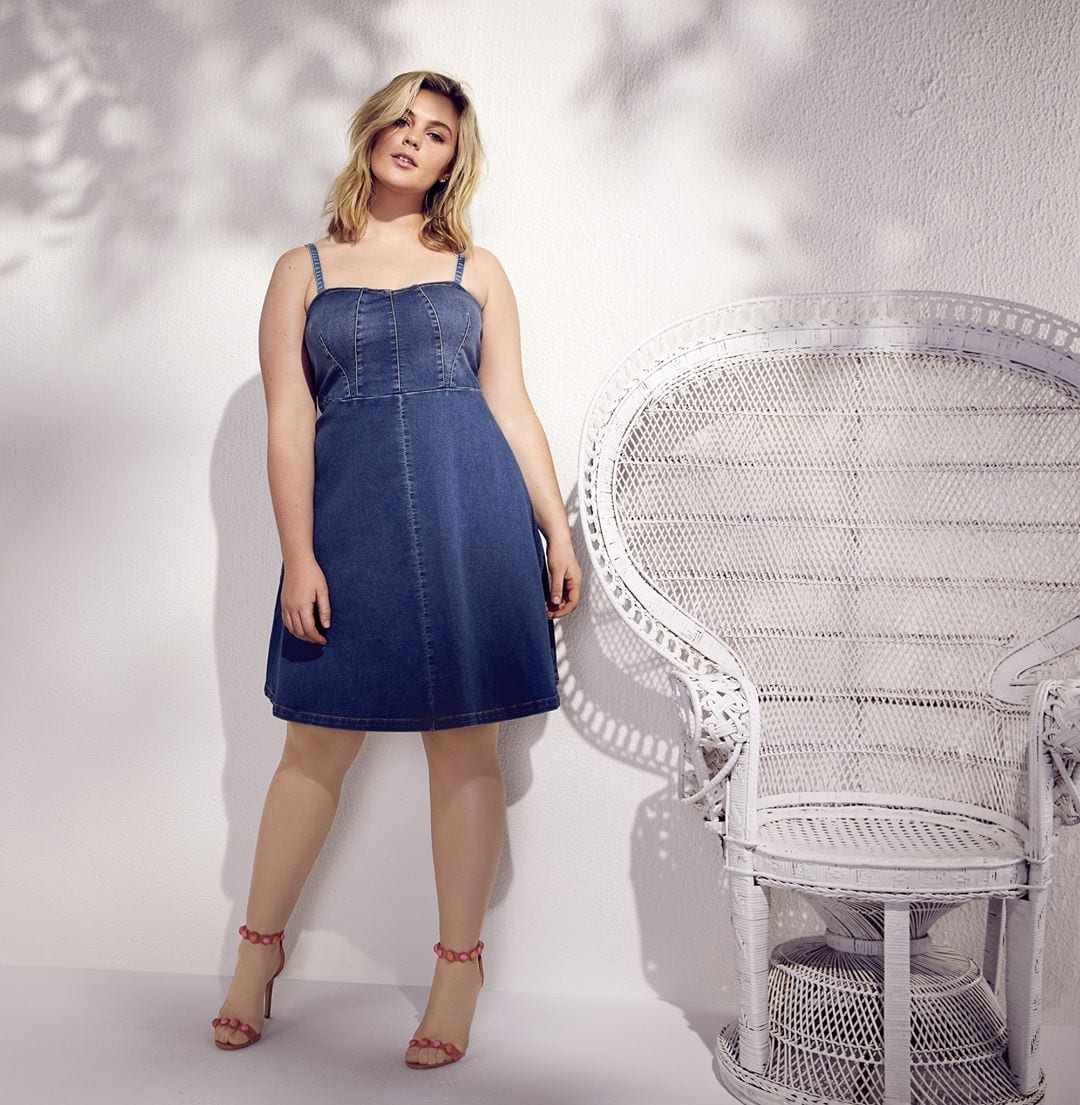 ↓ 17 – Bell Bottoms
Bell-bottoms are to satisfy your inner hippies' wishes. Bell-bottoms are back in fashion like they never left. The bell-like shape at the bottom of the trousers is exactly how extra those '6os kids were. Bell bottom jeans work best with off shoulder crop tops in popping colors. Do not wear long shirts with these. Do check out these 23 Ways to Style Plus Size Off-the-Shoulder Tops for Women.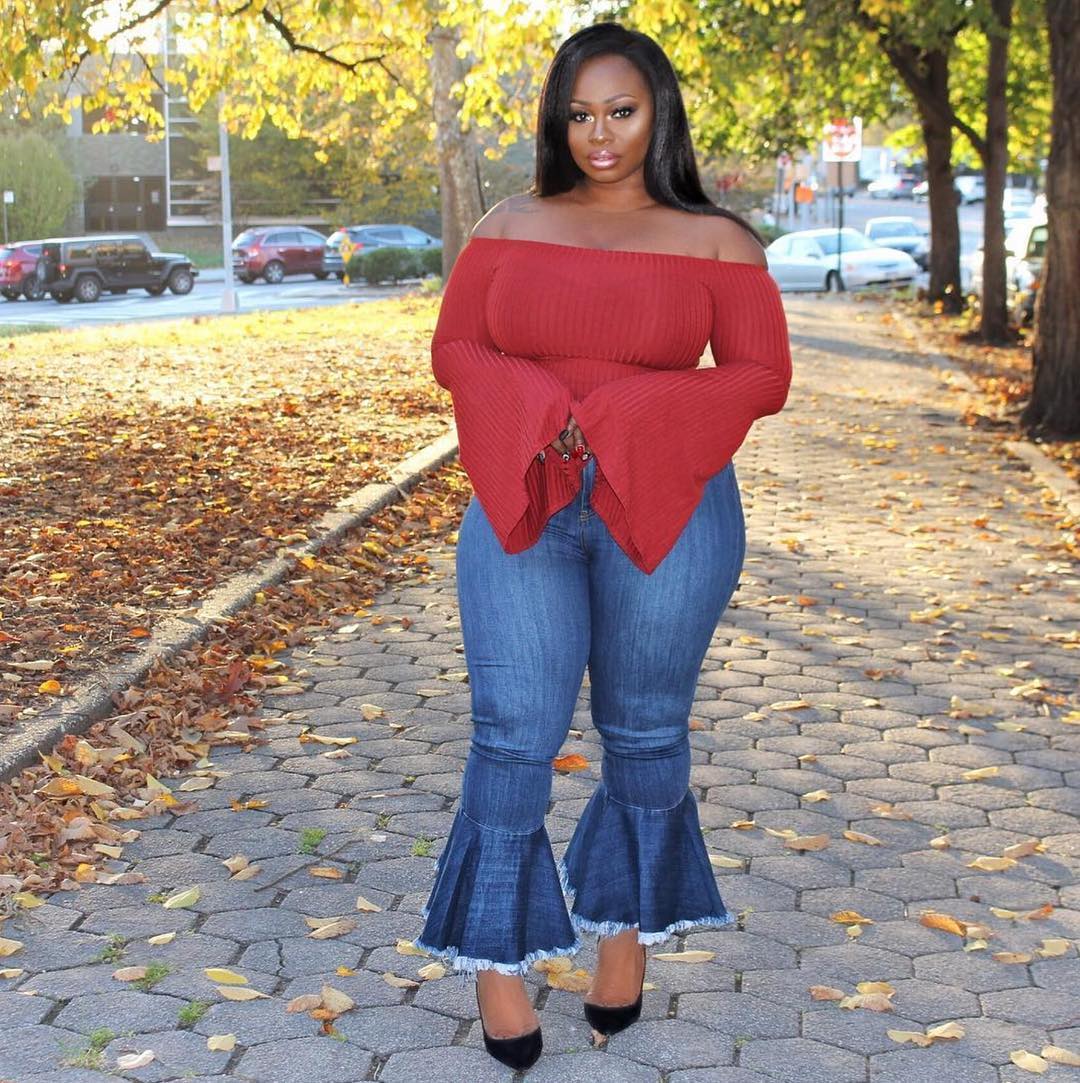 ↓ 16 – Boyfriend Jeans
These give you a great fit near your waist and hip area and broaden a little bit as they move down. People started calling them 'boyfriend jeans' because they look like they are borrowed from him. These are super-comfortable so if you have a long day of shopping planned or a long flight, your boyfriend jeans will always be there for you. Can't be so sure about the boyfriend, though.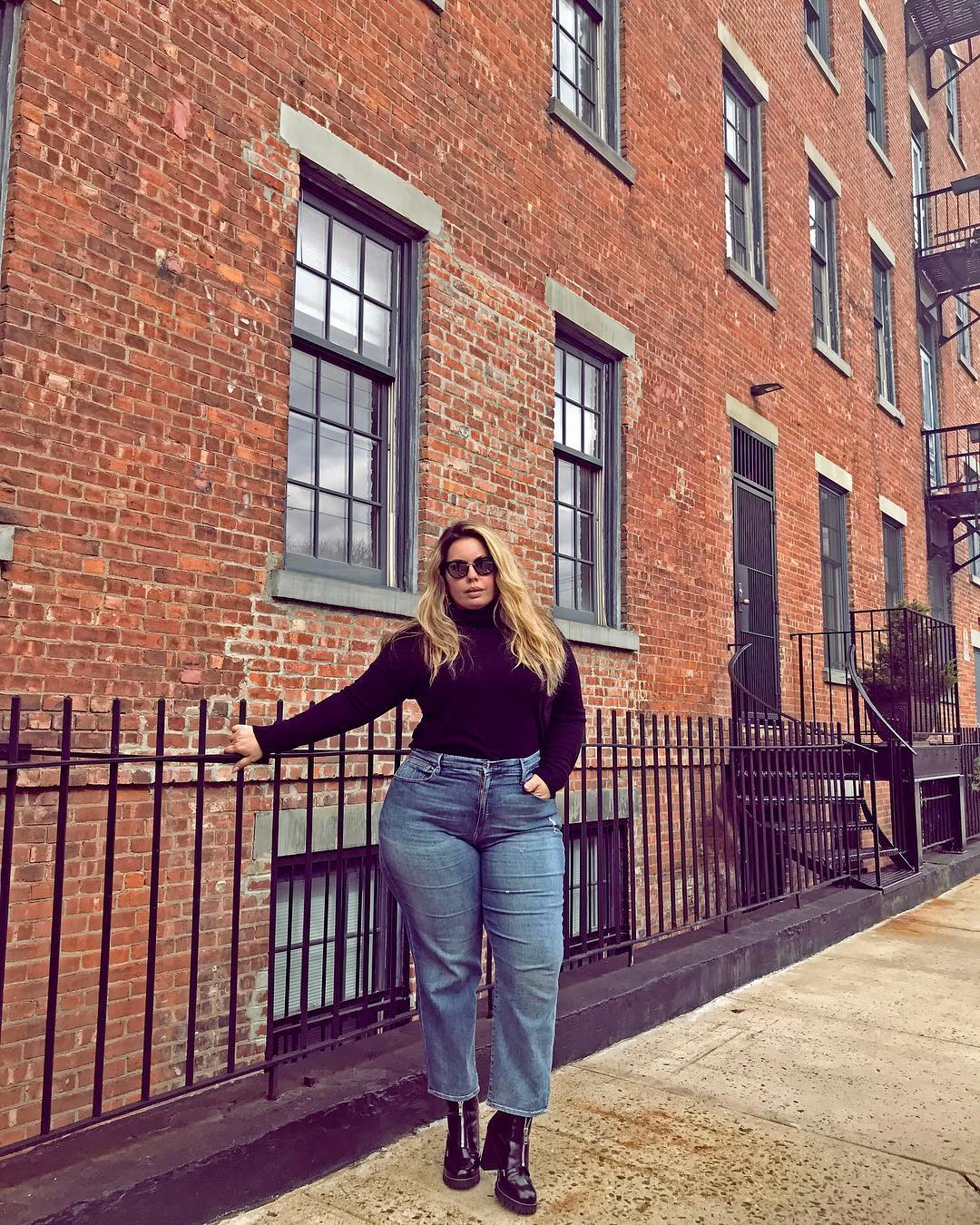 ↓ 15 – Jeggings
Jeans plus leggings. Replace the standard button system with a waistband. It doesn't get better than this. Jeggings came into style in the 2000s and seeing the demand, almost every brand makes them. They can even be worn under dresses or skirts, especially in winters. Though, there is just one flaw in this heavenly clothing-the pockets are stitched from the top. You might think, 'eh, that is fine with me' but trust me every time your hand just slips down the thigh where your pocket should be, annoyance will take over.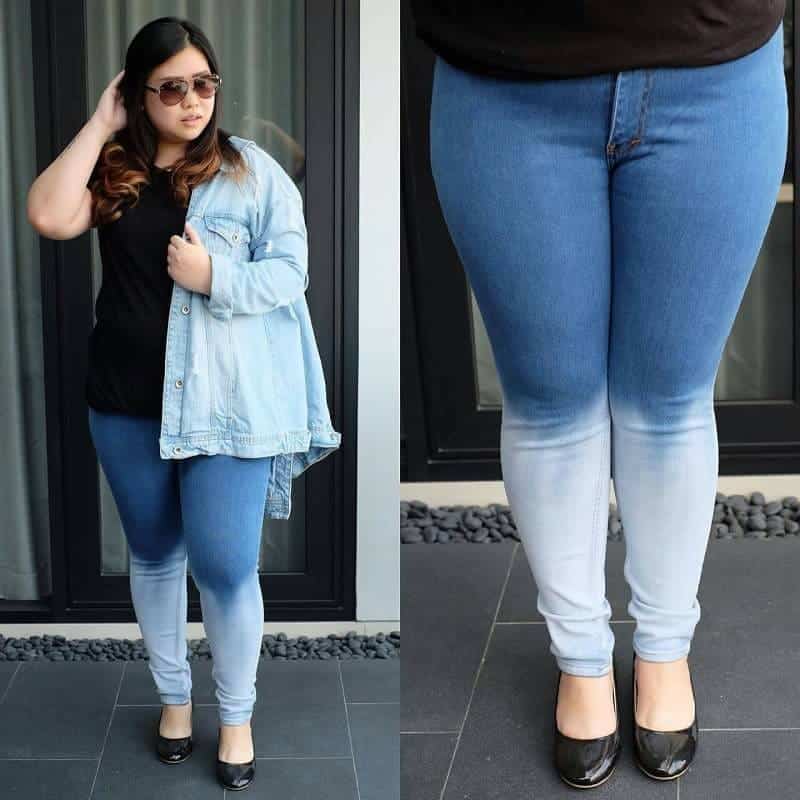 ↓ 14 – Oversized Denim Jacket
Whatever your gender, size or shape is, everyone should own a cool denim jacket. They are a perfect layer for early winters, making your outfit complete. Denim jackets are one of those things you can wear with everything from a simple jeans t-shirt combination to a classy white dress.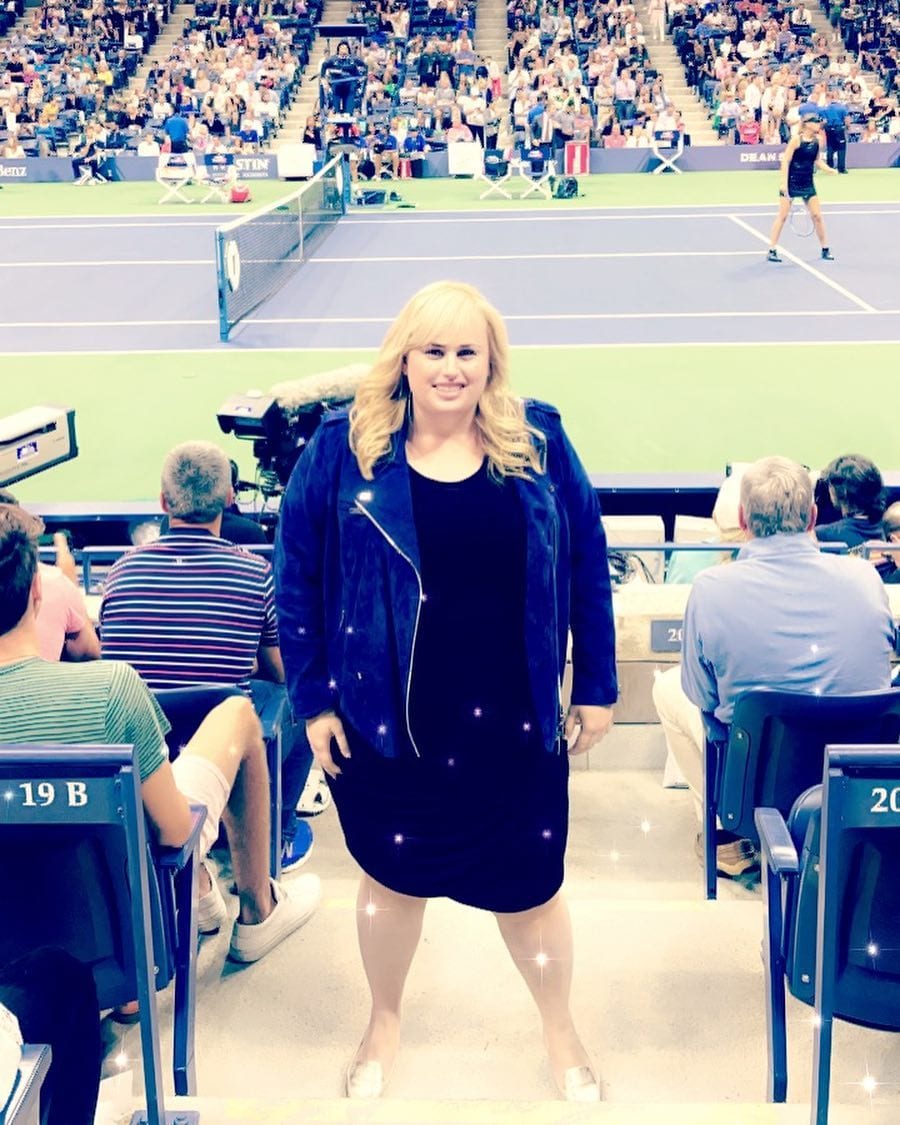 Via
↓ 13 – Ripped Jeans
Distressed jeans are all around nowadays. From runways to the streets, they are seen everywhere. They are the perfect casual wear, to wear to a girls night out or to friends get together. They are on the list of the 'millennial' things that the world does not approve of so beware not to wear them to a family gathering. Unless you want to be the frowned upon by Aunt Susan or Linda.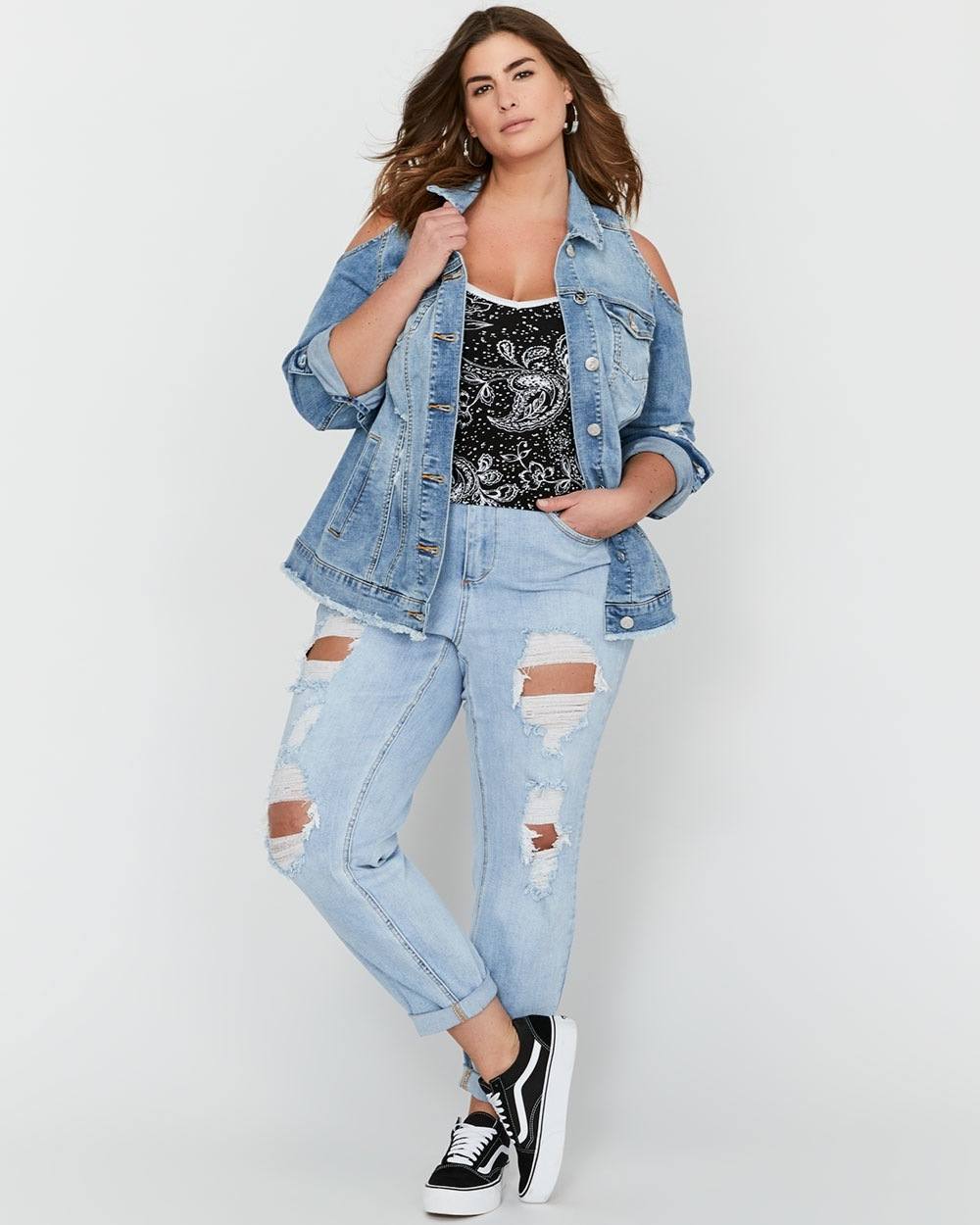 ↓ 12 – Long Coats and Jeans
Long coats are your perfect partner to fight winters. Wear them with either skinny jeans or jeans that are fitted from the bottom. Avoid flared jeans or bell bottoms as coats themselves are kind of loose at the end. You can either close button up your coat or show off your shirt underneath. If the coat itself is printed then choose a neutral colored, plain shirt and tuck it inside your jeans. Here are 20 Ways to Wear a Blazer for Plus Size Girls.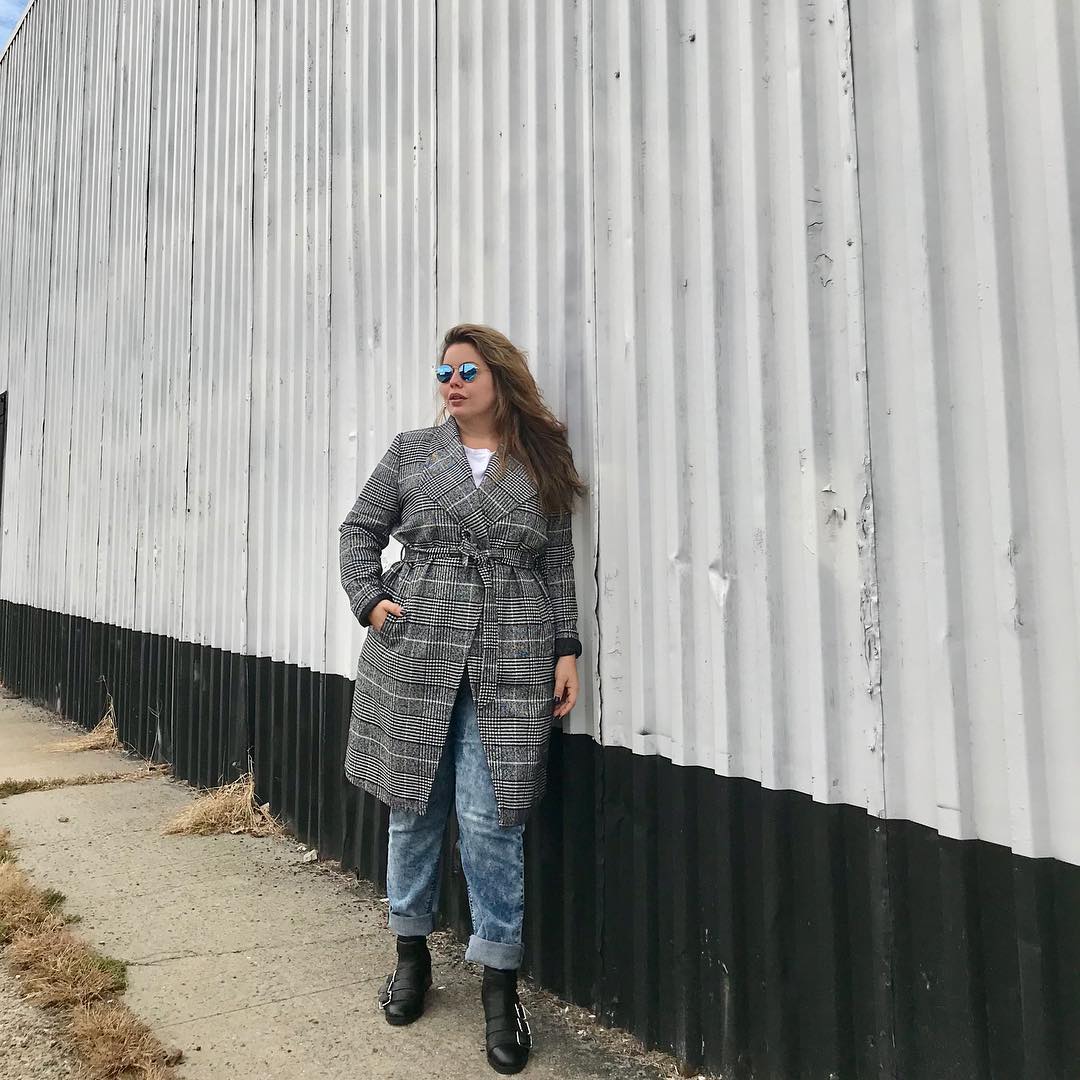 ↓ 11 – High Waisted Jeans
High waisted jeans give a smart look, giving an illusion of a taller height. These go pretty well with crop tops. Or you can tuck in your buttoned shirt and puff it a little bit. Throw in a delicate necklace and pumps to complete the look. Another great thing about high waisted jeans is that you don't have to worry about pulling up your pants again and again. Roam freely, sis.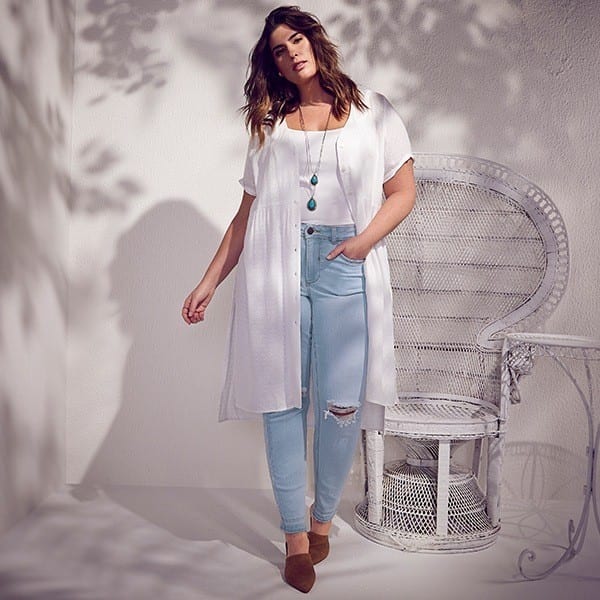 ↓ 10 –  Denim Skirts
Denim skirts are hard to carry, but they even make jeans look more formal and classy than casual. Wear them with a t-shirt if you are going to a casual outdoor event. Wearing a button-down shirt is perfect for semi-casual places like meeting someone over at their place or to school. These are a fun replacement for the typical boring skirts, keyword being 'fun'. Means they are not appropriate for a meeting or when giving a presentation. Have a look at these 18 Best Denim Skirts Outfits for Plus Size Women 2018.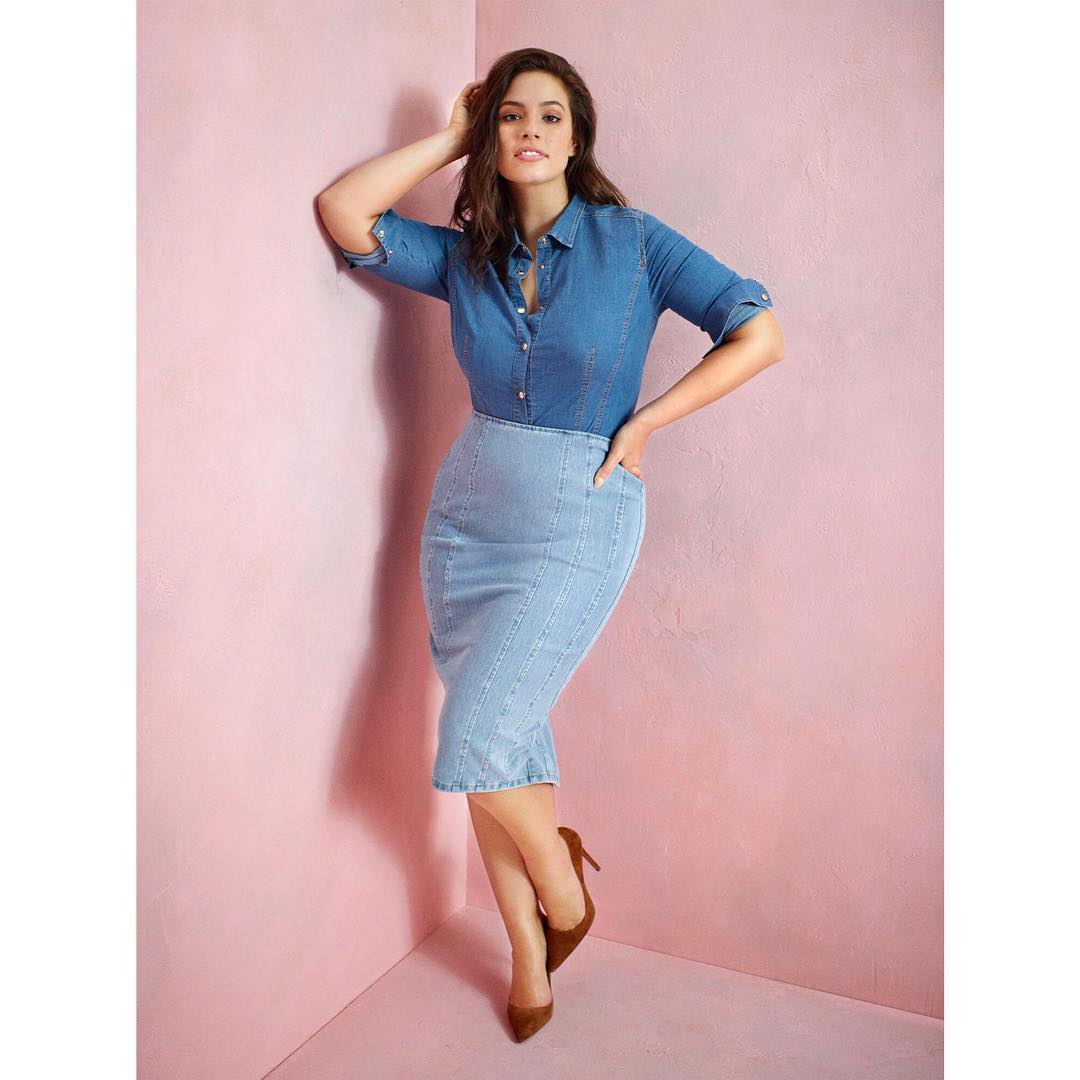 ↓ 9 – Statement Jeans Jacket
This is perfect for days when you're feeling bold and want to let the world know. Your statement jacket can have something cool printed on it. Or you can make your own by stitching on patches or adding badges. Wear your jacket over a plain black shirt and black jeans. You can never go wrong with that look.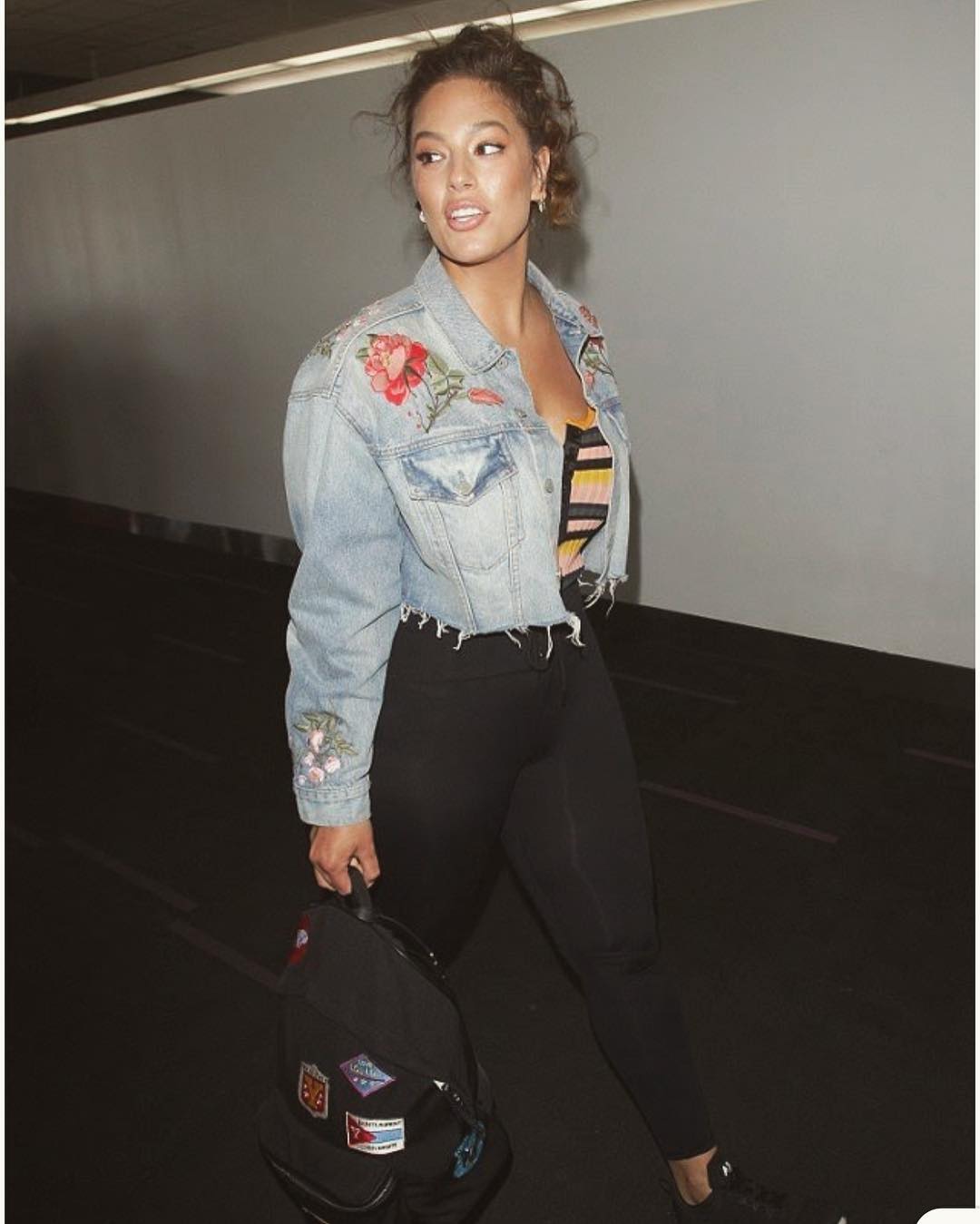 ↓ 8 – Leather Jacket and Boots
Rock that biker look with a leather jacket, some high-ankled leather shoes, and classic blue jeans. It is a perfect badass look, saying, "boy if you try to mess with me I am gonna slash the tires of your car with the knife hidden in my shoes". Do not make the mistake of wearing a leather pant, though. Too much leather doesn't say "badass," it says "I'm bad at fashion".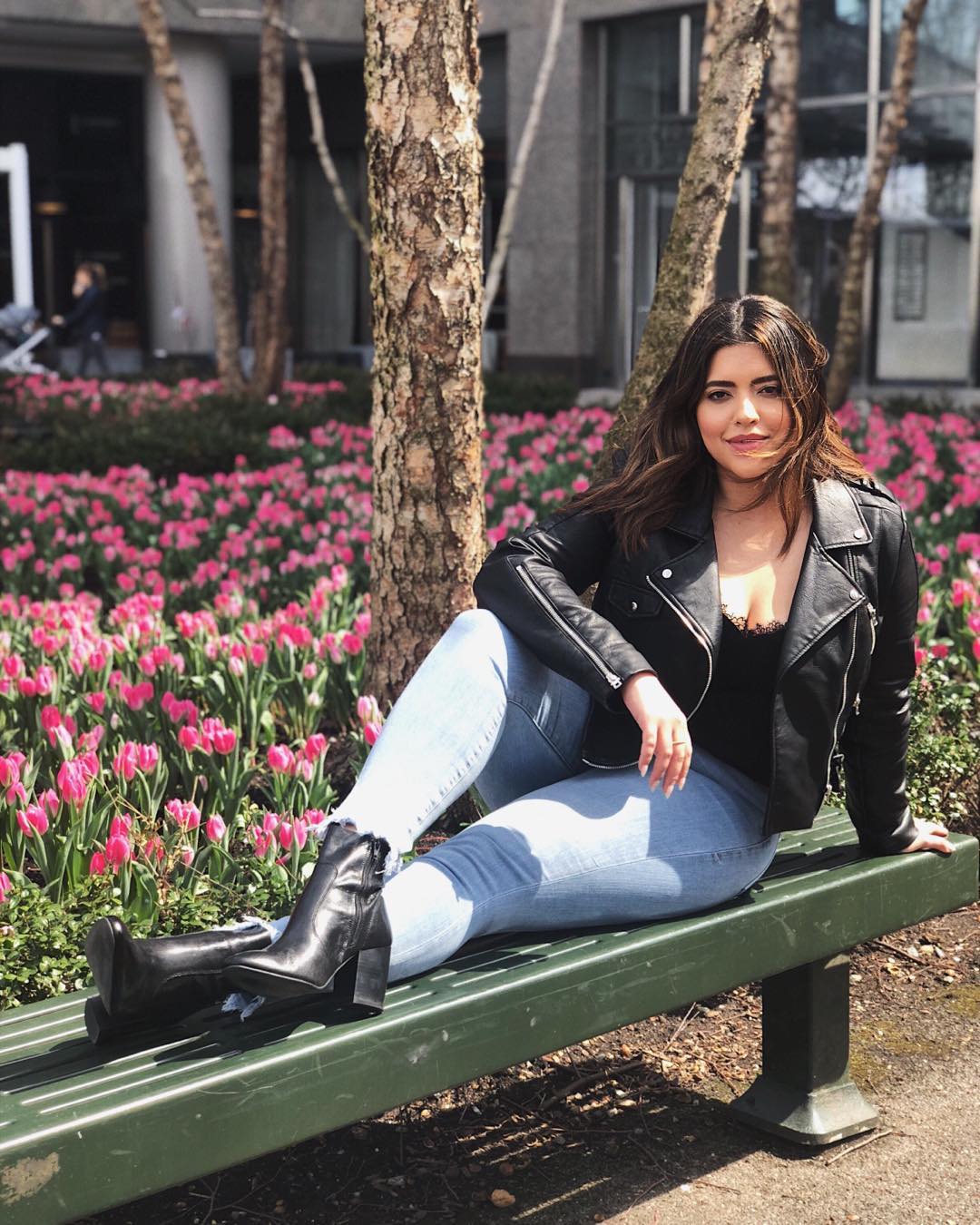 ↓ 7 – Denim Around your Waist
Here is how to make your dull, boring outfit into an interesting one by one simple step: wrap your denim jacket around your waist. You can even wear it on if it get's colder. This look is fun and gives out the impression of a fashion-forward, young girl. You can wear your jacket around your waist on other outfits like a simple shirt and pants, or a skirt.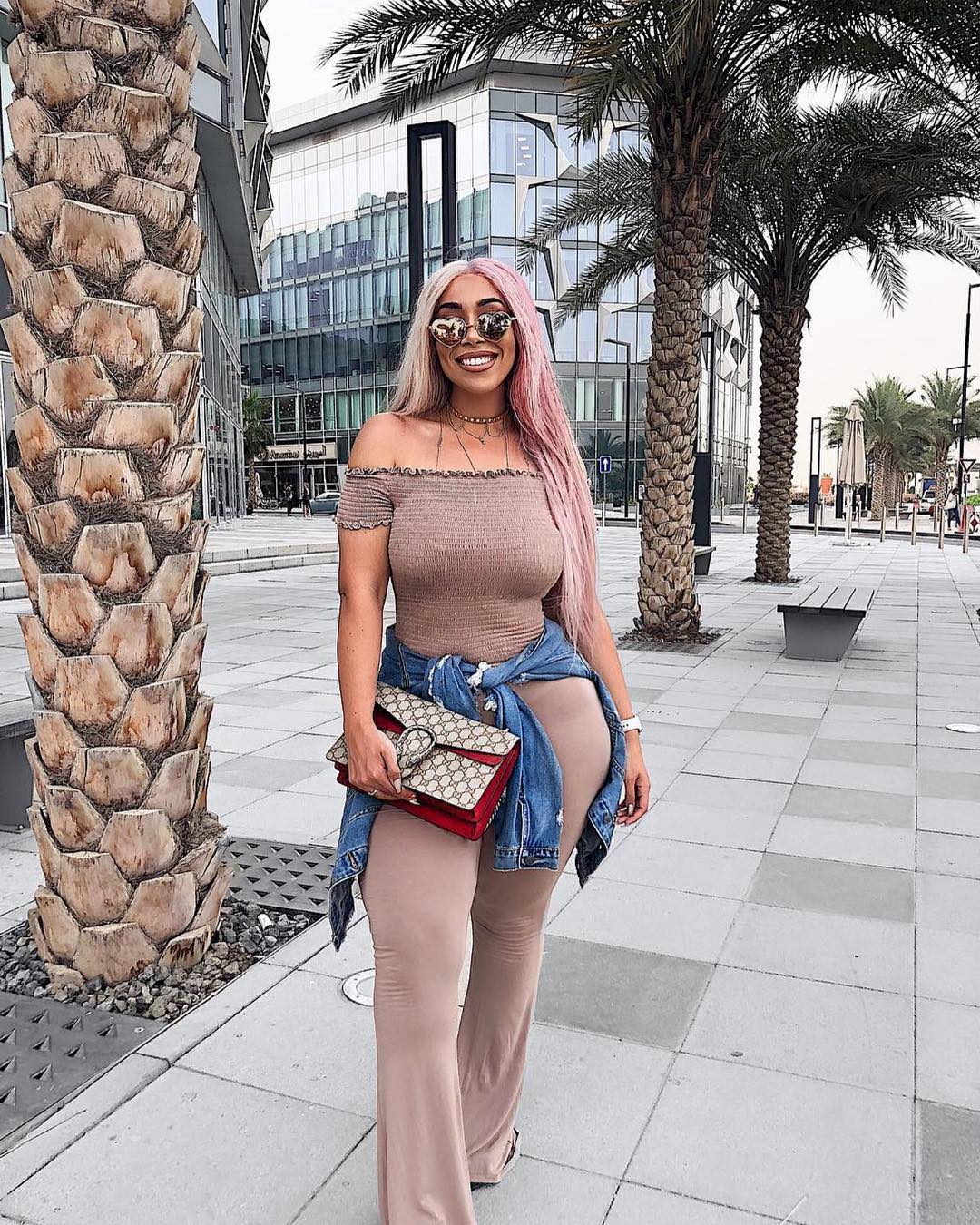 ↓ 6 – Denim Jumpsuit
Jumpsuits are this generation's weird trends that somehow look good. Even though it's a little inconvenient (I mean, imagine going to the bathroom) they look good, nevertheless. Usually, they are made of cotton, but denim's versatility does not limit it from shaping it into a jumpsuit. These look super casual when worn and are perfect for an afternoon, outdoor activity, for example, a picnic. You can wear a t-shirt underneath to give color to your outfit and to stay warm in winters.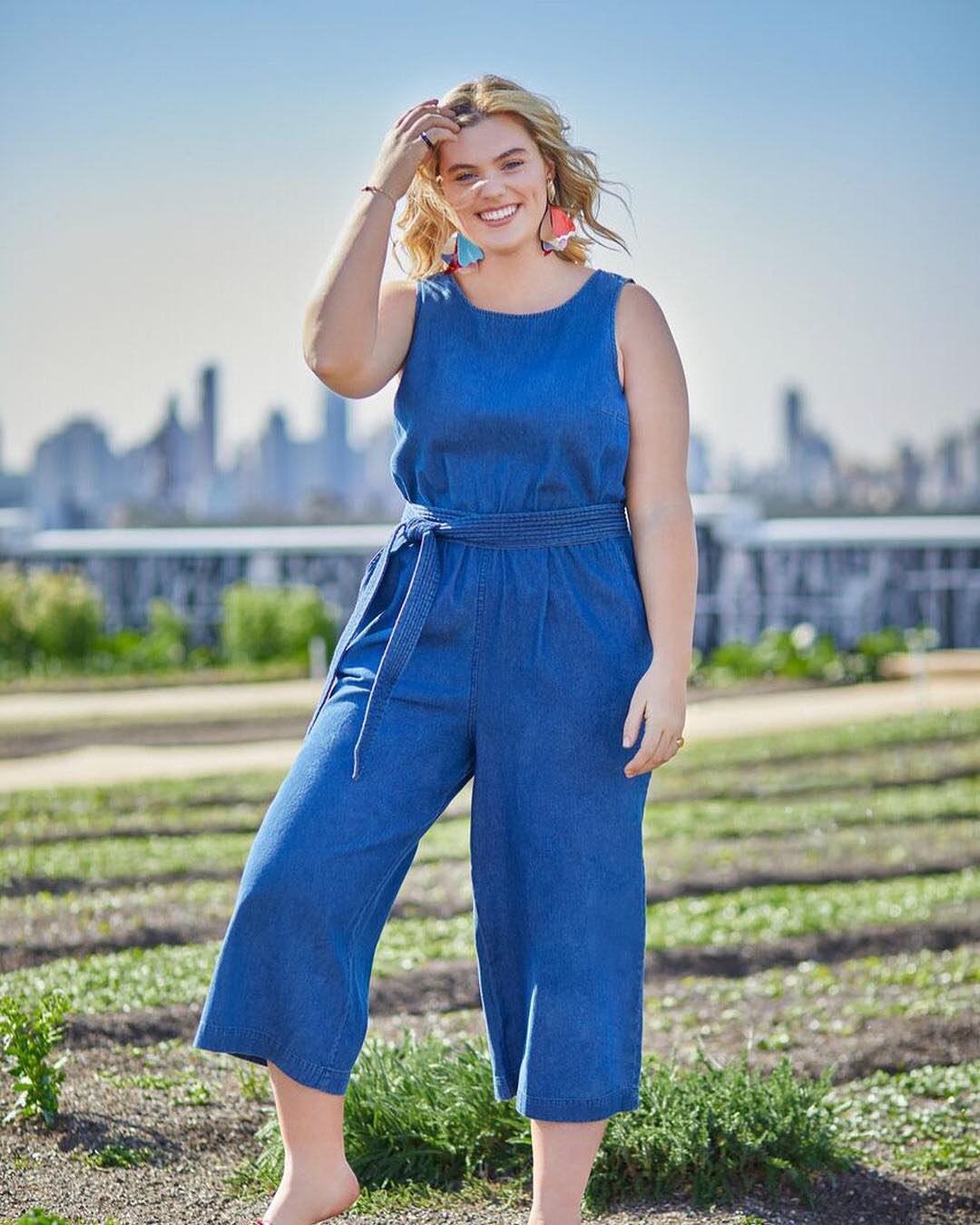 ↓ 5 – Lazy Winter Look
An ill-fitted hoodie, with some pair of slouchy jeans. This look is extremely comfortable and will get you addicted if you get used to it. It requires almost zero effort to put it together, so it is perfect for days you feel like you don't want to glam up. Cover your hair with a baseball cap, and there is your solution to bad hair day.
Huge hoodies and loose jeans, though make you look like you have gained a little weight as they do not compliment the shape of your body. So, I do not recommend wearing it on days you feel a little insecure.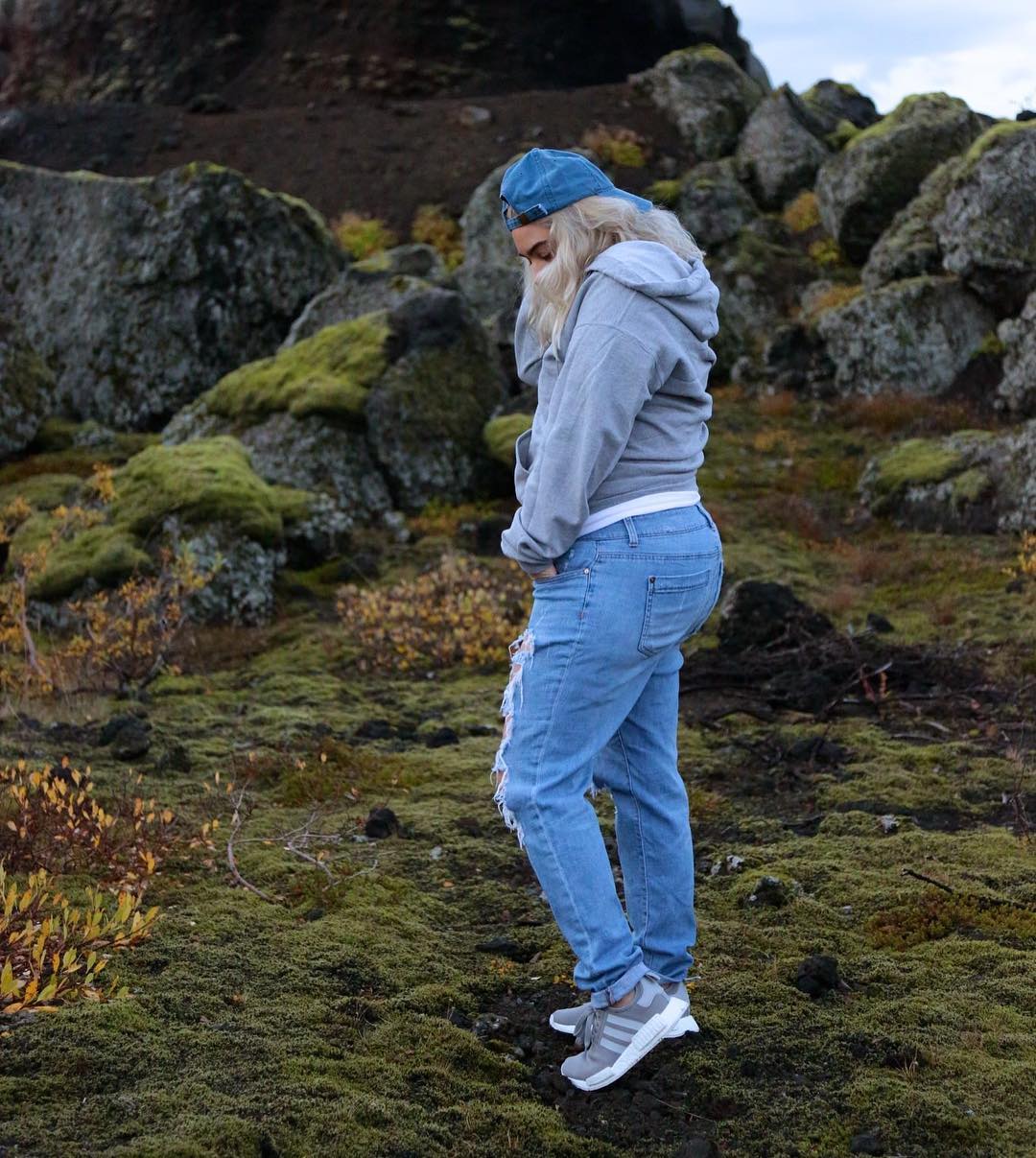 ↓ 4 – Chic Printed Jeans Look for Work
Add a little color to your jeans, or in this case, splash it on. There is no rule that says jeans can only be plain blue. Go creative and make jeans new just by a few touch-ons. Pair them with a cute top and some of your favorite accessories from the closet. There are tons of printed jeans available in the market in case you are don't want to DIY your own, afraid that you will ruin them. Here are 17 Elegant Plus Size Work Wear Outfits Combination Ideas.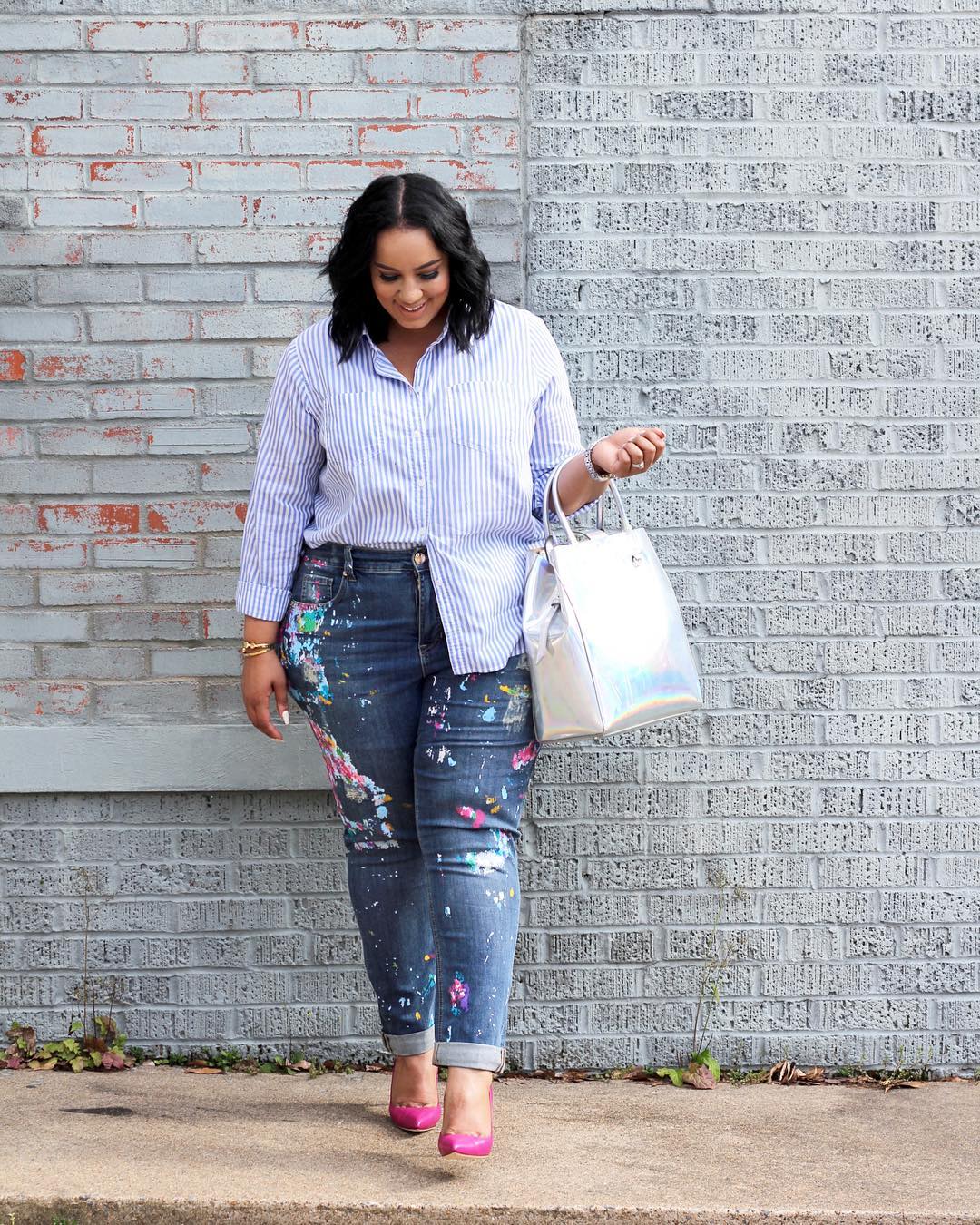 ↓ 3 –  Pair it with a Graphic T-Shirt
Let your clothes speak on your behalf. Graphic tees can be a little childish but it is good to free your inner child every once in a while. Your attitude is conveyed through the funky text on your shirt. You can even get yours customized to throw subtle shade at the haters, making everyone snap "Oh no she didn't" while you flip your hair off, sip that tea and give them the satisfaction smirk.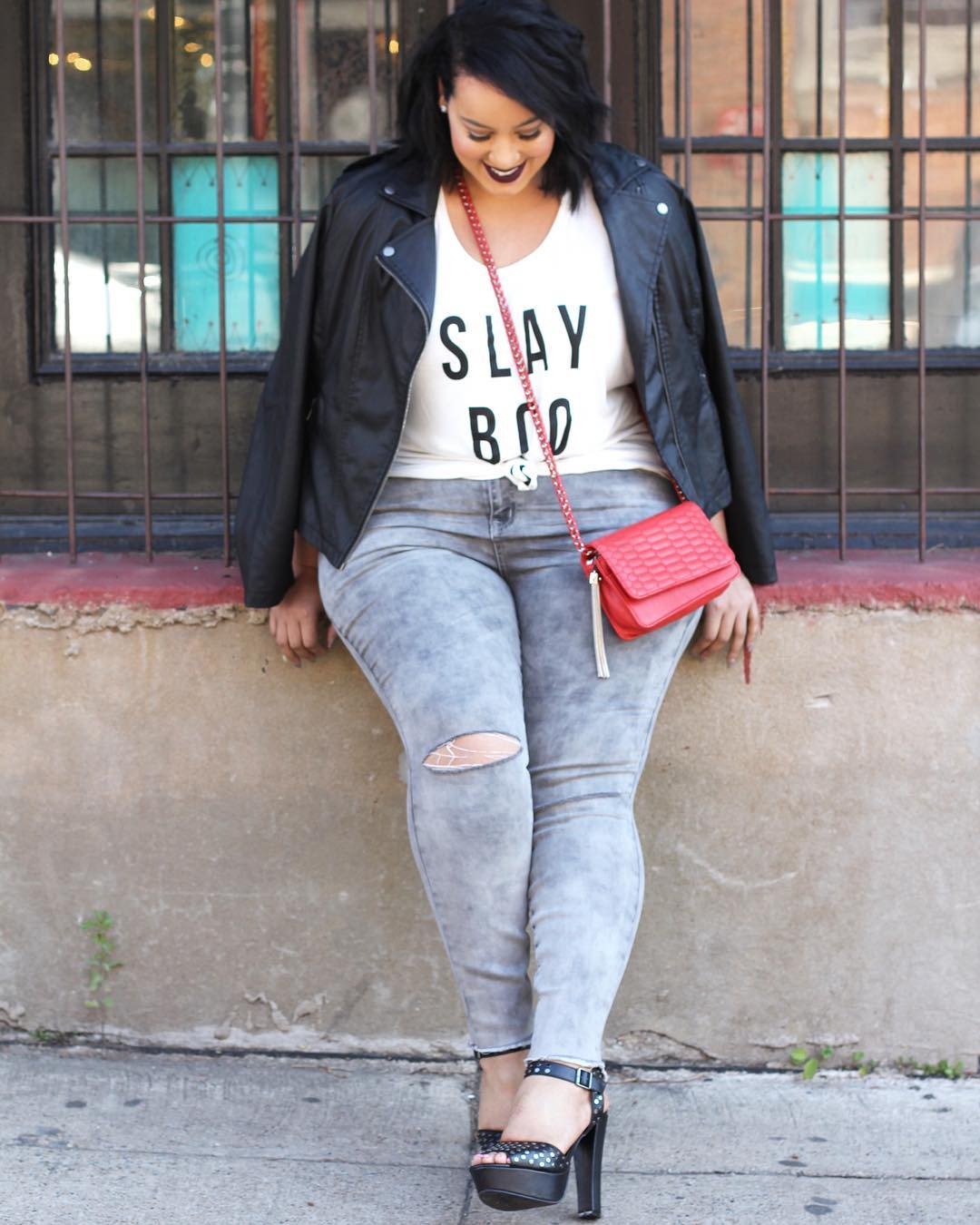 ↓ 2 – Best Shoes with Jeans
Your footwear depends on your outfit. The overall look and event determine the suitable shoes for you. For example, if you are dressed formally, then stilettos seem like a good choice, but if you are in a sweatshirt and mom jeans then, of course, a more casual footwear would do.
The thing with jeans is though, you can still wear classy high heels, depending on your top. And the length of your jeans will also be a factor. If they are folded up then go with flat pumps or sandals are suitable, but if they go all the way covering your ankles then pencil heel will make it better. Thigh high boots also look great with jeans. Your shirt needs to be short or else it will look weird, though.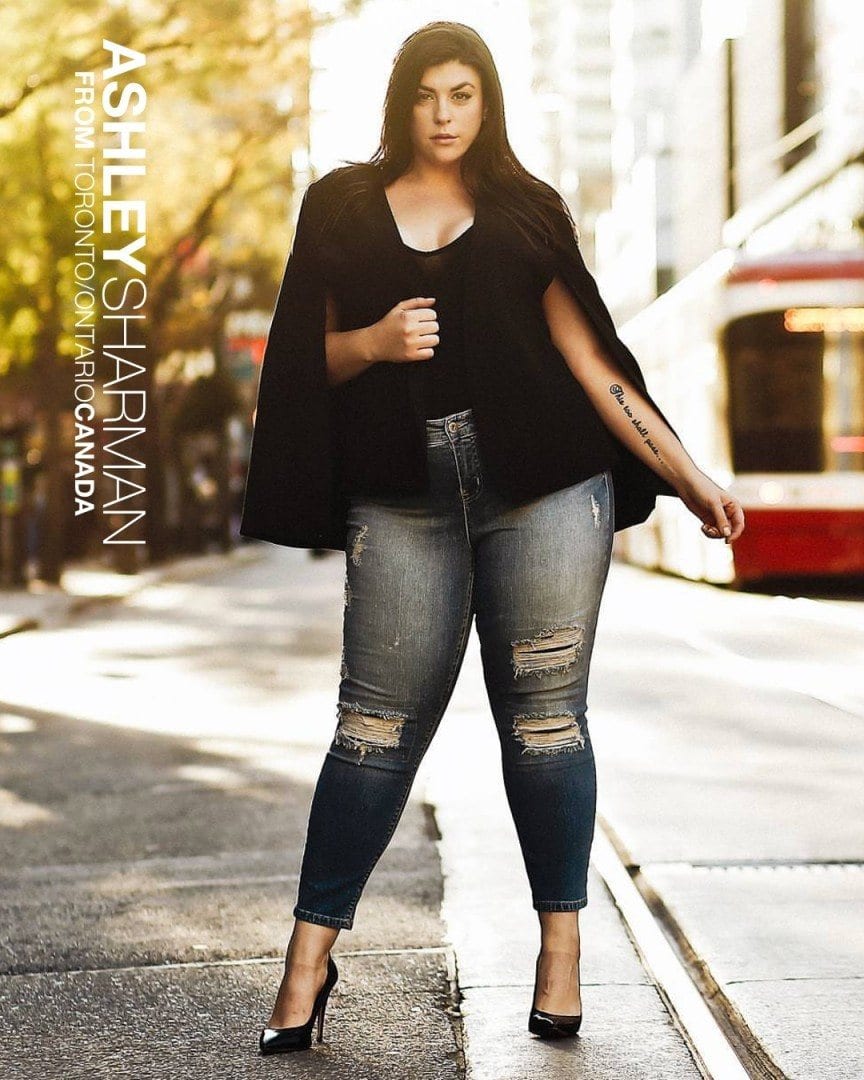 Via
↓ 1 – Accessories with Jeans
Your accessories may be small, but they make up a huge part in your image. Not just your jeans, but your entire outfit will determine what you need to add to complete it. You can add stick-on patches to your jeans, giving them something extra. Or, if you want to go a little more three dimensional then buy those cute badges and pins in the shape of unicorns and kitten paws to attach to your jeans.
Belts are the ultimate accessory for your jeans when you feel like adding something. But, remember that those shiny belts with dangling chains are way in the early 2000s. Don't bring them back. They have died with the old Disney and Hannah Montana.
Small pieces of jewelry also go well with jeans and casual outfits. Try not to overdo them, though. A set of midi rings and a delicate chain around the neck is more than enough, assuming it is a super casual event considering you're wearing jeans. You can also wear mufflers or beanies when it's cold.