Plus Size Denim Skirts Outfits: Fashion trends from the past eras make their appearance time and again and this time the piece of clothing that is going big is: Our beloved denim skirt. A denim skirt has that potential that you can wear it with any top and pull off just the perfect look. It looks perfectly appropriate if you were to wear it to work or any event or party and also gives you the flexibility to wear it during any time of the year, anywhere.
So let's have a look at our favorite picks.
How to Wear Plus Size Denim Skirts
Here are some pointers to keep in mind while wearing the denim skirt:
Don't be afraid of wearing the double denim look, however, be mindful of the colors of the top and bottom pieces. If you wear a light colored top, then pair it up with a dark colored bottom.
Don't overdo denim! If you will add a lot of denim pieces to your outfit, it will ruin the overall look and will seem tacky as well. Stick to two denim pieces so you can give your outfit that definition and statement you want to send across.
Denim can be dressed up or down according to the occasion. Boots, sneakers and canvas shoes are a must-have for any denim outfit as they add the glamour to your street style. Don't go for high heels when wearing shorter length of skirts rather go for pumps or flats. Similarly to give shape and definition to longer skirts, add in wedges or heels.
Don't wear extremely short length denim skirts as this is one very cringe-worthy trend we don't want anyone to repeat again. Try going for A-line denim skirts as they give you a nice and charming look.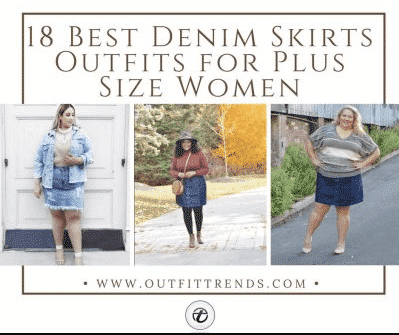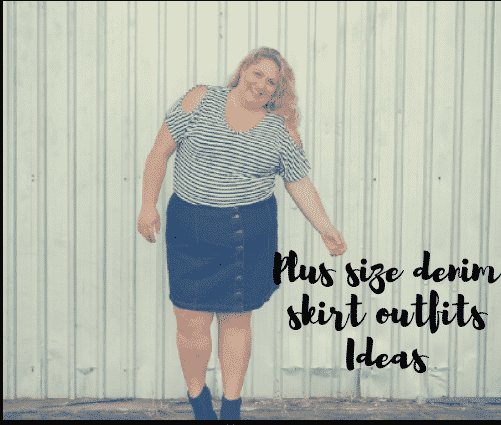 ↓ 18. Accessorizing
Stripes have been one of the best patterns that have been used time and again by fashion bloggers to create the perfect smart and girl-next-door look. You can easily pair up any of your favorite striped shirts with a front slit denim skirt on a nice summer day. You can always find such awesome outfits at Old Navy with great bargains starting from $15! Also, have a look at these 20 Stunning Skirt Outfits Combinations for Plus Size Ladies.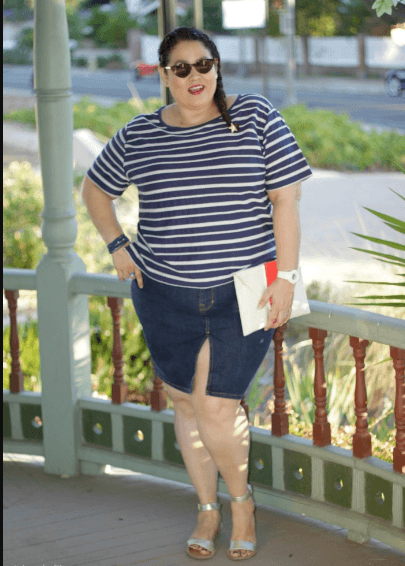 ↓ 17. With a Knitted Shirt for Winters
Craving for something warm and cozy? Match your favorite knitted shirt with a dark denim skirt for a chilly evening and you can never go wrong with this attire. Take a scarf along just in case!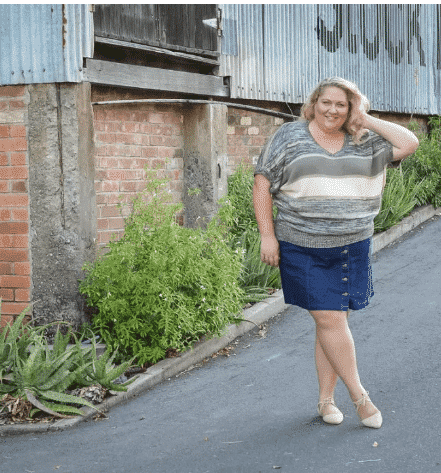 ↓ 16. Work Ready
For a date night, this feminine ruffled top from Macy's goes well with your A-line denim skirt and sends all the right messages! Add a few blings and high heeled wedges and you will be a picture of sophistication.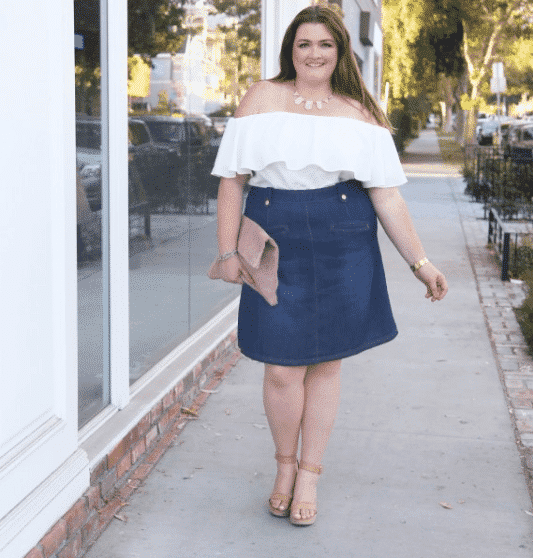 ↓ 15. Cute and Casual
A forever 21's denim chevron skirt will go perfectly with any off-the-shoulder blouse and here we present it with a striped blouse.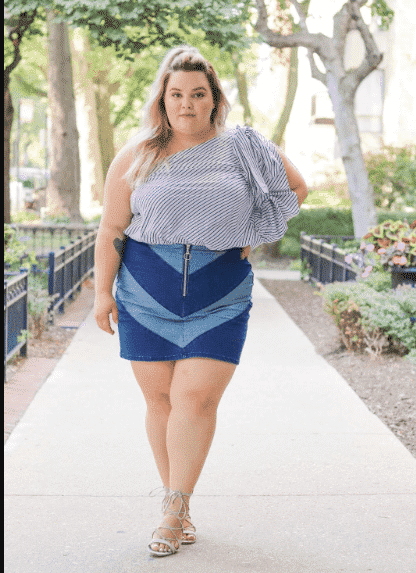 ↓ 14. For the Park
Who says you can't carry a fancy or formal look with denim skirts? You can always wear a denim skirt with a formal and chic blazer for your formal events and even for work. Here are 15 Fashion Tips For Plus Size Women Over 50.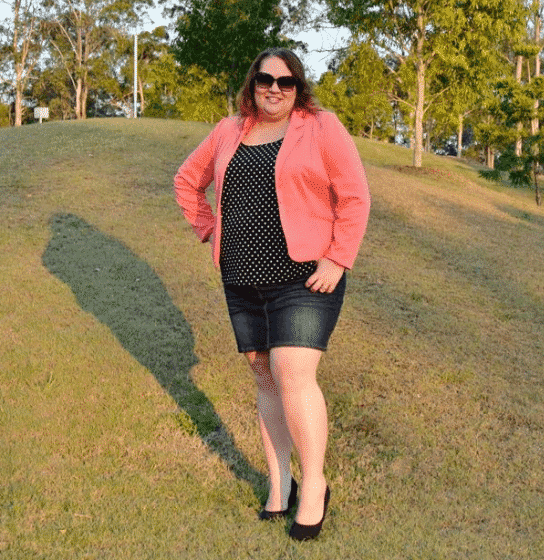 ↓ 13. Picnic Outfit
Planning to take a casual stroll through the park on your own? This comfy sweater with a denim skirt and dark leggings with boots are the picture of perfection.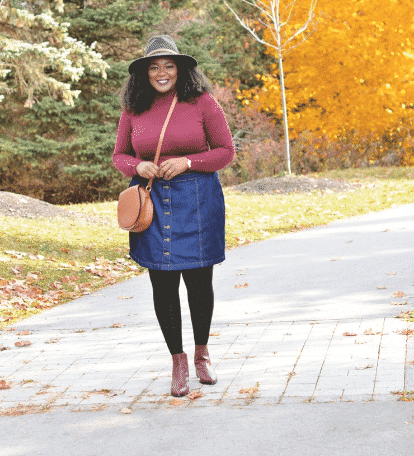 ↓ 12. Denim on Denim
Bring on the double positives! Denim on denim not only looks pretty cool but also the contrasting shades of denim will bring out your figure in the most flattering way.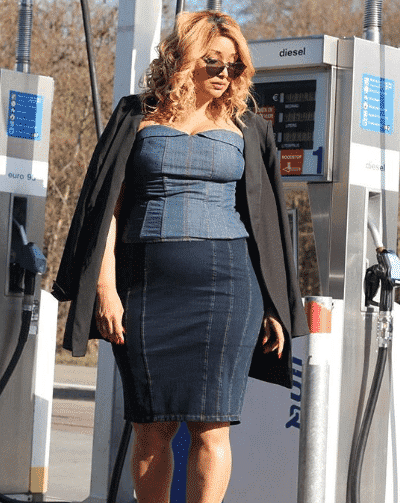 ↓ 11. Picture Perfect
With embellishments and denim skirt, bring out the 90's girl in you with the full rage! This beautiful frayed denim skirt will go well with your bodysuit and bring out your girly side well! For such beautiful denim pieces, Forever 21 plus is your best bet!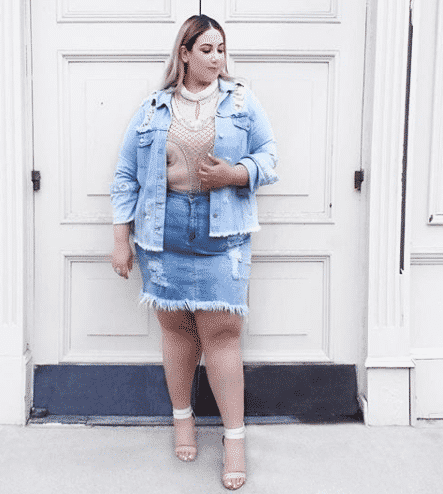 ↓ 10. Casual Friday Look
The winter vibes game is strong with this audacious and hot graphic hoodie and denim skirt! Style it with a black bag and you are good to go! Do check out these Top 8 Short Height Plus Size Models Breaking the Stereotypes.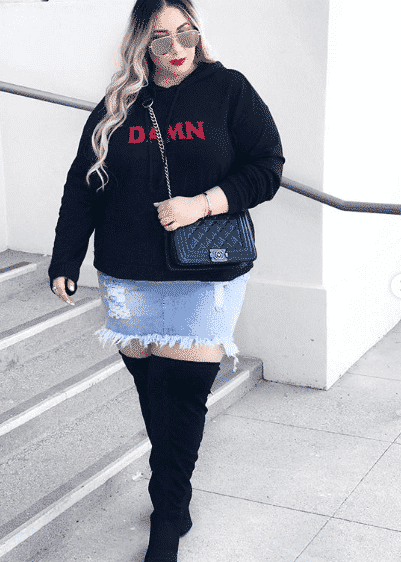 ↓ 9. With Cutout Sailor Shirt for Brunch
T'is the season for bringing out your best cutout sleeves shirt. They work well for women who are hesitant to show too much skin. Match it with a buttoned-down denim skirt (hint: ASOS) and you are all set!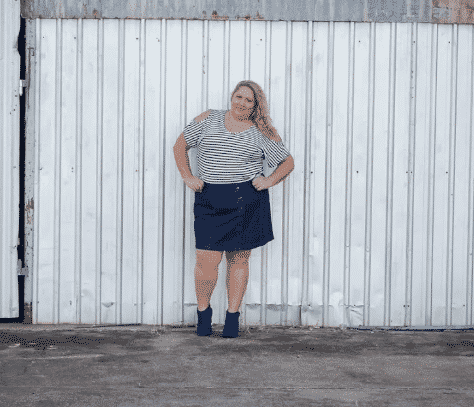 ↓ 8. Hot and Happening
A V-neck structured shirt will go well with a denim skirt and thigh-high boots. Add a beautiful wide choker to emphasize the structure of your shirt!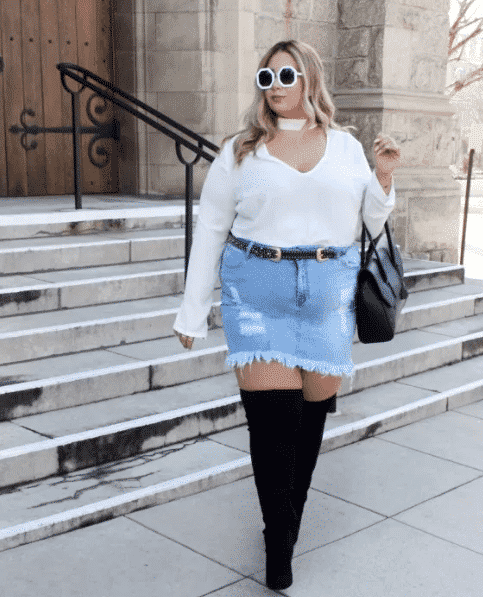 ↓ 7. With a Sweatshirt
Bring out your sweatshirt and style it with your denim skirt along with knee boots.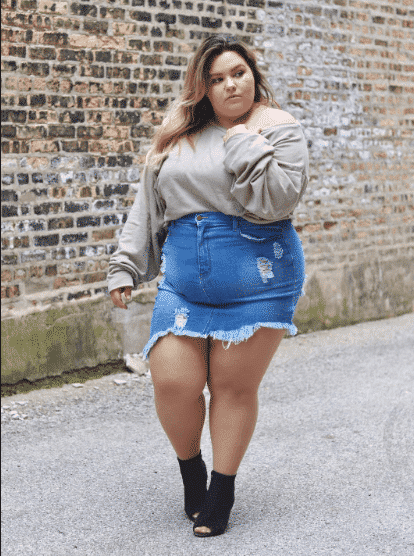 ↓ 6. Street Style
Nothing says street style better than an edgy graphic tee and smart denim skirt along with your sportiest pair of canvas shoes. Here are the best Casual Outfits for Plus Size Women.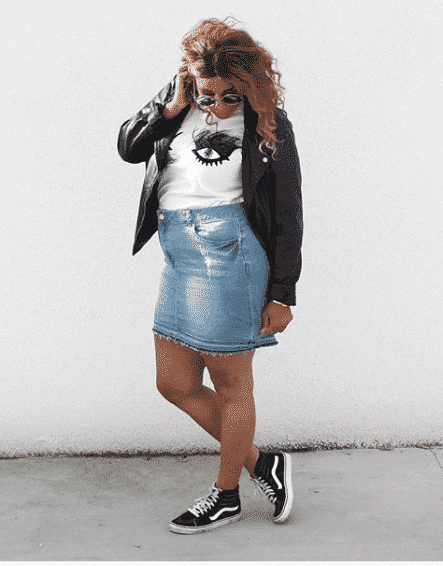 ↓ 5. Denim Skirt Outfit for Fall
Searching for fall outfits? Pull out your denim skirt and add a nice brown or beige colored flyaway blazer and you are ready for fall!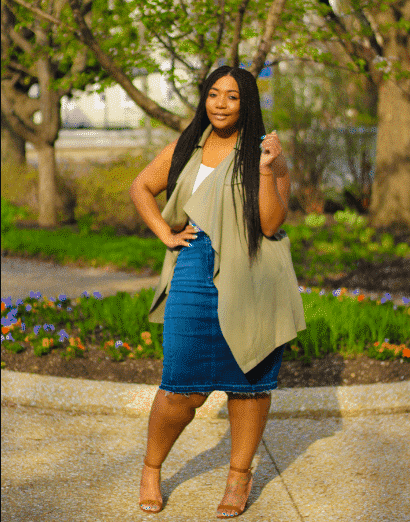 ↓ 4. Travelling Attire
Acid washed denim never goes out of style and is one of the most versatile pieces of clothing you can own! Wear the acid washed denim skirt and shirt combo on any day and you will stand out.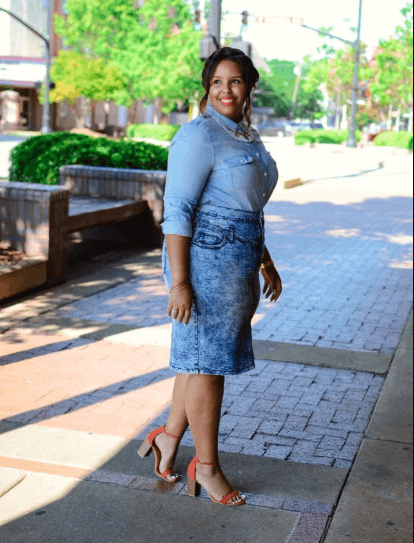 ↓ 3. Long Denim Maxi Skirt with Printed Shirt
Flaunt those curves with a structured denim skirt and a tied printed shirt. Wear your high heels and long hoops earrings to complete the look! Perchance you can even sport a bandanna!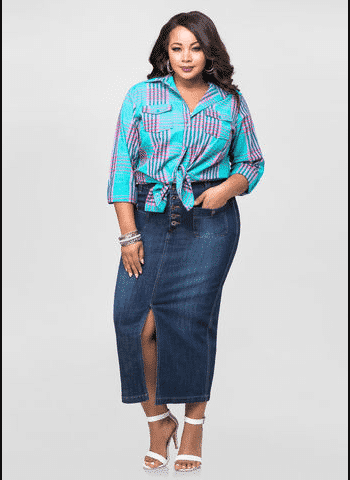 Via
↓ 2. Party Girl
Get ready to turn on the charm with a sexy tropical print top and a white denim mini skirt and pair it with your girliest purse!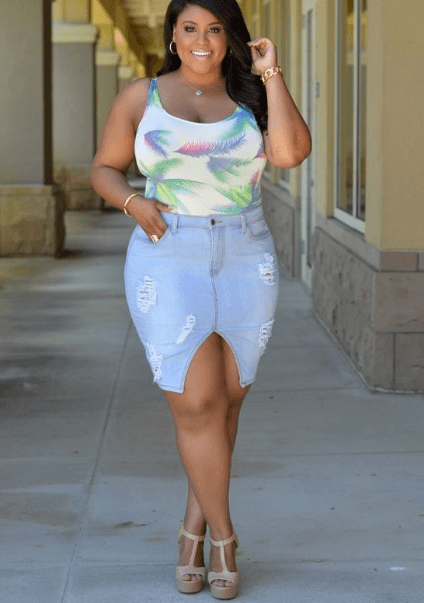 ↓ 1. Denim Skirt with Peplum Shirt
If you are planning a trendy look for your evening out with friends for drinks or fun, we have you covered with this great outfit idea. Wear your Peplum shirt and denim skirt and add an oversized bag as your blingy accessory for the day!