Outfits for women with big thighs. Being big and beautiful is something every girl needs to be proud of but when it comes to dressing up, these big parts do cause us some trouble. But if you choose wisely, you can really turn things around and make your curvy thunder thighs look like your best feature. so whether you're looking to make your thighs seem slimmer or just want the right outfit, we've got the best solution.
Big thighs can definitely be an inconvenience when you're shopping for the right size and there are certain struggles that we can all relate to like the struggle to find the right jeans while having no idea what your actual 'shape' is. But of course, we're here to help you find the best outfits that we hope will make your life easier.
What to Wear if you have Big Thighs?
Read on for the best styling ideas and tips.
If you dont have time to go through the complete article, just watch this short video summary:
Outfits for Pear Shaped Bodies:
Knowing your body type is the first step toward improving your style game. If you know that you have a pear-shaped body, then keep these tips in mind:
Go for tops that will show off your slender upper body, for example, cold shoulder tops.
Choose bottoms that have an elongating illusion such as vertically striped pants.
Wear heels whenever you can as they too will lengthen your figure and shorten the difference between your shoulders and hips.
For your tops, give preference to horizontal stripes over vertical ones.

Cropped tops with a l

arge V or U neckline can look great on pear-shaped figures.
When buying suits, look for ones with padding on the shoulders.
The next 4 outfits are specifically for the pear-shaped ladies:
↓ 30 – Off-shoulder Tops
Off-shoulder tops and dresses can keep the focus on your shoulders or collarbone instead of the hips. Dark colors are an excellent choice for such outfits, as proven by Nicolette Mason here: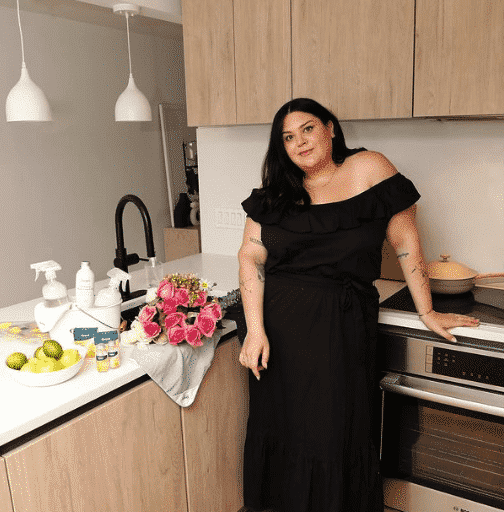 Outfit Details:
LILBETTER Womens Off The Shoulder Ruffle Party Dress
↓ 29 – Straight Pants
Wide-legged pants, as well as straight-legged pants and jeans, are the best choices for casual and even semi-formal wear. You can dress them up or down with your choice of tops and accessories. The pants shown below are from an amazing brand, LNO Studio, that caters to pear-shaped ladies by creating customized trousers.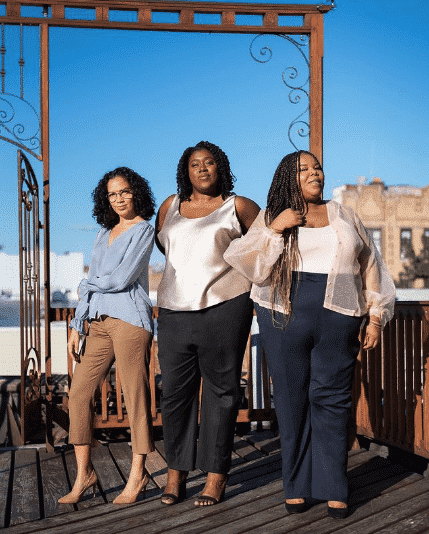 Outfit Details:
Dickies Women's Plus-Size Relaxed Straight Stretch Twill Pant
↓ 28 – Colorful Blazers
If you're petite and pear-shaped then I can not stress enough that you follow Kristin and take inspiration from her very modern yet chic style. I love how here she has styled a gorgeous Pink blazer with a simple outfit. Wearing eye-catching colors like these as your tops is another great trick to highlighting your upper body instead of the lower part. If you aren't too keen on buying a pink blazer, then these Outfits with Pale Pink Blazers might just change your mind.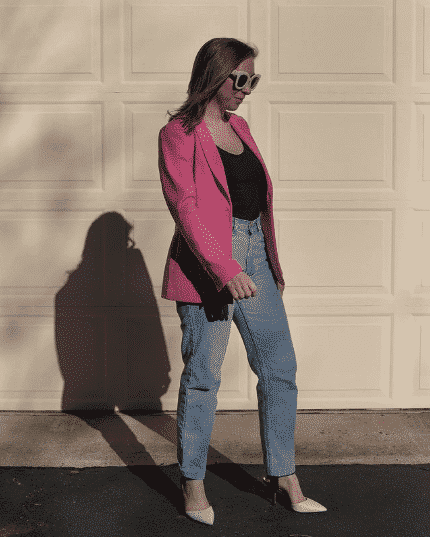 Outfit Details:
FLYCEHN Women Open Blazer Front Pocket
↓ 27 – Wrap Dress
According to Tasha, one dress that will look best on pear-shaped women is the wrap-dress as it will highlight the best features of your body type. You can see here how the dress balances the heavier lower half while giving a slimmer silhouette.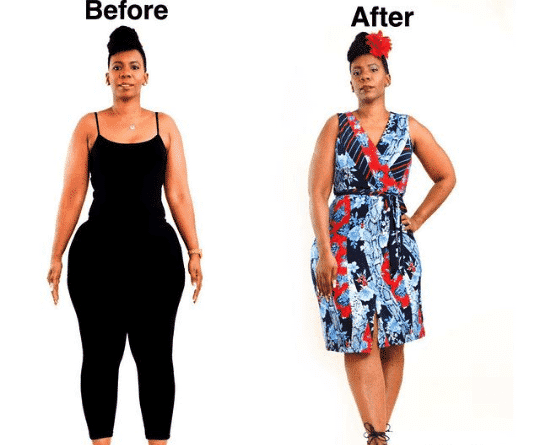 Outfit Details:
Lark & Ro Sleeveless Fix Wrap Gathered Skirt Dress
↓ 26 – Jumpsuits
Monochrome jumpsuits are a great way to move the attention away from your big thighs.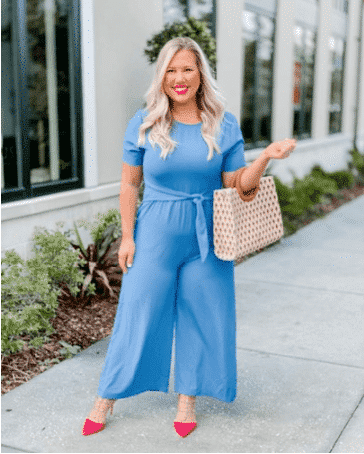 Outfit Details:
ASYOLY Jumpsuits for Women Casual Loose Batwing Sleeve Crewneck
↓ 25 – A-Line Outfits
A-Line Skirts and dresses are the best for complementing your big thighs and adding style to your outfit. Here you can see an A-line dress in a simple but beautiful African print. If you're into the bold and colorful African prints, don't miss out this awesome collection of 18 New African Kitenge Designs this Year.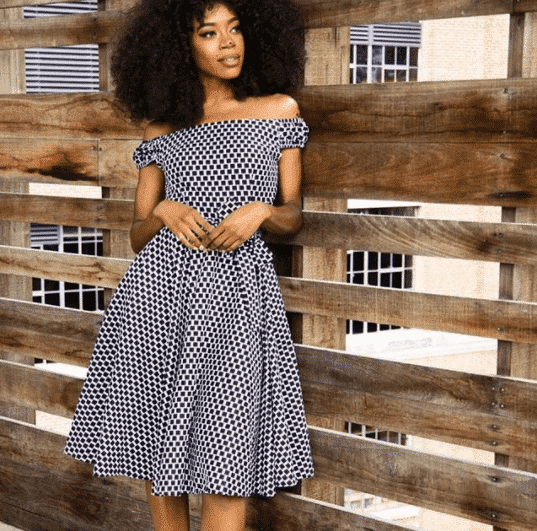 Outfit Details:
Sarin Mathews Off The Shoulder Short Sleeve Dress
↓ 24 – High-Waisted Pants
High-waisted pants will not only make you look skinnier but also provide support and accentuate your curves. Adding a belt at the waist and a tucked-in top further defines your waist and hips. Also, have a look at these 20 ways to wear high waisted pants.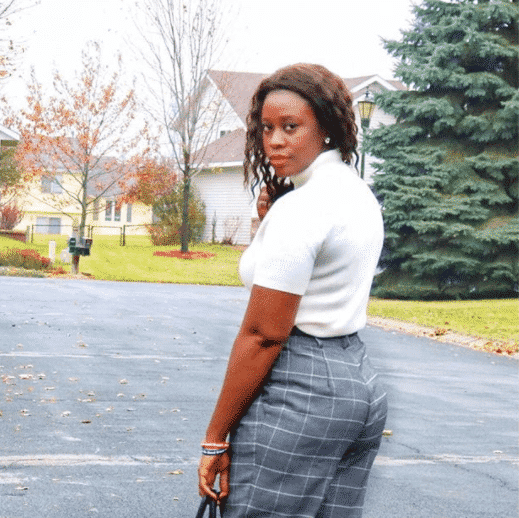 Outfit Details:
SweatyRocks Women's Pants Casual High Waist
↓ 23 – Flared Trousers
Flared trousers are known to be suitable for big thighs. They are extremely comfortable and great for achieving a chic look.
Pair with a pinstriped button-down and accessorize with tassel earrings, sunglasses, and a swipe of bold red lipstick.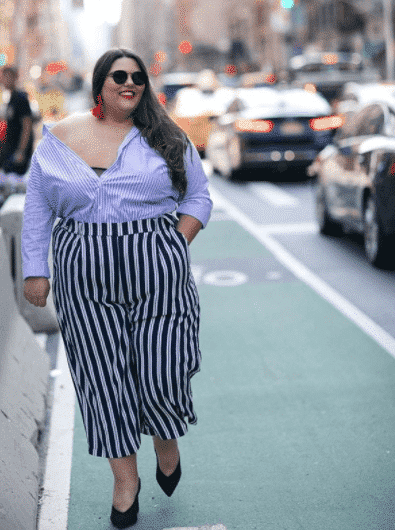 Outfit Details:
Tronjori Women High Waist Casual Trousers
↓ 22 – Big Thighs and Small Waist
Not only are pencil skirts a trendy staple for your wardrobe, but they are extremely flattering for curvier girls and will accentuate a small waist.
Tuck a long-sleeved turtleneck into your skirt for added figure enhancement and accessorize with sunglasses and a bracelet or two. For more ideas on styling pencil skirts, head on over to our post on Best Ways to Wear Pencil Skirts.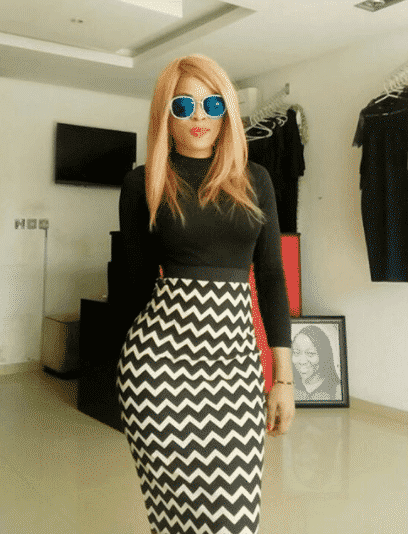 Outfit Details:
SheIn Women's Striped Knee Length Elastic Waist Bodycon Pencil Skirt
↓ 21 – Vertical Stripes and Layers
Vertically striped pants, shirts, and even certain layered items have an amazing capacity for making your legs look longer and thinner. Add some heels to lengthen your stems! Check out these 10 Ways to Wear Striped Shirts.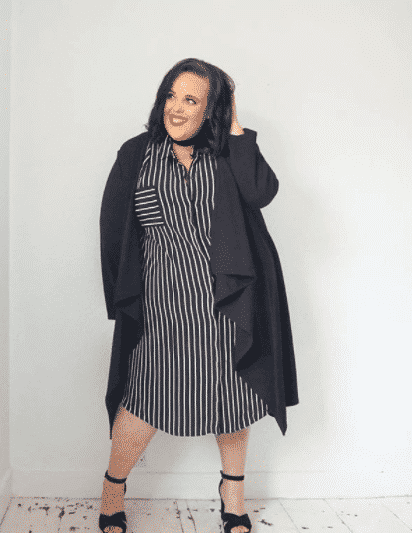 Outfit Details:
Cestyle Womens V-Neck Stripe Work Casual Blouse Flowy Henley Shirt Tops
↓20 – Cute, Stylish Outfit for Curvy Girls
When choosing tops, go for a longer hem. Tops that end right at your thighs will make them stand out even more. Remember a belt at the waist goes a long way as do some carefully chosen accessories.
For this look, wear a shirt-dress over a pair of black or opaque tights, and belt at the waist. Boots or black heels bring the look together, as does a super chic black leather jacket. Accessorize with colored glasses and pop your hair up in a top-knot. Va-va-voom, lady, you are ready to go!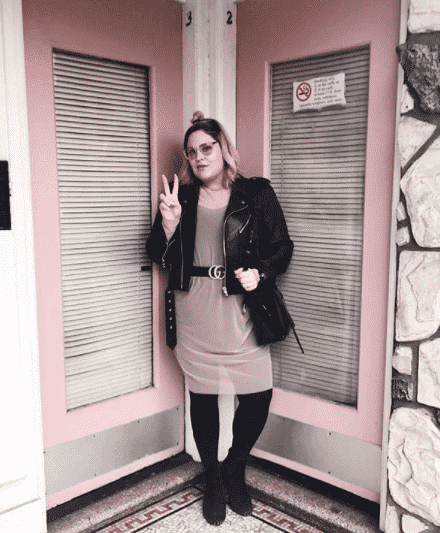 Outfit Details:
Jhichic Women's Faux Leather Jacket
↓ 19 – Dark Colors for Big Thighs and Hips
Dark colors are your best friends! If you want to cover up any part of your body, choose dark outfits, be it a skirt, pant, shirt or anything else, as its very slimming.
With this look, a corseted style pair of jeans cinch at the waist. Tuck in a boldly patterned top and why not take it all the way with a snazzy fur-trimmed coat?! This is a look for a gal that doesn't mind being the center of attention. And with an outfit like this, you can bet you will be!
Have a look at 25 celebrities all black outfit styles for fall to copy if you love an all-black movie star look!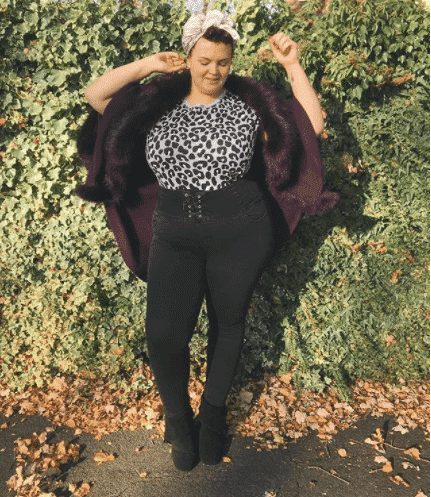 Outfit Details:
SweatyRocks Leopard Print T Shirt Tops
Lee Women's Plus Size Relaxed Fit Straight Leg Jean
↓ 18 – Wide Legged Trousers
A super fashionable item that will help off-set thicker thighs is a pair of wide-legged trousers. Opt for high-waisted and make sure the hem falls at the slimmest part of your leg.
We love the sassiness of this outfit, evidenced by a well-cut leather jacket, some belted trousers, killer accessories, and a gorgeous pair of heels.
Here are the best ideas on How to Wear White Wide Leg Pants.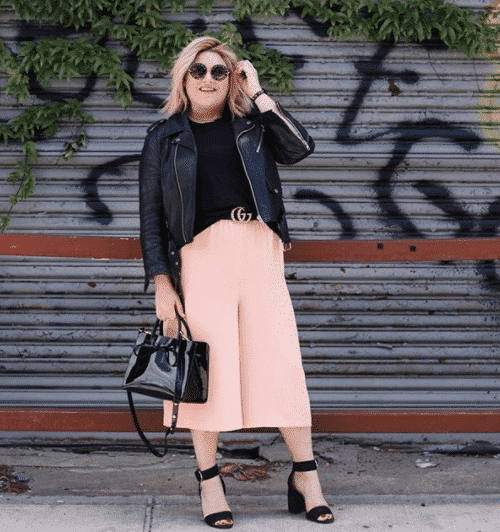 Outfit Details:
HEYHUN Women's Solid Tie Dye Wide Leg Flared Capri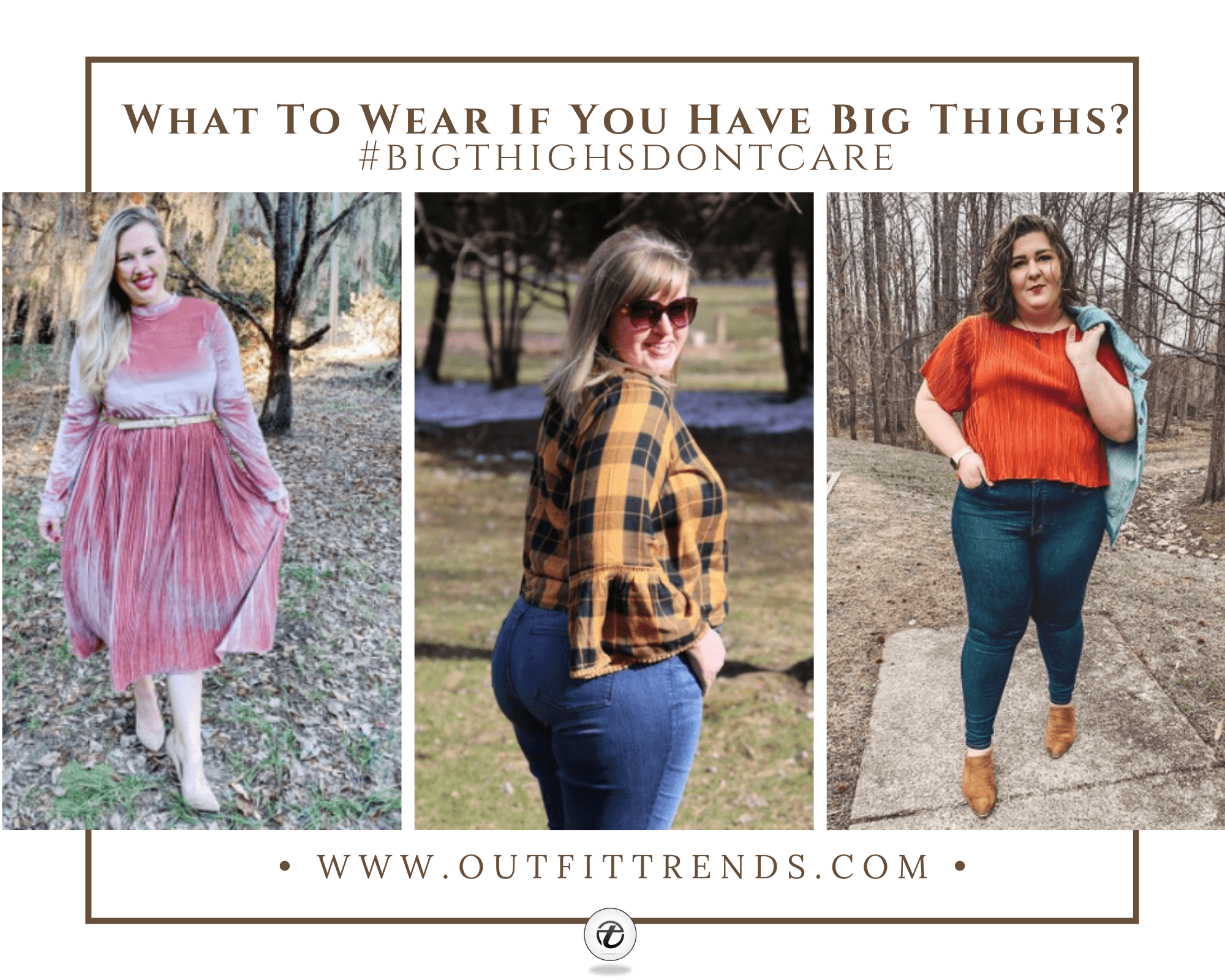 ↓ 17 – How to Wear a Dress if You Have Big Thighs
When in doubt, choose black! A black dress, fashionably baggy in all the right places, will help conceal any unsightly bumps or lumps and can be very slimming for curvier ladies.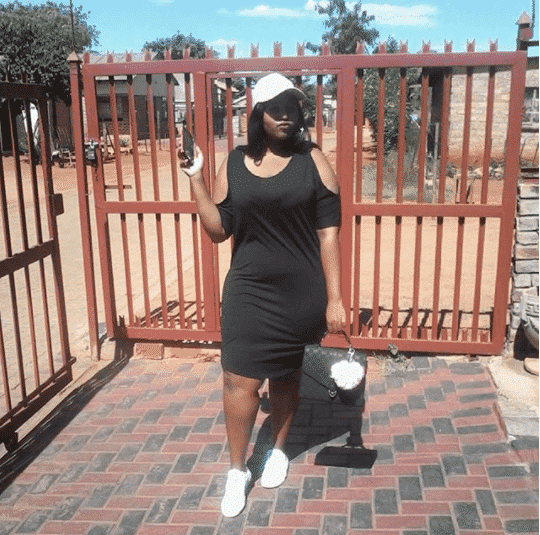 Outfit Details:
BEAGIMEG Women's Sexy Ruched Bodycon (Similar)
↓ 16 – High Heels and Jeans
High heels, preferably nude shades, will make your thighs appear thinner and longer and help them appear slender. Choose chunky heels for a chic look.
Tucking in your top will always help accentuate your figure. And despite what you might think, drawing attention to the right places (a smaller waist, round hips, etc.) is actually more slimming than you might think! Pop on a layer over the top if you feel you need it.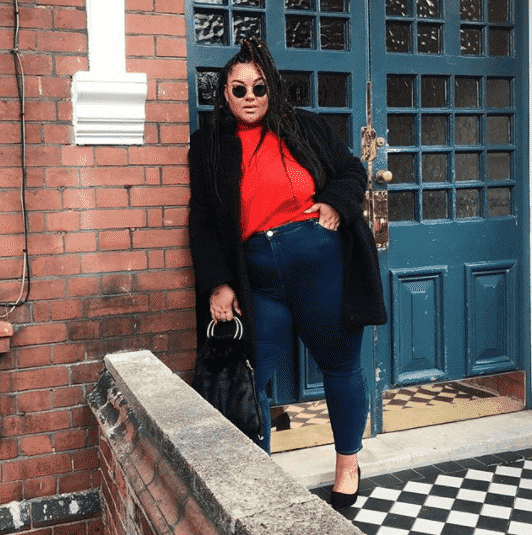 Outfit Details:
Lee Women's Plus Size Relaxed Fit Straight Leg Jean
Olivia K Women's Classic Round-Toe Platform Pumps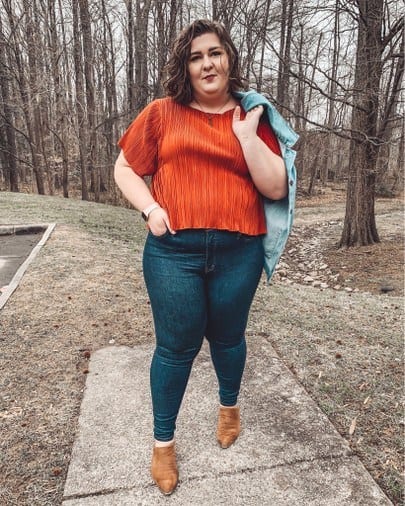 ↓ 15 – Outfit for Big Thighs and Short Legs
To make a statement, why not try a bold and flashy suit? Printed suits look great on ladies with big thighs and short legs. Pop on some lipstick and your favorite pair of eyeglasses. This is a knockout look! Here are 27 Ways To Style Suits With Sneakers.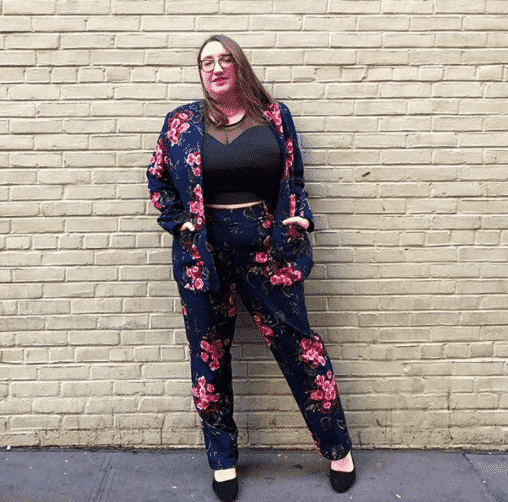 ↓ 14 – Flowy Materials
Flowy materials like silk and chiffon give an elegant dreamy look to your beautiful curves. If you can get your hands on a flowy maxi in such materials then it can be worn in every season. For instance, you can layer it with a denim jacket for Fall. If you're going for floral prints, avoid large prints and only opt for small or medium-sized ones. Maxis with knee-length slits can also add some spice to your wardrobe.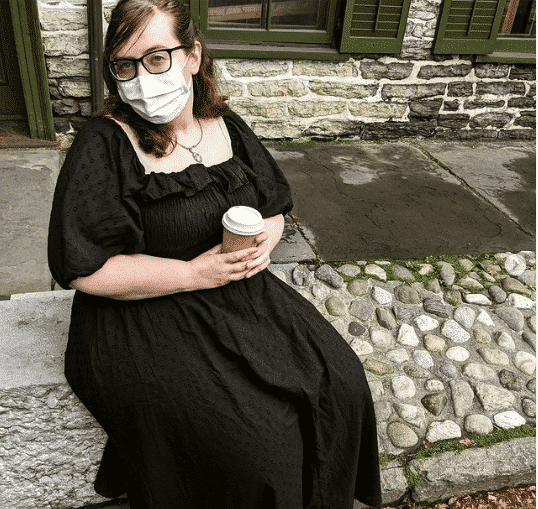 Outfit Details:
Minibee Women's Ruffle Oversize Casual Midi Dresses with Pockets
↓ 13 – Cute Summer Outfit for Big Thighs
Avoid wearing crop tops as they will draw attention to your thighs. Tops of medium length are suitable and our favorite trend of the season surely is the shirt dress trend. These are extremely versatile and can easily be worn for a day to night look. For colder days, you can style them up with long boots too. Here are 27 Ways to Wear Shirt Dress in Different Ways.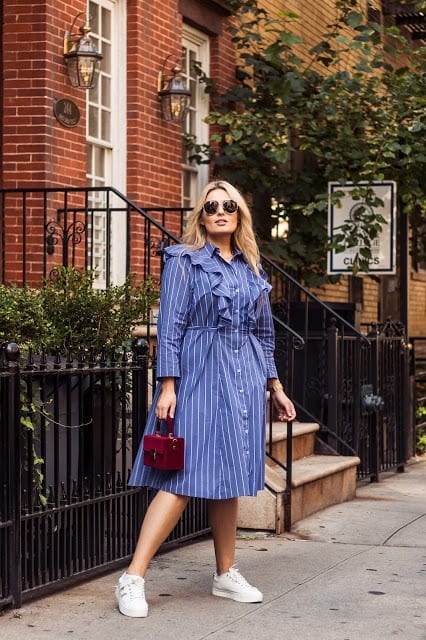 Outfit Details:
Allegra K Women's Denim Belted Flared Above Knee A-line Shirt Dress (Similar)
↓ 12 – Best Accessory for Big Thighs
Avoid fancy broad belts. Wearing a plain, slim belt will make your thighs appear narrower. Remember that a thin belt is always the best accessory to dress up any of your outfits and of course your thighs too.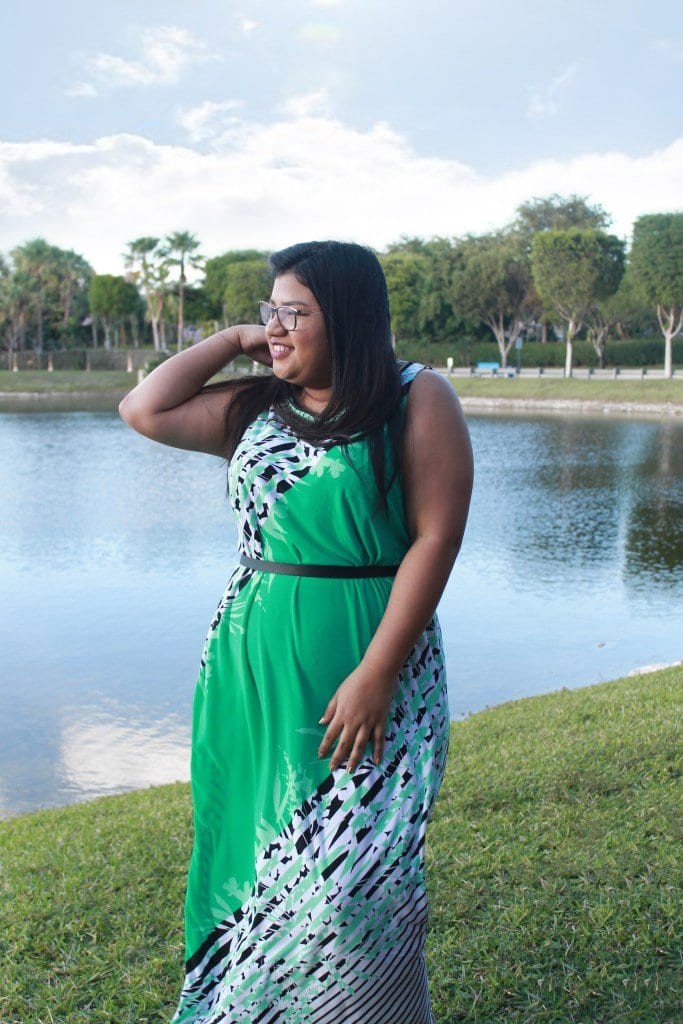 Via
Outfit Details:
Boao 3 Pieces Women's PU Leather Belts
↓ 11 – Shorts to Wear for Girls with Big Thighs
The folds in pleated shorts will give the illusion of narrower thighs. Not only that, pleated shorts are trendy too. Other options include Bermuda shorts like the ones shown here. These shorts can be styled for both casual and semi-formal looks as you can cuff them up a bit for a more casual look. Do check out 20 Cute Bermuda Short Outfits for Girls for Chic look.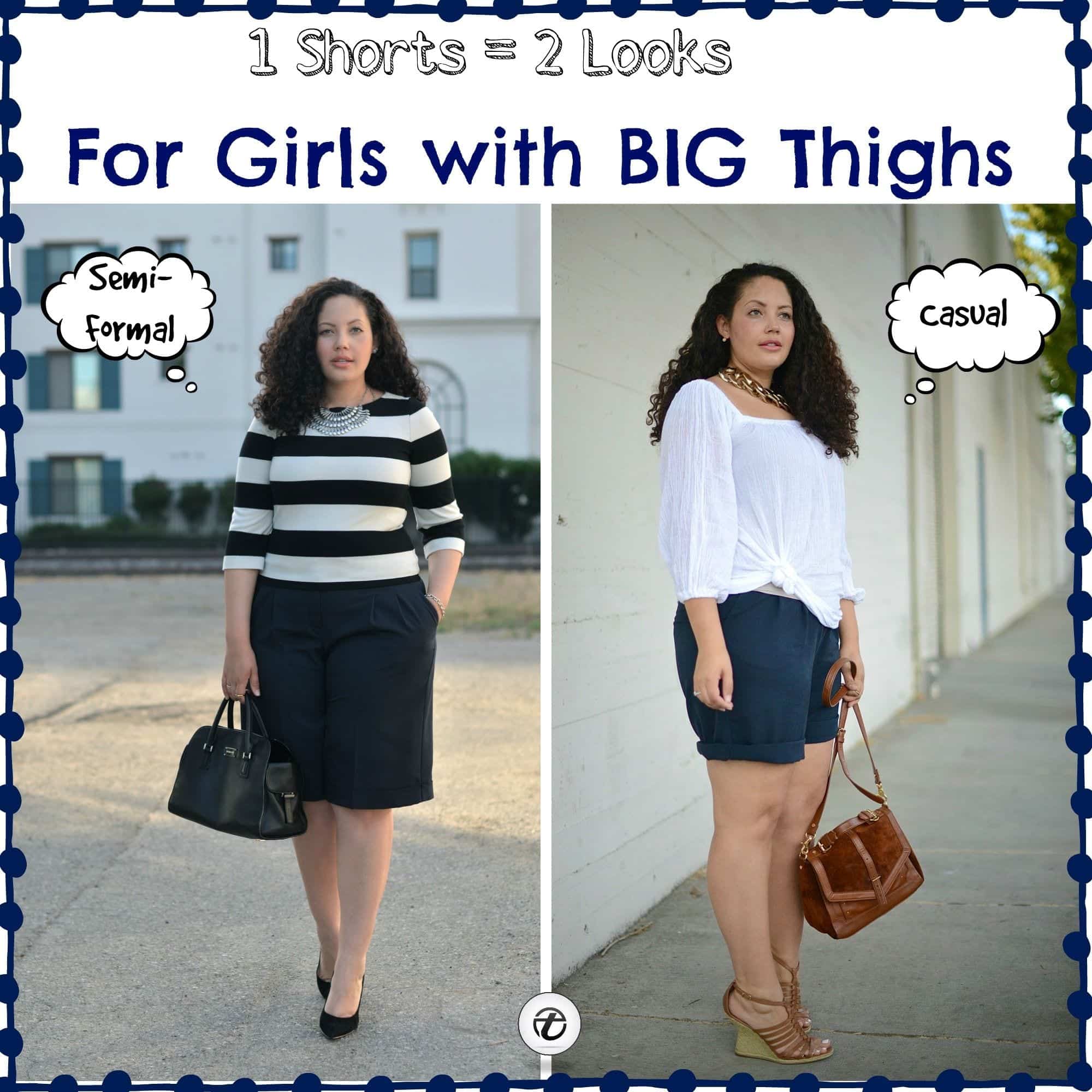 Outfit Details:
Romwe Women's Casual Elastic Waist Summer Shorts
↓ 10 – How to Wear Skirts if You Have Big Thighs
This skirt combines two concepts we have already talked about: flowy material and vertical stripes. Together they pack a punch, both concealing larger thighs and drawing the eye away from any ungainly curves.
Don't miss out these 20 Stunning Skirt Outfits Combinations for Plus Size Ladies.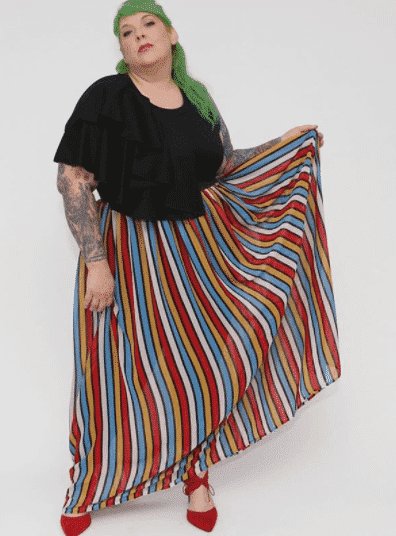 Outfit Details:
ThusFar Women's Graffiti Pleated Skirts (Similar)
↓ 9 – The Right Jeans to Wear with Big Thighs
Wear prominent, flashy tops with big bold prints to draw attention towards your upper body instead of lower. You can also wear chunky earrings and necklaces to do so. When it comes to the right jeans, we highly recommend these mom jeans because of how good they can make your thighs look. The best part is that you can buy them here for just £20.00.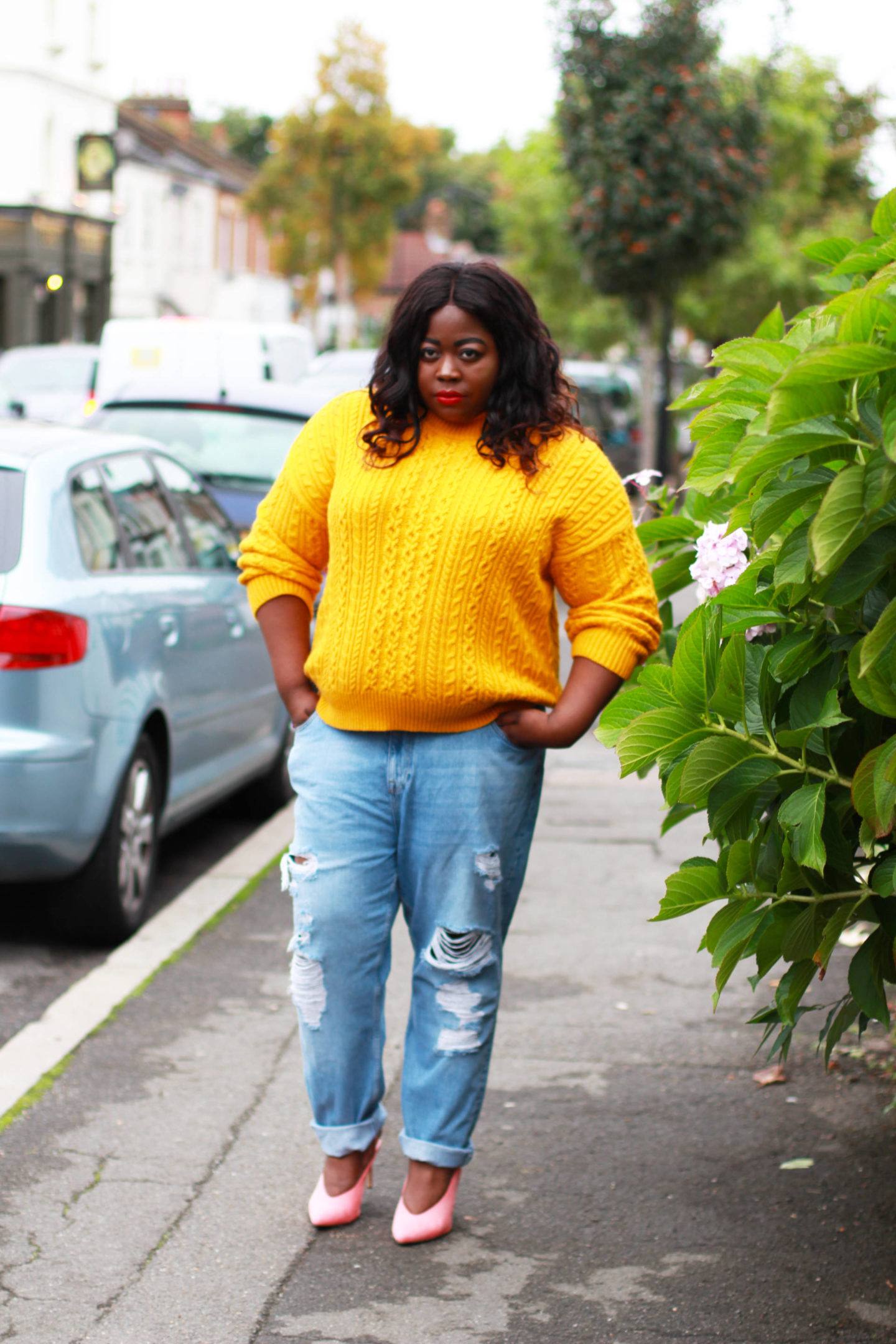 Outfit Details:
ALLABREVE Women Plus Size Ripped Stretch Jeans
↓ 8 – Modest Date Night Outfit for Curvy Girls
Here's a chic, simple and modest look that will work for your date night. Opt for black tights or leggings and let this slimming dress do the talking! Plus, here are 20 Ideas How To Dress Up For First Date.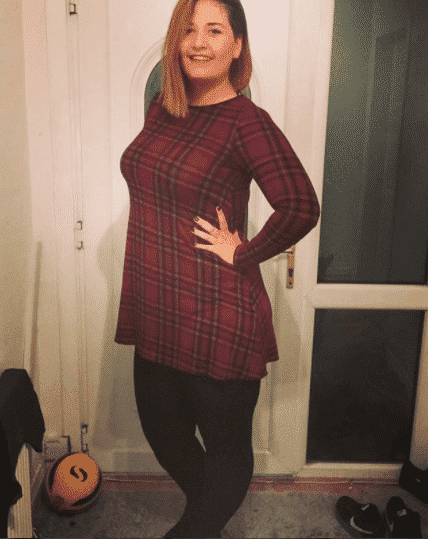 Outfit Details:
St. Jubileens Women Roll-Up 3/4 Sleeve Plaid Shirt (Similar)
↓ 7 – What Pants to Wear If You Have Big Thighs
When it comes to pants, your options are simply unlimited. Bohemian pants, harem pants, or Aladdin pants are relatively similar variations of the same style and they always look awesome on curvy ladies with big thighs. You can wear them with shorter tops and even cropped ones if you want.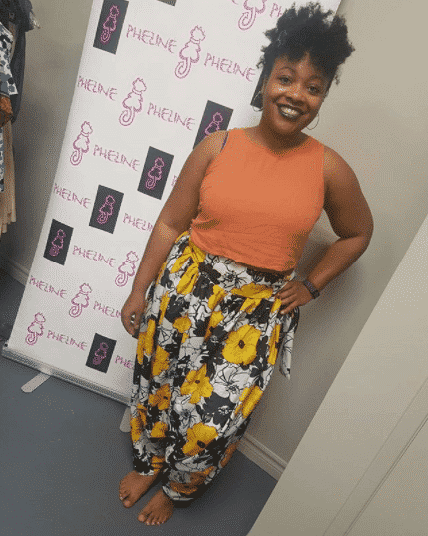 Outfit Details:
Tribe Azure 100% Cotton Harem Pants
↓ 6 – Great Date Night Outfit for Curvy Ladies
These denim jeans are so great for gals that are larger on bottom. Slimming and well-fitting, all you need is a standout top to have a stellar (and flattering) date night look! Sling a denim jacket around your shoulders and pop on a pair of muted brown booties. You're good to go!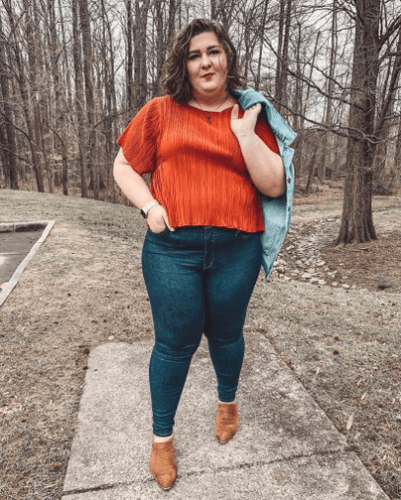 Check out the outfit details below:
luvamia Women's Basic Button Down Stretch Fitted Long Sleeves Denim Jean Jacket
Lee Women's Plus Size Flex Motion Regular Fit Straight Leg Jean
↓ 5 – Black Dress and Over-the-Knee Boots
Here is another example of how a darker color can be super slimming! We love these over-the-knee boots and this cheetah-print cardigan. This look is great for a night out with your gal pals or a trip to the movies!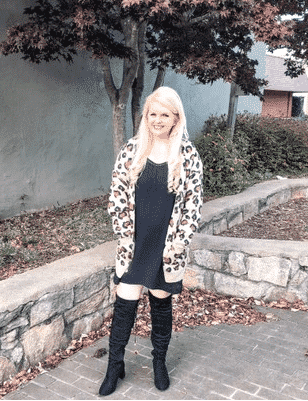 Check out the outfit details below:
Beige/Black Animal Print Cardigan
Over The Knee Block Chunky Heel Stretch Boots
ASOS DESIGN Mini Cami Slip Dress $24
↓ 4 – Striped Cardigan and Belted Jeans
As a larger woman, you might find solace wrapping yourself in billowing layers. It can definitely be tempting to think that by piling on the material you will be able to hide any ungainly lumps or bumps. But it's actually counterproductive and may make you look bigger than you actually are! Adding a belt to your outfit will solve this nicely, and may, in fact, make you appear smaller!
For this look, a pair of light-wash jeans are belted at the waist and matched with a tucked in white top. Throw over that a striped cardigan and have with your footwear with some cheetah print flats!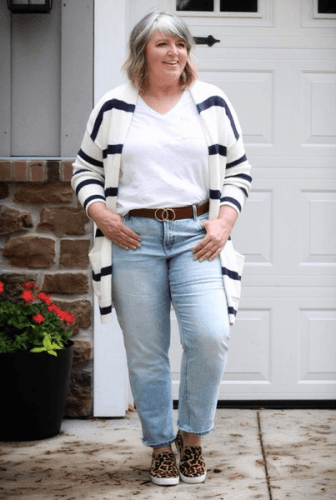 Check out the outfit details below:
High-Rise Secret-Slim Pockets + Waistband Power Slim Straight Plus-Size Jeans $51
Double Ring Belt $29.95
↓ 3 – Bold and Beautiful Curvy Lady Outfit
This outfit is the kind of outfit that will make you fall in love with all your curves! Flattering to a fault and super attractive, this is a look you will feel so confident and gorgeous in!
These slightly long sleeves will cover up any upper arm trouble zones. A strategic slit shows off your legs to their best extent, especially when paired with knee-high boots. Accessorize with earrings and blown out hair. And voila! C'est magnifique!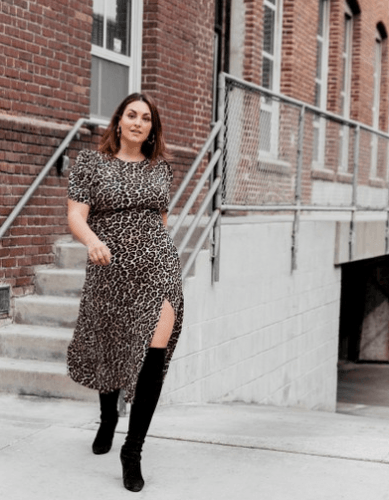 Check out the outfit details below:
ROVLET womens Modern/Fitted (Similar)
The Hiline Boot $319
↓ 2 – Classy Dinner Outfit
We would be remiss if we left out a classy dinner outfit look because we always need some fresh inspiration for those!
We love how simple but elegant this look is – and how slimming as well!
Simply pair a pale lavender or light blue top with some white skinny jeans. Pop in a pair of statement earrings and swipe on some bright red lipstick.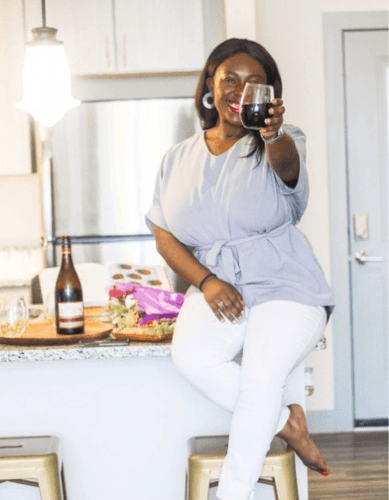 Check out the outfit details:
Two-Tone Resin Hoop Earrings $12.99
Mid-Rise Clean Slate Rockstar Super Skinny Jeans $29
↓ 1 – Cute and Simple Outfit for Ladies with Big Thighs
For our final outfit, we wanted to give you something basic and simple, something you could easily put together with the items you probably already have in your closet. This is a great look that would work for all sorts of events. You could grab lunch in this outfit, hit up the mall, attend a casual party, go shopping, or simply run errands – yep, it really is that versatile!
Start with a cute, well-fitting pair of mid-length jeans. These hit right above the ankle, which gives the illusion of a slimmer leg since it's cutting off at one of the most slender parts of said limb. Folding it at the hem is super cute and does a great job of highlighting some little black booties – which are perfectly matched by an adorable black suede purse!
For your top, it's your choice of tee shirt. We like this simple striped one. Last but not least pop on a cardigan for layers and warmth – especially if it's a chilly day!
Check out the outfit details below:
Levi's Curvy Slim Jeans
Leith Ribbed Shawl Cocoon Sweater $24.97