Outfits For Plus-Sized Teens: Your teenage years are the best years of your life and you should enjoy them to the fullest, wear whatever you want, and nothing should ever stop you. Not even your body weight. It's the 21st century and we are all here for body positivity.
This is why we are here to share some trendy teenage clothing ideas.
Stylish Outfits for Curvy Teenagers
There are endless options for plus-size clothing, especially for teenagers. You just need to figure out what suits your body best and you are good to go. Flared, wide-leg, boot-cut, and straight legs jeans are the trending jeans style that looks the most flattering on plus-size girls.
You can wear them with cute tops, blouses, and even simple t-shirts for a casual outfit. Different kinds of skirts for curvy girls, including skater, wrap, flare and maxi skirts are also some cute options for chubby girls.
DOs and DONTs for Choosing Your Outfits
Neither baggy nor fitted. Identify your body type and what suits it best, then choose the outfits accordingly.
Accessories play a massive role in your look. Try anything and everything as a teenager. Enhance your simple outfits with the help of accessories like bucket hats, belts, tote bags, and others.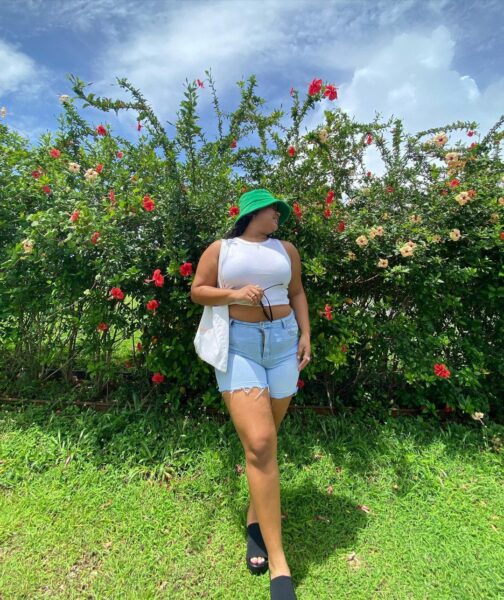 Being a teenager, you should focus more on comfortable outfits. You can later uplift your simple and comfortable outfits by layering them with jackets, hoodies, or cardigans.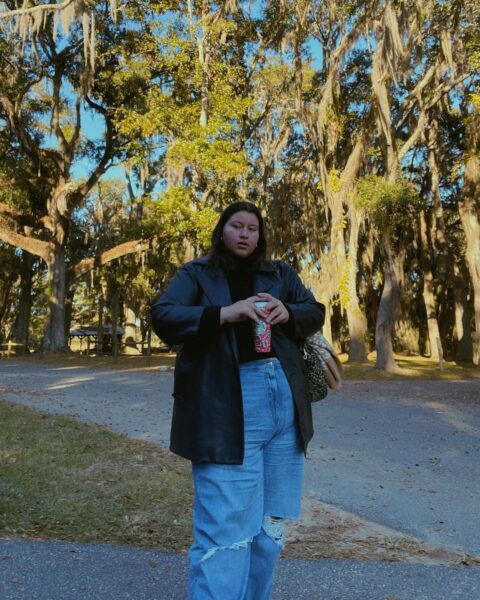 Invest in outfits that fit all body types and are easy to style, like flare dresses, skinny jeans, or pencil skirts so that whenever you are confused about what to wear, you can go with these options.
Summer and Spring Outfits
20 – Denim Skirt With Halter Top & Jacket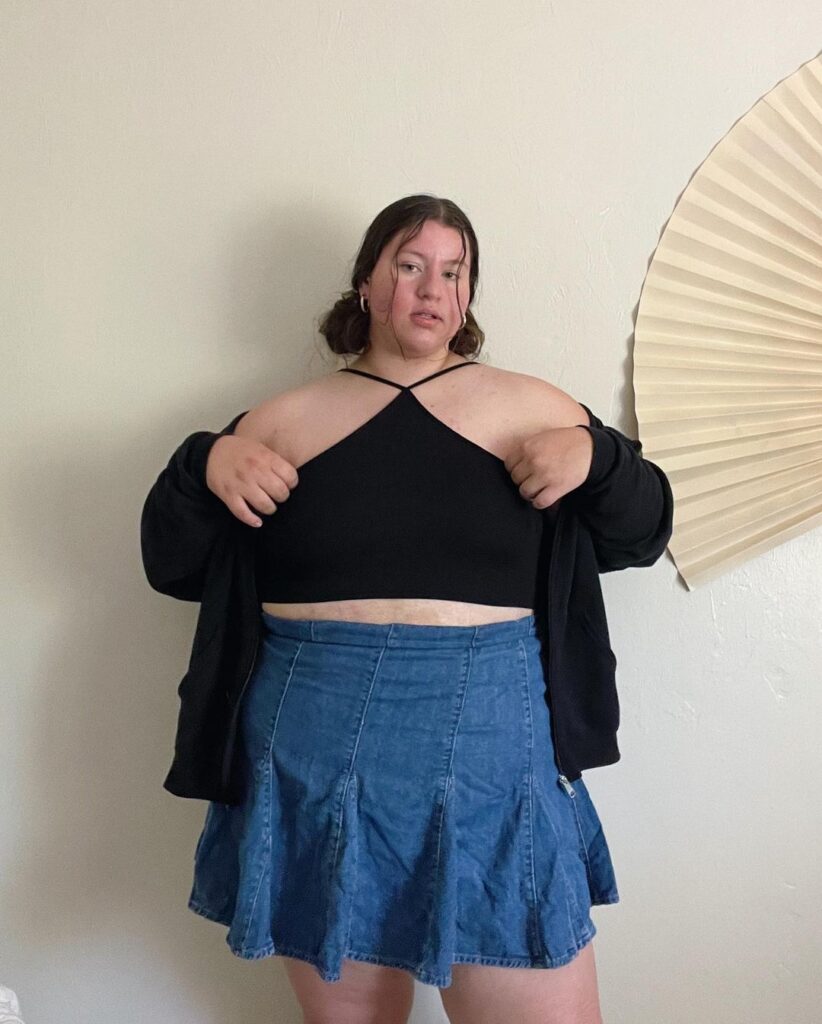 19 – White Pleated Skirt With Green Sweatshirt
The combination of cute and comfy is the dream for most of us, especially teenage girls. All you need to do is to grab a cute high-waisted skirt, mainly a pleated or skater one, and pair it with a long-sleeved t-shirt and sneakers.
This look is not only easy to style but also appropriate for college students.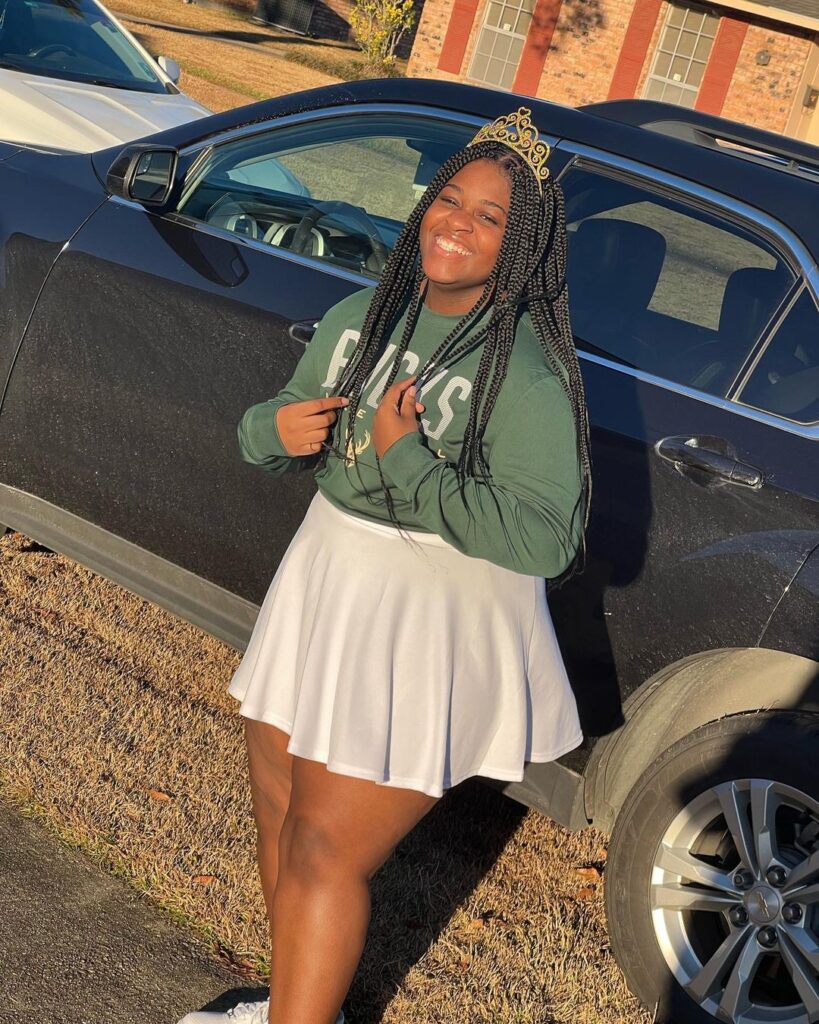 18 – Biker Shorts With Oversized Jersey Shirt
Being a teenager, you always need something comfortable for your sports activities. For this purpose, you can pair your favorite shorts with an oversized t-shirt. The shorts can be denim, cotton, or leather. Moreover, a jersey shirt is the perfect option to style with it.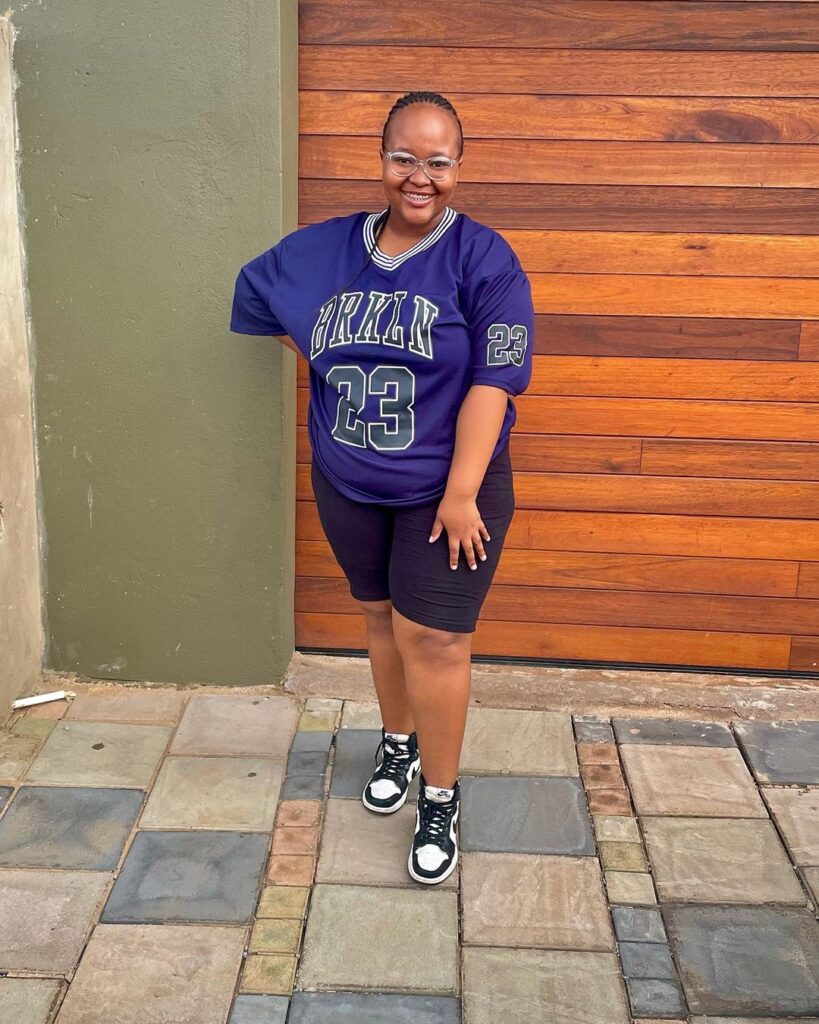 17 – Floral Printed A-Line Dress With Ankle Strap Heels
The best thing about A-line dresses is that they look good on all body types. You can add a waistband or a belt to get a defined waist.
Teens should wear these dresses in different colors and prints. Floral prints are perfect for summer and casual wear outfits, pair this dress with ankle strap heels and some accessories, and your outfit is ready.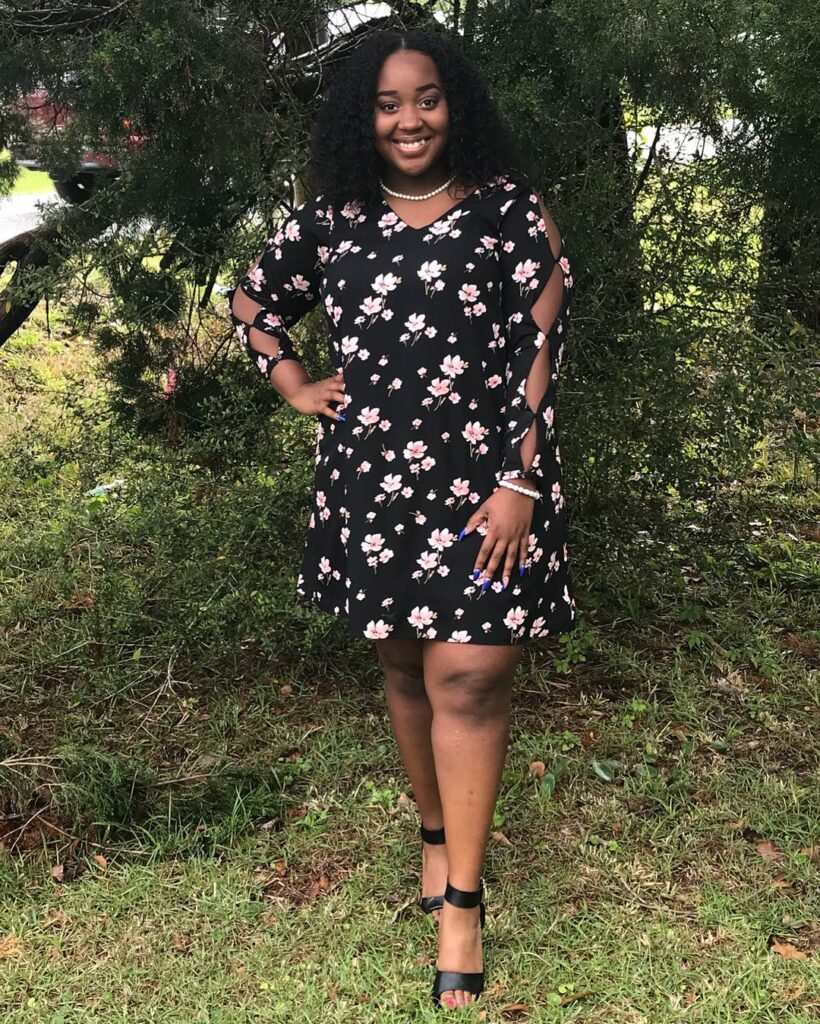 16 – Houndstooth Overall Dress With Sneakers
Teen girls can wear these dresses with sneakers for a casual look. You can also wear them in winter by pairing a turtleneck, leggings, and boots with them. Moreover, you can also layer them with jackets or cardigans. Denim overalls are another cute option for young girls.
15 – Denim Shorts With T-Shirt & Sneakers
One of the best teen outfit ideas is to wear shorts with a t-shirt. Denim shorts with a white cropped t-shirt is a classic combination, however, you can also go with different colors.
Denim shorts are the most popular among youngsters because of how cool they look with everything. Plus-size girls can pair them with off-shoulder tops and blouses as well.
14 – Denim Shorts With Front Wrap Blouse
Being a teen you should invest in some cute blouses so that you have many different options. This front wrap chiffon blouse can be worn both, casually and formally. Pair it with denim shorts or mom jeans and sneakers for an everyday look.
On the other hand, you can pair it with pencil skirts with low-heeled pumps for a formal look. The bucket hat is a trendy accessory so you should also incorporate it into your outfits.
13 – Floral Maxi Skirt With Short Sleeved Blouse
Maxi skirts that too in floral prints are an adorable choice for chubby girls. Pair the skirt with a cute blouse in solid colors and sleeve details to get an effortless look.
The maxi skirt can be styled in other ways as well. This outfit is perfect for casual events or for picnics as well. You can add other accessories including a hat, sunglasses, a shoulder bag, and others.
12 – Ripped Denim With Printed Top
Teen girls are always ready to try something new and exciting. For a funky look, you can pair a colorful mesh printed top like this one, with ripped denim and sneakers. Printed tops are great for both casual and semi-formal wear.
11 – Zebra Printed Flared Pants With Crop Top
Flared pants create the perfect balance for curvy girls and look great on them. The proof is this look in which high-waisted flared pants are paired with a high-neck crop top and boots. It is even more fun if teen girls wear pants in different prints and colors for a funky look.
Accessorize with different jewels like a beaded necklace or bracelets, carry a mini shoulder bag and you are good to go for a quick trip to the mall, movie, theme park, or any other place.
Fall and Winter Outfits
10 – Leather Pants With Pink Plaid Shacket
Shackets are very famous among teens as they can be styled in many different ways. One way of styling them is for casual wear. Pair with jeans, a simple top, and joggers.
If you want a more trendy look, replace the jeans with high-waisted leather pants, wear them with a turtle neck top, and layer a plaid shacket over them. The joggers can also be replaced with ankle boots.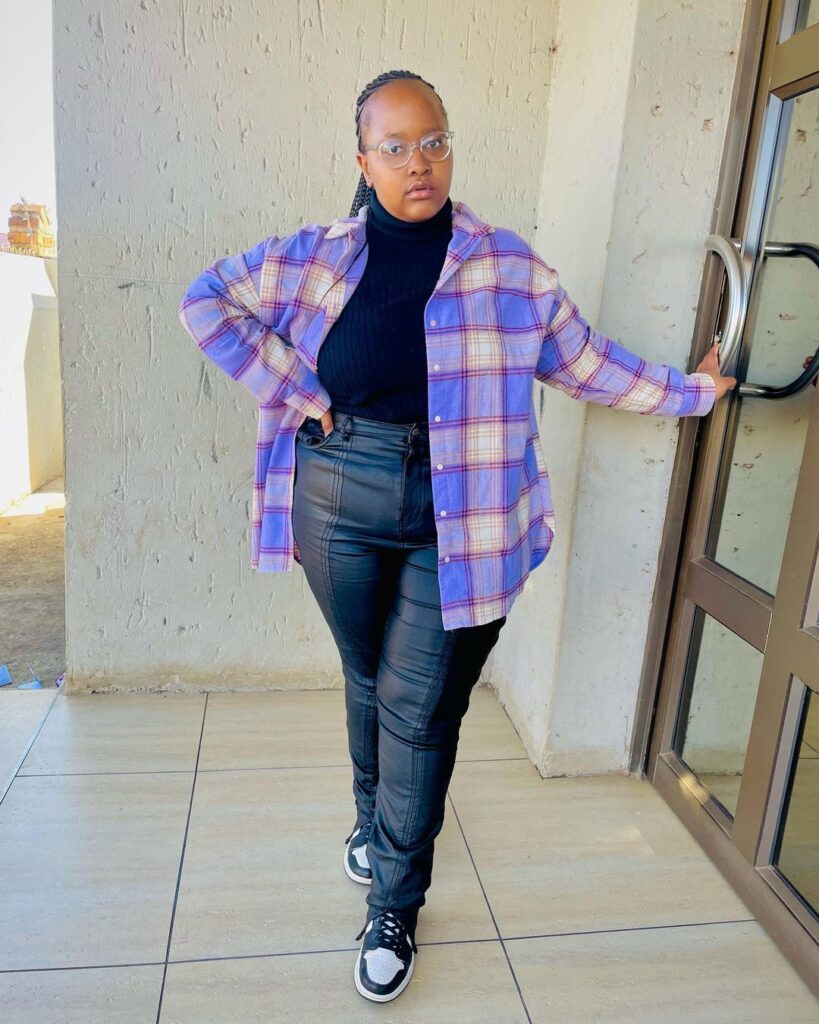 9 – Skinny Jeans With A Black Leather Jacket
Leather jackets look quite cool on teen girls and they can easily style them with their casual outfits. Chubby girls can wear high-waisted skinny jeans with a high-neck top and layer a leather jacket over it.
That's all you need for a cool-streetwear look. You can also wear a denim jacket or plaid shacket. Lastly, the trendy sneakers will complete the outfit.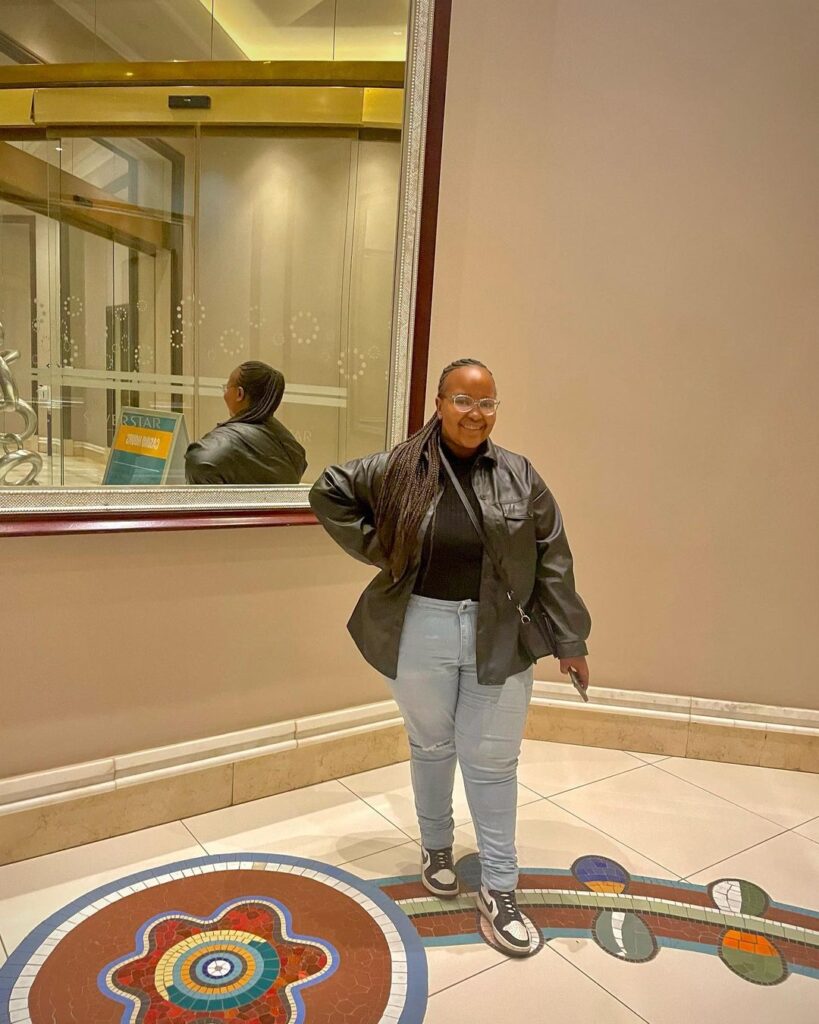 8 – Pleated Skirt With Cropped Shacket
When searching for cute clothes for plus-size girls, skirts are one of the best options out there. Skirts give a flattering look to every body type especially skaters and A-line skirts.
Teens should pair them with a simple crop or tank top. Add a layer of a cropped jacket or plaid shacket so you can easily wear it to school or college.
7 – Cargo Pants With A Teddy Jacket & Croptop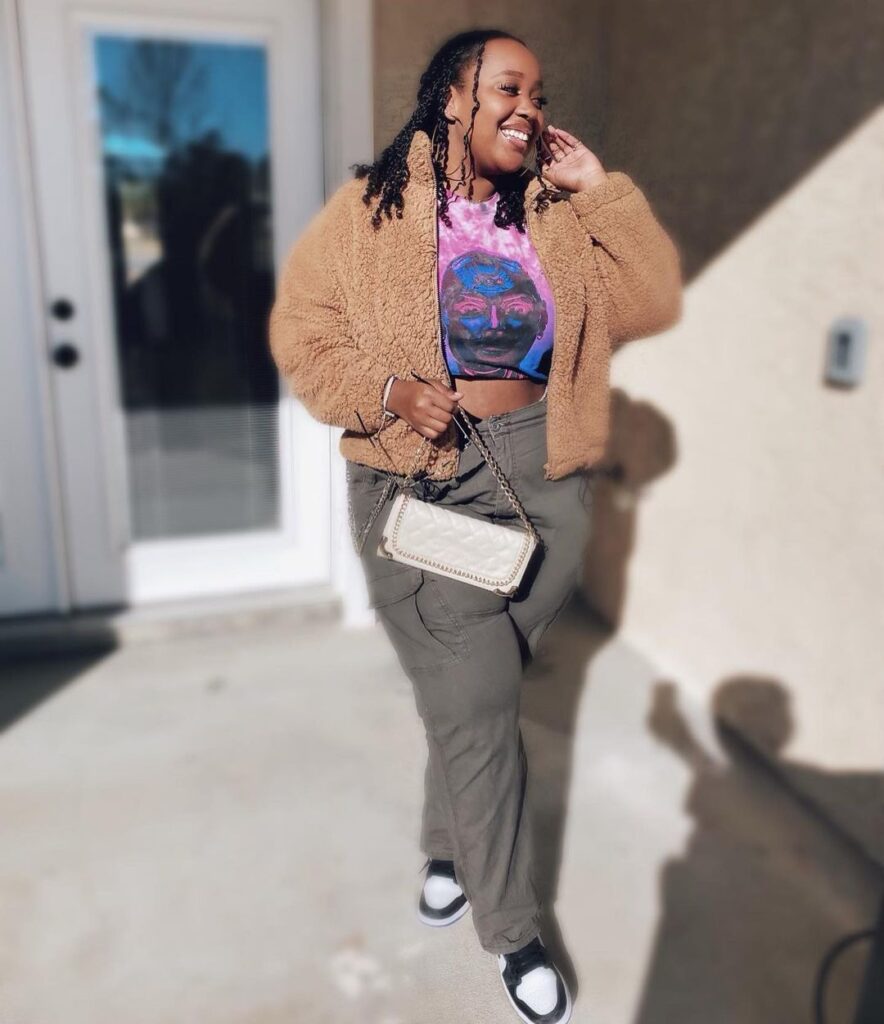 6- Bootcut Jeans With Varsity Jacket
Bootcut jeans suit plus-size girls the most and are also one of the trending options among teens. For a casual and everyday wear outfit, pair the jeans with a simple cropped or oversized tee-shirt in a solid color and layer it with a cool varsity jacket.
Finish the look by wearing converse shoes or sneakers. This is the kind of outfit that you can easily carry to school, outdoor or sports activities, or at casual hangout plans with friends.
5 – Leopard Printed Skirt With Cropped Jacket
Leopard print is trending among teens and looks really cool. You can grab a leopard-printed skirt and pair it with a simple cropped top.
Moreover, you can also add a cropped jacket in denim leather or corduroy material. Wear ankle boots and some jewels to finish the look. You can easily wear this outfit to birthday parties or casual events.
4 – High Waisted Mom Jeans With Top And Cardigan
These kinds of outfits are perfect for lazy college mornings. You can just pair your favorite jeans with tops and layer different things with your outfit for winter.
A cardigan is one of the comfy options to go with. You can also pair sweatshirts with mom jeans. Other options are to wear leather jackets, hoodies, and coats.
3 – Cropped Knit Sweater With Wide-Leg Pants
We also got some ideas for aesthetic outfits for chubby girls, and nothing can be better than pastel colors. Grab a cute cropped knit sweater in a neutral color and pair it with high-waisted wide-leg pants in a pastel color.
These pants are perfect for plus-size girls as they balance out their curves. Add some cute accessories, a gen-z favorite tote bag, white sneakers and you are done with a perfect fall outfit.
2 – Plaid Skirt With Knit Sweater & Boots
Finding cute clothes for chubby girls, especially for daily wear is not a difficult task. You just have to pair a skirt with a cute top. For the fall season, a knitted top with a plaid skirt and boots is a great outfit idea for teenage girls.
You can wear leggings with it or a layer of cropped denim jacket would also be a good addition for college teens.
1 – Green Bodycon Dress With Oversized Denim Jacket
Bodycon dresses are not so famous among teen girls but if you are wearing an appropriate length and neckline then it is suitable. For casual wear, you can also add an oversized denim jacket to add a cool element to your simple dress.
It will not only look great but will keep you comfortable as well. Other options are to wear leather jackets or oversized hoodies. Finish your look with converse and you are good to go.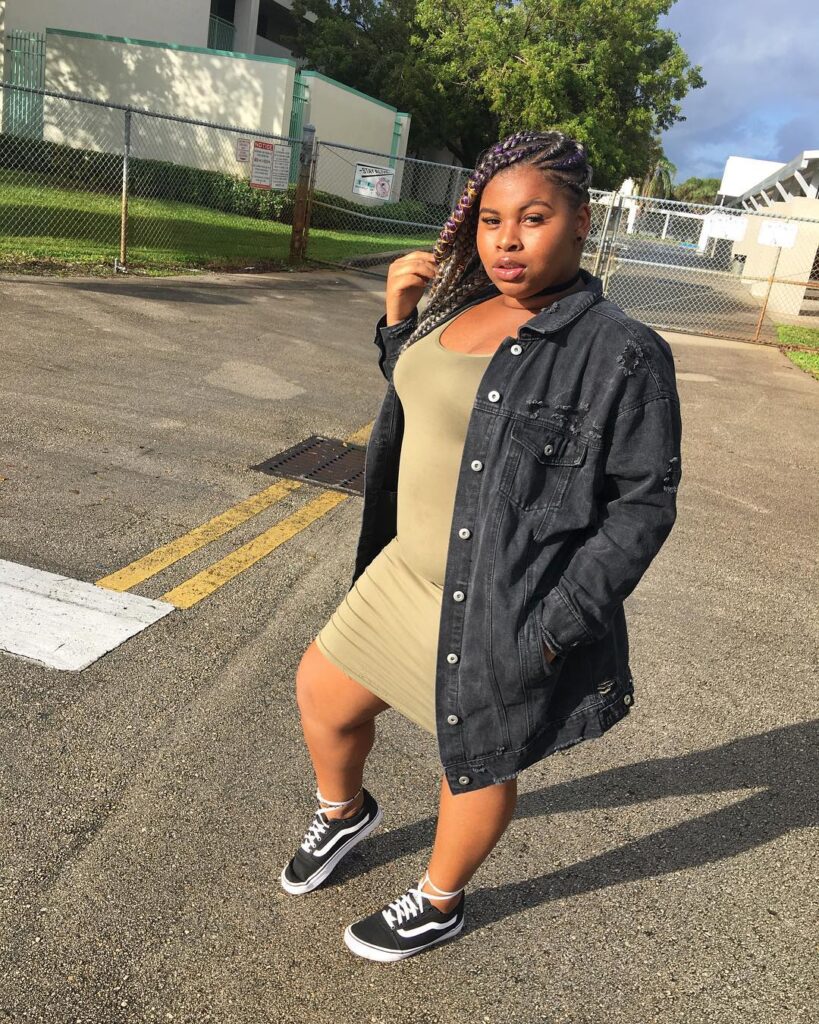 FAQs
Q. What kind of dresses look good on chubby girls?
Ans. Dresses are one of the cutest options for chubby girls as they make them look adorable. Dresses including wrap, a-line, flare, and maxi dresses look good on plus-size girls as they give an enhanced look to your body shape.
You can add other things like a jacket as a layer or belts to further define your waist.
Q. What should plus size girls not wear?
Ans. Even though there's no such thing that you can't wear, certain things should be avoided by plus-size girls.
You should also avoid flowy dresses that have no shape and lack definition. You should emphasize on clothes that have a defined waistline because it makes you look lean. Lastly, you should wear everything with confidence and be proud of your body.
Q. What should a plus size girl wear to college?
Ans. Being a student you want to dress trendy yet comfy. The best option for chubby girls is to wear straight jeans with t-shirts or tops. Other kinds of jeans like flare or bell bottoms can also be worn on special events.
Another option is to pair skirts with blouses and tops, the most suitable choice for students are wrap, a-line, or pencil skirts in the appropriate length.