Kitenge Dresses for Plus Size Women: Hailing from Africa and originally known as Chitenge, Kitenge fabric is often used by African women for different purposes. In recent times, where versatile designs and heritage are becoming an active part of the fashion world, this fabric and its bold clean prints have become widely popular everywhere.
These prints show a unique and vibrant aspect of a woman without compromising on our feminity. For plus size women, Kitenge can be a great choice for everyday wear and we have collected some of the best styles that you can recreate in your own ways and come up with great looks. These outfits are bold and extremely comfortable to wear for long events and days and dive in to explore some great culturally sensational looks.
How to Wear Kitenge Dresses for Curvy Women
High-waisted Kitenge skirt will not only give you a great hourglass figure but the wide and bold print will also give you a slimming outlook.
The time of wearing same prints for top and bottom is long gone, so try to mix and match different prints while dressing up.
Try belts and fancy embellishments and accessories for a more stylish look because Kitenge is all about going wild.
Wear light colors of kitenge for areas you want to showcase and dark solid colors for areas you want to hide.
Keep makeup subtle with a bold color of lipstick.
Choose footwear that will not only be comfortable but will also complement your dress.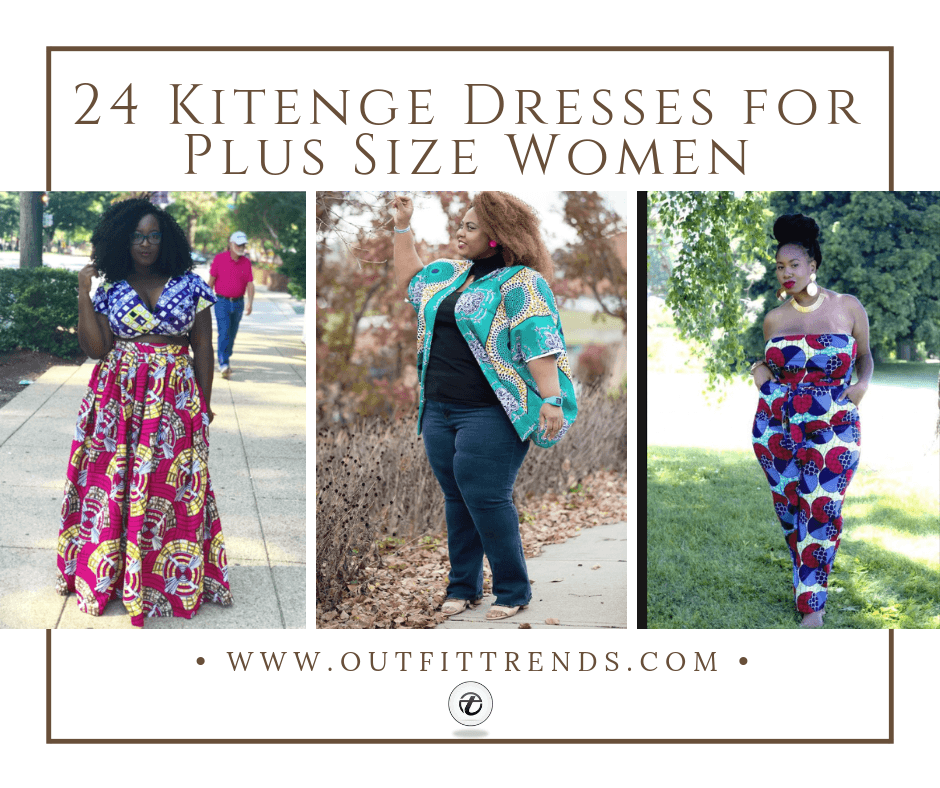 ↓ 24. Plus Size Kitenge Dress for Work
One of the most basic need of any woman is to have functional pieces in her wardrobe that can be worn to both office and workplace and/or for any casual lunch or dinner date alike. The best thing about this kitenge dress is that you can easily carry it to the office by wearing a matching blazer and pant combo and choosing one of the colors of the vibrant print to be worn as the inner shirt. For a more daring look, go with this striking color of blue. However, if your workplace is slightly conservative in terms of dress code, you can go with simple options like black, beige or brown. Here are 18 Best Plus Size Celebrities Outfit Ideas from This Year.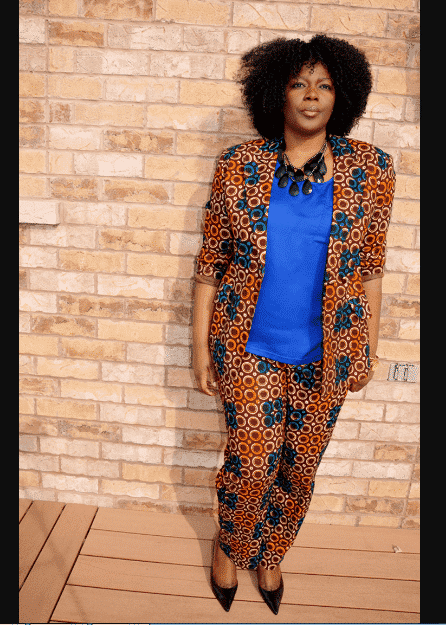 ↓ 23. Outfit For Weddings
Wedding outfits need to be perfect with just the right click between something that is sophisticated yet fun. Wear a beautiful metallic statement top in dull gold, silver or beige color with a poofy skirt in maroon or burgundy. The button detailing on the front adds a fun element to the dress, and you can wear a similar print turban on the head to give an authentic appeal to the whole outfit. Big hoop earrings with a touch of gold will be perfect for the occasion.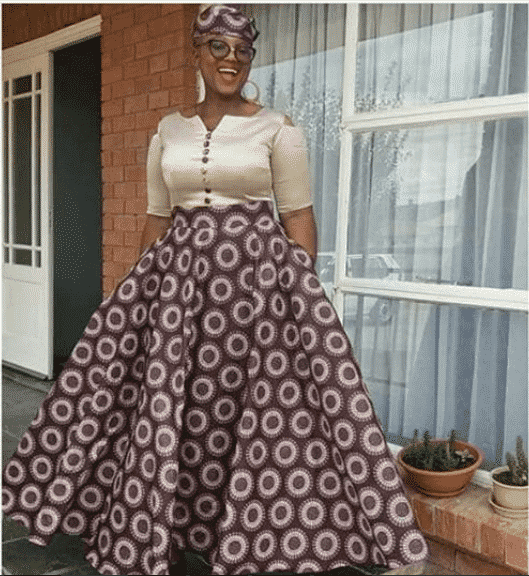 ↓ 22. Wearing Kitenge with Style
Kitenge needs a lot of panache and confidence to wear it with style. To add a nice feminine flair to your outfit, pair up a bright lace top, which is a summer staple for every woman, with a high waisted paneled skirt, which gives you the slim silhouette you are after. Wear it with black heels for a classic look.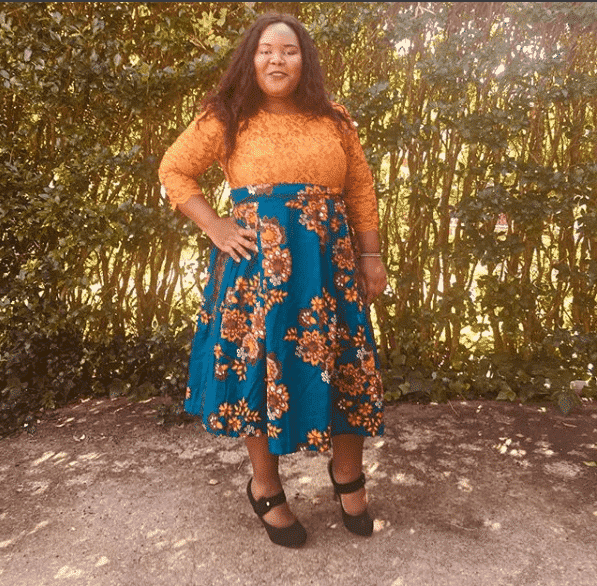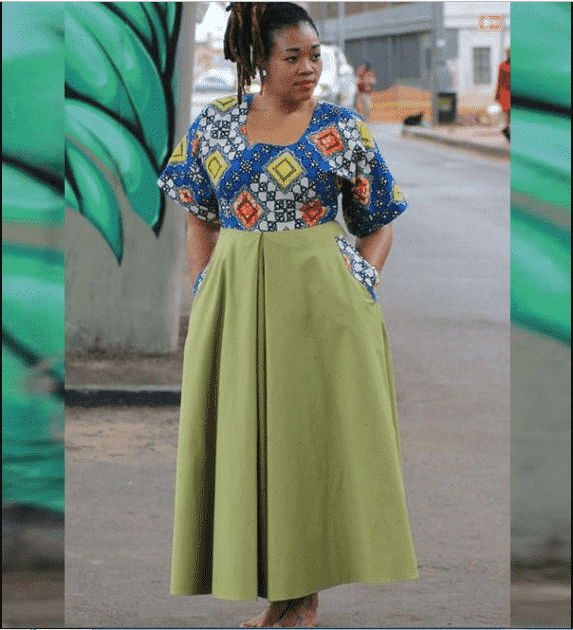 ↓ 21. Baby Shower Outfit Ideas
If you are planning to go for a baby shower, and in case it is for a precious baby girl, you can always opt for something with a subtle hint of pink in it. This dress is ideal for a plus size woman with an hourglass figure, or create the illusion of an hourglass figure. Going with puffy sleeves gives you a slimming effect and takes attention away from broad arms or shoulders, and the dark black stripes stitched into the dress fabric gives you a perfect figure. You can get a similar dress from here. Wearing it with simple metallic heels will complete the look.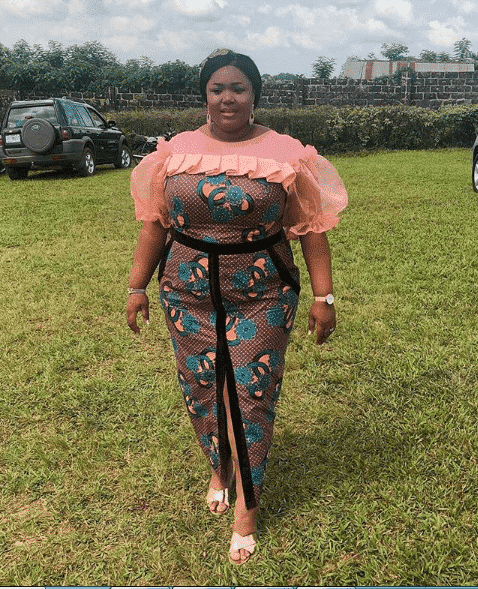 ↓ 20. Kitenge Kimono Jacket
Kimono jackets can be the perfect piece to add to a simple outfit to take it to the next level. If you love colors and big bold prints, this is something that is heavenly for you. Wear a jacket kimono with a simple black shirt and jeans outfit along with some fancy sandals and you are ready! You can find great plus size kimono jackets here. Don't miss out these 25 Best Kitenge Designs For Work.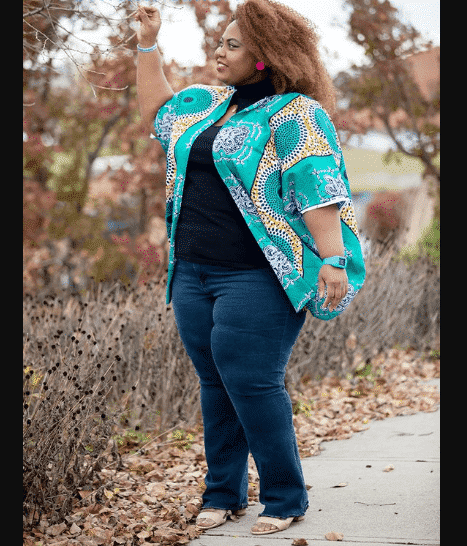 ↓ 19. Travelling Attire
Whilst traveling, Ankara dresses can be really comfortable as well as graceful. You can wear a kitenge overcoat over a simple gingham maxi dress to give it an edgy look and pair it with a similar print bandanna. Wear comfortable shoes like flat sandals or slip on so that you won't face any pain in the feet while traveling. You can even wear long silver earrings because kitenge is all about bigger and bolder outlook.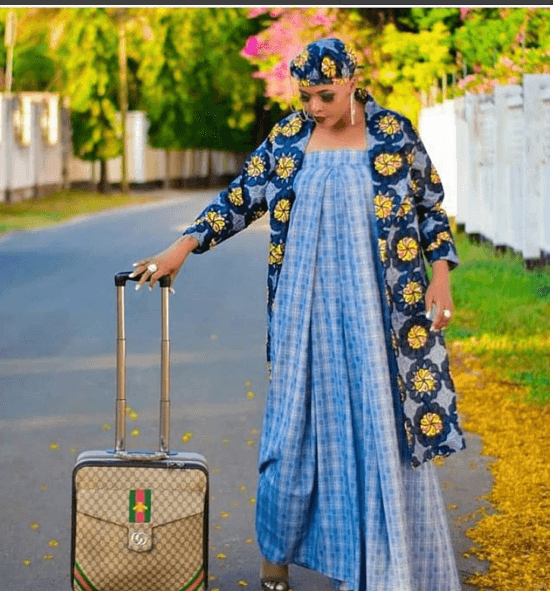 ↓ 18. Glamorous Party Outfit
Not only should be the kitenge print for the party outfit has to be glorious but even the style of the dress has to help to complete the whole outlook. Kitenge is versatile enough to be used in party outfits and a slim fit mermaid style gown with stiff frills at the bottom and double-styled bottom is nothing less than glamorous for any party you have to attend. The bateau neckline gives you to show a little skin and leave the rest to the imagination. You can get a similar outfit from here.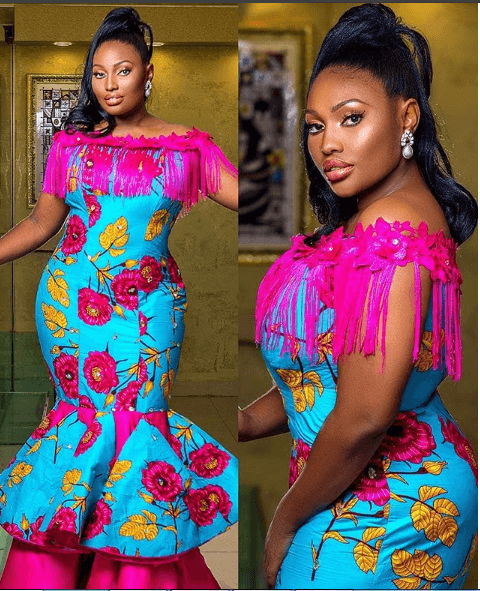 ↓ 17. Style Statement with Kitenge
Go wild with your outfit, by matching a bold print with an even bolder style. Umbrella sleeves go really well on a mermaid style kitenge gown.
↓ 16. Lunch Outfit Ideas
A short shirt dress has a great boho vibe around it and can be the perfect outfit for lunch date with friends or family in summer. Wearing a cowl neck asymmetrical shirt with bold prints along with chunky bead bracelet is a style statement that is difficult to forget. Let your hair loose and wear some bold heels to feel happy and fresh.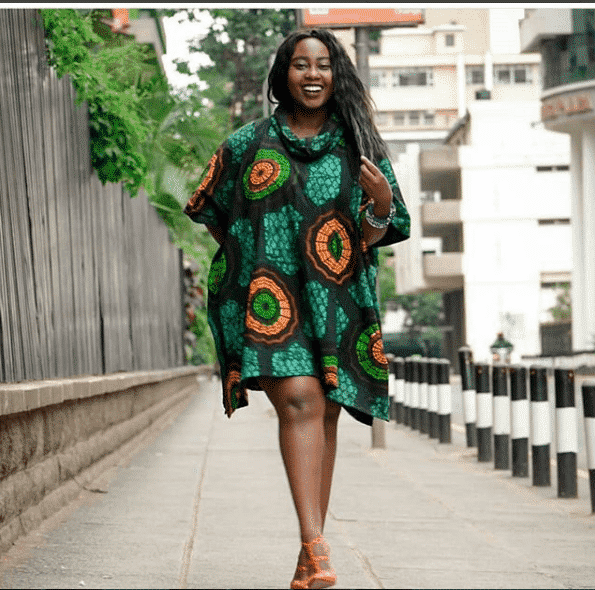 ↓ 15. Kitenge Slit Skirt
Why keep towards simple skirts when you can add an element of sexy to it? Wear a slit midi skirt with a faded chambray shirt or a simple white tee for a casual sightseeing outfit. Golden or black choker will look divine with this outfit and go for fancy pumps and ditch your heels for once. If you like modest outfits, here are 20 Best Kitenge Designs for Long Dresses 2018.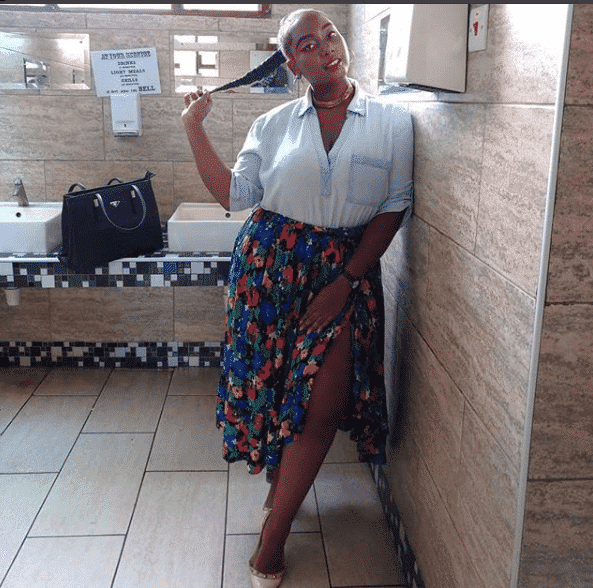 ↓ 14. Summer Picnic Outfit
Nothing like relaxing and soaking the sun at the same time and adding a nicely made food basket into the mix. Whether you plan for a simple picnic in the garden or your own backyard or are invited to something more formal, we have the perfect outfit for you. A simple kitenge blouse and skirt in matching prints is ideal for a summer or fall picnic and you can choose colors that best represent the season you are going to the picnic in. Choose the footwear according to the plans so that you will be able to enjoy.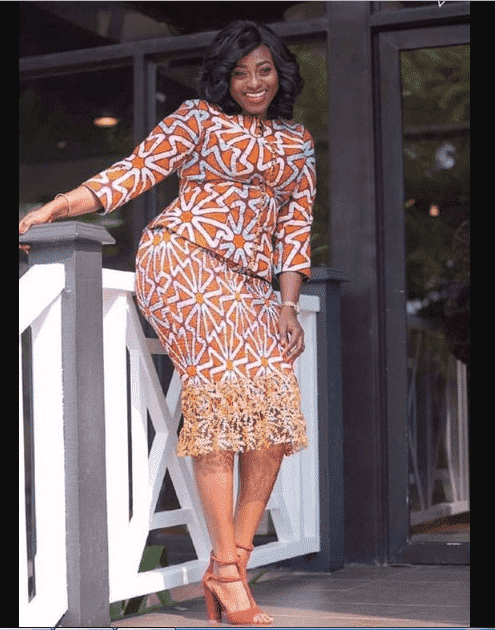 Via
↓ 13. High-Low Kitenge Dress
Go for a High-low red dress this time for a cocktail party and make waves! A high-low dress is the best choice for any event you want to go to because it can be dressed up according to your needs. The hemline and free flowing skirt is ideal for long events and dancing nights, and choose bright colored accessories to make a bold statement. Let the fun begin!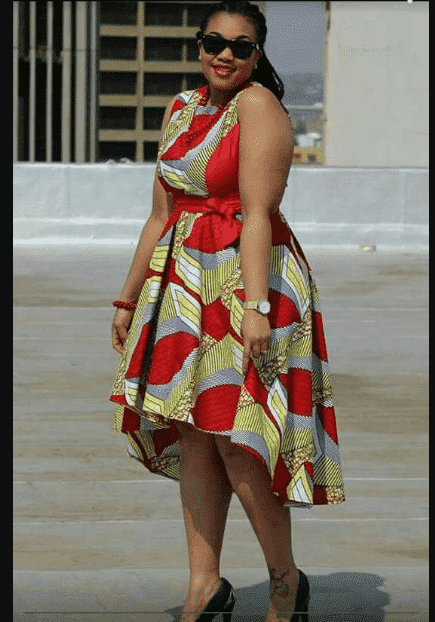 Via
↓ 12. Bodycon Dress
If you are a body confident women, you will never shy away from a bodycon dress. Bodycon dresses with the right fitting can totally enhance your looks by showing all the right assets. Take heed that the print of your bodycon dress should always be vertical to give you that elongated look. A high-collared dress is also very flattering for plus size women. Wear heels with a bodycon dress for a glam look.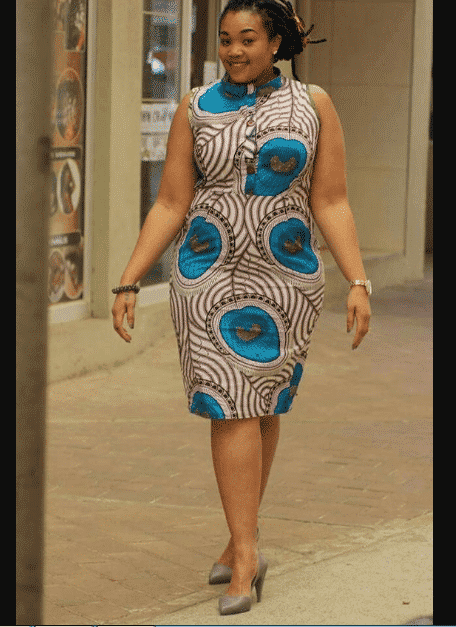 Via
↓ 11. Mermaid Style Dress
Make a dramatic entrance at the next important event you have to attend by wearing a mermaid style kitenge outfit. A touch of dark hues like black at the sleeves and shoulders hide them well and gives you an enticing look and the slightly poofy peplum base covers your trouble areas well. The black verticle color lines and curves also give a shapely look to the whole dress. Wear black chunky heels for a comfortably stylish look.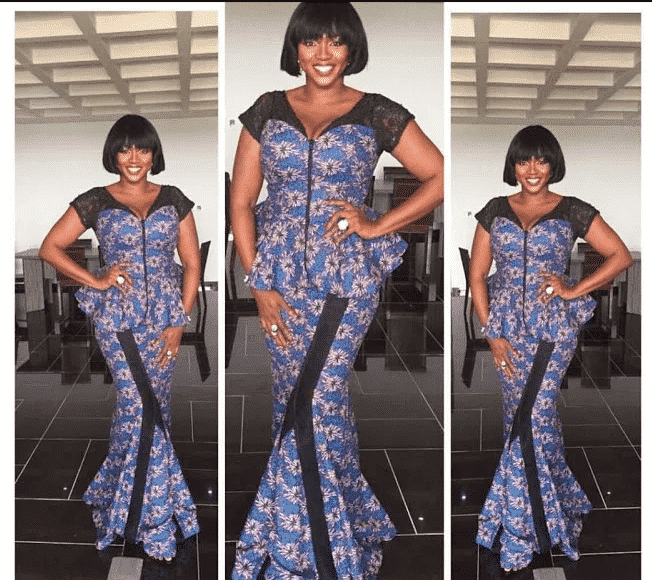 ↓ 10. Holiday Party Outfit
If winter has arrived and you are in a fix for your next best holiday party outfit, a kitenge skirt is a wardrobe staple that will go with anything and end all your outfit worries. Wear a full sleeves warm shirt or cardigan with a high-waisted skirt and add a little extra to your blouse by adding a flower embellishment to it.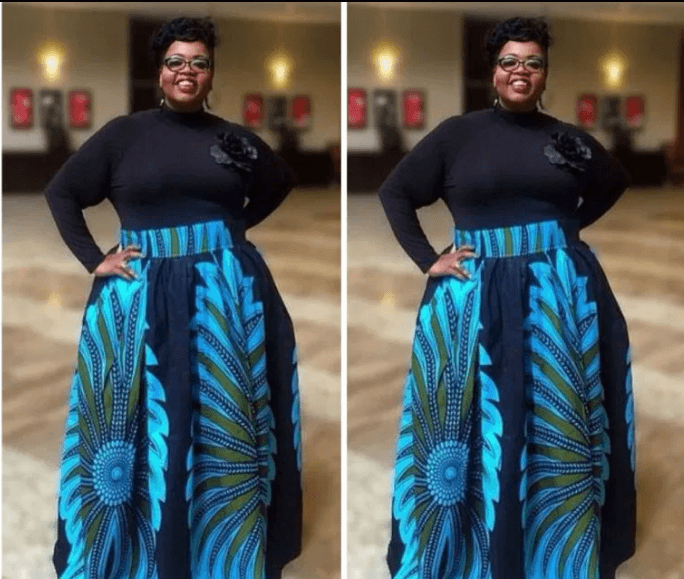 ↓ 9. Maternity Dresses
History tells us that pregnancy gives women a warm natural glow so as far as you are the mama, anything goes! Wear a short and loose fitted short dress which can be the perfect outfit for your own baby shower or any other party taking place while you are pregnant. Awesome kitenge maternity outfits are now available for a mother-to-be and you can rock it with your own elegant touch.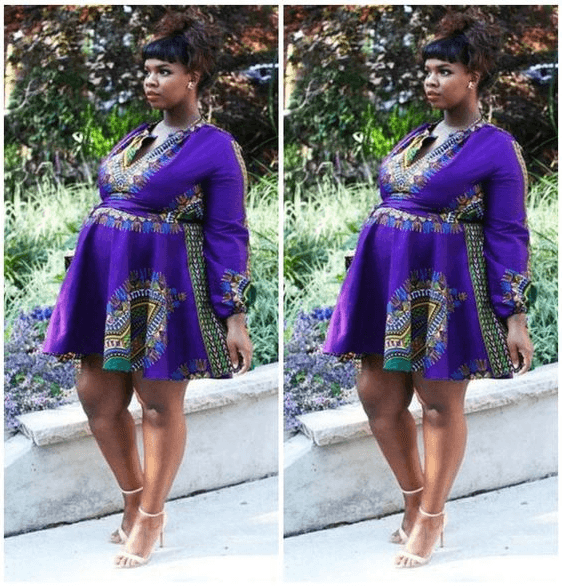 ↓ 8. Birthday Party Outfit Ideas
If it is your birthday, stand out from the crowd in a beautiful kitenge outfit. Choose a white top with embroidered or crocheted sleeves with a flair and tie it above your waist for a strong crop top look. Wear an A-line frilled maxi skirt with this top with a ribbon detail to give you a nice hourglass look. Wear an intricate necklace and big circular earrings because accessories are a must for a great look.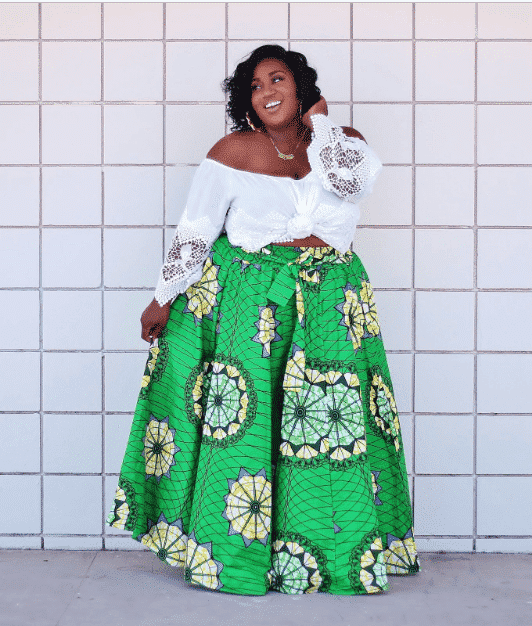 ↓ 7. Mixing Prints
Mixing and matching different kitenge prints together can turn out to be quite fruitful. Select a geometric print crop top and a bold printed long skirt in colors that go well together like blue and green, and pink and purple. Keep the skirt high-waisted and try on some heels with this look.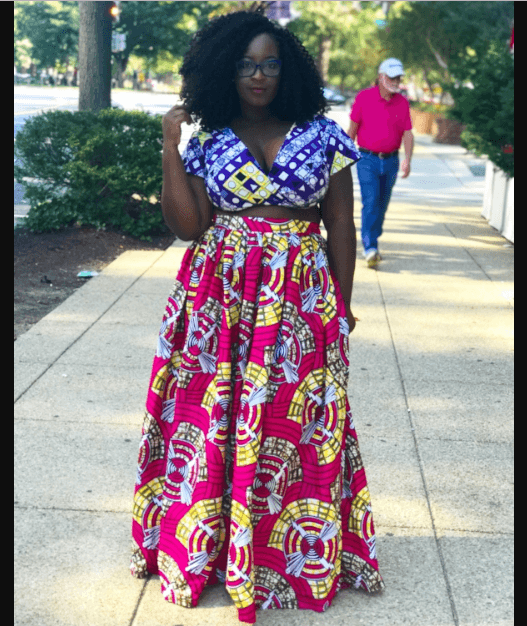 Wearing a striped shirt with high-waisted Kitenge skirt is also a great option for evening or daytime wear.
↓ 6. Jumpsuits
Jumpsuits are not only the best option for dressing up at a short notice but also give you a very chic appearance. An off-shoulder jumpsuit in darker shades is perfect for summer afternoon outings and shopping plans. You can always dress up the jumpsuit for night events by wearing a metallic necklace and big earrings to create a polished look. Try a bold lip color and keep your hair up in a stylish bun for the evenings.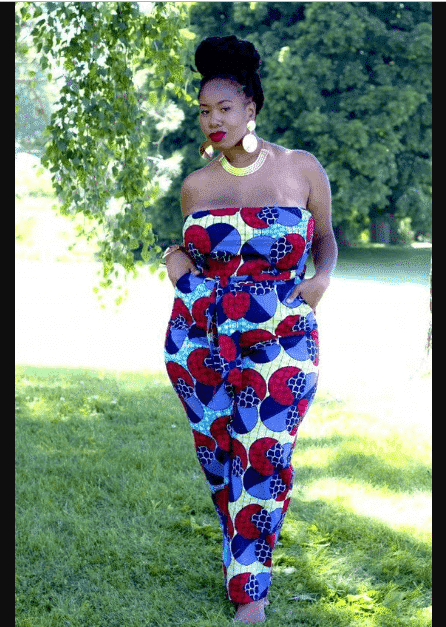 ↓ 5. Dressing Up for Spring
Spring is all about florals and bright hues and the time for flaunting short dresses. If you are searching for cute spring outfits, the first in the list are definitely kitenge short dresses with a loose bodice and a flowy feel and electrifying colors like yellow and neon green. Add in a bold lip color and heels and you are good to rock and roll! Have a look at these Kitenge Dresses for Young Girls.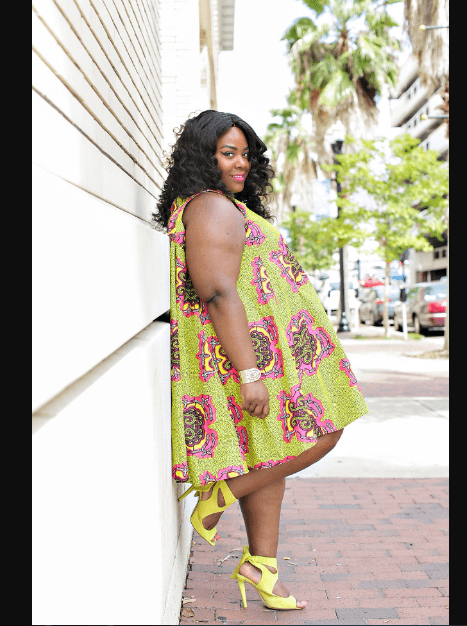 ↓ 4. Peplum Top with Subtle Skirt
To create a statement piece out of your kitenge peplum top, wear it with a nude or subtle colored skirt. The contrast between a printed top and a plain skirt gives you a very elegant look and this outfit can be worn for formal gatherings or parties. You can also wear this outfit to the office. Add a belt slightly above your waist to give that illusion of an hourglass figure.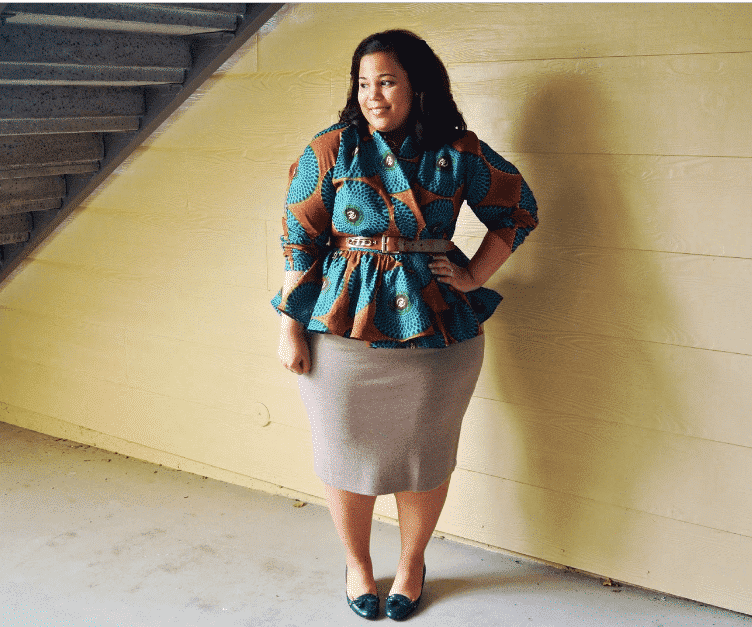 ↓ 3. Footwear
If you have ever felt uncertain about wearing colored heels with dresses or felt unsure, this is the time to try them on with confidence. Bright hues like blue, purple, pink and green amongst others go so well with your kitenge outfit. Choose heels that feel comfortable to you. You can also wear flats or chunky heels for long events.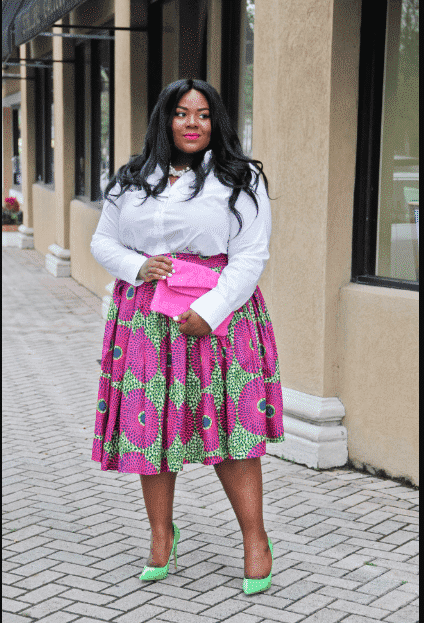 ↓ 2. Accessories to Wear with Kitenge
Always go for chunky jewelry with these dresses. Usually, rustic jewelry like beads and wooden jewelry will look amazing but for a more formal appearance, you can also opt for some metallic bling or articles made from pearls.
Carry a smart clutch or a chic beige colored crossbody bag because these are not only the trendiest options but also easy to carry around without causing any discomfort.
Lastly, don't forget to tie the traditional Kitenge print African band on the head to recreate the perfect look.
Via
↓ 1. How to Wear Makeup with Kitenge Dress
With a kitenge dress, the makeup has to be sensational to carry the look flawlessly. The best makeup look should include a subtle metallic eyeshadow with a thin eyeliner. Add in a lot of highlighting and a bold lip color like red, maroon or pink with a subtle blush for the cheeks.