Skirt Outfits for College Girls. A skirt is a timeless piece that has been a part of women's wardrobes almost since the dawn of time. Like most clothing pieces, it has had its highs and lows according to the shifts the fashion industry is constantly undergoing.
Sometimes it's very in; sometimes it's less so. However, the skirt remains a classic expression of femininity that women everywhere still love and cherish. So what about college? You might be wondering. Guess what? Like almost anything, you can totally wear a skirt to class. (Note we said almost anything. Wearing pajamas to class is probably not a good idea. But you do you, boo.)

How to Wear a Skirt to School and College
Whether your style is edgy and goth or classy and feminine, there's a way to incorporate a skirt into your wardrobe in a way that suits you. Keep reading to find out how.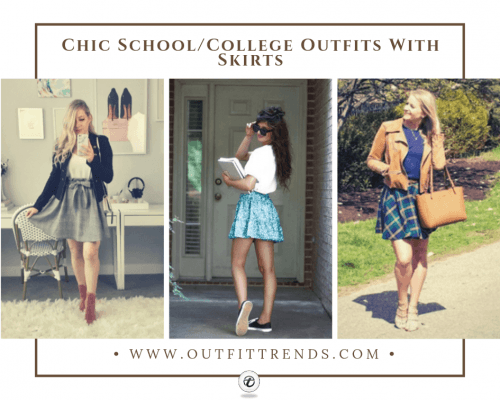 Here are 35 fabulous ways you can wear a skirt on campus!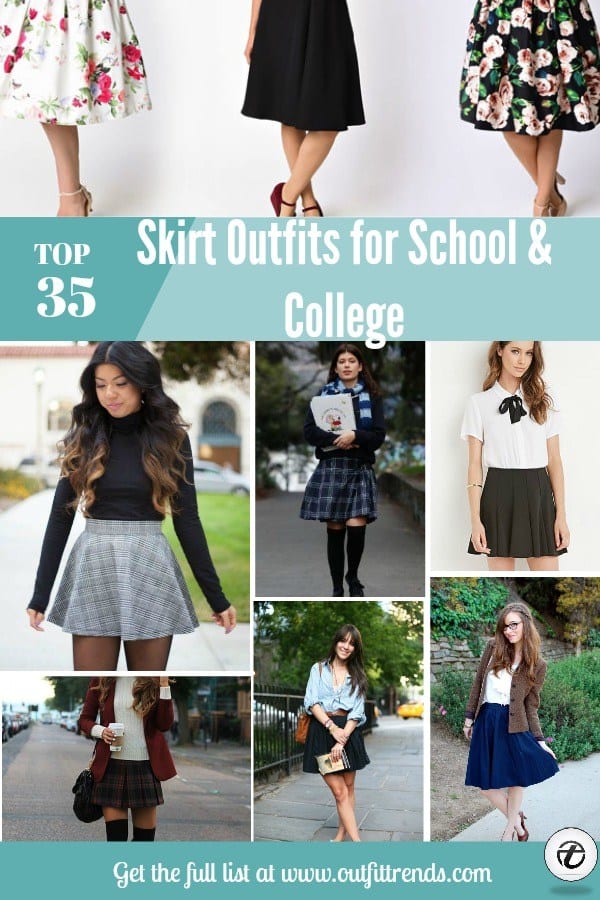 ↓ 35 – Cute, Girly Outfit for College
Our first look is so cute you are going to want to try it today! Simple, feminine and classic, this look is perfect for the girl who loves a little bit of a preppy vibe for her outfits! Start with a classic black turtleneck and tuck it into a high-waisted checked gray skirt. Wear with dark, sheer tights and accessorize with silver drop earrings. For footwear, this outfit would look lovely with some boots or kitten heels!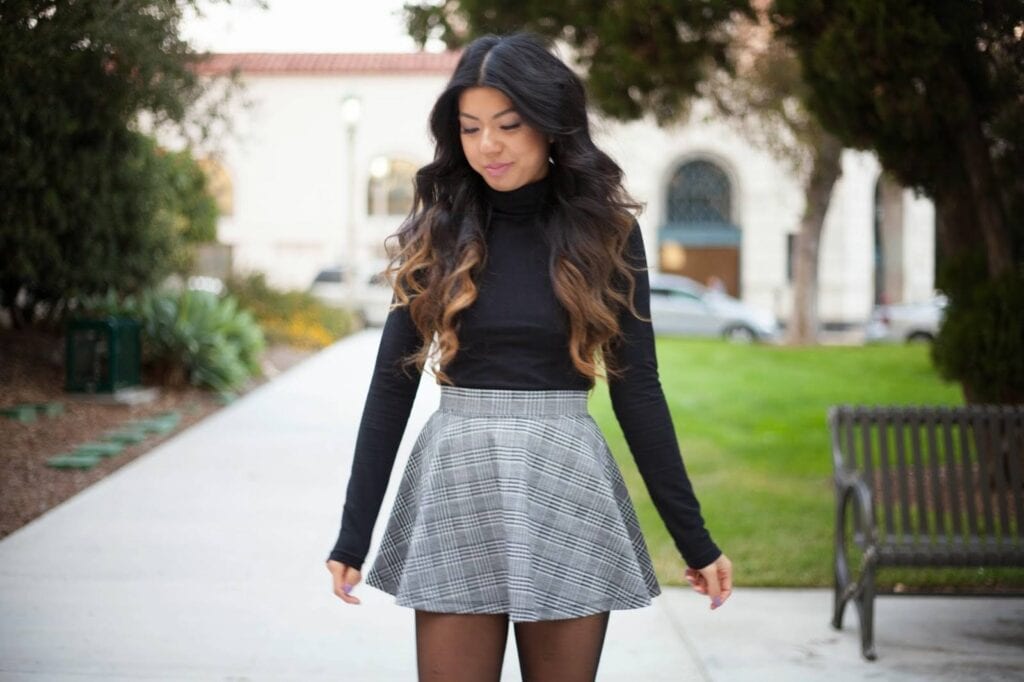 via
↓ 34 – Winter Skirt Outfit Idea For School Girl
Is cold weather hitting your area? Rest assured, where there is a will, there is a way!
Simply pair your skirt of choice (we love this charcoal gray mid-thigh length skirt!) with blue-black leggings or tights! Top it off with a cozy, comfy sweater and black heels or ankle boots!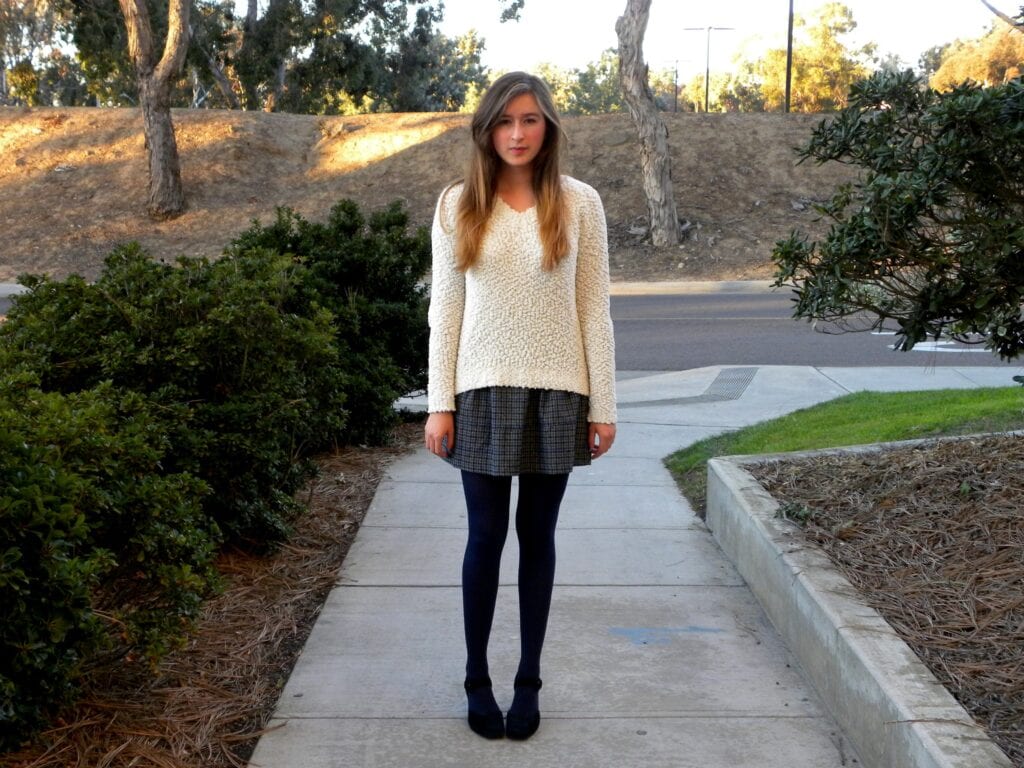 ↓ 33 – What To Wear On The First Day Of School / College?
Heading to campus at the start of another school year is anxiety-inducing for most of us. Let us cut out the guesswork for you! Check out this stylish look you will feel 100% comfortable in. After all, if you feel cute and comfy you can handle pretty much anything!
A stretchy, form-fitting skirt is chic without being too over-the-top girly. Pair with a white sleeveless crop top and add a blazer. We love these white sneakers which are trendy and good for walking on campus. Accessorize with sunglasses and the rings of your choice!
Bonus! A timely pep talk: don't worry too much about making a good impression. The best way to do that is simply to dress in a way you feel confident and comfortable in. There is no need to follow absurd fashion trends if you are not comfortable in them. Stick to your own sense of style and, as beforementioned: you do you, babe. People will like you for you, after all, not the clothes you wear! Here are 20 Cute First Day Of College Outfits For Girls For A Chic Look.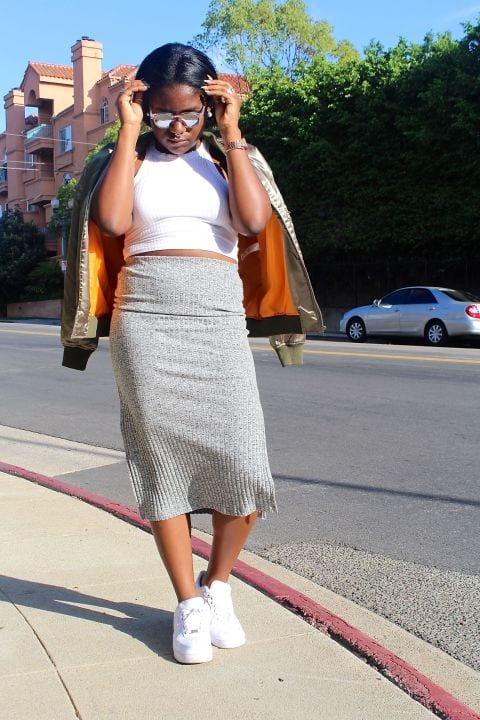 ↓ 32 – What To Wear On Last Day Of School / College?
The last day of school is usually reserved for fun. So feel free to dress up as you like on the last day of school or college! You can play up your makeup or wear something totally wild and crazy. After all, you have reached a new milestone in life. You earned it!
Check out these totally edgy looks below! (Great for a School's Out party!)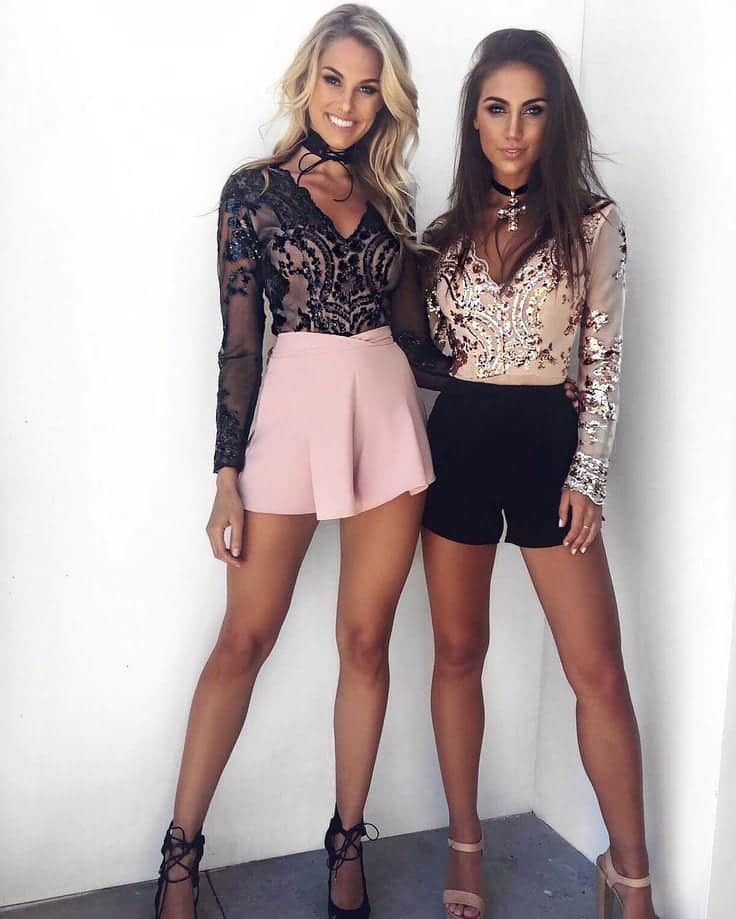 via
↓ 31 – Skater Skirt Outfits For Girls
We love this fashion-forward preppy look that carries a bit of a tomboyish edge. Pair a white button-down top with a black, circle-style skirt and sheer black tights. Pop on some boy's shoes to get that edge!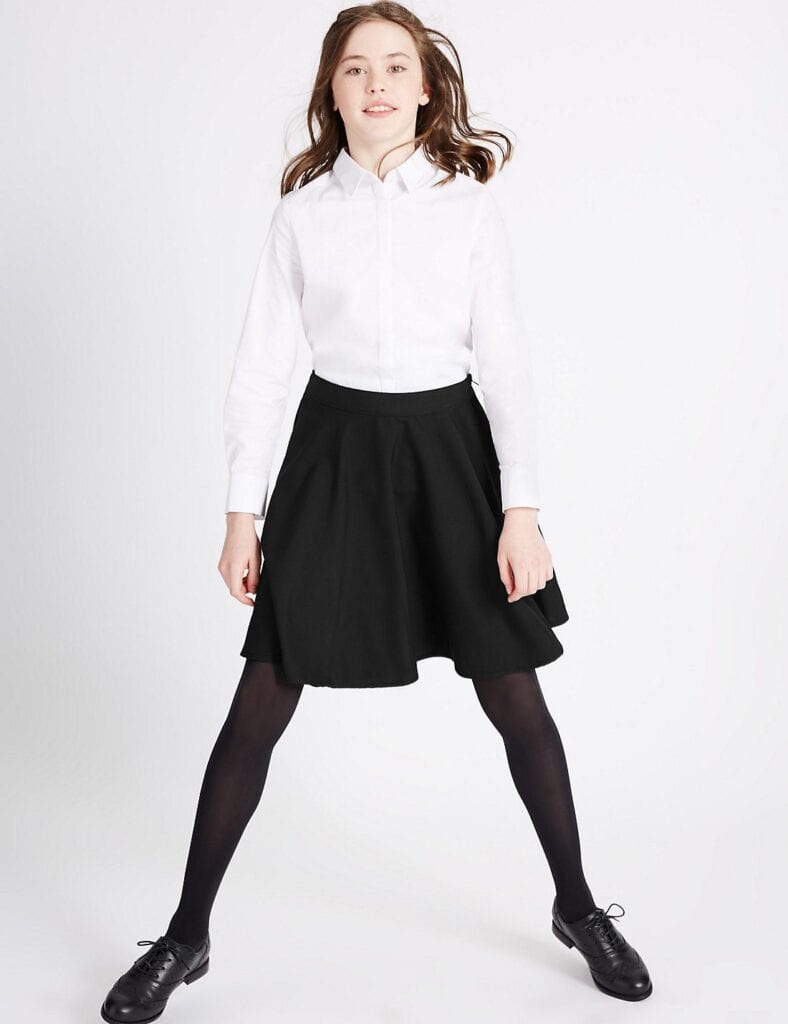 ↓ 30 – Party Outfits For College Girls
Do you love to blend styles? How about a flirty skirt paired with a totally feminine top? We love it, too!
This blouse is whimsical and sweetly tucked into a short, flirty skirt. Wear with some black tights and accessorize with layered necklaces. This is a great look for a party or for hanging with friends after class! Do check out these Stylish Wrap Skirt Outfits.
↓ 29 – How To Style Button-Front Skirts
Buttons on the front of skirts add such a great element to any outfit! You can match your jewelry to your buttons or you can just let them do the talking by providing an eye-catching accessory to your look. With this outfit, a striped, off-the-shoulder top is tucked into a high-waist white skirt. Chunky heels, a thin purple belt, and a pendant necklace bring the look together. Here's a complete guide on How to Wear Button-Front Skirts?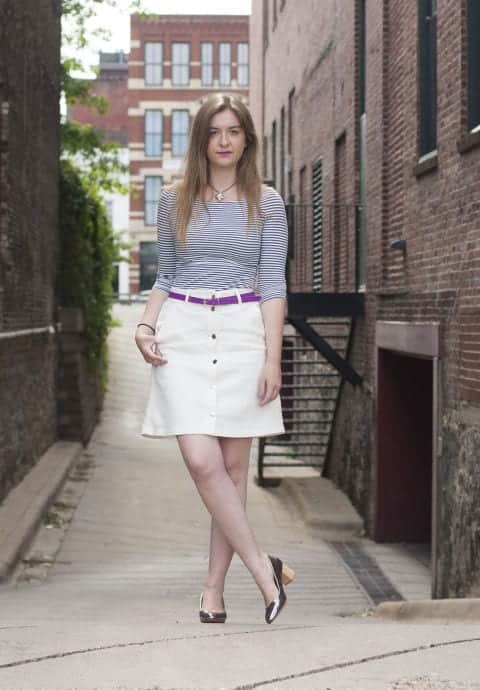 ↓ 28 – Neutral-Colored Outfit for Schoolgirl
Sometimes, sticking to neutral tones or shades can give your day-to-day look a bit of a refresher. This is a great outfit for that middle of the semester slump, when you just need to get back to your roots and wear something a bit sweet, a bit sassy, and a bit girly!
We love this leather jacket worn over a striped top tucked into a cute mid-thigh skirt. These flats are so sweet, contrasting nicely with a neutral-toned hat. Add pink lipstick for a pop of color.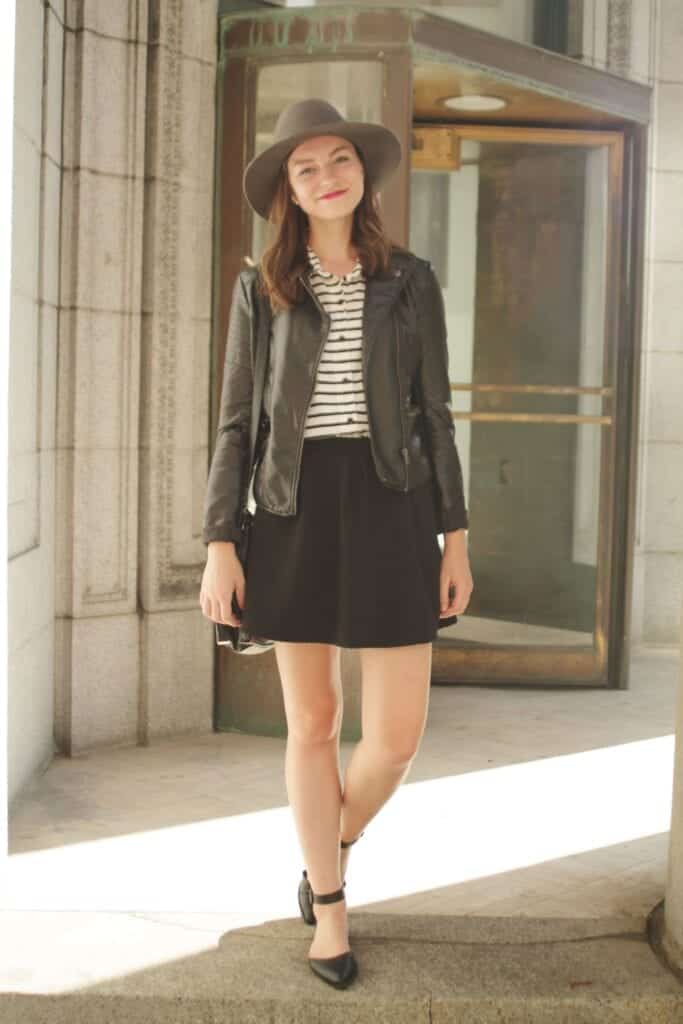 ↓ 27 – After School Outfit / Party Look
Va-va-voom, lady! This is quite an eye-catching outfit.
A form-fitting long-sleeved top is worn tucked into a paper bag style miniskirt. Wear with knee-high boots and tousled hair!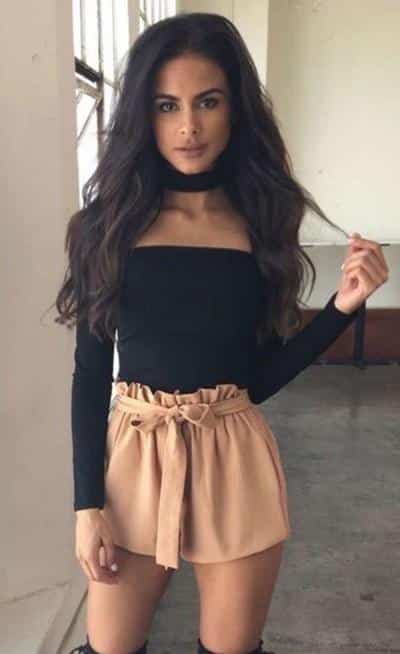 ↓ 26 – Cute College Girl Outfit / Summer Look
If you are taking college classes during the summer, this outfit is for you! Finding a balance between modesty and something that isn't going to make you pass out from the heat is tough, we know! Enter… this cute skirt!
This adorable skirt does all the talking for this simple outfit. Simply tuck in a thin white top (long sleeves are up to you!) and let your hair down. This outfit can work with sandals, little white sneakers, or similar ked style shoes! Also, check out Girls Summer Home Wear Outfit Ideas.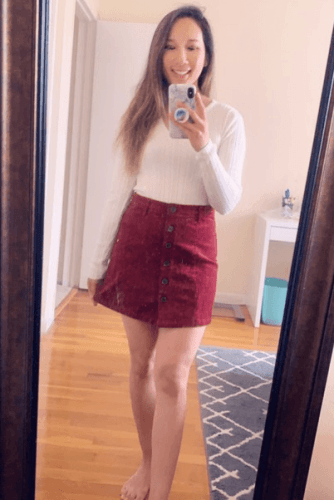 ↓ 25 – Edgy College Girl Look for For Curvy or Plus Size Ladies
Pencil skirts are a fabulous way to show off your curves. So if you got it, don't be afraid to flaunt it! This is a we-mean-business kind of look so if that's what you are looking for, you have come to the right place.
Pop on a white tee and tuck it into a black, knee-length pencil skirt. Top it off with a leather jacket, statement heels, and a crossbody purse.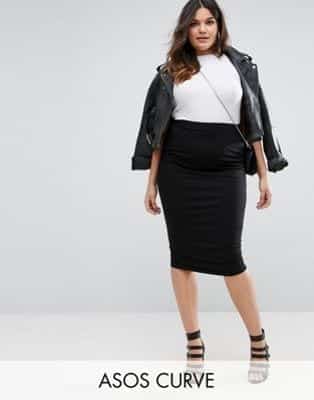 via
↓ 24 – Flirty Party Look for College Girl
Bring a pop of color to your party wardrobe with this cute yellow matching outfit! No accessories needed! Pop on your favorite heels and let down your hair and you are good to go.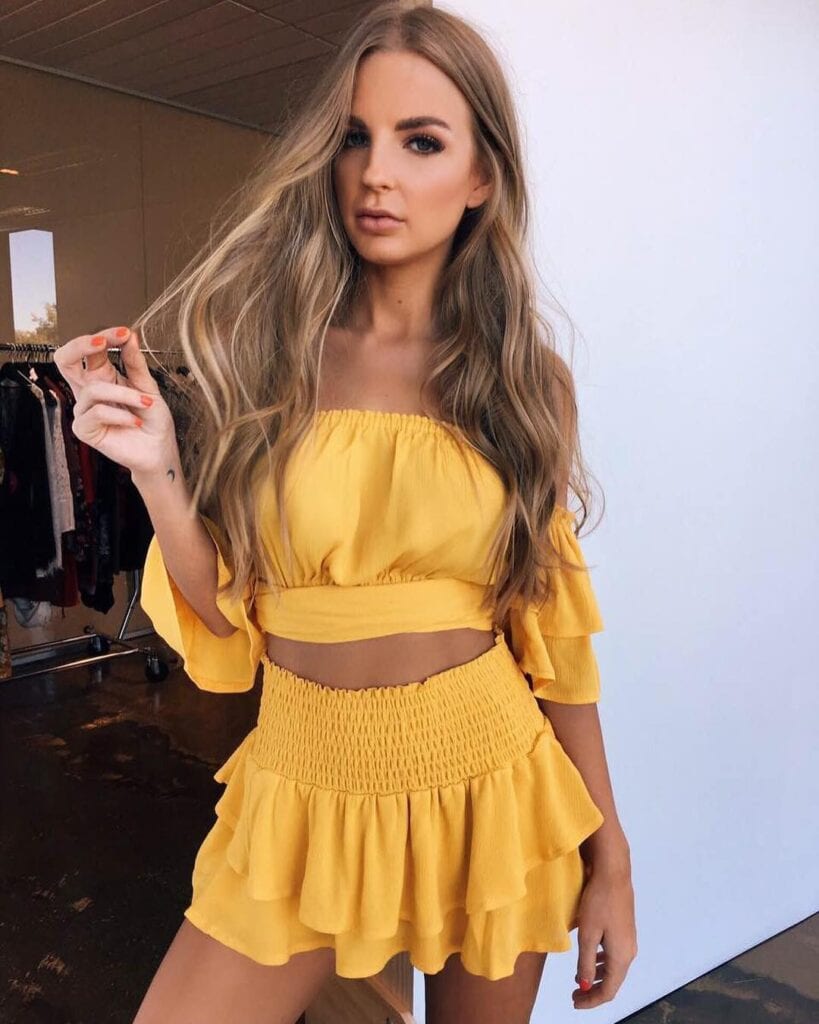 ↓ 23 – How to Wear a Leather Skirt
Another great party look featuring a snakeskin style top with a leather miniskirt! Again, this is an outfit that needs few accessories. A cute pair of earrings and a smoky eye look is all you need! Wear with heels or stilettos. Here are 20 Ways to Wear Leather Skirts.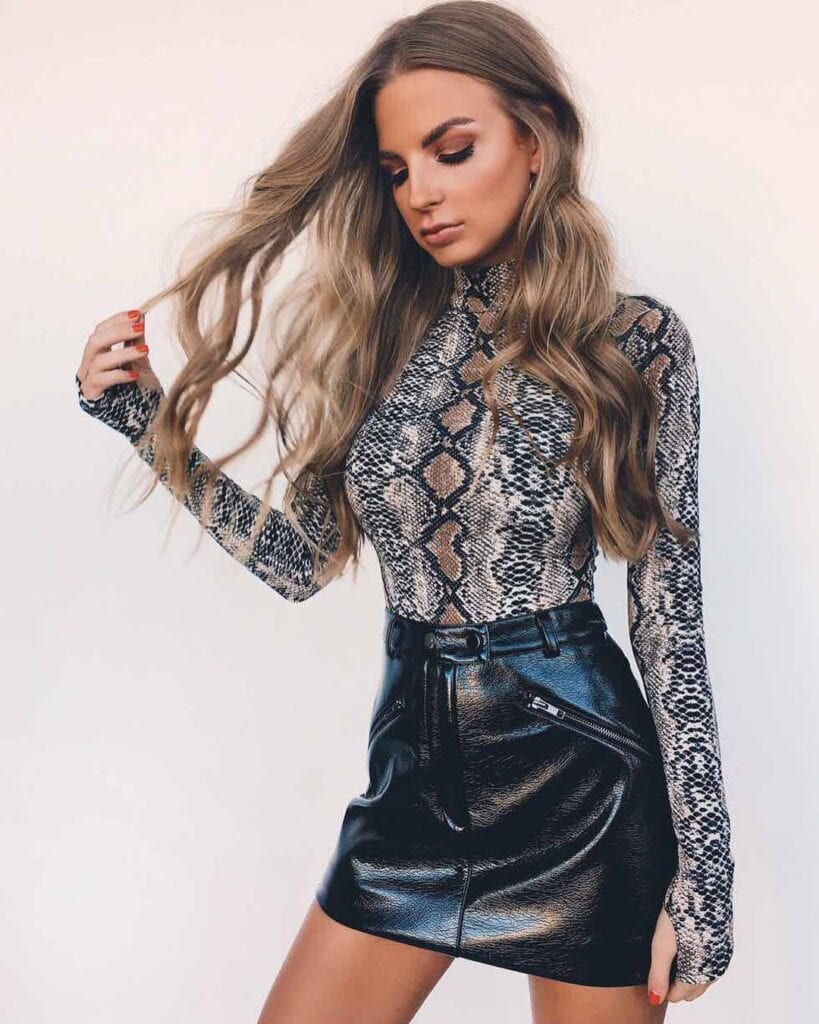 ↓22 – Ultra High-End Look for Fashionista
College is a great time to experiment with your personal sense of style. And if you have an inner fashionista itching to break loose, girl, it's time!
This is a high-end, super trend-setting look for a bold girl who loves to make a statement. Give it a whirl and then comment down below, letting us know if you loved this look!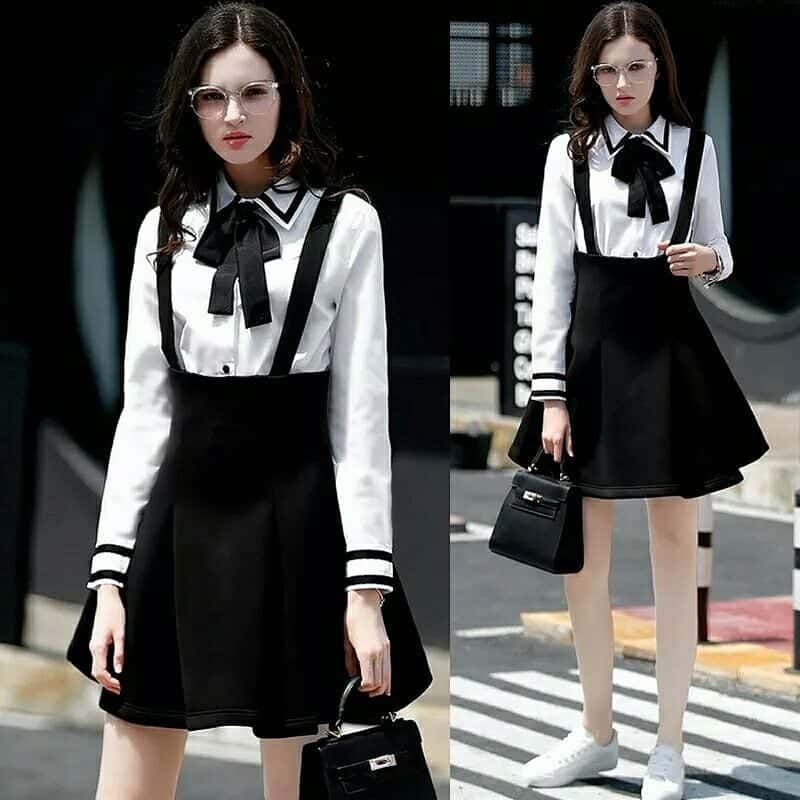 ↓21 – Hijab Outfit With Skirt
A beautiful maroon-colored maxi skirt is a lovely addition to your hijab outfit. Wear with heels and do up your makeup to show off your eyes!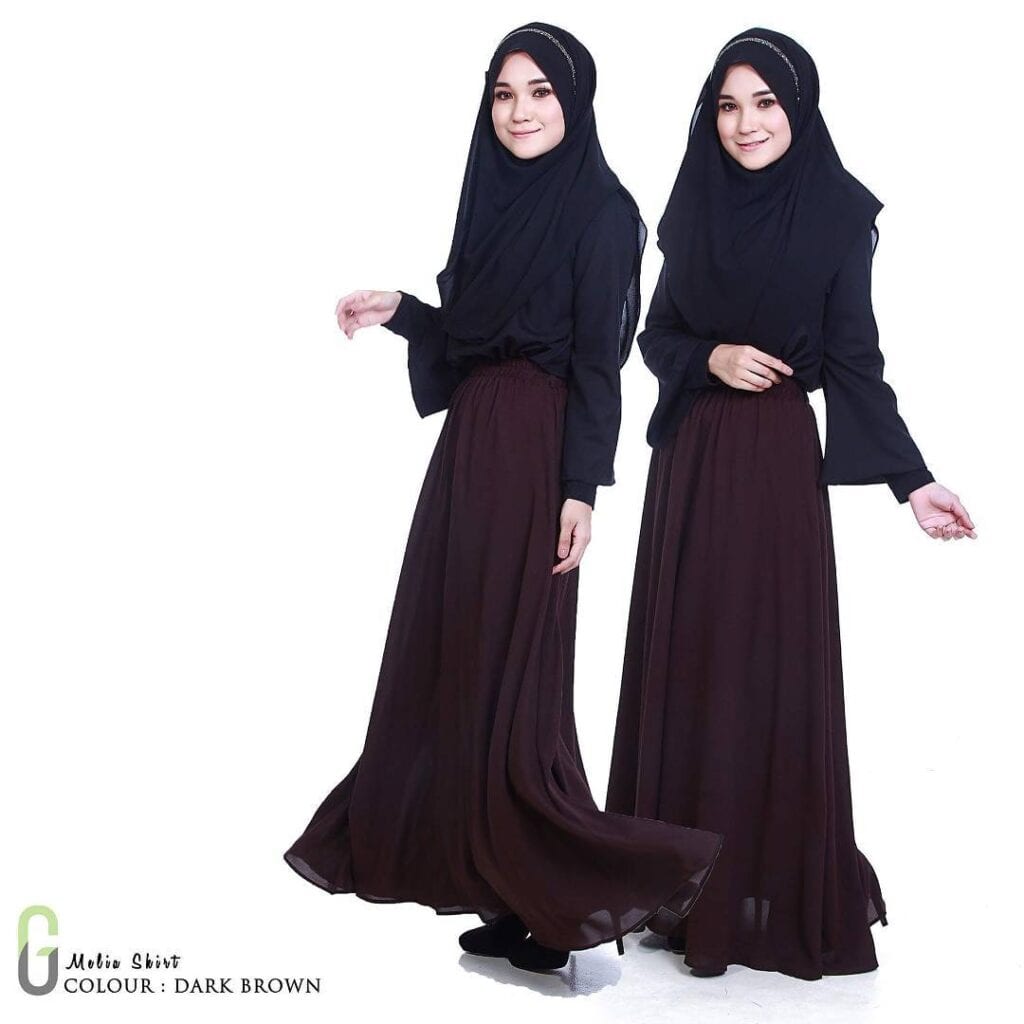 ↓ 20 – Too-Cool-for-School Outfit
We love the eclectic style of this look! A baggy sweater is worn with a black and white checkered miniskirt and some trendy Doc Martens. A bold hair color seals the deal, making you the ultimate cool girl!
↓ 19 – Accessories To Wear With Skirt Outfit
This girly look shows us some great examples of accessories you can wear with the skirt of your choice! A belt is one option. Another is a floppy or wide-brimmed hat. Purses and bracelets are other examples you can try today.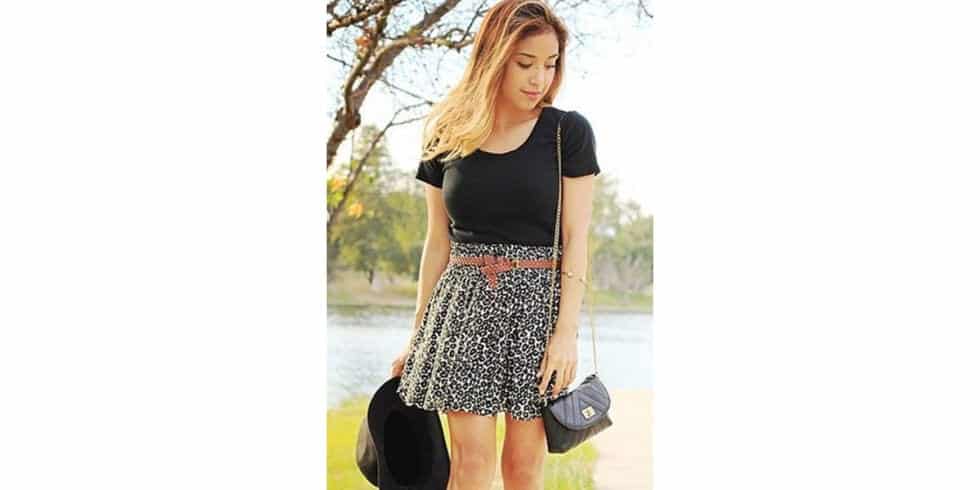 ↓ 18 – All White Outfit
This look is super stylish and easy to put together. A white top is worn with a short skirt. Long necklaces and a pair of super black sunglasses, plus some bracelets, are your chic accessories. Pair with sandals.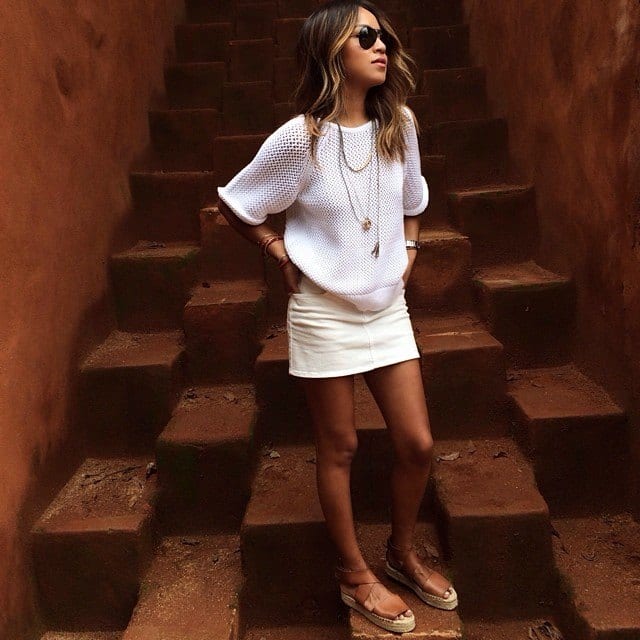 ↓ 17 – What To Wear For School Field Trip
Great for the high school girl headed on a field trip! This is a cute, stylish way to show off your love of fashion!
Tuck a high-necked white blouse into a high-waist skirt and tie it off with a plaid shirt. The plaid shirt around the waist is such a great addition to your outfit in case you get cold or just feel like covering up. Accessorize with a coordinating purse, sunglasses, and bracelets. For shoes, little white sneakers or Oxford shoes would be perfect!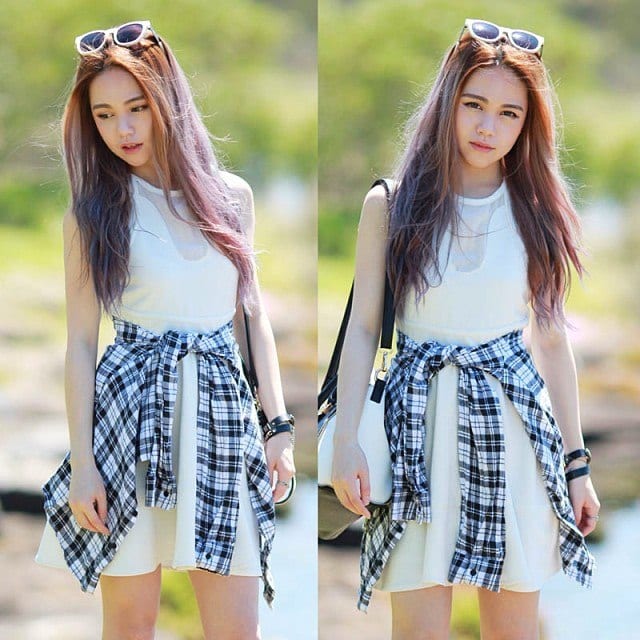 ↓ 16 – Bodysuit and Jean Skirt Outfit
Cute and stylish for spring? Yes, please! This is a simple outfit but is endlessly versatile. Wear it for hanging out with friends, a late afternoon class, or even a casual party. Here are some more Outfits with Denim Skirts.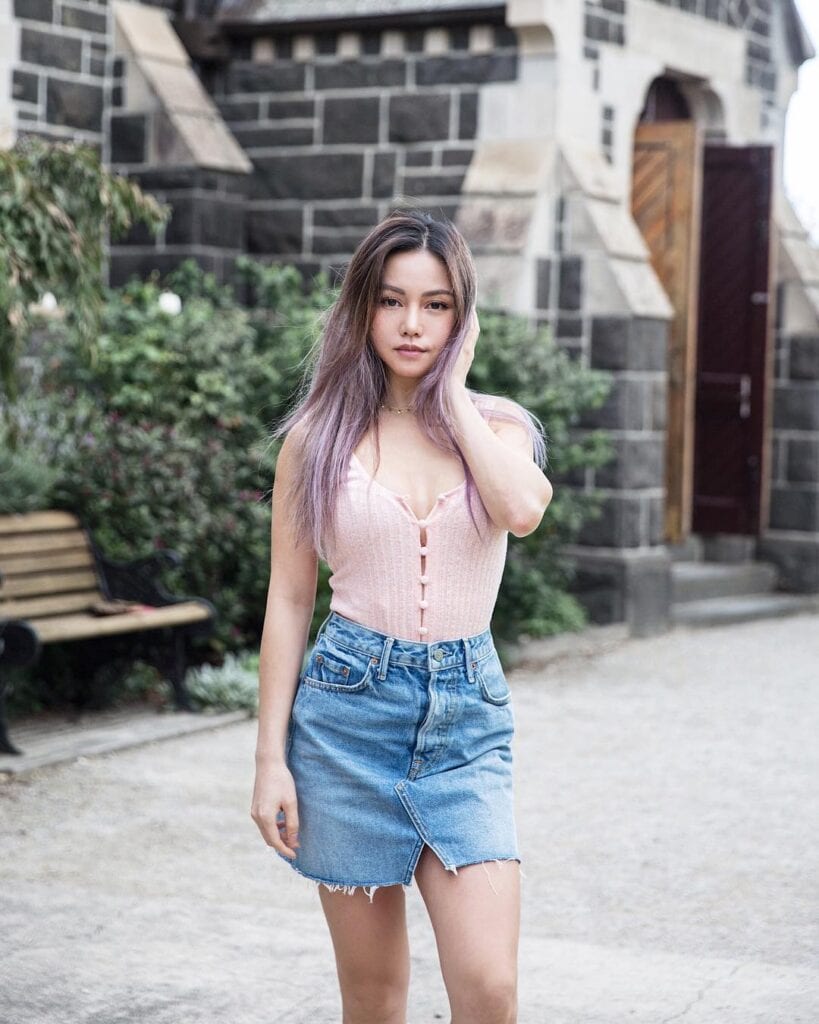 ↓ 15 – How To Wear Bomber Jacket With Skirt
It's simple! Keep an eye on the length of your bomber in coordination with your skirt. Hip-length is a good bet for your jacket. Make sure it's fitted and that your jacket doesn't hit a voluminous spot on your skirt, as it will look too baggy. A sleek pony and white tee let this patterned blazer do all the talking!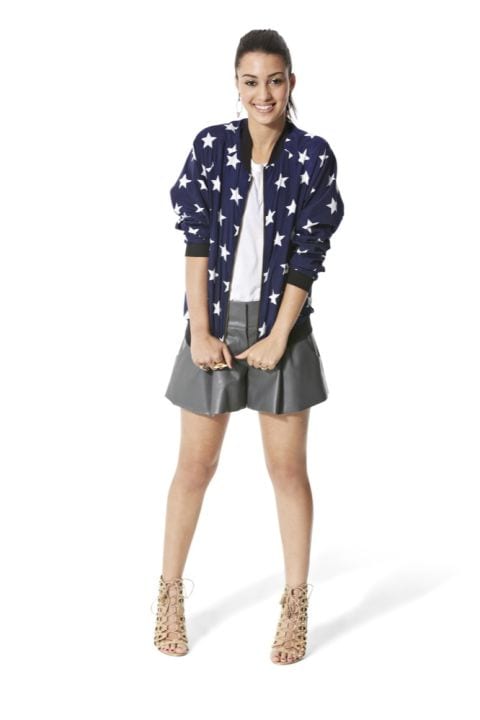 ↓ 14 – Tank Top Outfits With Skirts
Tank tops are a trendy summer outfit item. You can easily pair them up with skirts. They look really good with long sarong type skirts. It can also be worn with denim skirts or plain cotton skirts. It makes up a comfortable outfit for girls of all sizes. Here are some more Cute Outfits with Tank tops.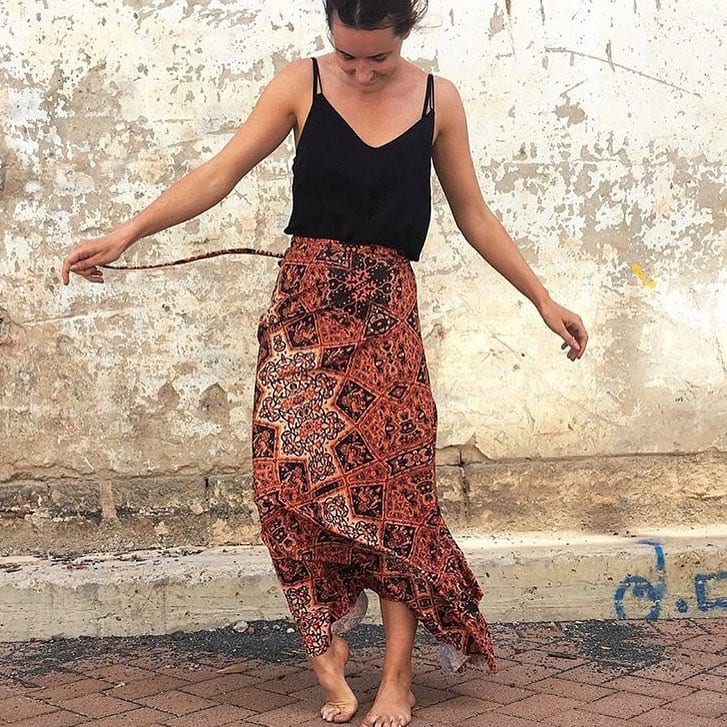 ↓ 13 – Whimsical Skirt Outfit and Red Lips
If you're a girl who loves a whimsical skirt, have we got the look for you! This outfit needs little description. All we would say is: have fun with it and BE YOU!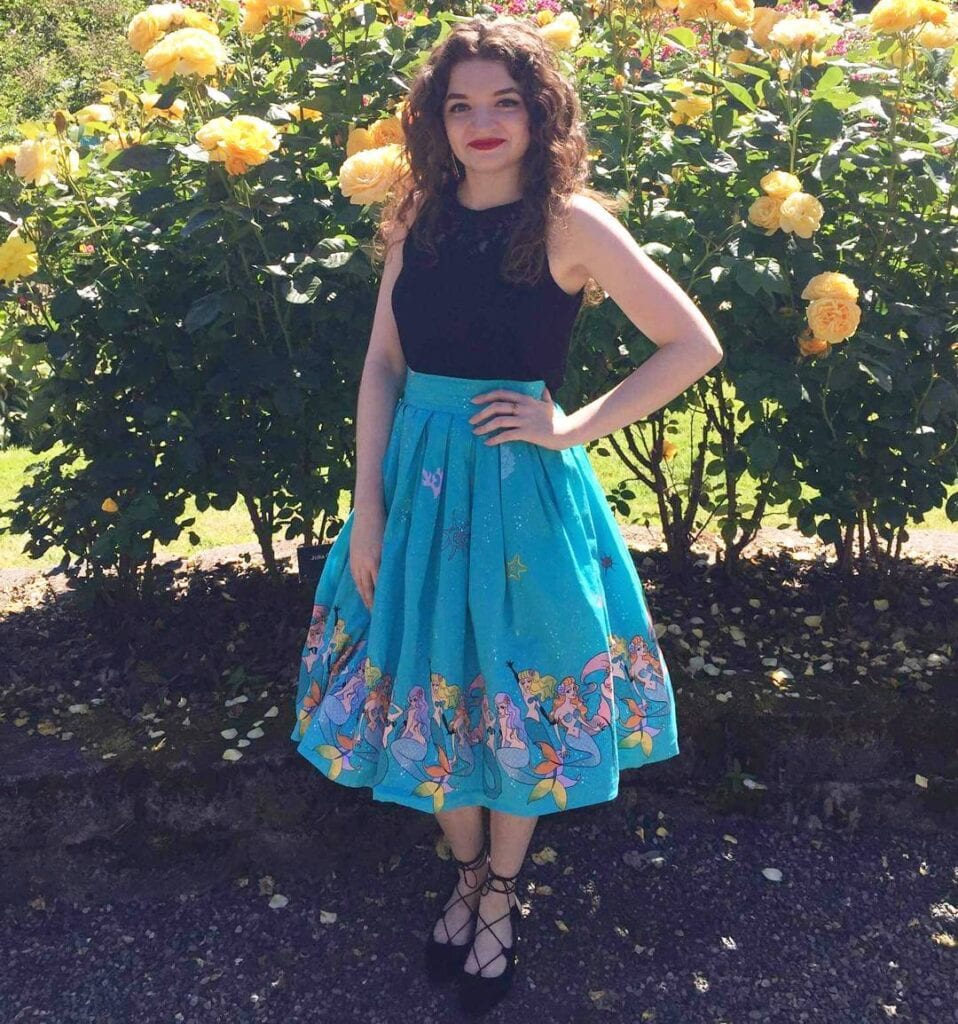 ↓ 12 – Floral Skirt For Girls
A floral shirt or blouse with a plain skirt is timeless! Check out these awesome Yellow Skirt Outfits.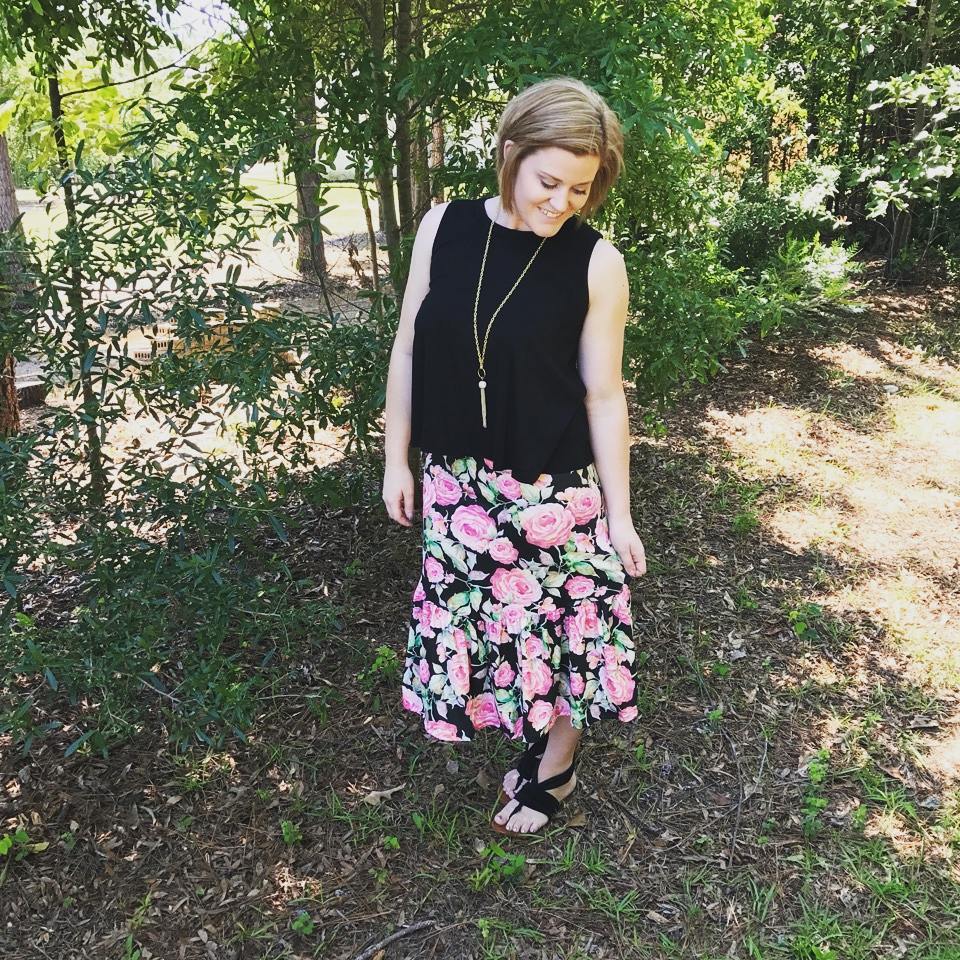 ↓ 11 – Pleated Skirt Outfit
How. Cute. Is. This. Look.
Indulge your love for girly things with an outfit like this!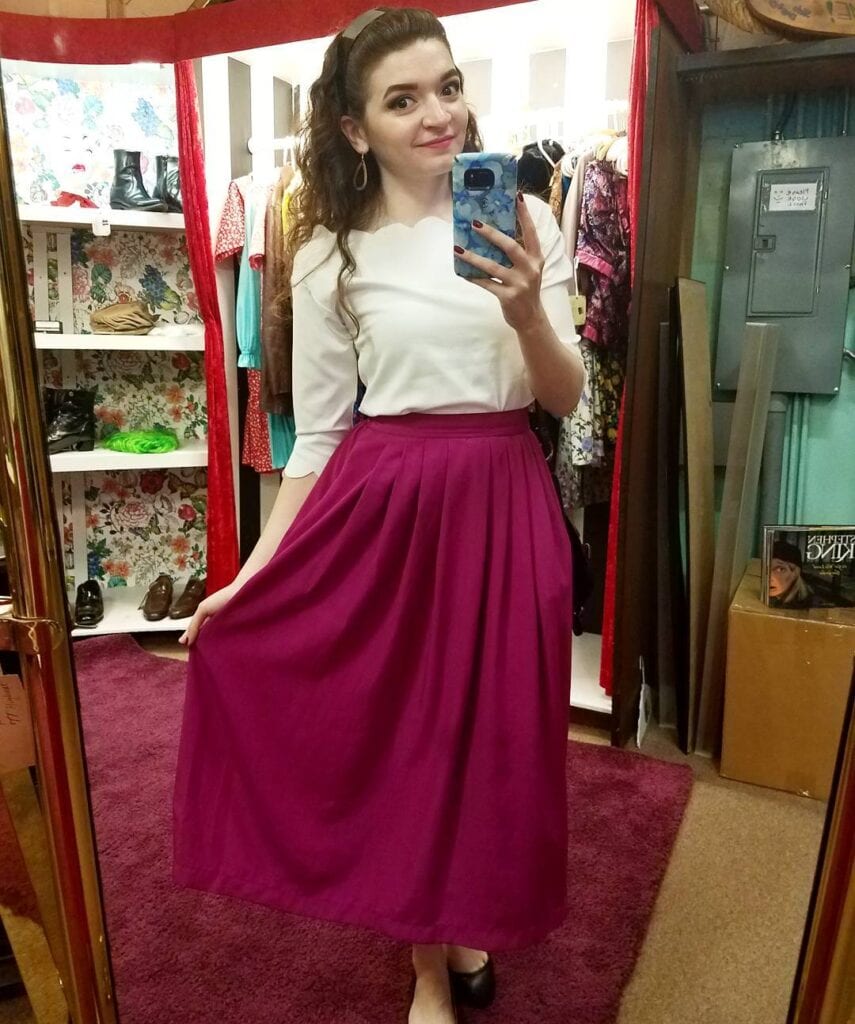 ↓ 10 – Graphic Tee and Plaid Skirt
This outfit is the absolute perfect casual look for an early-morning class where you don't have too much time to put together an outfit but still want to look cute!
Simply pop on your favorite graphic tee and tie at the waist. Pair with a checkered skirt and little white sneakers. That's it! If you like graphic tees, don't miss out these Ideas On How to Wear a Graphic Tee.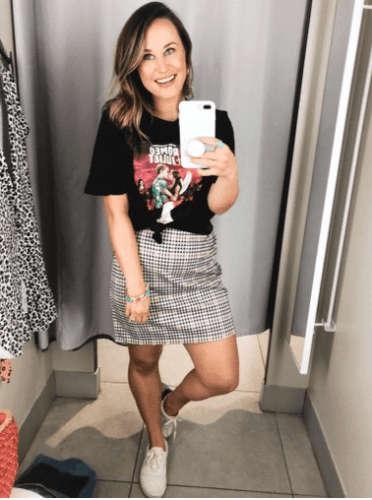 ↓9 – Boho Skirt Outfits For College Girls
Love a hippie boho look? Check this one out!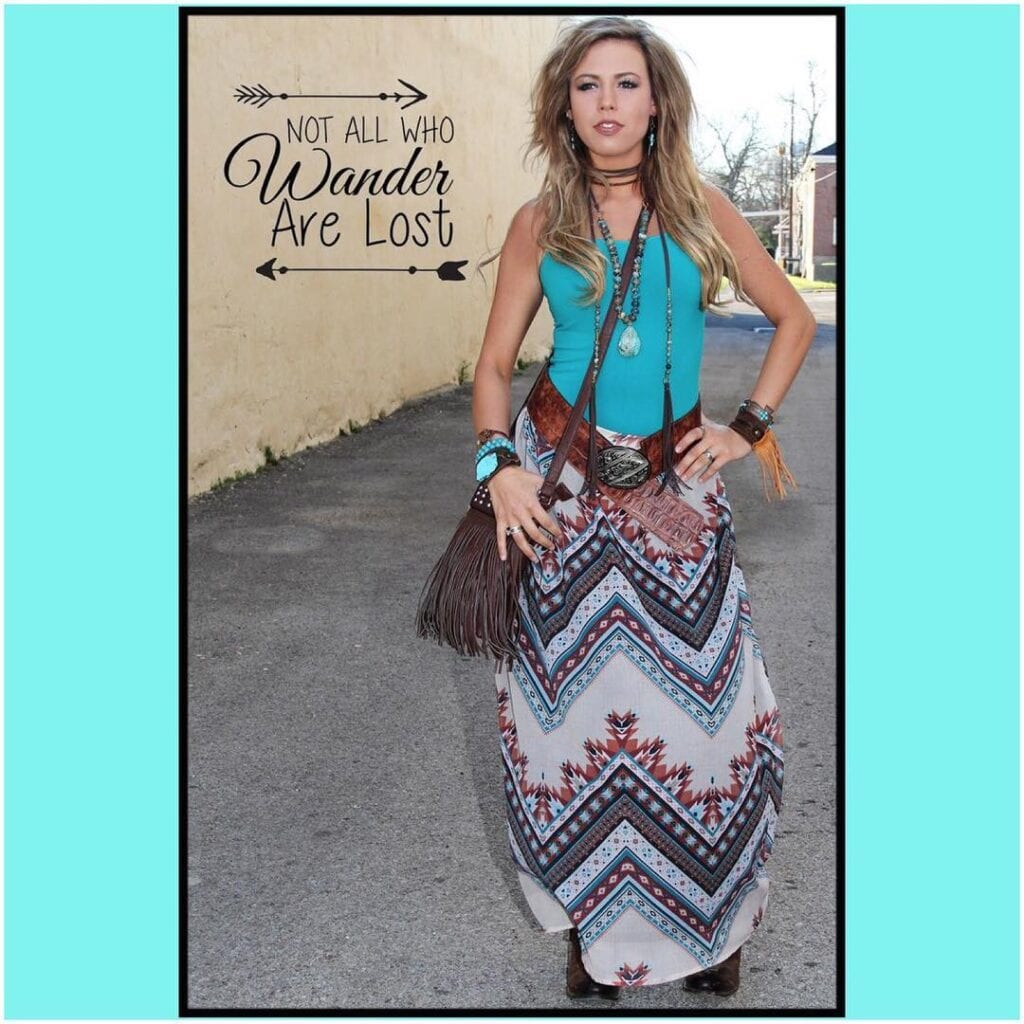 ↓8 – The Ultimate College Girl Outfit with Skirt
How gorgeous is this look?! It really needs no introduction. Try it out for yourselves and let us know how you love it!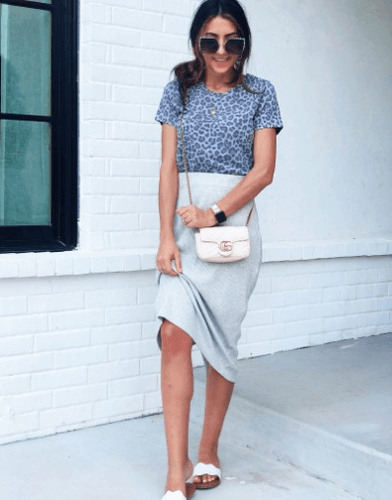 ↓ 7 – Simple and Sweet
Sometimes, the best outfits are the simplest ones. Try this look by tucking a tee into a floral skirt. Twist up your hair in an updo for a sweet look.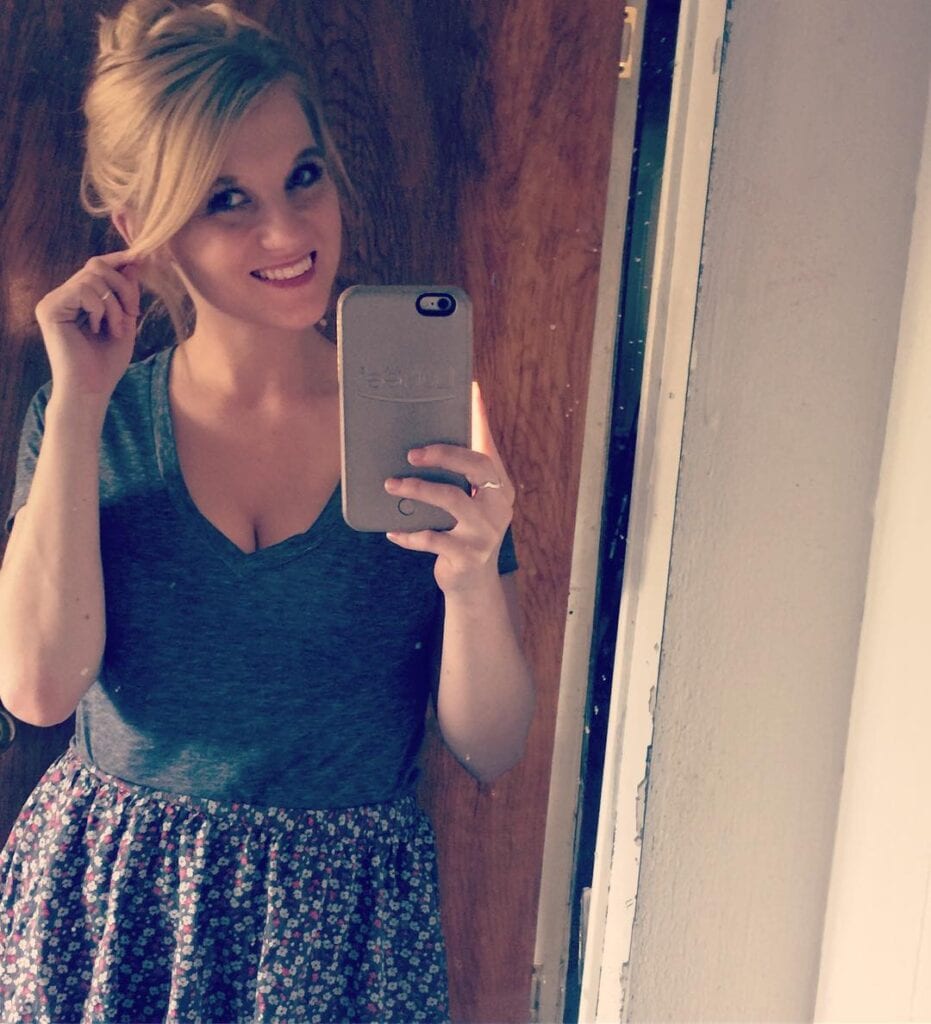 ↓ 6 – Long Skirt Outfit For College Girls
A great way to show off a slim waist and bring a touch of color and girlishness to any college campus!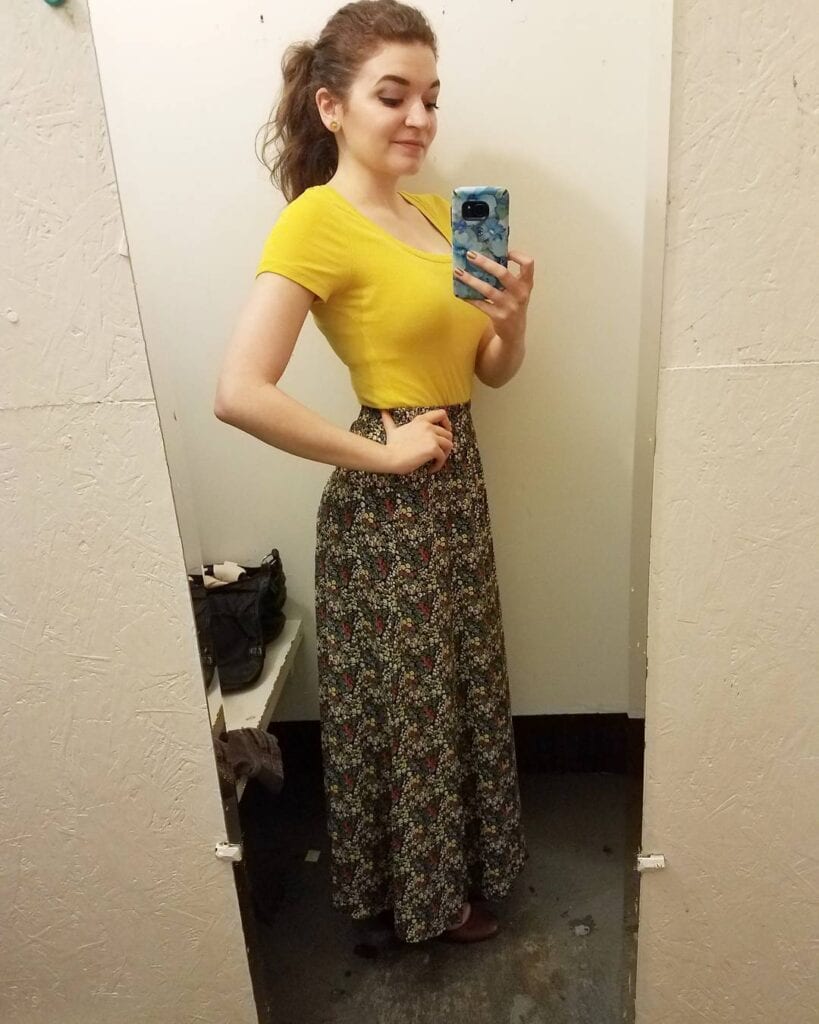 ↓ 5 – Shoes With Skirt Blouse Outfits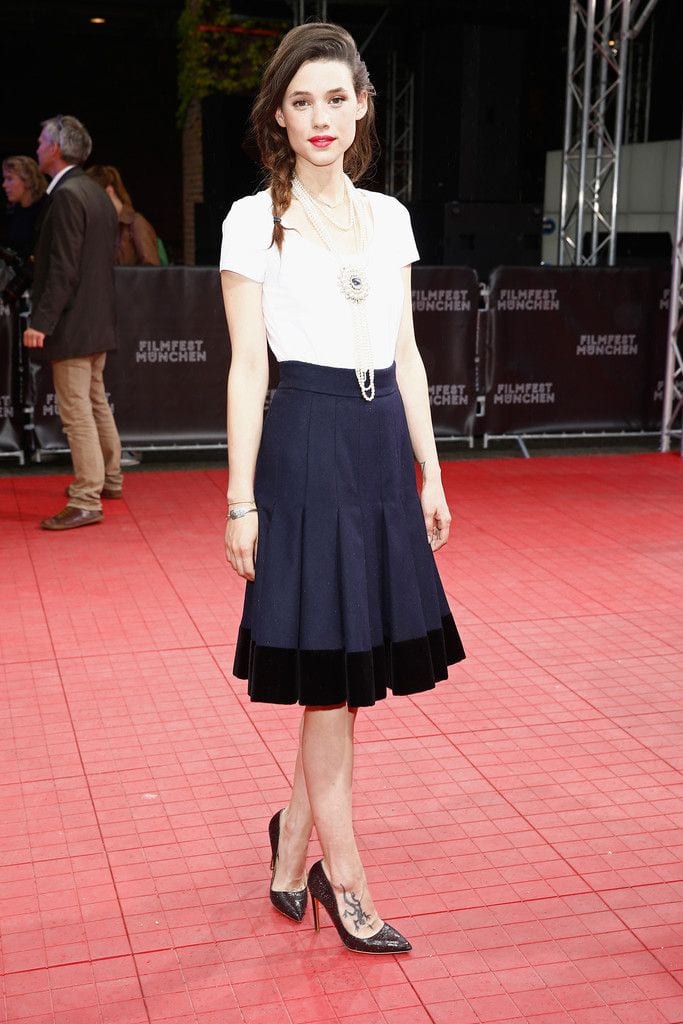 ↓ 4 – Tops To Wear With Pencil Skirts
Pencils skirts are so elegant and unique. They are a great way to look professional and womanly at the same time. Wear them with a loose blouse to complement a tight-fitting pencil skirt. Also, have a look at these Outfits with Pencil Skirts.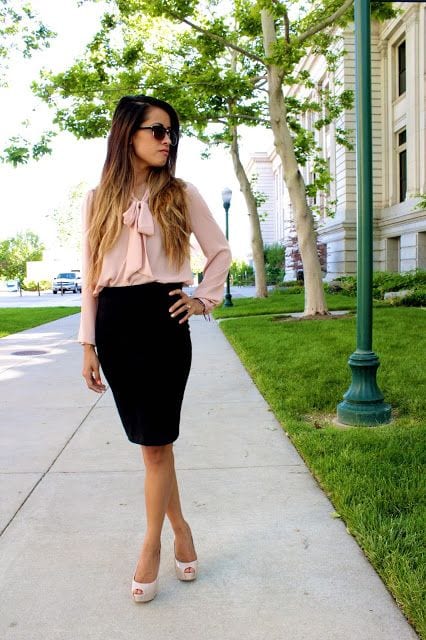 ↓ 3 – Super Stylish in Red
Sassy, professional and unforgettable. That's the message you'll send with this gorgeous look! Here are the best Red Outfits For Women.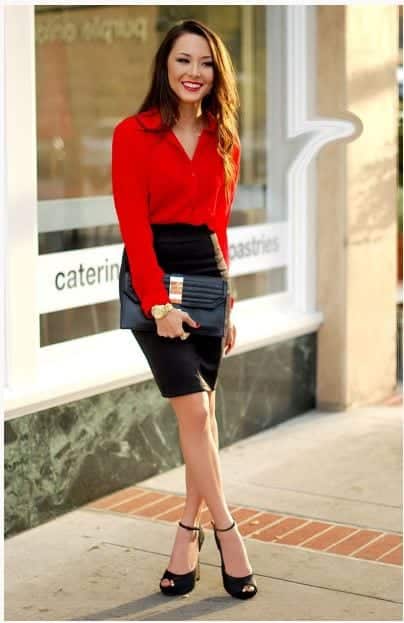 ↓ 2 – Elegant College Presentation Day Look
You have enough things to worry about without having to freak out over what you'll wear! Give this elegant look a try!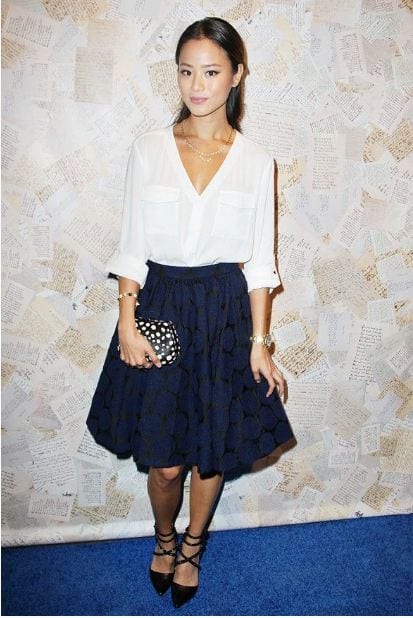 ↓ 1 – Class Picture Day Outfit For School
Class picture day is so important. Because you are going to create a memory that will live with you forever. You must dress up properly for the occasion. Skirt outfits look great for the class picture. They are comfortable and easy to style. You can wear your favorite skirt with a semi-formal top.
Pro tip: Make sure your outfit is ready a day before. It should be ironed and you should have worn it at least once before to know whether it fits or not. Then on the big day, make sure you wear a good hairstyle with it and wear nice accessories to glam up your look a little. Years later when you look at your class picture you will be so happy you put the extra time in!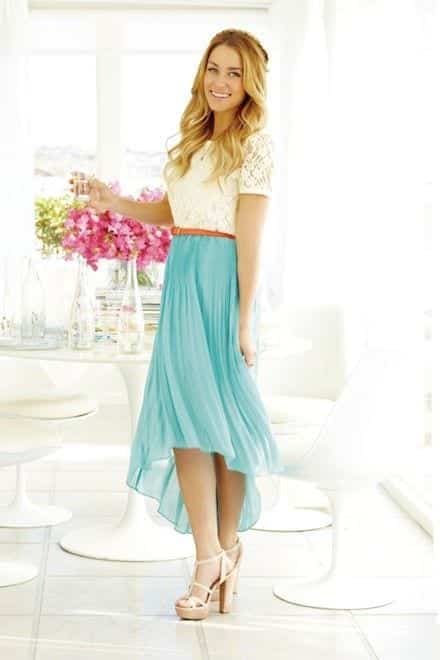 R.H. Elias is a freelance writer, aspiring author, and freelance transcriptionist. She is a homebody all the way and loves curling up on a cold, rainy day with a good book and a warm cup of tea. Her favourite pastimes include reading, writing, and watching period films. She currently lives in Puerto Rico.