Outfit Ideas to Wear with Yellow Skirt. Feeling like it's time to try some bold new style choices in your life? Break out of your comfort zone by incorporating one of the boldest color choices out there: yellow.
Not only are there different shades of yellow to choose from, but slipping on a yellow skirt is an easy way to boost your mood, shake up your wardrobe, and bring some sunshine into your day. Whether you need new work outfit ideas or simply want to brighten up a gloomy winter day, a yellow skirt is an underused but incredibly versatile piece you can add to your wardrobe today. You can also rock a yellow skirt in the summer for a vogue look you will be forever in love with. Yellow also works with so many other colors, from pink to tan to green to blue. Another popular choice is pairing yellow with black or white shades. In this article, we want to equip you with some go-to inspiration to help you feel confident in rocking yellow skirts. From outfit ideas to some of our top tips, we have got you covered!
What to Wear with a Yellow Skirt
Let's get started with our top tips for wearing a yellow skirt:
For such a vibrant color, you will want to make sure your skirt is not only crisp (iron it, if necessary) but that it is stain-free and that the material isn't worn out or faded. It is harder to hide flaws with loud colors so keep this in mind if you are thinking about pulling out that five-year-old skirt from the back of your wardrobe.
If you are ever in a pinch, remember this classic go-to look: yellow skirt, solid white or a black top, and matching accessories. It's a one-and-done look you can feel confident in, no matter the occasion or season.
Don't be afraid to try bold combos of colors with your yellow skirt. You can pair it with a pink jacket and blue purse even! Experiment with different combinations and never be afraid to get a little risky.
What Colors look best with yellow? While you'll be getting many visual ideas on this today, here are some of our favorite colors that go well with yellow skirts: Blue, white, black, denim, orange and of course other shades of Yellow.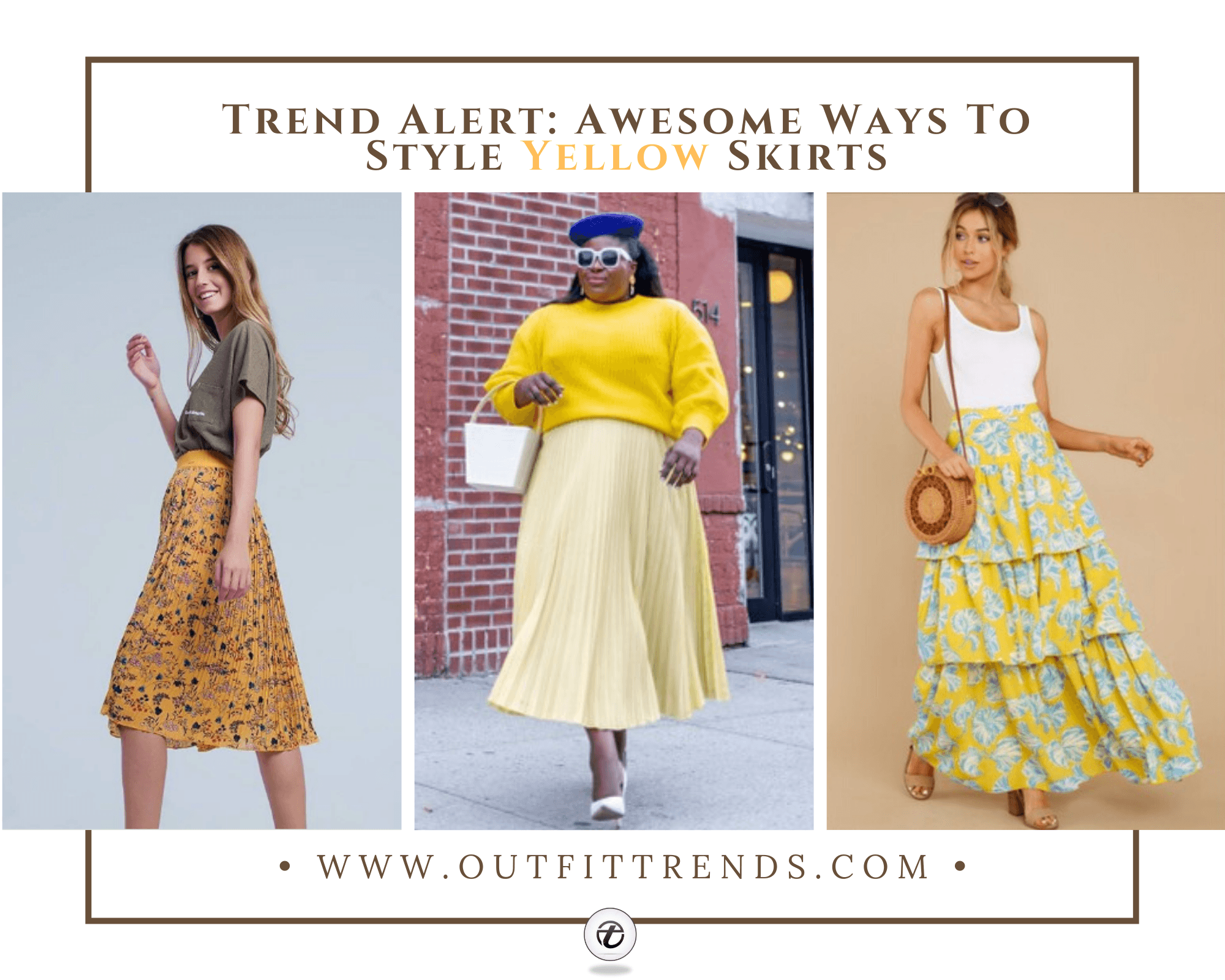 Now, let's look at some outfits.
↓ 30. Printed Maxi Skirt
For a whimsical and totally feminine skirt, look no further. This printed maxi tiered skirt is absolutely stunning. Pair with a white crop sweater and sandals for a spring outfit you'll want to wear year-round!
↓ 29. Chic Plus-Size Outfit
Pair a pleated yellow skirt with a bright yellow sweater for a chic winter look you'll want to wear all winter long. Sporting yellow is a great way to show off your confident nature and bold personality!
↓ 28. Stylish Date Night Outfit
Bring some sunshine with you on your wintry date this season with a gorgeous yellow skirt and sleek black sweater combo. This is a chic look that does all the talking for you. Accessorize with gold cuff bracelets and pop on a pair of little black booties to finish off the look.
↓ 27. A-line Skirt Outfit
A-line skirts are always trendy. If you are going for an outing with your pals and want to incorporate a yellow a-line skirt in your outfit, you are sure to make a major fashion statement. The vibrant-hued skirt would look ideal with a button-down plaid shirt. Blue should be your go-to color for it is one that never goes wrong with yellow. Add accessories for more fun. Wear hoop earings and last but not the least, step into a pair of cobalt blue sandals. Also, have a look at these Asymmetrical Skirt Outfits for more styling ideas on wearing A-line skirts.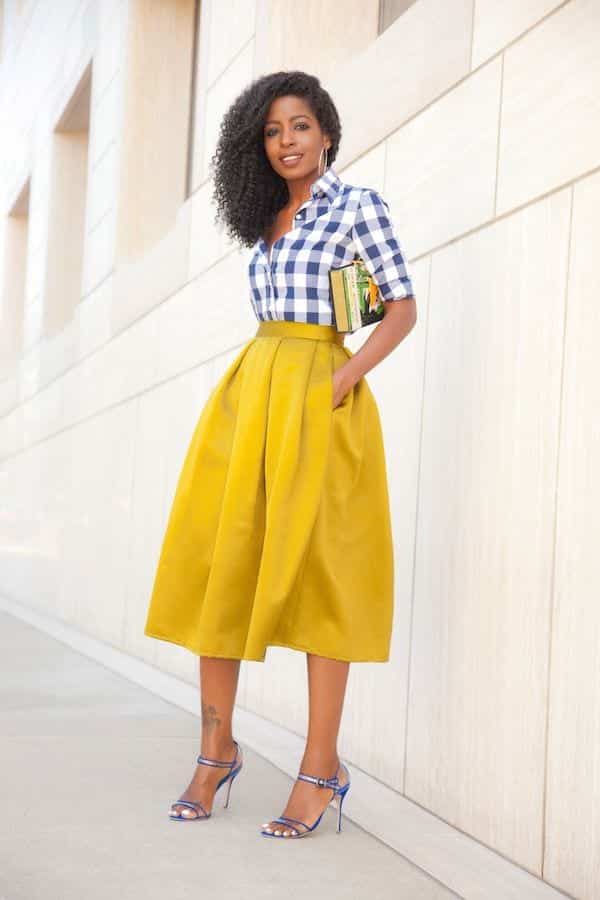 ↓ 26. How to Style a Sheer Yellow Skirt
If you are looking for a more hip outfit, go for a sheer yellow skirt with a dual-toned crop top. You can go for a black and white classy top or you can choose to wear a royal blue one. Either way, this look is stunning. You can throw on a white jacket as well if you feel like it. A crossbody bag would look fabulous with this outfit. Here are some of the best Outfits with Sheer Skirts.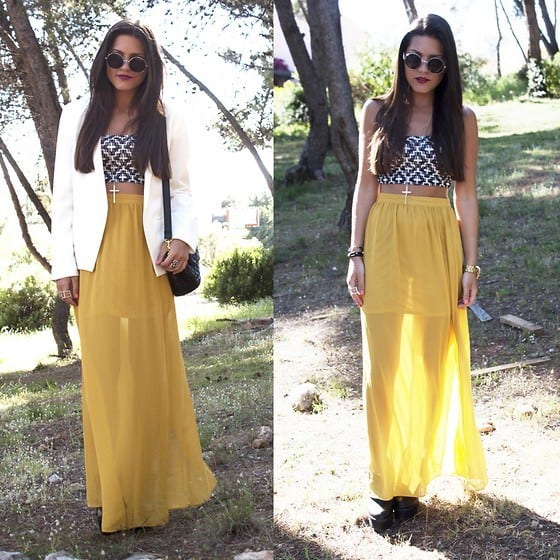 ↓ 25. Yellow Long Skirt Outfit
Wear a long and flowy skirt for a glamorous look and pair it with a printed blouse. Tiny stud earrings would accompany a heavy necklace in an elegant way. Dab on light makeup for an overall touch of sophistication.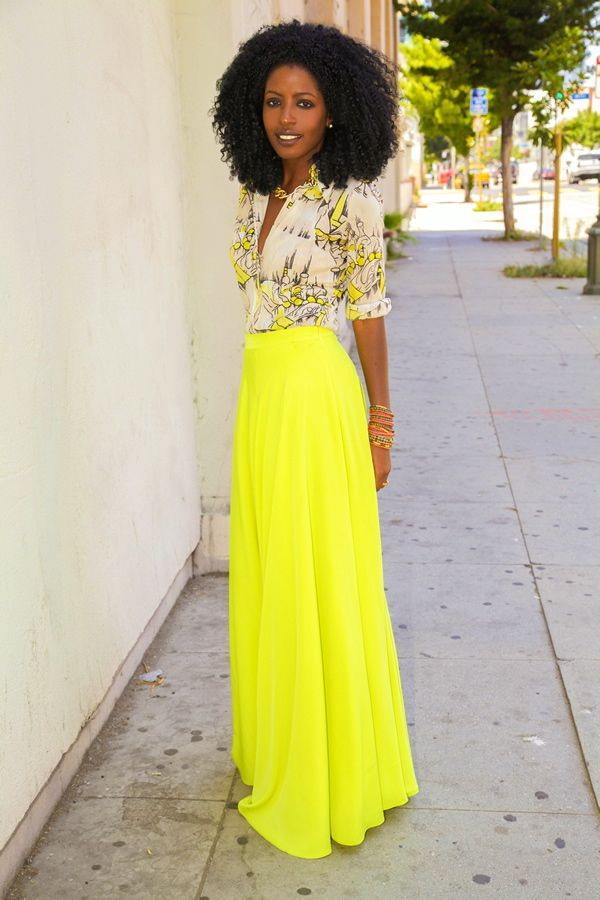 ↓ 24. Casual Street-Style
A cool and fresh way to wear an asymmetrically hemmed skirt is by keeping it casual. Throw on a tee, tie your hair into a pony tail and put on your favorite pair of sneakers. You can wear a watch and studs for enhancing the look. Keep it neat with light pink makeup. And that's it, you're good to go for the day! Don't miss out on these Chic Ways to Wear Yellow Outfits.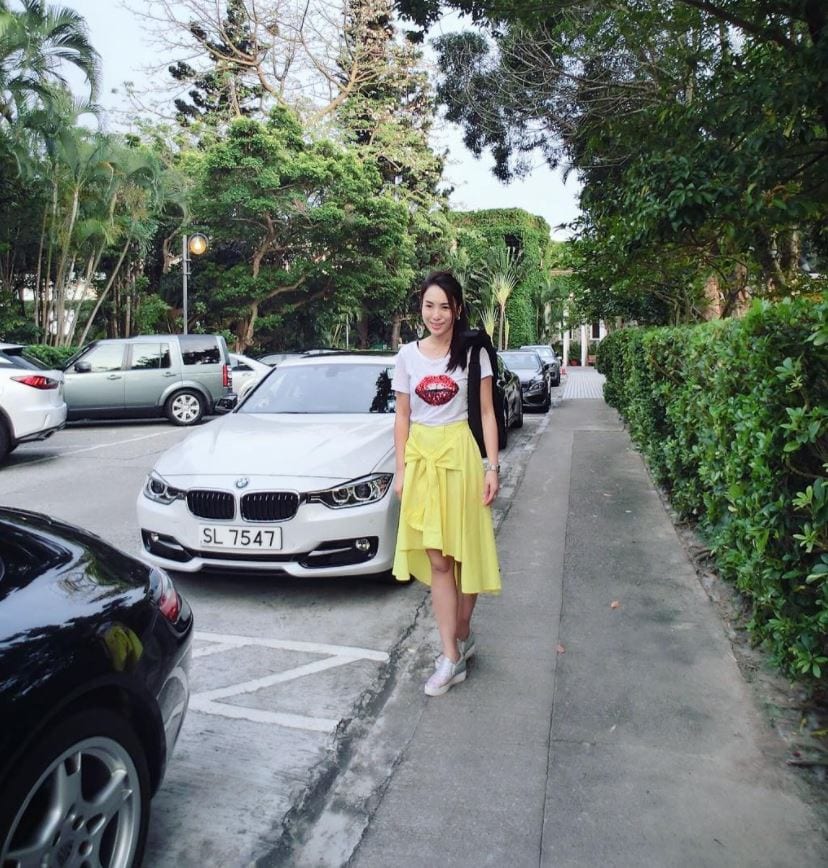 ↓ 23. Sweet Maxi Skirt Outfit
If you love a whimsical summer outfit, this is the one for you.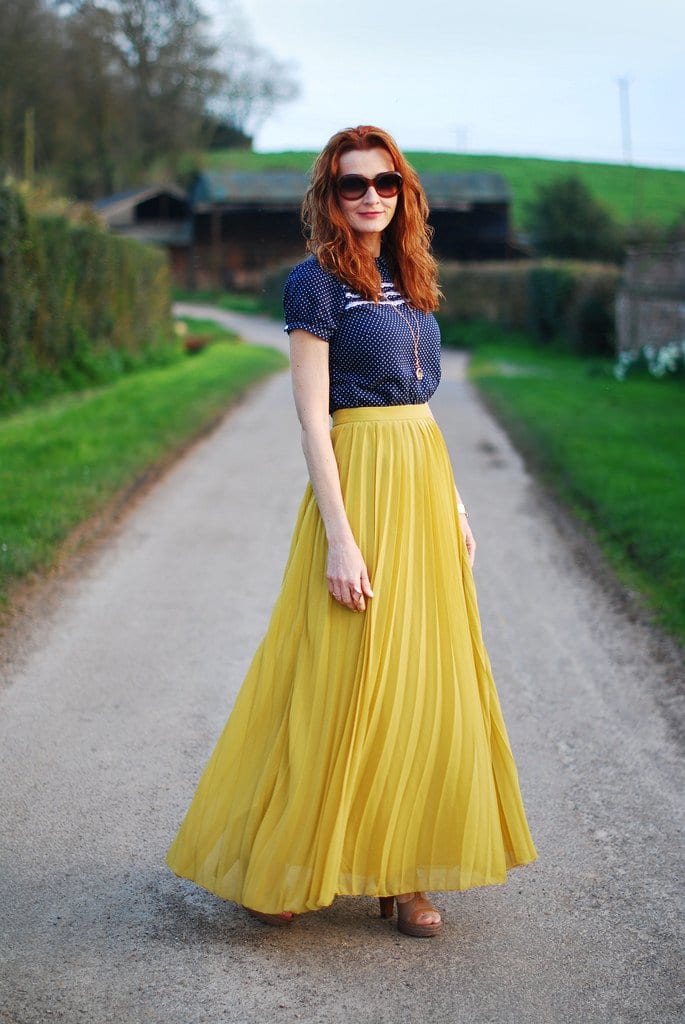 ↓ 22. Yellow Mini Skirt Outfit
Wear a yellow mini skirt with a printed butterfly shirt. Opt for flats or sandals as footwear and add your favorite neutral-colored purse. Here are 15 Cute Ways to Wear Mini skirts.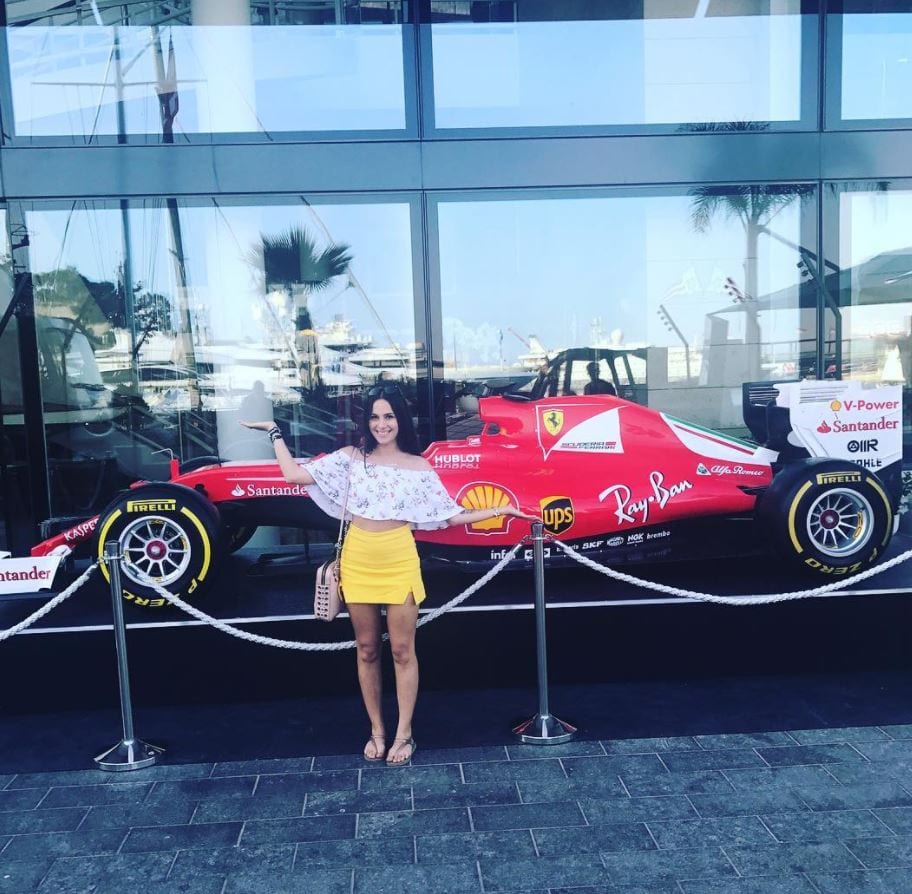 ↓ 21. Yellow Chiffon Skirt Outfit
A white lace top, gold jewelry, straight hair, and a yellow chiffon skirt together make a classic look that speaks volumes despite not being too loud.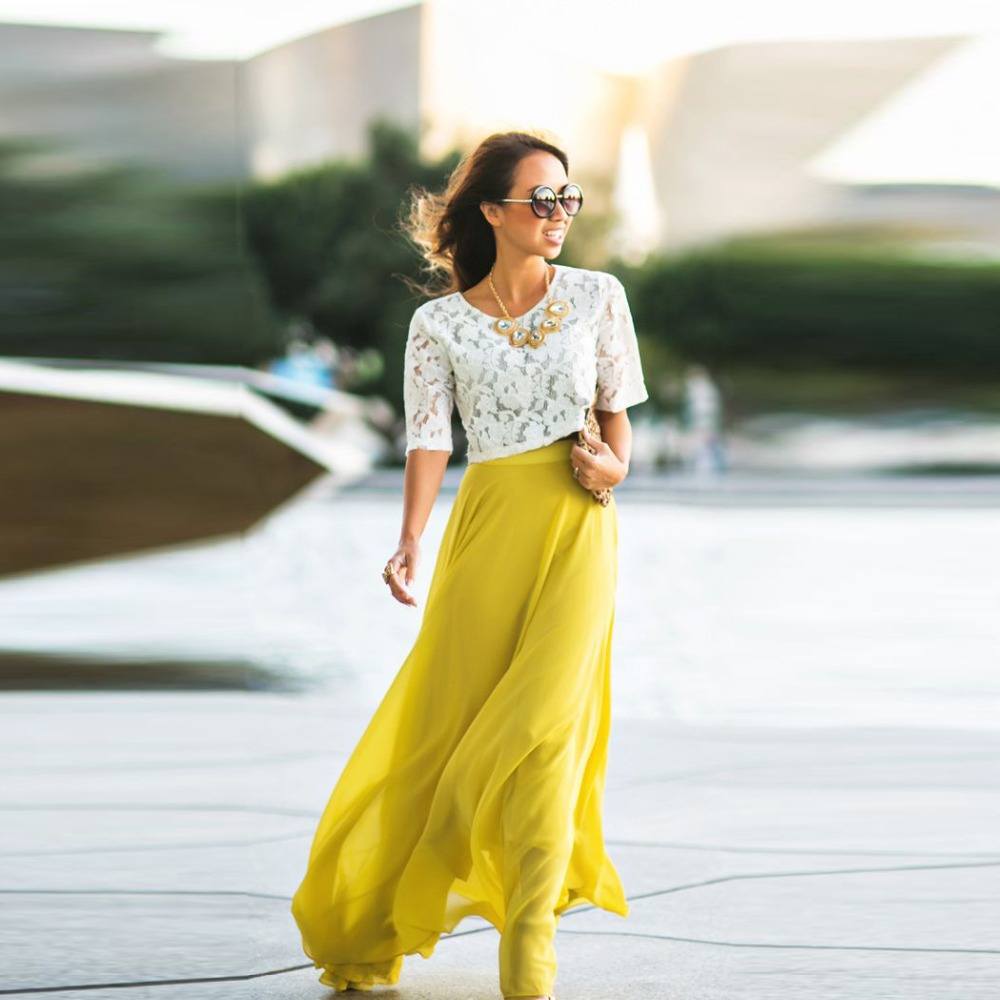 ↓ 20. Midi Skirt Outfit for Spring
For a vivacious look, wear a vibrant colored floral top with a green-blue necklace. A bright yellow midi skirt and platform shoes tie this look together magically. Swipe on some black liner, add pink lip balm, and rock your spring-approved style with ease! We also recommend that you check out these awesome Midi skirts outfits.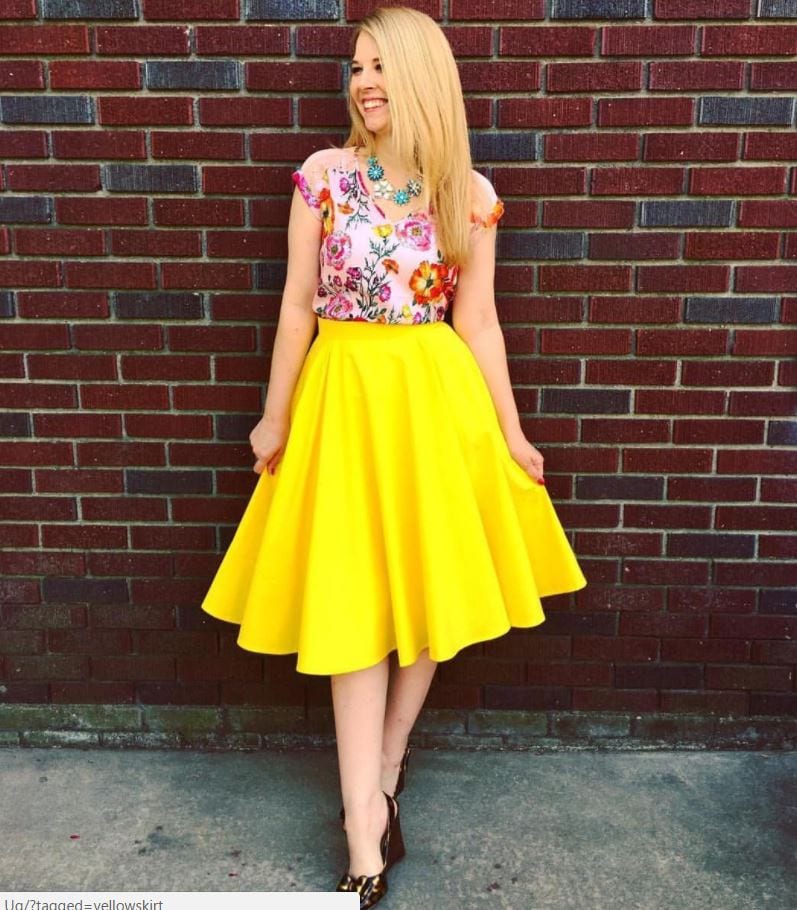 ↓ 19. Yellow Skater Skirt Outfit
Here's a darling ensemble you can try today!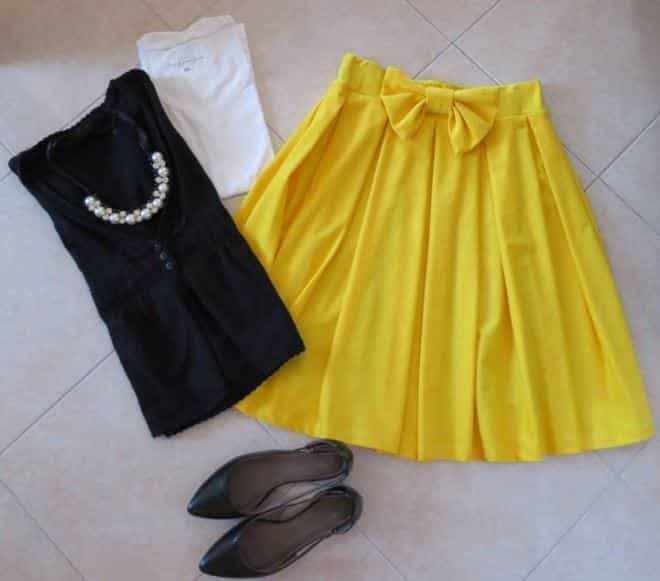 ↓ 18. Pencil Skirt & Cute Pink Top
Pencil skirts look very graceful if you wear them with confidence and class. Slip into a yellow one and throw on a peach or tea pink top. Keep the makeup minimal and waltz through the day in cheetah print stilettos! Here are some of the best Outfits with Pencil Skirts that you need to try this year.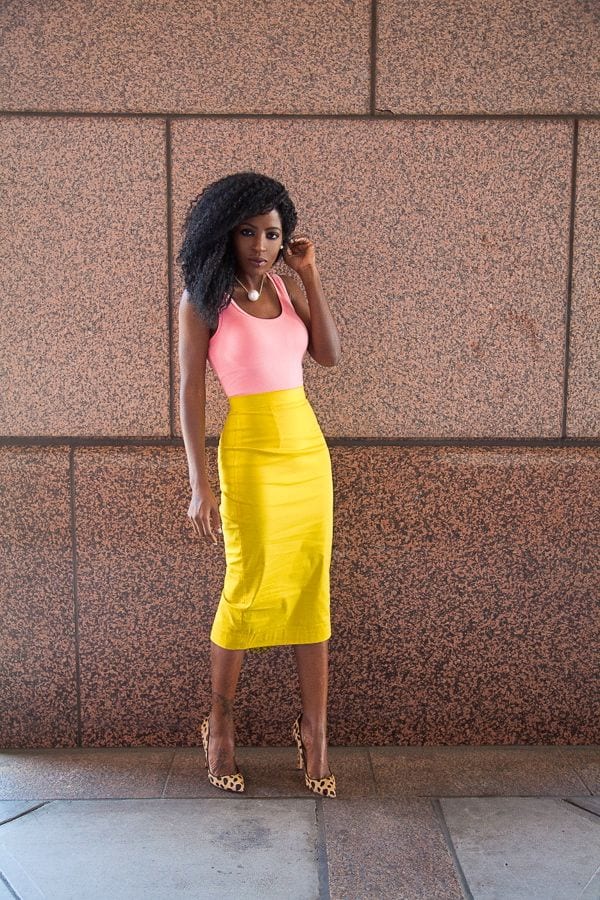 ↓ 17. High Waisted Skirt & Lace Top
Wear a lace off-the-shoulder top with a high waisted yellow skirt and get a little funky with your footwear. We love how this outfit pushes the envelope a bit!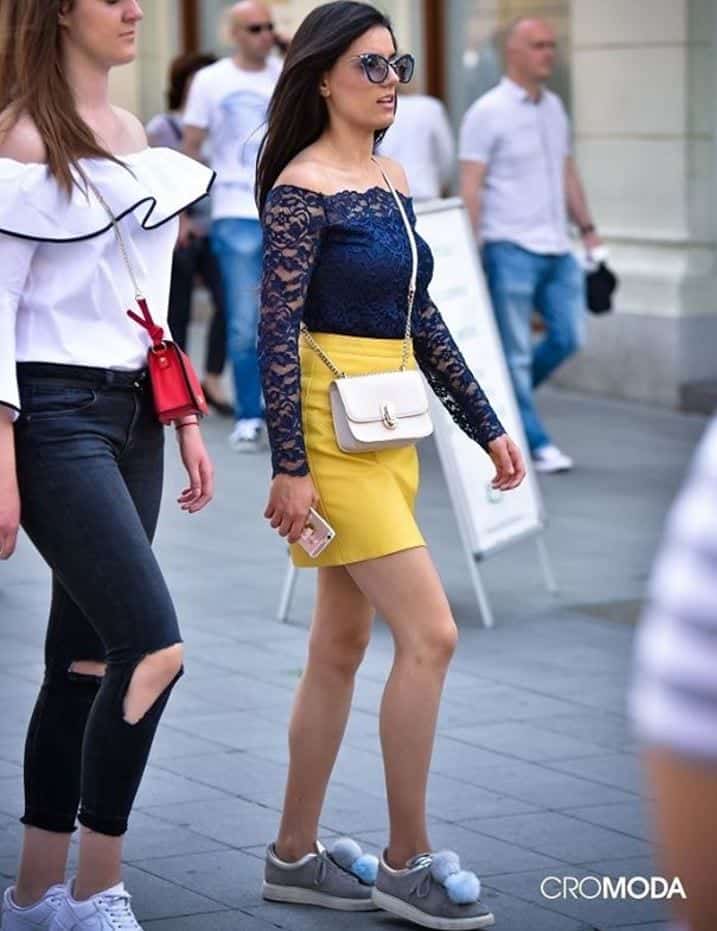 ↓ 16. Yellow Tulle Skirt Outfit
For a girly look, wear a denim shirt with a yellow tulle skirt. Brighten the look with bright pink lip color and matching heels. Curl your hair for extra style. Here's a complete guide on How to Wear a Tulle Skirt.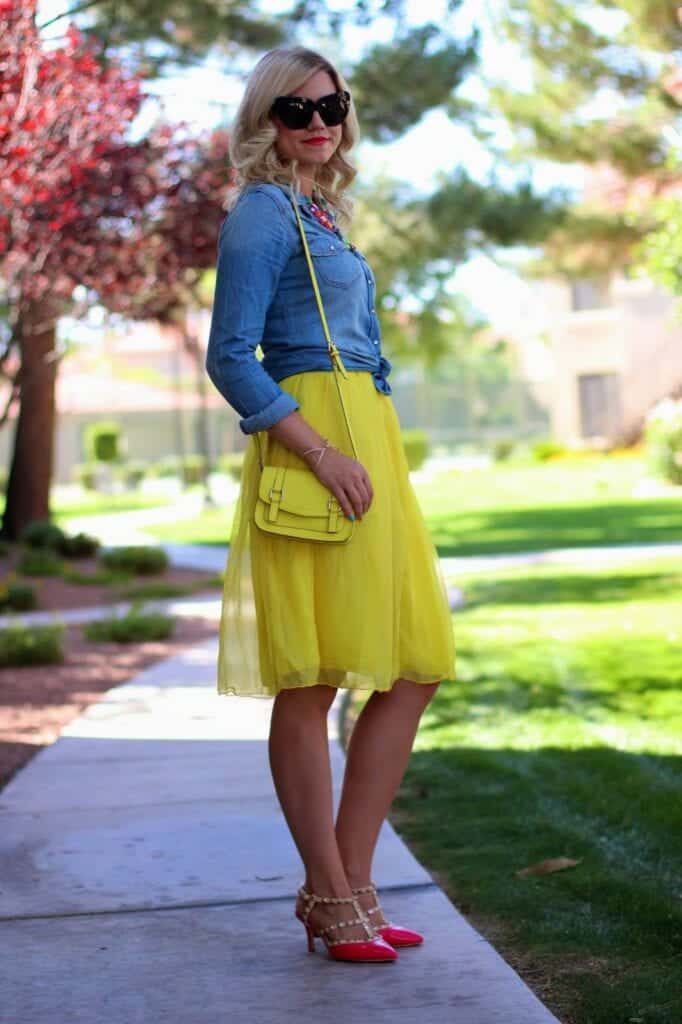 Via
↓ 15. Yellow Bandage Skirt Outfit
Love a high-end look? Check this one out.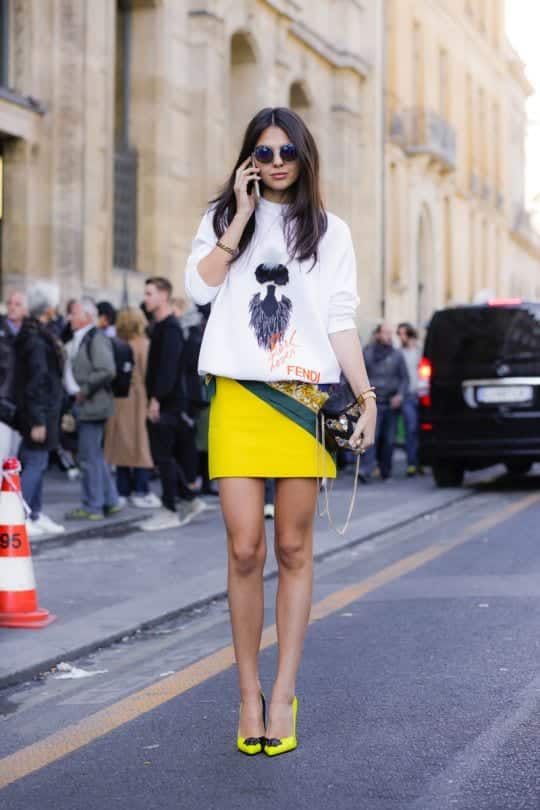 ↓ 14. Fun Color Combinations
Yellow is a welcoming color. You can combine it with many color options such as turquoise, navy blue, peach, bright blue and shocking pink. You can even make blends of more than two colors. With yellow, you get to be fearless!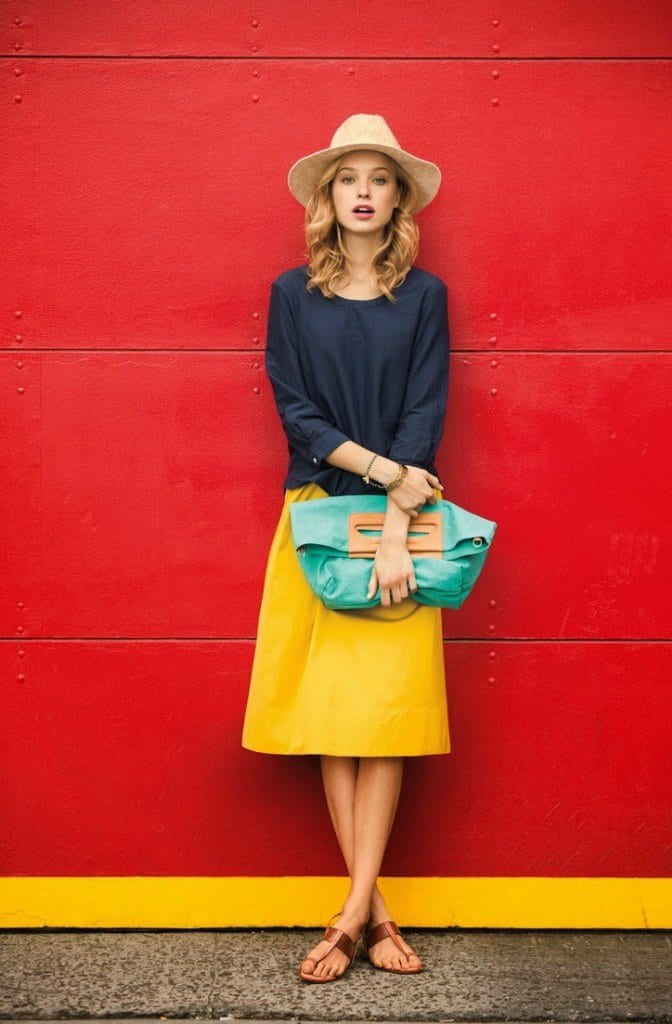 ↓ 13. Teacher Outfit with a Yellow Skirt
This is a great outfit for elementary school teachers!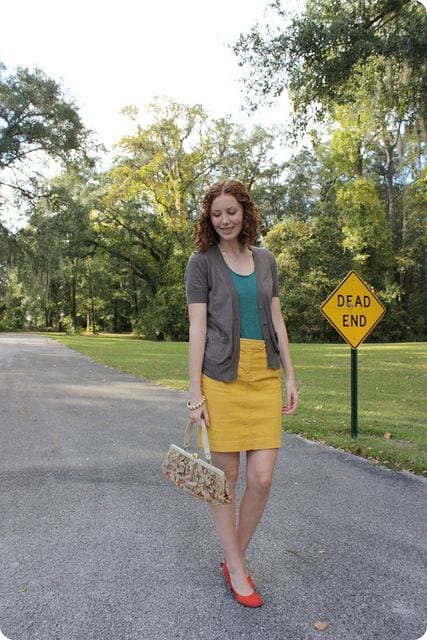 ↓ 12. Work Outfit
White blazer, white dress shirt with a yellow pencil skirt for the ideal workplace look. Leave your hair in waves or make a hair bun. A low side pony tail would also do. Throw on a scarf for boosting the look and wear stilettos for some additional gorgeousness. If you want to look sober instead of voguish, opt for pumps. Light makeup would suit the office environment. Also, have a look at these fabulous Cobalt Blue Skirt Outfits.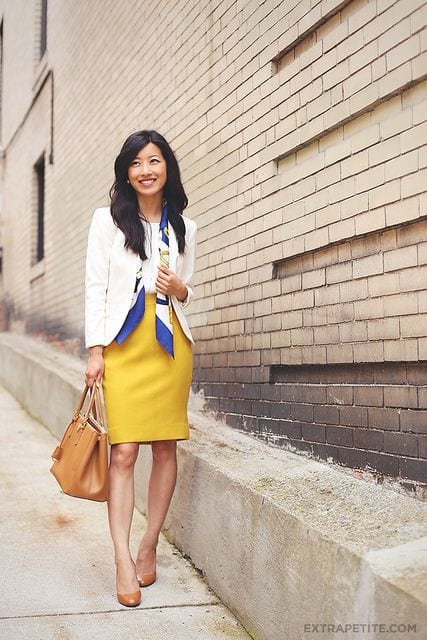 ↓ 11. Business-Casual Attire
We love this demure lady who obviously loves rocking some bold color. Simple brown slip-on shoes are paired with a cheetah-print blouse and a bright yellow skirt of knee-length. Not only is this outfit chic, but it's also modest as well, and you will feel super womanly wearing it!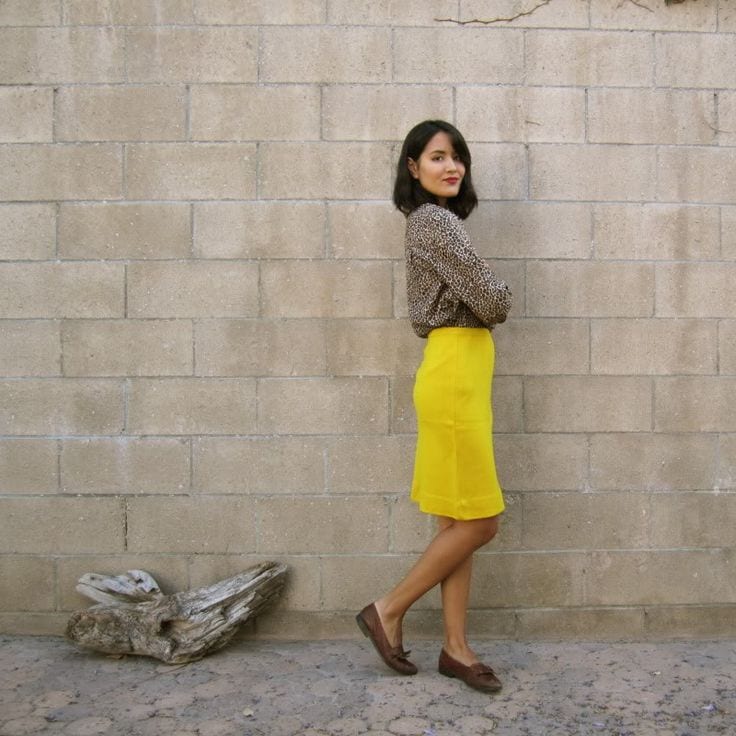 ↓ 10. Bold Style for Work Attire
Want to make a splash at the office come Monday? Then give this ensemble a try! Kaley Cuoco effortlessly rocked a yellow mini skirt with a bold top featuring an animal-print pattern and some men's dress-shoes inspired footwear. Don't forget to swipe on some red lipstick and add some round sunglasses for mega impact.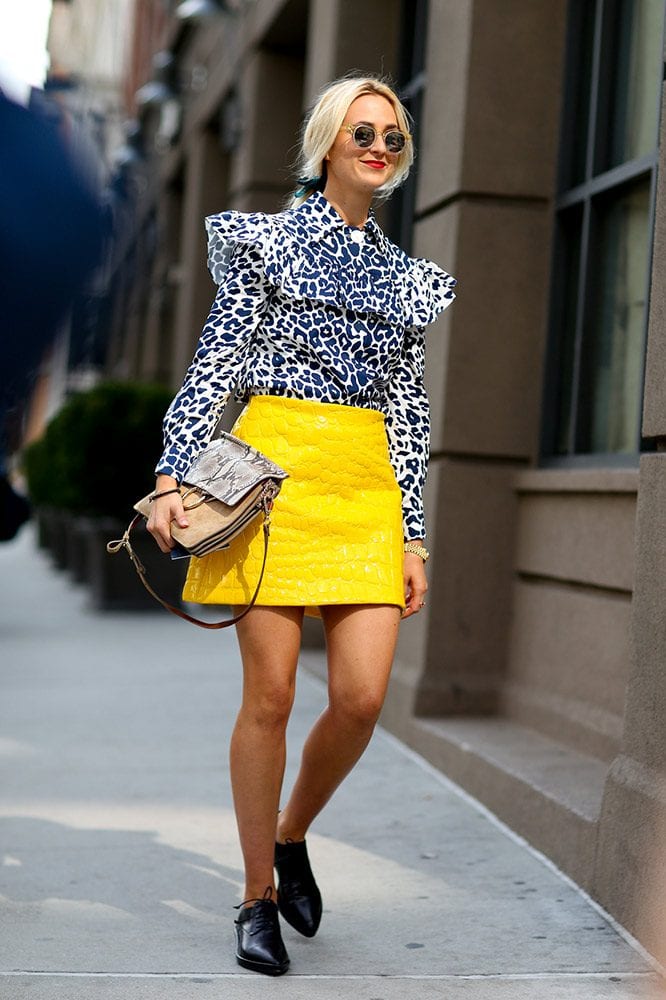 ↓ 9. Stylish Pink and Yellow Look
Bring a little bit of Elle Woods into your daytime attire by pairing a yellow mini skirt with a white blouse and bright pink jacket. We love the button detailing and the use of accessories with this look. Pink and cream flats and a designer handbag tie the look together in the best kind of way.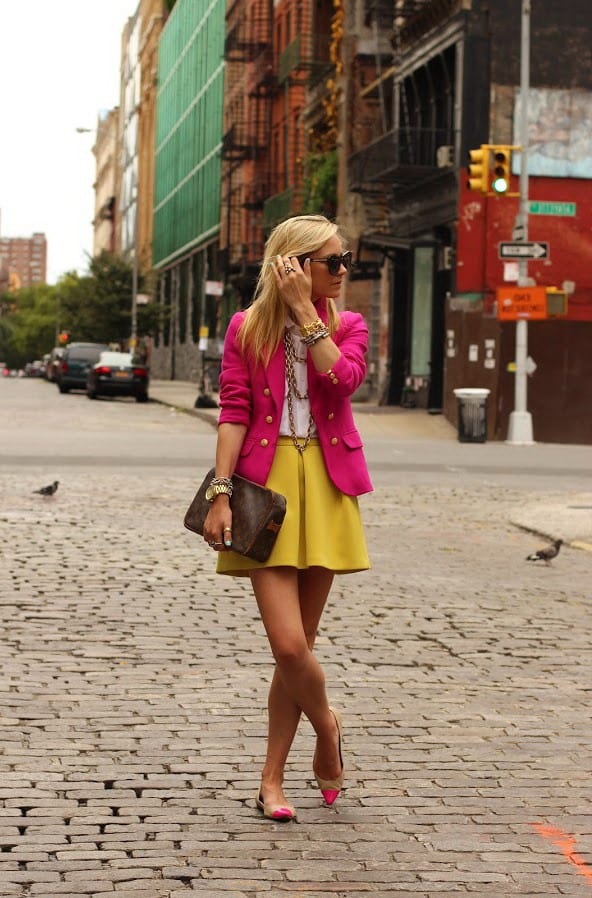 ↓ 8. Yellow Pleated Skirt Outfit
The perfect summer outfit! We love how cute and simple this look is. And you probably have some of these pieces in your closet already. Simply pair a flowy yellow skirt with a white tee, add a straw hat, and round off the look with some chunky heels. Et voila! An adorable summer outfit you'll never want to change out of.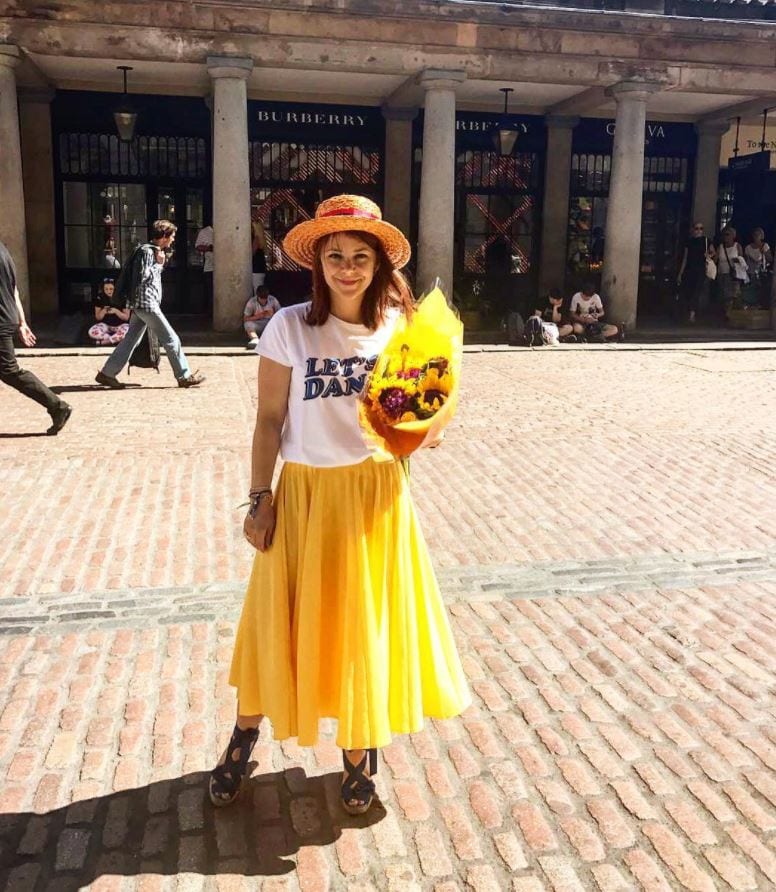 ↓ 7. Yellow Lace Skirt Outfit
Are you feeling like you want to spice up your regular work attire? Check out this look. A black v-neck blouse paired with a lacy yellow pencil skirt, black leather jacket, and two-toned heels will make you feel like a million bucks this Friday. You can easily convert this look to an evening outfit so feel free to experiment. Don't miss out on these 20 Cute Lace-up Dresses Trending These Days!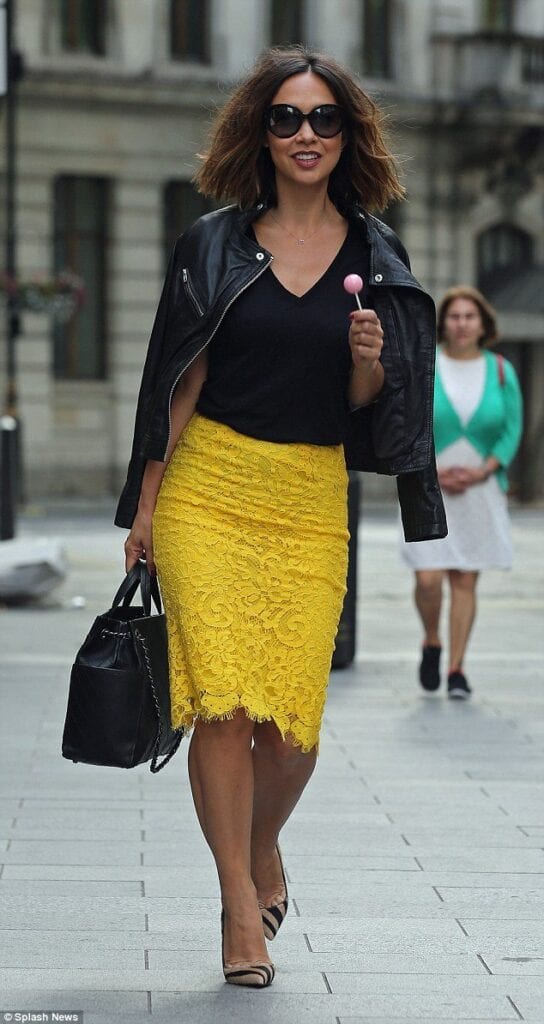 ↓ 6. Celebrity Style
Nobody does girly old-fashioned style like Taylor Swift. Take a page from her book by pairing a pleated yellow skirt with a dark blue knit sweater. What really sells this look is the blue purse, bright red lip, and matching flats. Run your errands with style, we say!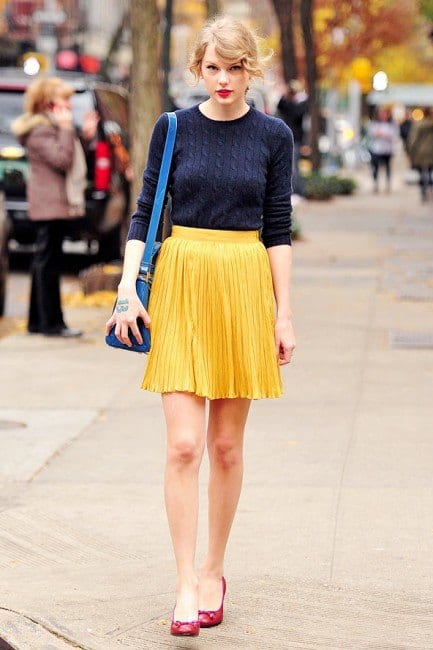 ↓ 5. Glam Vintage Style
Bring a bit of old-school fashion into a modern ensemble by pairing a pinafore style button-down blouse with a mustard yellow skater skirt (today's version of the poodle!). We love these throwback lace-up dance shoes, as well as the cluster style earrings and a muted red lip. This is a lovely outfit for a themed dance, brunch with your closest friends, and even a concert.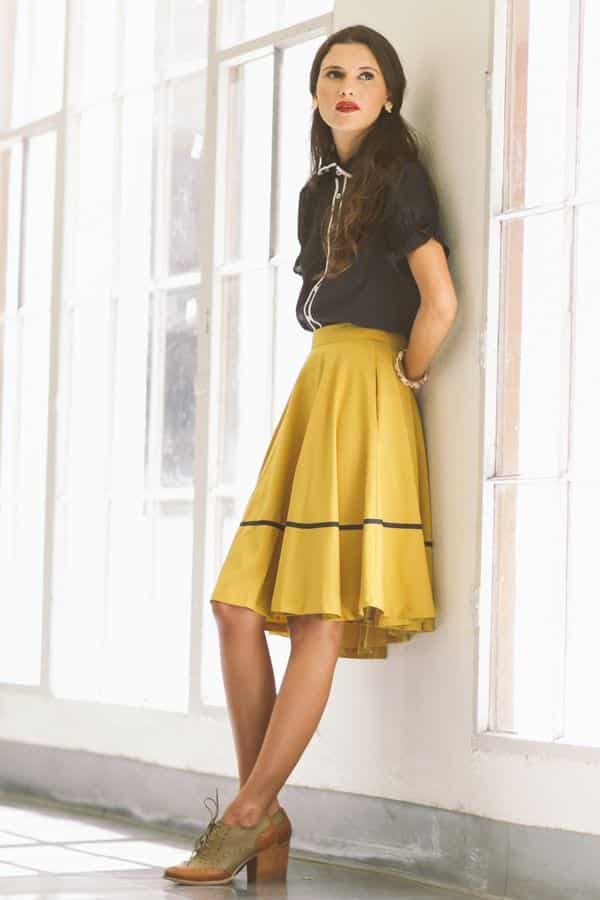 ↓ 4. Spring Outfit
As the days start to warm, most of us start itching for some spring colors and freshness in our day-to-day outfits. Here is a great example of one. Tuck a striped top into a yellow mini skirt and add a thin black belt to blend the top and bottom together, as well as distinguish your waist. Accessorize with black accessorize, such as oversized sunglasses, a big black purse, and flats.
Via
↓ 3. Winter Outfit
Bring some sunshine into a dreary winter day by wearing a maxi length yellow skirt and white top. This look is effortlessly glam and certainly fashionable. Add a cute white mini coat and make sure your hair is styled to perfection. This is a lovely outfit for a daytime date, trip to the opera, or an orchestral concert.
↓ 2. Summer Outfit
This summer, take inspiration from everyone's favorite teacher and go full Miss Honey in your wardrobe choices! This look is so darling, you'll want to wear it again and again.
Pair a high-cut white blouse with a bright yellow, polka dot skirt and tuck your top in. Accessorize with a creamy brown belt, white-framed sunglasses, a yellow cuff bracelet,  and a kitschy straw-style bag! We love this outfit for dates at the park, picnics, and vacation day looks.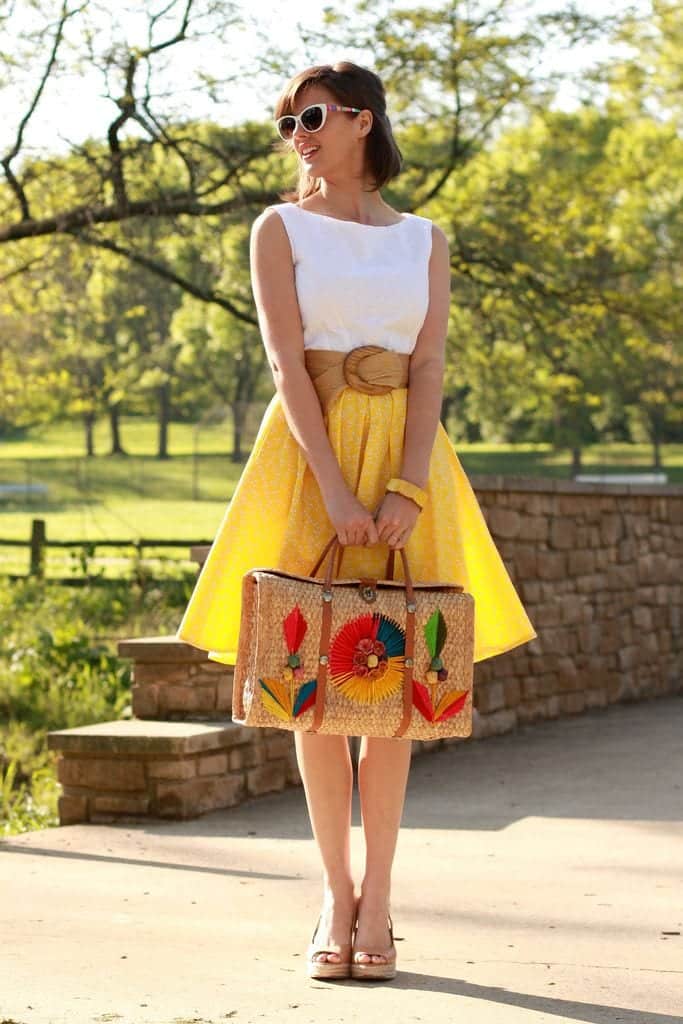 ↓ 1. Chic Fashionista Style
For our final look, we present an outfit that fashionistas everywhere will adore!
Pair a white cropped sweater with an asymmetrically hemmed skirt and complete with a black purse and sandals. This is a chic look, perfect for dressy fashion events, dinners with colleagues, and photoshoots!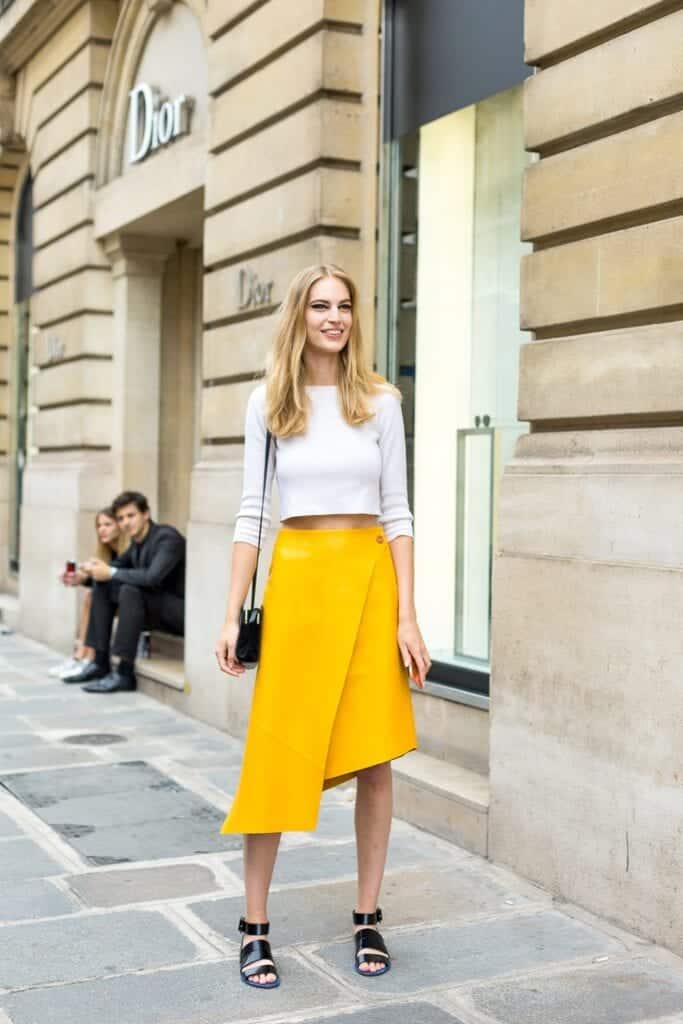 R.H. Elias is a freelance writer, aspiring author, and freelance transcriptionist. She is a homebody all the way and loves curling up on a cold, rainy day with a good book and a warm cup of tea. Her favourite pastimes include reading, writing, and watching period films. She currently lives in Puerto Rico.