Purple Skirt Outfits – Experimenting with various clothing and colors enhances the attractiveness and beauty of your attire. Women avoid wearing colors like purple, yellow, and other such colors because they are concerned about whether or not they would look well in them.
Purple is the most attractive and trendy hue, and it comes in a variety of light and dark shades that every lady should try. Skirts are the most comfortable and stylish item of clothing that a lady of any age or size can wear. When paired with colorful skirts, you can make your plain top stand out.
Women, you should add these to your wardrobe since this article will guide you on how to wear purple long and short skirts in several stylish ways and, it will make you fall in love with the color purple. You may wear these stylish skirts to any occasion, whether you're heading to the workplace, a wedding, or an academic institution. You may design it in various elegant ways based on your preferences and comfort. Purple is a hue that contrasts nicely with many other colors, so you may wear these skirts with multi tops and even try all purple from head to toe.
How to Wear Purple Skirt
Ladies may buy and wear purple skirts in different styles such as knee-length, midi skirts, slit skirts, bodycon, and many more. And in a variety of purple shades such as lavender, plum, and pale. Here are some chic ways to wear purple skirt outfits and guidance for when to wear them. But, before we get into what to wear with these fashionable skirts, here are some styling pointers and do's and don'ts you should be aware of while wearing purple color skirts.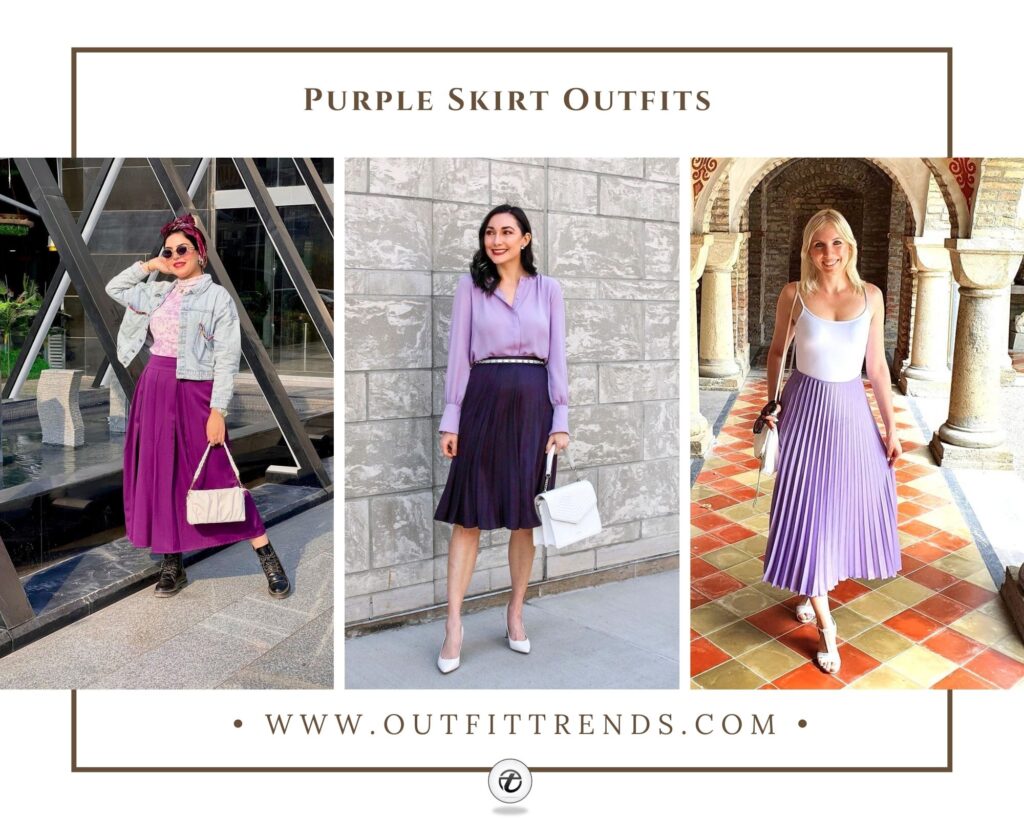 Tips For Styling Purple Skirts
In your attire, you can experiment with different colors of purple, both bright and dark. If you're wearing a plum skirt, combine it with a lavender blouse, or purple blazer.
Wear a denim jacket or a contrasting blazer over the basic top with purple skirts in the winter.
Wearing excessive jewelry with these outfits would make you appear overdressed; instead, keep your look simple.
If you're wearing all purple from head to toe, balance your look with brown, white, or black shoes.
Loose shirts do not go well with skirt outfits, so try wearing fitted tops with your skirt as they would compliment it wonderfully.
Accessorize your skirts with belts and other waist accessories to make them more enticing.
25 – Purple Tweed Skirt With White Boots And Shirt
As previously said, you can have purple skirts in several styles. One of them is a tweed skirt. They are among the most fashionable kind of skirts you should own. You can pair up these purple tweed skirts with a basic white top. Wear knee-length white boots with a trendy matching white purse to complete the look.
24 – Pleated Skirt With Brown Belt And White Top
Purple and white are usually a winning combination. Pair a pleated purple skirt with a boat neck plain white shirt. Wear a contrasting brown waist belt with the pleated skirt and add matching brown fashionable footwear with the look. Wear sunglasses to make yourself more appealing, and you're ready to go.
23 – Lavender Top Tucked Into Dark Skirt
With these skirts, you may also create a formal office look. Wear a stylish purple a-line skirt in a darker shade of purple with a simple button-down shirt in a lighter shade of purple. Add a trendy white purse and matching white heel shoes to complete your office attire with a purple skirt.
22 – Pair A Purple Coat And Skirt With A Matching Top And Boots
We can create a complete purple look from head to toe just to show the different shades in your clothing. Wear a purple mini skirt with a matching purple satin top and add a long purple coat over the top in a deeper shade of purple. Complement the outfit with a matching purple round hat and knee-length boots. To finish the look, take a lighter purple purse.
21 – Lavender Pleated Skirt With Matching Scarf For Hijabis
If you're wondering how to wear purple skirt outfits with a hijab, here's a suggestion. Wear a lovely light purple long skirt with a sky blue shirt. With the attire, add a matching blue and purple scarf. Put on a dark blue cross-body bag and some cool sunglasses to make yourself look attractive, and you are ready to go. You can create this look when going on a weekend trip or at any educational institute.
20 – Stunning Skirt With A Black Overcoat And Boots
Black color combined with any other hue creates the best combination. The color combination of black and purple is perfect. Put on a purple skirt, a black plain top, and a black coat. Wear black boots that go with your attire. Add a black waist belt to your high-waist pleated skirt to make the outfit appear more fashionable.
19 – Lavender Skirt With A Floral Top For A Party
Even a plain purple skirt may be dressed up for a fancy occasion. All you need to know is how to style it beautifully. Wear a long purple skirt with a lovely floral patterned blouse that contrasts with the skirt. Wear light-colored sandals that complement your attire. Wear some minimal attractive jewelry with the dress to make it appear fancier.
18 – Ombre Skirt With A Denim jacket And White Sneakers
If it's cold outside, you may layer your purple skirt with a denim jacket too. Wear a plain black blouse with a denim jacket on top and pair it with a purple ombre skirt. This jacket will make your outfit stand out and make you appear classy. Wear white, comfortable shoes with this look and you're ready.
17 – Purple Denim Skirt With A Crop Top And Sneakers
Here's the most stunning outfit you can pull off with a purple skirt. Wear a purple denim skirt with a multi-colored cropped shirt. Layer it with a denim jacket. Wear a stylish red cap that matches the shirt and white shoes. Add yellow hoops earrings and matching yellow sunglasses to accessorize the look.
16 – Cotton Skirt With Ribbed Green Top For Pregnancy
Skirts are the most comfortable item of clothing that you may beautifully wear during pregnancy and style. Wear a simple green top and a long violet skirt. Wear orange comfortable footwear with your outfit and a lightweight cross-body purse in a contrasting shade. And your appearance is created.
15 – Satin Skirt With A Chunky Knit On Top For Travel
If you have a purple satin skirt in your wardrobe but don't know what to do with it, here's an idea. Wear it with a matching sweater. Put on a pair of white sneakers and a purple backpack. This look is the simplest yet most stylish appearance you can create.
14 – Printed Skirt With An Organza Puff Sleeved Top
You can try this style if you don't enjoy wearing simple designs. Wear your lovely lilac patterned skirt with a matching lilac organza top. Wear any elegant and fancy sandals with the outfit. Add some stunning purple matching earrings and a sleek hairdo to complete your beautiful look.
13 – Pleated Skirt With White Spaghetti Top
Spaghetti strap blouses are now the most popular tops and, you may style them in various ways. Here's a purple skirt outfit with a spaghetti top for you. Put on a long purple skirt with a simple white blouse. Combine matching white flat sandals and a white purse to complete the look.
12 – Velvet Skirt With Matching Turtleneck
Velvet is the most comfortable fabric that anyone may wear in any season. Velvet skirts are the most fashionable skirts because they define your body shape and look great on all ladies. Here's a look that you can wear in the spring, and winter with a jacket. Combine a velvet skirt in a gorgeous plum color with a turtleneck in a lighter shade of purple. Wear off-white sandals with sunglasses if you're heading out during the day.
11 – Pair A Purple Top And Skirt With A Red Long Coat
Here's a street-style outfit created using purple skirts. Combine a purple midi skirt with a beautiful purple top. Add a trenchcoat in a lovely red tone over the dress. Put on red heels to match your coat. To complete the look, add a black leather bag. You will look stunning in this outfit, and everyone will admire you for it.
10 – White Top And Sneakers With A Stunning Lace Lavender Skirt
You should always wear light colors in the daytime. Here's an outfit idea for you that you may put on during the day. Put on a lace skirt and a regular white shirt and carry a light pink jacket to contrast your clothing. Add white sneakers and trendy sunglasses to complete the look.
9 – Wear A Denim Jacket With A Lace Turtleneck And Corduroy Skirt
Here is the cutest attire, along with high-waisted purple skirts. Put on a lovely tie and dye shirt with a jacket and pair it with your high-waisted skirt. Make yourself seem prettier and more attractive by wearing matching hair accessories. Wear an off-white purse and black boots with the outfit. Put on black sunglasses, and your colorful look is complete.
8 – Mini leahter Skirt With A Fuzzy Sweater
Ladies enjoy wearing trendy clothing and looking fashionable all of the time. Here's a trendsetter outfit with purple skirts for you. Put on a purple leather skirt and a fur top with it. You may accessorize your clothing with attractive earrings. Take a matching satin purse and, your fashionista outfit is ready.
7 – Skirt And Black Top For Plus Size Women
Whatever your body type is, you must know what to dress and how to look beautiful. Wear a long purple skirt with a full-sleeved black tee top. Put on beige shoes that contrast with your clothing and, you are ready to go out.
6 – Purple Belted Jacket With Skirt For Women Over 50
At any age, you should always appear classy and wear fashionable clothes. If you are 50 or older, here is an outfit for you to try on. Put on a lavender skirt and pair it with a basic white shirt. Wear a purple belted jacket with it. Take a blue and purple bag and sandals that match the purse.
5 – A Lavender Polka Dot Skirt With A White Crop Top
Here's an outfit you may wear for a weekend trip or vacation. Polka dot designs are popular these days, and they are available in a multitude of hues. Pair a polka dot skirt with a white cropped shirt. Add on a jute round hat and jute sandals with the look. You are now prepared to go on a trip.
4 – Purple Skirt With Green Top For Christmas
This year is all about trying out new colors and patterns. Have you ever tried a combination of purple and green? If you haven't already, you should give this a try right now. Take a purple skirt and a green cropped shirt from your wardrobe. Now, search through your shoe collection and find a pair of contrasting green sandals. Put on all of the items to complete your purple skirt outfit with a combo of green.
3 – Pair A Grey Long Coat And A Beanie With Your Skirt
Purple skirts may use to get this look in the winter. Put on a green turtleneck shirt, a purple pleated skirt, and a grey coat over the top. Put on a grey wool cap that matches your coat. Wear beige sandals to enhance your attire.
2 – Pink Printed Satin Shirt With A Tulle Skirt
Pink and purple are usually a great combination, and they are considered a feminine color combo. Put on a purple tulle skirt and a printed pink satin blouse. Wear matching pink shoes and a matching pink purse. Add silver earrings and a purple headband to your clothing to make it more attractive.
1 – Pleated Skirt With Yellow Chunky Turtleneck
Aside from green, you may also try a yellow shirt with a purple skirt. Mix a yellow turtleneck with your purple pleated skirt. Use the black purse and pair it with black boots. Finally, finish your appearance with black sunglasses.
Frequently Asked Questions
Q. What do you pair with a purple skirt?
Ans. You may wear a purple skirt with various stylish tops in floral designs and hues such as pink, green, black, and yellow. These skirts can be worn throughout the year, such as in summers with a tank top and, in the winter season, you can add a jacket or blazer with it. You may also combine it with modern accessories such as waist belts and jewelry to make your appearance more attractive.
Q. How do you wear a purple midi skirt?
Ans. You may pair a purple midi skirt with a white or black tank top or cropped top. Always remember to pair a fitted and simple shirt with a midi skirt so that your dress stands visible and looks gorgeous and attractive.
Q. Where to buy a purple skirt?
Ans. Purple skirts are available on Amazon. They have a range of long and short skirt collections to choose from, including midi-skirt, tulle skirts, pencil skirts, and many more.