July Fashion Ideas For Women –  Hello, all you gorgeous girls! With the bright sunny days of July upon us, it's time to revamp your wardrobe and give it a whole new summer look! So, whether you need to doll up for a wedding or just need to go run some errands, put your winter clothing aside and dig out your summer dresses.
Better yet, go shopping for some chic outfit pieces to rock this month! Pulling off a flawless look in summer may be tough because of the sometimes unbearable heat. But do not let that stop you from looking your best this July and beat the heat with some super cool outfits!
What To Wear This July?
Before you head out to shop for your summer clothing, here are a few tips you should definitely keep in mind:
Loose and flowy garments will help you keep cool in the heat
Mind your fabrics: linen, silk, and thin denim are good, breathable materials
Stick to light colors as dark colors tend to absorb more light and make you feel hot
Make sure to keep your makeup from melting by using waterproof and breathable products
Go for small handbags or crossbody bags instead of large totes and backpacks
Remember that at the end of the day it's your comfort that matters most, so keep your dressing minimal and comfortable
To further assist you, we have rounded up 22 best outfits for you to take inspiration from this July so read on!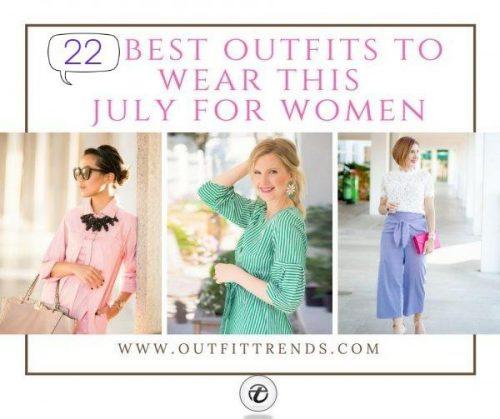 ↓ 22. Cute & Stylish Summer Outfit
Keep it light and cool with a white eyelet blouse tucked into a lightweight denim skirt. This is a great outfit for grabbing some iced coffee with your girlfriends or sitting down for brunch at an outdoor cafe. Accessorize with sunglasses, a small purse or crossbody bag, and opt for some cute matching sandals. We love how this pair matches the purse.
For more outfit ideas, check out Girls Casual Club Attire.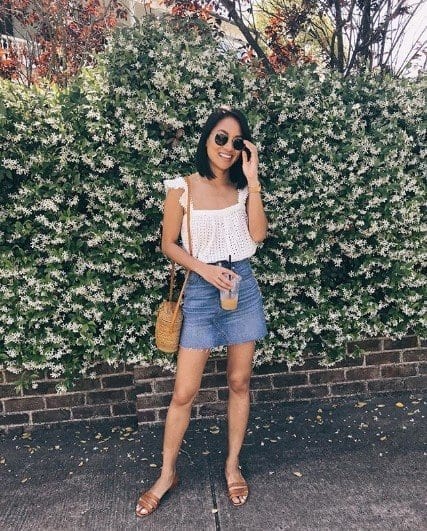 Check out some more outfits for inspiration below!
↓ 21. Perfect for July Outfit for Girls
The month of July is a great time to showcase your patriotism (for all you American gals) so why not try out this gorgeous red gingham dress for yourself?!
We love how it just seems to scream SUMMER and brings back nostalgic memories of carnivals, fairs, and other summer traditions buried in our childhood psyches. Accessorize with white cat-eye sunglasses, a bold red lip, and yes, a wicker basket styled purse!
Loose beachy waves and simple earrings tie the look together and have you roaring and ready to go for almost any summer occasion!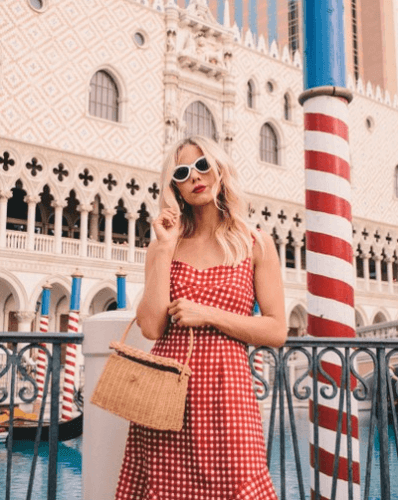 Get this outfit for yourself here:
Moon River Midi Gingham Dress $91
↓ 20. What Outfit To Wear To A July Wedding
Headed to a wedding this July? Here's a great inspiration for some formal wear this July! A sleeveless or off-the-shoulder dress will keep your neck cool and is also super stylish. We love this indigo dress for its classiness as well as versatility. Accessorize with statement earrings and match your heels to your dress. Long curls tied in a long side pony will keep your hair tidy as well as picture-ready!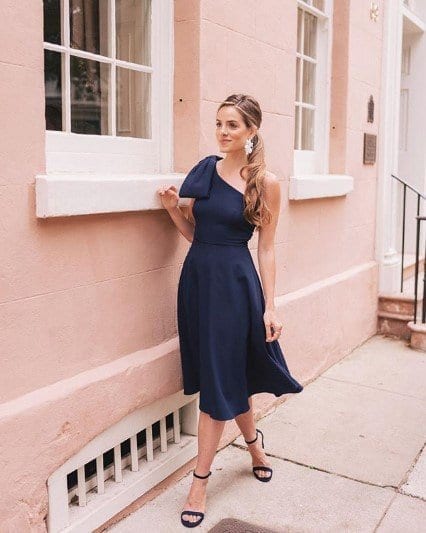 ↓ 19. Chic City Look for Summer
Need a chic but heat-conscious look this July for your city travels?
Why not try a jumpsuit? Opt for a light, breathable fabric like cotton or linen and try to go sleeveless. Because let's face it. When you're hot, the less fabric the better!
This one is bold and patterned with a daring v-cut neckline. Accessorize with a chic purse, statement earrings, and heels. A look like this will also disguise any pesky sweat stains. (Definitely something to consider in the middle of a hot July!)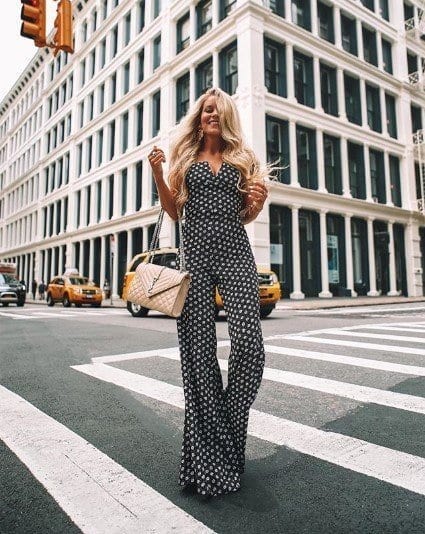 ↓ 18. Elegant & Dressy Daytime Outfit For July
If you have a dressy event to attend, take the opportunity this summer to set aside your little black dress for – you guessed it – a little white one!
This is a chic look that we think even Kate Middleton would consider. This dress falls just below the knee and features an elegant scoop neckline. Accessorize with statement earrings and tie your back in a low, classy bun. This will keep the hair off your neck and prevent flyaways.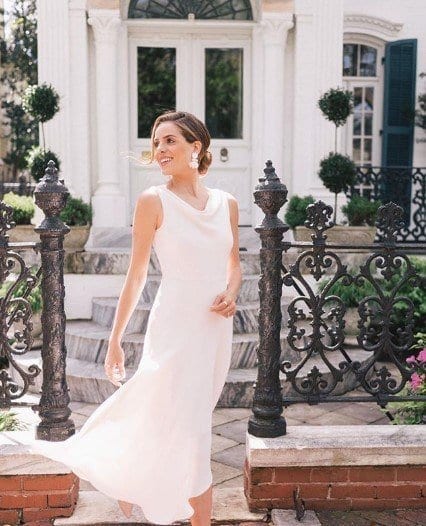 ↓ 17. Bright Summer Look + Jewelry Inspiration
Accessories can totally uplift any outfit. Get yourself some cute funky jewelry this summer to add the finishing touches to your look. Bright colors, as well as florals, are safe bets that will bring life and vitality to even the most boring outfit. We love this simple green and white striped tie dress paired with some statement flower earrings.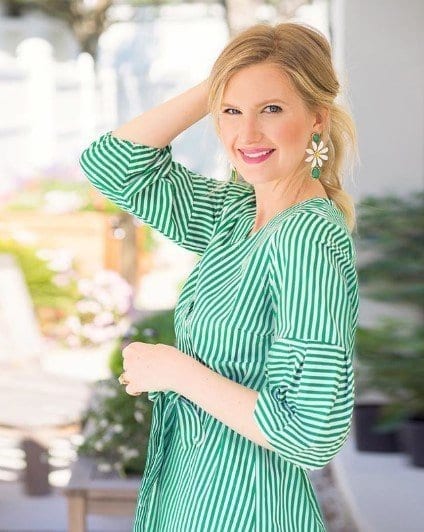 ↓ 16. Floral Dress for Wedding, Special Event, or Summer Party
Summers and floral prints are an endless love affair and an absolute must-have in your summer closet!
This long flowy dress is beautifully paired with some eye-catching tassel earrings and cat-eye sunglasses. Accessorize with a standout purse and heels.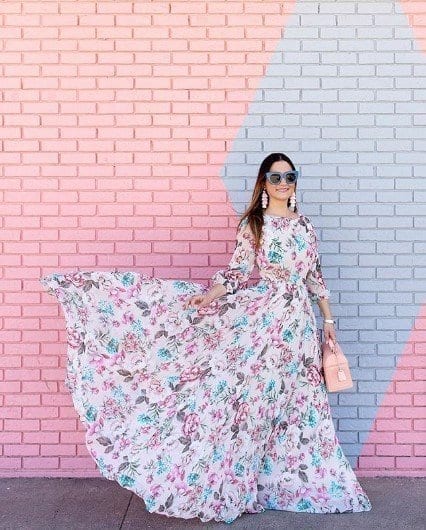 ↓ 15. How To Style A Maxi Dress This Summer
Get yourself a silk or satin maxi dress this July and keep things simple with beachy waves for your hairstyle and some simple accessories to go with it. Twist back the top part of your hair with bobby pins and stack some bangles on your wrists. This is a great beach party look or evening out on the town outfit. Check out these Stylish And Trendy Maxi Skirts For Women.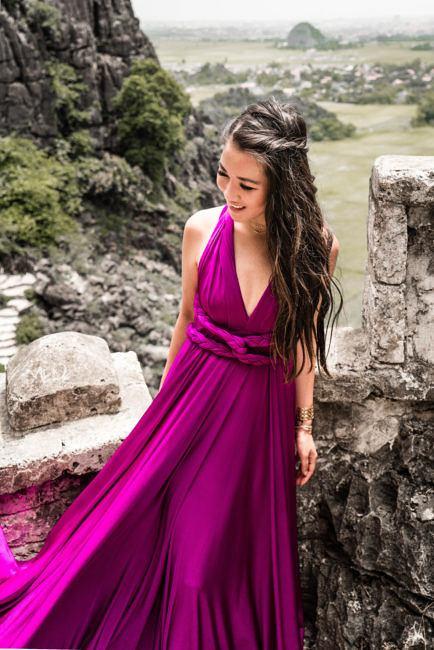 ↓ 14. What Accessories To Wear In Summer
With summer comes the opportunity to wear some great accessories, such as cute caps and hats, funky shades, and chic jewelry. And let's not forget awesome belts that you can wear with your favorite jeans or shorts! Take inspiration from this cute girl look.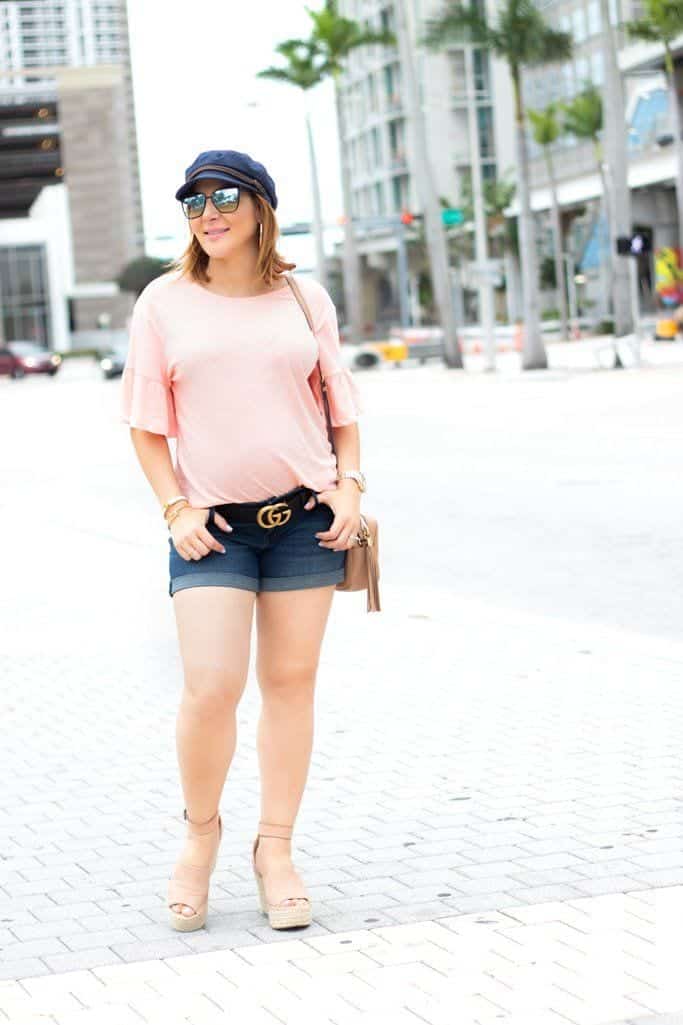 ↓ 13. Light & Flowery Summer Look for Girls
This is a look that girls of any age could pull off. Got a baby shower to head to? Grabbing lunch with your parents? Attending a Sunday morning church service? This look covers all occasions. Plus, it's such a cute outfit that you can definitely wear over and over!
Simply pop on a lavender colored jumpsuit and top it off with a vintage-inspired denim jacket. We love these embroidered flowers that are both whimsical and sweet!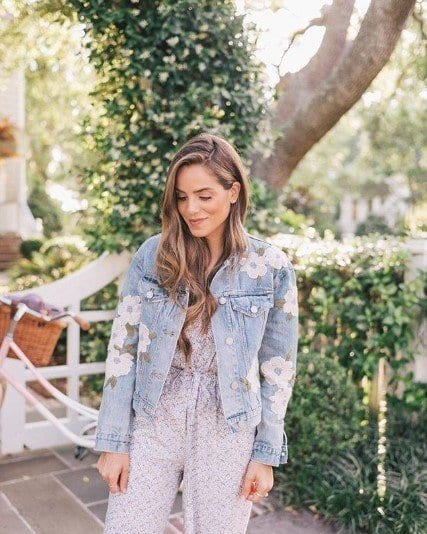 ↓ 12. Bold & Colorful Summer Outfit
Skirts are great for keeping your legs cool, and this brightly colored pleated one is sure to be no exception. Tuck a button-down chambray shirt into your skirt and turn up the sleeves for added coolness. A half-up, half-down hairdo will keep your hair off your face. Accessorize with sunglasses, bright drop earrings, and a standout purse. Last but not least, throw on a pair of funky heels. We love how this pair matches the skirt so well. Plus they are just so fun!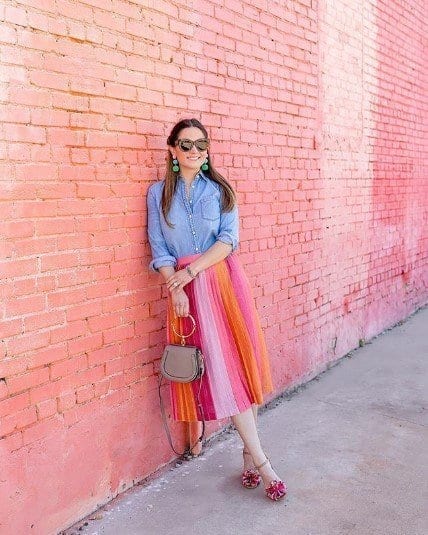 ↓ 11. Perfect July Vacation Summer Look
For a smart, stylish, but still, summer-approved outfit, check out this look!
This is a great outfit for attending a party, touring a new city, or grabbing lunch. We love this very unique twist on the classic boyfriend shirt. Pinstriped and summer-blue, this geometrically styled top is tucked into a pair of high-water jeans. Matching blue flats are eye-catching. Accessorize with sunglasses and a matching handbag.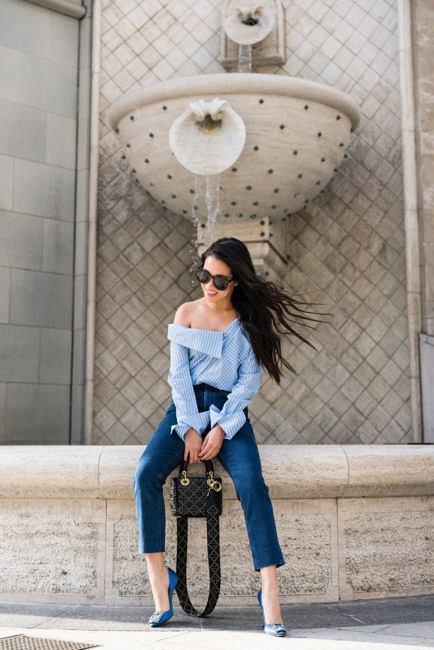 ↓ 10. Bold Tiered & Tasseled Summer Dress
Say goodbye to the staid summer dress of July's past and say hello to this trendy tasseled dress that is sure to draw every eye in the room! Accessorize with sunglasses, oversized tassel earrings, and tie up your hair in a top-knot. Nude heels elongate the legs and a simple but trendy purse ties the look together.
This is definitely a dress for the girl who loves to push the envelope with her fashion choices.
Here are 22 Ways How to Wear Tassel Earrings.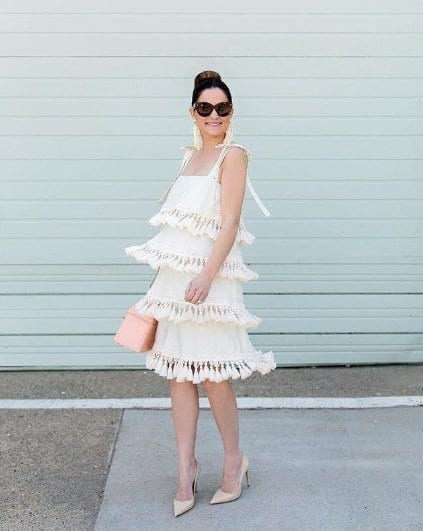 ↓ 9. How To Style A Kimono For Women
A kimono is a lightweight addition that makes any outfit 10 times more elegant. We love how versatile it is, as well as the endless array of style options it provides! This printed one is worn over a simple white top tucked into a velvety pair of high-waist pants. Accessorize with sunglasses and bold earrings. Nondescript sandals tie the look together.
Feel free to experiment with your kimono! You can also switch out these pants for skinny jeans, shorts, or even a close-fitting skirt.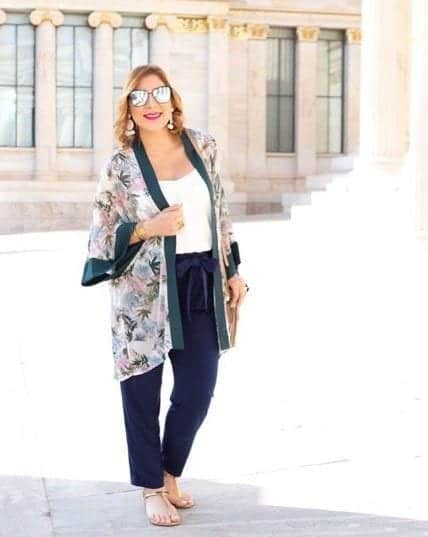 ↓ 8. Cute Look for a Party in July
If you want to wear black in summer, take a note from this book because this is how you do it!
Ruffles are all the rage this season and look absolutely gorgeous. You can get yourself a ruffled dress or a top such as this one and pair it with denim jeans or a skirt. We love that it's off-the-shoulder, keeping your shoulders bare and cool. Accessorize with a choker and sunglasses.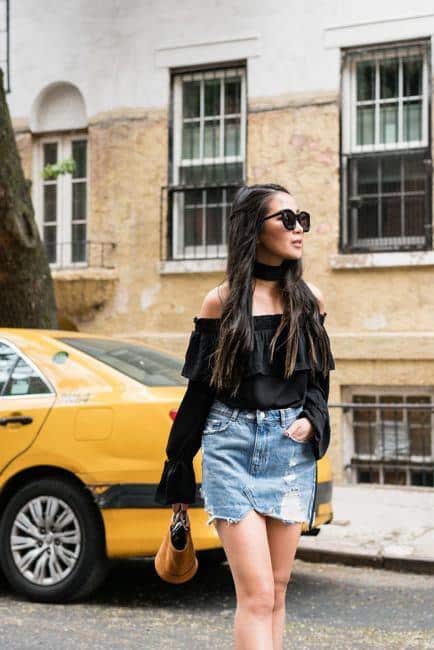 ↓ 7. How To Style A Crop Top In Summer
When wearing a crop top, it's important to wear high-waisted pants or a skirt. Remember the old adage, less on top, more on the bottom – and vice versa. This will keep you looking balanced and elegant.
We love this wrap-style crop top worn with high-waisted striped pants. If your crop top is a simple one, go for printed pants or culottes. A straw bag and minimal accessories are all you need to finish this summer-in-Venice outfit.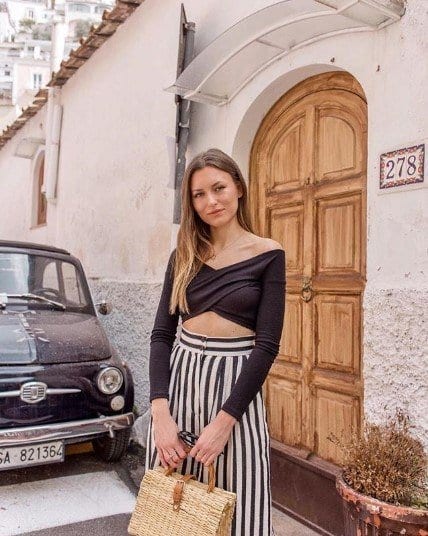 ↓ 6. Ripped Jeans For A Street Style Look
Ripped jeans have been around for a while and let's just admit it, one can never have too much of them no matter what season it is. So get your favorite pair out and style them with a stylish blazer (opt for linen to stay cool!) and a simple tank. Accessorize with sunglasses, a couple of clavicle necklaces, a purse and heels.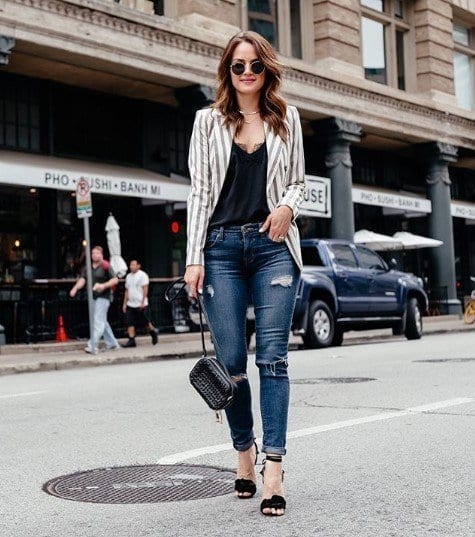 ↓ 5. Outfit With Halter Top For Unique Look
Take the center stage this July with a classy halter top and watch every head turn your way! Accessorize with some pop-of-color earrings and a gold bracelet. You can wear jeans or shorts with this blouse!
Here are 18 Ways to Wear Halter Outfits Everyday.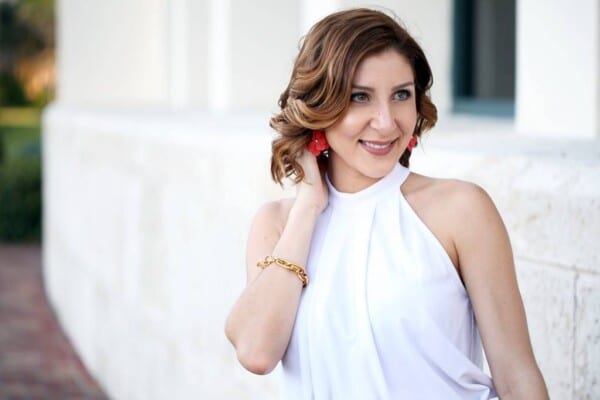 ↓4. Lace Top For Modern Summer Outfit
Lacy dresses and tops always look beautiful. You can style one such top with flared pants or a skirt. We like that this one is strapless and keeps with the summer vibe when worn with bright coral pink culottes. Accessorize with a clutch and pop on some nude heels.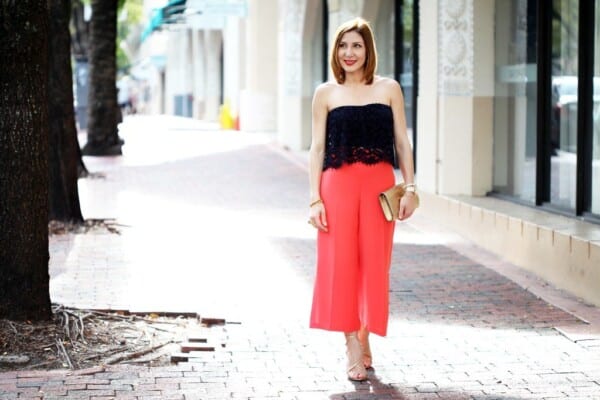 ↓ 3 – How To Style An Outfit With Culottes
Culottes are the hot trend nowadays and there is no reason why you should not hop on to this trend. We love this summer blue pair that features a fun wrap tie in front. Pair with an embroidered crop top. Accessorize with color-coordinated like this bright pink clutch, bold blue ring, and nude or pale pink girly heels.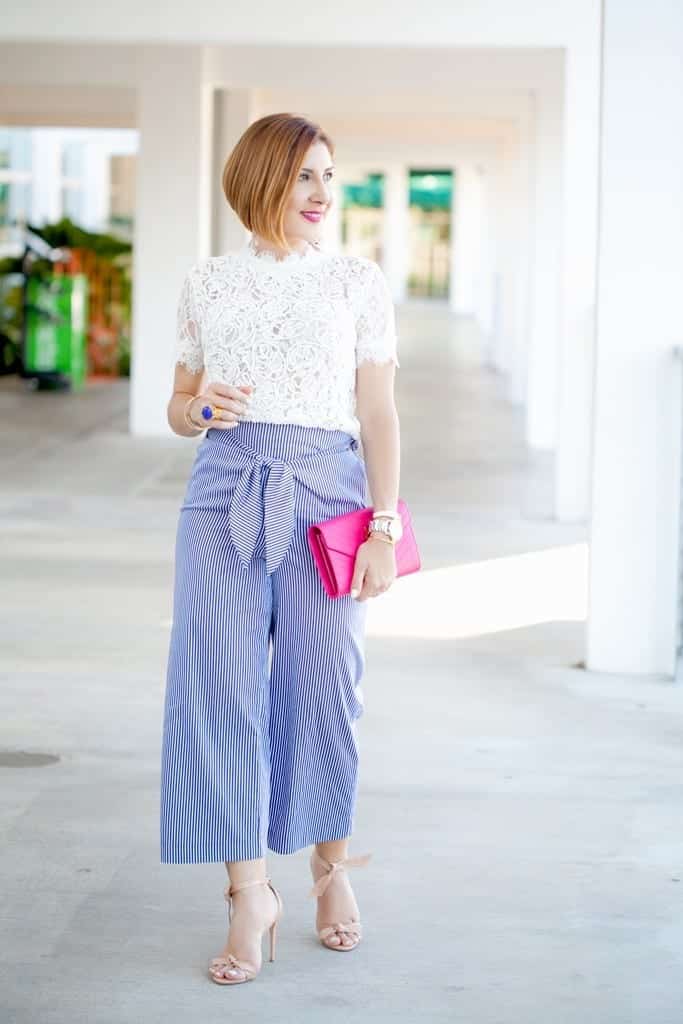 ↓ 2. How To Wear Shirt Dresses In Summer
This outfit is so effortlessly chic, trust us when we say that people will not be able to take their eyes off you!
Start with a summer pink shirt-dress paired with a chunky necklace like this statement black piece. Accessorize with sunglasses, a beautiful watch, and an equally gorgeous tote purse. Remember your fabrics and stay cool. A low bun with added headband will keep your hair neat and tidy, as well as off your neck!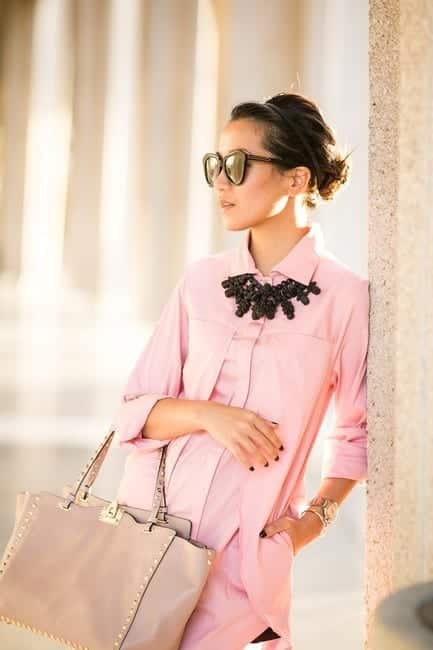 ↓ 1. Statement Tee Shirts For July Summerwear
When in doubt, a graphic tee that expresses you, your personality, or your style will always save the day. Accessorize with some stunning jewelry pieces like these earrings to dress up the look and make it appropriate for just about any occasion. This is your chance to make a style statement that really speaks to who you are. So have fun with it!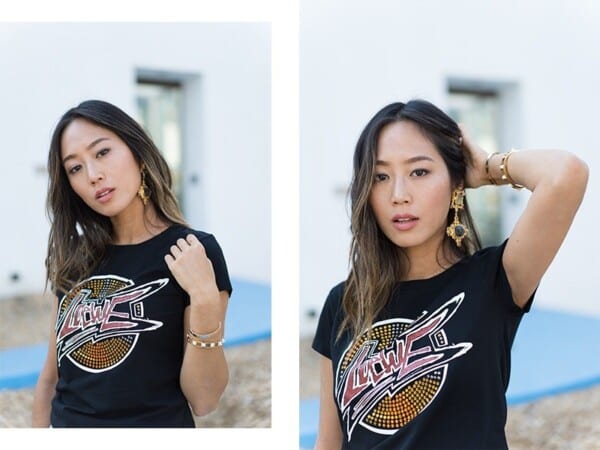 We are hoping that this article helps you this July as you look for outfit inspiration. Put your best foot forward and have fun with your looks! That's what it's all about after all.
Do not forget to give us your feedback in the comments! Stay cool, friends!