Summer Trends For Pakistani Women: Be ready for Summer! In today's article, we are going, to sum up, all the hottest trends that are a must-buy for the summer season. Why do I love the Summer season? This is a perfect time for wearing comfy, cool, and bright clothes.
We have seen so many looks on the runways this year, and we are here to filter that down to your needs so that we all can update our closets in the most fashionable way possible. I put together my top favorite trends that will define an upcoming season and make you look gorgeous. Anyway, here is a little sneak peek of what is boiling this Summer'19.
What Are The Latest Pakistani Fashion Trends For Summer?
Starting off with a summary of all the latest style trends (which will be covered in more detail further on):
Outfits in bright colors
Elements that give off royal vibes like intricate Mughal style embroidery
Smaller handbags
Desi jewelry
Minimalist shoes
Ghararas & shararas
Banarsi & chunri prints
See-through elements in outfits – like the use of sheer fabric in trousers
Fusion wear – a mixture of eastern and western elements
And don't forget to check out our review of the most popular lawn trends at the end of this post!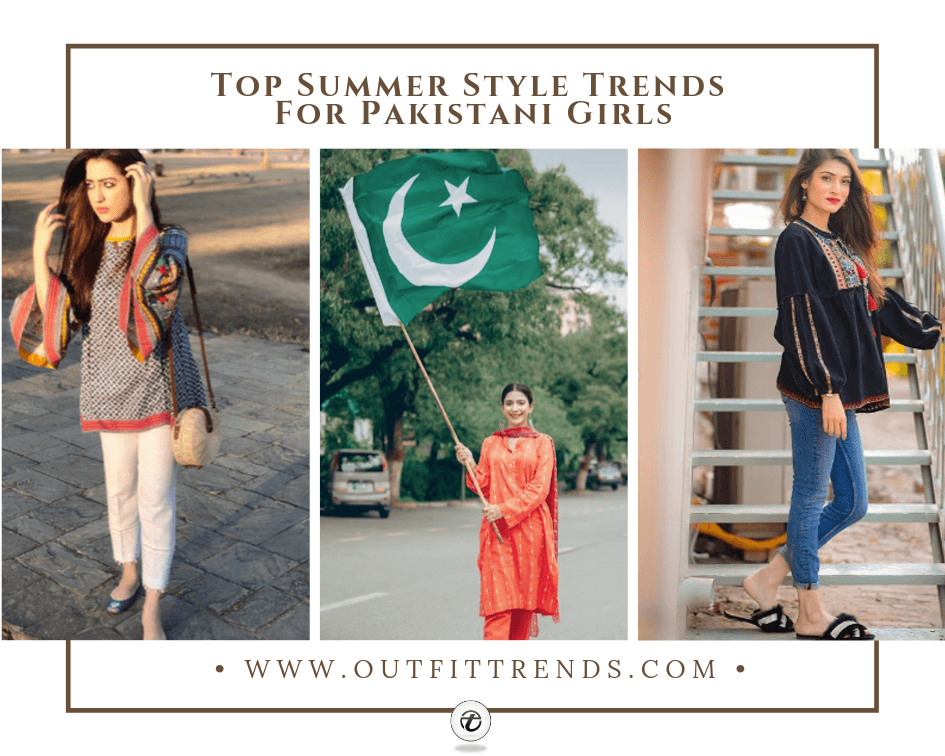 ↓ 10 – Go For Bright Hues
This summer, "color" has taken over the fashion industry. So you better get colorful or your summer is going to be dull.
People are experimenting with screaming colors and dancing patterns these days.
Throw some colors on you and join the summer party.
Although, dull colors in itself is a statement that's something people have spent months trying and playing with. Now people are craving excitement and joy in the shape of bold patterns and colors. Massive butterfly patterns have been a good combo with a brighter look.
This year, the trend appears to be favoring colors with plenty of personality and style and people are running right for it and why wouldn't they? And honestly, who wouldn't want a wide range of color options in their wardrobe? From now on, bolder color tones are going to be replacing the pastel colors that oh so conveniently became a part of our style.
Personally, if you ask for my opinion, I die for bright colors and the fact that I don't have to wear layers and layers of clothing. So now that Summer is here, everyone only has one thing on their minds! Well, this season is all about color, graphics and prints, and pretty feminine shapes. It's absolutely everything that has kept me crazy this summer.
There were so many great trends that will be making their way into our closets this season, and some that are just way too ridiculous and over the top but we will still be trying them all.
Red, Yellow, Orange, and Bold Pink outfits are super trendy this year for both daywear and evening wear. Here you go, color maniacs, this year is looking brighter than the sun.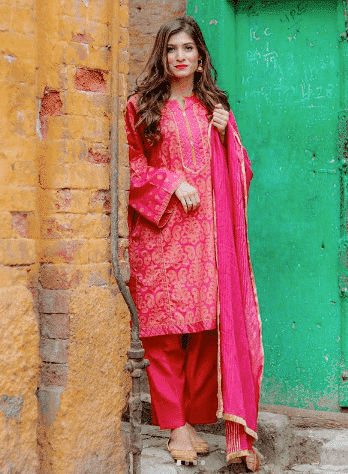 ↓ 9 – Choose Royal Vibes For Festive Wear
You would think that all people want is something simple to wear, but no! that's not what's trending this summer.
People want clothes that scream "You are Royalty". They want everyone to know that they are wearing the crown when they walk into the room.
Feeling powerful is whats everyone is running after.
Aren't you tired of looking basic and just ordinary? don't you want to feel empowered through your clothing? I bet you do, so that's why this summer people are attracted towards more of a bold, out of the box and royal look that's never been seen before. Pakistanis are putting a Desi spin on their wardrobe. It's classy, its juicy and its everything people can talk about this summer.
Whether its embroidery, lace or jewelry, retro and romantic blend makes people different and gives them a feeling they never felt before. Then why not try it?
In Royal fashion, it has been said that jewelry is a symbol of nobility. So that a simple piece of cloth can become the star of the night, and can be the crowning touch to the entire attire. Don't you think?
"Going Royal" has been trending like a tweet gone viral, but it's not that simple! Even in reality you just can't become royalty without doing certain things. You need to go all out in the most classic way to be able to wear the crown which is oh so Holy even in terms of clothes.
This Eid' go heavy with embroidery and you will surely feel great about yourself. Do check out these Trending Party Outfits for Pakistani Girls.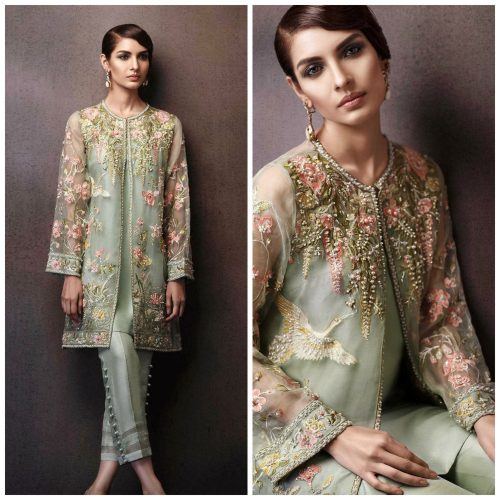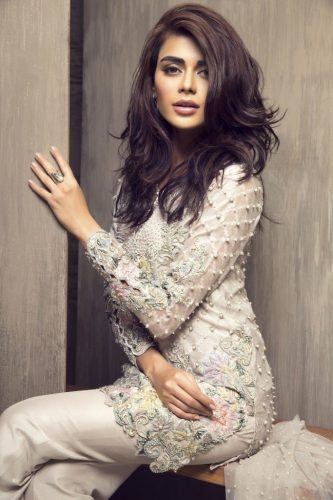 ↓ 8 – For Handbags, The Smaller The Better
This summer mini bags are ruling the runways, so if you don't have a bag smaller than your hand then you are out!
"Go big or go home" no longer applies to anyone.
The color may be bright or light but it needs to be the pocket size.
This summer wherever you look, you'll see a small handbag going hand in hand with any kind of clothing trends. Although huge bags have saved our lives for many years, carrying our not so important things that somehow need to be with us every time we get out of the house, this summer mini bags will be minimizing the load while making us look fabulous. And to be honest they are just too cute to ignore.
They are compact, efficient and fashion-friendly then why must we turn away? let me say it again, it might not fit more than a phone and credit card—but dang is it cute.
After micro/ mini handbags were first showcased in runways, they became the talk of the town pretty soon after that, although some are still not ready to let go of their old habits but stars like Mahira Khan, and Deepika Padukone are clearly huge fans of the tiny accessory, as they have seen numerous times holding bags that weren't even big enough to hold their necessities. But as they say it "Fashion is pain".
Did you know which kind of mini bags is in this season? if not, keep reading!
This is the list of mini bags that are in…
A) Charles and Kieth Embroidered Wristlet Handle Bag
B) Elementary bag – Green Gold – Jafferjees
C) Hub Leather- Doctor Bag (BLK/WHT)
D) Vincci- Transparent Cover Shoulder Bag (Black/Pink)
E) Beaded wood bag- Mango
And brands that are the talk of the town when it comes to mini handbags are listed below:
Charles and Keith
Jafferjees
Accessorize
Mango
Limelight
Mochari
Vincci
Dudra East
Hub Leather
Dune London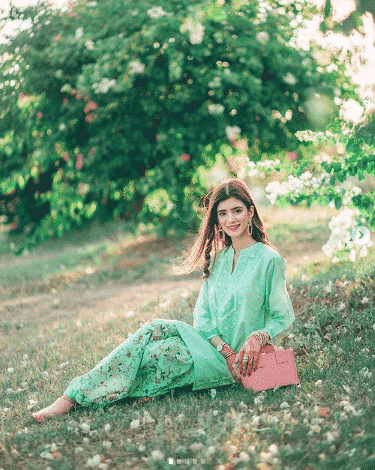 ↓ 7 – Wear Your Jewelry Like A Desi Queen

Jewelry has been a significant adornment for women all around the world since forever. So why do so many women choose to wear jewelry daily and why do these accessories have such an enormous impact on the way they look and feel? They are an expression of who you are.
Jewelry pieces not only make women look elegant and beautiful but also make them more confident. Wearing the right jewelry will go a long way when it comes to adding that extra flavor to your dress. There is so much to choose from these days that one often gets confused, be it necklaces, earrings, bracelets or rings, all types of jewelry have an important role to play when it comes to enhancing the looks and appearance of a woman.
People have worn jewelry for a million different reasons, not only to feel more beautiful but also for a spiritual reason or because of it a lot to them, etc. Some people believe in the power of gemstones and want to harness the many benefits gemstones have to offer, a great way of doing so is by wearing jewelry. Almost every gemstone available today is now available in one form of jewelry of the other.
There are topaz earrings, sapphire necklaces, opal rings, and lots of others. These pieces of jewelry can be seamlessly incorporated into your outfits. They also provide a great way for you to have your favorite gemstone on you and reap its benefits at all times. In the end, everyone is getting more into this trend of wearing jewelry for whatever reason. Nowadays it doesn't stick to one gender as well, because a lot of men have started wearing rings and earrings etc. to express themselves
Girls, we all know how important it is to accessorize any look… Recently, I've seen a lot of girls wearing the latest trends which not many have experimented with. Let me tell you the perfect places to get amazing yet affordable jewelry like these. I've come across some trendy ones at Tesoro which might be hot enough to keep the summer hot and boiling but ill list down all the best spots to get the trendiest stuff this summer.
Want to rule this summer, wear the cutest accessories, put on your favorite outfit on and run towards the music. Everyone's going to be having a party in their shoes this summer for sure!
Wait a minute… I'm forgetting something! Listen up, you thought it's just that simple, no. Different kinds of jewelry will go with different looks, some might be a little simple but elegant and some more on a heavy side.
There are many stores in Pakistan for shopping for jewelry, the following list is the names of some of those stores
Tesoro
Diamond Crown
Claire's
Swarovski
Hifly
Real Jewelers
Noor Collection
Noor-u-Sama
Many local clothing brands like Sapphire too have come up with some gorgeous accessories that are worth checking out
But of course, that doesn't answer what jewelry you should buy, considering the fact that all these stores offer such a huge range and variety. Well, this year it's all about desi stuff, jhumkis, maang tikkas, chand balis, karras, basically everything in your mom's drawer that you've always been mesmerized by! And these desi accessories shouldn't just be limited for your desi outfits, you can easily rock them with western wear too.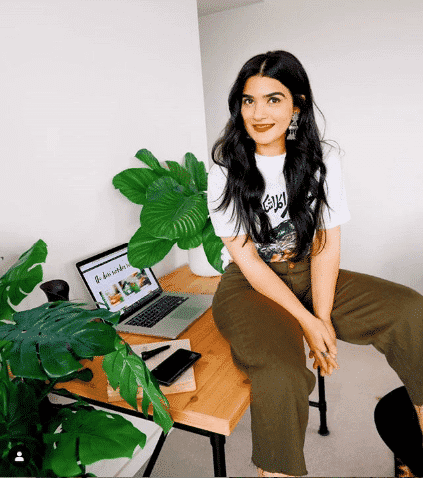 ↓ 6 – Go For Simple, Classy Minimalist Shoes
Throw some classic and comfy shoes on because they never go out of style. This summer '19 classic and simple style is in, wear a plain t-shirt with your favorite heels and you are golden. For dinners and parties, the only way you'll be accepted if you "grow a pair", and you can never go wrong with a classy look. Go get yours now!
Hold up your hands in the air if you want to look sophisticated and chic! A new stylish pair of sneakers is all you require my darlings.. or if you are in the mood to go out with your friends put on some wedges or heels to brighten up your day.
Forget glamorous clothes, the limelight this season is still on your shoe collection. Either it may be formal guy shoes giving girls the masculine look with a feminine edge, who knew this would become one of the hottest trends out there.
Runways are throwing fresh ideas like freshly ironed clothes, showing how Pantsuits with jewelry, over-sized bags, heels, and sunglasses is exactly how you are going to rule the fashion industry this summer. Pantsuits used to be trendy back in the days as well, and now they have clawed there way back yet again and no one can stop them.
If they say "a girl can't rock a pair of boots" ill laugh and say wake up it's 2021 and we ladies can do it better and with style, don't you think?
Any type of shoe, which is fresh of the runway is classic and the perfect way for someone who wants to look professional yet a little playful at the same time. There are many different ways one can carry off their overall look one of them is wearing a white shirt tucked into a pair of white high- waisted pants with tan open-toe heels and a light jacket to make the winter look more appropriate for spring.
We recommend buying classy, simple and minimalist shoes that you can wear with multiple outfits without feeling restricted because of their color or style.
Where to get affordable yet classy shoes from?
Charles and Kieth
1st Step
Almas
Nike
Marie Claire
Hush Puppies
Stylo
Shoe Mart
Logo Shoes
Insignia
Clark
Timberland
Service
Flutterby London
Even investing in a nice pair of nude pumps would go a long way as you can pretty much wear them with any outfit. This point is proven by Pakistani blogger Urooj, as you can see here pairing several different outfits with her nude pump heels from Flutterby.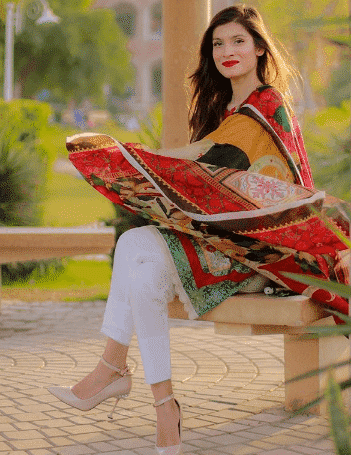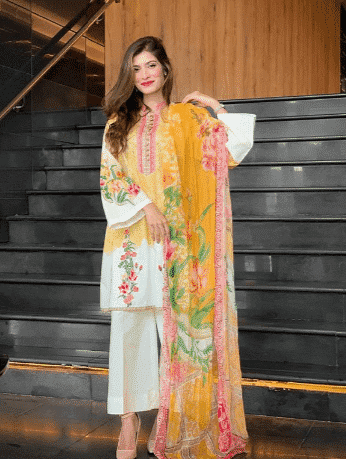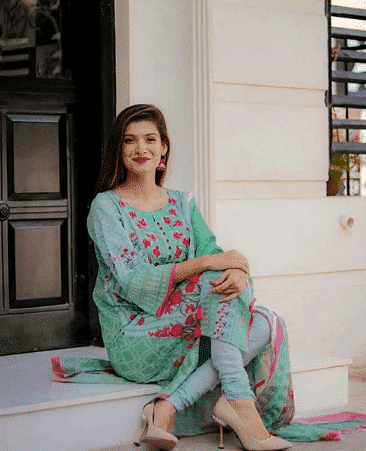 ↓ 5 – Ghararas & Shararas Are Back With A Bang
Ghararas and shararas are trending once again for formal as well as semi-formal wear. For casual wear, gharara pants are still a huge hit. Considering how hot and humid Summers in Pakistan are, these flowy bottoms are a breath of fresh air as you feel relaxed and comfortable when wearing them.
We did a detailed post on the
latest gharara styles and tips on wearing
them so do check it out. If you haven't worn a gharara or sharara before, my recommendation is to start by buying a basic white one as you can pair it with any of your Summer Kurtis.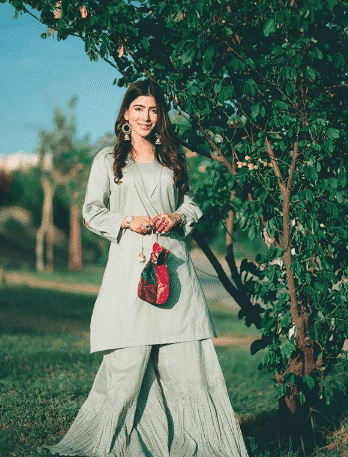 ↓ 4 – Choose Banarsi & Chunri Prints For Ethnic Wear
The most hit prints amongst all the latest lawn collections were the ones with banarsi and chunri prints, as they're popular once again. A few years back, banarsi prints were only limited to saris or special occasions while chunri was something people would wear on mehndi functions but seeing them in casual everyday outfits is surely a delight. These prints give off elegant, royal vibes which are why they're every woman's favorite these days.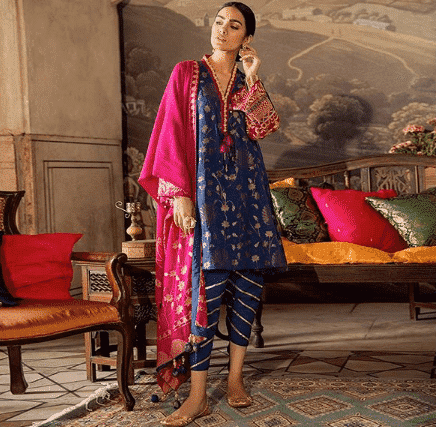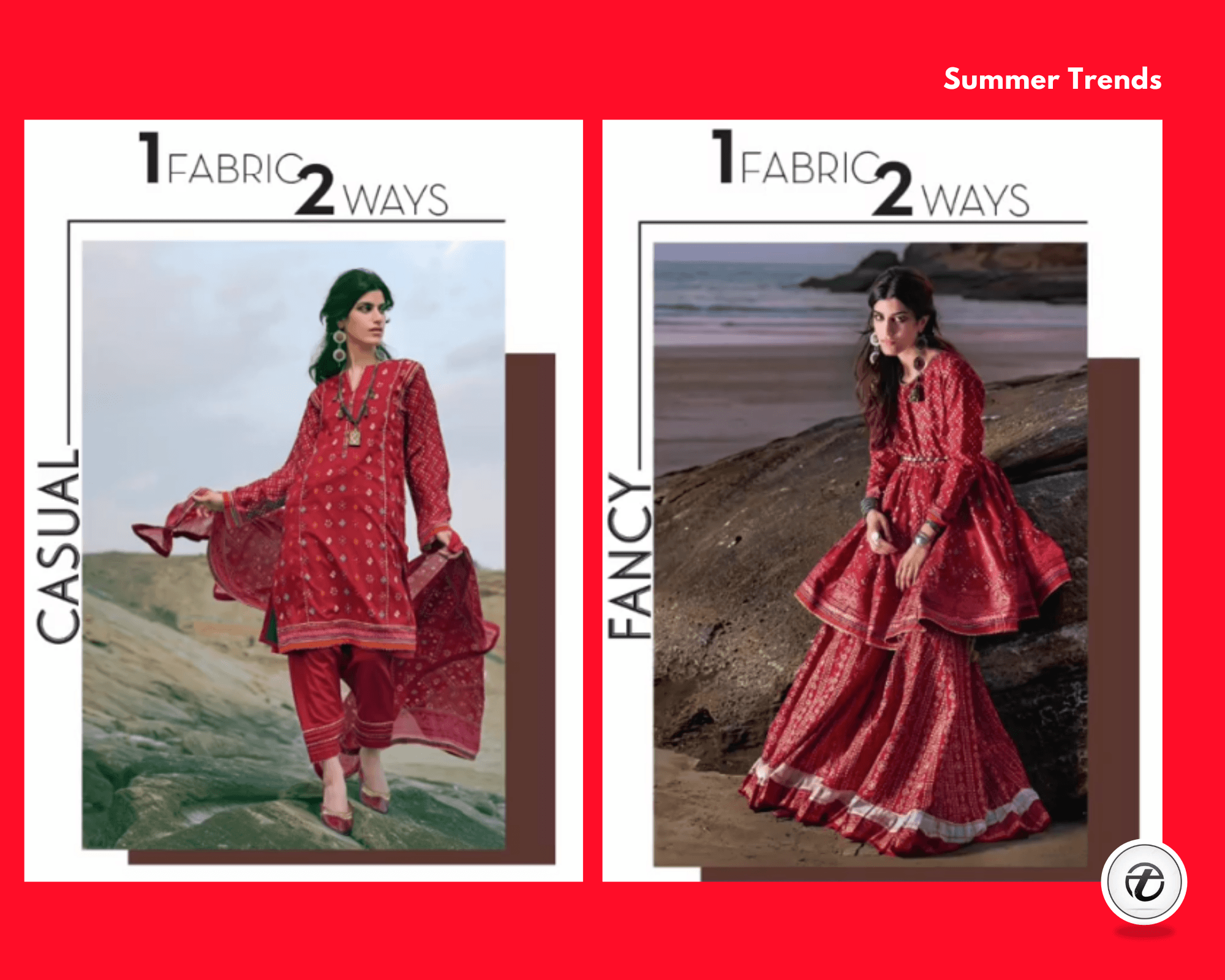 ↓ 3 – Peek-A-Boo Trousers
We've seen organza trousers becoming increasingly popular this year. You can find them at pretty much any renowned fashion brand like Khaadi, Sapphire or BeechTree. They're also available in different styles including cigarette pants and baggy trousers. They generally have strips or organza attached to them in different designs so the legs are slightly visible through the trouser. For more inspiration, here are 18 Chic Pakistan Street Style Fashion Ideas to Follow.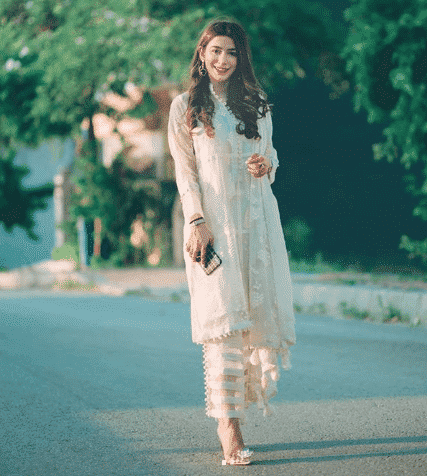 ↓ 2 – Fusion Outfits
Wearing jeans with kurtis, the ultimate fusion of Eastern and Western wear. This trend has always been favorite amongst young Pakistani girls and it's hot as ever this year, especially considering the great variety of kurtis available. You can easily pair any of your skinny jeans with a kurti of your choice.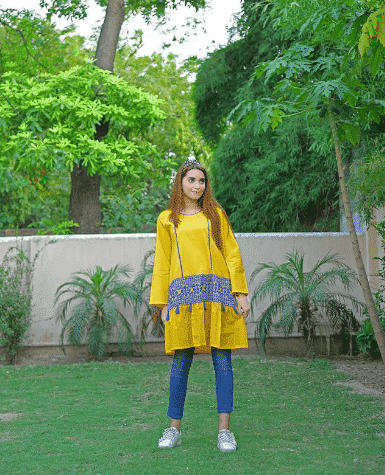 ↓ 1 – The Best Color To Wear This Season
This summer stunning street style collection of all-white outfits is what's trending and at the same time breaking barriers. Forget about the "rules" and create a perfect white look that will lift your mood and will make you look ravishing this summer.
White is one of the iconic colors making its way back from the dead!
If you think that white is a boring way to be dressed in real life, then you better think twice, as you can use subtle prints and out of the box textures in your all-white look, you can make a fashion statement with this look.
Don't remain flat, try on lace white crop-top and pair it with tailored white trousers or keep it fun and ladylike, do it however you want it, no one is stopping you this summer. Go wild with your ideas, just remember whatever makes you feel good is what you should wear.
If you feel like all white is too monotonous for you, you can always spice it up with a colorful dupatta. We're sure you'll find the right one from our earlier post on 17 Types Of Dupattas That You Need To Buy.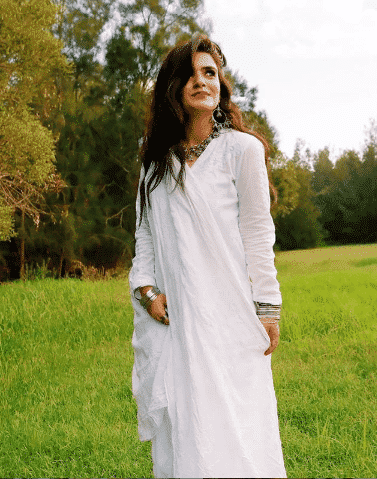 Bonus Read: The 5 Hottest Lawn Trends Of The Year
Summers would be incomplete without the lawn fever, right? So we surveyed all the latest and most popular lawn volumes to bring you a list of what prints and styles are trending in lawn this year:
It is always nice to see our National brands portraying our heritage and block printing is one such technique that always acts as a reminiscent of our history and tradition. We saw many brands including Zaha bring back block printing with a modern touch to it.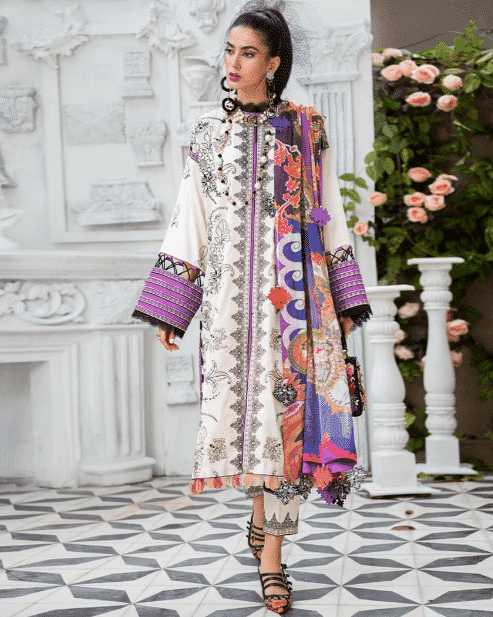 This is another traditional type of embroidery that looks perfect in Summers because of its light and breezy design. You'll see a lot of designers releasing chickenkari lawn prints this year including Maria B and Zainab Chottani.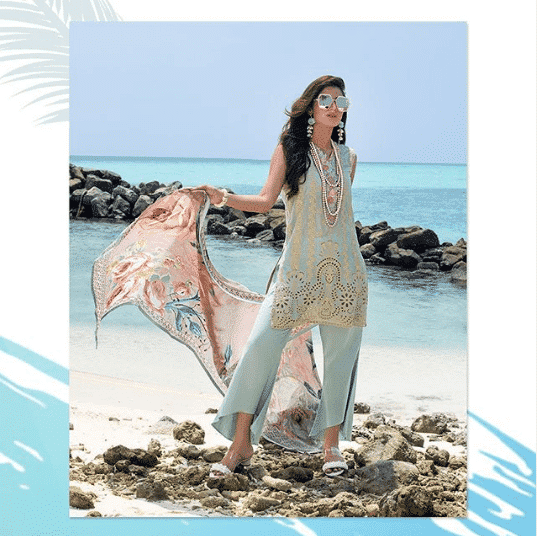 Minimalist fashion has been trending since the last few years in Pakistan as more and more brands have started launching solid colored shirts. After all, at some point we all get tired of all the prints. But this year, the focus has moved from simple solids to stripes, including horizontal, vertical as well as a mix of both. Here's a look at one such "stripes on stripes" outfit from the Western line of Sapphire: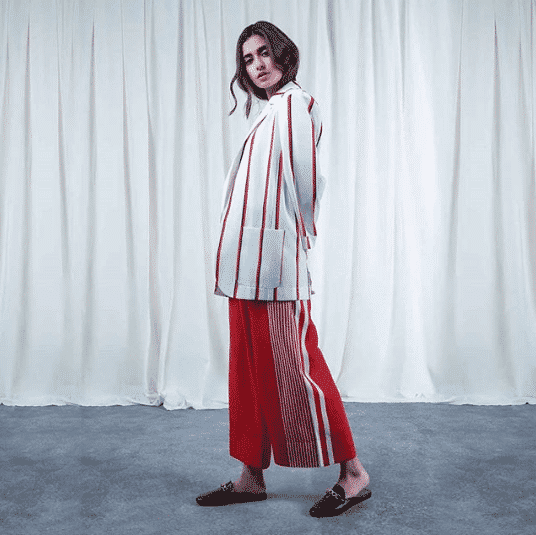 And here's a look at one of our favorite striped lawn print from Sapphire: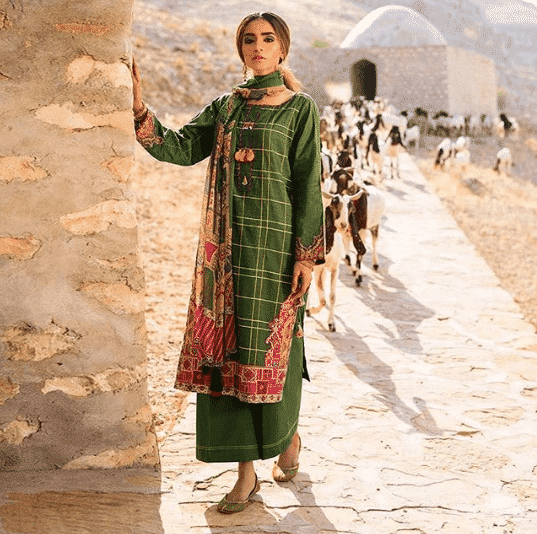 Funky animal printed lawn shirts have become increasingly popular this year, especially amongst young Pakistani girls. But this year, we saw a merger of the flora and fauna in the form of beautiful embroideries on lawn shirts. This is definitely something new and a trend worth trying.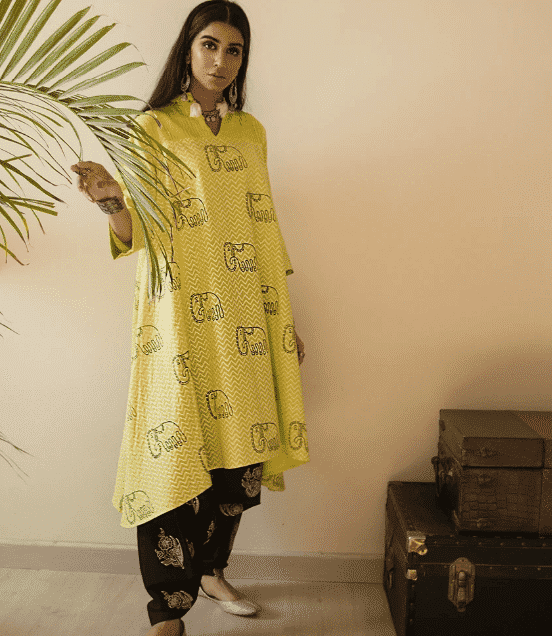 The Ombre effect refers to a visual gradient of colors as they merge together to create a magical effect. This trend becomes popular almost every summer because pastel colors look fabulous in Ombre prints and they look like they're made for Summers. Here are some beautiful Maria B outfits that feature the Ombre effect: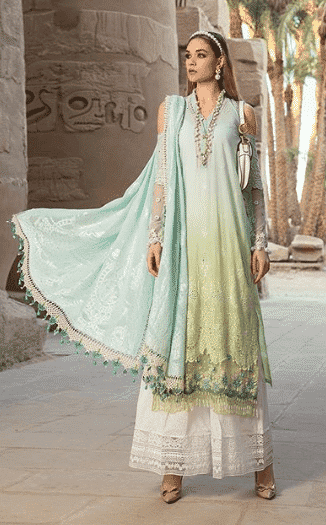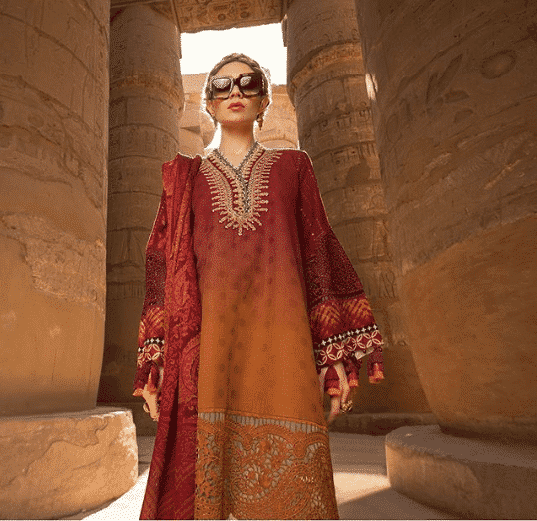 So which of these trends is your favorite and what do your new Summer outfits look like? Do leave a comment and let us know.