Sequin Saree Designs. From Sri Devi to Janhvi Kapoor, Sequin sarees are the epitome of sexy playfulness blended with a dash of sensual Bollywood glam. This hot and happening saree outfit is a lewk in itself and a hot favorite amongst celebrities and fashion influencers.
A popular '90s attire, sequins sarees have made a smashing comeback and we can't wait to play dress-up. With strict covid norms finally relaxing, 2022 is the beginning of a fresh start. Slowly waking up from a long nap, this year's fashion is waking up to vibrant maximalism, 90s nostalgia, and crazy parties. Talking about parties, how can we forget about the OG party attire – Sequins?
From sequins bags, tops to skirts and pants, nothing screams party better than sequins but it is the sequins saree that has our hearts. With a happy retro nostalgia, the sequins saree is sensual but classy, young with a hint of old Hollywood glam, and might we say our absolute favorite.
How to Style a Sequin Saree?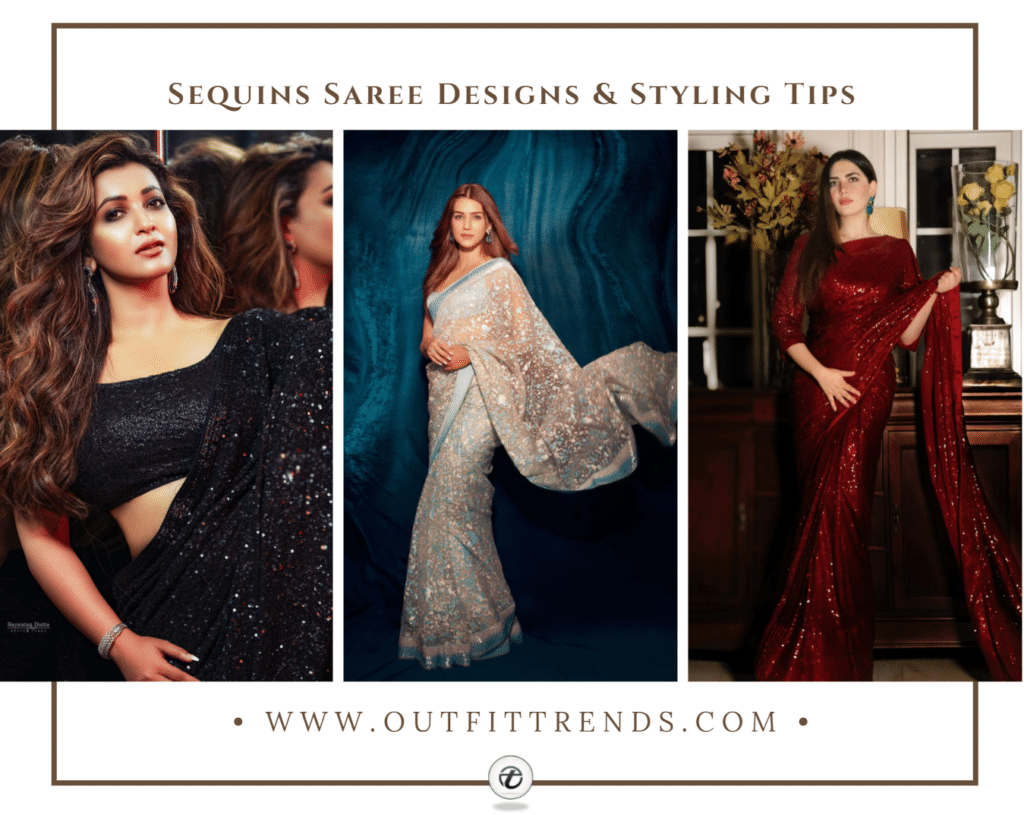 Sequins are perfect for a nighttime event or a wedding as they shine the brightest at night, but if you are thinking of trying out a sequins saree design for a day event, opt for a neutral pastel color or floral pattern and avoid shining like a disco ball.
Pair your sequins saree with a high neck blouse for those chilly spring night weddings.
Style your sequins saree with a statement crop top to add a dash of sass to your outfit.
For an old Hollywood glam look, opt for a monotone sequins saree, and style it with side-swept hair, diamond studs, and a bold red lip.
For an elegant sequins saree looks, accessories your saree with a dainty pearly necklace and turn this sensual number into an understated regal look.
16. With a High Neck Blouse
The perfect way to tackle those chilly night weddings with finesse is to adorn a stylish sequins saree and style it with a high neck blouse. Sexy yet young, this well-defined outfit is sleek and timeless and will also keep you cozy during the cold spring nights. Accessorize it with silver danglers and open hair for a dramatic look.
15. With Organza Border
One of the more unique and fresh sequins saree designs, this chic number with trendy organza border and sparkly sequins design has won our hearts. In an easy-breezy aqua color, this sequins saree with a gorgeous organza border is nothing we've ever seen before and a must-have for this summer season. Wear this with an updo, and minimal jewelry, and your summer brunch look is done.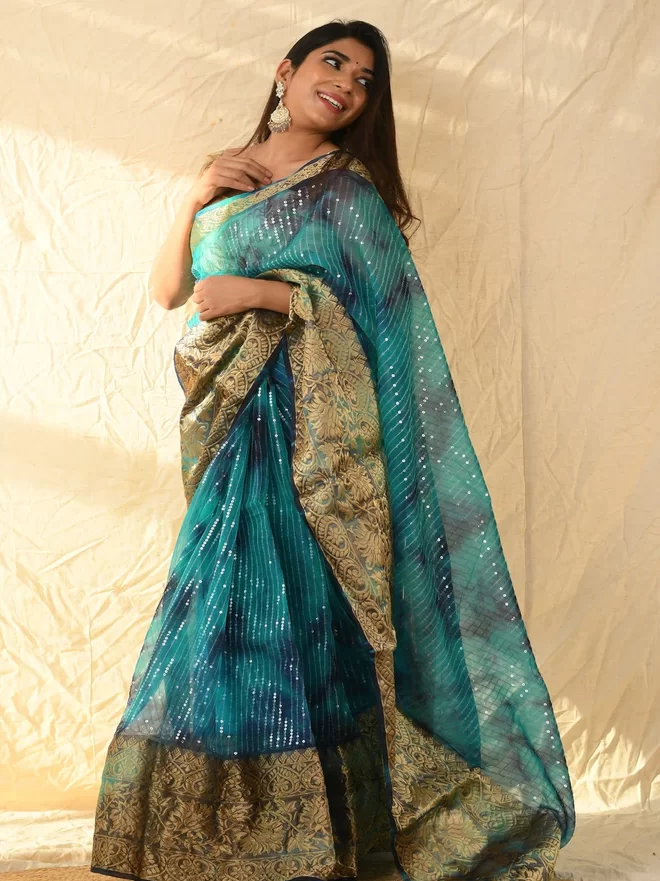 14. Monotone Sequin Saree Design
A summer must-have, add a breath of freshness into your wardrobe with this monotone sequins saree in a refreshing light slate gray. A rich and sensual piece, this saree is sure to make you stand out thanks to its unique color and striking sequins work. Style it with diamond danglers, and a low bun, and add on a hot pair of wayfarers for a touch of sass.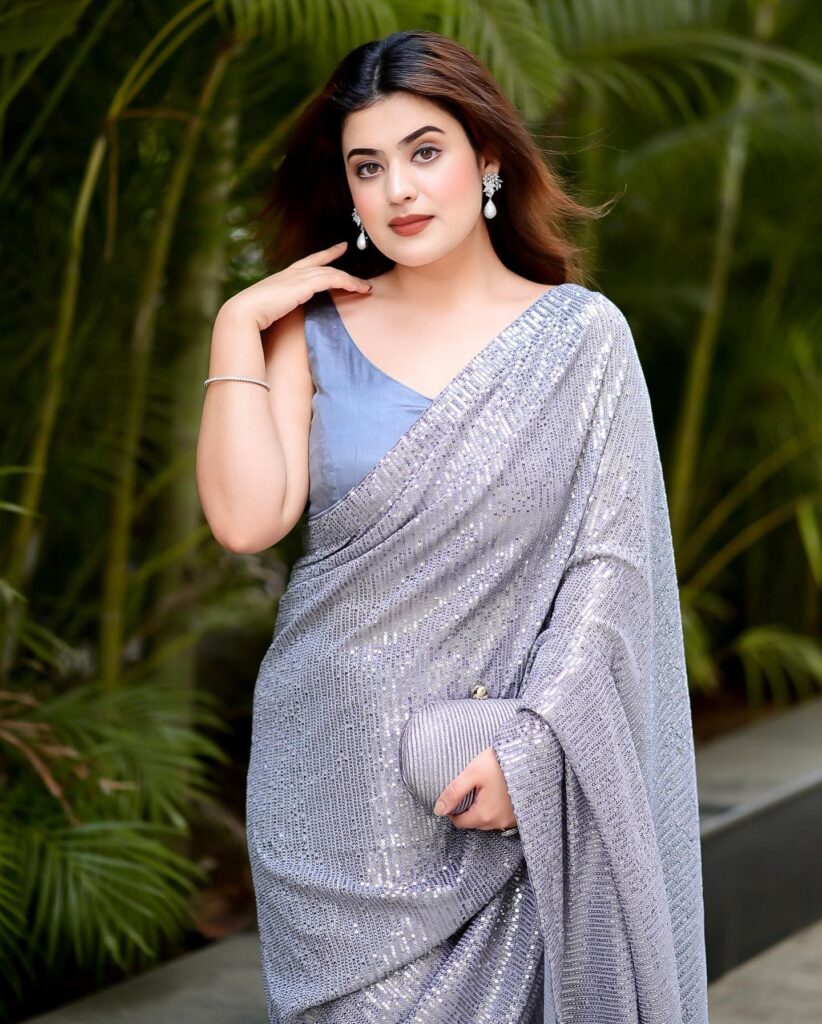 13. With Contrasting Border
There's just something about a saree with a contrasting border that beautifully cuts the monotony and adds a pinch of finesse to the whole outfit. This wine-colored sequin saree design is the perfect example of splendid grace and sensual glam. Adorn this at the next reception with wavy hair, a dainty diamond necklace bold lip, and dazzle.
12. Dhoti Sequins Saree
Looking for a hot and happening sequins saree? Fret not! We have found the perfect cocktail saree for you that is going to take your breath away. This glamourous silver number with a sexy slit is a showstopper made just for our fashionistas. Style it with statement earrings, and a dainty bracelet, and let your influencer-approved look do all the talking.
11. With a Statement Blouse
A sophisticated gold sequins saree, matched with a statement puff sleeves blouse is a match made in heaven. This ultra-modern and chic look makes you wanna look twice in awe and appreciation that it certainly deserves. Contemporary with an eye-catching twist, this look is best paired with a sleek hairdo, statement earrings, and the confidence to steal the limelight. You can find more inspiration from these Latest Saree Blouse Designs & Blouse Styling Ideas.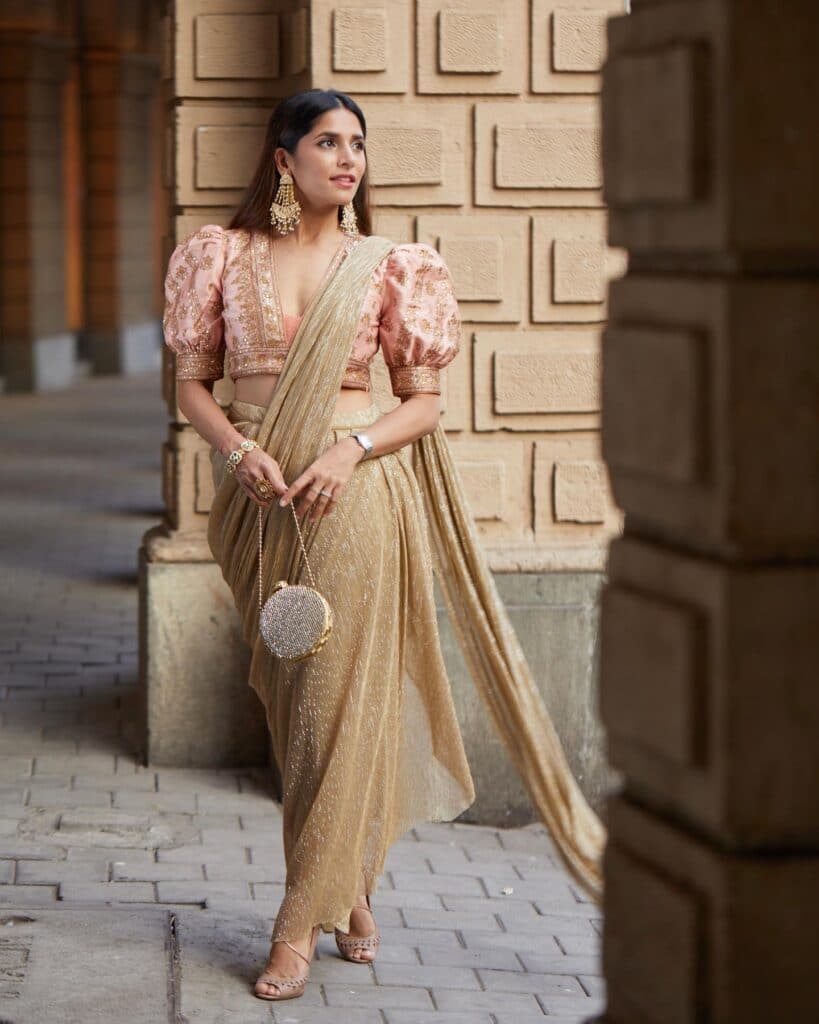 10. Saree with Sequins Border
Stepping into the world of sparkle and glitz can be a tad intimidating. A subtle and casual way to incorporate sequins into your wardrobe is to opt for a net saree in a bold color with a delicate sequins border and a glamorous sequins blouse. Without being too over the top, this look is all about the understated glam. Rock this look with beachy waves, nude makeup, and silver danglers to bring the whole look together.
9. Lehariya
A traditional tie-dye print from Rajasthan, the 'lehariya' print is an age-old technique of decorating a fabric with colorful stripes. This beautiful lehariya saree in purple with gorgeous sequins is the perfect blend of traditional artistry matched with party glitz and glam. Wear this at a haldi function or at your friend's Mehendi, for an out-of-the-box chic sequins saree look.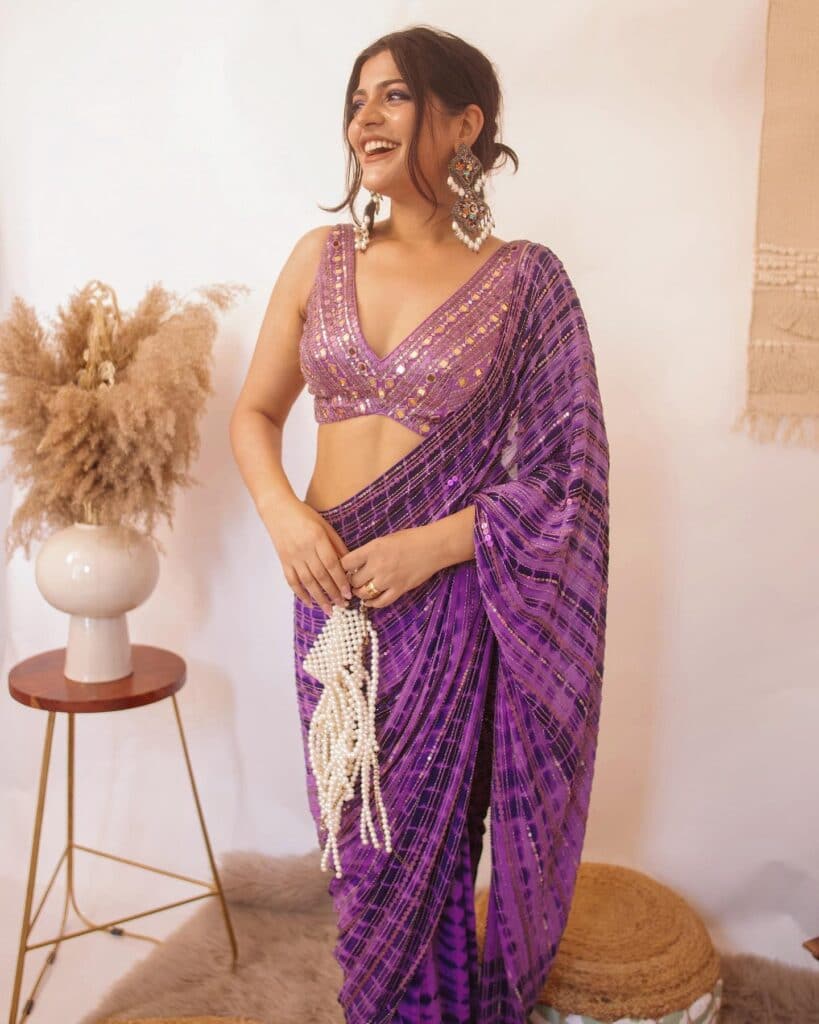 8. Floral Looks for Summer Weddings
For an ethereal summer wedding look, this yellow sequins saree, with an exquisite floral pattern appears to be the perfect Indian version of summer dresses. Vibrant and flirty, this georgette number will keep you cool during the hot summer days whilst making you look like a million bucks. Pair it with a traditional polki haar in a contrasting green tone, and a crimson lip and you are all set to get your best friend married.
7. With an Off Shoulder Blouse
In a vibrant hue of sunset orange, with dainty sequins around the border, this shimmery saree in chiffon is an exquisite piece that is simply giving us the maharani Gaytri Devi vibes. Paired with a cheeky off-shoulder blouse in the matching shade, this saree is a rich and modern number that should be in everyone's wardrobe, Style it with a messy side bun, some white flowers in the hair, and dainty jewelry and sparkle.
6. With Matching Sequins Blouse
Be it for a disco-themed soiree or a wedding reception, this deep red sequins saree paired with a matching sequins blouse is the quintessential party outfit that is a must this season. Style it with contrasting black jewelry for a party or the regal emerald necklace for a reception, this sequins saree design demands attention and we are all for it.
5. Pant Style Sequins Saree Design
A contemporary party outfit, this pant-style sequins saree in regal mustard hue reminds us of the gorgeous saree collection of our B-town beauty, Shilpa Shetty. Effortless, sensual, and easy to drape, this young and fresh number is perfect for last-minute parties where you need to look your fabulous best. Accessorize it with contrasting green jewelry. Finish off this glam look with sleek hair and a sensual smokey makeup to keep 'em talking. Do check out our detailed guide on How to Wear Pants Style Saree.
Via
4. Sequins Saree Gown
One of our absolute favorite sequins saree designs from the lot, this breathtaking champagne sequins saree gown is simply divine. Made for our style queens, our influencers, and our fashion forwards, this exquisite ensemble with its striking structured details, is a quintessential Gaurav Gupta number. Style it with a smokey eye, a nude lip, and sleek straight hair. Or bring out the sass by opting for voluminous waves with hot crimson lips – Main character syndrome much?
To find a happy balance between the two look you can also opt for a messy bun, soft nude makeup, and style it with emerald drop earrings. When it comes to styling this versatile piece, the options are endless.
3. Lehenga Saree Design
A fantastic creation, a brilliant idea – whoever decided to blend sarees with lehenga was an absolute genius. The timeless grace of a saree fused with the breezy flowingess of a lehenga to make a fantastic fashion concoction, lehenga saree is the definition of comfortable fashion and we are all for it. Perfect for first-timers, twirl in your sequins lehenga saree and be the star at the next party.
2. Black Sequins Saree
Imagine breakfast at Tiffany but make it Desi. A black sequins saree is the epitome of sensual grace with a hint of old Hollywood charm. When styled with a messy bun, rose in your hair, and soft brown-nude makeup, this sexy ensemble is pure magic. Wear this glamorous number at the next party and don't forget to tag us in your pictures.
1. Bollywood Style Inspiration
When talking about sequins how can we forget Bollywood and our stunning Bollywood diva's fashion sense? This striking sequins saree with handpainted motifs by one of India's most celebrated designers -Manish Malhotra is the perfect amalgamation of sensual beauty and impeccable artistry. Style this piece with nude makeup, soft waves, and clear heels, and let your magnificent sequins saree do all the talking. And if even this look doesn't convince you to go for a sequin saree then you might want to opt for a sequin skirt instead so here are some of my personal favorite sequin skirt outfits.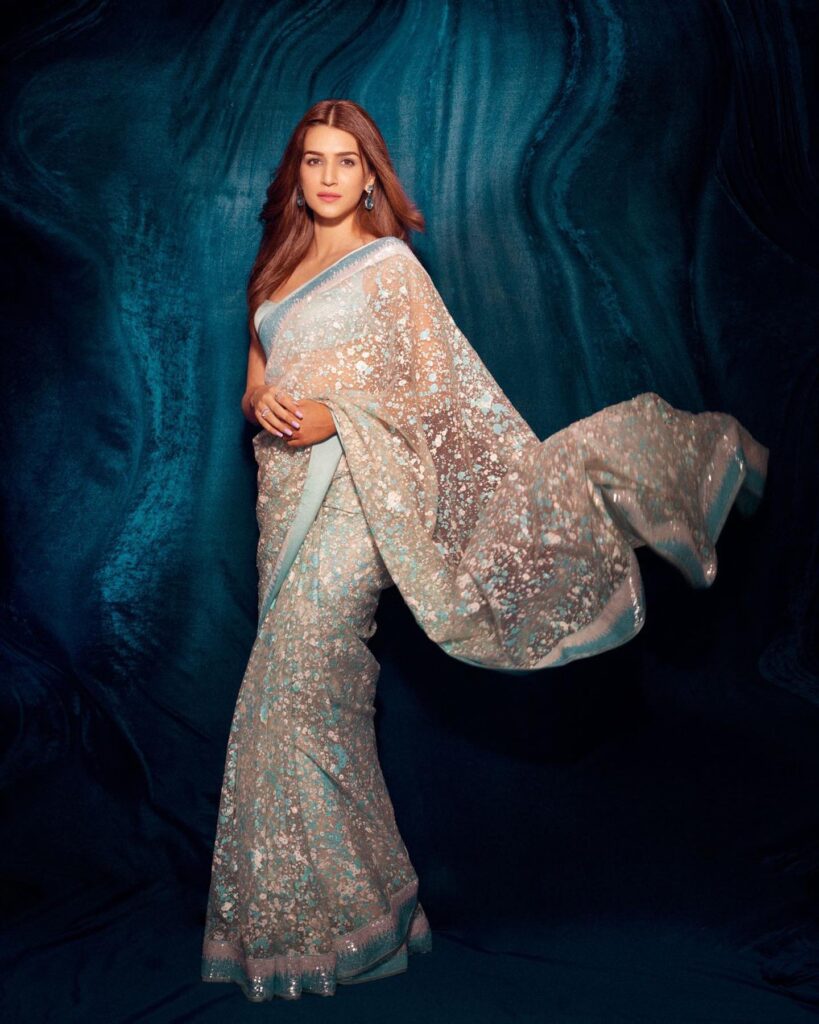 Frequently Asked Questions
Q. Is sequin saree in trend?
Sequins have always been known to be the quintessential party outfit. But sequins made a huge comeback in 2021 and quickly turned into a hot favorite. From Janhvi Kapoor to Shilpa Shetty, Sequin's sarees are a major hit this season, and is it safe to say, they are here to stay.
Q. What jewelry goes with a sequin saree?
Sequins sarees are a statement in themselves. So diamond studs or light emerald jewelry works wonders with sequins sarees. Dainty pearl necklaces are also a great option when it comes to elegantly styling a sequins saree.