Gender Reveal Outfits: Gender Reveal Parties are always one of the most exciting and fun-filled parties ever where everyone from friends and family gathers around for the special occasion. The parties may vary; can be a small gathering or large or perhaps a very casual event in the backyard or a glam one in the house. The choices for this party are endless, and if you cannot decide what to wear, we have got you covered. Keep scrolling to find the most beautiful outfits to head out to the party in!
What To Wear To A Gender Reveal Party?
A very cute way to show up at a gender reveal party is in its true spirit and that is to wear colors like blue and pink after all it is a gender reveal party. Everyone color coordinating in these tones adds so much to the overall theme of the event and makes the soon to be parents very happy as well.
Pastel shades such as lavender, lemon or mint are a very appropriate choice as well. If it's a formal event you can really glam your look up with silk dresses. Floral dresses are perfect for a day look, or perhaps an all-white look as well. For guys sweater looks, or polo shirt outfits are a good choice. For a night look, button up shirts with fitted pants be it plaid or plain are a great option.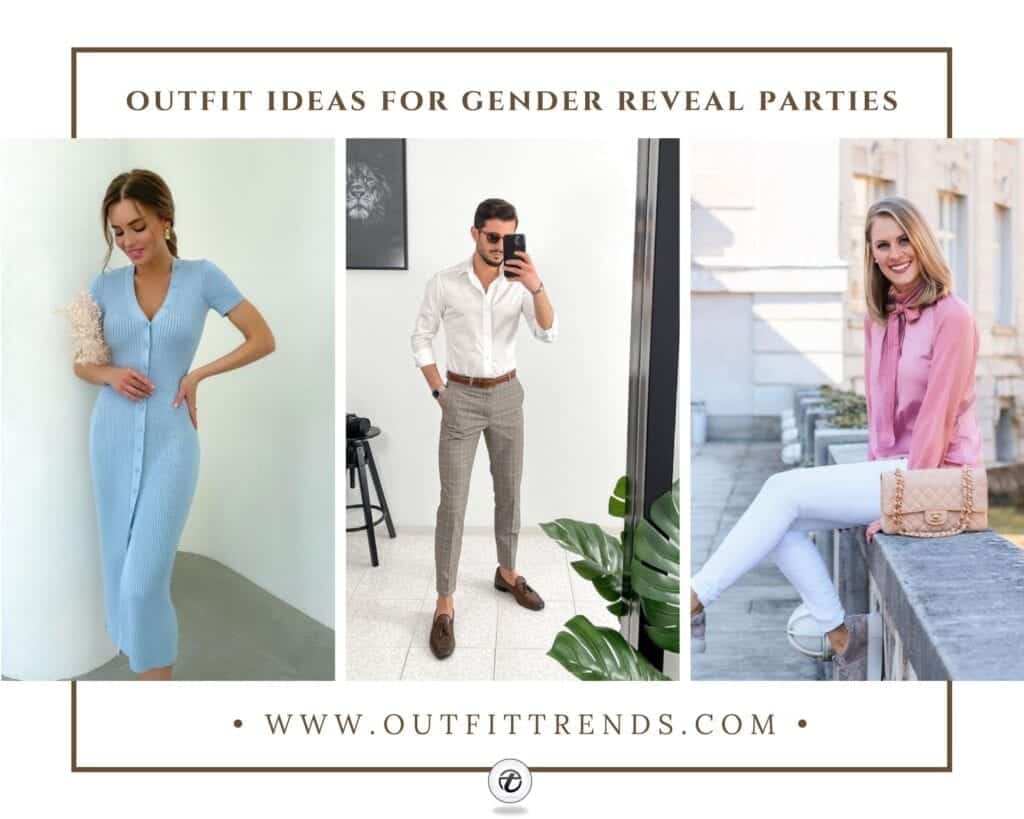 48. Baby Blue
This blue knitted midi baby blue dress is the right amount of cute and sexy and is perfect for a gender reveal party. The V neck and the buttons around the collar add so much detail to a simple dress. Wear it in a color you think the gender of the baby might be!
47. Tiffany Satin
Maybe the party isn't your typical gender reveal party and requires you to dress up a bit more. Want to wear something snazzy? How about a satin dress? A perfect outfit to make you look lush and effortless.
46. Pearl Outfit for Summer Gender Reveal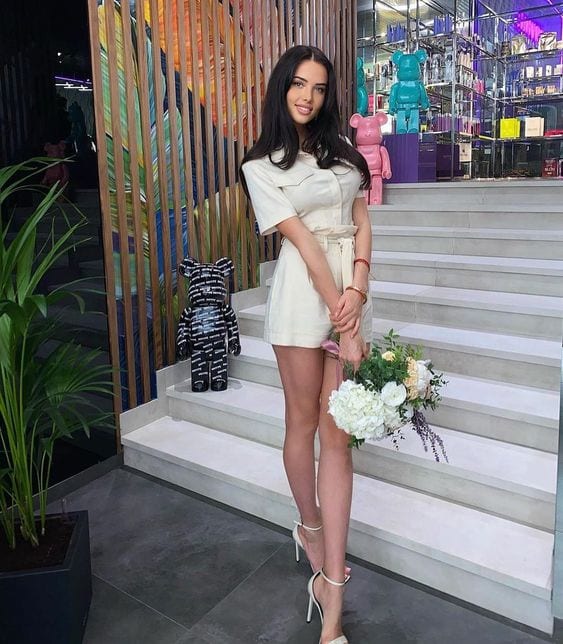 Don't want to wear a dress? How about a stylish romper with front pockets and ribbons at the waist? A perfect look for a summer gender reveal party.
45. Lace Love
How about a Lace midi dress? Lace dresses look so beautiful in almost every color. If it is a bit of a formal event wear it with heels, put your hair down and you are ready to look fabulous!
44. Flora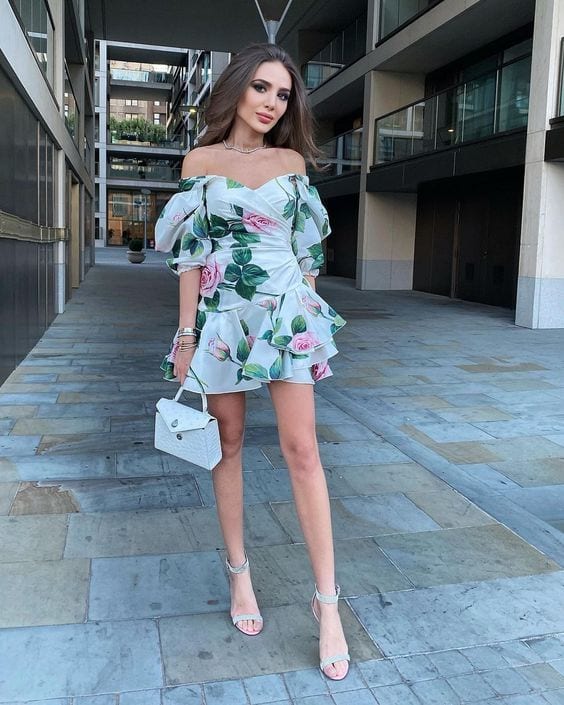 A floral mini dress is what I envision myself wearing at a gender reveal party. Florals are so trendy for this event and you and your girls can wear different patterns and colors together and look so coordinated and stunning. A cute pair of heels and minimal jewelry would look perfect with a dress like this. Also, have a look at Spring Outfits With Floral Jackets-12 Cute Outfit Ideas as you can style such outfits on gender reveal parties.
43. Gender Reveal Outfits for Father's Collegue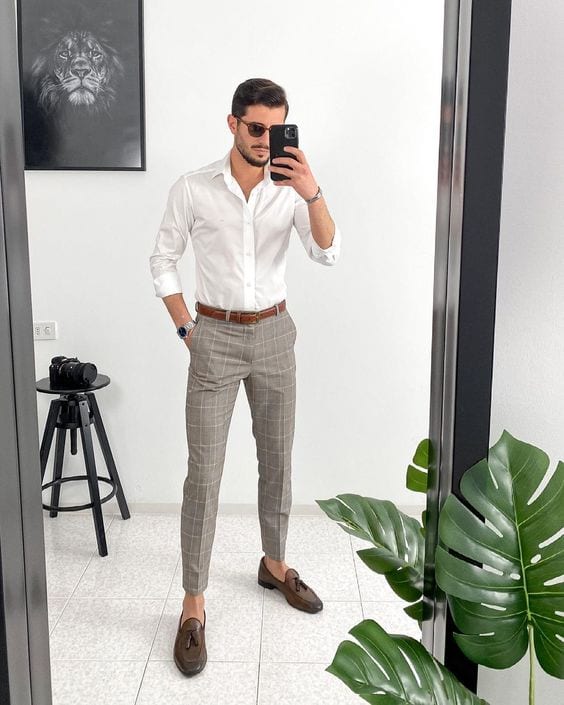 A white button up shirt with plaid pants has been such a trendy look recently and goes well with a party like this one. Roll up the sleeves and don't forget to put on your shades.
42. White Pants for Dad's Brother
Usually, gender reveal parties are a day event, and white pants are such a great choice for a day look. Pair your pants up with any of your comfy ribbed sweaters and you are ready to go!
41. Grey Comfort for Winter Gender Reveal Events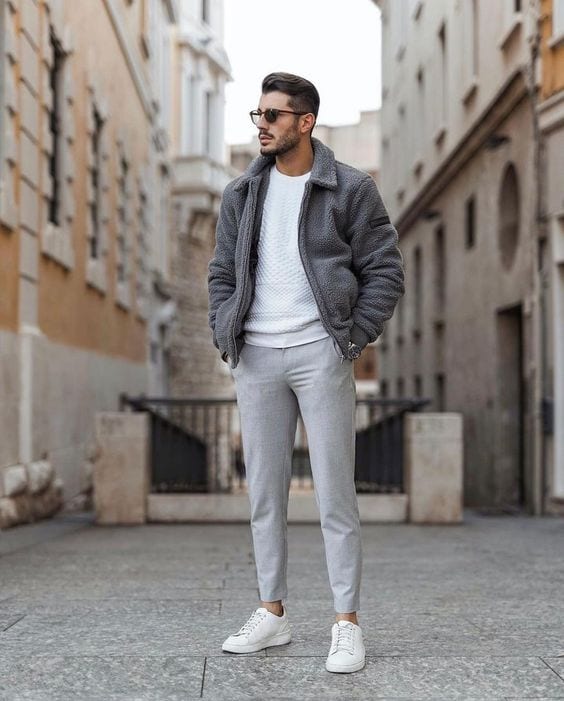 It's a winter baby? Here is a perfect fall look for the party. This stylish look screams fashion and comfort at the same time.
40. Surfer Dude Look for Best Friend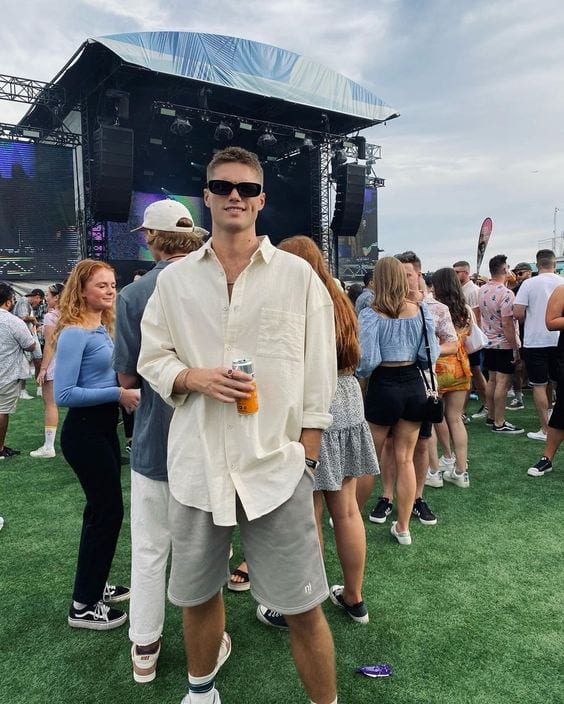 Want to look cool and casual? Pair your baggy shirt up with a pair of shorts. Keep the tones neutral. Don;t tuck the shirt in for a more casual, easy going look.
39. Pink Plaid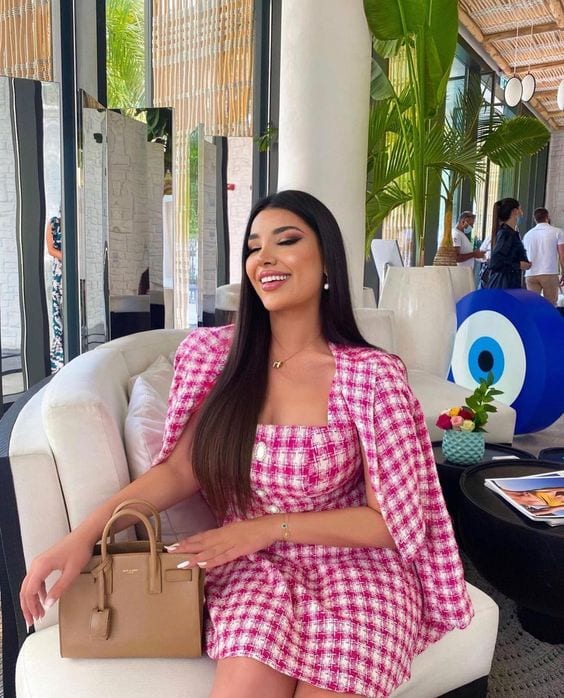 Cord Sets are so playful and trendy. An all-plaid set: a blazer with a mini dress is so perfect for a hot summer look. Have a look at How To Wear Plaid Coats ? 18 Cute Outfits with Plaid Coats for more ideas.
38. Button-Up Barbie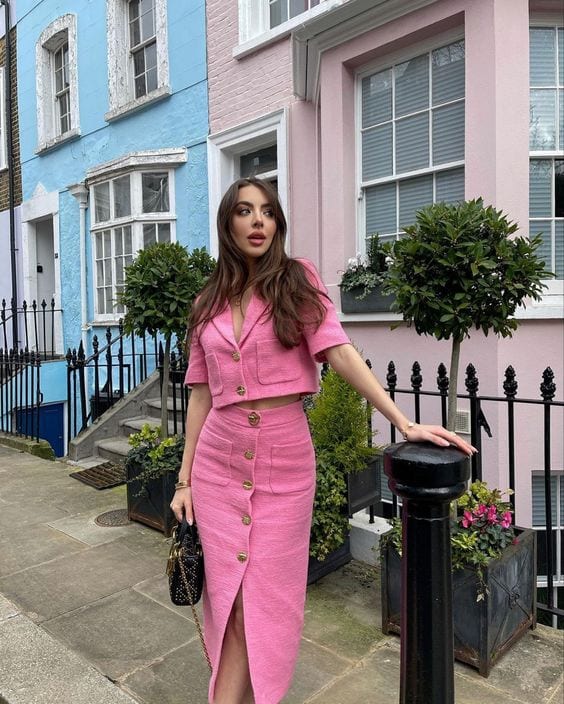 This cute outfit is all you need to look stunning. The button up blazer top and the long skirt with the slit at the end is such a look. You're ready to look the best at the gender reveal party.
37. Pink Lemonade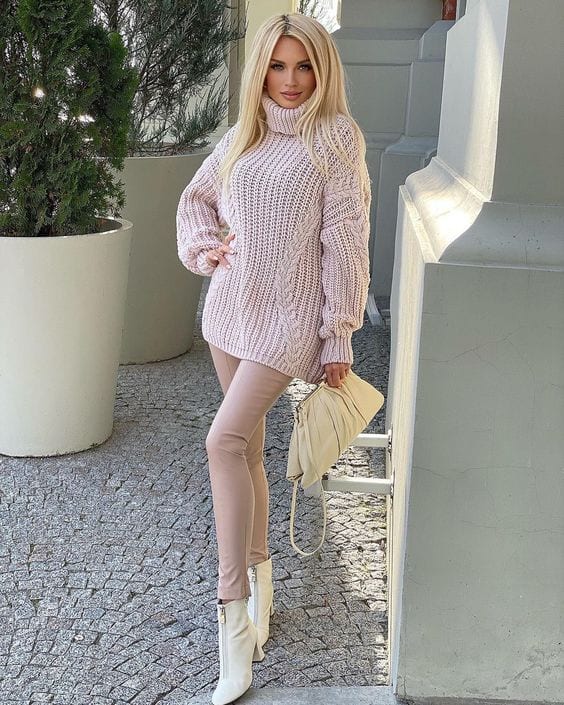 Light tones look so much cuter than bright colors in my opinion. The full pink lemonade outfit looks so classy and is perfect for a fall/winter gender reveal party.
36. When to Wear White Dress for Gender Reveal Party?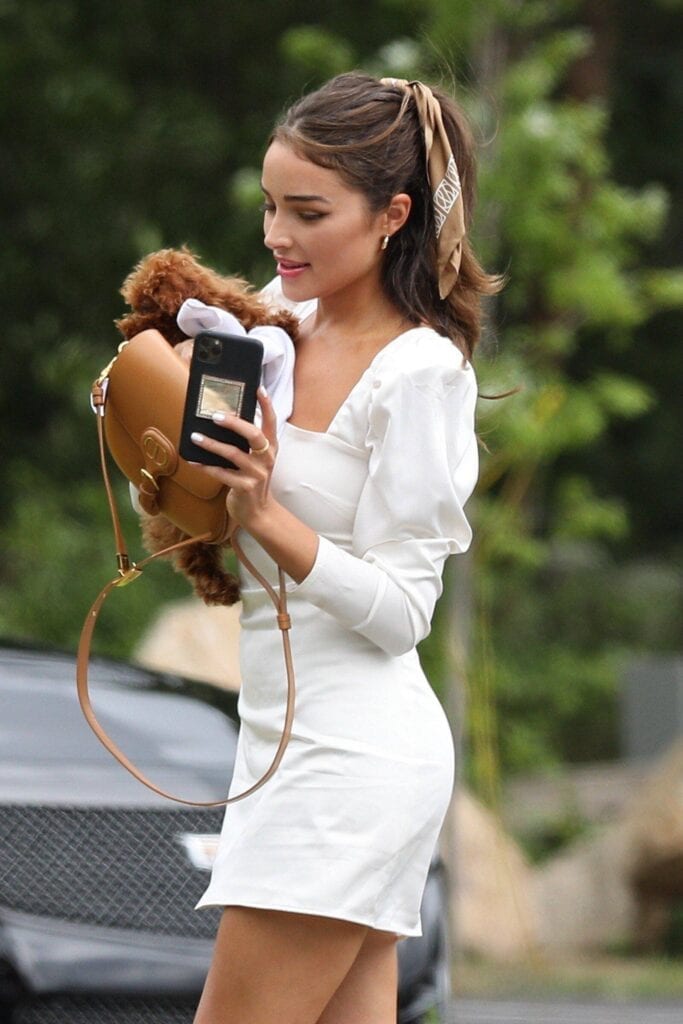 Where to buy: White Dress
Anyone can wear a white dress, but not everyone can make it look cute. A cute hairstyle and a printed ribbon hair-tie can add to a look more than you know. Summer gender reveals parties are ideal for wearing white dresses.
35. Butterfly Top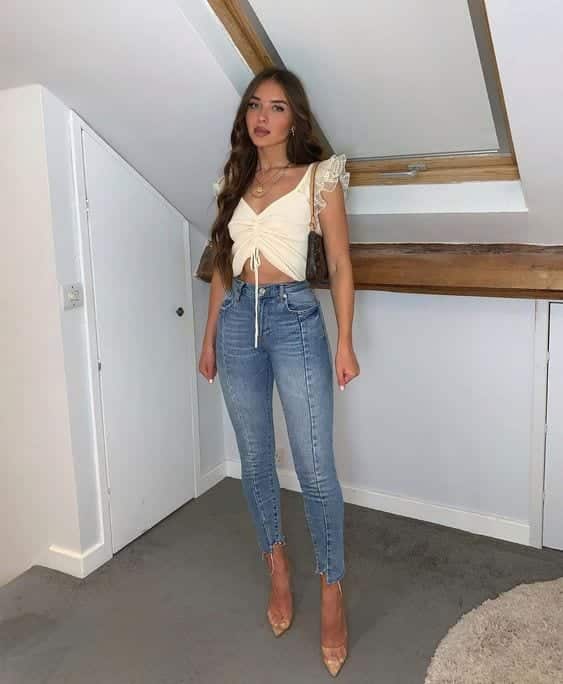 Parties do not necessarily mean you have to wear dresses, a cute trendy top like this one adds so much to a boring pair of jeans.
34. Blue Class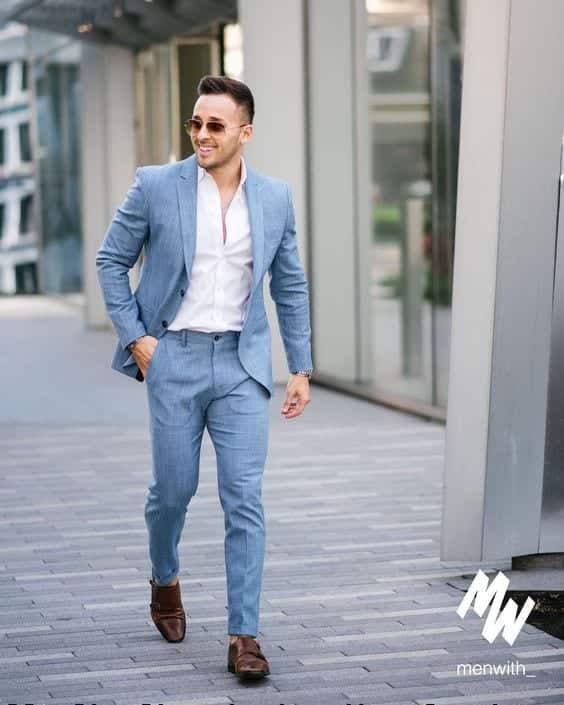 Looking for a formal look because your friends are hosting a very lavish gender reveal party? Whip out your two-piece suit, ditch the tie and look handsome as ever.
33. Bubblegum Night Glam for Mommy's Sister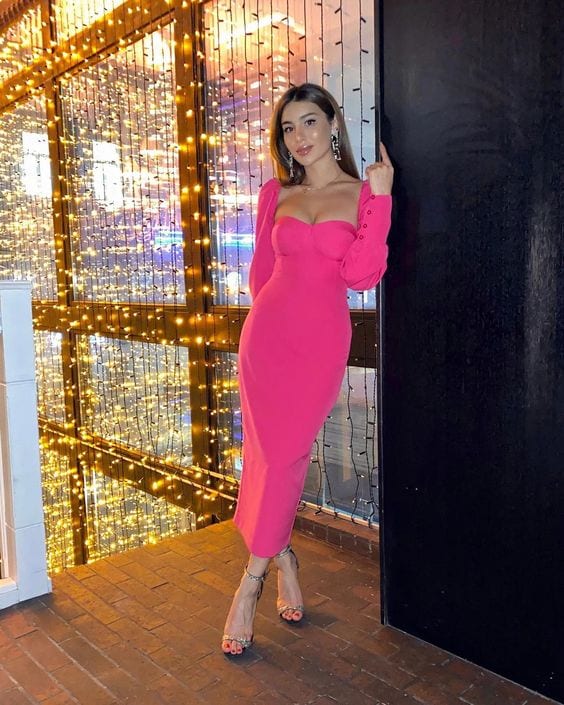 A long dress like this with full sleeves looks glam and luxe for an evening/night glam gender reveal party.
32. Customized Shirt Gender Reveal Outfits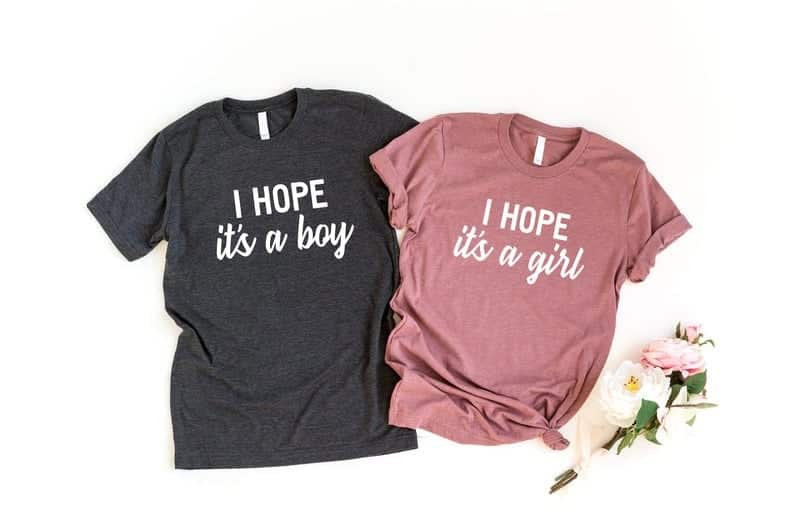 Where to buy: Customized Shirts
Always a thoughtful and a very cute idea for the guests to wear customized shirts and divide into teams and make it a fun little game. You can get customized shirts made for yourself, and many options with different phrases such as "Team Boy" or "Team Girl" or "I hope its a boy/girl" are available online as well. Pair the shirts up with a nice pair of jeans, and flat, heels, loafers or sneakers.
31. Ruffles For Fancy Gender Reveal Dinner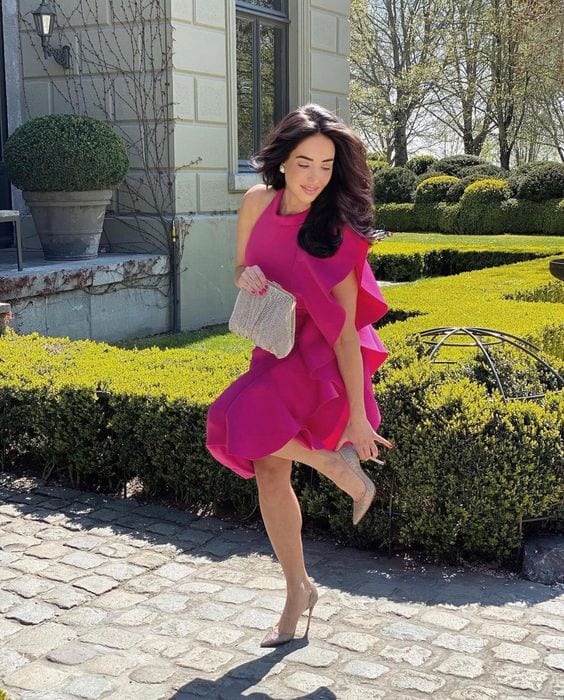 Try out different cuts and styles of dresses. Sleeveless on one side and ruffles on the other looks so beautiful. Pearl studs, nude high heels and a shimmery bag will look perfect with this dress. This could be a look for a night or a day gender reveal party.
30. Cord-set Gender Reveal Outfits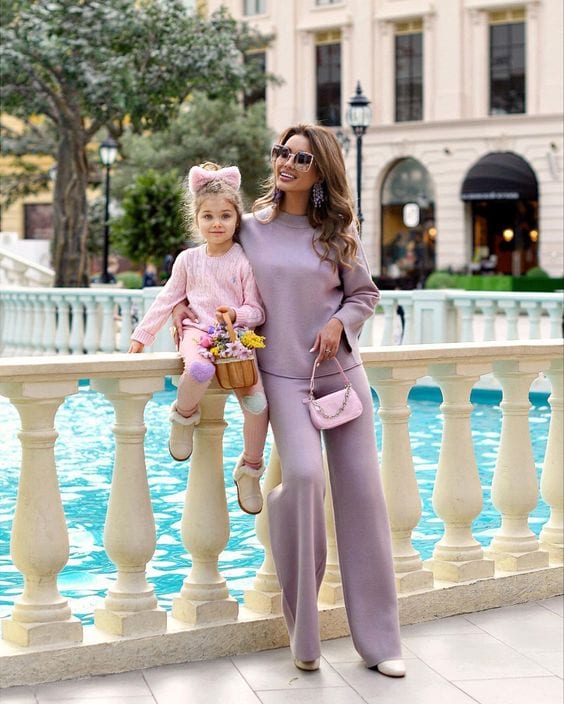 A plain cord-set can look so glam with a pair of big sunglasses, earrings, and a mini bag.
29. Silk Sets for Glam Gender Reveal Dinners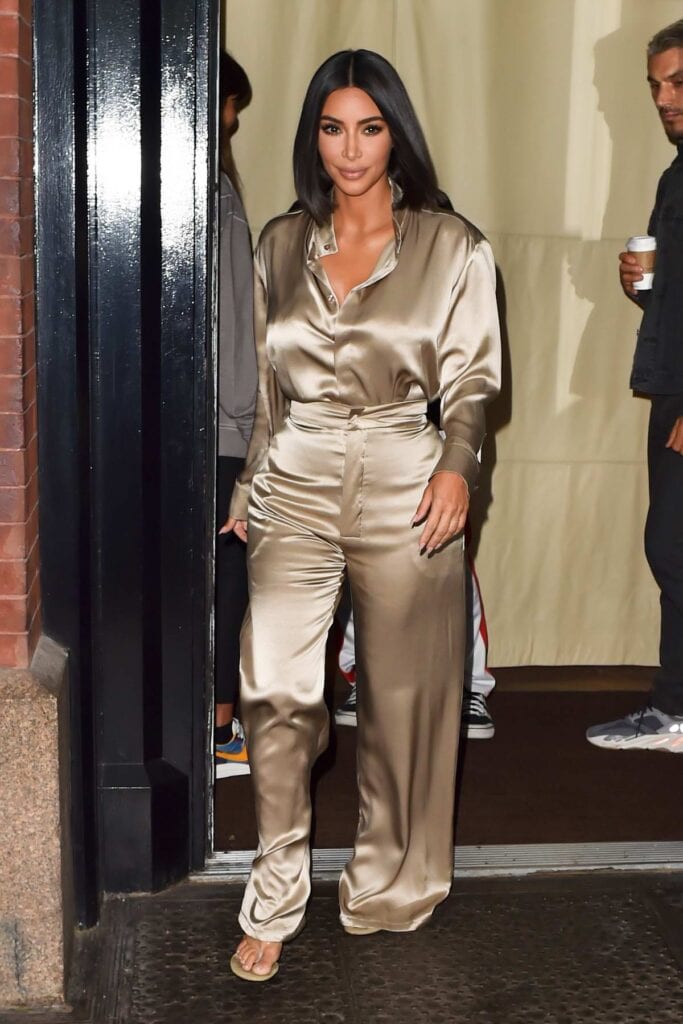 Kim's silk set outfit looks so elegant. The beige silk loose pants and button-up shirt is perfect for a gender reveal party. Recommended: Women's Silk Outfits – 23 Best Ideas On How To Wear Silk
28. Spring Fleur for Dady's/Mommy's Mother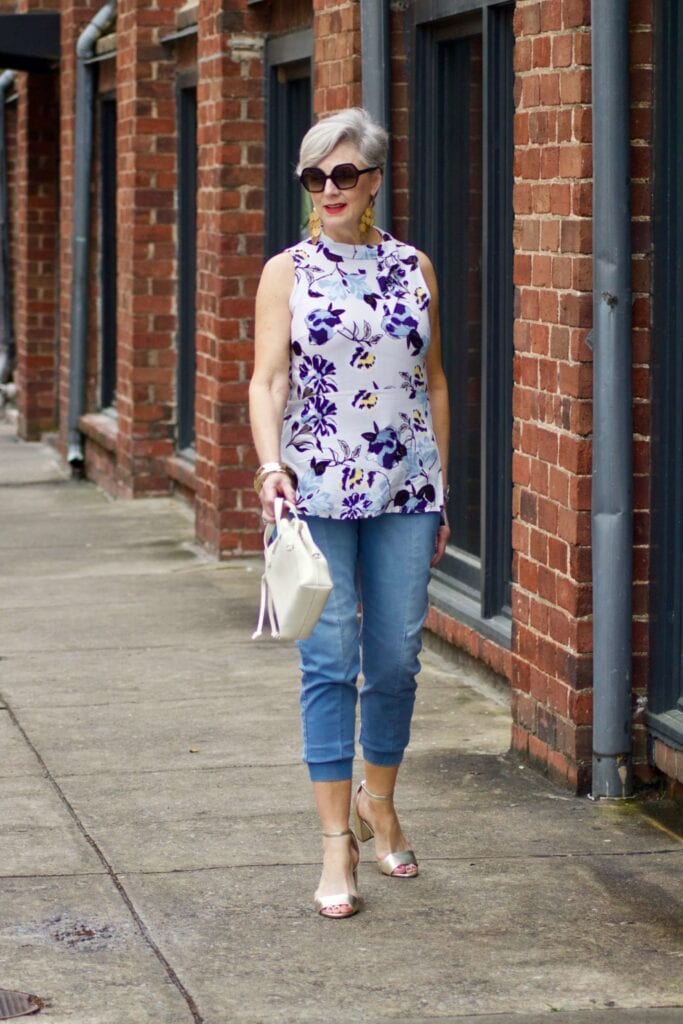 You can still look stylish while staying comfy with this look. Instead of jeans opt for denim knit joggers and wear any floral top that you've got and pair the look up with snazzy earrings.
27. Baseball Green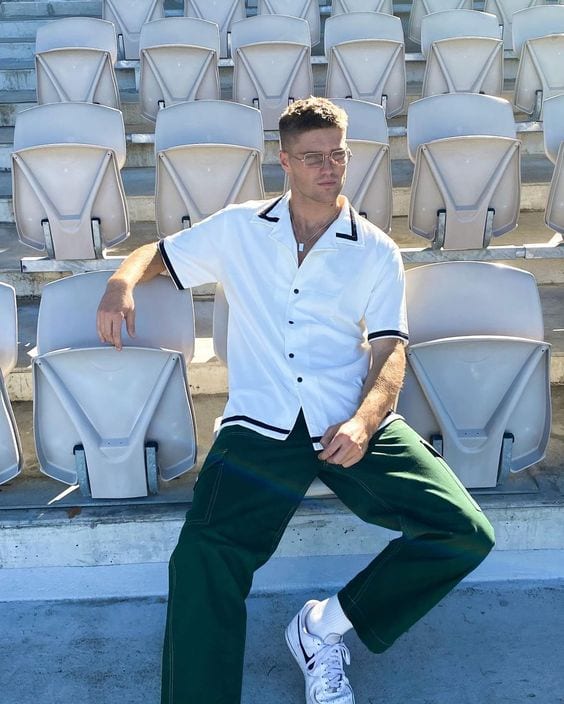 Shirts like this have been so trendy, pair it up with cargo pants and look straight out of a magazine.
26. Collared Shirt and Vest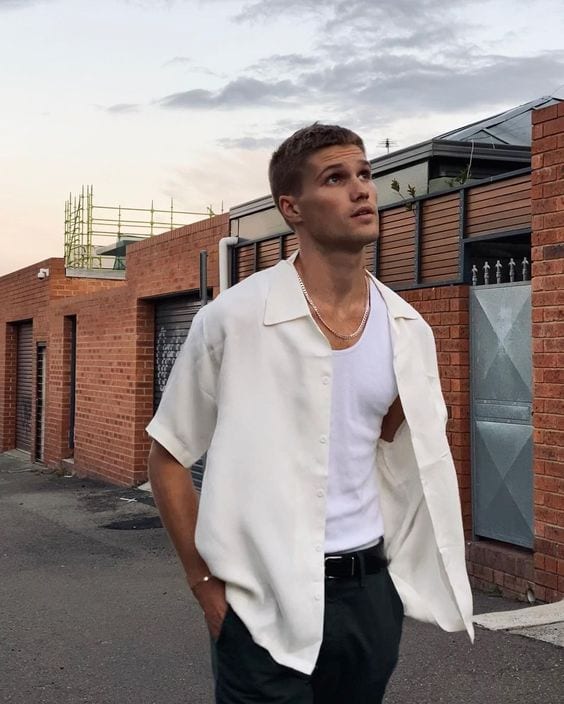 This outfit is pure vibes, a vest and a simple collared half sleeves shirt looks so charming.
25. Sky Blue Jumpsuit for Gender Reveal Party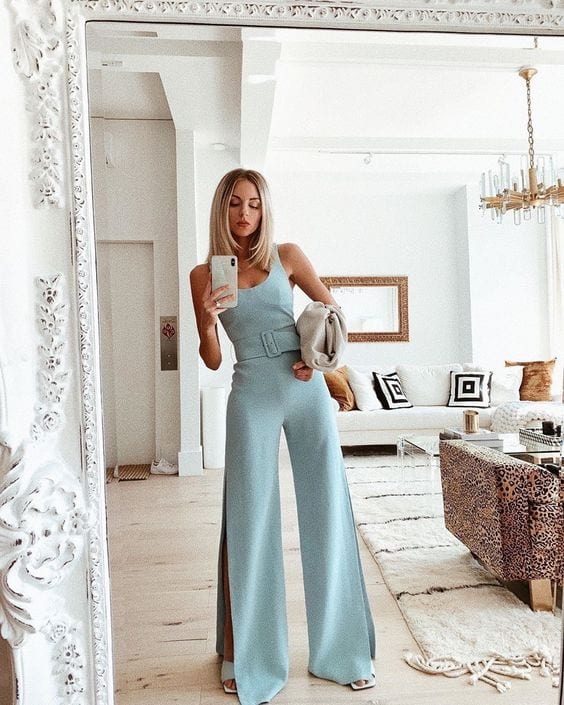 A jumpsuit is always a good option, especially a belted one like this. This ones pants are wide leg and have slits at the bottom as well adding a nice stylish touch to the outfit.
24. Pastel Rainbow for Best Friend's Baby's Gender Reveal Party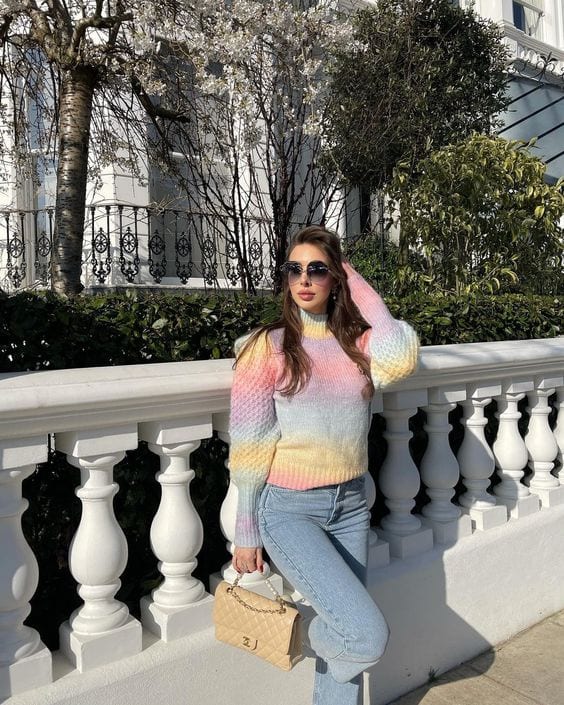 This puff-sleeved; pastel rainbow sweater is such a cute and perfect one for a winter gender reveal party. Also, have a look at 27 Comfortable Summer Baby Shower Outfits For Mommy & Guests because you can always wear similar outfits om gender reveal parties.
23. Cherry Blossom Outfit for Mom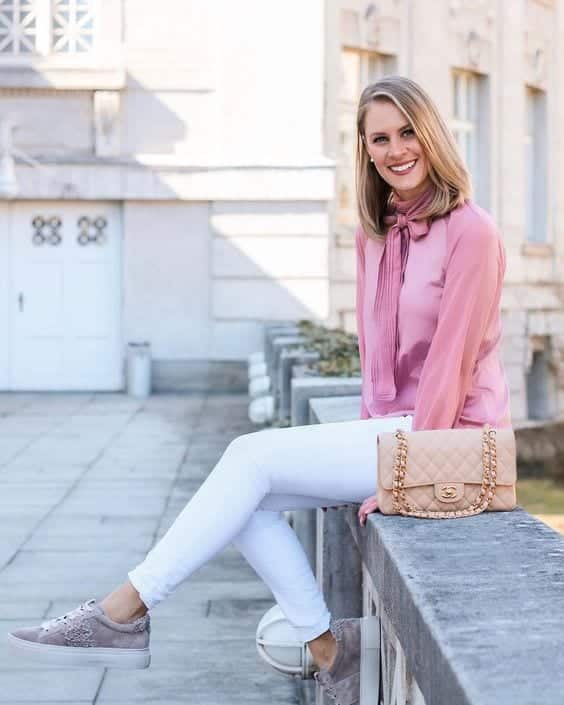 Ah! The pretty semi- sheer blouse styled with white pants is giving me all the cute spring vibes. Paired with the caviar Chanel bag, this one is a classic look everyone can pull off.
22. Halter Top
If you have kept up with today's trends you must be aware of the halter top hype recently. The halter top is cute and sexy and can be worn with jeans, mini or long skirts.
21. Classico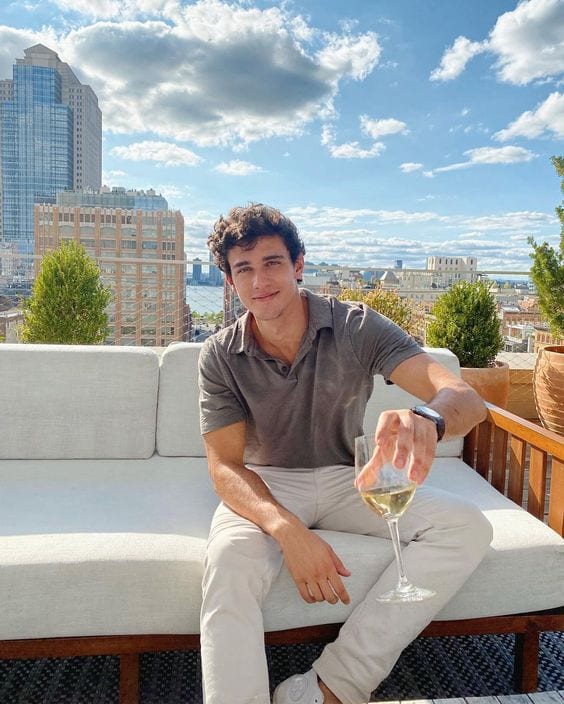 It is a last-minute party and there is no time to shop? Do not worry a polo shirt and beige pants have got you covered. Looks put together and effortless.
20. Light Blue Outfit for Day Time Gender Reveal Event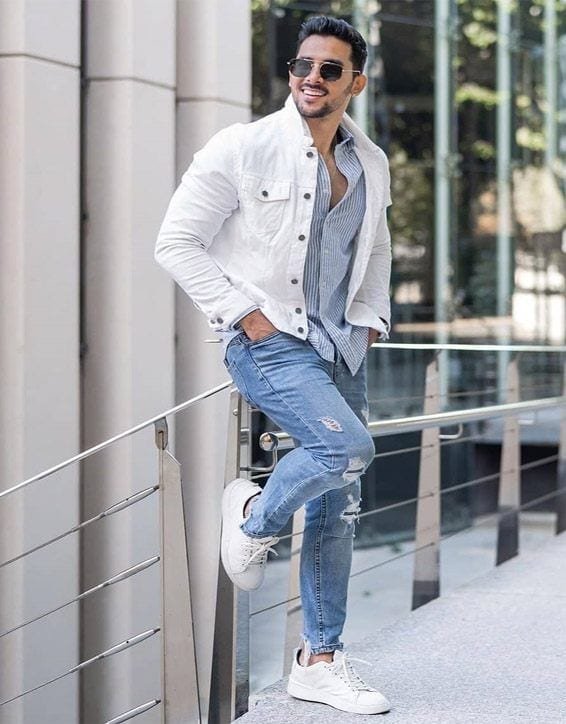 A light blue ripped pair of jeans, with a striped shirt and a light button up jacket on top is a perfect spring/fall look for the gender reveal party.
19. Winter Grey
Looking for a winter look? How about a grey sweater on top of a white button up shirt? Black jeans look so good with grey, and you can incorporate a bit more of grey into your outfit by wearing grey ankle boots. This look is one of my all-time favorites and men of all ages can rock this one.
18. Bomber Jacket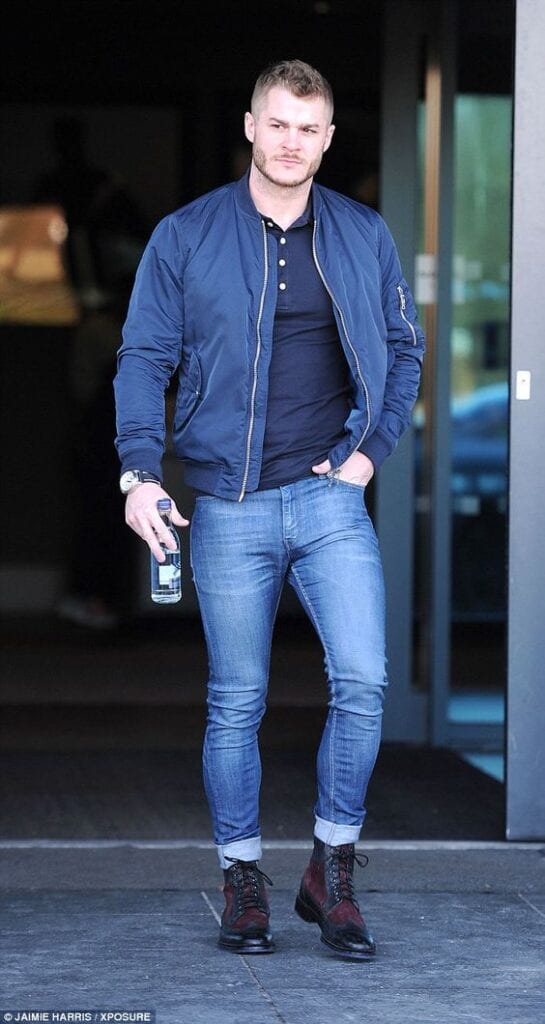 Throw on a bomber jacket over your basic denim jeans and polo shirt look to add to your outfit.
17. Floral Skirt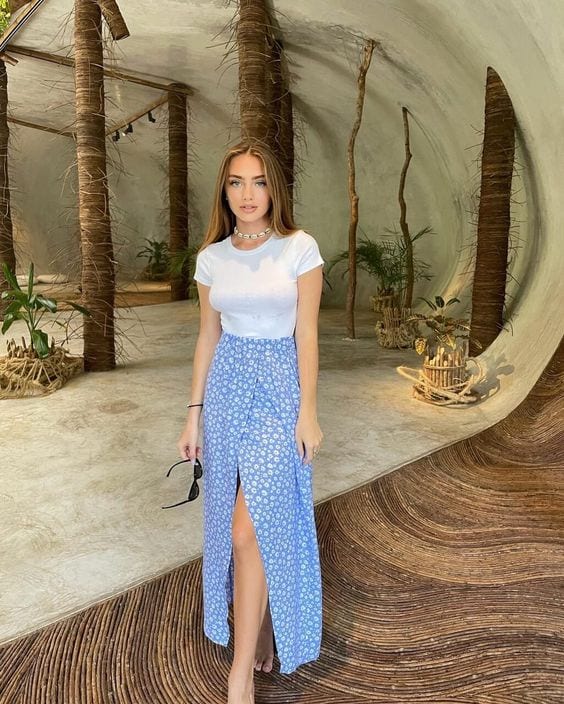 Whip out your white t-shirt and wear it with a floral print slit skirt. Such a cool breezy summer look. A great outfit for girls in their late teens.
16. Blazer Business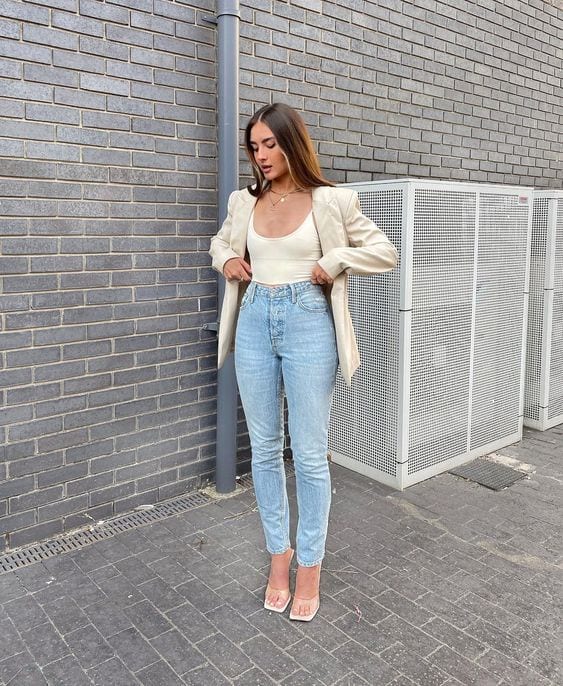 Blazers are not limited to a business formal look. You can pair your silk blazer up with a pair of jeans and pvc heels to get yourself a cute outfit.
15. Angel Blue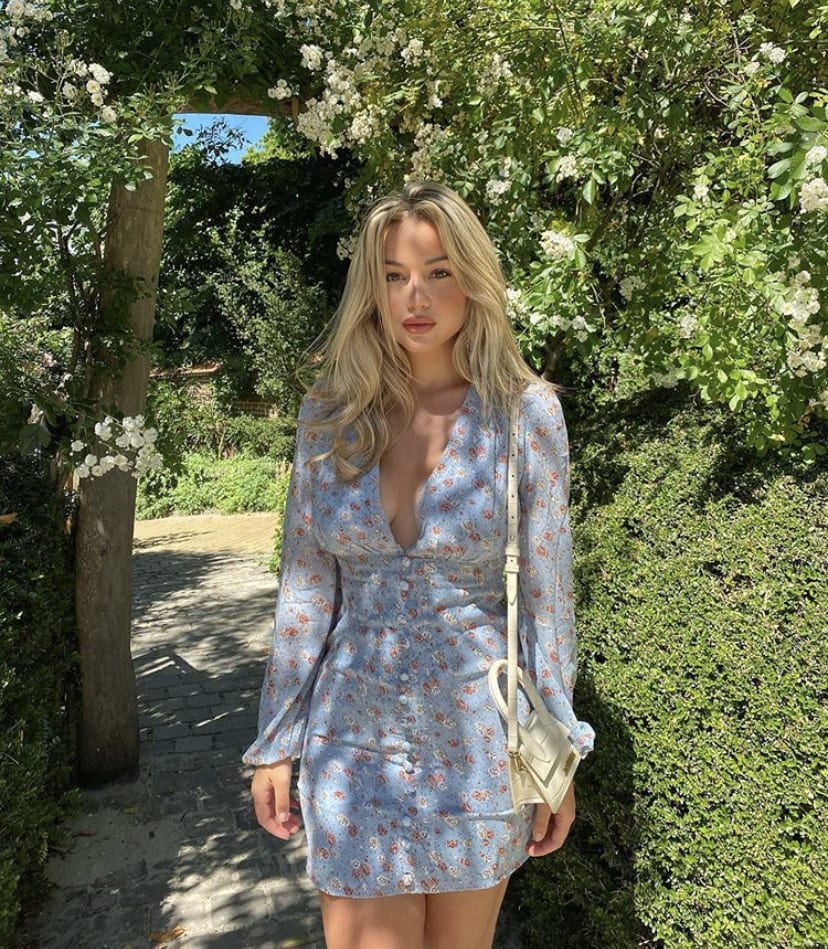 This dress is giving me cottage core aesthetic vibes. Dresses like this look so flattering and beautiful for a spring summer day party.
14. Lavender Gender Reveal Outfits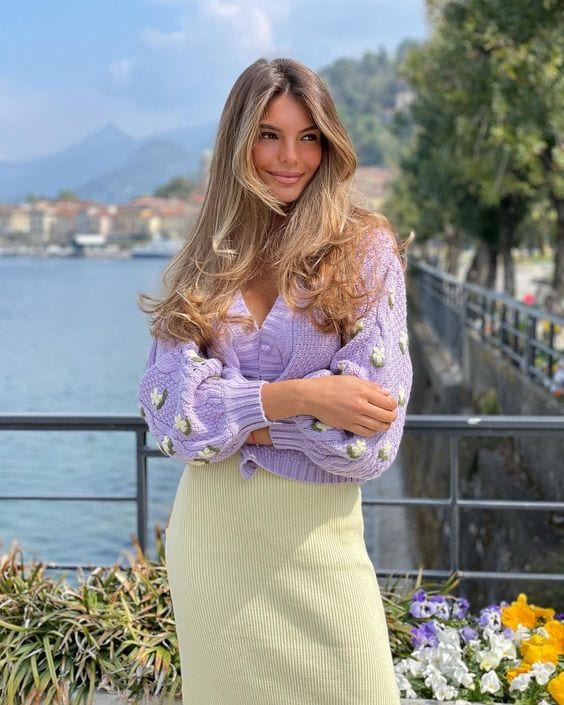 Cardigans have been so trendy lately. This purple one with embroidered flowers is so beautiful and you can wear a long dress or a skirt with it.
13. Chic Gender Reveal Outfits for Guests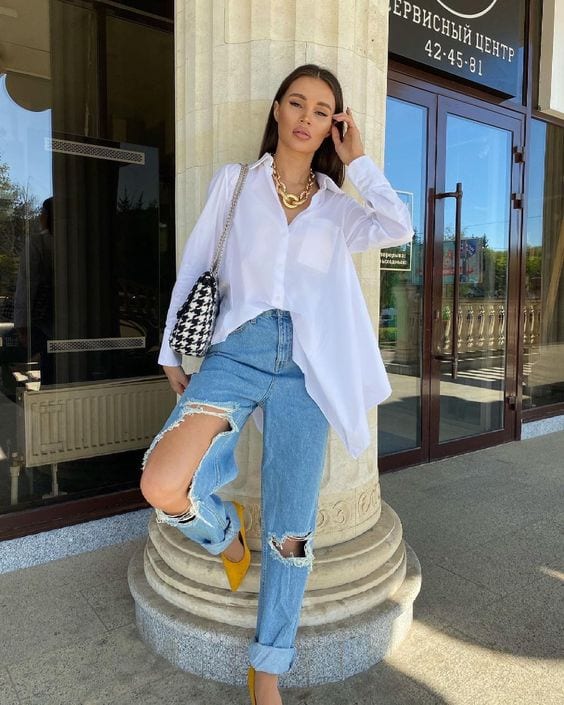 Accessorizing is key with this outfit. Anyone can wear a white shirt but its all about how you style it. A chunky chain, a printed shoulder bag and solid-colored heels amp up a basic outfit so much. These baggy ripped jeans are everything.
12. Blush Pink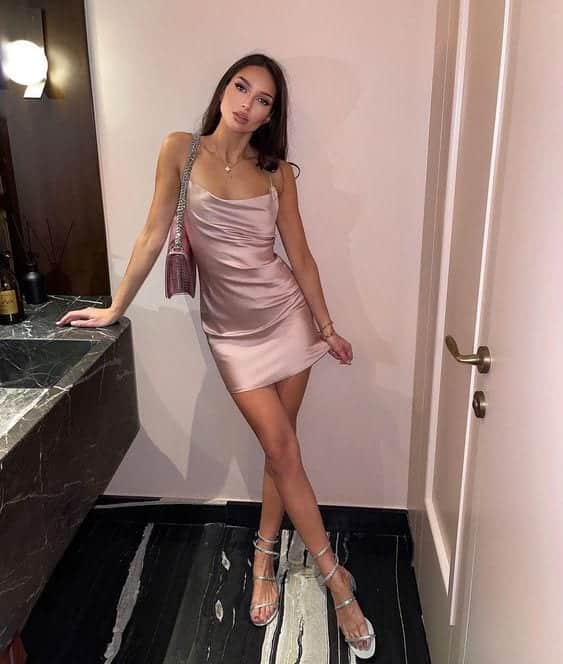 Perhaps the gender reveal party that you are going to is not a casual event and you have to dress up a bit more? The silk mini dress is the perfect option for you and could be an excellent choice for a night or a day party.
11. Minty Fresh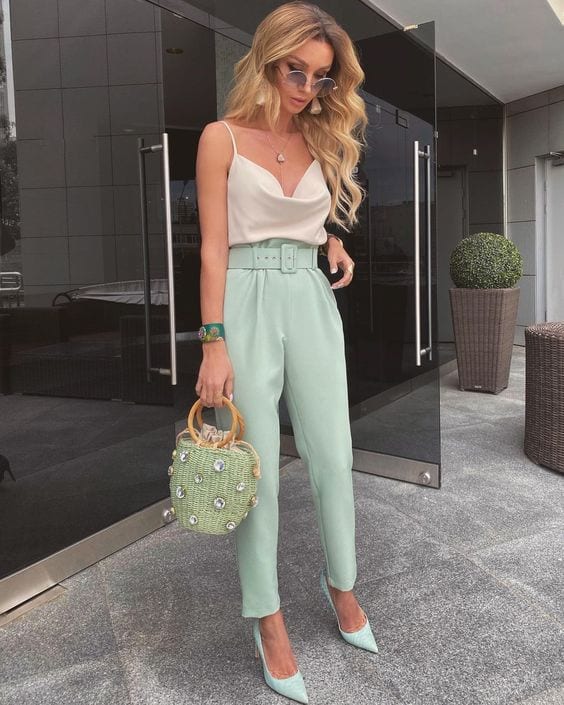 Not in the mood for a dress? How about some belted pants and a silk cami top?
10 Off-White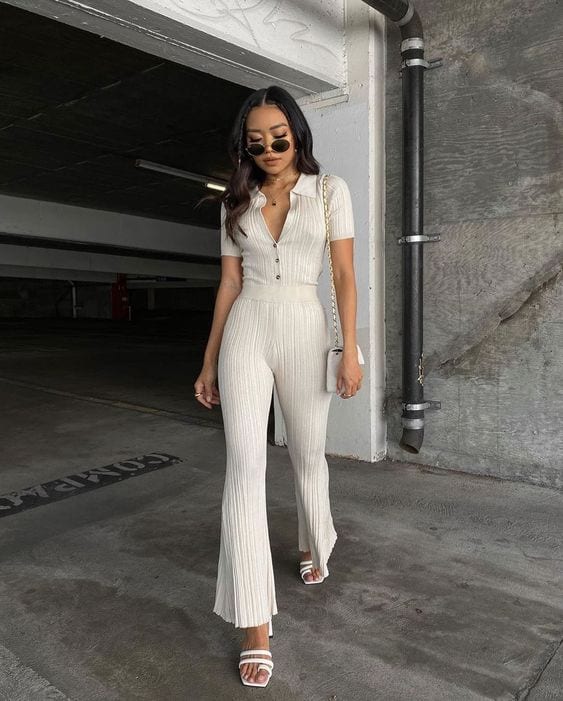 This jumpsuit is so perfect for a party like this. The collar and the neckline is beautiful.
9. Long Boots Gender Reveal Outfits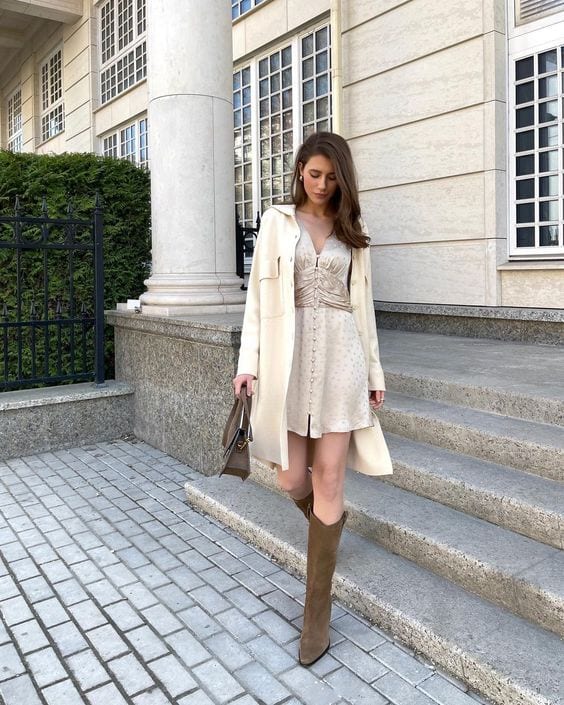 The perfect fall look; a beautiful silk dress with long boots and a knee length jacket.
8. Yellow & Turquoise Blazer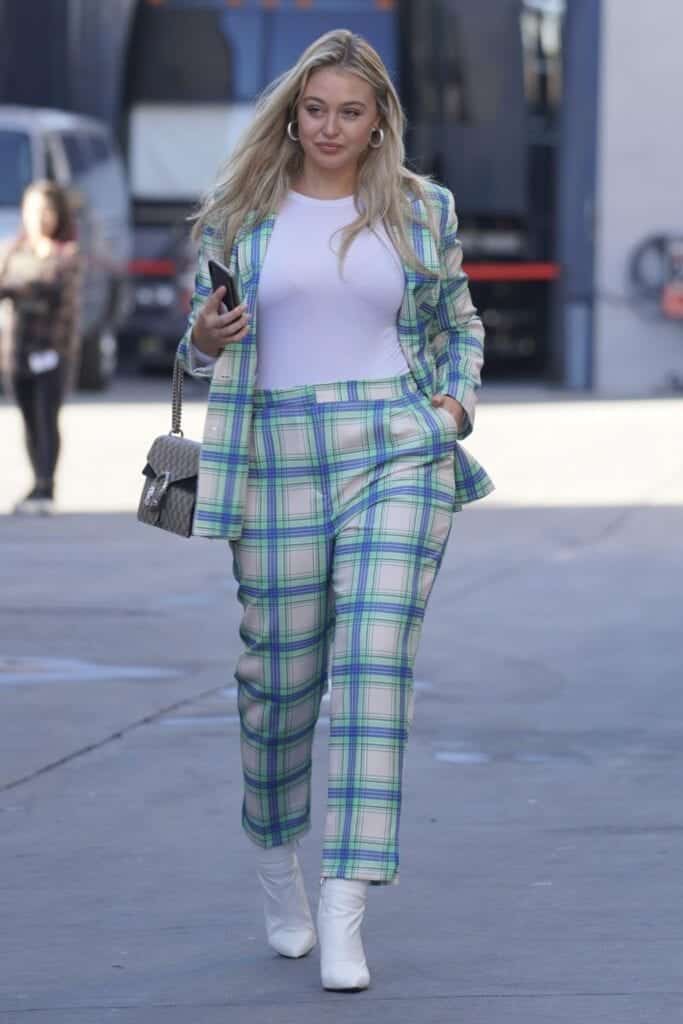 Absolutely adore the colors of this matching blazer and pants set.
7. Keeping It Casual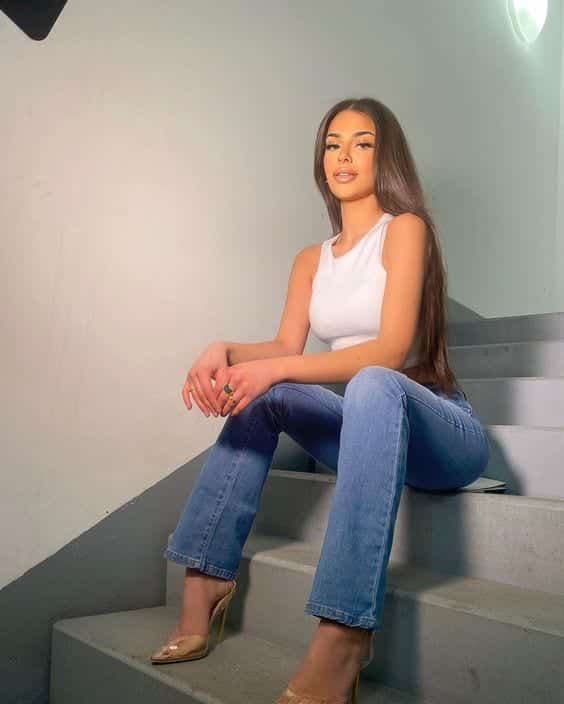 Bell Bottom jeans accentuate any look. A white top and bell bottom jeans with pvc heels can make you look dazzling.
6. Printed Gender Reveal Outfits for Grandma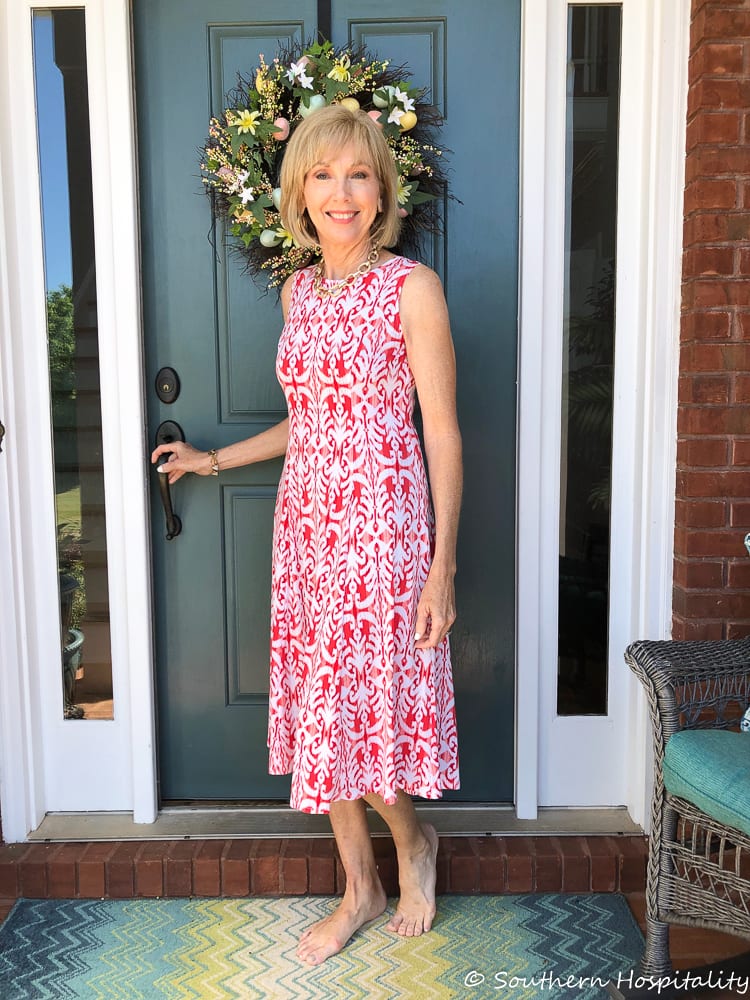 Printed dresses are so fun and look so beautiful. Here is one for your summer gender reveal parties!
5. Coral red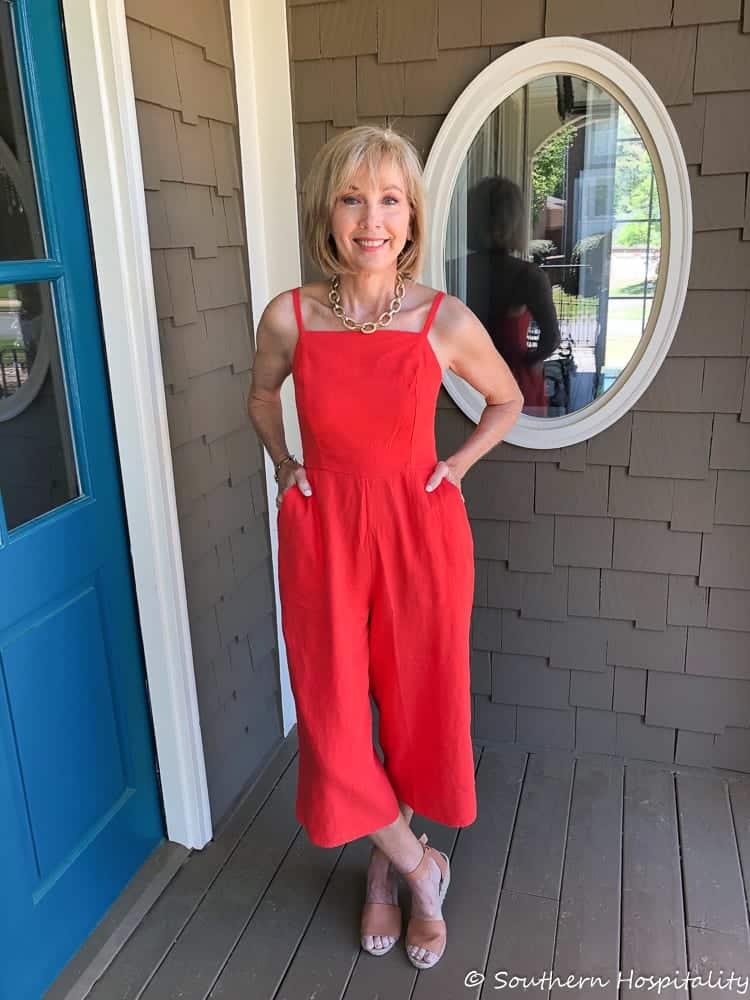 A cotton linen jumpsuit like this one will make you look cute while feeling comfy. Maybe go for neutral or pastel tones or maybe the blues and pink shades for this party. A chunky gold chain can look great with a solid color outfit like this one.
4. Sweater Vest for Women Over 50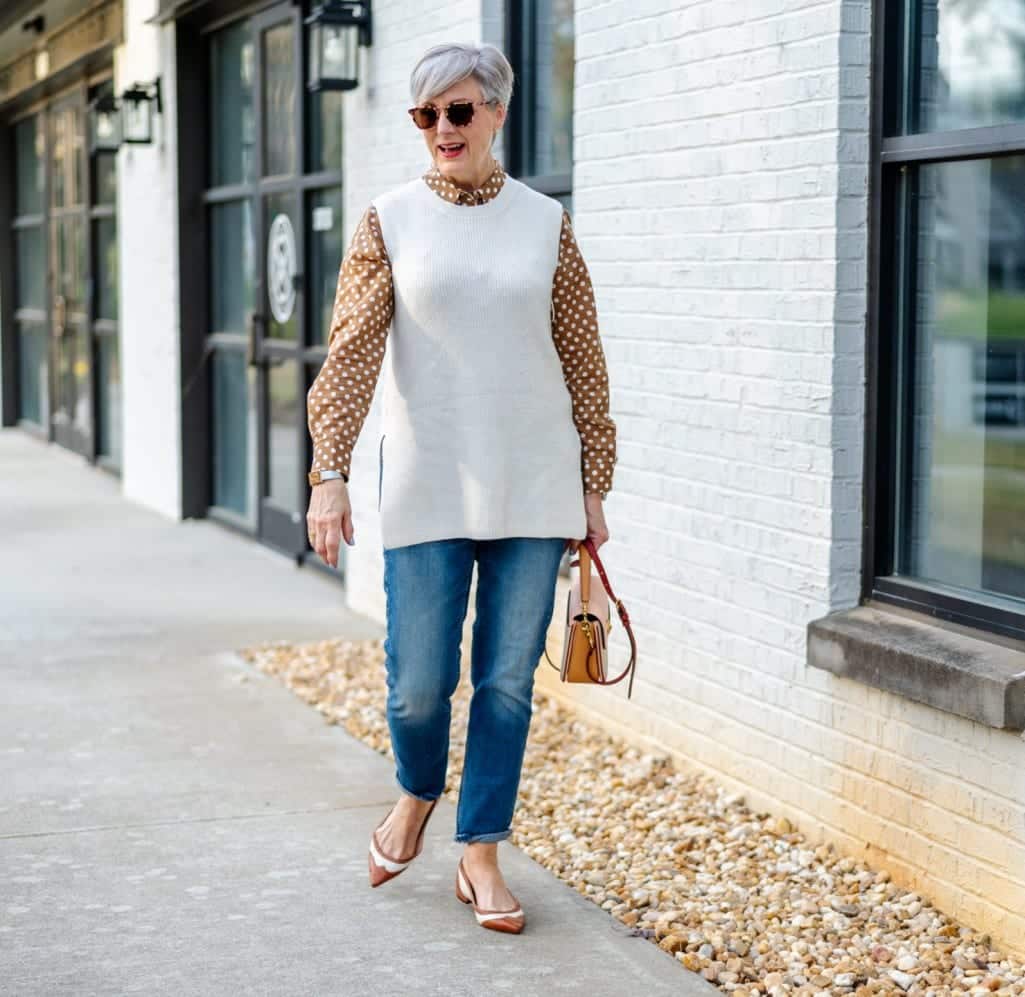 A perfect fall/winter look. Nothing too fancy but still looking fashionable as ever. A sweater vest with polka dot shirt under, with straight jeans cute flats.
3. Casual Day Look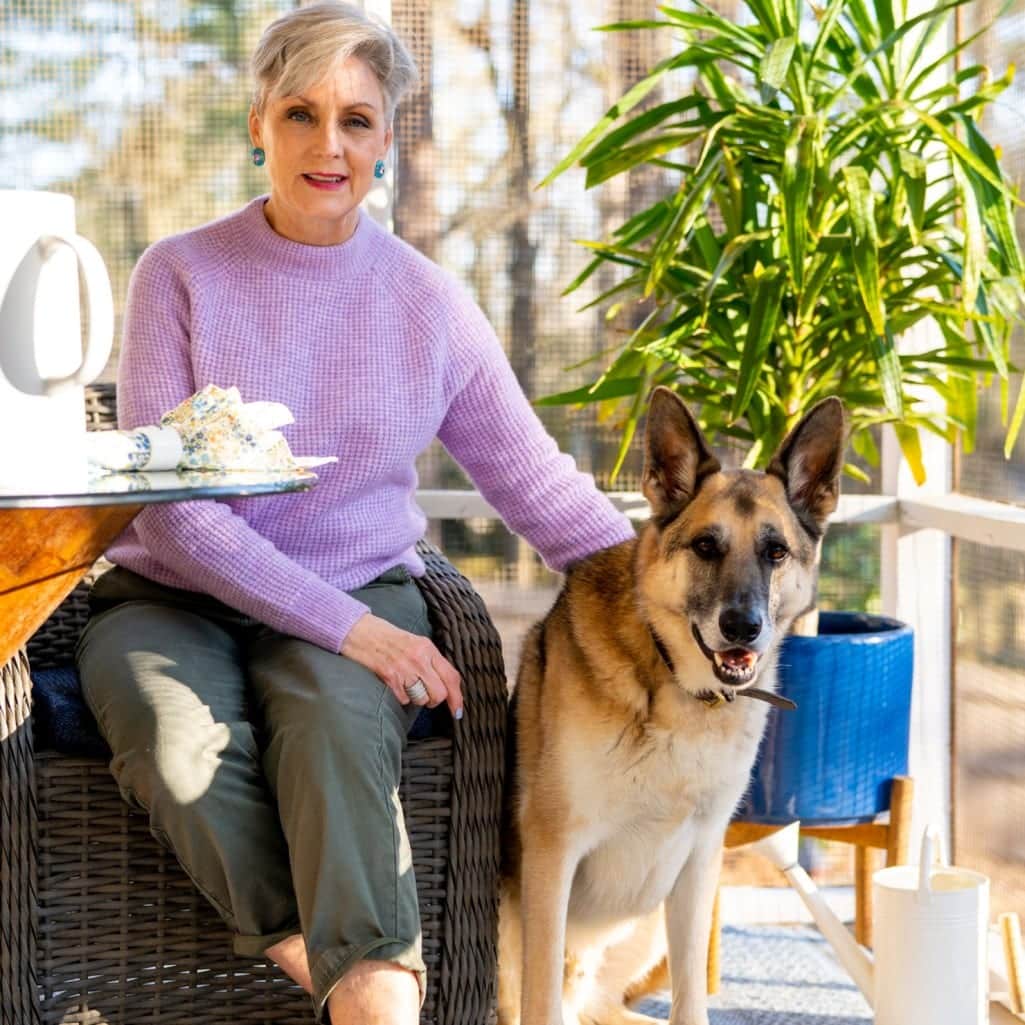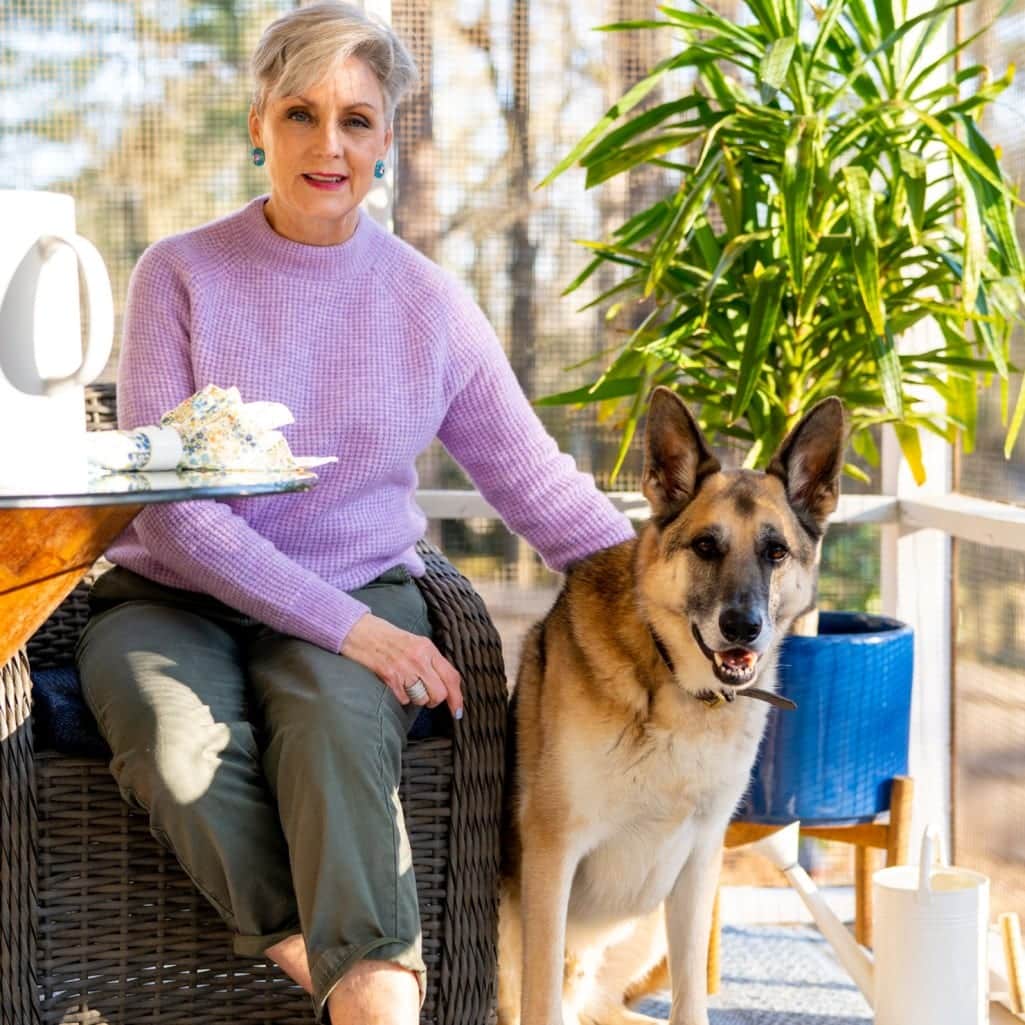 Where to buy: Purple Sweater , Chino Pants
A nice colored sweater and chinos look effortless and cute. This lavender color is perfect for a fall/winter casual gender reveal party.
2. White Out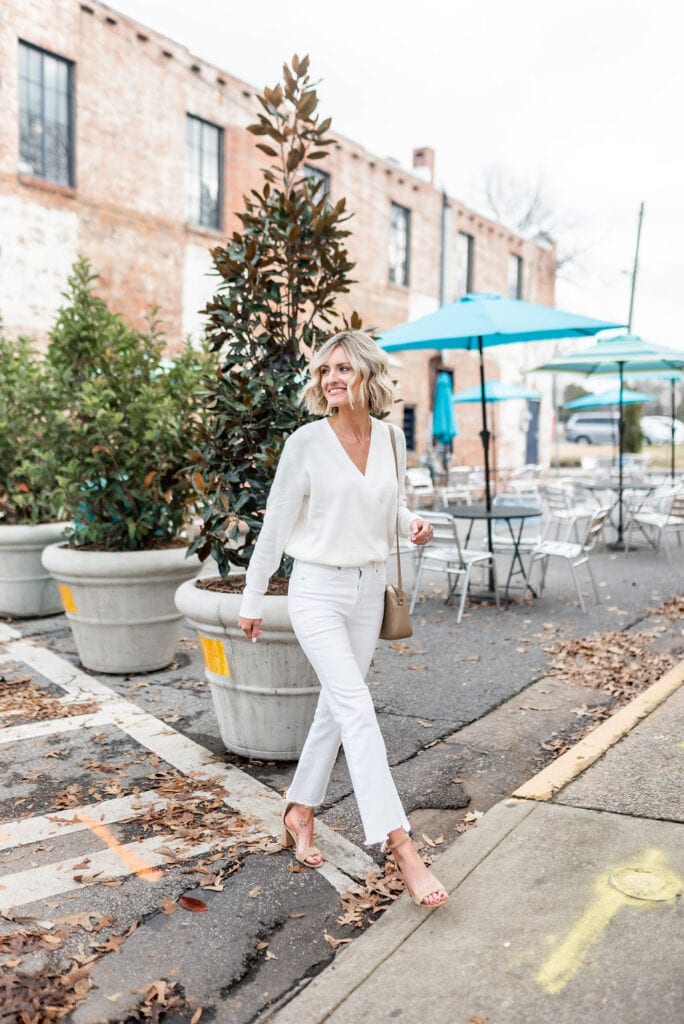 An all-white from top to bottom look is always a great option for a day event.
1. Easy Breezy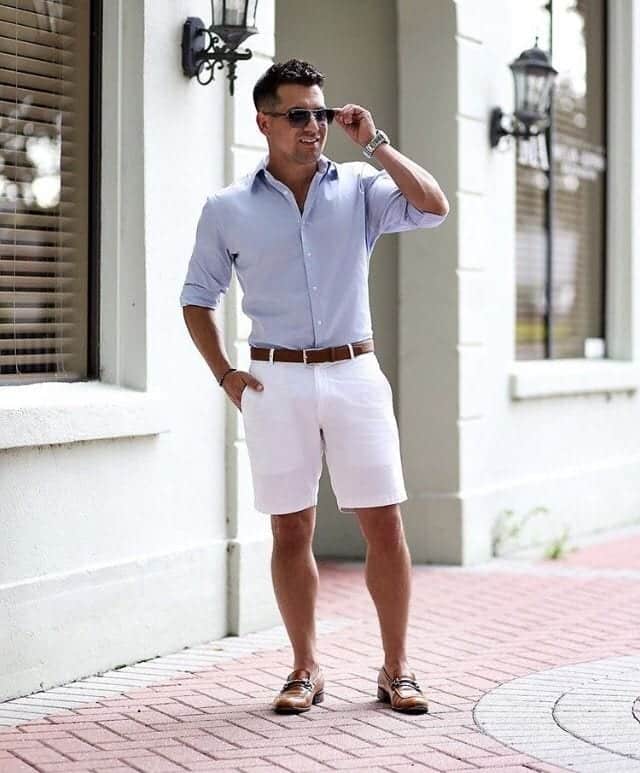 Shorts are a great option to pair with any polo shirt or dress shirt you have got.
Where to Buy Gender Reveal Outfits?
Nordstrom Cowl Neck Minidress
Ivycity Pink Madeline Dress
Zara Floral Satin Dress
Asos Fallen Shoulder Scuba Jumpsuit
Shein Dalmatian Jacquard Satin Top
FashionNova Men Dawson Short Sleeve Woven Top
HugoBoss Washed-stripe slim-fit shirt
Boohooman Jacquard Stripe Polo and Short
Frequently Asked Questions
Q. What color do you wear to a gender reveal party?
A. Shades of pinks and blues are perhaps the best option to reveal what you may think the gender of the baby will be. However, if you want to wear something different pastel colors are a great option, as well as monochromatic looks such as all white or perhaps all neutral tones.
Q. What outfits to wear at a gender reveal party to reveal your vote?
A. Customized Shirts are a great option, you could wear shirts that say, "Team Girl" or "Team Boy" or different phrases like "I hope it's a boy/girl", "Team lashes/mustaches", "Bows or Burnouts" or "He or She Who will it be?" You could wear outfits in shades of pink or blue as well.
Q. How to Wear Beautiful Gender Reveal Outfits?
A. Plan and style your outfit according to the current trends and seasons. If its a spring/summer gender reveal party you may opt for brighter colors or pastels and wear dresses of all sorts and materials from linen ,satin, or cotton. Florals and prints are an excellent choice for your summer parties. You can even wear skirts, straight or skinny jeans, jumpsuits and rompers. For fall/winter you can wear cute sweaters with different types of pants. Or wear monochromatic knit wear coordinating sets. You can even wear two piece suits or bomber jackets.