Gingham Outfit Ideas: This article is all about the famous Gingham Print. Casual or Formal, whatever your choice is, the print is perfect for all occasions! Although it has been here for a long time, the print made headlines recently, for all the best reasons, Of course!
It's not just versatile and stylish, but it looks super elegant too, and thus it's the choice of fashion divas all over the world. Anyone who carries it looks like a perfect lady! The best part, now it comes in various colors, so you have a variety to choose from, but mainly red, blue, fuchsia and tangerine look super cool and should definitely be part of your wardrobe.
Most of the brands are now showcasing gingham prints in vibrant colors as it can be paired with almost everything and you have a wide choice to pair it up with different kinds of trousers or bottoms. My suggestion would be to invest in more than a couple of gingham prints because then you get to be creative and pair them up in lots of ways. Don't forget to be open about the choice of colors besides the usual blue and white or red and white gingham print.
How to Wear Gingham Outfits
To make things simpler for you, I have compiled a list for you as to how you can wear Gingham print like a boss. Be it a party at your friends', an office meeting or an evening date, I have that covered all for you, so read on and try some styles for yourself.
Make sure you get yourself a Gingham Dress Shirt, it can be paired with pants, skirts and even paper-bag shorts!
Accessorize always with studs and chokers.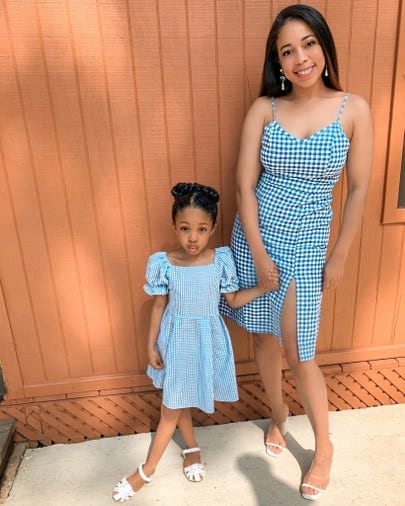 ↓ 20. Styling A Gingham Dress
Pencil skirts in neutral shades would go really well with this blue, button-down shirt. Accessorize this look with a thin belt and high heels and you are ready for your office. Hey, this look is formal, but if instead of the pencil skirt, you wear a lace skirt with the shirt, you can turn a formal look to a more chic look for your dinner date!

↓ 19. Sleek Summer Wear
Buffalo inspired shirt with cigarette white pants – a perfect summer combination. Gingham is not about being formal all the time, but this simple yet smart look can be perfect for your office too. Isn't it great that you can look stylish and comfortable in office attires, without compromising on the office "dress code"? Pair of sandals and shades will look amazing with this look, in case, you have to go out during lunch hours.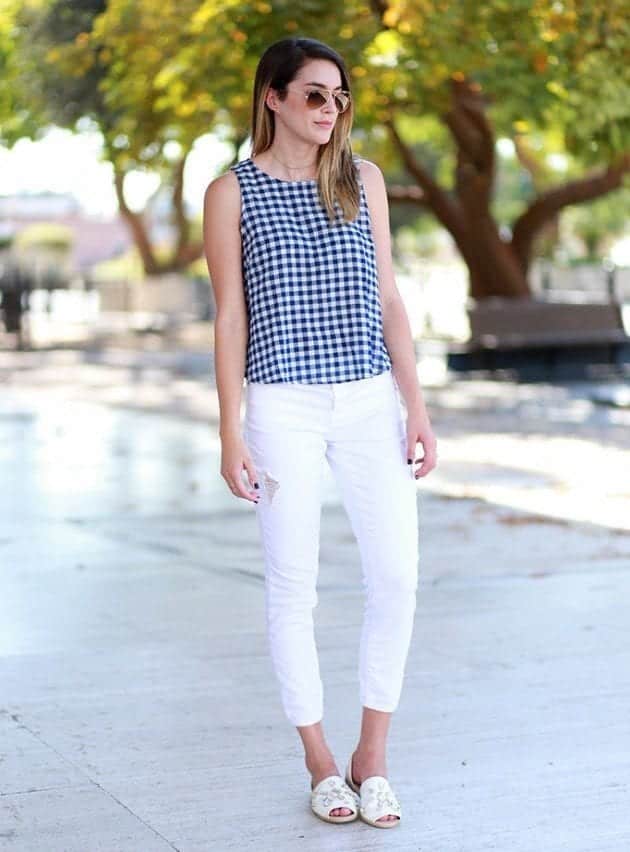 ↓ 18. Chic Luncheon Attire
Most of us don't like to spend hours dressing up! Also, with the weather all hot, we try and wear dresses that are stylish but breezy too. How about a red gingham button-down shirt with a miniskirt of your choice? This simple look can be jazzed up with a lot of jewelry, say a heavy statement necklace and lots of bracelets and bangles?
If you are not into jewelry much, you can always wear a couple of rings only to enjoy this look. Ah, and don't you forget to have a high head bun to complete the look.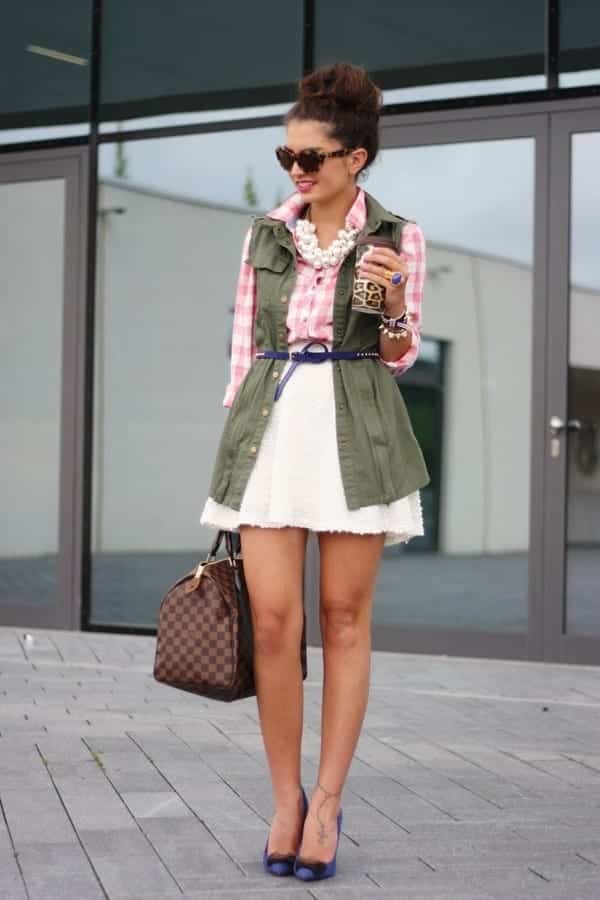 ↓ 17. The Diva Look
With Pandemic still very much the part of our daily lives, we miss going to concerts and parties. But don't you worry, a casual get together, with all SOPs, can be a great way to freshen up.
To help you with a party look, all you need is a pretty gingham frock and a leather jacket. If you are in a region where the weather is summery, you can replace a leather jacket with a lace cardigan. Trust me when I say this look needs no accessorizing because it is perfect in its own way!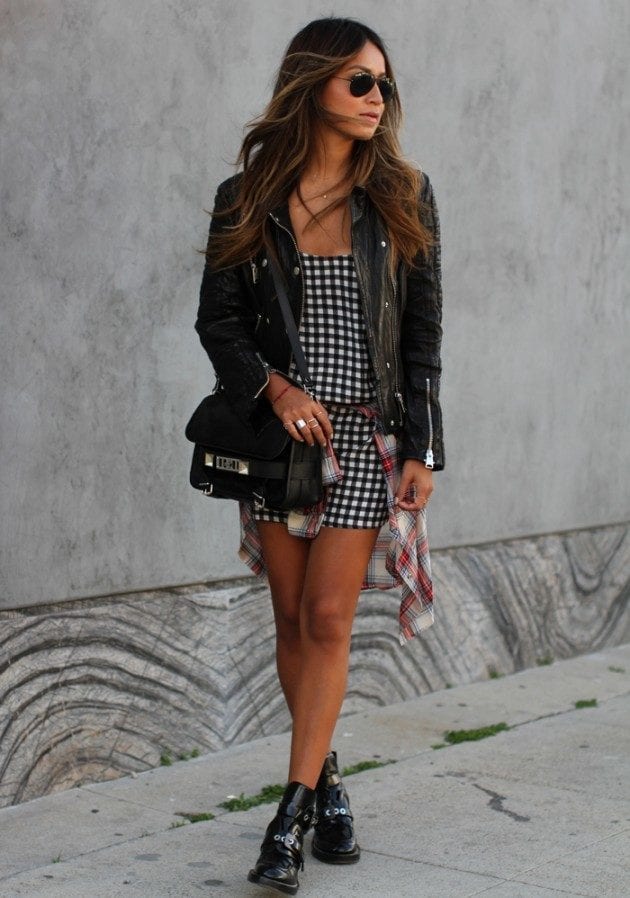 ↓ 16. Kitty Party Ensemble
Who doesn't own a button-down Gingham shirt, we all do. So, if you have to head over to a kitty party your white T-shirt and your casual denim can go perfectly well with your Gingham shirt. You can never go wrong with this girl-next-door-look. Whether you wear your hair in a bun or a high ponytail, it is totally your choice. But, accessorize this look with bangles and watch for the oomph factor. If you feel the look is too simple, you can add a splash of color to it by having a neon shade clutch and matching colored heels, with it.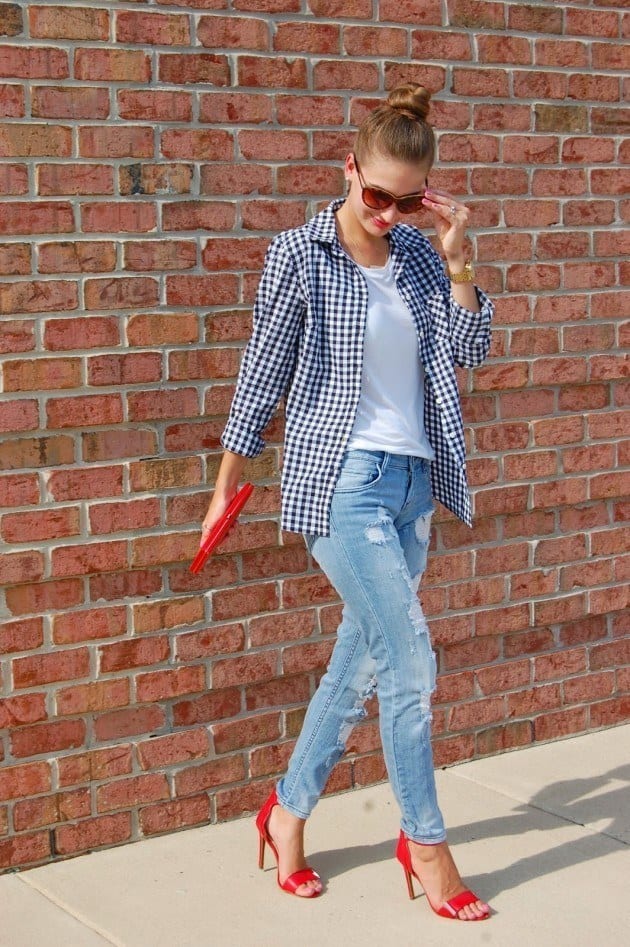 ↓ 15. Girl's Day Out Dress
You know you want to look your best when you have a lunch date with your girls! Well, freak you not! Grab your favourite solid color, dress shirt and wear it with Gingham print straight pants! Viola, you're all set to be praised for your fashion sense. Add a little bling to the look by wearing a choker necklace and gold-colored heels with this look.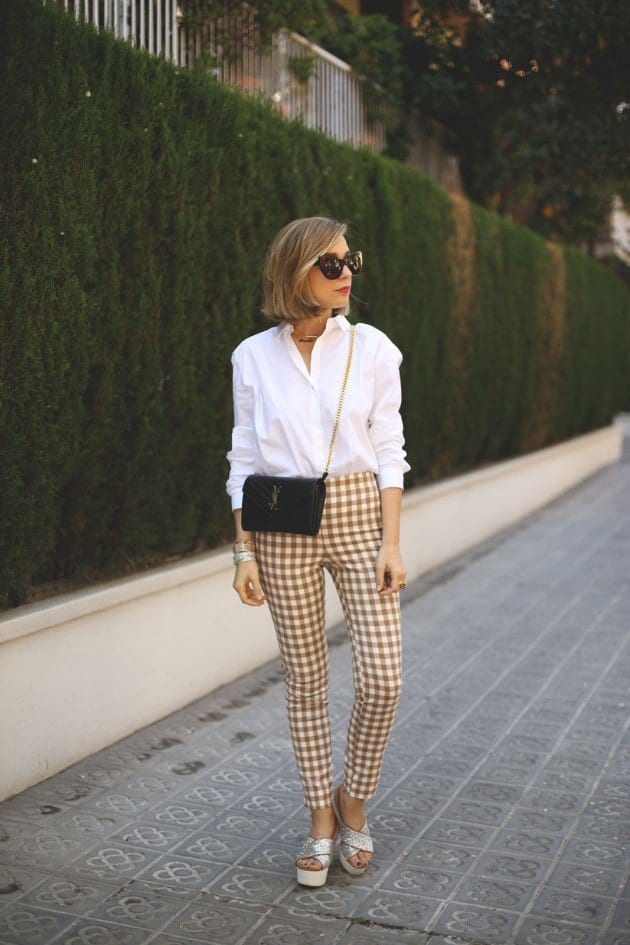 ↓ 14. Beach Dress
Dungarees always look nice and cool, and a white dungaree not only makes you stand apart but when worn with a plaid shirt, it takes up your style up a notch. Black and white sneakers combined with glasses look really nice. As you are going out in the sun, tie up your hair either in a bun or better yet, a braided bun.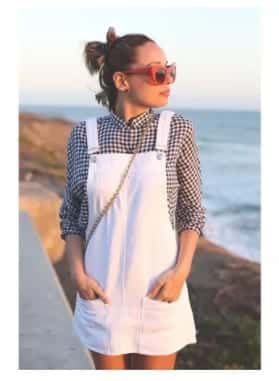 ↓ 13. Office Wear
How about going full gingham? Yes, you do know it looks super classy. Select a gingham shirt, peplum shirts look lovely, pair it up with medium length skirt of the same print and your office look is perfectly done. If you are living in a cool region, don't forget to keep an upper with you. A cosy leather jacket or a woolen cardigan will look very chic with this look.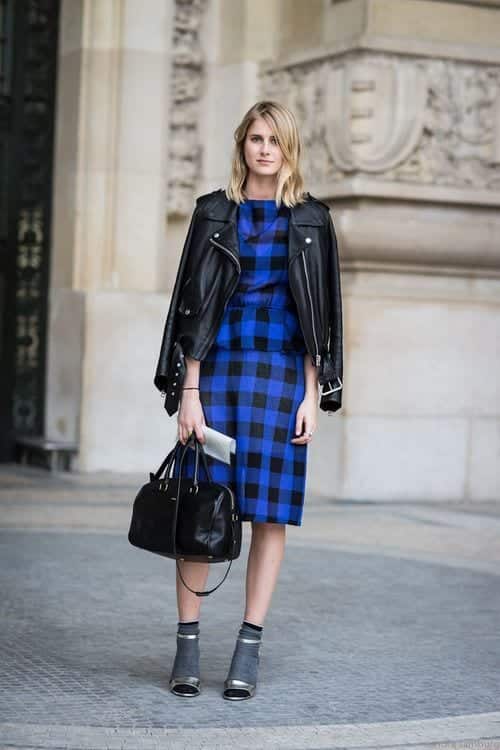 ↓ 12. Cropped Top Fashion
Crop Tops look adorable when worn in summers or spring. There is this summery feel to it. If you love crop top then wear it with a pair of jeans or jeans shorts! Trust me this simple look has so much class to it. You can always carry this look if you are going to a beach or just to your neighborhood grocery store. Cool summer hat will definitely keep the hot rays at bay. Try it right away and do let us know how it turned out for you.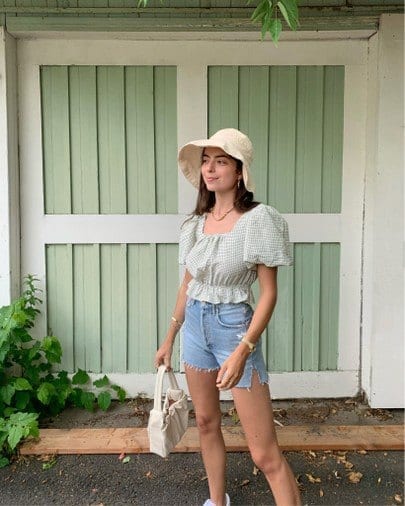 ↓ 11. Corporate Dressing Style
When you are in the corporate world, you have to make sure your dressing is on point because it really matters. For all the working ladies out there, if you have a colored pencil skirt, wear it with a simple, traditional gingham print shirt. This is not just a classy look, it is very contemporary as well. You surely will be appreciated for being well dressed at work, with this kind of style.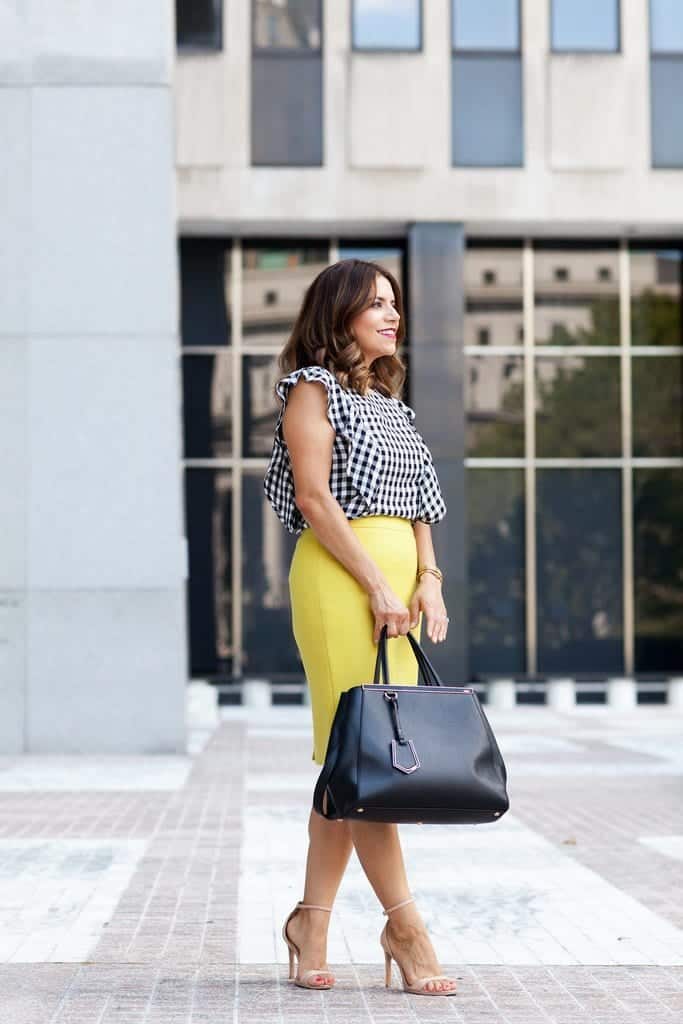 ↓ 10. Edgy and Classy
Time to try something different yet super trendy. If you are up for experimentation, go for a funky peplum, gingham top and pair it up with a flared, leather skirt. The unusual yet very fun look to invest in. If you're a plus size woman, this look will look really fashionable on you. I can't wait to hear from you guys when you will try this look and get all the appreciations!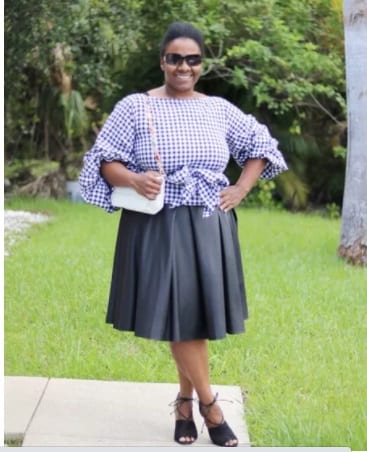 ↓ 09. Vacation Outfit
We all have a gingham frock in our wardrobe. If you don't, time to get yourself one because, hey, you know they are very cute. Wear a denim jacket with your gingham frock, and you're good to go with your friends for some holiday fun. Let your hair enjoy the summer breeze, too, don't tie them up!
↓ 08. The Everyday Look
You don't always have to dress perfectly well. With a casual daily wear gingham shirt and your favourite denim shorts, you can look equally trendy. Sometimes, there is a lot of elegance and class in being simple and being yourself. Time to be comfy, yet fashionable, in your attire.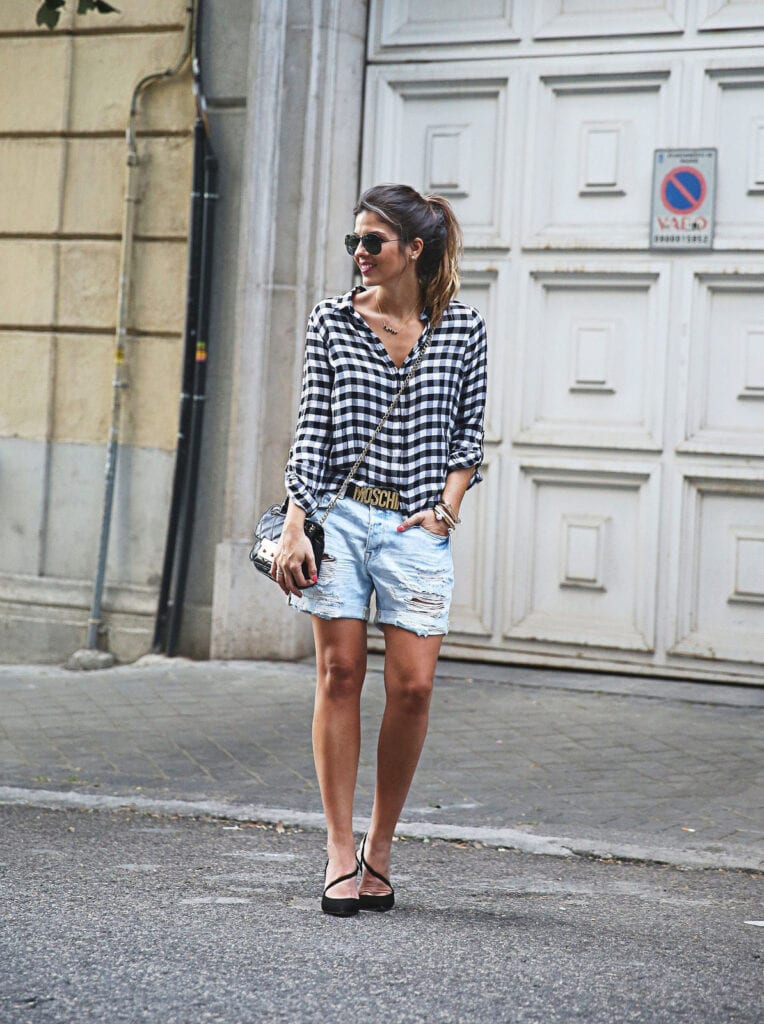 ↓ 07. Spring Combo
Spring is in the air. Go colourful this spring season with a vibrant colour skirt that you can pair up with a funky, coloured gingham shirt. This look is not only fun, but you will feel very happy to carry it, for all its colours and spring feel. You can braid your hair and wear huge, round hoops to give this a hippie look.

↓ 06. Gingham Blazers for Fall
The best part about gingham is its versatility. The print has so much to offer, yet it is so minimalist. If you want to wear something uber-chic yet simple, time to wear your solid-coloured, pastel shorts with a tank top and a pretty pastel-coloured, gingham blazer. You won't believe how this simple look will be such a game-changer. You will surely be followed for this look. Wear a simple long-chained necklace with the look, and you can go for an evening date with this look.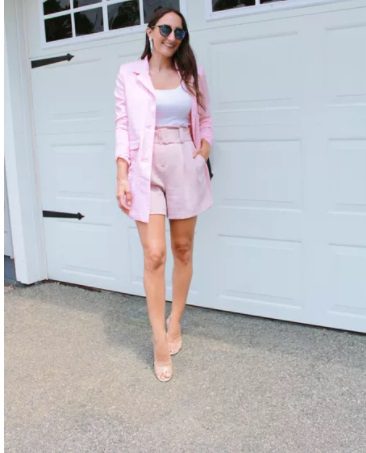 ↓ 05. College Attire for Girls
Hey girls, sometimes we do want to experiment. If you like quirky fashion, time to get creative and bold. Wear your floral printed top with a gingham skirt and see how this will lift your mood. Fun and quirky, the look will definitely turn some heads because it is so funky. So, be bold; change is always beautiful. You can go extra with some neon heels with this style!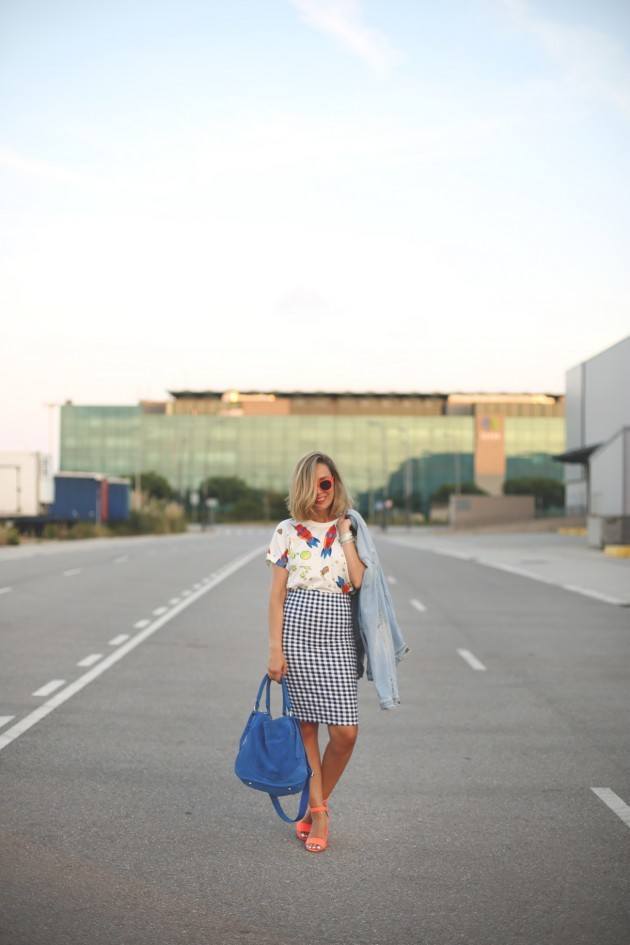 ↓ 04. Gingham Skater Skirt for Parties
Get in the party mood with a skater skirt and a casual gingham dress shirt. This groovy look is super easy to carry and looks very smart. You can either wear your comfortable sandals with it or you block heels would look great too. A stylish summer hat is all you need to complete this attire.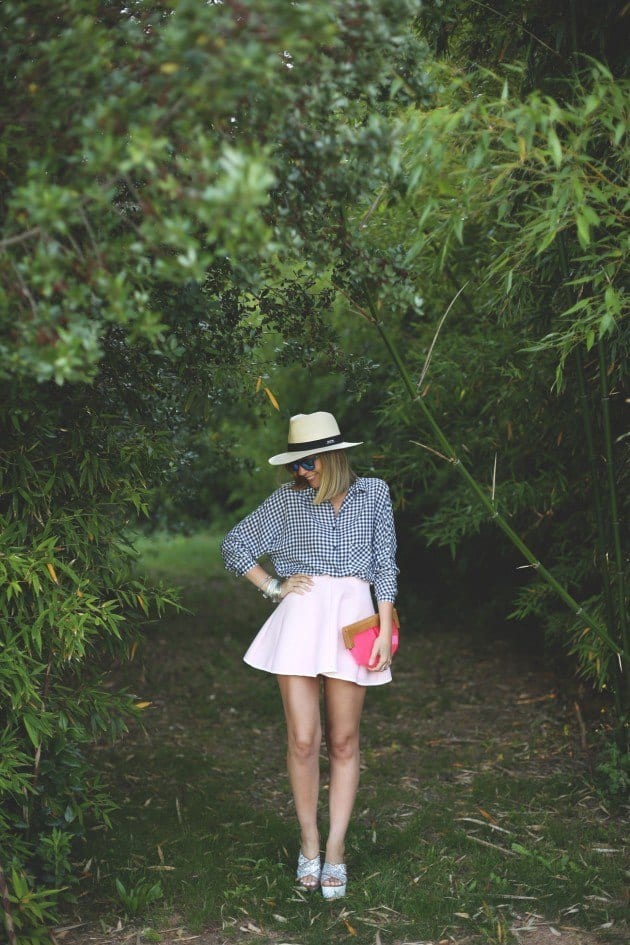 ↓ 03. The Retro Style
We all love the good old vintage styles. Let's try some for ourselves too, now that we have ample time to try some wild looks. How about a polka dot shirt with a mid-length gingham skirt. You know you're drooling over this dress. Wear your neon-colored studs with this look for the extra retro feel.

↓ 02 Mama, Baby Duo Look
If you are a mother, you surely like to dress up your baby daughter with you, afterall, she is the future diva, like her mom. This casual look is a must try. A pretty pink frock for you and a cute little red gingham frock for your baby doll. This look is not only very trendy but is perfect for this hot, sultry season too. Time to have a lemonade party in your backyard!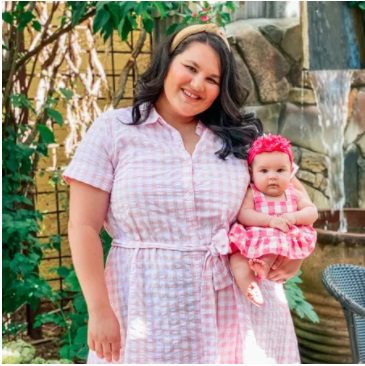 ↓ 01 The Ultimate Mama, Me Look
You know you look cutest when your baby daughter is your fashion partner. This young lady look super magnificient with this side cut, straight frock. How about her cute little munchkin, doesn't she look adorable in her cotton frock. The perfect way to beat the heat this summer, that too in style!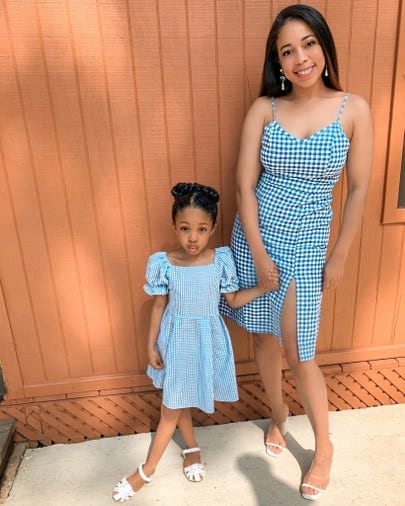 Frequently Asked Questions
What To Wear With Gingham Pants?
Gingham pants are classy and super chic, it is preferred that you pair it up with plain dress shirts as shown above.
What To Wear With A Gingham Skirt?
It is usually a good choice to wear plain shirt or lace blouse with gingham skirts.
Is Gingham In Style This Year?
It is one of those prints which never go out of fashion, so every year is Gingham year! Checkered all the way!