21st Birthday Party Outfits. So, you're turning 21! It's not every day that a gal can say that. And the time has come to pick out a party dress… it's a memorable day and of course, you'll be wanting to look your best.
If you are wondering what on earth you could wear to your birthday bash, we've got you covered. We've rounded up 15 ideas for dresses you can wear to your 21st birthday party. First of all, we know that a once-in-a-lifetime event like this demands a unique ensemble, something that makes you stand out in the crowd. But turning 21 also signals your official status of becoming a real adult. So maybe you are looking to showcase that maturity and elegance in what you choose to wear to your party. Or, maybe you are just looking for a great dress to wear to the club with your friends. Maybe you're headed out for a fancy dinner with your parents. Whatever the case, there's something here for everyone. Keep reading to see the looks we've come up with!
What to Wear on Your 21st Birthday
Everyone celebrates milestone events a little differently. How you dress is going to reflect that. Whether you've got a ritzy bash planned with 50 guests lined up or you're just throwing a casual get-together for your nearest and dearest, you will want to choose a dress that fits the event. Here are the 15 dress styles we love (and think you will, too!) and are going to be showing you in this article:
Midi Dress
Maxi Dress
Lace Dress
Sequin Dress
Tank Top Dress
Velvet Dress
Little Black Dress
Red Dress
Tulle Skirt
Cocktail Dress
Floral Dress
Bodycon Dress
One-Shoulder Dress
Sweater Dress
Vintage Dress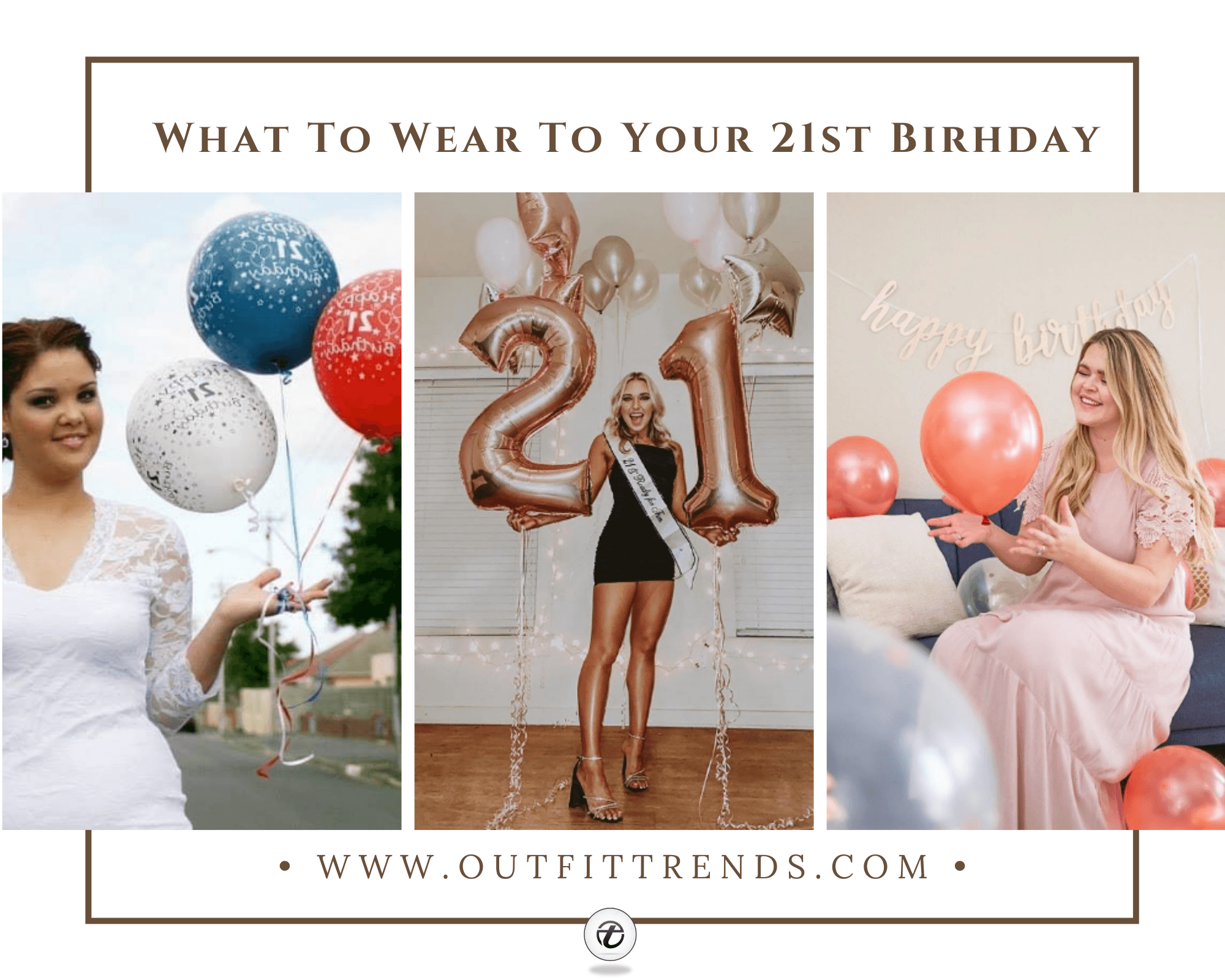 Let's get started!
↓ 15. Midi Dress
Midi Dresses like these look extremely charming though it might be a bit hard to find one of the right texture and colors. It looks great with any hairstyle and even a ponytail, simple jewelry and light make-up. Heels look great with this dress, which you could wear to a formal dinner with your parents, an elegant family bash, or a semi-formal party.
↓ 14. Maxi Dress
This dress is a rather daring choice with it's plunging neckline and very high slits up the sides, but girl, if you got it, flaunt it. This is a great evening look for a semi-formal party. Opt for a deep, rich shade of purple, blue, or even black, and make sure to add a bold shade of lipstick along with stiletto heels.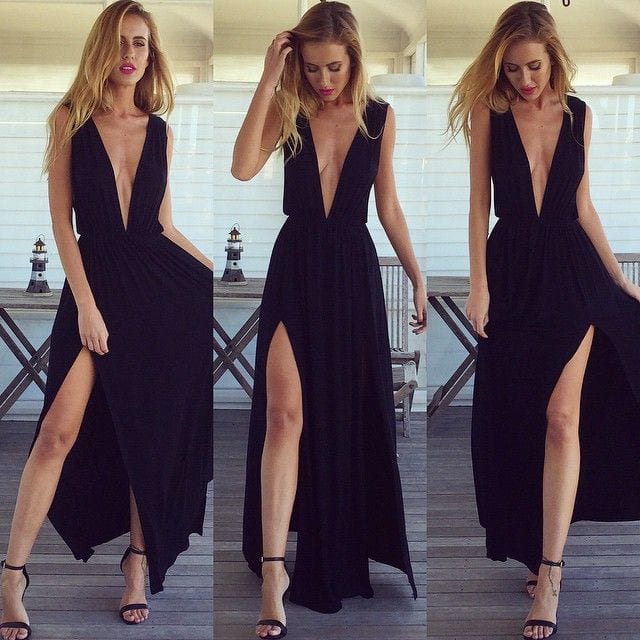 ↓ 13. Lace Dress
A lace dress is a super elegant and ladylike option for the girl who loves to show off her innate femininity. If you are taking on 21 like the momentous occasion it is and you want to use the opportunity to show off your love of elegant fashion, then a lace dress is a great option for you. We love this dainty pink dress paired with a soft blue handbag and accessorized with dangling earrings. Add white heels to tie it together. The look can work for evening parties but works better for the daytime ones.
Source
↓ 12. Sequin Dress
Here is another amazing idea for late-night parties. Sequin dresses actually make you stand out and look like the perfect birthday girl. If you choose a lighter shaded outfit like golden or peach then do try a winged eyeliner and light-colored lip shade as it looks amazing. You should notice that both the dresses are complemented by a cute hairstyle for a 21st birthday. Here are some more fabulous ideas on How to Wear Sequin Clothes.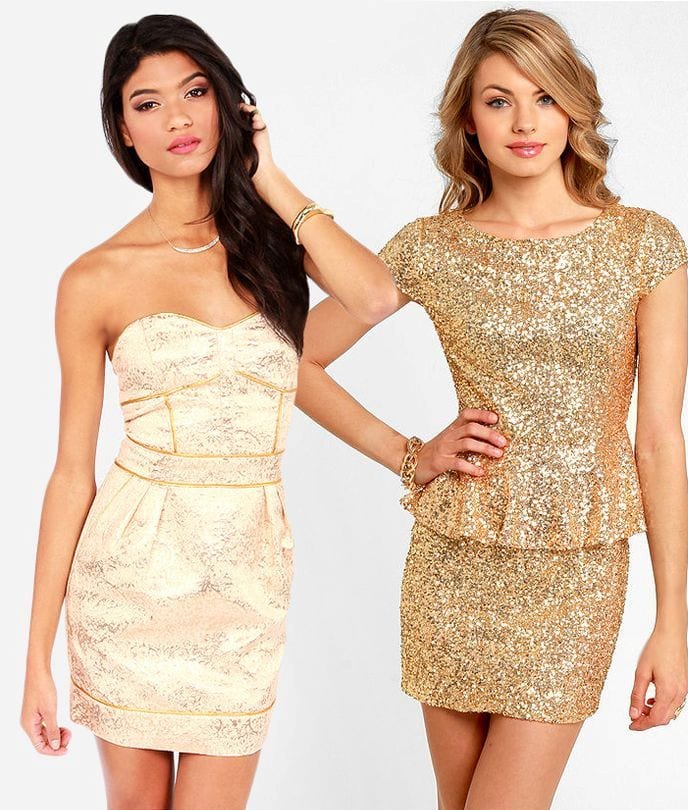 You will also definitely want to check out our 16 Sequin Outfits You Need in Your Wardrobe article!
↓ 11. Tank Top Dress
If you aren't into the fancy stuff then how about a plain tee-shirt dress? If it isn't a printed one then I suggest you wear some glittery or eye-catching jewelry and dark make-up. These loose tank top style dresses are perfect for plus size women, too. Play up the look with accessories and go bold with your lipstick to tie it all together.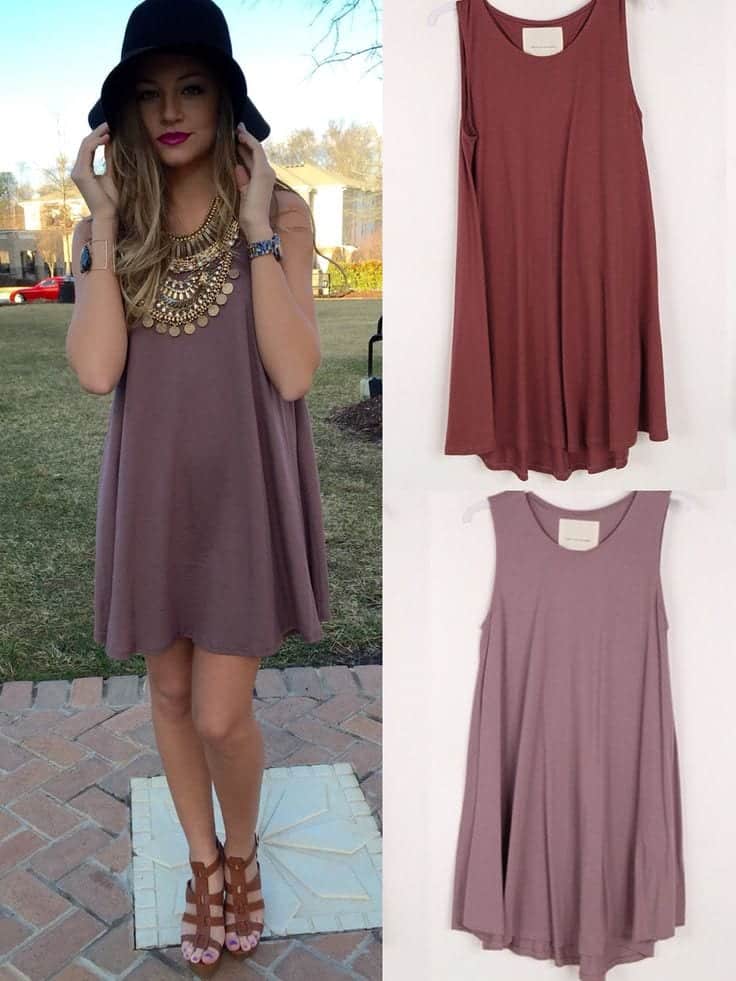 ↓ 10. Velvet Dress
There's a lot to love about velvet dresses. Not only are there an endless array of options when it comes to velvet dresses, but they are innately celebratory and are so perfect for a milestone birthday! Give this rose-colored velvet wrap-style dress a chance and pair it up with some silvery rhinestone heels. Check out the outfit details below. Here are some more trending Ways To Wear Velvet Dresses.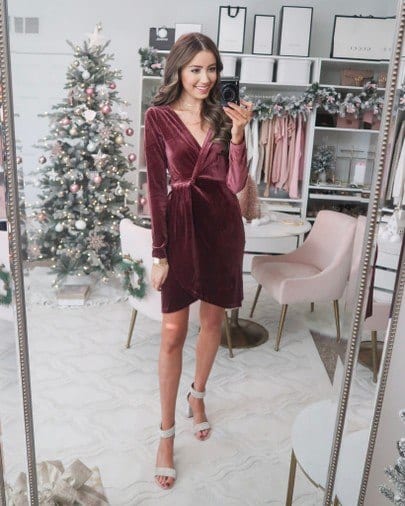 Snag the look at the links below:
Loft Velvet Knot Wrap Dress $34.88
Free People Sparkle and Shine Heel $168
Or how about a luscious blue version? We especially love the puffed sleeves and sweetheart neckline. Pair with some ankle strap sandals and you, girl, are ready to party.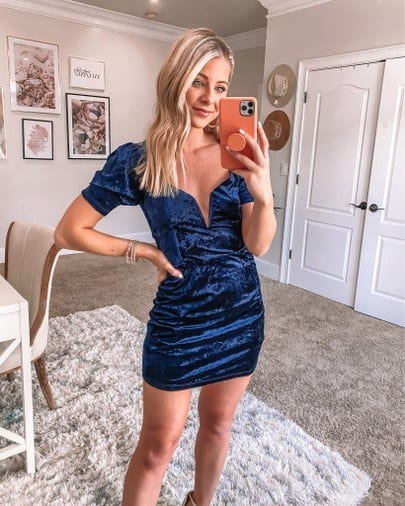 Snag the look at the links below:
Buddy Love Dakota Fitted Crushed Velvet Mini Dress $86
Nordstrom Sam Edelman Yaro Ankle Strap Sandal $99.95
Or how about a floor-length number paired with a gorgeous strap sandal? This stunner will lock you in as the true center of attention and it will make you feel like a million bucks!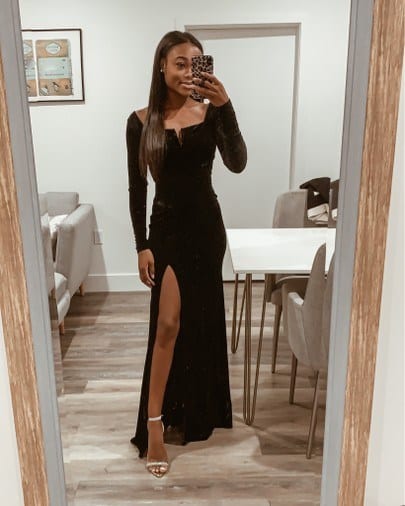 Shop the look at the links below:
Windsor Aleah High Slit Velvet Dress $69.90
Windsor Rhinestone Heels $30.90
↓ 9. Little Black Dress
A little black dress is a classic option for the classic-loving girl. You can go sweet and simple or opt for something daring and unforgettable. Our first option is an adorable polka-dot version, featuring a ruffled skirt, an adorable knotted headband, and rhinestone-bedecked heels.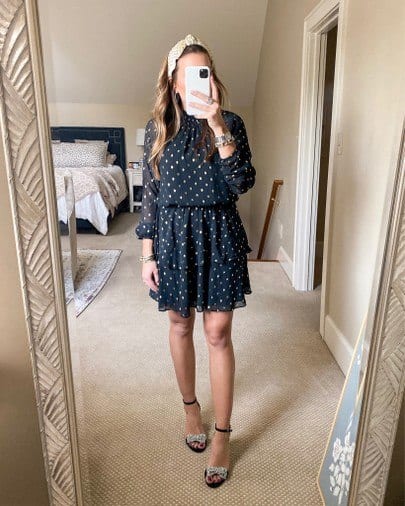 Snag your polka dot dress here:
If you are looking for a more alluring option, this just might be the one for you. This little black mesh dress is a stunner and so perfect for a 21st birthday party experience. Add some ankle strap heels and a simple necklace and you are ready to party it up!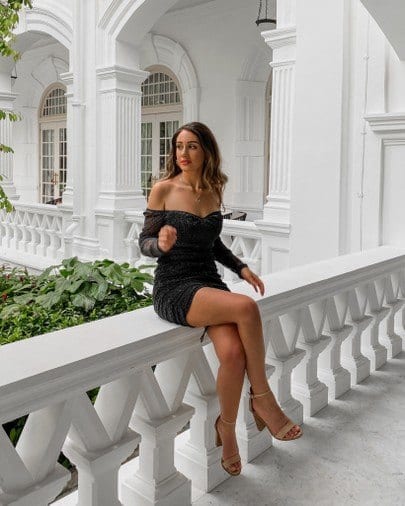 Shop the look at the links below:
Showpo When I Get Home Black Mesh Lurex $54.95
Revolve Alias Mae Addax Heel $190
We love a whimsical mini dress and there's just so much to love about this one! From the lace-tripped v-neck to the cutouts on the side and flouncy hem, this romantic and stunning little number is a must-try! Grab yours at the link below.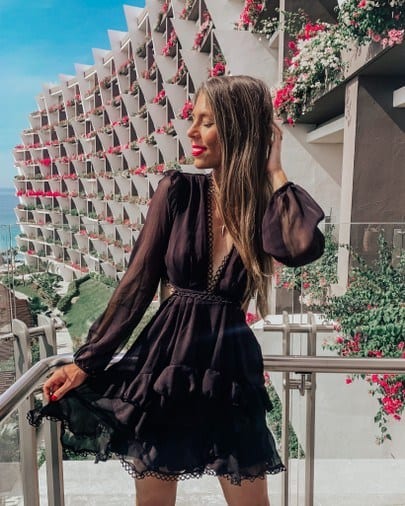 Snag the look at the link below:
ASOS DESIGN mini dress with long sleeve and circle trim $60
↓ 8. Red Dress
For a bombshell outfit, take a page from Selena Gomez's book. This satin little number will have every head turning in the room. With a dress like this, go full glam with your makeup look. We love Selena's winged cat-eye and lipgloss Barbie lips. Pair with strappy heels and keep your accessories simple: diamond drop earrings, a little clutch, and some silver bracelets. Style your hair in a classy low bun and you'll be red-carpet ready.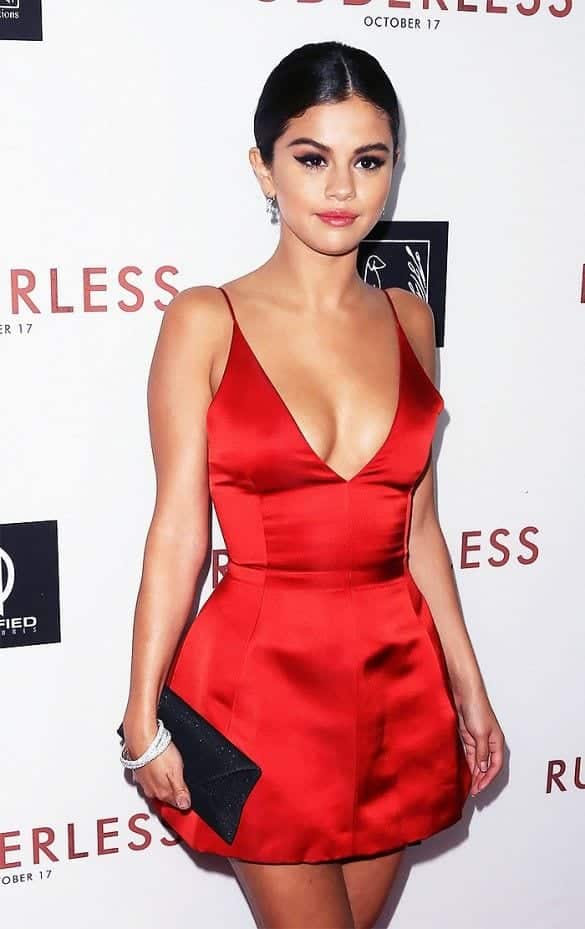 ↓ 7. Tulle Skirt
The best thing about tulle skirts is that they can be worn with anything. You are not confined to only one style top, you can change the blouse according to the occasion. You can also wear these tulle shirts with any simple cotton shirt to make your look a little less formal and suitable for every occasion. If you love tulle, why not check out our
15 Ideal Ways to Wear Tulle Skirts?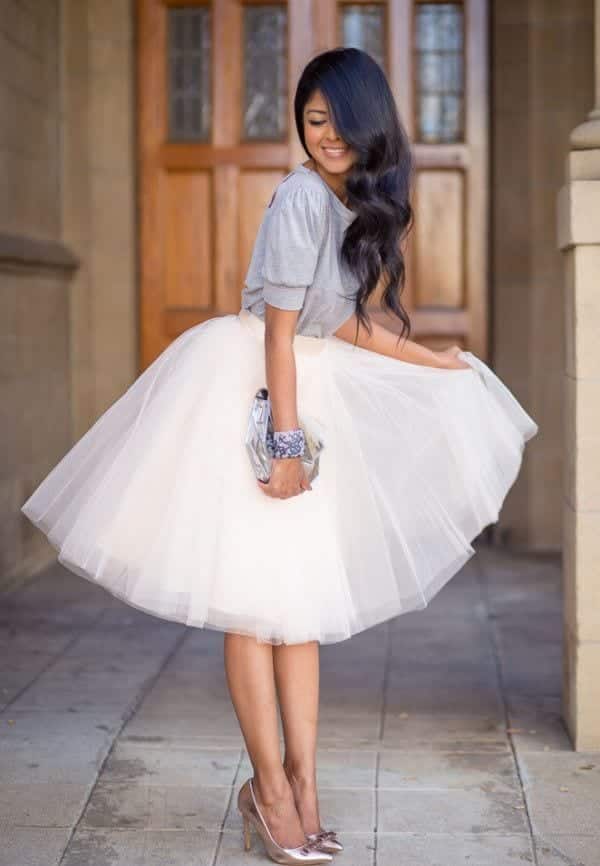 Source
↓ 6. Cocktail Dress
Cocktail dresses are another fantastic option for a 21st birthday party. They're easy to accessorize and look great no matter what you pair them with. Plus, they work for almost any occasion whether it is formal or semi-formal. For example, you can wear a cute lacy red cocktail dress like this with a matching red Chanel bag for a bangin' party look.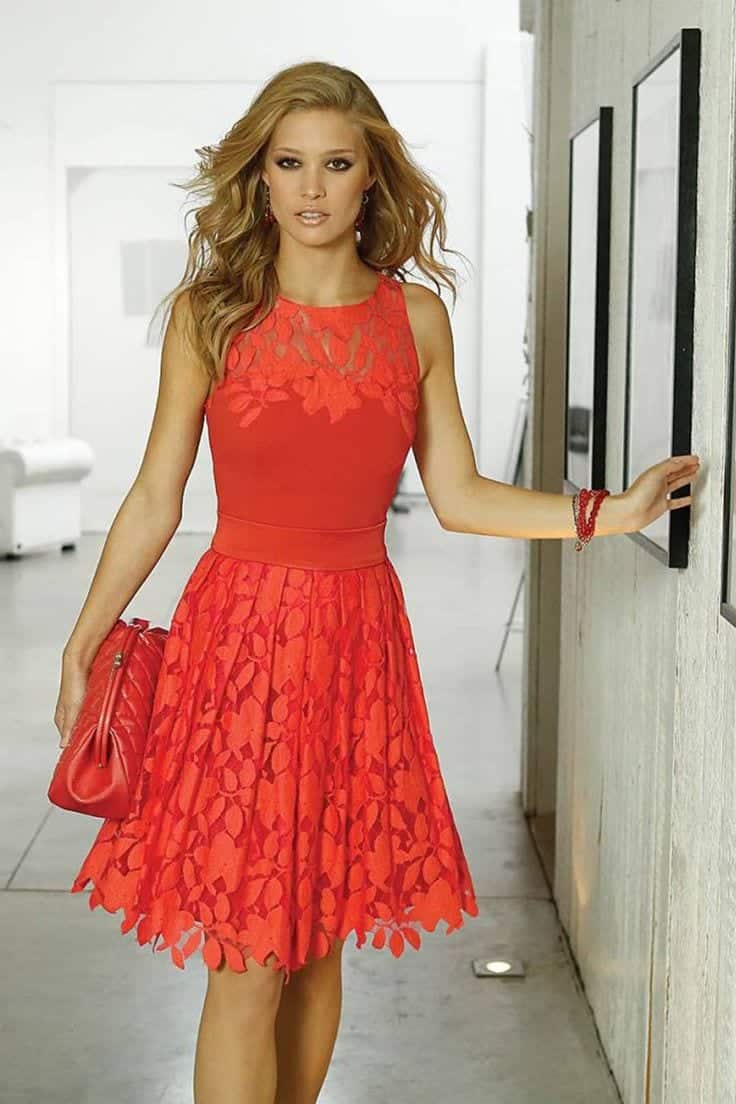 ↓ 5. Floral Dress
For the girl who loves whimsical beauty, a floral dress is the one for you. This beautiful option is great if you are sitting down to a fancy dinner with family or if you simply want to have an elegant style party with friends. We love the yellow tones of this dress paired with black heels. Pop on some bold red lipstick and pair up this lovely dress with an adorable little yellow clutch. Here are the
Cutest Floral Print Outfits Combinations for Spring Season.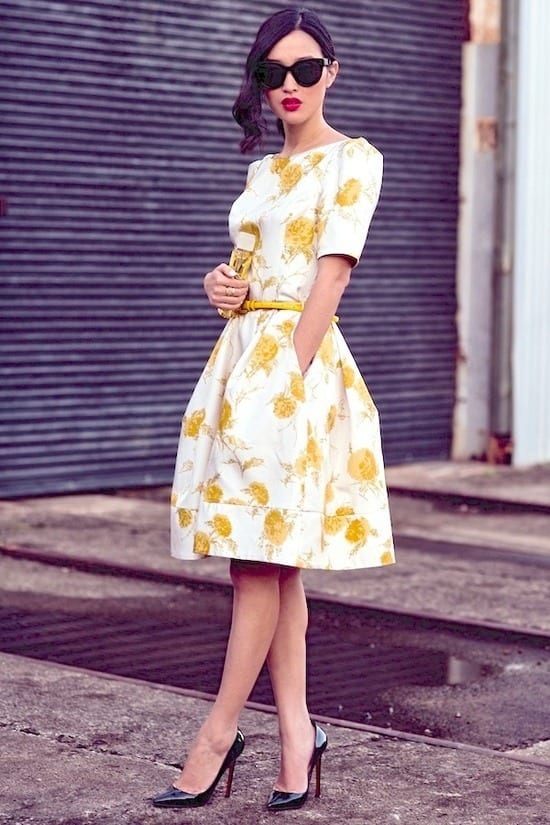 ↓ 4. Bodycon Dress
A bodycon dress is always a great go-to option. For the girl who's got it? Flaunt it! We love this classic white take which features a wrap-style and an asymmetrical hem. White heels and bubble-gum pink lipstick ties the look together; plus, you don't even have to worry about accessories with this one! A simple clutch or a little purse will do the job nicely.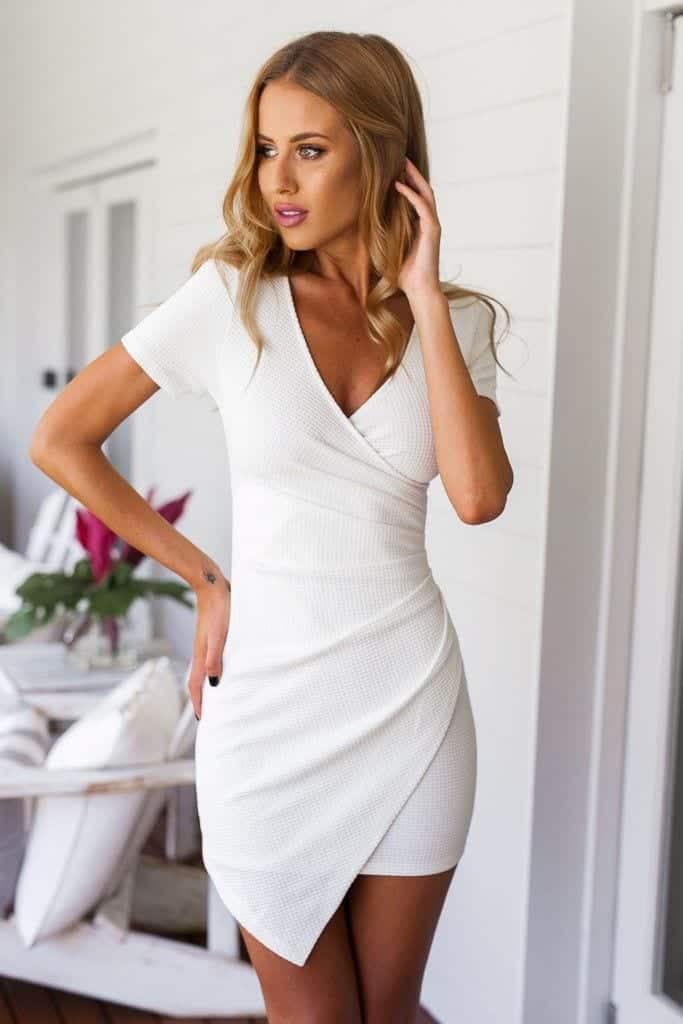 ↓ 3. One-Shoulder Dress
A one-shoulder dress is a lovely option for a 21st birthday party as well. This style dress is a great way to accentuate your curves and show off your shoulders. We especially love the detailing on this floor-length option, which features a belted waist (great for creating that hourglass figure) and lovely long pleats. For heels, opt for metallic, and accessorize with diamond stud earrings and a little metallic clutch.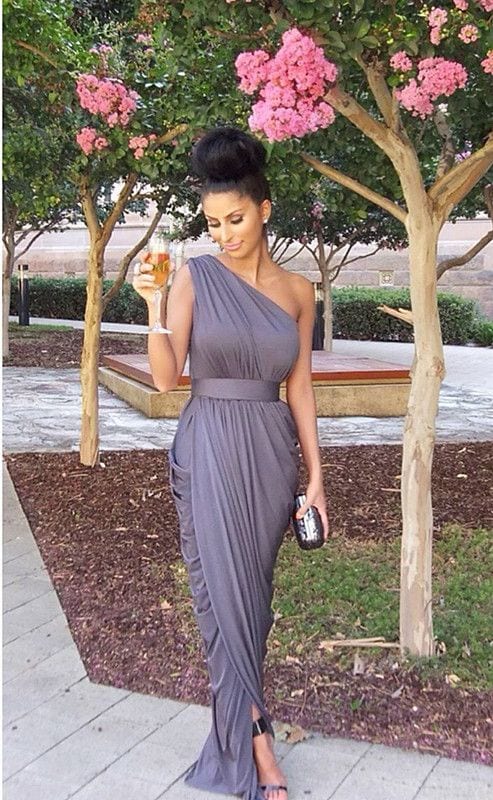 You can also go for an above-the-kneel option. This lovely deep purple dress features a gorgeous ruffled one-shoulder neckline and can be worn with nude or soft beige pumps, a clutch, and diamond drop earrings.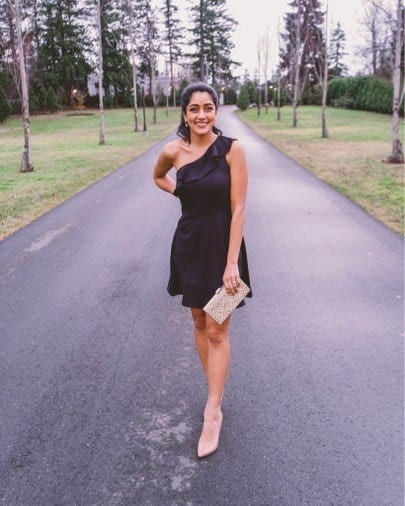 Snag the look in the links below:
Nordstrom Tiffany One-Shoulder Midi Dress $198
Sam Edelman Hazel Pointed Toe Heel $60
↓ 2. Sweater Dress
If your birthday is during the colder seasons, then why not opt for a lovely little sweater dress? Not only will it keep you cozy and warm, but you can dress it up or down depending on how dressy you want to look. We love this turtleneck option in soft gray paired with sleek black booties. You can add statement earrings, a pendant necklace, or even a bedazzled clutch to bring some extra fun to the look.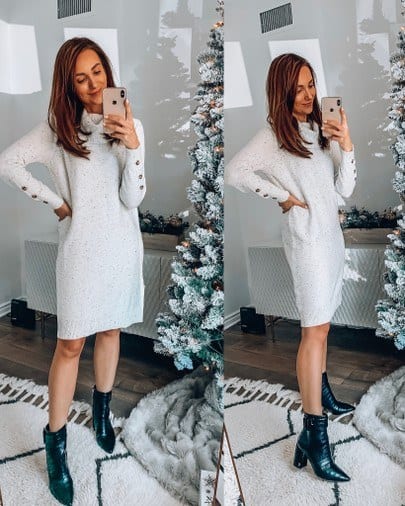 Shop the look at the links below:
Time and Tru Cowl Neck Dress with Button Detailing $12.99
Circus by Sam Edelman Booties
↓ 1. Vintage Dress
If you love vintage pieces and old-fashioned styles, then this is the option for you. We have rounded up four gorgeous looks that truly showcase the best of vintage fashion, plus will inspire you with modernized versions of these beloved pieces. (Psst! A vintage-themed birthday party would be a great idea for a 21st birthday, we think! Just throwing that out there!)
Our first look is not exactly a dress, but it might be even better because you can combine two very different but gorgeous pieces to get exactly the kind of look you envision. Take, for instance, this aquamarine-colored poodle skirt paired with an animal print top with three-quarter length sleeves. Now that's a dress look you wouldn't see all that often! But it looks fabulous here, especially when paired with nude platform heels, a bold red lip, and a retro hairstyle.
This look is definitely for a themed birthday party and boy, is there a lot to love with this sweet little ensemble. From the deep green button-down sweater with the white-collar bow to the floral skirt and vintage belt to the spicy tights and the adorable booties: how do we pick a favorite piece! And then, of course, you've got the retro hat and the vintage makeup look… Love, love, love!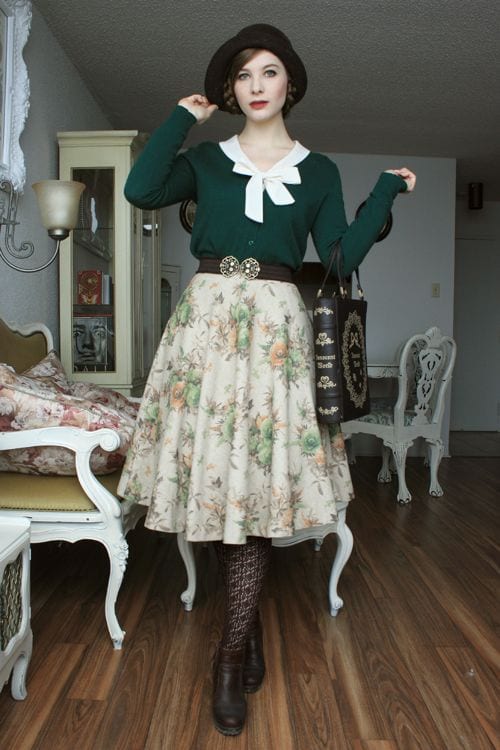 But we get it. Not everyone is ready to go full 1940s with their outfit choices. Some just prefer to bring a bit of old-fashioned love into their modern look. Like Taylor Swift. This absolutely stunning ensemble pairs a pale blue chiffon blouse with a print skirt and retro sunglasses. It's super feminine and so gorgeous. Opt for orange-red lipstick and a girlish ponytail to tie together what we think might be the cutest look around.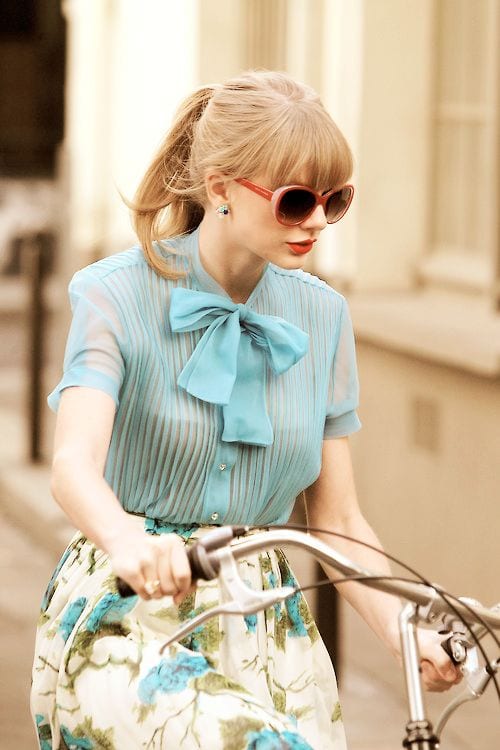 Source
For vintage style inspiration a la 1950s, who better to be inspired by than the iconic, the inexpressible, the gorgeous and the very stylish Marilyn Monroe. Bring a bit of the '50s into your 20s with a look that says, "Here I am, world." First off is the beautiful color combination of satin white and sky blue. A high-waist skirt and fitted top is a great way to highlight a curvy figure. Add a little matching jacket and keep your accessories very understated. Last but not least, fasten on a little white heel.