Plus Size Wedding Guest Outfit Ideas: We all want to look and feel good when we go out, especially during weddings. They aren't wrong when they say that weddings are the best place to meet new people if you are looking to date.
That is not the only thing that matters though. These days most brands make wedding guest dresses and attires for slim people, excluding plus-size women. This makes picking out outfits an ordeal.
We are here to make life easier for you if you are stuck in the same boat. We will help you put together outfits that curvy women can wear and feel appropriately dressed and confident simultaneously.
Are you looking for outfits that are flattering and perfect for your body type? Don't worry, we've got you!
We will let you know about all the ideas we have, including dresses, pants, jumpsuits, and skirts. Some colors are made for you, but we will definitely advise you against some.
This article will also provide you with affordable options which you can permanently include in your wardrobe because you don't have to wear designer outfits to look your best:
So, without further delay let's dive in!
What To Wear To A Wedding If You Are Plus Size?
For plus-size women, shopping is a task as not many brands cater to their needs. However, you should not feel hopeless because we know some good places that sell wedding guest outfits suitable for you.
Some of the options are available on Amazon and we have mentioned these along with our looks (shared below) and provided the shopping links.
Some other online stores include Jovani, Promgirl, and Bloomingdales. With minimal shipping charges, these places will deliver the dress you like to your doorstep.
ASOS plus-size dresses are another good option because they're stylish, trendy and budget-friendly.
Tips on Dressing Up as a Wedding Guest:
Confidence Is Key. The world's stereotypical beauty standards have conditioned us all to believe that plus-size women can look good in only a limited variety of clothing. However, we disagree! If you wear anything confidently, you will slay!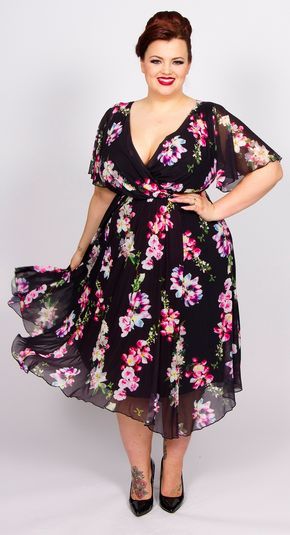 Consider Layering Your Outfit. We all have some insecurities and that is okay. If you feel uncomfortable in certain dresses but would still like to wear them, consider layering them.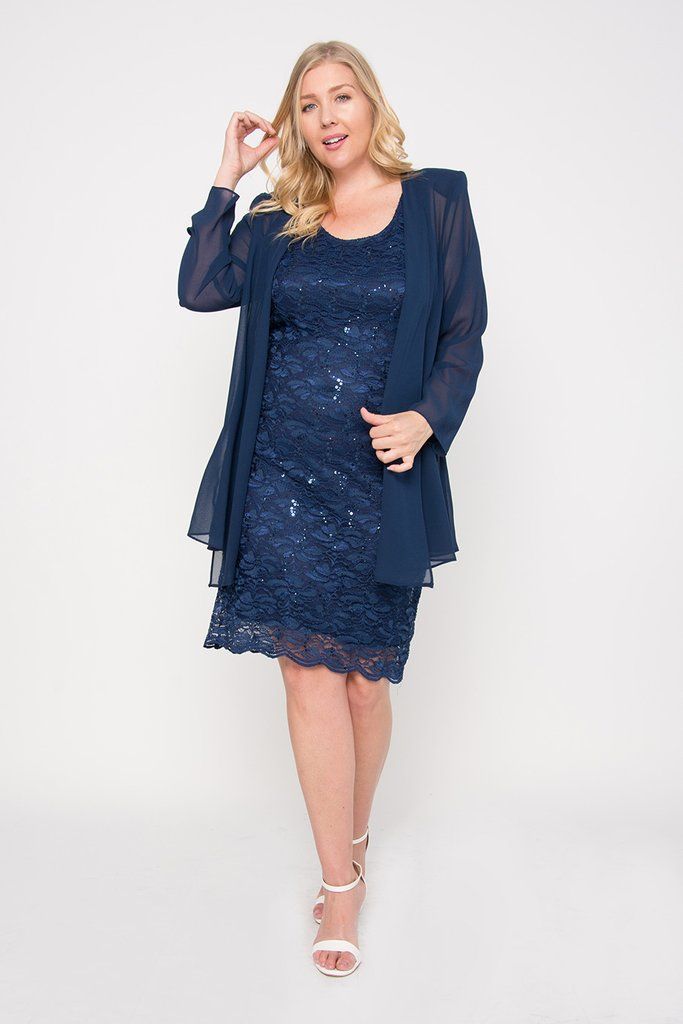 Wear A Body Shaping Dress Underneath. This is a type of body suit that hugs your body and makes your body tight. It really helps and gives the actual dress a flattering look.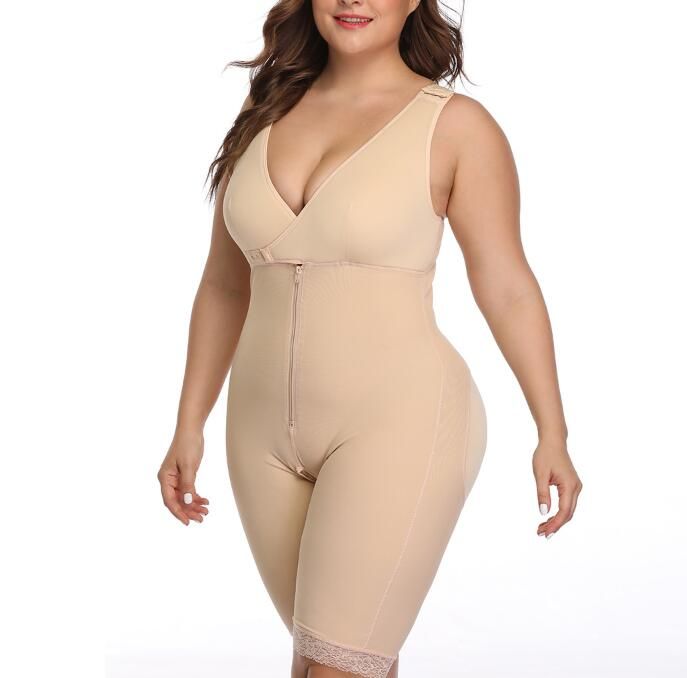 Let Your Hair Down. Wearing your hair open with your wedding outfit, will help make your face and shoulders look narrower.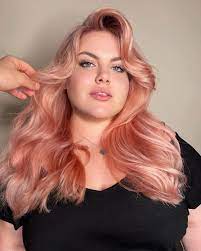 Your Color Choice Is Very Important. Traditionally, for plus-size women, we advise avoiding wearing very light colors. Go for darker outfits like black, red, blue, brown, purple, etc.
Formal Outfits
These outfits are best suited for the bride or groom's immediate family like mother, sisters, cousins or BFFs.
24 – Silver Dress With A Trail
Wedding outfits are incomplete without a little bling and this outfit is that bling that all of us desire!
The trail helps increase the elegance of the outfit and one bare shoulder makes this look even sexier.
To complete the look, wear a pair of white heels or sandals, and to accessorize add some earrings with contrasting colors.
23 – Wrap the Dress With A Silver Belt
Such dresses work really well for plus-size women. It helps accentuate the curves. Plus, some cleavage never hurts anyone, right?!
The color of the dress is really beautiful and will look amazing on any skin tone.
The sleek belt has been added to give a slimming effect because in this way the unnecessarily oversized look can be avoided.
For the shoes, pick out a pair of pink heels.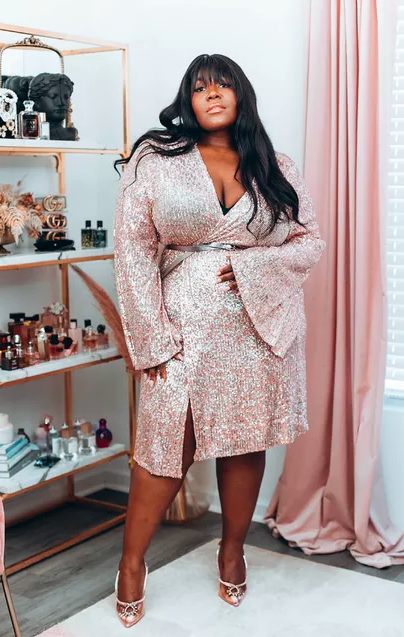 22 – Knee-length Floral Chiffon Dress
We think that chiffon is a very graceful, elegant, and slimming material. It does not create unnecessary puffiness and accentuates one's curves perfectly. This is why this dress had to be added to our list.
In order to accessorize, add some silver bracelets or bangles along with a few rings.
As for the shoes, go for any black pair of heels that you own.
We love this dress because it helps conceal the arms if you are not in the mood to show them. And once you're done with the wedding, these would work as great party outfits.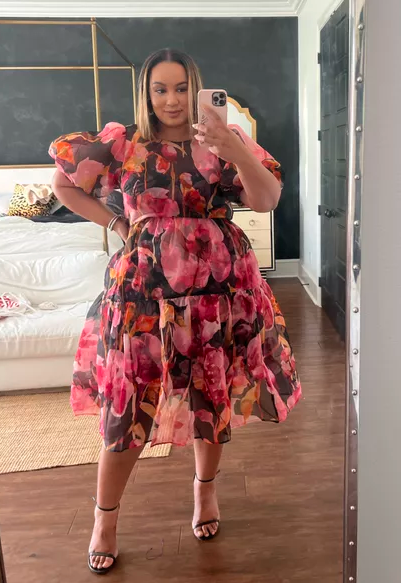 21 – Green Velvet Wrap Dress
For a winter wedding, this should be your go-to outfit. Velvet will really keep you warm and make you the attraction of the room easily.
Complete the outfit with a silver clutch and add some silver earrings as well.
20 – Neon Yellow Silk Dress For Plus Size Women
After velvet, another material that deserves some attention is silk. This material is the epitome of elegance.
This color, though, is rather risky. So, save this look for a day when you are feeling extra bold and experimental.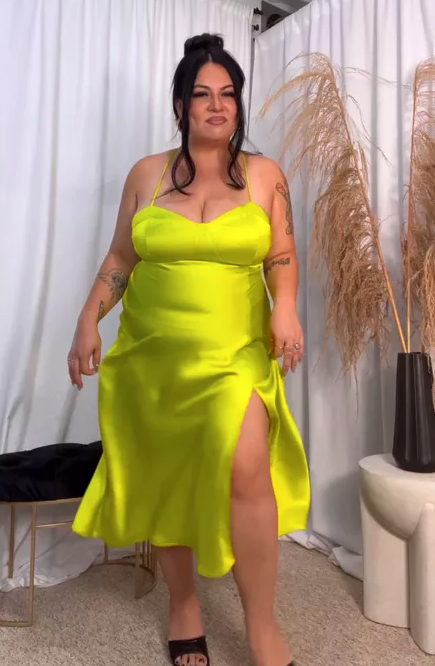 19 – Tea Pink Dress With Horizontal Pleats
Take a look at this beautiful dress which is giving us very pastel vibes. Pastel colors are really in these days as wedding looks, which is why we had to add this dress to our list of wedding guest outfits.
Overall this dress highlights the curves of our bodies in the best possible way.
Since this is a light-colored dress, silver will complement it a lot. So, pick out a pair of silver heels and a silver clutch from your wardrobe. The same goes for jewelry as well.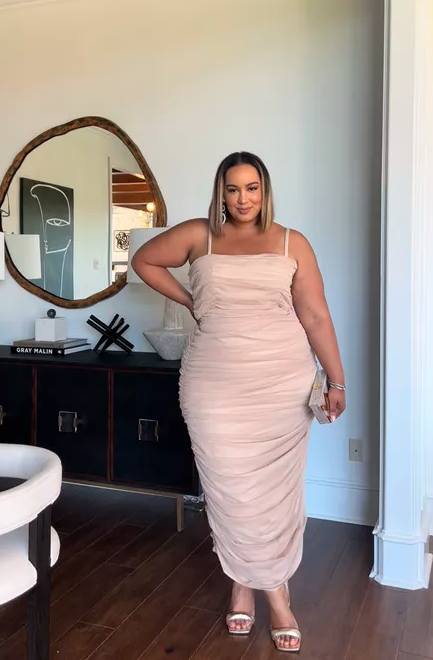 18 – Teal Green One Shoulder Dress
Green is one of those colors that anyone can wear flawlessly, which is why this is the second green dress we decided to add. However, this time we added a silk dress.
The lack of one shoulder is what makes this dress a head turner in our opinion.
With the dress, wear a pair of thick-soled silver heels and carry a matching purse to go along with them.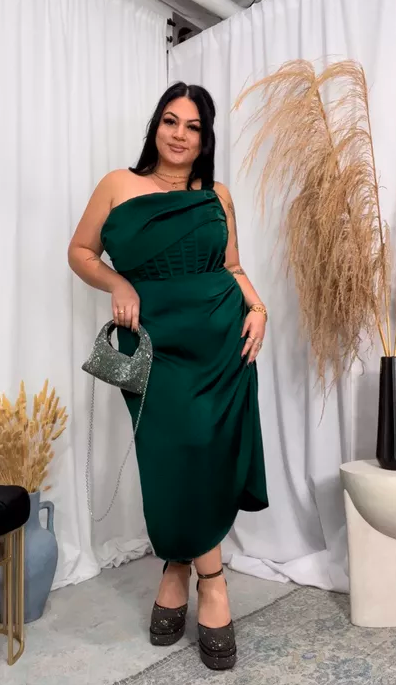 Semi-Formal Outfits
17 – A Bright Orange Jump Suit With A Bow
If you have been invited to a smaller wedding, we recommend wearing a jumpsuit as these are the perfect combination of casual and formal tones.
This jumpsuit is made for plus-size women. The bow helps pinch the jumpsuit at the waist which automatically gives a narrower look.
Since orange is such a bright color on its own, wear soft beige sandal heels and carry a tote bag of the same color to balance out the look.
16 – A Soft Pink Maxi Dress
This printed maxi dress will keep you comfortable the whole time and will make sure that you look extremely cute no matter what!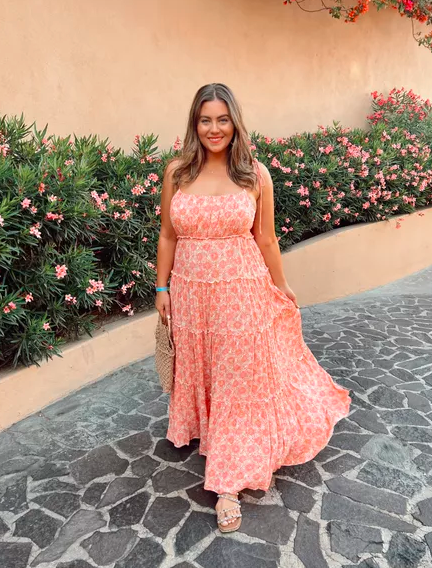 15 – Dark Blue Jump Suit With Orange Accessories
Combining blue and orange is something most people would not consider doing but we recommend this combination as it is really in fashion in 2023.
14 – Bright Orange Dress With A Black Belt
The puffy sleeves and plunging neckline are what make this dress special but adding a black chunky belt at the waist makes the look even better and gives it the slimming look that you may have been looking for.
To finalize the look, wear a pair of black wedge heels and accessories with a dull gold necklace.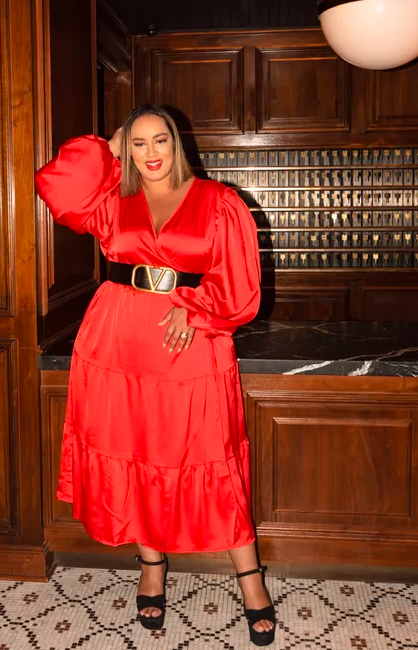 Summer/Spring Wedding Looks
13 – Black Dress With A Thigh Slit
The silky material of the dress makes it perfect for formal occasions like weddings and makes the person wearing it look absolutely gorgeous.
What stands out about this dress is its strap-less style and the fluffy material added to the top.
Wear a pair of black heels with the dress and avoid necklaces as it already has a fancy neckline.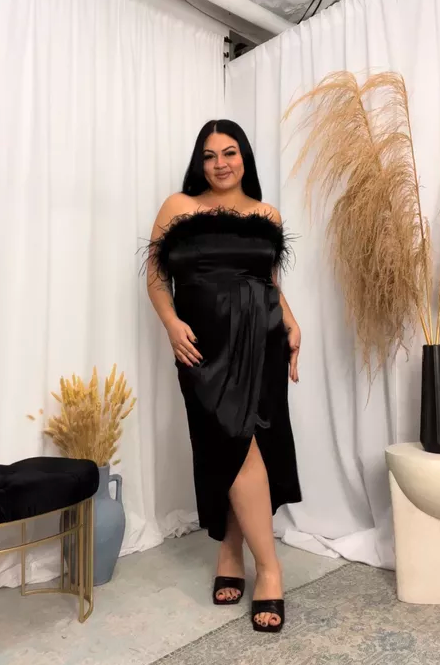 12 – Pink Chiffon Knee Length Dress
This is one of the most feminine looks out there for women. The pink of the dress complements all skin colors.
The full sleeves of the dress can be very useful on days when we are feeling insecure about showing our arms.
With the dress carry a pink cross-body bag or clutch.
Winter/Autumn Wedding Looks
11 – Asymmetrical Jacket With Leather Pants
Most plus-size women would avoid wearing leather pants but we are here to solve that dilemma for you. This way you can wear leather pants confidently and feel great about yourself.
To top it off, wear a pair of silver or black pointed-toe heels and carry a black purse or clutch. Here is our detailed guide on the best plus-size pants outfits.
10 – White Trenchcoat Over High-Waisted Pants
If you are not worried about wearing white to a wedding, this is the ultimate look for you.
The layering provided by the coat helps give one's body a narrower look. Also, the high-waisted pants will make sure that the tummy fat remains tucked in.
All Black Looks
9 – Black Jumpsuit With Sequins
You can never go wrong with black which is why we just HAD to add several black outfits to this article. This color is used by everyone in the world to look more mysterious and gorgeous.
Our first look is a jumpsuit with sequins. The exposed cleavage makes this the perfect party dress.
Finally, add a pair of silver heels and we would also advise that you should wear a chunky silver necklace to match the hoops shown below.
8 – Dark Academia Floral Look
Recently, goth-inspired fashion has become really popular. People are wearing it not just casually, but even as formal clothing and office attire.
We think that dark academic styles should also be included in wedding looks.
The oversized blazer will help keep you warm in the cool evening and cover the arms if you don't want to show them a lot. Here are some more plus size blazer outfits you can take inspiration from.
7 – Another Black Off-shoulder Dress For Plus Size Women
The slim fit of the dress is one of the best reasons why you should invest in it. Here are some more tips on pulling off the off-shoulder look.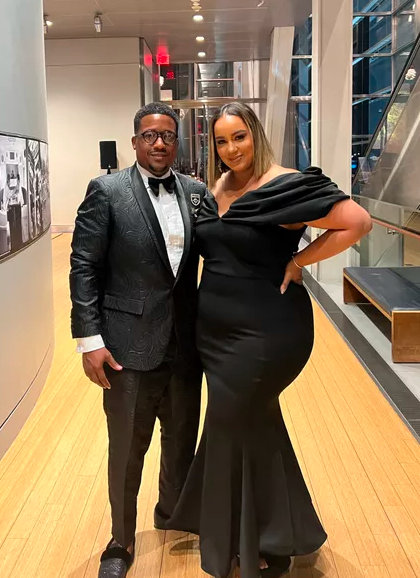 6 – Black Wide Legged Jumpsuit
We did add looks with jumpsuits before but this time we have a strapless jumpsuit. If you think that your shoulders and neck are your attractive feature, you should definitely adopt a similar style at the wedding you have to attend. It will also help you show off your gorgeous collarbones.
One thing we would like to emphasize is that you MUST accessorize. Go for a chunky gold necklace and matching gold bangles or bracelets and maybe also a watch.
Another important thing to remember is that for this outfit to look awesome, you must own a really good strapless bra.
5 – Just Another Black Wedding Guest Outfit
This is a spin-off of look no. 7. This dress has more flare and a belt has been added to this dress.
To complete the look wear a pair of thin strap block heels and carry a stylish floral box bag with a cute pattern.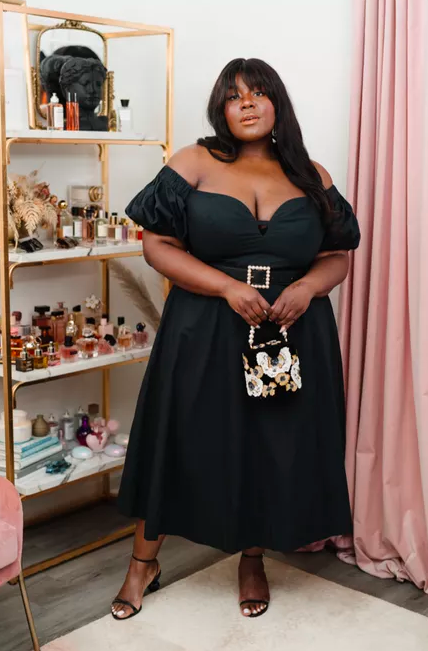 4 – Black Fancy Gown With Sequins
When it comes to this dress what we love is the way it fits the curves of the female body. The beaded strings falling over the shoulders make this dress even more classy.
To accessorize, add silver earrings or loops and some beautiful bracelets.
Plus Size Outfits Inspired By Celebrities
3 – Queen Latifah's Black Blazer Look
Queen Latifah is really slaying this look, don't you think? We absolutely love her outfit.
Under her blazer, she wears a black corset and custom-tailored pants. The corset is a body-shaping one that exaggerated her curvy body.
To accessorize, she wears a statement necklace with large aqua-colored stones.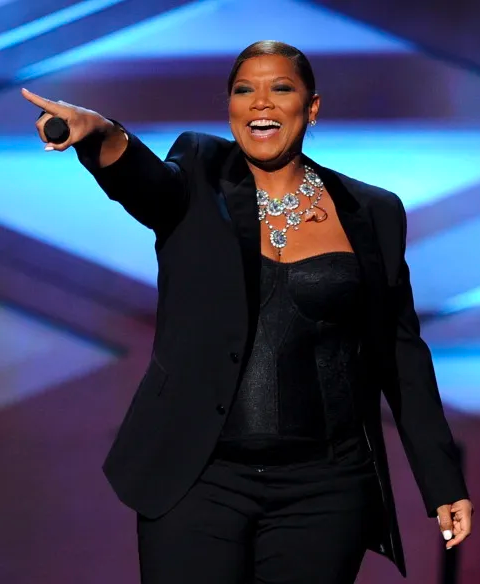 2 – Melissa Mccarthy's Silk Kaftan Gown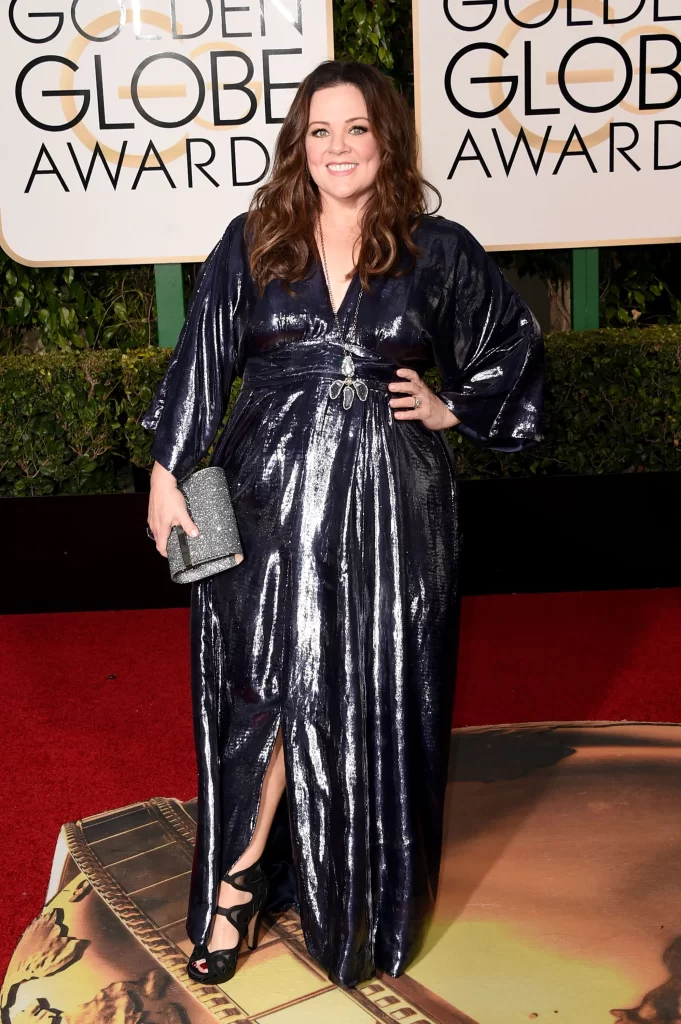 1 – Lizzo's Red Carpet Look
We shall be ending our article with one of Lizzo's looks because we just love her and her style so much!
Even though this is a risky red carpet look, you can take inspiration from this outfit and wear your own version of it. A similar color should be experimented with, as it will help you stand out.
Additionally, slits in dresses that expose one leg help make an individual look taller.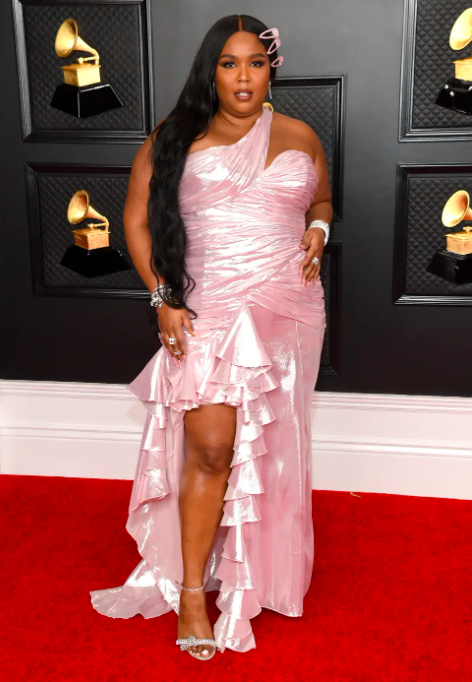 FAQs
How should I avoid feeling consious in bold dresses?
The best advice we can give you is to wear what you like in a way that conceals what you might be insecure about but highlight the futures you are really proud of.
What kind of shoes should I wear to a wedding?
We recommend that you should wear pointed-toe shoes. These will make you look taller and your legs will appear longer. Automatically, this will give a narrowing effect.
I am a 3rd year dental student, grinding to complete my clinical hours and at the same time write some content here and there. Sometimes I sing and play my guitar (covers can be found on my Instagram).